When is the best time to visit Mykonos? Great question – this guide will help you plan your dream trip.
I won't beat around the bush – Mykonos is one of the best destinations to visit (pretty much) all year round.
Its charm, gorgeous beaches, and electric nightlife scene makes it a real travel favourite – and it's not hard to see why.
Although you can technically visit at any time of the year, the best time to visit Mykonos will depend on what you hope to get out of your trip. After all, there are other things to consider, like flight availability, accommodation prices, and peak season.
Overwhelmed? Thought you might be. That's why I've written this handy guide to help you out. Let's get into it.
The Best Time to Visit Mykonos
The Best Time to Visit Mykonos, Greece: High Season vs. Low Season
High Season (June – August)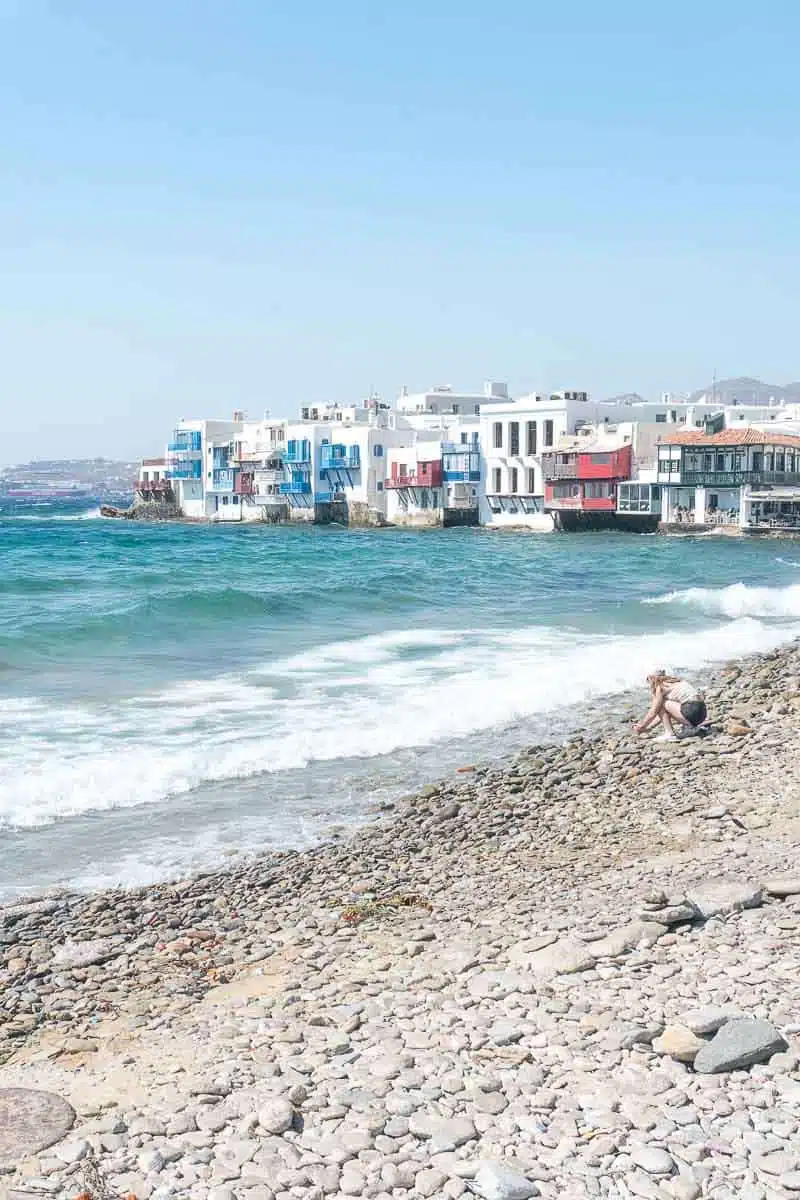 The high season in Mykonos is crazy… To put it lightly. It's one of the busiest destinations in Europe during the summer months.
The island sees non-stop action, with at least 50 commercial and private flights coming in daily. That's a whole lot of tourists filling up the beaches, restaurants, and attractions.
In addition, its port is a buzz of activity, with yachts, ferries, and cruise ships trying to get one of its 220 coveted spots to dock.
This heavy traffic does have its benefits, however. Summer in Mykonos means the good times never end with a range of parties, festivals, and other fun activities.
Sounds fun, right? Well, it is, but planning a trip to Mykonos in summer does come at a price.
Flight tickets, ferry transfers, and accommodation all come at highly inflated prices, with everyone looking to make the best of the wave of activity.
Low Season (Late October – April)
The low season in Mykonos is a stark contrast to what you'll find in summer. As the summer crowds start dispersing, this is when you'll get a feel of what island life here is like.
The real bonus is that you'll score great deals on accommodation, ferry transfers, flights, and meals at local restaurants. The downfall of the low season is that most ferry operators and airlines offer limited and less frequent services.
Plus, not all attractions are open during these months. From December to February, the island sees quite a bit of rain, but it's not as cold as other parts of Greece.
Best Time to Travel to Mykonos to…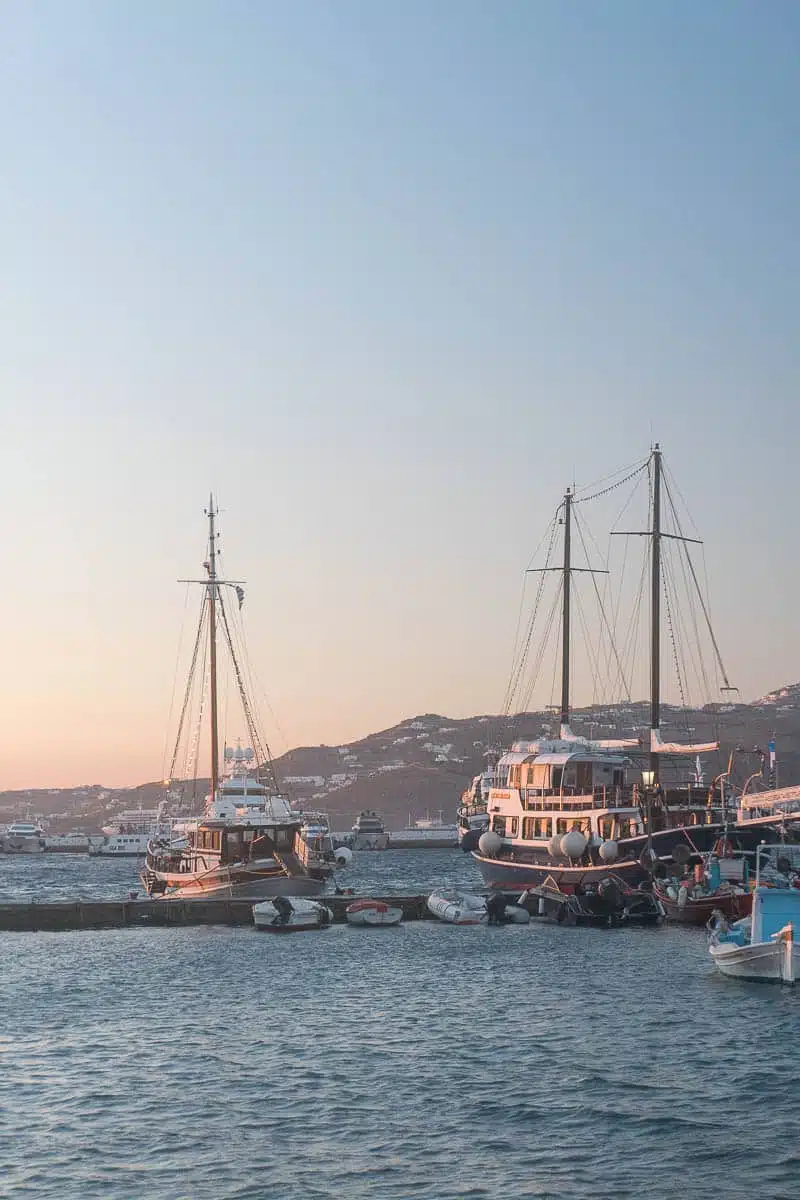 There isn't really a bad time to travel to Mykonos. It depends on what you'd like to experience during your stay.
The weather is pretty great all year round, and there are many different things to do in Mykonos during each season.
Though, it has to be said that summer is great for experiencing the island when it's a flurry of activity and opportunities to enjoy endless fun in the azure waters of the Aegean Sea.
Best Time to Visit Mykonos to Party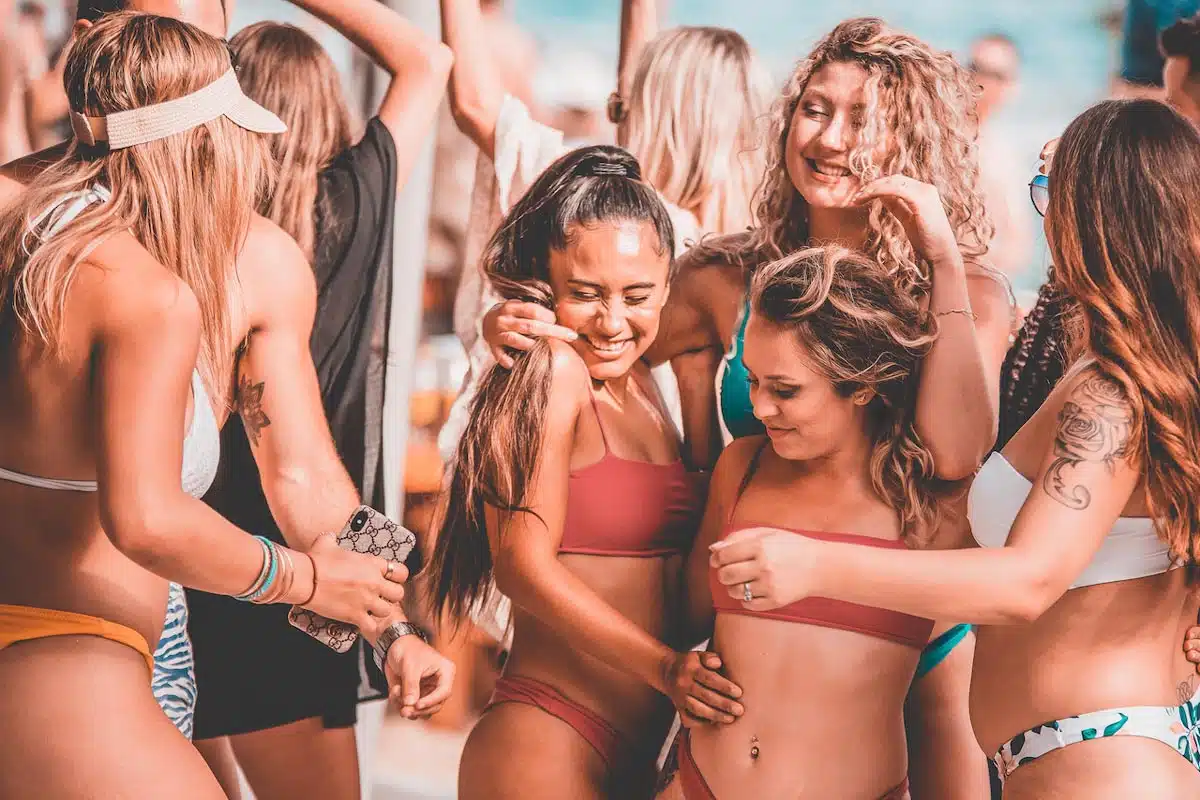 Mykonos' party season lasts the entire summer. And they party HARD. From mid-June to August, you can look forward to loads of festivals and parties, including the famous XLSIOR Festival.
There are huge parties most days, and the beach clubs are the place to party up a storm until the early morning hours. Summer is the best time to experience Mykonos' renowned nightlife scene.
Enjoy the Island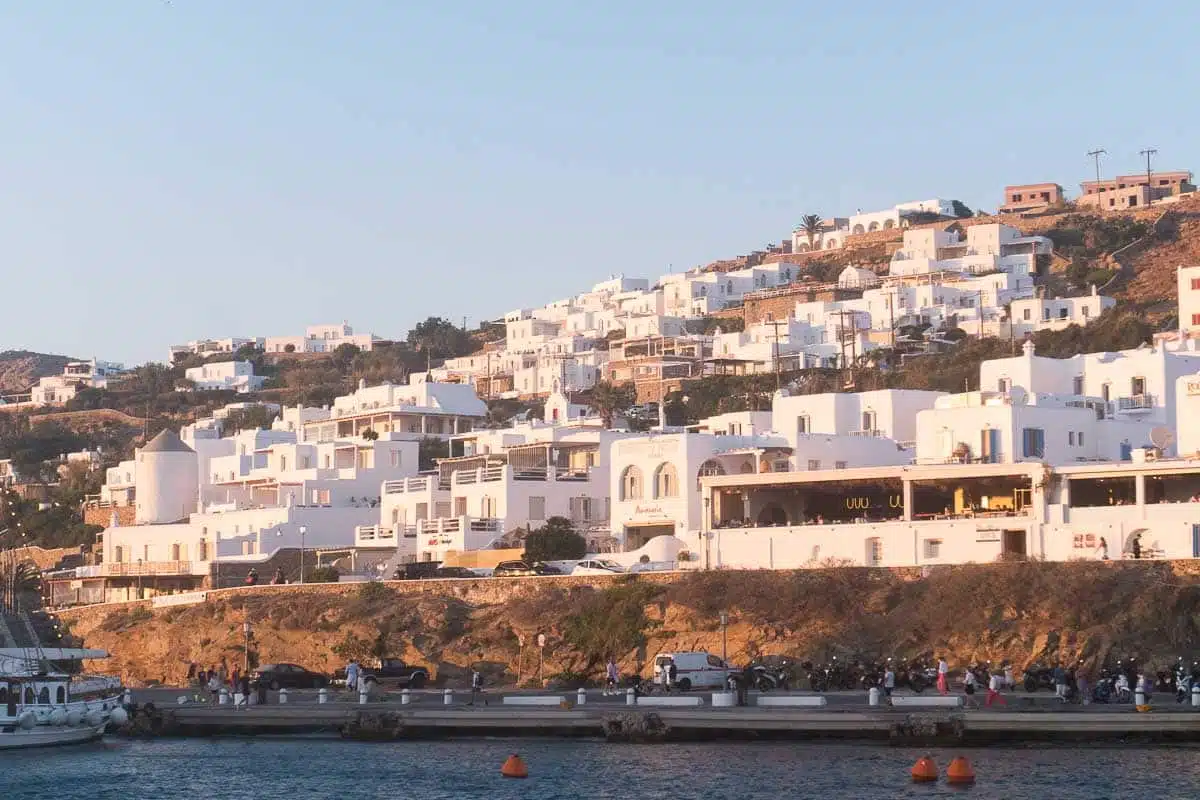 If being amongst thousands of people is not necessarily your thing, I suggest going during the shoulder seasons.
These take place from September to late October and March through May. The weather is decent, and while there are a few tourists around, you won't have to squeeze past people while walking down Mykonos' narrow streets or queue to get into most places.
Find Peace and Quiet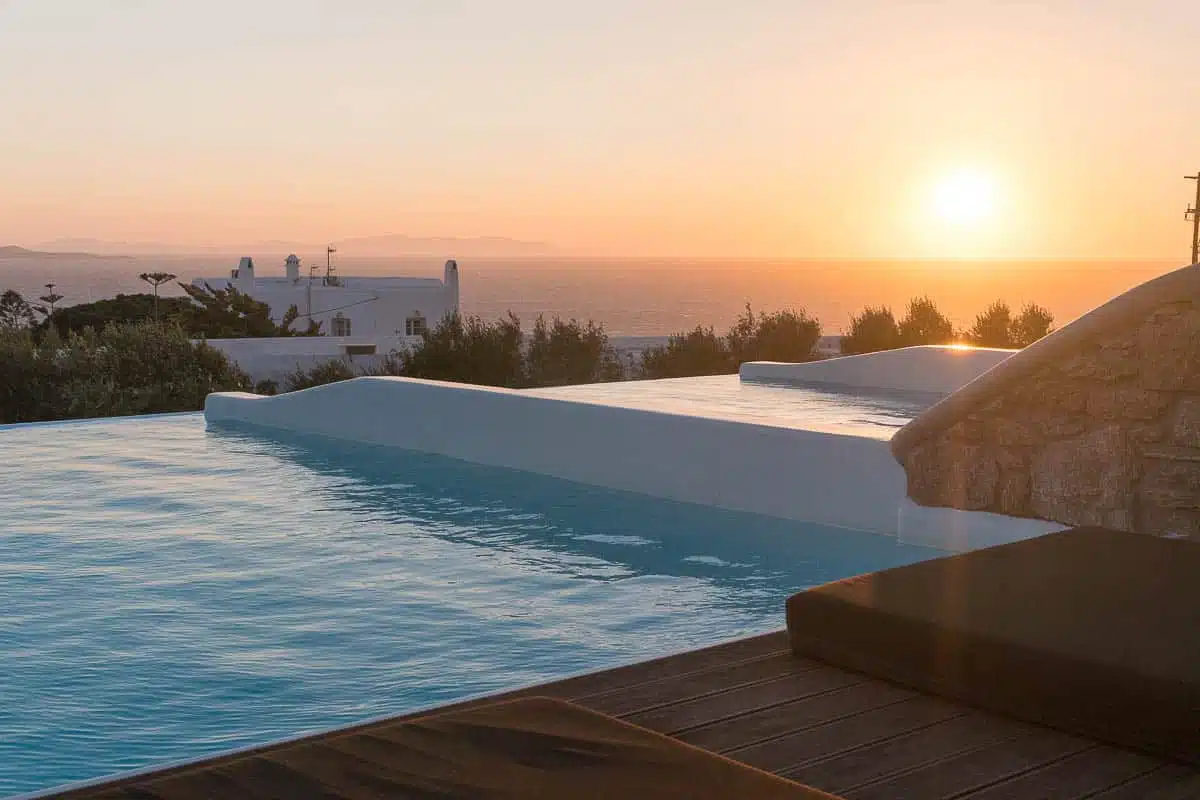 Want this gorgeous island all to yourself? I don't blame you. I can't recommend visiting in the low season enough. It's the perfect time to visit if you'd like to save money and experience the natural charm of Mykonos.
Just be aware that the weather is very unpredictable from December to February and gets a bit of rain and heavy wind.
Not the ideal time to lay on the beach or go diving, but still worth visiting to recharge and rejuvenate. Not all restaurants and hotels are open during this time, but there are more than enough for you to choose from and have a good time.
Usually, you can enjoy more personalised service, and it's a great time to get to know the locals, who are generally more relaxed when the crowds of tourists travel home.
The Best Time of Year to Go to Mykonos: Things to Consider Before Booking your Mykonos Trip
Best Time to Travel to Mykonos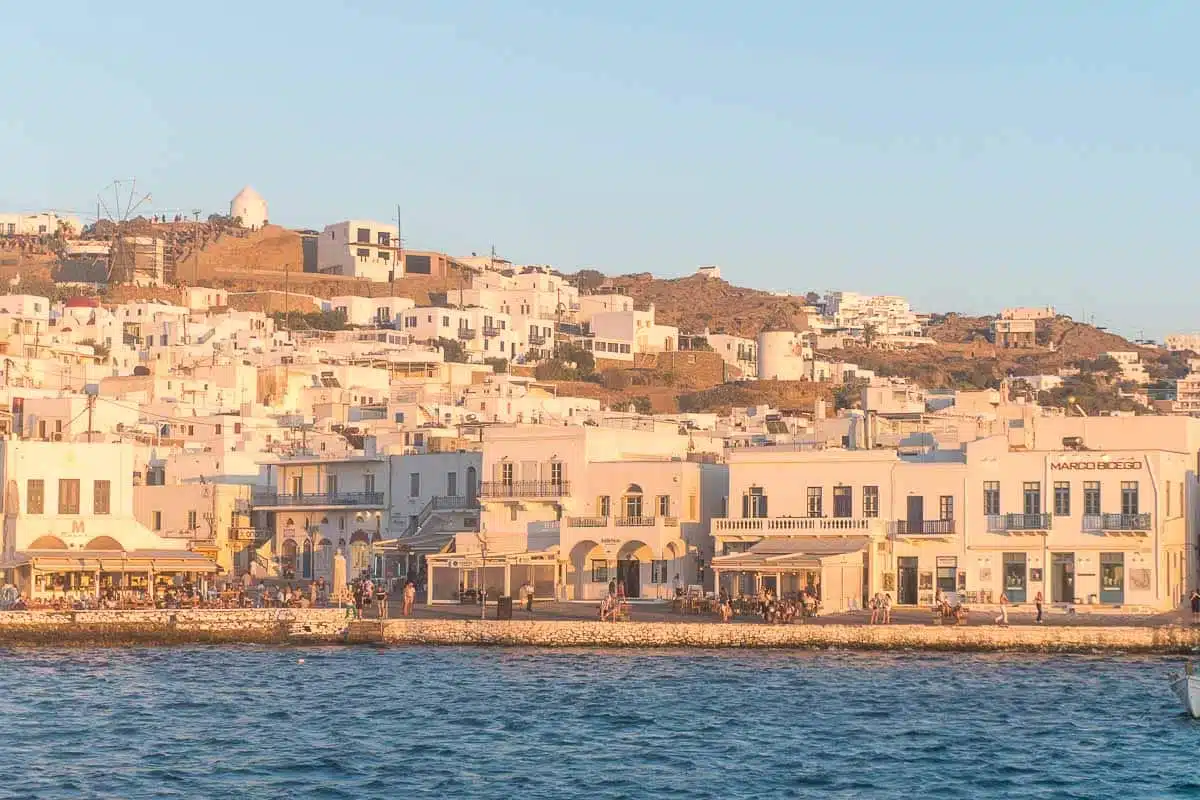 Ok, so what do I think? The best time of year to visit Mykonos would be during the shoulder season. You can enjoy the island and its top attractions without having to fight your way through thousands of other people. This takes place from September to October.
By then, most of the crowds would have left, and the weather remains lovely and warm. Most restaurants and hotels are still open, and you'll see a significant reduction in the price of accommodation, meals, and flights.
March to May is another fantastic time to visit. This is when the island starts warming up again, and most hotels and restaurants re-open to prepare for the hordes of tourists. Prices do, however, remain reasonable, and there are fewer tourists.
When is the High Season in Mykonos?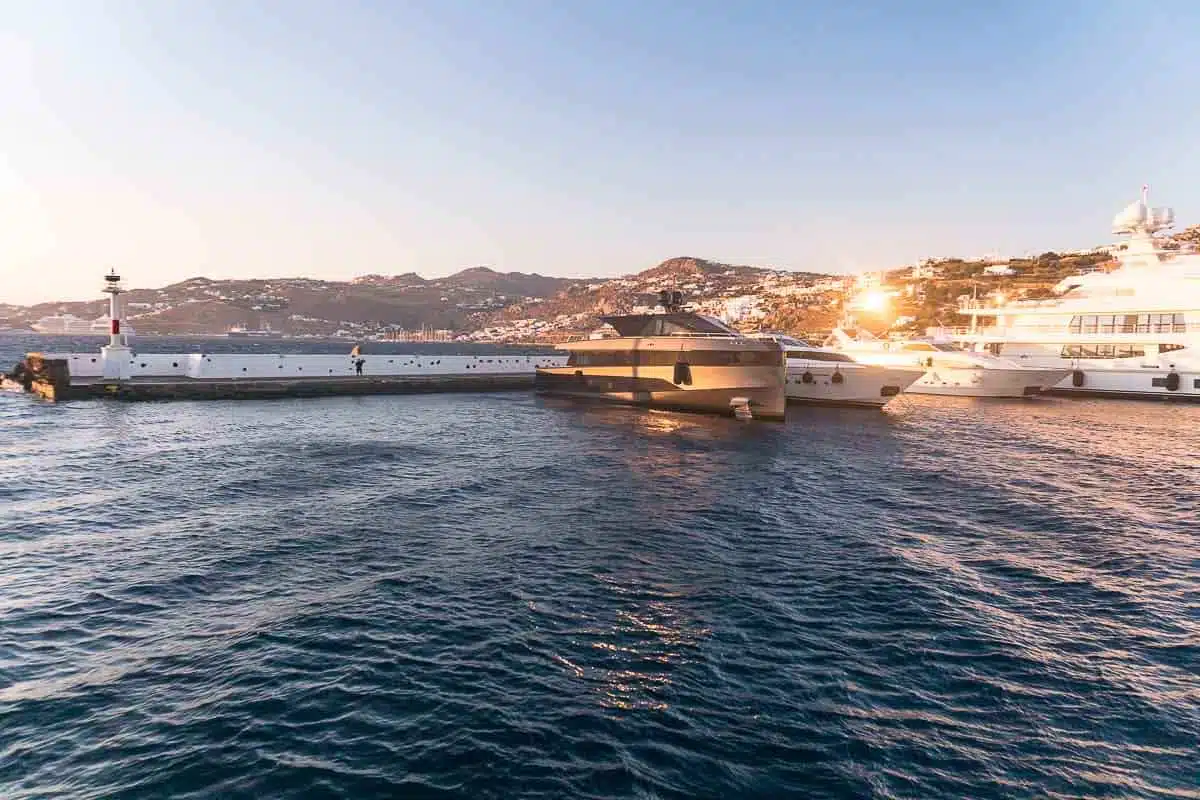 Unsurprisingly, summer is the peak season in Mykonos. Summer lasts from June till August, with July and August being the busiest months.
The warm weather does, however, make it the perfect time to soak up the sun and enjoy outdoor activities. Plus, the sun sets late during these months, making the days longer for enjoying everything you want to do on your vacation.
The high season of Mykonos comes with certain guarantees. You will find frequent flights and ferry transfers from other islands and the mainland. So getting to Mykonos will not be a problem. There are also many accommodation options to choose from to ensure a comfortable stay.
As the name "High Season" suggests, you can expect to pay sky-high prices for almost everything. While this is a great time to visit, it's not great for your budget to pay an arm and a leg for everything.
If you are confident that this is the time you want to visit Mykonos, then the best advice I can give you is to book all your transportation, accommodation, and activities in advance, so you don't get any nasty surprises along the way.
The Cheapest Time to Visit Mykonos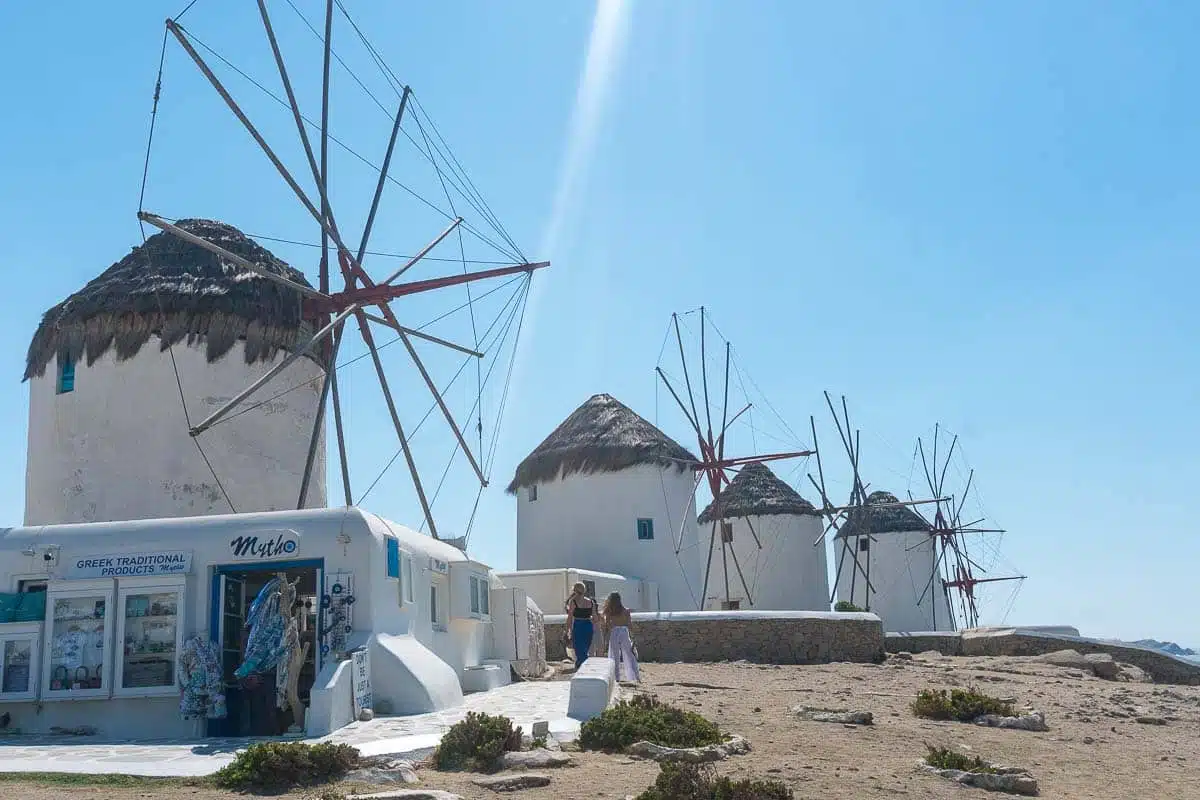 Winter and spring are the cheapest times to visit Mykonos. During winter, the island is super quiet, so if you can brave the weather, you'll find the best deals on everything.
Spring is perhaps the most idyllic time to visit. This is when the weather starts warming up, and everyone on the island starts gearing up for summer's festivities. Everything on the island remains affordable and reasonably priced.
The later shoulder season is also one of the cheapest times to visit Mykonos. This occurs from September until late October and even early November during autumn.
You should still expect to pay a bit more in September and early October for accommodation and flights, but it won't cost as much as in the high season.
I recommend booking in late October and early November when the weather is still great and the vast numbers of tourists have entirely dispersed.
Tip: Read my guide to the best hotels in Mykonos and find your dream stay.
Mykonos by Season
Mykonos in Spring
March – May
Like many other destinations, Mykonos is a beautiful place to visit in spring. It's quiet and calm, allowing you to enjoy the island at a slower pace. The weather is great too. Temperatures average between 18°C ( 65°F) and 22°C (73°F).
Lent and Easter fall within these months, and the island hosts many activities and events during Holy Week.
Mykonos in Summer
June – August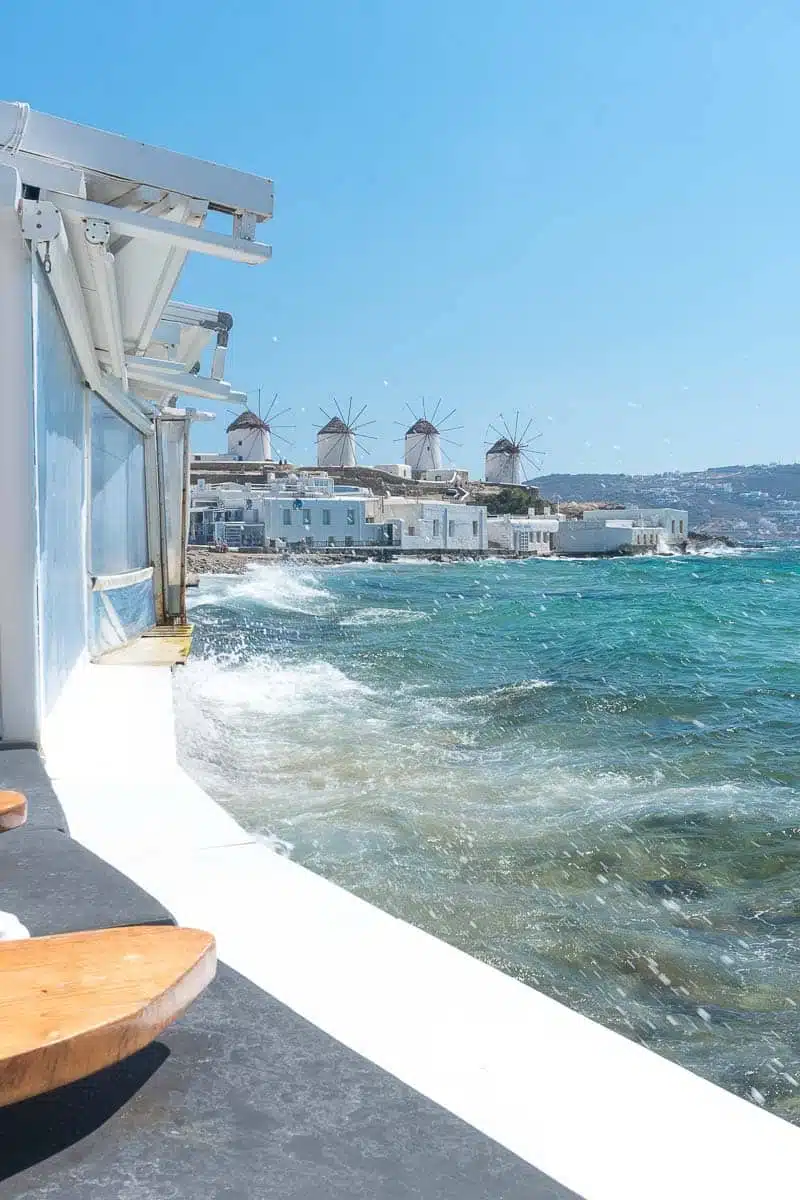 Let's not beat around the bush. Mykonos in summer is extremely hot. Temperatures average between 23°C (74°F) and 30°C (86°F), and often higher. So please, don't forget to pack your sunscreen, bathing suit, or swimming trunks.
Mykonos in Autumn
September – October
Autumn brings about cooler temperatures, usually never reaching more than 25°C (77°C). It's still an ideal time to go to the beach or enjoy a sunset cruise in the evening.
The island is quieter, and offers calm seas and a more laid back atmosphere.
Mykonos in Winter
November- February
Winter in Mykonos is highly unpredictable. Sometimes it is warm, while you can expect strong winds with heavy rainfall on other days.
Unlike the mainland, though, it doesn't receive any snow. Temperatures average around 16°C (60°F), with December, January, and February receiving the most rainfall.
When to Travel to Mykonos: Practical Tips + Tricks
When Should I Avoid Mykonos?
I recommend avoiding Mykonos during the high season, if you can. The island is full to the brim, and you'll pay more for most things.
What is the Cheapest Month to Go to Mykonos?
September, October, March, April, and May are the cheapest months to go to Mykonos. They also happen to be my favourite times to visit.