Wondering where to stay in Mykonos? Don't miss this handy guide to the best places to bed down, area by area.
On my recent trip to Mykonos I got to explore the island in quite some detail. And I fell in love.
With plenty of stunning beaches, gorgeous whitewashed villages, and delicious Greek cuisine on every corner, it may be challenging to decide where to base yourself. From the best beaches in Mykonos to quaint coastal towns, you'll find gorgeous hotels and villas that can match any budget.
Every avid traveller (myself included) will admit that finding the right place to stay can make or break your trip, so keep reading to find the best places to stay in Mykonos.
Best Places to Stay in Mykonos: At a Glance
Where to Stay in Mykonos
Let's get to it. Here are some of my favourite places to stay in Mykonos.
Mykonos Town: Overall Best Part of Mykonos to Stay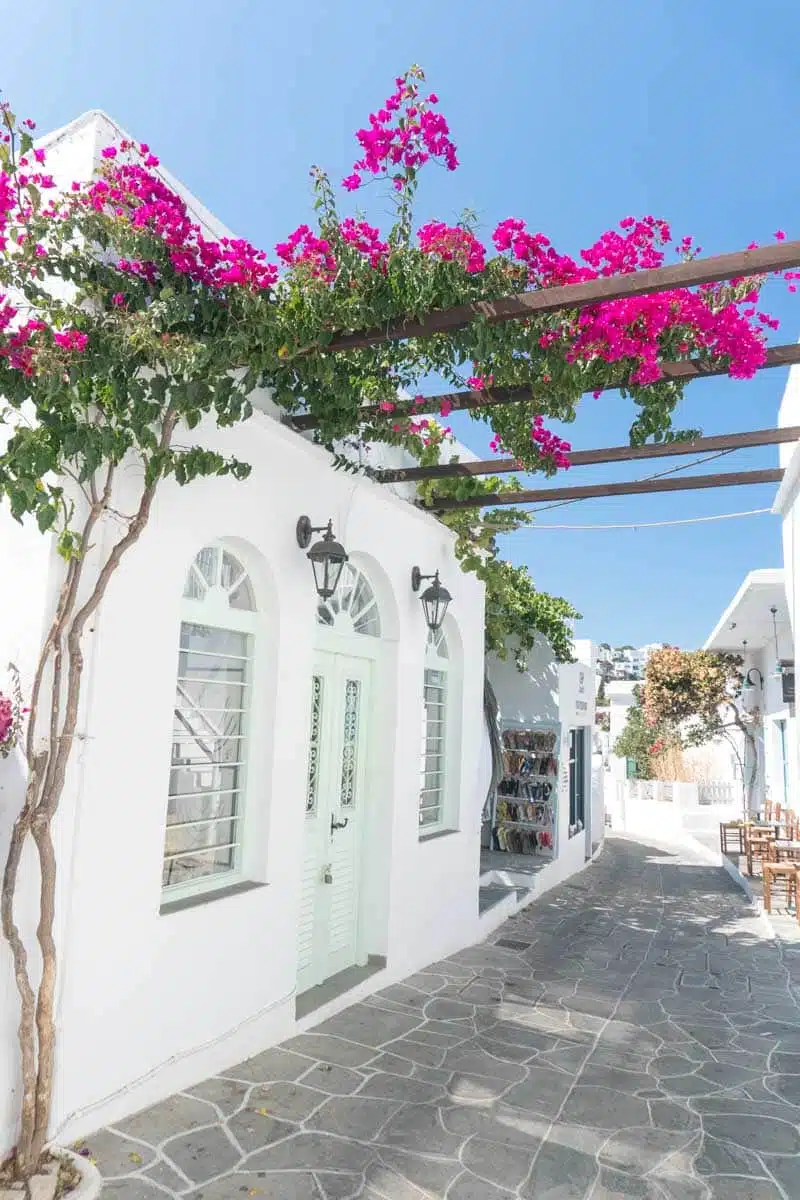 Sitting at the centre of the western shore, Mykonos Town, better known as "Chora", is the beating heart of the island. This charming whitewashed town is where you'll find most of the island's hotels, restaurants, and main attractions.
It's also my favourite place to stay in Mykonos.
Getting around is super easy; you only need to know how to walk or ride a bike (that's it). Vehicles are not allowed to enter the town, as the ancient Greeks built the narrow, winding, and curvy roads this way to confuse invaders.
Spend your days sunbathing or sightseeing at tourist attractions like the Panagia Paraportiani (one of the world's most photographed churches). And enjoy your nights partying or having dinner at a fabulous restaurant.
Mykonos Town Highlights
Aegean Maritime Museum — founded in 1985, this non-profit institution dedicates itself to mustering, studying, and celebrating Greek maritime history and tradition. Although small, you'll find a treasure trove of exhibits in this 19th-century building, including artefacts recovered from the Aegean Sea.
Windmills of Kato Myli (or Mili) — perched atop a hilltop, these 16 windmills date back to the 16th century when islanders used wind power to operate their granaries.
Little Venice — sitting just below the windmills, "Little Venice" is the romance hub of Mykonos, boasting Cycladic-style architecture and breathtaking sunset views.
Suggested Mykonos Hotels in Mykonos Town
Adel Private Suites — stunning modern decor and balconies with great views out to sea. Most suites come with a private pool and hot tub. I highly recommend staying here.
Poseidon Hotel Suites — just a stone's throw from the beach with an expansive outdoor bar, dining terrace, and freshwater swimming pool. Get sweeping views of Mykonos Town and the gorgeous Paralia Megali Ammos.
Aeolos Hotel — spacious rooms with minimalistic decor and balcony views overlooking the garden. Grab lunch or dinner at the a la carte restaurant, then head down for a refreshing cocktail at the poolside bar.
Agios Ioannis Diakoftis: Where to Stay in Mykonos for a Honeymoon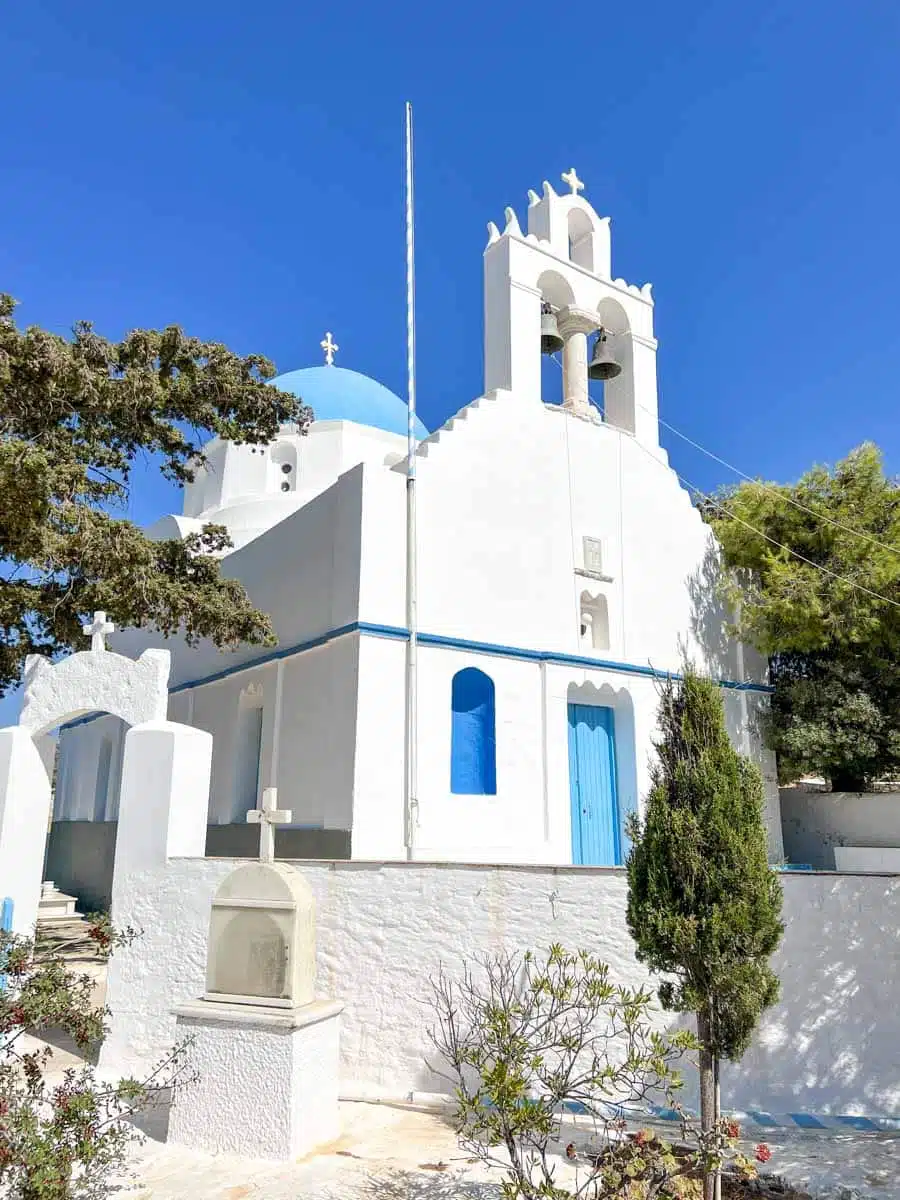 Wondering where to stay in Mykonos for couples? Look no further than the Agios Ioannis beach area. Located in the southwest of Mykonos, you'll get breathtaking views of Delos Island—the mythological birthplace of the Greek god Apollo and his twin sister Artemis.
In addition to the vast stretches of sands, sunbeds, and umbrellas, this beach has a giant rock splitting the shore into two separate parts. One is vibrant, while the other is more serene and attracts fewer crowds.
Agios Ioannis Diakoftis Highlights
Delos and Rineia Island cruise — sail to Delos for a glimpse of ancient Greece and then enjoy snorkelling, swimming, and a light lunch at Rineia Island.
Bellissimo Pizza & Pasta Mykonos — nothing spells out "romance" like two lovers sharing a plate of spaghetti (you know how this ends). Serving wood oven pizzas and tasty Italian wines, Bellissimo is the perfect setting for a romantic night out.
Olive Oil Tasting — forget wine tasting; when in Greece, you taste olive oil. Learn about the benefits of olive oil and which foods to pair it with.
Suggested Mykonos Hotels in Agios Ioannis Diakoftis
Lithos by Spyros & Flora — your gracious hosts offer spacious, subtly decorated studios and suites, a whitewashed facade with light brown touches and stone walls. Lithos provides a pool, terrace bar overlooking the bay, and a delightful breakfast.
Saint John Hotel Villas & Spa — sitting on 20,000 square metres of land, this resort offers three gourmet restaurants, two bars, a spa, a tennis court, and an enormous infinity pool. The rooms offer sea or garden views and a private mini spa.
Manoula's Beach Mykonos Resort — deluxe suites with earthy decor and fantastic sea views. This newly renovated resort boasts a modern pool with in-water loungers and cabanas.
Paradise Beach: Where to Stay in Mykonos for Nightlife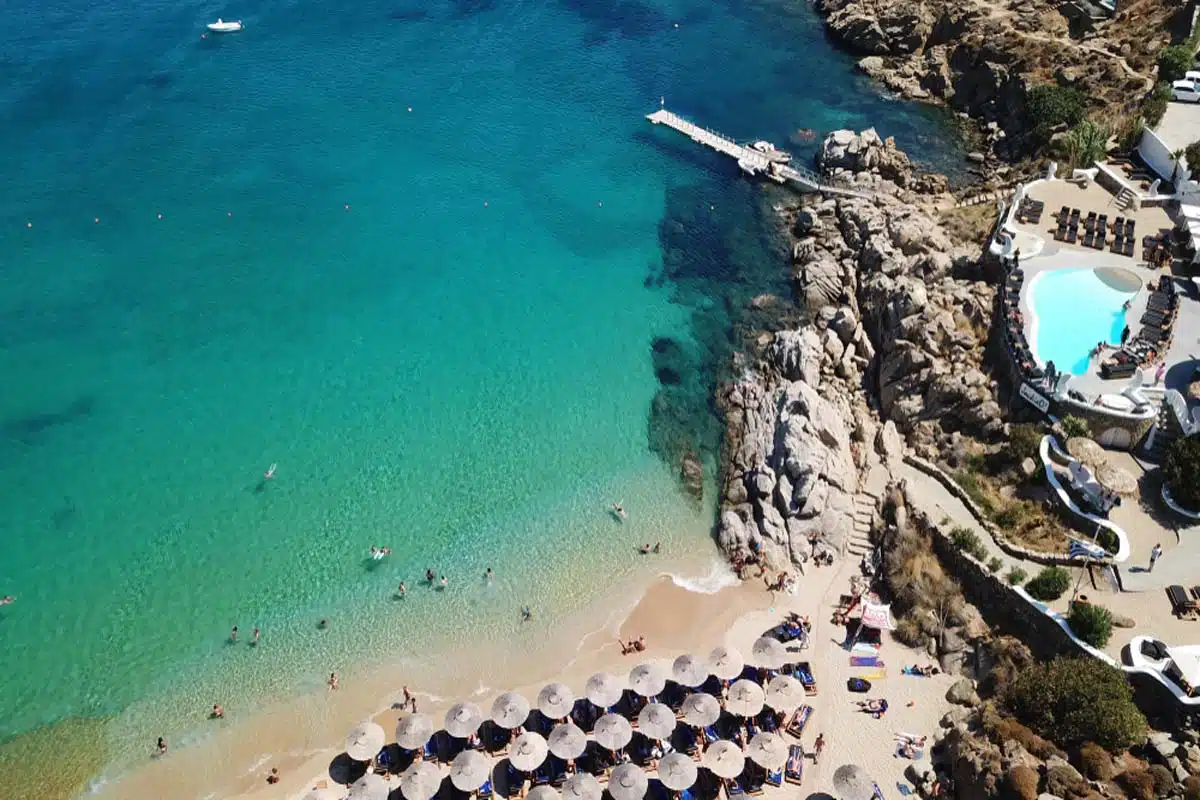 Famed for its lively beaches, seaside bars, restaurants, and raging parties, Paradise Beach is home to some of the best beach clubs in Mykonos. Situated in the southern part of Mykonos, Paradise Beach or "Kalamopodi" overlooks the azure convergence of the Aegean and Mediterranean seas.
The popularity of this stunning cove began in the mid-1960s (the hippie-dippie era); the bohemian travellers were the area's first visitors. And since then, Paradise's party scene has expanded, hosting world-famous beach clubs like Tropicana, Cava Paradiso, and Paradise.
The beach gets quite crowded in the summer, playing loud music all day that peaks at around 4 pm when the whole place turns into a disco. Paradise is pretty much the default area when visitors are looking for where to stay in Mykonos with friends.
Personally, I prefer the town centre – but if it's parties you're after, the vibes here are unbeatable.
Paradise Beach Highlights
Tropicana Beach Bar & Restaurant — highly rated and internationally acclaimed for its parties, Tropicana offers delicious meals, cocktails, and a buzzing atmosphere. The party here starts early with the in-house DJ playing tunes that keep everyone dancing late into the night.
Super Paradise Beach Club — lined with seemingly endless rows of cabanas, this beach club has been the go-to party place for jet-setters and clubbers from all over the globe. Pre-book a sunbed and forget about sunburn.
Cavo Paradiso Club — sitting atop a hill, this Mykonos beach club hosts international DJs and regular full moon parties. The clifftop megaclub boasts a 3,000 capacity and has a pool modelled using the shape of Mykonos Island.
Suggested Mykonos Hotels in Paradise Beach
Paradise View Hotel — Cycladic-style building with light blue accents, an expansive pool and bar overlooking the sea, and plenty of outdoor seating to enjoy a tasty breakfast. The cosy rooms feature personalised touches with pastel and light brown finishes.
Eden View Suites and Residences — a two-building complex with self-catering units, each villa, suite, or maisonette opens to a veranda with a private outdoor pool where you can enjoy stunning sea views.
Paradise Beach Camping — one of Mykonos' best places to stay when travelling in a group or on a tight budget. This seaside resort offers shared cabins, tents, bungalows, and an on-site restaurant open all day.
Ornos: Where to Stay in Mykonos for Beach Lovers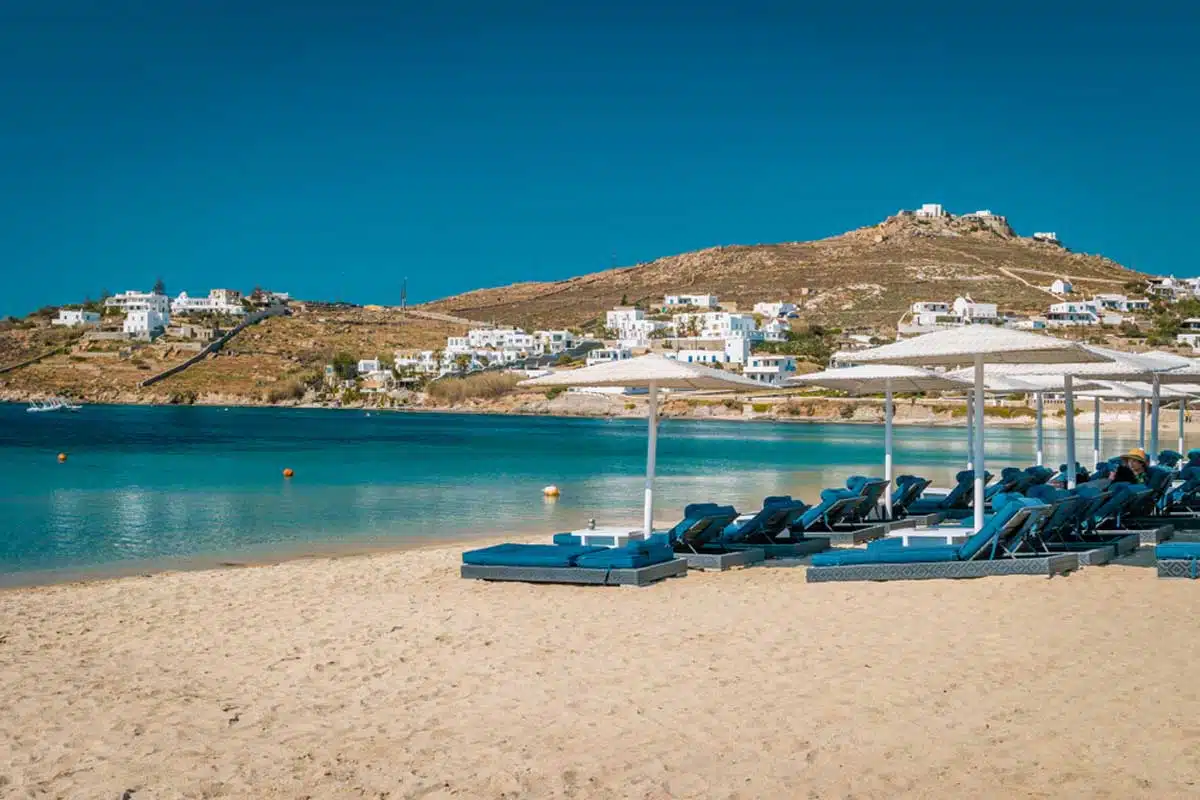 Spending a day at the beach is undoubtedly one of the best things to do in Mykonos. But if you're looking for – not one, but two – beaches with plenty of water activities, Ornos is your best bet.
This Mykonos neighbourhood, tucked between the windy Korfos Beach in the north and Ornos Beach in the south, boasts plenty of sun loungers and beachside restaurants. There's plenty to do in this area, from kitesurfing to swimming in the shallow waters or hopping on a south coast sailing cruise. Get your chill on.
Ornos Highlights
Ornos Bay's Licensed Watersports Schools — learn how to waterski, surf, or kitesurf at Ornos Bay's prestigious watersports schools. The shallow waters and windy conditions are suitable for both beginners and pros.
Aperanto Galazio Cuisine Bar — taste the best traditional Greek cuisine and freshly caught seafood from the Aegean Sea. This laid-back seaside bar serves various Mediterranean dishes, speciality coffees, and Greek beer.
Fishing Village Excursion — explore the small fishing village of Ornos, walk around flea markets, sit at quaint cafes, or buy on-the-go lunch at a local bakery.
Suggested Mykonos Hotels in Ornos
Kensho Ornos — a stunning boutique hotel boasting futuristic modern decor and airy suites with a private pool or hot tub. The hotel features a fitness centre, a wellness spa, and an award-winning gourmet restaurant serving signature cocktails.
Mykonos Ammos Hotel — sophisticated architecture and minimalistic decor with earth tones and whitewashed walls. Ammos Hotel provides high-end amenities, including a beauty centre, a gym, three star-rated restaurants, and a bar.
Kivotos Mykonos — located on a private beach, this gorgeous hotel in Mykonos offers elegant suites and villas, two shared swimming pools, and a la carte restaurant "Le Pirate" serving Mediterranean cuisine, while "La Meduse" serves gourmet Greek dishes.
Ano Mera: Where in Mykonos to Stay Off-The-Beaten-Path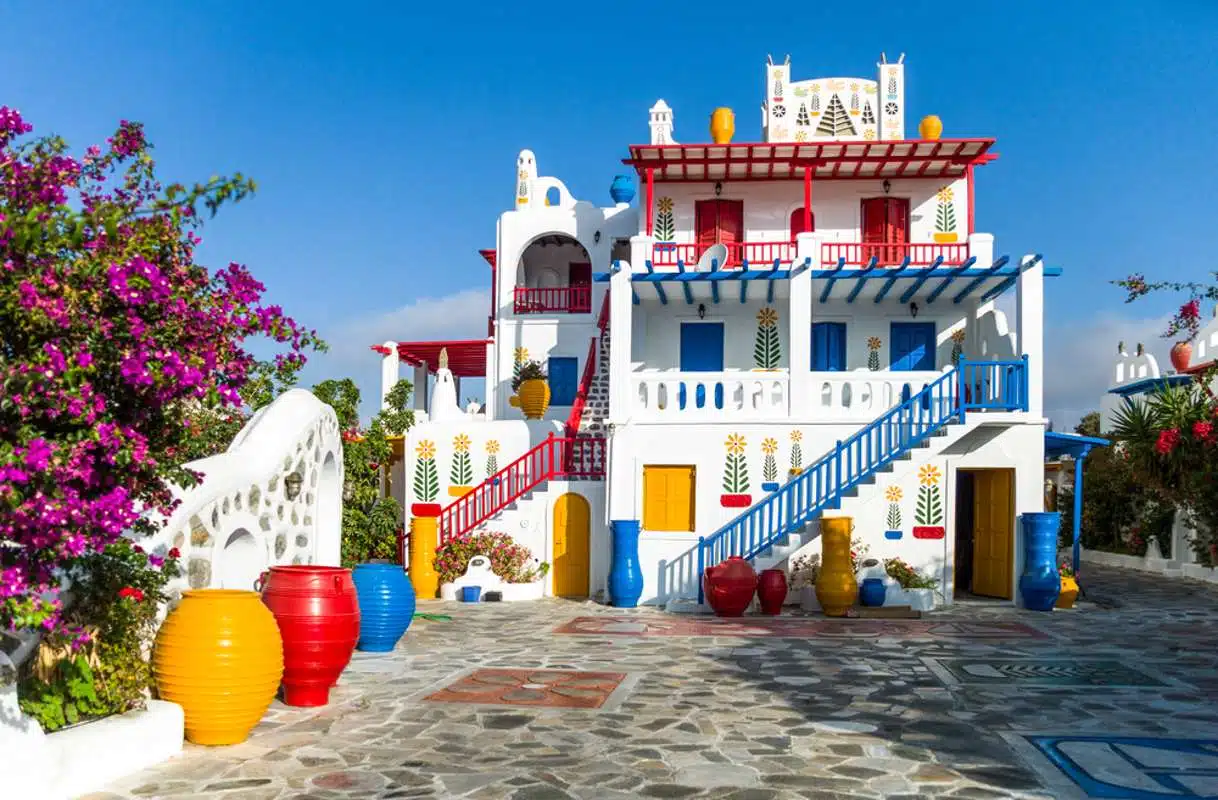 Ano Mera is a much quieter and more traditional town than Mykonos Town and Ornos, but this quaint inland village has plenty to offer.
Situated in the centre of Mykonos, Ano Mera presents a great opportunity to walk along narrow cobbled streets, meet locals, and experience Greece off the beaten path. I love this area, though I did find it a little bit too quiet during my trip – it's great if you're really looking to escape the crowds, though.
Although the town does not host as many attractions as Mykonos Town, it is home to the iconic 16th-century monastery of Panagia Tourliani. This whitewashed complex houses a striking bell tower, a grand dome, and a holy museum.
Ano Mera Highlights
Monastery of Paleokastro — 18th-century nunnery sitting atop a lush hill with a small religious museum upstairs displaying church relics and artefacts. The museum is open to the public for just a small fee.
Kalafati Beach & Kalo Livadi Beach — if you'd like some fun in the sand, swimming, or any seaside activities, these two beaches are the closest to the inland town.
Paprika — Ano Mera has several Greek taverns serving traditional cuisine, local beverages, and a laid-back rustic environment.
Suggested Mykonos Hotels in Ano Mera
Hotel Anatolia — fully-furnished soundproofed rooms with balcony views overlooking the swimming pool and garden. Get a massage, relax in the sauna, or go for a personal training session, all without having to leave the property.
Koukoumi Vegan Boutique Hotel — detox and destress at Greece's first ever vegan boutique hotel. WTF is that? Providing delicious plant-based cuisine, a wellness spa using only cruelty-free organic products, and yoga sessions.
Where to Stay in Mykonos: Frequently Asked Questions
Where Is the Best Area to Stay in Mykonos?
If you ask me, Mykonos Town (A.K.A Chora) is the best area to stay on the island. The town has an abundance of hotels, restaurants, and access to beaches.
Where to Stay in Mykonos: Beach or Town?
If you are struggling to decide where to stay in Mykonos town or the beach, a simple way to decide would be to look at your itinerary and budget. Seaside hotels tend to be more pricey than those in the town centre.
Where to Stay in Mykonos on a Budget?
The abundance of hotels, villas, resorts, and guest houses means that Mykonos Town ranks high on the list of best places to stay in Mykonos on a budget. It's also my favourite area, so don't worry that you're missing out.
How Do You Get Around in Mykonos?
You can get around Mykonos via bus, taxi, or car. But some areas on the island, like Mykonos Town, prohibit the entry of any motorised vehicles. The best way to get from one town in Mykonos to another is via bus; the island has an efficient system that connects the main towns and attractions.
Practical Tips to Consider Before Booking Your Mykonos Accommodation
While English is widely spoken in Mykonos, I recommend having an arsenal of Greek phrases on hand when travelling to the lesser-visited parts of the island is handy (and polite).
Accommodation can get quite expensive in Mykonos, so book ahead of time or visit the island in the off-peak or shoulder seasons to save some cash.
Mykonos Accommodation Guide: Map