Picturesque coves with sparkling turquoise water, islands untouched by mass tourism – G Adventures' sailing Greece tours help you to discover a different side of the Cyclades.
Sailing around the Cyclades – complete with the promise of hidden islands, the sun warming your skin, and the sea breeze kissing your face sounds pretty nice, right?
Scratch that – it sounds incredible.
Such was the promise of G Adventures' Sailing Greece Mykonos to Mykonos tour.
In short, I was sold. I'd been looking for a way to see more of the Cyclades than Mykonos and Santorini and here it was, wrapped up in a pretty bow. I booked my spot with five days to spare – threw some clothes into a case and hopped on a flight to Mykonos ready to set sail.
Thinking about booking a sailing trip around Greece? Or looking for some inspiration for your next adventure? Read on to discover my experience on a G Adventures sailing trip in Greece.
Book Your G Adventures Greek Sailing Trip Here
G Adventures Sailing Greece Review: At a Glance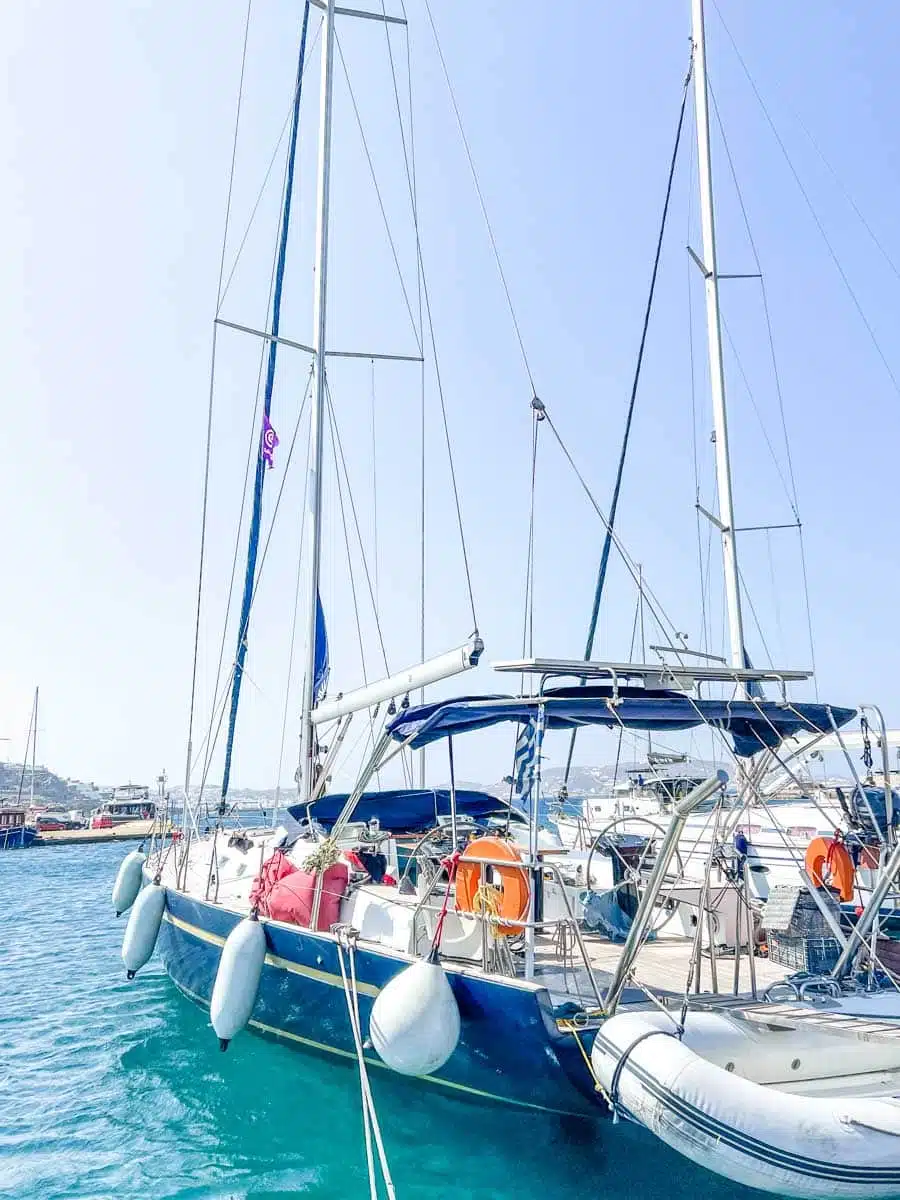 G Adventures offers a number of different "Sailing Greece" routes ranging from 8 to 10 days.
The 10-day Mykonos to Mykonos route comes with a suggested itinerary (although G is careful to flag that this is subject to change – rightly so as we didn't really follow the route at all) and the chance to spend time aboard a 58ft yacht.
It was a great experience that allowed me to see several of the Cyclades islands in a short time. We travelled from bigger, well-known islands like Mykonos to smaller and lesser-known spots like Iraklia and Sifnos.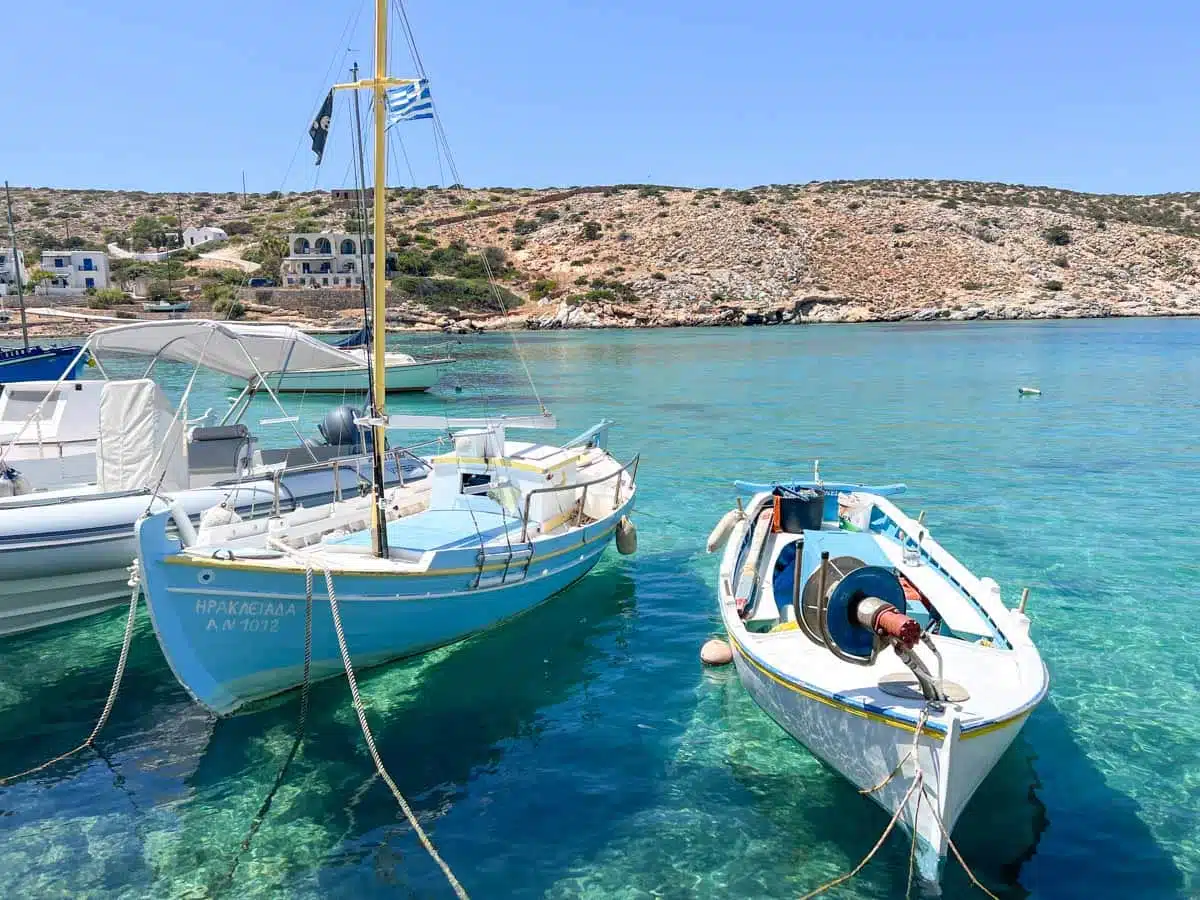 The Sailing Greece: Mykonos to Mykonos tour is the perfect option if you want to venture beyond the better-known Cyclades but don't have the time or inclination to arrange all your transport independently.
Plus there's the added thrill of being able to sail between the islands (you can even try your hand at some of the sailing if that's your thing).
Those are the pluses. There aren't really any minuses apart from to say that this is a group trip, so it might not be a great fit for you if you want the freedom of setting your own itinerary or don't feel comfortable spending time with a group of strangers.
Check Out The Trip on G Adventures
G Adventures Sailing Greece Review: In Detail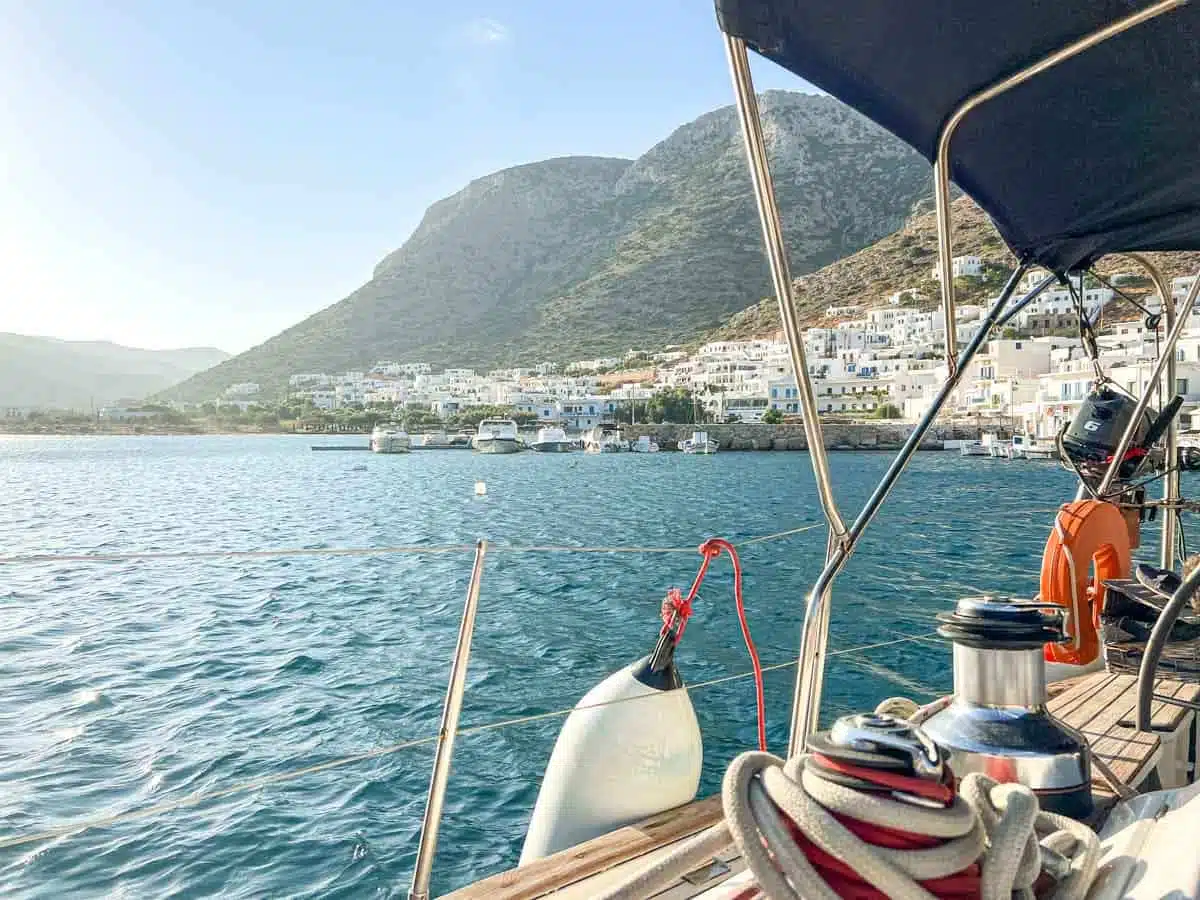 I'll start by saying that the G Adventures Sailing Greece trip was straight up awesome.
I'd been prepared to fall in love with the islands themselves but the time on the yacht was as much a part of the adventure as the destinations themselves.
So what should you expect?
A chance to explore a number of different islands – large and small. Some – like Paros – you'll likely have heard of, but others (umm Schinoussa I'm looking at you) – nope.
Before you jump into your swimming cozzie and grab your credit card and passport, let's dive into the nitty gritty with some more details on the sailing trip.
G Adventures Boat Tour Itinerary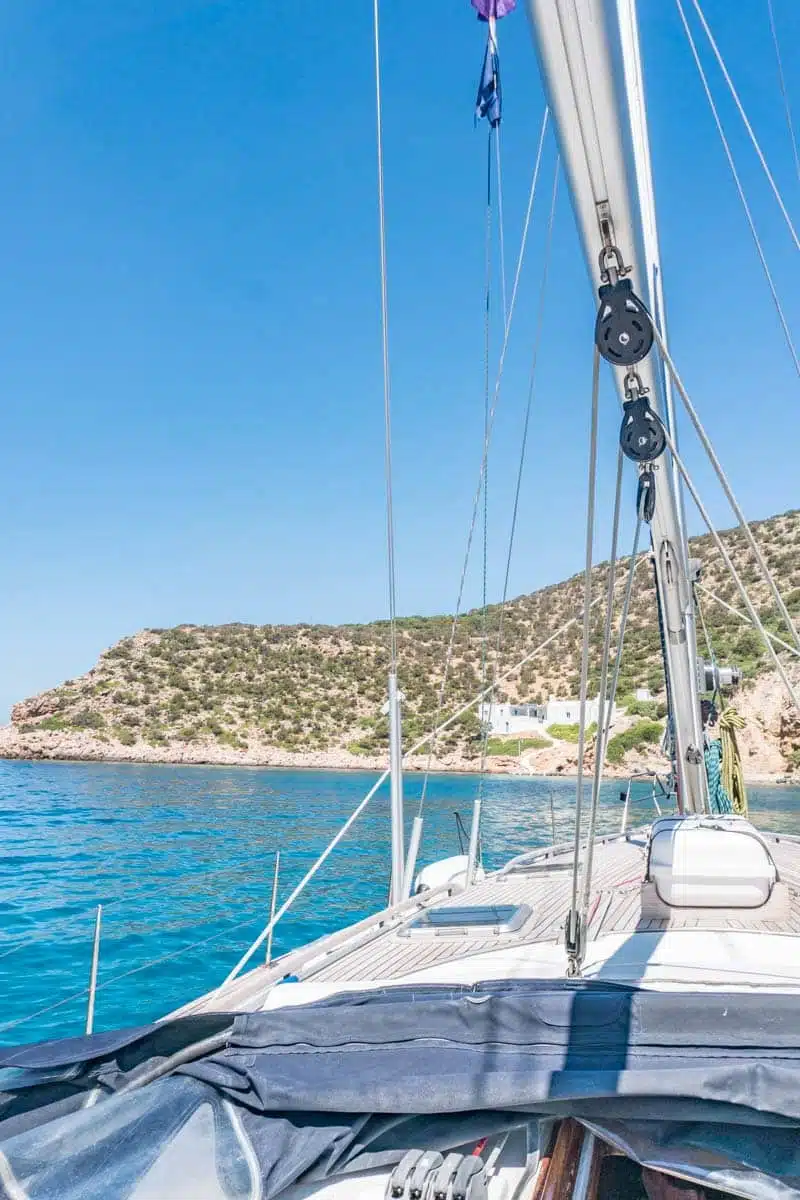 As I've mentioned before, it is essential to note that the suggested itinerary is a loose one. It's sailing after all, so you kind of have to go where the wind takes you (literally) on the Aegean Sea. If you're someone that likes a structured itinerary, this might not be for you.
This was the itinerary we ended up following on the trip:
Mykonos (1 day) >> Naxos (2 Days) >> Paros (½ Day) >> Iraklia (1 Day) >> Schinoussa (at anchor) >> Sifnos (1 Day) >> Siros (1.5 Days) >> Rinea (at anchor only) >> Mykonos (final day)
The itinerary is worked out based on sailing conditions and what the group is keen to do and explore, which is why the course we ended up taking was pretty different from the trip description.
No complaints from me: we still got to see an array of islands and had a chance to spend time hanging on the yacht.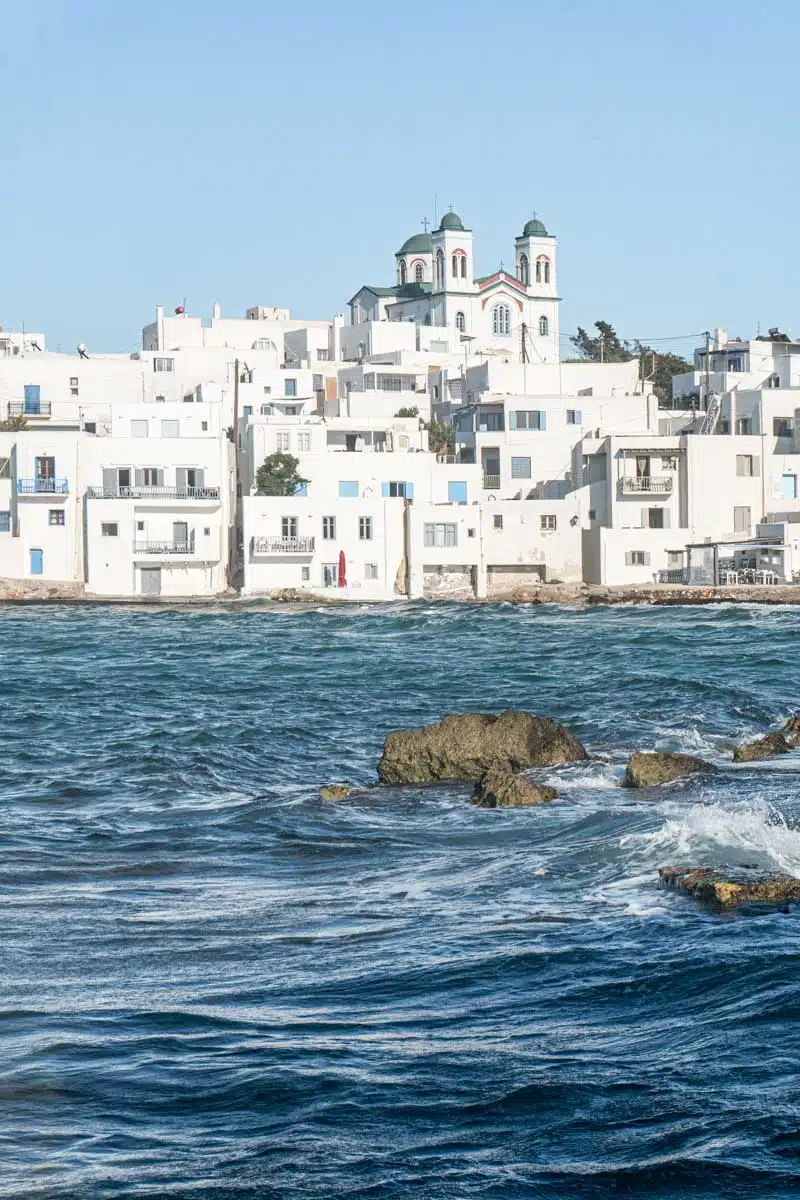 As you can see above, our itinerary saw us visiting popular places like Mykonos to the treasure troves of almost untouched islands like Schinoussa, and Iraklia. Many of these places are pretty difficult to access via the public boats, so are definitely off the beaten path.
The Accommodation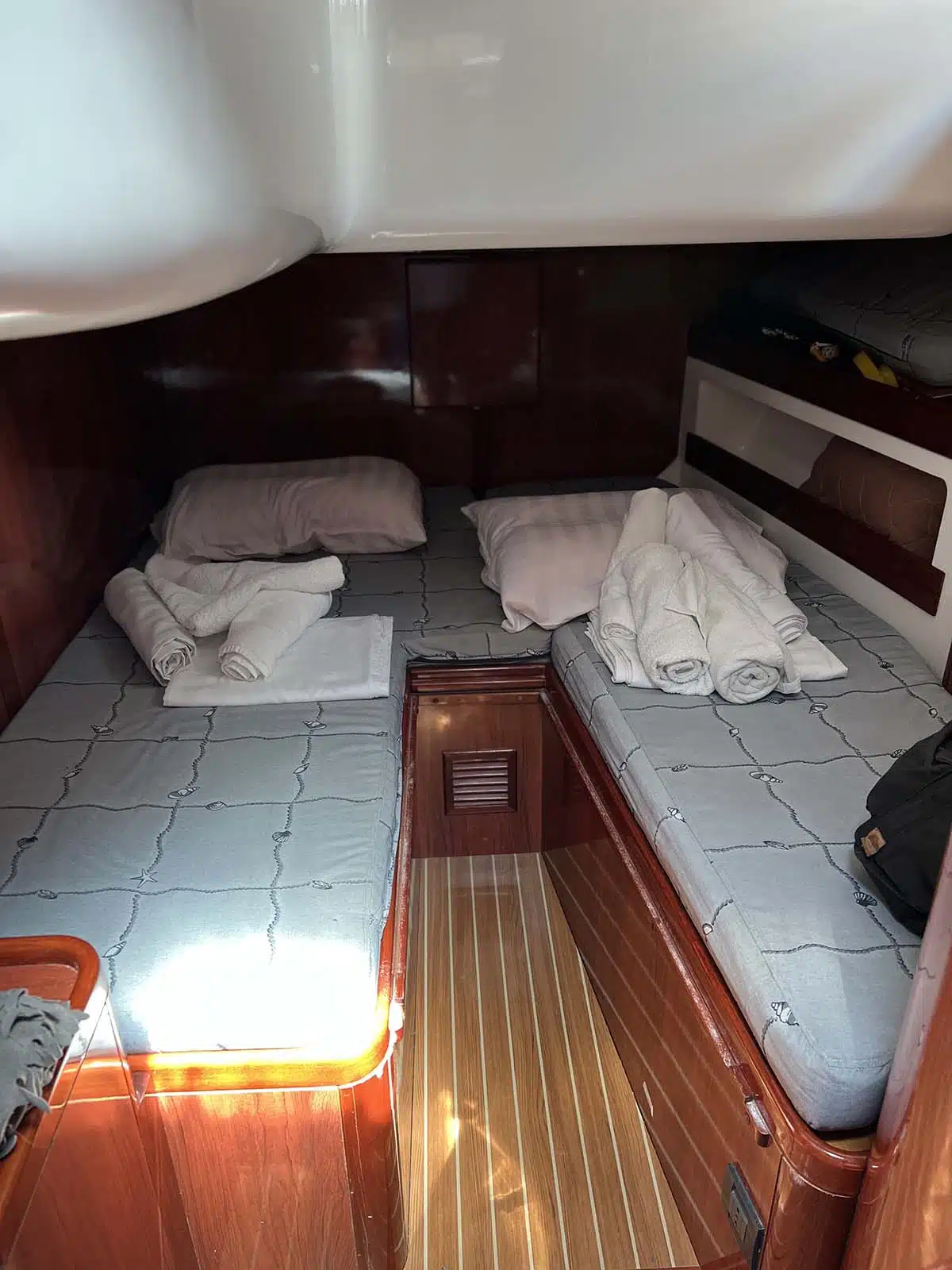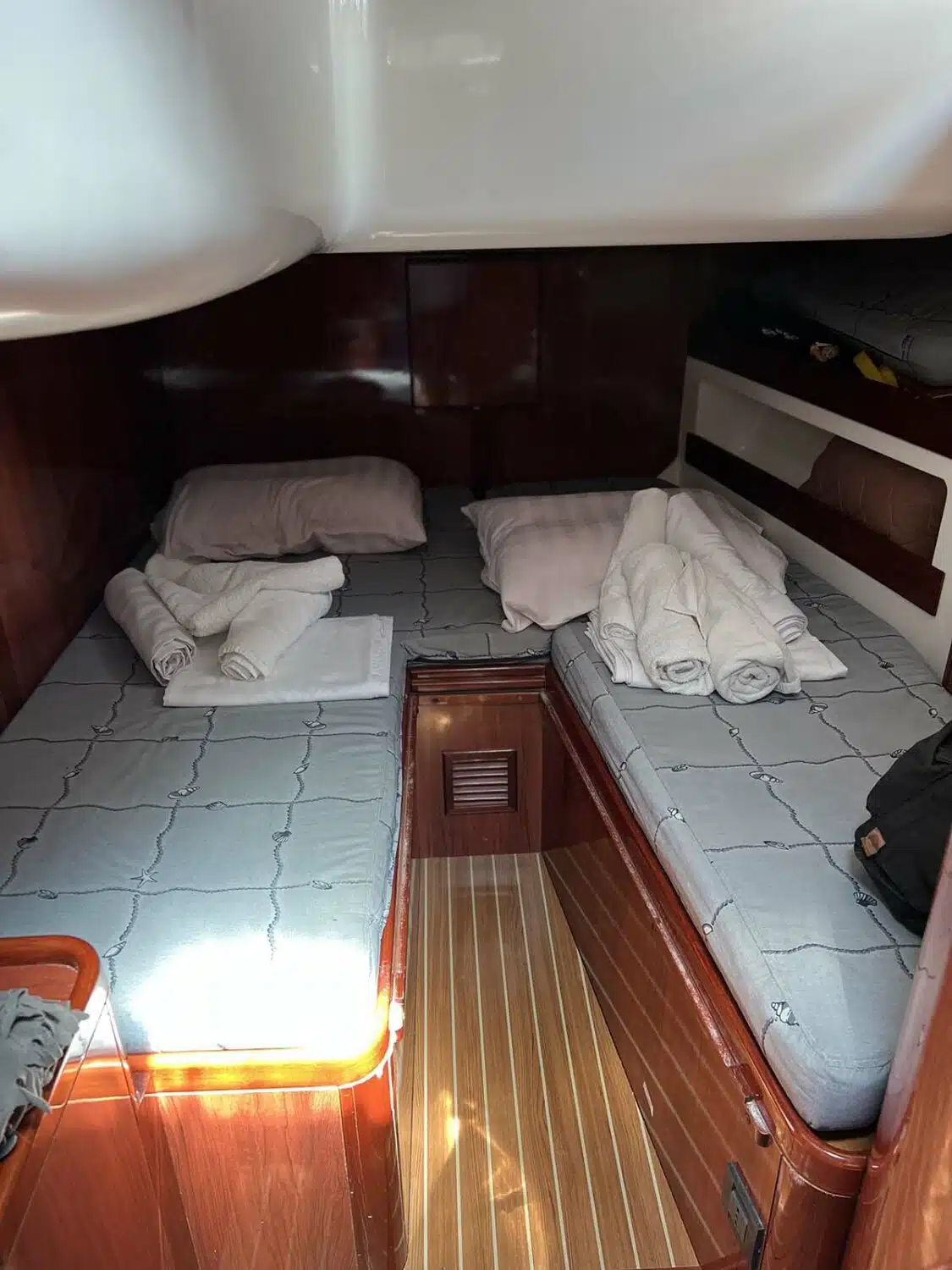 As you'd expect on a yacht, accommodation is in the form of cabins.
If you're travelling alone, unless you opt to pay the single occupancy fee, you'll have to bunk with someone of the same sex in a twin or shared double, which is pretty standard. The rooms are small, but not unbearably cramped.
I ended up sharing a double with a cabin mate (hi, Larissa!). She was a fabulous roommate throughout our stay, and it was lovely sharing the room with her, so I've got no complaints.
However, I hadn't really expected to share a double bed with (lovely as she was) a stranger.
I think G Adventures should really mention this front and centre when discussing accommodation in their outline.
Would I have still booked the trip? Sure, but it would have saved the awkward moment where we both looked at the bed in vague horror as we mentally navigated the idea of sharing it for nine nights.
Thankfully, we managed to get through the week without any accidental "hitting the other person in the face whilst turning over in our sleep" incidents, but I can't imagine it would be much fun to end up sleeping on the same bed as someone you didn't get on that well with.
The beds are smaller than your standard size, at 1.8 metres (6 feet) long. It didn't bother me much, but if you're a bit taller, this may be a slight issue. If you need some more space, you can always sleep on deck.
See more details about the yacht on the G Adventures site
The Crew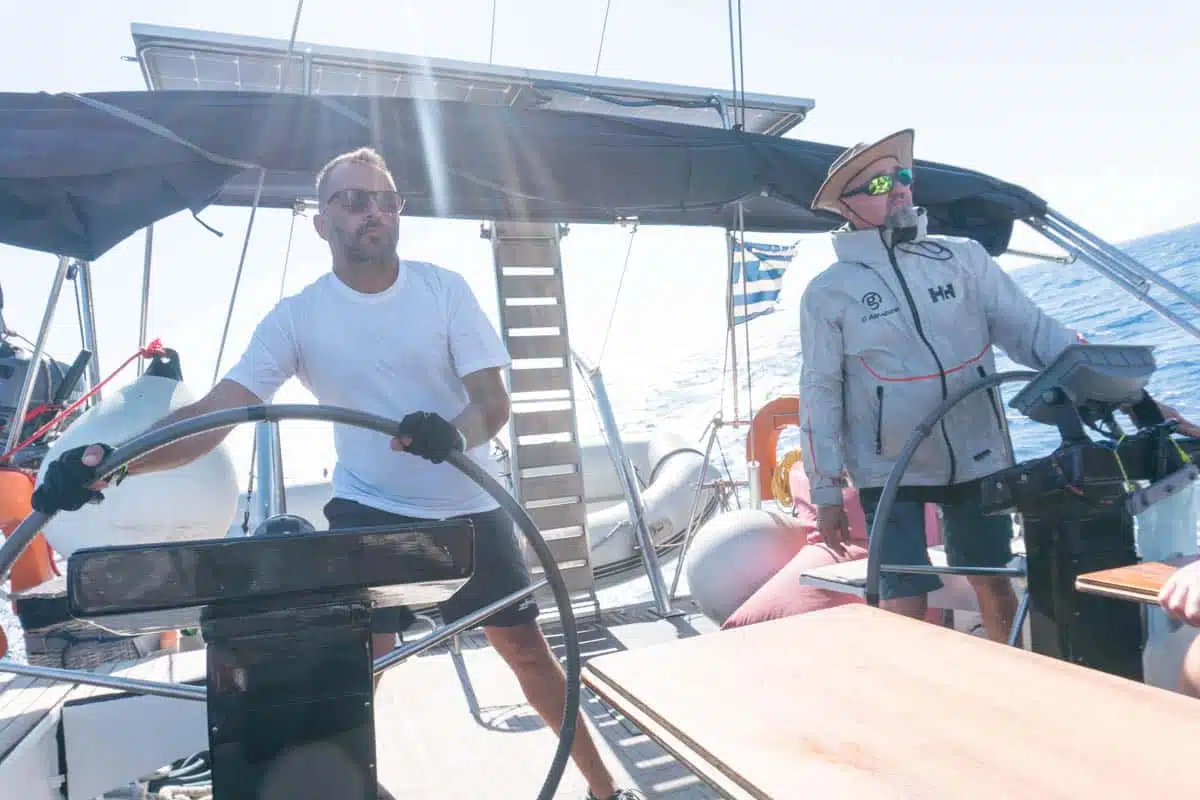 Now, it kind of goes without saying that the crew can seriously make or break your trip.
Our skipper and CEO (Chief Experience Officer), Phil, was brilliant and deserves applause.
It's a challenging feat to juggle the practicalities of being a skipper and the role of G Adventures CEO, but he pulled it off amazingly. He was full of energy and had an infectious attitude that helped to bring the group together.
In fact, Phil was really what made the trip – having him in our back pocket was a little bit like having a secret Cyclades sat nav.
He knew the islands like the back of his hand and was always on board with a suggestion or two that allowed us to explore all the hidden spots usually missed by tourists.
One of the real bonuses was that Phil was also open to hearing what the group wanted to see and do and tailored our trip to these details.
This is no small feat considering we were a group of eight, and he had to combine our suggestions with the sailing conditions. You can never please everyone all the time, but he struck a great balance.
That's all before you consider the actual sailing of the yacht – sometimes in some pretty choppy conditions (turns out August is peak time for the Meltemi – the summer winds that buffet the Cyclades each year).
Final Thoughts: So Should You Book Your G Adventures Greece Boat Tour?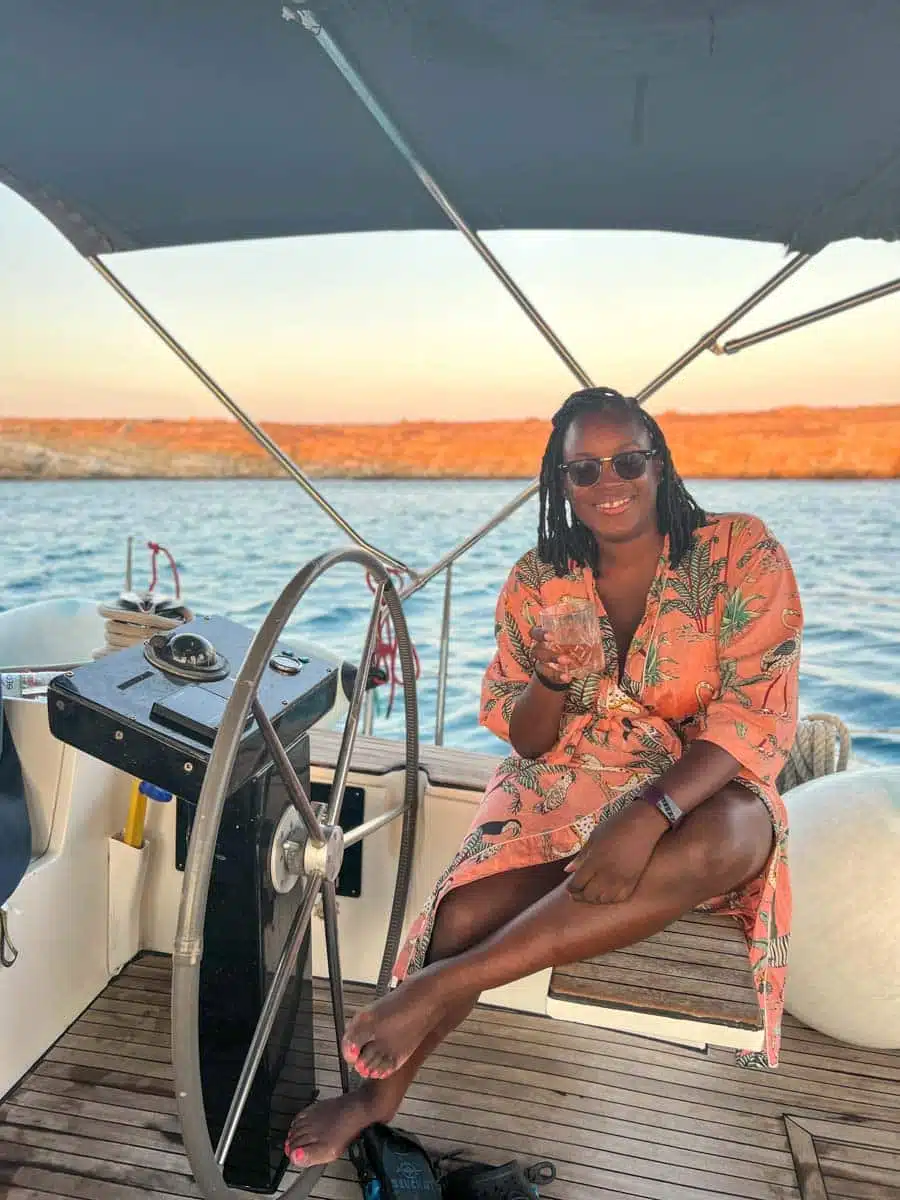 There you have it, folks— my entire experience on the G Adventures Sailing Tour in Greece from start to finish.
Should you book your G Adventures sailing tour?
Yes, If you love venturing off the beaten path, getting to know a bunch of new people and forging your way across the high seas, it's a winner.
Yes, you'll have to share a cabin and no, you won't get to set your own itinerary but trust me when I say that you ultimately won't care.
Book Your G Adventures Greece Sailing Trip
G Adventures Sailing Greece Review: Read Next