Looking for a brand new travel backpack? Here's why you should (or should not) consider the Tropicfeel Shell.
I've gone through a fair few backpacks in my time as a traveller, so I totally understand the importance of comfort, style and practicality. Oh and price is hella important, too.
Tropicfeel is a brand that I love – they made waves in the world of travel in 2018. Their Kickstarter campaign to create the best travel shoe quickly became the platform's most successful shoe campaign.
Since then, they have launched more all-terrain sneakers, backpacks, clothing and accessories. The Tropicfeel Shell is one of four available backpacks.
While it is pretty pricey for a bag, frequent travellers will surely enjoy its versatility and additional accessories. Plus, this customisable luggage pairs really well with a pair of Tropicfeel shoes.
Let's dive into the details in this Tropicfeel backpack review.
Tropicfeel Shell Review: At a Glance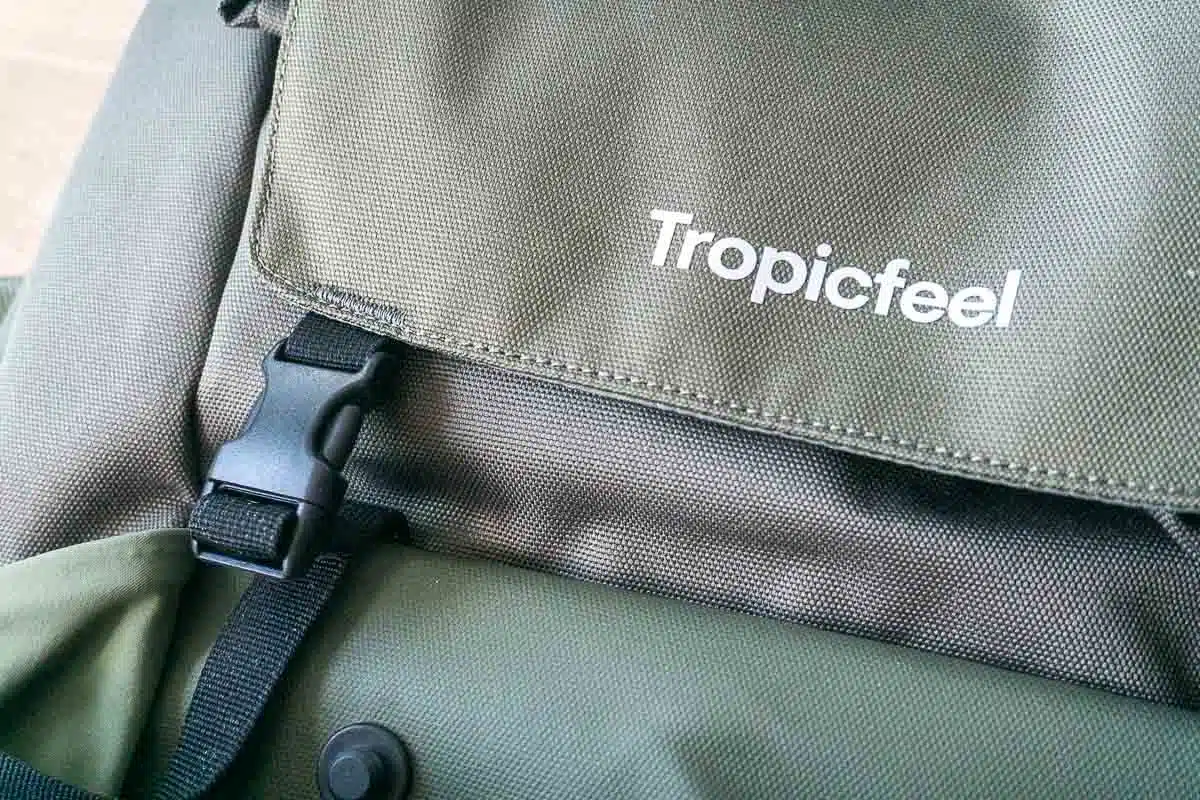 Accommodating 22 – 40 litres of contents and available in three colours, the Tropicfeel Shell truly shines in its versatility.
This bag is certainly a competitor in the market of travel backpacks. However, the one (major, IMHO) caveat of this bag is that you'll need to purchase additional accessories for it to reach its full potential.
It's no doubt that with the accessories, the Tropicfeel Shell Backpack is a valuable asset to globe trekkers – but do I think there are cheaper alternatives on the market that are just as great? Totally.
Check Prices for Tropicfeel Shell Backpack on the Tropicfeel Store
Tropicfeel Shell Backpack Review: In Detail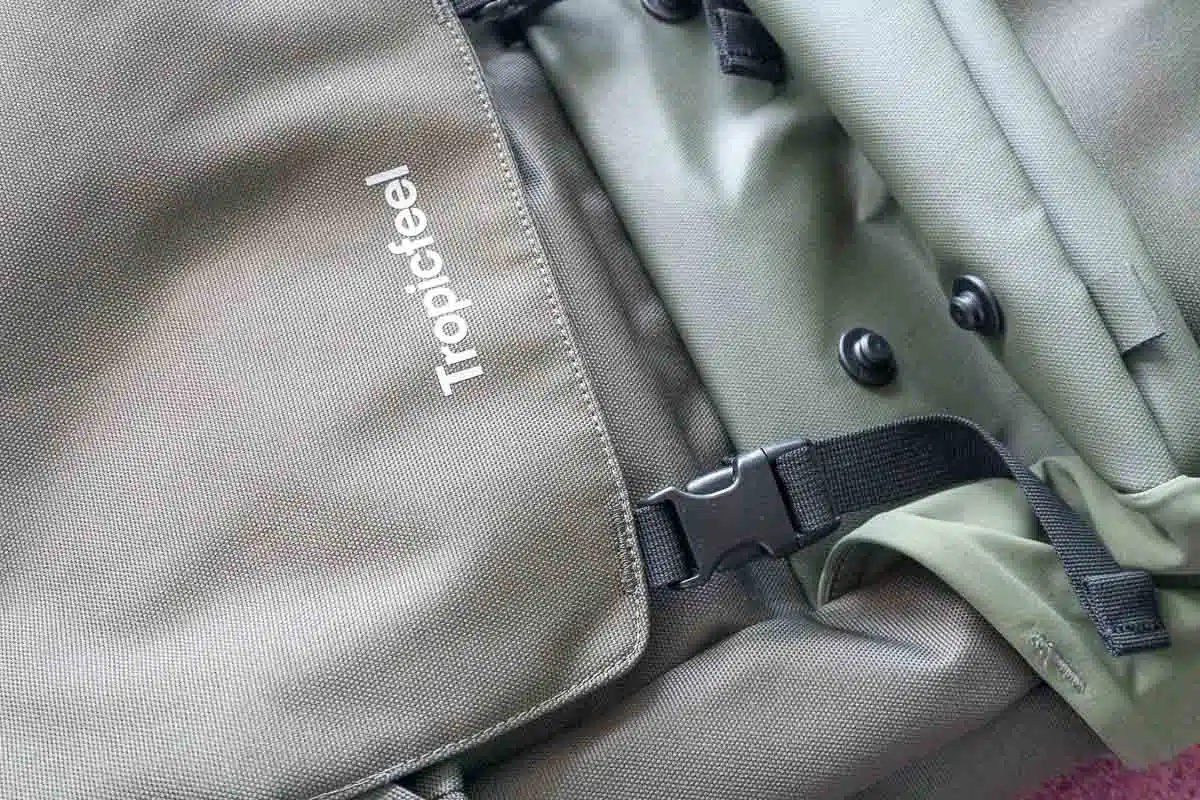 Buying luggage, or anything for that matter, is tricky without knowing the details. Having ticked off more than a couple of places on my travel bucket list, I know that there are certain features that like-minded voyagers appreciate.
Let's take a look at some Tropicfeel Shell highlights.
Versatile Design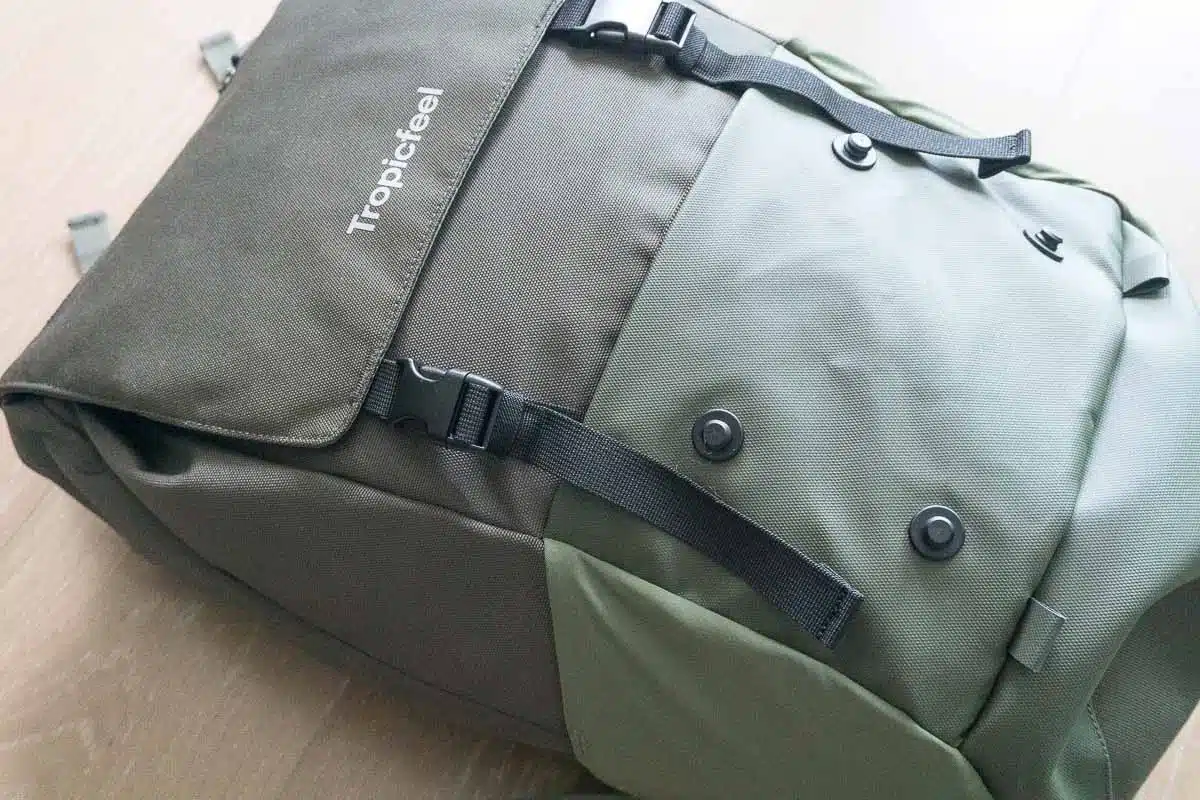 Often, travel backpacks look bulky and unattractive, which hinders use in city environments. So I love that Tropicfeel's Shell backpack suits many scenarios. Tropicfeel created the Shell to function as a modern traveller's backpack and an everyday urban bag.
The Tropicfeel Shell features a built-in padded laptop compartment, which fits up to a 17" device, and two zip compartments for tech accessories. Paired with its waterproof exterior, the Shell is especially great for commuting through the city, despite the weather.
When expanded to its full 40-litre capacity, the Tropicfeel Shell size is perfect for weekends away or outdoor adventures. It's also helpful that the bag's exterior is tough enough to handle adventurous undertakings.
Whether you're trekking through the urban jungle or summiting peaks, the ergonomic back panel offers fantastic lumbar and scapular support to avoid backpack-related pain.
Sustainable & Strong Construction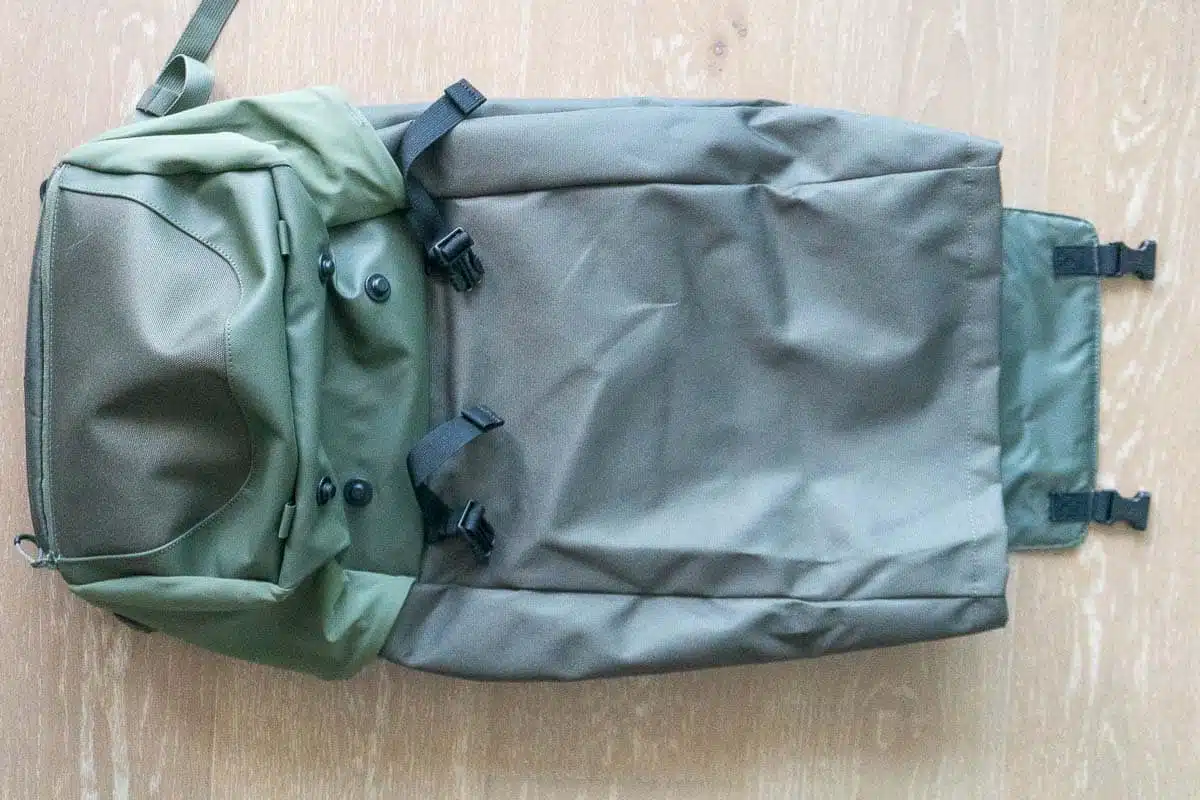 This bag's earth-conscious and sturdy construction provides a little relief from its price. Tropicfeel created the Shell using premium recycled nylon and polyester. The bag's exterior is weatherproof and takes on rain or shine with ease.
Another handy feature is the sealed YKK metal zippers to keep your contents secure and safe from moisture and dust. YKK offers excellent fastening quality around the world. In fact, many top brands use YKK zips.
The Tropicfeel Shell is also pretty easy to clean. You can wipe your backpack with a damp cloth to make it look brand new.
Customisation
In essence, without accessories, the Tropicfeel Shell is just that: A shell. This is undoubtedly an advantage to individuals who don't appreciate paying for features they won't use. Tropicfeel offers a variety of accessories to pair with the backpack.
I love that you can choose the features that best accommodate your travel gear essentials.
That said, it does mean you'll have to fork up a little more cash to enjoy a customised bag. Available add-ons include a toiletry pouch, tech pouch and camera cube, which all clip onto the bag's exterior.
The most valuable extra is the Wardrobe. This internal organiser optimises your bag's inner space, offering a segmented space for clothing. The Wardrobe compresses to fit more into your bag and can function as a mini wardrobe outside of the backpack.
I'm not really a fan of the fact that whenever you see advertisements for the Tropicfeel Shell, they include the wardrobe as if it comes with the bag, rather than highlighting that actually, you have to pay more for it.
The Wardrobe is easily the thing that distinguishes this bag from other travel backpacks, and I think it should come with it included – but others who might want the other accessories as a priority may disagree.
The Shell is available in Olive (pictured), black and chocolate-red.
Accessibility & Function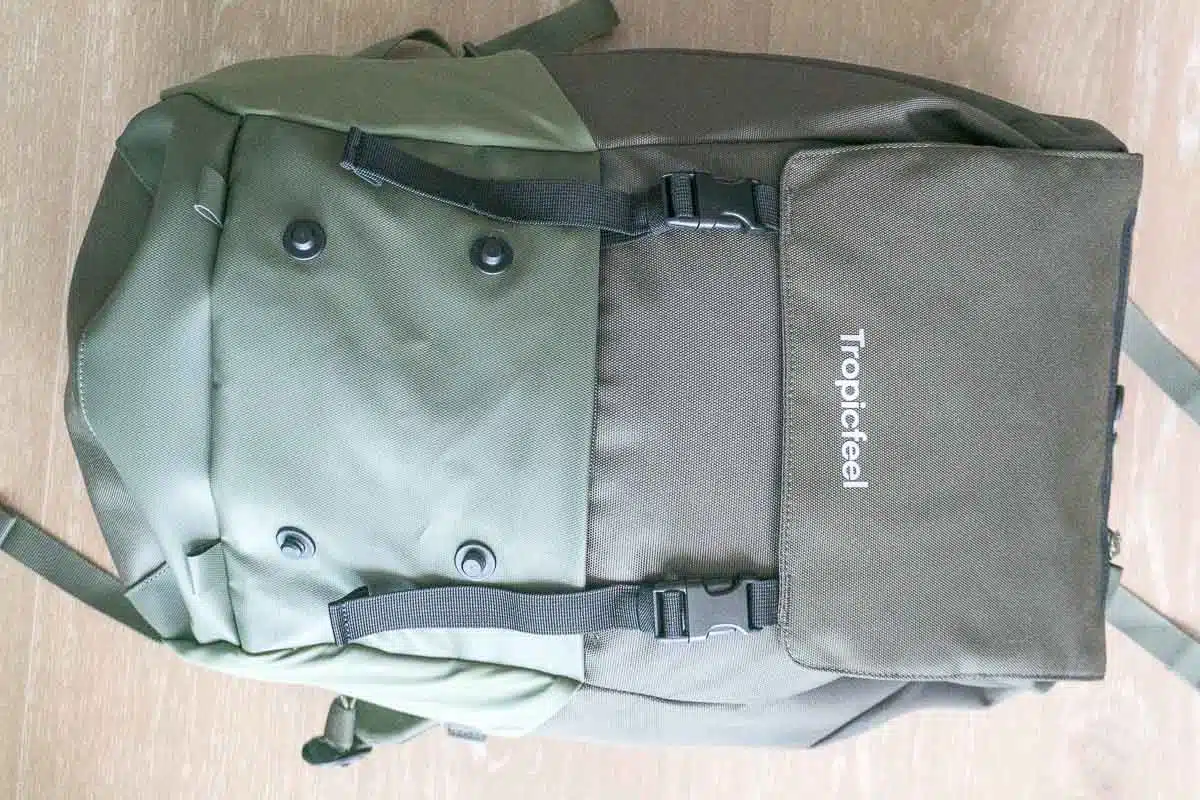 Adding to its versatility, the Tropicfeel Shell offers a clamshell opening for easy access to the bag's interior. This is especially handy if you've got the Wardrobe add-on, as you can quickly find clothing without rummaging through the bag. For day-to-day use, the top access is super convenient.
As I mentioned earlier, this backpack has pretty neat back support. It also features waist and chest straps to distribute the Tropicfeel Shell's weight and an offload mechanism to really take the weight off your shoulders.
However, you can also carry your Tropicfeel Shell by the side or top handle. This is fantastic if you're using the bag as a carry-on or storing it during a commute. The Tropicfeel Shell dimensions allow for cabin-friendly usage.
Tropicfeel's accessories clip on easily to the bag's exterior. But, you don't have to worry about anything falling off. A Magnetic Fidlock secures all exterior add-ons, so you'll have to lift the security tab to release them.
Price
On its own, the Tropicfeel Shell is a relatively decent yet pricey backpack, with some handy features like the kangaroo pouch, full back opening and internal space optimisation.
However, it's only when you purchase the extra accessories that it really starts to shine, which is quite a shame as it already checks in at £179 for the backpack alone.
I know I've mentioned price a few times in this Tropicfeel Shell backpack review, but as a traveller and a blogger, price is an essential discussion. If you're looking at the standard form of the Shell backpack, Tropicfeel's price borders on high.
The accessories are valuable and practical editions for most travellers but also come with a hefty price tag. I'd recommend adding at least two accessories to your Shell backpack to make the most of this product, the Wardrobe and whichever other add-on suits you.
Technical Details
Technical details, like the Tropicfeel Shell weight and dimensions, are necessary to note before purchasing your next travel companion. To simplify the Tropicfeel Shell reviews, here's a table with everything you need to know.
The Tropicfeel Shell is only available in one size. It extends from a compressed 22l backpack to a fully extended 40l backpack. At full 40l capacity, the Shell is not carry-on approved.
Capacity
Size
Weight
Materials
Colour
22 litres(Compressed)
H = 51 cmW = 30 cmD = 19 cm
1,5 kg
100 % recycled Nylon
60% recycled polyester
Steel YKK zips
All Black
Clover Green
Chocolate Red
30 litres(Standard)
H = 51 cmW = 30 cmD = 19 cm
1,5 kg
As above
As above
40 litres(Expanded)
H = 60 cmW = 30 cmD = 23 cm
1,5 kg
As above
As above
Note: The Tropicfeel Shell includes a two-year warranty. This warranty covers manufacturing and material defects and does not cover wear and tear.
Practical Tips for Using the Tropicfeel Shell
Here are some practical tips to help you make the most of your Tropicfeel Shell.
Which Accessories are Best?
The great thing about this bag is that it offers a degree of customisation through accessories (despite me being somewhat sceptical about having to pay for them). So, the best accessories will vary according to what type of traveller you are.
For digital nomads, the Fidlock Pouch and Camera Cube are great add-ons to consider. But, other travellers may benefit from the Fidlock Toiletry Pouch, which detaches and conveniently doubles as a caddy.
Overall, the most valuable accessory to every voyager is the Wardrobe.
Keep it Carry-On Approved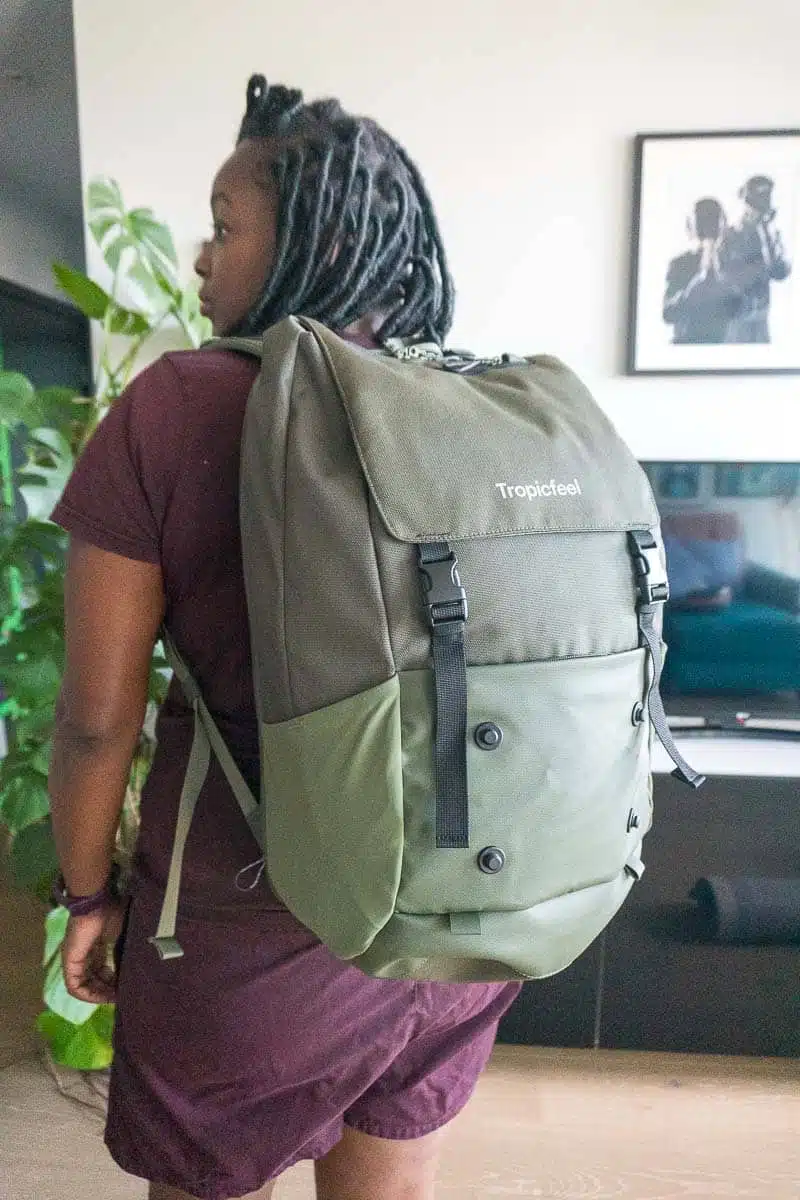 To avoid having to check in your Shell backpack, keep it to the compressed 20-litre capacity or standard 30-litre capacity. At its fully extended 40-litre capacity, this Tropicfeel bag is too large to carry on.
Hidden Features
There are a few hidden features on the Shell. Waist straps tuck away neatly in the bag's back panel – and using this nifty feature will improve your experience if you're travelling at full capacity.
The back panel also has a hidden zip pocket, which I find convenient for carrying passports and money.
You'll also see a handy kangaroo pouch located at the bottom of the bag; this is the perfect spot for carrying an extra pair of shoes or anything you want to keep separate. It holds snacks well too.
Another excellent feature is the cargo straps. Whether you're transporting a sleeping bag or a yoga mat, the secure straps are a useful addition.
Packing Cubes
The Wardrobe is undoubtedly a great accessory to have. But, it's also expensive.
Packing cubes do a great job of organising and optimising internal space, just like the Wardrobe. Of course, you won't be able to hang them up like Tropicfeel's original add-on.
So, Should You Buy The Tropicfeel Shell Travel Backpack?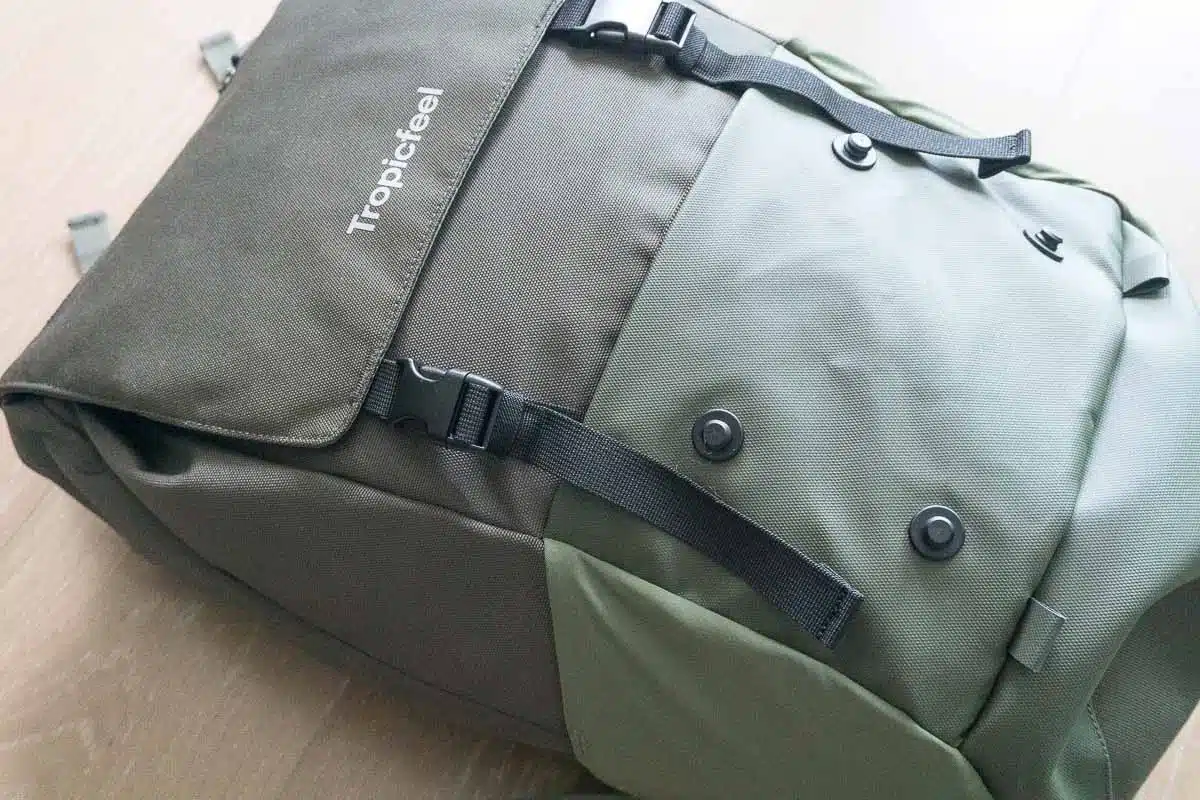 Let me level with you. The Tropicfeel Shell is a great backpack – it has handy accessories (though, some of these should come as standard with the bag) and is rather stylish.
My main bugbear with this bag is the high price point. It doesn't feel spectacularly well-made in the way that you would expect for this price tag.
That said, if you can afford the splurge, then go for it. You won't be disappointed.  If not, it doesn't really stand out from Tropicfeel Shell alternatives in the backpack market like the Farpoint 40.
Tropicfeel Shell Review: Read More Travel Gear Guides