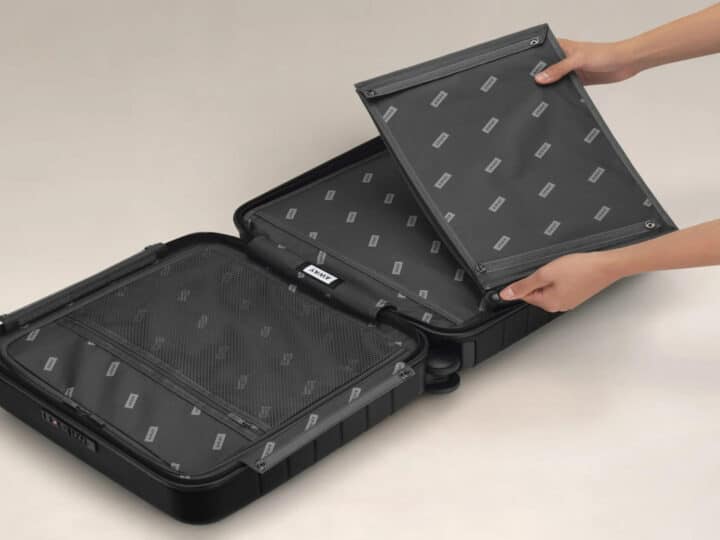 Looking for the perfect underseat carry-on to keep your belongings within reach on a long flight? Here is my selection of the best under-seat bags on the market.
Whether you're jetting off across the world or visiting your neighbouring city, climbing over other passengers to get to your carry-on luggage is a nightmare.
Of course, you can store your hand luggage under your seat instead. But, with so many restrictions and airline-specific rules, finding the best underseat luggage is challenging to say the least.
I've done a good amount of flying and been through my fair share of travel gear essentials. Over time, I've come up with a list of the best under-the-seat luggage for long and short flights.
These are the ones that make the cut…
Best Underseat Luggage: At a Glance
The Best Underseat Luggage
Away The Everywhere Bag – Best Underseat Luggage
Price guide: ££
A fantastic under-the-seat carry-on from Away, The Everywhere Bag from Away is, in essence, a modern take on the classic tote bag. This is a bag built for simplicity and function. But, don't get me wrong, The Everywhere Bag is nowhere near basic.
With both the exterior and interior made from nylon, this bag is water and dust-resistant. The main interior compartment offers enough space to pack for a weekend away. It also has handy internal pockets for small items and electronics and a pouch for your water bottle.
Overall, The Everywhere bag has a 20-litre capacity. This includes the outer pocket for laptops up to 15". If that isn't enough space for you, you might like the Medium Everywhere Bag, which also fits under the seat if you don't pack it too much.
Although it doesn't have a combination lock, it does feature a magnetic locking zipper to keep your devices secure. While on the move, you can use the bag's trolley sleeve to secure it to your rolling suitcase.
Pros
Cons
– Simple, two-compartment design
– Magnetic locking zipper
– Water and dust resistant nylon exterior
– Trolley sleeve
– Limited internal space
– No combination lock
Tropicfeel Shell – Best Underseat Backpack
Price guide: £££
Tropicfeel has been making waves in the world of luggage after dominating the market with their Tropicfeel travel shoes. For travellers who want to do a little bit of everything, the Tropicfeel Shell might just become your favourite travel companion.
What I really love about this backpack is its adaptability.If you're anything like me, who isn't afraid of hardcore exploring but also enjoys strolling through a new city, the Shell's quick shift between 22 and 40-litre capacity will blow you away.
So, while at full capacity, you may have to stick it in the overhead, at 22 litres, you can easily slot it under your seat.
The standard Tropicfeel Shell offers the ideal space for day-to-day touring without all the bells and whistles. With a 'consumer-designed' interior, it features a padded pocket to fit a standard laptop and clamshell and top access to the main compartment, making it super-easy to find what you need.
You'll also find a couple of zip pockets inside the bag for storing smaller electronics or accessories. Of course, the Shell is water resistant and made from durable, recycled polyester and nylon — and features steel zips that firmly enclose the bag's contents.
The Tropicfeel Shell isn't just an underseat carry-on luggage. It's versatile and customisable to ensure real value for money. While the standard 22-litre bag offers more than enough features, I'd recommend getting the wardrobe accessory.
The wardrobe allows you to optimise internal space without compromising on what you pack. Oh, there's also a toiletry bag accessory which is very handy and easily detachable.
The only drawback I have found with this bag is that it is very overpriced for what it offers. Yes, it's a great accessory that's not only stylish but also practical – but is it groundbreaking and worth the splurge? Maybe not.
Pros
Cons
– Customisable and expandable
– Very durable
– Suitable for electronics
– Stylish and comfortable
– Overpriced
– Accessories sold separately
Nomad Lane Bento Bag – Best Underseat Personal Item Bag
Price guide: £££
The Nomad Lane Bento Bag is the ultimate earth-conscious underseat bag. While it might look like a classic travel companion, the Bento Bag conveniently packs like a suitcase and offers just the right amount of internal pockets.
The bag's exterior, made from vegan leather, is not only stylish and earth-conscious, but it's also resistant to splashes and scrapes. The Bento Bag is comfortable enough to carry just about everywhere and easy to wipe down when you get home.
Unlike many bags on the market, the Bento Bag is for flying. It's easy and accessible compartments make getting through the airport a breeze, and once you're in your seat, your belongings are still within arm's reach.
These days, most people travel with electronics, and the Bento Bag does a great job of keeping them safe. Your laptop will fit snugly into the centre compartment, which is lightly padded but uses the bag's contents for added protection and to maximise packing space.
This under-seat carry-on has a few bonuses that really make it a worthwhile purchase. You'll find an easy-access, airport security-approved charging port and a trolley sleeve that secures your bag onto your suitcase's handle. The bag also has a detachable shoulder strap, shoe pouches, a toiletry bag, and a tech pouch.
Pros
Cons
– Modern, lightweight, and durable
– Ideal under seat luggage size
– Made from vegan leather
– Built-in charging port
– Limited colours available
– Relatively pricey
Away The Daily Carry-on with Pocket – Best Hardshell Underseat Carry-on
Price guide: £££
No, this isn't an item from the future. It's just Away's Daily Carry-on bag with a pocket. This ultra-sleek piece of underseat luggage with wheels does precisely what it has to do.
The Daily Carry-on keeps your belongings safe and accessible throughout your journey. It has a polycarbonate hard shell exterior, a built-in combination lock, 360° spinning wheels and a compartmented interior. I especially found the exterior pouch for electronics, documents, or magazines a nifty addition.
The polycarbonate shell is not only resistant to dents and scrapes, but it's also extremely light and easy to clean.
This bag is thoughtfully designed by people who know how to travel, and you can see that in the details. The compartmented interior allows you to separate clean and dirty clothes, shoes, and other travel necessities.
I really like that although The Daily Carry-on carries clothes and personal items, they neatly zip away. So, you won't have to divulge your secrets to your cabin neighbour. It also features an internal compression system that helps to optimise your bag's internal capacity.
The combination lock is a great feature, in my opinion. You won't find this on many underseat suitcases. But, I highly recommend it for solo travellers. With this built-in lock, you don't have to worry about leaving your valuables at your seat during long flights.
Pros
Cons
– Hardshell case protects personal items
– Lightweight and durable
– Minimal external features and sleek minimalist design
– Built-in combination lock
– The laptop sleeve only accommodates up to 13'' devices
-The external sleeve isn't hard shell protected
Delsey Paris Chatelet 2.0 Softside – Best Aesthetic Underseat Luggage
Price guide: £££
Ideal for a weekend away or a quick business trip, the Delsey Paris Chatelet 2.0 Softside is a functional statement piece. Oh, and it's earth-conscious too!
Although you probably can't tell, the Chatelet 2.0 Softside consists of vegan leather and recycled water bottles. Besides that, this bag is sturdy and reliable. Its strong exterior protects the bag from wear and tear and makes it easy to clean.
Above all, it offers generous space and convenient access to your belongings.
I especially like the hidden pocket at the front, which is ideal for cables, earphones, or even snacks. With convenience and style in mind, the bag's handle neatly collapses into a zip pocket.
Pros
Cons
– Stylish and durable
– Earth-conscious
– Trolley sleeve
– Hidden front compartment
– Highly-priced
– No internal compartments
Samsonite Pro Briefcase – Best Underseat Luggage for Business
Price guide: £££
Samsonite is possibly the best-known brand when it comes to luggage. If you're travelling for business and looking for a professional under-seat bag, the Samsonite Pro Double Compartment Briefcase might tick off all the right boxes.
Although it's called the Double Compartment Briefcase, it actually features three compartments; if you're counting the front space. The compartmented design makes accessing things easy and keeps documents and devices safe while you're on the go.
In my opinion, that's what makes it particularly suited for business travel. The front compartment is perfect for passports, diaries, pens, and small electronics. In the other section, you can easily store larger items like a tablet, files, books, or document folders.
The bag's last compartment is large enough to fit a 15.6" laptop. It's also well padded and has an extra interior strap to keep your device firmly secured. Equipped with a detachable shoulder strap and a trolley sleeve, the Samsonite Pro Briefcase is comfortable to carry around.
Pros
Cons
– Professional and functional
– Keeps electronics secureCompartmented for easy access
– Integrated USB charger
– No built-in lock
– No room for clothing or personal items
Thule Crossover 2 – Best Convertible Underseat Carry-on
Price guide: ££
The Thule Crossover 2 is a functional backpack that conveniently converts to handheld luggage. This bag is durable enough to withstand the challenges of travelling. While this bag is a little heavier than most carry-ons, its sturdy build is to blame, so it's hardly a downfall.
This is undoubtedly the best underseat carry-on for rough and tough touring. Overall i mostly appreciate the Crossover 2's crush-resistant compartment to protect valuables and gadgets.
But, the bag's main compartment comfortably fits a weekend's worth of clothing and has segmented interior sections for shoes, toiletries, or dirty laundry, which are welcome benefits too.
The Crossover 2's padded storage panel accommodates laptops up to 15.6". For extra protection, this bag also includes RFID blocking technology.
Pros
Cons
– Very sturdy and durable
– RFID protection
– Crush-resistant compartment
– Heavier than other carry-ons
– Can be a little bulky
Travelpro Crew Versapack Deluxe Tote – Best Damage Resistant Underseat Bag
Price guide: ££
If you're looking for an affordable and spacious underseat carry-on bag, you can't go wrong with the Travelpro Crew Versapack Deluxe Tote. Although it's a little on the bulky side and isn't as flattering as other modern carry-ons, this bag is almost indestructible.
Made from ballistic nylon, the Crew Versapack is more than capable of handling everyday use and travel. This bag also offers many compartments, which makes everything accessible and organised.
While it doesn't have an exclusive space for laptops, small tablets and other gadgets fit nicely into the front pocket. For this reason and its durability, the Crew Versapack will quickly become your trusted travel companion, especially if you're a frequent flyer.
Pros
Cons
– Solid and durable design
– Limited lifetime warranty included
– Many accessible compartments
– Trolley sleeve and shoulder strap included
– Bulky design
– No feet at the bottom
Best Under seat Luggage Guide – Things to Consider
Although there are general size guidelines for underseat luggage (45.7cm x 35.5cm x 20.3cm) the airline and cabin crew ultimately decide whether a bag is appropriate for underseat storage.
If you're a solo traveller, consider a bag with a built-in lock or purchase a combination bag lock.
A hard shell bag might suit you best if you prioritise protection over accessibility. But, they offer less expandable space.
Summary of Best Under-seat Luggage
Overall, the best under-the-seat carry-on for you depends on your lifestyle and the destinations on your travel bucket list. Of course, a few things would benefit any traveller, like expandable and compartmented interior space or a lightweight design and durable exterior.
With that in mind, this list should give you a few solid options. But, whether you need space, flexibility or durability, the Tropicfeel Shell is the ultimate underseat bag for 2022.
If you'd find more value in a bag with some urban charm and travel hardiness, you can't go wrong with the Thule Crossover 2.
Wherever your travels take you, hopefully this list will help you find the best cabin luggage. Enjoy!
Best Underseat Luggage: Read More Travel Gear Guides