Ready for an adventure around Mexico? Of course, you are. Don't miss this perfect Mexico itinerary.
My five-week trip to Mexico left me a little bit dazed, to be honest.
It was a riot of colour, a sensory assault that left me reeling – not to mention with a jam-packed memory card from trying to capture a fraction of my hugely positive experience.
I spent two and a half weeks on the road discovering different parts of Mexico.
Along the way, I stopped off in Tulum, Merida, Campeche, San Cristóbal de las Casas, Oaxaca and Mexico City before whizzing back to the Yucatan Peninsula to catch my flight from Cancun.
That's a whopping 3,420 km on the road.
In fact, my only regret after exploring and eating my way around some of Mexico's incredible destinations? That I didn't have even more time.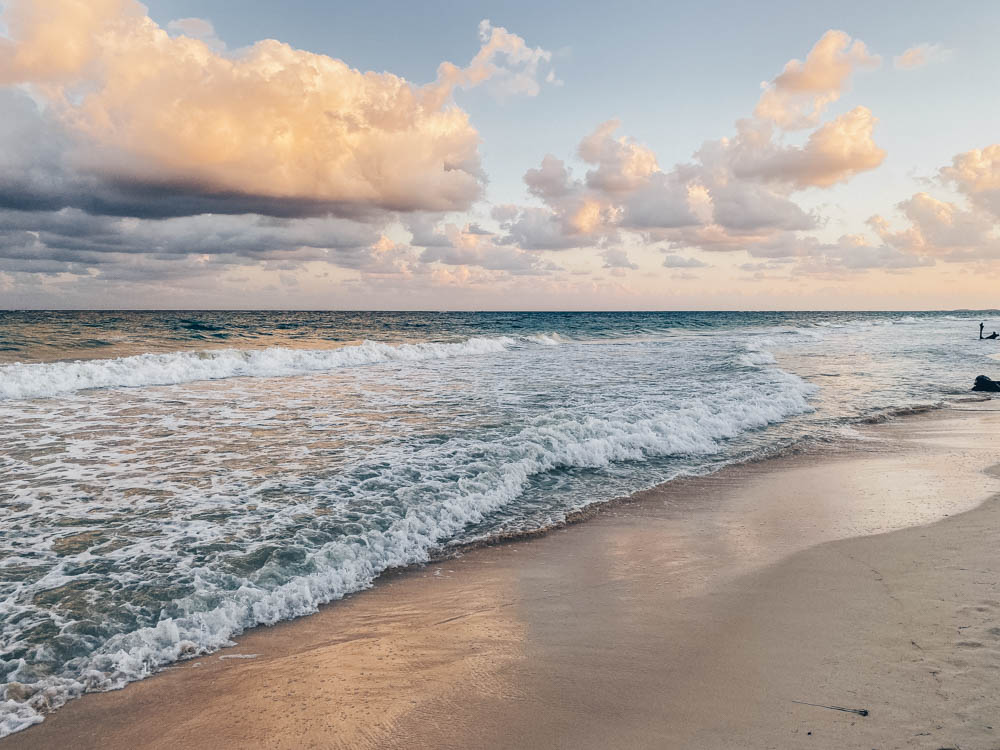 That aside, my trip to Mexico was brilliant – this guide will walk you through my two-and-a-half-week itinerary with suggested stops and must-see spots to help you plan your own amazing trip.
I'll warn you – this is a hectic itinerary. If you want to take it slower, I'd suggest choosing 3 destinations you want to see the most and spending more time in each of them.
Either way, this guide should help you plan the perfect Mexico road trip itinerary. Let's go.
Watch my the accompanying video from my Youtube Channel
PS – drop it a subscribe for cool travel tips and inspiration for your next trip!
Handy Tips for Planning Your Mexico Itinerary
Group Tour or Independent Travel?
Whether you take on a group tour or opt to go solo around Mexico is totally up to you. I planned my trip independently, but there are plenty of perks that come with choosing group trips.
There's no denying that opting to travel independently gives you complete flexibility and control in terms of your itinerary – but that can also leave you paralyzed by choice.
If you did want to opt for a group tour, I couldn't recommend G Adventures enough. This tour allows you to explore Mexico City and the Yucatan Peninsula in all it's glory – and the best part is that all the travel is pre-planned for you. No stress, just incredible experiences.
If you're not quite sure that a group tour is for you, I recommend opting for something like this Merida and Tulum tour as part of your journey to give you a taste of the lifestyle.
What to Pack for Your Mexico Itinerary
Mexico's waters are a haven of adventure, and so you'll need to pack a decent swimsuit like this one to make the most of it. Or trunks, if that's more your style.
It's no secret that Mexico is HOT. And it's really not worth the risk of burning, so make sure to pack sunblock, a wide-brimmed hat or a cap, and a pair of polarized sunglasses to protect your peepers.
Do not underestimate how much you'll be walking on your trip – a pair of comfy shoes for exploring ruins and landmarks is a necessity. 
If you're moving around the country a lot, it's a good idea to choose a carry-on backpack that can save you money (and sore shoulders).
Read my guide to Mexico here for more tips on what to pack.
Useful Resources
When planning a Mexico trip, there are a number of useful resources and tools to make your Mexico two week itinerary extra pleasant. These are my top picks:
Skyscanner – The top flight search site. It makes it convenient and affordable to book flights from anywhere in the world.
Booking.com – Search for a wide selection of hotels to suit all budgets. 
Tripadvisor – The best place for real-life restaurant reviews and other tourist's experiences whilst on the go.  
Get Your Guide – Pre-planned tours to make your trip simple. From foodie tours to adventure activities, this should be your first point of call.
Viator – Another great option if you're looking to embark on a group tour during your Mexico adventure. Find great prices for pre-planned tours and trips.
Rentalcars.com – The best place to discover cheap and reliable rental cars, no matter where you are in the world.
Getting Around
In my personal experience, the easiest way to travel around Mexico is via car, mainly because if means that you don't need to rely on timetables to travel around.
If you do decide to hire a car for a Mexico road trip, be sure to take out the full insurance. Hiring cars in Mexico is cheap but it's worth taking out the insurance to cover mishaps like punctures or chipped windscreens or breakdowns. You don't want to be left on the side of the road with no cover to help and huge bills.
If you're not keen on driving, the ADO bus system is extensive and covers all of the destinations I've featured. Buses are clean and comfortable in Mexico and are reliable methods of transport.
This Mexico itinerary is a whirlwind and there are quite a few long days on the road. If you want to take it a lot easier, I'd focus on one area instead, like the Yucatan Peninsula. You could easily spend two weeks in Tulum, Valladolid, Merida and Campeche – a trip that's easy to do via coaches too.
2 Weeks in Mexico Itinerary: The Ultimate Road Trip
Tulum – (Days 1-3)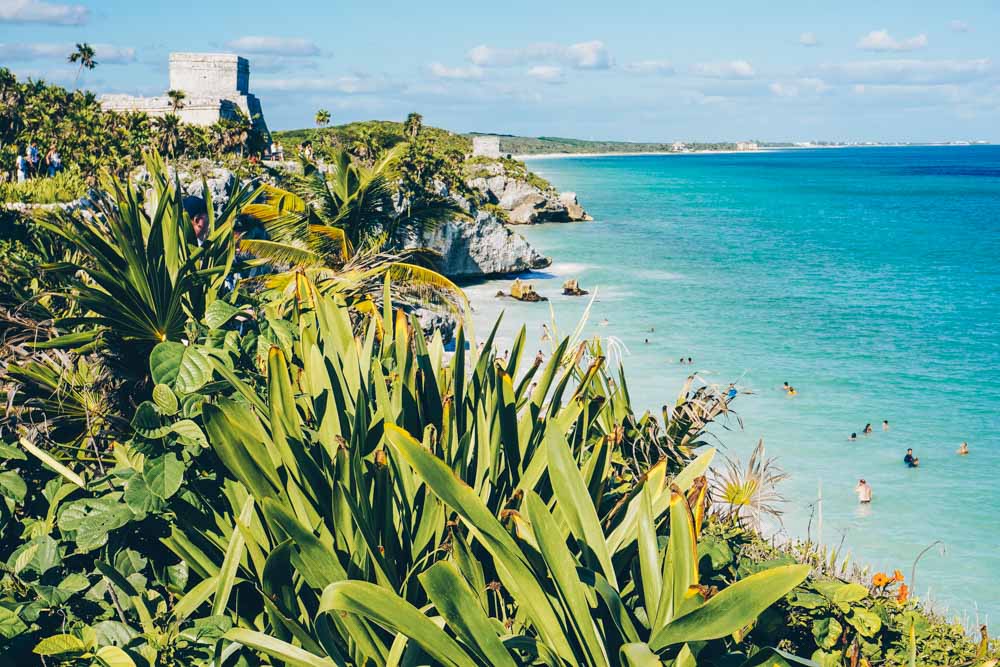 Tulum is one of the places to visit in Riviera Maya. It is Mexico's boho-chic beach paradise. It's a sultry combination of ancient Mayan ruins, gorgeous beaches and laid-back parties under the stars.
Now, Tulum is a bit Marmite – some people totally love the carefree and relaxed atmosphere, while others bemoan days gone by when Tulum was a hidden gem only visited by those in the know.
While those days may be long gone, Tulum still works its magic and I totally fell under its spell.
I won't lie, I came to Tulum for the beaches and cenotes (those are the limestone caverns and swimming holes for which the Yucatan Peninsula is famed).
It only took a couple of days for me to realise there was so much more to it than those two things, so you should really get out and explore while you're there.
Sian Ka'an Nature Reserve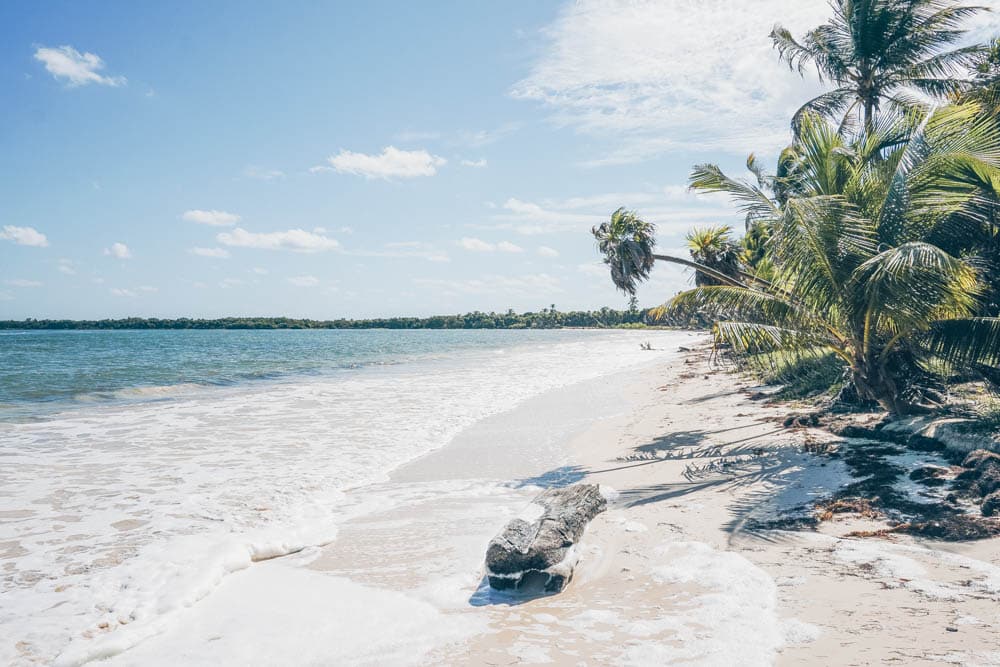 An extensive nature reserve that begins at the end of Tulum beach. Spread out over an area of 2,797 km², the reserve was honestly one of my favourite spots in Tulum.
The pristine beaches are draw enough but if you have enough time, explore the huge coastal lagoons and the marine section of the park where you can often spot several species of dolphins.
Book a tour of Sian Ka'an Nature Reserve
Muyil Ruins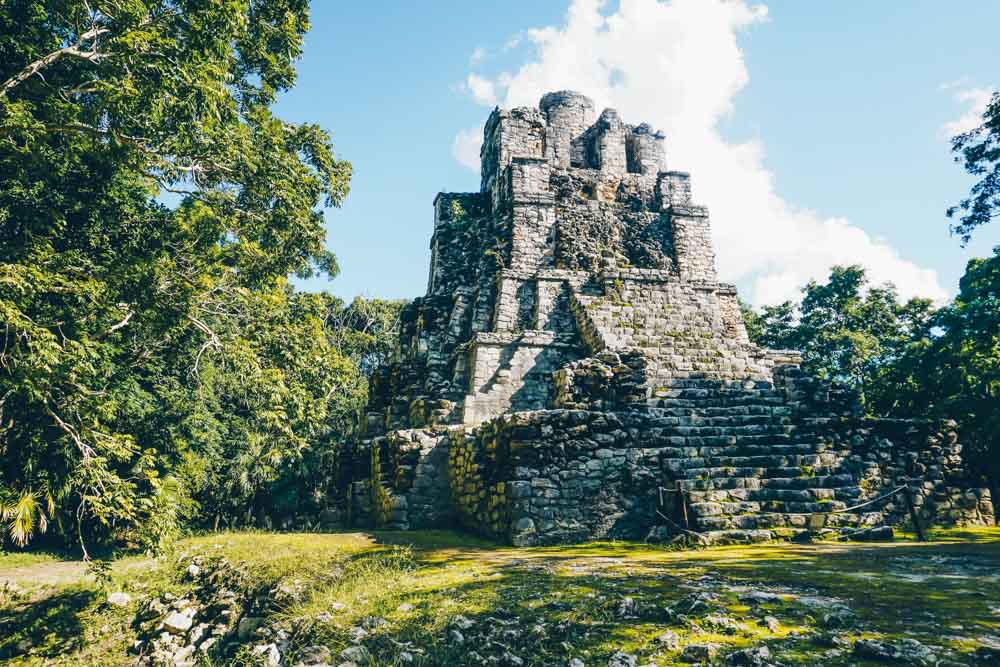 You can go to the other side of Sian Ka'an reserve to see the Muyil Ruins and take a boat ride through the lagoons that form the northern section of Sian Ka'an.
The ruins are all that is left of a Mayan complex that flourished in this spot between 250AD and 1600 when the Spanish conquistadors reached the Yucatan.
Buried amidst the jungle, walking around the site (which is never very busy) is the closest thing to being Lara Croft you'll experience in real life.
Azulik Uh May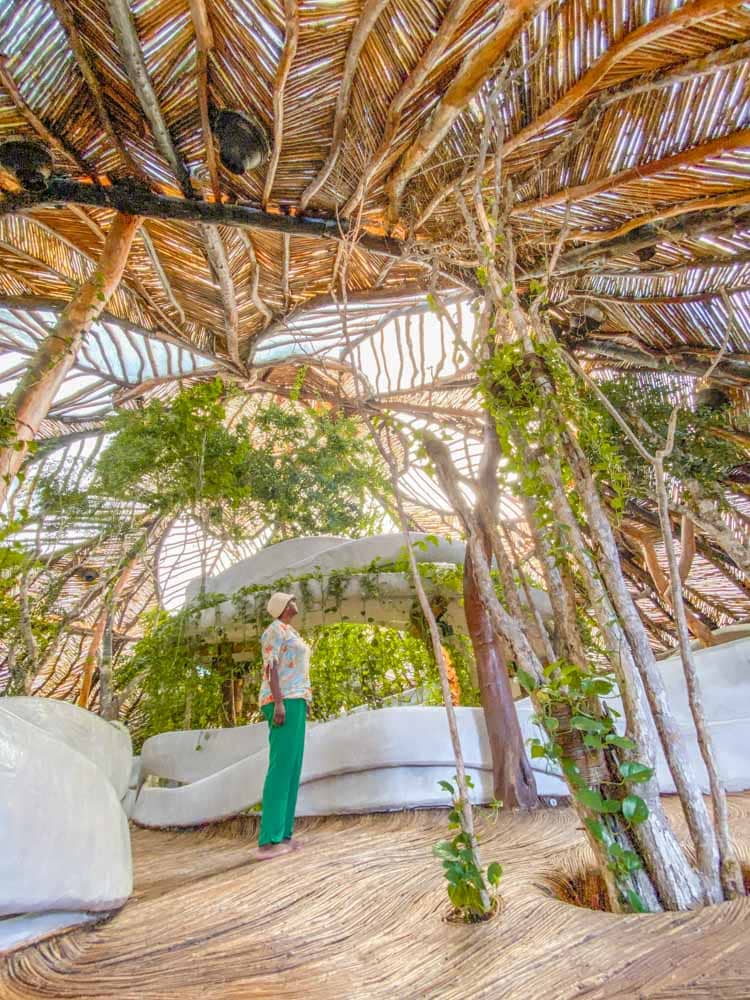 Want to see something completely bonkers (in the very best way?) then you have to see Azulik Uh May. This large-scale art installation is located in the jungle, about a 45 minute drive from Tulum.
The project aims to help connect visitors with the local environment and provide a sense of destination.
Sure, it might sound a bit airy-fairy, but it's an accurate description – the only way to find out what I mean is to go and see it for yourself.
Suggested Stay: Outsite Tulum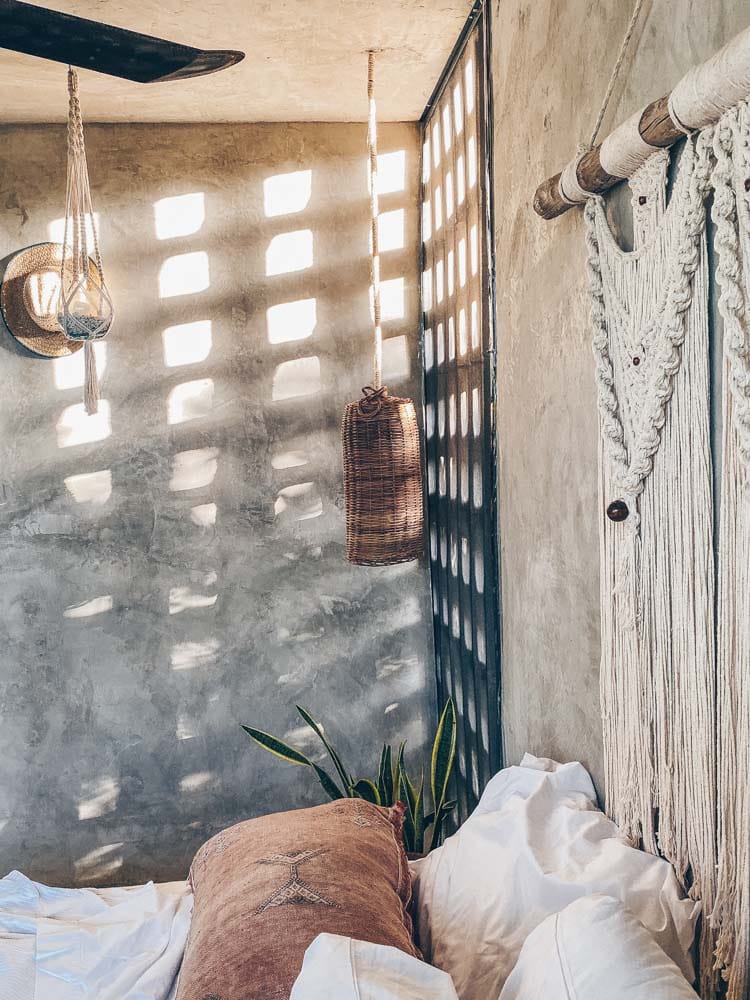 I stayed at the newly-opened Outsite in Tulum for the two weeks I was in Tulum and would recommend it, with a few quibbles.
The rooms are gorgeous – particularly if you're lucky enough to bag one of the ones overlooking the jungle with a private balcony where you can chill with nothing but greenery as far as the eye can see.
My quibbles mainly stemmed from the fact that this is a co-working and co-living space, so it was disappointing that the wifi was pretty bad and the coworking space was not up to scratch.
But as most of you won't need to work during your trip, it's a great value place to stay on Tulum Beach.
Check rates and availability at Outsite Tulum.
I've written a separate article (with an accompanying Youtube video) about my time in Tulum and all the brilliant things I got up to during my time there. Go and check it out.
Merida – (Days 4-6)
Five hours' drive from Tulum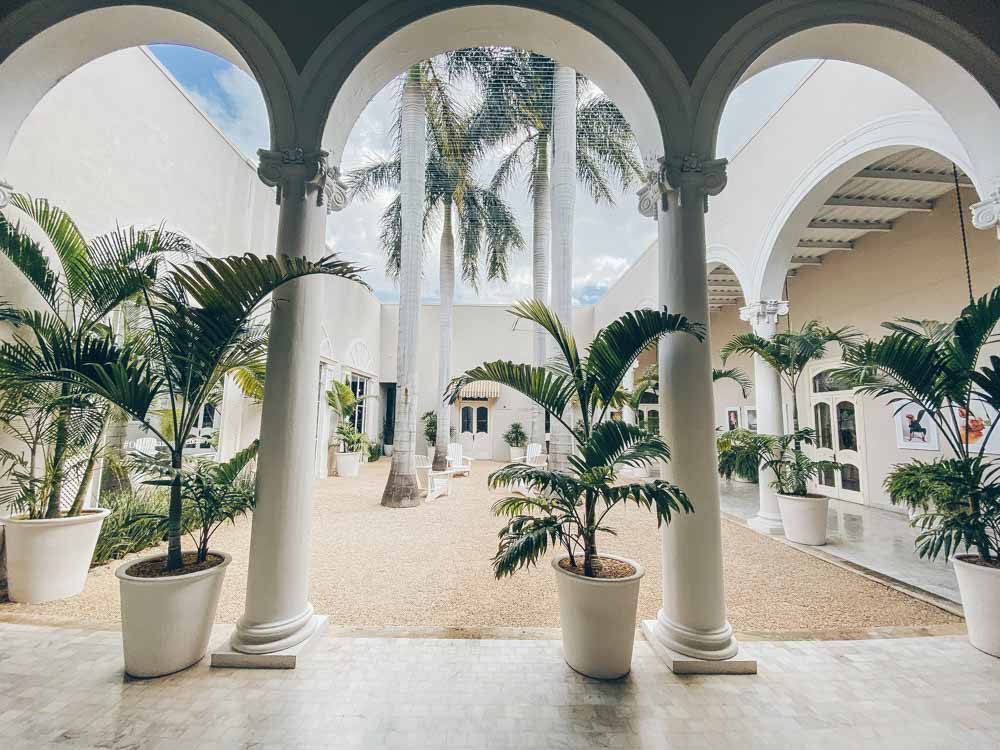 Merida is the capital of the Yucatan state and another popular stop for travellers visiting Mexico thanks to its charming combination of colourful buildings, unique culture – not to mention some ridiculously good food.
I loved Merida so much, I actually visited twice! First, for my first couple of days in Mexico and then again once we left Tulum – that's a big hint for you to totally add it to your Mexico itinerary.
Gran Museo del Mundo Maya
There's no missing the award-winning architecture of the Gran Museo del Mundo Maya. This ambitious museum in the north of the city is a striking arrangement of silver metal surrounded by green piping.
Inside, it's much more sedate – walking visitors through the history of Mayan culture and showcasing the Yucatan's pre-conquistador heritage.
Tacos at Wayan'e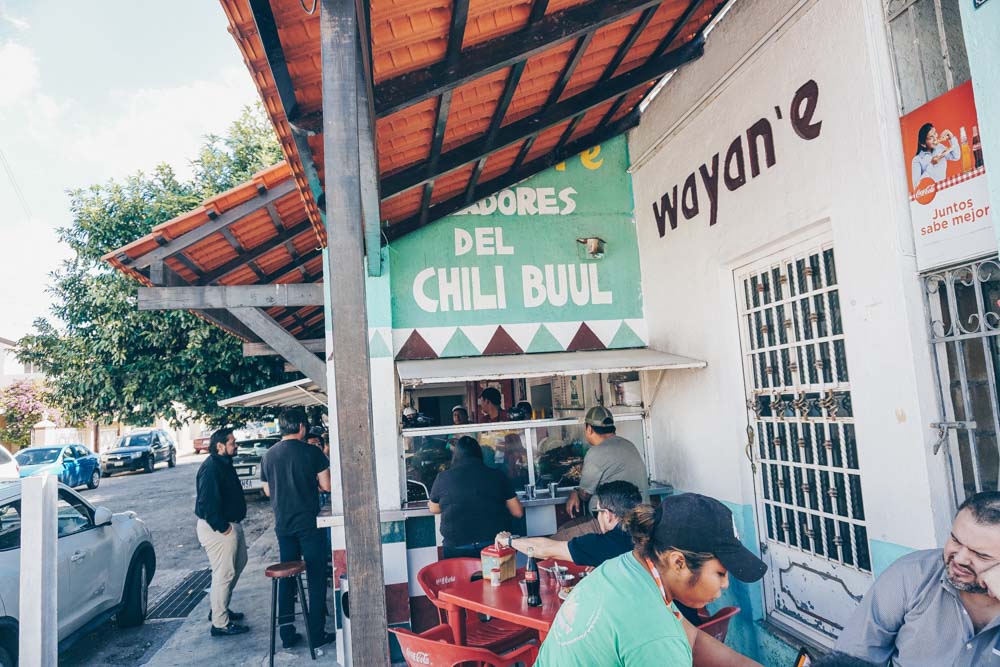 If I give you two pieces of advice for Wayan'e they would be:
That's it.
There's a reason that this taqueria (which has a couple of branches in Merida) has a reputation for serving the best tacos in the city.
The extensive menu features traditional Yucatan fillings such as chaya con huevo (Mexican spinach and egg) or crispy pork belly doused in chilli. Priced at around 14 pesos per taco (less than £1 /$1), there's no reason not to try as many as you possibly can.
Cocktails at Rosa y Xocolate
I'll make a little bet with you. If you search for Merida on Instagram, I'll wager that the bright pink building of the boutique hotel Rosas y Xocolate features heavily in the results.
Ignore or embrace the fact that it's an Instagrammer's dream and turn your attention to their really rather brilliant cocktails instead.
There's even a pretty rooftop bar with views of the city that's open in the evenings at the weekend.
Suggested Stay: Sercotel Casona 61
If you do go to Merida and you're looking for somewhere stylish to plump down, Sercotel Casona 61 was one of my favourite stays of the trip.
Our room even came with a private rooftop terrace with a small pool. Strongly approve.
Check rates and availability at Sercotel Casona 61.
Campeche – (Days 6-7)
Two hours' drive from Merida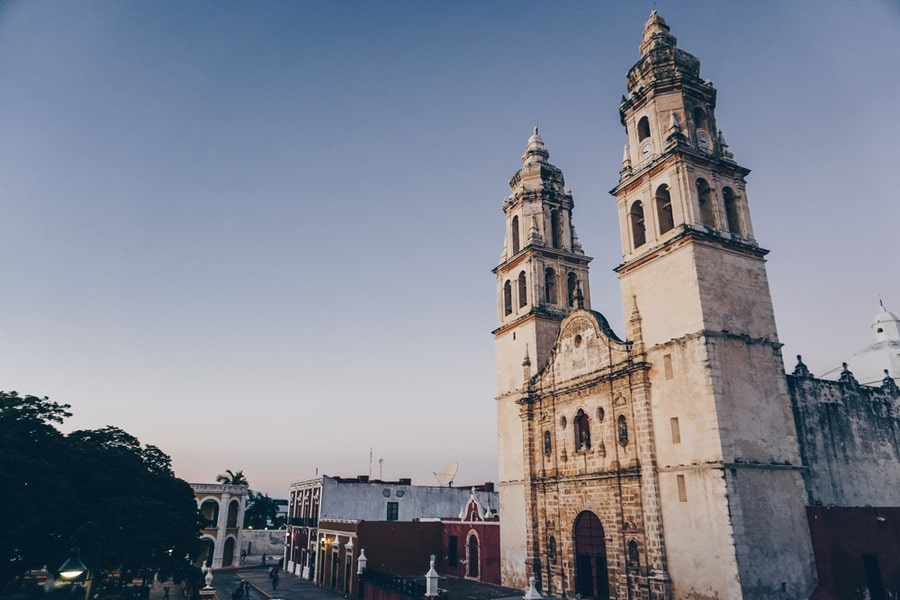 Not that many tourists make it to Campeche, which is a total shame as the old colonial centre is hella pretty and it's got its own kind of cool, unpretentious sort of sleepy but totally wow thing going for it.
Like so many other destinations in the Yucatan region, Campeche is beautiful and incredibly well preserved. So much so that it's a UNESCO World Heritage Site.
One of the best things to do is simply stroll around and take it all in in its majestic glory.
Sundowners at Casa Vieja del Rio
The cocktails at Casa Vieja del Rio are just as good any time of day, but its the views at sunset that make this place really special.
Just a stone's throw away from the cathedral – the long outside terrace at Casa Vieja del Rio is the perfect place to watch as the warm hues of the setting sun bathes the cathedral in its golden light.
Our Lady of the Immaculate Conception Cathedral
I'll have to make a confession – I didn't go inside Our Lady of the Immaculate Conception Cathedral but the exterior is beautiful enough to catch your eye.
Rising from the edge of the main square, the baroque exterior dominates the centre of Campeche in the best way possible.
Check out the Crazy Facade of the Ex Templo de San Jose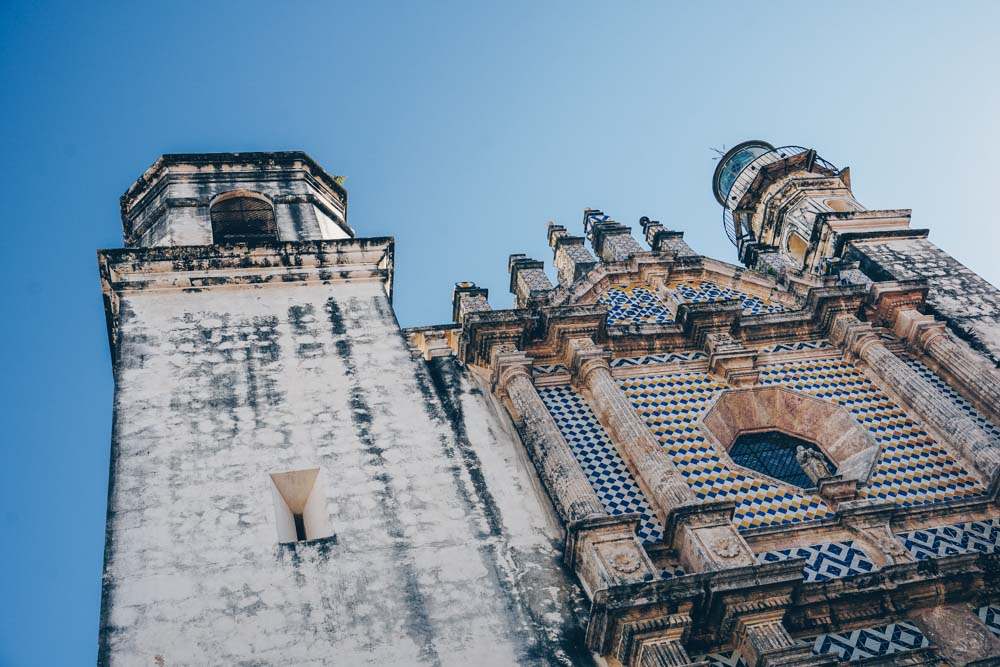 Can we all just take it as a given that the architecture in Campeche is something else… but once in a while you come across a building so cool that it stops you in your tracks. The Ex Templo de San Jose is that building.
Used as a Franciscan temple and then (rather bizarrely) as a lighthouse, be sure to check out the colourful tiled facade as you walk around the city.
Walk the City Ramparts
Campeche used to be a huge trading hub and, as such, was subject to a number of ferocious pirate attacks. The king of Spain ordered that a protective wall be built around the city – parts of which still stand today.
You can walk along the sturdy ramparts or visit one of the bastions – one contains a botanical garden, while another houses a small museum on the history of the city.
Suggested Stay: Hotel Socaire
A short walk from the Parque de la Independencia and the seafront, this spacious hotel boasts a swimming pool and comfortable rooms for your stay.
Check rates and availability at Hotel Socaire
Read my Campeche Travel Guide or my Campeche Hotel Guide
On the road between Campeche and San Cristobal de las Casas 

I'm straight up telling the truth when I say that we felt completely safe throughout the whole of the road trip but there was one section of the road trip that I was a bit worried about before we tackled it… the road between Palenque and San Cristobal de las Casas. 

Driving the road was actually totally fine (apart from the ridiculous number of topes – vicious speed bumps along it that threatened to total the car) but there were loads of Tripadvisor reports of unofficial blockades and armed robberies and we were the teeeniest bit apprehensive during the drive – but it all turned out to be totally OK. 

We checked before we set off and were told that it's fine as long as you drive in daylight.
San Cristobal de las Casas – (Days 7-9)
Nine hours' drive from Campeche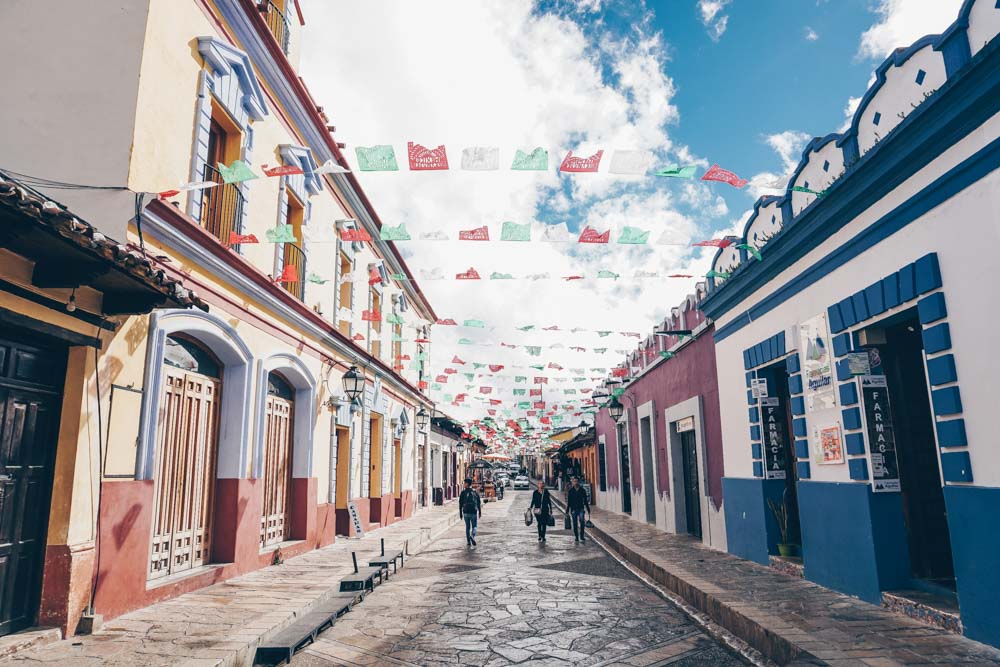 I probably wouldn't have made it to San Cristobal de las Casas were it not for a tip off from a friend (hey Mike) who rode from Alaska to the Southern tip of South America (yes, you heard me right – that is a freakishly long way).
Anyway, to cut a long story short, Mike listed San Cristobal as one of his favourite spots from the trip and so I put it on the itinerary.
I'm SO GLAD that I did – tucked away in the heady mountains of the Chiapas region, San Cristobal is a distinct destination that felt worlds away from the other places we visited on the trip.
The region still has a large indigenous population and Tzotzil and Maya culture make their presence known in San Cristobal and its surrounds.
Church of San Cristobalito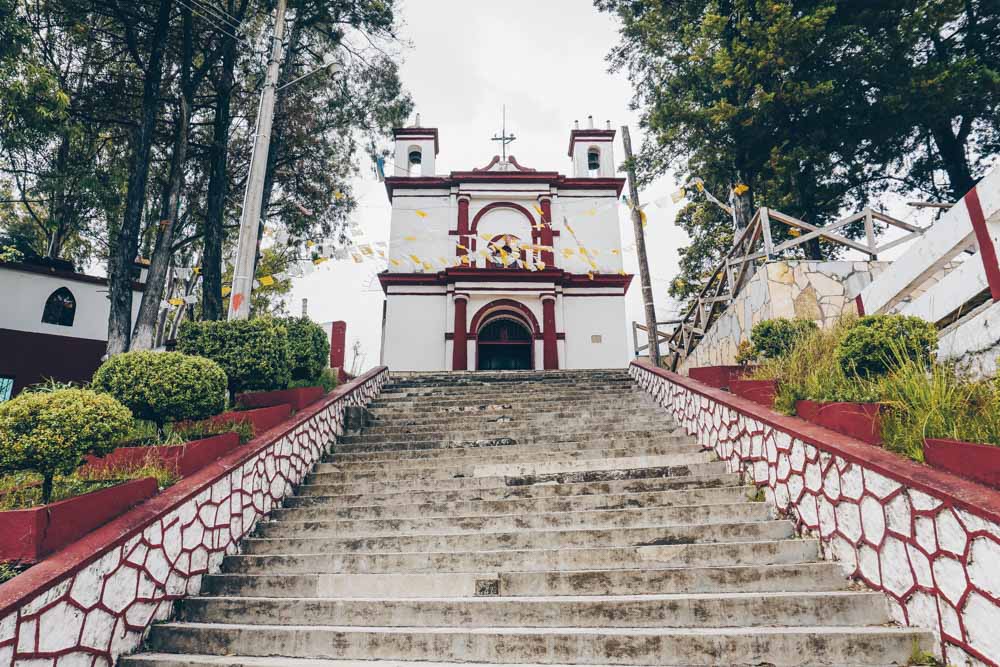 If you want to catch the best views of San Cristobal de las Casas, climb the hills to one of the two churches perched above the town.
The Iglesia de San Cristobalito is the first of these two – with a pretty white and red facade.
The views are the real draw though – just be warned that it is a steep walk to get there.
Iglesia de Guadalupe
The second of the two churches with panoramic vistas is the Iglesia de Guadalupe. Like that of San Cristobalito, the biggest attraction is the views – reached via a steep flight of stairs and looking down to the town and beyond.
Casa Na Bolom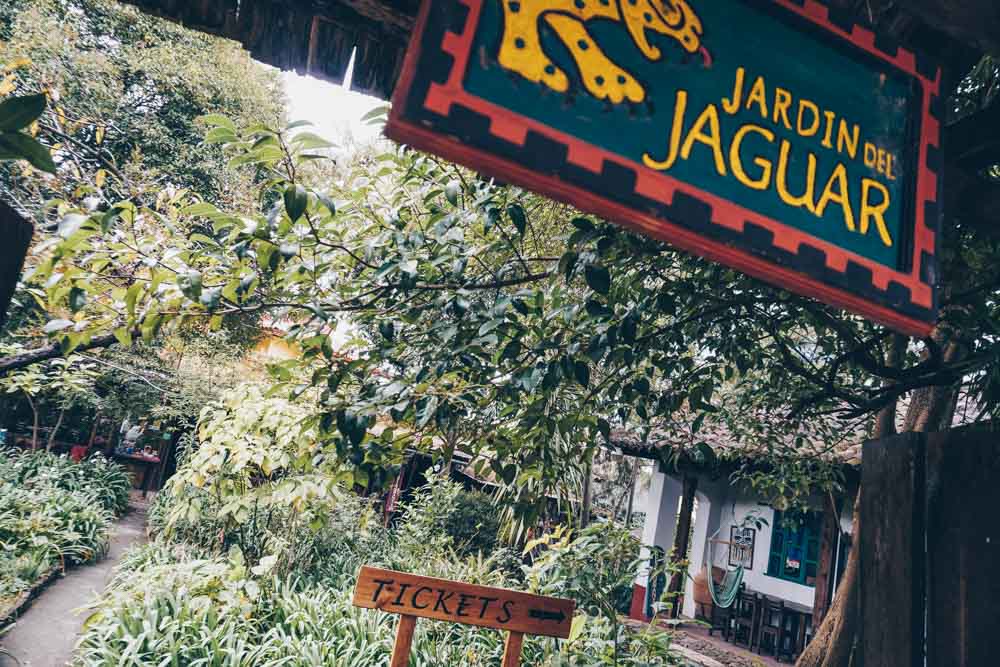 Housed in the former home of archeologist Frans Blom and his wife, Gertrude Duby Blom, Casa Na Bolom provides and interesting perspective on the lives and tradition of the local indigenous peoples in the Chiapas region.
Your visit starts with a short video, which looks at the work of the two founders and the heritage they sought to record and preserve – after which you move onto the small museum itself.
Don't forget to take a walk through the cool botanical gardens at the back once you're done.
Iglesia de San Juan, Chamula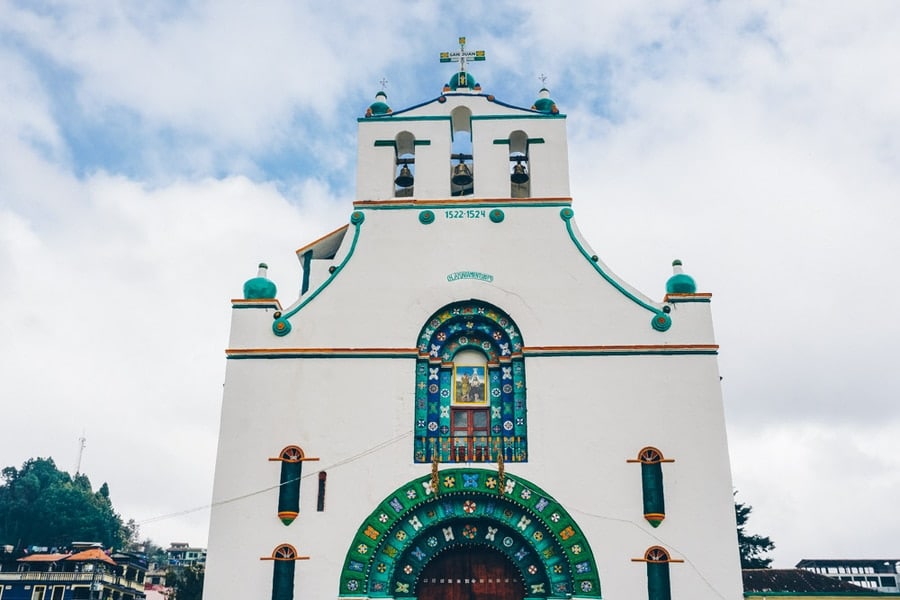 Although it's not in San Cristobal de las Casas itself, a visit to the Iglesia de San Juan in the small town of Chamula – about 15 minutes' drive from San Cristobal – is an absolute must.
Even though I've travelled pretty extensively, the Iglesia has to be one of the most memorable – and certainly unique – things I've seen during my time on the road.
It looks like a normal church from the outside, but as soon as you pay the entrance fee and walk inside, it's clear that this is going to be a little different.
A fug of copal hangs in the air, mixed with the smoke of the thousands and thousands of candles that line the exterior walls.
Locals sit on the floor, scattered with pine branches, praying around small fires lit on the ground, drinking the local spirits pox and fizzy drinks in order to burp and bring out the evil spirits.
The practices are a blend of Catholicism and indiginous beliefs that have clung on throughout the centuries – it's totally fascinating to watch and one of the most distinct things you will see on your Mexico itinerary.
Suggested Stay: Hotel Docecuartos
A small hotel of just twelve rooms (hence the name), Hotel Docecuartos was the perfect base for my time in San Cristobal de las Casas.
Spacious rooms are set around a central courtyard and the hotel itself is mere minutes away from many of San Cristobal's liveliest streets and biggest sights.
Check rates and availability at Hotel Docecuartos
Oaxaca 3 days (Days 9 – 12)
Nine hours' drive from San Cristobal de las Casas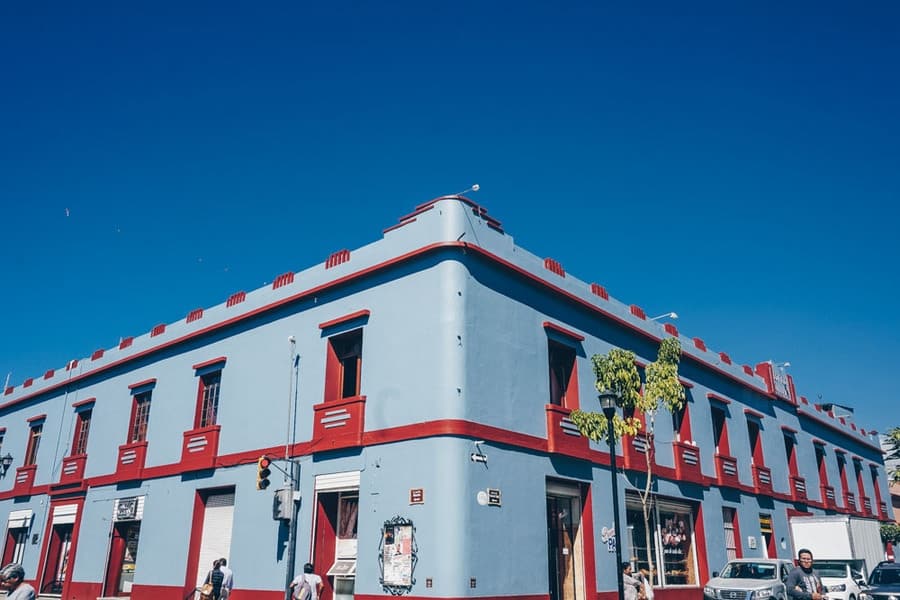 Chances are you've heard of the state of Oaxaca – the land of the seven moles, folklore, colour and a city that's also, rather confusingly, called Oaxaca.
I've wanted to go to Oaxaca for such a long time thanks to its reputation as one of the culinary capitals of Mexico – and I took complete advantage of the opportunity to eat as much food in and around Oaxaca as I possibly could.
Don't think Oaxaca is only about the food though (though it is soooooo good) – the colourful old town is a riot of activity, fiestas and cool hangouts. You can't help but fall the teeniest bit in love with it.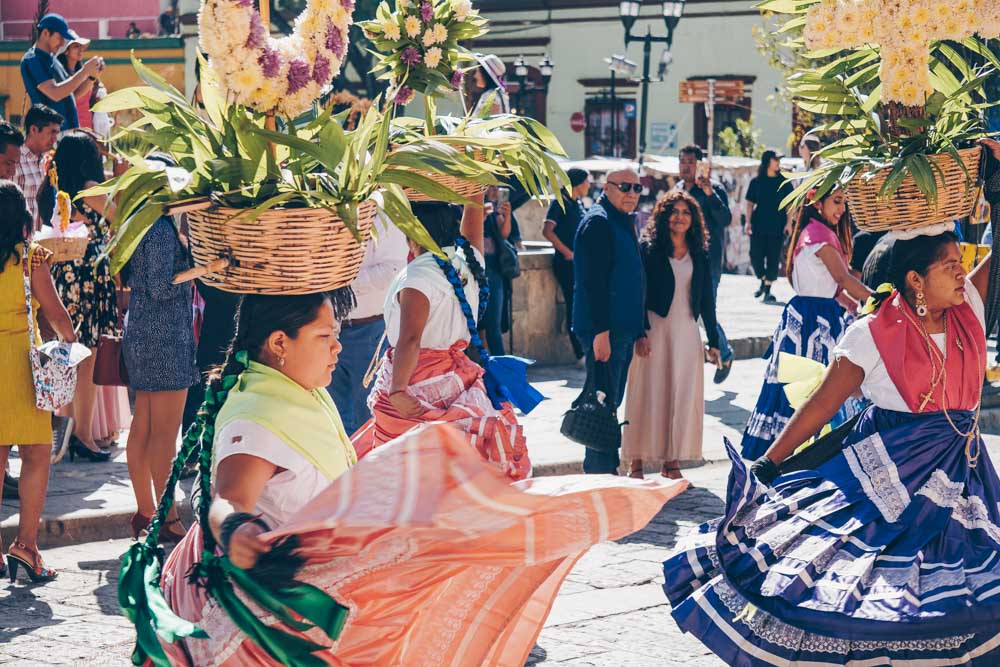 Templo de Santo Domingo
Oaxaca has a lot of churches (and I really mean a lot) but the Templo de Santo Domingo de Guzman is the best-known landmark, thanks to its dramatic Baroque architecture and elaborate interior.
The carved facade is a showstopper – even by Mexican standards, particularly in the warm glow of sunset.
Explore the Markets
Oaxaca is brimming with a wealth of markets – from clothing to food – there's pretty much a market for everything.
My personal favourite was the huge Mercade de Abastos, which sells everything from freshly milled chilli paste to fruits and veg and fresh masa for making tortillas. Walking around it is a full-on sensory experience – wear comfortable shoes.
Check out the Scenery at Hierve el Agua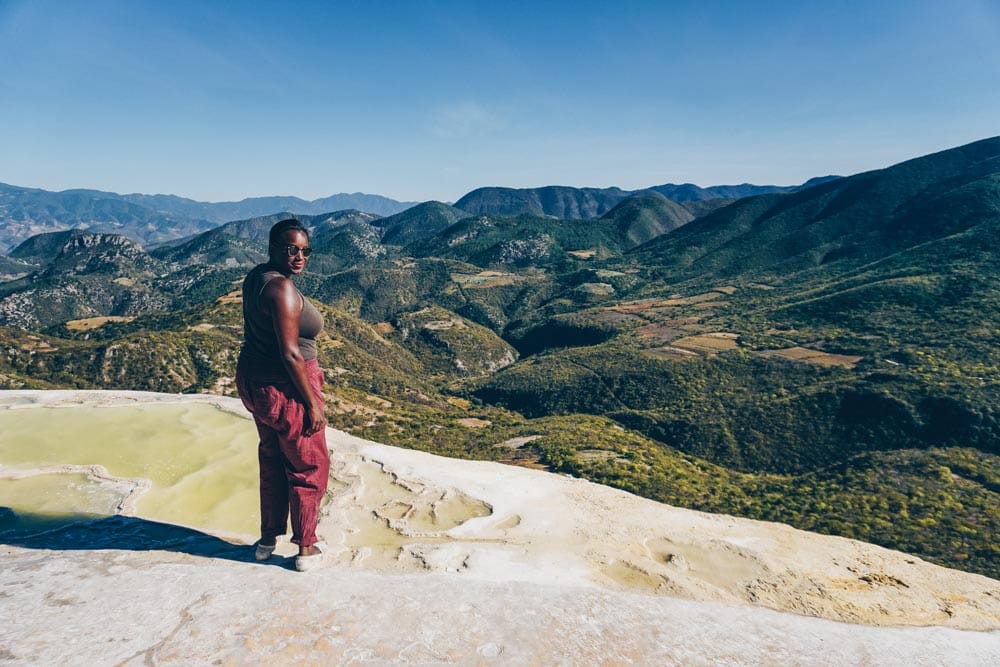 You can't visit Oaxaca without checking out the stunning landscapes at the nearby Hierve el Agua.
A series of natural springs looking out at an expansive panorama of jaw-dropping views, Hierve el Agua is a nice place to spend a morning or afternoon. Don't forget to bring your swimsuit and take a dip.
If you're feeling energetic, you can also hike to the petrified waterfalls further down the valley.
Visit the Sunday Market at Tlacolula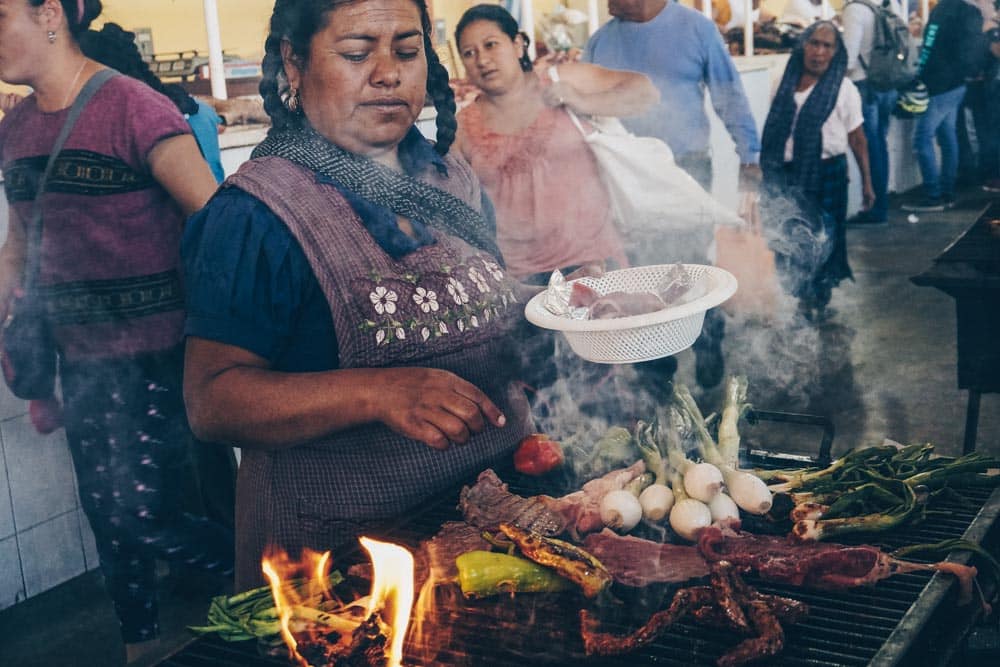 Oaxaca state is big on its markets – each day of the week sees a market day in one of the towns and villages surrounding Oaxaca City.
Sunday is Tlacaloula – pretty much the biggest of them all.
The market is vast – with lots of freshly-cooked food for you to dig your teeth into (please, please try the barbecued chicken and also the fresh quesillo cheese – you won't regret either).
Go earlyish – it starts winding down by about 4pm.
Visit a Mezcal Distillery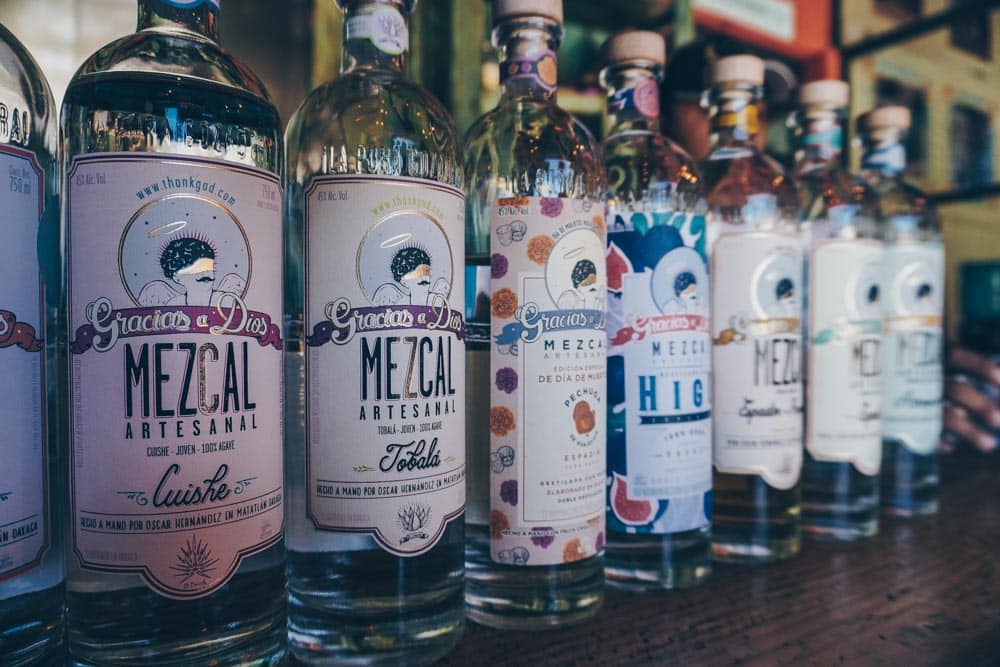 Mezcaaaaaal. If you've never had the pleasure of sipping on a glass of tequila's smokier, smoother cousin, Oaxaca is the place to fix that.
While there are many mezcalerias in Oaxaca itself, it's much more fun to hop in the car and drive out to one of the hundreds of distilleries dotted in the surrounding areas.
The area around Santiago de Matatlan is well-known for its mezcals – we visited the cool Gracias a Dios distillery for a tour and tasting and it was brilliant.
Learning about how the mezcal was made and the different flavours was a real treat – plus it's the perfect place to pick up a bottle or two to bring home.
Suggested Stay: Casa Oaxaca
Oaxaca isn't short on cool places to bed down for your trip but Casa Oaxaca is a winner. With just seven rooms and an outdoor pool, it's a chill but beautifully-styled hotel in a great location.
Check rates and availability at Casa Oaxaca
Read my Oaxaca Guide
Mexico City – (Days 12-14)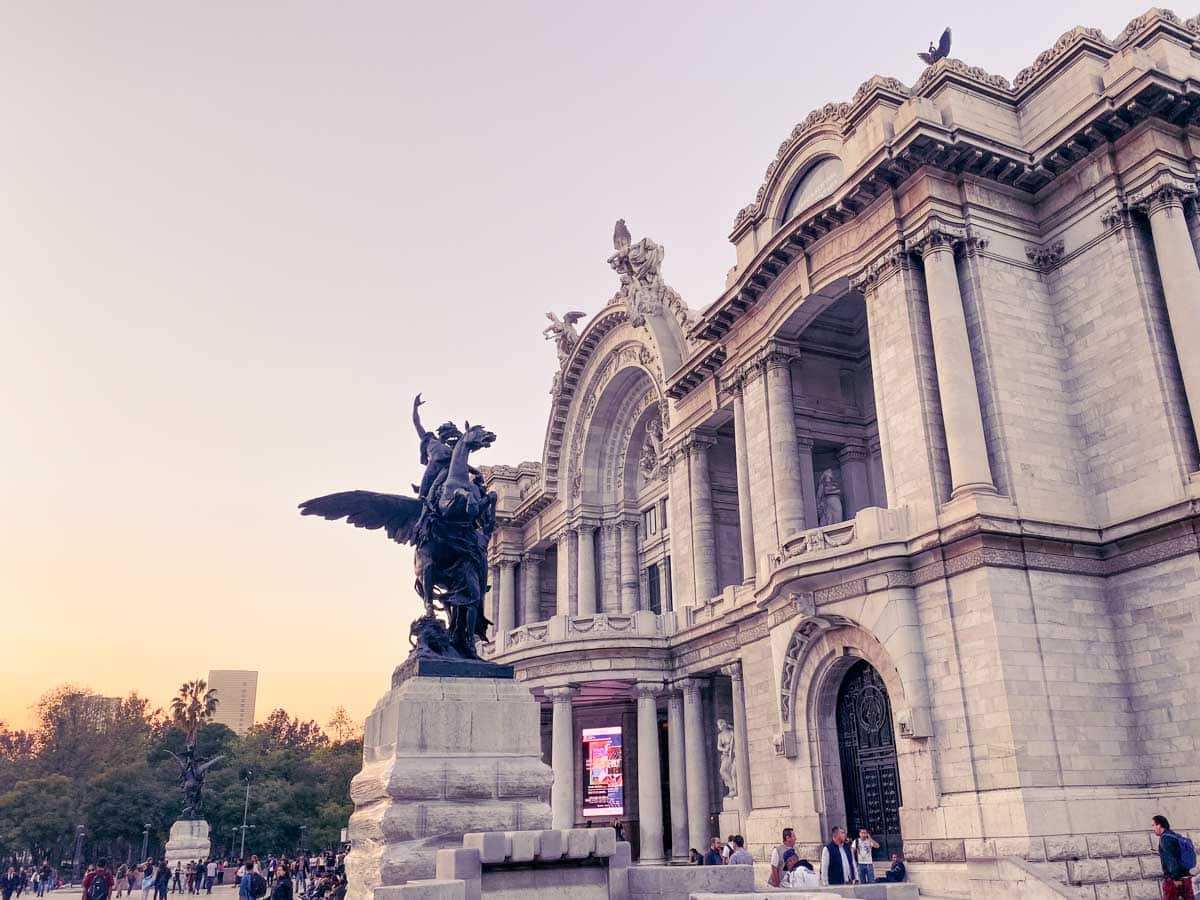 Six hours' drive from Oaxaca
OK guys, your 2 weeks in Mexico is pretty much over… but not quite. Last, but by no means least, it's time to swing by Mexico's crazy capital, Mexico City.
Mexico City is often billed as a super-city thanks to its insane size (currently over 25 million inhabitants and counting).
It's massive too – spread out across a shallow mountain bowl almost two and a half thousand metres above sea level.
If that doesn't make you dizzy, the heady combination of sights, old and new, stellar restaurants, cool bars and unique finds totally will.
Eat at Pujol, Mexico City's Best Restaurant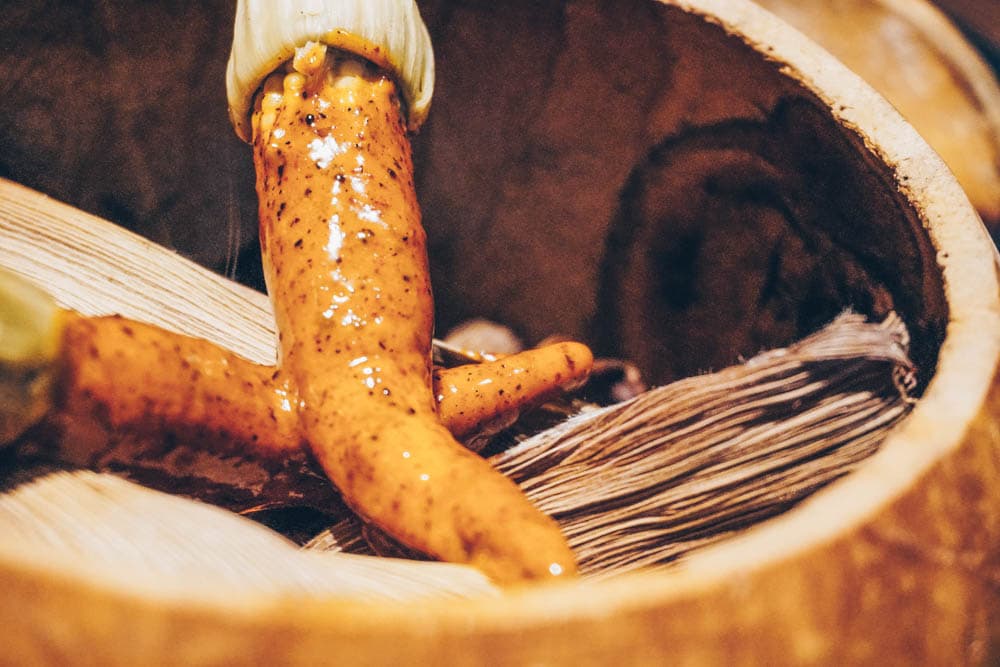 Mexico City is a foodie's paradise, so you know there has to be something really special going on for a restaurant to consistently be named as the city's best for almost two decades.
Special is about the right way to describe Pujol.
Named as one of the best restaurants in the world, tables at Enrique Olvera's fine-dining eatery are notoriously tough to get (I'd recommend booking a couple of months in advance if possible) but absolutely worth the effort.
Olvera deftly combines traditional indiginous ingredients and cooking styles with contemporary touches, walking diners through a culinary journey of his much-beloved country.
There's even a mole that's been cooking for over five years – a tongue-tingling experience you won't forget.
Diego Rivera Murals at Palacio Gobierno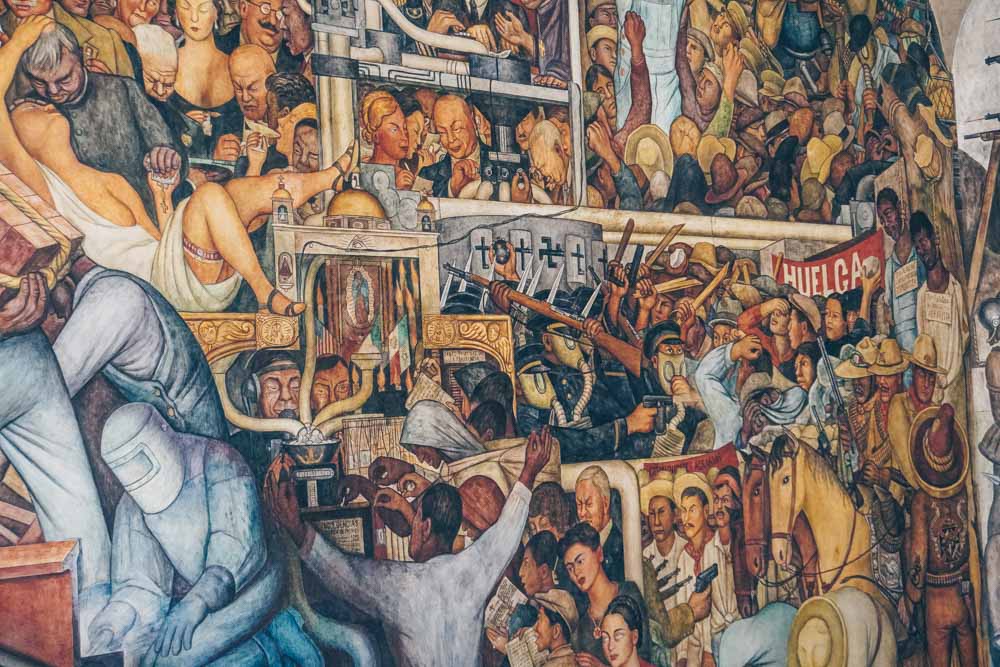 Diego Rivera and his contemporaries (including his wife Frida Kahlo) heralded a golden age in Mexican art – a reckoning with Mexico's often violent past and a vision for a better future.
Never is this more clear than in the vast murals in the Palacio Gobierno. Throughout the murals, Riviera looks at Mexico past, present and future – each painting filled with a richness of symbolism and detail. It's an absolute must for your time in the city.
Templo Mayor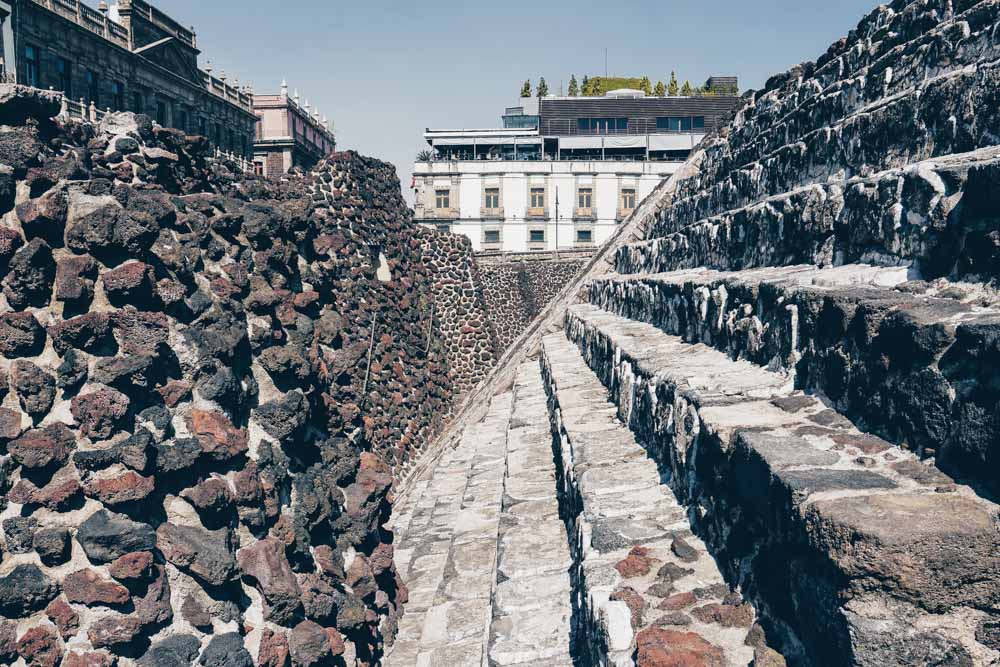 Prior to the arrival of the Spanish Conquistadors, Mexico City was a well-developed city known as Tenochtitlan – the capital of the Aztec states of Tenochtitlan, Texcoco, and Tlacopan.
Little evidence of this pre-colonial existence remains – the Spanish pretty much razed the city to the ground during the conquest, which is why Templo Mayor is so special.
Steps away from Mexico City's Zocalo, the temple is pretty much the only remaining pre-conquest structure standing in Mexico City.
You can take a peek at the temples from above or pay to visit for a closer look.
Palacio de Bellas Artes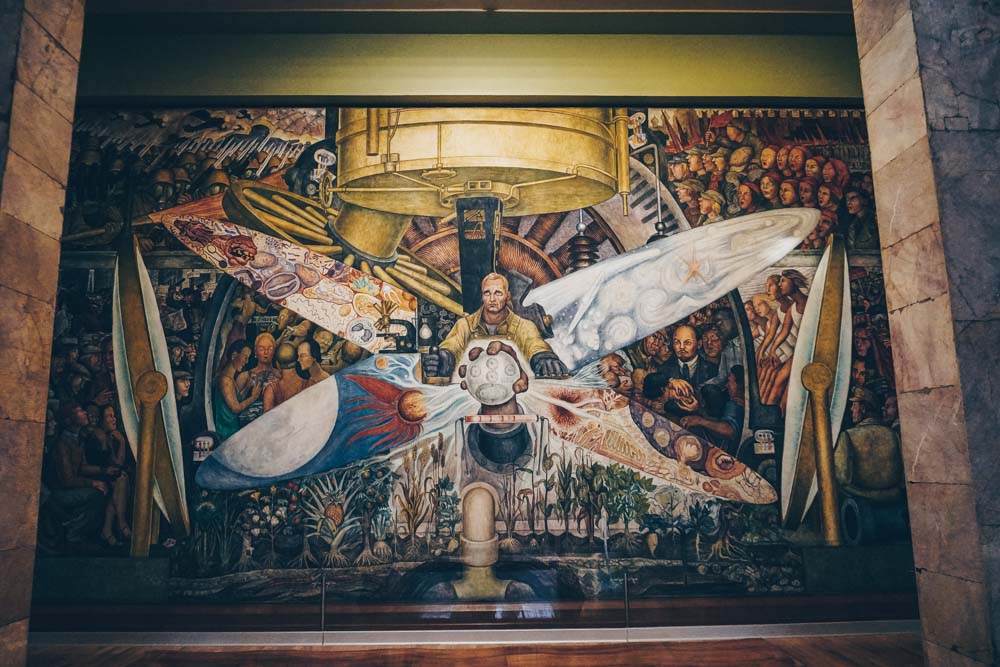 The Palacio de Bellas Artes is one of my favourite spots in Mexico City.
The striking architecture houses another jaw-dropping display of large-scale murals (this time not only by Riviera but also contemporaries such as Rufino Tamayo and David Alfaro Siqueiros).
You can also find a number of temporary exhibitions displayed in the cultural centre.
Drinks at the Torre Latinoamerica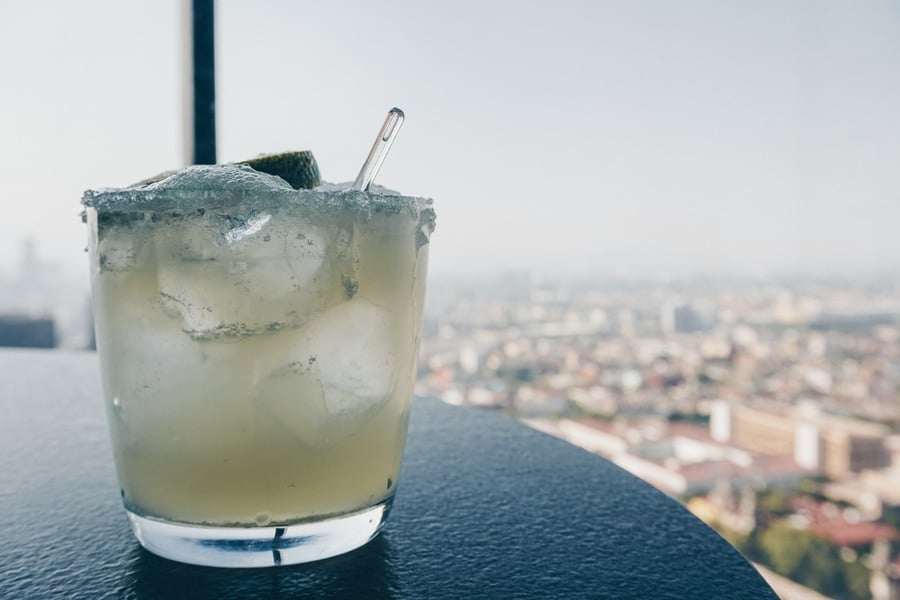 I mentioned Mexico City's vast size, but it's difficult to really grasp just how big this city is until you see it from above.
Truck up to the 41st floor of the Torre Latinoamerica and nab a seat next to the panoramic windows and soak it all in.
You can pay to visit the viewing platform three floors up, but a drink at the bar is a much more relaxed way to take it all in.
Casa Azul – Frida Kahlo Museum
Mention the words Mexico City and chances are you'll think of Frida Kahlo. A pioneer in Mexican Folk Art, Frida's distinctive and unflinching style is never more apparent than during a visit to the Casa Azul.
Housed in what was Kahlo's childhood home, and then where she lived with Diego Rivera until her death, it's one of the most visited museums in the city. Book ahead or go early.
Gorge on Tacos at Los Cucuyos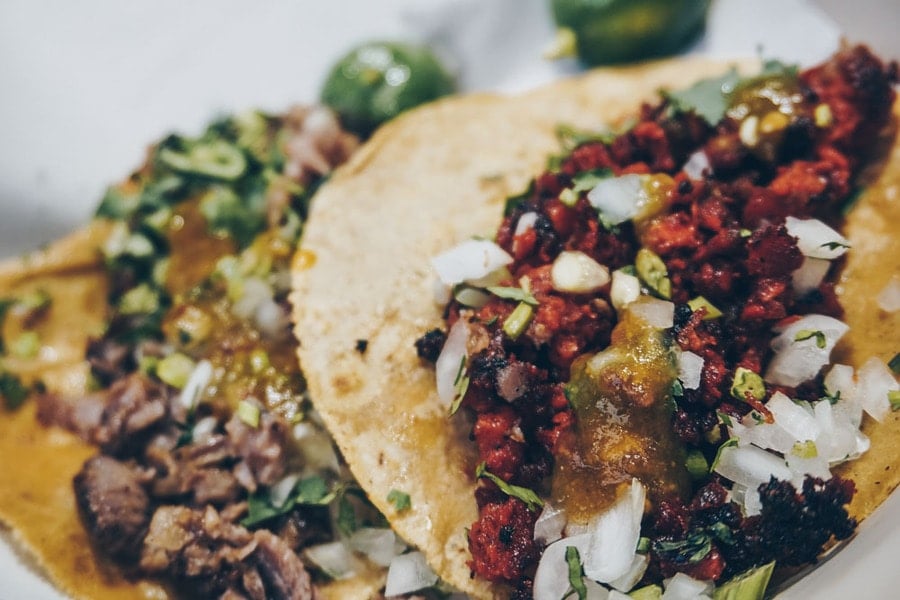 When I say taco, you say Los Cucuyos.
People. We need to talk about these tacos. I ate a lot of tacos during my Mexican road trip and these tacos blew my mind.
Join the inevitable queue and prepare your stomach for some serious taco action – slow-cooked meats in buttery juices, caramelized longaniza sausage, all accompanied by a touch of fiery chilli sauce and some sharp lime juice – absolute perfection.

Suggested Stay: Hotel Villa Condesa
Chic Condesa is a cool place to base yourself during your time in Mexico City and this lovely boutique hotel is a complete winner.
Contemporary and airy rooms are tucked away in this small bed & breakfast with an open courtyard.
Check rates and availability at Hotel Villa Condesa
Optional: Drive back to Cancun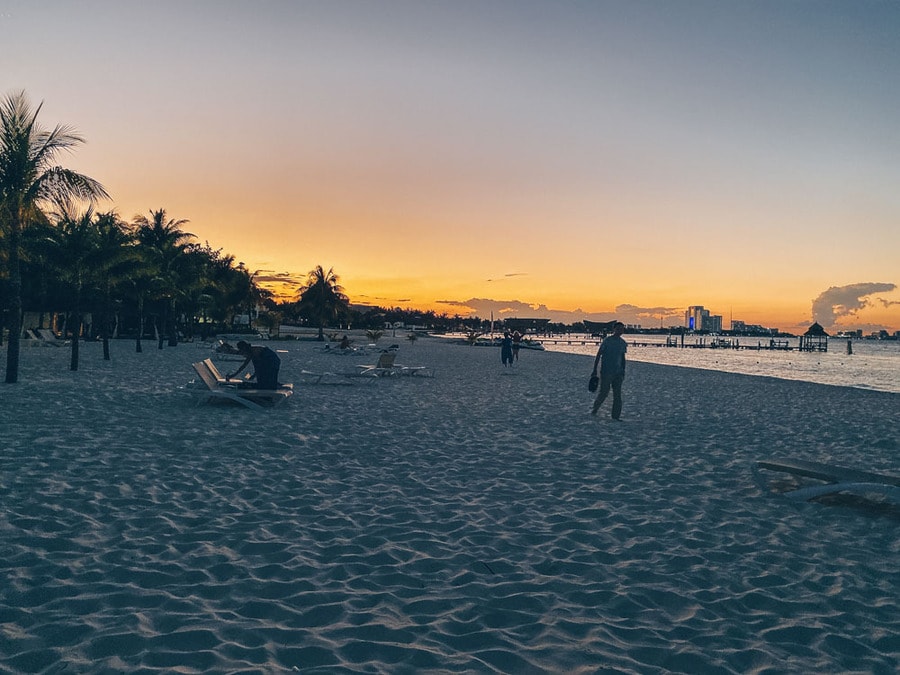 Cancun was the last stop on my Mexican road trip before catching the flight home – a long drive back via Villahermosa (an unremarkable city we arrived late in and departed early from).
As a treat, I booked us into the Intercontinental for one last spot of chillin' out maxin' relaxin' all cool by the beach.
I've been to Cancun before and, aside from the chance to hang out in posh hotels on a beautiful stretch of coastline, can't say I've ever been blown away by it, but the Intercontinental was great and the perfect way to round off the trip.
I'd highly recommend if you're staying in Cancun at the beginning or end of your Mexico itinerary.
Check rates and availability at the Intercontinental Cancun.

After that, it was time to bid adieu to Mexico and hop on good old British Airways for the flight home.
---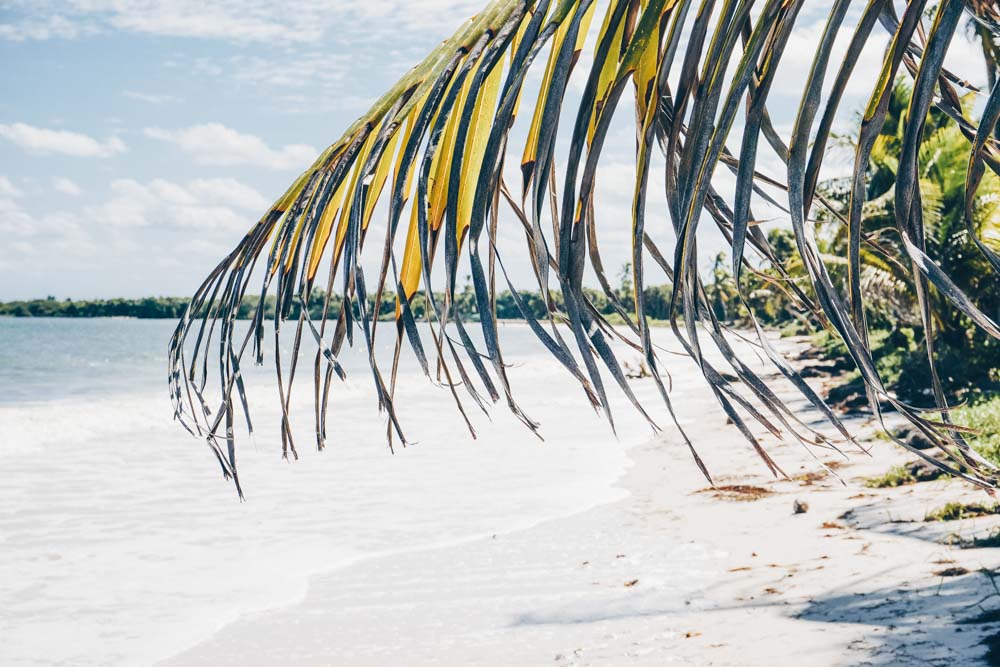 And that was it. Almost 3,500 kilometres later the Mexican road trip was over.
I'd been in Mexico for almost five weeks and had so many incredible experiences – from stargazing under inky black skies to learning to cook up a storm and taking some hair-raising drives but not once did I feel threatened or in any way unsafe.
It was a trip I'll never forget and I'm so looking forward to my next trip to this fabulous country.
Got any suggestions for spots to visit on a Mexico road trip? Drop them in the comments below.
But for now, it's time to say adios. I hope you have a brilliant trip.

Love this? Save and Share on Pinterest!