Ready to explore the best places to stay in Mexico City? Buckle up, because this whistle-stop guide will help you plan an epic vacation. Whether you fancy staying in the historic centre, a nightlife haven or somewhere a little low-key, it's time to do CDMX in style.
When it comes to deciding where to stay, Mexico City truly is full of gems. Let me tell you, CDMX is packed with incredible neighbourhoods, each with its own architecture, history and flavour (quite literally – yum).
You've got the iconic Historic Centre with its crumbling walls and buzzing markets, and the high-end Polanco, which features some of the best restaurants in the city. Or how about Condesa? Its charming streets and trendy boutiques certainly won me over.

It can be tricky to decide where to base yourself. But, don't worry – that's where I come in.
So where to stay in Mexico City for a safe, fun, and memorable trip? Read on to discover the top neighbourhoods and hotels for your stay.
Best Places to Stay in Mexico City: At a Glance
Where to Stay in Mexico City
There are plenty of places to choose from when staying in Mexico City – it's one of the largest cities in the world after all. Here's a guide to the best neighbourhoods and hotels.
Polanco: Overall Best Place to Stay in Mexico City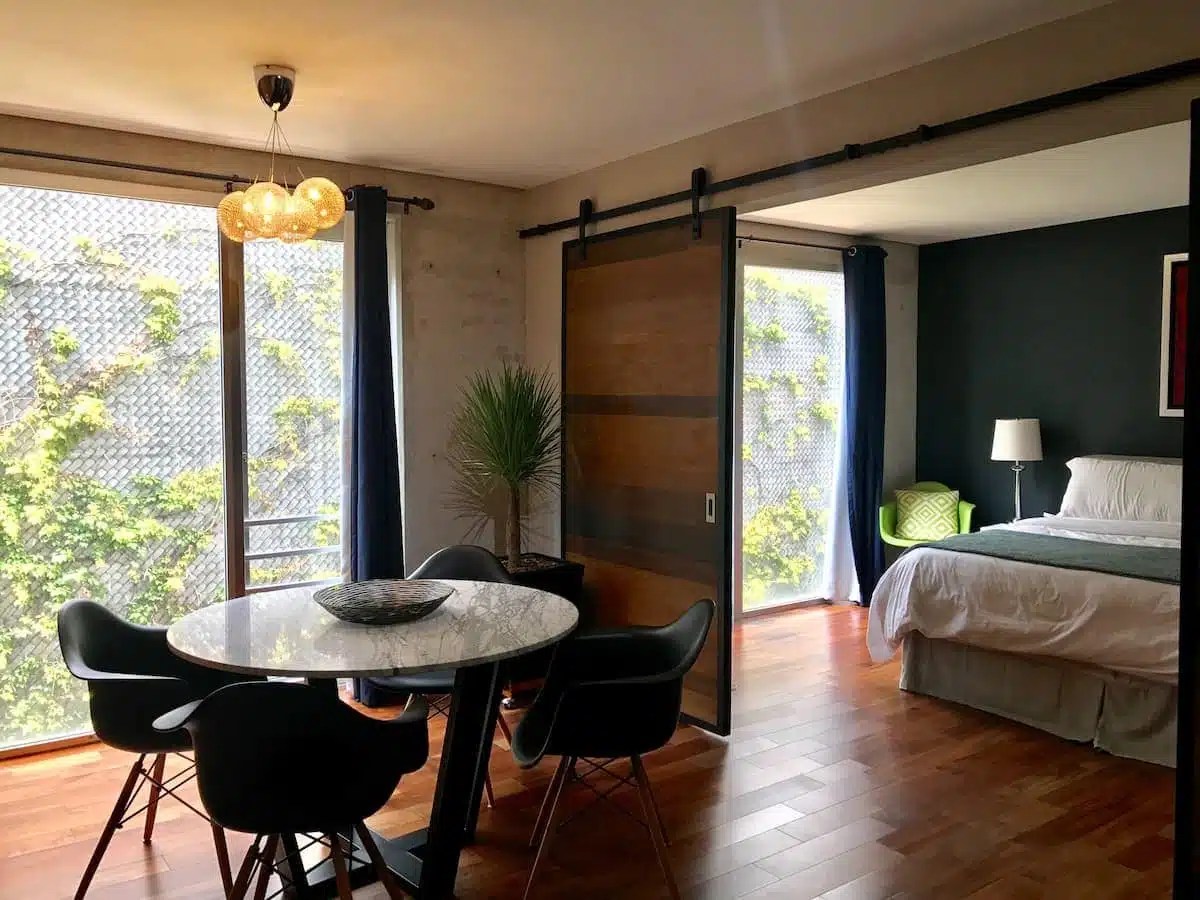 If you're not sure where to stay in CDMX, you won't go far wrong with Polanco.
Why? This neighbourhood is known for extravagant shopping sprees, world-class dining and beautiful city parks. Tucked down charming side streets are huge Colonial mansions and apartments, while the Avenida Presidente Masaryk is akin to NYC's Fifth Avenue.
Trust me, you'll want to check out the charming Polanco on your trip to Mexico.
Polanco Highlights
Soumaya Museum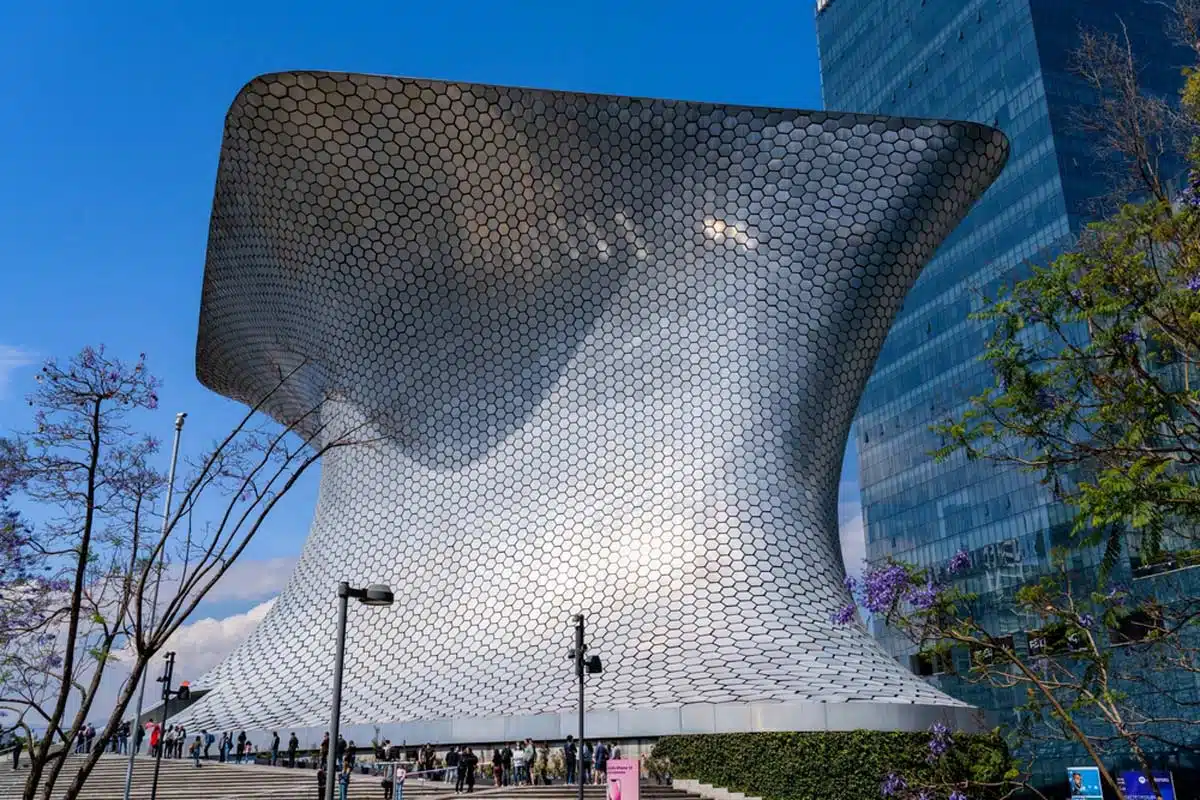 The private collection inside the Soumaya Museum (spanning modern and ancient work) is as impressive as the stunning architecture outside. This museum is instantly recognisable for its hexagonal tiles glimmering in the sunshine.
Pujol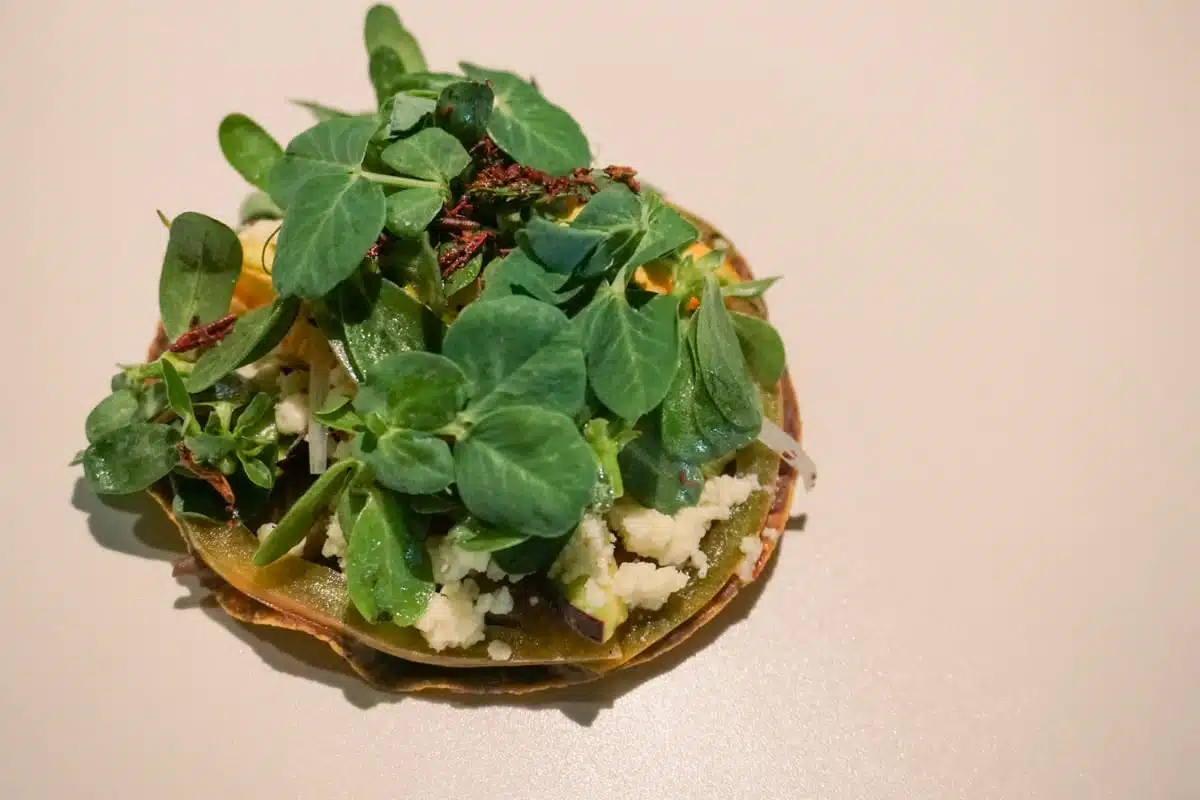 Not sure where to dine? Hit up Pujol. This restaurant is famous for its creative tasting menus, upscale service and ambiance, and the mole that's been ageing for over half a decade (drool).
Pasaje Polanco
Believe me when I say that Pasaje Polanco is one of the best spots in the city. Bring your tote bags and fill them up at this famous open-air mall known for high-end shopping and a variety of dining options.
Suggested High-End Hotels in Polanco
Hyatt Regency Mexico City
Hyatt Regency Mexico City is a five-star property just a few blocks from the famous Chapultepec Park. Rooms are spacious and modern, while the onsite restaurants serve Latin American and Japanese cuisine in sophisticated settings.
Pug Seal Polanco Anatole France
Pug Seal Polanco Anatole France is a gorgeous boutique hotel with bright, bold decorations evoking Mexico City's artistic history. Complimentary bicycles and plenty of outdoor space make this an urban oasis steps from the vibrant Polanco shopping district.
The Alest Hotel
The Alest Hotel is where to stay in Mexico for couples wanting a romantic retreat with stylish bedrooms, marble bathrooms and walk-in showers. All for a reasonable price, too.
Condesa: Best Place to Stay in Mexico City for Nightlife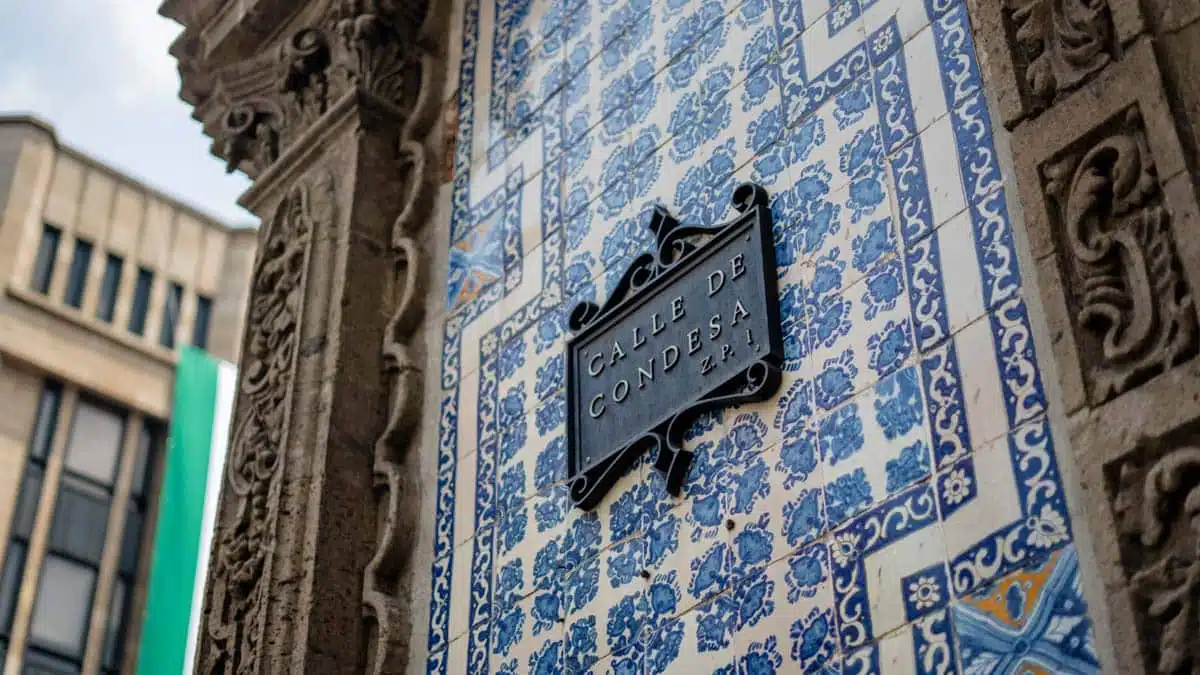 If you couldn't tell from my slightly *overenthusiastic* introduction, La Condesa, or Condesa for short, is one of the best neighbourhoods in Mexico City.
It's the perfect choice for travellers who want to explore the vibrant nightlife, art galleries and cafes that sit along the tree-lined streets.
Condesa Highlights
Art Galleries
Private art galleries are one of the reasons why Condesa is among the top places to stay in Mexico City, with Proyecto Paralelo being my favourite.
Parks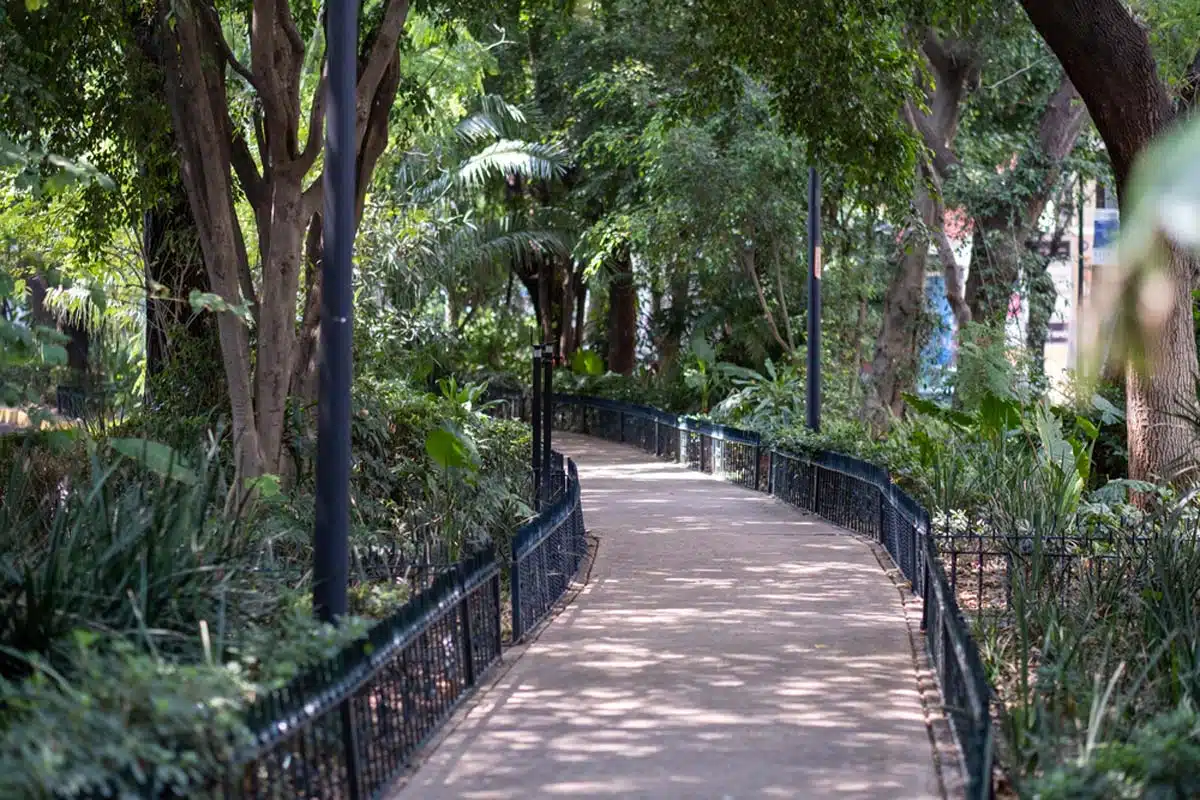 Chapultepec Park is the city's most famous, and Condesa is where to stay in Mexico City the first time you visit for easy access to the iconic "lungs of the city." But don't miss Avenida Amsterdam and Parque España, which are charming local favourites.
Nightlife
There are plenty of excellent places to eat and drink in Condesa; frankly too many to name here. But check out La Xampa for live music and snacks or La Clandestina for a masterclass in all things mezcal.
Suggested Boutique Hotels in Condesa
Hotel Villa Condesa
Fancy an escape into a lush oasis? I think so. The tranquil garden rooms at Hotel Villa Condesa sit right between Condesa and the popular Roma Norte, close to some of the best nightlife in Mexico City.
Casa Luciana Condesa
Casa Luciana Condea offers guests a high-end luxury boutique option that's one of the best places to stay in Mexico City. Stylish rooms, an intimate spa and private jacuzzi baths = ultimate relaxation.
Casa Bis
Looking for where to stay in Condesa, Mexico City, on a budget? The rooms at Casa Bis are beautifully decorated, well-maintained and half the price you'd expect. Savvy.
Roma: Best Place to Stay in Mexico City for Younger Travellers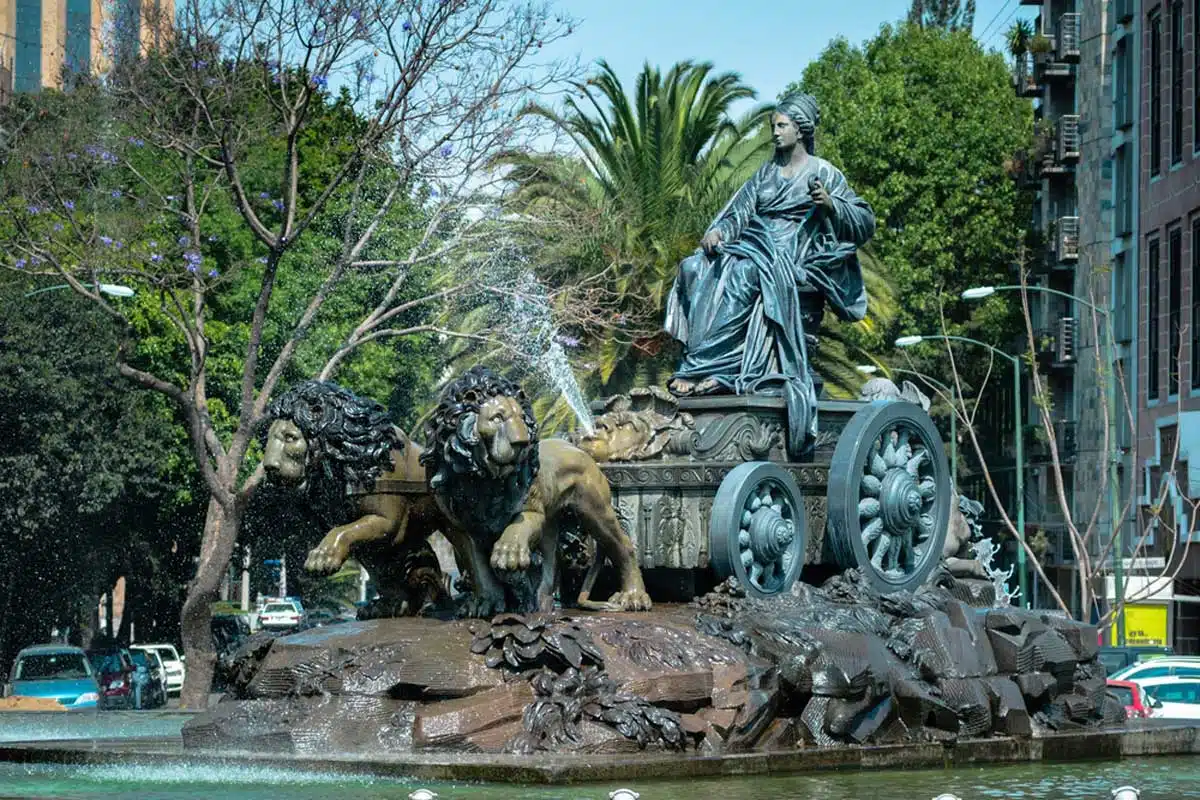 Colonial Roma is a thriving area of Mexico City consisting of Roma Sur and Roma Norte. While I'd argue that both spots are ideal to bed down, Roma Norte is the most popular among younger travellers looking for quirky architecture, hipster cafes and a booming cultural scene.
Roma Highlights
Mercado Roma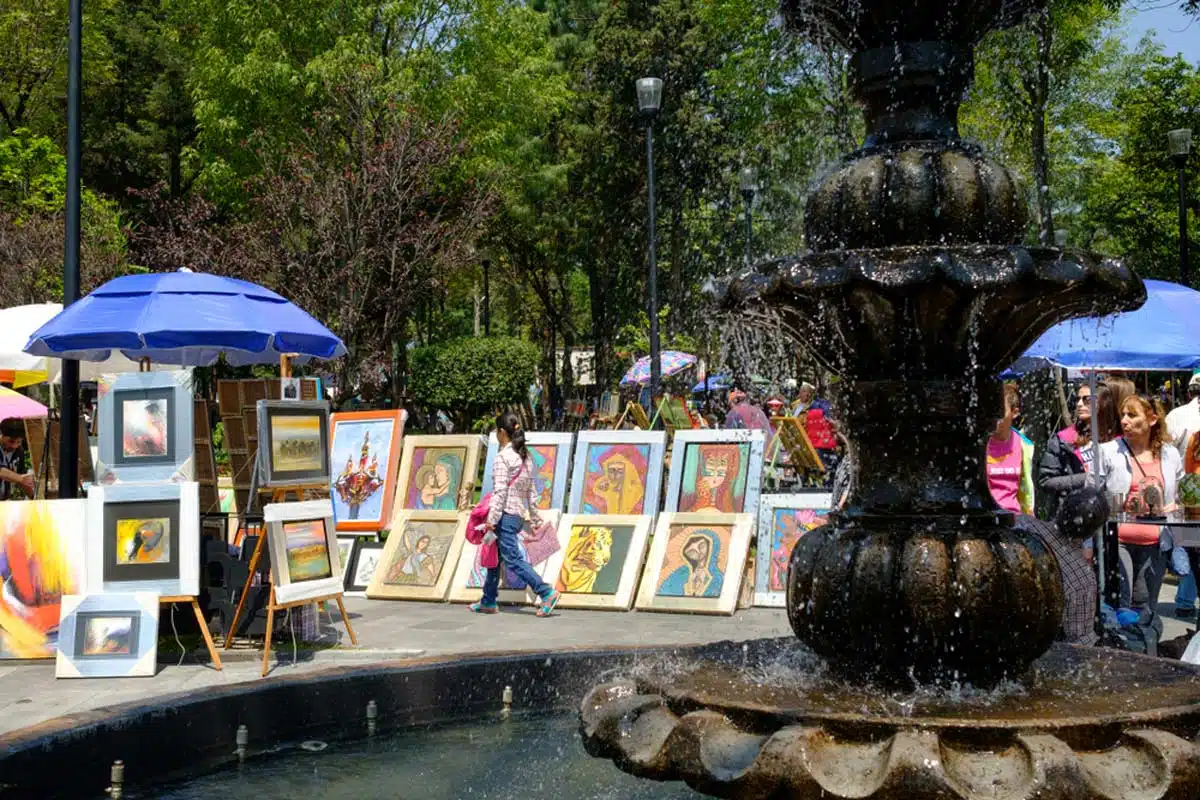 Try cuisine from around the globe, sip on cocktails or coffee – and don't forget to take the elevator to the beer garden upstairs, where you can enjoy the vibrant nightlife scene from above.
Taquería Orinoco
You can find great tacos throughout Roma Norte and Mexico City, but my favourite place to stay in Mexico City for late-night eats is Roma Norte, thanks to Taquería Orinoco (try every salsa and thank me later).
Suggested Hotels in Roma
La Valise Mexico City
Where to stay in Roma Norte, Mexico City? La Valise. Why? Luxury design meets down-to-earth hospitality in the three unique rooms. A totally luxe and intimate experience awaits.
Nima Local House Hotel
If you don't want to break the bank, here's where to stay. Rooms at Nima Local House Hotel are stylish and well-appointed, with hardwood armoires, countless decorative touches and views of the courtyard and garden.
Hotel Geneve CD de Mexico
Technically located in the increasingly trendy Juarez neighbourhood, Hotel Geneve CD de Mexico offers a uniquely grand ambiance with grand chandeliers, a vintage phone booth and a library (squeal!) a short distance from Roma.
Centro Histórico (Historic Centre): Best Place to Stay in Mexico City for First-Timers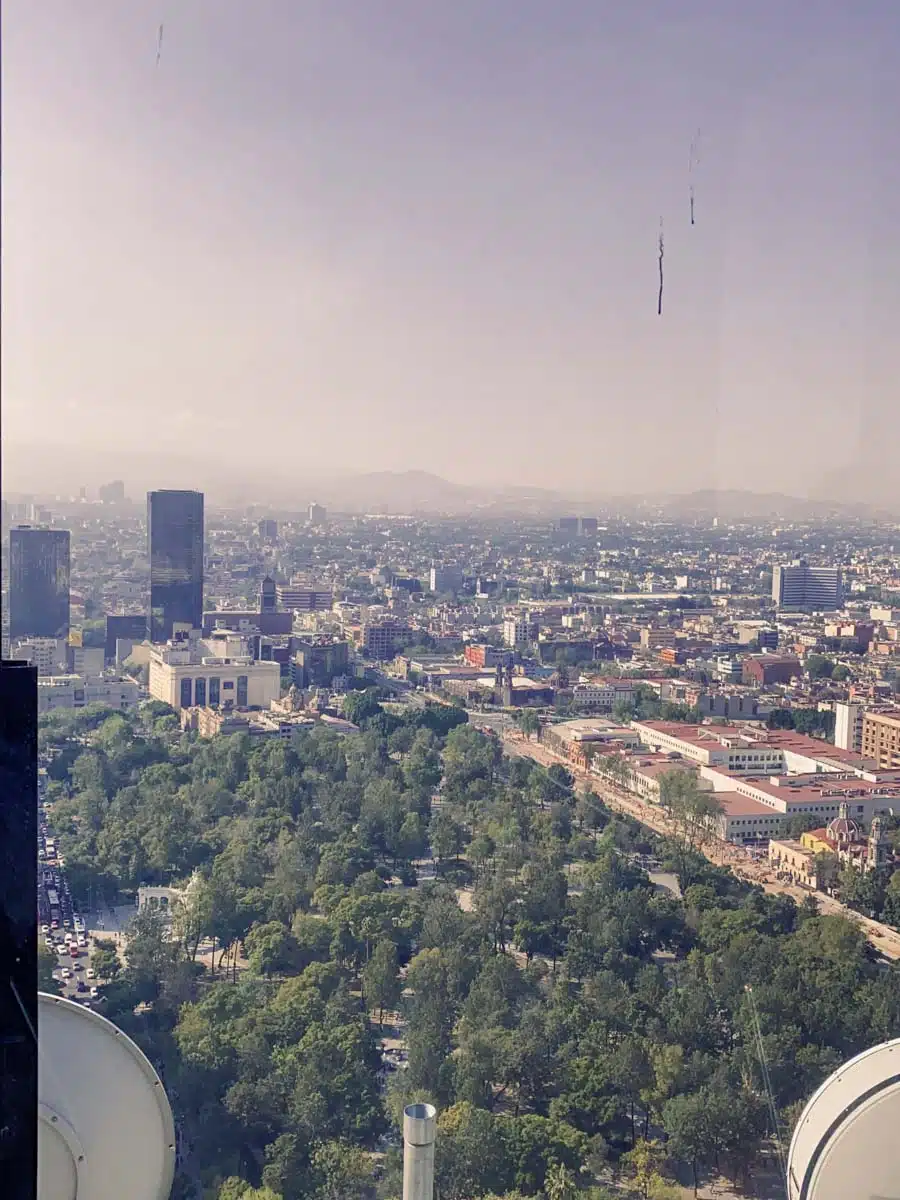 Visiting Mexico City without venturing into the Historic Centre should be a crime. And, for first timers, staying near the centre of the city can save you a lot of time travelling around the city.

Rich in history and culture, home to iconic landmarks such as the Zócalo and Palacio de Bellas Artes, and featuring some of the best street food in the world, plan to spend at least a full day here.
Centro Histórico (Historic Centre) Highlights
Zócalo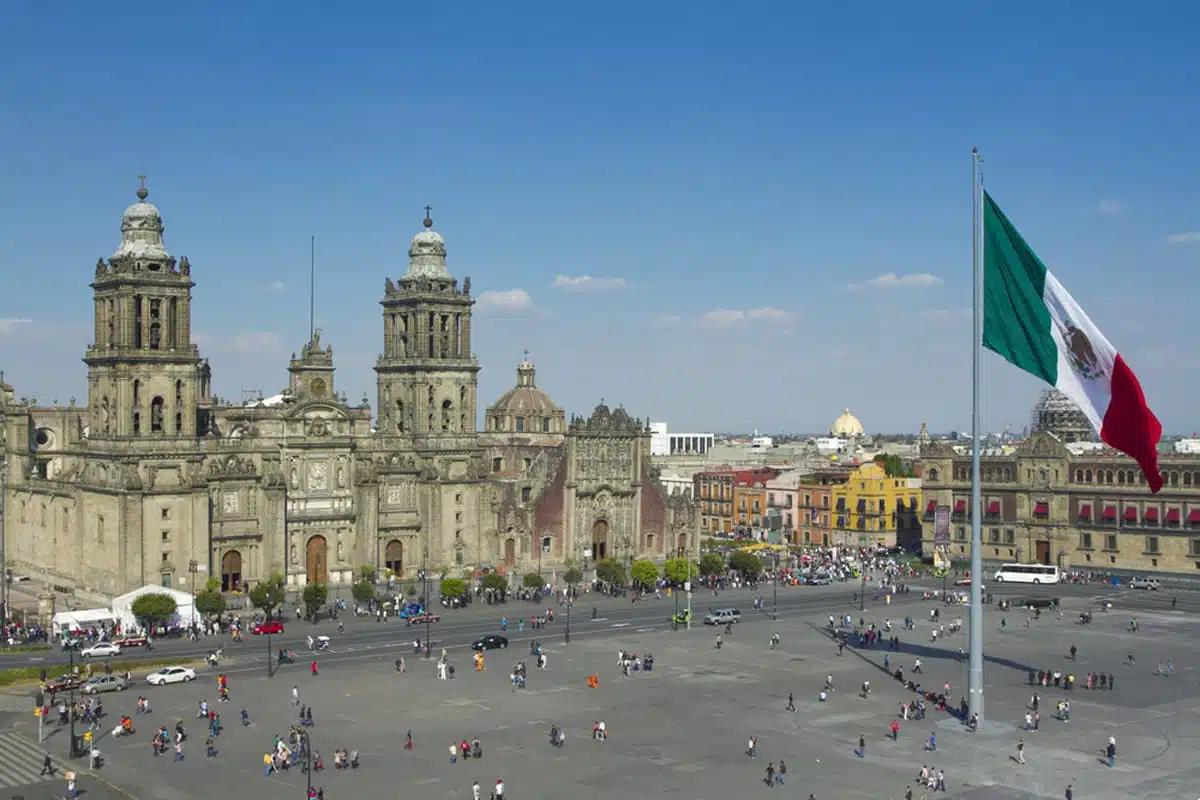 At the official city square, you can spend hours looking at the colonial architecture and ancient Aztec ruins of Zócalo. This is the beating heart of CDMX.
Palacio de Bellas Artes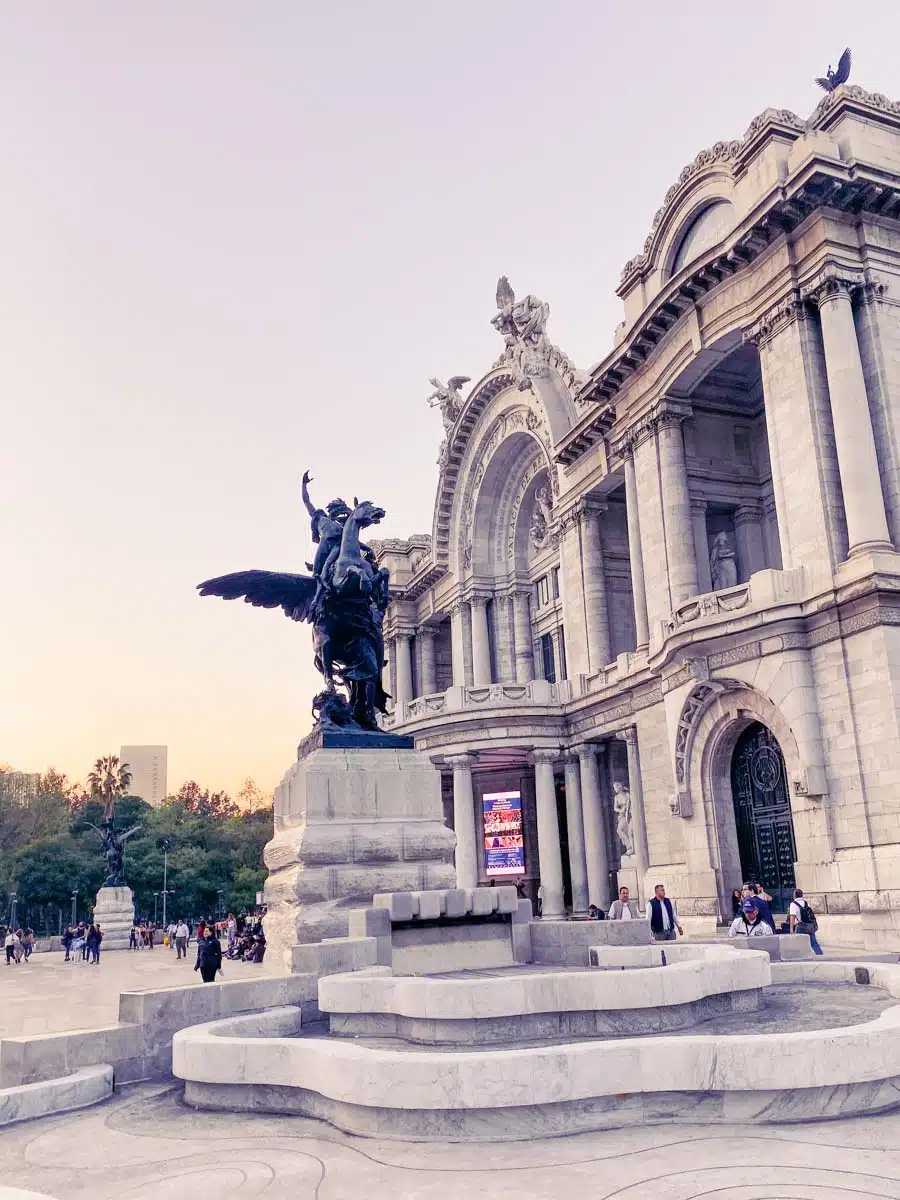 I know I sometimes like to band around the phrase 'favourite' but Palacio de Bellas Artes truly is one of my favourite museums in the city. This gorgeous building is home to an art museum and live performance events. Be sure to visit for an event or just to see the art deco design.
Mercado de San Juan
Hungry? Of course you are. Swing by Mercado de San Juan and see why the city's best chefs shop here and why Centro Historio is where to stay in Mexico City for food.
Suggested Hotels in Centro Histórico (Historic Centre)
Gran Hotel Ciudad de México
Though many know it as the "James Bond" hotel from Spectre, this historic 4-star property boasts a spectacular Tiffany stained glass ceiling, views of Zócalo from the luxury rooms and a popular rooftop restaurant.
Cadillac Hotel Boutique
Cadillac Hotel Boutique breathes new life into the brick-walled interior with artistic touches and convenient amenities like free bikes and an on-site restaurant with complimentary breakfast. Rooms are simple yet stylish, and completely cosy.
Downtown
This hotel isn't the oldest in the city centre – or even the fanciest – but the rooftop pool, convenient dining options, and excellent service make Downtown a top choice for the best place to stay in Mexico City.
Coyoacán: Best Place to Stay in Mexico City for Culture Lovers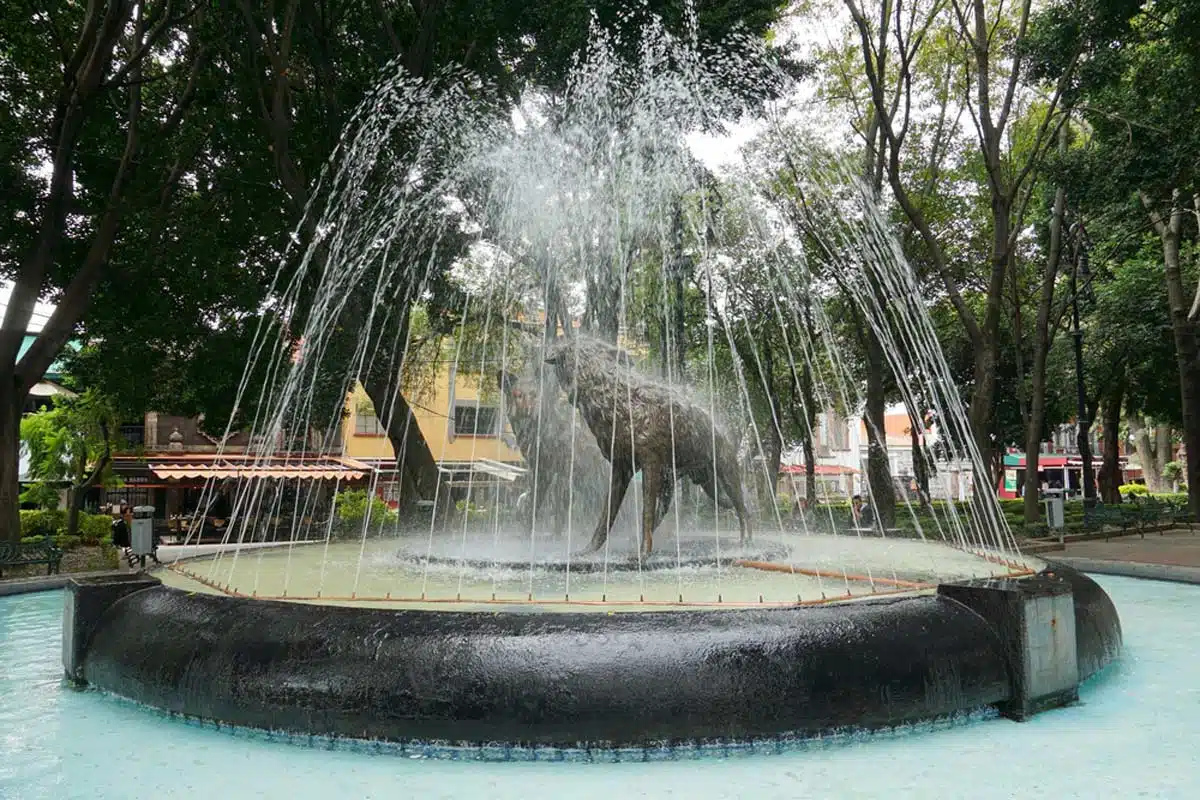 Heading to the Frida Kahlo Museum on your trip to CDMX? Then Coyoacán is the best neighbourhood to stay in Mexico City to beat the line and head to the iconic artist's former home.

There's plenty else to do in Coyoacán; however, the charming, village-like vibe and eclectic markets make it the best district to stay in Mexico City on the southside.
Coyoacán Highlights
Coyoacán Market
A beautiful marketplace that's been going strong for over 100 years, Coyoacán Market is a two-story building packed with food and souvenirs.
Frida Kahlo Museum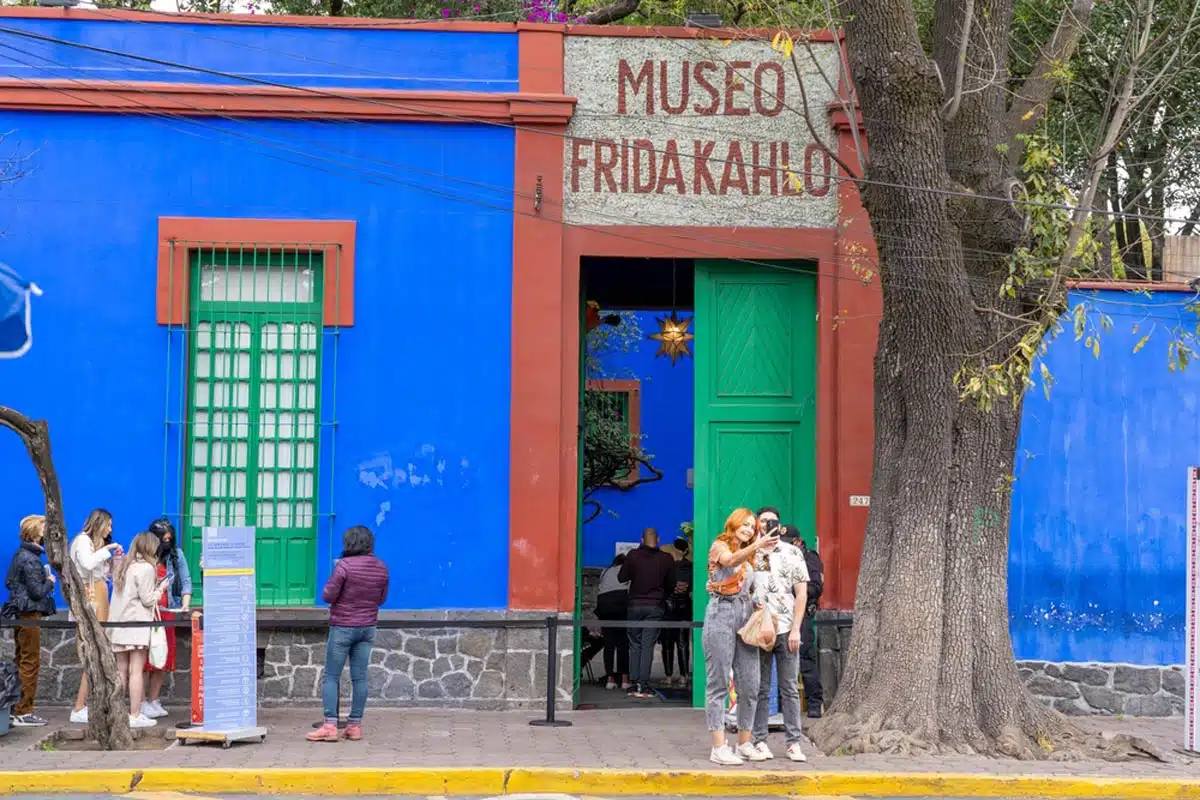 The Blue House is the former residence of the iconic Mexico City artist Frida Kahlo (as well as her husband Diego Rivera) and showcases some of her famous artwork.
Suggested Hotels in Coyoacán
H21 Hospedaje Boutique
Fancy living like a local? Large apartment-style rooms at H21 Hospedaje Boutique feature modern furniture and beds with a full kitchen perfect for cooking a meal after visiting Coyoacán Market.
Agata Hotel Boutique & Spa
Agata Hotel Boutique & Spa is a luxury property featuring a complimentary breakfast daily and a charming spa in contemporary, stylish digs.
Chalet del Carmen, Coyoacán
Looking for somewhere casual to bed down? Chalet del Carmen is a beautiful guest house with a garden courtyard and several room styles and sizes to choose from.
San Ángel: Best Place to Stay in Mexico City for Couples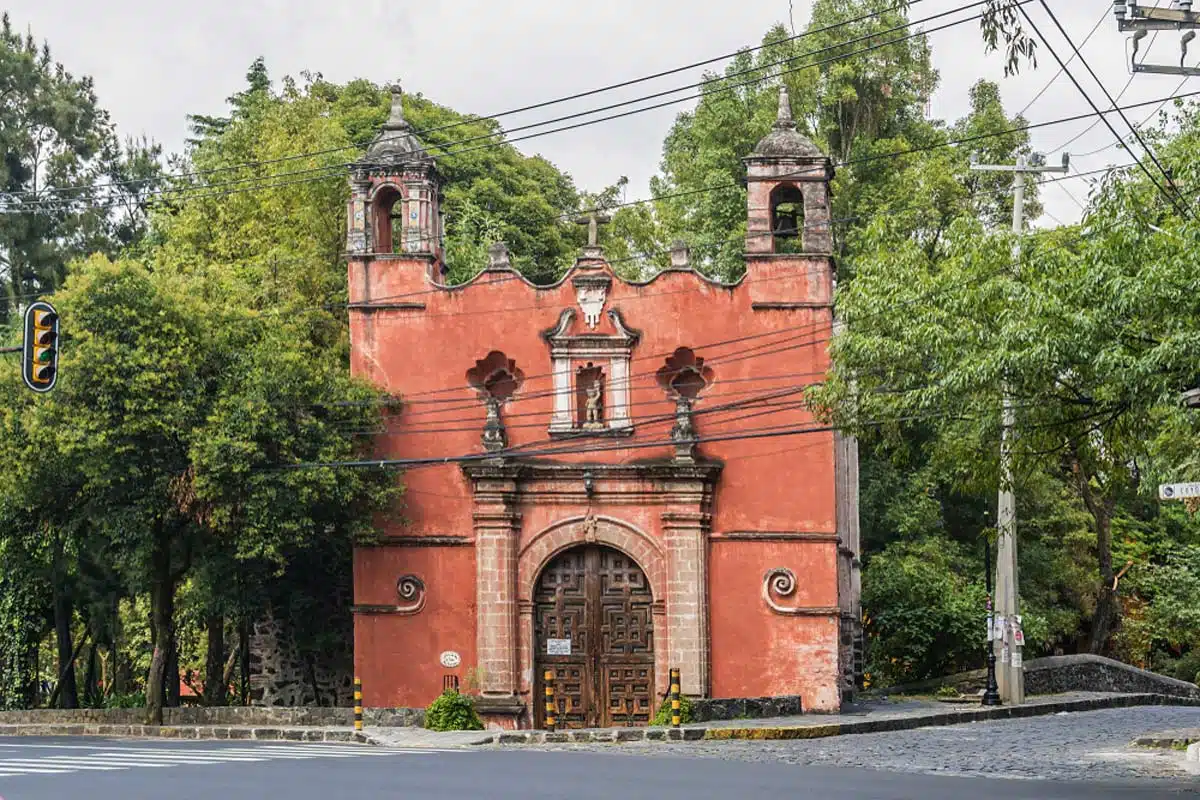 This next neighbourhood is ideal for couples spending a romantic week in CDMX. Check out the cobblestone streets, lush subtropical gardens and vibrant local culture of San Ángel.
That said, it's also one of the prettiest places in the city. So, if you fancy dipping out of the hectic centre, this could just be the best place to stay.
San Ángel Highlights
Bazaar Sábado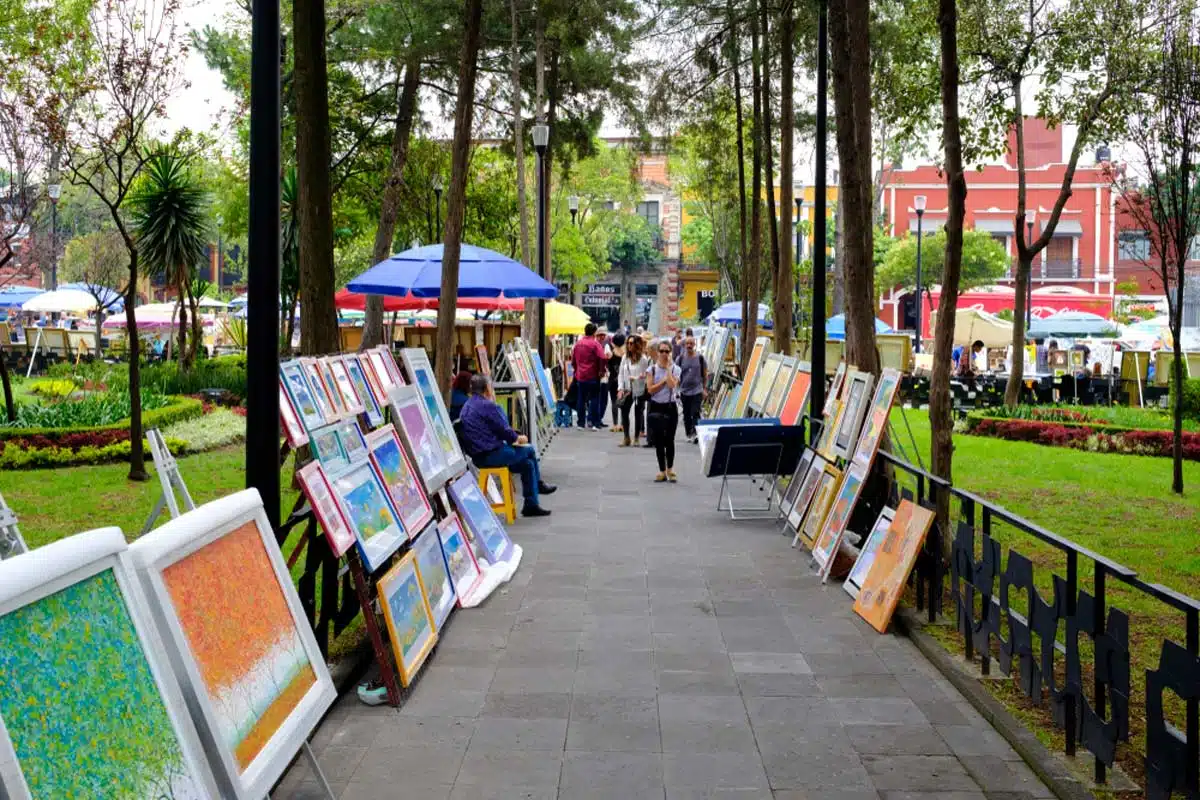 You might be away from the centre, but Bazaar Sábado is still lively AF. You can find some unique handcrafted goods at this thriving marketplace in the underrated district of San Ángel.
Parroquia San Jacinto
/i
CDMX isn't short of gorgeous religious buildings, and San Jacinto church is no exception. This church has been operating since the 16th century, and is definitely worth checking out on your trip to Mexico City.
Suggested Hotels in San Ángel
Krystal Grand Suites Insurgentes
A 24-hour front desk, fitness centre, bar and restaurant make Krystal Grand Suites Insurgentes a great choice for convenience and comfort when staying in San Ángel, Mexico City.
Mansión Papilio
For a totally romantic escape, Mansión Papilio is located between San Ángel and Coyoacán, and offers opulent rooms and suites in a gorgeous mansion setting.
Suites Portal San Ángel al Mejor Precio
Suites Portal San Ángel al Mejor Precio has cosy, vibrantly designed rooms that are inexpensive and conveniently close to the top sites in San Ángel and Coyoacán.
Santa Fe: Best Place to Stay in Mexico City for a Lowkey Trip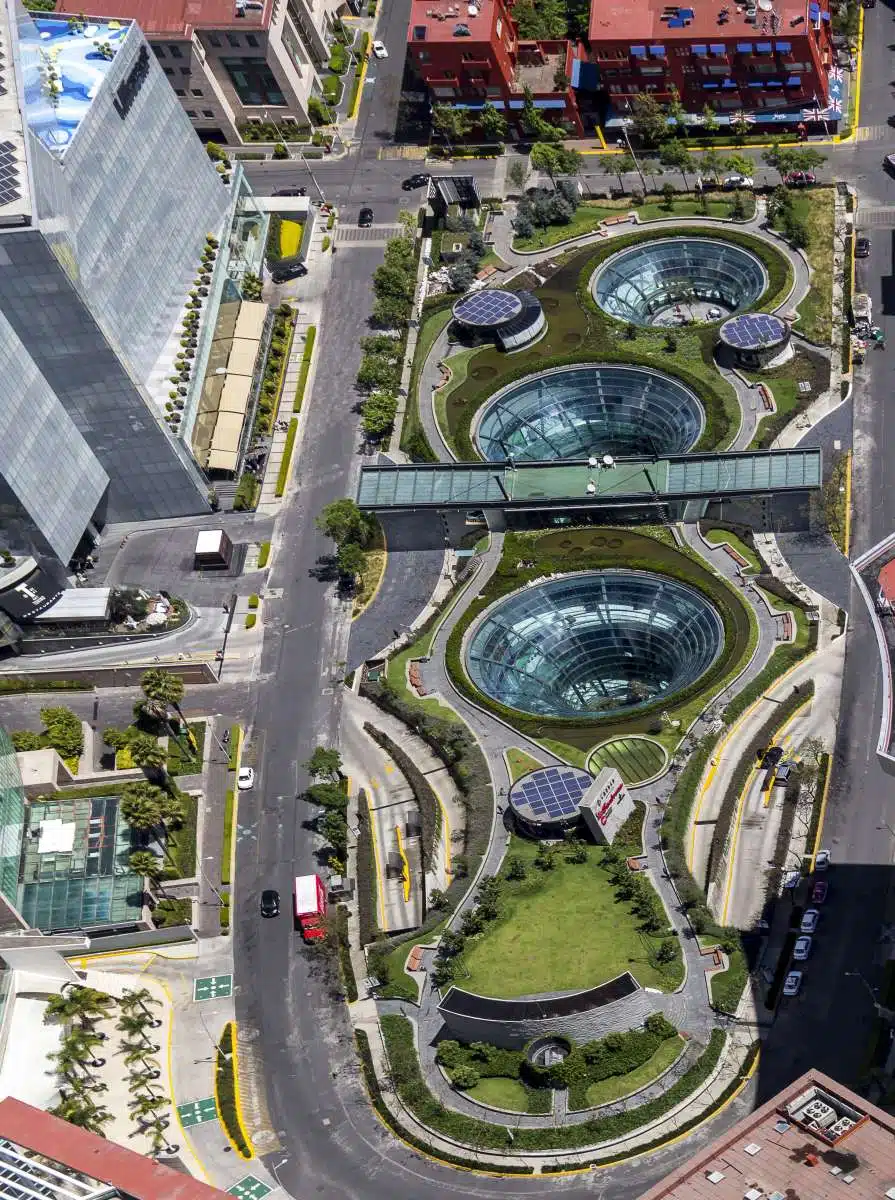 If you've visited Mexico City before, you might be looking for a laidback spot where you can really soak up the atmosphere. To that I suggest: Santa Fe.
This is a popular area for business travellers and holidaymakers who want to feel more like a local than a tourist when visiting CDMX. The skyscrapers, shopping centres and eateries around the neighbourhood make it a great choice for travellers wanting to experience a (slightly) slower pace of life.
Santa Fe Highlights
Samara Shops
The shopping mall is a famous plaza known for its unique ambience and plenty of stores to peruse through.
Garden Santa Fe
The rooftop garden, which is actually on ground level, is a beautiful use of urban space in the bustling Santa Fe district. Head underground to do some shopping in one of the most unusual (and really cool) mall designs I've seen.
Suggested Hotels in Santa Fe
Stadia Suites Mexico City Santa Fe
Looking for a base where you can really live? City views, kitchenettes and sound-proofed rooms will have you feeling right at home at Stadia Suites Mexico City Santa Fe.
Ramada by Wyndham Mexico City Santa Fe
For a no-fuss base, Ramada by Wyndham is centrally located near the best dining and shopping in Santa Fe. The rooms have an open floor plan and contemporary decor that makes them feel much more expensive than they are.
Zona Rosa (Pink Zone): Best Place to Stay in Mexico City for Nightlife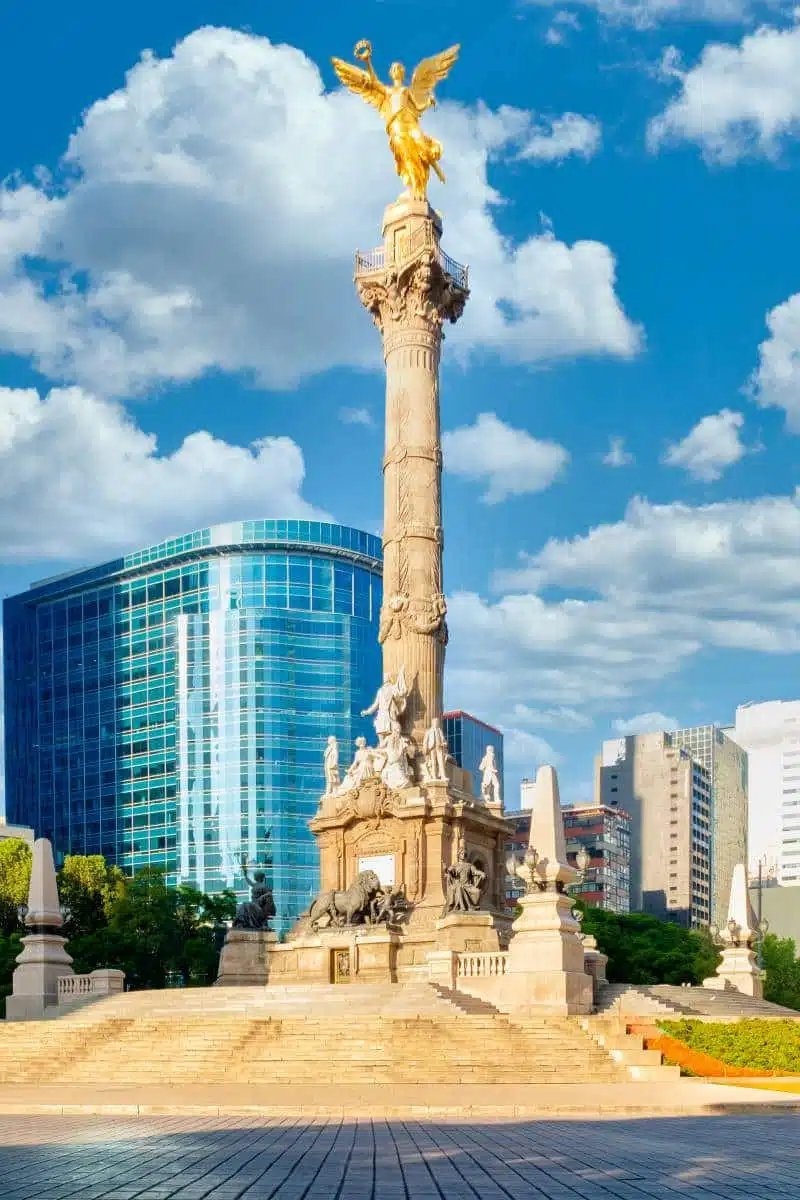 If chilling isn't really your style, this next spot in CDMX might be perfect. The Pink Zone is an area within the vibrant Juarez district of Mexico City and home to a lively LGBTQ+ scene, eclectic shops and exciting entertainment
Zona Rosa Highlights
Angel de la Independencía
One of the most famous landmarks in CDMX is in the heart of Juarez, near the Pink Zone on Paseo de la Reforma. The 100+-year-old structure is a gorgeous landmark that is especially impressive at night.
Nightlife
Be sure to check out the cocktail bars, dance clubs and live music venues in one of the best areas to stay in Mexico City. La Taberna del Pacifico and Bukowski's Bar are two of the most poppin' places.
Suggested Hotels in Zona Rosa
Sofitel Mexico City Reforma
Where is the best place to stay in Mexico City's Zona Rosa? I'd argue that it's the Sofitel Mexico City Reforma. This hotel is quickly making a name for itself with 5-star service, a 39th-floor spa and the bustling CItyzen rooftop restaurant.
Soy Local CDMX
Soy Local CDMX is a charming budget-friendly option near the Pink Zone with traditional Mexican artwork and decor, and an Argentinian restaurant that seriously impresses.
Hotel MX Reforma
Hotel MX Reforma offers small, business-minded accommodations that are modern and comfortable, and most importantly, right off Paseo de la Reforma.
Xochimilco: Best Place to Stay in Mexico City for a Unique Experience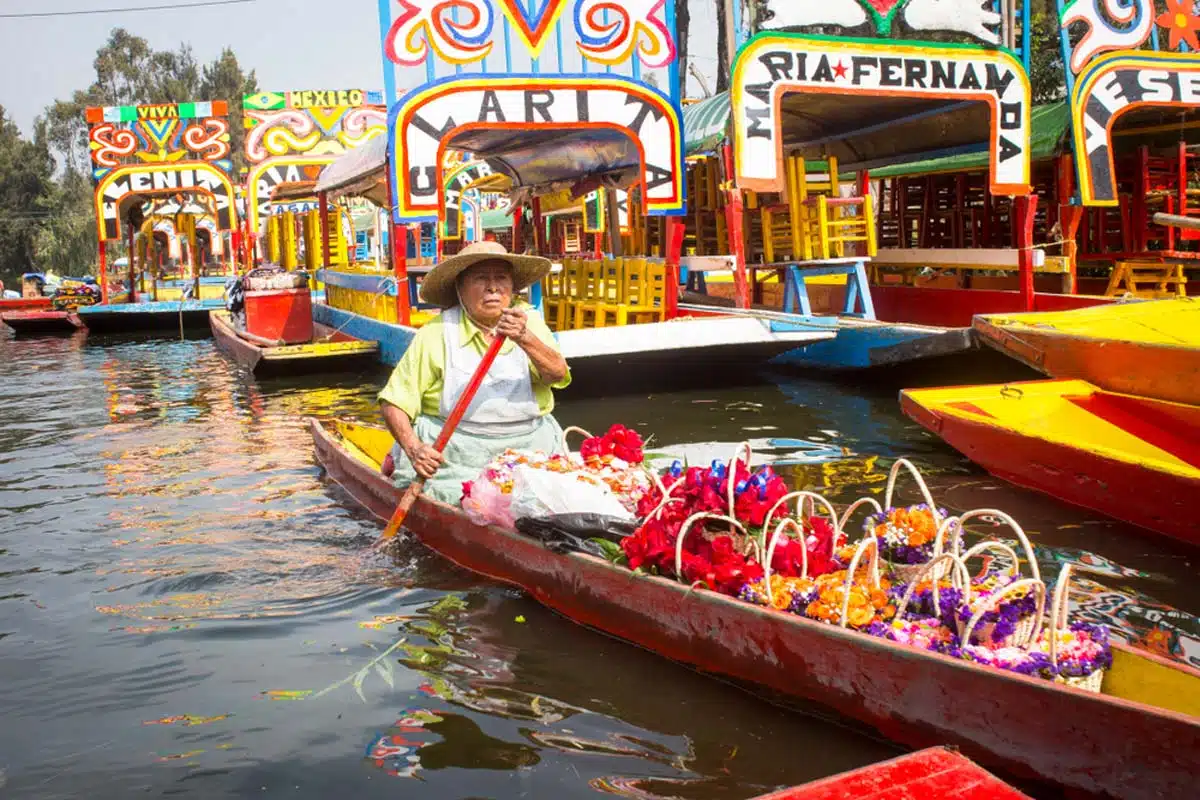 Xochimilco is a unique collection of islands on a lake that form canals. It's an ancient area in Mexico City and offers visitors a glimpse of what life was like in Mexico City when much of it was covered by a lake (Lake Texcoco).

Head to this region to experience the traditional canals, floating gardens and a completely quirky cultural experience away from the city centre. I'm talking street food, live mariachi and colourful party boats slowly leading you down the busy canals. Enough said?
Xochimilco Highlights
Trajineras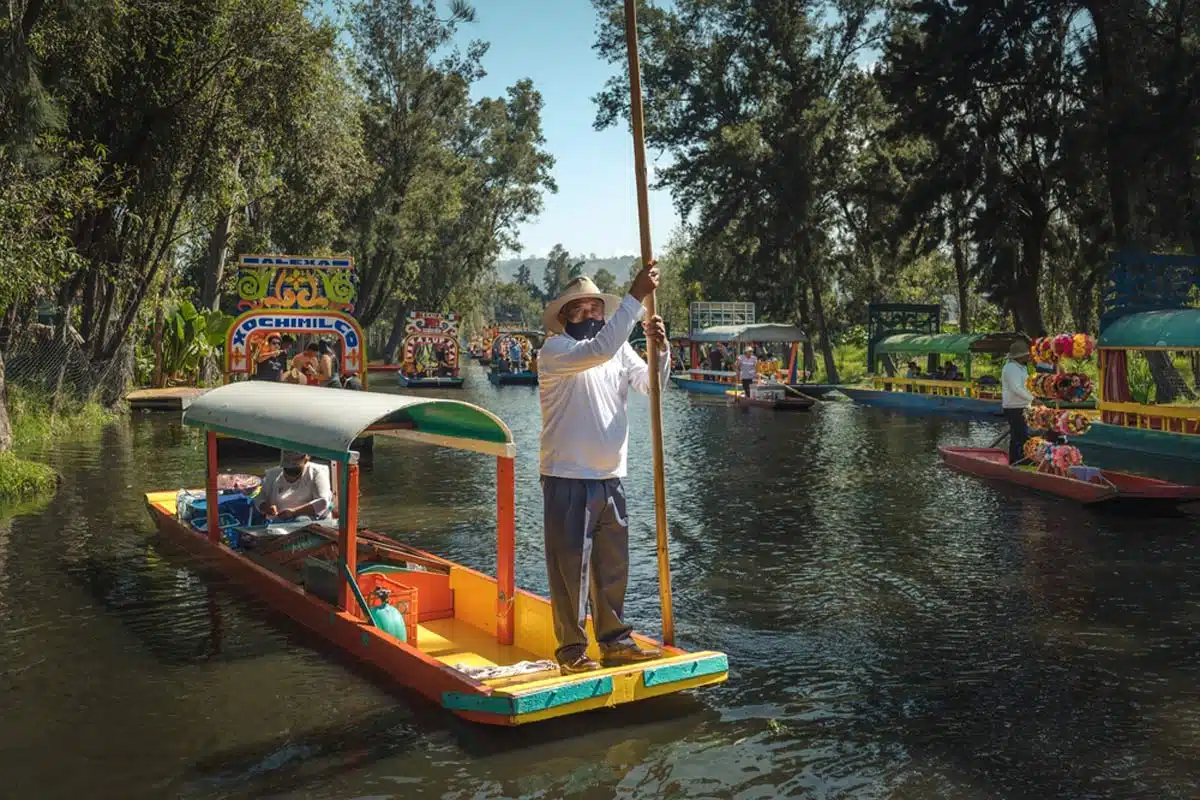 Most visitors are in Xochimilco to check out the vibrant canals on trajineras (similar to gondolas) floating down the ancient waterways. They're popular for a reason and get especially lively at night.
The Island of the Dolls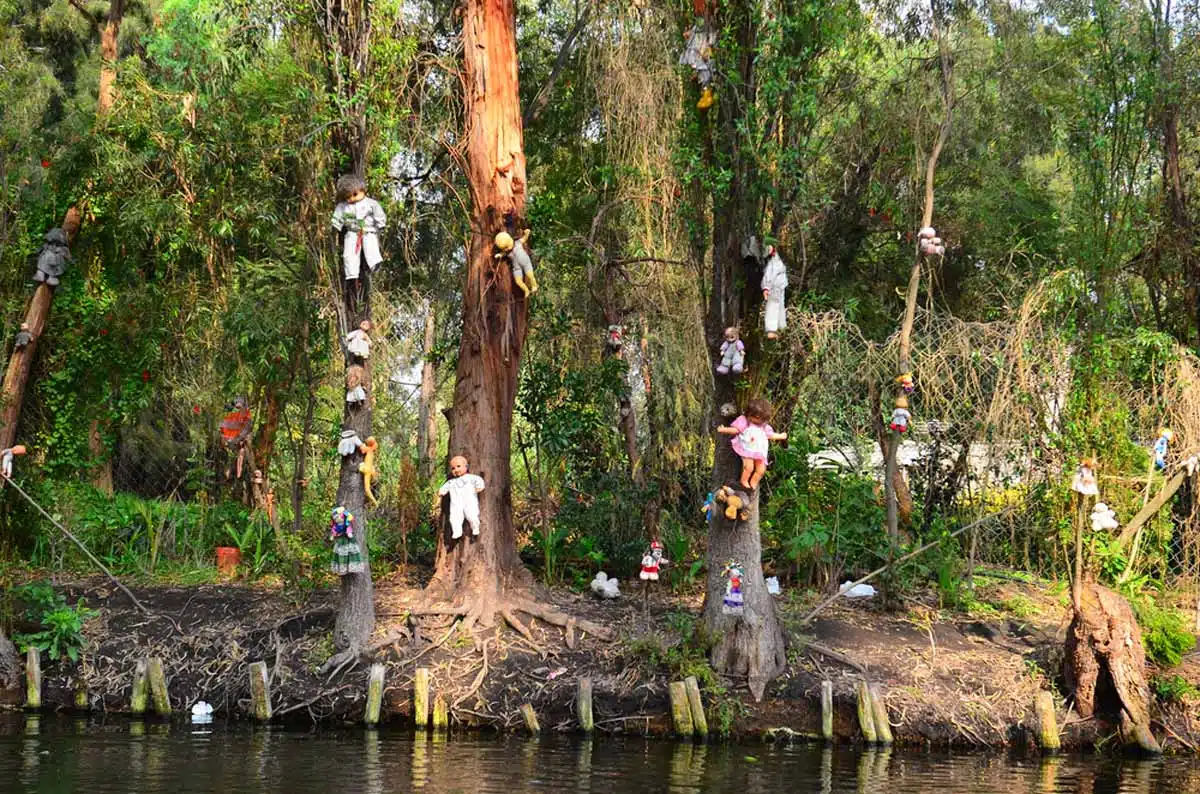 You can explore an interesting (and some say haunted) island when visiting Xochimilco, the Island of the Dolls. If creepy encounters with ghosts and old dolls is your thing, this one's for you.
Suggested Hotels in Xochimilco
Amarterra
Amarterra is a boutique hotel that's an excellent choice if you want to wake up close to Xochimilco or the Frida Kahlo Museum in Coyoacán. The rooms are modern, and there's a 24-hour front desk and popular breakfast restaurant on site.
Hotel Amala
Hotel Amala is located about as close as you can stay to Xochilmilco, and this budget-friendly hotel is popular for its comfortable rooms and convenient location.
Where to Stay in Mexico City: Frequently Asked Questions
Related Searches FAQs
Practical Tips to Consider Before Booking Your Mexico City Accommodation
I don't want to frighten you into not visiting Mexico City – I love it and have visited many times – but it's important to stay safe. Avoid areas like Tepito, Doctores and Iztapalapa (particularly El Joya) at night.
The best places to stay around Mexico City are centrally located and popular with locals and tourists like Roma and Condesa.
If you're arriving late (or early), be sure your hotel has a 24-hour front desk. Many of the best places to stay in Mexico City for tourists recognize that international flights arrive at all hours and may accommodate you.
Best Places to Stay in Mexico City: Read Next
Love This? Save and Share on Pinterest