Looking for the best things to do in Mexico City? Don't miss this step-by-step guide to help you discover some of the city's top attractions and lesser-known gems.
Built on the ruins of the ancient Aztec city of Tenochtitlan, Mexico City is one of the oldest metropolises in the Americas and a must-visit on any Mexico itinerary.
Visit Mexico City today to discover a city that is one of the largest and most cosmopolitan in the world. But it's not all shiny and new – CDMX, as those in the know call it – is woven with rich histories and a cultural heritage that dates back centuries.
What's not to love? Mexico City is brimming with historical landmarks, colonial architecture, iconic artwork and tasty cuisine. In other words, it's the perfect destination to explore on your Mexico travels.
Want to get the most out of your visit to the country's capital? This guide will walk you through the best things to do in Mexico City.
Tip: If you're looking for stylish accommodation near many of Mexico City's top attractions, check out the luxurious, five-star Hotel Marquis Reforma.
Unmissable Things to do in Mexico City – Top Attractions & More
5 Top Things to do in Mexico City
There are many incredible must-visit attractions in Mexico City. From historical landmarks to vibrant squares, here are my top five picks.
Templo Mayor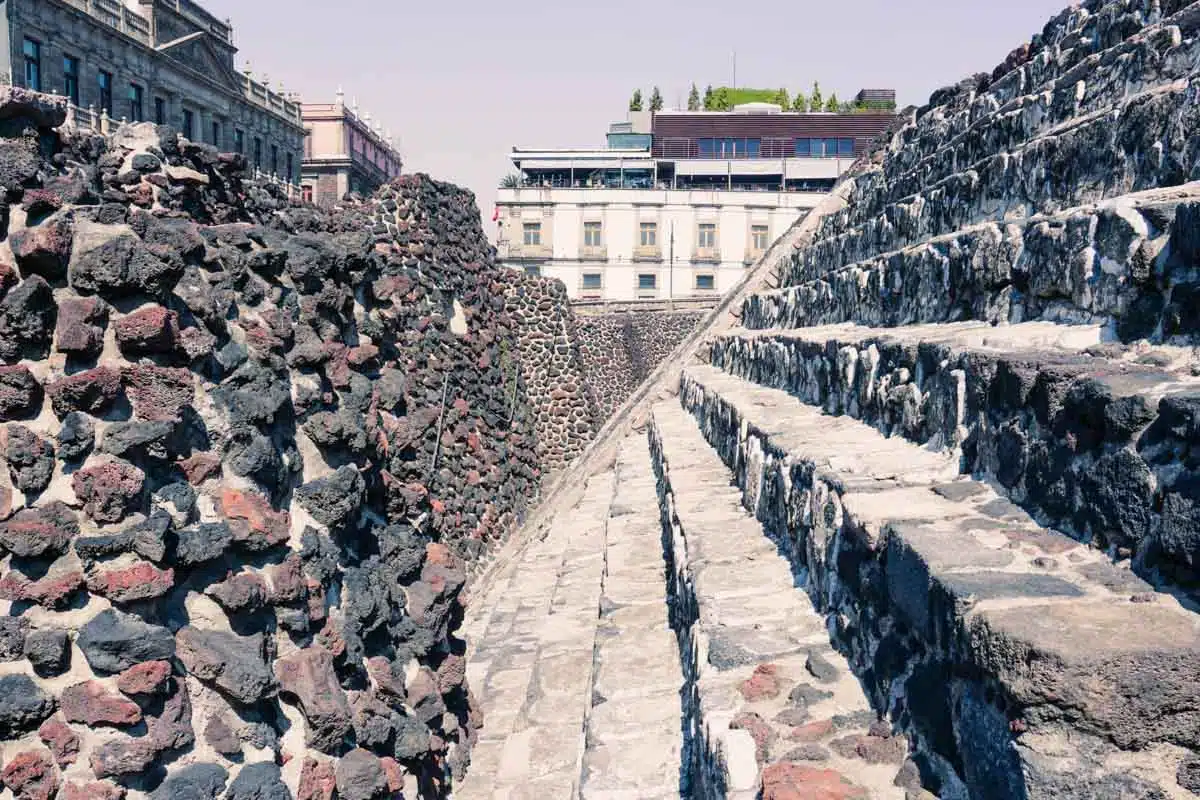 Strolling underneath the modern skyscrapers on Avenida Reforma or the neighbourhood of Santa Fe, it's hard to believe that these areas in Mexico City date back centuries. 
For a look into the now-modern city's complex past, take a trip to the renowned Templo Mayor in the heart of Centro Historico.
Constructed in the 1300s, this active archaeological site once served as the main temple of the Aztec capital city, Tenochlitlán. Many Aztecs believed this temple to be the centre of the universe.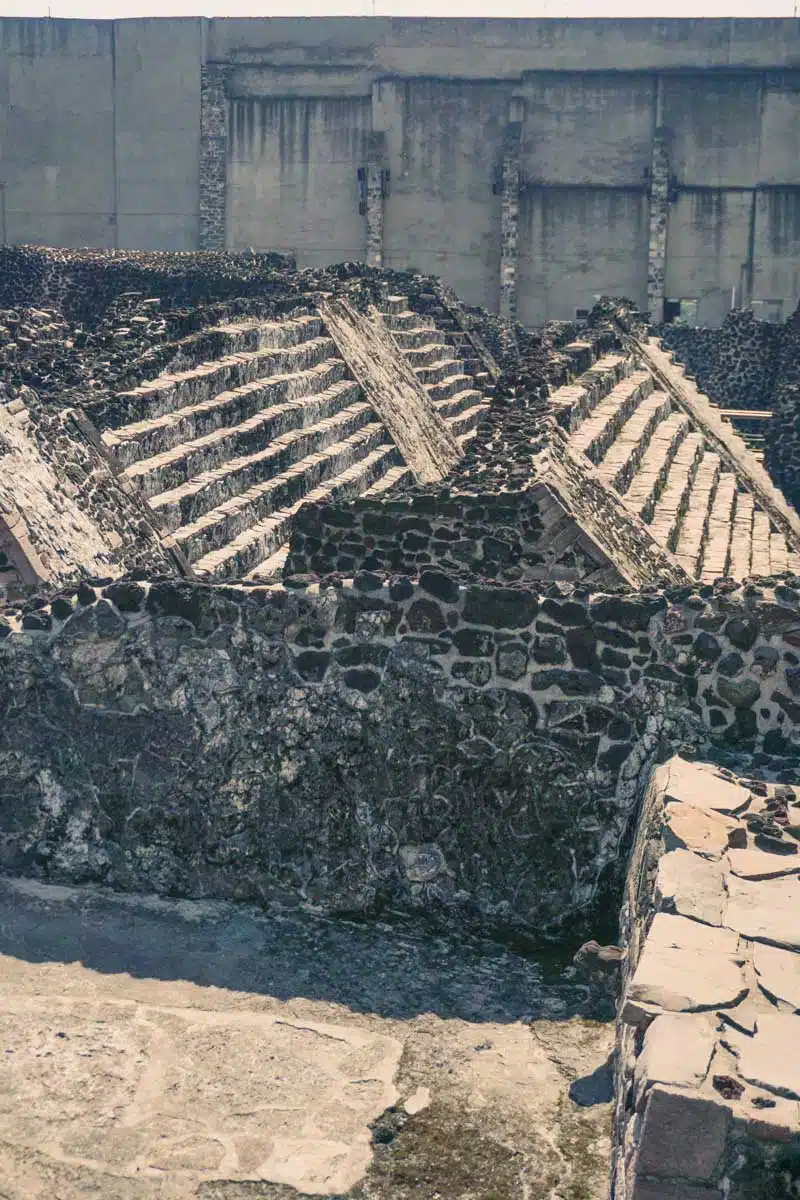 However, it was sadly mowed down and replaced by a cathedral during the Spanish conquest in 1521.
In 1987, the Templo Mayor earned a spot on the list of UNESCO World Heritage sites and is one of the country's most famous landmarks. Around this time, following the discovery of an 8-ton Aztec artefact, excavation at the site began. 
To this day, researchers continue to excavate and study the temple and surrounding structures.
For a chance to view their exciting finds, be sure to stop by the on-site museum during your visit.
Palacio de Bellas Artes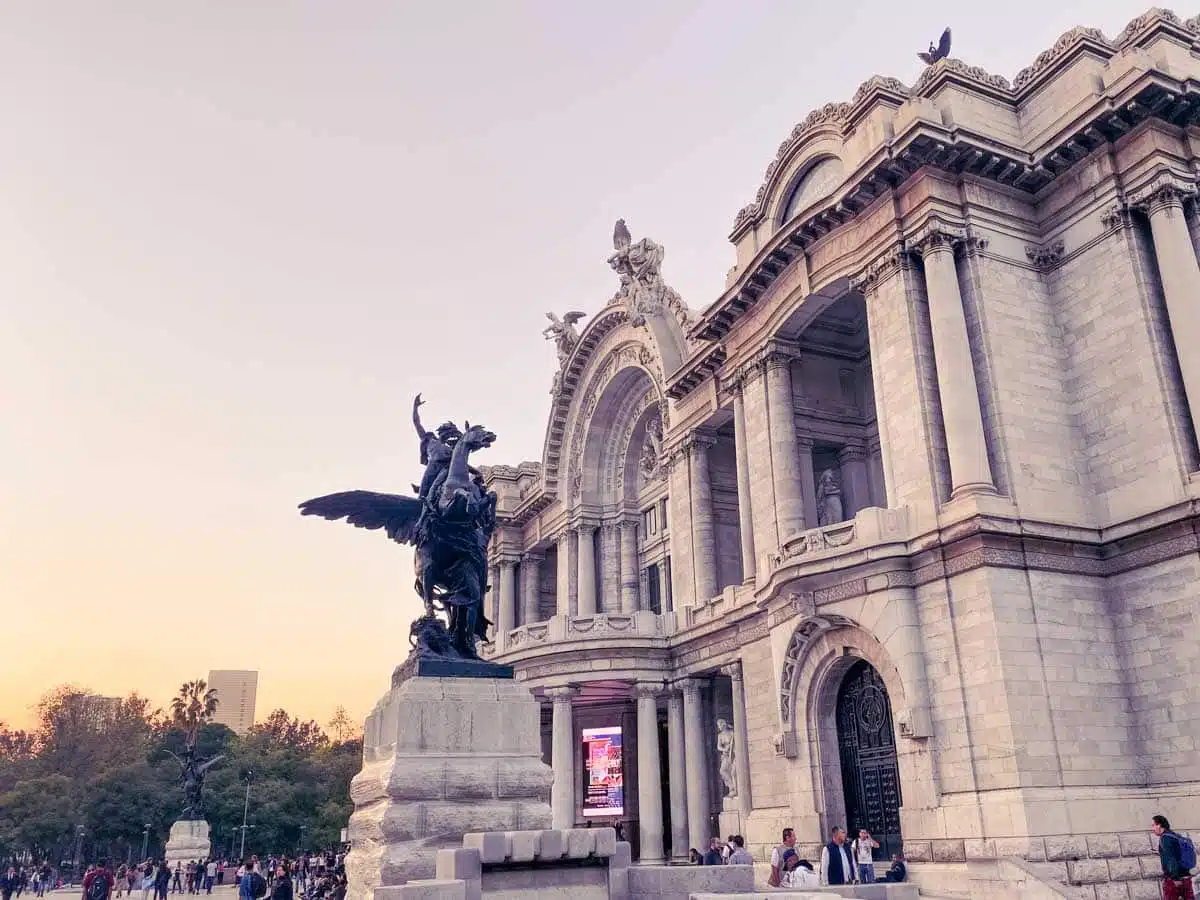 Few architectural structures in the Western Hemisphere can rival the Palacio de Bellas Artes (Palace of Fine Arts). This is one of the most famous landmarks in Mexico City and is a staple feature on just about any Mexico City guide or brochure.
Located near Alameda Park and Centro Historico, it is easily accessible, so a visit here is a must.
The Palacio de Bellas Artes dates back over a century. Construction on the building began in 1904 with the aim of having a national theatre ready for inauguration by 1910.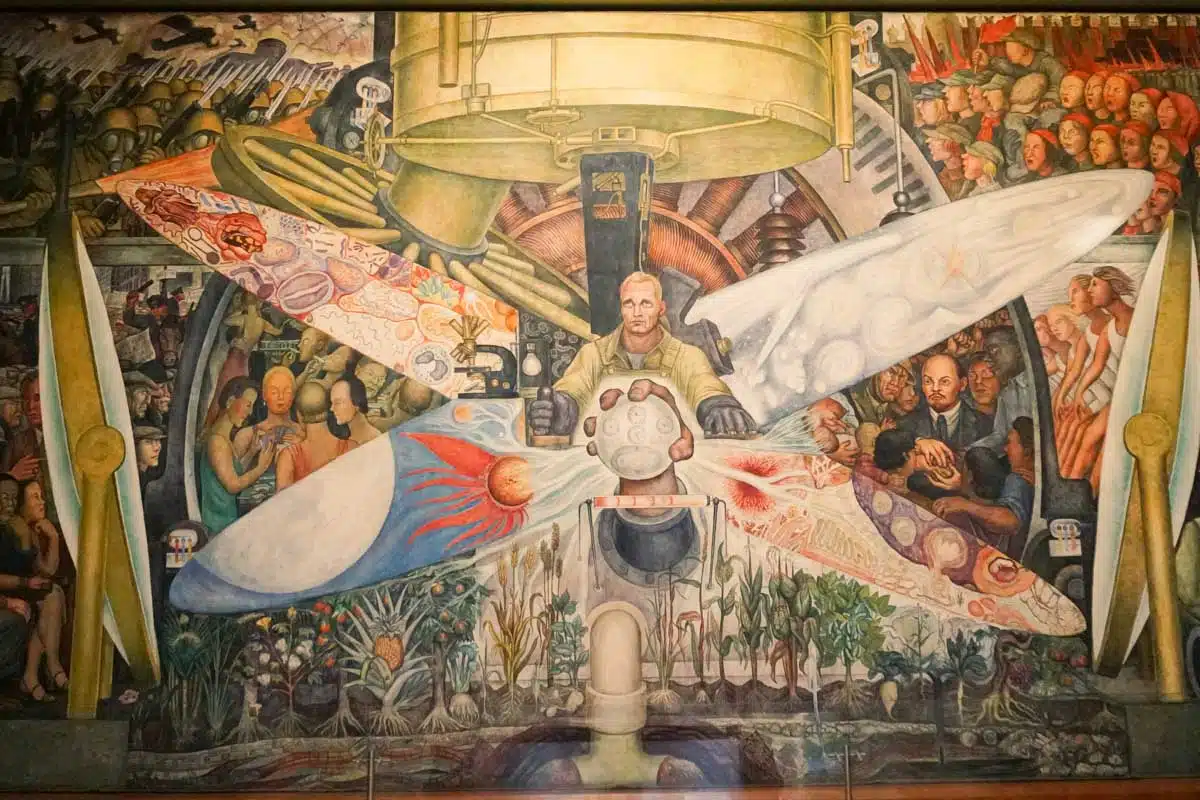 However, the project ended up taking nearly three decades to complete. Today, many travellers and art enthusiasts from across the globe visit the museum and exhibition.
With its impressive collection of murals, shimmering tiled roof, and Tiffany glass curtain, the Palacio de Bellas Artes is beautiful both on the inside and outside.
If you're not able to visit the museum, visit the coffee shop on the eighth floor of the Sears across from Avenue Juarez. From here, you will have an unobstructed view of the stunning building.
Plaza del Zócalo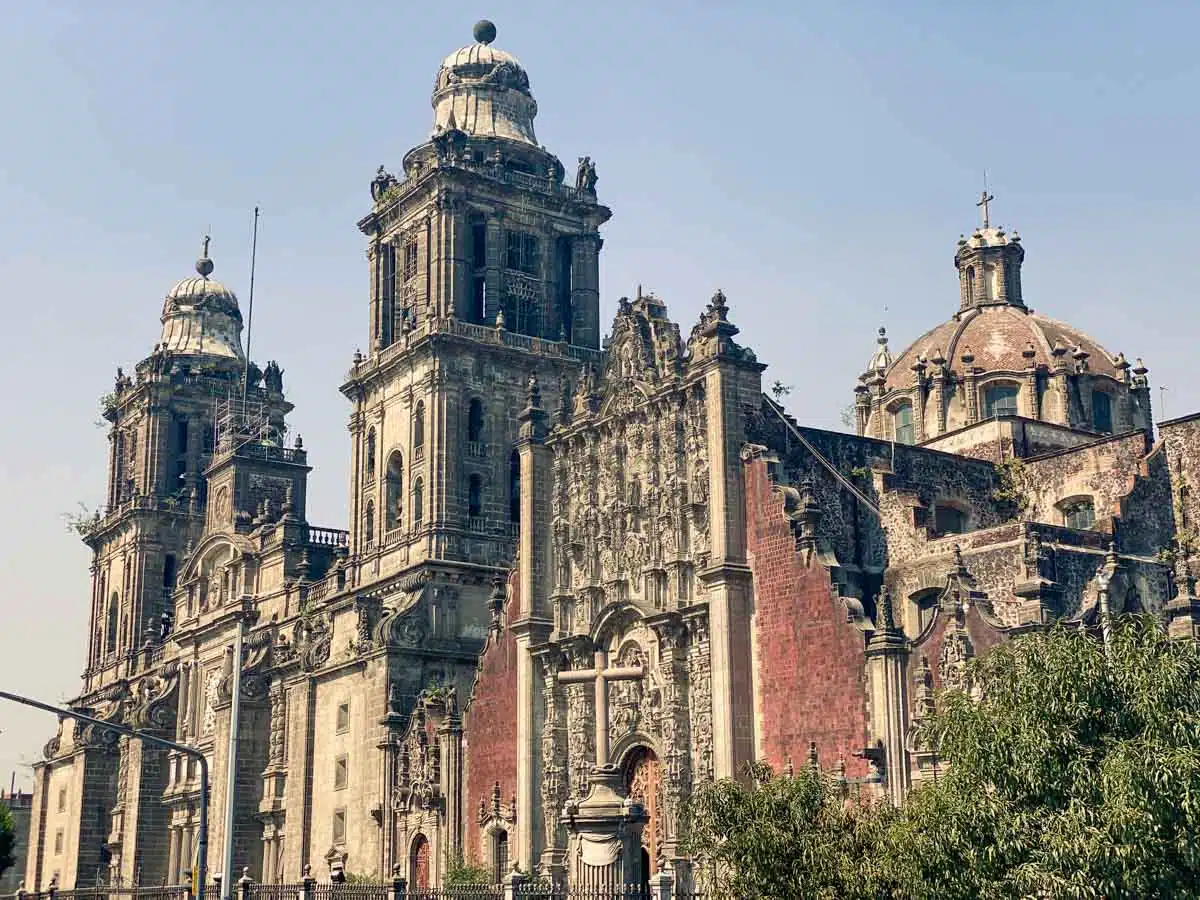 No visit to Mexico City is complete without visiting the city's main square, the Plaza del Zócalo. Measuring 220 meters from north to south and 240 meters from east to west, this is the largest plaza in Latin America.
Bordered by the previously-mentioned Palacio Nacional, this spot is the usual location for many large public gatherings in town.
On an average day, the plaza is busy with vendors, street entertainers, and tourists. It is also a common site for events like festivals and sometimes protests.
Even when there aren't any events in the plaza, it's still worth you visiting. Zócalo sits in the heart of Centro Historico, which is home to many of Mexico City's top historical sites.
Among these is the gilded Metropolitan Cathedral, one of the most photographed attractions in the city. You'll also find the famous Templo Mayor museum nearby.
To experience the Zócalo and various other historical attractions, check out this Mexico City full-day tour. On this tour, you will learn all about the nation's history and discover a vast collection of art and artefacts from ancient times.
Palacio Nacional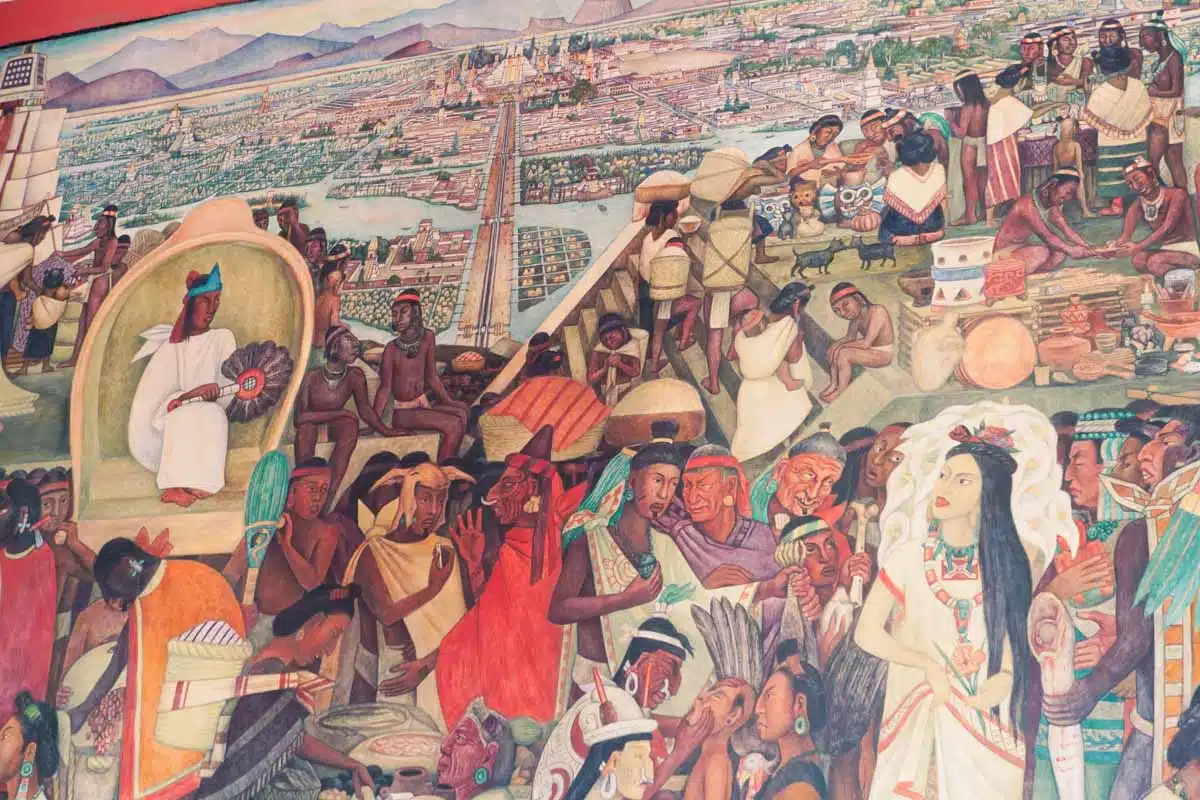 The Palacio Nacional serves as the seat of the federal branch of the Mexican government and is home to the offices of the president and the Federal Treasury. It also houses the Biblioteca Miguel Lerdo de Tejada, one of the most important libraries in the country.
However, what the Palacio Nacional is most renowned among visitors for is the stunning artworks of Diego Rivera housed within its walls.
Painter and muralist Diego Rivera is one of Mexico's most famous artists. While his reputation today is often overshadowed by his famous former wife, Frida Kahlo, he remains one of Mexico's first artists to gain world acclaim.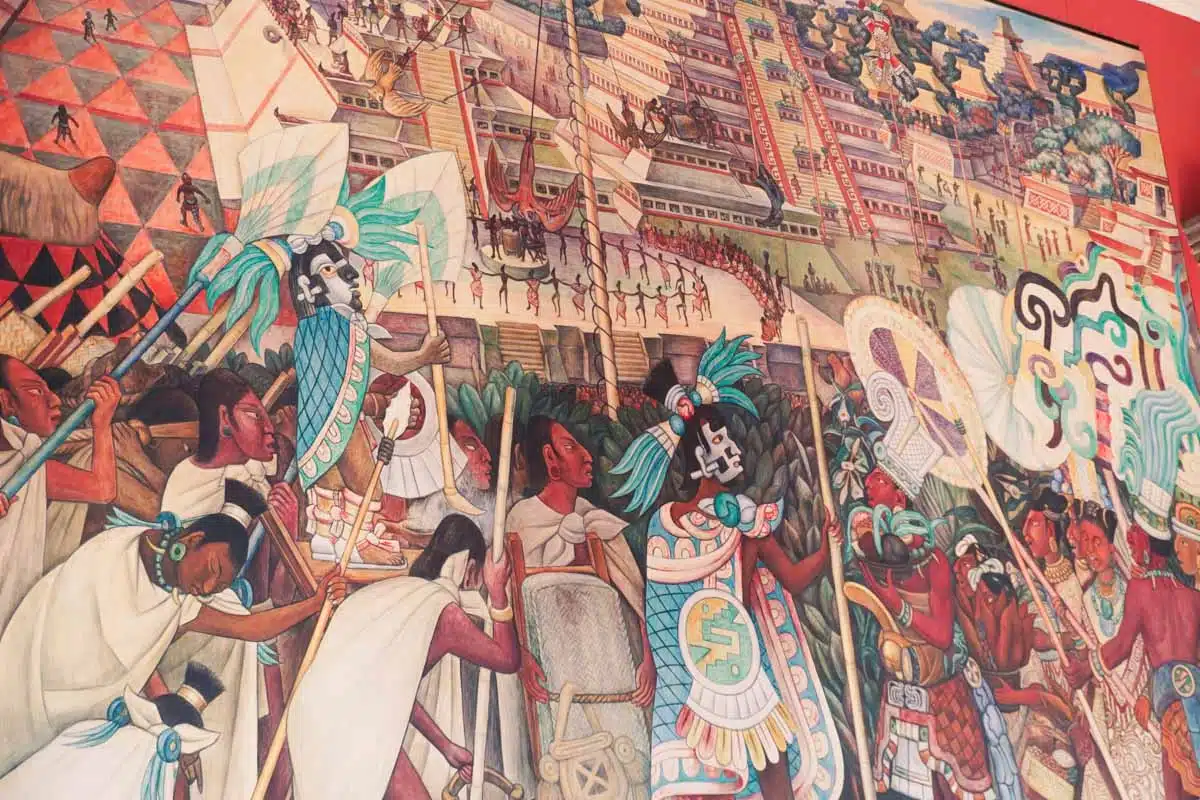 Many of Rivera's works are on display in the Centro Histórico, but his most famous piece is the History of Mexico which resides in the Palacio Nacional.
The History of Mexico is a glorious and captivating mural that depicts the country's millennia-long history. It romps through everything from the Aztec era to the post-revolutionary period across a spread of nine murals.
If you want to learn about New Mexico's history, a visit here provides a truly unique opportunity for you to
Anthropological Museum
The Anthropological Museum is definitely one of the things you must do in Mexico City, especially if you love learning about the area's rich history.
The museum has a rich and fascinating story that began centuries before it opened. It is also the most-visited museum in the country, containing the world's most extensive collection of ancient Mexican relics, artefacts, and art.
Famed for hosting a range of historically and culturally important artefacts from Mexico's pre-Hispanic past, The Anthropological Museum features 23 exhibition rooms spread across two levels. These exhibits cover everything from the Toltecs and Zapotecs to the Maya and Aztecs.
In fact, the museum houses more than seven million archaeological pieces and over five million ethnological pieces. Some of the most famous exhibits include the ceremonial headdress of Aztec emperor Moctezuma and a half-a-millennia-old Aztec Calendar Stone.
With its sheer size and extensive collection, it is almost impossible to tackle the museum in a single day. To ensure you get the most out of your visit, consider this guided Anthropological Museum tour.
Best Things to Do in Mexico City During the Day
Listed below are some of the best places to visit in Mexico City. From lively markets to outdoor parks, there is something for everyone.
Chapultepec Park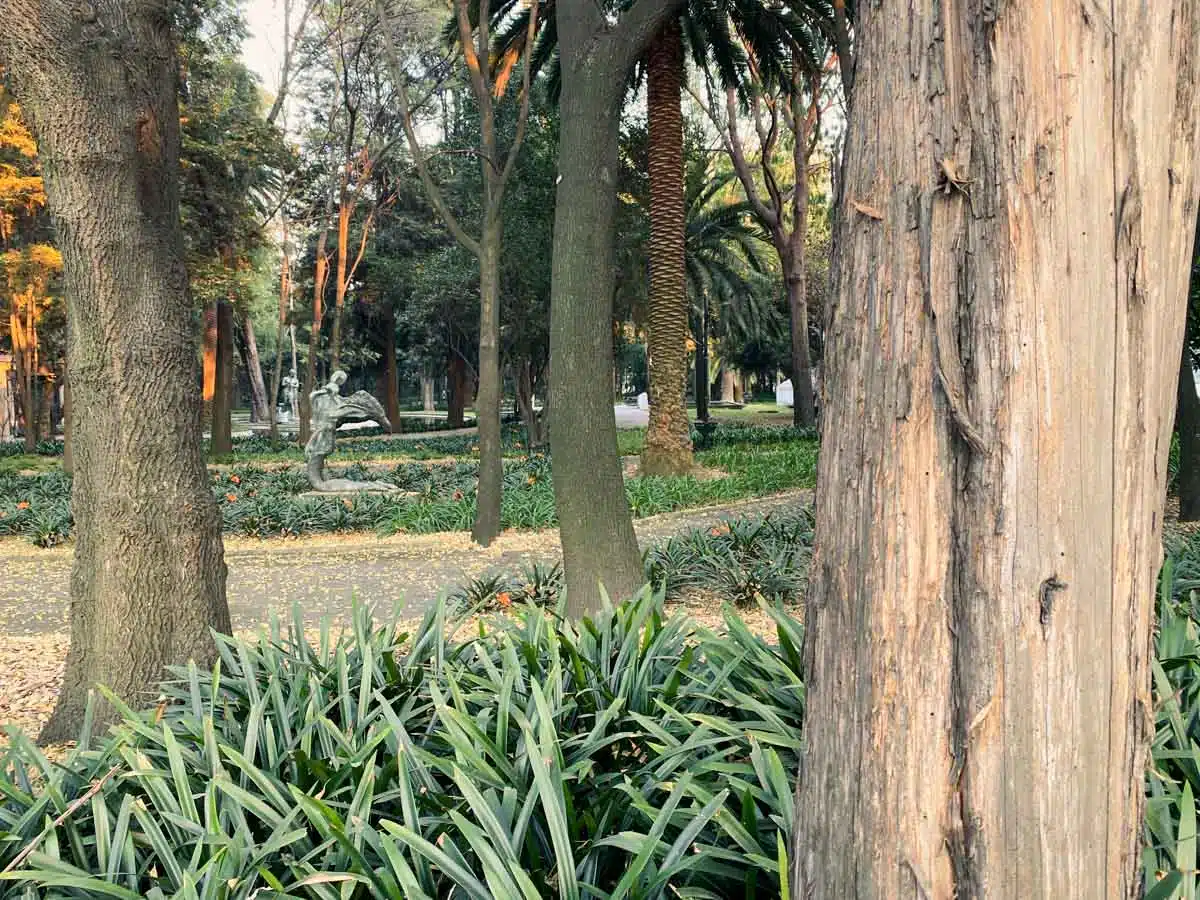 Chapultepec Park, or Bosque de Chapultepec, is a 1,695-acre park that dates back to ancient Aztec times. Filled with lush green foliage, it once served as a royal retreat. To this day, it is commonly referred to as the lungs of Mexico City.
There is plenty to see and do at Chapultepec Park. Inside the park, you will find many trails, perfect for walking, running, or biking.
The park also houses the Chapultepec Zoo, as well as the Museum of Anthropology and Rufino Tamayo Museum. Visitors can also explore the Castillo de Chapultepec.
While there is much to explore at this park, it is also an ideal spot to relax. On the weekends, Chapultepec fills up with local families, street vendors, and performers.
Los Cocuyos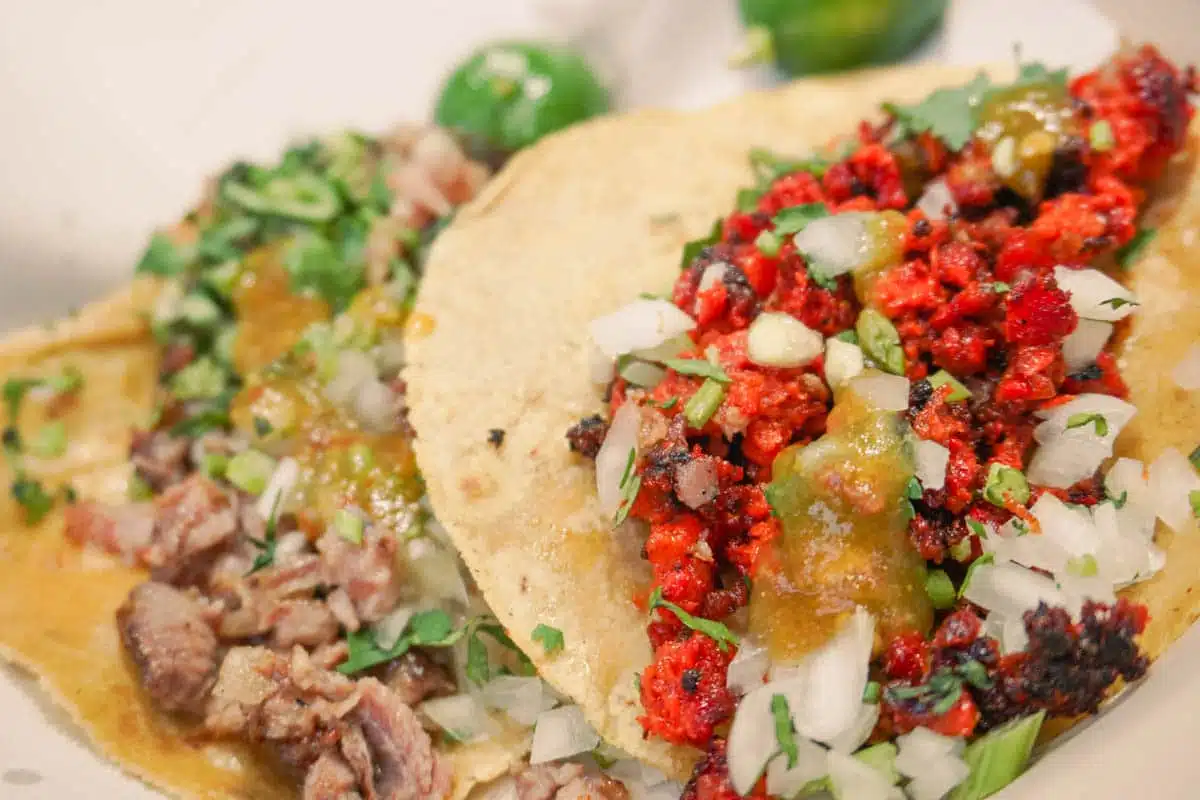 If you're a foodie, head to the popular Los Cocuyos.
This is a single-window taqueria in Mexico City's Centro Historico. It's easy to walk by this unassuming taco stand as it sits on one of the busiest streets in the area.
You don't need your eyes to find this spot, though, because the inviting aroma of slowly simmering meats is sure to grab your attention. This will lead you to the spot that Los Cocuyos has occupied for over 50 years, serving an array of unique tacos.
Wondering what to order? Just about anything on the menu will suit you fine at this small taco stand.
Their suadero (brisket) and longaniza sausage tacos are fan favourites.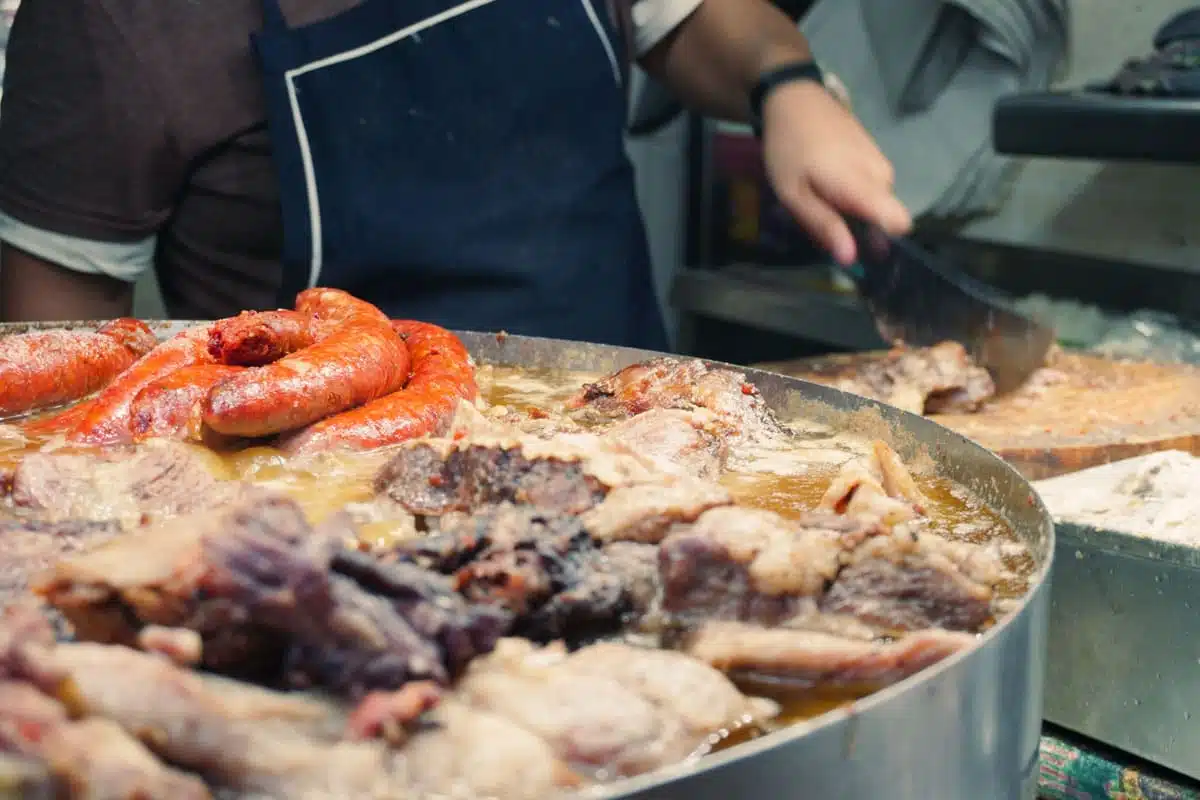 But for those wanting to try something new, Los Cocuyos offers an array of fillings that you won't find at any old taco joint. Some of these unique options include the tacos de sesos (brains) and diced ojos (eyeballs), tacos de cabeza (beef cheek), and chewy lengua (tongue).
It may not all sound appetizing, but trust me, these tacos pack a punch and provide a texturally delightful alternative to the usual carnitas or chorizo.
And for something truly flavourful, ask for the tacos con todo, which includes all of the above, along with a healthy sprinkle of onions and cilantro.
Museo Jumex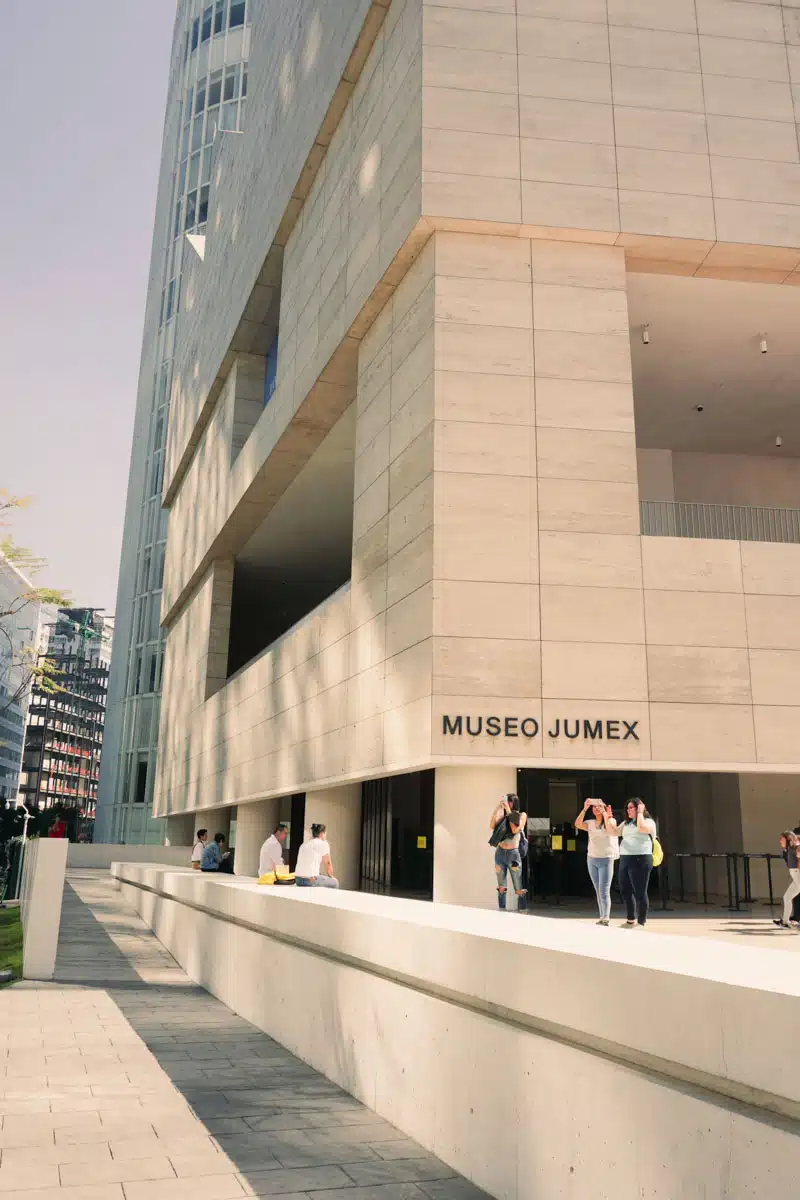 Opened in 2013 in the heart of Polanco, Museo Jumex is one of the newest and largest contemporary art museums on the scene. Designed by British architect David Chipperfield, the 1,400-meter-square white-concrete cube is as distinctive as the art that it houses.
Inside the museum, you will find one of Latin America's largest contemporary art collections. This includes works by Andy Warhol, Martin Kippenberger, Cy Twombly, Damien Hirst, and many more.
This spread of artists allows for a range of mediums, from paintings and drawings to video and light installations.
With so many impressive pieces on display, the Museo Jumex attracts many people from architecture enthusiasts to contemporary art fans. The Soumaya Museum is also located directly across the square, so visitors of either museum often opt to tackle both in one go.
Museo Soumaya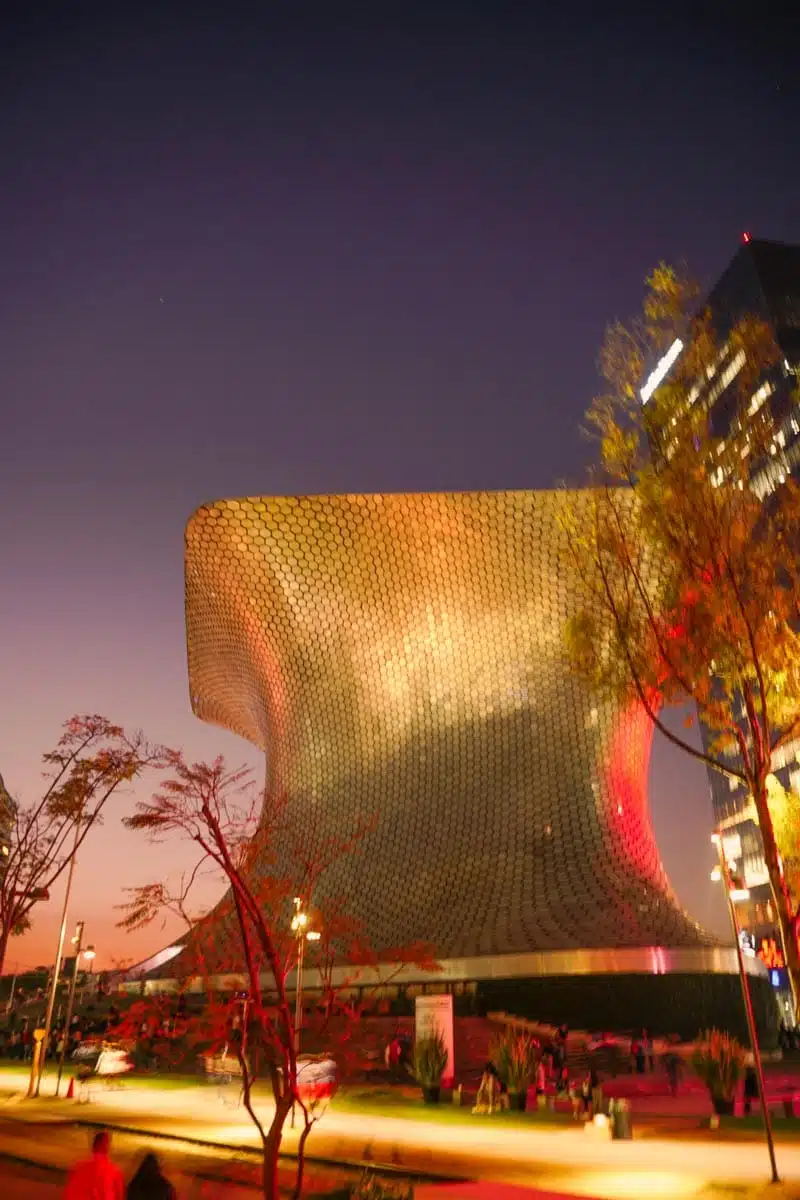 As previously mentioned, if you look across from Museo Jumex, you see a giant and rather interesting building, tiled with thousands of silver hexagons.
This impressive piece of architecture is the Museo Soumaya, which is home to a large collection of art, totalling 66,000 pieces. Among these are works from famous artists, including Diego Rivera, Rufino Tamayo, Matisse, and Degas.
Since opening back in 2011, the Museo Soumaya has quickly become one of the most popular art museums in Mexico City. Whether it's to admire the building's dreamy exterior or the works of various internationally acclaimed artists, a visit here offers so much.
Mercado de San Juan
Mercado San Juan is one of the best shopping destinations in Mexico City among professional chefs, local foodies, and travellers with cookbooks in tow.
It is often referred to as the "chef's market" due to the wide range of high-quality produce found here. This includes meat, seafood, and other important and hard-to-find items.
The area is also known as a hub for exotic meats. Inside the market are many vendors selling armadillo, iguana, wild boar, stingray, alligator, and various other forms of meat.
Some also serve their own dishes. If you've got a strong stomach, try your hand in some delicious crocodile a la veracruzana or grab some crispy ants, beetles, or grasshoppers for snacking.
Note that this market is constantly busy and filled with vendor chatter and for those who are squeamish, it may be best to stay clear of the peripheral meat stands.
However, if you're someone interested in trying out new recipes, this may be the market for you.
Mercado de Artesanías
If you're looking to shop for local folk art, handicrafts, or colourful souvenirs to take home from Mexico, be sure to stop by Mercado de Artesanías.
Here you will find a descending pedestrian walkway lined with stalls of artists and vendors.
While there are many artisan markets in Mexico City, this one is among the best. Some popular pickups here include silver jewellery from Taxco, talavera pottery from Dolores Hidalgo, and rugs from Oaxaca.
This is also a good spot to shop for clothing, tote bags, leather goods, and various pieces of art.
When visiting Mercado de Artesanias, be sure to bring along cash. Though many of the vendors and artists accept credit cards, by paying cash, you may be able to haggle the prices down a bit.
Mercado Roma
Mercado Roma is another one of Mexico City's many bustling markets. But what some may not know is that residents originally protested the idea of building a market in the neighbourhood.
Many believed that gentrification would ruin the area. Though the three-story market is more upscale than its surroundings, it is now a common gathering point amongst locals and tourists alike.
Mercado Roma is an ideal dinner stop for those who are uncertain about what to eat.
The market is home to dozens of restaurant and bar stalls serving a wide selection of foods and beverages. This includes Spanish wines, tasty tapas, tacos, desserts, and plenty more.
You can also shop from a range of fresh produce at Mercado Roma. You will find everything from cured meats to expensive cheeses.
And on the rooftop of the three-story market, you will find a beer garden. Enjoy some delicious drinks, mingle, and perhaps even try your hand in foosball.
Lalo!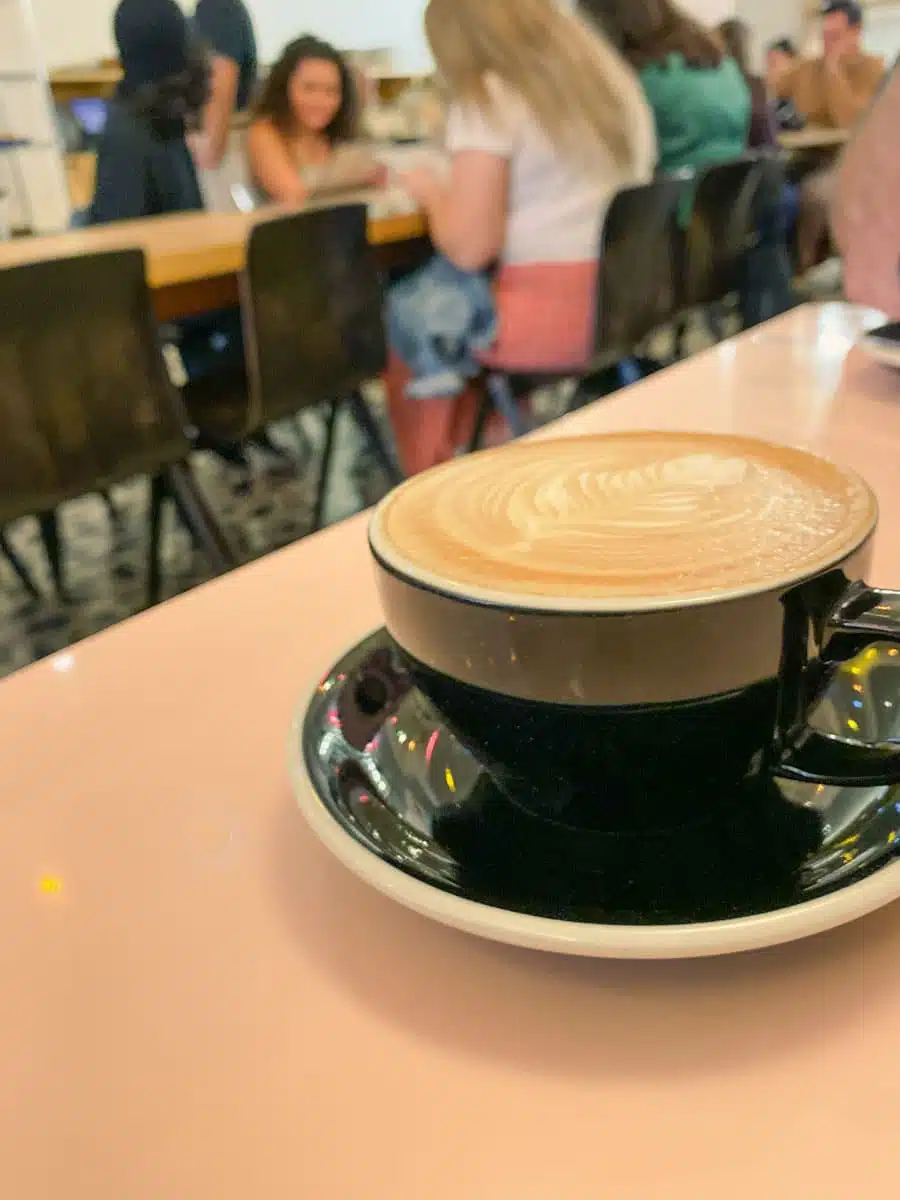 Lalo! Mexico City is one of Mexico City's best specialty cafes for trying locally-sourced Mexican coffees in a sleek and trendy coffee shop. The shop is in the Roma neighbourhood, on a leafy street of retro apartment buildings near a park.
Inside, Lalo! boasts a clean and simple cement design, with green plants providing a stunning contrast against the grey interior. While its modern and chic design is enough to lure you in, what attracts coffee fans from all over is the incredible local roasts (and the incredible breakfasts).
At the Buna Cafe, you can enjoy a rich cup of authentic Mexican Rico coffee, accompanied by a giant pastry or other delicious meal.
And before you go, be sure to purchase a bag of their signature coffee beans – which doubles up as a great souvenir, too.
Cool Things to See in Mexico City at Night
Boasting incredible nightlife, here are some of the best Mexico City attractions after dark. Explore, dance to mariachi music, or enjoy some cocktails; there is plenty of fun to be had in the city.
Plaza Garibaldi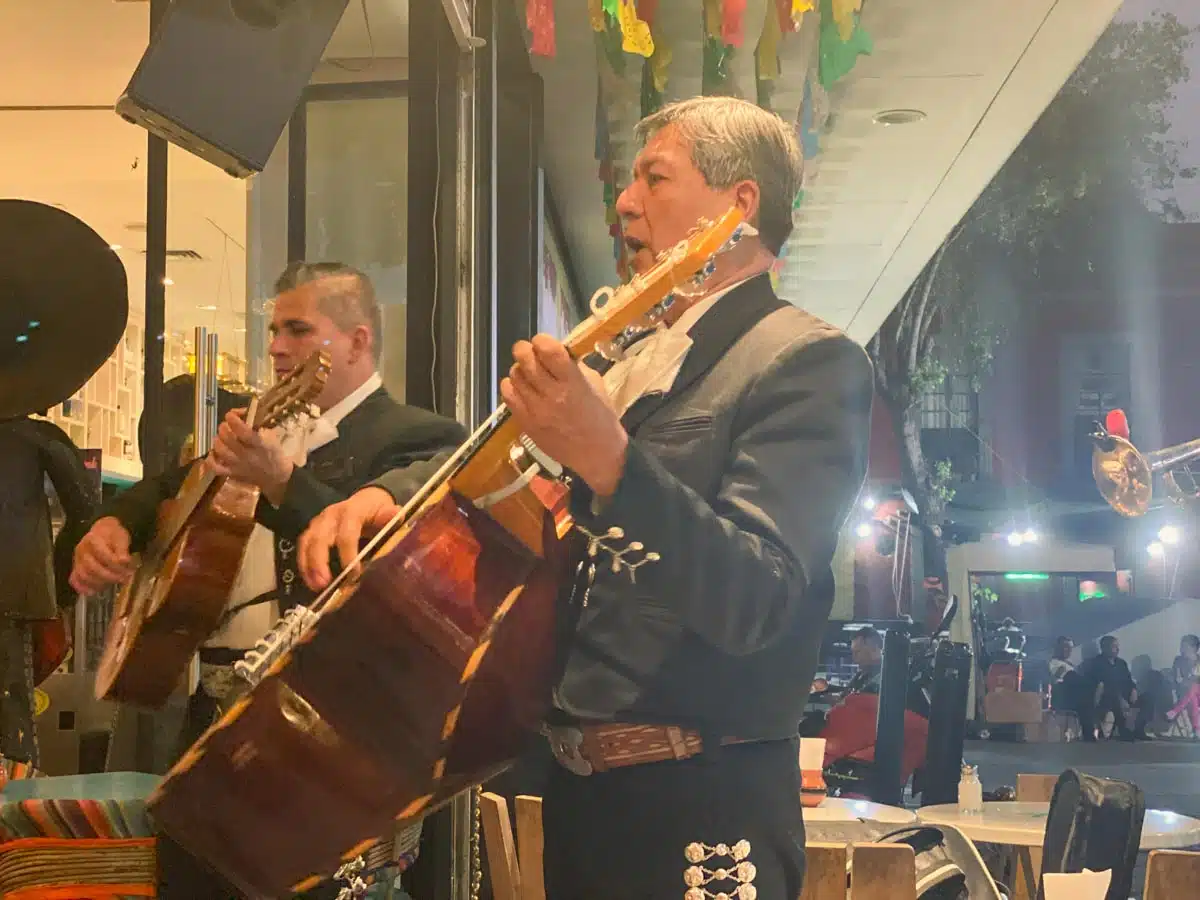 If you're in the mood for dancing, be sure to make your way down to the historic Plaza Garibaldi.
This plaza is the go-to spot for mariachi music in Mexico City. Since the mid-1900s, bands have gathered here, playing music at all hours of the day and night.
To get the full experience, visit after 11 pm and cosy up at one of the plaza's many lively tequila joints.
For some of the more quirky things to do in Mexico City, you can also watch folkloric shows or take in the hustle of urban life while sitting comfortably at an outdoor table. You might even have a mariachi band come up to you trying to score a gig.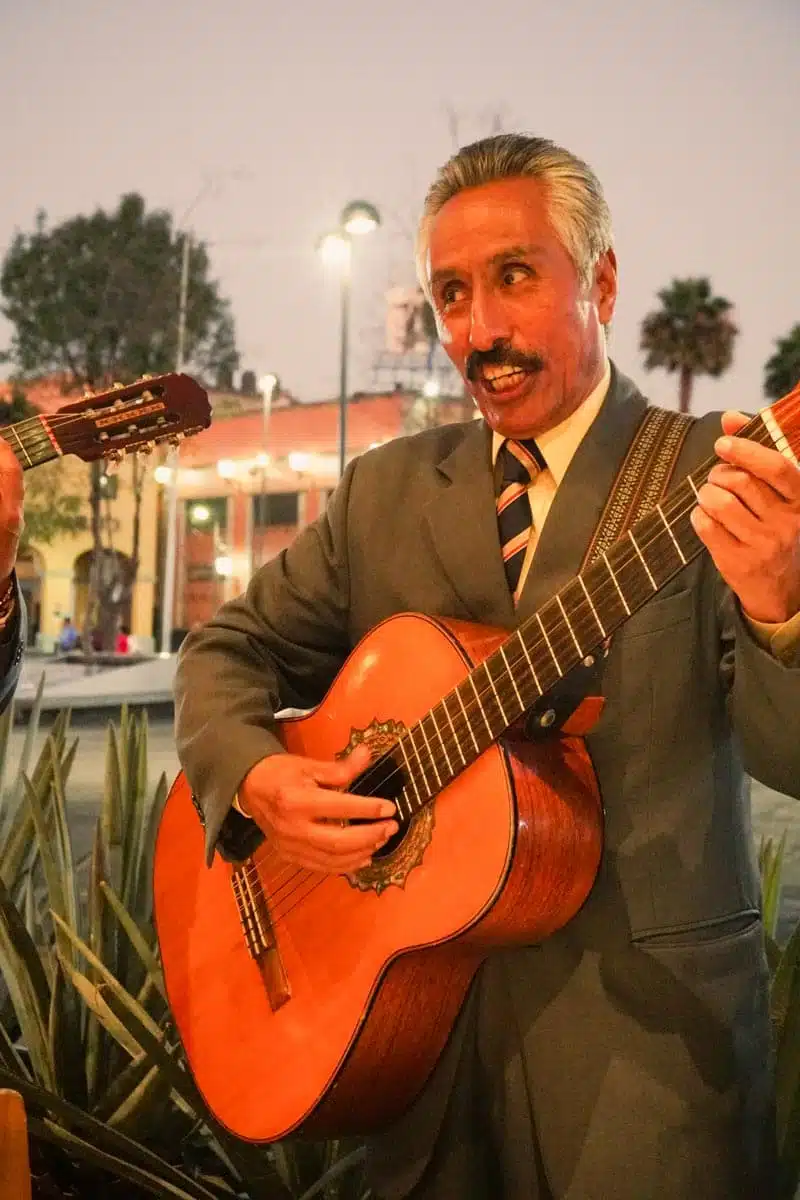 While the nightlife here is a huge attraction, visiting during the day is worthwhile, too.
There was recently a city-driven effort to restore the neighbourhood, which included the installation of new sidewalks, street lamps, and more.
This means there are plenty of places to walk, go shopping, enjoy delicious Mexican food, or simply soak in the vibrancy of Mexico City.
Torre Latinoamericana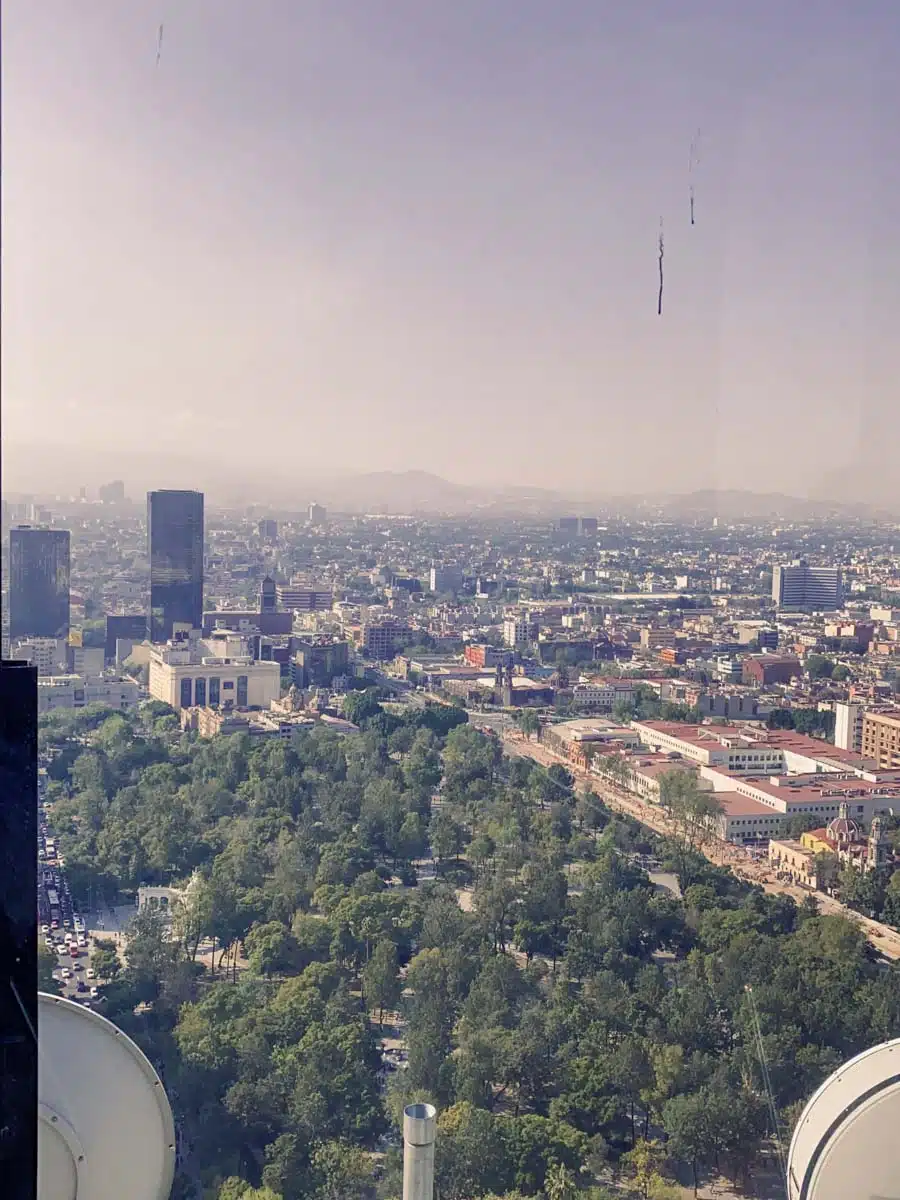 The Torre Latinoamericana is a 44-story skyscraper located in Centro Historico. At 166 meters (545 feet), it is the tallest building in downtown Mexico City.
The tall structure is renowned for miraculously withstanding an 8.1-magnitude earthquake in 1985 and then a 7.1-magnitude earthquake in 2017.
However, its biggest draw is the incredible views it offers. While visiting, head to the observation deck for an awe-inspiring 360-degree view of the city.
From here, you will be able to see a number of the city's top tourist spots, including the Palacio de Bellas Artes and leafy green Alameda Park.
For a truly memorable experience, grab dinner or a drink at one of the newly renovated restaurants and bars. Located on the 41st floor, Miralto is a great option for a romantic dinner.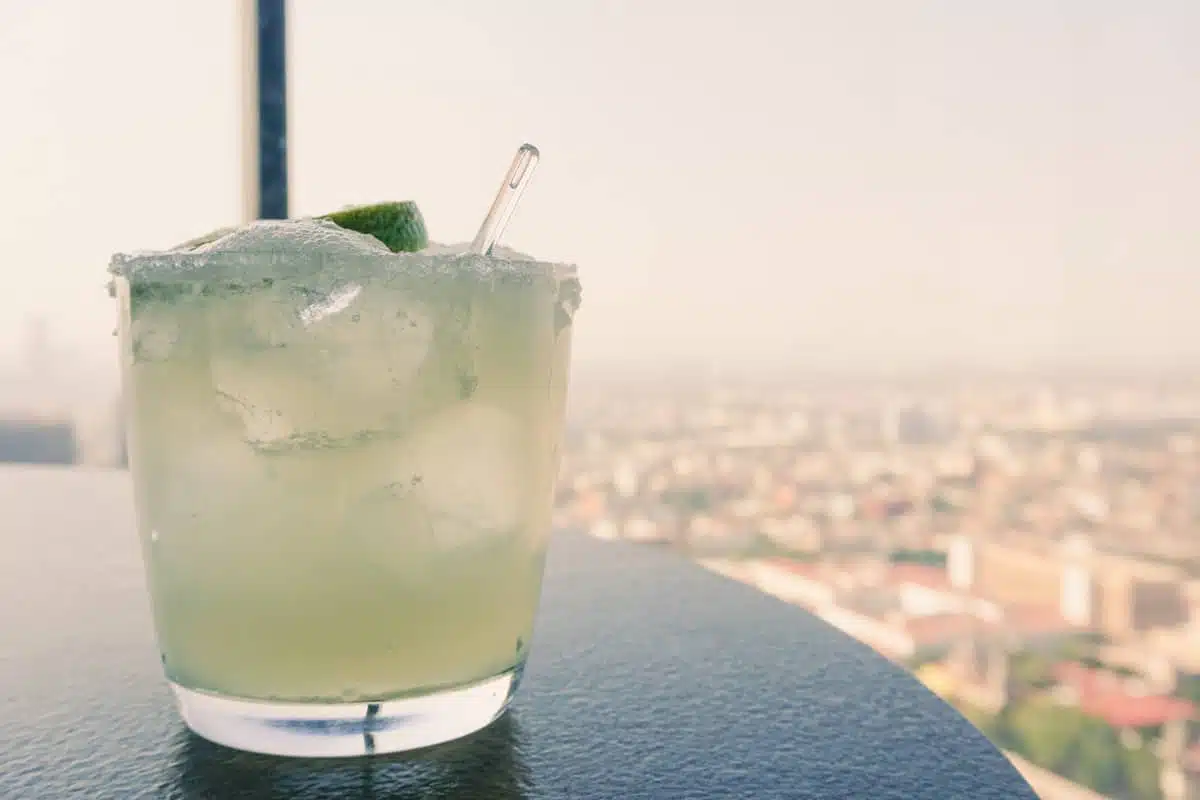 In addition to incredible views of the city skyline, the restaurant offers a wonderful menu of 'fusion cuisine'.
Limantour
If you love cocktails, you have to go to Limantour – some things really are that simple. This cool cocktail bar has been serving up some of the city's best cocktails since 2011.
It also just so happens to feature on the World's 50 Best Bars List. Little wonder that I recommend it go straight to the top of your list of things to do in Mexico City at night.
Swanky cocktails aside – the mixologists are really friendly and always on hand to make recommendations or even shake up something to suit your taste if you really can't find something you like the look of on the menu (unlikely).
Time your visit right and you may be lucky enough to catch the Christmas cocktail pop up Miracle, which takes over the upstairs bar in December.
Maison Artemisia
If you're looking for fun things to do in Mexico City at night, then make a trip to the popular Maison Artemisia.
Maison Artemisia is a dark cocktail lounge designed to transport drinkers to Paris and the Belle Epoque. As its name suggests, this is a highly exclusive spot (a "Maison" refers to the private houses that once functioned as clubs where famous and wealthy personalities went to drink).
The Maison Artemisia revives this sense of prestige in a 19th-century house in Mexico City. The French decor and low light create an intimate setting, ideal for a grown-ups night out.
As the night rolls on, the city's bohemian spirits flock in to enjoy the tasteful range of alcoholic beverages and dance to the sounds of modern beats.
There is also a lovely restaurant downstairs where you can sample various French-inspired dishes, including escargots and pickled pigs' trotters.
Pujol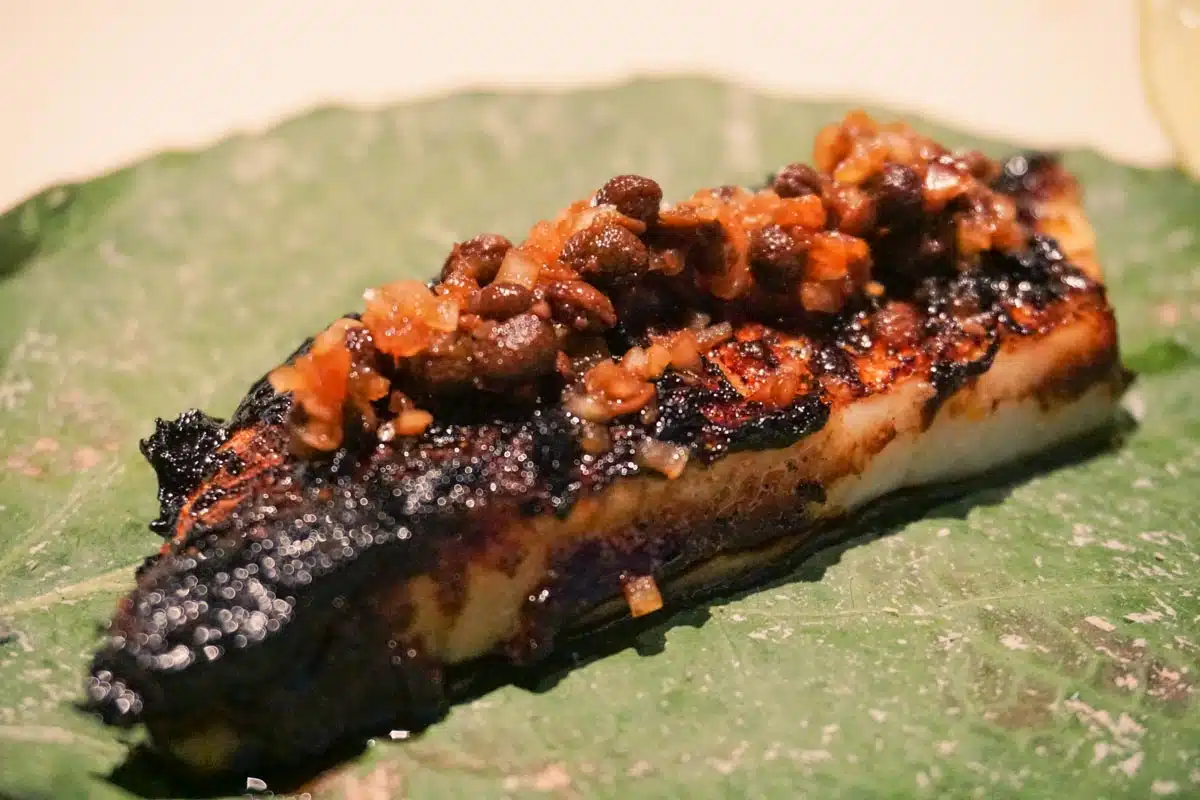 Pujol is one of the best Mexico City places to visit if you're in the mood for fine dining.
Celebrity chef Enrique Olvera founded this restaurant back in 2000, with the aim of introducing rustic Mexican flavours in a more contemporary light. Since its establishment, the restaurant has continued to receive acclaim from many and is now considered one of the 50 best restaurants in the world.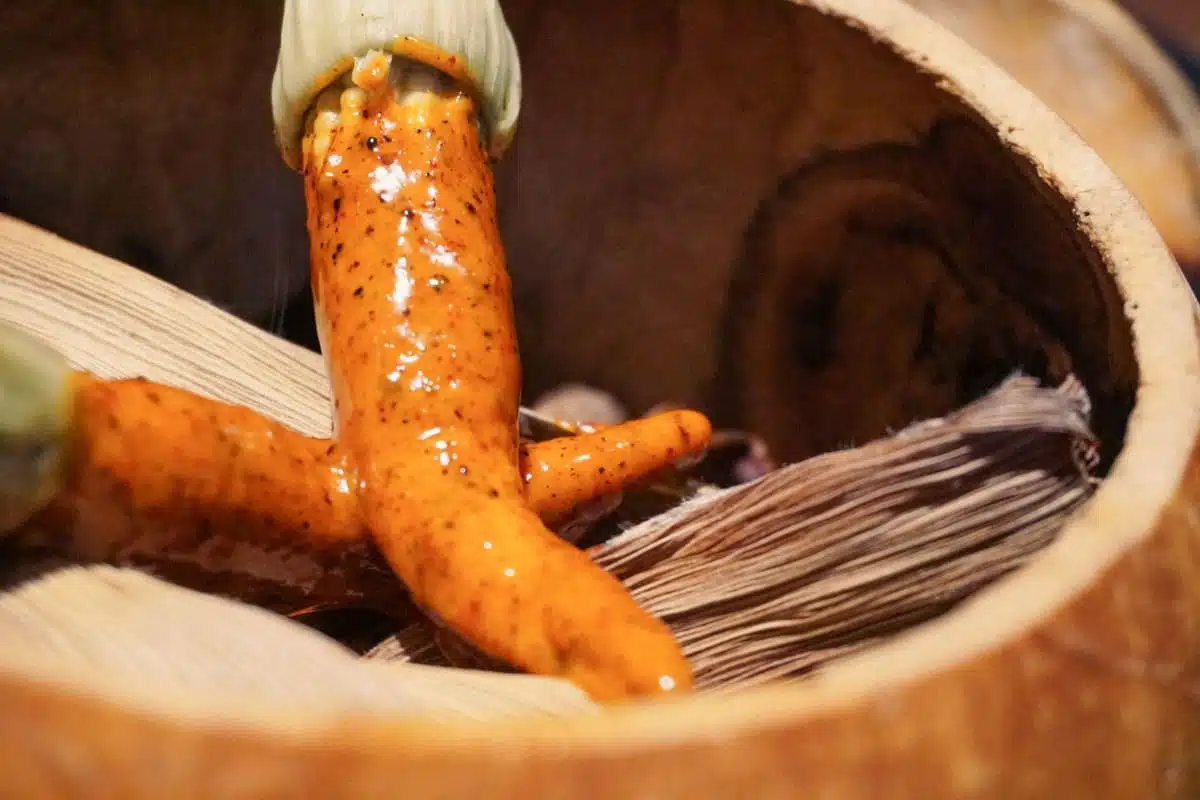 Jesús Durón has now taken over as Pujol's chef de cuisine, continuing Olvera's vision to create memorable flavours and culinary excellence.
While the restaurant's menu changes seasonally, their signature Mole Madre, Mole Nuevo are always available.
The dishes involve a perfect circle of fresh mole surrounded by a larger ring of mole that's aged for around 1,345 days. Accompanied by a basket of warm tortillas, this provides a perfect taste of Mexico's past.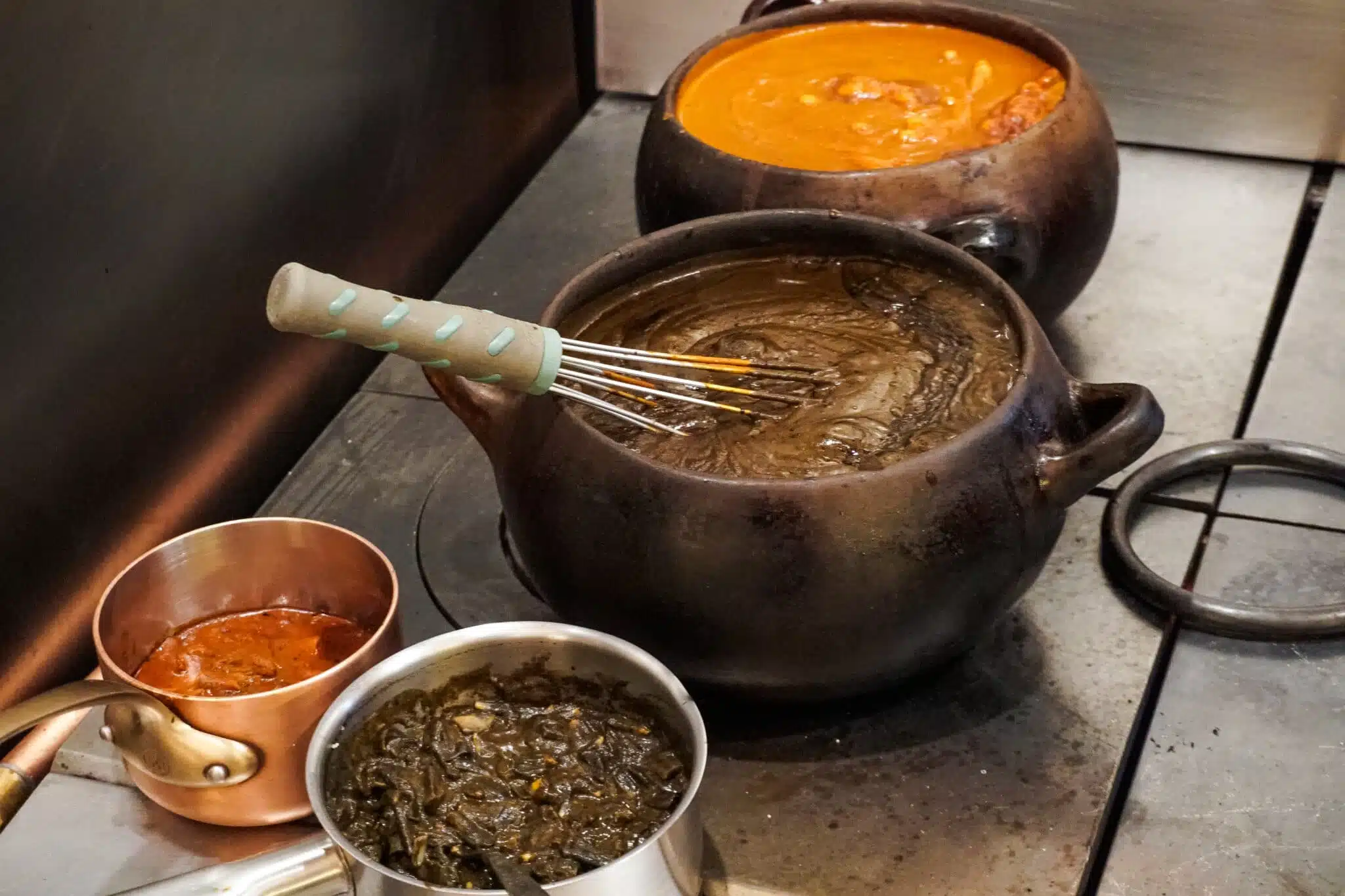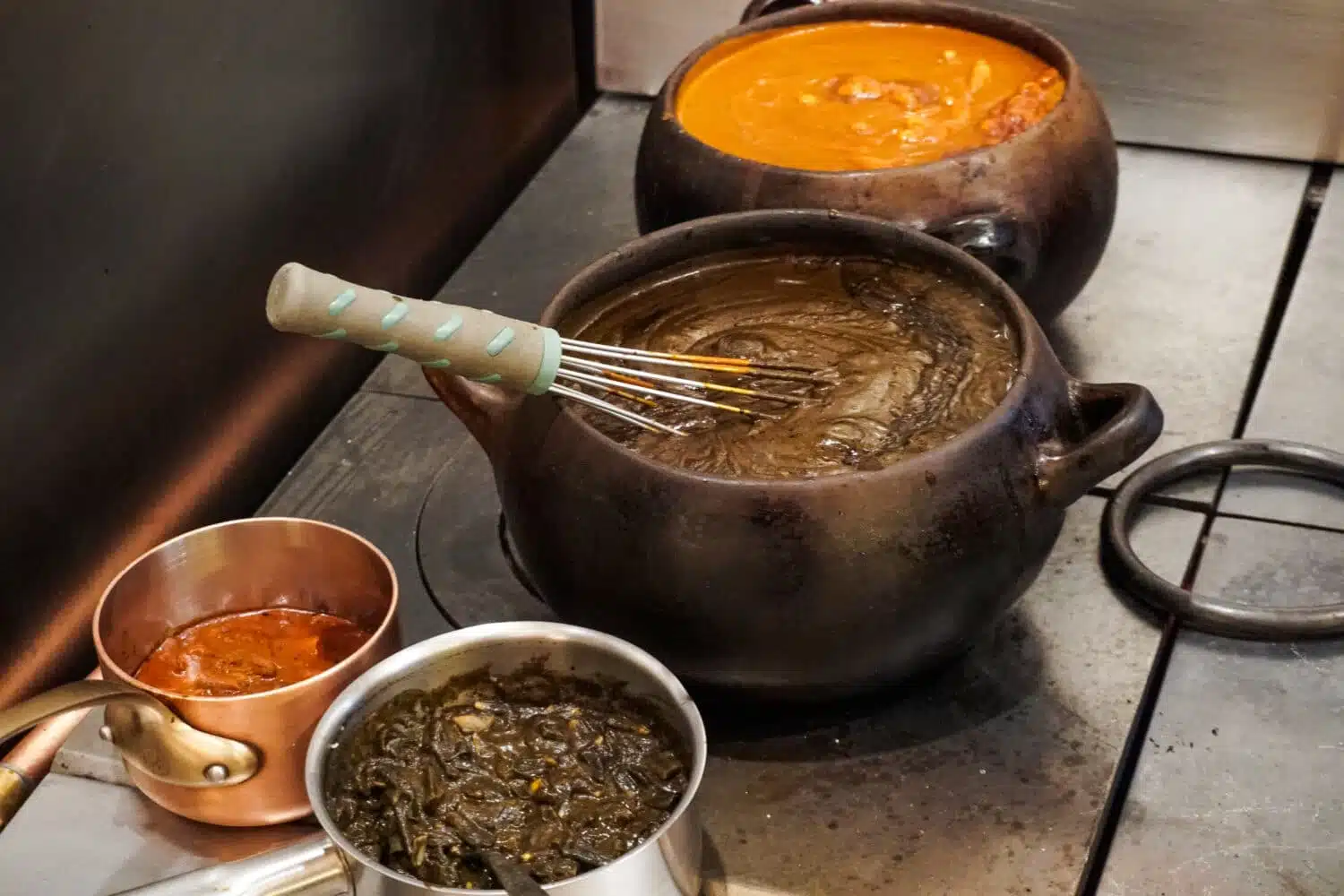 For the best gastronomical experience, try the seven-course tasting menu. This will cost you around $93 USD and is available for lunch or dinner.
Things to do Near Mexico City
While the city centre has plenty to offer, there are several attractions located just a short distance outside Mexico City.
Teotihuacán
One must-visit attraction located just outside Mexico City is the famed and mysterious Mesoamerican pyramids of Teotihuacán.
This impressive set of archaeological ruins is a UNESCO-listed site and is one of the most significant historical landmarks in Mexico.
The ancient pyramids, located in the Valley of Mexico, once served as the largest city in preHispanic Mesoamerica. The city dated back over 2,000 years and was home to various ethnicities, including the Otomi, Mixtec, Maya, Nahua, and Zapotec people.
One of the best ways to experience these well-preserved ruins is on a Teotihuacán day tour.
Most tours include visits to three of the most culturally and historically important sites in Mexico City. These being the Sun and Moon pyramids, the Temple of Quetzalcoatl, and the Avenue of the Dead.
Some tours also include visits to the 16th-century Basilica de Guadalupe and Plaza de las Tres Culturas.
Tip: Visit earlier in the day and be sure to wear sunscreen and bring along plenty of water as the site offers no shade.
(CDMX) Things to do around Mexico City: Practical Tips for Your Trip
To ensure you get the most out of your visit to Mexico City, here are some important things to know.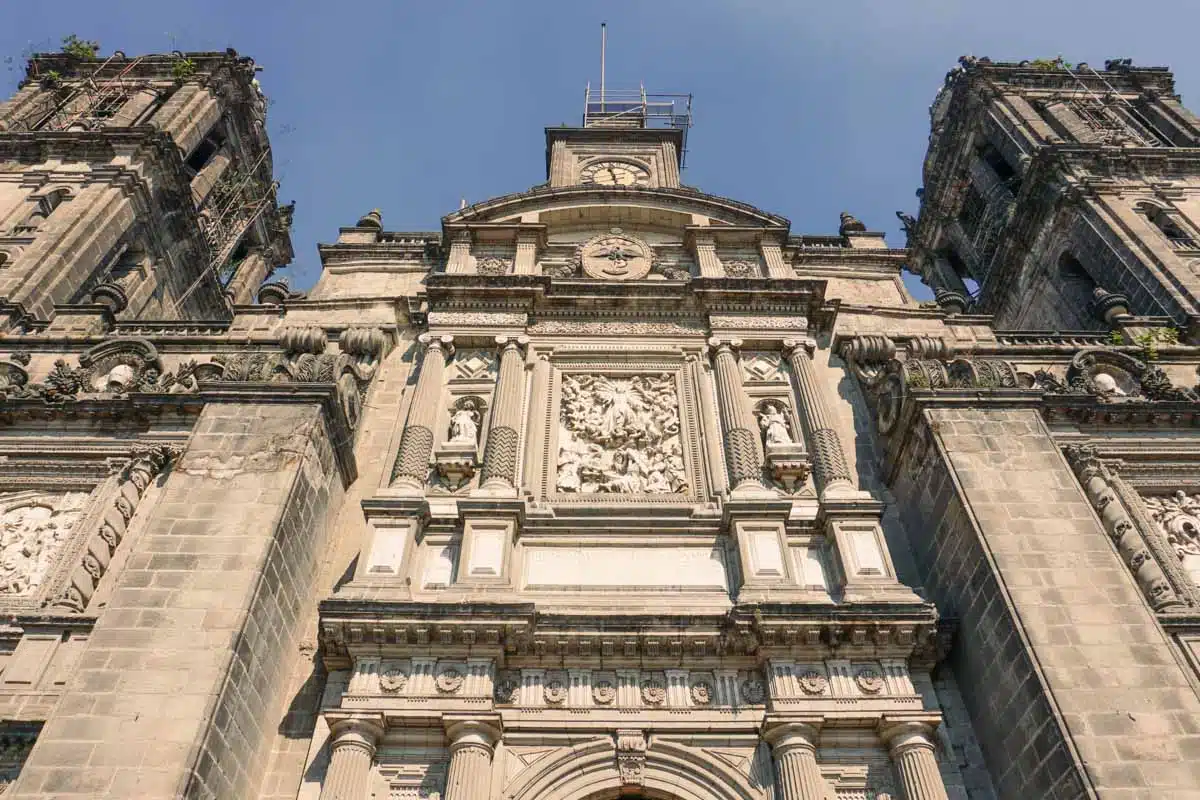 How Long to Visit Mexico City?
With so many places to visit and things to see in Mexico City, you will need a minimum of three to five days. This way, you will have enough time to comfortably visit the majority of the city's top attractions.
Best Time to Visit Mexico City?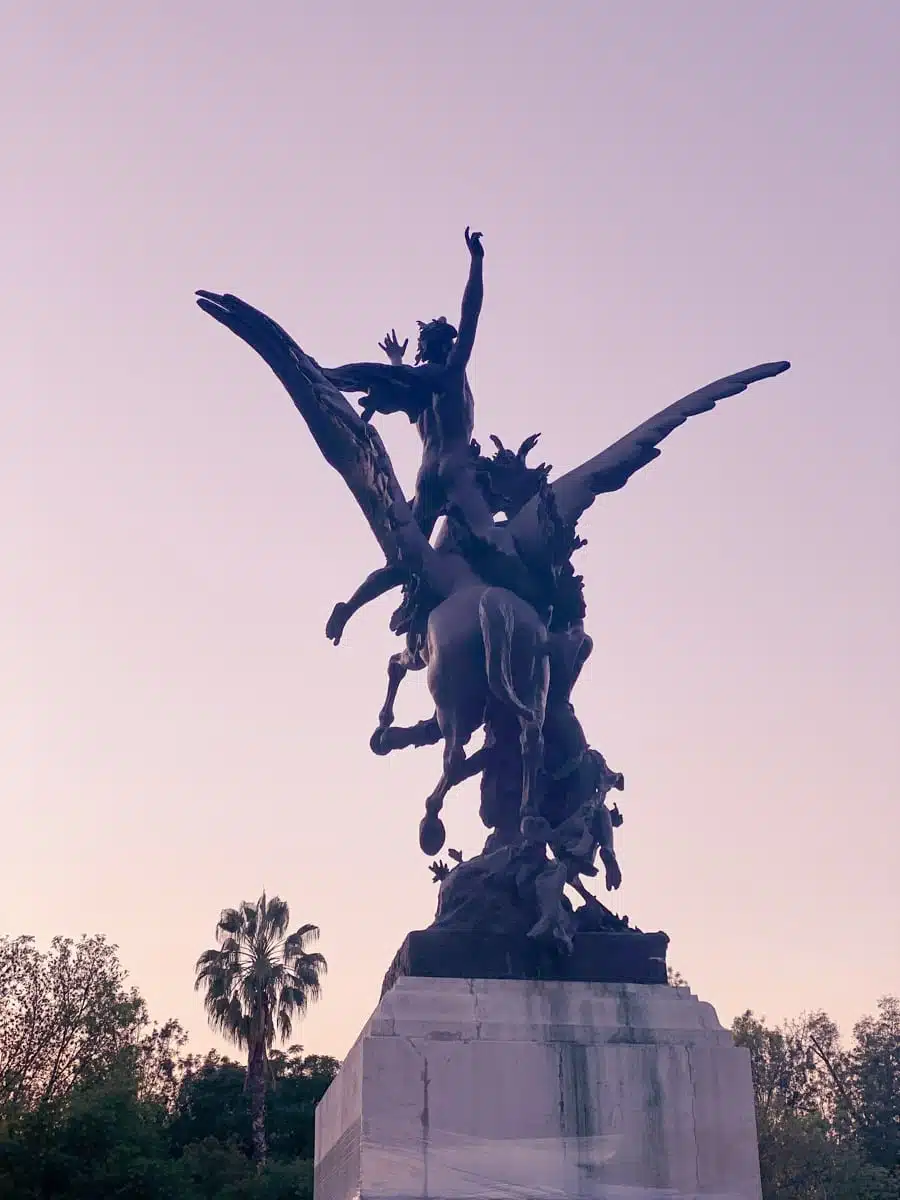 To get the best of Mexico City, plan your visit between March and May. While the city is fairly crowded during this time, the weather is spectacular. And unfortunately, winters here can be rather chilly.
For more on when to visit the country's other top destinations, check out this guide on when to go to Mexico.
Where to Stay in Mexico City
Mexico City has many distinct areas and neighbourhoods, each offering various accommodations and attractions.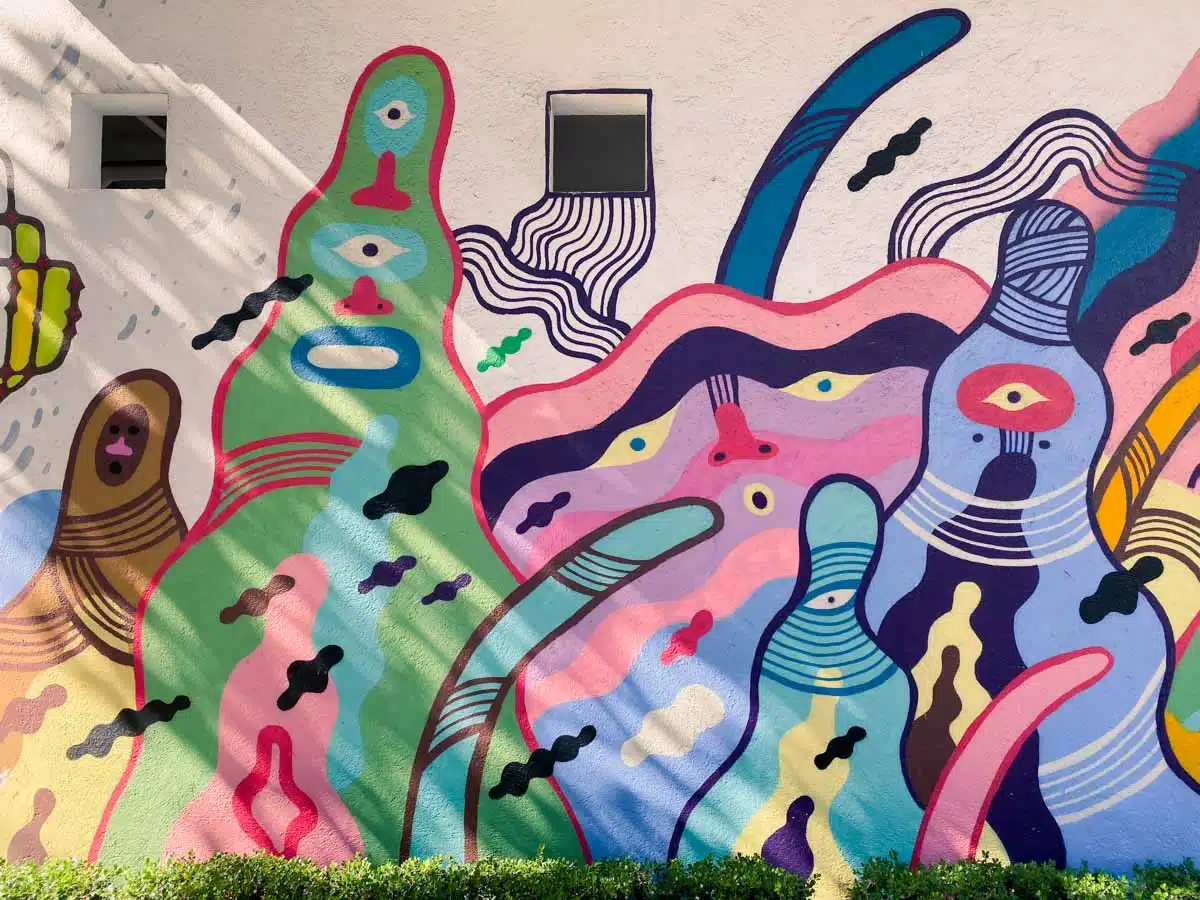 For tourists visiting the capital, some of the best places to stay include Centro Historico (the Historic Center), Polanco, Paseo de La Reforma, Condesa, and Roma. Listed below are some of the best accommodation options for your Mexico City trip. Or opt to stay in one of Mexico City's gorgeous Airbnbs.
Downtown Mexico (Mid-Range)
Downtown Mexico is one of the most popular accommodations in the Historic Center. Set in a restored 17th-century palace, this boutique hotel offers an elegant yet comfortable space, just two blocks from Plaza del Zócalo.
Check Rates and Availability for Downtown Mexico on Booking.com | Tripadvisor
Presidente InterContinental Mexico City (Luxury)
Polanco is an ideal location for luxury travellers and is home to many luxury hotels. Among these is the five-star Presidente InterContinental. This hotel offers modern accommodations, state-of-the-art facilities, and exceptional views of the city and Chapultepec Park.
Check Rates and Availability for Presidente InterContinental on Booking.com | Tripadvisor
Recommended Tours in Mexico City
Footnote: What to Do in Mexico City?
Mexico City is a beautiful destination with plenty to offer to those who visit. From historical landmarks like the Templo Mayor and Teotihuacán to the many museums, restaurants, bars, and markets, there is something for everyone.
Liked this list of must-do things in Mexico City? Don't forget to check out my Mexico Travel Itinerary.
Things to do in Mexico City: Map
Looking for More Mexico Travel Guides?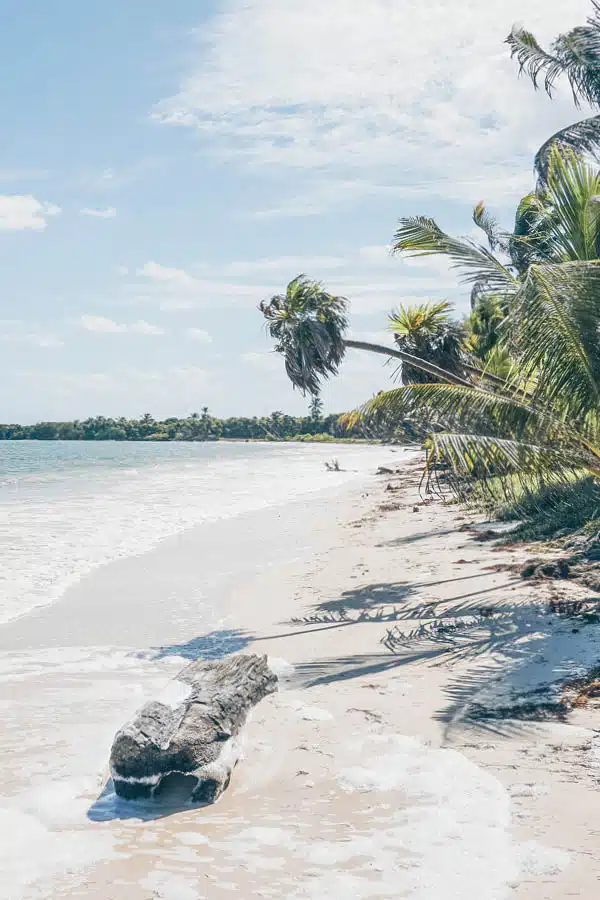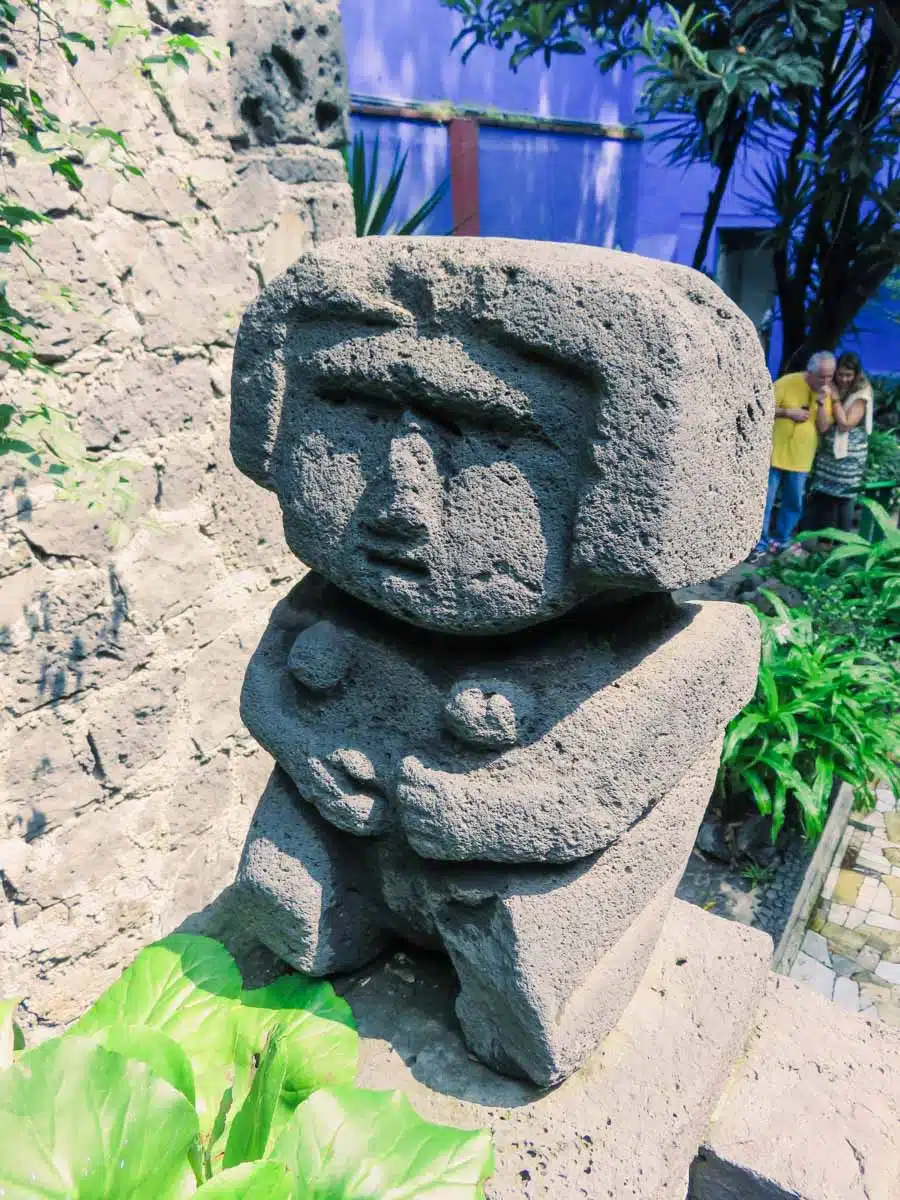 The Ultimate Mexico Travel Itinerary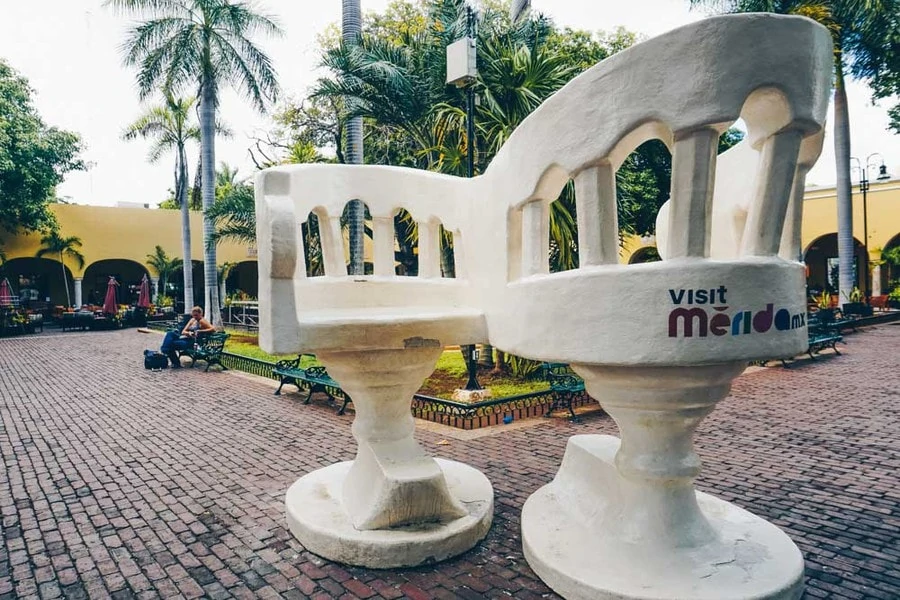 Cool Things to do in Merida
Love This? Save and Share on Pinterest!