Looking for the best hotels in San Cristobal de las Casas? Discover the city's best places to stay with this in-depth guide.
San Cristobal de las Casas boasts a vibrant culture and enchanting ambience that'll undoubtedly make you want to stay a few days – not least many hidden gems, famous landmarks, and quirky hotels.
Whether you're looking to stay in a centuries-old house or contemporary hotel, there's suitable accommodation along the city's cobblestone streets for every kind of traveller. Here are 13 of the best hotels San Cristobal de las Casas has to offer.
Best Hotels in San Cristobal de Las Casas, Mexico
Casa Na Bolom
£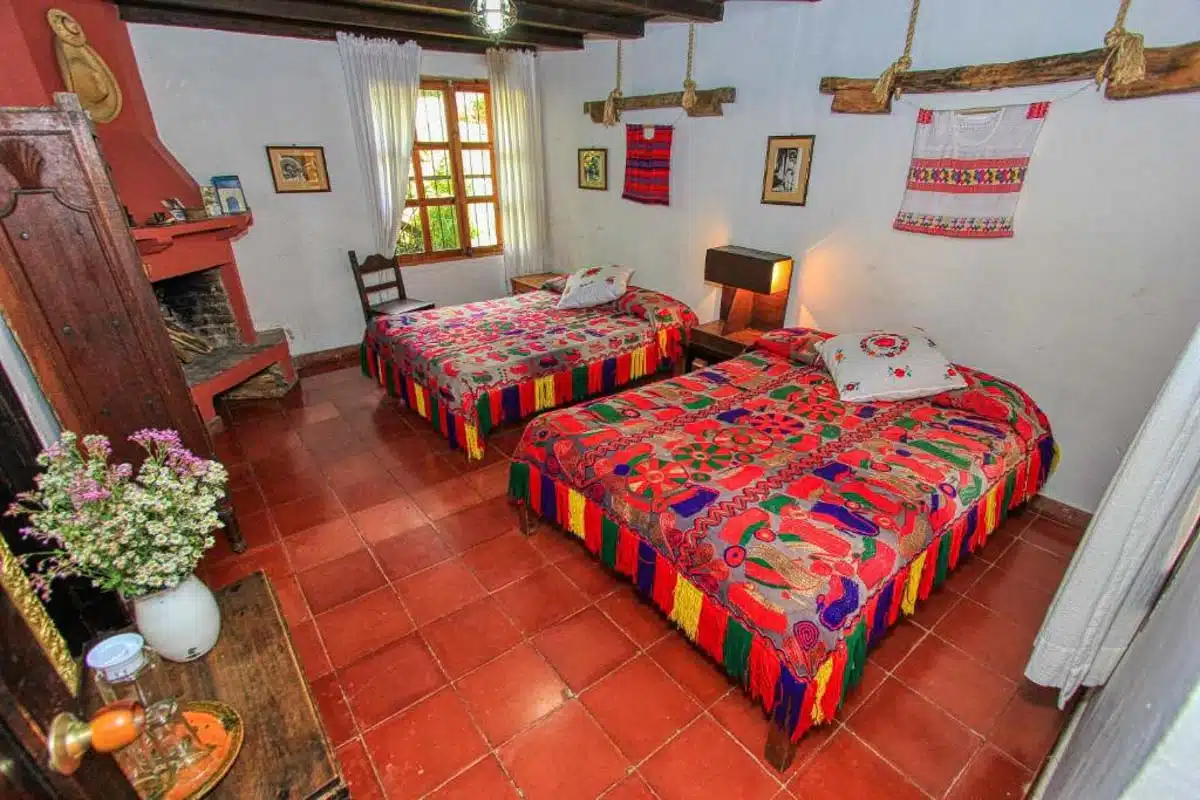 Casa Na Bolom is a charming boutique hotel that offers a comfortable stay in a scenic setting. It sits in the former home of archaeologist Frans Blom. You'll also find a historical museum with several stunning sculptures and a fascinating photo gallery on the property.
The hotel rooms also feature eye-catching regional artworks that you can admire while cosying up by the fireplace. Each room includes vibrant furnishings, an ensuite bathroom, and a private terrace with beautiful views.
You can wander around in the lush gardens or enjoy a delicious breakfast in the courtyard surrounded by gorgeous greenery. The hotel also provides cultural activities, including live music, visiting local communities, and more.
Casa del Alma Hotel Boutique & Spa
Luxury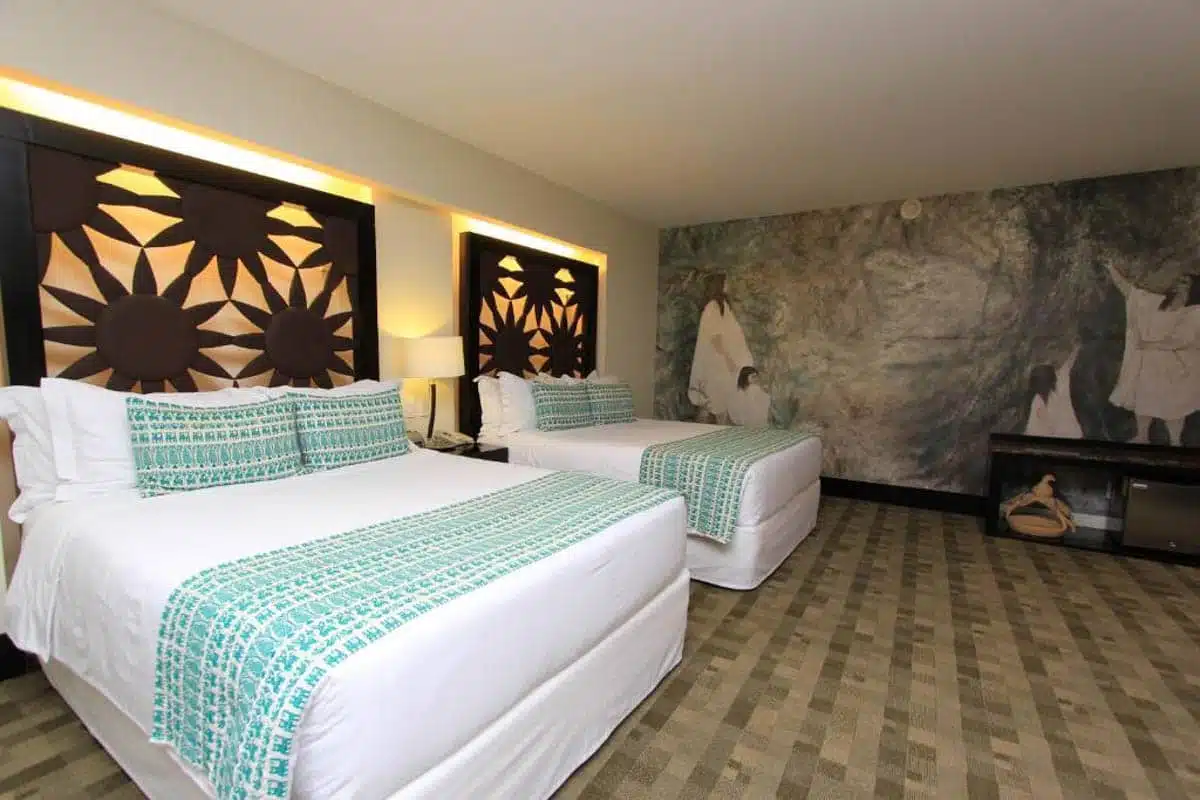 Nestled in the centre of San Cristobal de las Casas, this opulent hotel offers idyllic accommodation with stunning city views. The Casa del Alma Hotel boasts airy spaces with a peaceful feel.
The inviting rooms at Casa de Alma include modern décor, air-conditioning, and private balconies. Additionally, you can opt for an upgraded suite that includes amenities like spacious living rooms, dining areas, and whirlpool tubs.
There is also a gym and sumptuous spa with a range of treatments, a sauna, and a steam room. After a rejuvenating massage, head to the airy restaurant and bar for delectable Mexican cuisine and cocktail hour. For more adventure, the Orquideas Moxviquil botanical garden is less than 3 km away.
Rossco Backpackers Hostel
Budget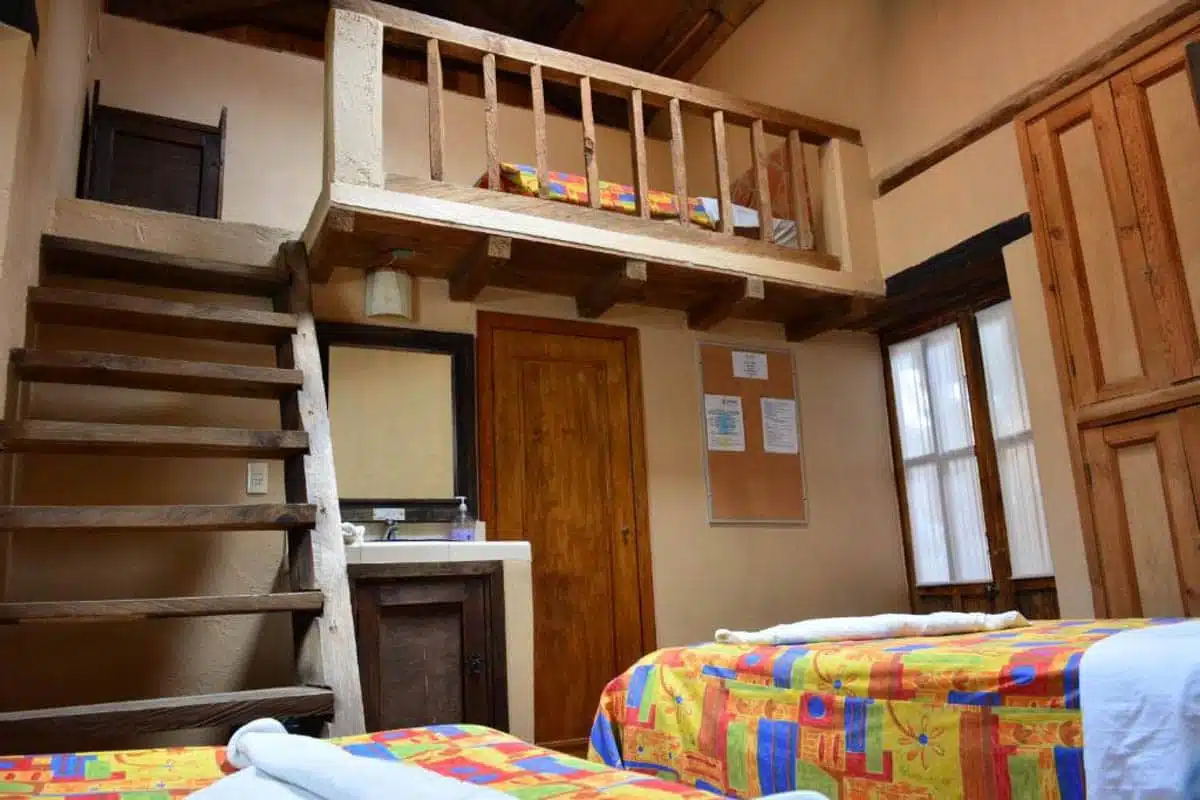 The Rossco Backpackers Hostel is a great pick if you're seeking affordable accommodation. Here you'll have the opportunity to meet fellow travellers and learn more about the area's rich heritage with several nearby attractions.
You'll have a selection of room types, including 3-bed dormitory rooms, 8-bed dormitory rooms, and 6-bed female-only dormitory rooms. You can also choose a private room if you're travelling in a group.
The rooms feature shared or private bathrooms, and you'll have access to a communal kitchen and lounge. You'll find a currency exchange desk on the premises, and you can arrange city tours with the helpful staff.
Parador Margarita
Luxury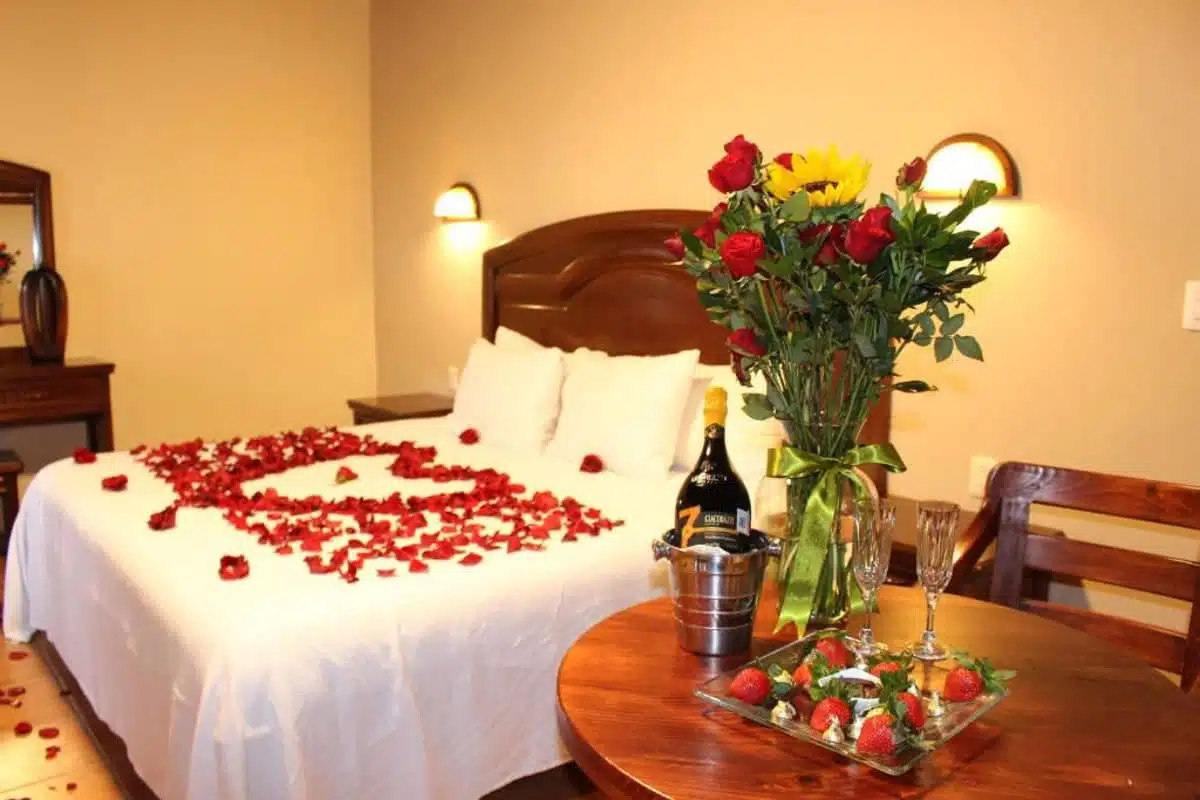 Enjoy a pleasant experience in a picturesque setting at the Parador Margarita. The colonial-style hotel is just a short stroll away from the town centre, where you'll come across plenty of charming eateries, shops, and museums.
The simple luxury rooms are inviting with comforts like free Wi-Fi and flat-screen TVs. Some rooms include comfy sofas and a fireplace, perfect for those chilly days.
At the hotel, you can admire breathtaking views from the balconies or relax in the scenic gardens with a good book in hand. There is also a shared lounge, bar, and cosy dining space.
Hotel Diego de Mazariegos
Mid-Range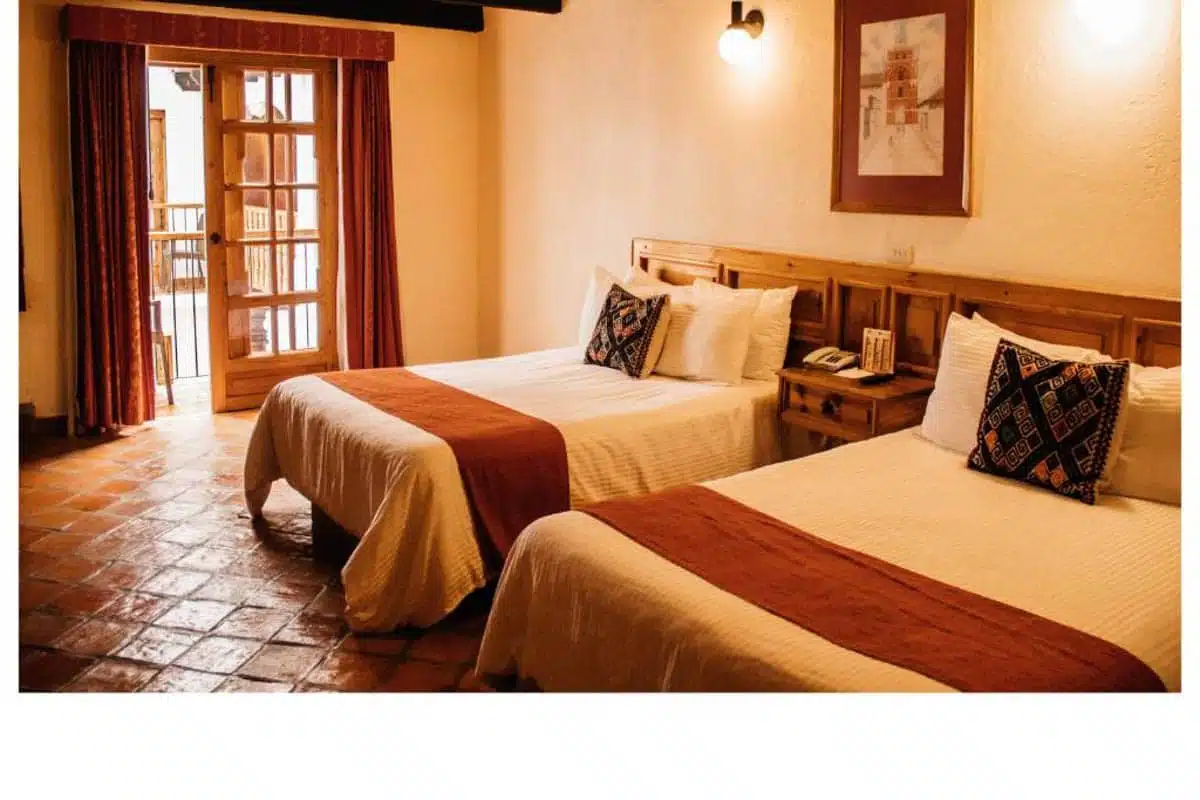 If you want to immerse yourself in the history of Mexico, staying at Hotel Diego de Mazariegos will take you back to the colonial era. You'll find several room types in this 18th-century building.
Some of the room amenities include a cosy fireplace, a full bathroom, and a quaint balcony. There is also a picturesque patio and several indoor and outdoor lounges ideal for special events, meetings, and celebrations.
Other hotel services include a pub, reading room, currency exchange, and laundry and room service. The on-site restaurant serves a wide selection of authentic Mexican dishes when it comes to dining.
Docecuartos Hotel
Mid-Range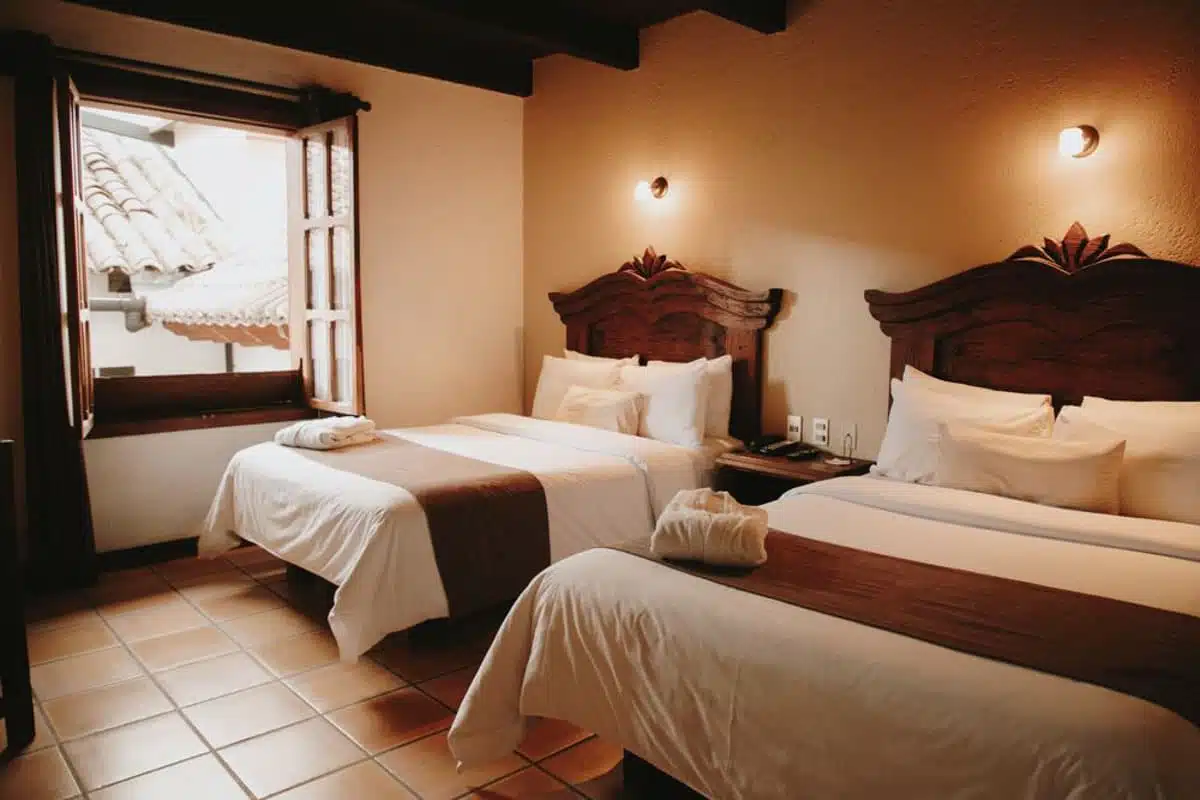 If you're looking for central accommodation in a lively environment, the Docecuartos Hotel is a superb option. It offers 12 rooms that are perfect for an eventful getaway.
You'll have several room comforts, including a plasma screen TV, complimentary toiletries, and a coffee maker with a 100% organic coffee kit to start your day. This colonial-style hotel also features common areas, a library, and a relaxing spa.
Additionally, there are numerous shops and museums within proximity. A few must-see attractions in the area include the Church of San Nicolas, Museo del Ambar, and the Main Square.
Plaza Gallery Hotel Boutique
Luxury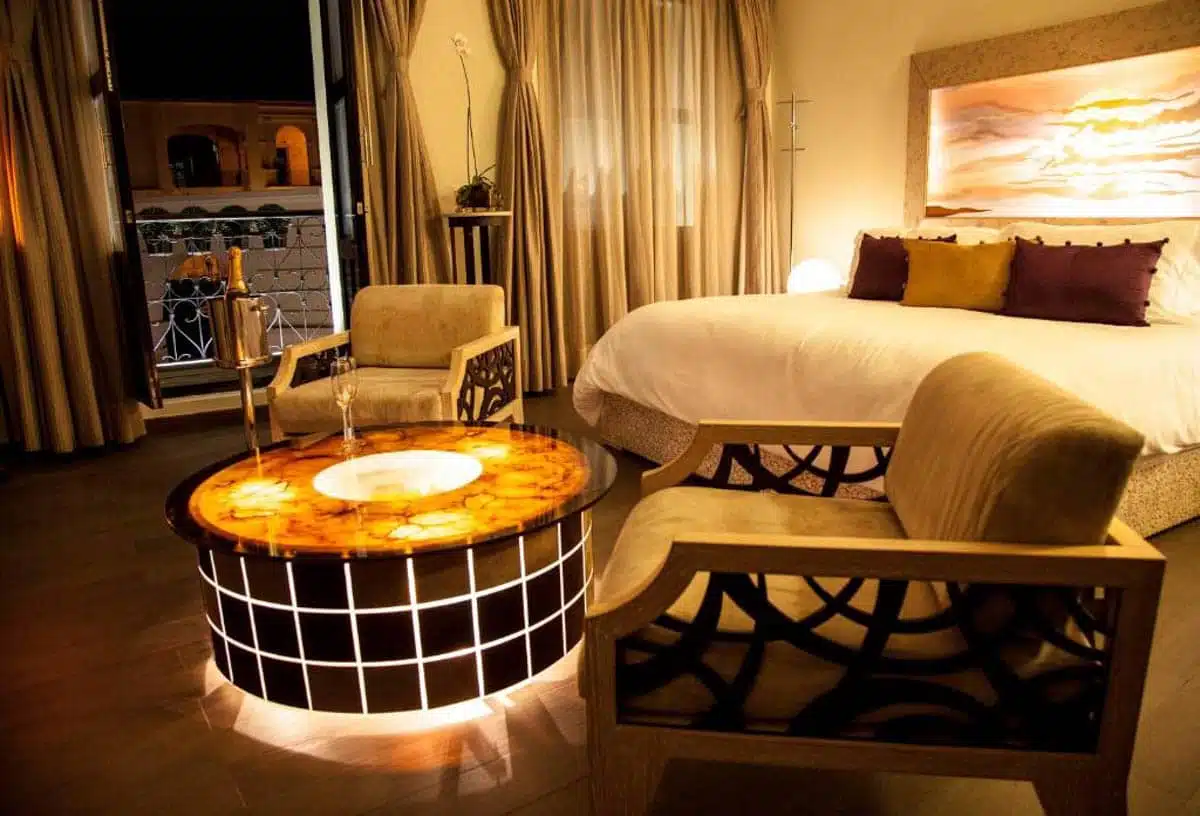 The Plaza Gallery Hotel Boutique offers a luxurious stay with warm hospitality and exceptional services. Nestled in the heart of the city, the hotel is just a short walk away from the Catedral de San Cristobal and Museo Mesoamericano del Jade.
Inside this striking neoclassical building, you'll find several spacious rooms with wood-beamed ceilings and modern décor. Enjoy a warm cup of coffee from the private Nespresso machine, or grab a drink from the minibar.
You can also relax on your balcony or terrace while listening to soothing music from the iPod docking station and marvelling at the city views. The hotel offers many superb services, including invigorating spa treatments, an eatery, a bar, and a fitness centre.
Hotel Mansion Del Valle
Mid-Range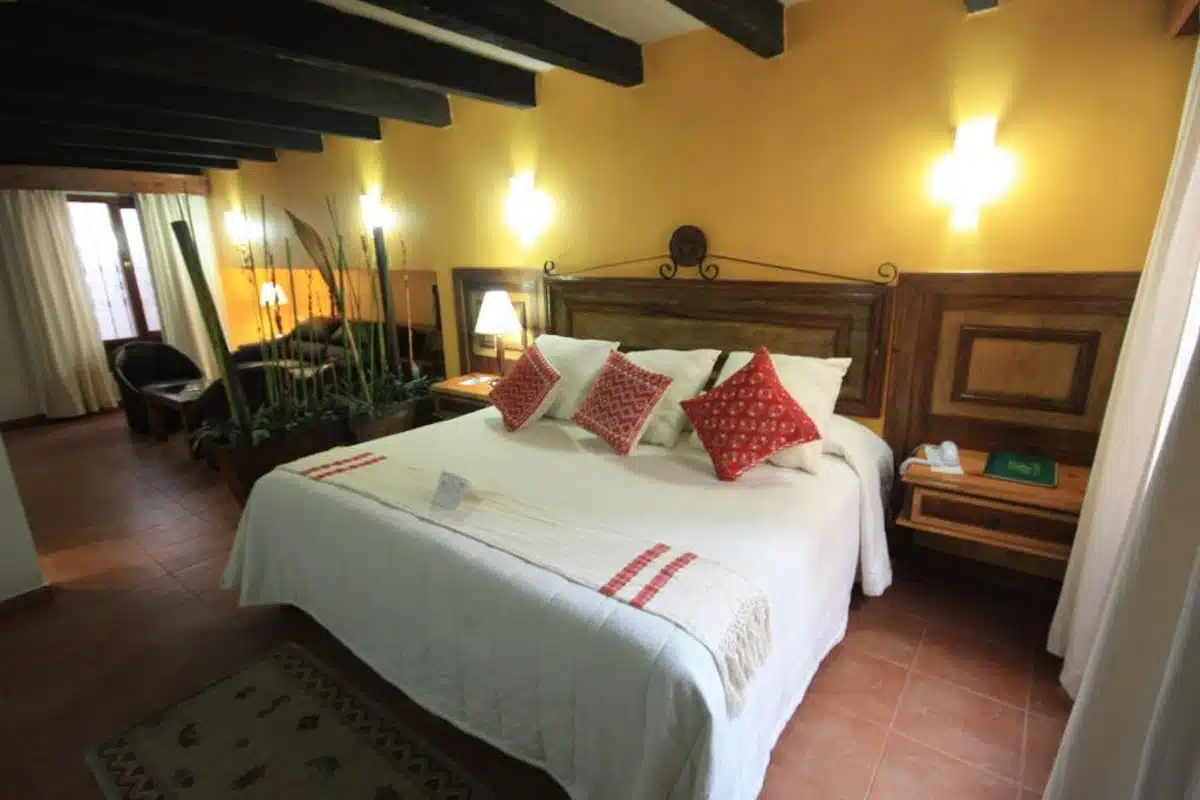 Hotel Mansion Del Valle is an excellent accommodation option for those looking to stay near several attractions. The Spanish colonial-style hotel is across the street from the Museum of Ambar and just three blocks from the Cathedral.
The vibrant, colourful rooms feature contemporary furnishings and warm Mexican colours. The rooms include flat-screen TVs and private bathrooms with complimentary toiletries.
For an exquisite dining experience, visit the on-site restaurant to taste the traditional flavours of Mexico. The restaurant and bar serve delicious Mexican cuisine and regional wines to satisfy your senses. After a scrumptious meal, you can relax on the scenic terrace and admire the stunning landscapes of the city.
Hotel Bo
Luxury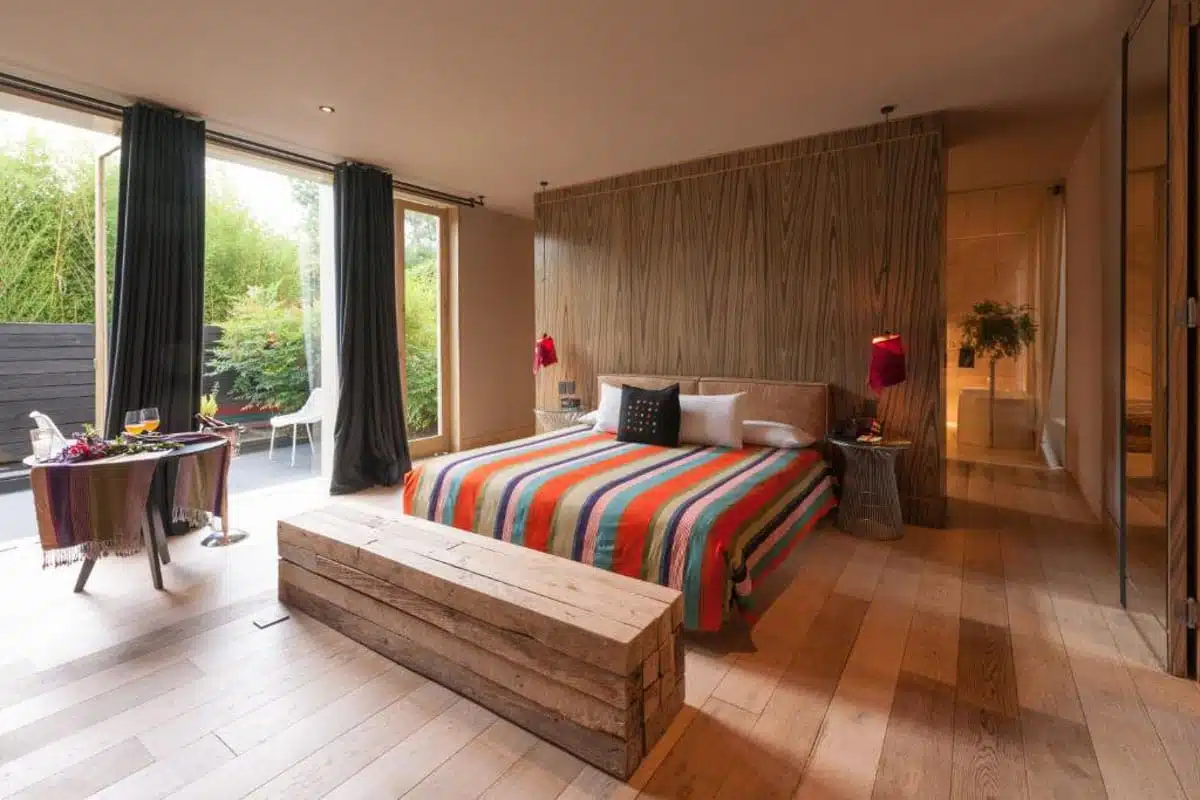 The Hotel Bo is a superb spot for those seeking an intimate getaway. The hotel promises a relaxing stay with several room options. The elegant rooms boast large windows overlooking the garden, while some have private terraces with panoramic city views.
You'll have comforts like a flat-screen TV, iPod docking station, and spacious marble bathroom. Upgraded suites also include a cosy fireplace and separate living areas.
All the spacious rooms offer a chance for a peaceful sleep with Egyptian cotton sheets and cosy décor. Once you're well-rested, head to the Restaurant Lum for a flavoursome experience inspired by Mexican cuisine.
Hotel Grand Maria
Mid-Range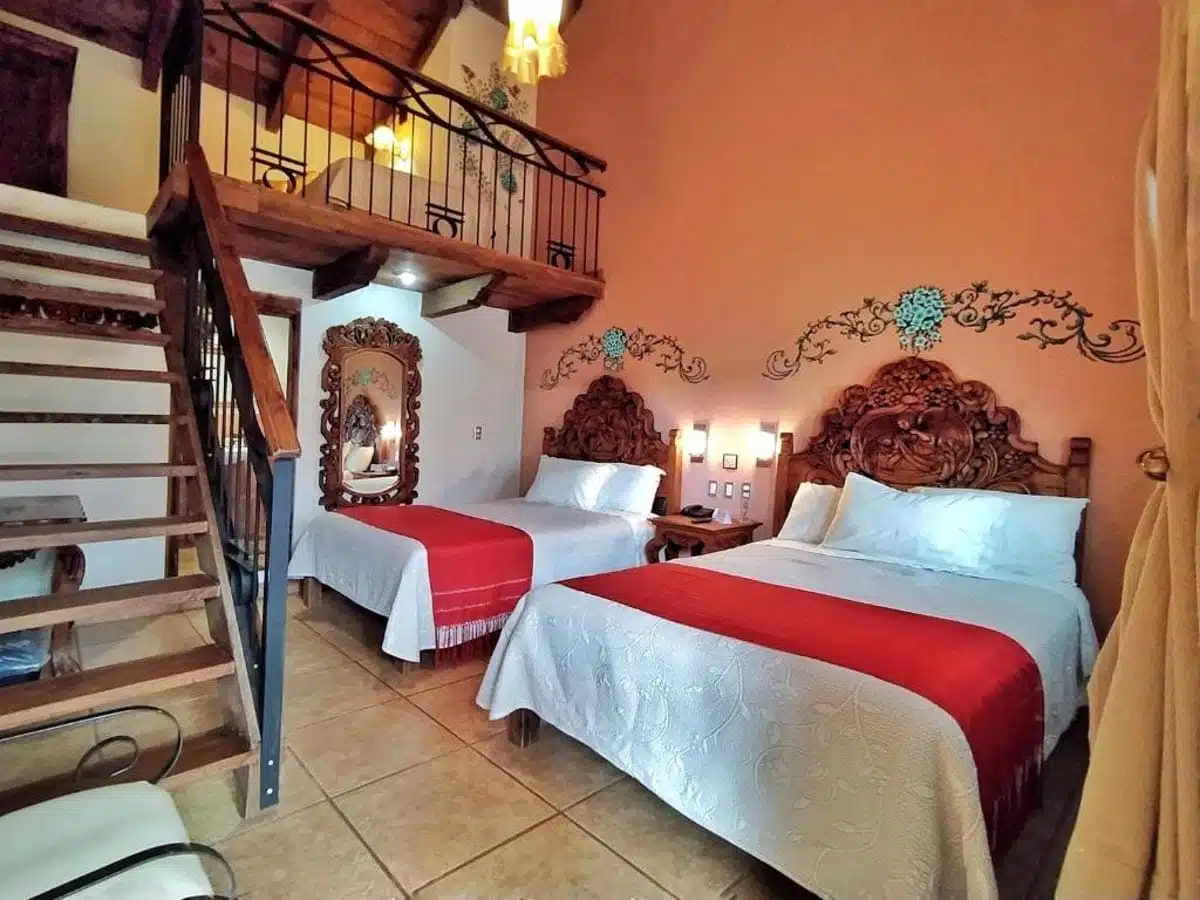 Nestled in the historic centre of San Cristobal de las Casas, the Hotel Grand Maria offers comfortable accommodation in a relaxed environment. The room designs include charming Mexican colonial styles and wooden details.
The hotel offers several amenities for a pleasant stay, including a flat-screen TV, desk, and bathroom with complimentary toiletries. If you're travelling in a group, this hotel is an excellent option as some rooms can sleep up to eight individuals.
There are also common areas where you can socialise and meet travellers from all around the world. The hotel provides room service and mouth-watering meals at the on-site restaurant.
Hotel Casa Mexicana
Mid-Range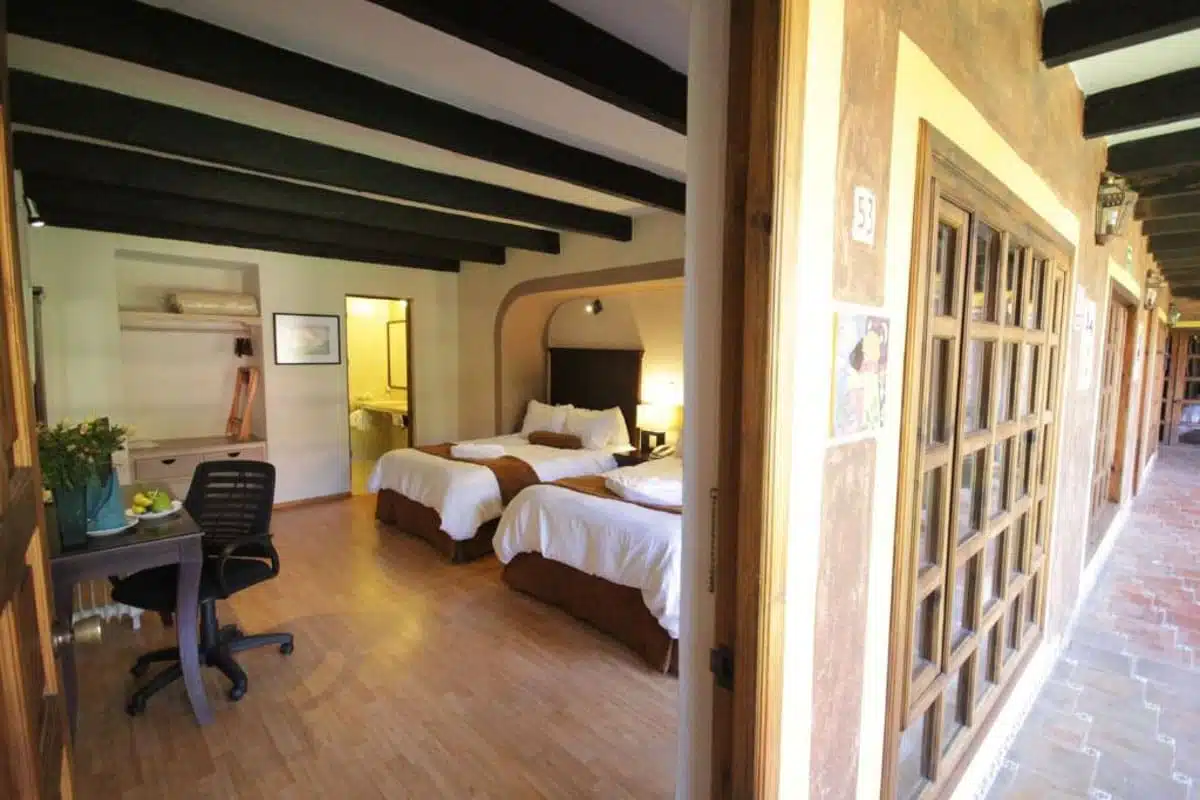 Hotel Casa Mexicana is another hidden gem in the city's historic centre. The Spanish colonial-style building is within walking distance of the Casa Na Bolom and just a 7-minute drive from the Orquideas Moxviquil botanical gardens.
There is also a scenic central garden at the hotel to relax or admire from the balcony. The hotel boasts eye-catching architecture, and the rooms feature cosy wooden furnishings.
Some of the amenities include a flat-screen TV, private bathroom with complimentary toiletries, and some have spacious seating areas and minibars. You'll also find a restaurant, bar, relaxing spa, and meeting space on the premises.
Casa Lum
Mid-Range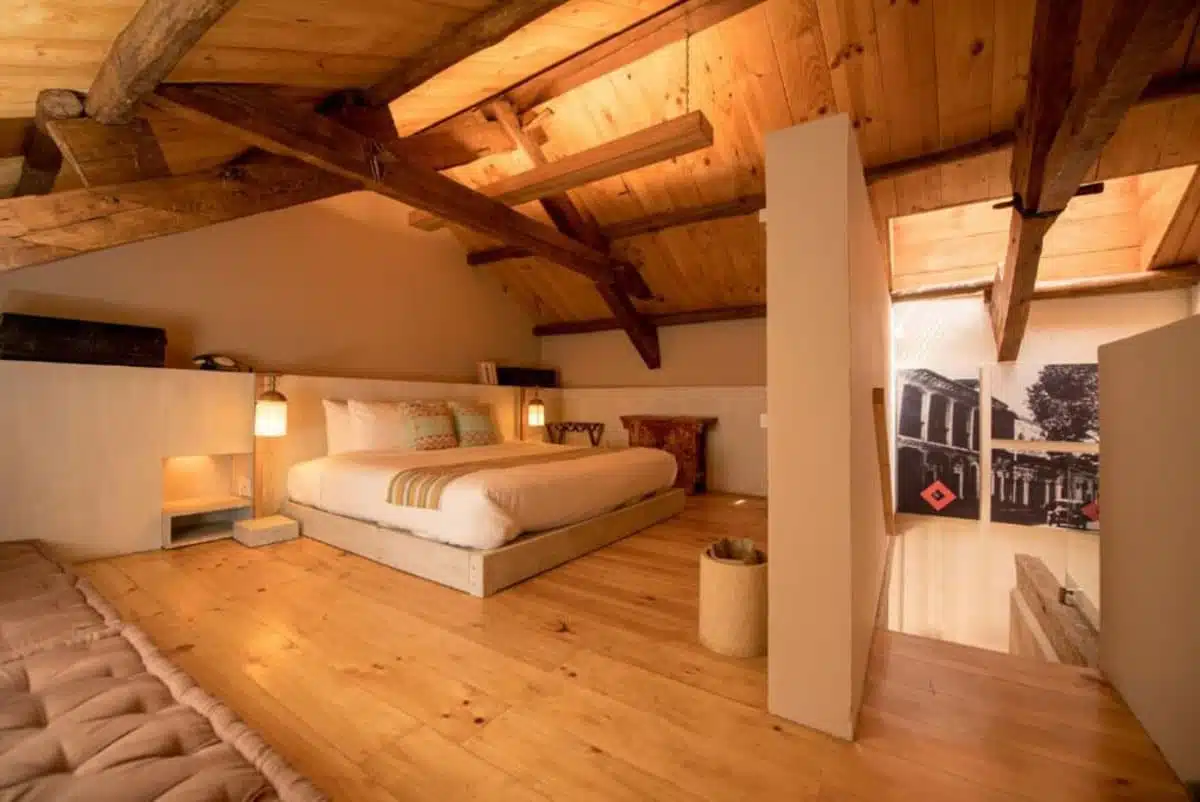 Casa Lum is an upscale hotel set in a 19th-century structure with eco-chic rooms. The hotel focuses on sustainability and reducing its footprint. You'll come across many sustainably sourced wood beams and textiles collected from demolished constructions.
Each room features a flat-screen TV, private bathrooms with complimentary toiletries and a shower or bathtub. If you opt for an upgraded suite, you'll have a spacious seating area and a private furnished garden.
There is also a snack bar, restaurant, bar, gift shop, and a tour desk on the premises. The hotel is close to many top attractions, including the Central Park and Del Carmen Arch.
La Abuelita Hostal
Budget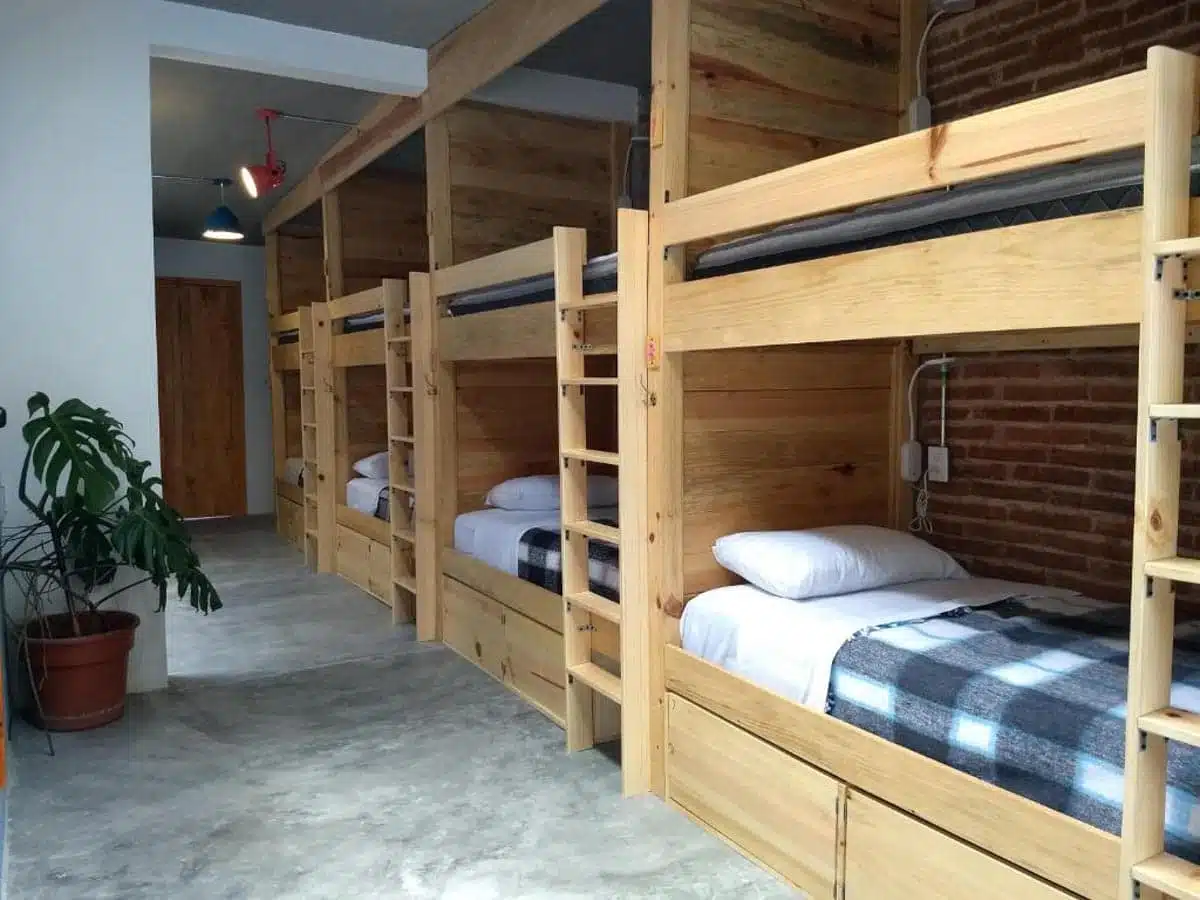 If you're looking for budget-friendly accommodation, staying at the La Abuelita Hostal offers an affordable experience in a friendly environment. Here you can choose between dormitory rooms or private rooms.
Some rooms have balconies with beautiful garden views. The hostel offers luggage storage and a locker to secure your valuable items.
Additionally, you'll have access to a communal seating area, well-equipped kitchen, and 24-hour front desk to ensure a comfortable stay. The hostel also offers enjoyable activities like movie nights and games nights.
Where to Stay in San Cristobal de las Casas
Practical Tips for Booking Your San Cristobal de Las Casas Hotels
Consider the hotel's location in comparison to your planned activities and interests. If your accommodation is a distance from some of your planned activities, make sure there is access to transport nearby.
Check out the weather conditions beforehand so you can plan and pack accordingly. This will also help you plan your itinerary effectively.
Compare hotel prices during peak and off-peak seasons. There is a chance you'll find lower rates during the off-seasons.
Places to Stay in San Cristobal de las Casas: Read Next
Places to Stay in San Cristobal de las Casas: Read Next