Do you believe in magic? Visiting San Cristobal de las Casas in Mexico will make you a believer if you're still on the fence. If you haven't already, you should add this town to your Mexico bucket list pronto.
This colonial town was officially named the Pueblo Magico for the state of Chiapas, thanks to its picturesque views and enchanting charm. Boasting a unique blend of indigenous and foreign influences, all while retaining its cultural heritage, it was one of the highlights of my Mexico itinerary.
Explore the magical town of San Cristobal – no sorcery or pixie dust necessary.
Tip: If you're looking for a top hotel recommendation in the city centre, Parador Margarita is the best place to recharge your batteries.
Top 5 Things to do in San Cristobal de las Casas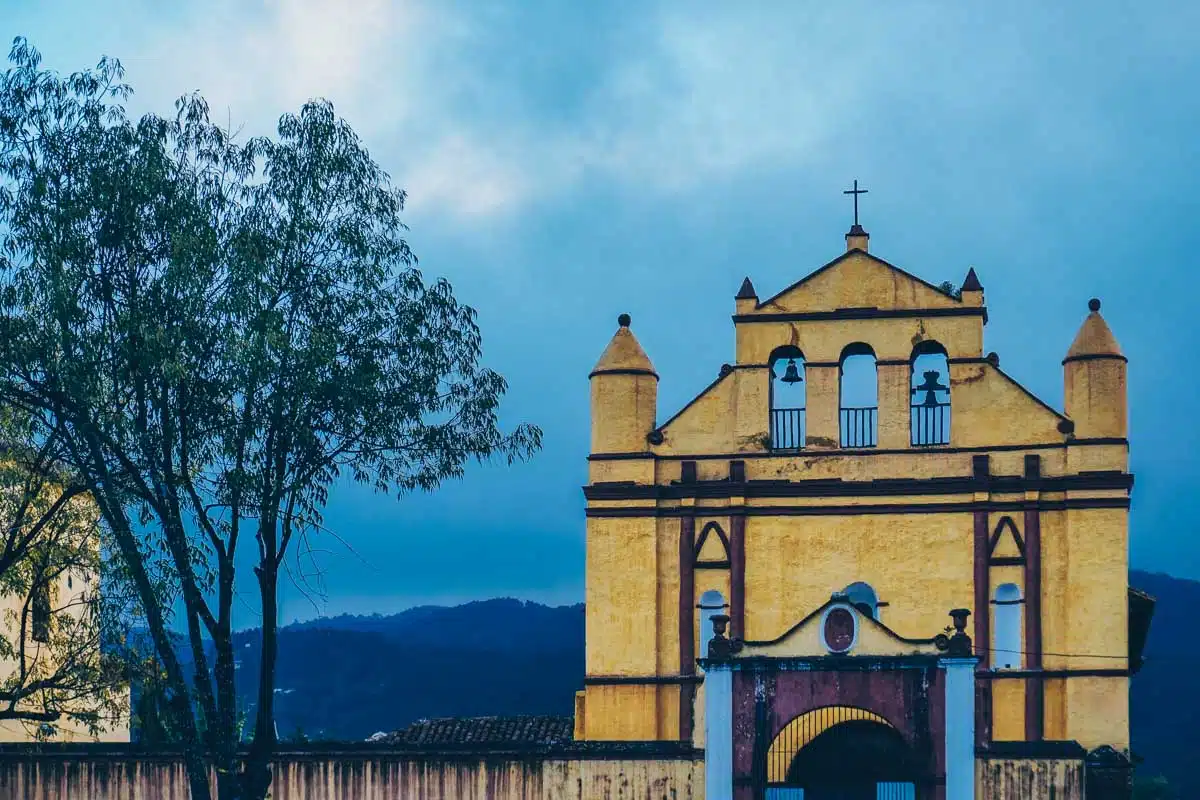 There are many things to see and do in San Cristobal de las Casas – and like any destination some sights are more exciting than others.
You don't have to visit every spot on the list during your stay, but here are the top five that you definitely shouldn't miss.
Iglesia de San Cristobalito and Guadalupe Church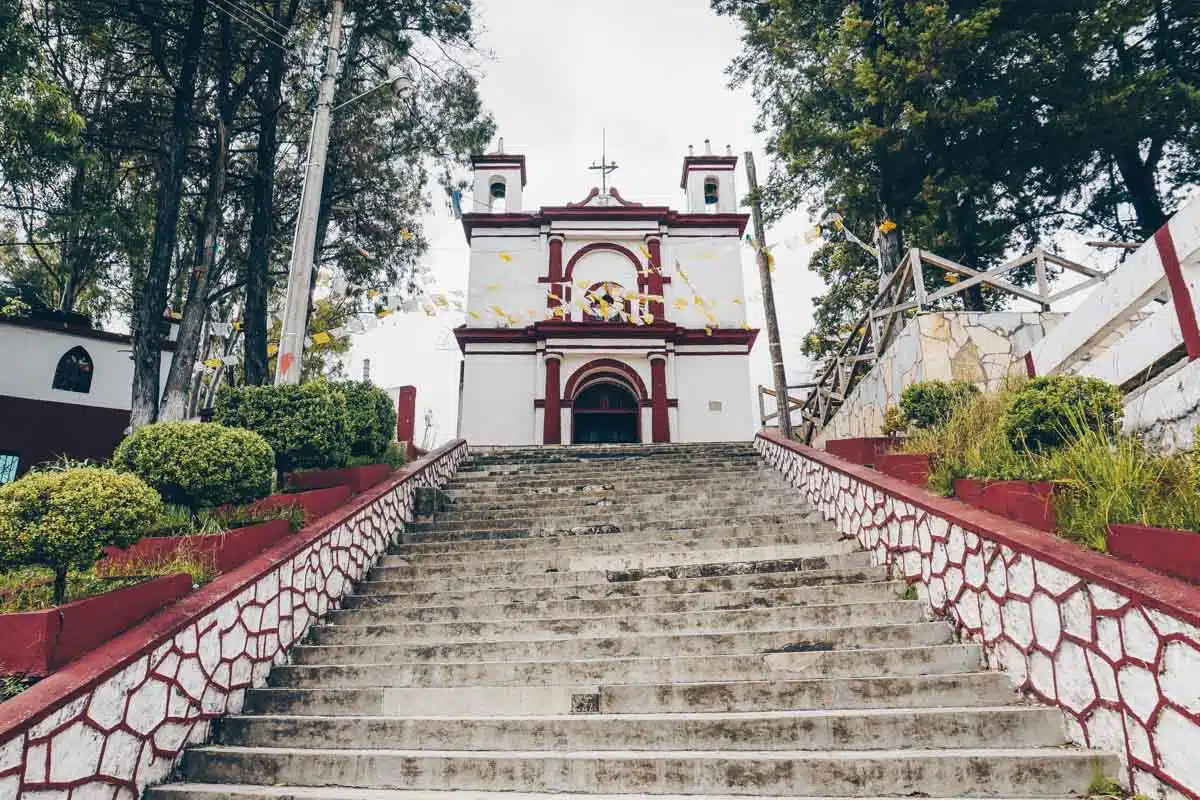 San Cristobal is popular among tourists because of its well-preserved colonial architecture. There are a few temples and churches in the area that specifically attract tons of guests. The top two are the Iglesia de San Cristobalito and the Guadalupe Church.
The tiny red and white Iglesia de San Cristobalito church overlooks the culturally-rich city. First built in the 18th century, this church is now a popular tourist attraction and an important landmark in Mexico.
It might be a challenging workout for some getting to Guadalupe Church, but this almost 100-step climb to the top of a hill will be well worth your sweat.
The yellow and white church sits atop Guadalupe Hill and offers a picturesque view overlooking the whole of San Cristobal de Las Casas.
Tip: If you'd like, you can walk to both Guadalupe Church and The Church of San Cristobalito in one fell swoop. It is just a 30-minute stroll between the two (albeit with two quite steep puffs uphill at either end) if you'd like to get in a few more steps.
El Arcotete
This ecological park is a great break into nature. El Arcotete has some of the best outdoor activities in San Cristobal de las Casas. It features zip lines, hiking trails, and cliff rappelling.
The fun doesn't stop there. On your hike, you're likely to find hidden caves, limestone arches, and a freshwater river running through the park. The best part about this eco-park is that it's just a 20-minute drive outside of town and it's possible to reach it by public transport.
You'll be spending hours in the park just exploring and taking in the sights. Don't worry, there is a small tuckshop for refreshments and public restrooms.
Casa Na Bolom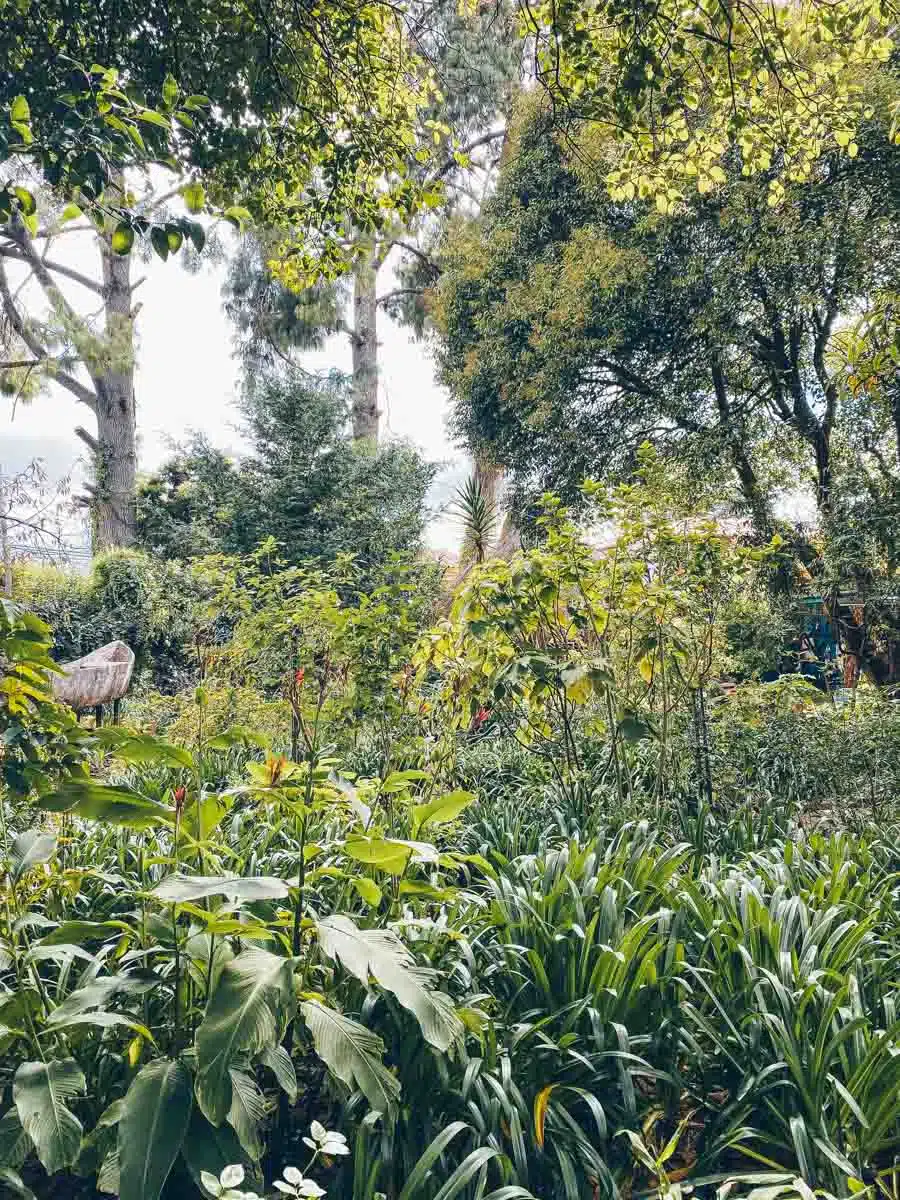 In 1943, archaeologist Frans Blom and his conservationist wife Trudy Blom met in the Chiapas jungle. They married a few years later and moved into an 1891 Spanish colonial-style house.
In 1951, the couple decided to start an NGO which focused on the local San Cristobal, Chiapas, and Lacandon cultural heritage. Today, Casa Na Bolom is a museum and a house, just like the Bloms intended.
The museum has a homely feel, and it almost feels like the Blom couple never left. Each room is full of their belongings and life work. Trudy was also a photographer, and her photos are on display all over the house.
The museum still focuses heavily on the community and thus has a community garden and restaurant onsite. Ticket proceeds also go back to the Lacandon community.
Orquideas Moxviquil
The Botanic Conservation Garden of Moxviquil is one of the best San Cristobal de las Casas things to do for nature-lovers. The garden's mission is to protect the area's natural habitat for future generations.
Most of the locals consider it a national education playground. It has many plants and flower nurseries on-site, with orchids getting special attention.
The conservation of natural habitats goes hand in hand with protecting animal species. Besides their interest in plants, Orquideas Moxquivil is very passionate about the Chiapas bird species.
This conservation makes Orquideas Moxviquil an excellent place for tourists to see these plants and animals in their natural habitats. There is an entrance fee, and guests are welcome to make a donation to keep the park's preservation efforts going.
Take a Trip to Chamula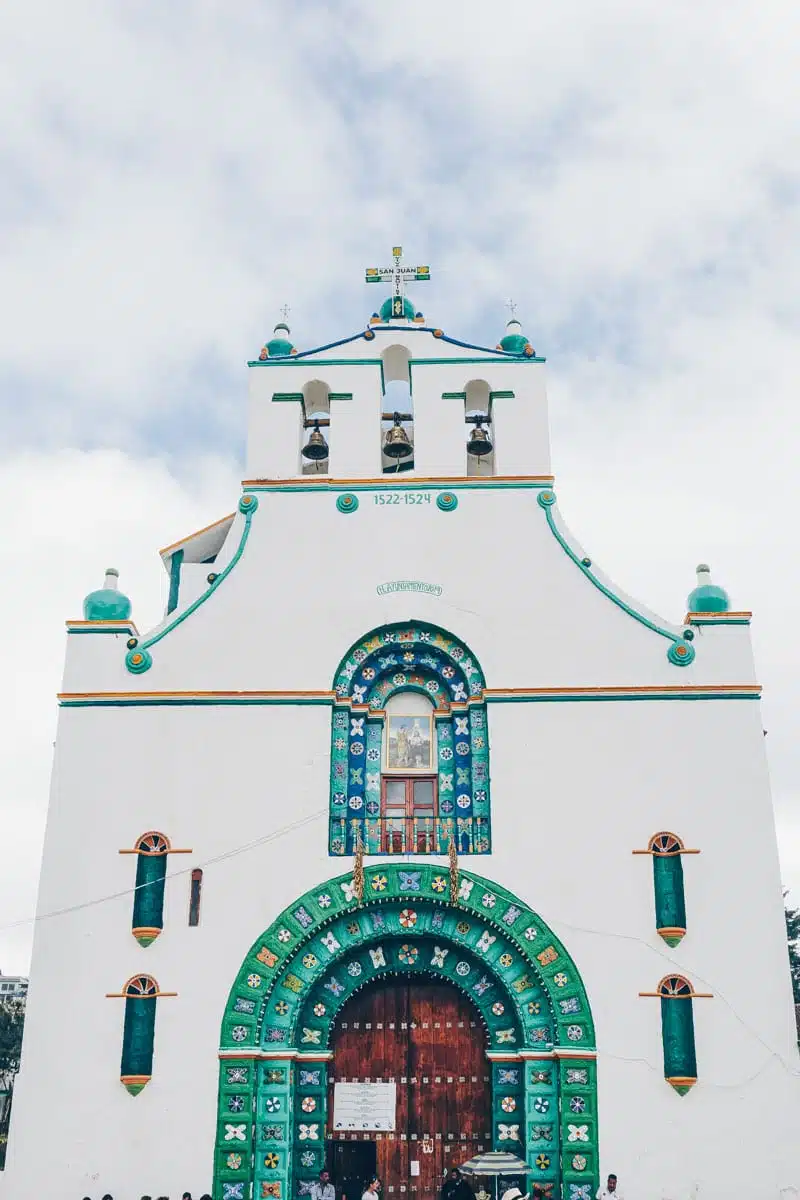 A great San Cristobal de las Casas day trip is to take the 20 minute drive to Chamula. It is only 10 km (6 miles) from San Cristobal, but it is distinctly more cultural and independent from western influences.
San Juan Chamula is the central religious and economic centre of the Tzotzil indigenous group. The Chamulas are very traditional and private. While you'll often see them dressed in their colourful traditional garb, (understandably so) they do not like it when people take photos of them.
What you can photograph is the outside of their beautiful buildings, like the community's main temple, where locals come to pray and conduct rituals. The local people follow a mix of traditional Mayan and Catholic traditions.
These rituals might seem odd to outsiders, but they date to ancient Mayan times. Practices include chanting, a sea of candles, incense, and chicken sacrifices.
Brilliant Things to See & Do in San Cristobal De Las Casas During the Day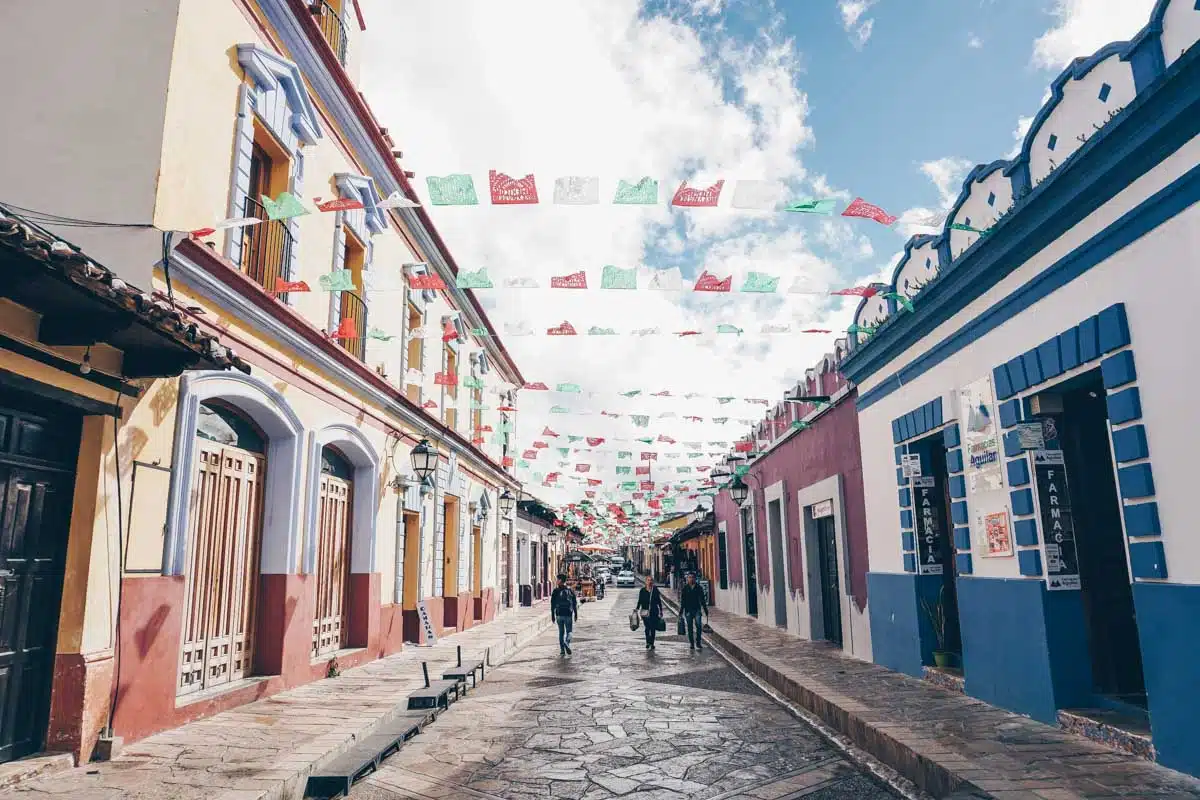 Wondering what to see in San Cristobal de las Casas when the sky is still bright? The town has many beautiful churches, plazas, and parks.
Plaza 31 de Marzo
This plaza is the city park in the historic centre of town and a gathering spot for many locals. You'll see shoe-shiners, street vendors, and children playing all around.
It is also right by The Hotel Santa Clara, built by the local Spanish conqueror, Diego de Mazariegos.
Mercado Jose Castillo Tielemans
This lively indoor market is excellent for stocking up on fruit and veggies and supporting local crafts. The market is the oldest in town and is over 50 years old.
The market doesn't only sell food. You can snag some clothes, crafts, and a few records here.
Catedral de San Cristóbal de las Casas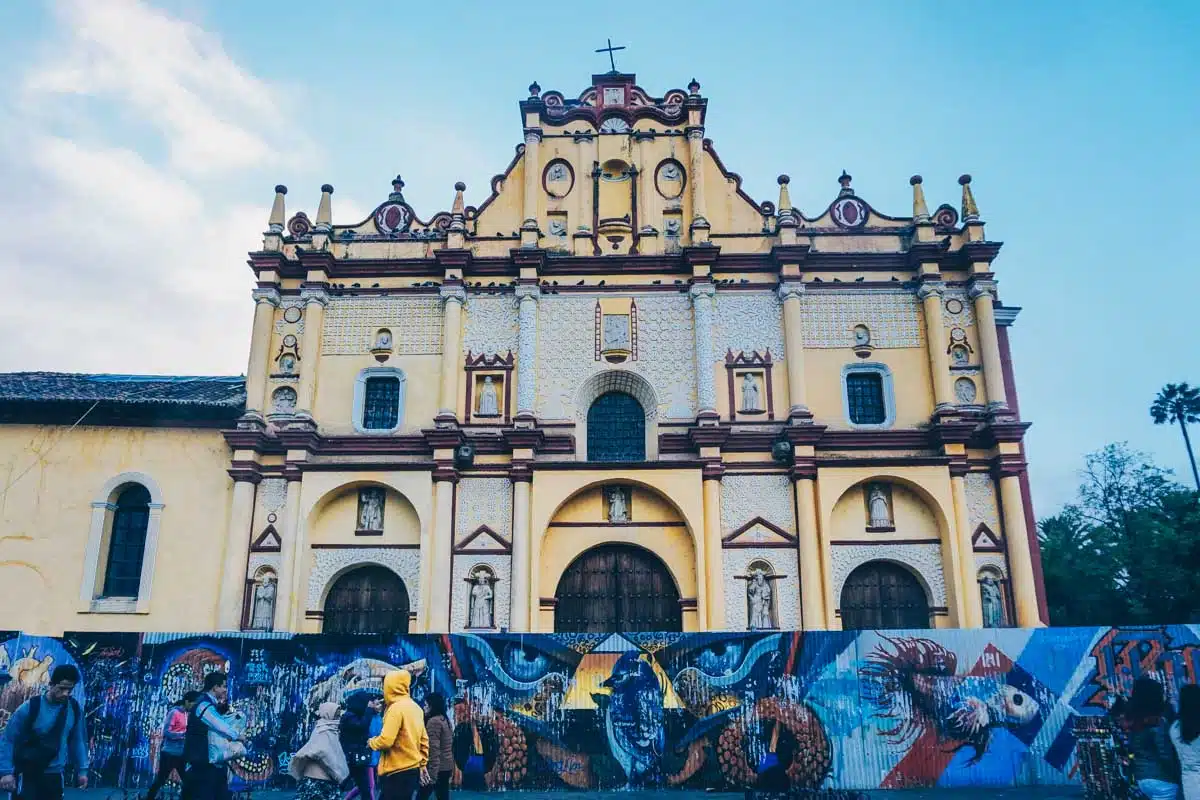 This large cathedral is in the centre of town in front of a big square. The building of the cathedral started in 1528 and finished in 1815. Over the years, it has undergone restoration many times due to many earthquakes.
Now, it is well-known for its intricate design and colourful exterior. While the yellow and red exterior often takes the spotlight, the interior is just as stunning.
The cathedral is a dedication to the Assumption of the Virgin Mary. You'll find the inside covered in gold leaf and featuring five gilded altarpieces. It also has candles and incense constantly burning inside.
Iglesia De Santa Lucia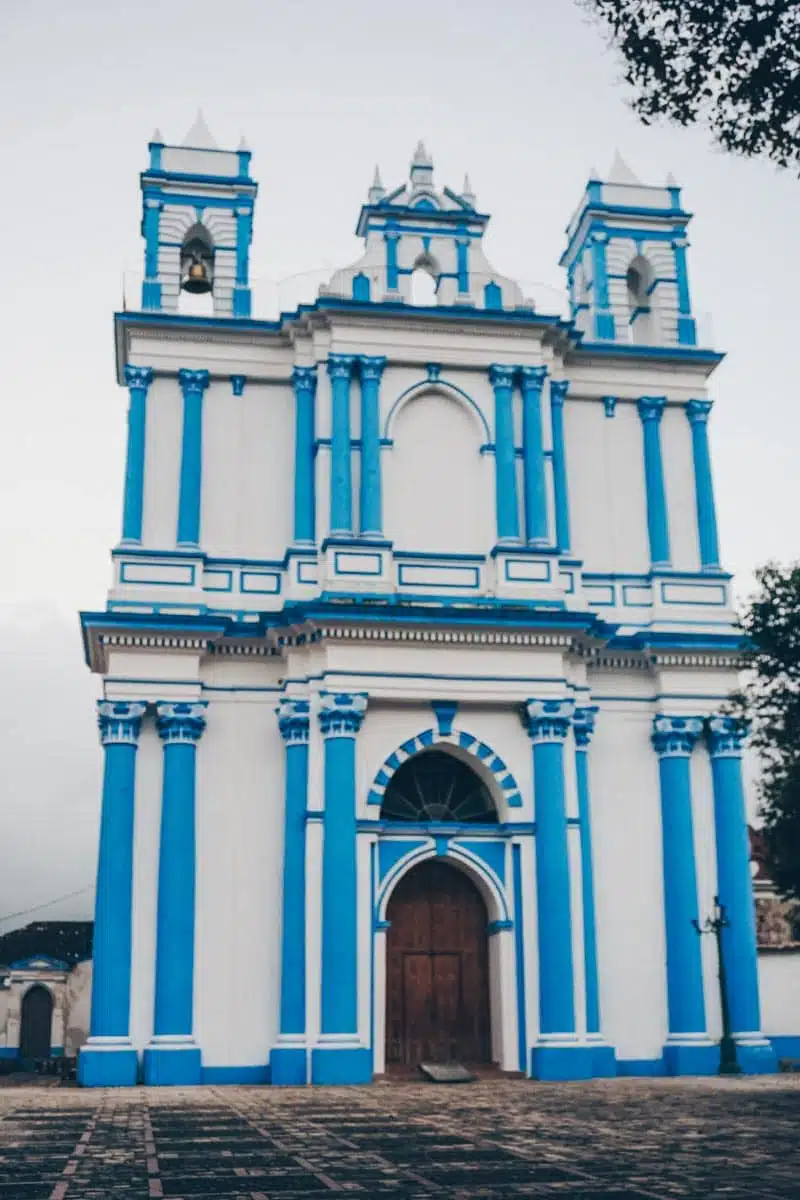 Iglesia de Santa Lucia or Church of Saint Lucia keeps up San Cristobal's trend of brightly coloured churches. This turquoise and white church is also in the town centre.
The Santa Lucia neighbourhood, founded in 1594, had two churches built in the area (one of them being Saint Lucia). The reasoning for the churches was that there was a need for clinics and cloisters in the area.
The neighbourhood was a crafts centre producing diverse crafts and art. Today, you can find artisan markets selling traditional candies and sweets.
On 13 December, there is a celebration in remembrance of Saint Lucia. Fluttering blue and white flags decorate the church during this time.
Iglesia de Santo Domingo de Guzmán
This Baroque-style church built in the 16th century is San Cristobal's most beautiful church. The grandiose church was a Dominican monastery named after the monk who founded it. Its interior features golden walls and eight wooden baroque altarpieces.
The temple has two museums inside. Upstairs in the former monastery, there's a textile museum of the Maya. It showcases over 500 handwoven textiles from all over Central America.
There's also the Cultural Center of the Highlands of Chiapas. The museum showcases the traditional and cultural artworks of the state's indigenous people. Most of the art dates to the 17th to mid 19th century and showcases major themes of Chiapas history.
Casa de Pan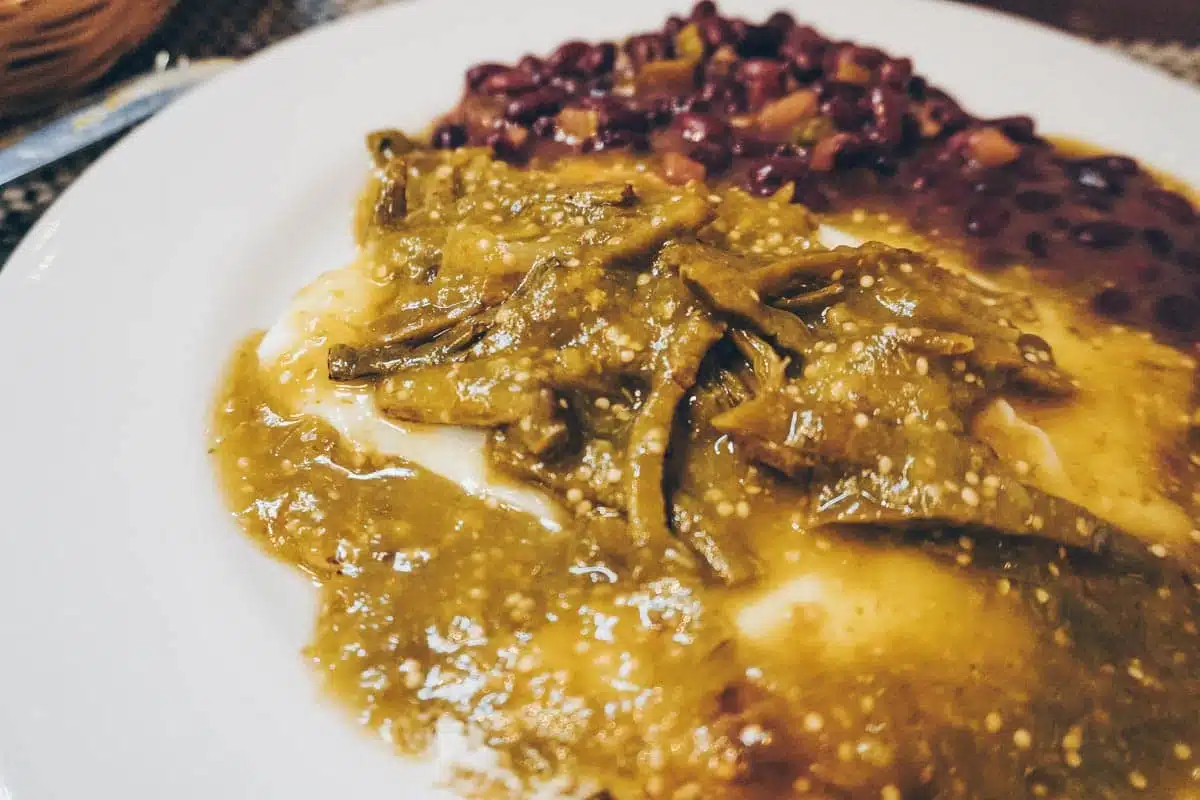 This vegetarian and vegan restaurant means non-meat eaters don't have to miss out. The restaurant is open every day with a lunch buffet from 1:30 pm to 4:30 pm.
The menu is predominantly Mexican cuisine but still features pizzas, salads, and sandwiches. You can enjoy it all on the indoor patio.
Los Chapulines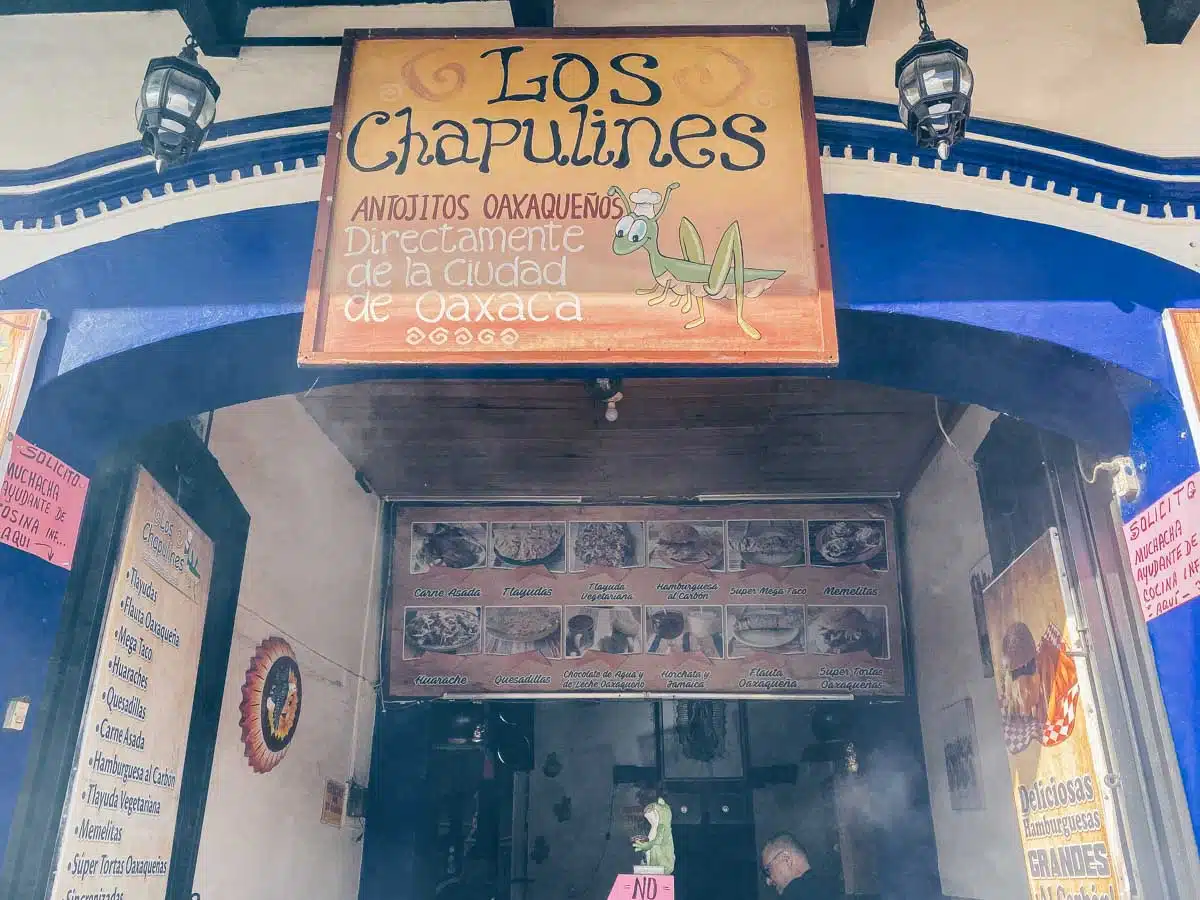 Are you feeling a little adventurous? Los Chapulines translates to grasshoppers and is a deep-fried delicacy in certain parts of Mexico.
Don't worry. You don't have to try the crispy treat here. The restaurant sells many traditional Mexican dishes like tlayudas and huaraches. There are also some vegetarian options available.
Black Love Coffee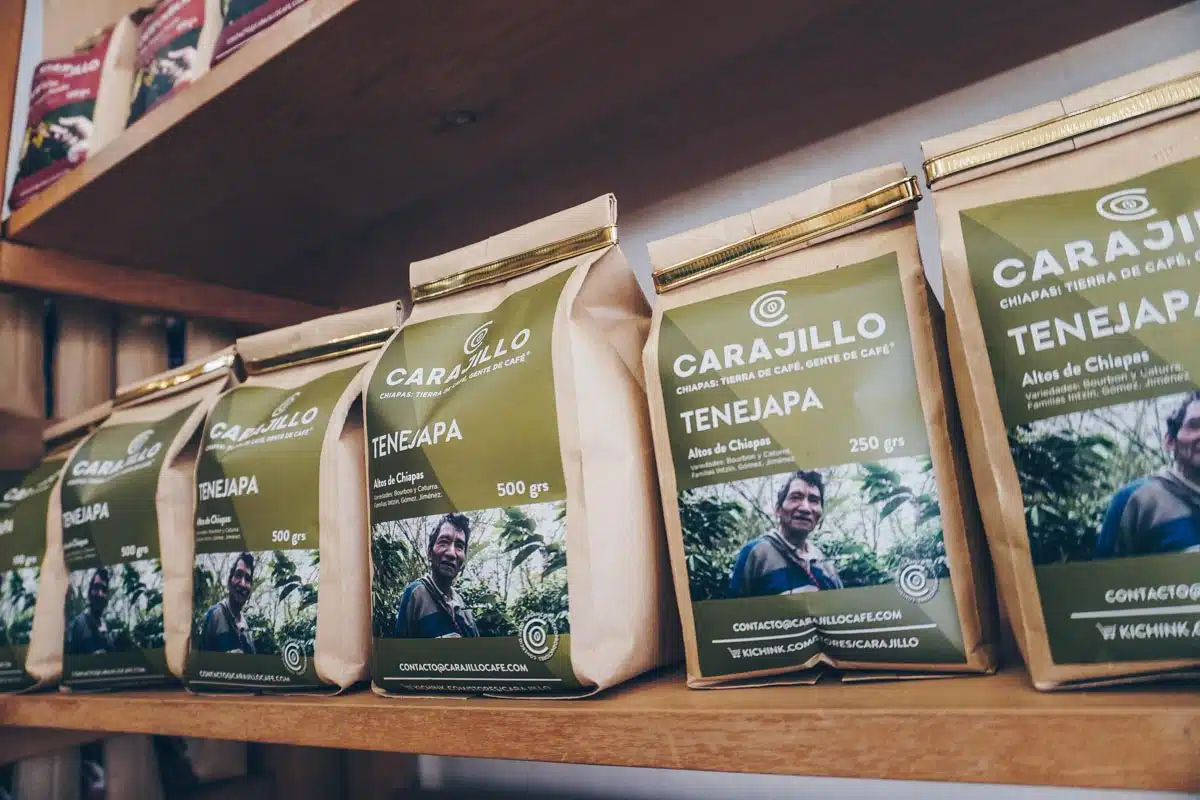 Okay, so this isn't a restaurant, but this coffee shop is worth mentioning. Although there are dine-in options available, the real star of this cafe is its coffee. They make all the blends in-house with local coffee beans for a fresh brew.
Digital nomads will also love this spot because of its work-friendly atmosphere. There are power outlets available as well as fast WiFi. Black Love Coffee has you covered whether you come here for work or pleasure.
Cool Things To Do in San Cristobal de las Casas at Night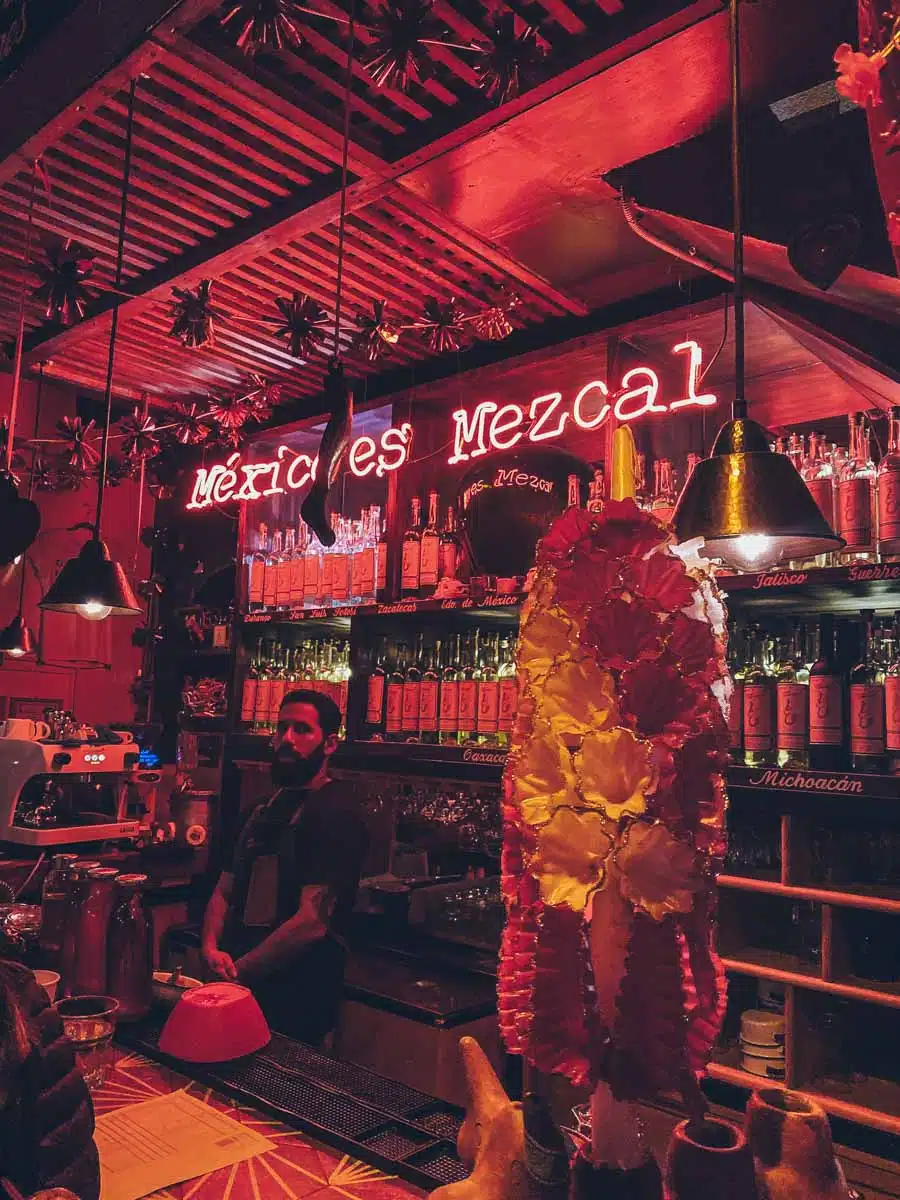 San Cristobal has a few great places to check out at night that don't all include a nightclub. However, there's nothing wrong with enjoying a nightcap or shaking off your stress now and then.
Catedral de San Cristóbal de las Casas Night Market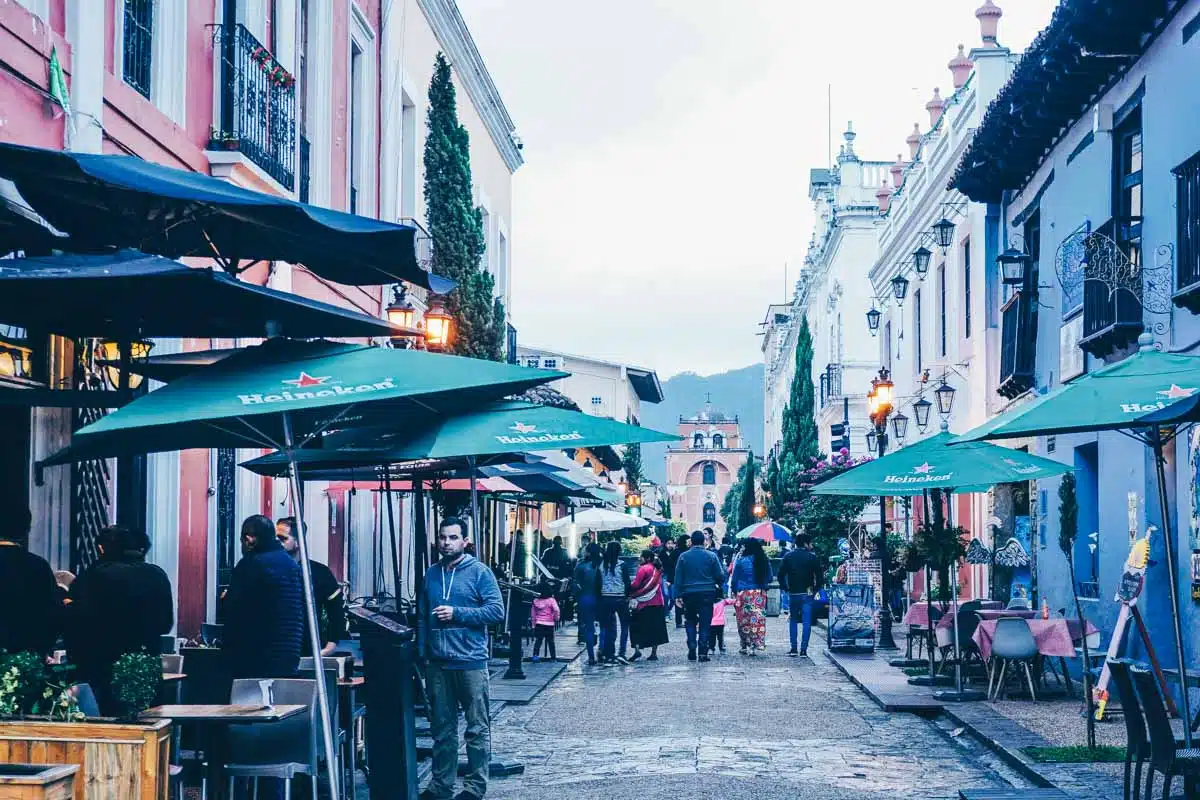 While this cathedral is beautiful by day, its market comes alive at night. The square is buzzing with people. Sometimes live dancers appear while the crowd cheers them on.
If you're ever worried about what to buy in San Cristobal de las Casas, you'll find souvenirs at this night market with handmade traditional clothes and crafts.
La Viña de Bacco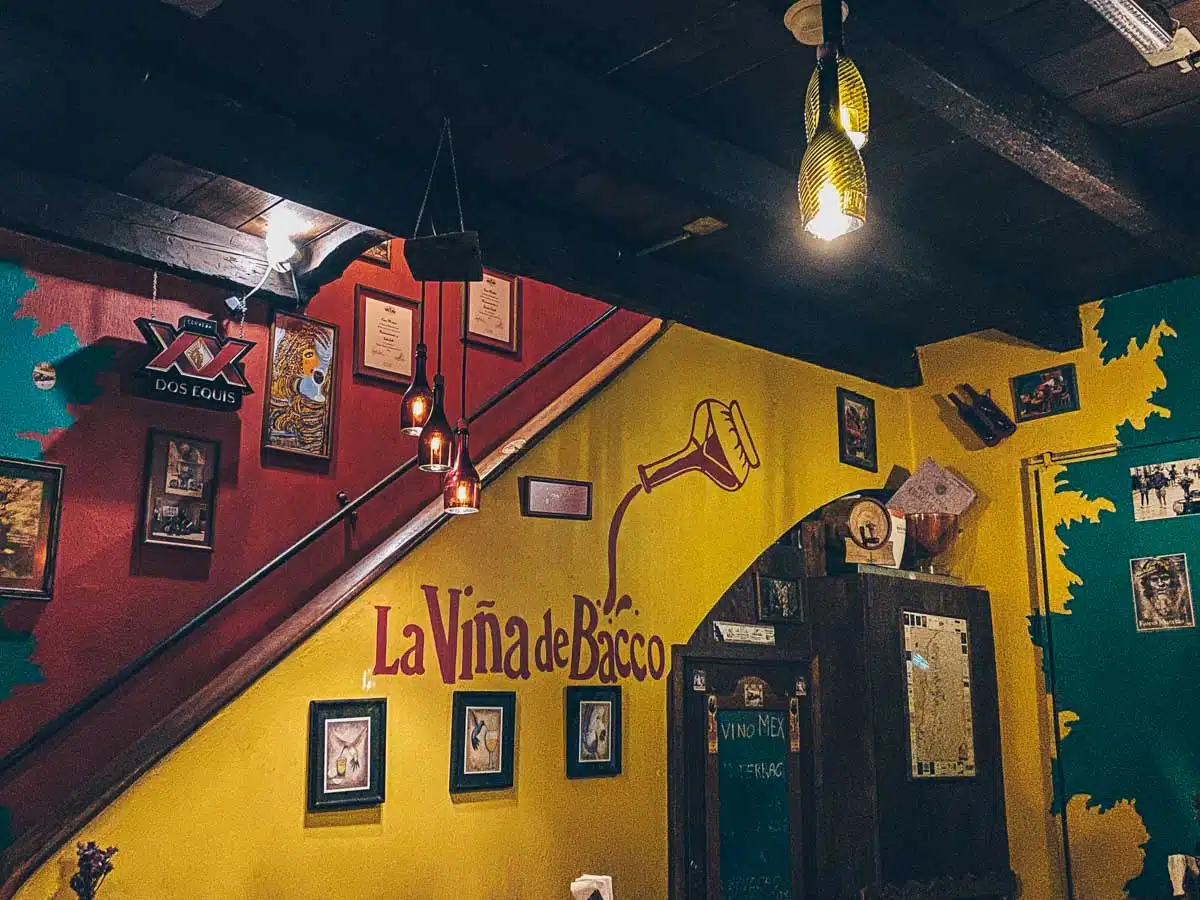 La Viña de Bacco is a great tapas bar in the central area of town. San Cristobal's first wine bar is always bursting with patrons. As a treat, you get free tapas with each glass of wine you order from their national and international wine list.
Tip: Arrive early, so you don't miss your free tapas. There is a limited supply every night.
Sensaciones de Chiapas Cocina Regional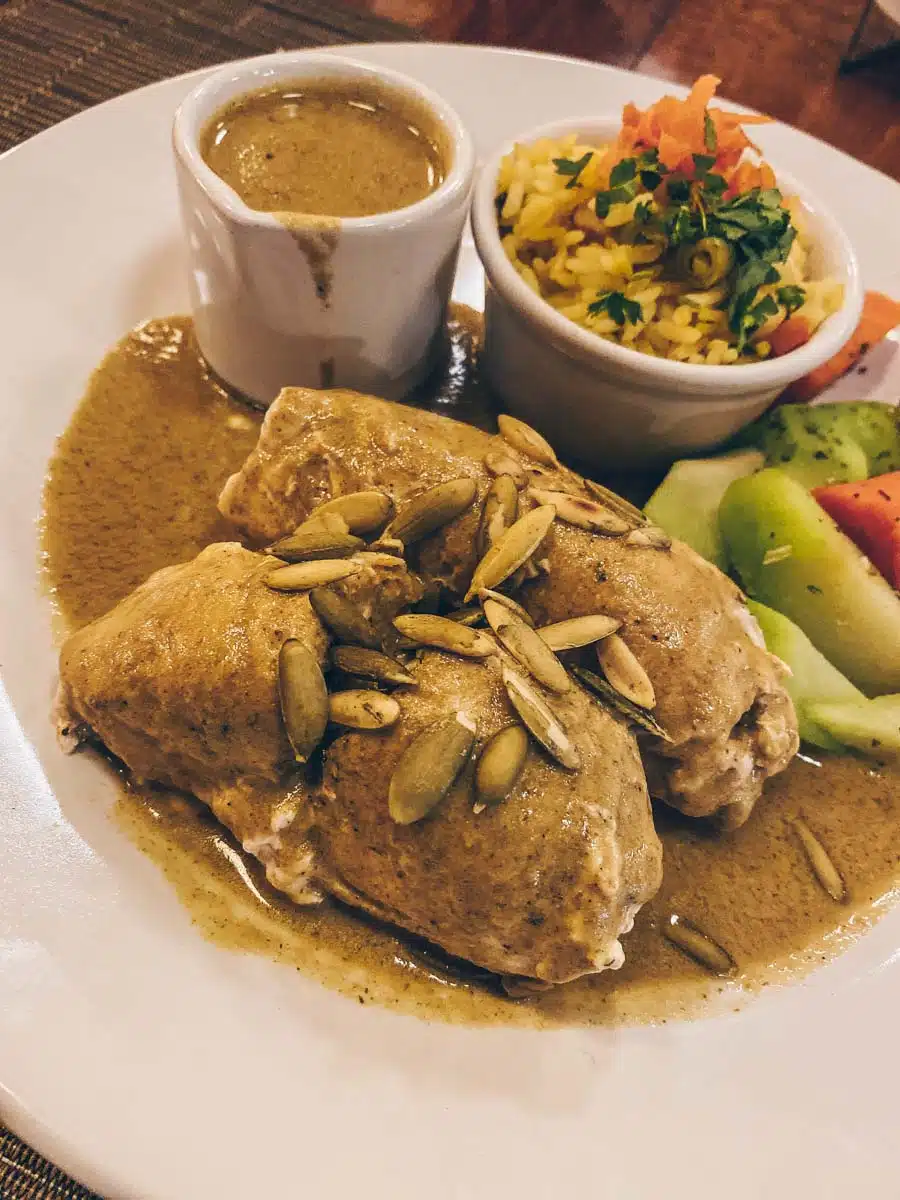 This restaurant is part of Hotel Ciudad Real Centro Historico's three restaurants. Sensaciones de Chiapas Cocina Regional is one of the best restaurants in San Cristobal de Las Casas. It serves regional cuisine from the area at slightly higher-end prices.
However, the quality matches the price, and you can taste it in the dishes. The place offers food from breakfast to dinner, so you never have to miss out.
Recommended Tours in San Cristobal de Las Casas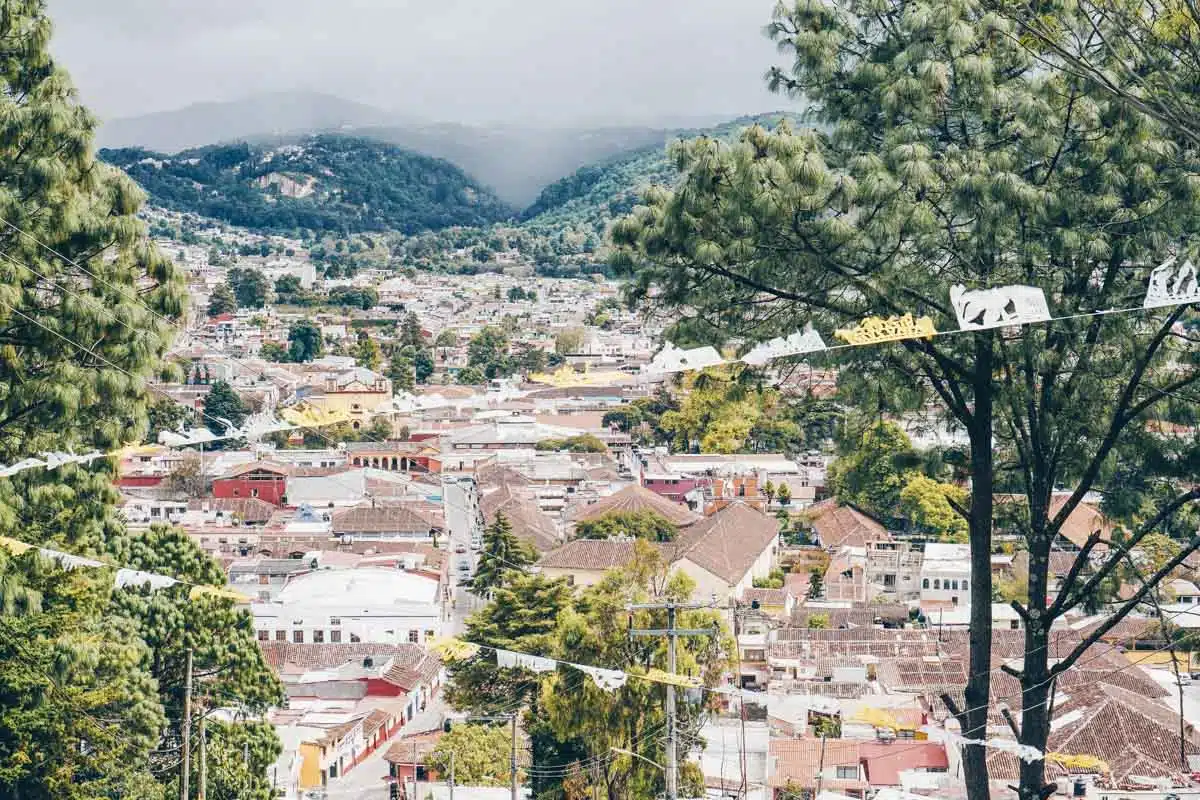 Looking for things to add to your San Cristobal, Mexico, things to-do list? Here are a few tours from San Cristobal that might interest you.
Things to do in San Cristobal de Las Casas: Practical Tips for Your Trip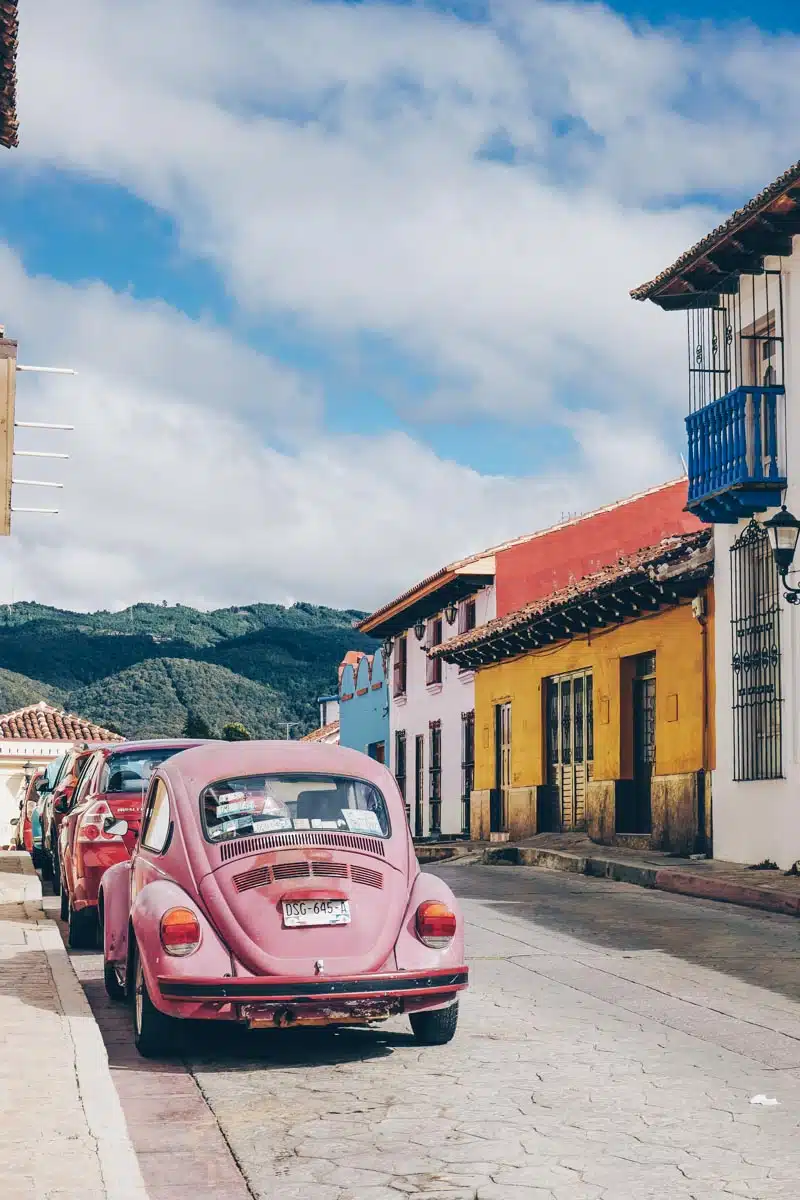 The average temperatures throughout the year stay in a comfortable mid-50°F to 60°F (12-18°C). While San Cristobal doesn't get as cold as other towns in the region, it can still get a little snippy in winter, sometimes dropping to as low as 34° F (1°C). So, be sure to bring along a jacket.
While there are many great tours, you don't necessarily have to pay for a city centre tour. San Cristobal offers a free walking tour every day from 10 am. You can find guides in bright orange T-shirts at the wooden cross in Plaza de la Paz.
If you're buying from street markets, try your hand at negotiating to get the best possible price.
Frequently Asked Questions
Sometimes it can be confusing to find the answers to your burning questions about the countries you wish to travel to. Here are some frequently asked questions about a San Cristobal de Las Casas travel trip to help you out.
Where Should I Stay in San Cristobal de las Casas?
Looking for a place to crash after a long day of hiking and sightseeing? These are the best hotels in San Cristobal de Las Casas.
Hotel Casa Margarita (Mid-Range)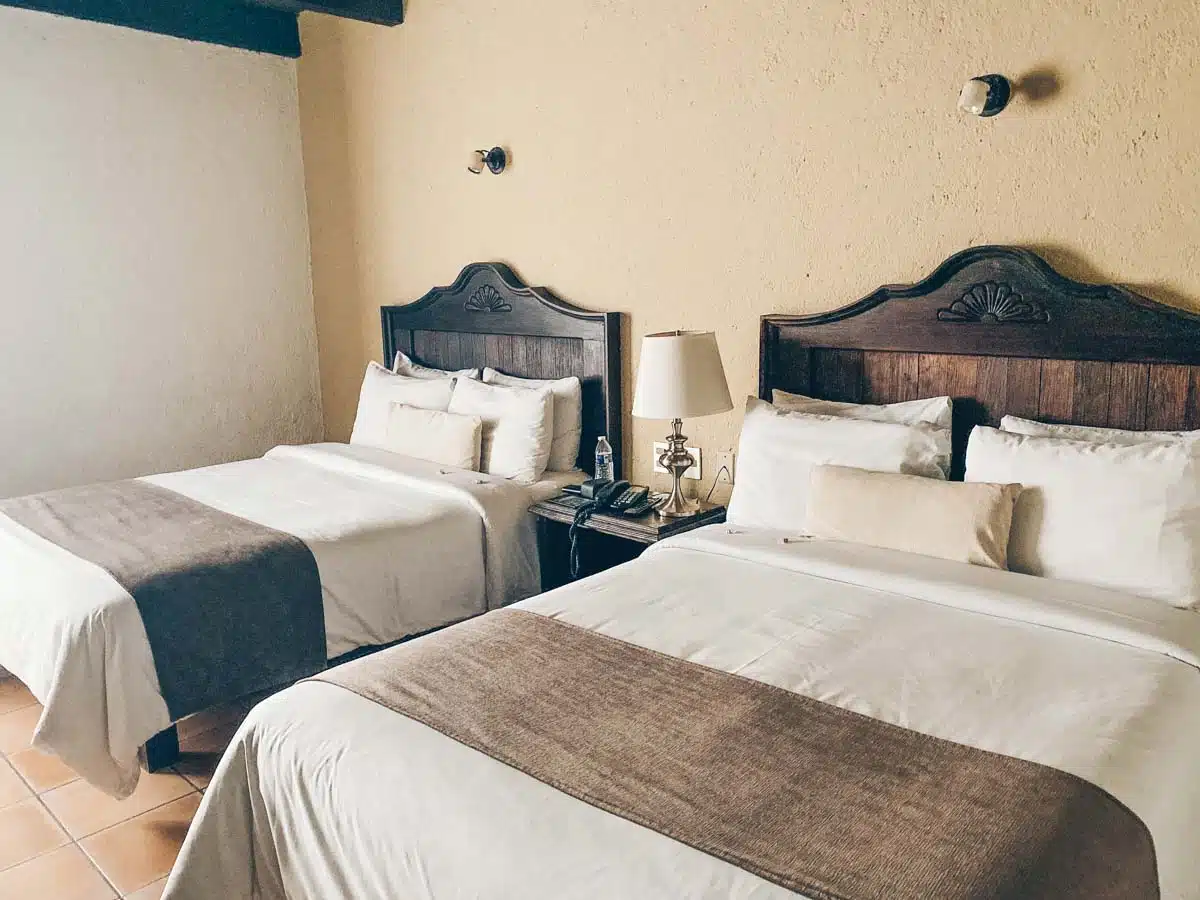 This colonial-style hotel is only 218 yards (200m) from the town square and a minutes' walk away from popular landmarks. The hotel has a brightly lit interior courtyard guests can enjoy a drink from the on-site bar. Rooms are rustic and have free Wi-Fi, a private bathroom, cable TV, and a work desk.
Parador Margarita (Luxury)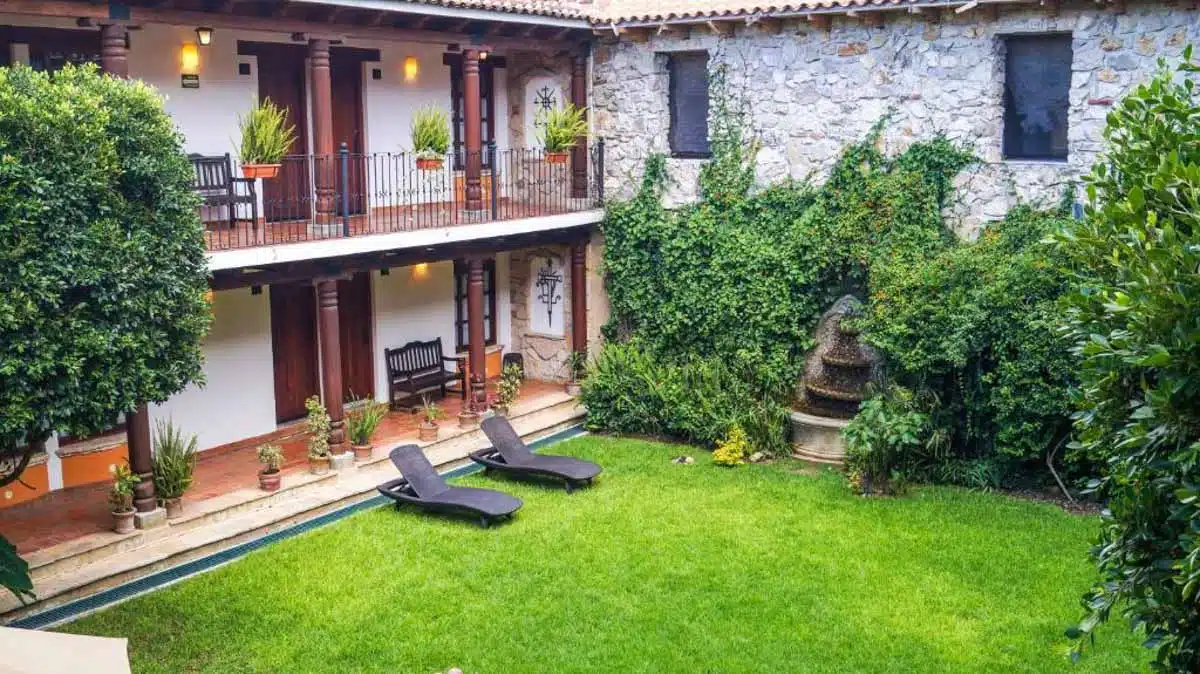 With only three blocks away from the city centre, this hotel is in a great spot. It is close to many restaurants, museums, and places for shopping in San Cristobal de las Casas. The hotel features transportation shuttles, a bar, and cable TV.
Things to do in San Cristobal de las Casas: Map