Looking for the best things to do in Campeche, Mexico? Discover the city's top attractions and more.
Often referred to as Mexico's 'Rainbow City', Campeche is a colourful city located on the Yucatan Peninsula.
Look, I'll level with you. Campeche is not one of Mexico's most popular travel destinations – like Cancun and Tulum.
It's often overlooked by tourists, which is a shame as Campeche is an underrated city with plenty to offer those who do visit.
Among Campeche's many attractions are its well-preserved historic centre, colonial architecture, and Mayan ruins, along with its lively markets and tasty cuisine (this is Mexico after all).
In this Campeche travel guide, you'll find all the top activities to add to your Mexico itinerary. Below are recommendations on the best things to do, where to stay, when to visit, and more.
Top Tip: If you're looking for excellent accommodation near many of Campeche's top attractions, check out the luxurious, five-star Hotel Boutique Casa Don Gustavo.
Top 5 Things to do in Campeche
Stroll Around the Streets of the Centro Historico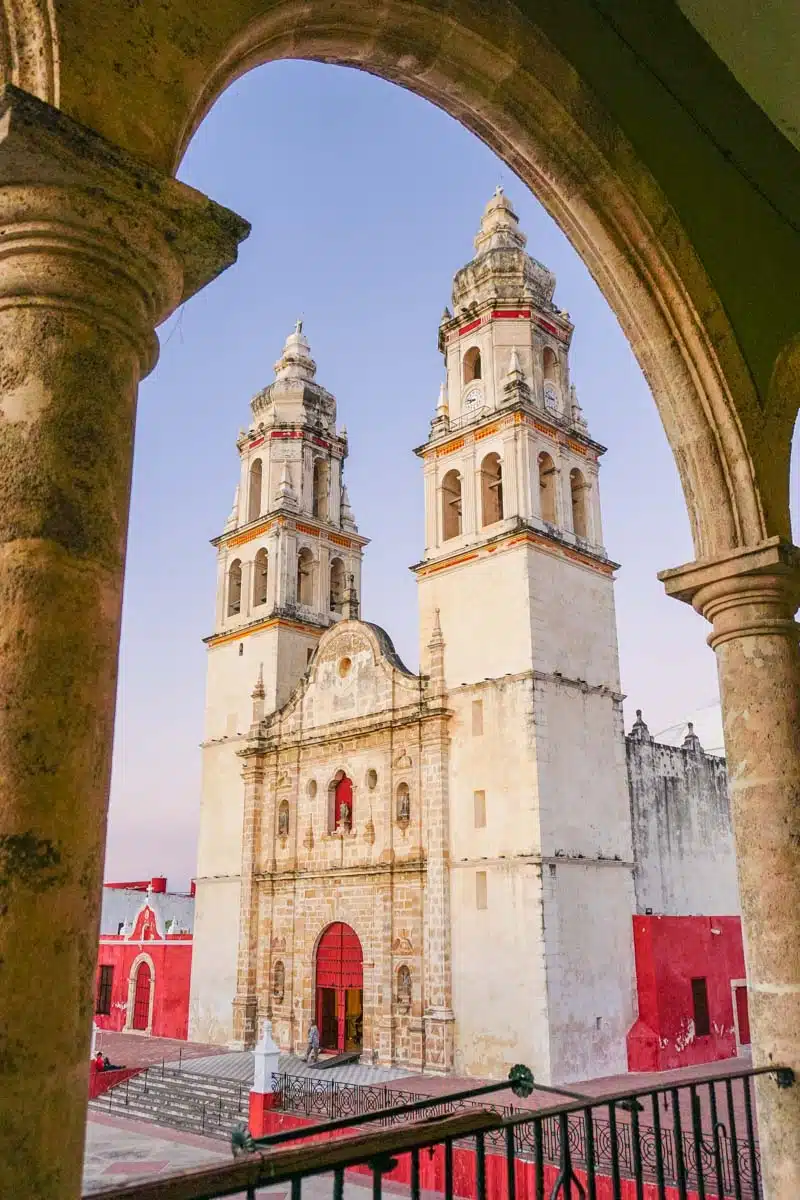 One of the best things to do in Campeche is to stroll around its UNESCO-listed city centre.
Unlike most Mexican cities, Campeche's city centre is quiet, with an intimate, small-town feel.
Take a peek at the many colonial buildings and structures housed within Campeche's fortified city walls, pastel-coloured houses and bright yellow churches included. There are also some grand colonial mansions built by families made wealthy by New World trading.
Visit the Our Lady of the Immaculate Conception Cathedral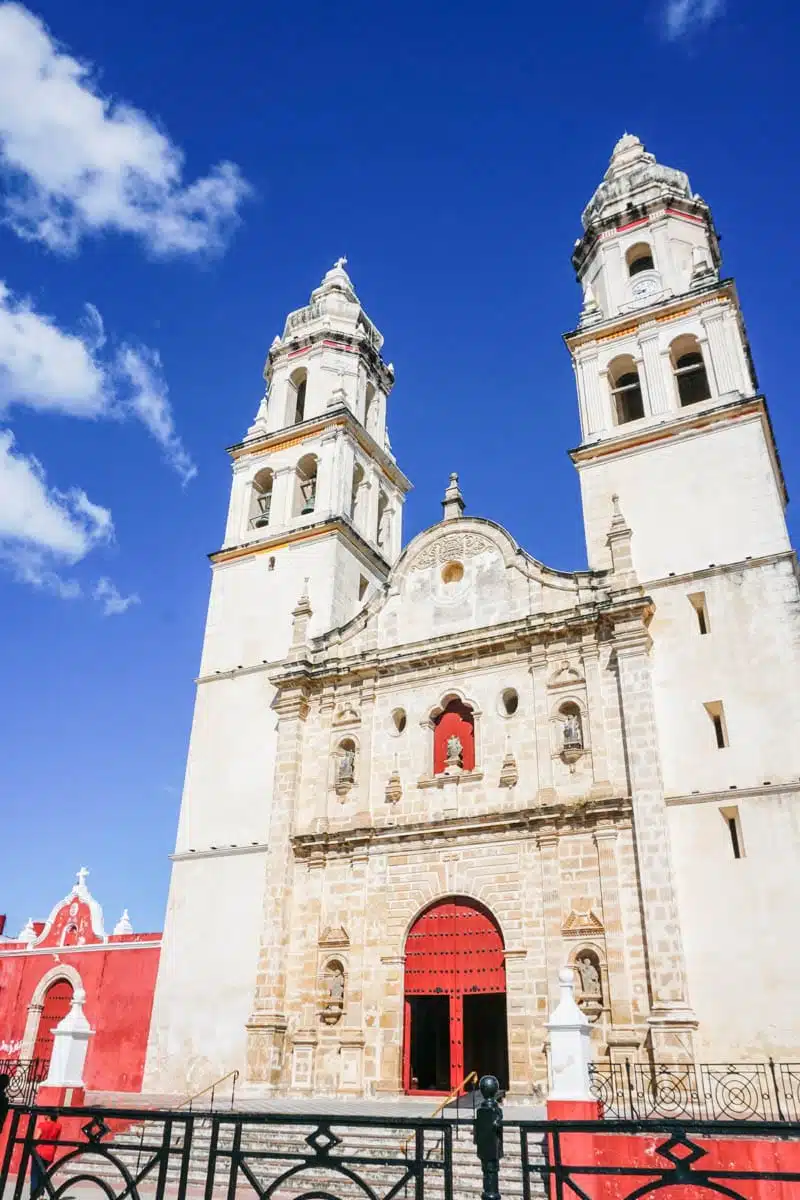 Overlooking the main square in the city with its two soaring bell towers is the Cathedral of the Immaculate Conception (also known as the Campeche Cathedral). It is an incredible colonial-style church dating back to as early as 1540. The building was only finished in 1760 following the completion of the flawless west steeple, "La Española".
Given its long history, the church boasts awe-inspiring architecture that draws on both baroque and neoclassical influences. Contrasting this is an elegantly understated interior that's brought to life at night with breathtaking illuminations.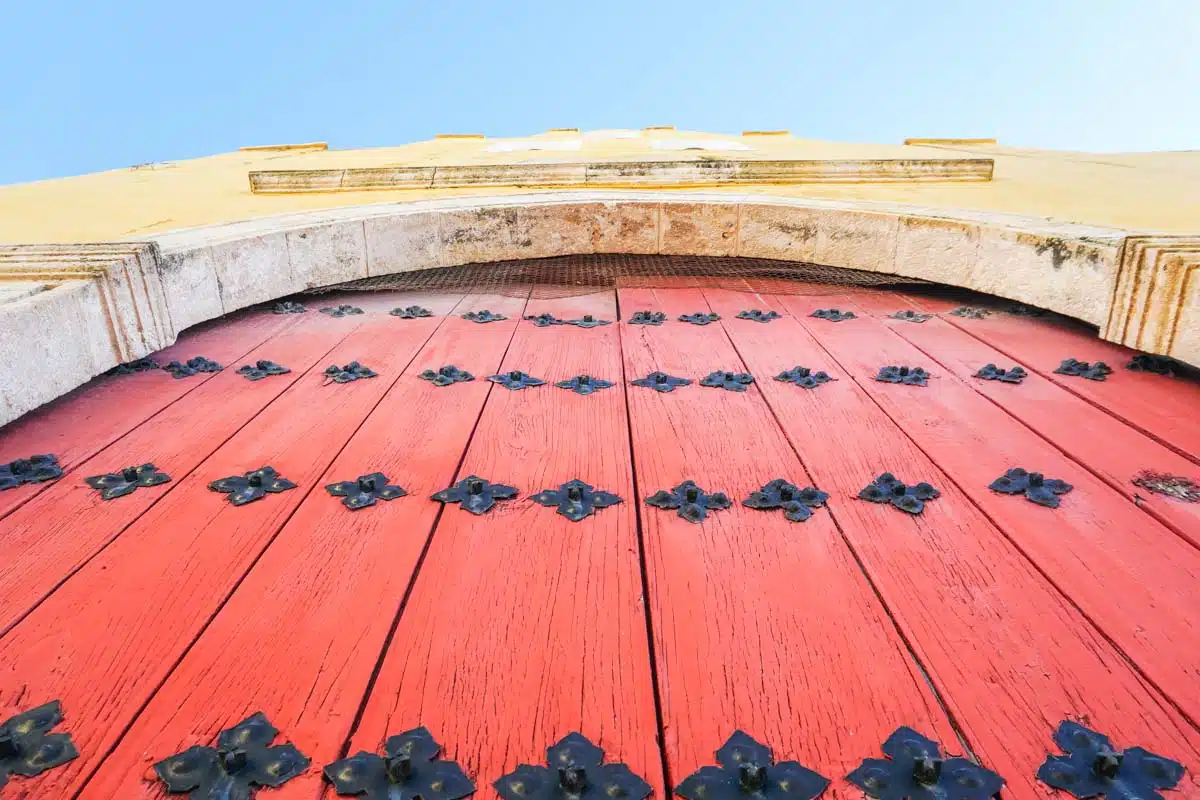 Entry to the Campeche Cathedral is free. But, there are a few nearby points of interest that are worth the small admission fee. This includes the Chapel of Jesús Nazareno and the Museum of Sacred Art next door. Here you'll find impressive collections of artworks and religious objects.
Dine on Calle 59 (Rincon Colonial)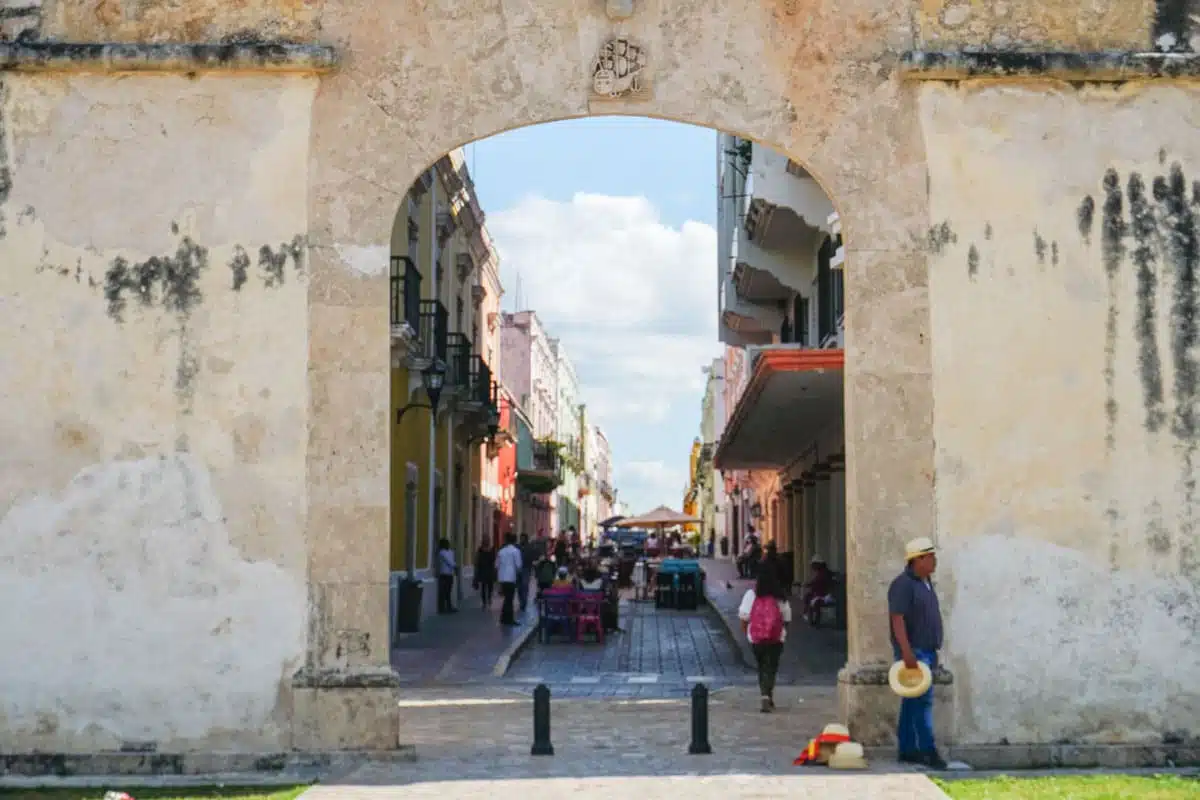 Campeche is one of the most vibrant cities in Mexico, and one of the places where this is particularly evident is in Calle 59. Along this street are many historic houses and facades painted in a rainbow of colours.
What draws in many tourists and locals is the fact that this street is only accessible to pedestrians. As such, you can walk around freely without having to worry about traffic.
While walking down this colourful street, you will pass by some of the best restaurants and cafés in Campeche. Many of the places have great deals and happy hours that go on throughout the day.
But what makes dining on Calle 59 truly special is the outdoor seating along the lively cobblestone street. For those wondering where to eat, visit Luz de Luna for its local flavours or Chocol Ha café for its chocolate tamales.
If you're visiting at night, stop by Rincon Colonial. This is a lively Cuban-style drinking establishment on Calle 59. It served as the location for the 2001 movie, Original Sin, which starred Antonio Banderas and Angelina Jolie. Here you can join delicious botanas (appetizers) accompanied by a local beer.
Walk Down the Malecon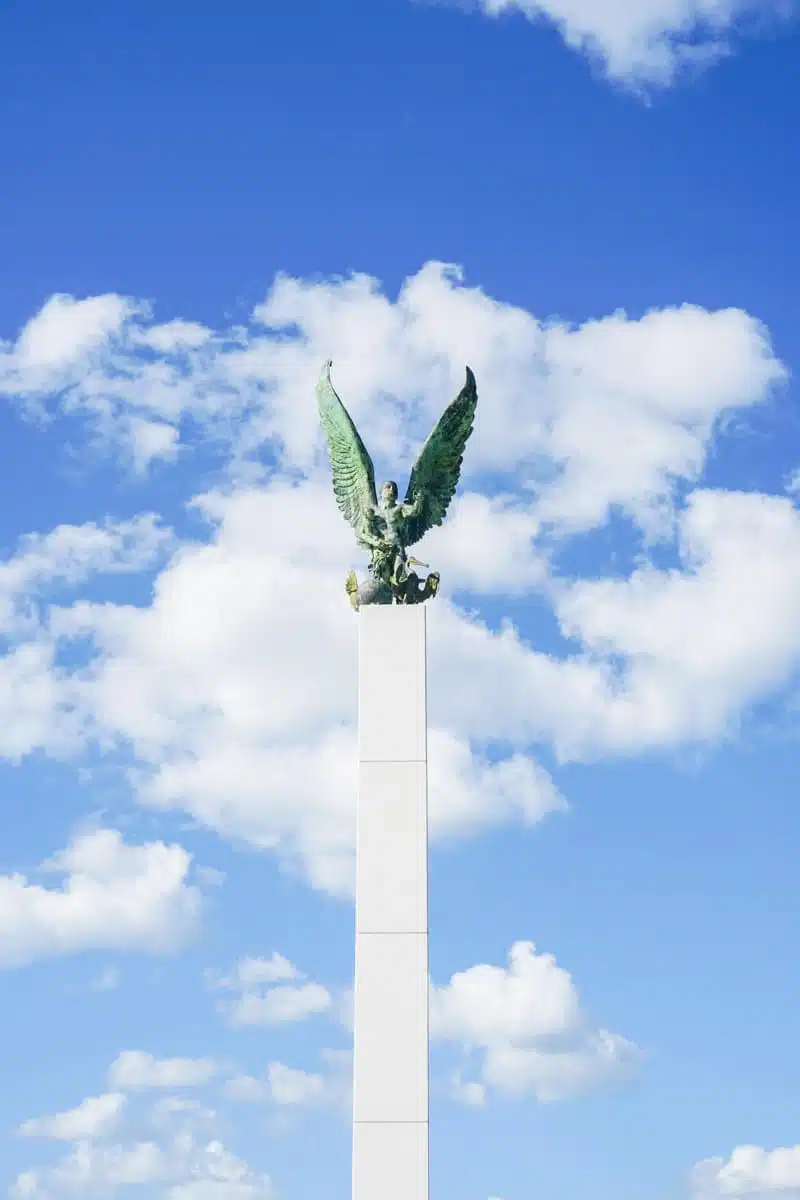 One of the most popular spots in Campeche to visit amongst locals and tourists alike is the Malécon. It is a picturesque promenade that runs for around 6.4 kilometres (4 miles) along the Gulf of Mexico.
This charming public space has plenty of walking paths passing by a series of monuments, including the statue of Bride of the Sea and the large, colourful Campeche sign. For those hoping to grab that perfect Campeche Instagram pic, this is the ideal spot.
Along the Malecon, you will also see many people walking, cycling, or having picnics. It is also one of the best places in the city to watch the sunset.
And across from the promenade on the opposite side are many lovely restaurants with oceanfront views. So after your leisurely walk along the Malecon, be sure to stop by for a delicious meal or beverage.
Explore the Edzna Ruins
One of the most impressive examples of late Maya architecture in the Americas is the Edzna Ruins. The historic site was inhabited since 400 BC. But unlike other Maya ruins whose demise came at the hands of the Spaniards, Edzna was mysteriously abandoned in 1500.
The Edzna Ruins is also not as famed as other sites such as Palenque, Chichen Itza, and Tikal. However, its lesser-known status means fewer tourists, offering a serenity that adds to the magical atmosphere of these ancient ruins.
The Edzna Ruins are often referred to as the "House of the Itzaes (Echo)". You can hear the echoes in several parts of the site. Another outstanding feature is the impressive collection of buildings that culminates in the Pyramid of the Five Floors.
The Edzna Ruins is a great choice for a fun day trip from Campeche. But to truly experience the beauty of this site, join the evening light shows for a mesmerizing experience. These shows take place throughout the year and start at 8 pm in summer and 7 pm in winter.
Brilliant Things to See & Do in Campeche During the Day
Below are some of the best things to do in Campeche city during the day. From museums to white-sand beaches, there is something fun for everyone.
Wander the Old City Wall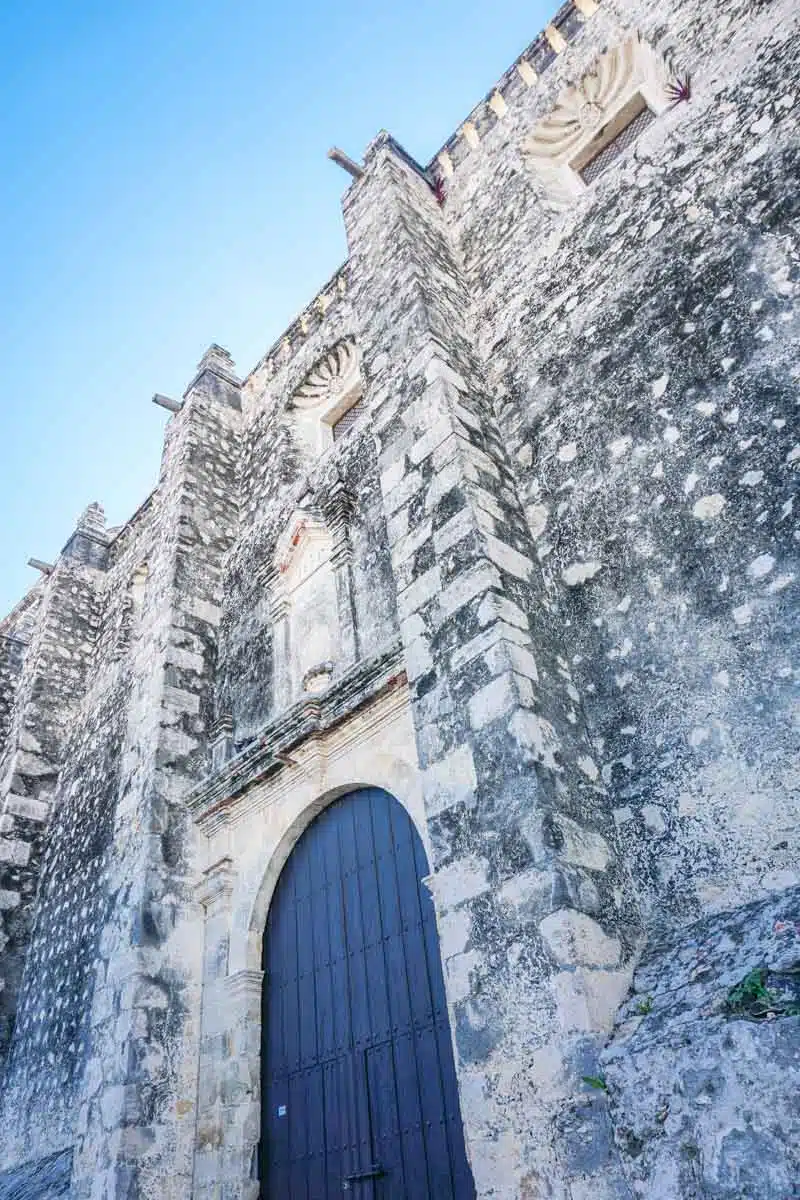 In its heyday, Campeche was constantly under pirate attack. This includes the famous Sack of Campeche in 1663, which was the biggest pirate attack in history. The attack forced the King of Spain to construct Campeche's now famed walls to protect the city.
The over two kilometres (1.24 miles) long and eight meters (26 feet) wide walls took more than 50 years to construct. The mighty walls made the city of Campeche practically impregnable. But fortunately, the city never really fell under attack again following this.
Because of this, seven of the eight bastions of the wall remain today. Each of these houses a small museum, such as the Museum of Mayan Culture and the pirate museum. You could spend an entire day visiting all the museums within these ancient walls.
Visit the Archaeological Museum at Fort San Miguel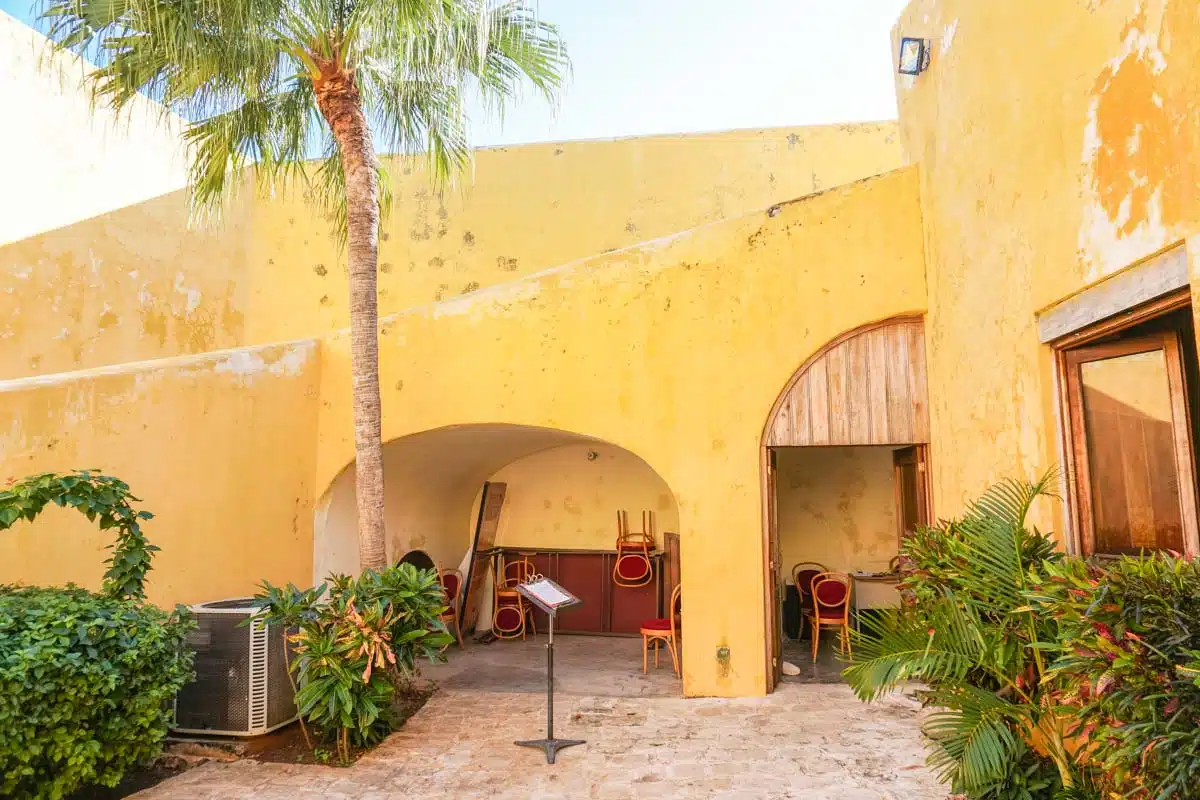 Guarding the city of Campeche are two fortresses: Fuerte San Miguel and Fuerte San José el Alto.
These structures were put up by the Spanish to offer protection against pirate invasion and other threats. To this day, these two colonial forts continue to stand tall atop a small hill overlooking the Gulf of Mexico.
Between the two forts, Fuerte de San Miguel offers a better view. It also includes an impressive drawbridge, moat, and canons. The fort dates back to the 18th century and boasts stunning architecture.
While here, be sure to stop by the intriguing Museo Arqueológico de Campeche. In the museum, you will discover many Mayan pieces of art from Calakmul and Edzná, including burial art, jade masks, and more. Also included in the exhibit are various treasures and jewellery found at sea.
Soak Up the Sun on a Campeche Beach
If you're visiting Campeche during the summer, you cannot skip out on a trip to one of the coastal city's beautiful beaches.
One of the most notable beaches is Playa Bonita, and it is ideally located just 20 minutes from Downtown Campeche. It also ticks all the boxes for a thrilling day by the sea. This includes soft, white-sand shores, plenty of free cabañas, and calm waters perfect for swimming.
For more great beaches, head to the sleepy town of Sabancuy. Here you will find several beautiful, unspoilt beaches located on the coastline between Campeche and Ciudad del Carmen. These beaches pass by rainforests and limestone cliffs, providing some of the most breathtaking views.
Taste Some Delicious Food at the Mercado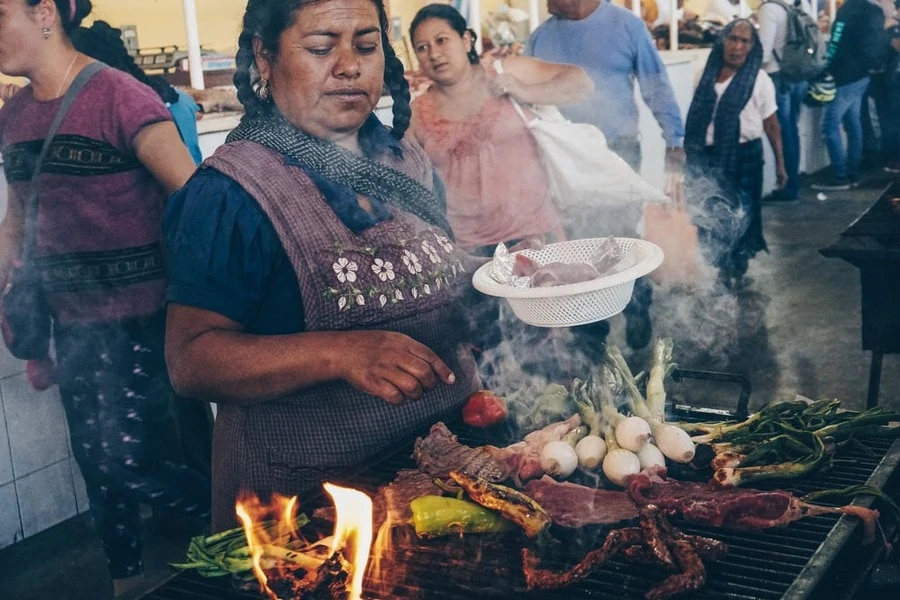 If you're in Campeche and uncertain about what to eat, take a trip to the Mercado. It is a large indoor market situated near the Baluarte de San Pedro. Mercado is home to dozens of restaurant and bar stalls serving a wide selection of foods and beverages.
Some especially delicious pickups include the regional tamales, tortillas, and tranca – a baguette stuffed with roast pork. And to wash it all down, try a refreshing agua de lima (a sweet lemon drink).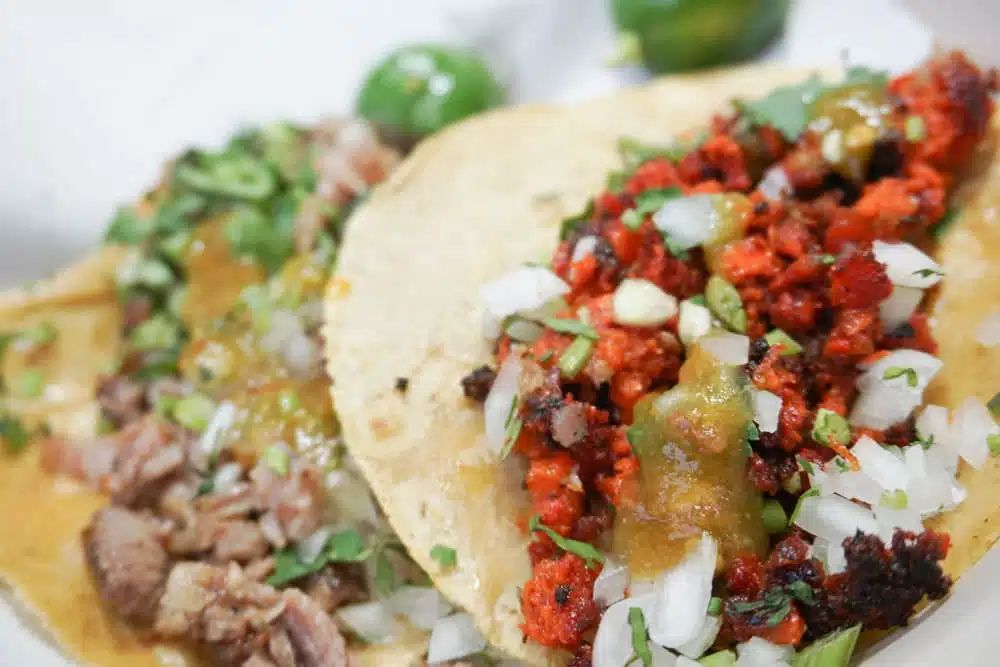 The Campeche Mercado is also a great place to shop for other items like fruits, vegetables, and flowers. If you're looking to visit the market, it is open every day from 7 am to 5 pm.
Visit Centro Cultural Casa No 6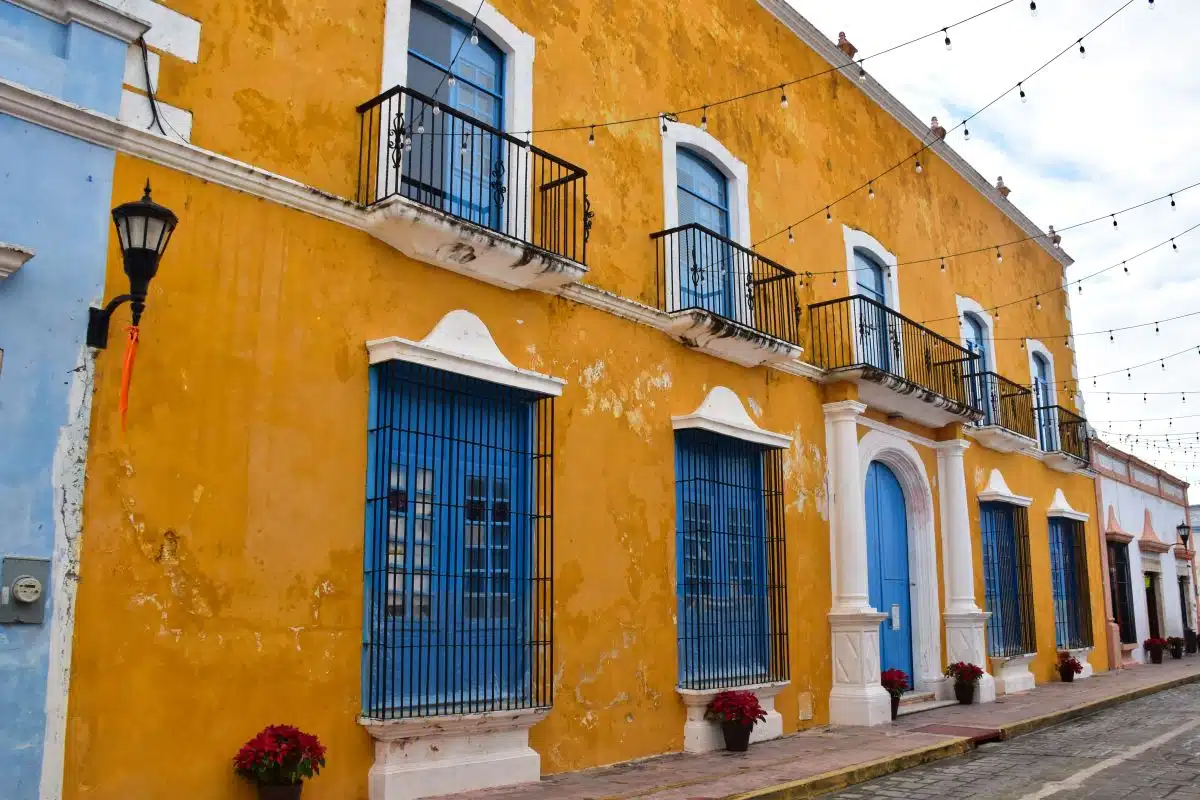 To catch a glimpse into how Campeche's upper-class once lived, be sure to pay a visit to Centro Cultural Casa No 6. The building now serves as a museum that aims to teach visitors more about the city's changing fortunes and global trade relations through the furniture on display.
A visit to this 19th-century mansion is like taking a step back in time. And at a small fee, it is well worth it. Here you will find a peaceful courtyard along with a bedroom, living room, and kitchen. Each of these rooms boasts old Cuban-style furniture. In addition to the rooms, there is also a small boutique bookshop on-site.
While the Centro Cultural Casa No 6 is beautiful, one could get a feel of Campeche's pre-revolutionary era by walking into any of the local houses in the area. This speaks to how well the town has preserved its heritage.
Marvel at the Museo de la Arquitectura Maya Baluarte
A must-visit attraction in Campeche, Mexico, is The Museo de Arquitectura Maya Baluarte. Located right inside the wall near Independence Plaza, the museum houses an impressive collection of Maya artefacts.
Included in the collection are pieces from various Mayan ruins, such as Edzna, Becan, and Santa Rosa Xtampak, to name a few. However, the highlight is a stunning jade funerary mask from the kingdom of Calakmul.
The museum also has rooms full of stelae. A spectacular feature of the Museo de Arquitectura Maya especially is that it includes English explanations for every artefact. So for English speakers, this is a great place to learn about the rich Mayan culture and history.
After viewing the fascinating artefacts, be sure to head up to the top of the old city wall that houses this small museum. From here, enjoy sweeping views of Campeche's old city.
Relax at the Xmuch'haltun Botanical Garden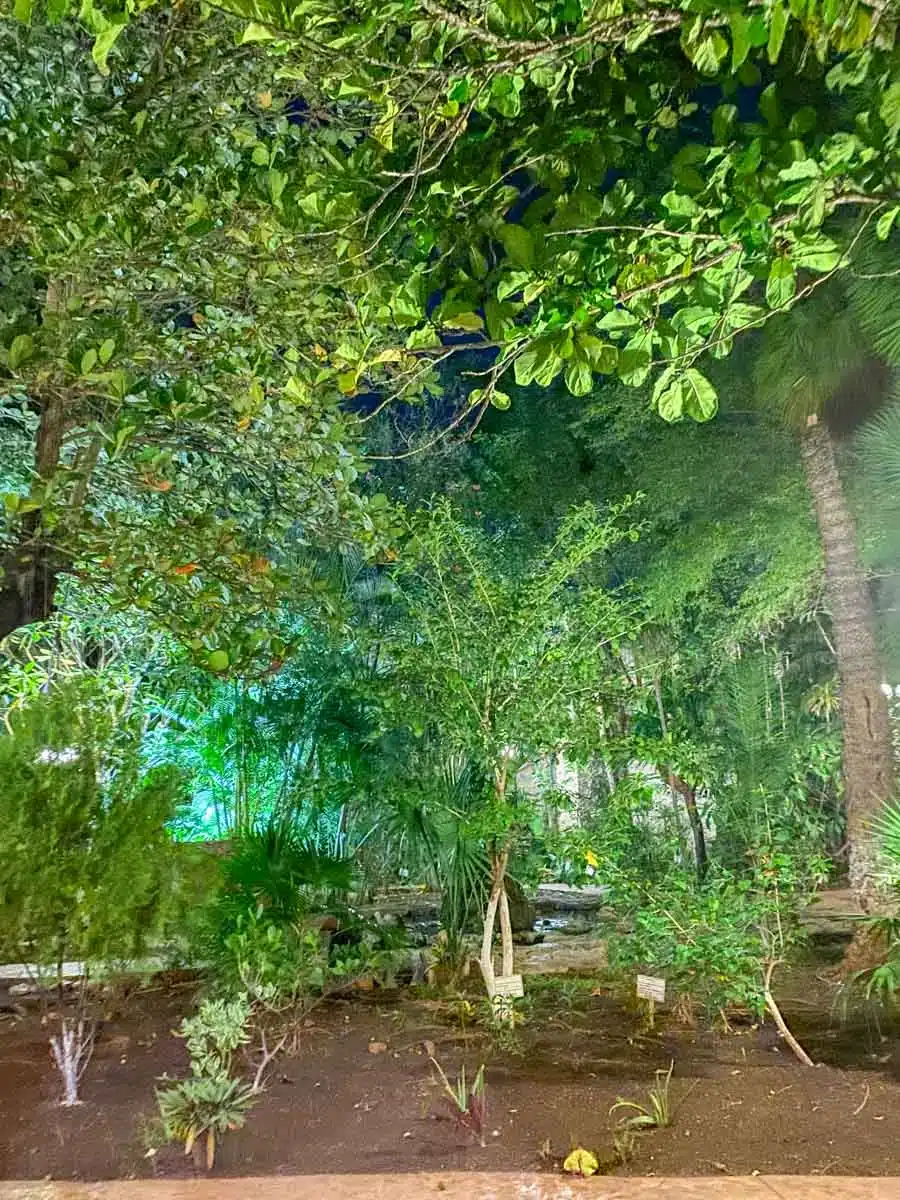 Situated inside the Santiago Bastion and surrounded by the old city walls is the Xmuch'haltun Botanical Garden. The name of this garden means "water that springs from the earth" in the Mayan language. This is fitting as the garden plays host to a lush variety of tropical plants.
Throughout the garden are signs that inform visitors of the plants and their uses. Many of the plants were used in Mayan medicines. Others were used for dyeing fabrics and thatching homes.
At the heart of the garden, you'll see a beautiful fountain that feeds into several canals that irrigate the plants. This tranquil space provides a lovely contrast to the large colonial-era fort that has protected the area for centuries.
For those wanting to visit the Xmuch'haltun Botanical Garden, it is open daily from 8 am to 8 pm. Admission is around 25 pesos ($0.50 USD) per person.
Cool Things to See & Do in Campeche at Night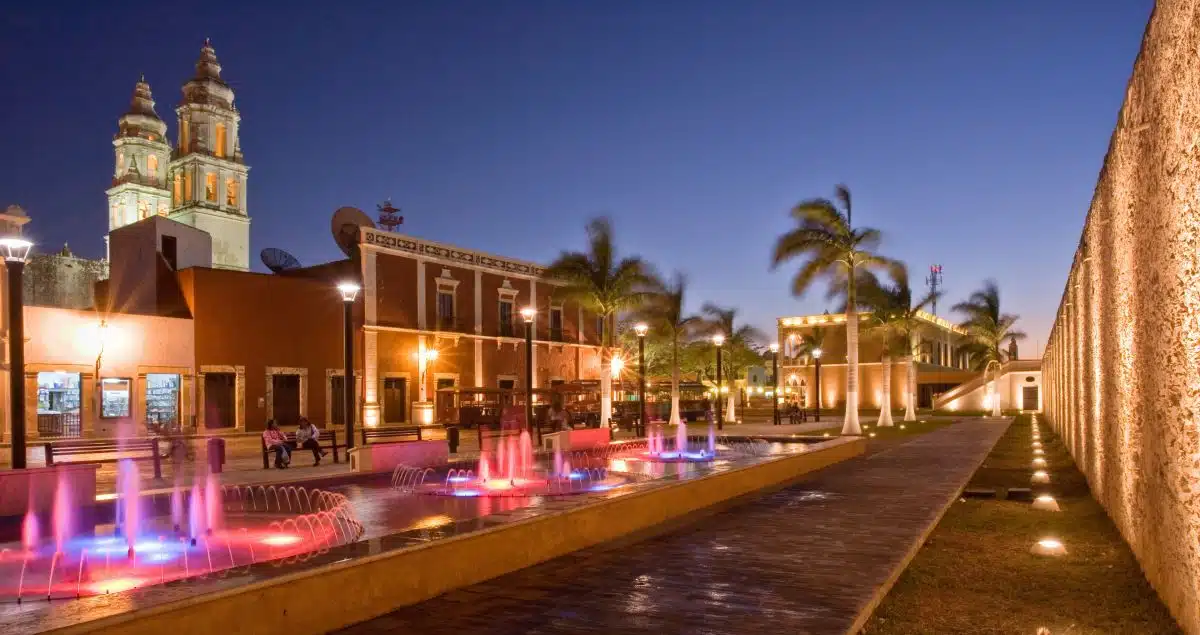 Campeche is more laidback when compared to some of Mexico's other cities. However, there is still plenty of fun to be had once the sun goes down.
Below are some of the best things to do in Campeche at night.
See the Night Illumination Show at Puerta de la Tierra
From 1732, Puerta de Tierra served as the main entrance to Campeche. Today, it is no longer the main gate to the city. However, it remains a must-see landmark for those visiting.
You can explore Puerta de Tierra with a tour from the ocean aboard a real pirate ship. To get the most out of your trip, it is recommended that you visit the landmark at night. Every Thursday, Friday, and Saturday from 8 pm, there is an incredible nighttime light show.
In addition to the light show, visitors can enjoy fireworks, a pirate show, a Spanish history lesson, and a night walk along the city walls. For those seeking a fun night out in Campeche's old town, a trip to Puerta de Tierra will not disappoint.
Drink at the Best Bars in Campeche
It would be totally rude to visit Campeche without checking out its laidback night-time scene. While plenty of the best restaurants and bars are situated on Calle 59, there's an abundance of cool spots throughout the city.
Native is an idyllic rooftop spot, ideal for enjoying a margarita or two as the sun sets, while the likes of Homero Taberna and Barko 59 are cosy boltholes where you can grab a craft beer as you chow down on hearty Mexican grub.
What to do in Campeche, Mexico: Practical Tips for Your Trip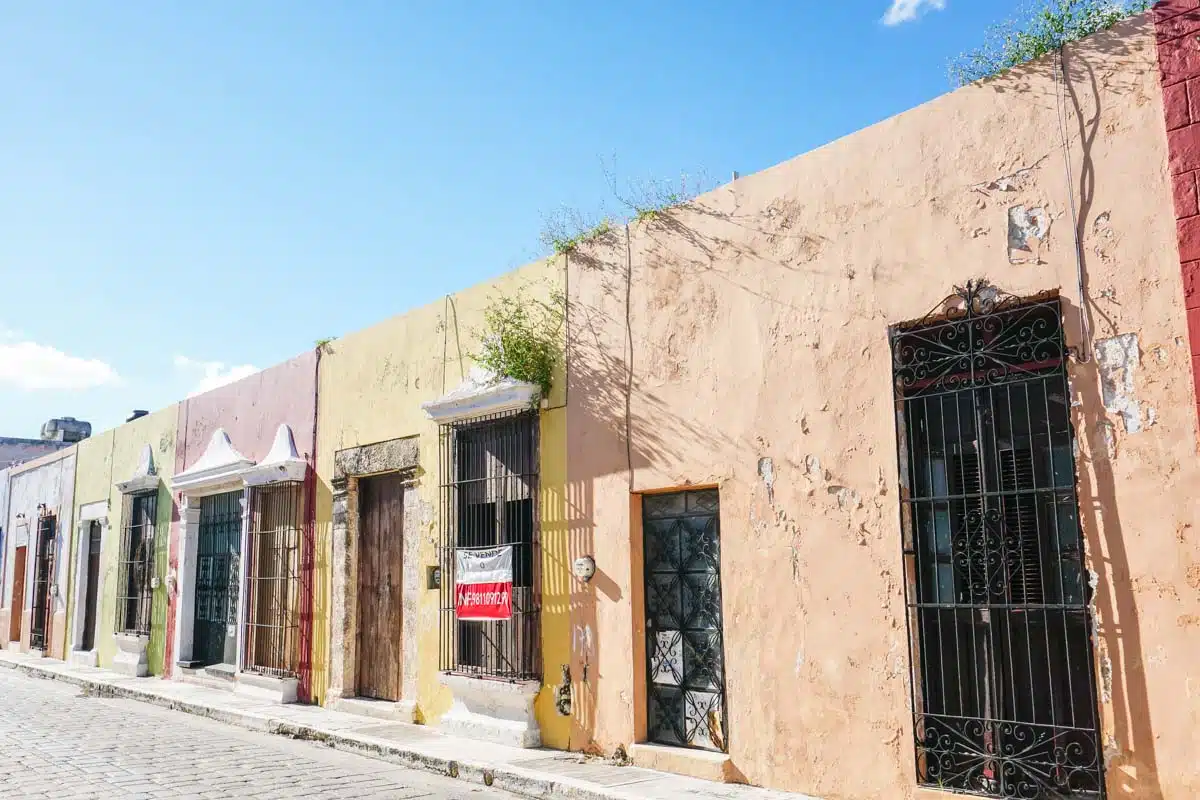 To ensure you get the most out of your visit to Campeche, here are some important things to know before you go.
Where is Campeche in Mexico?
Campeche is in the southeast region of the country on the Yucatán Peninsula. The port city also sits before the Gulf of Mexico. So, you can expect some incredible views.
How Long to Visit Campeche?
Campeche is a fairly small city, so a two-day trip is often enough. However, extending your stay to three or more days has its benefits too. This will provide you with enough time to comfortably visit the majority of the city's top attractions.
Best Time to Visit Campeche, Mexico?
The best time to visit Campeche is January and February. During this time, average temperatures fall around (25ºC) 77ºF. The weather from March to April is also great, but it is much hotter and more humid. With so many spectacular beaches, this is often not a problem.
For more information, check out my guide on when to go to Mexico.
Where Should I Stay in Campeche?
For those who do decide to stop by this historic city, you will be welcomed with some excellent accommodation options. Below are some top picks.
Top Tip: With fewer accommodation options, the best places to stay in Campeche can often get booked up, especially during the warmer months. As such, it is best to book well in advance.
Gamma Campeche Malecon (Mid-Range)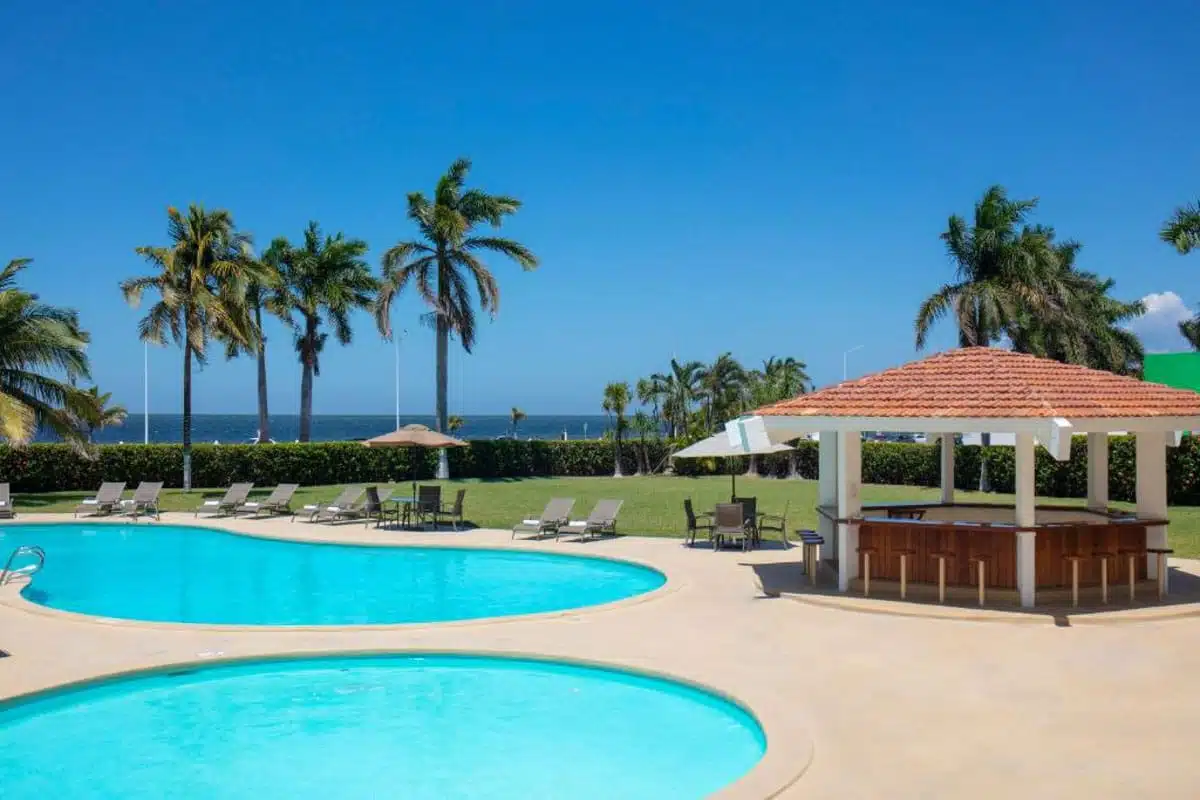 This stunning accommodation is ideally located right on the Malecon, Campeche's popular seafront promenade. As such, you can expect incredible ocean views from your room. Additionally, the hotel features free WiFi, an outdoor pool, and an on-site restaurant and café where you can enjoy a tasty meal and live music.
Check Rates and Availability for Gamma Campeche Malecon
Hacienda Puerta Campeche (Luxury)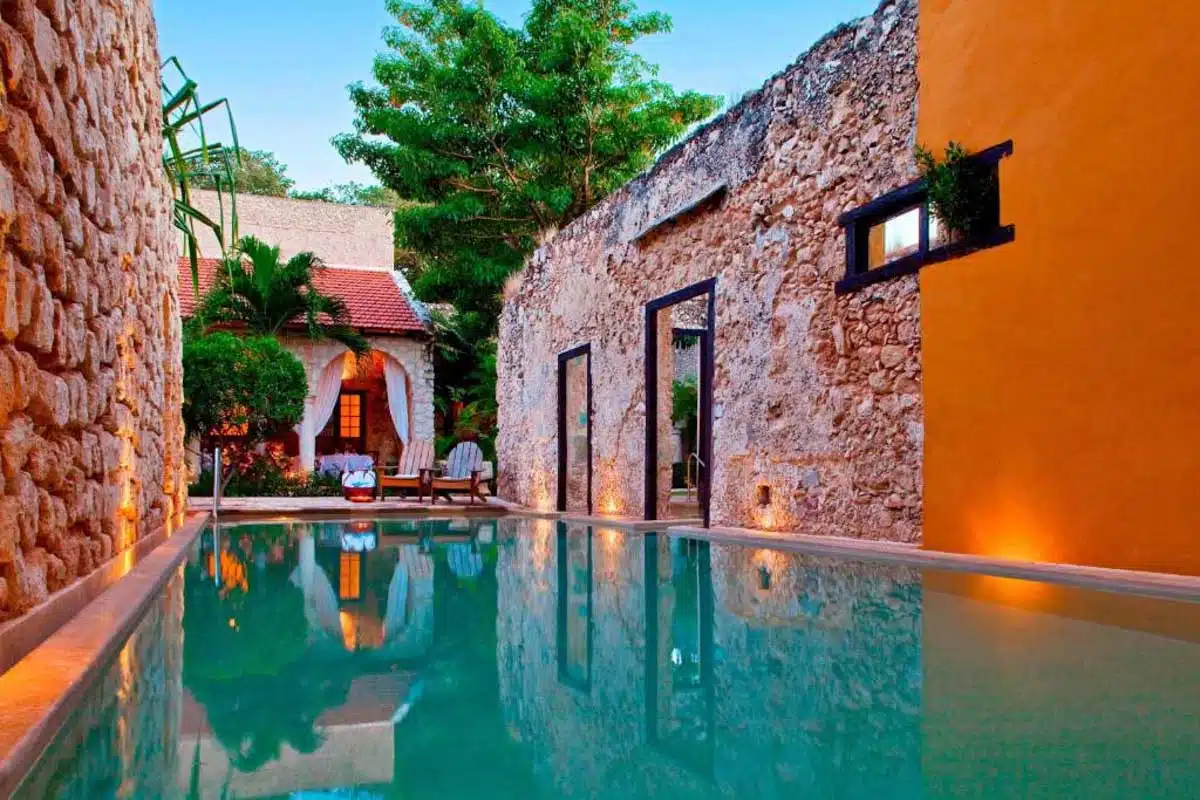 This five-star boutique hotel offers guests comfortable accommodation inside a restored 17th-century mansion. Notable features include a spa, indoor and outdoor pools, and incredible Mayan-style rooms. The hotel is also centrally located and just 700 meters from the famed Campeche Cathedral.
Check Rates and Availability for Hacienda Puerta Campeche
Discover more gorgeous places to stay in Campeche
Things to do in Campeche, Mexico: Map
Looking for More Mexico Travel Guides and Tips?
Love This? Save and Share on Pinterest