Planning your upcoming trip and needing to find the best hotels in Campeche, Mexico? Take a look at these brilliant accommodation options.
The city of Campeche, perched over the Gulf of Mexico, is a hidden gem in the Yucatan Peninsula. Pristine beaches, magnificent landscapes, and a vast number of cultural attractions are some of what makes the area so attractive.
It's a must on your Mexico itinerary if you want a quiet place to enjoy some downtime. Here, life moves slower and is devoid of the boatload of tourists you'd find elsewhere – however, as you probably know, gems don't stay hidden forever.
When it comes to places to stay, luckily, Campeche has a host of cool hotels. Once you have finished your packing list for Mexico, discover the best hotels in Campeche with this guide. 
Best Hotels in Campeche, Mexico
Hacienda Puerta Campeche
(Luxury)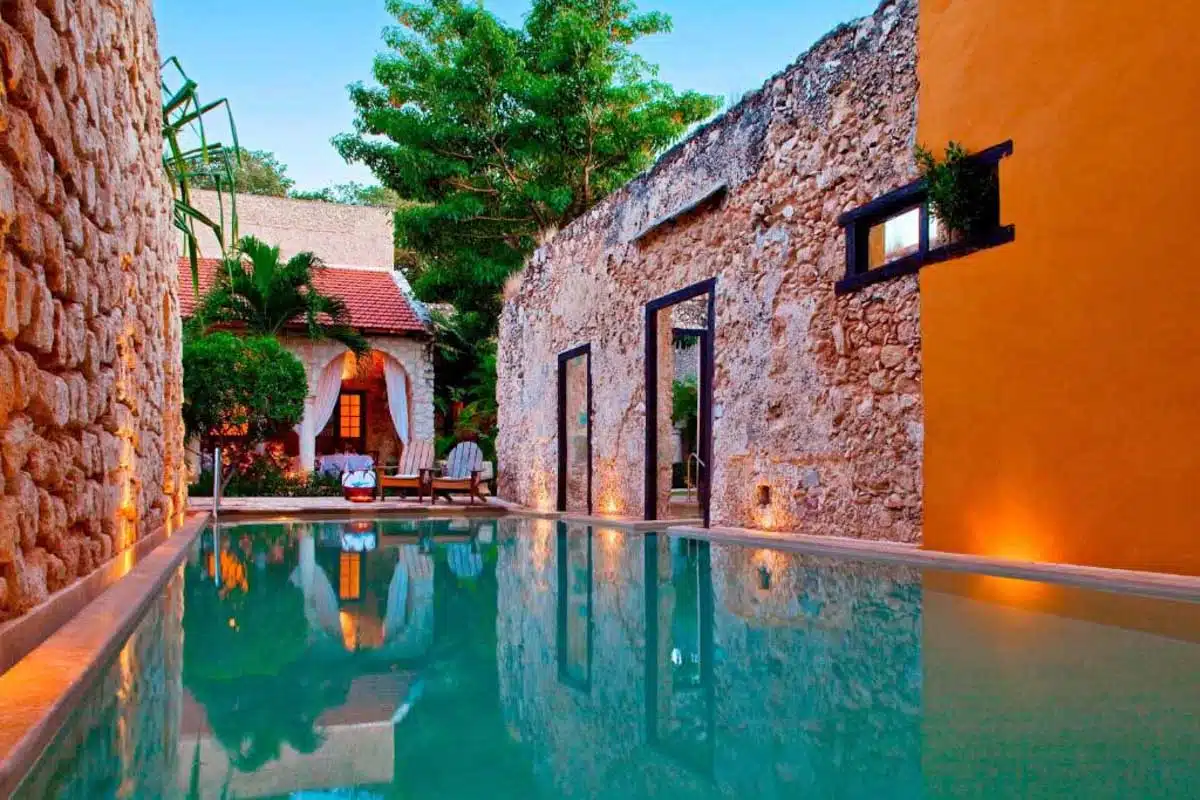 A palette of rich colours contrasts incredibly with rustic walls at the Marriott-owned Hacienda Puerta. The secret oasis boasts a pretty garden, greenery, and a tranquil atmosphere perfect for all travellers.
The colonial hotel promotes relaxation with beautiful rooms, a terrace offering magnificent views, and a swanky spa. Further, you're guaranteed comfort with soft beds and woven cotton hammocks that allow you to sleep Maya-style.
The unique outdoor pool is the perfect location to enjoy a sunset at this tropical escape. End your day with international cuisine at the in-house restaurant. The hotel is within walking distance to downtown Campeche, meaning there's a myriad of attractions nearby.
This includes seeing Maya architecture at the Edzna Archaeological Site and admiring colourful flora at Jardin Botanico X'much Haltun. Or enjoy waterfront views on El Malecon. Practice your golf swing at the Campeche Country Club or catch a flick at Cinepolis VIP Galerias.
Gamma Campeche Malecon
(Mid-Range)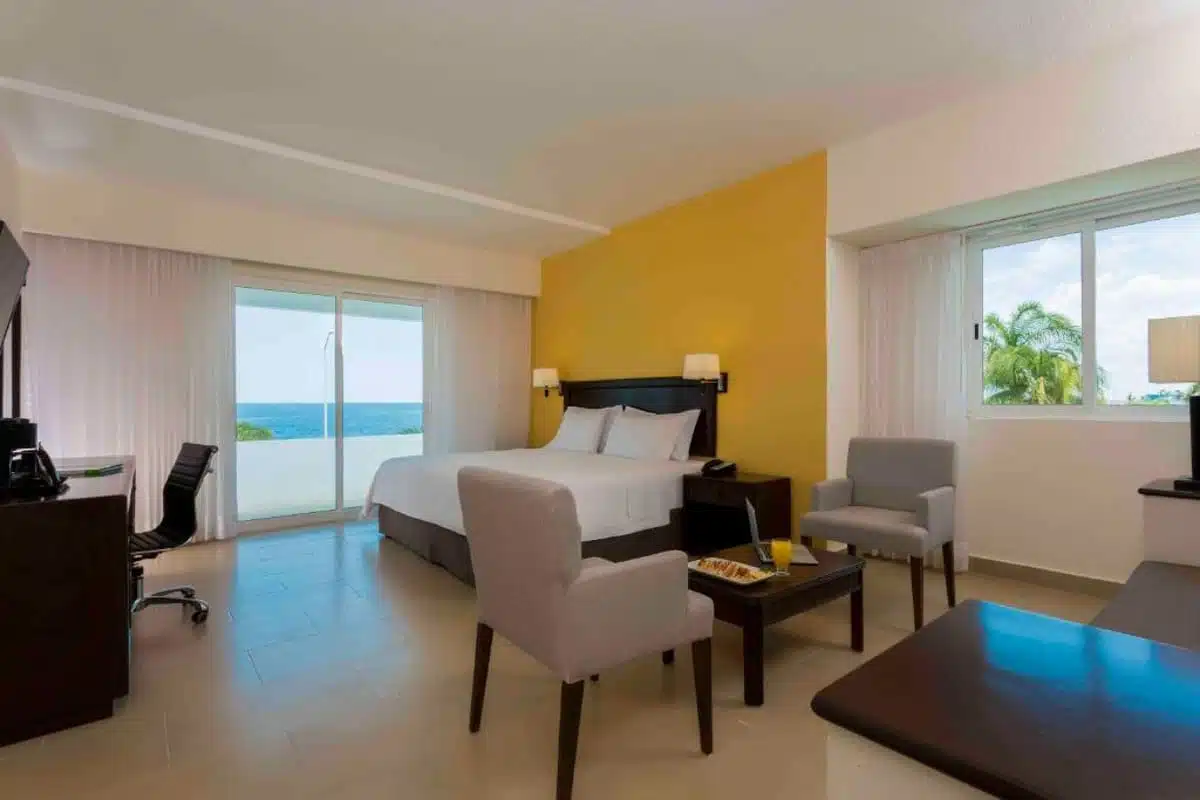 A crystal clear outdoor pool nestled around a flawless lawn and rooms with dramatic seafront or city views is what awaits at Gamma Campeche Malecon. Also in the vicinity is a bar serving your favourite drinks right by the pool, perfect for spending your time sunbathing.
All rooms come with flat-screen cable TV, free Wi-Fi, a coffee maker, and a private bathroom with a complimentary hairdryer. Before tackling the city, enjoy delights from the in-house pirate ship-shaped cafe with live music.
The hotel's restaurant offers traditional Campeche cuisine, which you can enjoy while overlooking the gardens. Gamma Campeche Malecon has a convenient location as the beach, and Plaza del Mar Shopping Centre are within walking distance.
Hotel Boutique Casa Don Gustavo
(Luxury)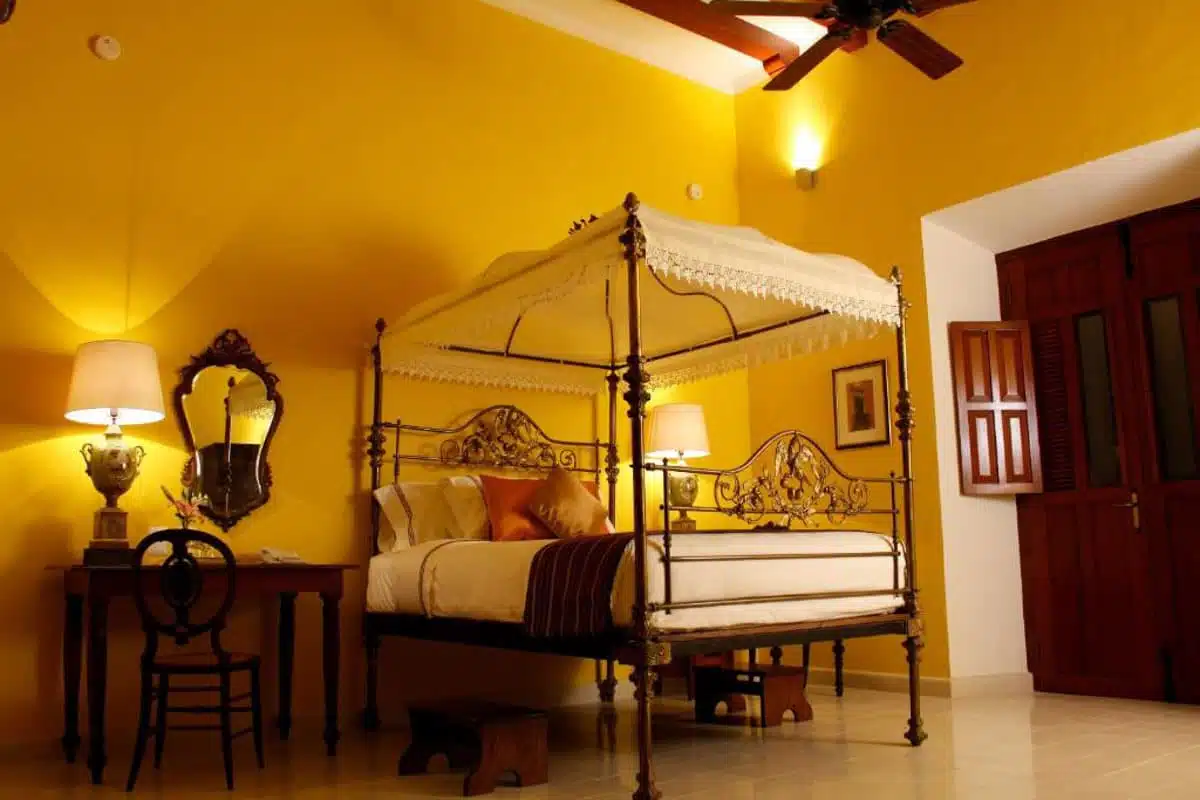 One of the best Campeche luxury hotels, Hotel Boutique Casa Don Gustavo, features rustic suites with modern amenities. Its convenient location means it's within walking distance to the beach, Maya museums, parks, and trams for moving around.
The hotel is an attraction itself as it's a rebuilt 18th-century building boasting antique furniture and ornate artefacts. When you aren't marvelling at the restoration efforts, spend your time by the small pool with hammocks or enjoy city views from the terrace.
The staff ensures your day starts perfectly with a delicious breakfast from their charming à la carte restaurant. Then end the day with a soothing shower in the private bathroom before slipping into your comfy bathrobe.
H177 Hotel
(Mid-Range)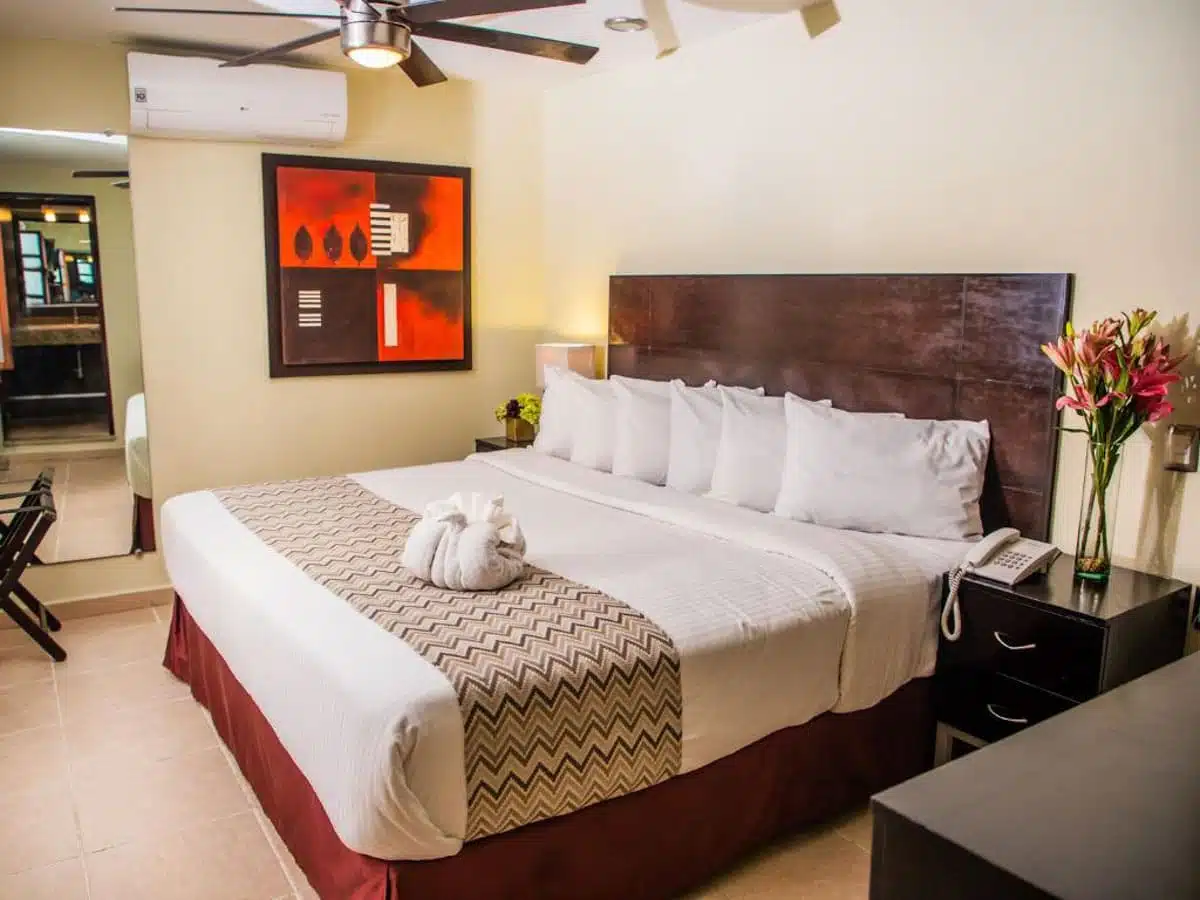 The H177 Hotel is a perfect blend of avant-garde and colonial-style experience with ancient walls and great furnishing. Rooms feature free Wi-Fi, flat-screen cable TVs, and complimentary toiletries in a private bathroom.
Enjoy complimentary coffee and tea atop a rooftop sun terrace with cabanas that boast city views. While the hotel doesn't have a restaurant, the area is laden with restaurants selling delicious food.
Located in the centre of the UNESCO World Heritage Site of Campeche old town, the hotel has many nearby attractions. This includes the intimidating Puerta de Tierra and an awe-inspiring Cathedral worth a visit.
Hotel Ocean View Campeche
(Upper Mid-Range)
As the name suggests, Hotel Ocean View is one of the best Campeche hotels for enjoying panoramic sea views. The hotel offers simple accommodation accompanied by a staff that pays extreme attention to detail to ensure you have a great stay.
Rooms feature contemporary-style decor, and the hotel features the amenities you'd expect. Including flat-screen TVs, free Wi-Fi, a private bathroom, a large swimming pool, and so on.
Begin your day with a delicious American breakfast before going out into the city and admiring the Maya architecture and buildings both new and old. There's also a bevvy of theatres and shopping centres to spend time and money at near this ocean view beach hotel in Campeche.
Once you've explored your share of the city, go back to Hotel Ocean View Campeche to channel your inner Serena Williams with a game of tennis at the hotel's tennis courts.
Hotel Mision Campeche
(Mid-Range)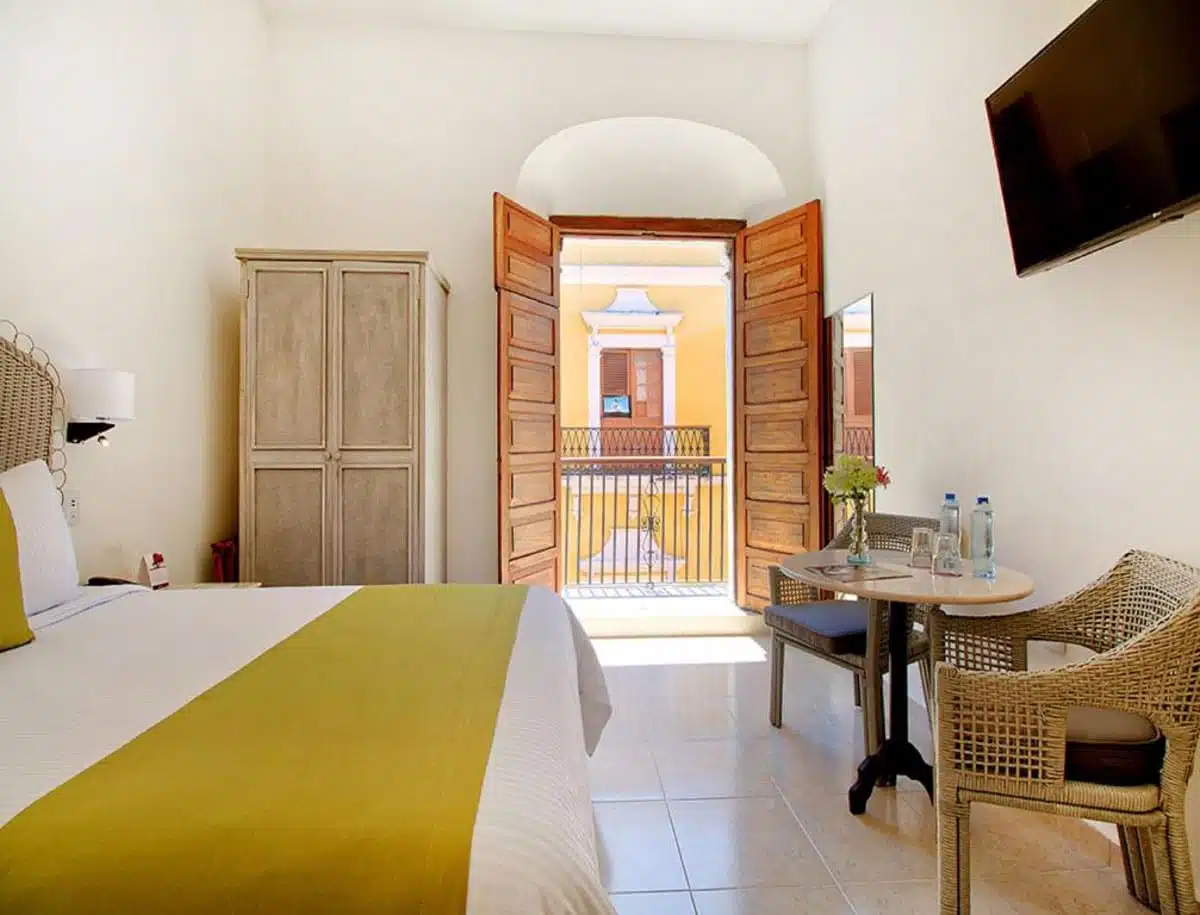 Set in the centre of Campeche, the colonial-style Hotel Mision Campeche (also known as Hotel America Campeche) offers an authentic feel of the culture and tradition of the city.
The rooms offer simple, no-frills accommodation with soft bedding and air conditioning. There's also a flat-screen TV with satellite channels and a private bathroom waiting for you.
It's the ideal base for exploring Campeche and its surrounding areas. You'll be happy to hear that the beaches, ecological reserves, and archaeological Maya ruins aren't too far away.
Beware, though, the hotel sits by popular 59th street, which hosts several bars and restaurants and can get rather loud. While this may be an issue for some, it's an excellent opportunity to socialise with willing locals and have some authentic Campeche fun.
Hotels in Campeche State
Campeche city is the capital of Campeche state. If you're looking for cool places to stay outside of the main city, these are our favourites.
Hacienda Uayamon: Uayamon
(Luxury)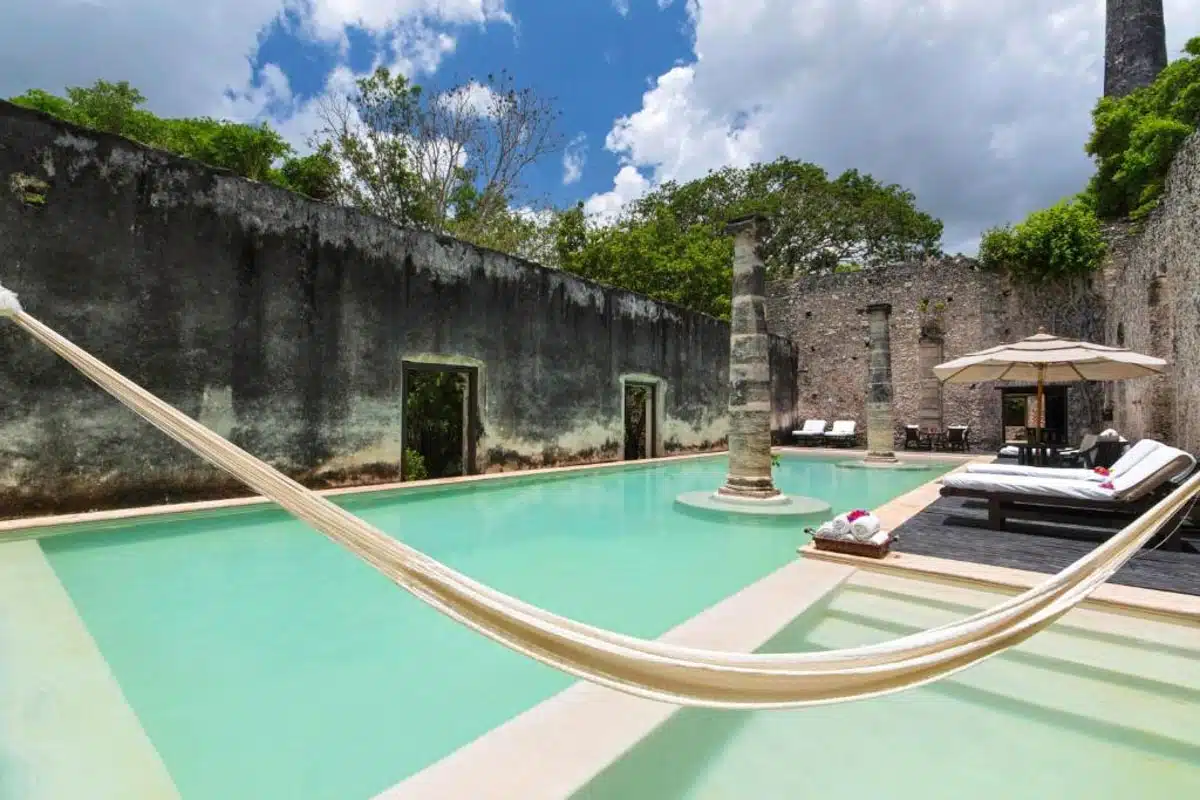 The Marriott-owned Hacienda Uayamon is a romantic blend of rustic ruins and modern luxuries perfect for romantic getaways.
A candlelit private garden flourishing with flora, an opulent restaurant with mouth-watering delicacies, a bar with the finest wine – seriously, does it get more romantic than that?
Not to worry if you're single, though, as the hotel is more than just a lover's retreat. Immerse yourself in a unique cultural experience at the spa, which uses ancient Maya techniques, including the signature treatment. Afterwards, laze around in the outdoor pool surrounded by ruins or the private plunge pool that some rooms offer.
Learn about Campeche at the El Palacio Centro Cultural museum, view Maya artefacts at Fuerte-Museo San Miguel, or marvel at the Baluarte de San Carlos fortress-turned-museum. There's also no shortage of bars in Uayamon if you're looking to spend your days a little woozy.
Staying true to its natural vibe, you can soak in the outdoor tub and end your days stargazing with birds singing in the background. Afterwards, retire to your high-ceiling room featuring large plush beds and woven cotton hammocks.
Hotel Aak-Bal Campeche
(Upper Mid-Range)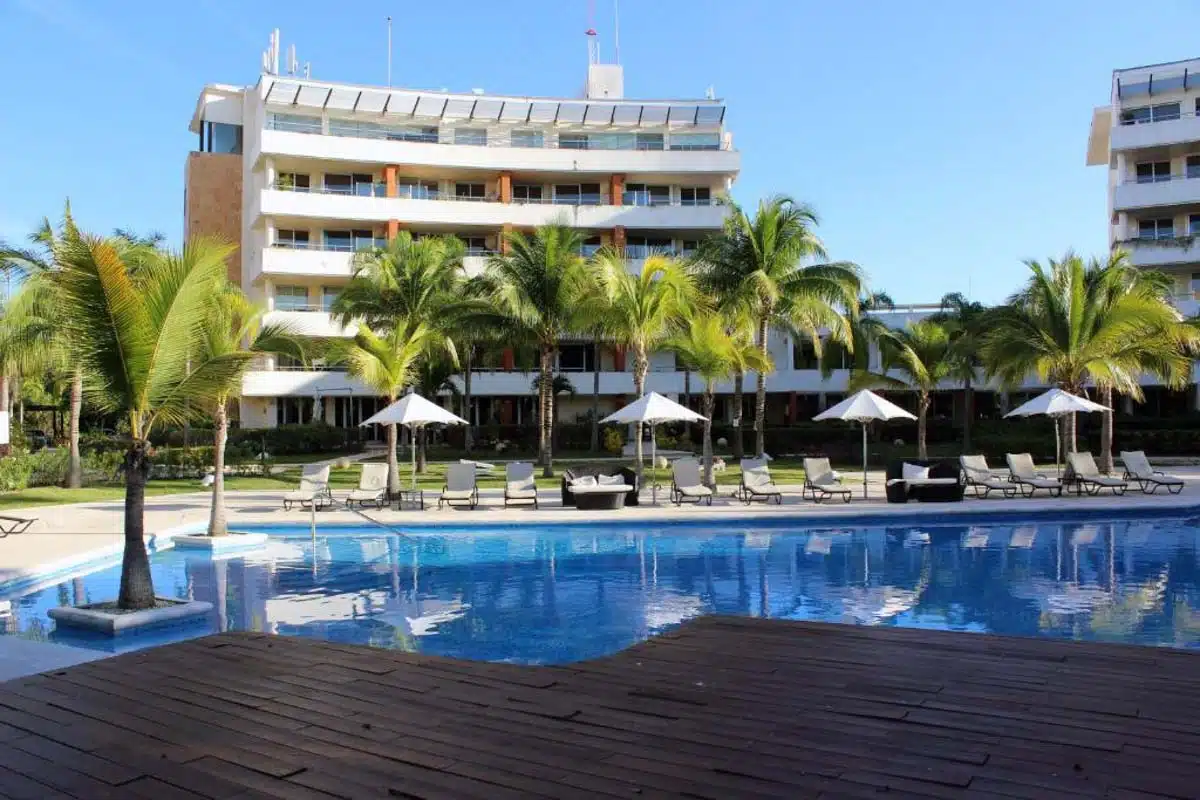 With a slogan that loosely translates to "The source of all new things", Hotel Aak-bal is all about healing and energy renewal. Their incredible spa is undoubtedly the best way to destress.
This is also a place to have a ton of fun – even before exploring the city attractions. With its convenient location near the beach, you can enjoy many watersports and beach activities. Or, get your competitive streak on with a not-so-friendly game of table tennis.
Holiday Inn Ciudad del Carmen
(Upper Mid-range)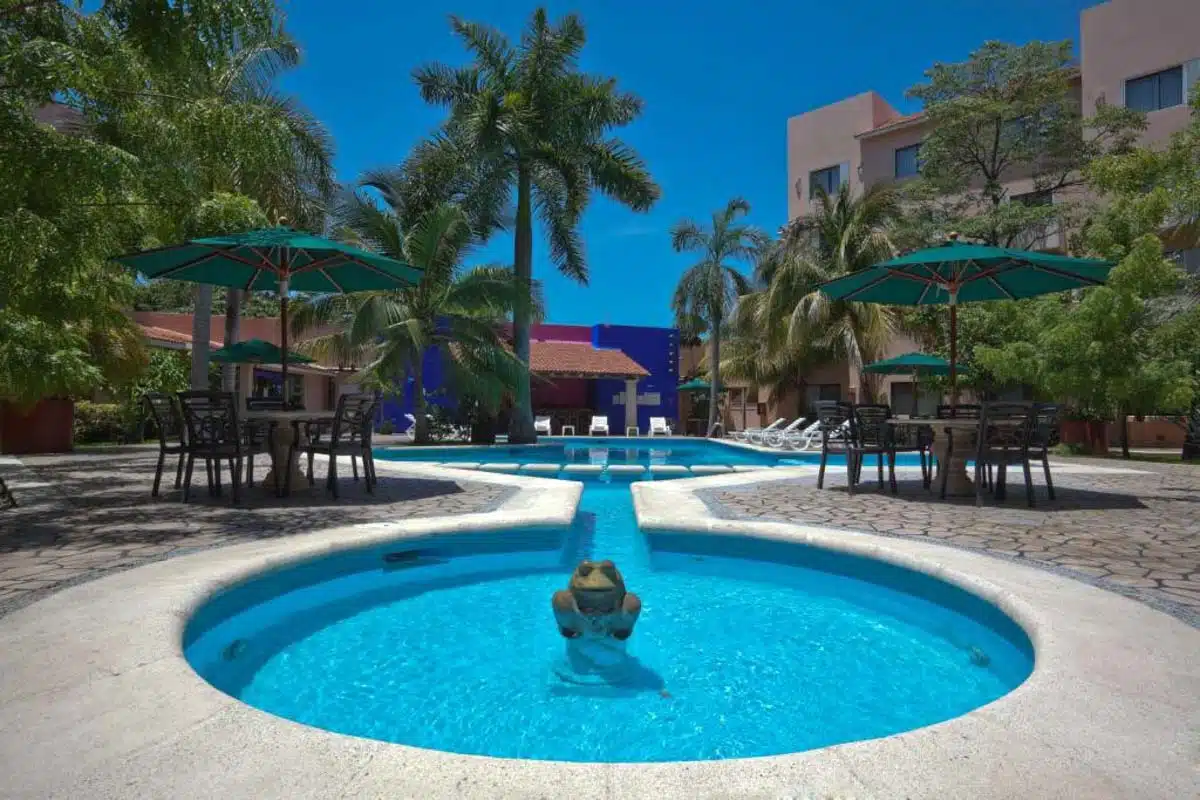 The colonial-style Holiday Inn Ciudad del Carmen is set in the Ciudad del Carmen business district with a beach nearby. The rooms are minimalist and spacious, with each room featuring the basics – cable TV, free Wi-Fi, and a seating area.
Start your day off right by indulging in a buffet breakfast at the Akalan restaurant. The menu here features delicious international treats, including healthy food.
You don't have to leave the hotel just yet to have fun – although plenty of it awaits outside the hotel. Perfect your golf swing at the exclusive country club or take a dip in their beachfront pool.
Enjoy the sun at one of the beaches nearby, see some dolphins at Isla Aguada, and admire the Cathedral or Temple's fantastic architecture. Those are just some of the awe-inspiring attractions I don't think you should miss out on.
Before retiring to your bed, enjoy drinks and billiards at the hotel's bar, get some reps in at the gym, or relax in the hotel's temperature-controlled pool.
Fiesta Inn Ciudad del Carmen
(Upper Mid-Range)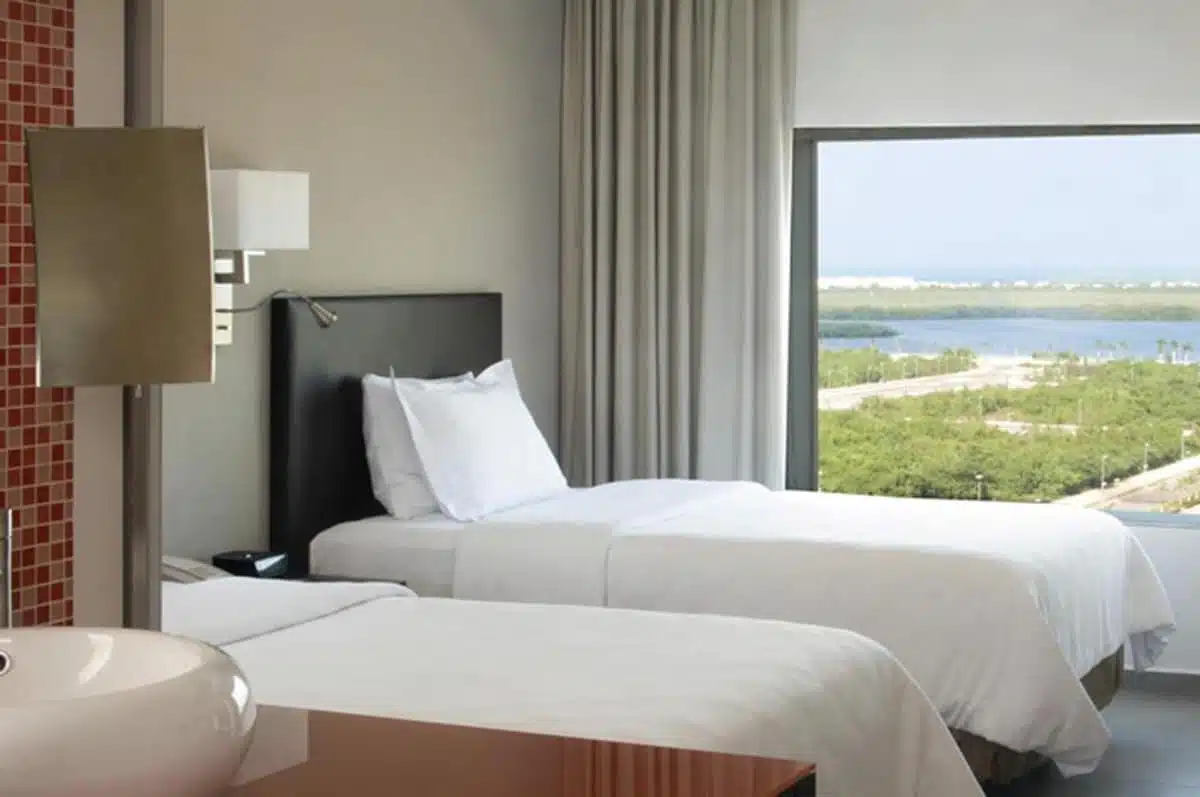 Fiesta Inn Ciudad del Carmen has bright, air-conditioned rooms offering free Wi-Fi, flat-screen TVs, and a comfortable stay with street views. There's also an outdoor pool and terrace to soak in the sun to achieve the perfect tan.
You can delight your taste buds at the hotel with a buffet or a la carte dishes consisting of Mexican or regional delicacies. The restaurant is open for breakfast, lunch, and dinner.
The hotel has a convenient location as it's ,a short distance away from Ciudad del Carmen's fleets of shops and bars. For water enthusiasts, the impressive white-sand beaches are also minutes away from your accommodation.
Where to Stay in Campeche
With plenty of areas and hotels in Campeche, Yucatan, it can be hard deciding where to stay – hopefully, I can make that choice easier.
Staying near the beach is perfect for resort-style accommodation, as is evident with the golfing, watersports, and other activities offered by some beachside Campeche resorts and hotels. You also get to enjoy splendid ocean views with the beach right at your doorstep.
Staying in the centre of Campeche city is perfect for lovers of boutique properties looking for an intimate stay. Most hotels here feature rustic walls coupled with modern amenities to give an authentic Campeche feel.
It's also a great area for anyone who wants to explore from A to Z as attractions are nearby, and there are plenty of transport options.
What is the Best Area to Stay in Campeche?
The best area to stay here is downtown in the city of Campeche. The buildings here have a charm to them that showcases remnants of the past to visitors.
Plus, the area is within a short distance of many attractions meaning you can have an authentic all-inclusive Campeche, Mexico visit. This includes Maya ruins, shopping centres, buildings like the Cathedral, and the beach.
Tip: For a more affordable stay in the area, check out Hotel Avenida Campeche.
Campeche: Frequently Asked Questions
How to Get Around Campeche?
Travellers and locals get around Campeche either by walking, catching taxis or buses, or cycling in the city. You can also rent a car to explore at your own pace. Just beware that Mexico drives on the right side.
How Much Do Campeche Hotels Cost?
On average, you can expect to pay at least $45 per night at a mid-range hotel and at least $115 per night at a deluxe hotel.
Practical Tips for Booking Your Campeche Hotels
The high travel season is between January and March, and the low season is in May. The high season offers moderate temperatures with low precipitation, and May usually has higher temperatures that most travellers don't like.
If you're travelling by plane, I recommend booking at a hotel with a free airport transfer to reduce the burden of planning.
Best Hotels in Campeche: Map
Places to Stay in Campeche: Read Next
If you are planning a stay in Campeche, you'll also want to read…
Love this? Save and Share on Pinterest!