Are your feet itching for the most stunning hikes in Grand Canyon National Park? Then you're in the right place. Stick around and discover the majesty of this natural wonder through its most eye-catching trails.
As one of the most visited National Parks in the entire country, the Grand Canyon should be on any USA bucket list. Covering nearly 2,000 square miles, the sheer magnitude of the canyon is an immense sight to behold. And as far as epic views go, no place can compare.
But, you can only explore and unearth (pardon the pun) the true beauty of the Grand Canyon by tackling one of the many trails laid throughout. And trust me, there are a lot of them.
These are my picks for the most stunning hikes you can add to your Grand Canyon National Park itinerary.
Hiking down the Grand Canyon, are you ready?
Best Hikes in Grand Canyon National Park
South Rim Trail
Length: 13 Miles (Point-to-point)
Time: 8 – 10 Hours
Difficulty: Easy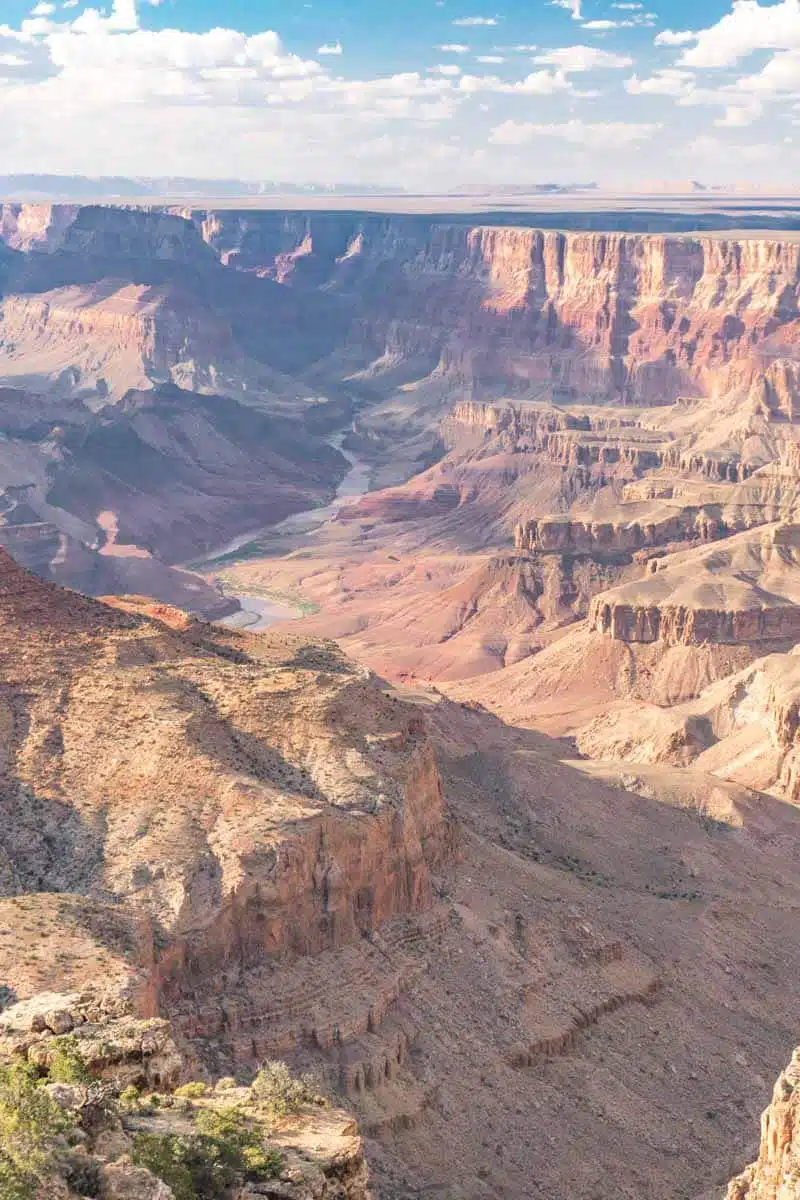 By far my favourite trail in the Grand Canyon, the South Rim Trail is a non-negotiable entry in this guide.
It's a relatively easy hike with a few short inclines, and, at 13 miles, it's the perfect length to get in as much of the southern rim as possible. Some would say the best Grand Canyon walk even (that someone being me).
It consists of mainly asphalt pathways, and thankfully they are quite broad — this is a very popular trail. Once you reach Powell Point, there is a short stretch of dirt trail that ventures very close to the canyon's edge. Best to stick to the main road for this part if you don't appreciate heights.
Although there are numerous water-refill spots along the route, I'd recommend you bring enough of your own. Oh, and lots of sunscreen — trust me on this one.
Shoshone Point
Length: 2.1 Miles (Out-and-back)
Time: 30 – 60 Minutes
Difficulty: Easy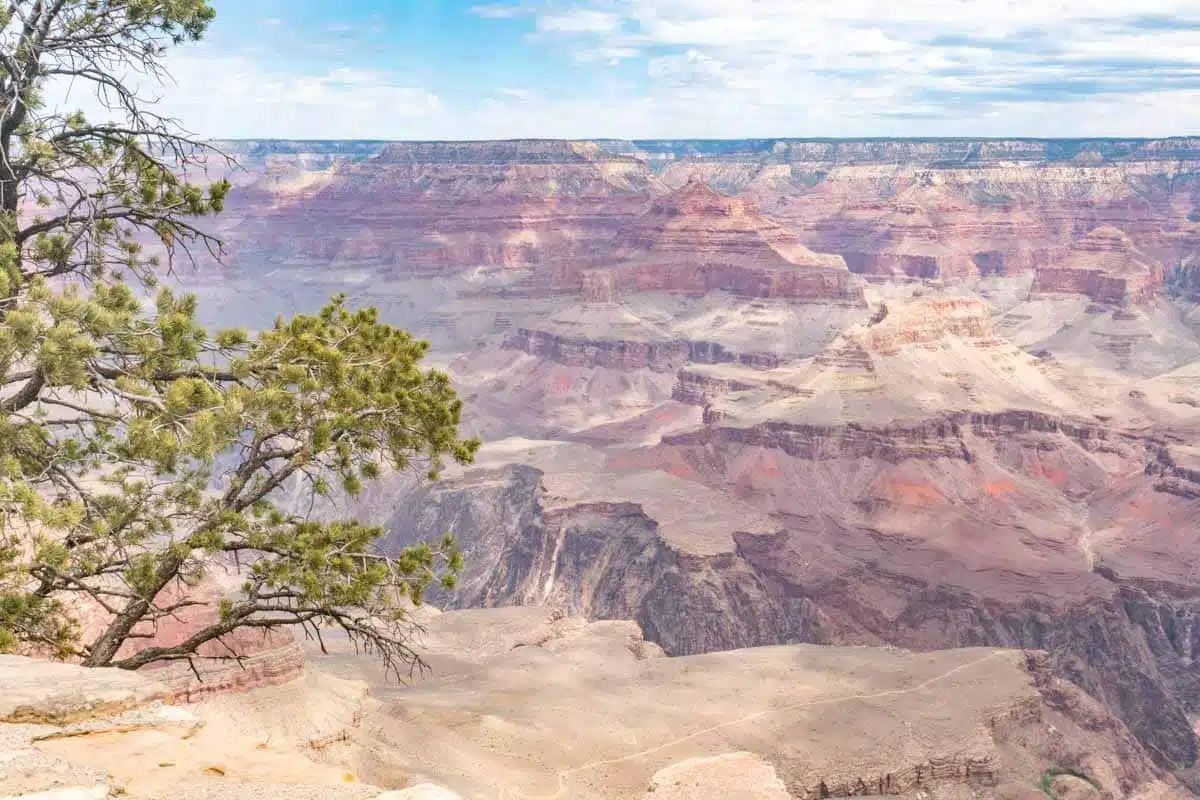 A reasonably short trail at only roughly 2.1 miles out and back, this hike is also a bit of a hidden gem.
The unmarked start of the trailhead is hidden, so any non-attentive eyes may miss it entirely. Just about a mile down Desert View Drive past Yaki Point Road, you'll find the tiny parking lot that starts the trail.
This is an absolute stunner for early mornings. Shoshone provides beautiful canyon views, and the hike takes you through one of the park's many gorgeous ponderosa pine forests.
South Kaibab Trail to Skeleton Point
Length: 6 Miles (Out-and-back)
Time: 2 – 4 Hours
Difficulty: Intermediate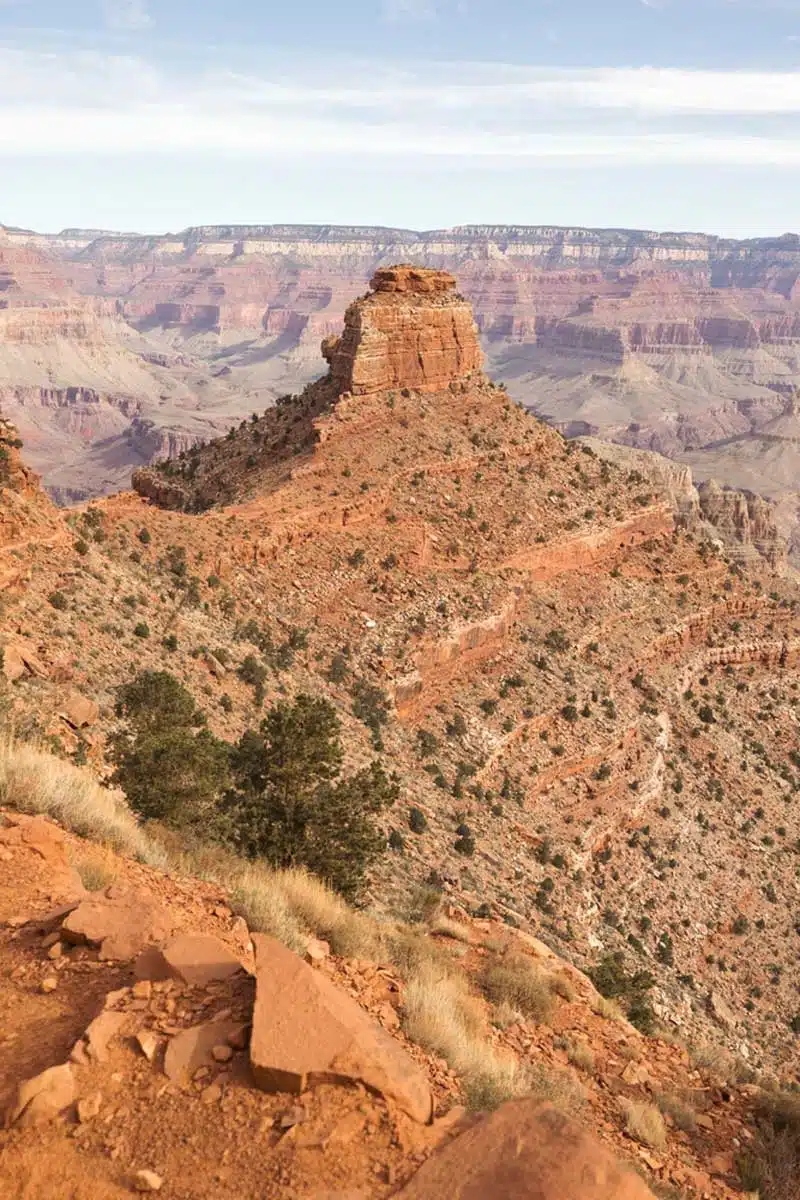 Along the South Kaibab trail from Ooh Aah Point, you will head to another vantage point—Cedar Ridge. While this is a good stopping point for entry-level hikers, those willing to push on will arrive at Skeleton Point.
With an elevation gain of about 2,000 feet and no water or restrooms at the turnaround point, this one is definitely for more experienced hikers. What makes Skeleton Point worth it, though?
The beautiful views of the Colorado River, of course.
But, beyond that, the hike to Skeleton Point has quite a varied number of trail and canyon views. These are unique to the trail, but due to the steep elevation, the three miles back can be challenging.
Bright Angel Trail to Indian Garden
Length: 12.2 Miles (Out-and back)
Time: 4 – 8 Hours
Difficulty: Hard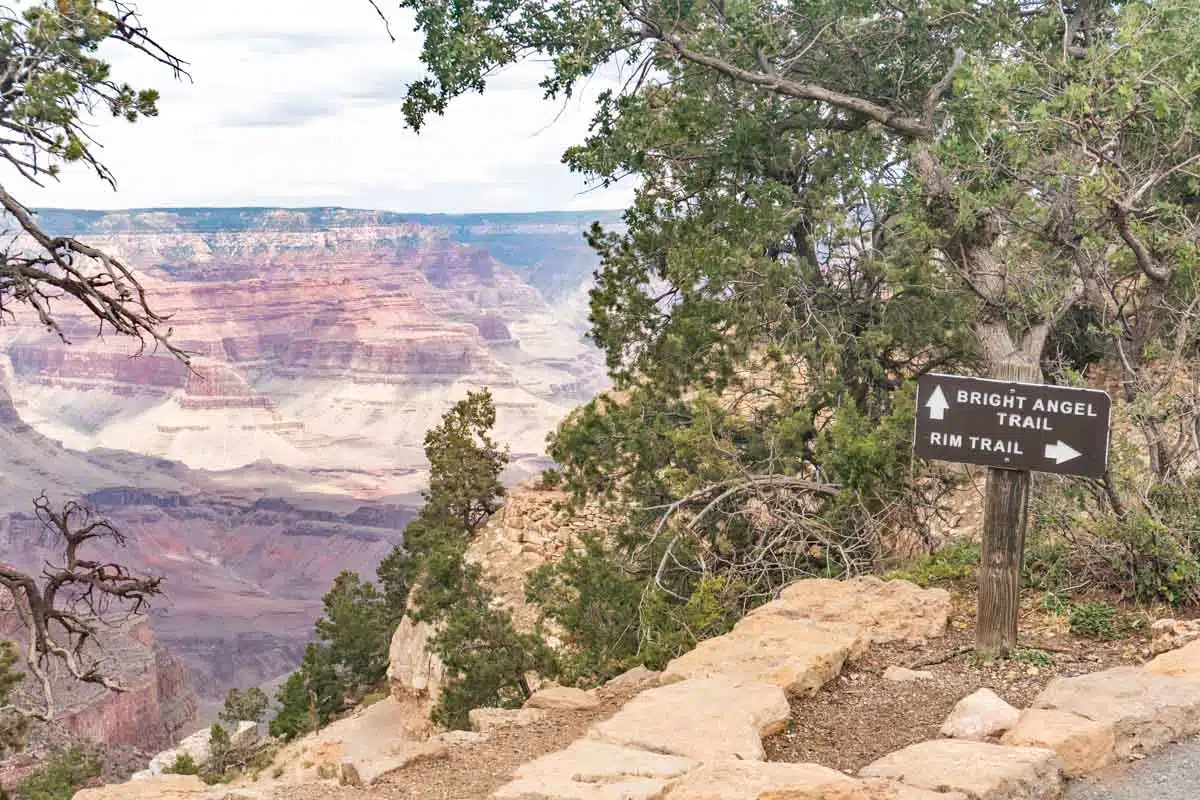 Undertaking the trail to Indian Garden can be challenging. It has an elevation gain of about 3,000 feet and a varied selection of pathways. As a result, it can be a hard hike if you're an average hiker, but it will be smooth sailing if you have some experience.
You can expect lower crowd numbers on this trail due to its difficulty. It leads to a lush forest filled with vegetation and stunning Cottonwood trees (these are beautiful from October till December).
Your turnaround point is at the Indian Garden campground. Along the trail, keep an eye out for the many historic pictographs of ancient Native Americans. You can also spend the night at the campground for an authentic backcountry camping experience.
Kolb Studio Trail
Length: 5 Miles (Out-and-back)
Time: 2 – 4 Hours
Difficulty: Easy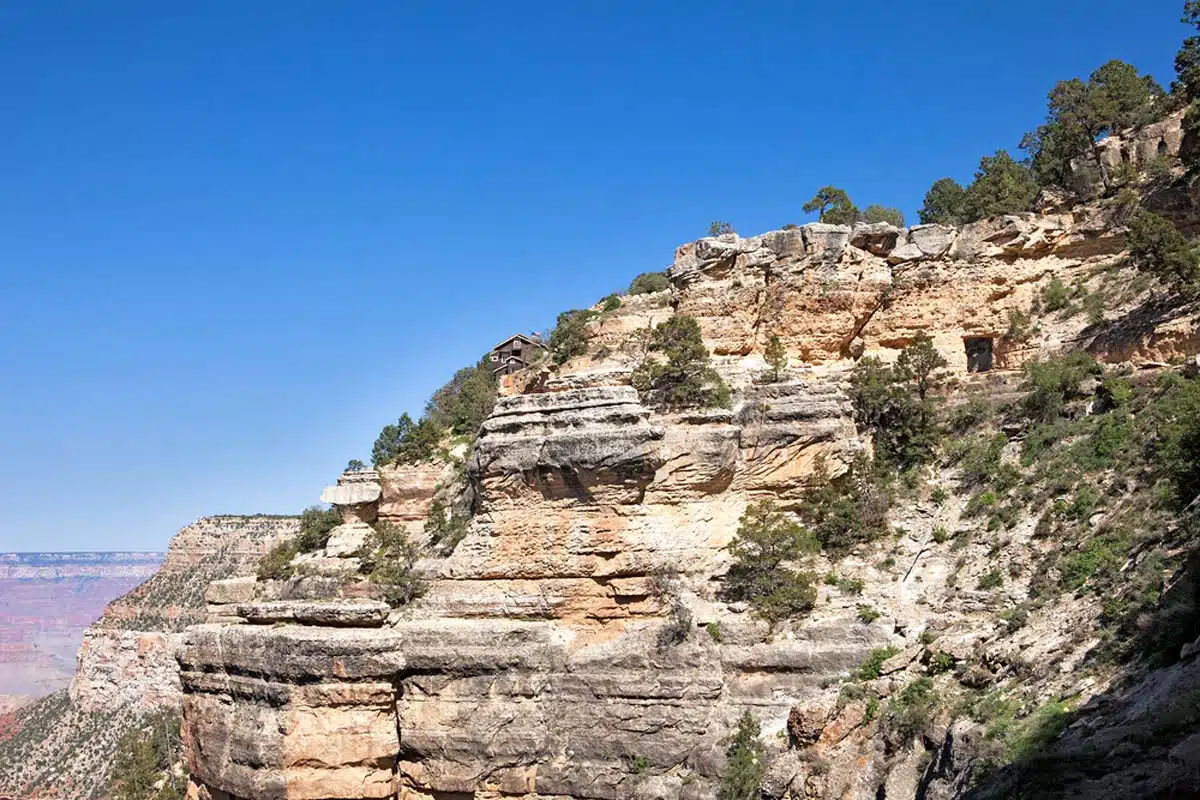 This one is for all the history buffs out there.
An off-shoot hike from the South Rim Trail, this is the perfect 2.5 miles one-way hike from the Grand Canyon Visitors Centre. This trek includes the very famous Trail of Time.
Here you can take in some fantastic geology-focused exhibits because when you venture past it, you'll get to the Kolb Brothers Gallery.
Built in 1905, it still exhibits fresh new works from many Canyon artists while providing stunning views of the canyon. Head inside for a pit-stop midway through the trek and check out some impressive artwork.
Havasu Falls
Length: 19 Miles (Out-and-back)
Time: 12 – 15 Hours
Difficulty: Hard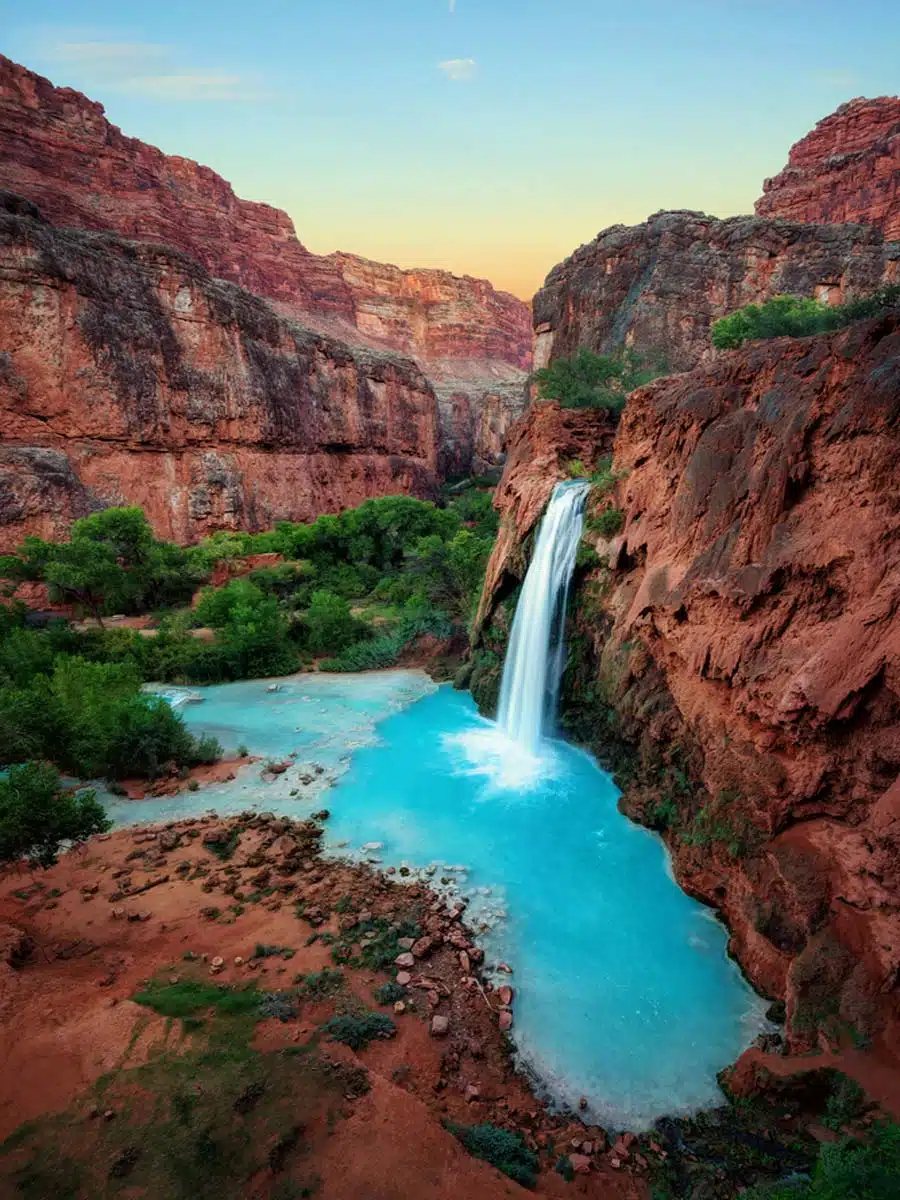 Set within the Havasupai Indian Reservation, the hike to Havasu Falls is the most famous waterfall hike in the US. You will need a permit to hike this trail, but it is a small effort to make for this beauty.
The shimmering blue water of the falls and the surrounding forested canyon views are out of this world. You are not permitted to hike this trail as part of a day trip, but luckily overnight camping on the reservation is available.
Word of warning: This is a very tricky trail that only those who are very fit should undertake – it's well worth schlepping your way around though. This area is also prone to flooding, so it's best to check the website for updates before setting out on your hike.
Grandview Trail
Length: 6 Miles (Out-and-back)
Time: 4 – 6 Hours
Difficulty: Hard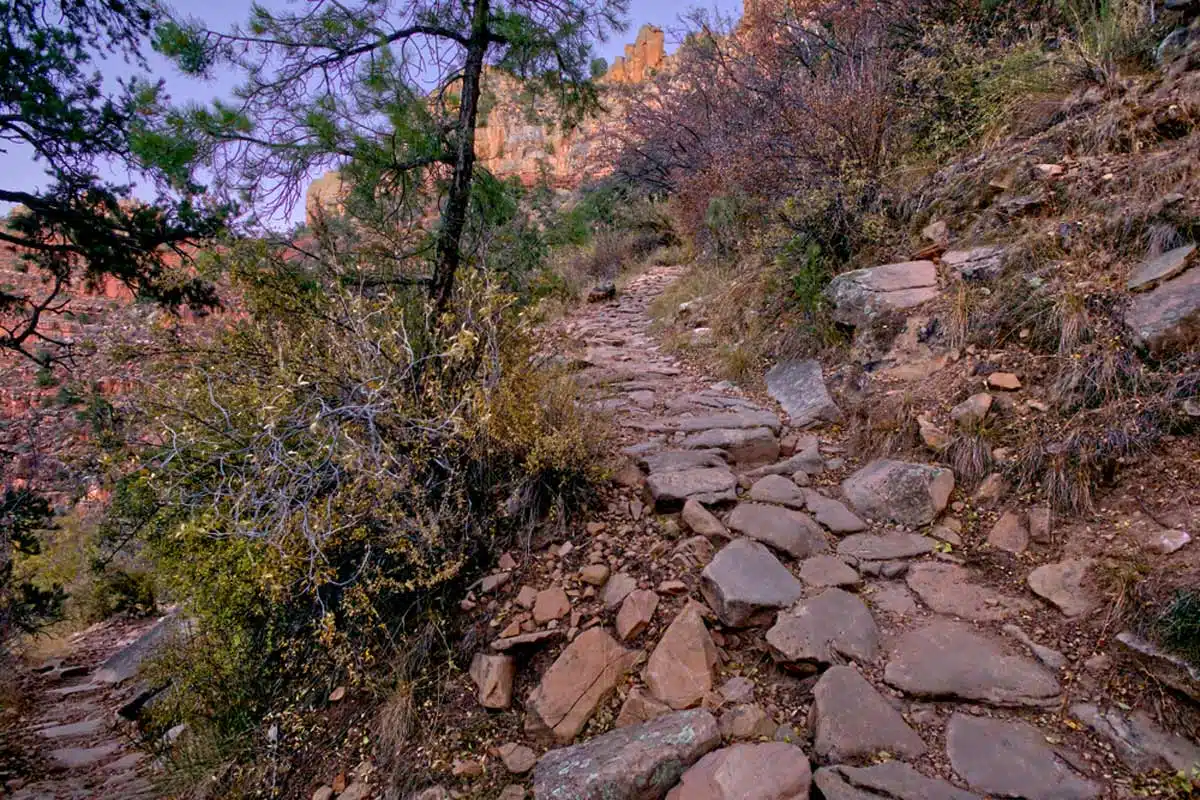 Grandview is one of the most remote hikes in the entire park. It's not actively maintained, but it is pretty unique. Most of the trail is cobblestone pathways and ramps used by miners heading to Horseshoe Mesa.
The terrain is quite unkempt, and you'll need to watch where you venture, but you have to risk it for the rewards. Although the road less travelled, this is one of the best trails in the Grand Canyon that delivers some of the most stunning visuals.
And the pioneer history hidden in the forested mesa adds more allure to this trail. If you have half a day to fill, this is a must.
Hermit Trail
Length: 17.5 Miles (Out-and-back)
Time: 10 – 12 Hours
Difficulty: Hard
One of the lesser chosen trails by many — probably because you need to take a shuttle to the trailhead — the Hermit Trail is well worth it. Although not the longest Grand Canyon hike, it does feature some of the best highlights of the South Rim.
You'll find quite a few points of interest along this trail with a few junctions to other trails. These include Dripping Springs, Cathedral Stairs, and the Tonto Trail.
History and geology fanatics, you're in for a good time here. The trail features loads of fossilised footprints that you'll see embedded into the Coconino layer of the Canyon.
North Rim Trails Grand Canyon
Rim to Rim: North Kaibab to South Kaibab
Length: 20.4 Miles (Out-and-back)
Time: 12 – 15 Hours
Difficulty: Hard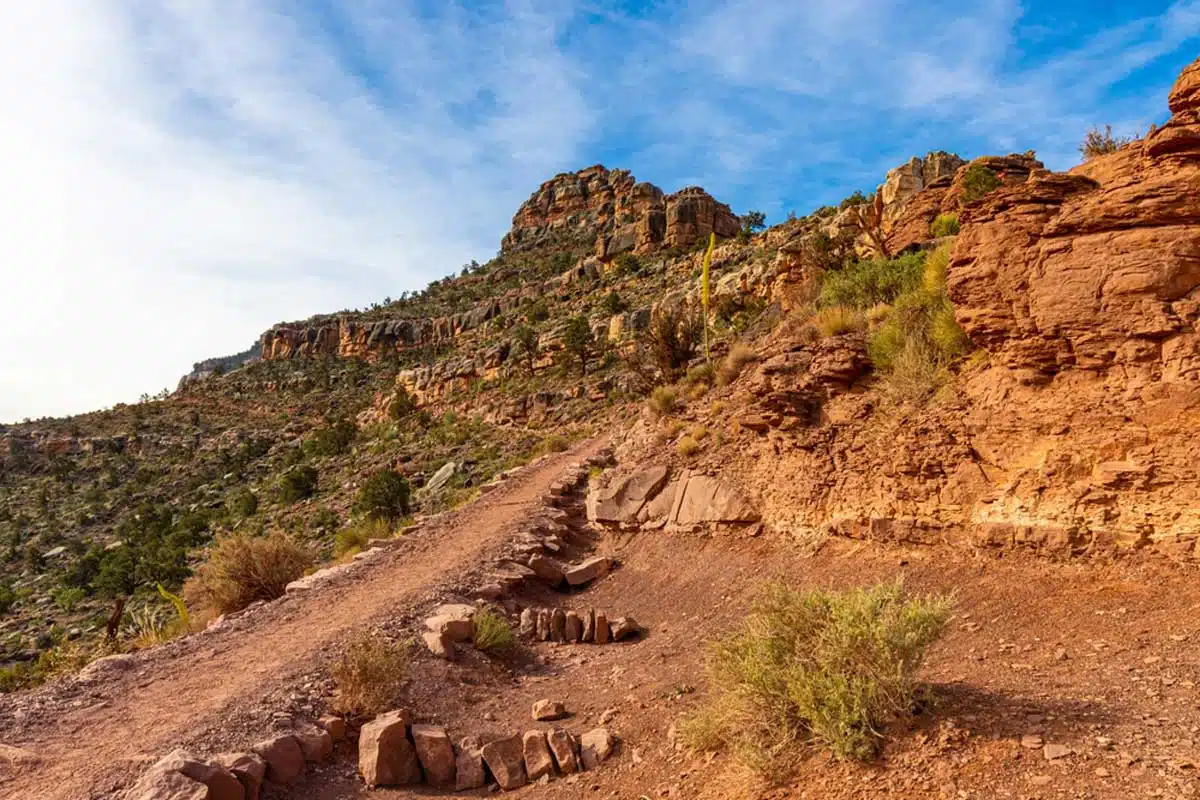 One of the most challenging hikes in the canyon is the ultimate rim-to-rim hike. What makes this such a hit is that it is a bucket list hike for anyone keen to push their limits. You can opt to do it in reverse order from South to North if you want less of a challenge from the start.
With an elevation range spanning 5,269 feet, this hike is a doozy. But you do get to see nearly every spectacular part of the park in one go. There are camping grounds in the North rim if you want to make this a multi-day hike.
However, during the winter months, the North closes, but you can always swap it out and hike from South Kaibab to Bright Angel. It's equally as challenging and rewarding.
Cape Royal Trail
Length: 0.6 Miles (Out-and-back)
Time: 30 – 60 Minutes
Difficulty: Easy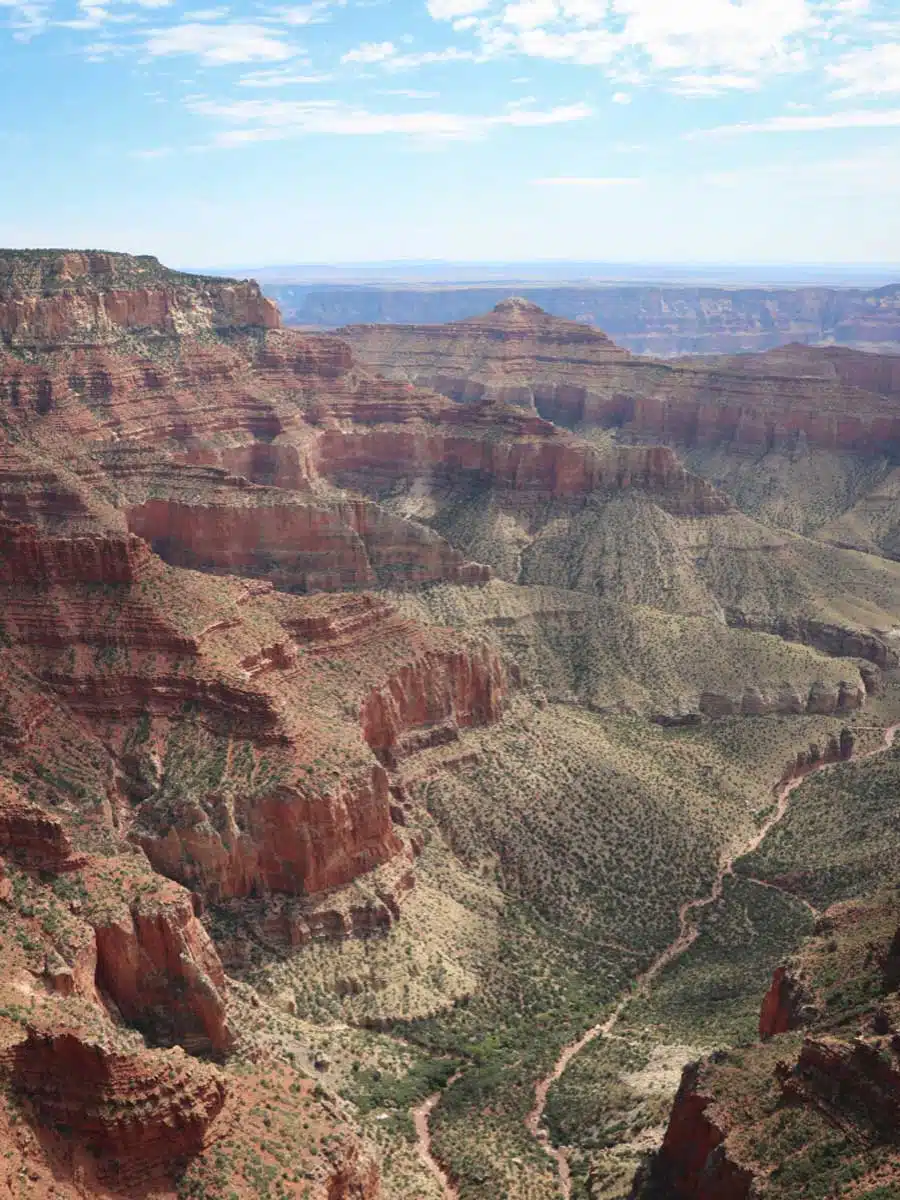 One of the easiest hikes on the North Rim is the short trail to Cape Royal. If you're a newbie at hiking but you want incredible views, this is the one for you. Although a short hike, you won't easily find better scenery.
You can expect to find mesmerising views of the eastern edge of the canyon. Add to that the far-off rocky Painted Desert and Navajo Nation in the distance, and you're in for some stunning photo ops.
Cape Final Trail
Length: 8 Miles (Out-and-back)
Time: 3 – 6 Hours
Difficulty: Easy to Intermediate
If you're in the mood to explore the North Rim of the Canyon, the Cape Final Trail is one of the best Grand Canyon trail options. It's intermittently difficult, but not as much as some other northern rim trails.
The viewpoint at Cape Final is what makes this one a winner. You can look forward to the most inclusive views of spots such as the Vishnu Temple and the Eastern edge of the canyon.
The North Kaibab Trail to Roaring Springs
Length: 9.4 Miles (Out-and-back)
Time: 4 – 8 Hours
Difficulty: Intermediate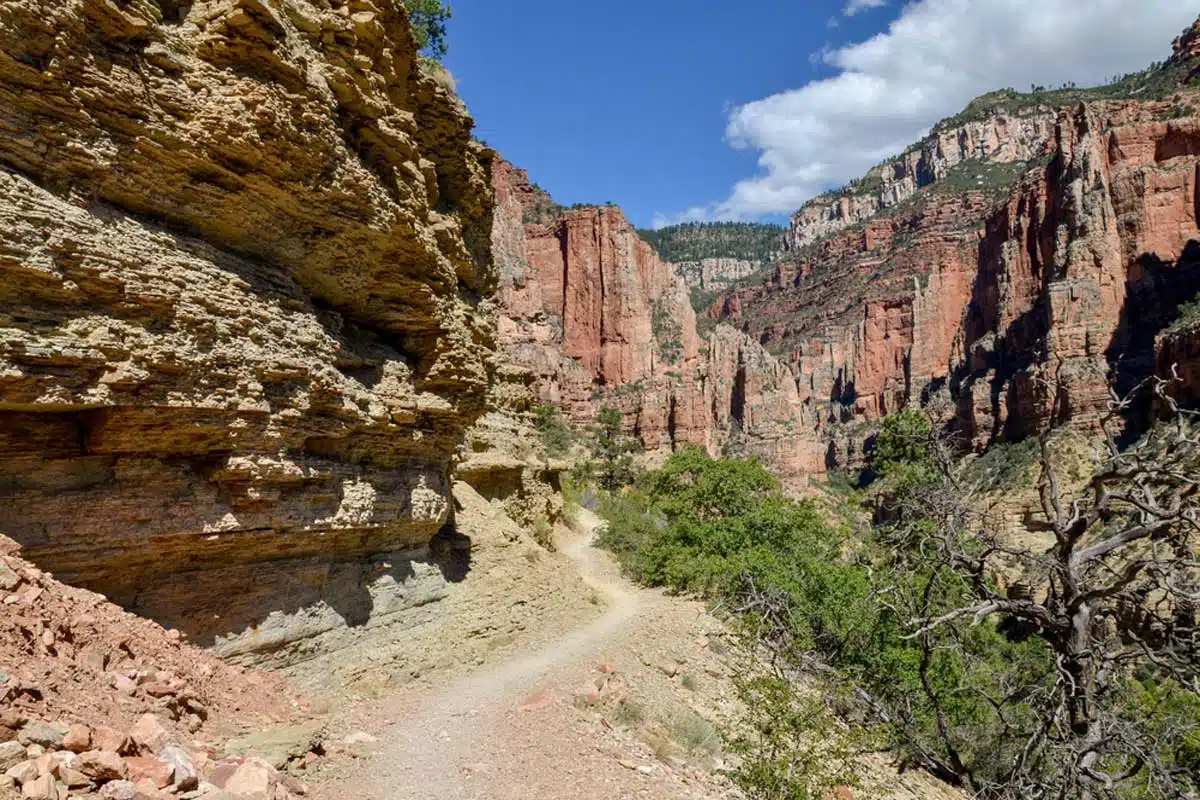 Just like its southern counterpart, the North Kaibab trail is a stunner. It features numerous incredible viewpoints, highlights, and idyllic scenery. The trail that leads from it to Roaring Springs is especially glorious.
The springs are the source of all the drinking water in the entire park, so it's a rather big deal. There are epic views of the canyon in an atmosphere of solitude, thanks to a very low level of hikers.
Best Grand Canyon Hikes: Practical & Safety Tips
Practical Tips for Grand Canyon Hikes
You can combine many of the trails in the park for those that are more adventurous. But be aware that this is only advisable for experienced hikers, especially if you plan to cover trails such as South Kaibab and Bright Angel in one day.
If you plan to combine trails or test your mettle against the longer ones, remember to bring a lot of water and salty snacks.
Unlike other typical mountain hikes, the ones within the Grand Canyon are unique. The hardest part for most is the hike back. Always stick to your limits and know when to call it a day.
A few items are essential to pack for any Grand Canyon hike. These include a backpack, some great all-terrain shoes (I would recommend the Tropicfeel Canyon Shoes), and a water bladder. And, your best friends on the harder hikes – hiking poles.
Safety Tips for Grand Canyon Hikes
Although bear sightings are rare, they do happen. Black bears are native to the region, so always be aware of your surroundings, especially if you head to the North Rim. If you encounter one, try to make yourself seem bigger by waving your arms and making as much noise as possible.
Best Grand Canyon Hikes: Map