Wondering where to stay in Phoenix? This southwestern jewel is steadily grabbing attention from travellers worldwide because it offers some of Arizona's top hotels and resorts. Here's where to bed down.
If you're planning a trip to Phoenix, you're probably wondering where to stay. And, with so many cool spots in – and around – the city, finding the perfect base for your next getaway can be kind of tricky.
Do you pick Downtown Phoenix for its close proximity to some of the best restaurants and bars in the city? Or, what about Mesa, for its fascinating museums and Native American culture?
Yeah… It's a tough decision to make.
Luckily, I'm here to make the decision a little bit easier for you. Stick around to discover my top picks when it comes to visiting Phoenix.
Tip: read my guide to the best things to do in Phoenix to help you decide where you want to be based.
Best Places to Stay in Phoenix, AZ: At a Glance
Where to Stay in Phoenix, AZ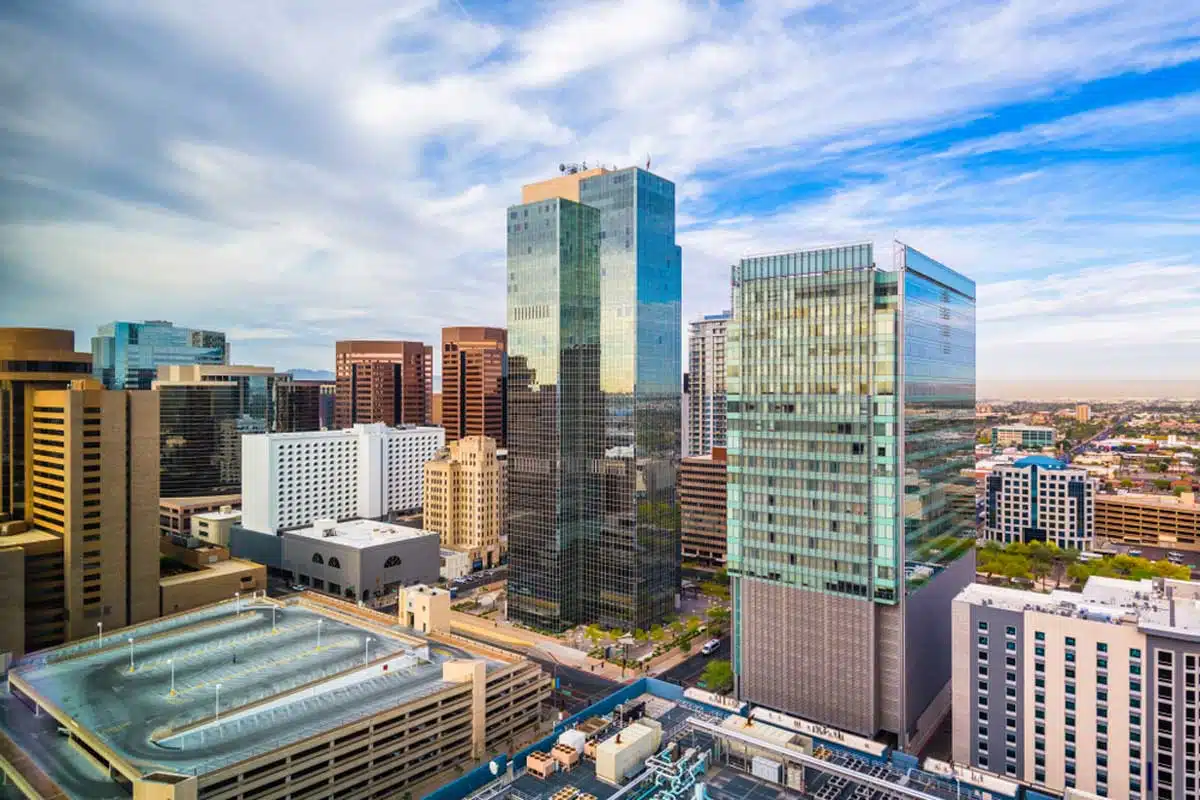 Don't worry guys, I won't waste your time – let's dive into the best places to stay. Also – while Phoenix is our focal point, there are some fantastic places nearby worth considering, and I'm going to cover those too.
Downtown: Best Area in Phoenix to Stay Without a Car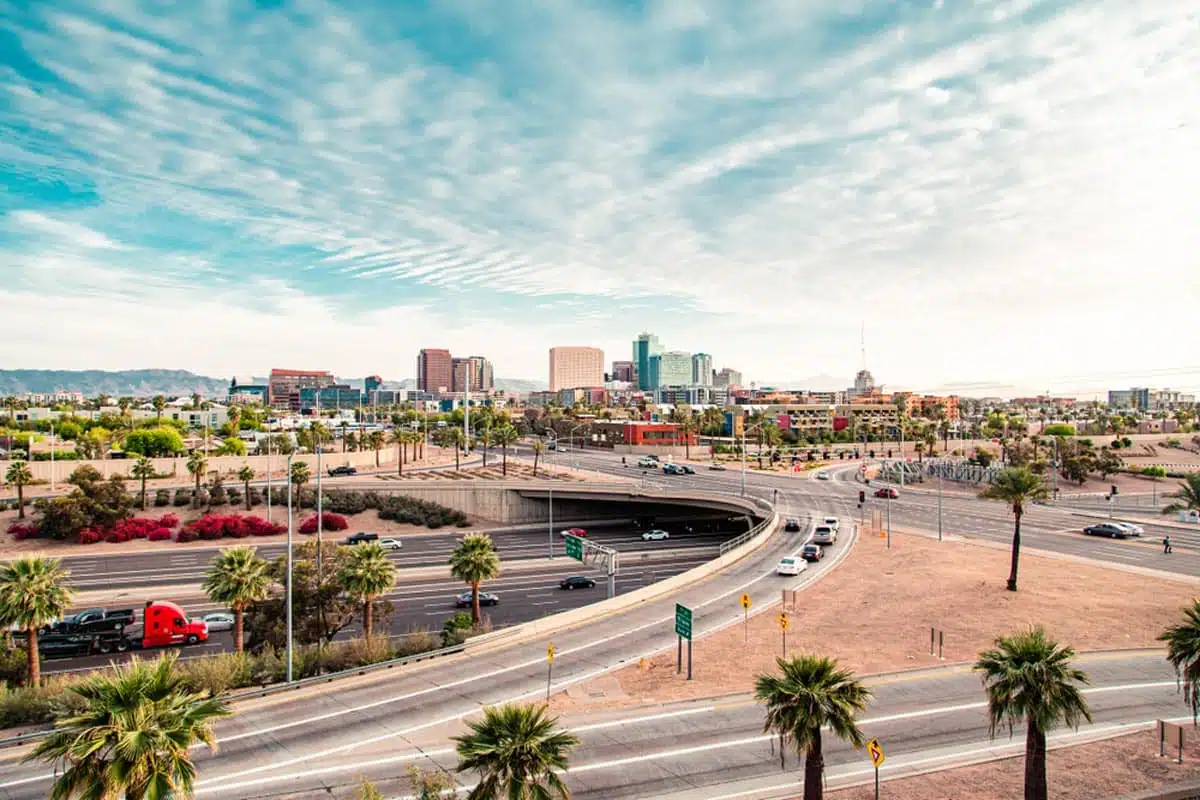 Welcome to vibrant Downtown Phoenix, a bustling neighbourhood. As a business and entertainment district, expect to see lively shopping centres, galleries, museums and restaurants at every corner.
Downtown Phoenix is also the best place to stay in Phoenix without a car, as everything you'll need is within relatively easy reach (that said, a car will make things a lot easier).
Swing by a cocktail bar for a sundowner or two, get to know the friendly locals at numerous brewpubs and indulge in tantalising treats from cafes and pizzerias. The options are plentiful.
This was definitely one of my favourite areas of the city – the fun never seems to end in Downtown, which boasts an array of sports arenas, theatres, live music, rooftop lounges and more.
Downtown Highlights
Hot Air Balloon Ride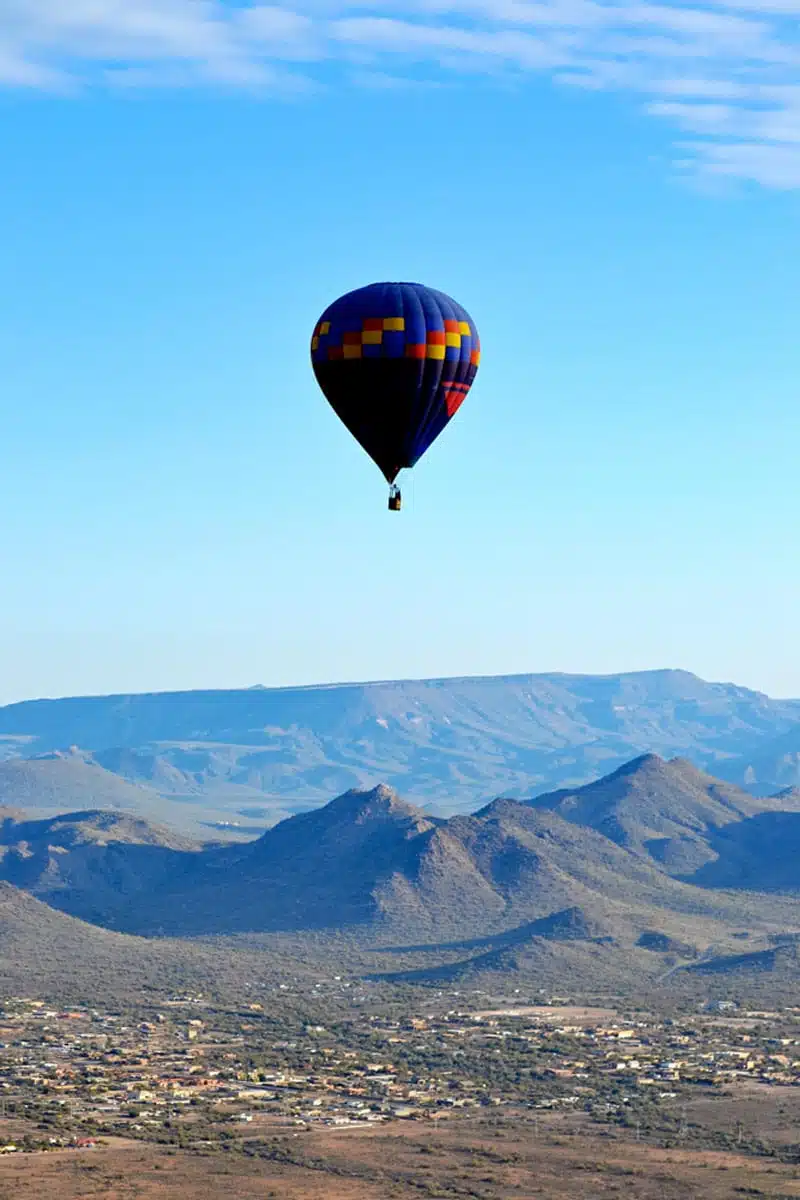 Want to make your trip extra special? Enjoy a hot air balloon ride over Phoenix.
From Downtown, you can go to Rainbow Ryders Hot Air Balloon's office to hop on an exciting balloon flight with the most spectacular views — and champagne, of course.
Arizona Science Centre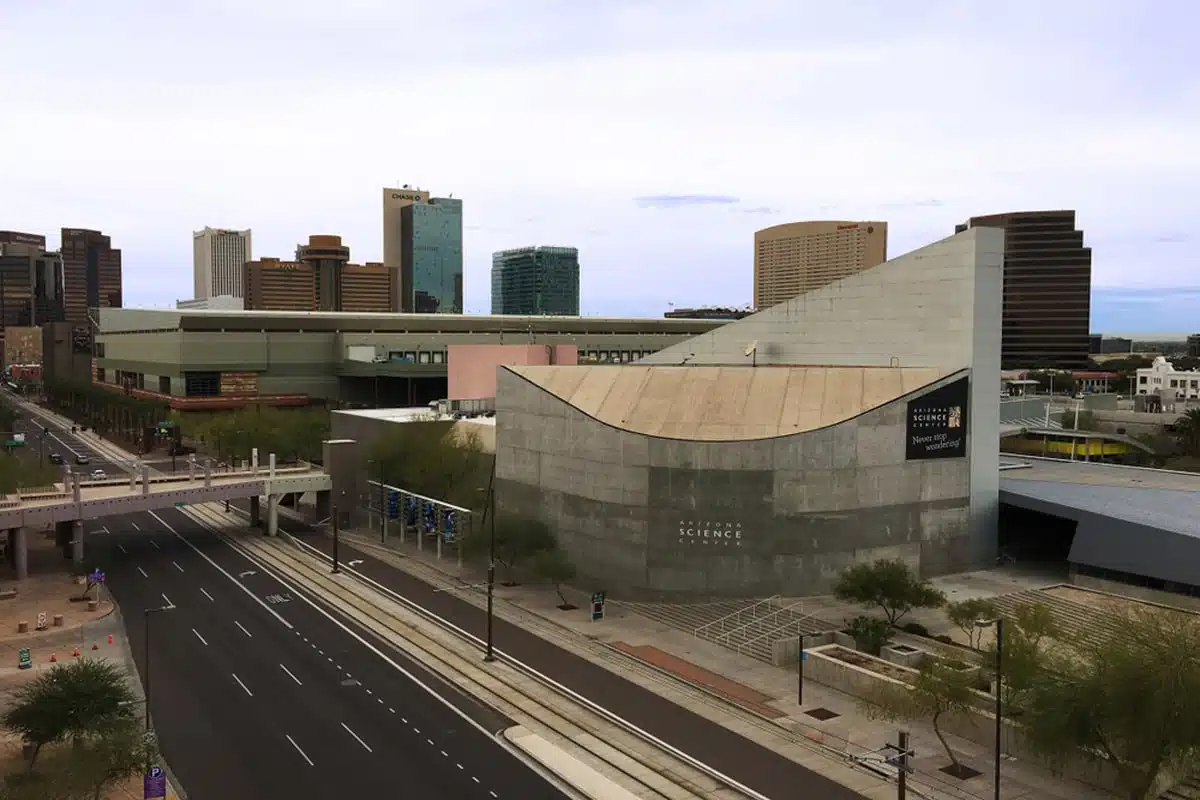 Fancy yourself some science? The Arizona Science Centre invites you to geek out while having fun with over 300 exhibits and interactive expos.
Chase Field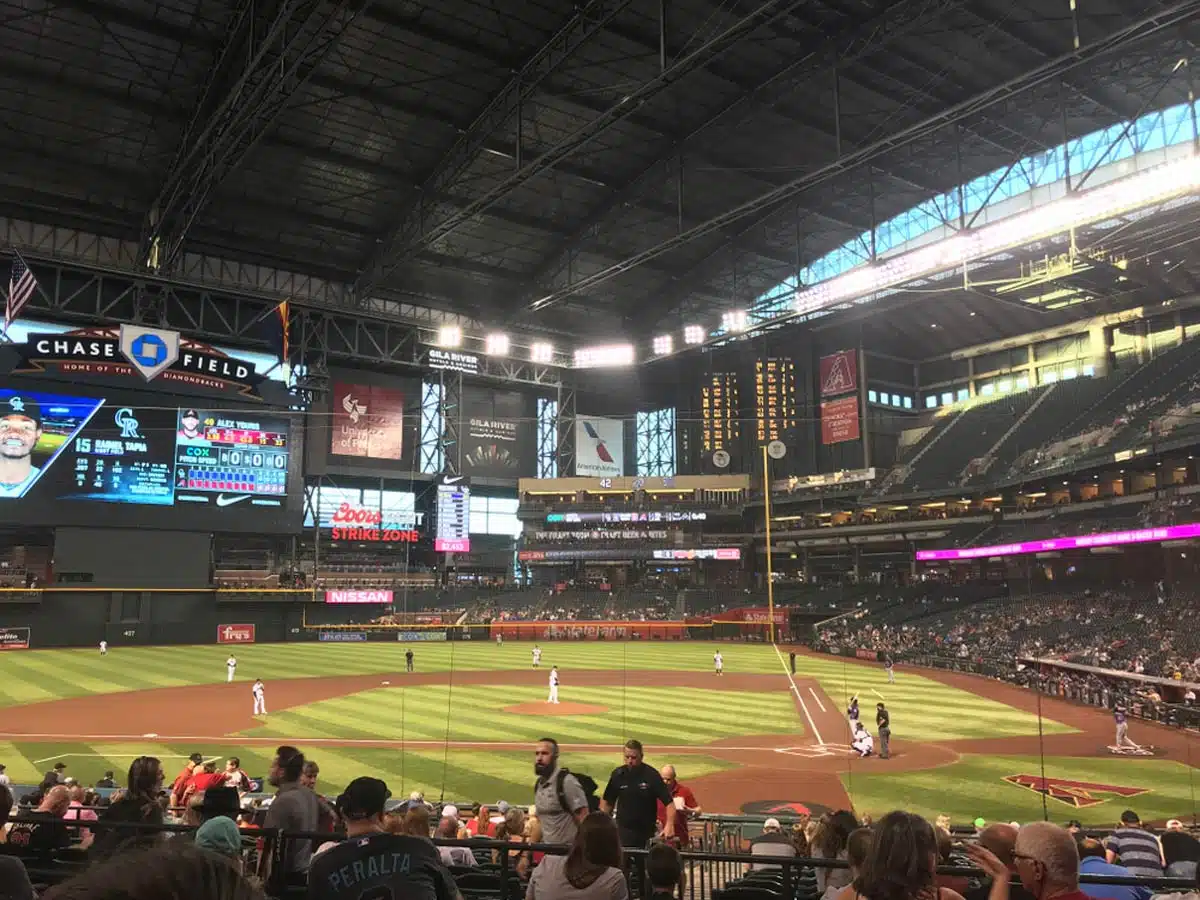 Sports enthusiasts gather around. This unique Major League Baseball Field offers year-round guided tours. Chase Fields is home to the Arizona Diamondbacks, and you can catch them in action between April and October.
Cocktail Bars
Downtown is home to an epic nightlife scene, and exploring it was up there on my list of why I love PHX.
Take my advice and savour some award-winning sips at Bitter & Twisted Cocktail Parlour. Expect world-class cocktails serving drinks like the Irish Passport or the classic Pornstar Martini. With a stylish interior and an extensive craft-cocktail menu, I guarantee this will be your new fave spot Downtown.
The Heard Museum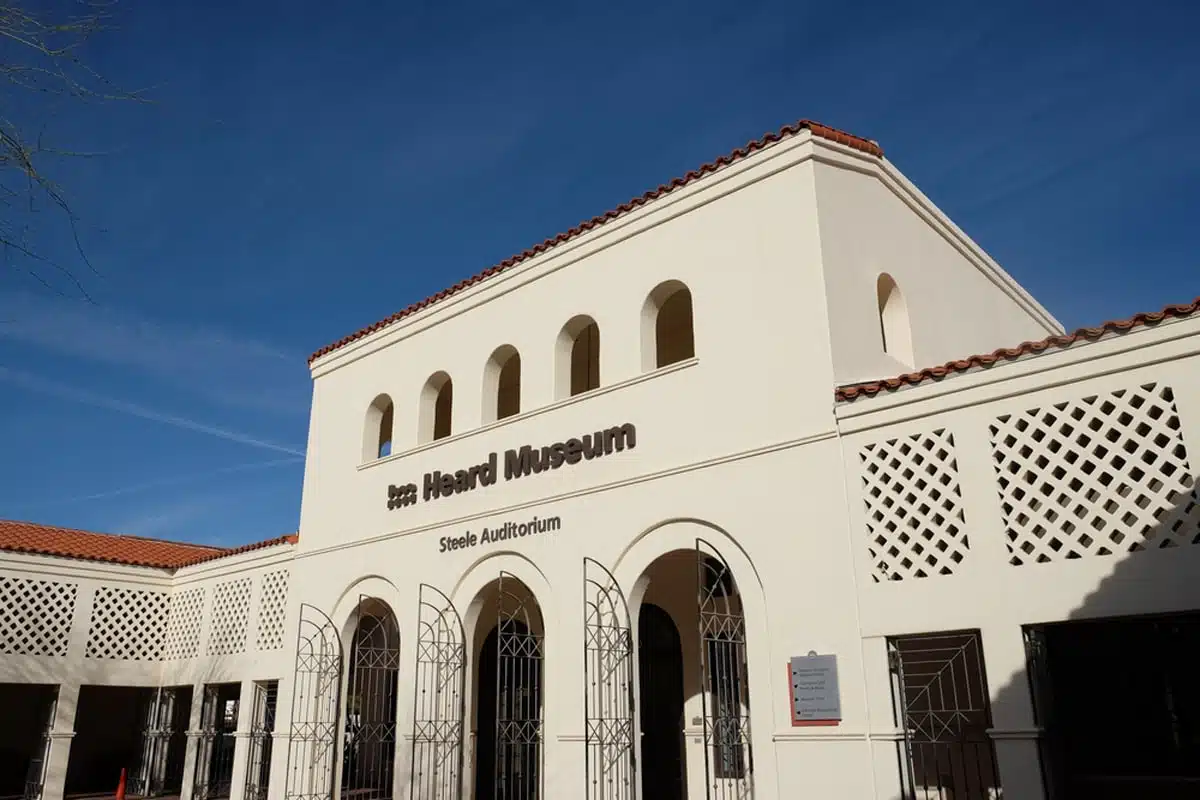 Ok, so the Heard Museum is just north of Downtown Phoenix, but it's a very short walk. If you only have time to visit one museum in Phoenix, this should be it.
It showcases American Indian art and, while it's pretty small, it's packed with fascinating exhibits. The one that struck me the most was the Boarding School Exhibit – a no-punches hold look at the US's terrible historic boarding school system for Native Americans.
Suggested Hotels in Downtown
Found Re Hotel
Found Re is a lavish yet industrial-themed hotel with rustic elements and luxurious amenities. This hotel is in the heart of Phoenix and boasts a fitness centre, spacious modern rooms with Wi-Fi, a swimming pool and an on-site restaurant.
Cambria Hotel Downtown
Cambria Hotel Downtown offers a refreshing stay in bright, open rooms with splashes of vibrant colours to lighten up your mood. It's quirky yet stylish, boasting city views, air conditioning, flat-screen TV and a rooftop lounge for those warm summer evenings.
Hyatt Regency
Visit Hyatt Regency for the most magical city sweeps, but stay for the elegant rooms and fantastic amenities. These included a swimming pool, on-site dining, a fitness centre, Wi-Fi, a bar, parking and even a car hire service if you fancy heading out on a day trip.
Chandler: Best Neighbourhood to Stay Near Phoenix for Culture Lovers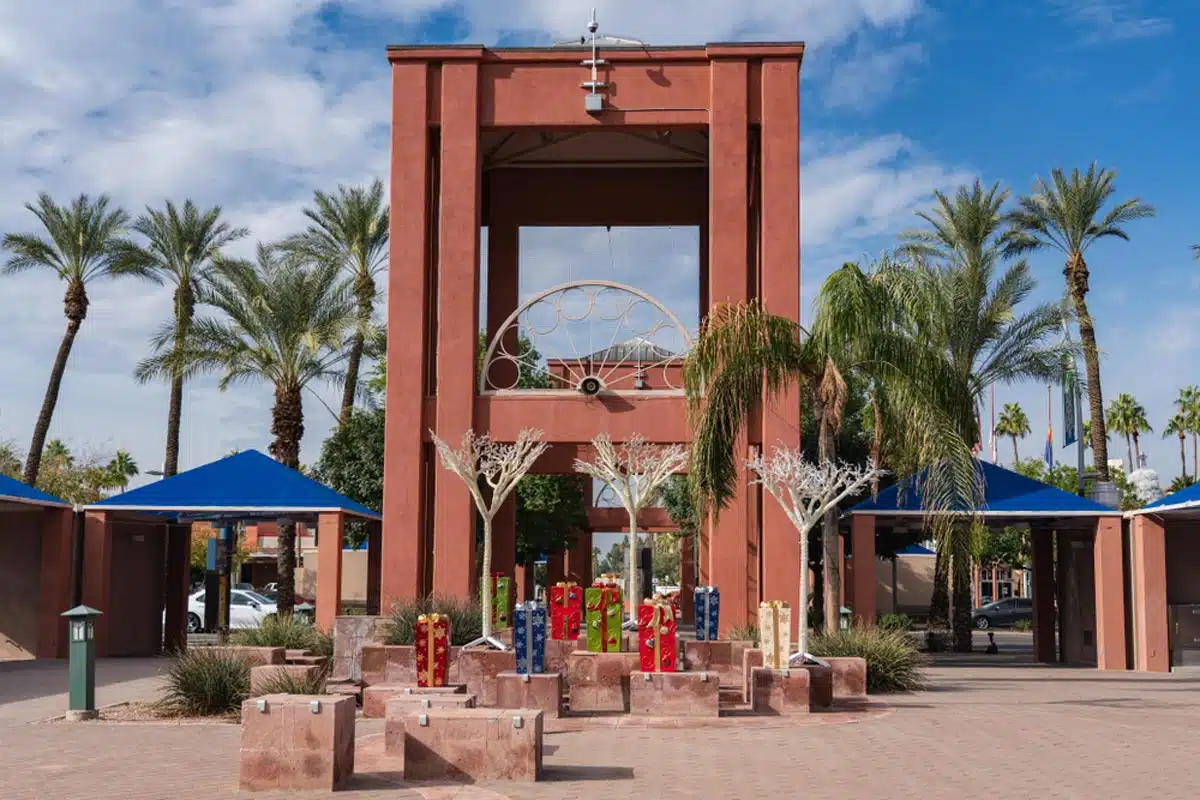 Chandler is a suburb of Phoenix that garnered a reputation as one of the best places to live in Arizona. While it's not necessarily an obvious choice for your stay, I'd also like to add that it has that safe, suburban feel with many cafes and parks peppered throughout.
So, don't expect skyscrapers and buzzing bars; instead, think of fancy homes and residents walking their dogs.
This suburb is also one of the most diverse in Arizona, with a friendly community catering to mainly young professionals. Fun annual events occur here throughout the year, such as the Chandler International Film Festival, Ostrich Festival, Jazz Festival and Chuck Wagon Cook-Off.
Alternatively, you'll always have a plethora of museums, art galleries, parks and golf courses at your fingertips.
Chandler Highlights
Festivals
Coincide your trip with an annual festival – there are too many for me to choose one, so I recommend checking out the Chandler Annual Events site for events and dates.
Downtown Chandler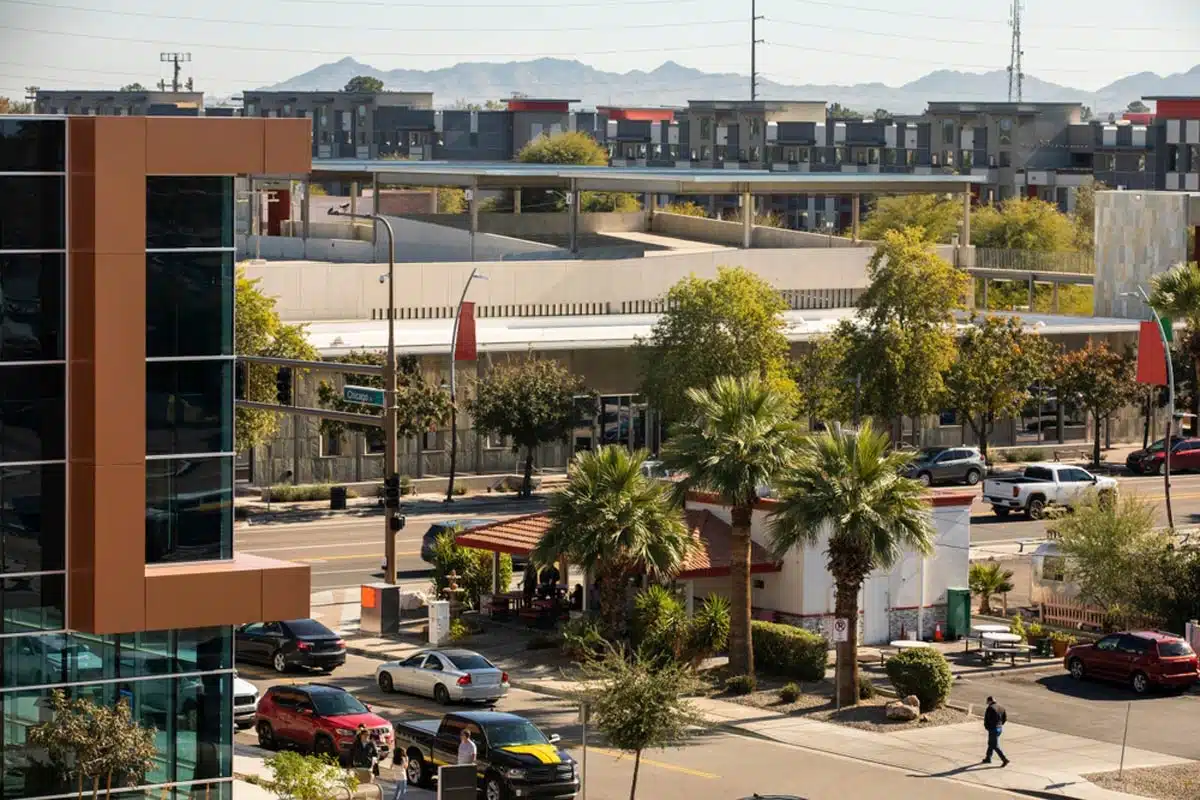 Downtown Chandler rivals the one in central Phoenix, in my opinion. Head here to indulge in various eateries, breweries and boutiques. Why not sip wine or hand-crafted cocktails and soak up the feel-good vibes?
Museums & Galleries
Chandler is home to so many quirky museums and galleries. And, one of my favourites is the Eddie Basha Collection. Located on Basha Road, this gallery showcases more than 3,000 pieces of American Indian and Western American Art.
Or, explore one of Chandler's many other museums, including the Arizona Railway Museum and Chandler Museum.
Escape Chandler
Solving some riddles at Escape Chandler might not seem like a fun time when in Phoenix. But trust me – this is not just any escape room.
It's one of the top five escape rooms in the Western US (according to the American Automobile Association) and well worth swinging by if you have a couple of hours to spare.
Suggested Hotels in Chandler
Cambria Hotel
Cambria is a contemporary hotel featuring chic rooms with air-conditioning, plush beds and pristine bathrooms. Various grand spaces, such as a large swimming pool, an on-site restaurant and a gym centre, are at your disposal.
Element Chandler
Element Chandler Fashion Centre is a beautiful hotel that boasts bright, airy rooms and all the creature comforts you could possibly need – free Wi-Fi, parking and a continental breakfast are standard. The best part? Dogs are more than welcome too at this cosy aparthotel.
Sheraton Grand at Wild Horse Pass
Up the ante at Sheraton Grand at Wild Horse Pass, a luxurious resort and spa. Heavily influenced by the Native American culture, you'll fall in love with the otherworldly interior. You'll have access to a spa centre, two swimming pools, a bar, a delicious breakfast and Wi-Fi.
Paradise Valley: A Fun Place to Stay in Phoenix for a Luxury Stay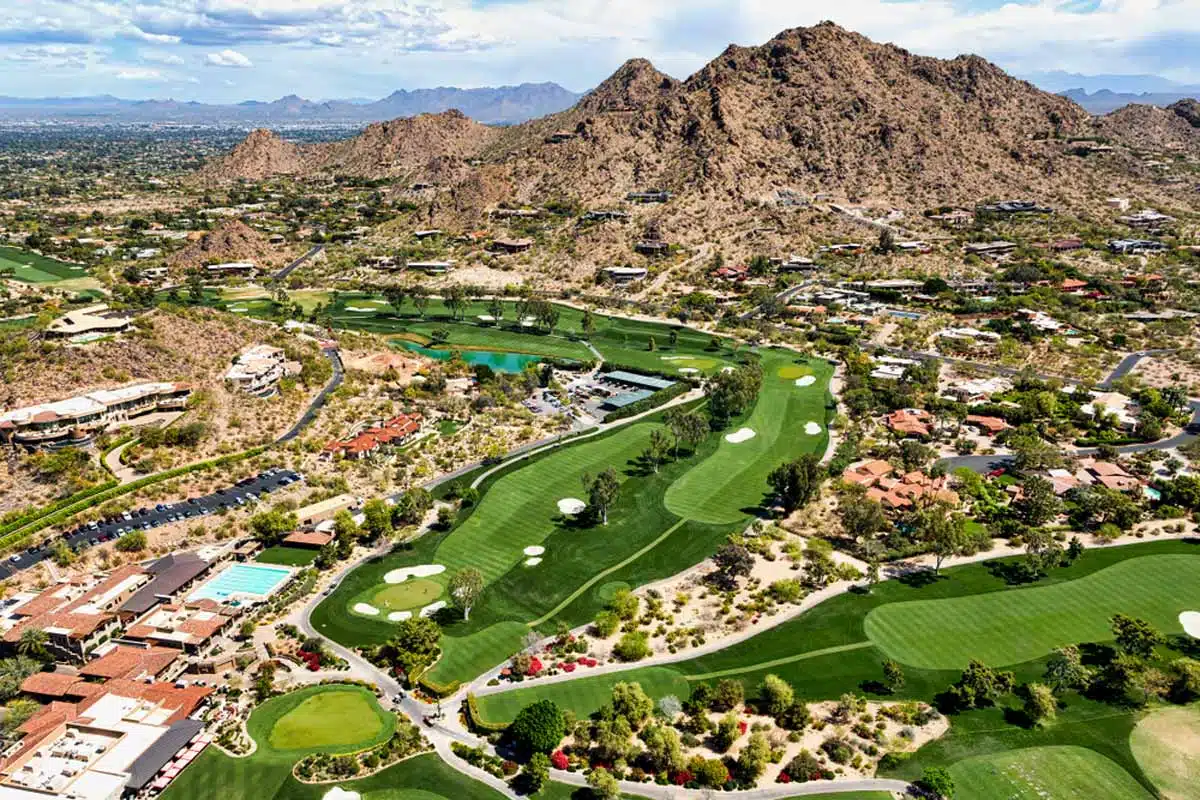 Paradise Valley is where you'll want to head for an ultra-luxe stay. After all, this area boasts high-end real estate, a lavish shopping and dining scene and luxury golf courses.
But, don't get it twisted. This area has plenty more to offer than just wealth and high-end resorts. It's the perfect base for exploring the outdoors without the city noise. Famous for its world-renowned golf courses, you can enjoy anything from luxury spa treatments to epic desert hiking and sports and cultural events.
Being so versatile, almost anyone can find solace in this neighbourhood.
Paradise Valley Highlights
Golf Courses
Practise your swing at a world-class golf course. This one is obvious, but you can't skip out if you love some tee time. The top courses include Stonecreek Golf Club, Paradise Valley Country Club, Indian Bend Course and Mountain Shadows Golf Club.
Hiking Trails
Paradise Valley is home to some stunning hikes – the Mohave Trail being my favourite. This is a beautiful out-and-back hike you can complete in under an hour. You'll find the trailhead at the Piestewa Peak Parking Area, then continue to the top of Piestewa Peak, surrounded by wildflowers and wildlife.
Bars and Breweries
Have a drink and mingle with the locals in PV. While Downtown Phoenix takes the cake for excellent bars and breweries, you can't wholly disregard Paradise Valley. Mainly thanks to OHSO Brewery (I loved it here) and Jade Bar.
Spas
Do as the locals do in Paradise Valley and rejuvenate at a spa.
I suggest Joya Spa for a pampering session. Located in the Omni Scottsdale Resort & Spa, enjoy luxurious treatments and use of the sauna and pools.
Suggested Hotels in Paradise Valley
Stunning N PHX Home
The Stunning N PHX Home is ideal for friend groups looking to have fun. There's a pretty patio, a heated swimming pool, a games room with a foosball and video games, and even a mini golf course in the backyard. What more could you ask for?
Relaxing Getaway Home
Relaxing Getaway Home is perfect if you want to enjoy some seclusion in a sleek and stylish retreat. Huddle around the cosy outdoor fire pit, relax in the pool or play a round of billiards.
This pet-friendly home has free Wi-Fi and parking, a fully equipped kitchen and open, ultra-modern spaces.
Boho Paradise Valley
Consider Boho Paradise Valley for a lavish stay with fantastic amenities. I mean it – this four-bedroom holiday home features Wi-Fi, two swimming pools, indoor heating, and a dishwasher.
Mesa: Top Place to Stay Near Phoenix for History Buffs and Art Lovers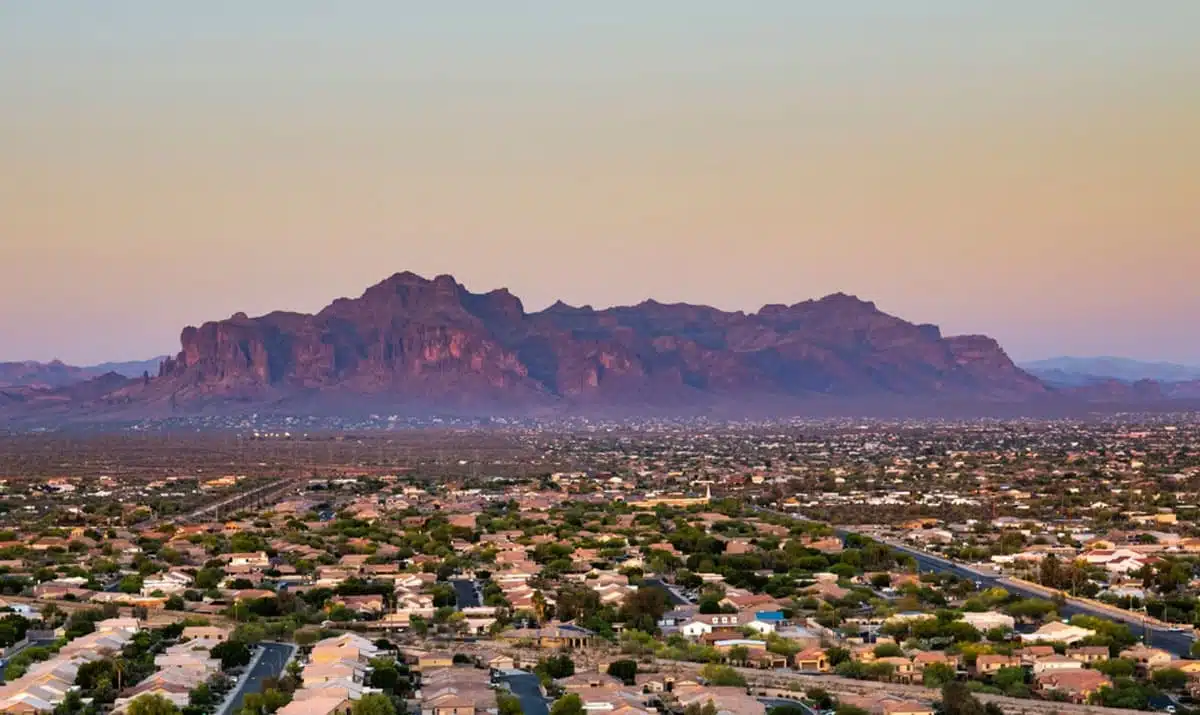 Mesa is an affluent city in the East Valley of the Phoenix Metropolitan Area. Surrounded by the beauty of the Sonoran Desert, Mesa is a sought-after place for outdoor adventure.
However, foodies, history buffs and art fanatics will fit right in, thanks to all the museums, art centres and the thriving restaurant scene that can be found in Mesa.
Mesa Highlights
Apache Trail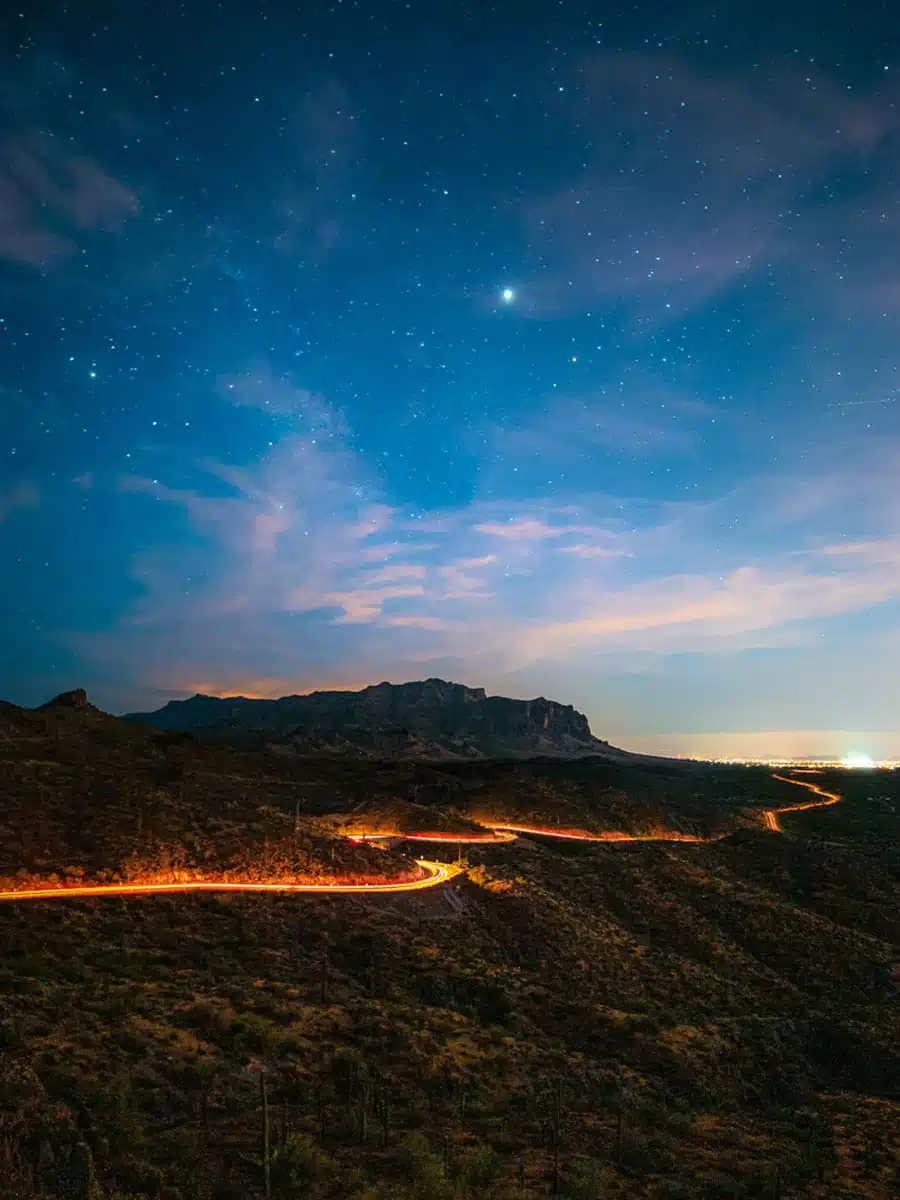 Fancy having an authentic Wild West experience? Okay, so perhaps riding a horse would have been more accurate, but a scenic drive up the historic Apache Trail will do just fine.
The drive continues into the majestic Superstition Mountains and, finally, the Tonto National Forest. There's much to see, including a ghost town, an old west stagecoach stop, a replica mining camp and the famous Elvis Presley Chapel.
Native American History
Learn about Native American history in Mesa. Discover all about the Hohokam tribe and other Native American peoples from Arizona at the Arizona Museum of Natural History and the Mesa Grande Ruins.
Mesa Arts Centre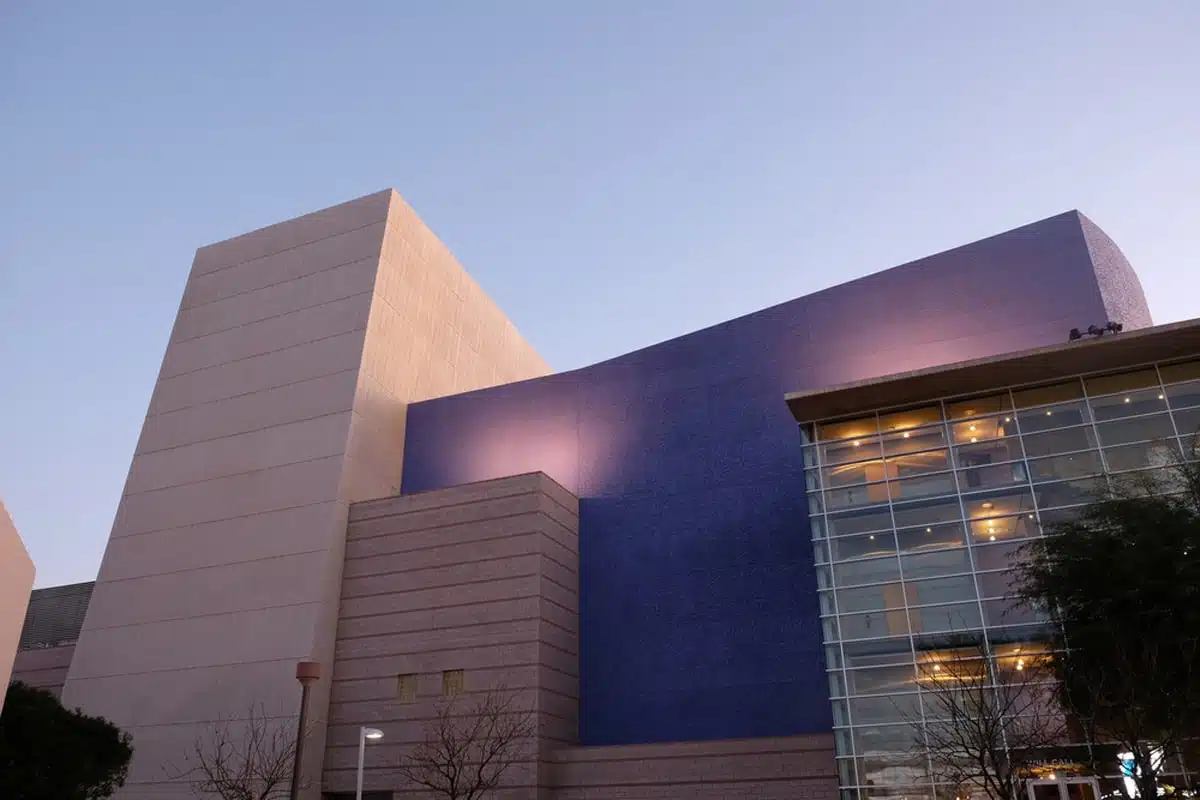 Visiting the award-winning Mesa Arts Centre is a must. I wasn't kidding when I said this place is for artsy types as it's home to the largest arts and entertainment complex in the Southwest (so definitely worth a visit).
Suggested Hotels in Mesa
Glencove Mesa Home
Glencove Mesa Home is an elegant and chic home perfect for your Mesa visit. This stunning property has a romantic pool area and a sleek fully-equipped kitchen. Amenities include Wi-Fi, private parking, a flat-screen TV and a washing machine.
Delta Hotel
Delta Hotel might be a little bit plain, but the hotel's gorgeous bright spaces make up for it. It boasts a hot tub, an on-site restaurant to dine at and 24-hour front desk service to take advantage of.
Mesa Palms Ferro Townhouse
With a white canvas and elegant furnishings, you can't go wrong with Mesa Palms Ferro Townhouse. Perfect for groups or families; you can enjoy cooking in a roomy, fully-equipped kitchen or lounging by the crystal-blue pool.
Scottsdale: Best Place to Stay Near Phoenix for Luxury Shopping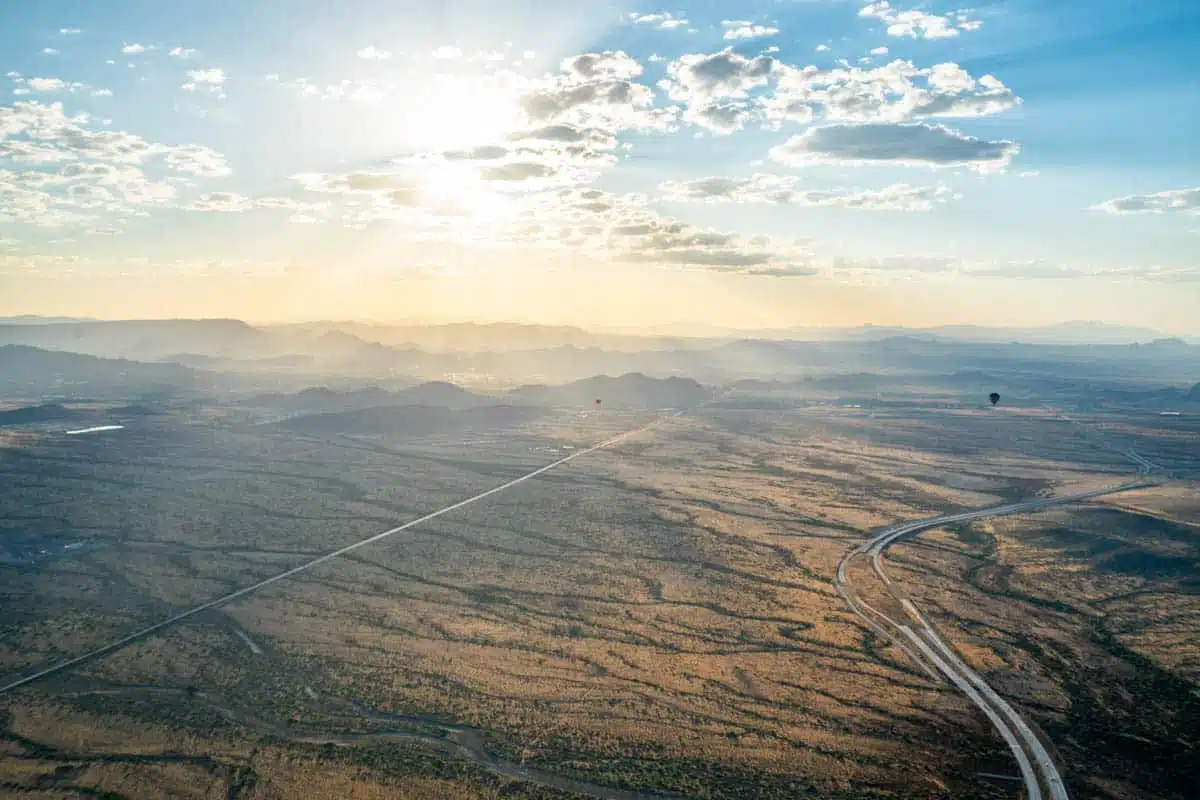 Much like Paradise Valley, Scottsdale is a super indulgent area near Phoenix. Though, I would argue that Scottsdale is the better option if you want to splurge a little. Scottsdale is pretty expensive — it's known as a year-round luxury destination for a reason.
Here, you'll find high-end shopping, opulent resorts, fancy art galleries and pro-level golf courses, making it perfect for a posh vacation.
Aside from modern indulgences, you can take things down to earth thanks to the city's expansive urban wilderness area, the McDowell Sonoran Preserve. This reserve contains over 60 miles of trails that venture through gorgeous desert scenery.
Scottsdale Highlights
Hiking Trails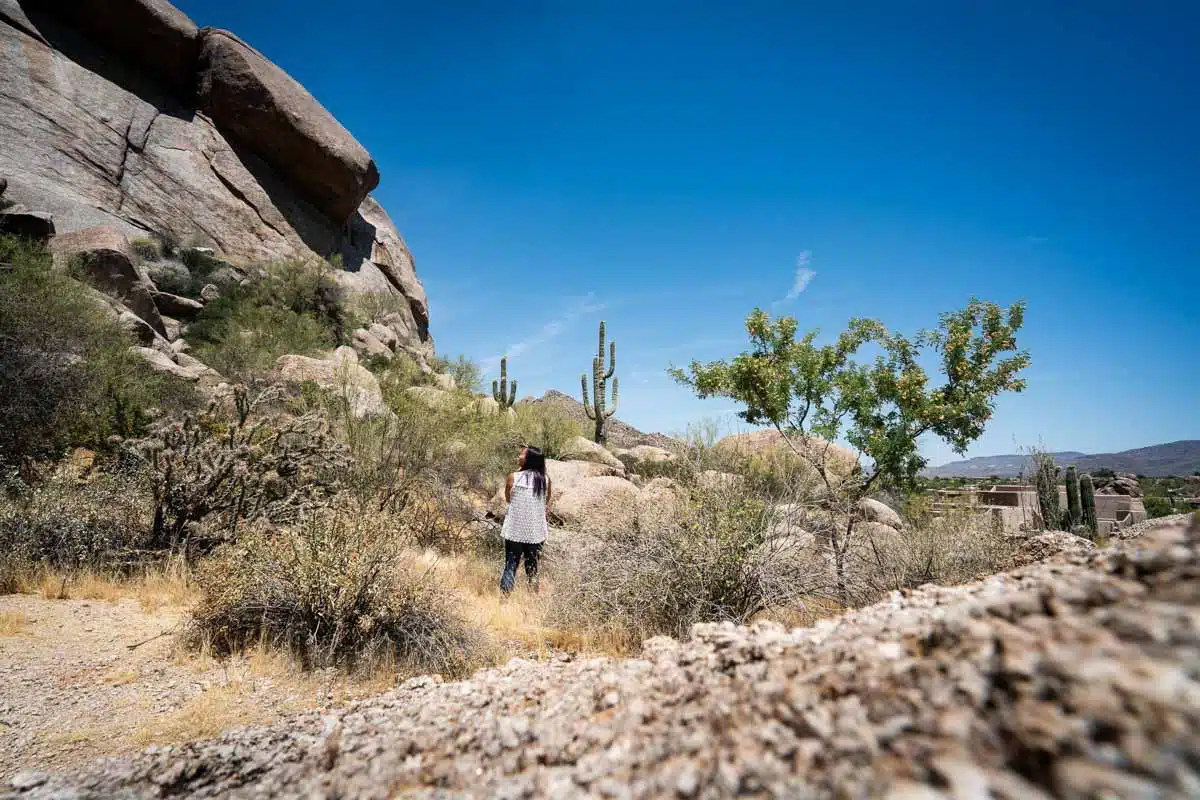 You saw this one coming, I'm sure. But you can't visit Scottsdale without hiking through the scenic McDowell Sonoran Preserve. I recommend the Gateway Loop Trail, Inspiration Point or the Granite Mountain Loop (choose according to your ability).
Old Town Scottsdale
Collect trinkets at Old Town Scottsdale – this vibrant area has western-themed buildings and quirky shops that sell everything from Mexican blankets to Native American arts and crafts.
Desert Botanical Garden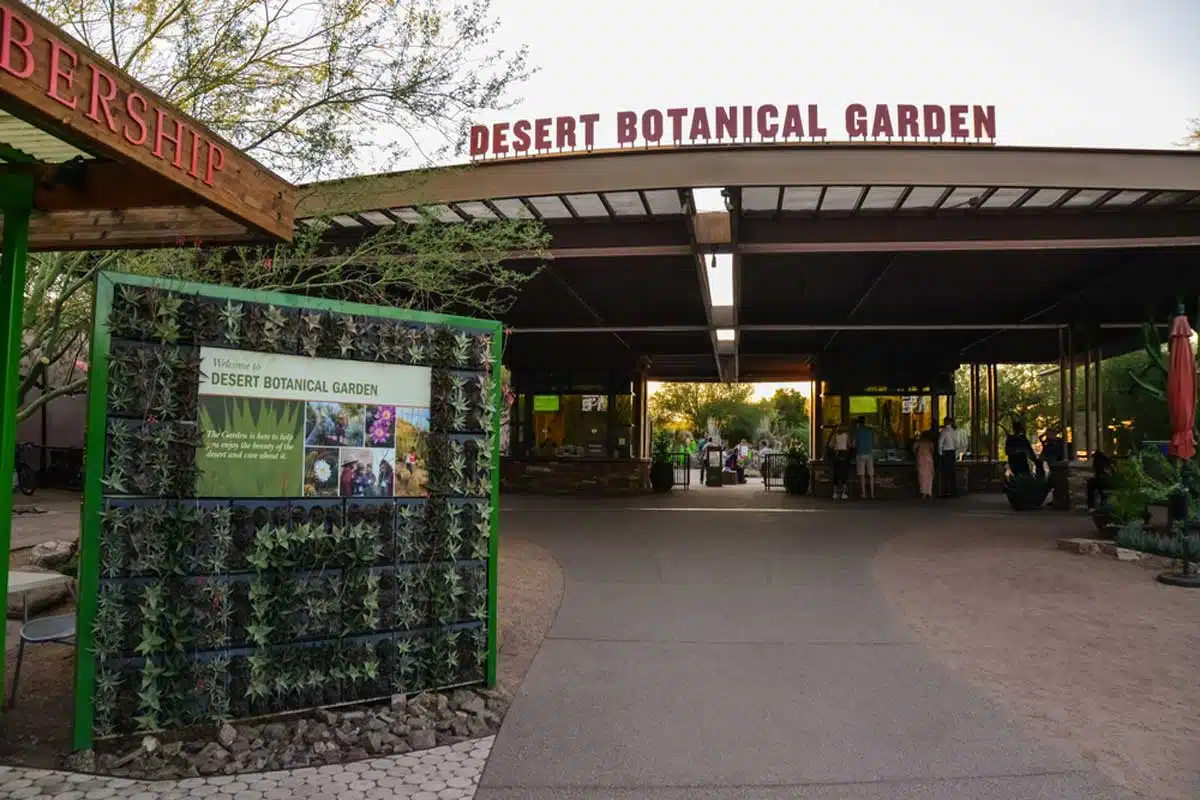 Test your photography skills at the serene Desert Botanical Garden. This is, without a doubt, the best place to snap up some beauties for the Gram.
The garden encapsulates the various deserts of the Southwest, with vivid flowers, butterflies, and birds flying about.
Scottsdale Museum of Contemporary Art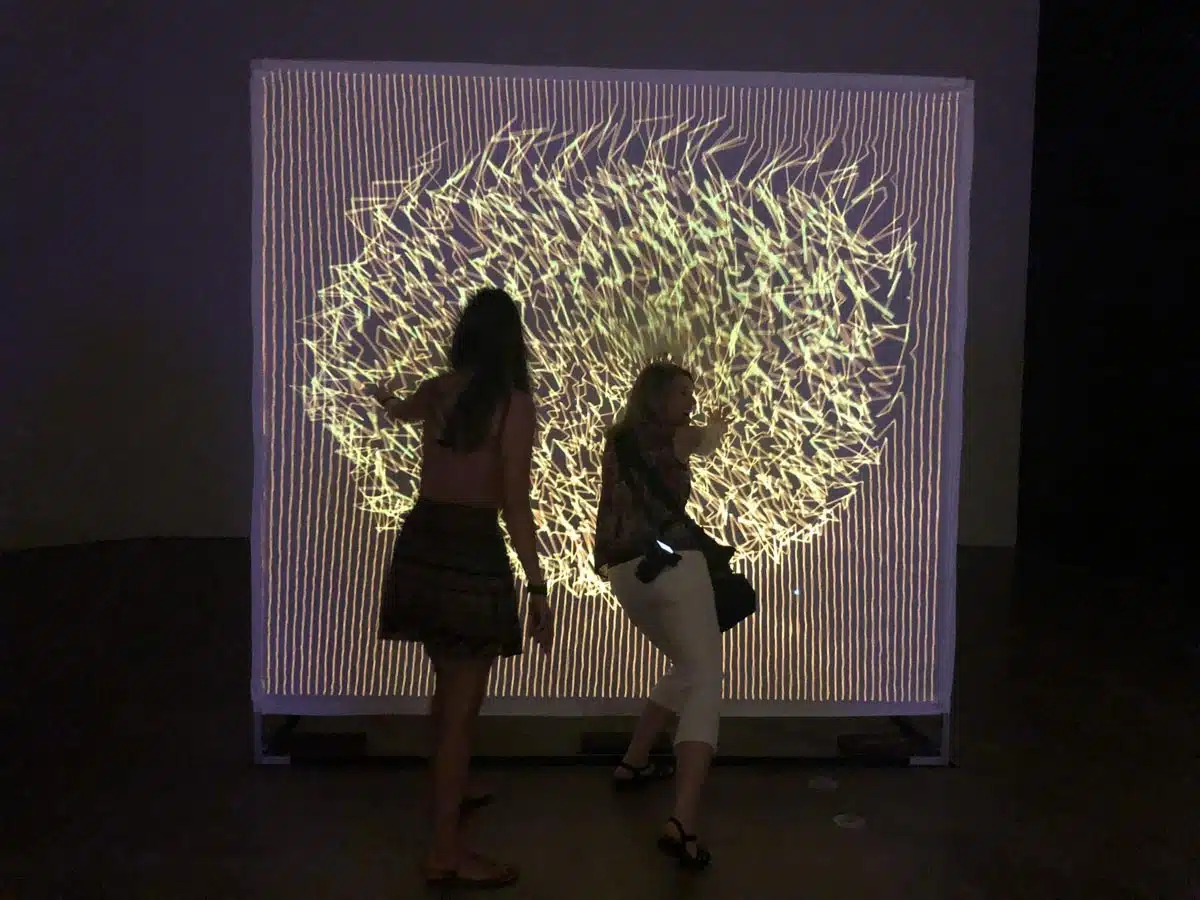 Like I said, Scottsdale has plenty of upmarket galleries – and you should definitely take a wander through Scottsdale Museum of Contemporary Art. Admire design, art and architecture by local and international artists at the fascinating SMoCA.
Suggested Hotels in Scottsdale
Hotel Valley Ho
Hotel Valley Ho blends colourful and eclectic furniture for a unique look. This hotel boasts large rooms with sliding doors allowing natural light to pour in. A fitness centre, room service, Wi-Fi, on-site restaurant and spa centre are some of the top amenities.
Sentral Old Town Apartment
Sentral Old Town boasts sophisticated apartments with fabulous open spaces. The rooms are neat, minimalist and chic, with stylish bathrooms and a modern shared kitchen. This pet-friendly hotel offers Wi-Fi, a swimming pool, private parking and a fitness centre.
Andaz Scottsdale Resort
If you want to go all out and indulge in Scottsdale's luxury, there's nowhere better than the Andaz Scottsdale Resort. Providing a tropical vacation feel, mountain views and daily housekeeping, this is an incredible resort.
Expect everything to be regal, from a massive outdoor pool to a lavish spa and wellness centre. Plus, you'll have a fitness centre, hot tub and top notch room service to enjoy.
Tempe: Where to Stay in Phoenix for Young Adults and Digital Nomads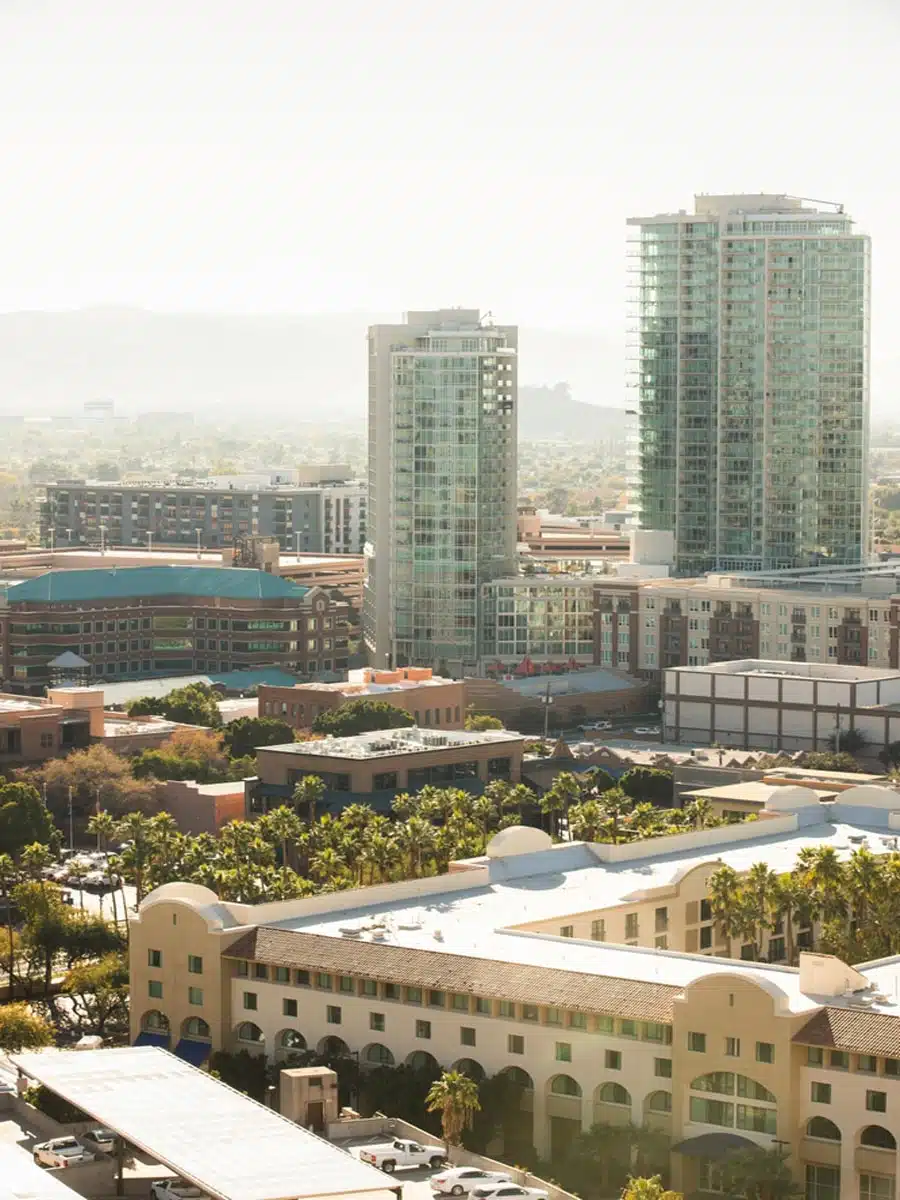 Tempe is a youthful city near Phoenix, and my top pick for younger travellers and digital nomads. Why? The city has a youthful feel, and is filled with its fair share of coffee shops, restaurants and parks.
It's also one of the more affordable areas near Phoenix. You can expect a flurry of arts, cultural and sporting events, while the vibrant nightlife in Tempe has distillery tasting rooms, sports bars, cocktail bars and craft breweries in abundance.
Tempe Highlights
Restaurants & Bars
Like I said, the dining scene is epic. Start your day at Infusion Coffee & Tea Crafters for freshly brewed coffee, or quench your thirst with local beers at Four Peaks Brewing Company.
Hungry? Pop in at Culinary Dropout, a charming British-style pub restaurant, for some tasty pork belly nachos accompanied by live music.
Papago Park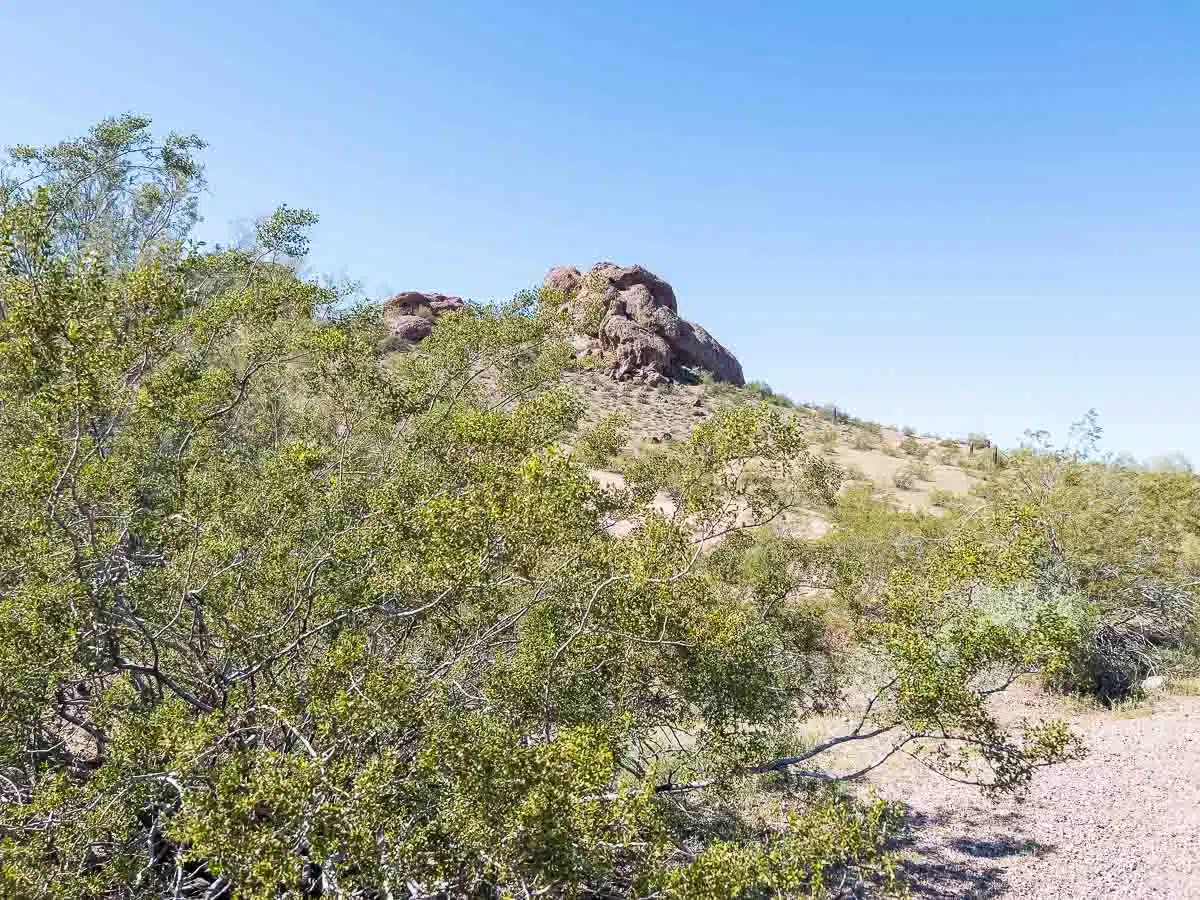 I loved Papago Park during my stay in PHX. It's a very pretty park with lots of hiking trails. Better yet, you can expand your knowledge and learn more about Tempe and Phoenix's history by visiting the Tempe History Museum and the AZ Heritage Center nearby.
Tempe Center for the Arts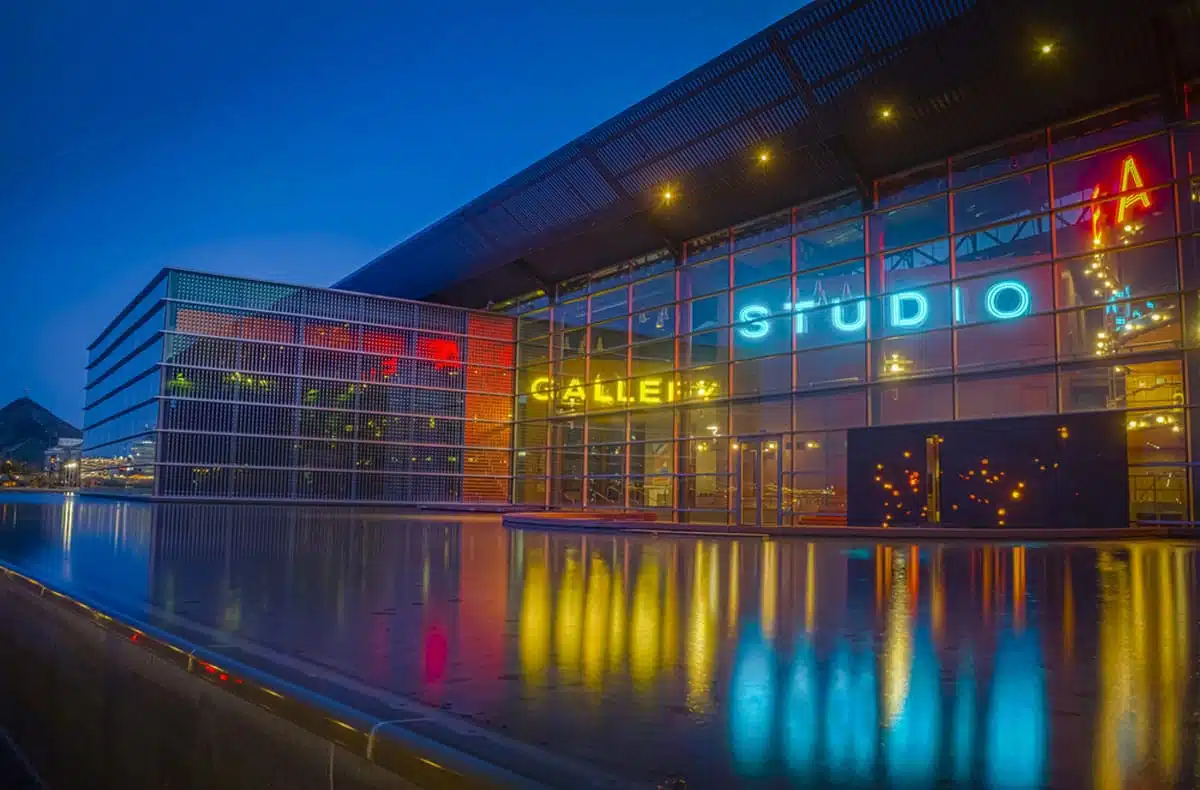 Release your inner art buff and expose your senses to various art forms at the Tempe Center for the Arts, a striking landmark that hosts open-mic nights, free classical concerts and other events.
Suggested Hotels in Tempe
Canopy by Hilton
Canopy by Hilton allows you to sleep in vibrant rooms with plush beds and spa-like bathrooms. This hotel is drop-dead gorgeous, with lovely common spaces like a state-of-the-art fitness centre and a romantic rooftop pool lounge.
MOXY Phoenix
Eccentric and eclectic meet at MOXY Phoenix. The rooms are colourful, playful and very spacious, with beautiful bathrooms. This pet-friendly accommodation boasts city views, a swimming pool, a fun games room and an on-site bar.
Kasa Tempe
Kasa Tempe is a light, airy aparthotel with expansive windows and high ceilings. Its interior is simple yet sophisticated, featuring a flat-screen TV, complimentary toiletries and a fully-equipped kitchen. Better yet, dogs are welcome.
Where to Stay in Phoenix, Arizona: Frequently Asked Questions
Practical Tips to Consider Before Booking Your Phoenix Accommodation
Before booking your accommodation in Phoenix, decide on what you would like to get out of your trip. Do you want to be in the hustle and bustle surrounded by restaurants and attractions, or do you prefer nature and tranquillity?
Staying in Phoenix is great, but you can often find cheaper hotels just outside the city in Mesa or Tempe – it can be worth staying in these cities if you want to stretch your budget.
Where to Stay in Phoenix: Read More Arizona Guides
Love This? Save and Share on Pinterest