Looking to explore the great outdoors in central North America? These national parks in Colorado will blow you away.
Colorado's anthem isn't 'Rocky Mountain High' for nothing. Although there are so many things to do in Colorado, you'll quickly fall in love with the wonders of this state's spectacular wilderness.
This mountainous region in the heart of the USA is well known for its diverse landscape – something I have made a huge point of exploring on previous trips.
Whether you're a mountaineer or just an outdoor enthusiast, you're sure to feel at home amongst the Centennial State's mighty peaks and rolling plains.
Ready to dust off your travel gear and discover the best national parks in Colorado?
Stunning Colorado National Parks
Rocky Mountain National Park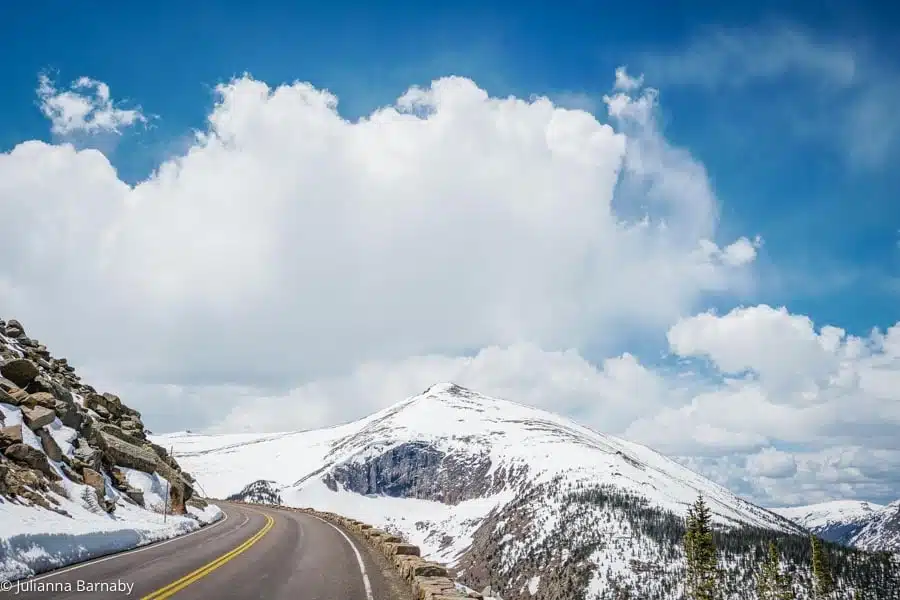 There's no better place to start than with Colorado's most famous natural territory.
The Rocky Mountain National Park is definitely 'up there' when it comes to spectacular scenery and some of the best hikes in Colorado. It's also my favourite of the national parks in Colorado.
No but really, this park offers hundreds of hiking trails that cover over 600 square kilometres!
The best part is that Rocky Mountain National Park is open 365 days of the year – so, even if you've explored all of the park's hiking trails (which is highly unlikely) you probably haven't seen them when the seasons change.
Colorado's parks are equally as magical when the snow falls in winter and when the wildflowers bloom in spring.
Along with the impressive peaks, Rocky Mountain National Park holds some beautiful lakes too. The serenity of Emerald Lake and Dream Lake is well worth the – sometimes a bit treacherous – mountain journey.
Although this park is open throughout the year, certain areas and trails are sometimes closed due to heavy snow or flooding. The Trail Ridge Road receives heavy snowfall annually, and while it's magical to see, it's dangerous to even the most experienced mountaineers.
Visit the park from May to October for the best conditions and access to most of the park.
Tip: Drive along Trail Ridge Road, which opens in late May every year. Here you'll find the high-altitude Alpine Visitor Centre. It's the highest of its kind in the USA.
Staying in Denver? Here's a Rocky Mountain National Park day tour you might enjoy.
Great Sand Dunes National Park and Preserve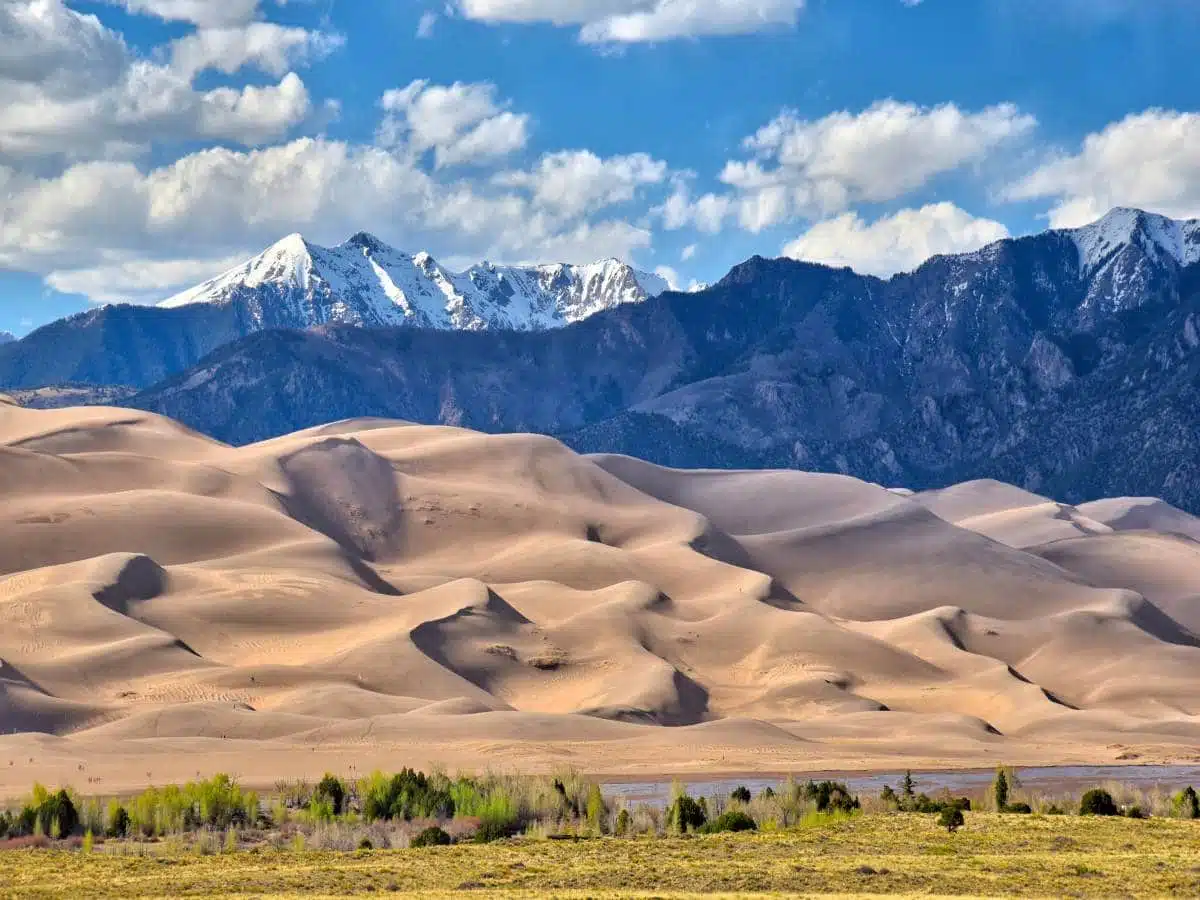 The Great Sand Dunes National Park and Preserve is a perfect example of Colorado's diverse natural landscapes.
It might throw you off a little to see dunes bordered by lush greenery and snow-capped mountains. But, that's precisely why you shouldn't miss visiting this national park.
The 228-metre-high hills of sand – yes, that's about 69 stories high – are the tallest sand peaks in the United States. In fact, the dunes were a national monument until boundary changes led to its reclassification in 2004.
The Great Sand Dunes National Park and Preserve forms part of the Sangre de Cristo Range, and this rocky region features the park's Mosca Pass trail. Back in the day, Native Americans used this path through the evergreen and aspen forests to travel from San Luis Valley to the Wet Mountain Valley.
Visiting the Great Sand Dunes is a fantastic idea for adventure junkies – if you haven't tried sandboarding, it's a new level of thrill. Rent snowboards, skis or sledges to make the most of the sandy slopes. Just as you would on Colorado's snow-covered mountains, find a high point and slide down the dunes.
If "sand sports" aren't your cup of tea, the national park's Medano Pass also offers a 4×4 off-road driving trail that'll take you from the park to the neighbouring town of Gardner.
For moderate temperatures and to catch the peak of Medano Creek's flow, the best time to visit this park is from May to June.
Tip: The dunes get really hot in warmer months. So don't forget sunscreen and wear closed shoes to avoid burnt toes. Ouch.
Black Canyon of The Gunnison National Park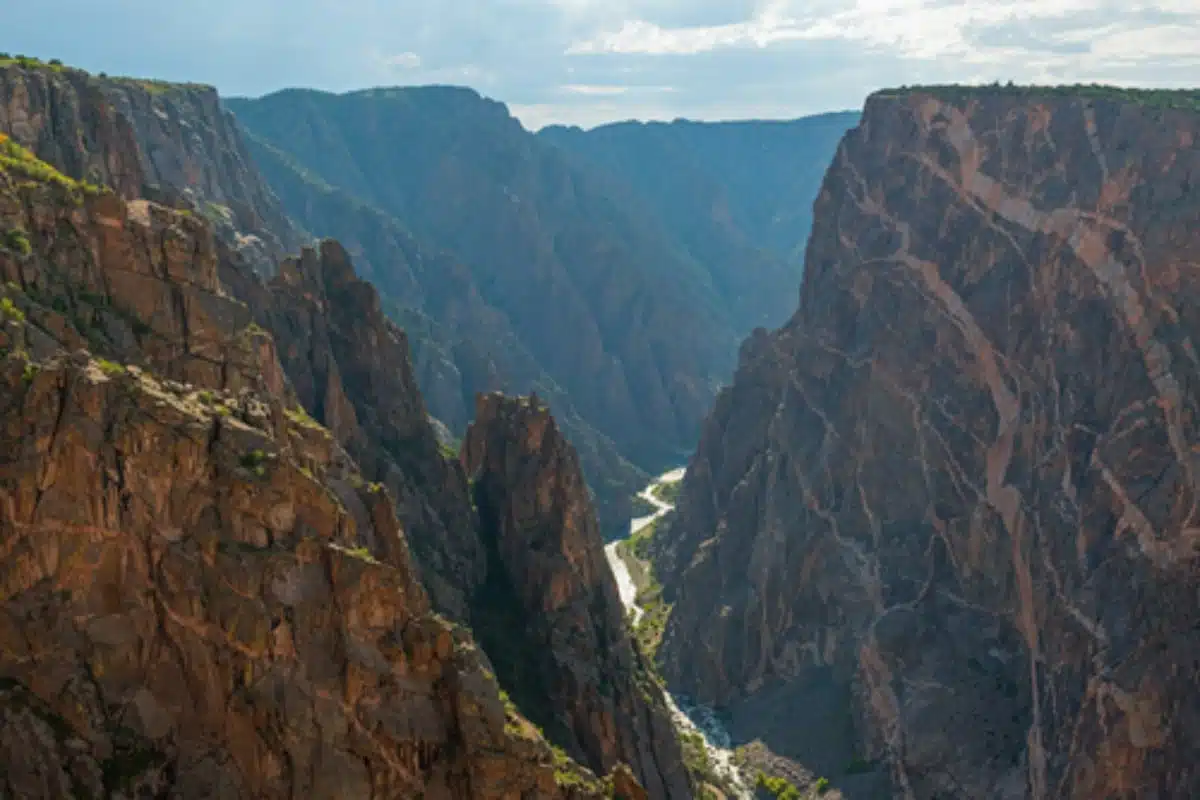 Black Canyon's name is no mystery: the sheer gorge walls of dark stone drop almost 825 metres to the Canyon's floor. This dramatic landscape attracts more than 430 000 visitors a year; once you get there, you'll see why.
Eroded by the Gunnison River over millions of years, the Black Canyon's walls tell the stories of prehistoric life through layers of rock and sediment. The national park is also home to numerous indigenous flora and fauna, moose, elks and even mountain lions.
Hiking the Canyon's rim is an easy trek that most people would enjoy. Trails that dip below the plateau are more tricky and may require some mountaineering experience and unmarked paths along the inner canyon are unfortunately (but reasonably) reserved for experts.
If you've got the time, consider camping out at Black Canyon of The Gunnison National Park. There are three campsites that all offer different views of beautiful natural features around the park.
Otherwise, if you don't have extra days on hand, pack some lunch and have a picnic while you admire the Colorado wilderness.
Summer is the best time to visit this beautiful park. You'll see many more of the region's creatures and critters when the sun is out. Don't worry, they usually aren't dangerous.
Tip: You'll need to make a reservation to pitch your tent at the park's campsite. Be sure to do this in advance and check the weather while you're at it.
Mesa Verde National Park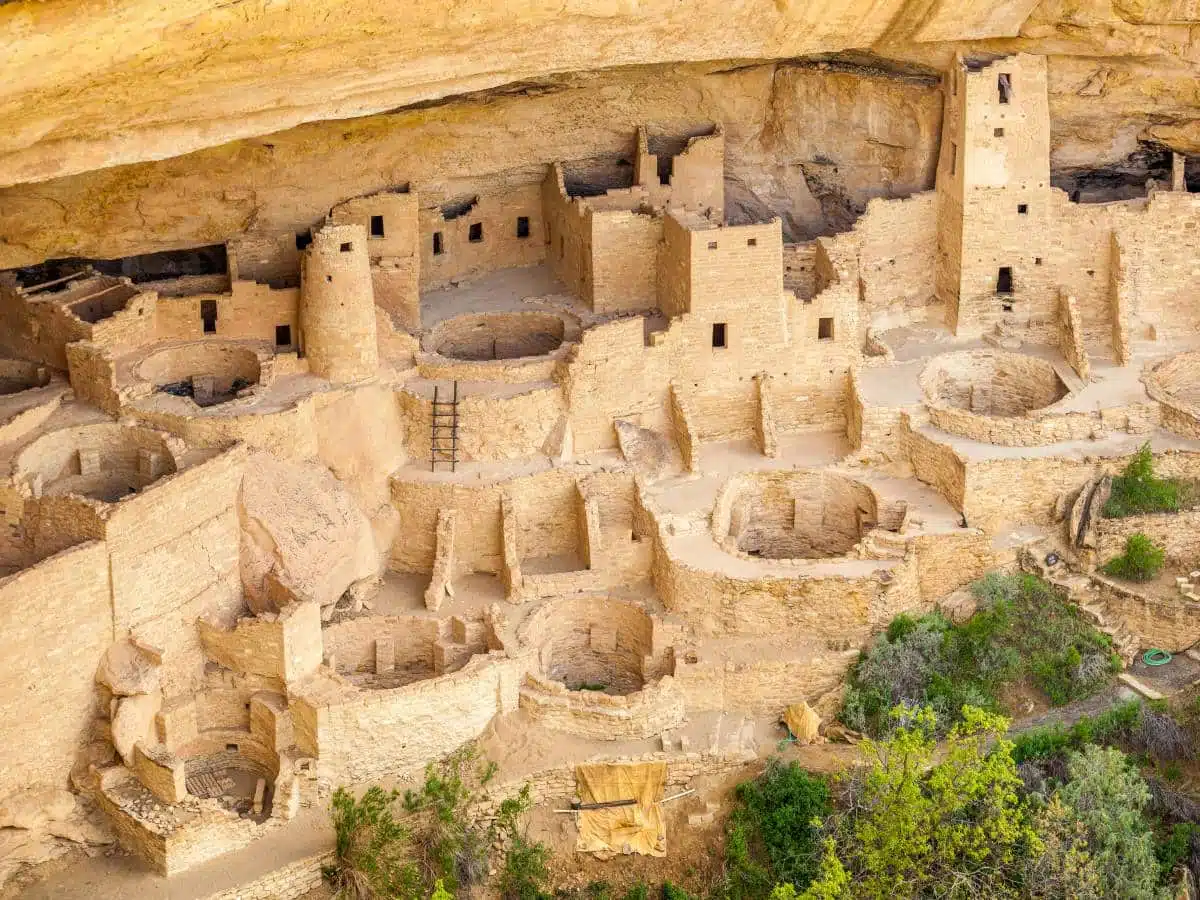 Mesa Verde National Park is a UNESCO World Heritage Site located within Colorado's Montezuma County. It offers a well-preserved window into North American life during ancient times.
In fact, Mesa Verde's display of ancient cliff dwellings is the United States' biggest archaeological preserve. You can view this impressive historical site through a guided tour or on your own.
Besides the historical heritage sites, Mesa Verde National Park has a lovely selection of routes for visitors to hike. Whatever your fitness level, this national park's trails are suitable for everyone and sometimes pets, too. They range from easy to difficult, so don't panic if you're a newbie looking to get your feet accustomed to hiking.
If you've got an extra day or two, the park's campsite is a fantastic spot to relax and engage in some late-night star gazing. The region's climate, small population, and altitude all make for excellent starry sky views.
The best time to visit the park is during the fall and spring months. The weather is moderate this time of year, and the park isn't as crowded as in the summer months.
Tip: Hike the Step House route to see one of the cliff-dwelling archaeological sites for free. You'll have to buy a guided tour ticket to see the rest.
Practical Tips for Visiting Colorado's National Parks
How Many National Parks Are in Colorado?
Although the state boasts a vast natural landscape, Colorado only has four national parks. These are Rocky Mountain National Park, Great Sand Dunes National Park and Preserve, Black Canyon of The Gunnison National Park, and Mesa Verde National Park.
How Many Days Do You Need for Colorado National Parks?
Although there are only four parks, you'll need more than a few days to experience the must-see highlights at each national park in Colorado. To make the most of your time in the Centennial State's wilderness, you'll need at least seven to ten days traversing the parks.
Of course, if you've got the time and the spirit to pitch a tent, we recommend you book a spot at the parks' campsites to witness the best of Colorado wildlife.
When Is the Best Time to Visit National Parks in Colorado?
This depends on what you want to see at the national parks. If you're more of a tree-hugger than a people-hugger and prefer to visit during the quieter months, April to May is the best time to visit.
Alternatively, October to December is ideal for a winter wonderland experience and fewer visitors — if you don't mind a little frostbite and can bear limited access to the parks.
Overall, visiting from late May till mid-October offers the best weather conditions and more chances of spotting wildlife.
How to Access the Parks: Passes and Permits
Like most of the USA's national and state parks, all of Colorado's national parks have entrance fees. You'll need to purchase an entrance pass if you visit in a vehicle – these usually permit access for a certain number of occupants on board.
Each park offers a variety of passes. You'll need to choose your pass according to how many days you want to spend at the park, your method of transport and how many people you're with.
To enter Rocky Mountain National Park, you must first make a 'timed entry' reservation. The passes are available at the parks' entrance stations or online here.
What to Pack for Colorado National Parks
When it comes to national parks, Colorado has some of the best. But, what do you take along with you? Here's a quick list of things you shouldn't forget:
Your park passes (if you've bought them ahead of time)
Sunscreen and a hat
Snacks or a picnic lunch
Your camera
Plenty of water
Colorado National Parks: Map
Colorado National Parks: Discover More Colorado Guides