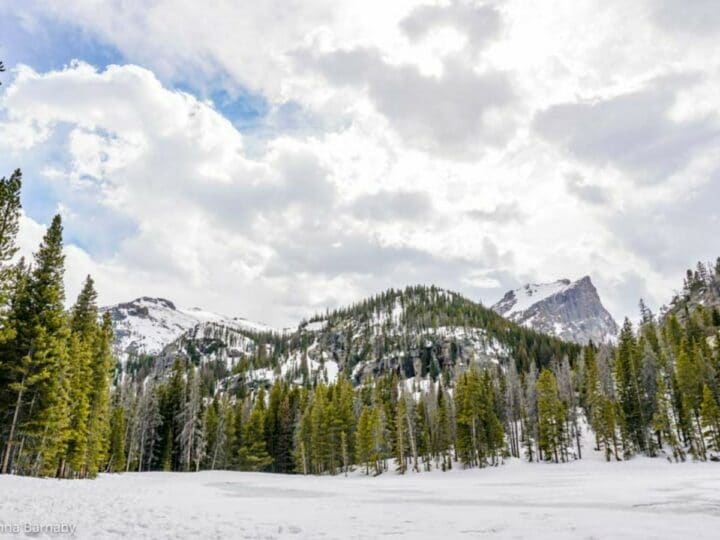 Looking for the best Rocky Mountain National Park hiking trails? You've come to the right place. Read on to discover the most inspiring trails in the park.
It's not exactly a secret that The Centennial State boasts plenty of beautiful hikes. From vast mountain trails to serene escapes, I was seriously overwhelmed by sheer choice on my last visit to Colorado.
I plumped for some of the most famous hikes in the hopes that they would satisfy my adventurous soul. And boy, did they deliver.
The Rocky Mountain National Park offers some of the best hikes in Colorado, but with so many to choose from (seriously, there are hundreds – spanning over 415 square miles), which ones are the best?
Strap up your hiking boots, you do not want to miss out on these Rocky Mountain National Park trails.
Best Hikes in Rocky Mountain National Park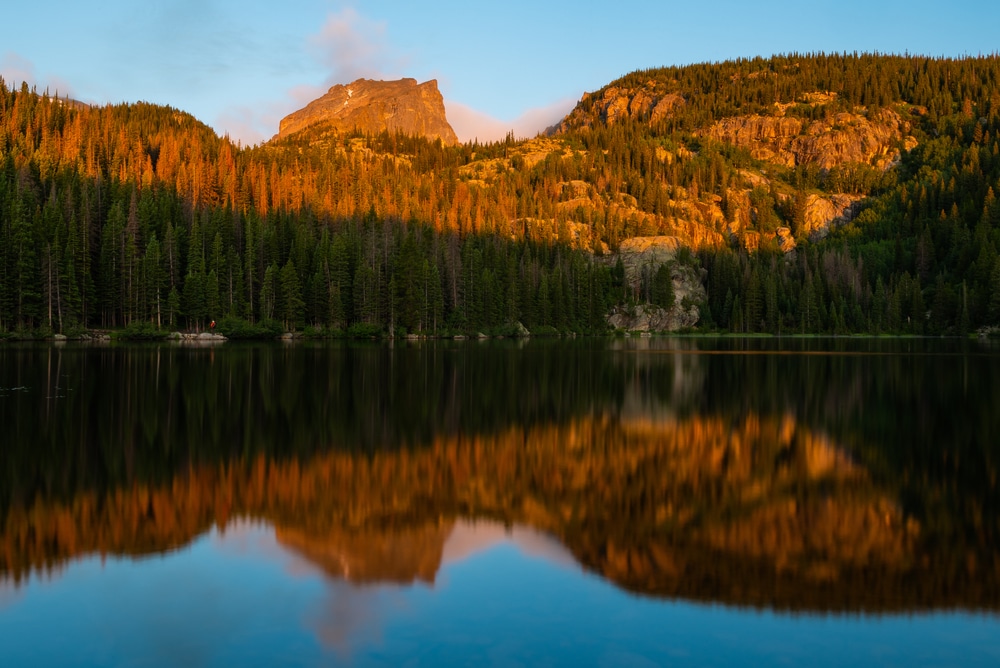 Bear Lake Loop
Length: 0.8 Miles
Time: 15-30 Minutes
Difficulty: Easy
I'm starting off this guide with a hike for non-hikers. This quick and easy hiking trail will get you warmed up for the other more challenging hikes Rocky Mountain National Park is popular for.
This loop trail is extremely famous because it links to many other trails in the park. Though it may also be because of the scenic views you can absorb in 30 minutes or less. This trail is an easy trek that the whole family can take and even offers a shuttle service to start you off.
Bear Lake is a great place to stop by for a picnic in the Rockies. The beautiful Hallett Peak looms in the background on this trail, while the pine-lined Bear Lake stuns in the forefront.
If you start early, you might be able to avoid the crowds and spot some wild squirrels, elk, or bears on your walk.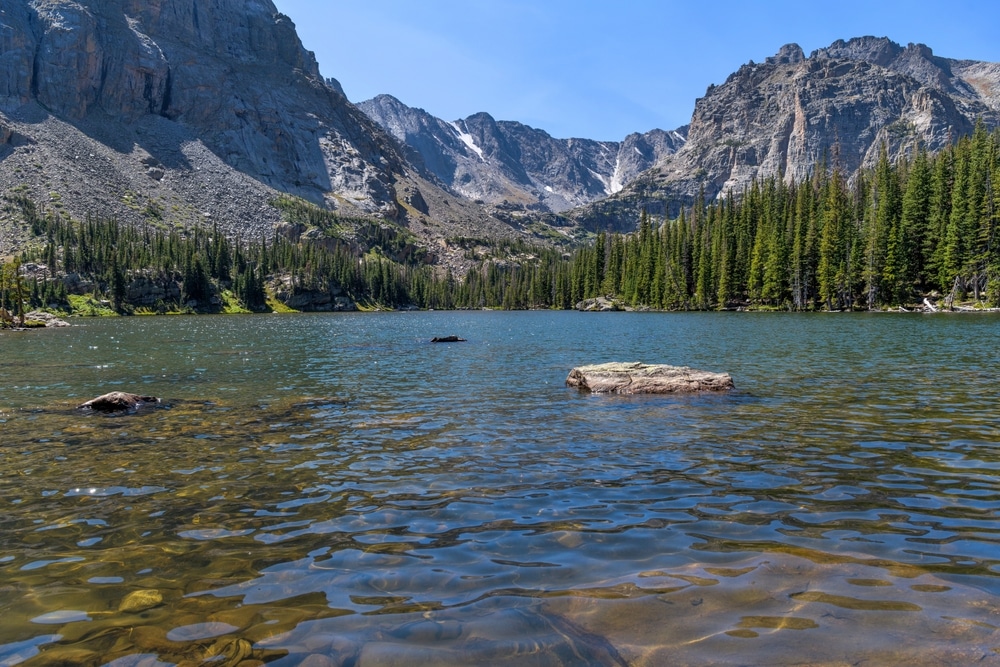 Loch Lake
Length: 5.7 Miles
Time: 3 Hours
Difficulty: Moderate
While you won't find any Scottish sea creatures in this lake, the Loch Lake does have a slight Scottish tie – 'Loch' means 'Sea inlet' or 'Lake' in Scottish Gaelic and Irish.
This out-and-back hike in the Rocky Mountains is just a few miles away from Bear Lake and starts at the Glacier Gorge Trailhead. You can even combine the two for a slightly longer hike… or take the park shuttle to save some time.
To start your hike, turn left at the Glacier Creek Trail split. This hike offers fantastic views of the lake and waterfalls, as well as Taylor Peak and Taylor Glacier – standing at over 153 feet tall.
While beautiful, this trail isn't for everyone. Expect an elevation of about 940 feet and a few rocky paths along the way. There are also a few switchbacks that could make this hike a bit difficult for some.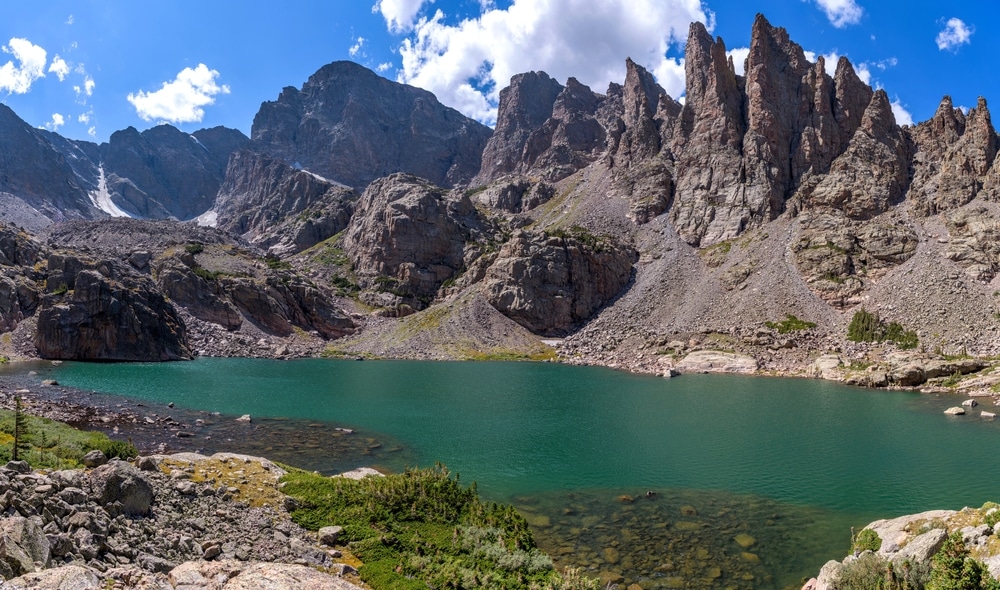 Sky Pond
Length: 9.0 Miles
Time: 5+ Hours
Difficulty: Difficult
Sky Pond is a round trip trail not too far from Loch Lake. As the name suggests, this trail sees a beautiful big pond which you only see after passing three waterfalls on your way there.
The trail is especially popular around wintertime as the snow settles on the landscape and creates an even more beautiful scene. If you go during this time, I'd recommend you bring some snow spikes like these to help you on this strenuous hike. However, if you visit during the warmer seasons, you'll see fields of wildflowers colouring the area.
Picturesque peaks surround the lake from all sides and are worth the tough walk. Look out for the three prominent peaks of Sharkstooth, which are instantly recognizable. If you're an avid rock climber, you might enjoy this peak as it is a popular destination that offers a moderate climbing challenge.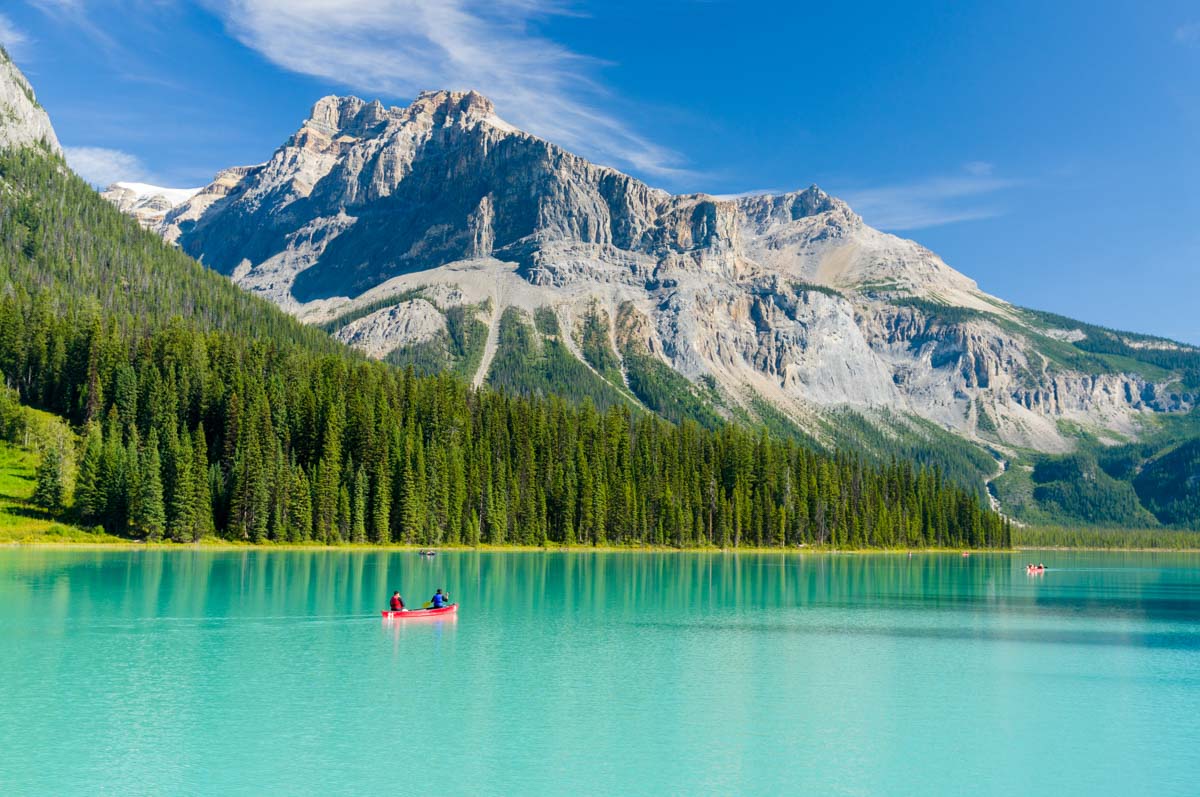 Emerald Lake
Length: 3.2 Miles
Time: 2 Hours
Difficulty: Intermediate
To get to Emerald Lake, once again, you'll have to start at Bear Lake's trailhead. The trail gets very crowded so start early.
If you're lucky (and early enough), you may even get an amazing shot of Hallett Peak reflecting in the lake. The paved trail gets a lot of foot traffic, but don't let that fool you – the trail has medium difficulty as there are some steep inclines and loose rocks here and there.
While walking, Longs Peak follows you the whole way, and there is lush greenery on either side. When I visited in summer, I was also treated to an abundance of wildflowers on the trail.
[Insert image of me at Nymph lake from media library]
On this Rockies hiking trail, you'll pass both Nymph Lake and Dream Lake. Now, don't get me wrong: both lakes have amazing views, but it's at Emerald Lake where you get the best views.
You'll know when you've reached Emerald Lake. As the name suggests, the water is a colourful mix of blues and greens. Hallett Peak stands in the distance, high above the lake.
Alberta Falls
Length: 1.6 Miles
Time: 1 Hour
Difficulty: Easy
If you're looking for an easy and scenic trail in Rocky Mountain National Park, Alberta Falls is your best bet. While it's a little bit longer than Bear Lake's loop trail, it offers something Bear Lake can't– a waterfall.
The hike starts at Glacier Gorge Junction Trailhead and follows Glacier Creek, taking you on a beautiful walk in the park, where the trees envelop you. You'll also be able to hear the calming sounds of the singing birds and might spot a squirrel or elk if you're lucky.
About 0.8 Miles into your walk, you'll reach Alberta Falls. This 30-foot bubbling waterfall offers a beautiful backdrop to many park-goers' picnics, so remember to pack a lunch (just watch out for bears!).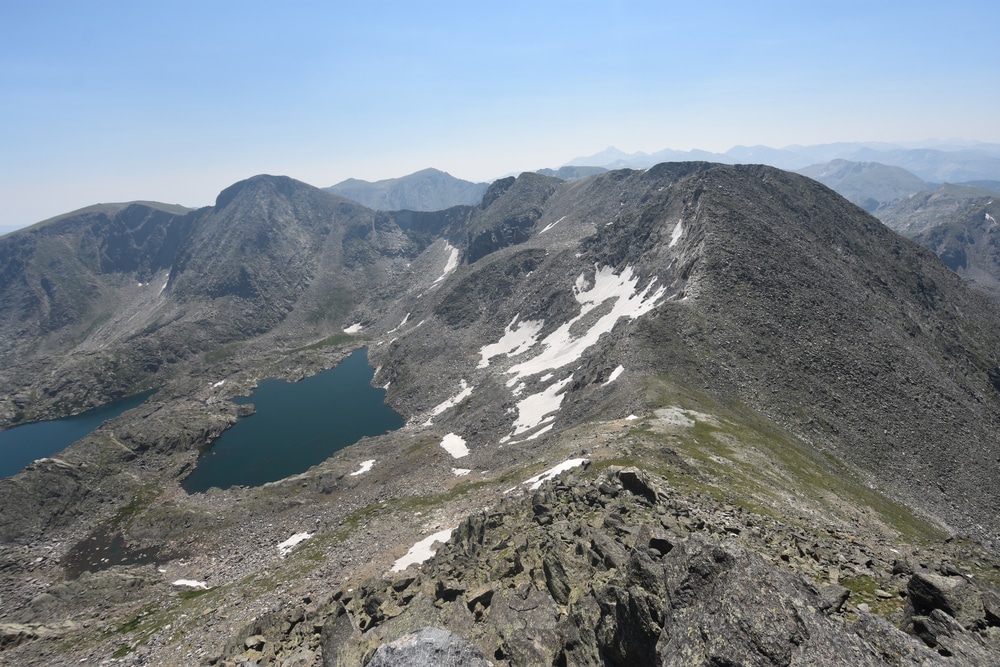 Mount Ida
Length: 9.3 Miles
Time: 5 Hours
Difficulty: Difficult
Start at the Poudre Lake Trailhead at Milner Pass to get to Mount Ida. At its highest elevation level, you'll be about 12,889 feet above sea level. So, it's important to clue up on altitude sickness to avoid any nasty side effects while you're on the mountain.
The hike takes about five hours to complete, and while it's not as rocky as other paths, it can still get quite strenuous. You'll have to go slightly off trail and trudge in some rugged areas for the last few miles.
While on these rocky mountain trails, you'll have clear and uninhibited views of the whole park, some of its lakes, and mountains. You also have a very good chance of seeing some grazing elk and sheep along the open plains. Depending on the season, you can see fields of wildflowers, marmots, and picas warming up in the sun.
Not sure whether you want to tackle this trail? Once on top of this mountain, expect to see spectacular views of the park, which I think is completely worth the half-day trek.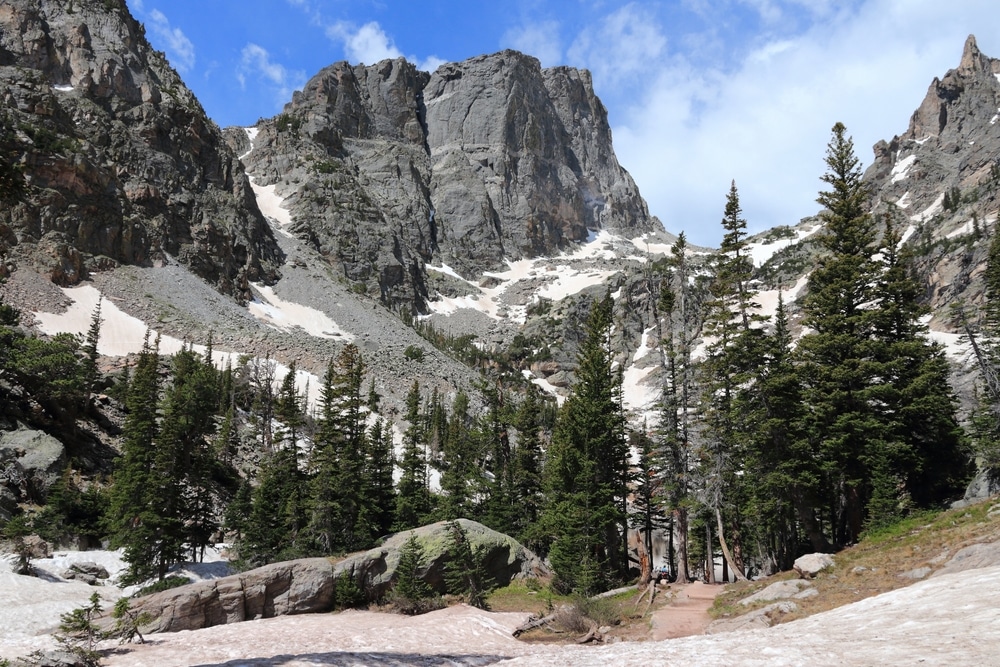 Flattop Mountain
Length: 8.2 Miles
Time: 5 Hours
Difficulty: Difficult
This is another trickier hike (it's also known as the Big Trail), but it's just as rewarding as the Mount Ida one. Take the Bear Lake Trailhead and as you climb, you'll notice the trail gets steeper. However, it flattens out the closer you get to the top of the Flattop.
If you'd like to extend your trek, consider adding Bierstadt Lake and Mills Creek Basin to your hike itinerary. However, this won't be totally necessary as you'll already see amazing views on your way to the top.
This is one of those trails Rocky Mountain National Park offers that allows you to see a little bit of every part of the park in one go.
On the trail, you'll see landmarks such as Longs Peak, Chiefs Head Peak, and Pagoda Peak. You'll also be able to overlook a few lakes from the high position – keep your eyes peeled for the azure waters of Dream Lake and Emerald Lake.
Always listen to park rangers and check the weather before starting your trek. It's important to note that this trail can be a bit dangerous during thunderstorms because it's such a flat and open space. Thunderstorms are far more likely to happen in the afternoon, so try to get an early start to avoid this.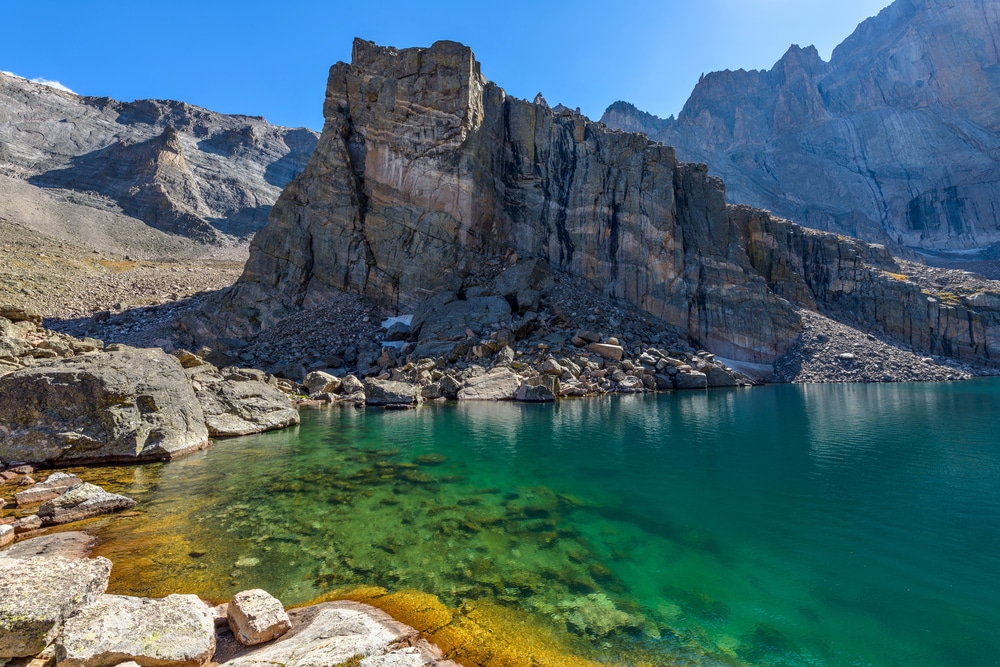 Chasm Lake
Length: 8.8 Miles
Time: 5-6 Hours
Difficulty: Difficult
If you're looking for a challenge while you're in the park, consider Chasm Lake Trail. While not the highest summit in the park (more on that later), Chasm Lake is a good alternative and takes about half the time. But, even though it's shorter, that doesn't mean it isn't difficult itself.
Chasm Lake is one of the best winter hikes in Rocky Mountain National Park. A blanket of snow coats the mountains during this time, and the lake totally freezes over. This makes it a great time to bring your snowshoes.
In summer, the trail gets very crowded and sees people arriving before sunset in an attempt to catch a great view. Regardless of what time of the year you visit, you'll get a picturesque view each time.
On this five to six-hour hike at Rocky Mountain National Park, you'll move through the subalpine forest, pass waterfalls, walk along with Peacock Pool, and see the stunning mountains of Longs Peak looking down at you.
If you'd like to see these peaks up-close, consider walking further on to the Longs Peak Trail.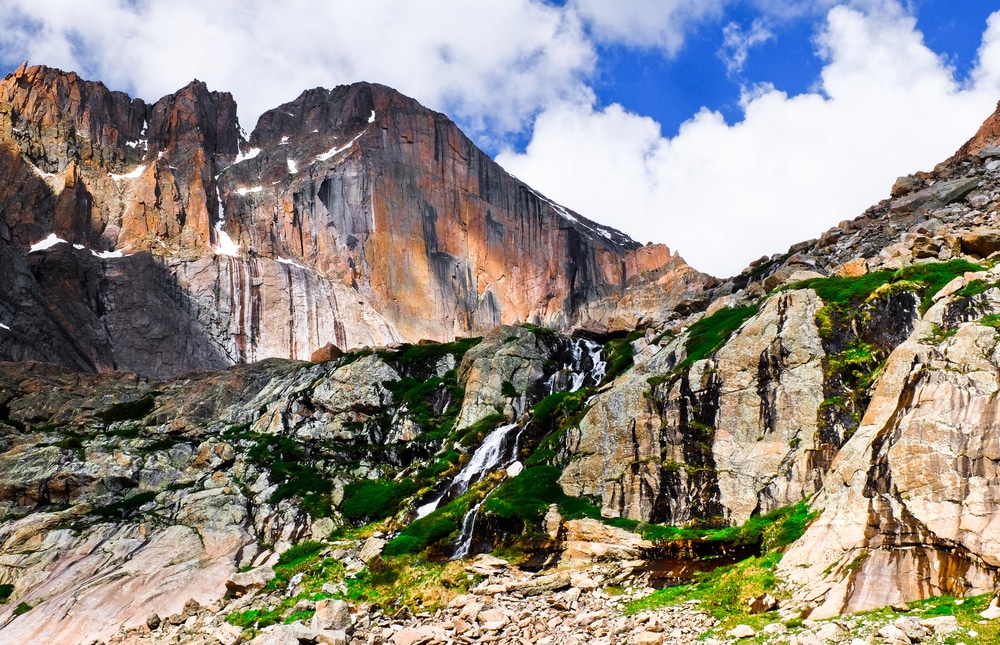 Longs Peak
Length: 15 mile
Time: 10-12+ Hours
Difficulty: Very Difficult
Last but definitely not least in this Rocky Mountain National Park hiking guide is one of the most challenging hikes in the park. Longs Peak is the highest summit in the park, towering over the other RMNP trails at 14,259 feet high.
Longs Peak is one of the very best day hikes in Rocky Mountain National Park for the ultimate adventurer and nature lover.
This trail takes about 12 hours to compete on average and only has about a 50% completion rate. The rest retreat back down the peak, hoping to complete it another day. The trick is to get an early start at around 3 am to complete your hike around noon.
It's also important to remember that you need to pace yourself. Overall, there is a 5,000 feet elevation gain throughout the hike, so altitude sickness is a real threat.
The trail starts relatively simply in a forest at Longs Peak road and starts moving on the track for Chasm Lake. At Boulder Field, you'll have to start boulder hopping before reaching the really strenuous parts of the trek– the Keyhole Route.
Keyhole Route has a series of large cliffs with slippery, steep, and loose stones all around. This requires a bit of experienced scrambling from hikers. Once on top of the summit, remember to enjoy the breathtaking views and relish in your hard work. It is also essential to constantly refuel along the way, but the summit's top offers the best picnic views.
If you're looking for an unmissable thing to scratch off your Rocky Mountain National Park bucket list, this is that thing.
Best Rocky Mountain National Park Hikes: Practical Tips
Bear safety is key. They are very curious creatures and might be sneaking around campgrounds for a snack. Therefore it's best not to leave any food in your tent or vehicle and to dispose of garbage in bear-resistant trash bins. Thankfully, there are no grizzly bears in the park – only black bears. If a black bear approaches you, do not run. Instead, try to take up as much space by waving your arms and trying to make as much noise as possible by shouting. It is also good to come prepared with a bear horn.
Whether you're going on difficult or easy hikes in Rocky Mountain National Park, it is essential to prepare for the colder months as it is often still covered in snow until early June. For starters, these snowshoes and hiking socks will keep your feet warm and dry during these months.
Rocky Mountain Hiking Trails: Discover More Colorado Guides