From the rolling dune fields of White Sands National Park to the cultural heritage of Taos Pueblo, add these New Mexico landmarks to your itinerary.
Guys, let me tell you, New Mexico has some of the most extraordinary landmarks in the USA.
I'll be honest, I didn't quite know what to expect from NM prior to my first visit, but having recently returned from yet another trip, I can tell you that visiting these sites should definitely be on your US bucket list.
From admiring the stunning architecture of the New Mexico State Capitol buildings to wandering through the ancient cliff dwellings of Bandelier National Monument, New Mexico has plenty to offer.
A blend of old and new, traditional and modern, natural and manmade, and the downright quirky, awaits. So what are you waiting for? Let's explore New Mexico.
Famous Landmarks in New Mexico
White Sands National Park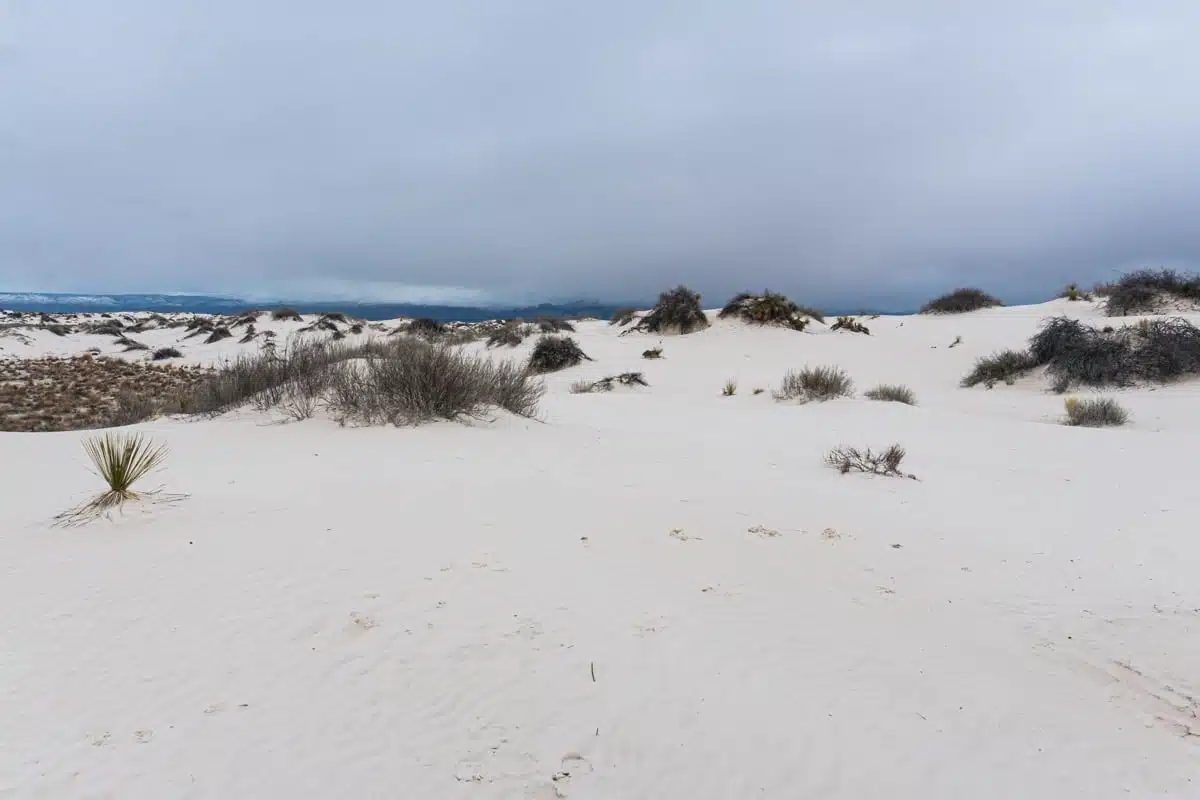 I guarantee you'll fall in love with the minimal aesthetic of White Sands National Park. This striking park centres around the brilliant-white dunes, creating an otherworldly landscape.
The sands here are gypsum rather than silica, which is pretty rare (and it's what gives them their distinct white colour).The gypsum dunes span a 275 square mile desert space between the San Andres and Sacramento Mountains in the Tularosa Basin.
Fascinatingly enough, it's the world's largest gypsum dune field – the dunes themselves can reach up to 60 feet high.
You can enjoy this park by walking, hiking, sledging down dunes and going on dune drives. But you need to stay to witness the sunset – you can experience this park to its fullest potential all in one day.
Carlsbad Caverns National Park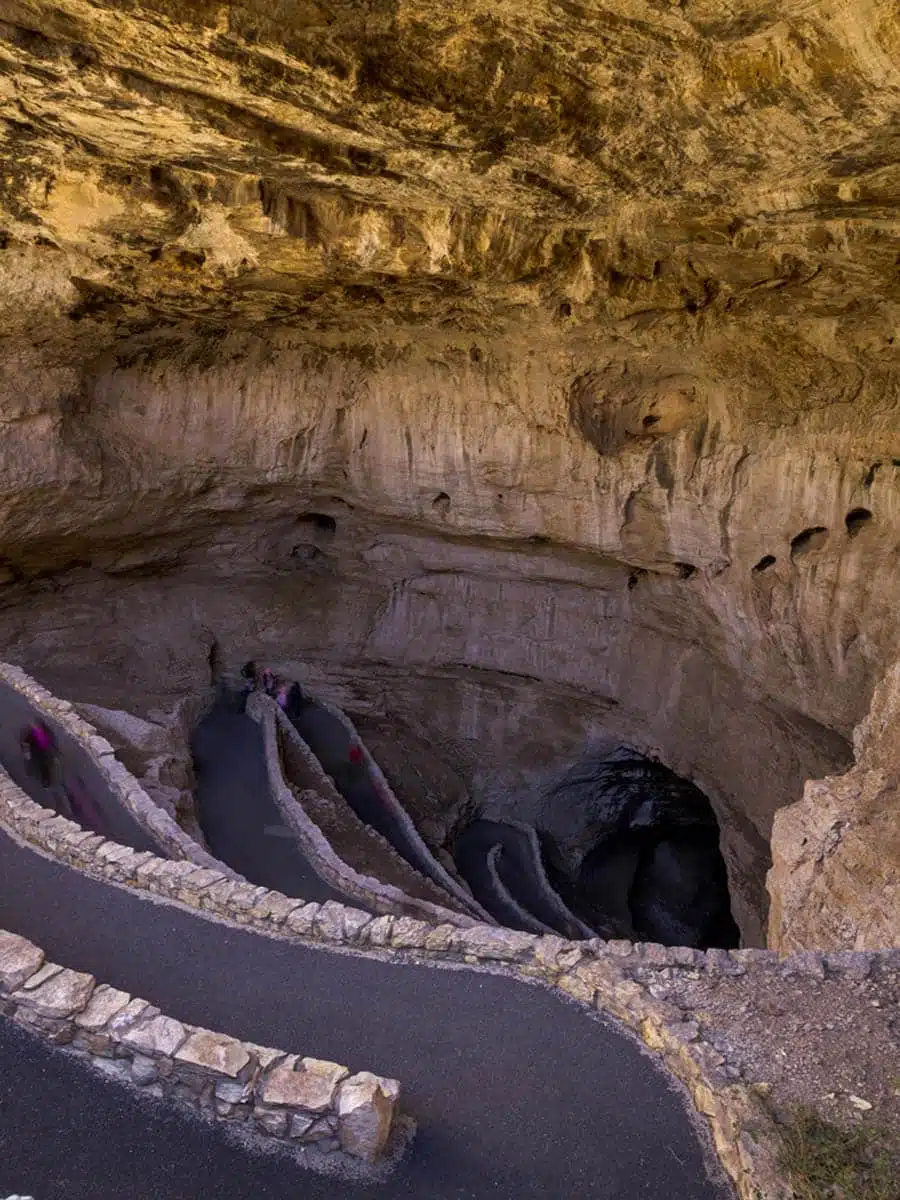 The first stop on your epic New Mexico adventure needs to be the Carlsbad Caverns National Park.
Why? The Carlsbad Caverns are in the Guadalupe Mountains and are home to over 80 intertwined caves and chambers. Not just that, but this UNESCO site spans 73 miles of a biodiverse and remarkable natural environment.
Despite the entire site being hella impressive, I'd say that a hallmark of this park would have to be "the Big Room". This underground limestone chamber is one of the largest ever discovered in the system of caves – it's enormous, with breathtaking arches in the stone above you.
Meow Wolf (House of Eternal Return)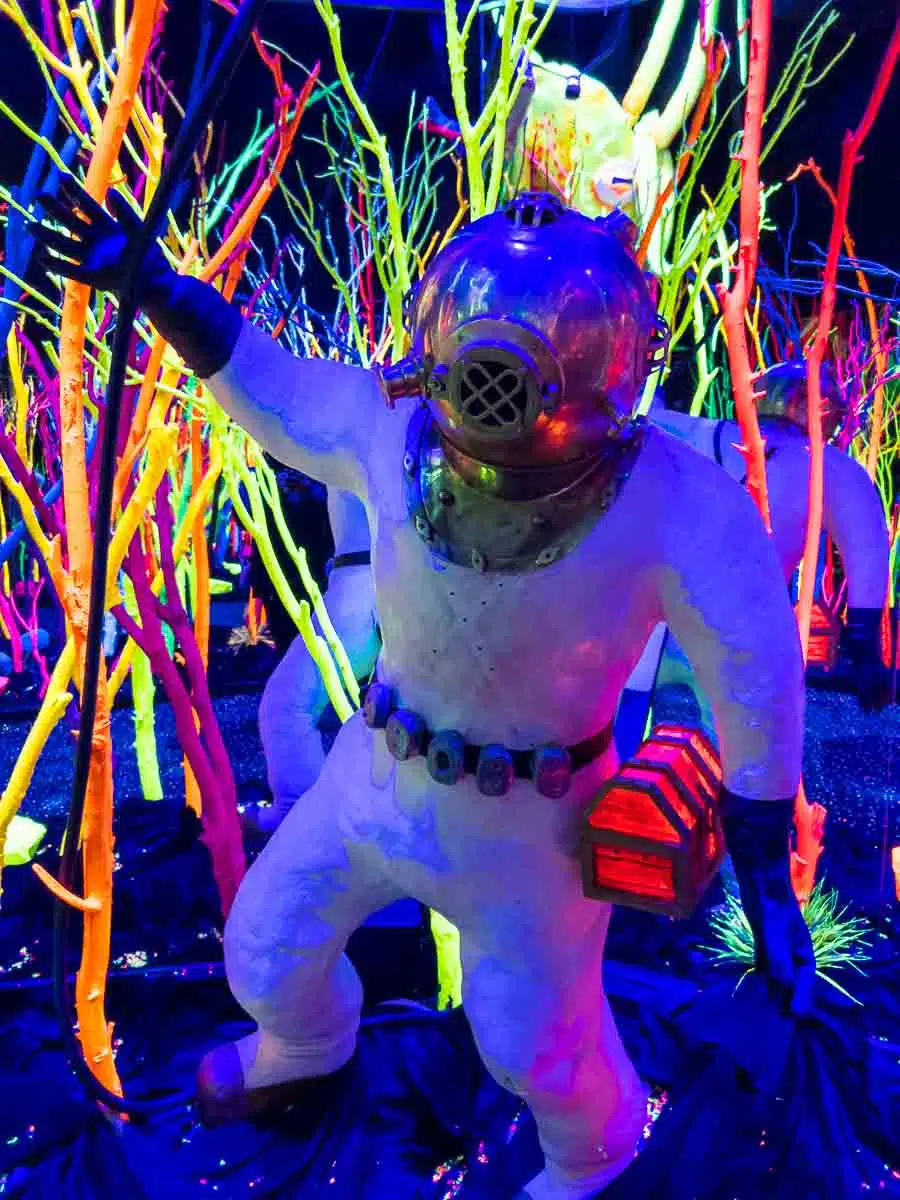 Next up: one of the coolest NM landmarks. Meow Wolf in Santa Fe is the original (and still the best) with plenty of eclectic artworks on display. So, the pricey entrance fee of $35 is definitely worth it.
With over 70 different rooms of immersive art exhibits, this place will constantly excite you with surprises around each corner. One moment you're sliding through a tunnel behind a washing-machine door and, the next, stepping into a portal through an innocuous-looking fridge.
However, don't underestimate how popular this place is. Remember to book your tickets online in advance so you can get ahead of the crowds, especially if you're planning on going during the weekend.
Petroglyph National Monument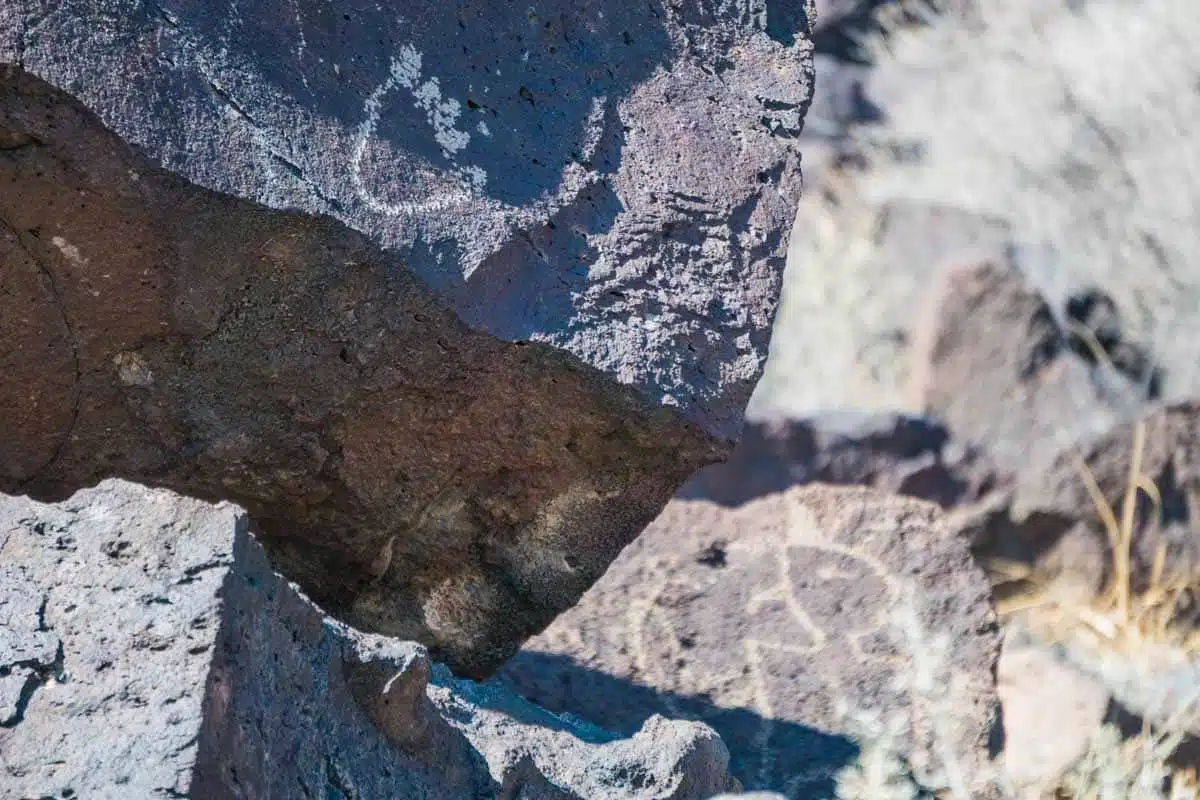 The Petroglyph National Monument is another must-see in New Mexico and is truly a sight to behold.
Being one of the largest petroglyph sites in North America, it features historical and cultural evidence like no other place. Here you can look at more than 25,000 Native American and Spanish settler markings from around 700 years ago.
I'll give you a solid piece of advice – decide which trail you want to travel down at the visitor's centre, and then drive to the specific parking lot, as the trails are pretty far apart.
One of the more popular hikes is the Rinconada Canyon trail, a 2.2-mile trail that contains over 300 petroglyphs for you to look at – this is the one I recommend.
Sandia Peak Tramway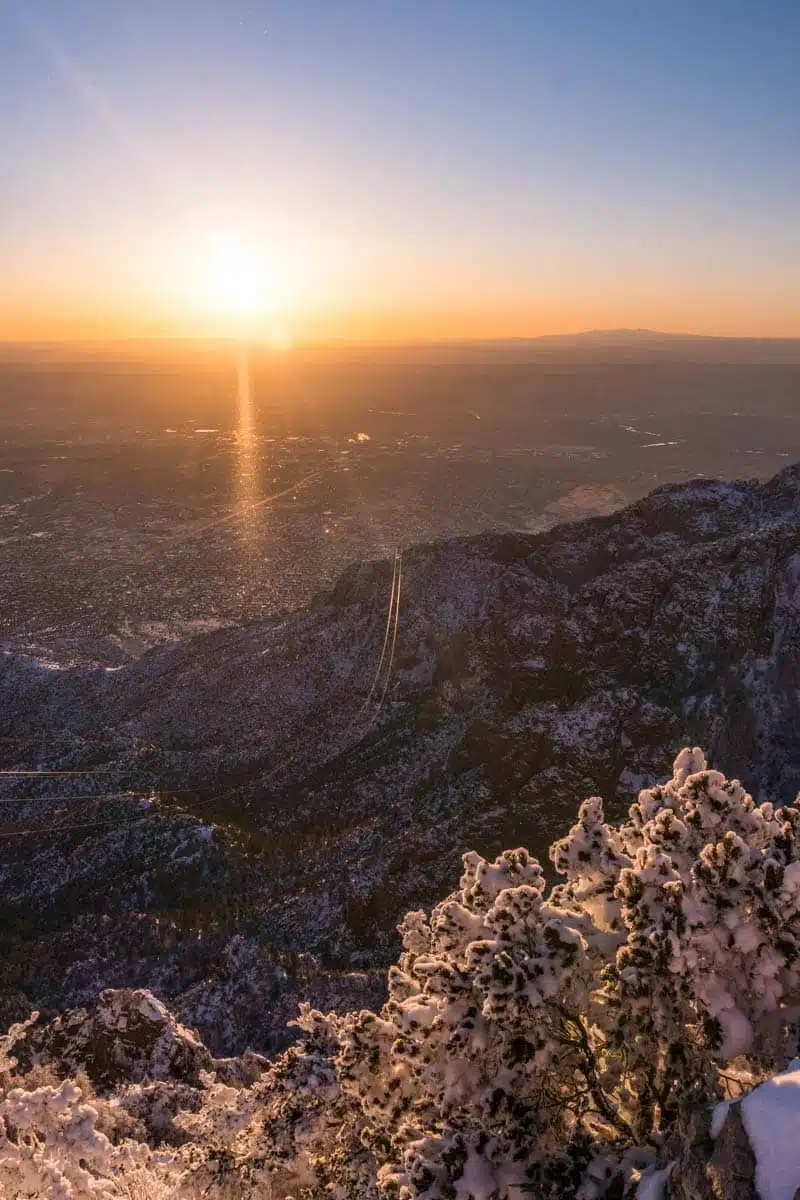 Sandia Peak Tramway was a highlight of my recent trip to NM. Initially, I was unsure if Sandia Peak Tramway would be worth the money, but now I can confirm that this is a place to visit when you're in town.
This tramway will take you to a peak in the Sandia Mountains, where you can enjoy incredible views. The panoramic views also allow you to see the Cibola National Forest and the Rio Grande Valley.
Fair warning: when I visited in February, the top of the mountain was snowy and freezing cold. On the plus side, though, the views of this winter wonderland were absolutely stunning.
That said, during the warmer months, you can hike to the top of the mountain or even hike back down.
You also shouldn't forget to book your spot at the restaurant at the top for some food and drinks. They accept walk-ins, but you might have to wait a while.
Bandelier National Monument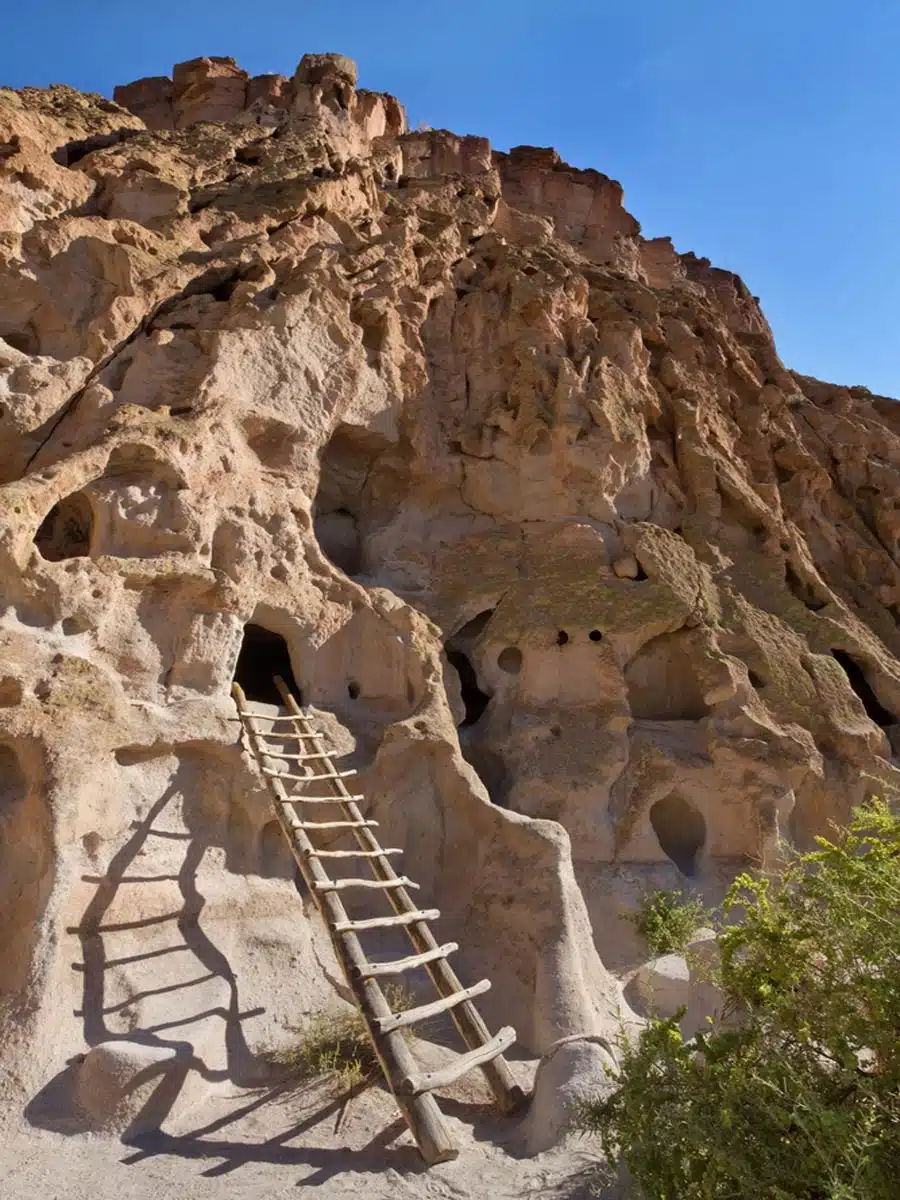 Next up: the Bandelier National Monument. This New Mexico landmark sits in the Pajarito Plateau and spans a 53 square mile area named after a Swiss American archaeologist, Adolph Bandelier.
When looking at the rock cliffs and masonry villages, the impressive history of the Ancestral Puebloan people who occupied the area thousands of years ago is evident throughout.
To experience this breathtaking New Mexico landmark to its fullest, I recommend using the various hiking trails across the Bandelier wilderness. The Pueblo Loop is arguably the most famous – and for good reason. It treats you to expansive views of the rugged landscape below.
Very Large Array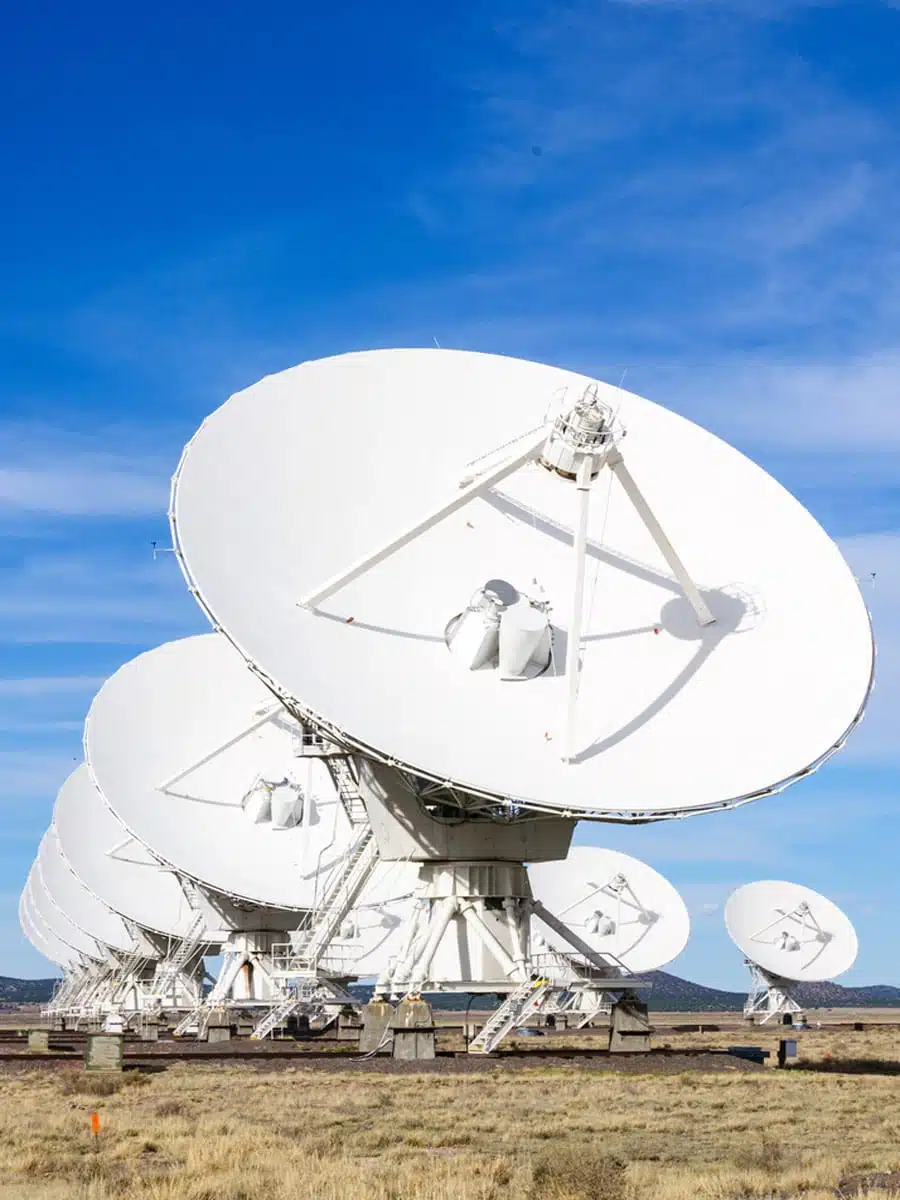 This list has several natural spaces and sites, but let's not forget the impressive manufactured landmarks ready for you to visit. The (very absurd) Very Large Array is one of those places.
This radio telescope facility is 50 miles west of Socorro and is the world's most powerful radio telescope. The sheer size of these radio dishes was enough to impress me. Each of the 27 dishes will tower above you at a staggering height and 82-foot diameter.
The dishes all work together to map activity from black holes and other astronomical things in space, including the search for extraterrestrial life. Even if you're an alien-sceptic, you'll still find yourself gravitating toward this unbelievable site.
Four Corners Monument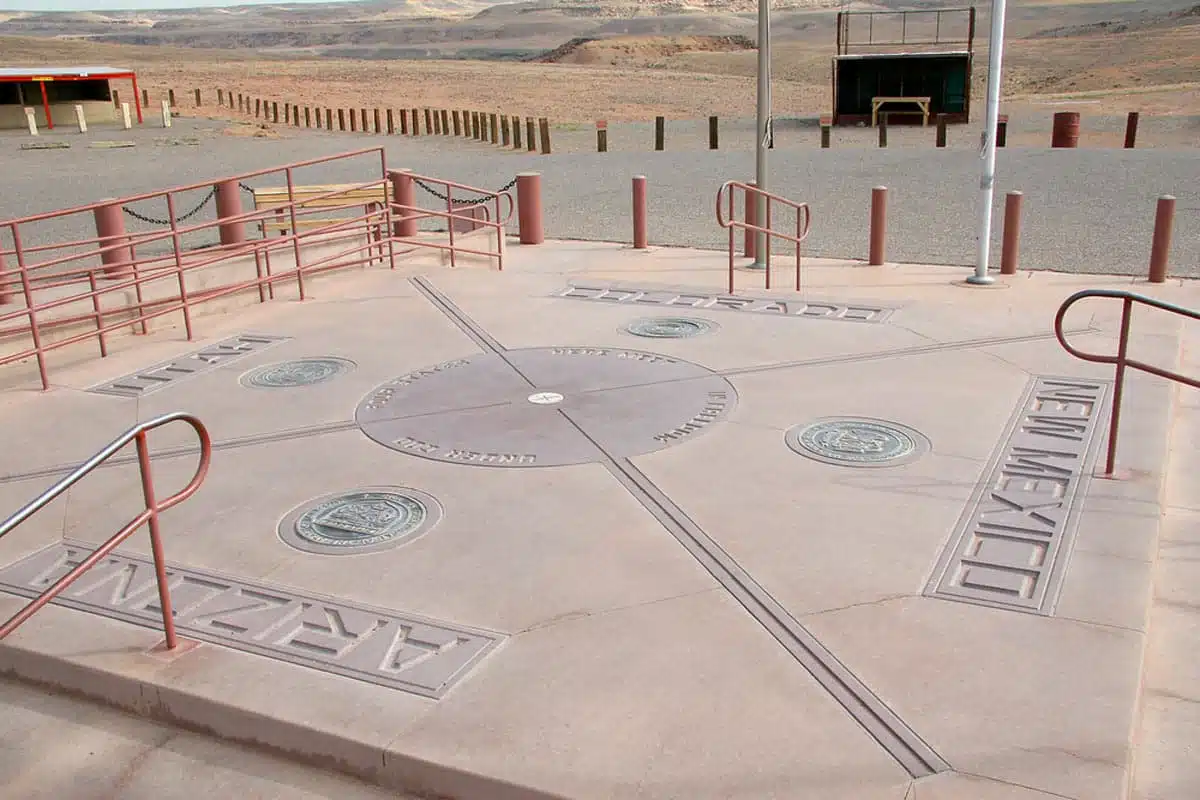 Now, this is a real treat. Out of all of the landmarks in NM, the Four Corners Monument is the only one that lets you tell people you were in four states simultaneously. New Mexico, Arizona, Colorado, and Utah all meet up at the point where this monument sits.
This location is a must-visit during your New Mexico road trip. There is also a small market that sells crafts and artisan goods representative of the Native American groups in the area. Let's not forget the fantastic photo opportunity!
You should consider visiting at night to look up at the stars. Imagine stargazing in Arizona, New Mexico, Utah, and Colorado all at once — just wow.
New Mexico State Capitol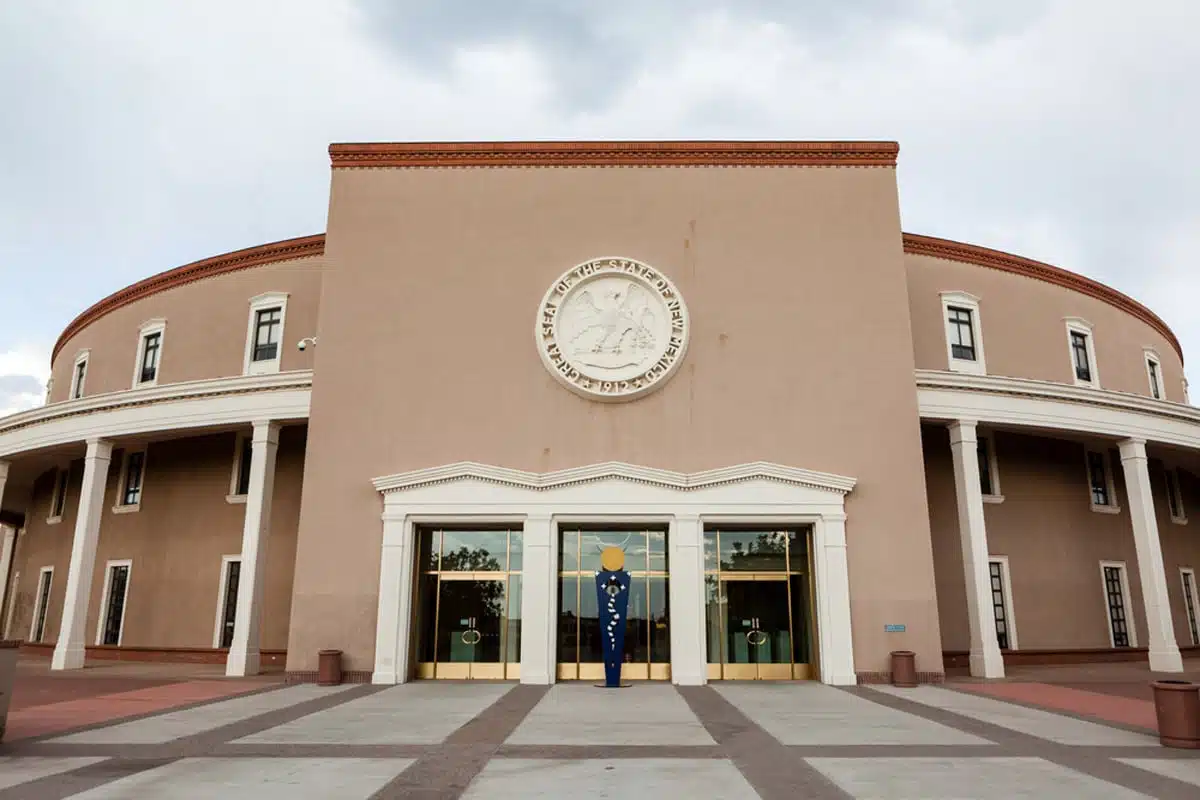 If you're in New Mexico, it's a no-brainer to go and visit the state capitol buildings. The New Mexico State Capitol features some fantastic architecture and artwork, including impressive murals and sculptures by local artists.
I suggest visiting the Roundhouse Café inside the capitol building while you visit to get a tasty treat or something to drink. As a bonus, you can look at some amazing art pieces and collections from the Capitol Art Foundation throughout the building.
Taos Pueblo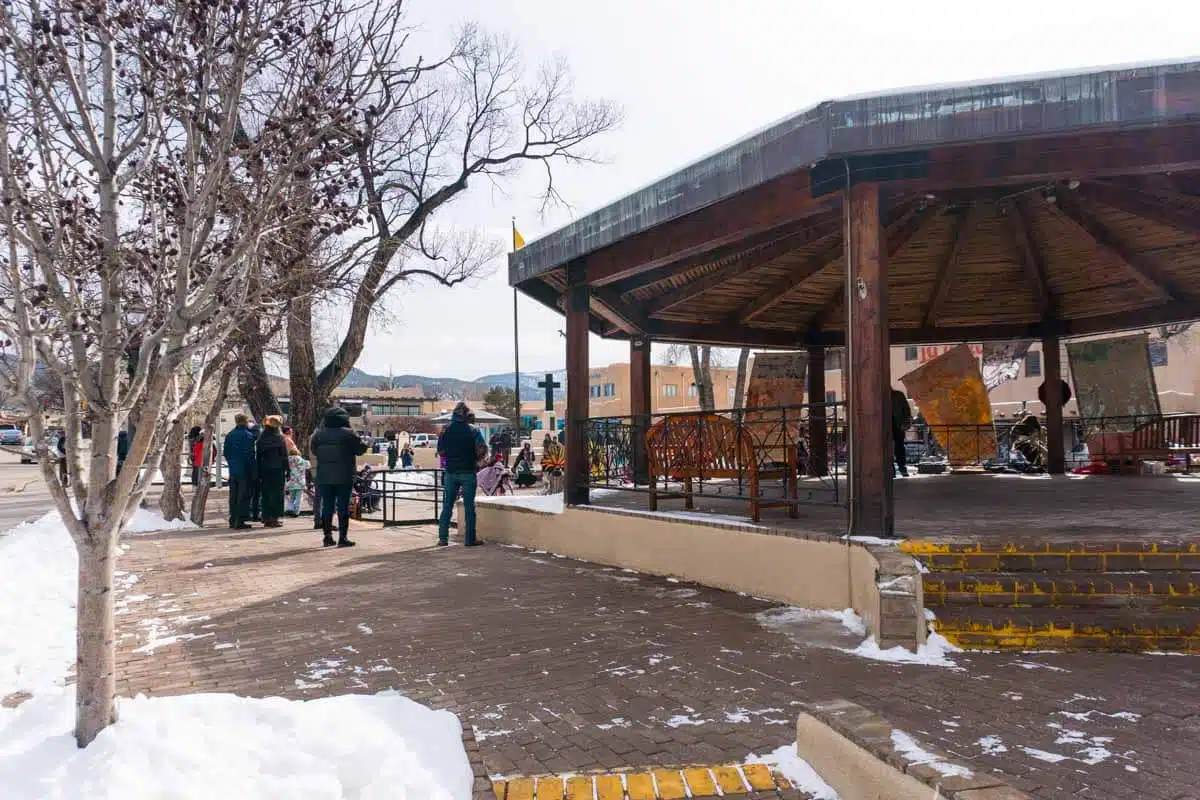 Situated in a small valley within the Rio Grande, this New Mexico landmark is home to various historical buildings that provide a unique cultural showcase. This monument is representative of Puebloan Indian culture and is now a UNESCO World Heritage site and national landmark.
The Pueblo community was one of the initial communities visited by Spanish explorers, and this site is still inhabited by the community today. The landmark has been in use for over 1,000 years, making it one of the oldest continuously inhabited communities in the United States.
Check beforehand for community celebrations to plan which day you visit and avoid missing out on the experience. Community members want to keep these private, so access isn't allowed during these times.
Gila Cliff Dwellings National Monument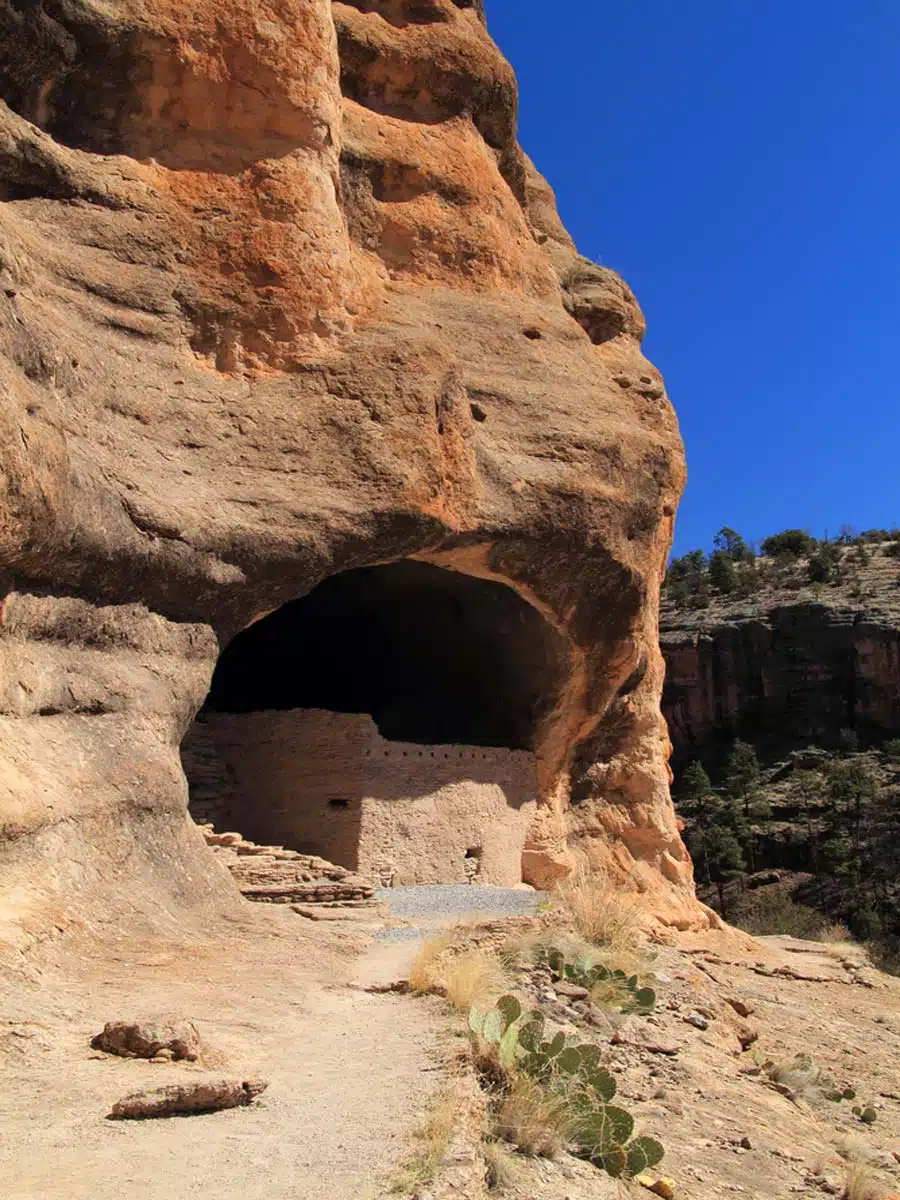 The Gila National Forest surrounds the Gila Cliff Dwellings National Monument. Yet another example of Pueblo settlements, this national monument showcases Mogollon culture dating back centuries.
The Mogollon people had built their homes in caves within the mountainside and lived off the surrounding area alongside the river. When you visit this impressive place, you will find at least 42 different rooms built into these caves, with each dwelling's original architecture remaining intact.
This was another highlight of my trip – I was captivated by the area's history and indigenous culture.
Palace of the Governors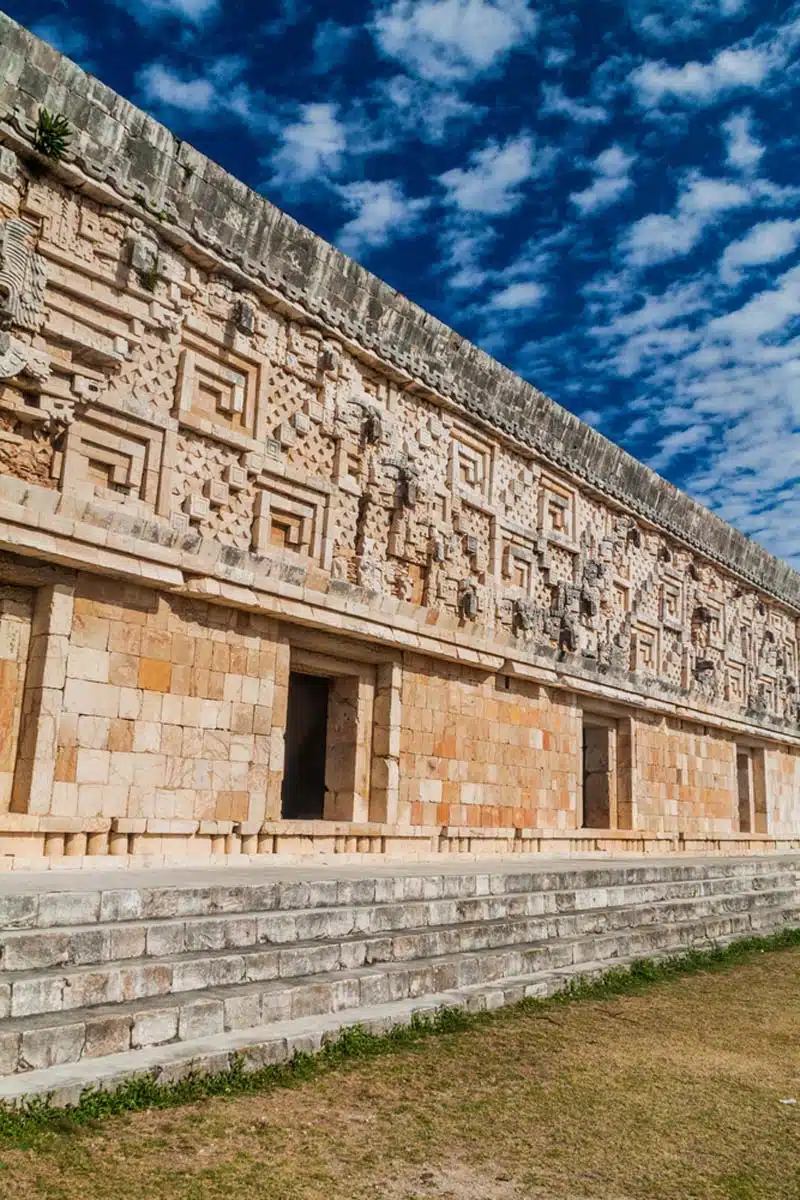 Another landmark found just north of the Santa Fe Plaza is the Palace of the Governors. Interestingly enough, it's one of the United States' oldest continuously occupied public buildings.
Dating back to 1610, this building is now the designated housing spot for the Museum of New Mexico. The Palace of the Governors was once the location of the government seat during the Spanish Colonial, Mexican, and American rule.
The different occupancy phases of this building make for a rich history that you should learn about. It was even designated as a National Historical Landmark in 1960.
When you visit, you can shop for Native American crafts from the selection of sales and artisans outside the palace.
Capulin Volcano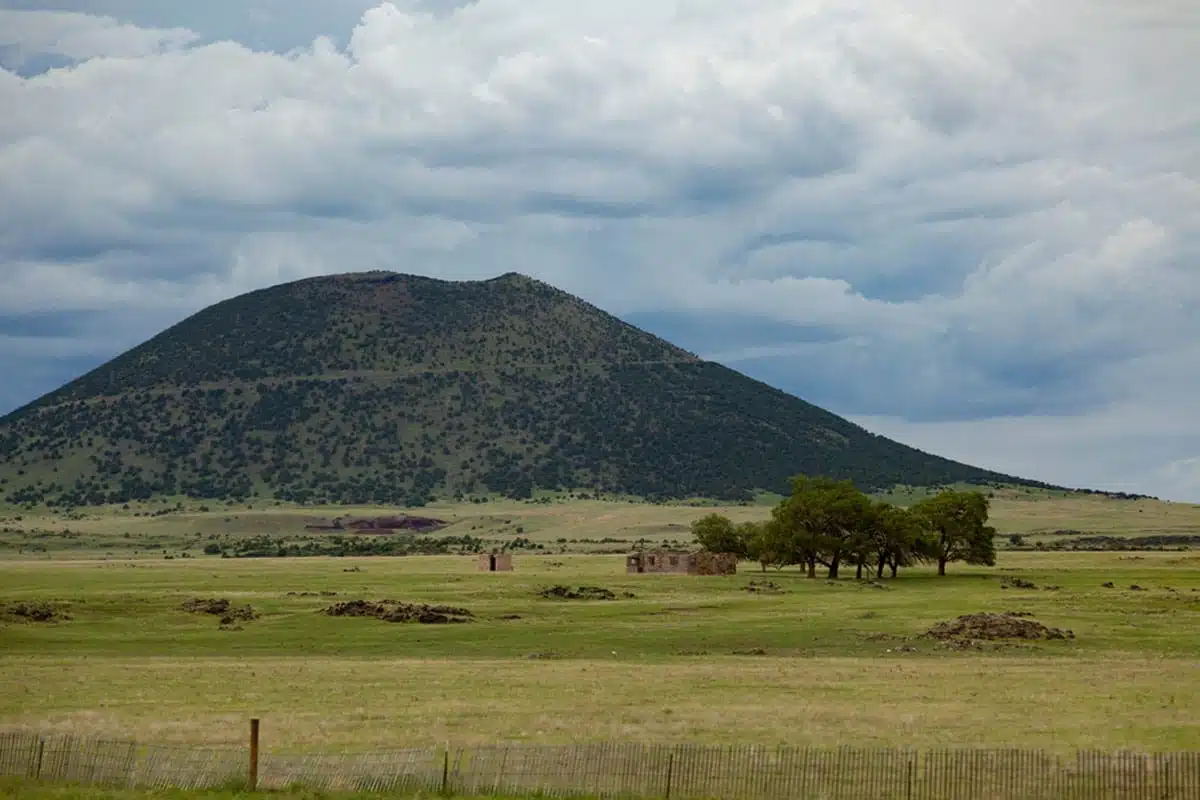 The Capulin Volcano is a non-active volcano within the Raton-Clayton volcanic field, which spans 8,000 square miles. The last eruption of this volcano was around 56,000 years ago, but this mountain still reaches a staggering 8,182 feet above sea level.
The mountain is now covered in several varieties of juniper and pine trees and vegetation. One thing is for sure — the Capulin Volcano is a marvel of Nature and her creations. And the gorgeous view of this famous landmark in New Mexico will engross anyone.
Rio Grande Gorge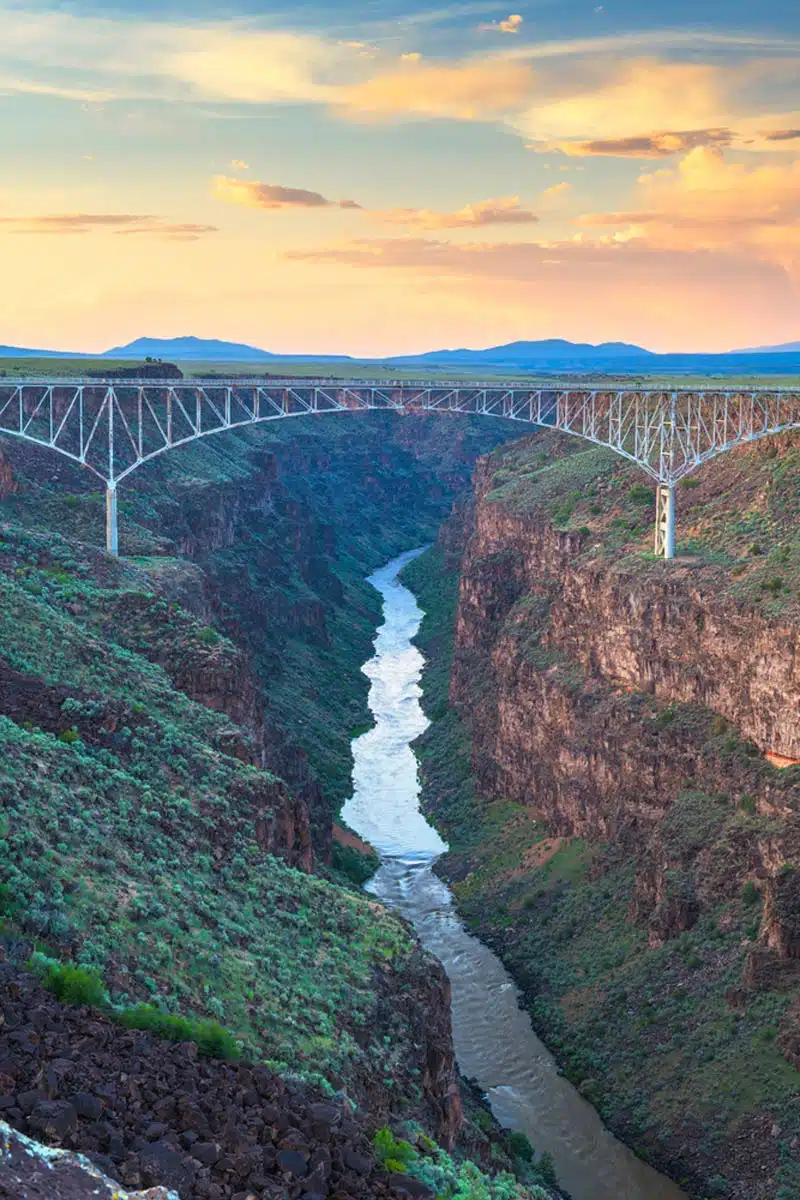 The Rio Grande Gorge is a vast valley with a river running through the centre, which spans more than 160,000 square miles.
Throughout the stone sides of the valley, you'll find evidence of petroglyphs and ancient rock art that adorn this valley.
Oh, and the Rio Grande Gorge bridge is a must-see if you visit this location. This bridge is a remarkable feat of architecture and hovers over 650 feet above the gorge, letting you take in some fantastic views of the valley below (and snap some cool AF pics).
Blue Hole
Another impressive natural landmark in NM is the Blue Hole. And, wow. I can't express enough how stunning the Santa Rosa Blue Hole is — it's almost magical.
The Blue Hole is a cenote that forms one of many in a system of seven interconnected bodies of water. The true marvel of this place is the sheer stark difference to the red mesa surroundings.
The crystal clear waters of this landmark are stunning, so it's no wonder that locals still look after this location so well. Blue Hole lake is a fantastic place for divers, but you can get an equally worthwhile experience while swimming here on a hot summer's day.
Or, if like me, you visit in winter, settle for a peek from the sidelines.
Aztec Ruins National Monument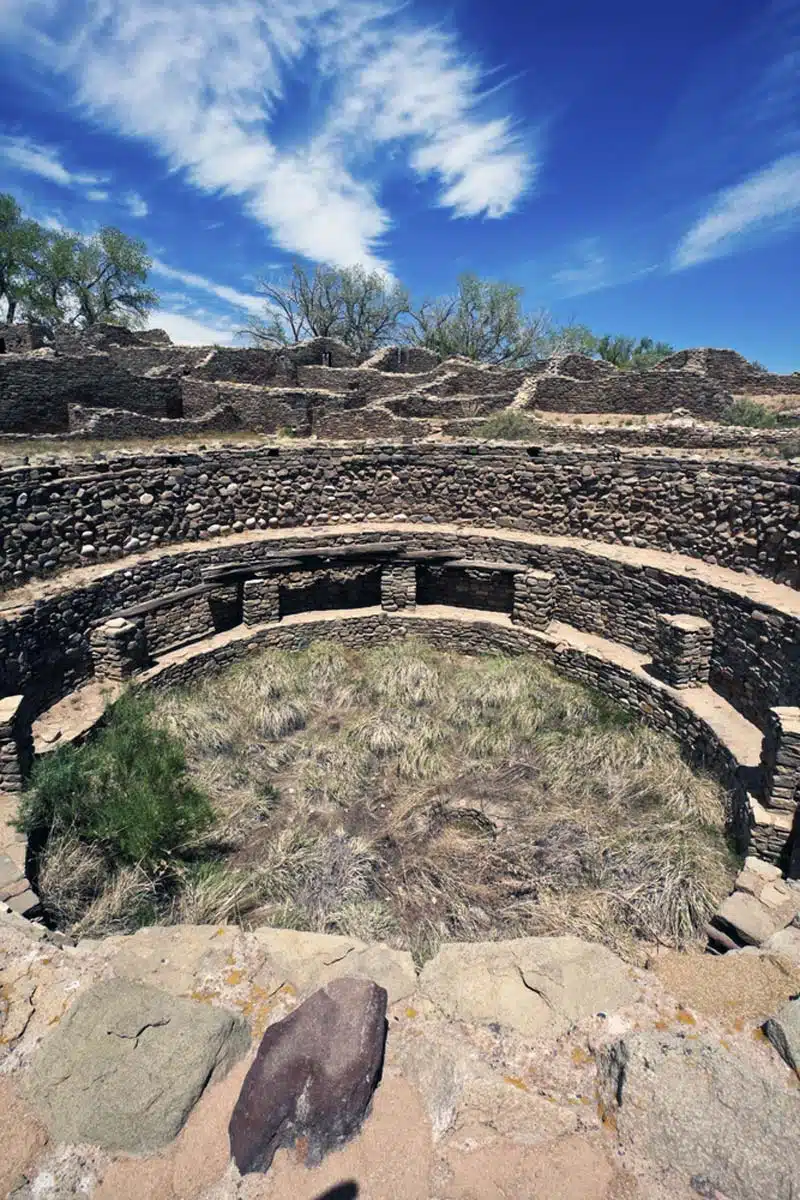 The Aztec Ruins are one of the most impressive historical landmarks in New Mexico. These 900-year-old ruins were a great house of the Pueblo people, formally known as the Anasazi. The ruins have evidence of the typical Puebloan sandstone and mud dwelling style.
The Aztec Ruins are near the Animas River and are now a UNESCO World Heritage Site, reaching two miles long and one mile wide. Several great and small houses adorn the ruins, and some artefacts are on show.
When you visit, savour the sights along the short trail while walking through these ancient ruins.
Georgia O'Keeffe Museum
There are plenty of museums in New Mexico, but not all are created equal. One you shouldn't skip is the Georgia O'Keeffe Museum, in Downtown Santa Fe.
In case the name didn't give it away, the museum is a dedication to the life and work of the famous artist Georgia O'Keeffe. Visually, it's stunning – featuring a combination of Native American and Spanish settler architecture.
The beautiful artwork here represents the wilderness and the world's wonder through Georgia's eyes. The gorgeous floral paintings and depictions of nature are wondrous and some of the most lovely artwork I've seen.
Chaco Culture National Historical Park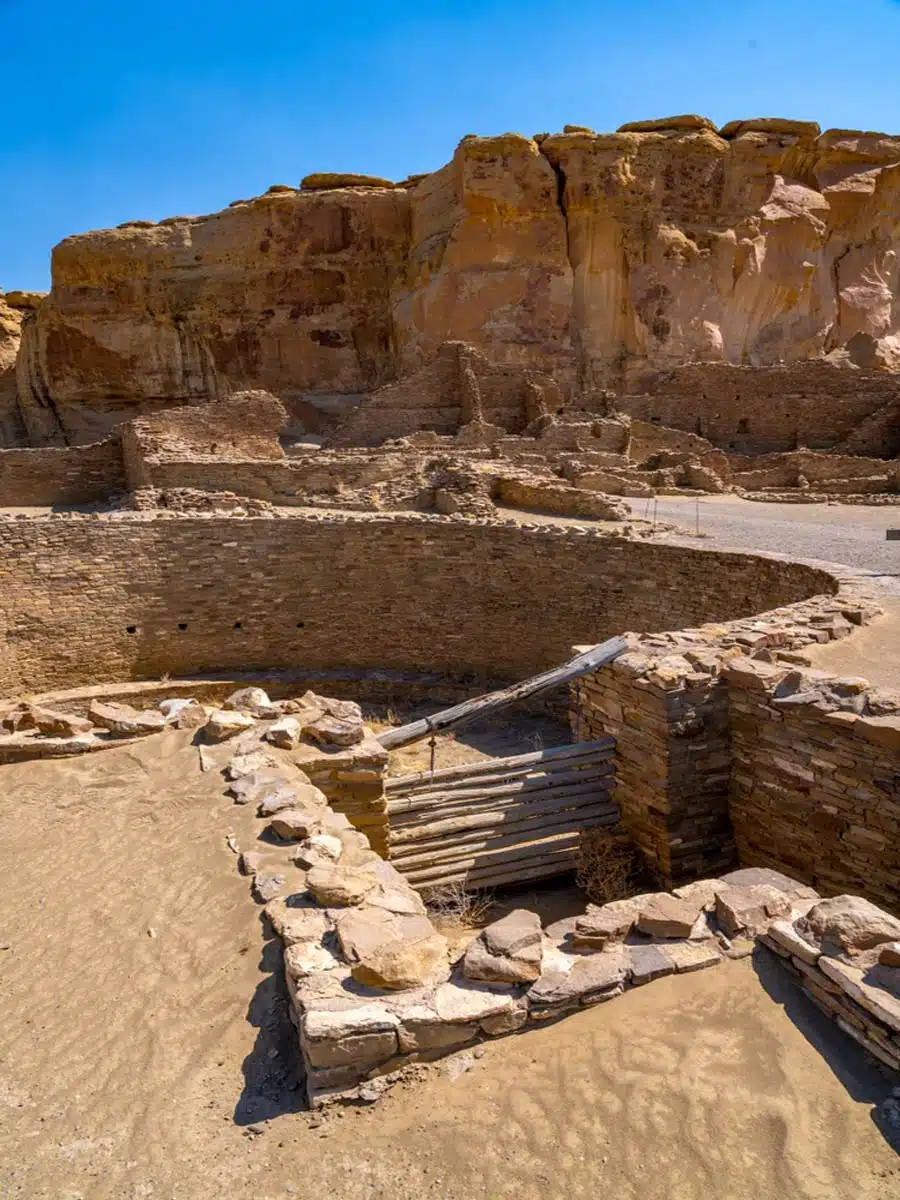 The sizable Chaco Culture National Historical Park is typically self-guided and includes six significant sites along its 9-mile width. This park is a UNESCO World Heritage Site as of 1987, and here you can enjoy spectacular views of ancient roads, buildings, stairways and even petroglyphs.
If you are a history buff looking to learn more about Chaco culture, then I definitely recommend this site for an incredible outing and understanding of its history. If you're looking to get even closer to nature, you can enjoy a ranger-led walk along Pueblo Bonito or numerous hiking trails throughout the park.
The Lincoln Historic Site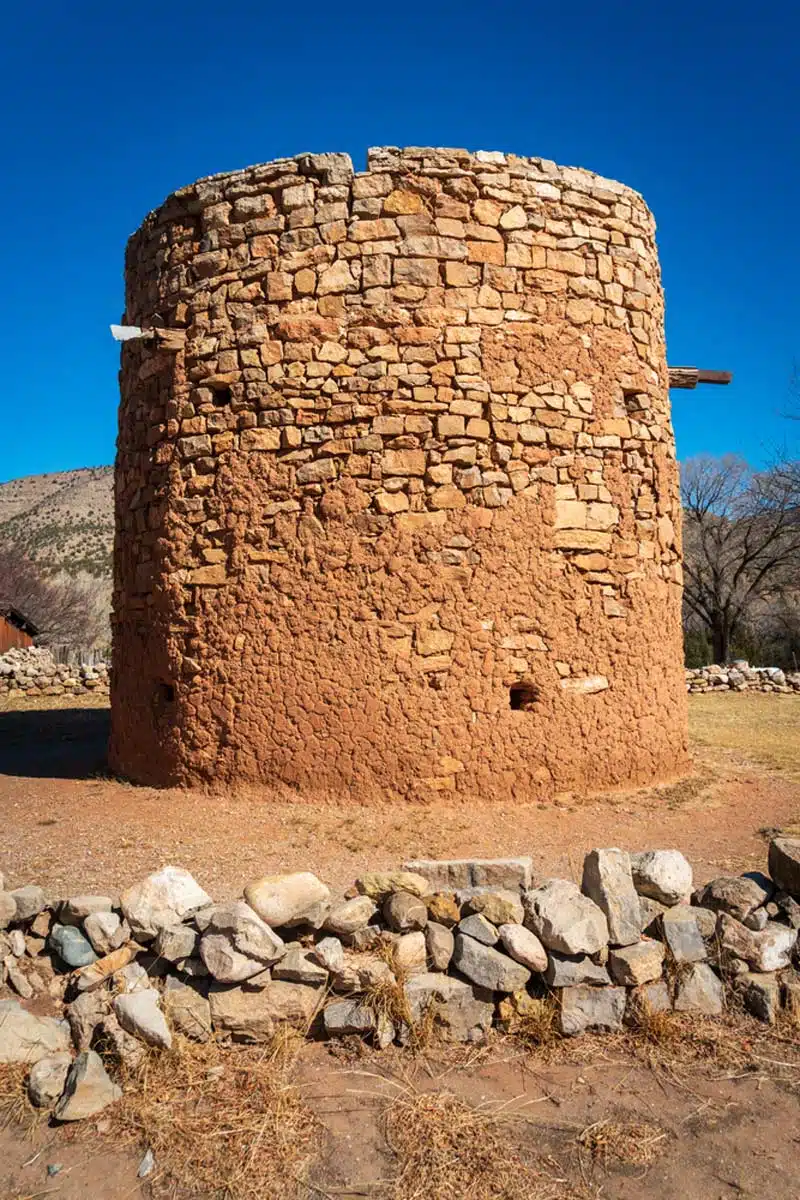 No trip to New Mexico is complete without paying homage to the Wild West – and the Lincoln Historic Site is the perfect place to do just that. It holds a collection of historical buildings dating back to the 1870s and now houses a unique museum experience of old-style architecture.
The town housed one of its most famous characters, Billy the Kid. And, if you've ever watched a Billy the Kid movie, then you'll definitely know why this site is one of the most visited in New Mexico.
And if you haven't… You'll have to visit to find out for yourself.
Shiprock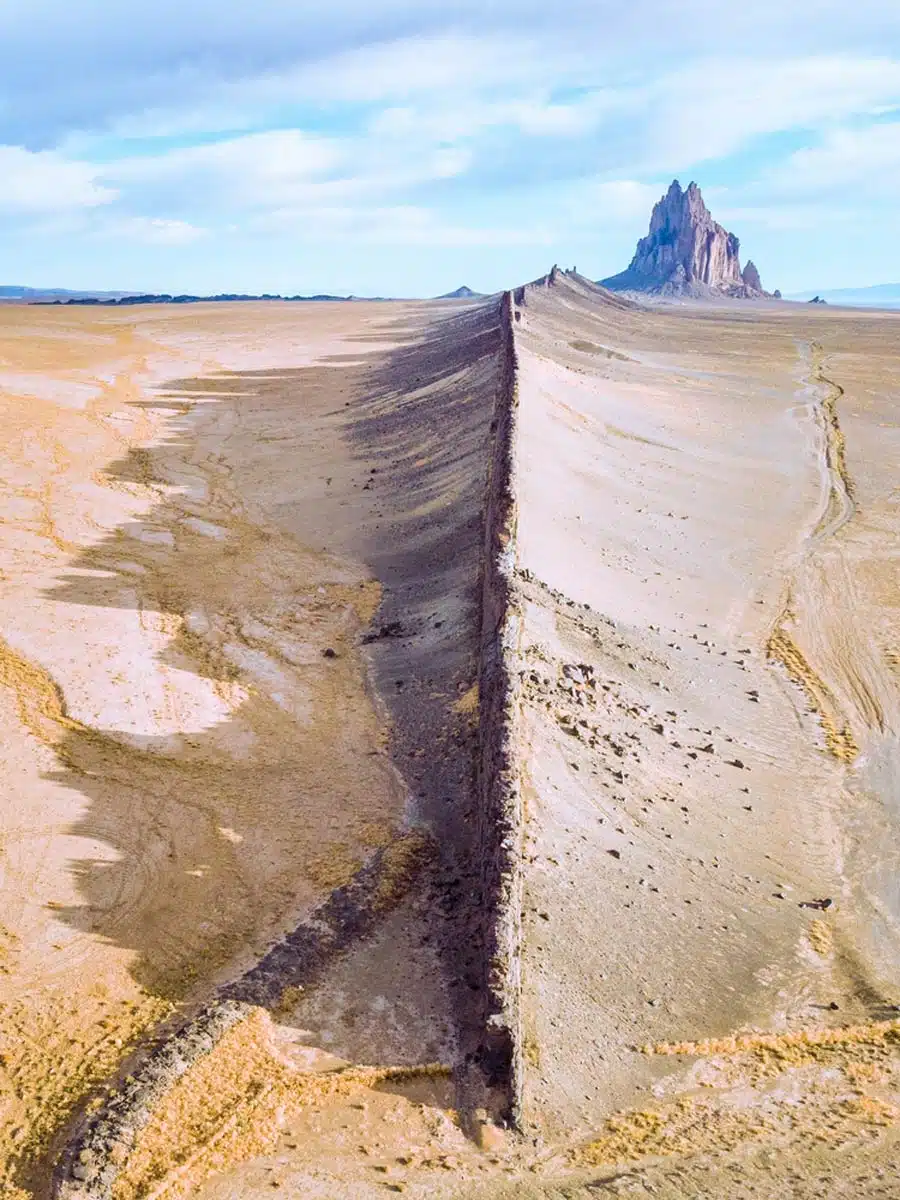 I might have saved the best for last – cue my smug face. Shiprock is undoubtedly one of the most famous landmarks in New Mexico, and for a good reason.
This giant rock formation stands in San Juan county in the northwest of New Mexico and lies on the Navajo Reservation. To say that it's impressive is an understatement; it reaches a colossal 1,583 feet above the ground and is an absolute wonder to behold.
Unfortunately, it isn't possible to hike or climb this monument. Still, the sheer brilliance of this site is enough to keep you captivated while giving you some fantastic insta-worthy photo opportunities.
Practical Tips for Visiting New Mexico Famous Landmarks
I don't want to nag, but look after yourself folks. Always wear sunscreen and a hat — the sun can be brutal during summer. You'll also need to make sure to drink plenty of water.
Purchasing the Great National Parks pass is beneficial if you visit multiple parks (although some of the National Monuments like Petroglyph are free of charge).
Foodies, gather around. NM is famous for its red and green chilli, so if you're into spicy food, you're in luck. The food in New Mexico is some of my favourite in the States; it's hearty and delicious.
New Mexico Landmarks: Read Next
Like this post? Save and share on Pinterest