Whether you want to hike, eat or maybe even spot an alien or two, here's how to plan the ultimate New Mexico road trip itinerary.
Get in, friends. We're heading on a New Mexico road trip!
There's nowhere quite as perfect for an old-American style road trip than New Mexico. Seriously, stunning scenic drives are connected by charming little towns where you can experience Native American and Southwestern culture.
Add friendly locals and an incredible food scene to the mix, and you have a banging road trip.
If you're up for the adventure, I've got all the deets for you. I'm talking packing tips, must-see spots and everything in between.
Excited to experience the Enchanted Land? Let's jump in – hold onto your horses.
Psst: You can't go anywhere without these road trip essentials
Handy Tips for Planning Your New Mexico Road Trip
What to Pack for New Mexico Road Trips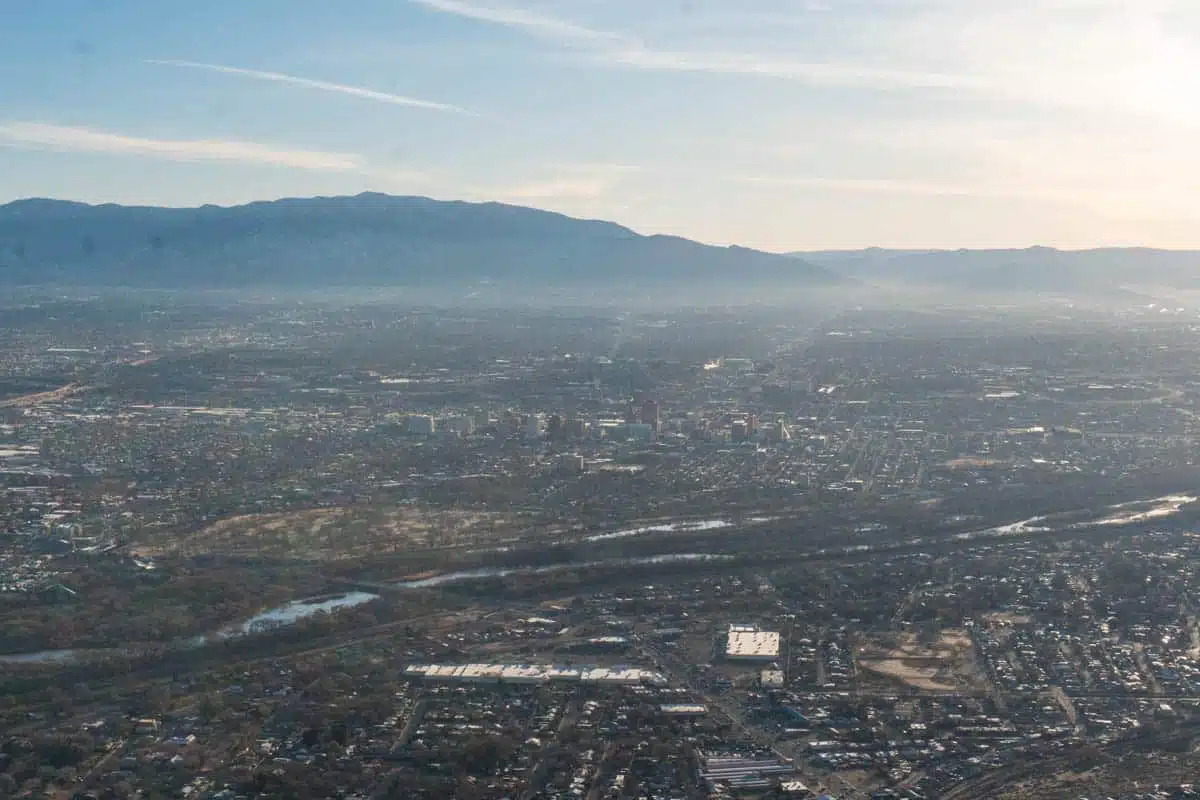 New Mexico is not your average road trip destination. It might be epic, but the drives are long between stops, and the seasons don't always follow the rules. So, you have to prepare well.
Here are a few things you should pack:
A high-quality reusable water bottle to stay hydrated on the go.
Sturdy pair of walking shoes for exploring and hiking trainers for those rugged terrains.
Protective eyewear, a wide-brimmed hat and high SPF sunblock.
A camera to capture all the gorgeous scenery and landscapes.
Handy Resources for Road Trips in New Mexico
Some things just make life much easier. These helpful resources won't let you down.
Booking.com: An online travel agency boasting many excellent hotels worldwide.
Get Your Guide: An online travel agency for exciting guided tours and excursions.
Getting Around on Your Road Trip to New Mexico
What's a road trip without a car? Here are some excellent car rental agencies to consider:
I advise you to shop around, as prices do differ.
7-Day New Mexico Road Trip Itinerary
Day 1: Santa Fe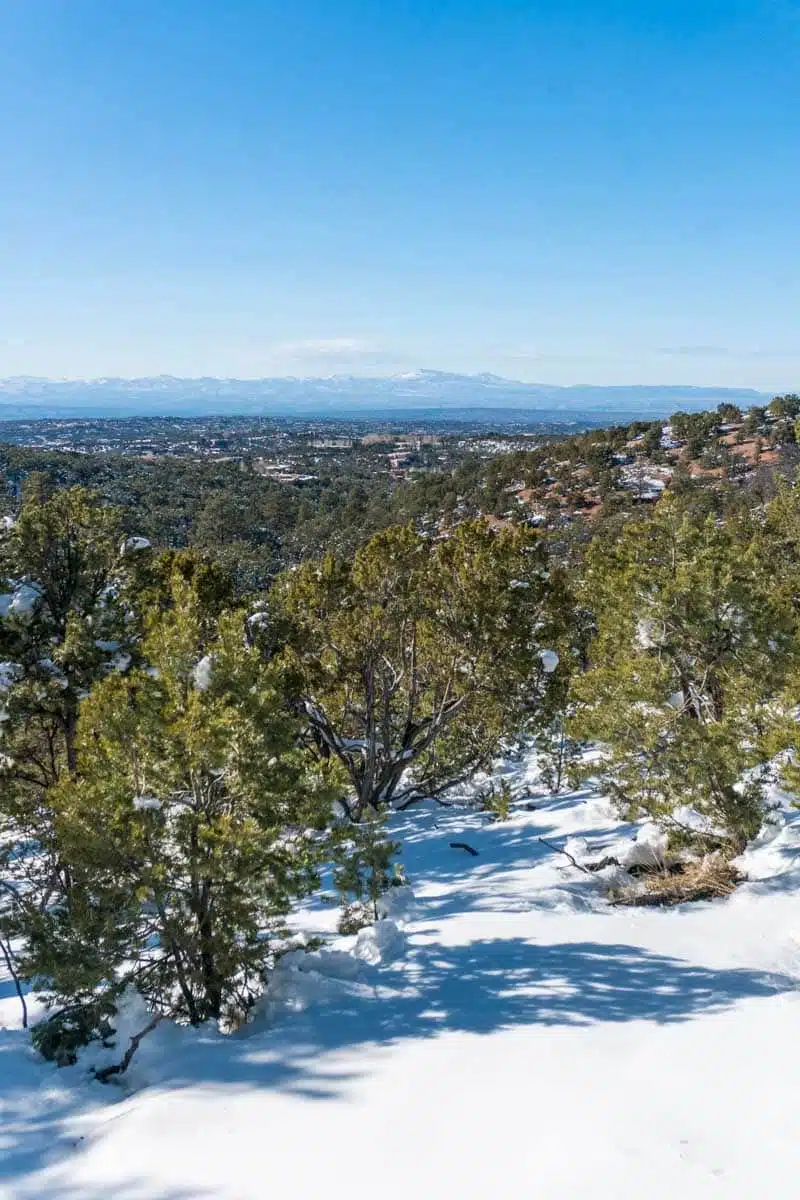 Santa Fe is the best introduction to the vibrant New Mexican lifestyle thanks to its well-curated blend of Native American culture, buzzing art scene and renowned gastronomy.
Perfect for foodie or history lovers, this unconventional yet laid-back city will keep you on your toes.
Things to Do in Santa Fe
Meow Wolf (House of Eternal Return)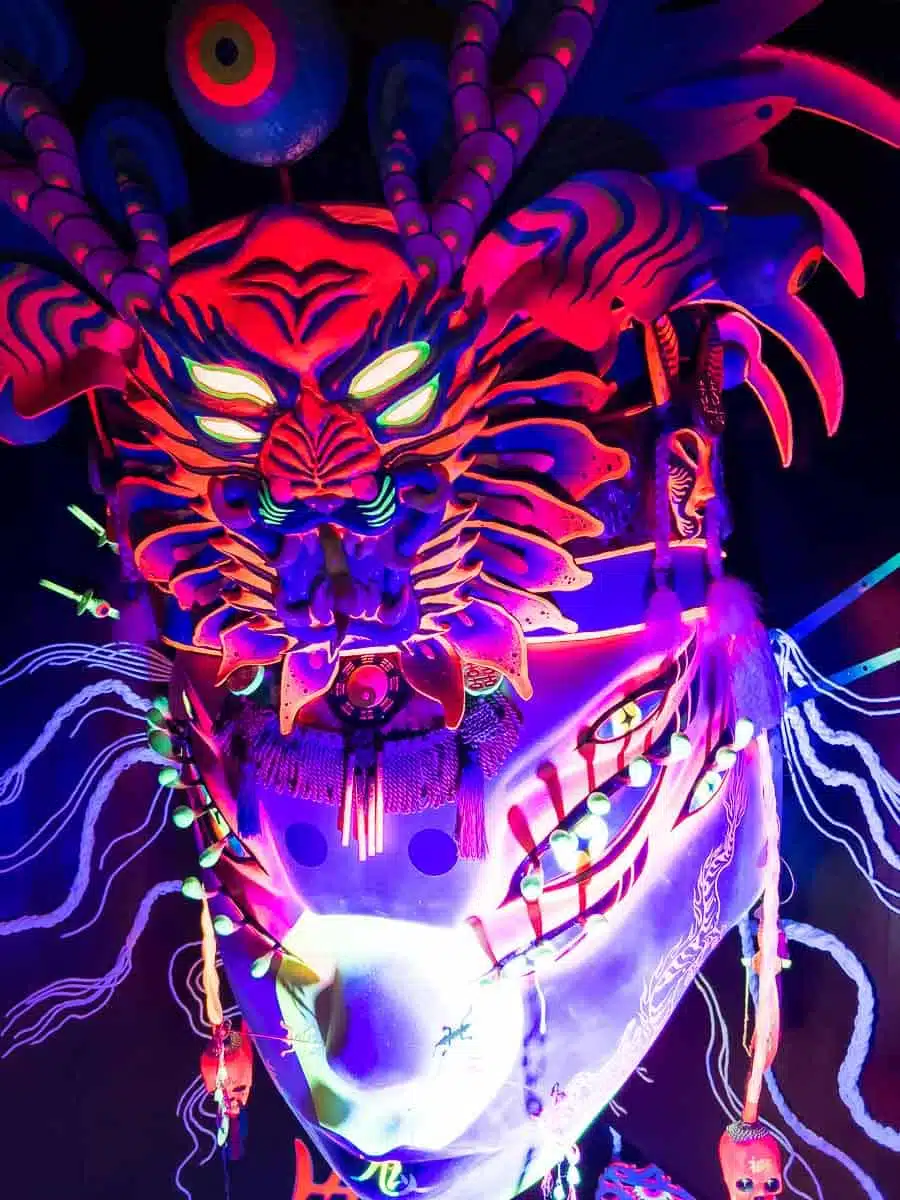 Think art galleries are boring? Think again.
The original location for the fantastical art installations that are now dotted across the US is still the best. Meow Wolf (House of Eternal Return) in Santa Fe is eclectic, bonkers, and certainly not boring.
Yes, entrance is pretty pricey ($35 if booked in advance online) but it's absolutely worth it. I never knew what to expect around each corner – one moment I was sliding through a tunnel behind a washing-machine door, the next, stepping into a portal through an innocuous-looking fridge.
This is immersive art on a grand scale and perfect for adults and children alike. But be warned, it does get busy, so you should definitely book tickets online – particularly if you want to go at the weekend.
New Mexico Museum of Art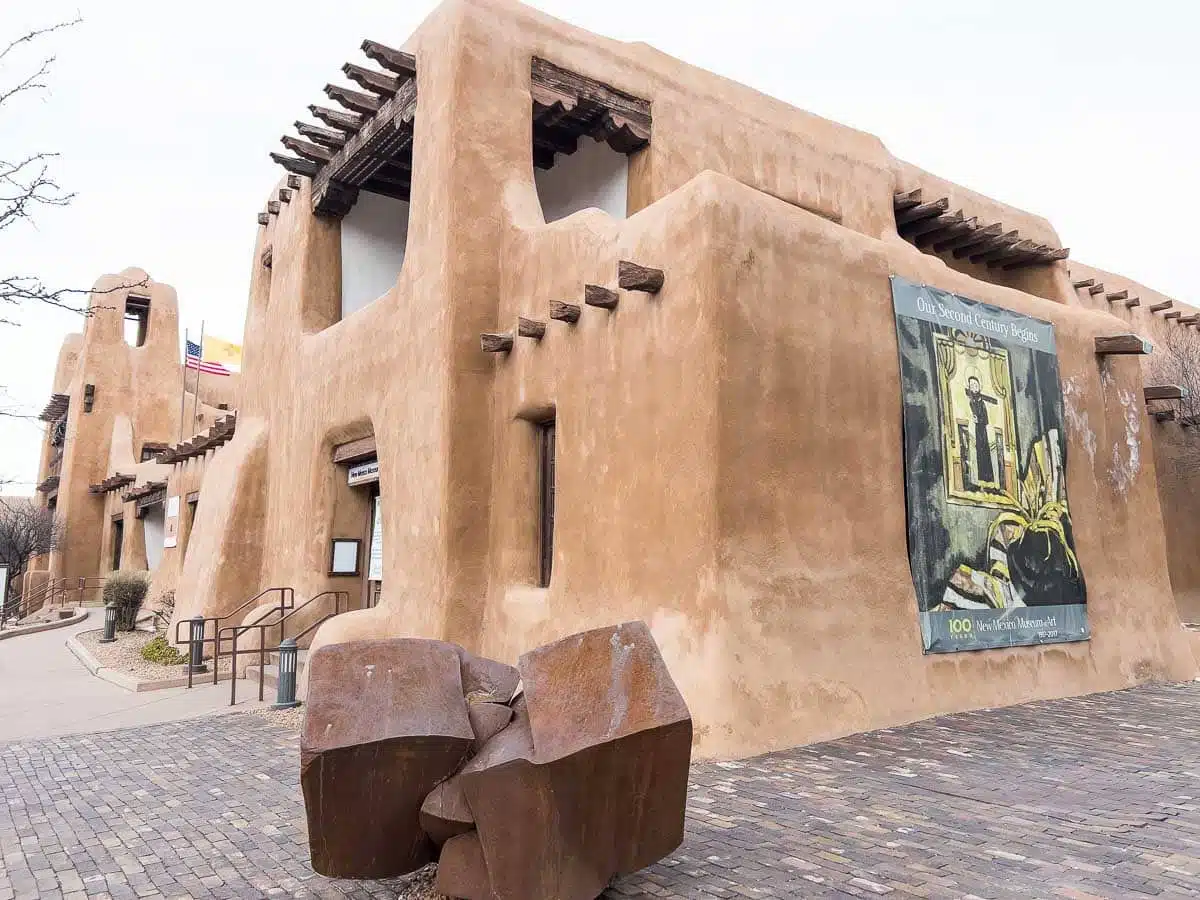 If you would prefer a more traditional art gallery experience, you need to admire the Southwest through the years at the historical New Mexico Museum of Art.
The collection includes paintings, sculptures, photographs, and other art forms, with a particular focus on artists who were influenced by the landscape and culture of the Southwest.
Museum of Contemporary Native Arts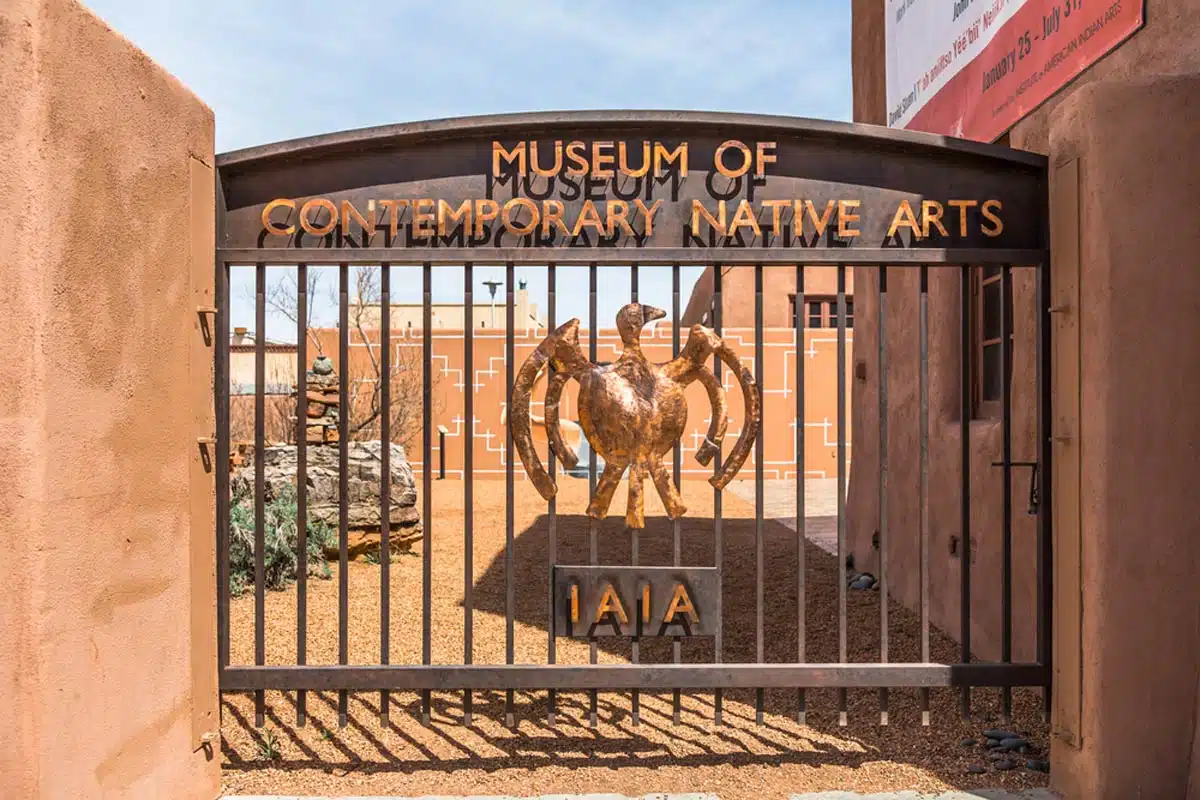 The IAIA Museum of Contemporary Native Arts (MoCNA) is dedicated to showcasing the work of Native American artists, with a focus on contemporary art.
This relatively small museum features a range of artforms – from traditional oil on canvas, to those central to Native American culture – like jewellery.
Tia Sophia
Take my advice and enjoy breakfast at Tia Sophia's. Sante Fe has a renowned culinary scene and claims to be the birthplace of the breakfast burrito.
So what better place to indulge than one that's served these delicious treats since '75?
These burritos are insane and filled with scrambled eggs, potatoes, cheese and your choice of bacon, sausage or chorizo. They're then smothered in red or green chile, or both (Christmas-style, my choice FYI) for a spicy kick.
Better yet, they're pretty affordable (around $14) and portions are HUGE. There's no better way to fuel yourself up for a day, if you ask me.
Getting to Santa Fe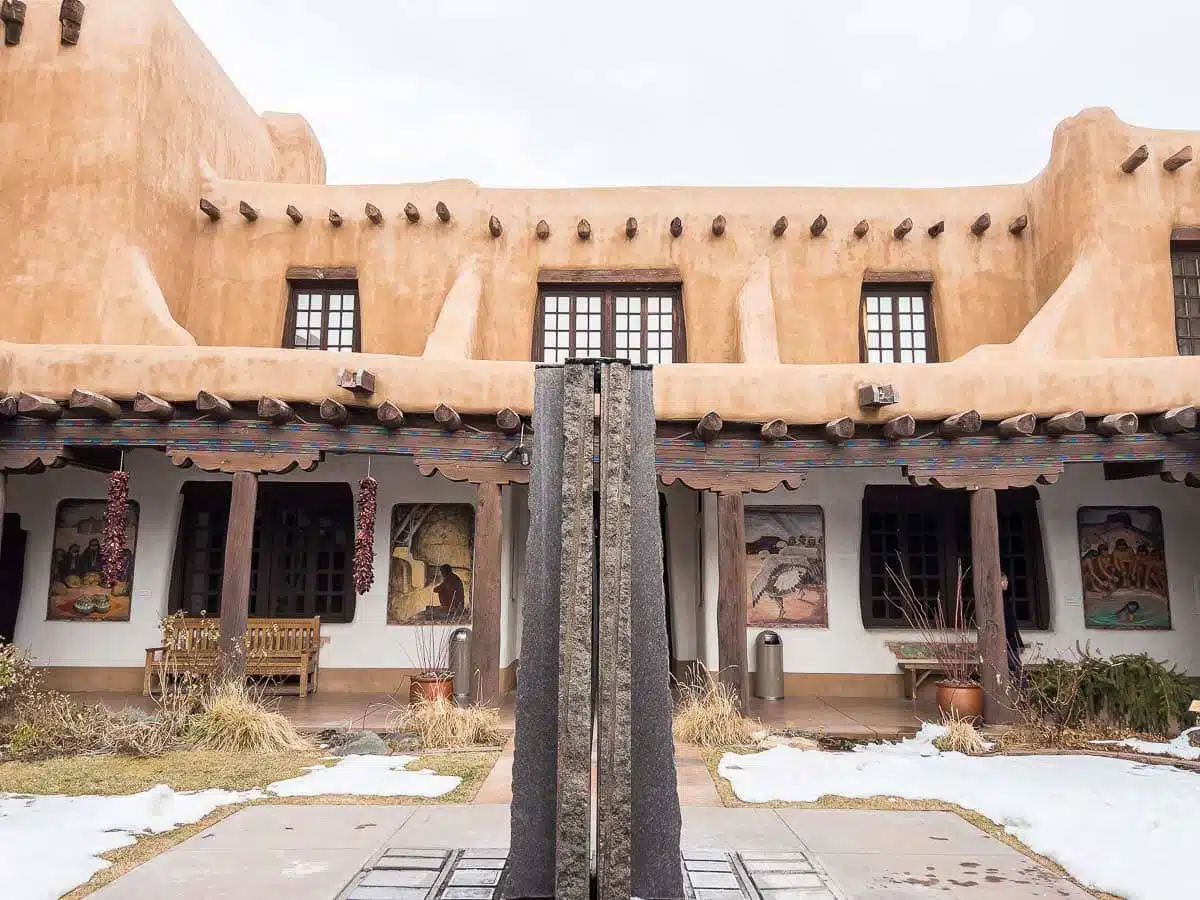 Heading to Santa Fe is fairly straightforward – this will be the starting point of your New Mexico itinerary which you can reach from the Santa Fe Regional Airport. Rent a car at the airport and drive into the centre.
Suggested Stay in Santa Fe
The modern Eldorado Hotel & Spa is a fantastic option for its proximity to the bustling Downtown and the New Mexico Museum of Art. This is where I stayed on a recent trip and I found that although the rooms are slightly dark (you're only there to sleep, though), they're plenty spacious enough.
Also, there's nothing a relaxing spa session can't fix. Luckily this accommodation features a spa and wellness area for your convenience.
Day 2: Taos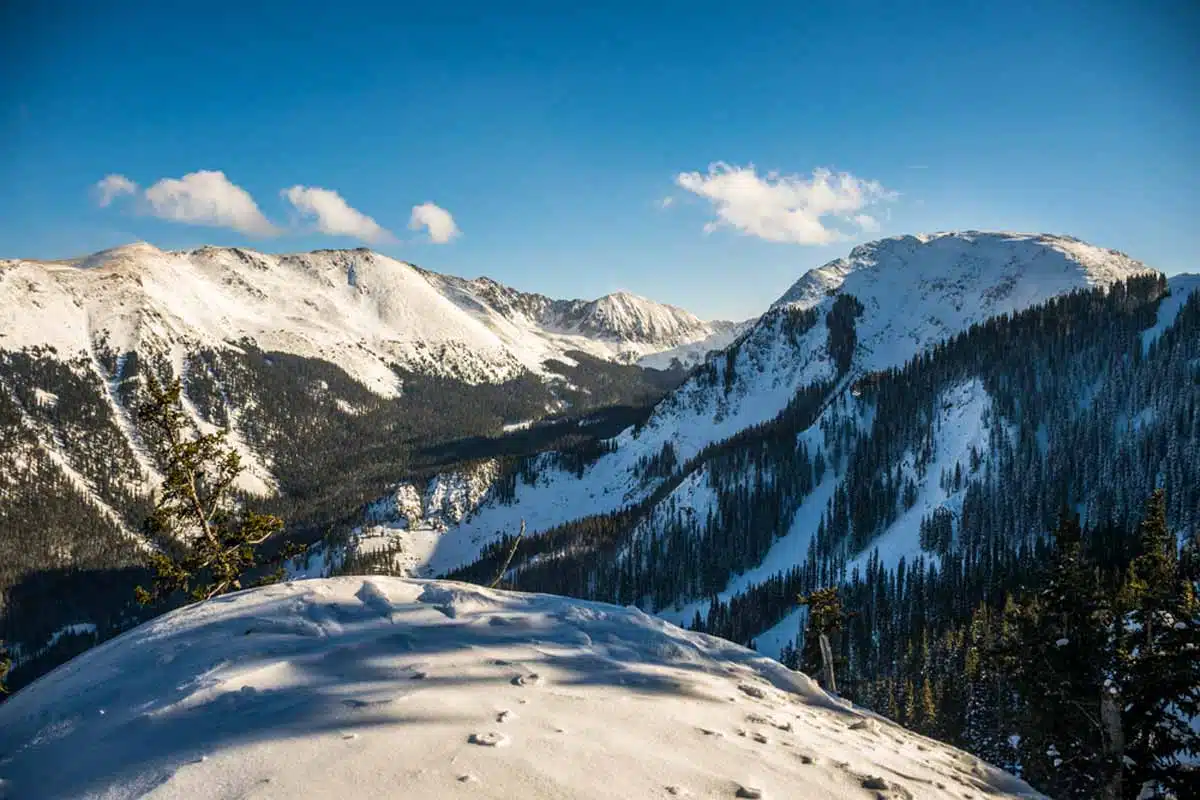 You don't want to miss the picturesque, artsy town of Taos. Its historic adobe buildings host a variety of galleries and museums to broaden your view of the indigenous and modern New Mexican culture.
Taos is an epic ski destination; everyone knows that. But there's plenty more to do here, thanks to snow-filled valleys in the Sangre de Cristo Mountains.
Things to Do in Taos
Harwood Museum of Art
Pop in at the Harwood Museum of Art to see your fill of visual arts and Hispanic works tied to Taos' local culture.
Taos Pueblo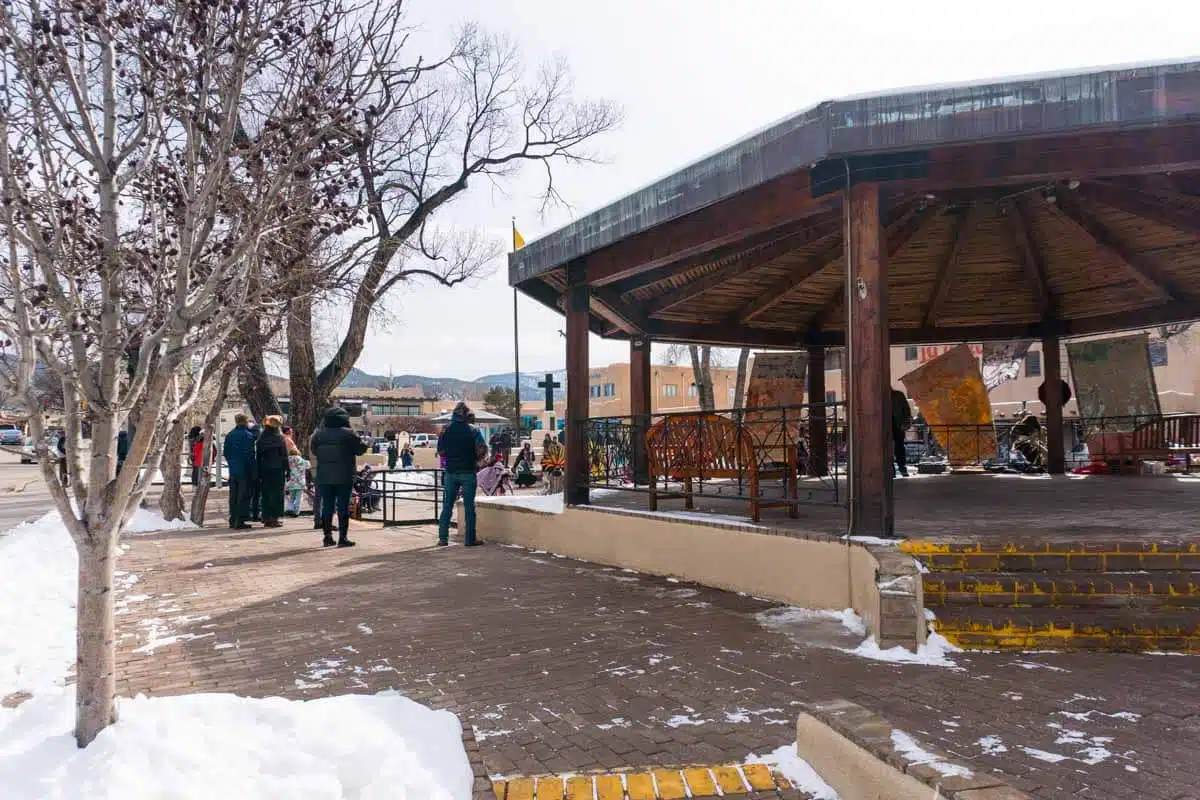 Visit Taos Pueblo, a living Native American community designated as a UNESCO World Heritage Site. Sadly, they weren't open when I visited, but check out the Taos Pueblo site to view their opening times.
Restaurants, Cafes and Bars
Foodies will be in heaven when in Taos. Kickstart your day at The Coffee Apothecary, then go to The Love Apple for an intimate dinner on a rustic patio.
Another place I highly recommend is the Taos Mesa Brewing Taos Tap Room. They serve brilliant pizzas and a decent selection of locally-brewed beers.
It's actually the sister taproom to the Mothership which is only open seasonally but has live music and is one of Taos' liveliest nightlife spots.
Ojo Caliente Mineral Springs Resort & Spa
Indulge your aching muscles in a cheeky little spa session. Steeped in history, this is one of the oldest spas in the country.
Each of the pools across the site offer something slightly different – so you can spend some time cleansing before dipping into the rejuvenation pool.
Trust me – the rest of this road trip is going to be pretty full-on, so take a couple of hours to treat yourself.
Whitewater Rafting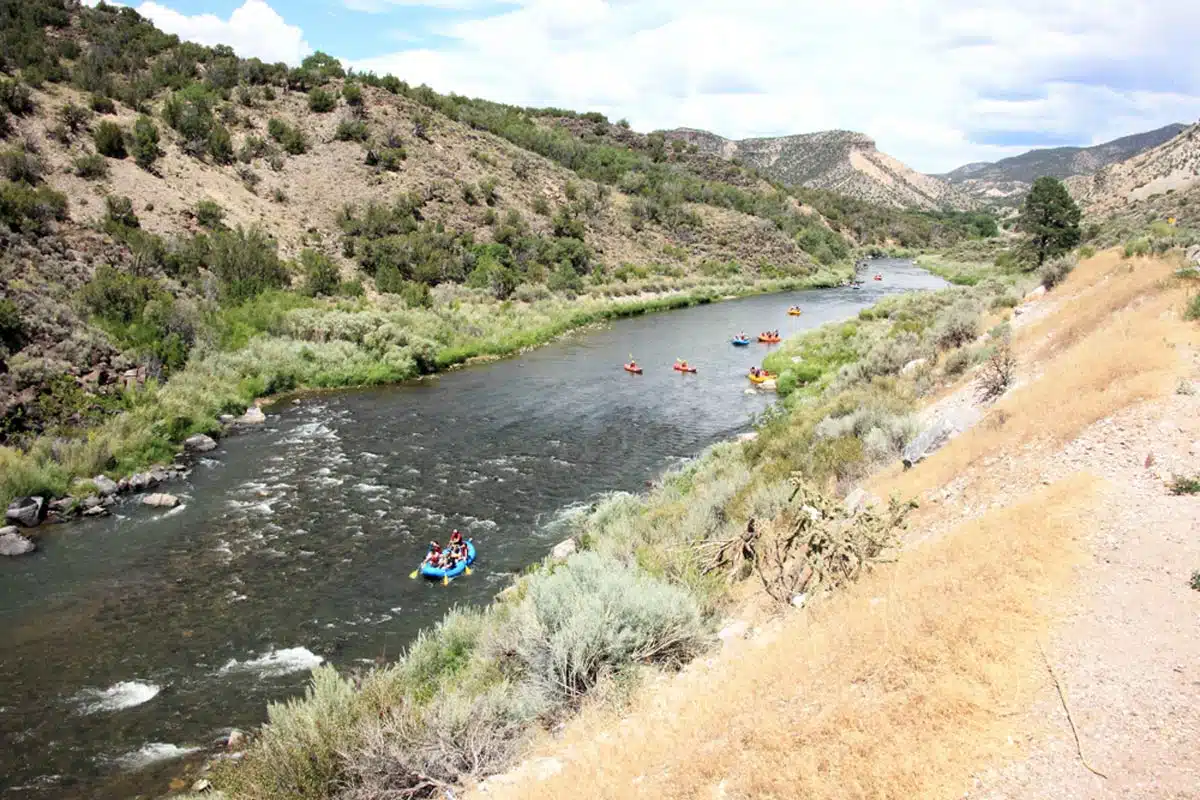 If you fancy something a little more lively, whitewater rafting is a popular option for those seeking thrills in Taos. There are multiple rivers in the area, which lends itself to plenty of epic opportunities.
I recommend booking your Taos river rafting experience with New Mexico River Adventures – they have the most extensive selection of tours by far. But be warned: the vast majority of these tours involve hiking in and out of the gorge.
Rio Grande Gorge Bridge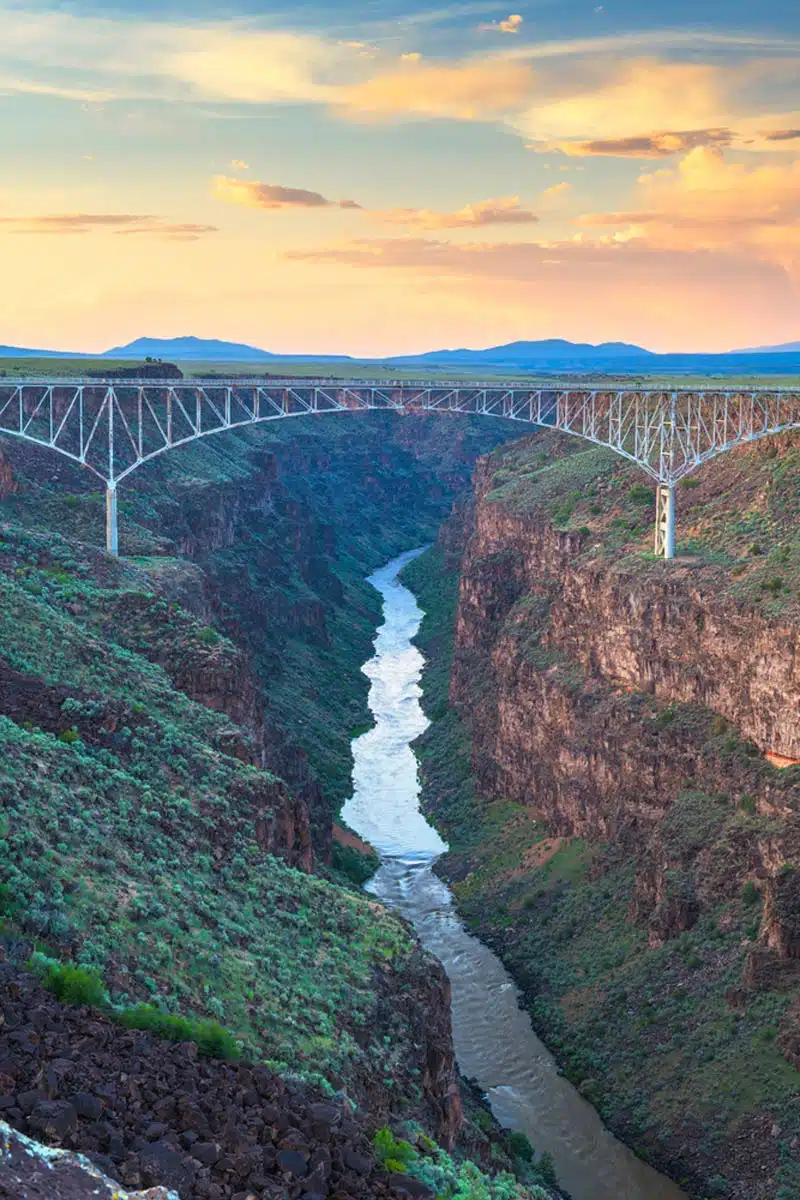 If you fancy admiring the water on dry land instead, head to the Rio Grande Gorge Bridge – this s​​teel deck arch bridge crosses the Rio Grande Gorge around 10 miles northwest of Taos. It's the tenth highest bridge in the US and well worth stopping off at on your road trip.
Getting to Taos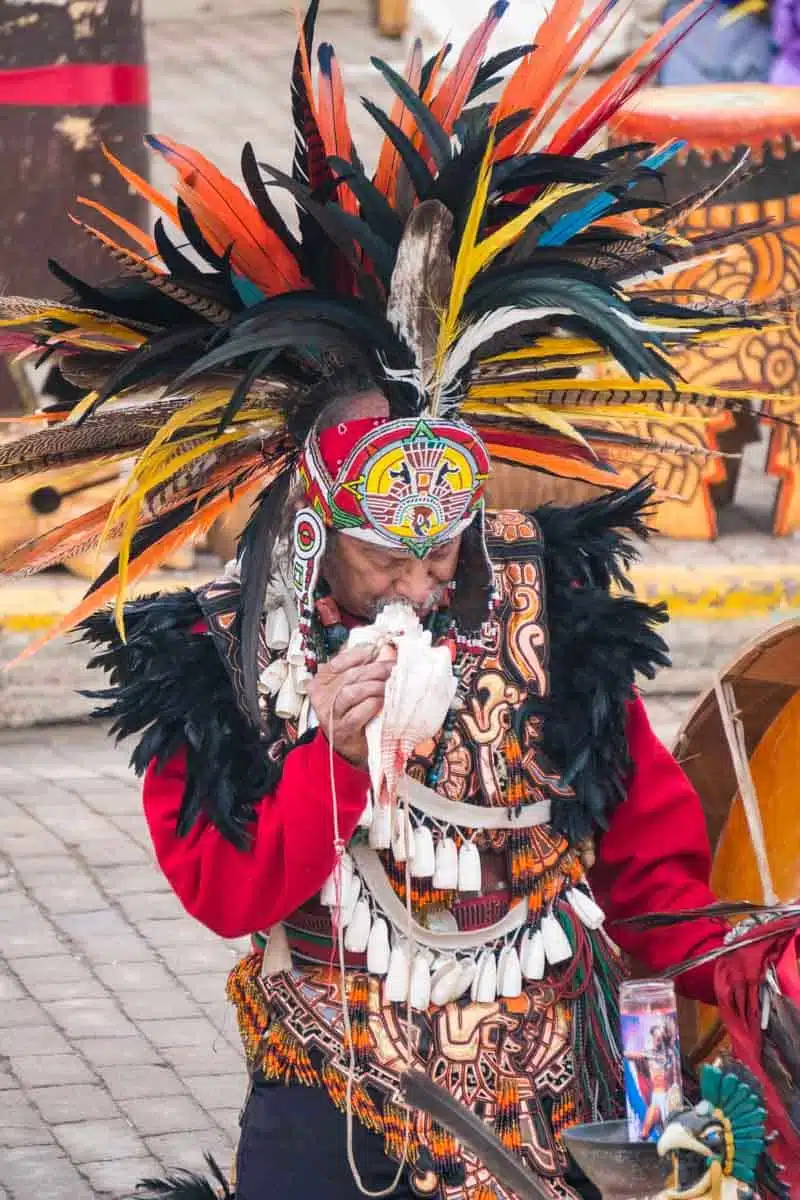 Sitting 70 miles north of Sante Fe, arriving in Taos only takes about 1.5 hours via the US-84 W or US Hwy 285 N and NM-68 N roads.
Suggested Stay in Taos
The Inn on La Loma Plaza encapsulates New Mexico in its decor and dining. This quirky hotel features uniquely styled rooms with a private steam room — what more could you ask for?
I highly recommend having your breakfast on-site, as their a la carte menu consists of tantalising New Mexican dishes to wake up your tastebuds.
Day 3-4: Albuquerque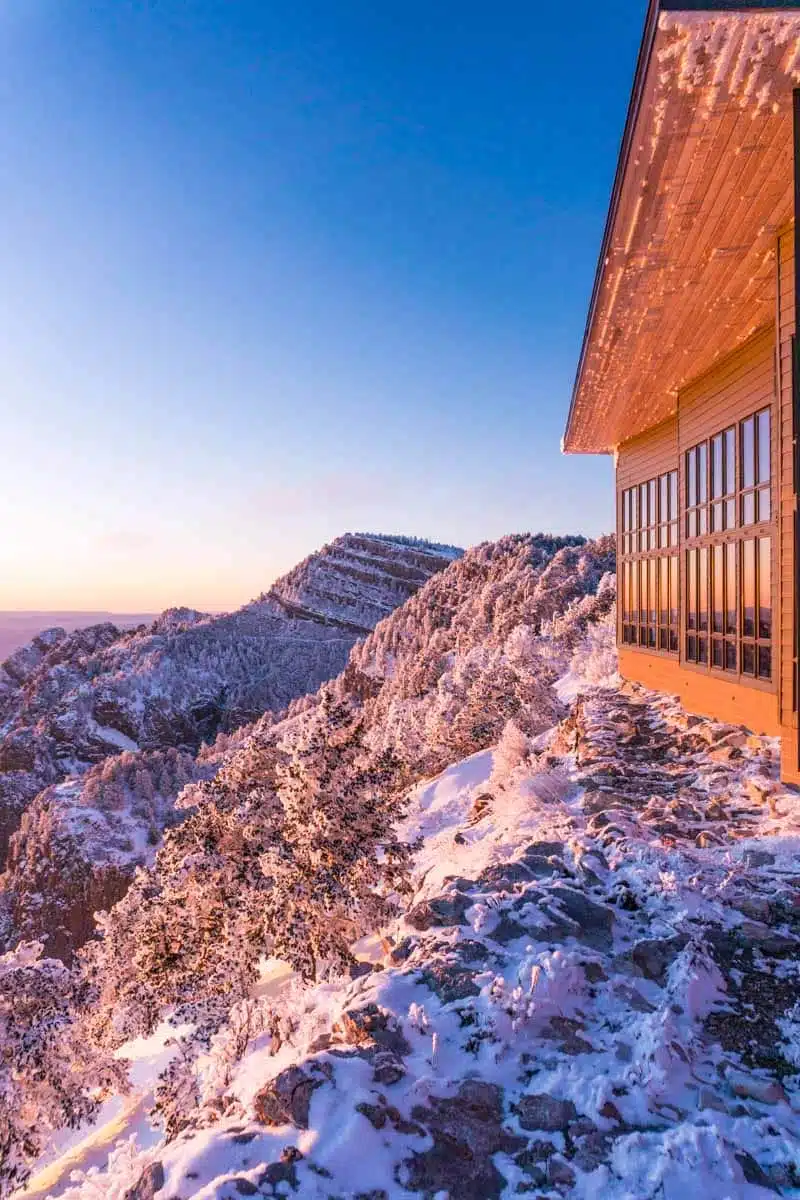 After a day of rafting, exploring and some more driving, it's time to take it easy in the charming Albuquerque, New Mexico's largest city.
I adore this city! It's sprawling with beautiful sights and attractions and covered in historic adobe buildings, museums and quirky shops.
Things to Do in Albuquerque
Sawmill Market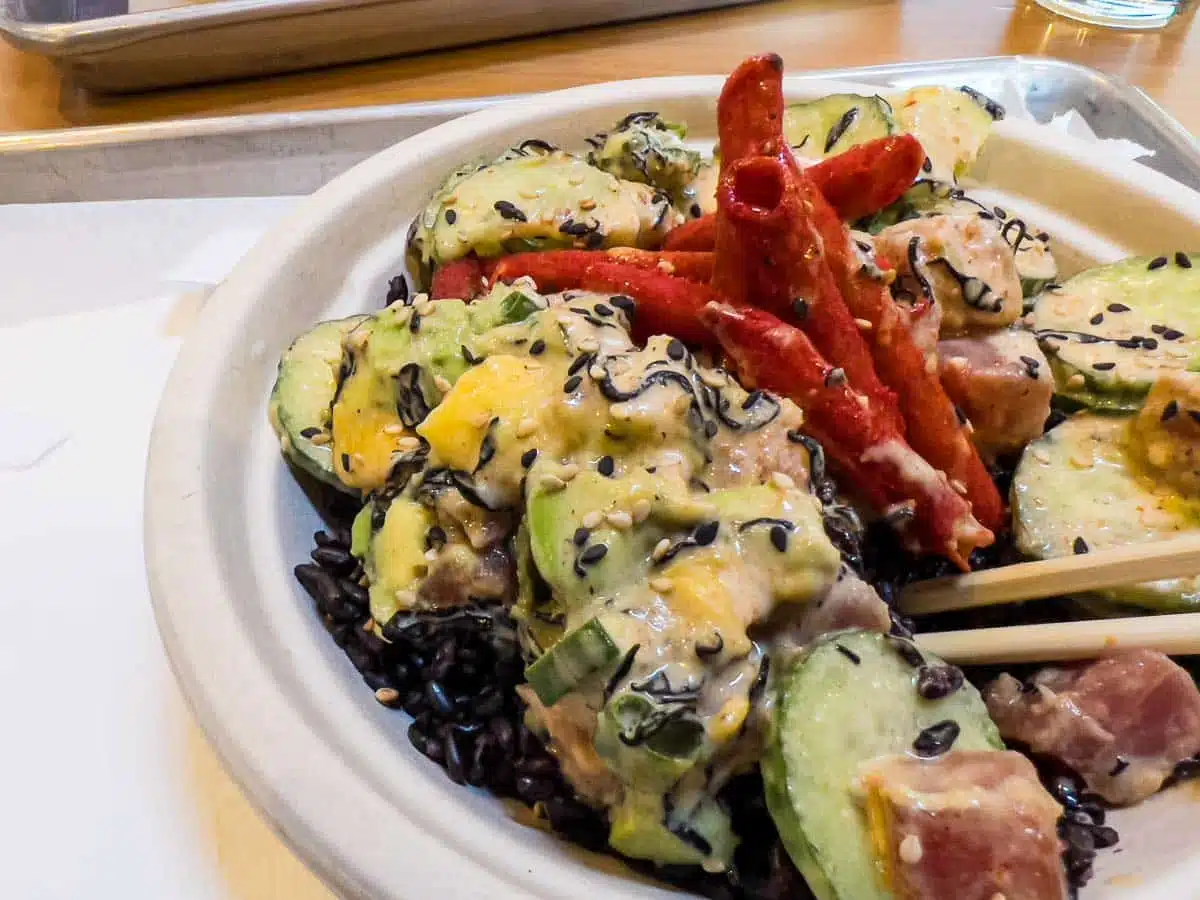 Take your pick at stalls and bars in the lively Sawmill Market. I recommend trying a poke from Notorious POKE and washing it down with a margarita from Flora Restaurant (thank me later).
Hot Air Balloon Over ABQ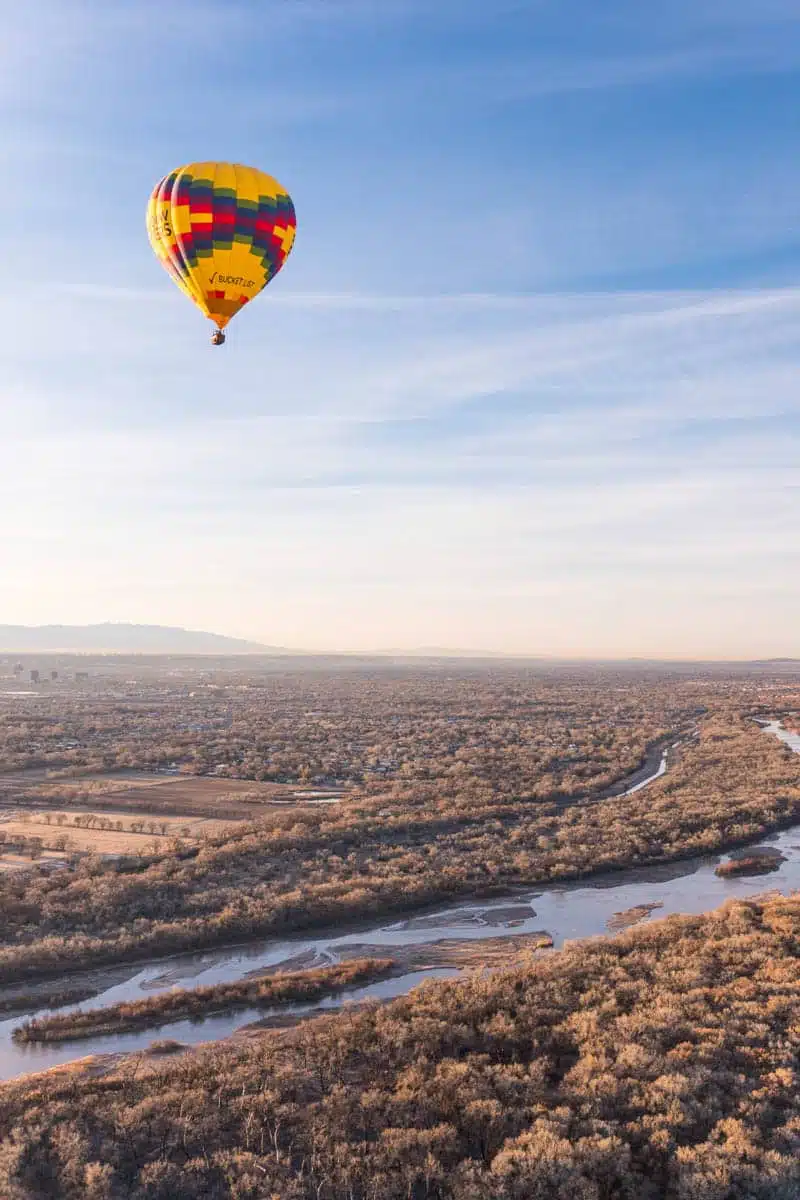 You can't visit ABQ and not go on a Hot Air Balloon ride. Offered year-round, you can enjoy breathtaking views over the Bosque forest and the Rio Grande. This was a highlight during my trip to ABQ.
Breweries
Albuquerque has a lively brewing scene – so if you're into beer, drinking your way around some of the city's local brews is a must.
My top picks include Bosque Brewing Co and La Cumbre Brewing Co, while heading to Bow & Arrow Brewing Co – a female and native-owned brewery – is a must.
Petroglyph National Monument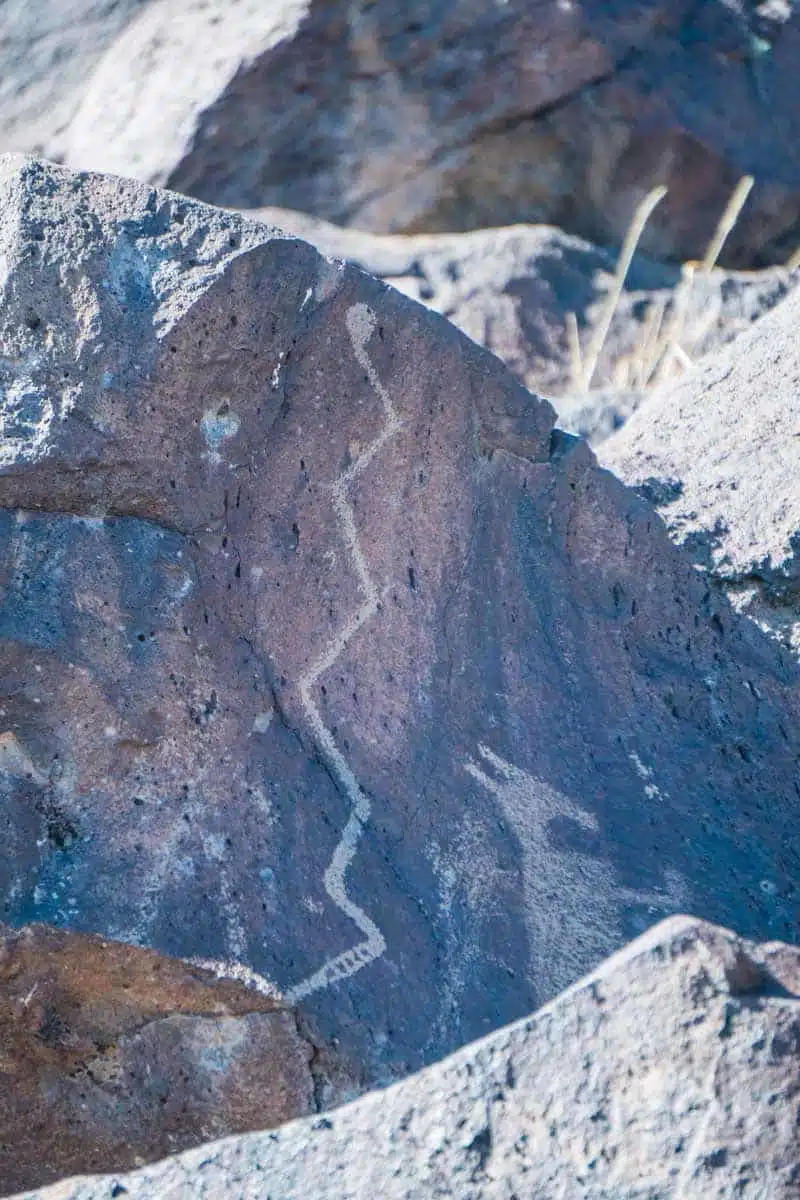 Petroglyph National Monument is another Albuquerque must; the park is home to more than 25,000 petroglyphs.
Take my advice – if you only have time to do one trail, make it the Rinconada canyon. This 2.2 mile loop trail is dotted with more than 300 petroglyphs, which are largely clustered on one half of the trail, so you can either do it as a loop or as an out-and-back.
You should note that none of the trailheads for the petroglyph viewing trails are at the Visitor Centre. I recommend that you decide which trail you're doing and drive to the specific parking lot for it as they are quite far apart.
Still, it's worth stopping by the visitor centre (parking is free) to chat about the trails and find out which one suits you best.
Sandia Peak Tramway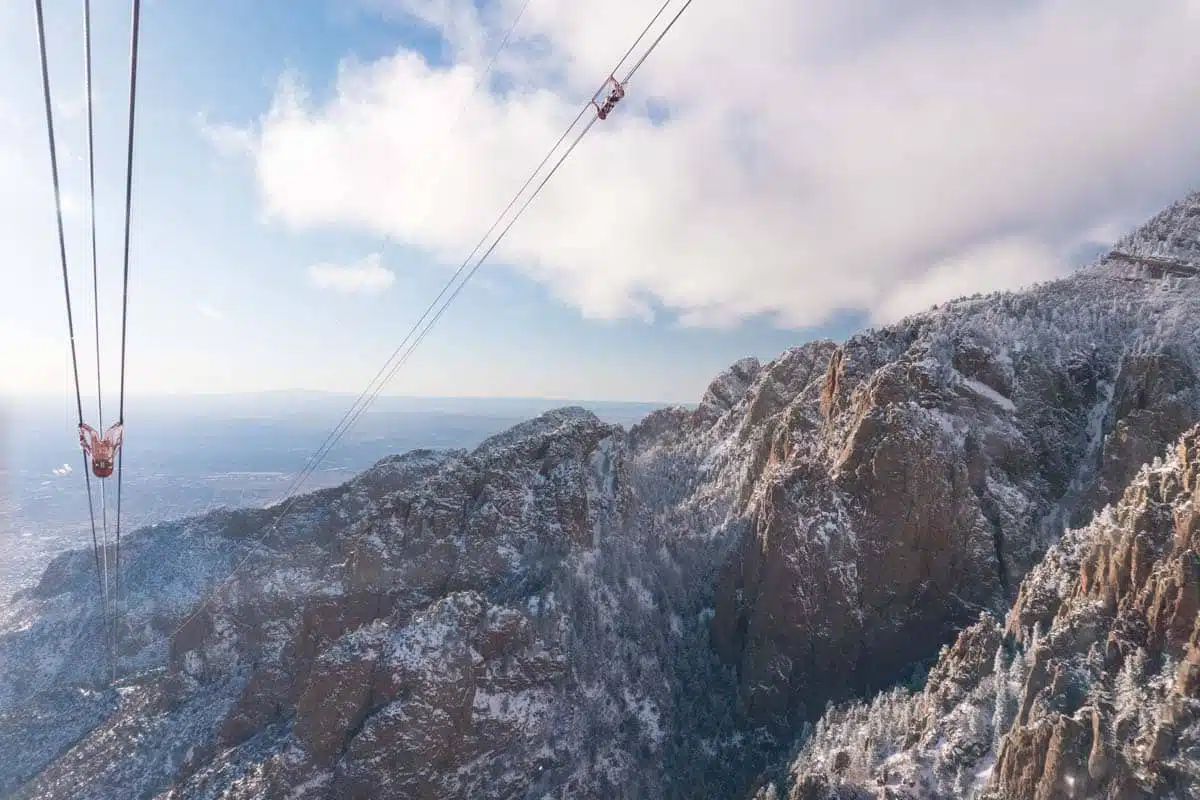 Trust me when I say: go on the Sandia Peak Tramway. It's worth the buck, as the mesmerising views won't disappoint. There's even a restaurant and bar at the peak for a sundowner among gorgeous vistas.
Rio Grande Nature Center
The Rio Grande Nature Center sits in the heart of the city and is the perfect place to go for a hike or a laid back bike ride. Along the way, you'll stumble across a variety of trails, wildlife and stunning views of the Rio Grande.
Campo at Los Poblanos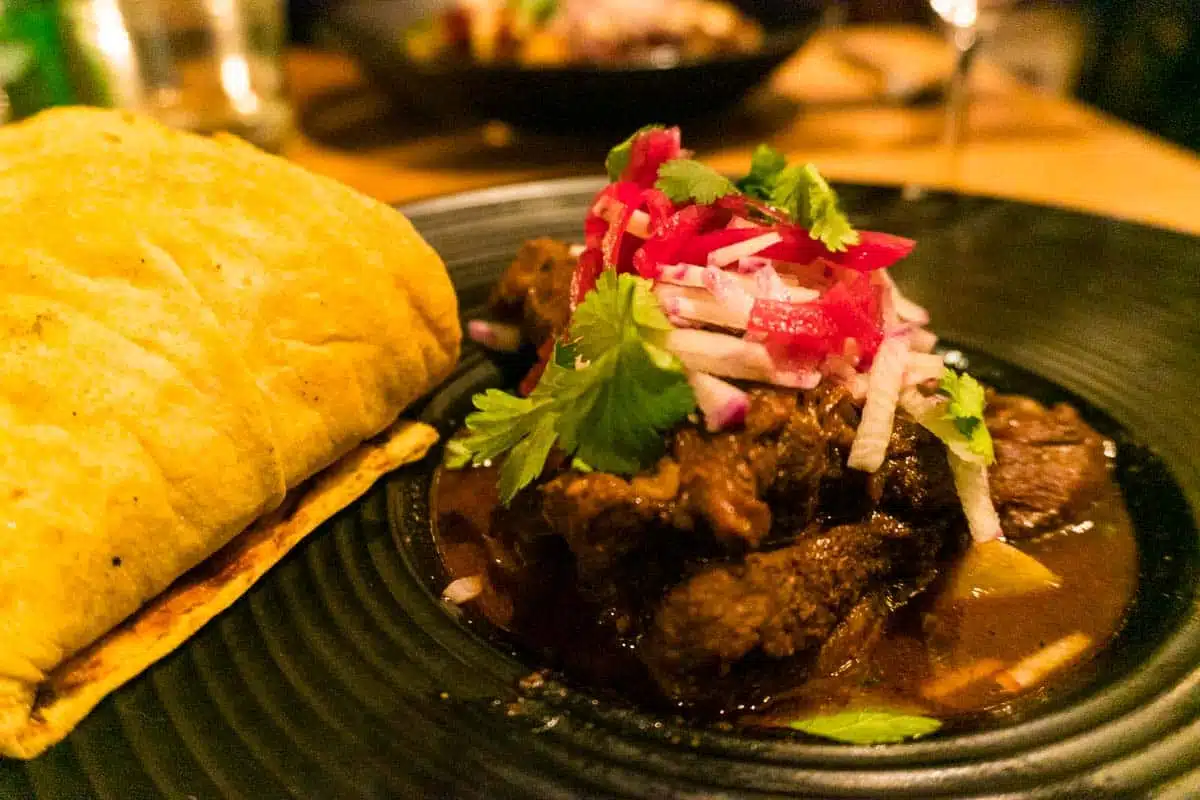 End one of your days in ABQ with a blowout meal at Campo – it's one of the best restaurants in town.
You'll find it tucked away on an organic farm and, while it bills itself as casual fine dining, expect contemporary southwestern fare with a heavily Mexican influence.
The menu changes seasonally but the Braised Lamb Birria I had was ridiculously indulgent and came with some of the best tortillas I've ever tried.
Getting to Albuquerque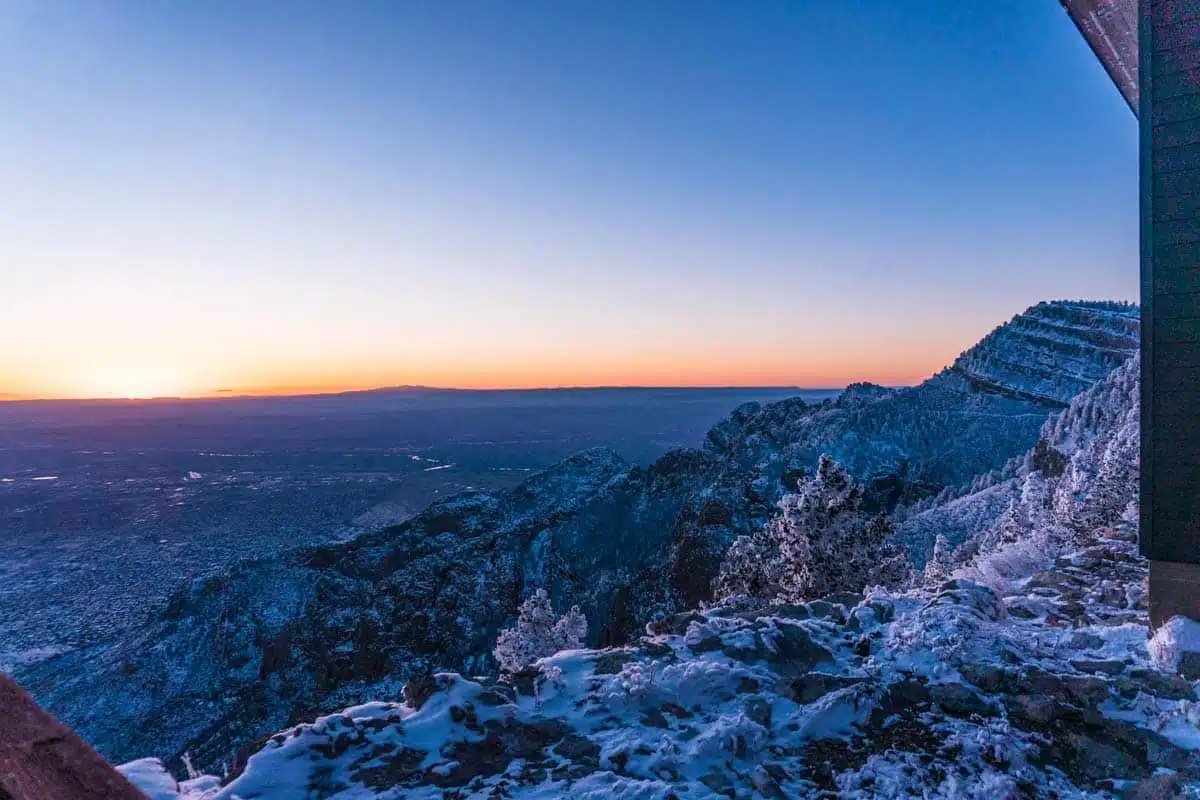 You can go straight to Albuquerque after Taos. The drive takes about 2 hr 15 min (132.3 miles) via NM-68 S and I-25 S.
Suggested Stay in Albuquerque
The stylish Hotel Chaco is in the Historic Old Town, Albuquerque's beating heart. The AAA four-diamond boutique hotel offers luxury like few can, boasting elegant rooms, a fitness centre, a pool, flat-screen TV and Wi-Fi.
Day 5: Roswell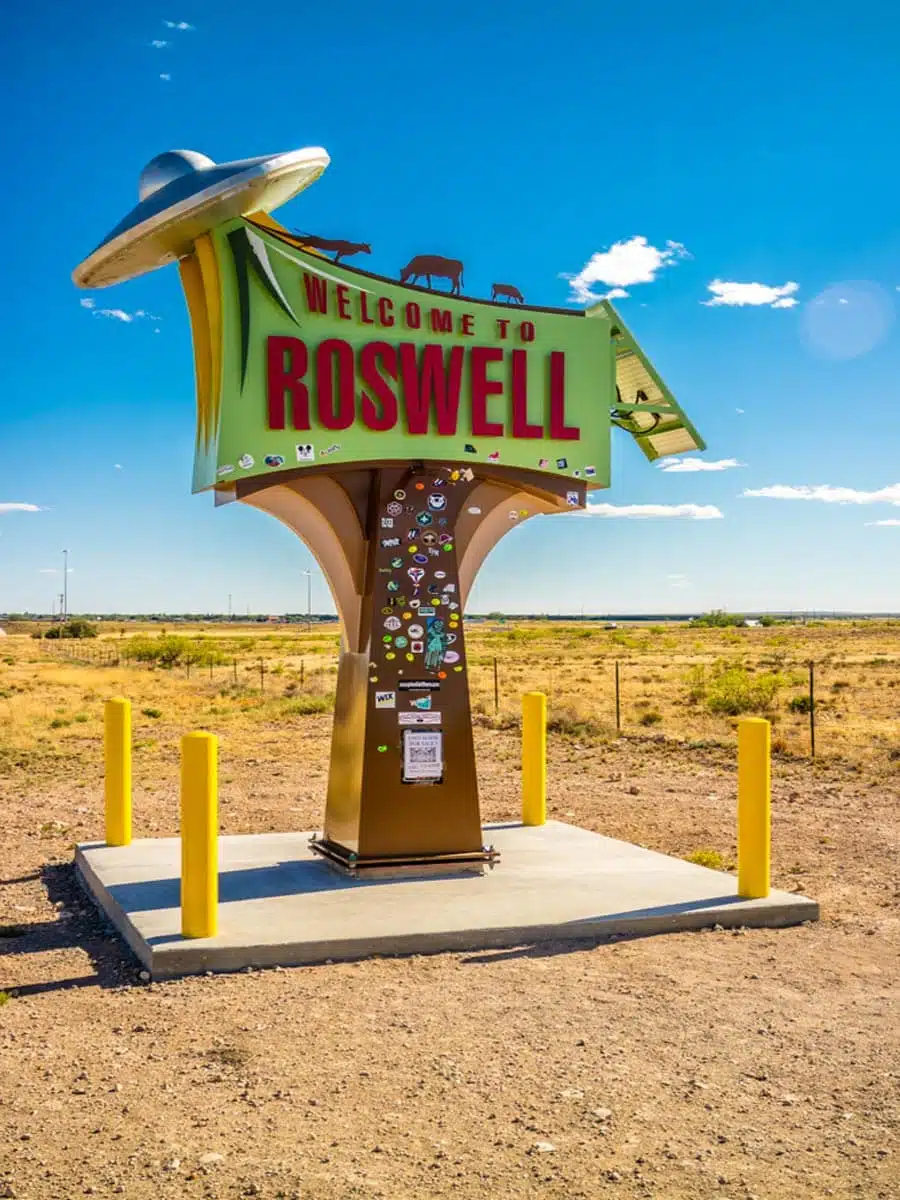 Renowned for an alleged 1947 UFO crash, Roswell has grown a reputation for all things otherworldly.
Attracting many UFO/extraterrestrial enthusiasts, there's more to this mysterious city than corny TV series about aliens. But, that's definitely part of the fun of visiting.
Things to Do in Roswell
International UFO Museum and Research Center
I'm not super into the extraterrestrial, but there were still plenty of things I loved in Roswell.
You have to visit the International UFO Museum and Research Center (duh). This is where you'll geek out on everything UFO-related, including the infamous crash.
Roswell Museum & Art Center
For something a little less quirky, admire art at the Roswell Museum & Art Center, showcasing the Southwest's glory.
Chattahoochee River National Recreation Area
Escape from the aliens (for a while) and pick up a hike in the Chattahoochee River National Recreation Area that offers miles of trails through Vickery Creek.
I recommend starting in the south and heading north on foot, popping into the Pontoon Brewery Company as a mid-hike treat.
Getting to Roswell
From Albuquerque, hit the I-40 E and US Hwy 285 S roads and head to Roswell for three hours (around 200 miles).
Suggested Stay in Roswell
The Holiday Inn Express & Suites offers elegant rooms with excellent amenities for a comfortable stay in Roswell. Enjoy access to an indoor pool, hot tub, flat-screen TV and air conditioning at this three-star hotel.
Day 6: Carlsbad Cavern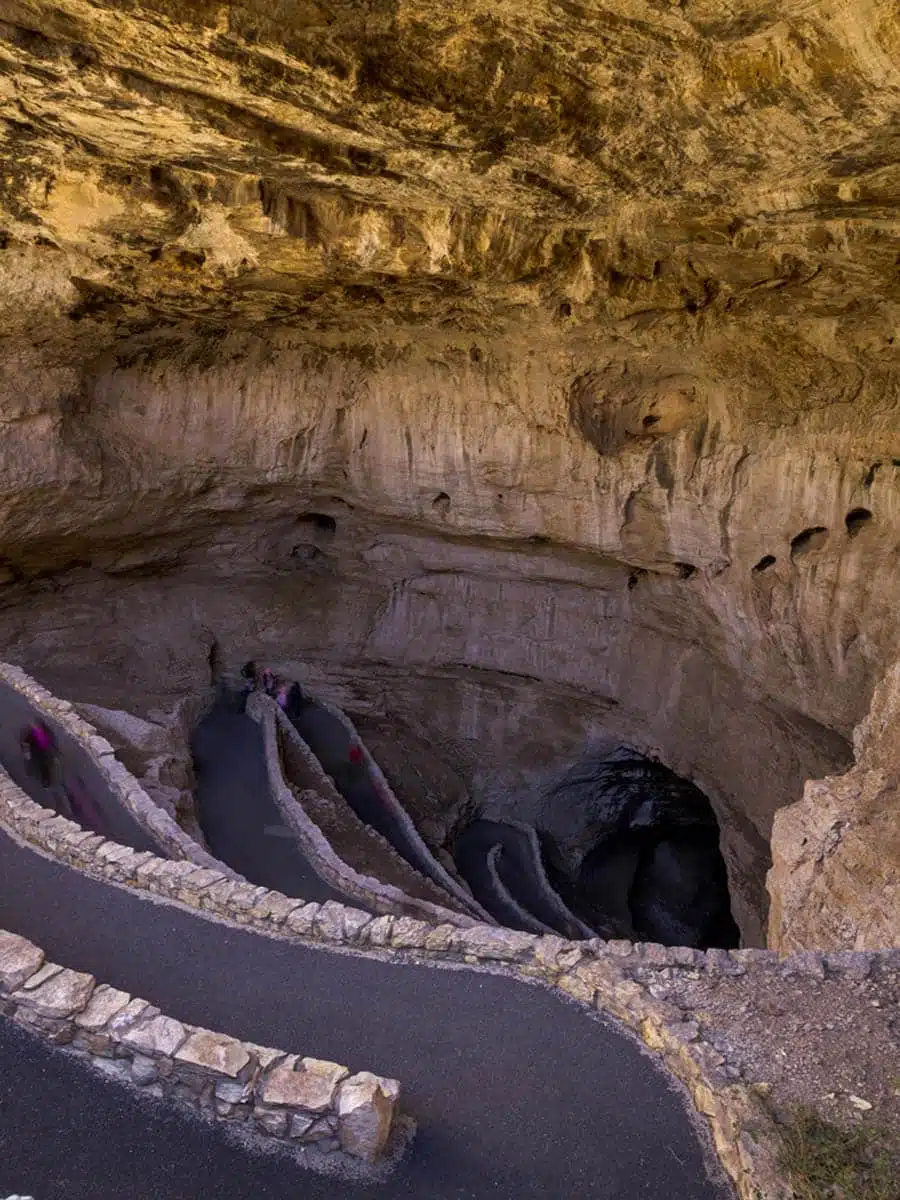 Next up on this epic New Mexico road trip is a place of unique beauty. Located in the Guadalupe Mountains, the Carlsbad Caverns National Park boasts over 119 caves, including the star of the show, Carlsbad Cavern.
Things to Do in Carlsbad Caverns
Carlsbad Cavern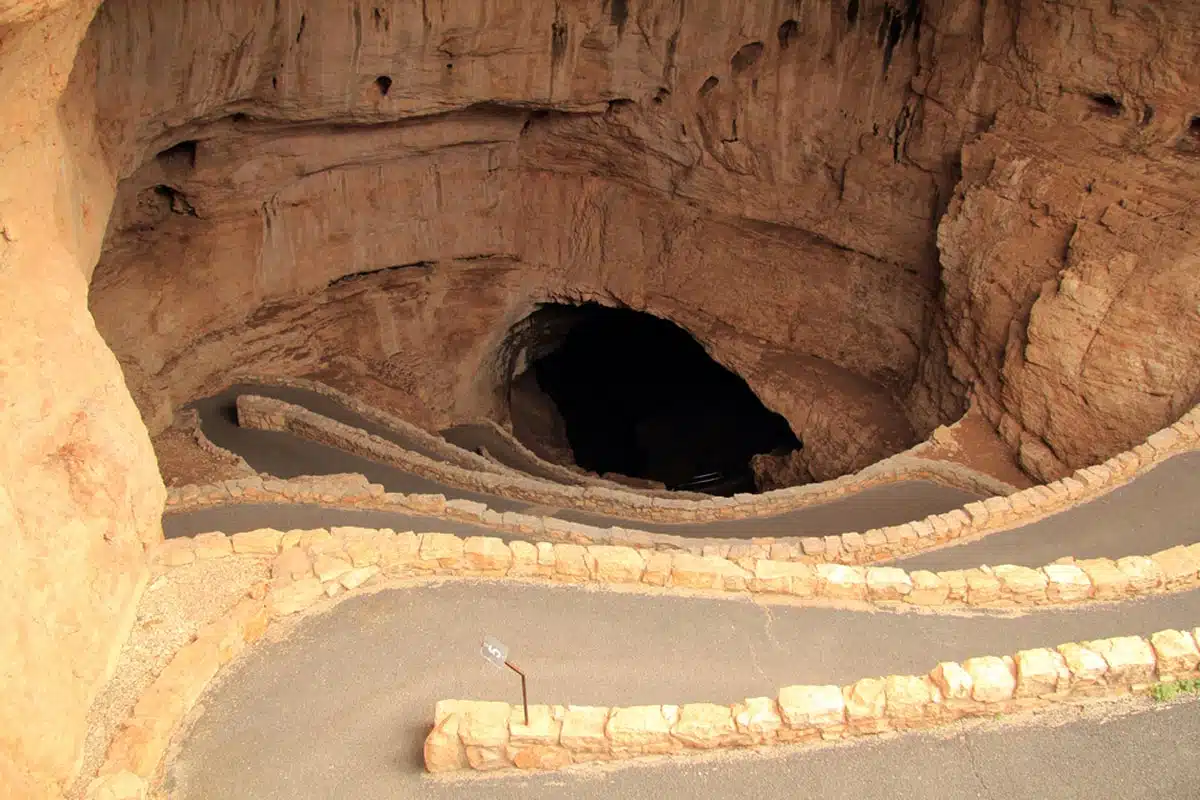 The main reason people visit this region is to peak inside Carlsbad Cavern, of course. This show cavern is just too impressive to skip.
Inside, you'll find much of nature's craftsmanship, like the large limestone chamber called the Big Room (the largest chamber in North America).
Find out more about the fees and passes on the National Park Service site.
Getting to Carlsbad Cavern
The drive from Roswell to Carlsbad Cavern only takes about an hour (78 miles) via US Hwy 285 S.
Suggested Stay in Carlsbad
At Home2 Suites By Hilton, you'll receive all the modern amenities necessary for a comfortable stay in Carlsbad. This three-star hotel gives you access to stunning city views, a fitness centre, Wi-Fi and barbecue facilities.
Day 7: White Sands National Park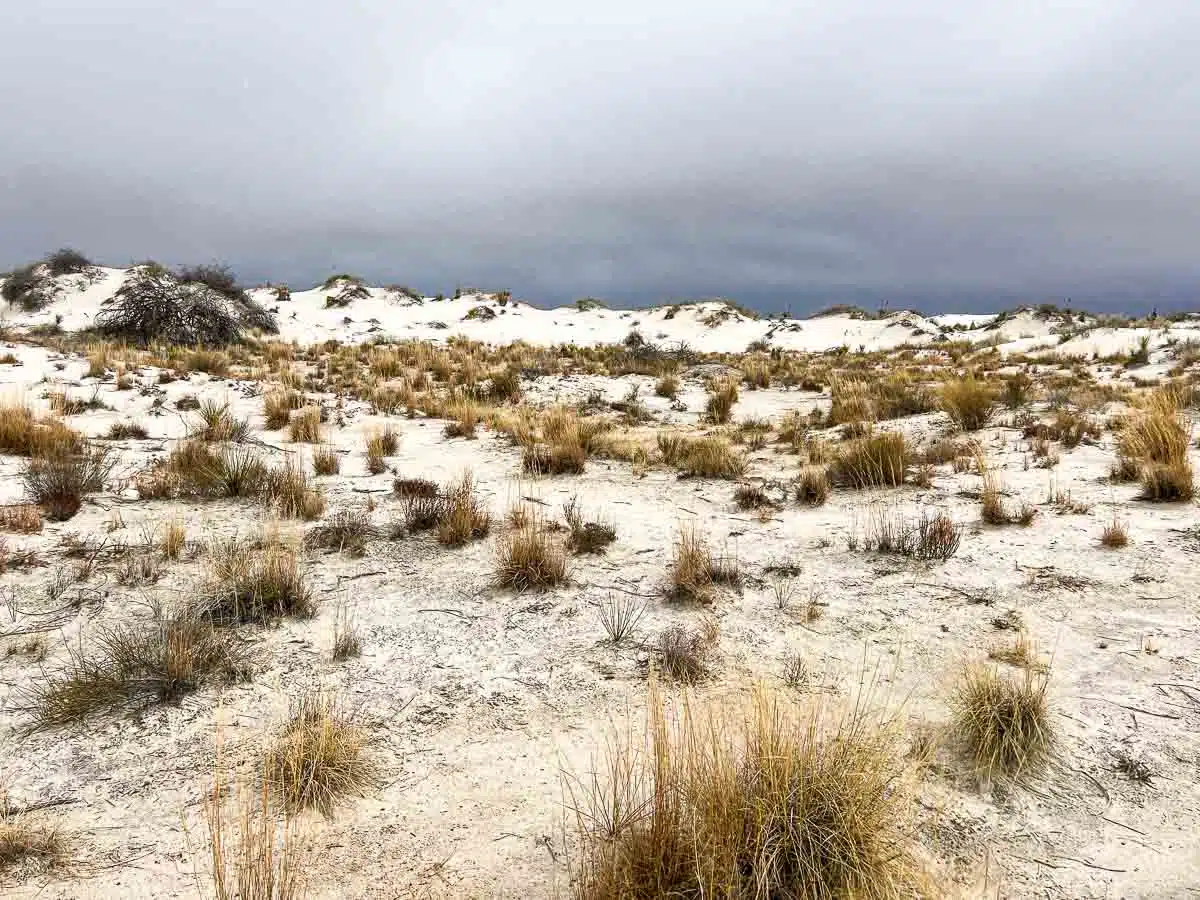 Okay, day 7 might just be my favourite of the entire New Mexico road trip. Visit the enchanting white dunes at the White Sands National Park.
Made from gypsum minerals, this otherworldly dune field is the largest ever to exist. It's fascinating, and you won't regret adding it to your itinerary.
Things to Do in White Sands National Park
Sledging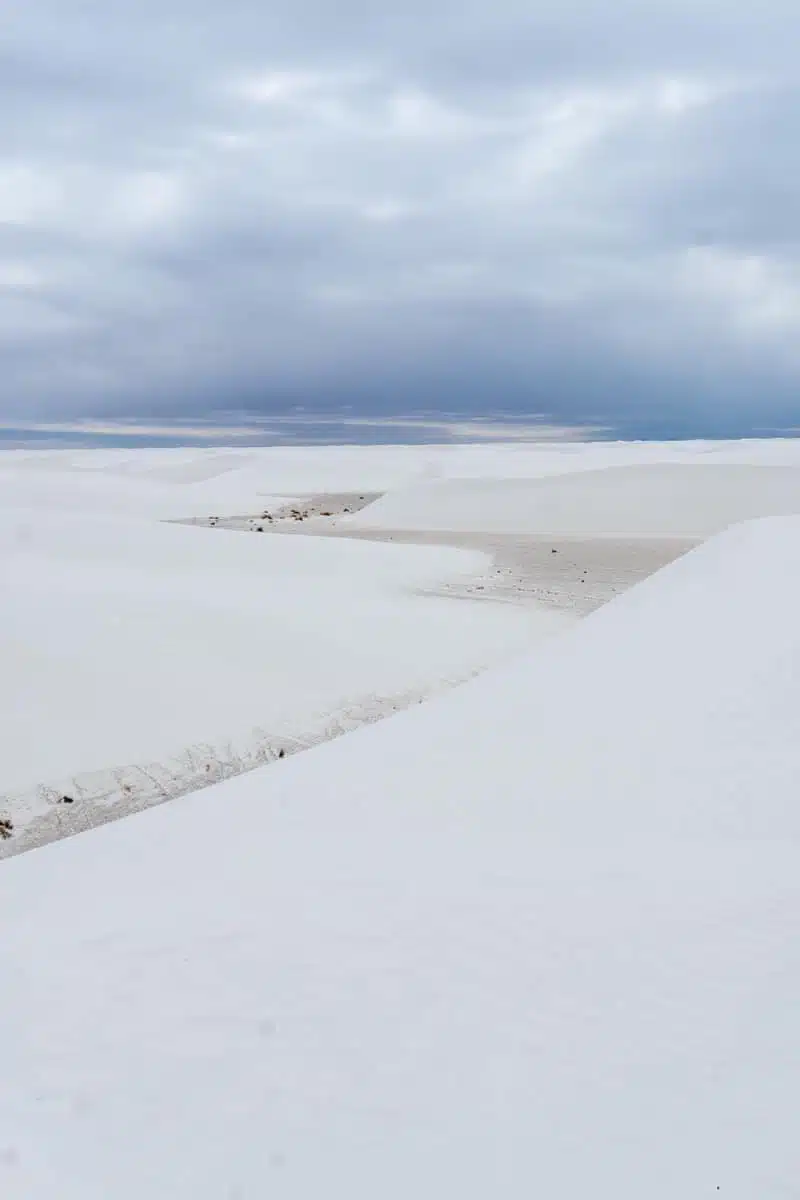 Apart from overworking your camera, you can sledge down the dunes. If that sounds fun, bring a sledge or rent one at the Visitor Centre and have a blast.
Just be prepared – climbing back up the dunes with a sled is quite the calf workout.
Hikes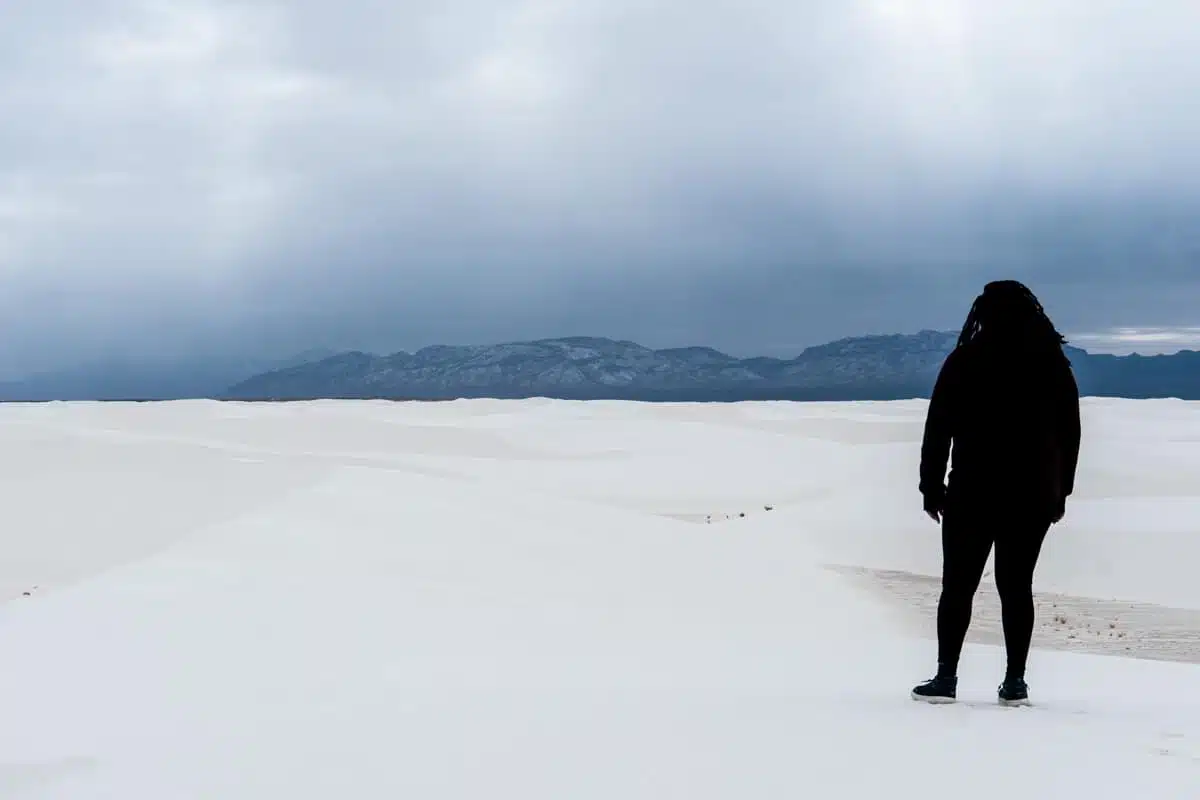 If you're feeling brave, take on the five-mile Alkali Flat Trail.
I have to be honest, this wasn't my favourite trail as it was pretty hard work. But the views were incredible and you get to head into the midst of the sand dunes. Make sure you keep a close eye on the trail markers as it would be far too easy to get lost on the trail.
There is no shade, water or toilets on this trail, so only hike it if you're prepared. Make sure to catch the sunset and simply admire the whimsical dunes (trust me when I say sunglasses are a MUST).
Interdune Boardwalk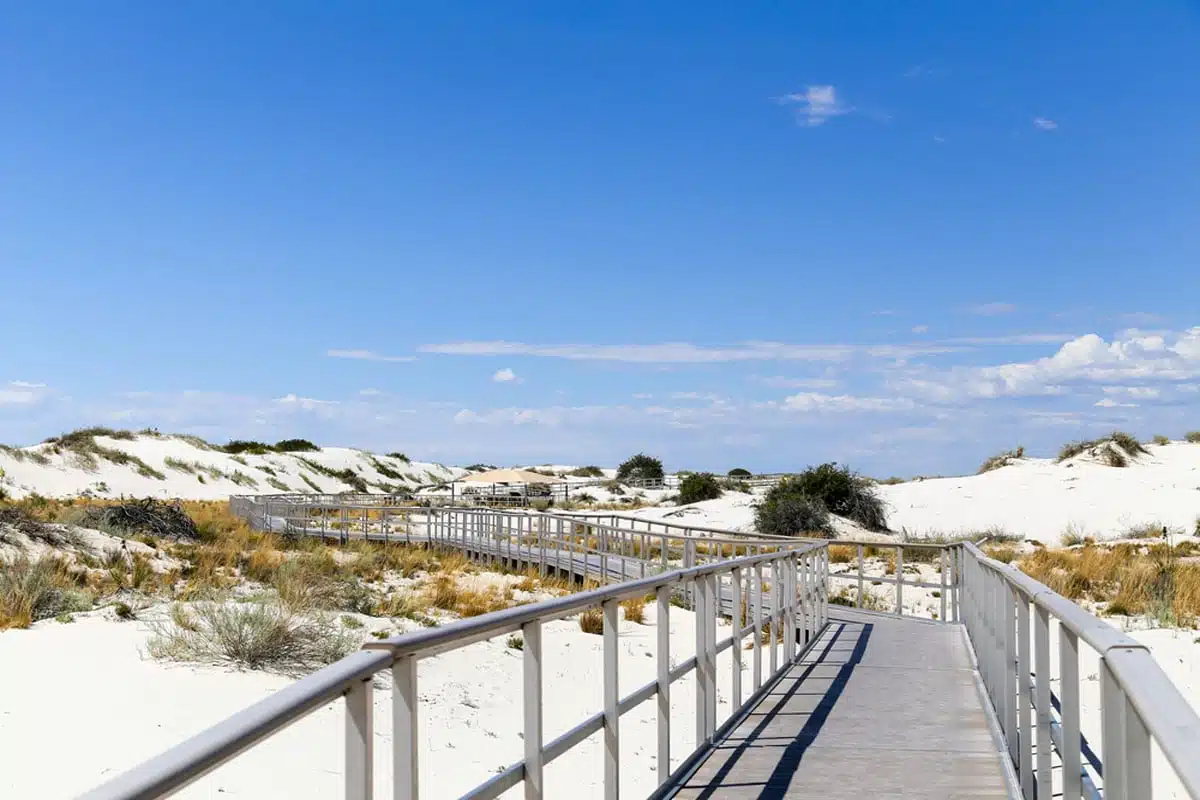 Looking for a more leisurely way to explore the park? I recommend you to take a stroll along the Interdune Boardwalk. It's an easy 0.4 mile walk on a boardwalk that takes you through the heart of some of the smaller dunes, and it offers some incredible views.
Better yet, there's far less risk of sand sneaking into your trainers.
Getting to White Sands National Park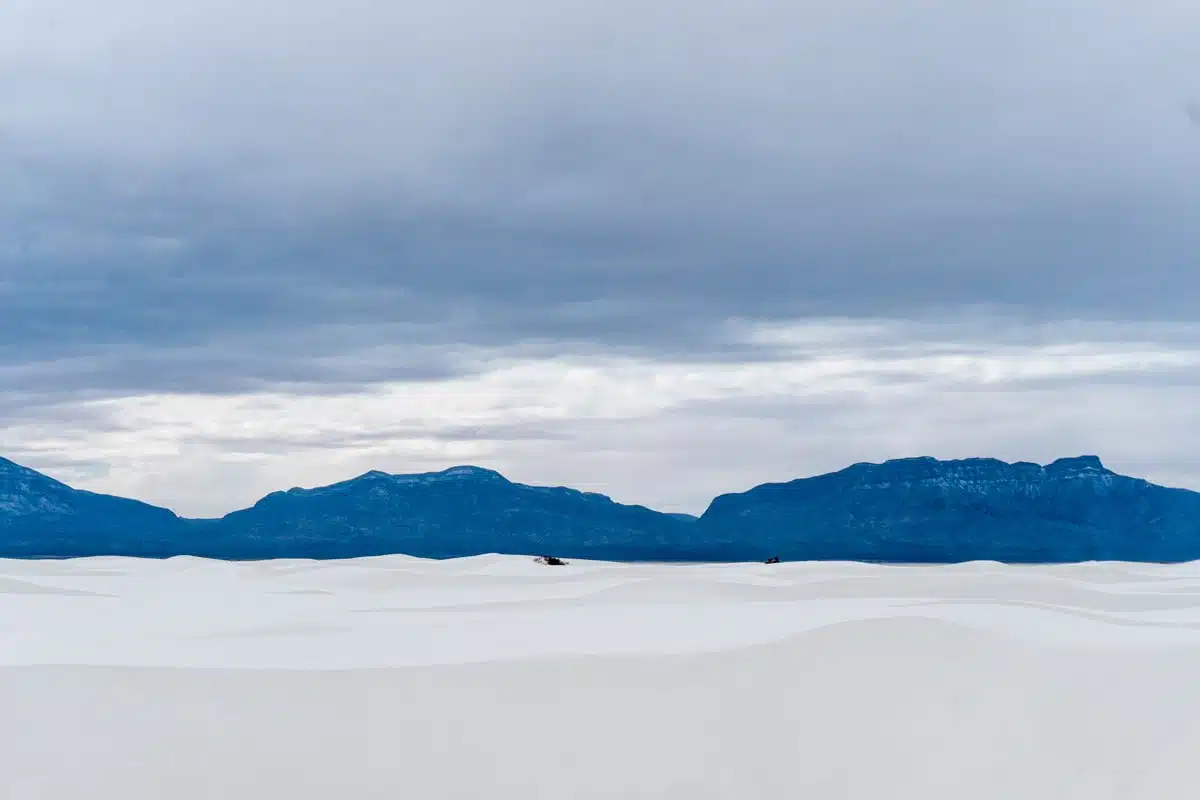 Gear up for quite the stretch as getting from Carlsbad Cavern to White Sands National Park takes 3 hr 20 min (roughly 182 miles) via US-82 W.
Suggested stay in White Sands National Park
Of all the hotels near White Sands National Park, try Home2 Suites by Hilton in Alamogordo (17 mins WSNP). This pristine, three-star hotel boasts spacious rooms, a fitness centre, an outdoor pool, and a complimentary breakfast.
New Mexico Road Trip: Map
New Mexico Road Trip: Read Next