White Sands in New Mexico is one of the US's lesser-known national parks – but it shouldn't be. Discover the best things to do in White Sands National Park. Hikes, stargazing and beyond.
Prepare to be transported to a world straight out of a science fiction film, where stunning scenery stretches as far as the eye can see.
Welcome to White Sands, where the world's largest gypsum dune field stretches for over 275 square miles, offering a truly extraordinary destination for explorers embarking on a New Mexico road trip.
Let's get into it, shall we? Here's what you need to do in White Sands National Park.
Looking for somewhere to stay near White Sands? Home2 Suites is my top pick. Rooms are spacious and cosy, and you're just a short drive from the park.
Top 5 Things to Do in White Sands National Park
Head Out Along Dunes Drive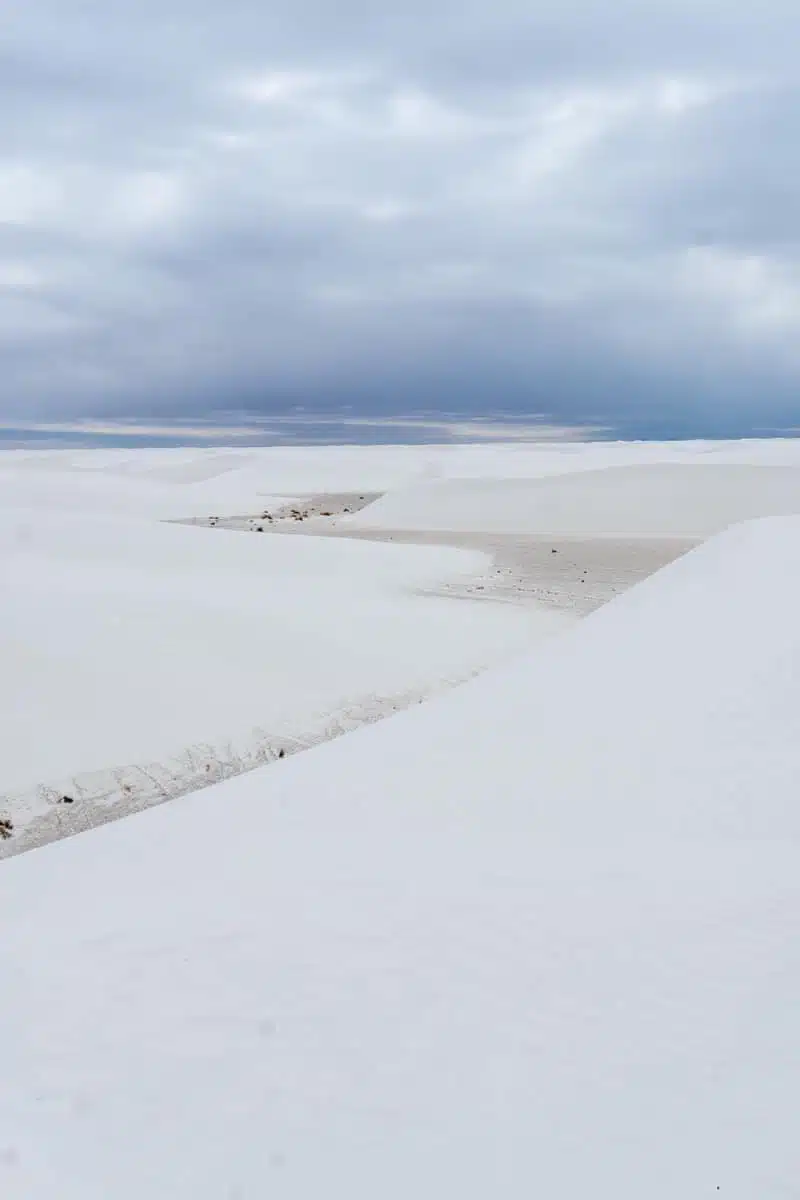 First up: Dunes Drive. This 13-mile loop drive is a brilliant way to experience all of White Sands National Park's highlights, especially if you only plan to spend one day in the area.
You'll start at the visitor centre, before heading straight into the heart of the white gypsum sand dunes, which create a stunning contrast against the bright blue sky.
The drive takes around an hour to complete – however, the route is adaptable, so you can stop off at various spots, like picnic areas and hiking trails (the Alkali Flat Trail is my fave and the most popular).
The drive along Dunes Drive is truly scenic as it twists and bends along picturesque white dunes. It's a magnificent experience and a terrific way to see the park.
Go Backcountry Camping
Looking to spend the night in White Sands National Park? Take my advice and opt to go backcountry camping, where you'll have the opportunity to lie under the star-studded skies as you sleep amongst the dunes.
I'll level with you, though – the backcountry camping sites in White Sands are very basic, with no amenities like water, bathrooms or seating. You'll also have to hike to your campsite through the dunes, but it won't take long.
Top Tip: Currently, the backcountry camping sites are not open to the general public due to ongoing rehabilitation. However, there are many places to stay near White Sands, such as Oliver Lee State Park, which is around 24 miles away.
Sled Down the Dunes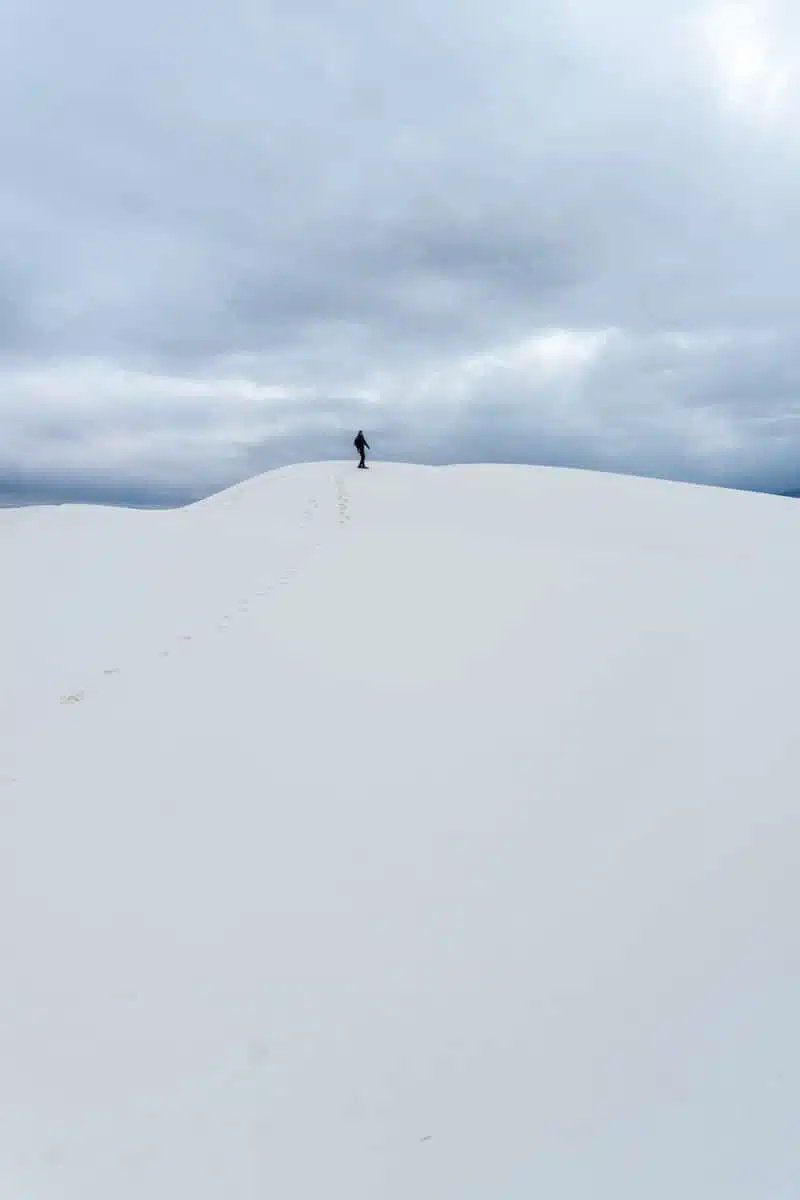 A fun thing to do in White Sands, New Mexico, is sledding down the dunes. Yeah, that's right, you can sled down sand, just like with snow.
To start, you'll need a plastic sled and some wax. You can rent one from the Visitor Center's gift shop. At the shop, the sleds cost around $20, so I recommend bringing your own if you have one.
It's ridiculously fun, but for the best time, the park's website advises choosing a gently-sloped faced dune and avoiding vegetation and other hazards.
Go Stargazing at Night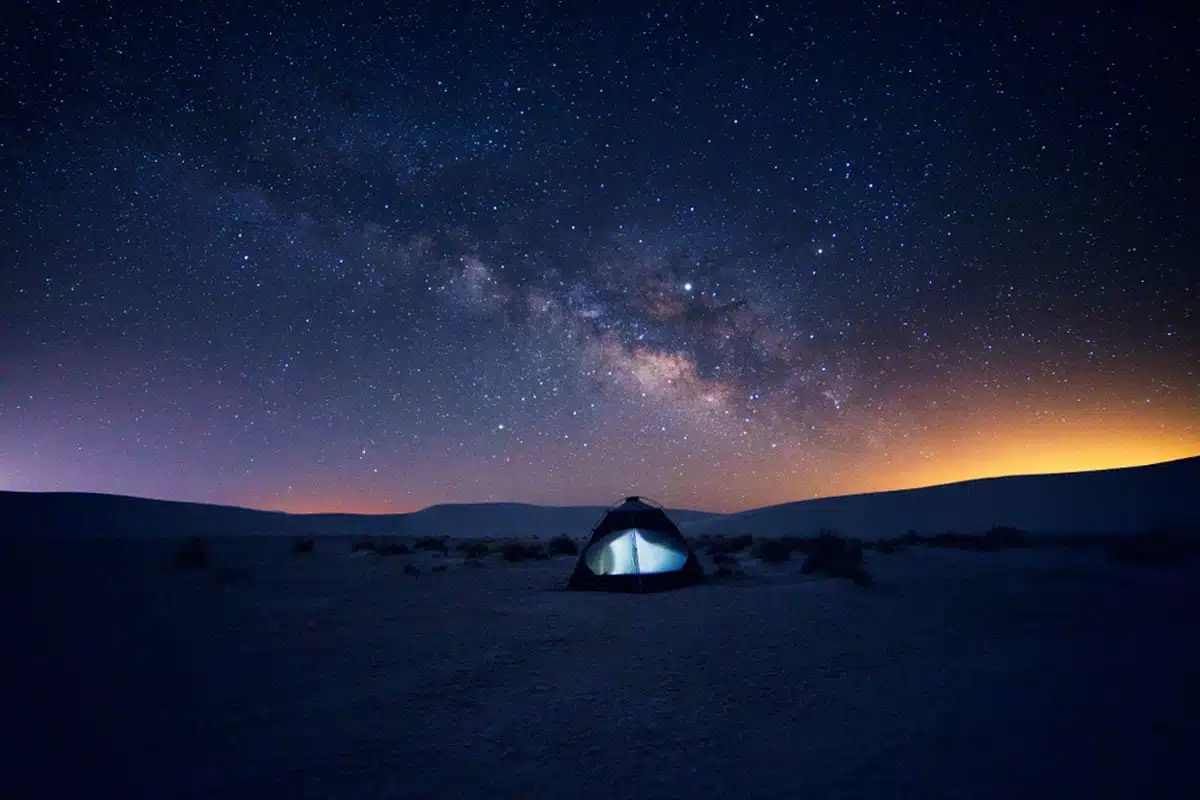 One of the main reasons I, and so many others, love White Sands is that it's in the middle of nowhere. This makes it terrific for stargazing as there aren't many big cities around to cause pesky light pollution.
One of the most memorable things to do in White Sands National Park is looking up at the gorgeous night sky. That said, the park usually closes around 6 pm, so it's very hard to do on a normal day.
Thankfully, I have a solution for you. White Sands hosts a Full Moon hike from March until November, once a month. These are 1.5-hour-long ranger-guided hikes and cost $8 per person, plus the park entrance fee.
Rustle Up a Picnic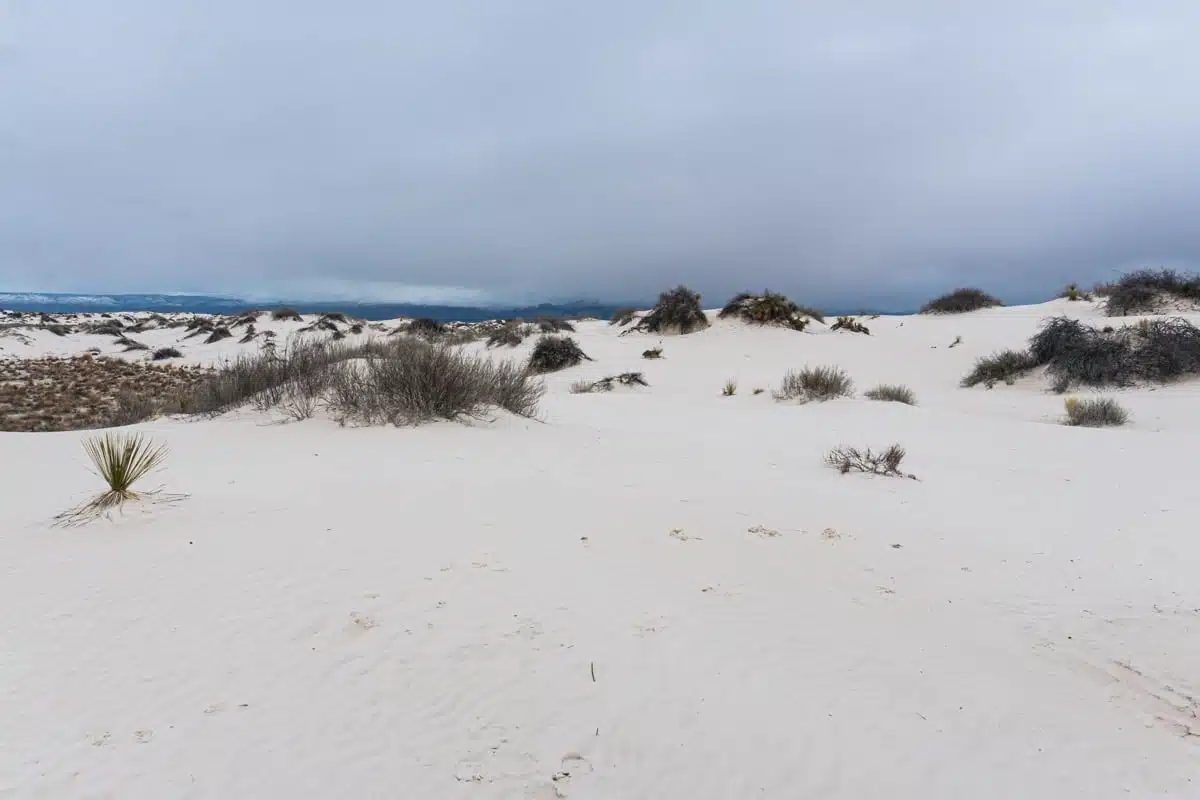 Okay, so these activities are full of fun, but after a while of sledding and hiking, you'll probably want to have some lunch. And what better way to eat than have a picnic overlooking the magnificent dunes?
Luckily for you, the park has three picnic areas with shaded tables. Trust me; you'll be happy these provide sun cover, as it can get relentlessly hot here (bring high-SPF sunscreen).
To get to these picnic areas, you'll need to head along Dunes Drive and follow the signage. All picnic areas have a grill, but remember to leave no trace.
Brilliant Things to See & Do in White Sands National Park
Hike One of the Trails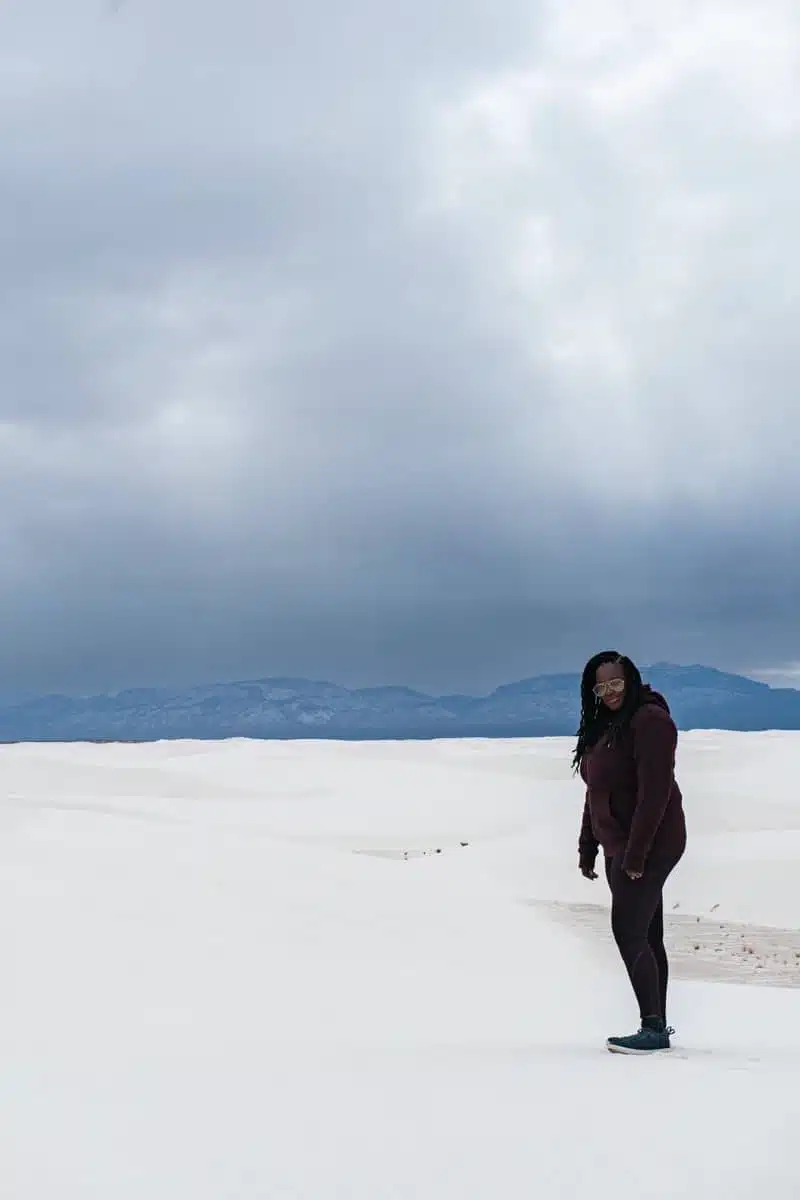 You didn't think you could go to White Sands without getting your hike on, did you? No no no. The park has quite a few hiking trails, but these are the ones I recommend…
The Alkali Flat Trail is a 4.7-mile loop trail that involves hiking through the dunes. That makes it hard on the legs, but all in all it should take you around two hours (just make sure to follow the trail markers and bring sunglasses).
Another stellar option is the Interdune Boardwalk Trail. Okay, so this isn't really a hike. However, it is a brilliant opportunity to learn about desert plants. It's a 0.4-mile out-and-back trail and will take around 10 to 20 minutes.
Or, for the best way to learn about what flora and fauna that thrive in Tularosa Basin, go on the 1-mile Dune Life Nature Trail. It takes you into the dunes without too much effort and takes an hour.
Oh, and wear closed toed shoes. No need to thank me.
Explore the Visitor Centre
Bear with me here. I get it, as usually visitor centres don't have much to do. This one is the exception, though, as you can look over various exhibits and see a theatre with a film about the park.
Also, this is one of the best (and only spots) to fill your water bottle, go to the bathroom, and grab anything to eat if you forgot something for your picnic. You can also ask rangers for recommendations and important info.
Catch a Desert Sunset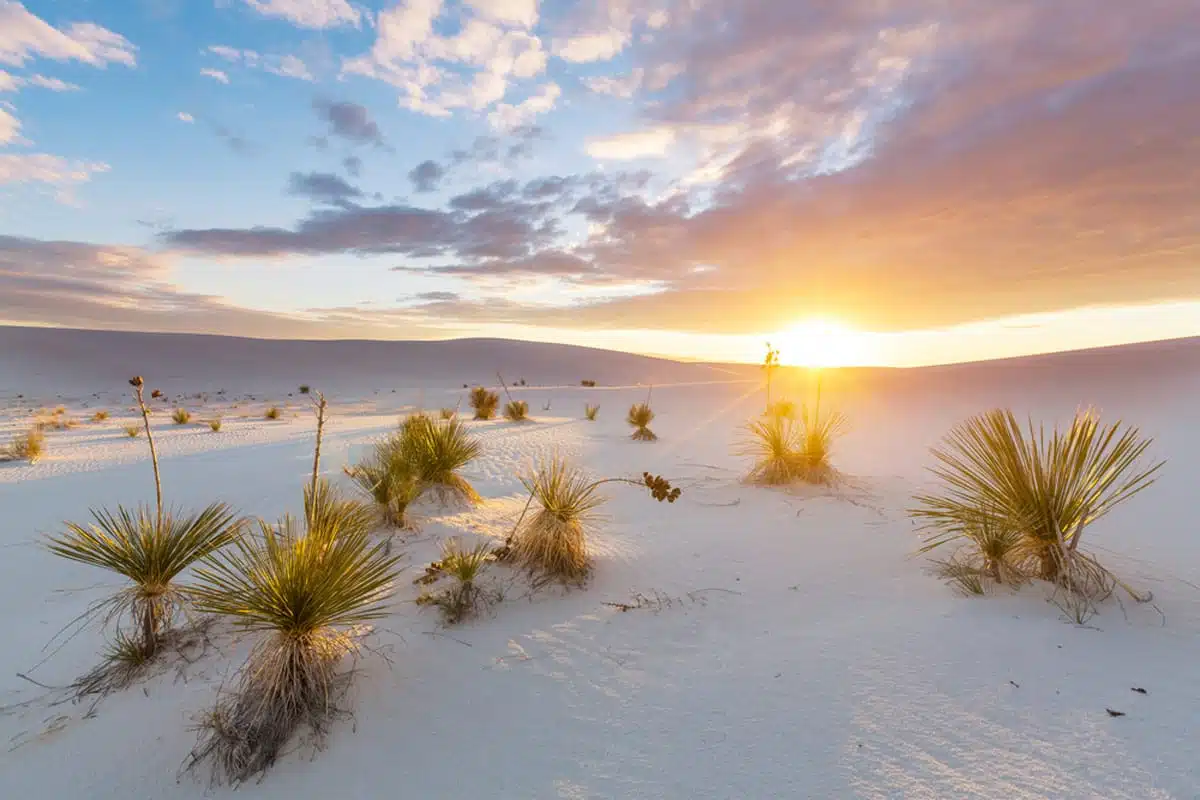 As you can tell, White Sands National Park boasts majestic dunes, panoramic views of the Sacramento Mountains and the tranquil Lake Lucero.
But one of the best ways to experience the park's natural beauty is by watching the sunset, and a ranger-guided sunset stroll is the perfect way to do so. These sunset strolls take place daily, typically between 4 pm and 7 pm, though timing may vary depending on the season.
The best part is that the stroll is completely free and lasts around an hour, covering a distance of one mile.
Unique Things to See & Do in White Sands: Hidden Gems That are Off the Beaten Track
Visit Lake Lucero with Rangers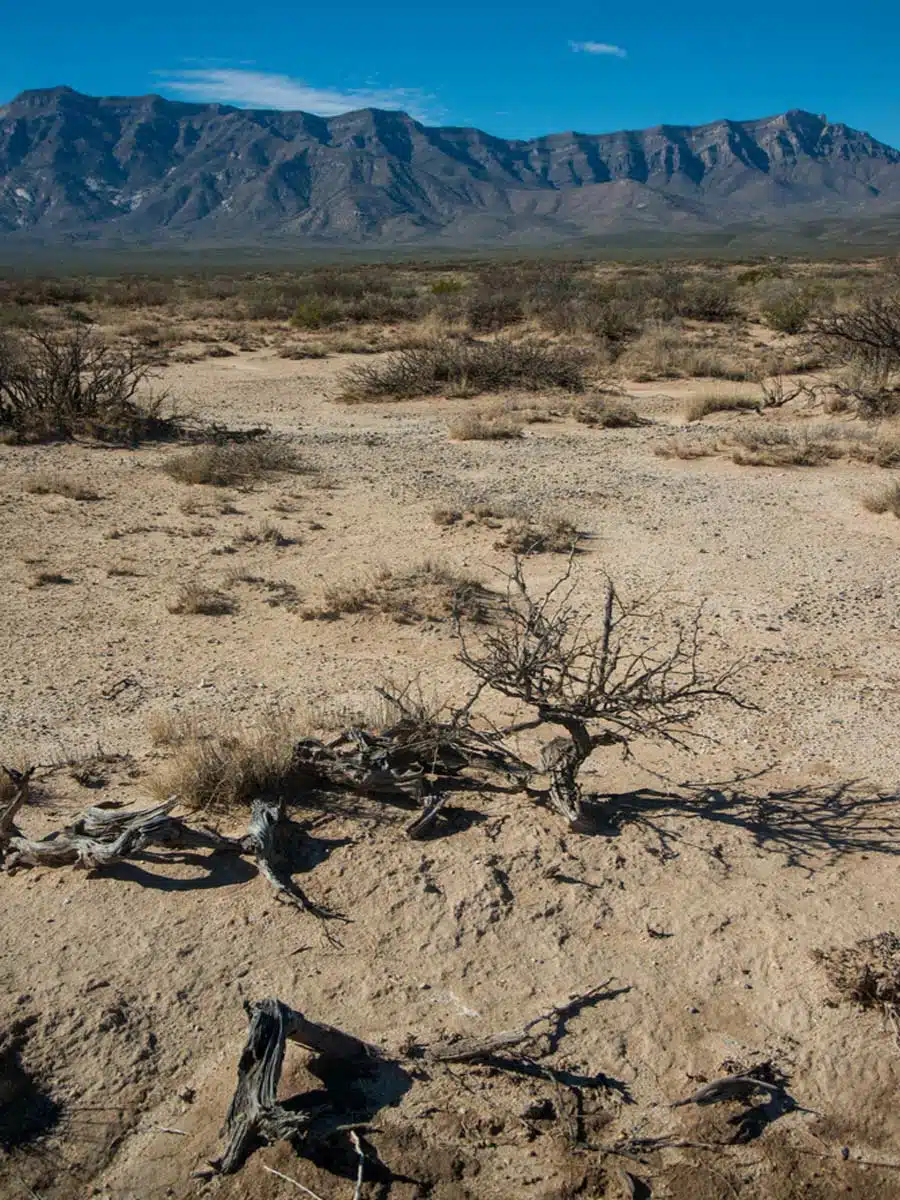 If you're looking for what to do at White Sands National Park for a truly once-in-a-lifetime experience, visit Lake Lucero on a ranger-guided route. This lake is where the dunes formed due to saltation, and the guides are knowledgeable about the area's geology and history.
What's more, it's a fun trail, as you see selenite crystals, a critical part of the gypsum that makes up the dunes. The tour costs $8 per person every third Saturday at 10 am from November until March.
Book Your Lake Lucero Tour Here
Explore Alamogordo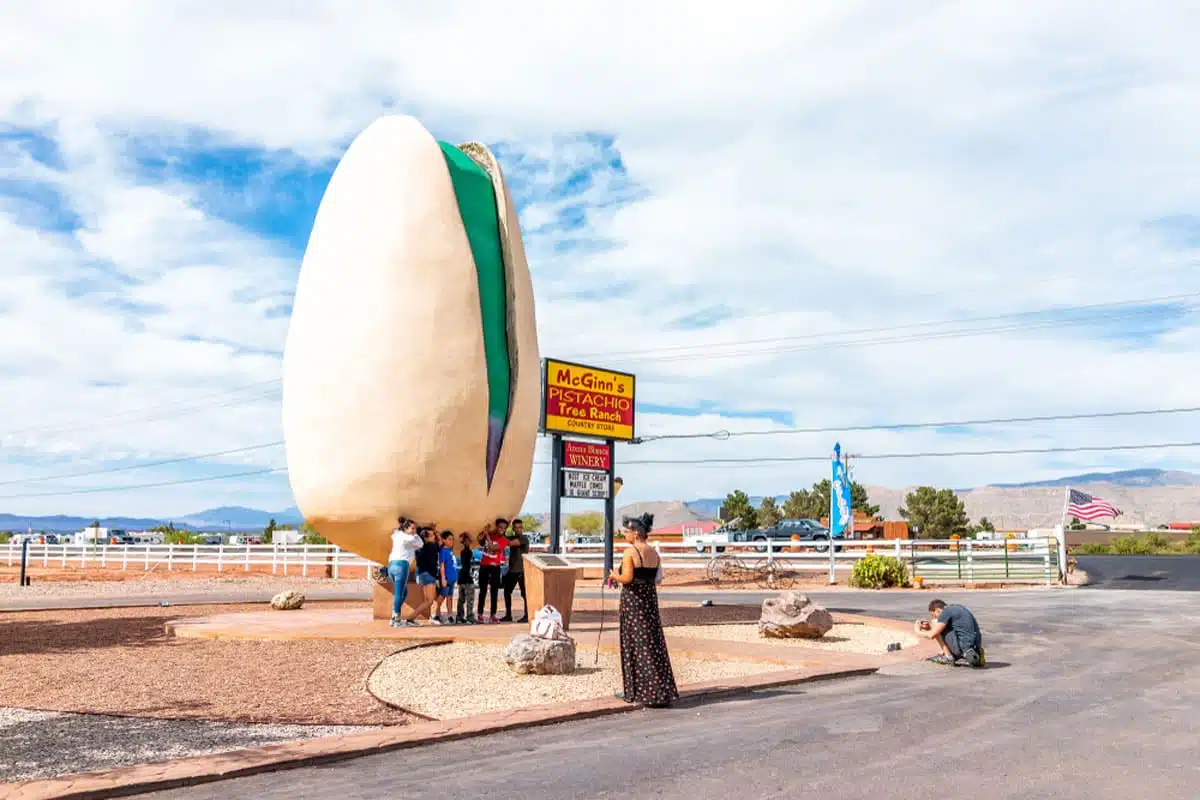 Once you've had enough of sandy toes and desert hikes, it's time to head back to civilisation – and one of the top things to do near White Sands National Park is to visit Alamogordo.
There's a couple of things to do in and around the city, from exploring the New Mexico Museum of Space History to visiting the Alameda Park Zoo.
But the real reason to visit this town is for the brilliant restaurants and coffee shops, such as Plateau Espresso, Rockin' BZ Burgers and Rizo's Mexican Restaurant. Try the green-chile cheeseburger and Carne Adovada, and thank me later.
Best Things to Do in White Sands National Park: Practical Tips for Your Trip
How Long to Visit in White Sands?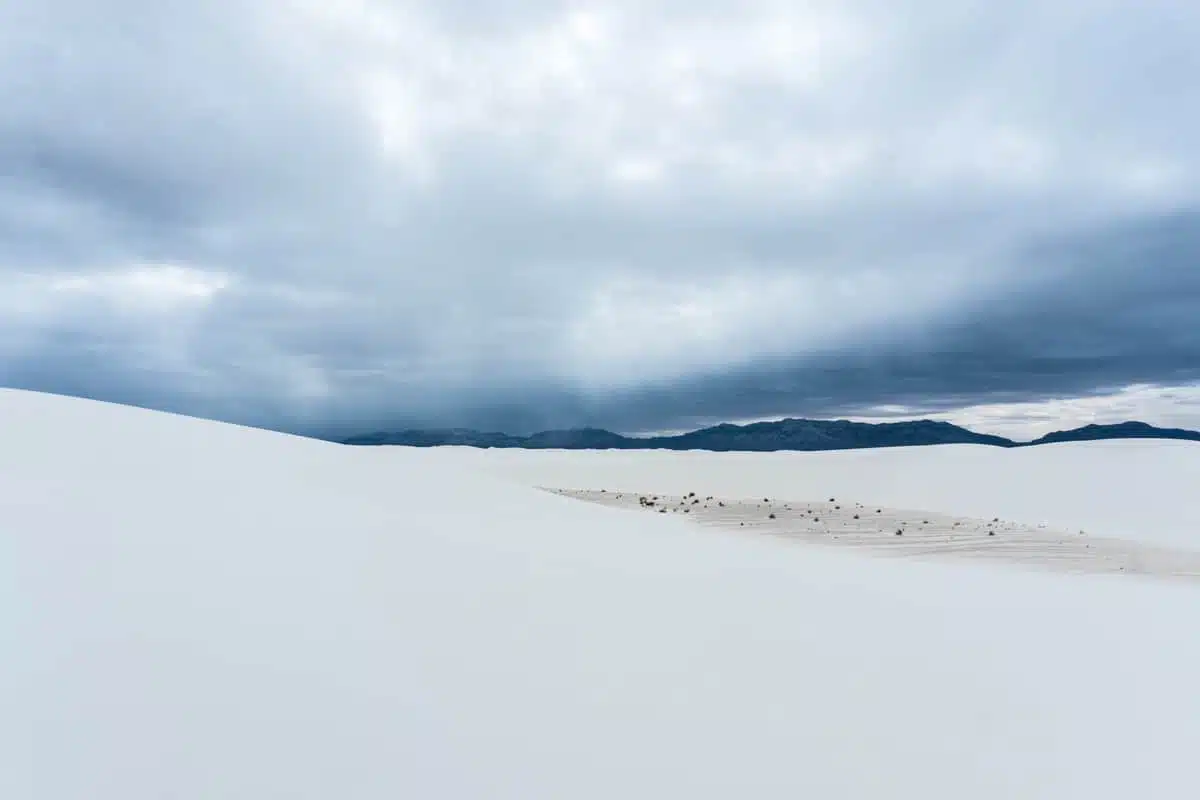 The great thing about White Sands is that you can explore the whole park in one day, from hiking the Alkali Flat trail to sledding and traversing Dunes Drive. It makes a terrific day trip from Albuquerque.
Best Time to Visit White Sands?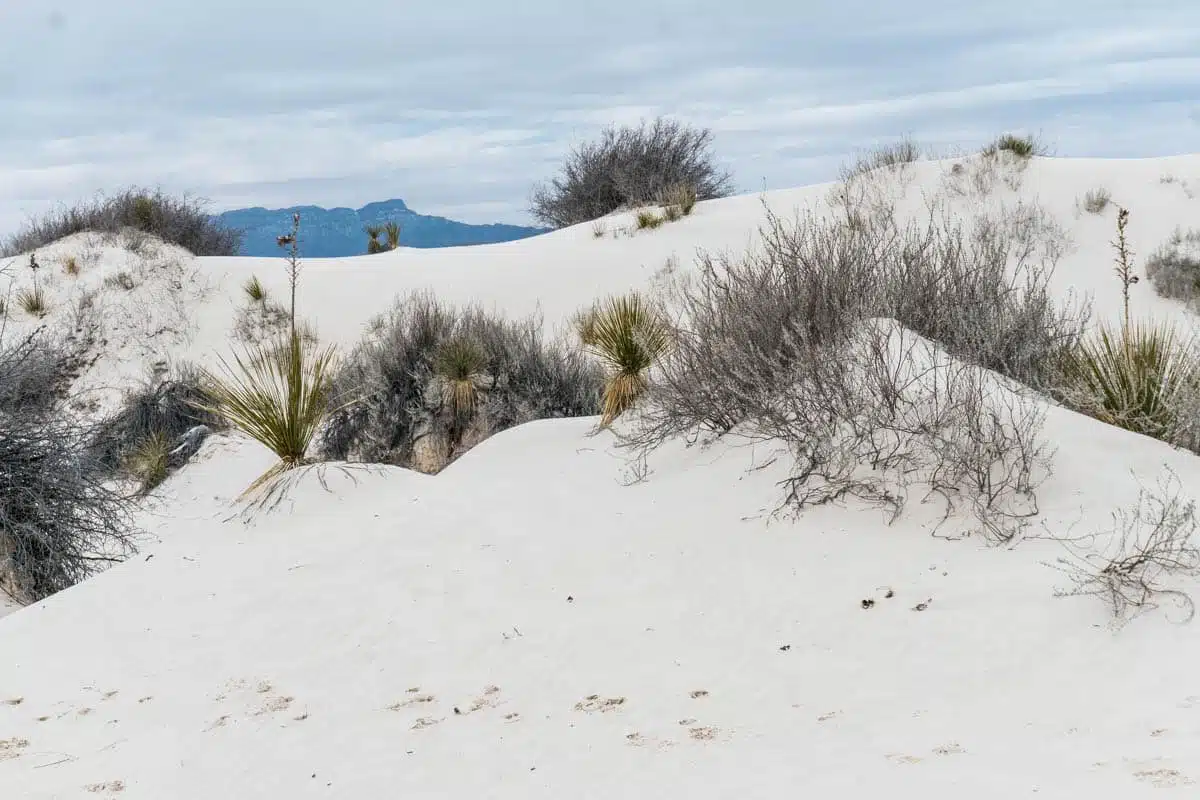 The best time to visit White Sands is in fall/autumn, between late October and early November. This is when the cottonwoods begin to change colour, the crowds have left and there are pleasant temperatures.
Where Should I Stay in White Sands?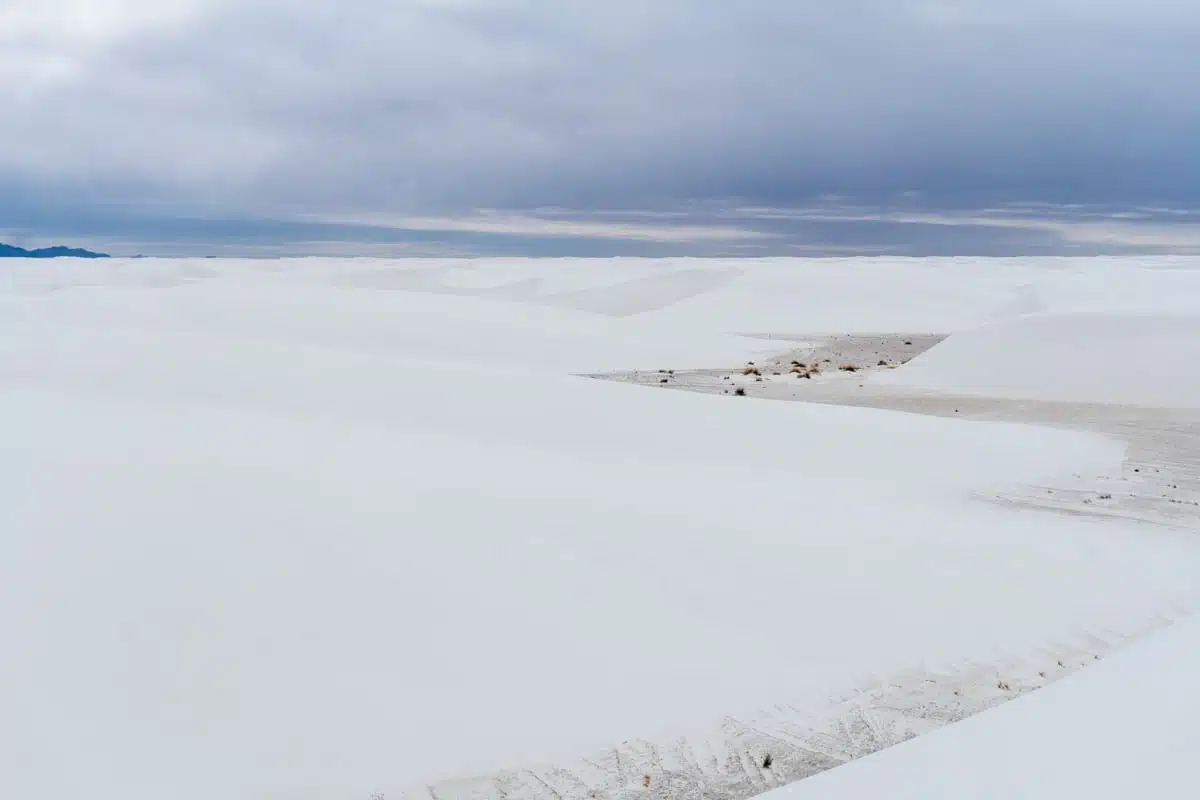 Since you can't stay in White Sands National Park (unless you're camping), I'd recommend staying in the nearest city, Alamogordo. Here are my top two choices for hotels near White Sands:
Hampton Inn Alamogordo (Mid-Range)
This delightful Hampton hotel is just 15 miles from White Sands, making it one of the closest lodgings to the park. Besides this apparent advantage, it has pristine rooms with free WiFi, air conditioning and flat-screen TVs.
Home2 Suites By Hilton Alamogordo (Luxury)
If you're looking for the comforts of your home (sorry, I just had to), I recommend staying at Home2 Suites. It's got all you need, from super-spacious rooms with comfy beds and pops of colour to modern amenities, like a fitness centre, outdoor pool and complimentary breakfast. Also, it's only 18 miles from White Sands.
Recommended Tours in White Sands
If you're interested in taking a White Sands tour, I recommend booking through the website directly. If you're lucky enough to time your trip just right, the Full Moon Hike is a magical experience.
Things to Do in White Sands, NM: Map
White Sands National Park: Read Next