Discover the best camping grounds in Monument Valley with this handy guide. What you need to know before setting up camp in this stunning desert valley.
If I asked you to picture the desert, I guarantee something akin to Monument Valley will come to mind.
That's no coincidence. Numerous classic Westerns and even one of the most well-known films, Forrest Gump, features this stretch of desert.
Why? Because, to put it simply, it's bloomin' gorgeous. But it's history is also pretty fascinating.
The Monument Valley (or Tse'Bii'Ndzisgaii) was first inhabited around 1200 BCE by the Anasazi, or Ancestral Pueblan peoples, and has been at the centre of desert civilisation for generations.
And thanks to its stunning natural beauty, it now attracts thousands of visitors to its red sand plains and austere sandstone towers.
This Navajo tribe treasure has mind-blowing rock formations from every viewpoint. What was once a Navajo trade post that brought the locals food has grown into much more than a dot on the map.
Itching to visit? I thought you might be.
Read on to discover the best campsites in Monument Valley…
Why Camp in Monument Valley?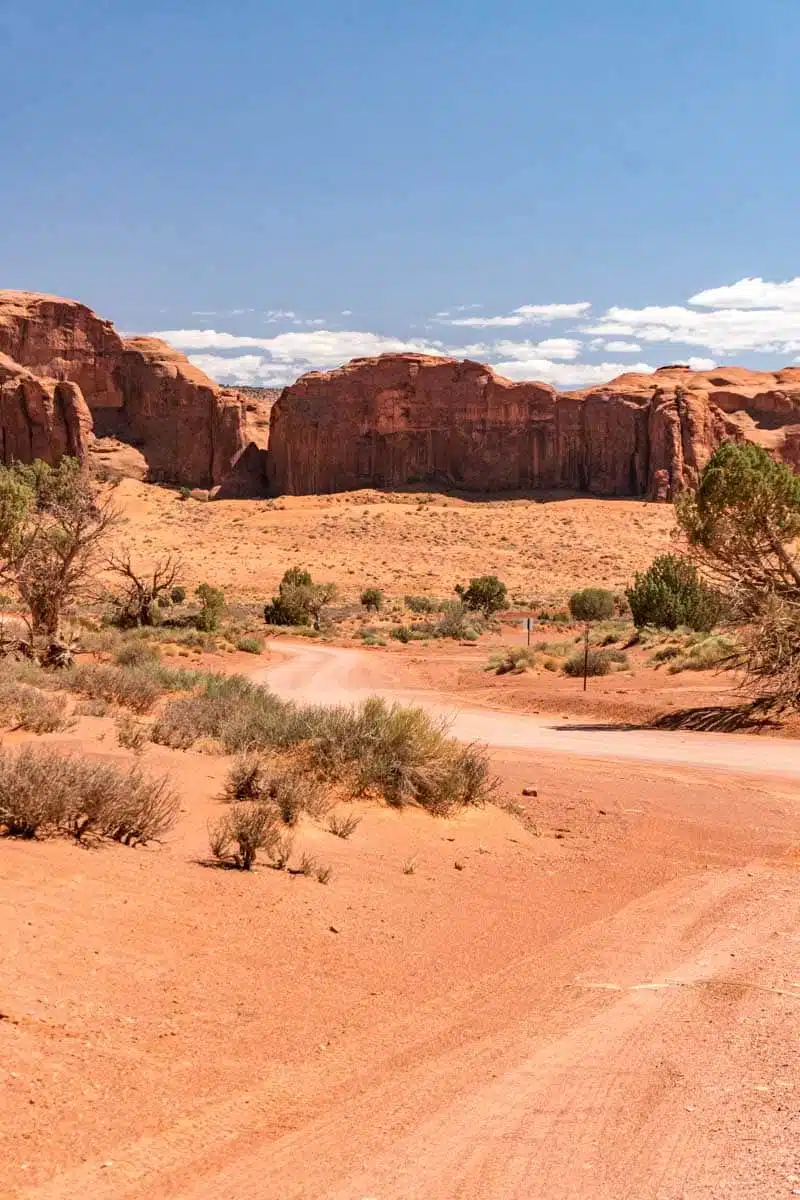 Let me be real with y'all – if you're travelling through Arizona or Utah, stopping in Monument Valley is a must. It's unique among desert locations, which is why many Western films, postcards, and other media have used it as a key setting.
Beyond the film and popular culture allusions, Monument Valley boasts some breathtaking vistas and a past that I found myself completely obsessed with on my last visit.
And camping is the best way to experience it. Forget fancy hotels, dive deep into nature by roughing it a little. Trust me.
Best Spots for Camping in Monument Valley
The View Campground
Oljato-Monument Valley, Arizona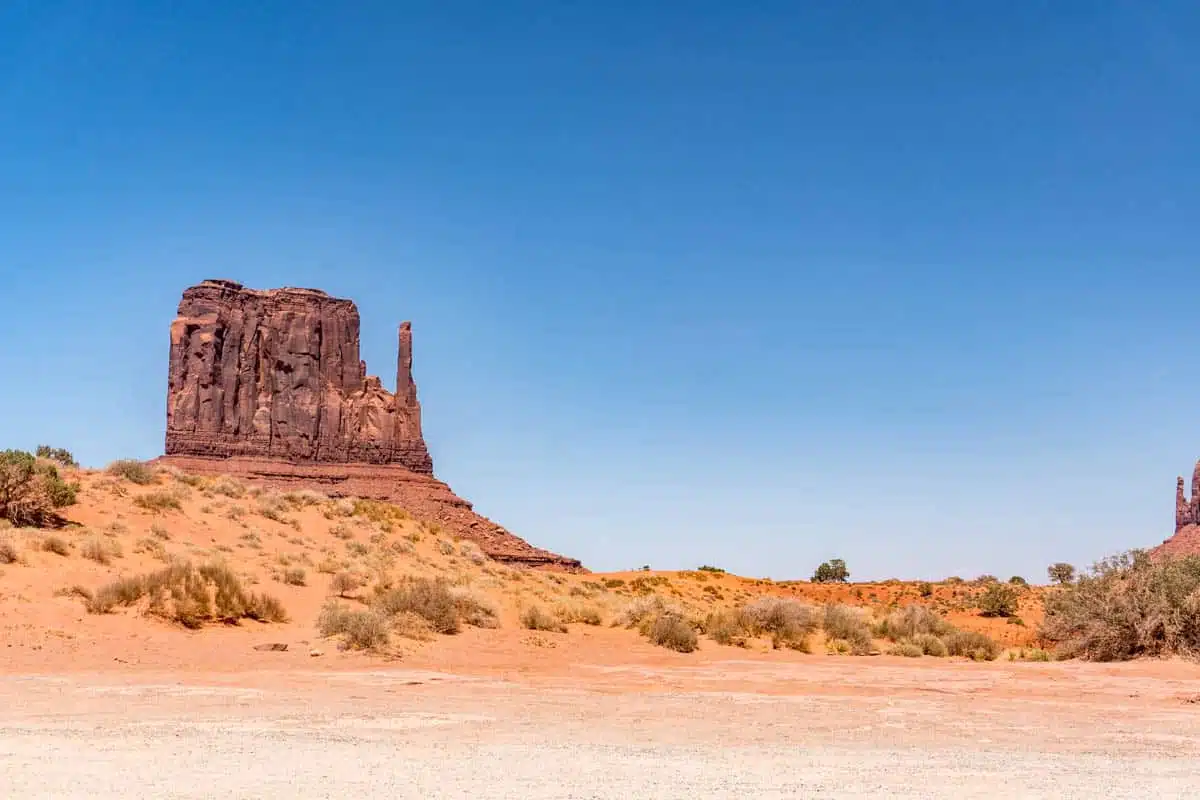 The View offers the best views and is an excellent Monument Valley campground – which is why I recommend it. As a camper, you can take the four-mile Wildcat Trail from the campground and visit the Mittens, the most famous tower in Monument Valley.
In addition to seeing the amazing views, you'll be close enough to the visitor centre to begin guided tours, such as horseback riding and Jeep trips. You'll also have quick access to the 17-mile road that runs through the park.
All essential facilities, such as a fire pit and picnic tables, are at the campground. Campsites here cost $40 per night in addition to the $20 entrance fee and $5 tribal lands tax.
It's perfect for anyone who wants to be as close to the Valley as possible.
Monument Valley KOA
Monument Valley, Utah
The Monument Valley KOA is just across Tribal Park and is your standard KOA campground with restrooms, a dog park, and hookups.
The breathtaking vistas make it a spot you want to stay for a while… And perhaps even embark on a Monument Valley scenic drive?
Jeep and equestrian tours of the park are also offered from the Monument Valley KOA, meeting conveniently on-site. The Monument Valley KOA offers views of the towers and mesas in the park in addition to proximity and convenience.
Daily rates range from $35 – $70, and this campsite is best suited for lone campers.
Goulding's RV & Campground
Oljato-Monument Valley, UT
Goulding's RV & Campground is a delightful, almost kitschy spot with a stagecoach Old West theme. Daily rates range from $35 – $40, and this site is best suited for RV campers.
You can book tours with Navajo guides via Goulding's to learn about the ins and outs of the park or to see the towers, mesas, and buttes in the pre-dawn or moonlight.
Wondering about the facilities? Don't worry – the campground sites have picnic tables, fire rings, and hot showers, so things are pretty comfy around here (well, as comfy as a rustic camping experience can be).
Monument Valley Tipi Village
Oljato-Monument Valley, UT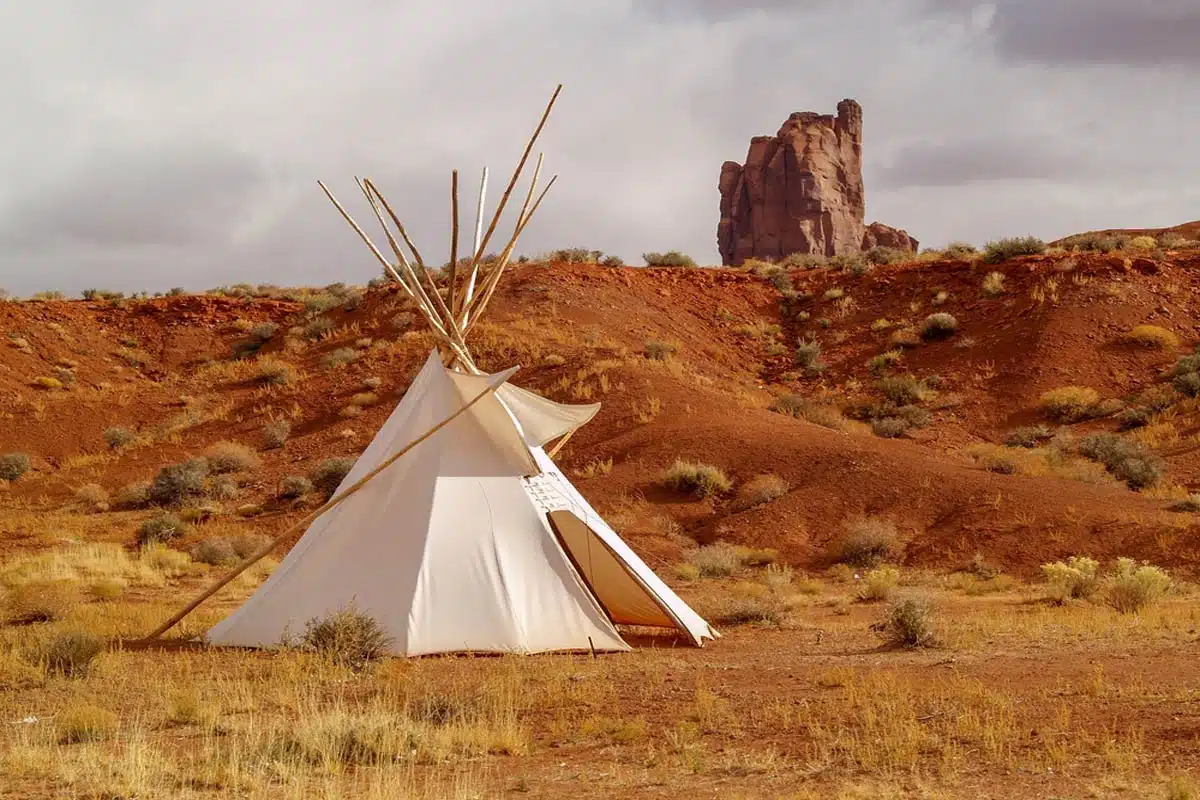 Monument Valley's Tipi Village is a more unique campground near Monument Valley, and one that's managed by locals.
If you're looking for something a little bit different, here you can use your tent or rent a tipi to spend the night. But, don't stress, there are also RV full hookups available. Daily rates range from $20 – $90.
The site features five carpeted tipis that can each accommodate four individuals sleeping on two furnished mattresses (complete with cushions and blankets) that can turn into chairs.
There is also a contemporary "octagon" hogan with all cabin amenities, including a wood stove, electricity, a refrigerator, lighting, and a microwave. Because who doesn't fancy a little bit of luxury in the middle of Monument Valley?
Hummingbird Campsite
Oljato-Monument Valley, UT
With spectacular views and a hiking track leading to the rims, Hummingbird Campsite is the perfect spot to set up a tent and relax. The camp has a picnic table and fire pit for guests to set up their tents or RVs.
Daily rates start at $30 a night and include access to the property's WiFi, showers, and outhouse restrooms.
Oh, FYI – the owners even have two dogs running around the campsite: Chopper and Diamond. They're very well-behaved and will play nicely with your pups, which you're more than welcome to bring along.
Practical Tips for Booking Campsites in Monument Valley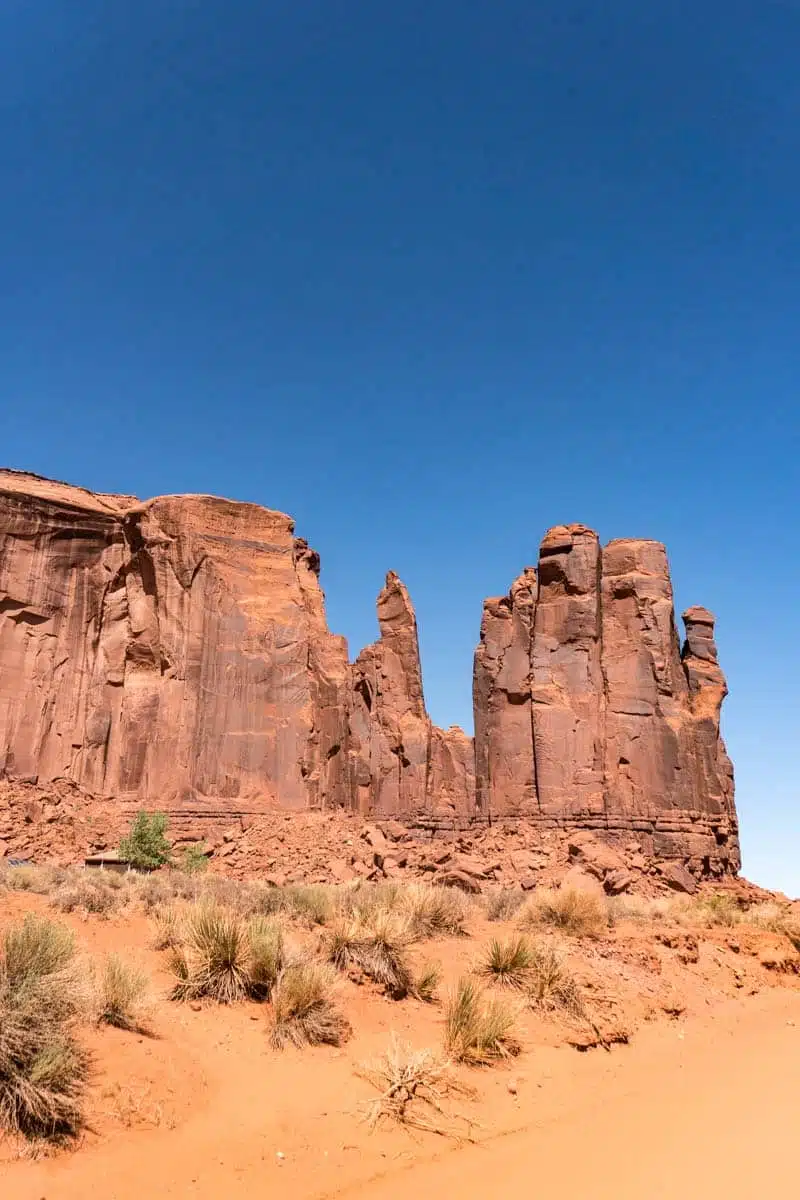 Monument Valley is a Navajo Tribal Park – the holy and historic ground in Monument Valley bears witness to centuries of land treaties, negotiations, and suffering. Leave this place better than you found it by abiding by its laws and respecting its history and traditions.
The entrance fee to the park is $20 per car or $10 per person if coming on foot or by bicycle.
Access to the scenic route is available Oct 1 – Apr 30. In the off-season, admission times are 8 am to 4:30 pm, while in the high season, it's 6 am to 8:30 pm.
Monument Valley can become congested like any other tourist destination during the high season. To get the most incredible views and avoid having many visitors in your shots, plan to visit early in the morning or later in the day, closer to sunset.
Since Monument Valley is a desert region, the temperature varies considerably from day to night. Prepare for heavy winter snow and scorching summer heat.
Camping in (& Near) Monument Valley: Map
Monument Valley Camping: Read Next