There's no better place to admire California's rugged natural beauty than in Big Sur. And there's no doubt about it – these Big Sur hikes are sure to fuel your adventurous side.
Although a road trip along California's iconic Hwy. 1 is a magical experience, to get the most out of Big Sur, I urge you to get out of your car and onto your feet for some of the most epic hikes in the region.
It might just be one of the most picturesque places in the USA.
Don't believe me? Well, picture dramatic waves crashing against a rough and rugged coastline. Add to that a collection of fauna and flora second to none. Get the picture yet?
Seriously, pals. If hiking in Big Sur isn't on your bucket list, you're missing out. These trails are a great place to start.
Best Hikes in Big Sur
Pacific Valley Bluff Trail
Length: 1.6 Miles
Time: 45 – 60 Minutes
Difficulty: Easy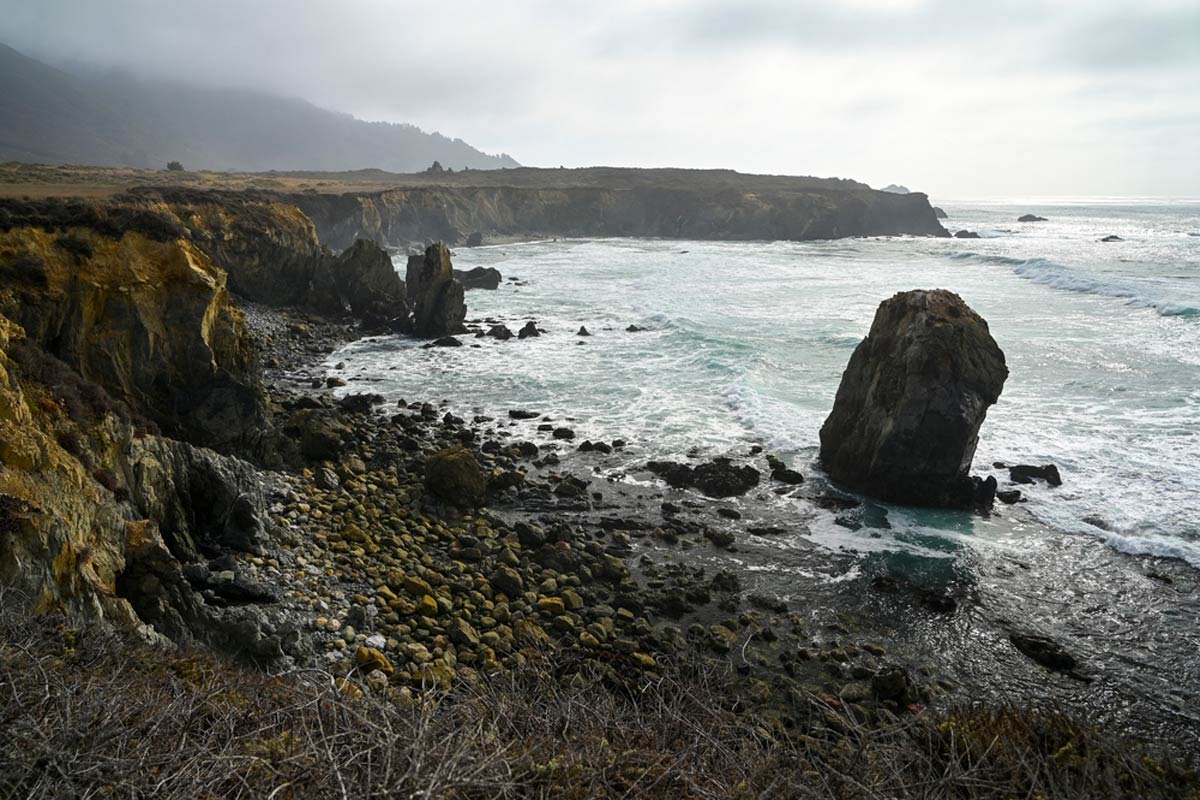 With its trailhead just above Sand Dollar Beach, the Pacific Valley Bluff trail is an easy excursion within the Los Padres National Forest. It's a simple flat path trail that traverses large grass fields and breathtaking rocky cliffs above the ocean.
But don't let its simplicity put you off – with stunning scenery that blends lush grasslands with imposing cliffsides, it's also a photographer's nirvana.
While you venture along the trail, you might stumble upon herds of cows casually grazing and seasonal wildflowers that create a magical picture.
And considering its short length, you can also easily add in the 0.4-mile Sand Dollar Beach Walk for a truly memorable experience.
Note: Due to winter weather conditions, the Pacific Valley Bluff Trail only reopens on 14 March 2023.
Sykes Hot Spring via Pine Ridge Trail
Length: 19 Miles
Time: 10+ Hours
Difficulty: Hard
Let's chat about one of the most popular hiking trails in Big Sur. Even though it's a  strenuous out-and-back hike, the payoff is gratifying. 
Beyond the gorgeous views and immersive natural surroundings, the jewel in this crown is the Sykes Hot Springs.
Starting at Big Sur Station, this trail doesn't require additional permits, but you'll have to pay a $10 fee.
After starting on the path, you'll head through a beautiful mix of redwood trees against the backdrop of stunning mountains. You'll reach Barlow Flat Camp by heading through a few Big Sur camping spots.
From here, one more steep climb up the side of the mountain awaits. Fair warning: You will break a sweat here as the mountain sits exposed to the sun. But, once at the peak, it's an easy descent to the stunning hot springs.
Pfeiffer Beach Walk
Length: 2 Miles
Time: 1 – 1.5 Hours
Difficulty: Easy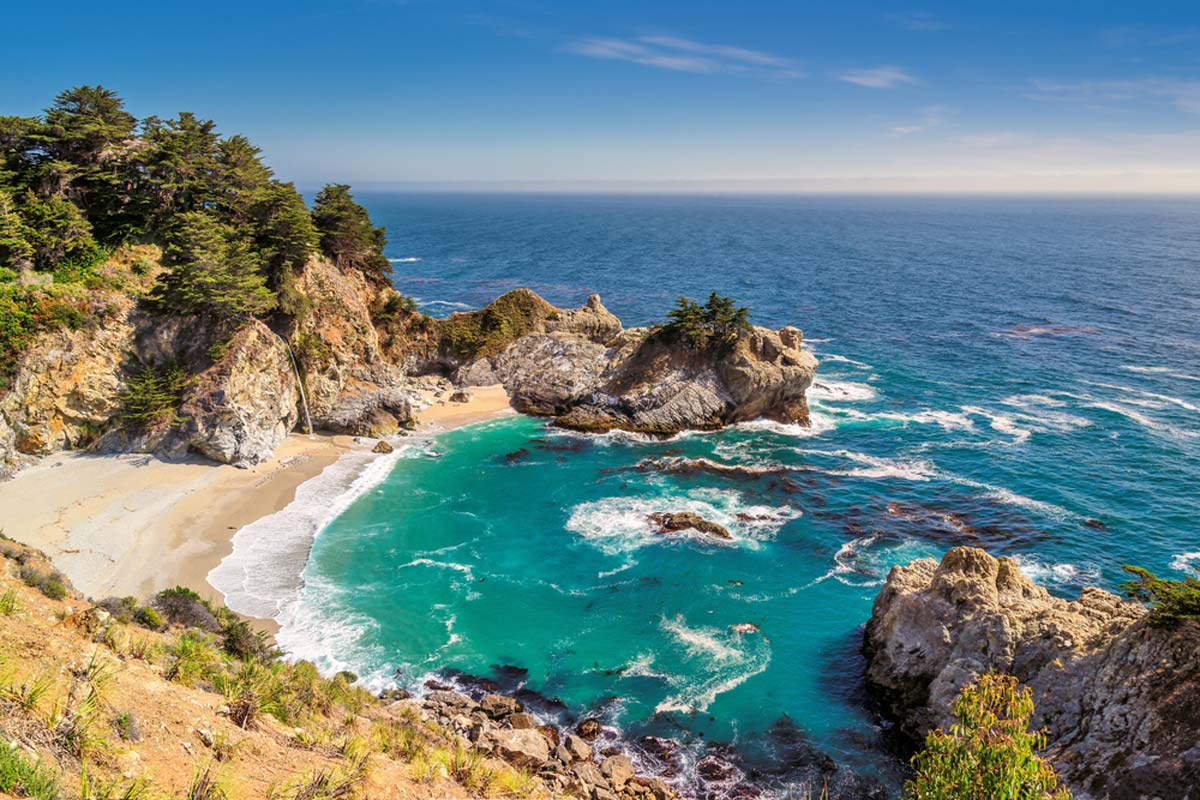 Pfeiffer Beach might sound like your average beach, but it's far from that. In terms of pretty beaches, it ranks among the best in the world, although you can't swim here.
The ultimate way to experience its famous purple sand is by heading out on this quintessential Big Sur hiking trail.
Okay, not much hiking will need to take place here, thus the name Pfeiffer Beach Walk. This out-and-back trail will have you venture along the beach from one end to the next. Along your trek, you can admire Keyhole Rock which sits just off the coast.
As you progress on the trail, look down to see a kaleidoscopic collection of purple sand crystals that form most of the beach. If you're here during spring or winter, you may even have the chance to see migrating whales offshore.
Big Sur River Gorge Trail
Length: 1.2 Miles
Time: 30 – 45 Minutes
Difficulty: Easy
What makes hiking in Big Sur so awesome? I'm glad you asked. I think the answer lies within the perfectly captured Big Sur River Gorge Trail.
This leisurely – and surprisingly unknown – trek takes you to some of the most untouched parts of the region. And away from the crowds so often associated with Big Sur hiking trails.
With almost no elevation gain, it's perfect for hikers of all ability levels and for nature lovers. Better yet, the trail runs past multiple swimming holes and ample shade. How amazing does dipping your feet in river streams sound?
Adding to its secluded vibe, the trailhead is quite challenging to spot. But, I gotchu guys – when heading from site 111 to site 112 in the Pfeiffer Big Sur State Park Campground, you'll find the small marker that shows the way.
Mill Creek Trail
Length: 2.3 Miles
Time: 1 – 1.5 Hours
Difficulty: Easy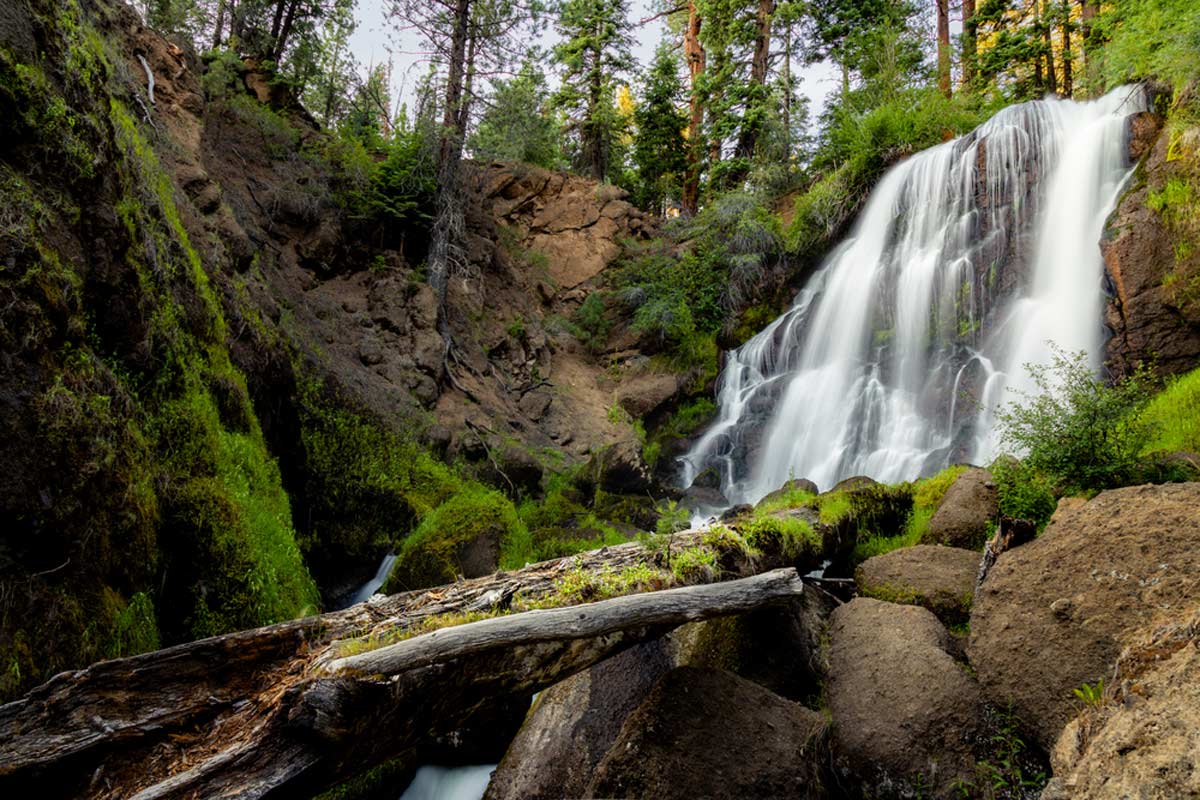 One of the best hikes at Big Sur is also coincidentally one of the most beautiful Big Sur waterfall hikes. Leading you through the picturesque redwood trees of Los Padres National Forest, the Mill Creek Trail takes you along a gorgeous creek to a stunning waterfall.
Although the trail begins with a very steep climb, it is a brief one, and once you've ascended it, the rest of the path is a collection of gradual ascents and descents. With a total elevation gain of 413 feet, it's a very welcoming trail for any level of hiker.
And as a bonus, you can even bring your dogs along to head out on this dog-friendly hike in Big Sur. I mean, you can't have the stunning views Mill Creek is famous for all to yourself.
Note: Due to winter weather conditions in the area, the Mill Creek Trail only reopens on the 14th of March, 2023.
Ragged Point Cliffside Trail
Length: 0.8 Miles
Time: 1 Hour
Difficulty: Medium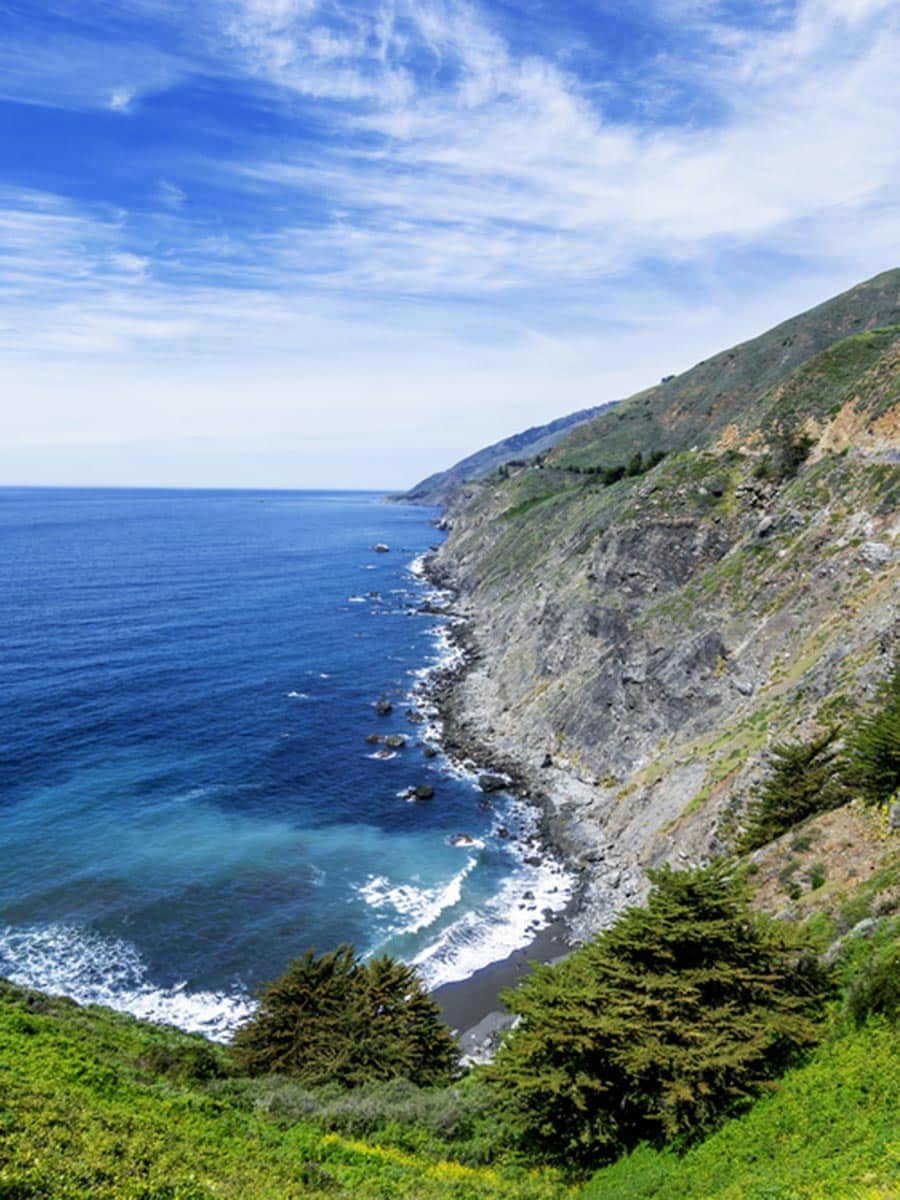 Ragged Point Cliffside Trail is, without a doubt, one of the best hikes at Big Sur. Don't let the short distance fool you, though, as it involves scrambling up a steep, slippery hillside that will put your hiking boots to the test.
However, the reward at the end of this out-and-back trail is almost otherworldly views of the point where the Santa Lucia mountains meet the roaring ocean. The trail starts with a descent down along the cliffs to a patch of black sand beach.
From here, you'll also bear witness to a little bit of a surprise (maybe little isn't the right word). At the foot of the cliffs, you will have stunning views of the Black Swift Falls that cascade from 300 feet above you.
Point Lobos Loop Trail
Length: 6.7 Miles
Time: 3 – 4 Hours
Difficulty: Medium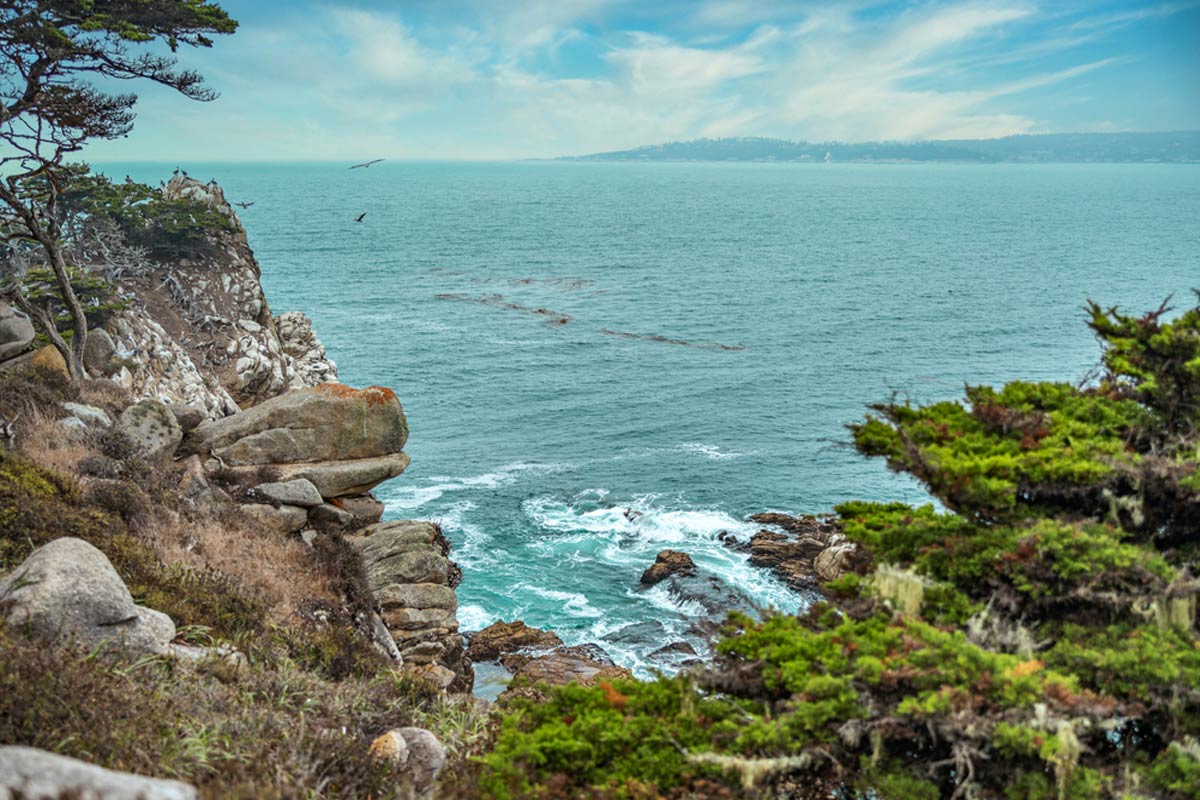 When it comes to genuinely worthwhile Big Sur trails, the Point Lobos Loop Trail is an outdoor adventurer's dream. Easily one of the most enticing Big Sur day hikes, this loop trail encompasses other stunning treks, such as the Cypress Grove Trail and Cabin Trail.
It's quite a long trek, but along its winding routes, you can expect to see some of the most diverse landscapes you'll find anywhere in Big Sur.
From tidepools and rocky coastlines to breathtaking Monterey pine trees and epic collections of wildflowers, what more could you want?
With its moderate difficulty level, you'll need some hiking experience, but for the most part, it's an enjoyably challenging trail.
If you want the best conditions for hiking this route, plan your visit for September when the heat from summer eases, and clear skies welcome you.
Vicente Flat Trail
Length: 10 Miles
Time: 5+ Hours
Difficulty: Hard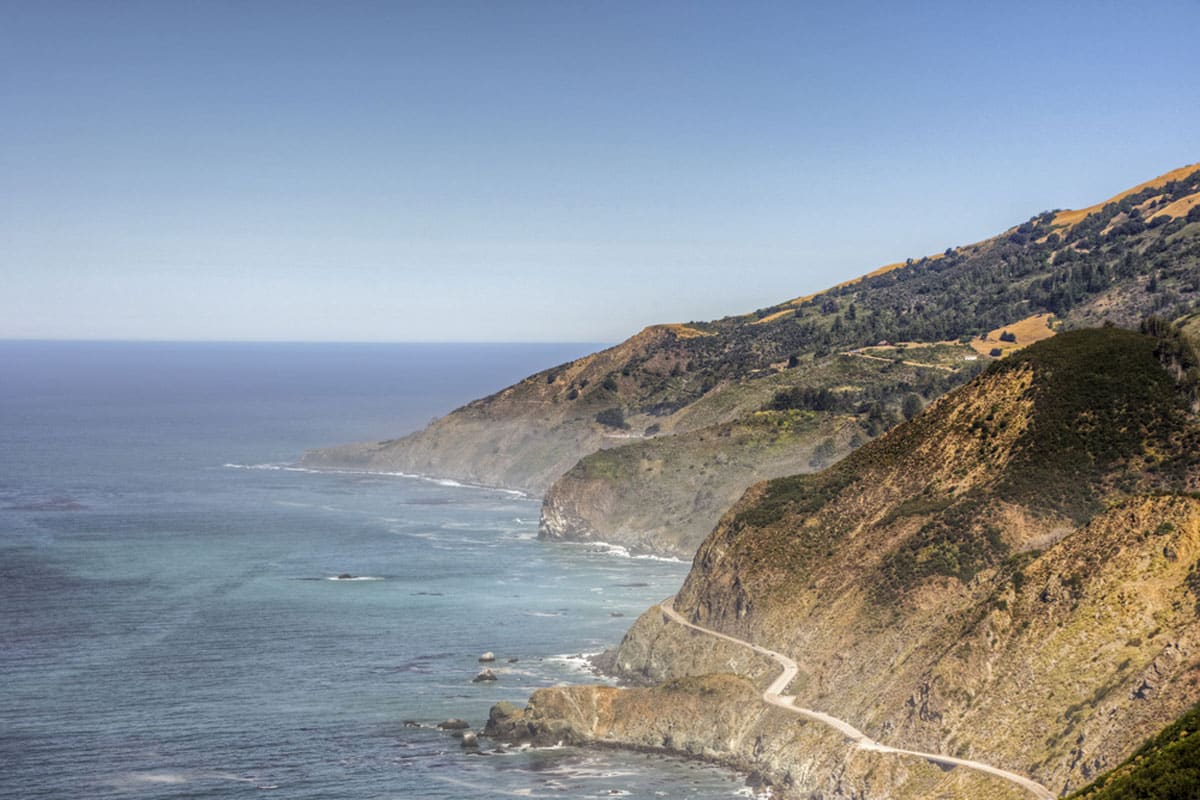 An absolute must-do hike in Big Sur, the Vicente Flat Trail is a moderately challenging loop with some difficult stretches. However, if you want to see the most scenic parts of Big Sur, there is no better route for it.
Along this stunning trail, you'll encounter picturesque coastal views and a sprawling regrown redwood forest. The first few miles of the trail are the most scenic, with epic hillsides and gorgeous ocean views.
For the most part, the trail is quite narrow and, at times, steep, so prepare yourself for these bits.
The best time to tackle this trail is during spring when the seasonal wildflowers are in full bloom, and the weather permits a leisurely pace. Keep your cameras ready, though, as the views of Twin Peak and Cone Peak are absolutely mind-blowing.
Best Big Sur Hikes: Practical Tips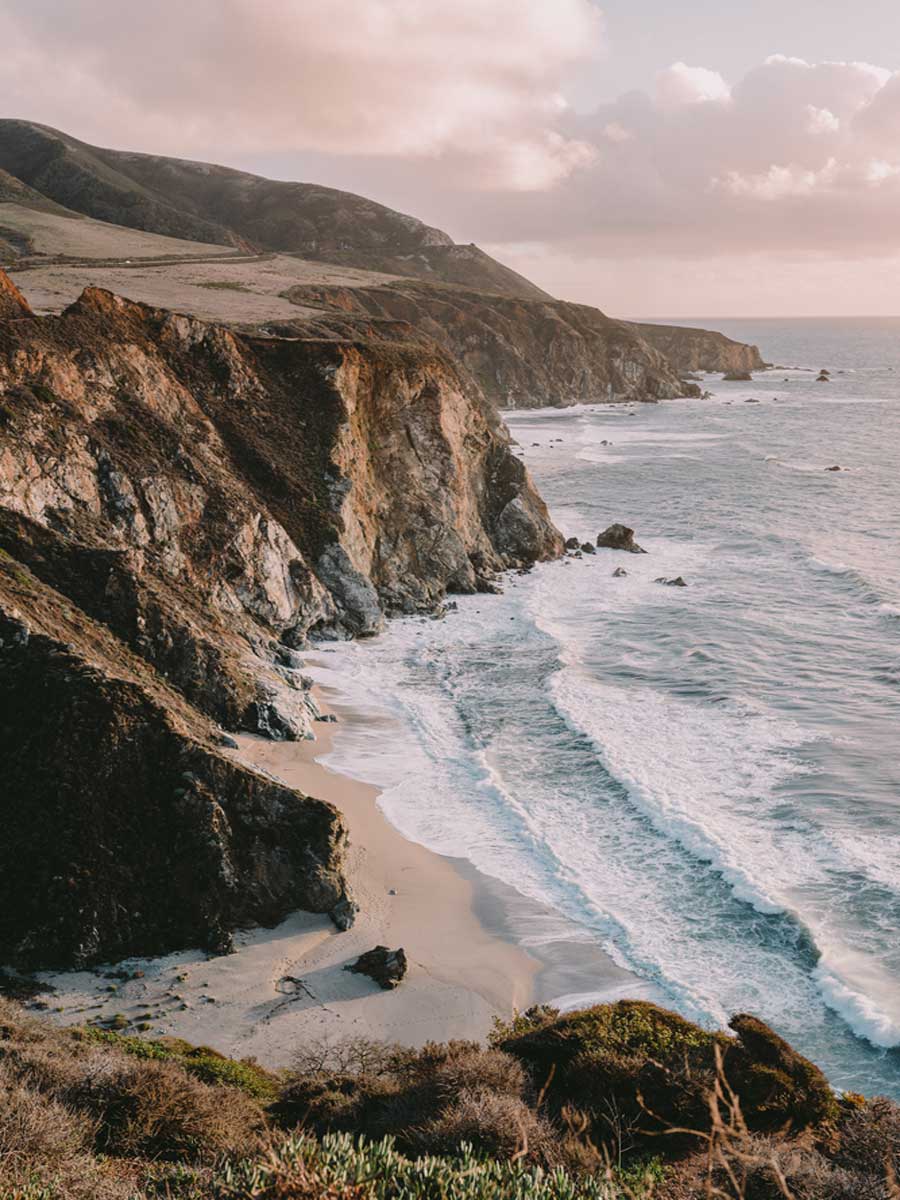 Always check for trail closures before planning your hiking trip to Big Sur. Sadly, this is an essential part of planning where to hike in Big Sur, as weather conditions force the closure of trails during the year. Beyond weather, also take note that mudslides and wildfires affect trails.
Don't venture out on any Big Sur hiking trail without having planned out (and printed) maps at the ready. There is almost no cell reception for the entire length of Big Sur, so mobile devices aren't the most reliable navigators around.
Although most Big Sur hiking trails do benefit from shaded areas, it's crucial that you bring along a refillable water bottle, hydration pack, sunglasses, and a wide-brim hat.