Discover the top landmarks in Los Angeles with this handy guide. From the Walk of Fame to the Griffith Observatory, these are the landmarks you need to add to your itinerary.
So, you're visiting the City of Angels and trying to figure out what to do – how about hunting down the best landmarks in Los Angeles?
Apparently (according to some pretty extensive Googling) there are over 1,200 historical landmarks in Los Angeles. While I might not have visited them all – although I'm pretty sure I've come close – I've got the lowdown on the attractions you NEED to visit on your next trip.
Which means that you can spend less time searching and more time admiring the sights and soaking up the buzzing atmosphere.
Whether you're spending one or three days in Los Angeles (or more!), you won't regret fitting some of these into your itinerary.
Famous Landmarks in Los Angeles, California
Walk the Hollywood Walk of Fame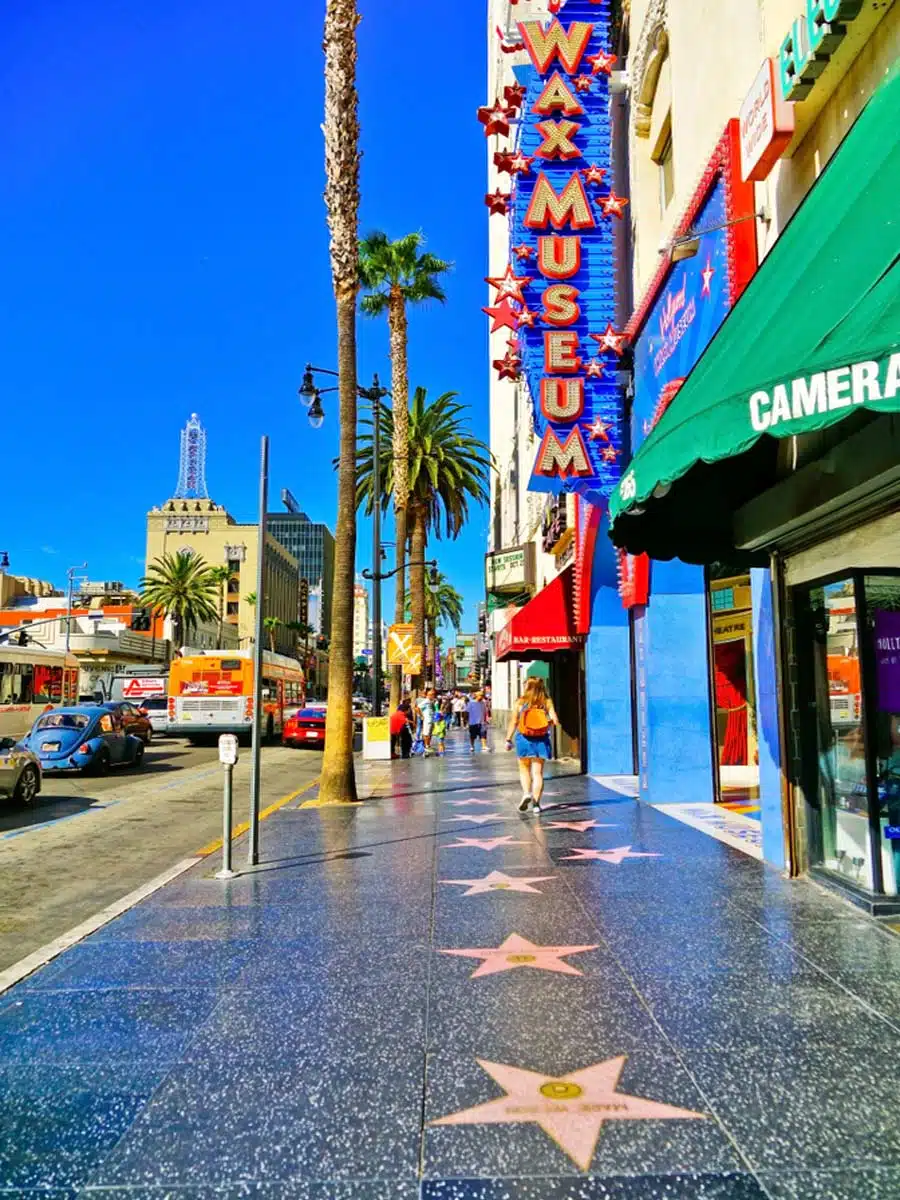 You saw this one coming, right? It's obvious. Hear me out, though. The Hollywood walk of fame is probably the most iconic landmark in Los Angeles.
Whether you're into celebrity culture or not, there's bound to be an icon there that you admire. Gracing this 15-block sidewalk are some of the biggest names in the industry, from musicians to directors and actors.
Apart from the fancy five-point stars, there's more to do and see at this historical location. When you visit in the evening, you can pop into lively restaurants and clubs that stay open late.
If that's not your scene, head to the Guinness World Records Museum or Madame Tussauds Wax Museum.
Hike to the Hollywood Sign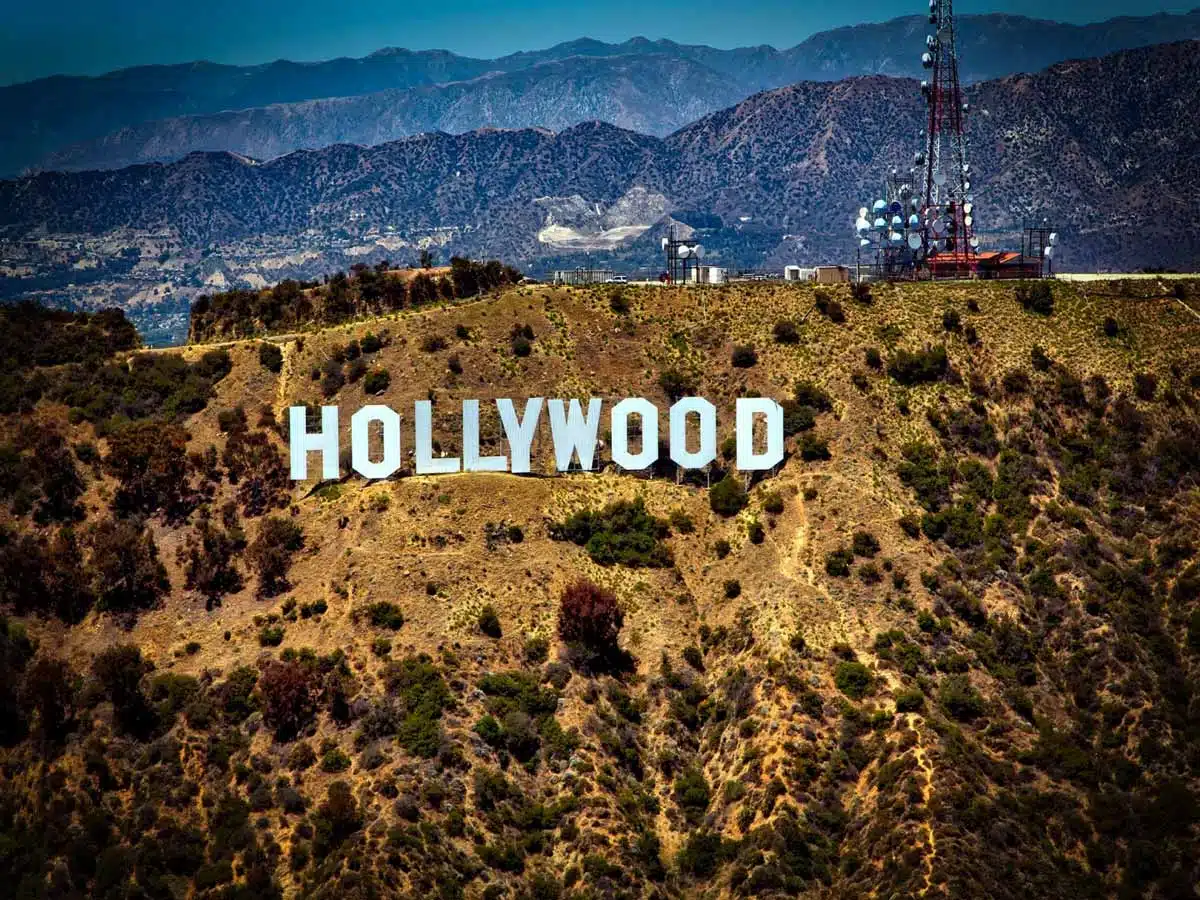 Yep, this one should also come as no surprise. Visiting Hollywood and not spotting the iconic Hollywood Sign is criminal.
While there are plenty of places you can see the sign throughout the city (it might be pretty small but it's rather imposing), the famous Hollywood Sign hike is my favourite – it's one of the best hikes in LA, after all.
Admire the Genius Architecture of the Walt Disney Concert Hall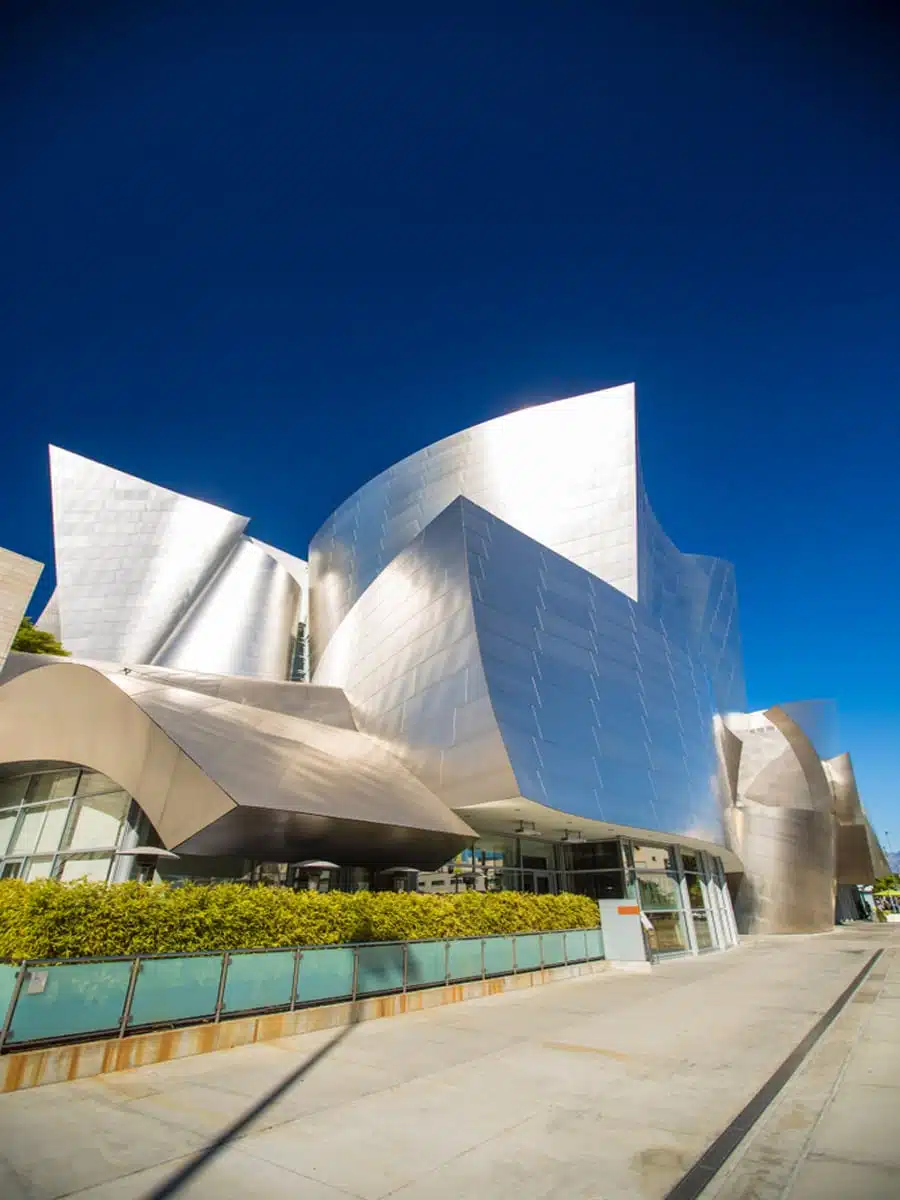 Love it or hate it, The Walt Disney Concert Hall is one of the most mesmerising architectural landmarks in Los Angeles.
And, once you see it up close, you'll likely agree. This magnificent structure that looks straight out of a sci-fi novel is designed by the legendary Frank Gehry.
Known as one of the most acoustically sophisticated concert halls, you can conveniently wander its halls self-guided. Tickets start from around $20, but this may vary by season, day, or show.
Release Your Inner Child at Universal Studios Hollywood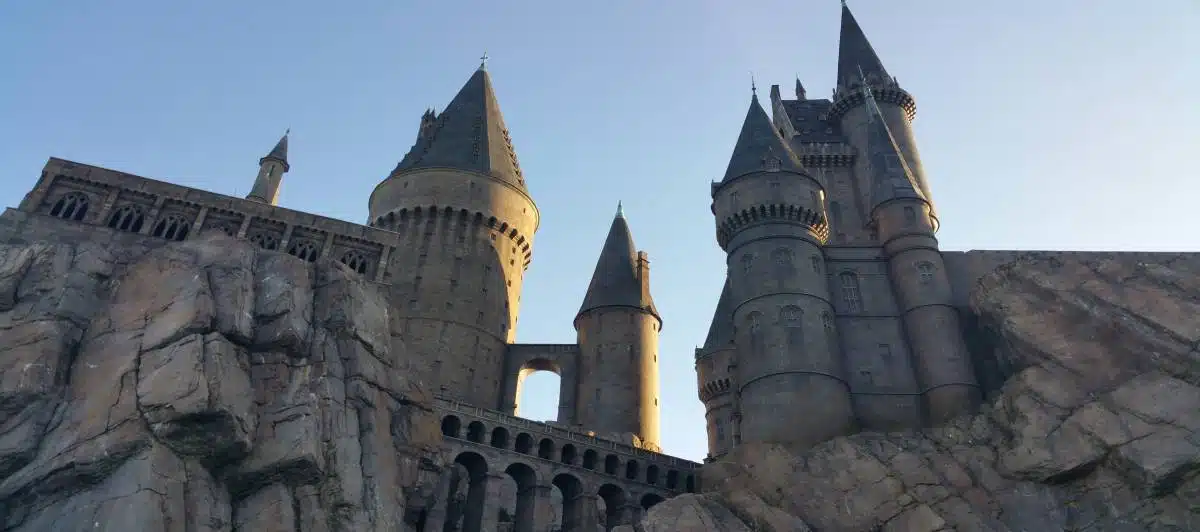 Ready to relive your favourite childhood memories at the Universal Studios Hollywood film studio and theme park. Let's be honest, not all of us have grown out of our Harry Potter phase (I'm guilty AF), so this place is a dream come true.
Make your way to The Wizarding World of Harry Potter. Enjoy a boatload of thrills, pulse-pounding rides, and all sorts of Harry Potter-themed activities, such as the Three Broomsticks restaurant.
But aside from nerding out over wand-wielding wizards, Universal Studios has a range of action-packed adventures and entertainment ready for you to enjoy.
How about a behind-the-scenes peek at the film sets responsible for epic blockbusters? Or if it's an adrenaline boost you want, that's what you'll get at the Evolution of Jurassic World – The Ride.
Capture Fairytale Photographs at Wayfarers Chapel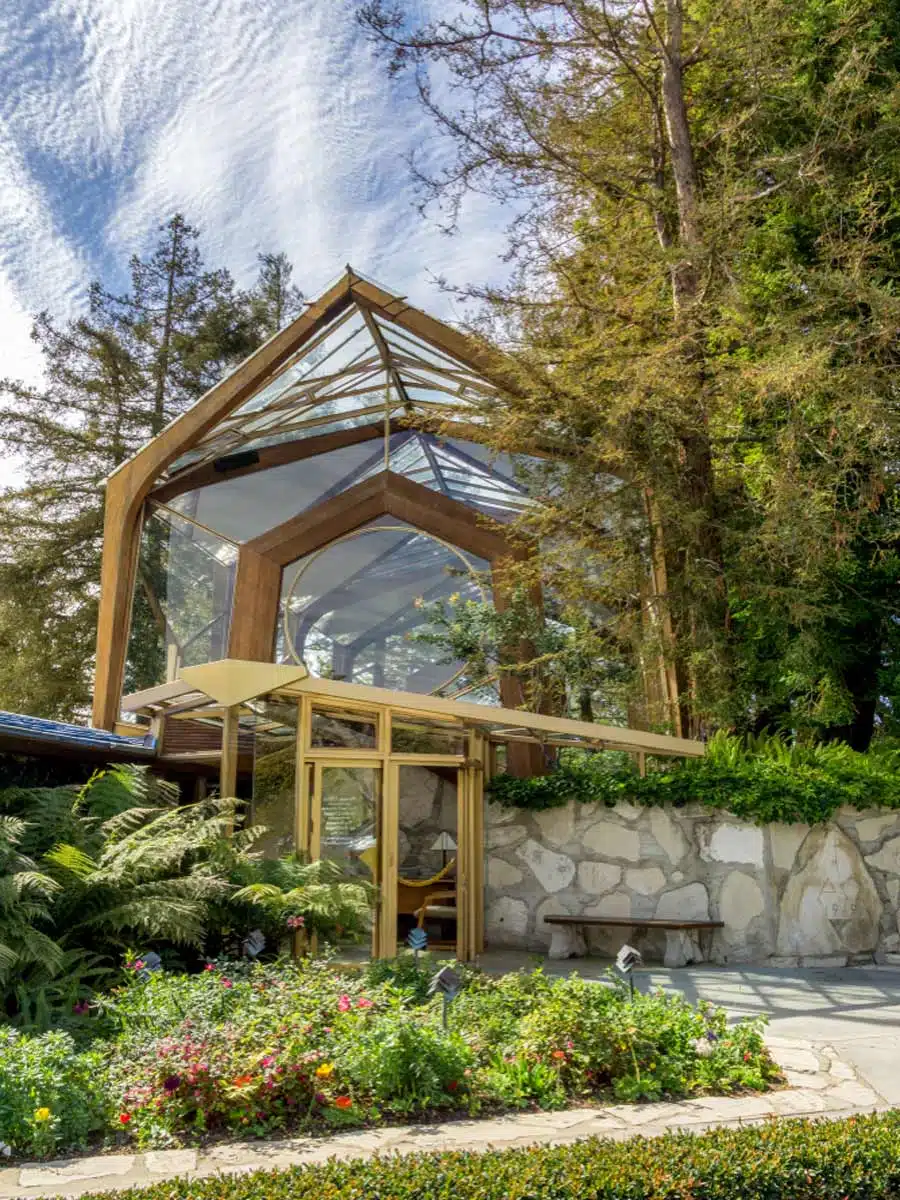 Now, on to an off-the-beaten-path landmark in Los Angeles: Wayfarers Chapel. Also known as "The Glass Church", you can marvel at this beauty's unorthodox and organic architecture.
This fascinating chapel exudes romance, charm, and tranquillity like no other. You can capture the most magical and purest imagery — it's that breathtaking. Just imagine geometric-shaped glass with light pouring in, surrounded by untamed forests and views over the Pacific Ocean.
Wayfarers Chapel is a Swedenborgian church that accommodates people of all faiths. It's an ideal location for significant occasions such as wedding ceremonies, baptisms, and memorial services.
Pay a Visit to The Broad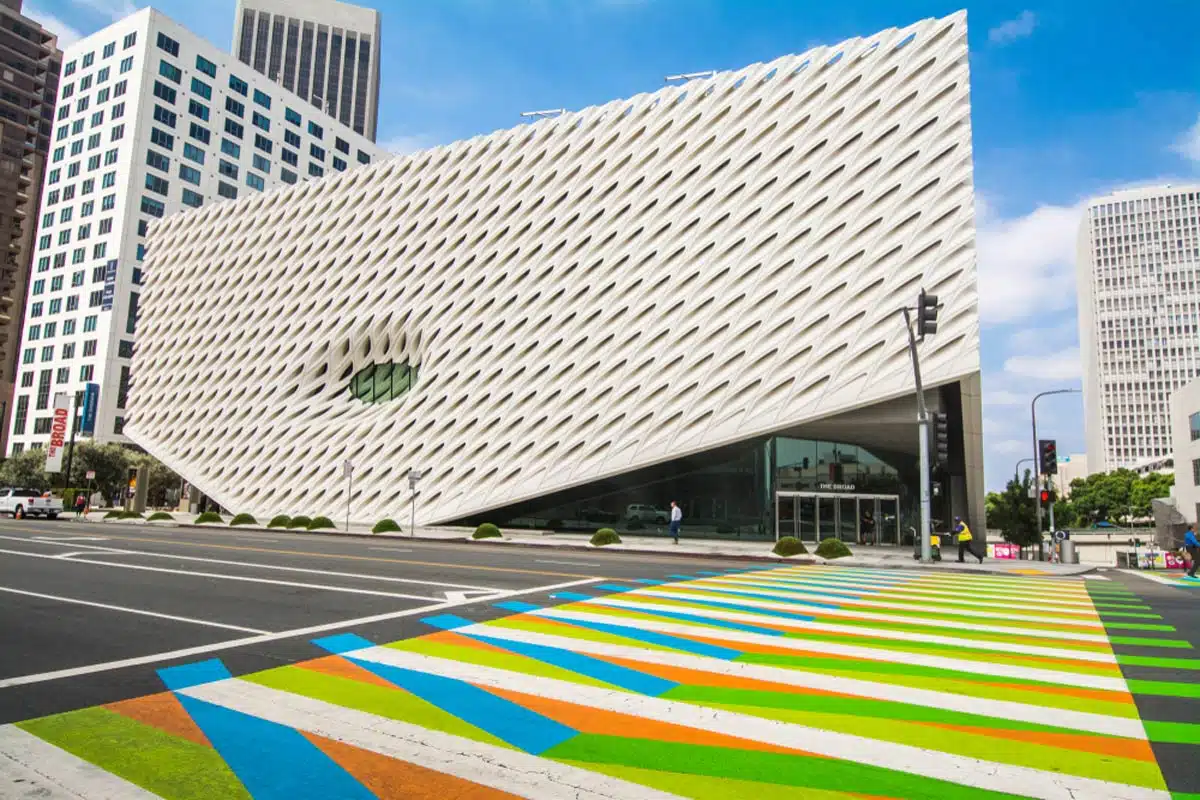 Another iconic LA location, The Broad is a time capsule showcasing contemporary art from the 1950s.
Guys, I highly recommend spending a couple hours of your day wandering through its galleries and exhibitions at no cost – it's my fave gallery in LA.
The Broad houses nearly 2,000 pieces from 200 artists. Some of the most famous works are the Black Flowers (1961) and Femme D'Alger (1963) by Roy Lichtenstein. Get there early, it gets hella busy throughout the day.
Pose in Front of the Iconic L.A. River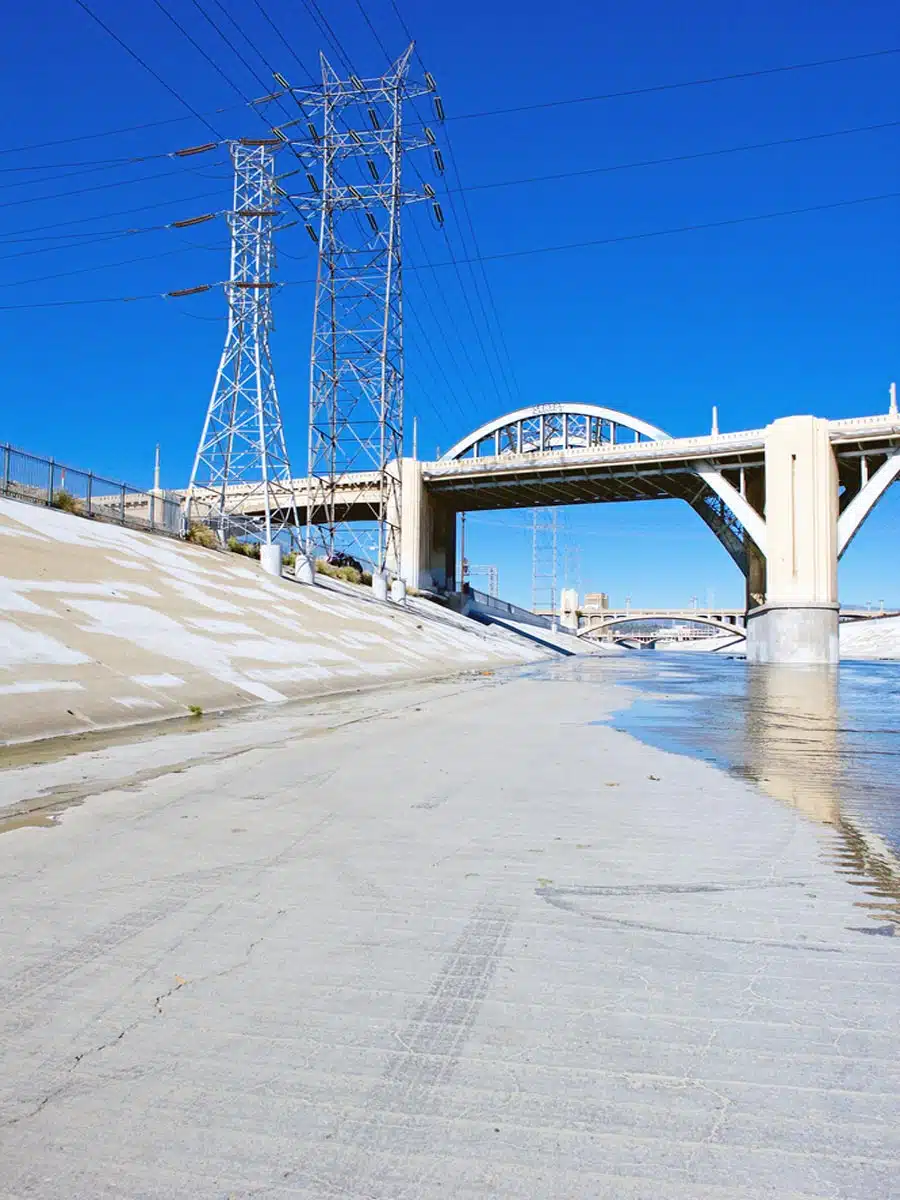 The L.A. River is one of those iconic places in Los Angeles that you've seen in tons of movies and music videos. It's been in popular films such as Terminator 2: Judgment Day, Transformers, Purple Rain, Pointbreak, and more.
And trust me when I say it's very Instagrammable. So if that's your thing, visit during sunset to catch that perfect golden hour glow. Apart from banging selfies, this famous river has a rich history dating back to 1781.
Take in Extraordinary Views at Griffith Observatory (Including the Hollywood Sign)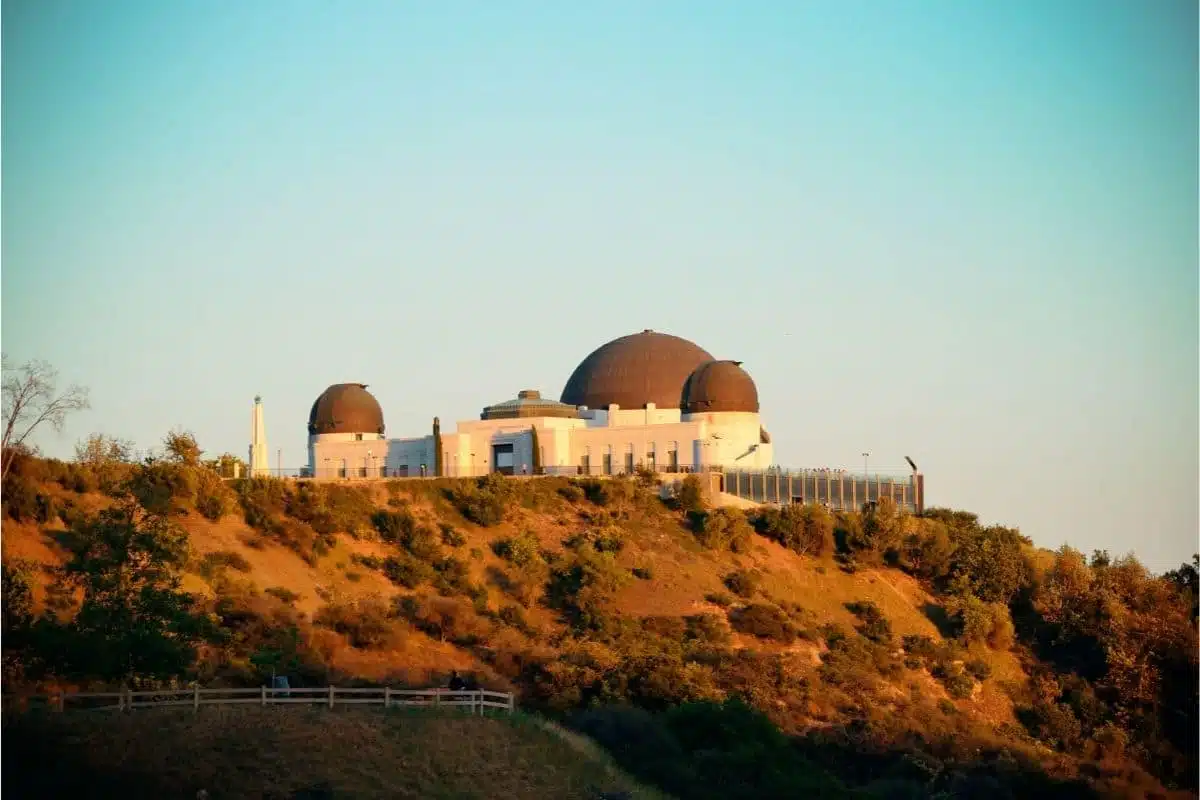 Ok, next up is my favourite spot in all of LA – Griffith Observatory. You might recognise it from that iconic scene in La La Land.
This elegant building is a gateway to the universe, which you can explore for free. The observatory's Samuel Oschin Planetarium lets you peer into the farthest corners of the cosmos to the microscopic building blocks of life.
Then geek out with over 60 exhibits dedicated to stargazing, or wander through Griffith Park. This park is the largest urban-wilderness municipal park in the United States and home to the iconic Hollywood Sign.
Take my advice and head here before sunset for the most epic views.
Explore Lincoln Theatre
Visit one of the most fascinating black landmarks in Los Angeles, the Lincoln Theatre.
This historical theatre accommodated live music and performances by renowned African-American artists specifically for the African-American community, when other spots wouldn't. It was the last of its kind in the entire city.
The Lincoln Theatre hosted greats like Nat King Cole, Billie Holliday, BB King, Sammy Davis Jr, and more. So you can see why this 1920s Moorish-themed building holds such a significant space in black history.
Examine the Massive Art Collection of the Getty Center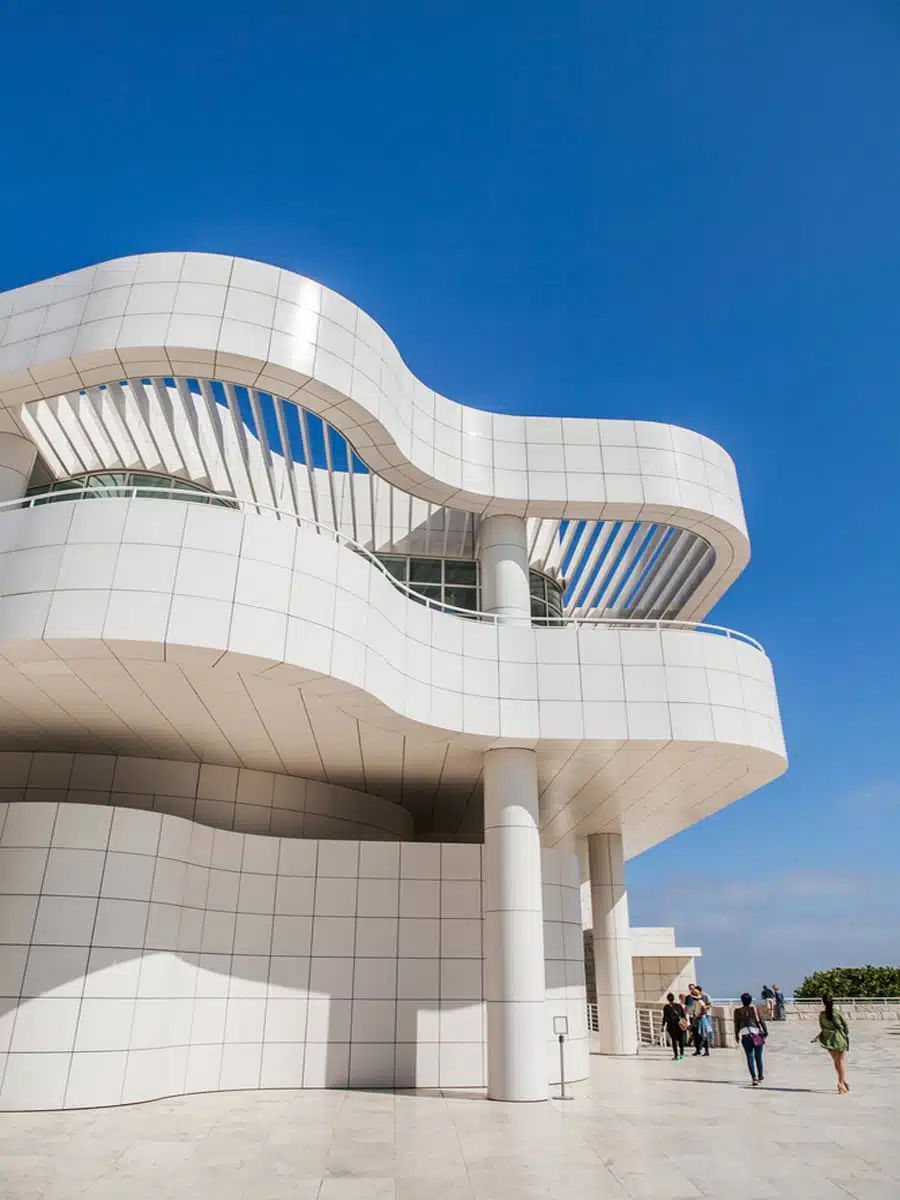 The Getty Center hosts a conglomerate of sculptures, photographs, drawings, decorative arts, and pre-20th-century European paintings. The museum also draws crowds for its impressive architecture, charming gardens, and breathtaking views overlooking the city.
Named after Jean Paul Getty, founder of the Getty Oil Company, you can wander around this majestic museum for free. It's a feast for the eyes, making it a top landmark in Los Angeles.
You can call yourself a true connoisseur after viewing renowned works such as Pontormo's Portrait of a Halberdier, Van Gogh's Irises, and Turner's Modern Rome.
Watch a Movie at the Vista Theatre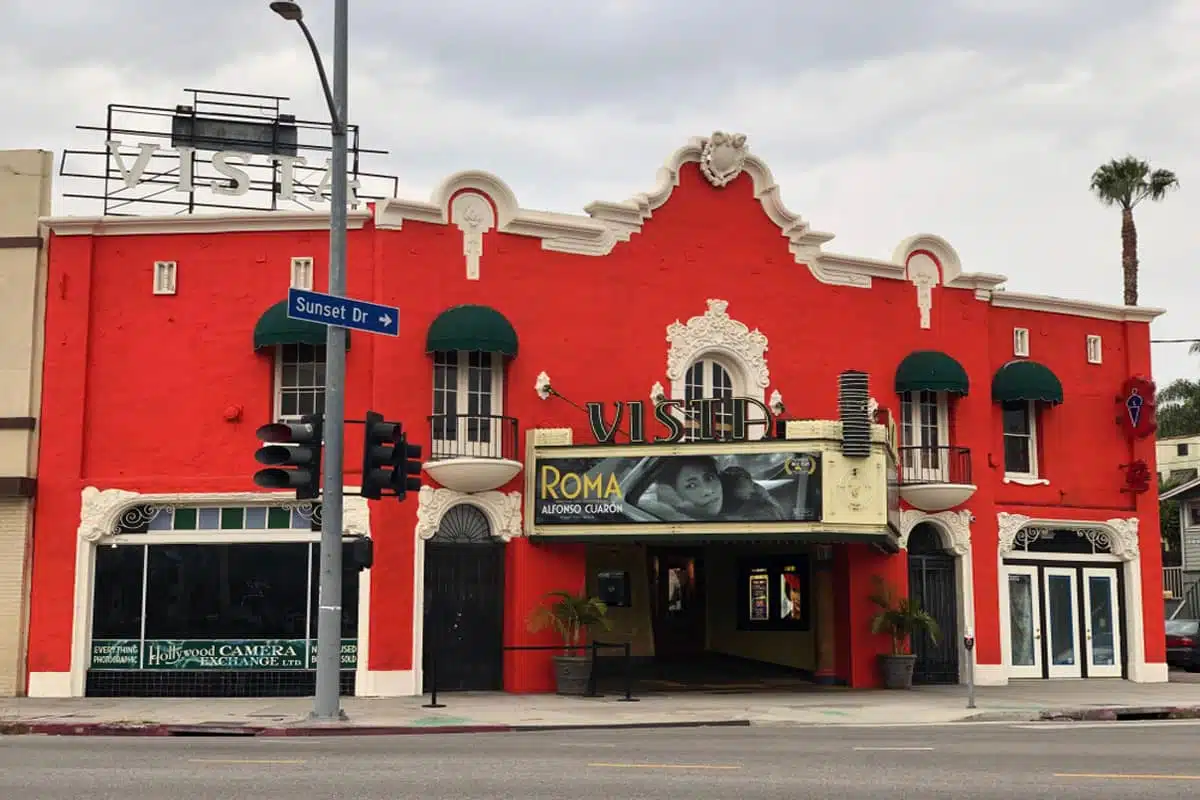 You're in the film capital of the world, so it only makes sense to see a movie at the Vista Theatre. Opened in 1923, this historic single-screen movie theatre now calls the notable director Quentin Tarantino its owner.
Nostalgia hits hard as this is the oldest cinema in L.A., featuring Egyptian decor and a massive screen. The Vista Theatre has ample legroom that puts modern cinemas to shame.
Does it get any better than cosying up to a box of butter-flavoured popcorn in a vintage cinema? I don't think so.
Peer into the Mysterious Greystone Mansion and Park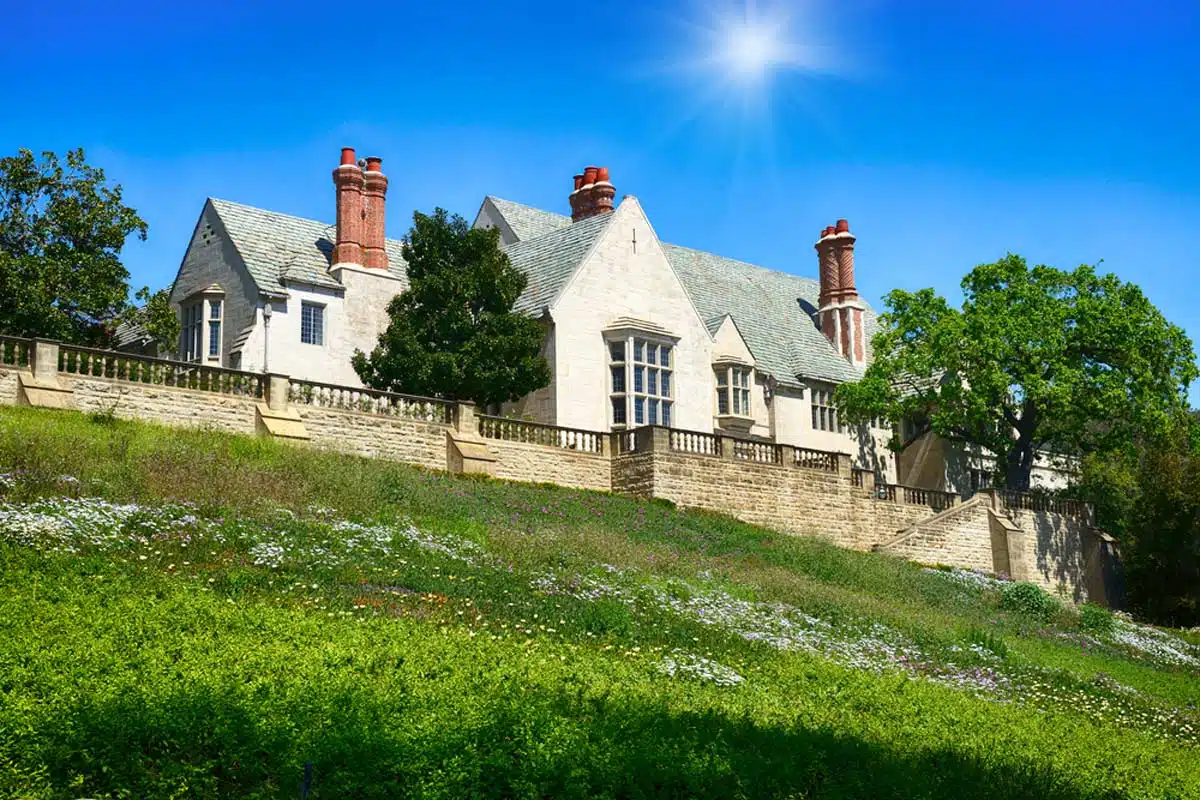 Ready to tour an eerie mansion with a Gothic exterior and distinct English gardens? Thought so. The poised Greystone Mansion and Park offers much to look at and admire. Its opulent architecture and lush garden make for a wonderful tour and – better yet – it's completely free.
Visit this historic building in Los Angeles, Beverly Hills, on Loma Vista Drive. Opened in 1928, this mansion became the set for the 2007 Oscar-winning film There Will Be Blood.
Enjoy a Romantic Stroll Across Shakespeare Bridge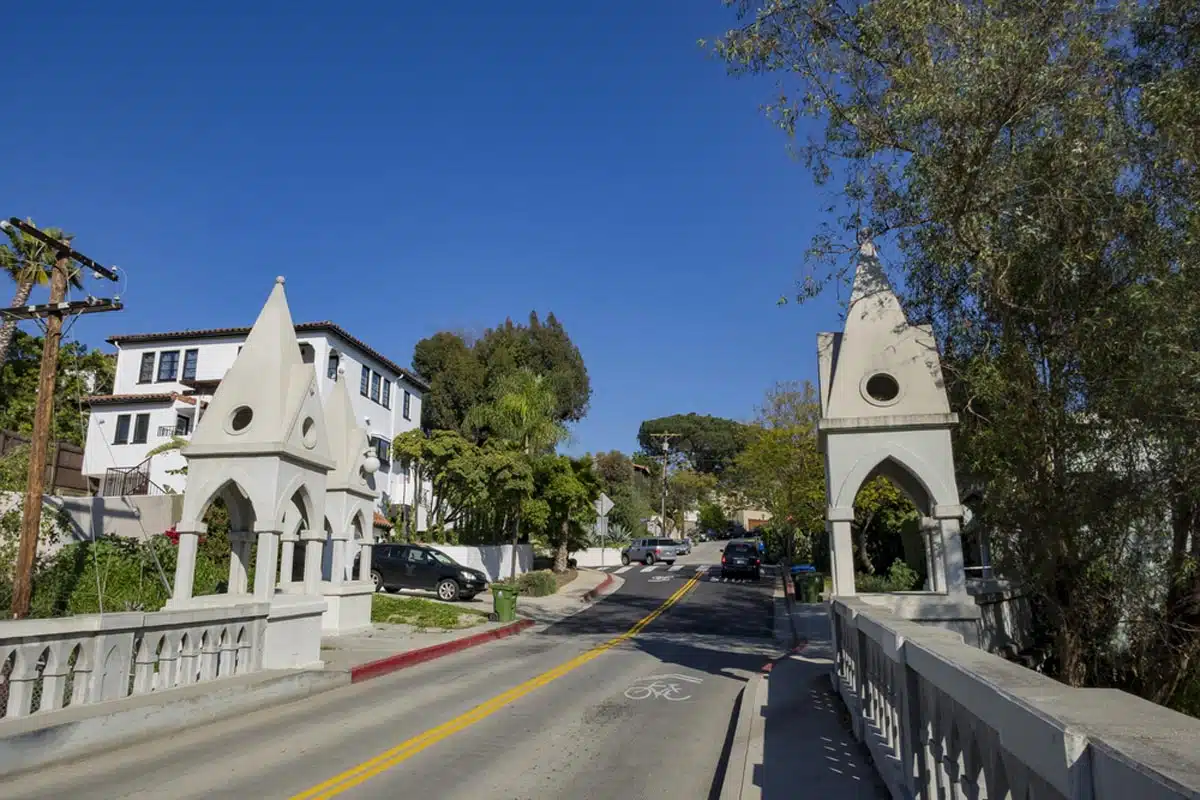 I promise you'll love the picturesque Shakespeare Bridge if you're a Shakespeare fanatic (or even if you're not to be honest – it's that beautiful).
The perfect addition to your Instagram page, apart from its charm, you can enjoy the stunning scenery surrounding this bridge.
If you were looking for a hidden gem without the crowds, look no further. It's ideal for a quiet morning stroll or a spark of inspiration if you're dealing with writer's block. Now, I'm not sure about you, but I can't think of a better place to release your creativity than at a Gothic-style bridge named after Shakespeare.
Wander Through the Los Angeles County Museum of Art (LACMA)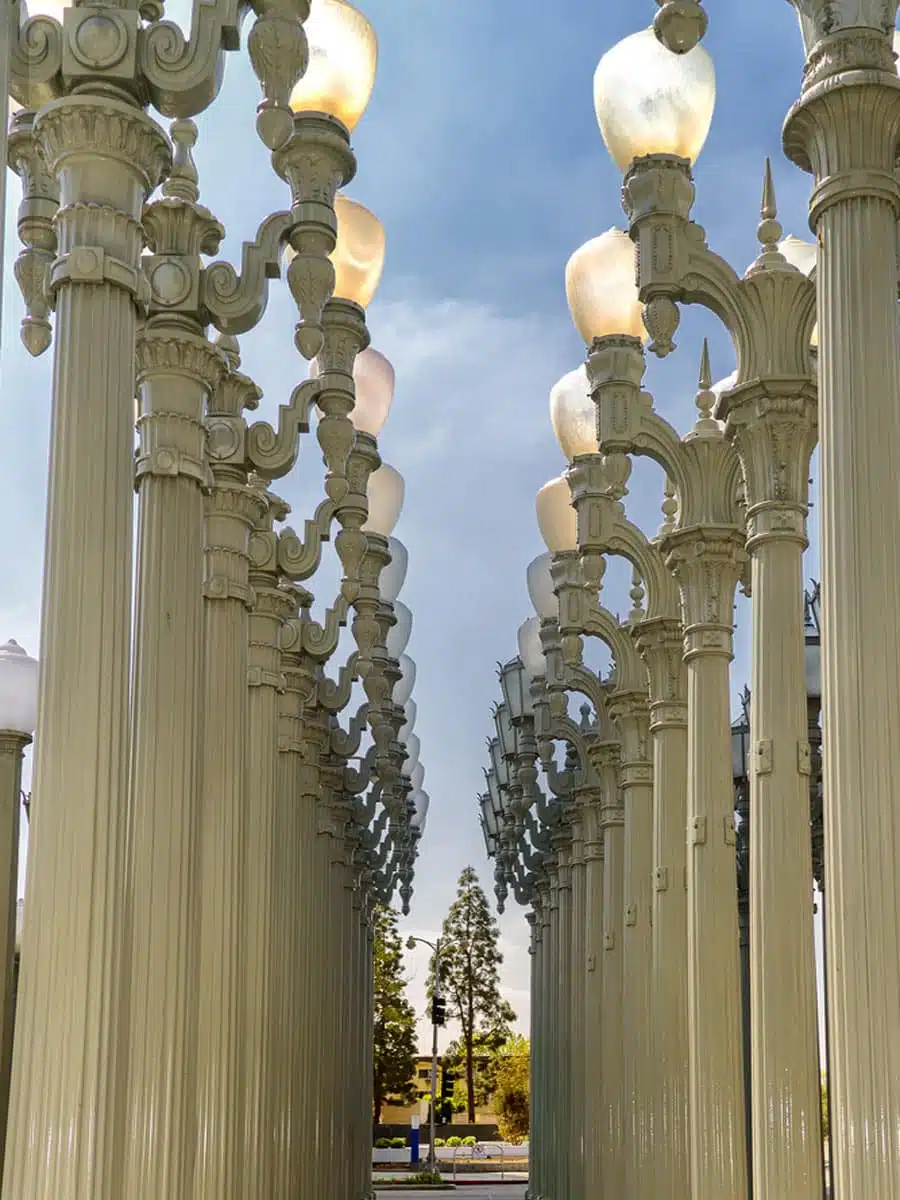 Props to you if you're still reading this article, because this next spot is a gem.
Located on Wilshire Boulevard, this intriguing museum showcases splendid works of science, art, and history.
Since this historical site in Los Angeles opened its doors in 1961, the LACMA has a reputation as the largest art museum in the western United States, hosting a collection of a whopping 149,000 objects.
Again, this is another place that you'll want to visit early to avoid huge queues. Entry fees range between $0–$25 depending on your age.
Stop by the Santa Monica Pier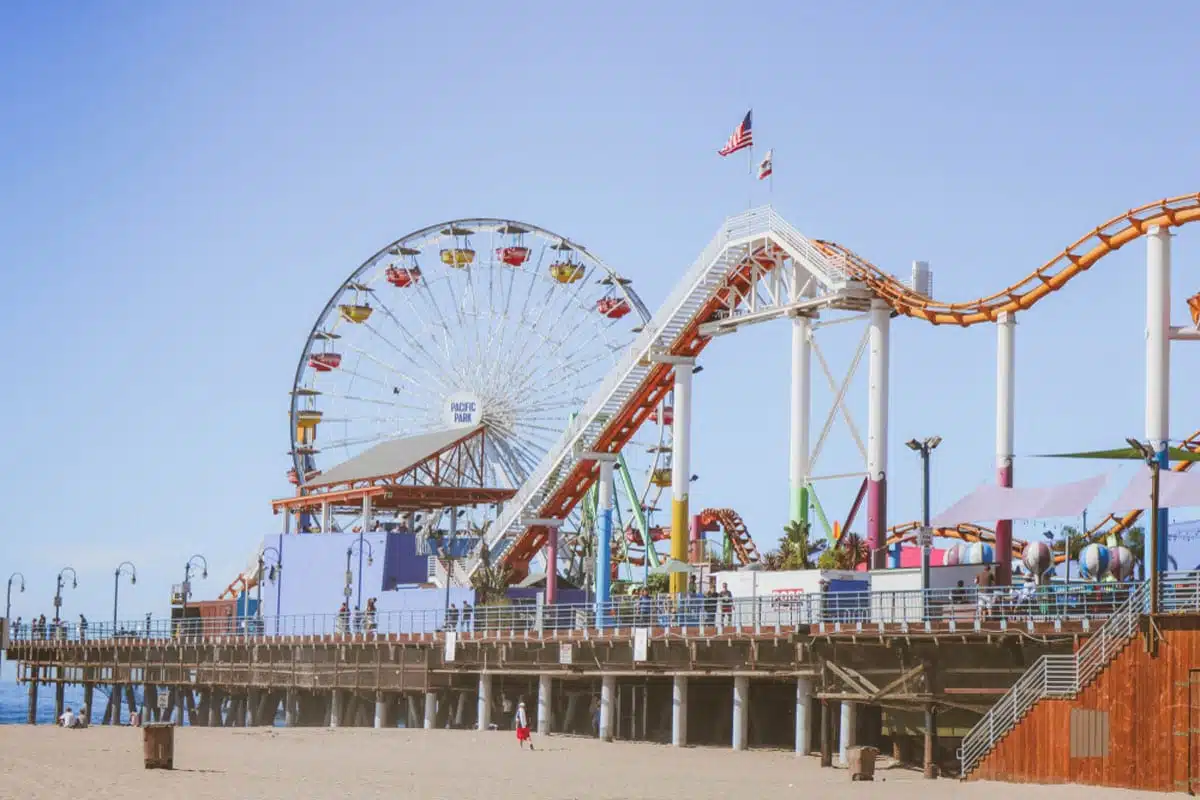 Ready to live your California dream? Well, the Santa Monica Pier encompasses a calm, dreamy shore and ethereal sunrises or sunsets as the backdrop to an electrifying amusement park.
Enjoy the views from the giant Ferris wheel, feed your competitive streak with arcade games, or take on a thrilling roller coaster. You'll feel like a kid again.
But if you want to take it easy, then simply stroll through the madness or have your pick at scrumptious eateries.
Practical Tips for Visiting Los Angeles Landmarks
Wear comfortable trainers when exploring Los Angeles' historical landmarks – trust me. Just do it. 
Consider booking your accommodation near all your points of interest. If you're unsure where to begin, check out my guide on where to stay in Los Angeles. 
Wondering when to visit? The best time to visit Los Angeles is from March to May and between September and November, when places will be less crowded so you can sightsee more freely. 
Famous Landmarks in Los Angeles: Map