Wondering where to stay in LA? Discover the best places to bed down in glitzy Los Angeles with this handy guide.
Sure, LA might be known for its glamour, but it's also a fabulous place to stay for the average Joe. The city boasts incredible weather, wide-spanning beaches, and so many things to do.
That said, hotel prices can often be a bit pricey, so it's nice to have alternatives.
Without further ado, here's my guide to the best Airbnbs in Los Angeles, from mid-century modern apartments to luxury West Hollywood mansions.
Top Tip: As much as I love Airbnb for its accessibility to affordable homestays, I've found that Plum Guide offers some great properties and expansive criteria filters. It's a fantastic alternative ensuring you find the perfect pick.
Best Airbnbs in Los Angeles: At a Glance
Best Airbnbs in Los Angeles
Palm Scrolls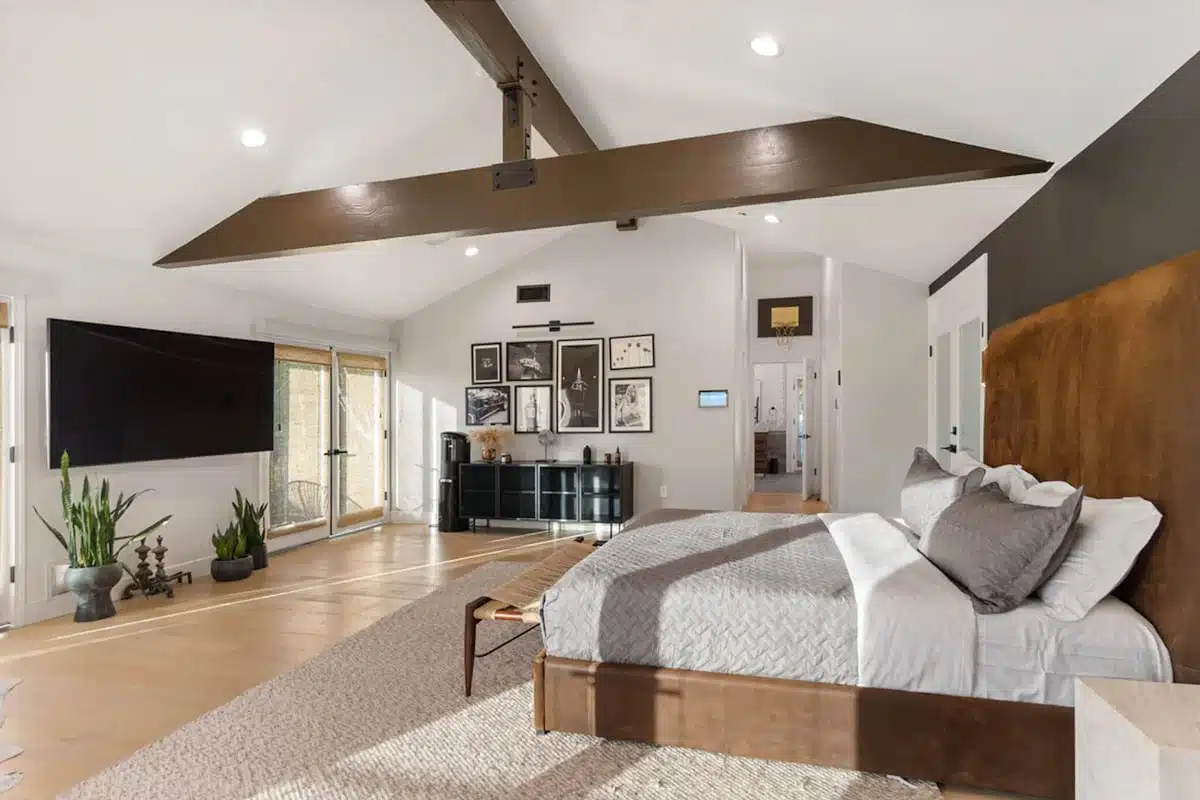 Another truly brilliant place to stay in LA is this home in Studio City. It's a super swanky spot with an outdoor kitchen, a giant aquarium (you read that right), and three bedrooms.
But that's not all – it has an outdoor pool, smart TV (indoors, sadly), and luxurious bathrooms perfect for decompressing. You can also eat indoors or outdoors, as there's adequate seating and a firepit for chilly nights.
Location: Studio City
If you're looking for an outdoor paradise, look no further. This area is close to Fryman Canyon, which has some of the best hikes in LA.
Lemons in Los Angeles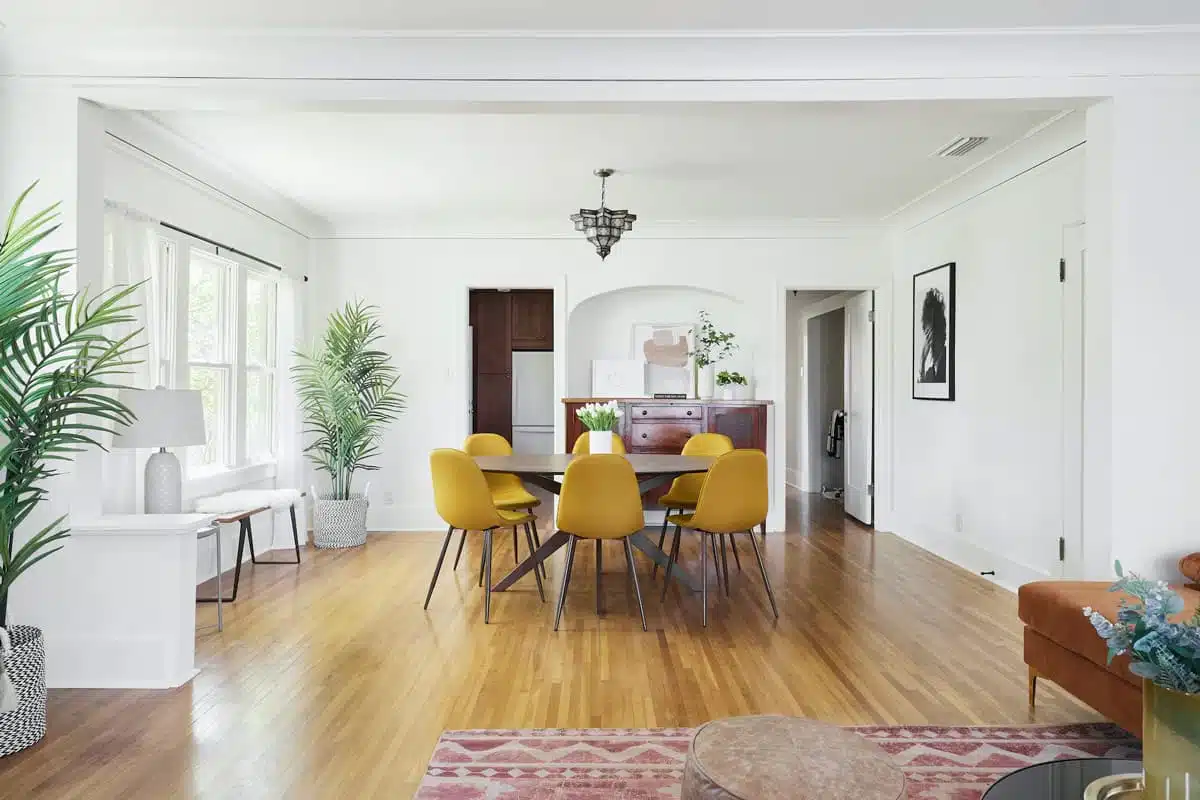 Located in the vibey neighbourhood of Los Feliz, this quaint 1-bedroom house is a wonderful place to relax. Every single design detail has been meticulously planned out, from the hardwood flooring to the tiled bathroom.
You've also got a Nespresso machine, air conditioning, and a relaxing outdoor space to make it even better.
Location: Los Feliz
This neighbourhood is a personal favourite – it's full of cosy cafés, independent bookstores, and hipster boutiques.
From Above
Looking for a spot right in the heart of LA? Look no further than this Spanish revival home in West Hollywood. What's brilliant about this spot is the attention to detail, from the modern furniture to the welcome hamper you get on arrival.
It also boasts fantastic bedrooms, perfect for some shut-eye, with black-out blinds and ultra-soft bedding. Head to the main part of the home where you'll find a spacious kitchen/living room and an outdoor space where you can chill.
Location: West Hollywood
Right on Melrose Avenue, WeHO is home to the Los Angeles County Museum of Art and various shopping centres.
Venice Beach Guest Studio with Pool and Hot Tub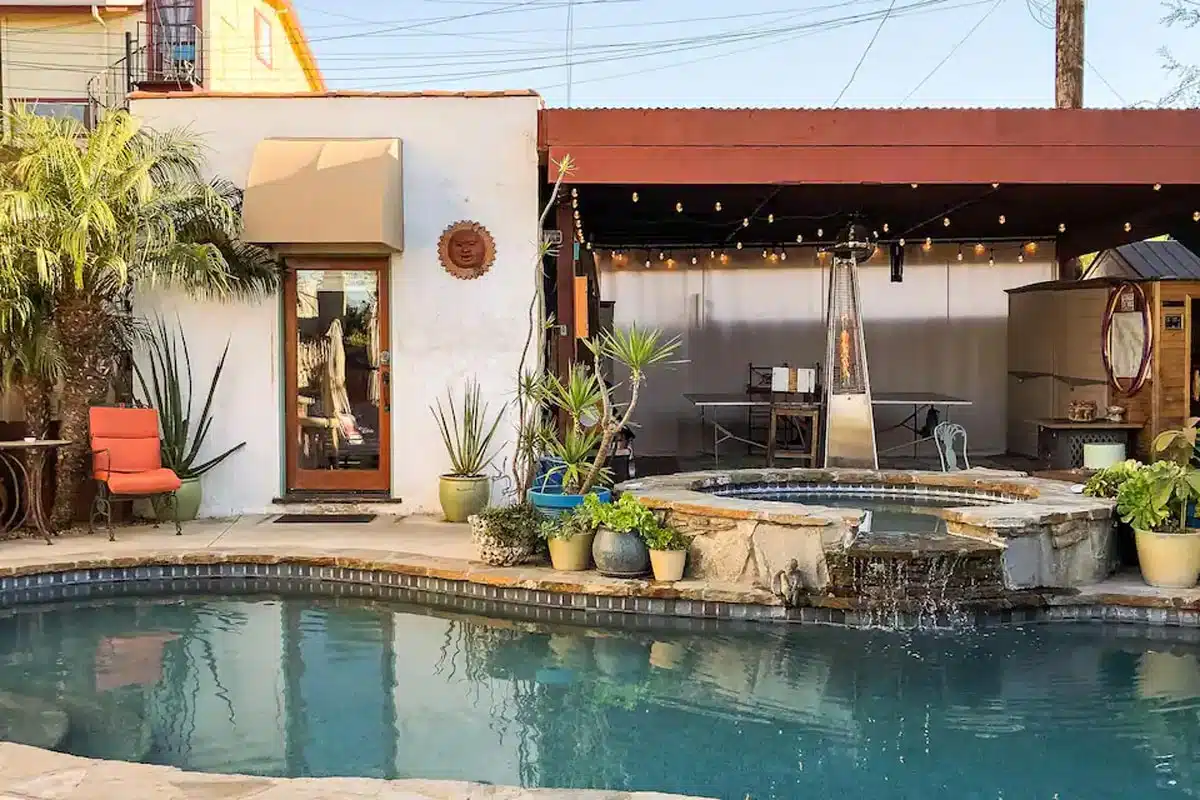 Looking for a beach escape? Well, look no further than this Venice Beach guest studio. It's the perfect spot for a summer vacation, from its lovely swimming pool to the compact fully-equipped kitchen.
What's more, this property is full of amenities. These include a flat-screen TV, a BBQ grill, a sauna, and all your beach essentials (so you don't even need to pack a towel).
From the couches decorated with Mojave throws to the bathroom with a surfboard door, it's an aesthetic dream. And while the studio may feel a bit small, you'll hardly be here long enough for it to bother you.
Why? Because it's a 5-minute bike ride from Venice Beach.
Location: Venice Beach
Just outside the city of Los Angeles is this vibey beach town. It's full of exciting things to do, from surfing to shopping along Abbot Kinney Boulevard.
Bungalow Barn Silverlake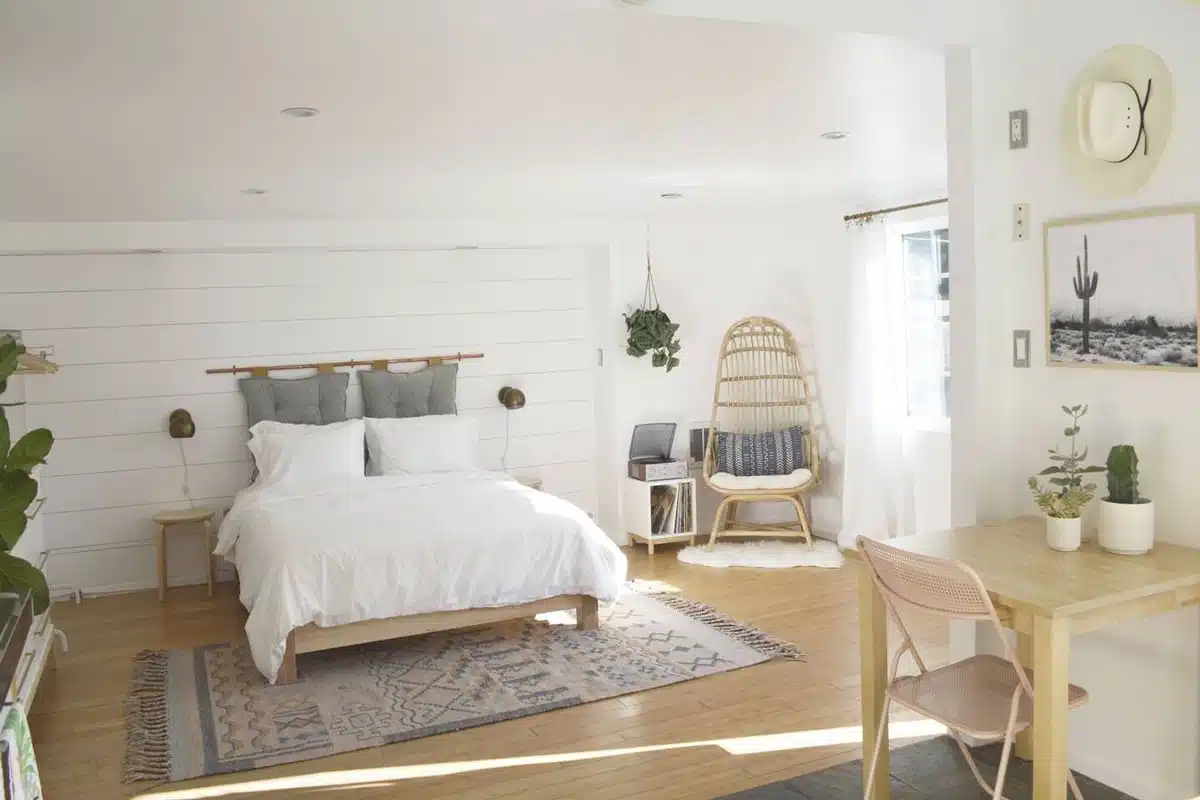 With its boho-inspired decor and cosy queen bed, this 1-bedroom Airbnb in LA is a fantastic option for a quaint weekend getaway. That's because this property sits in east Los Angeles in a residential neighbourhood.
The calm, cooling tones of this bungalow barn, paired with its indoor plants, make for a relaxing stay. Additionally, it also comes with all the essentials, WiFi, air conditioning, and a private patio.
It's also got a great kitchen with an electric stove and all the cooking essentials. It's only a few blocks from Sunset Boulevard, close to grocery shops. The only downside is that it does not have a washer, but a laundromat is nearby.
Location: Silverlake
This neighbourhood is a top spot for hipsters in LA. You can shop at Sunset Junction to find the best boutiques or enjoy a meal at the world-renowned Tartine.
Angel City Historic Loft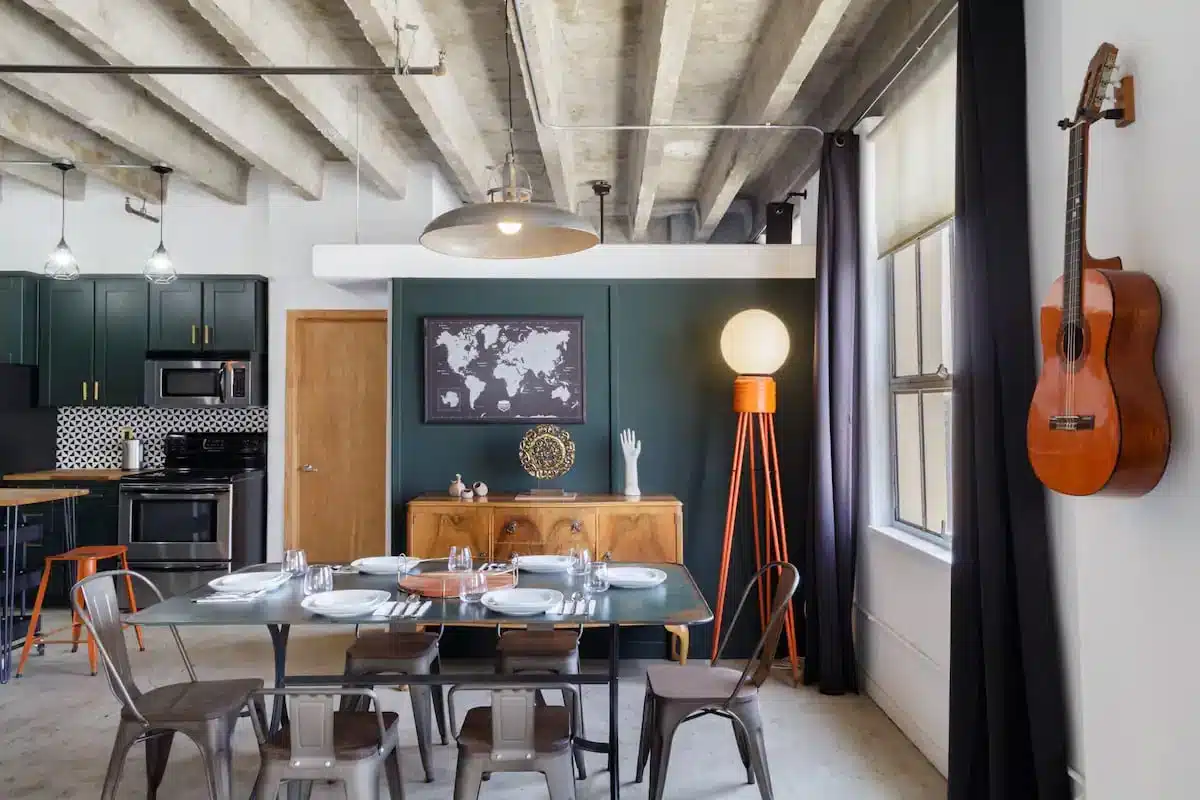 If you're looking for a gorgeous Airbnb in Downtown Los Angeles, I've got you. This historic loft is a brilliant option for a group trip as it houses four guests.
The apartment's decor oozes cool, from the vintage furniture to eccentric collectables. That's not even half of it, as you've got access to a gym, swimming pool, and spa on the roof.
You can also cook up a storm, as it has a fully-equipped kitchen. But, if you prefer Netflix and Chill, you can order from one of the delicious nearby spots.
The only downside about this spot is downtown LA can be a bit sketchy but don't be put off by that, as the loft is very secure.
Location: Downtown Los Angeles
This neighbourhood is full of places to eat, from mom-and-pop joints to the Grand Central Market.
Rustic Space Perched in the Hollywood Hills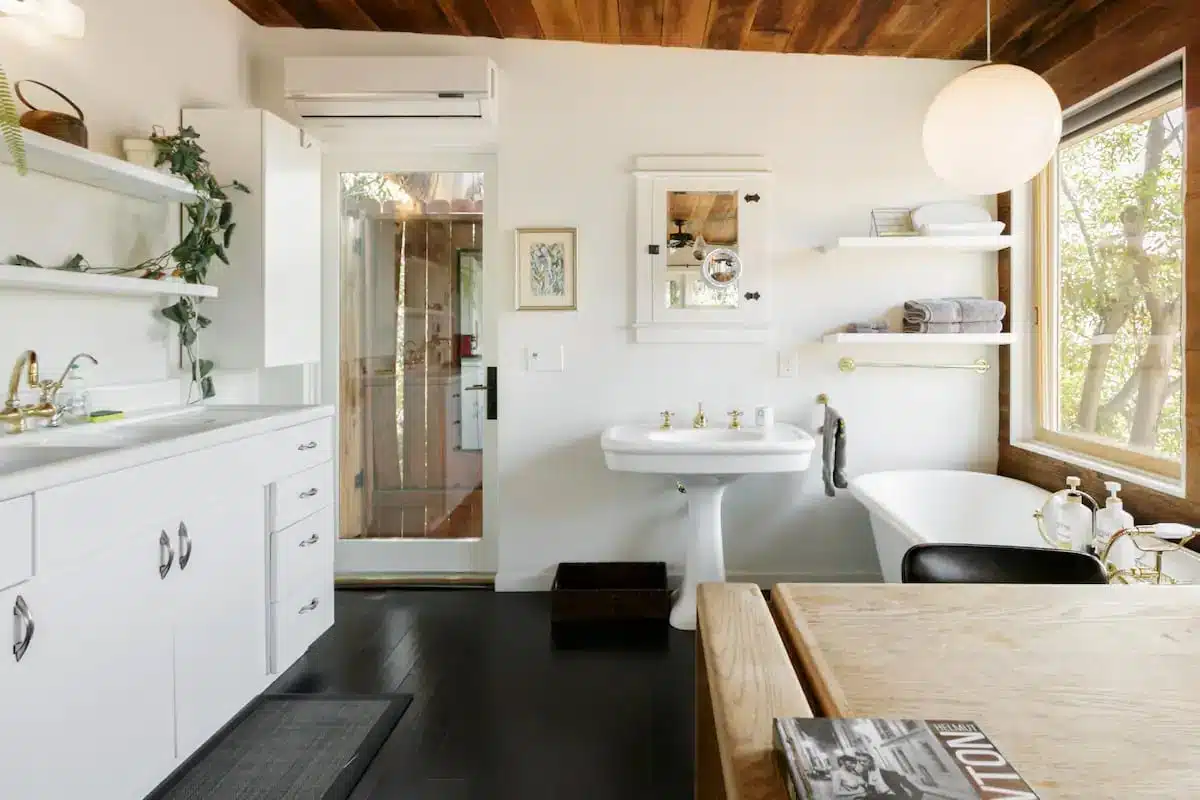 If you're looking for an Airbnb with a stunning view of Los Angeles, look no further than this rustic space in the Hollywood Hills. It's an open-plan unit with a fully-stocked kitchen, a private patio, and one of the top luxuries in LA: free parking.
After a long day of sightseeing in the city, this property provides you with absolute tranquillity, whether that's the sunset views from the bathtub or the comfy queen bed. Besides this, it also has high-speed WiFi and a desk for any digital nomads.
The host, Mathias, is very responsive and quick to give recommendations. The only con to this property is the stairs up to the house are a bit narrow.
Location: Hollywood Hills
This area is famous for being a tranquil part of LA and its numerous walking trails.
Bohemian Hillside Retreat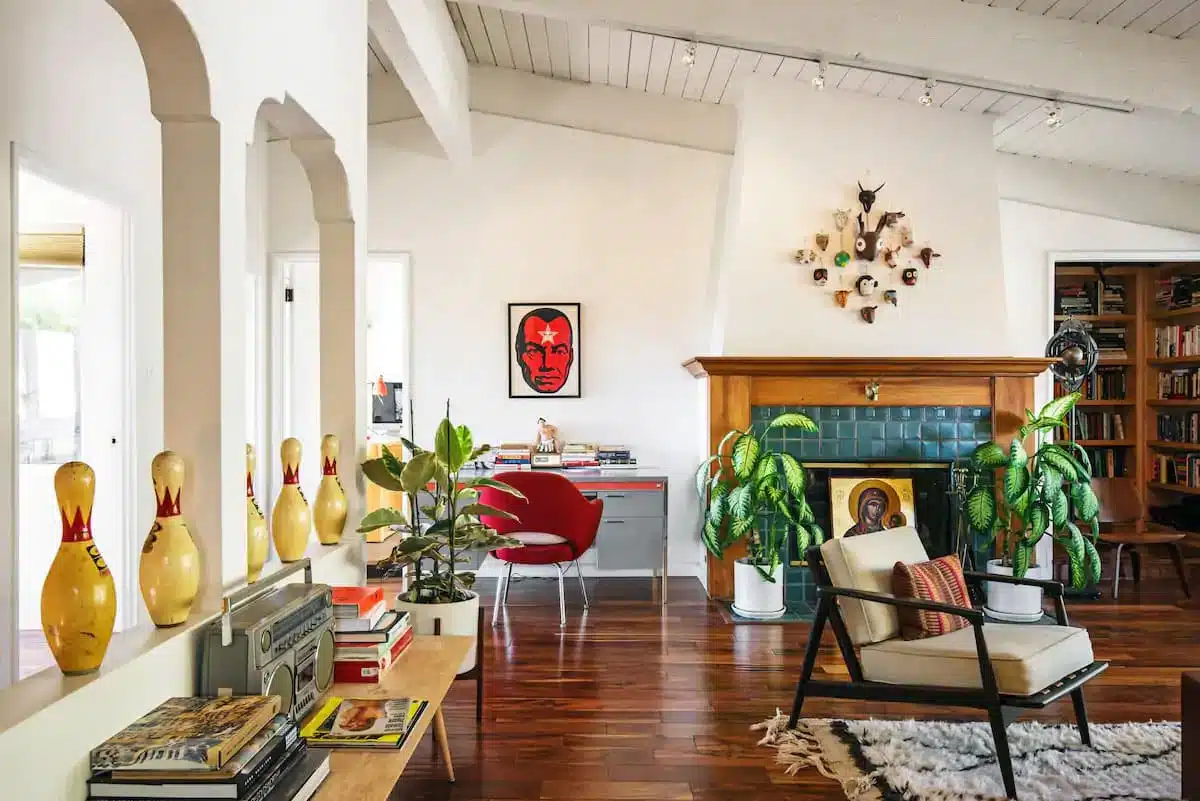 Who says staying in an Airbnb can't be better than a hotel? With this stylishly-decorated 3-bedroom house, you've got the perfect opportunity to have an excellent vacation in LA. It's got a beautiful garden space, a spacious kitchen, and two bathrooms.
It's a wonderful spot for a group trip as it's got enough space for six guests, a 70-inch TV, a vinyl collection, and patios with incredible views over the city.
What's more, you can also exercise at the property's gym or by doing some yoga in the lush garden.
Location: Silver Lake
Just 5 minutes from Sunset Boulevard, you can shop till you drop or get local produce at the Farmers Market on Saturday.
Architectural Wonder Above Sunset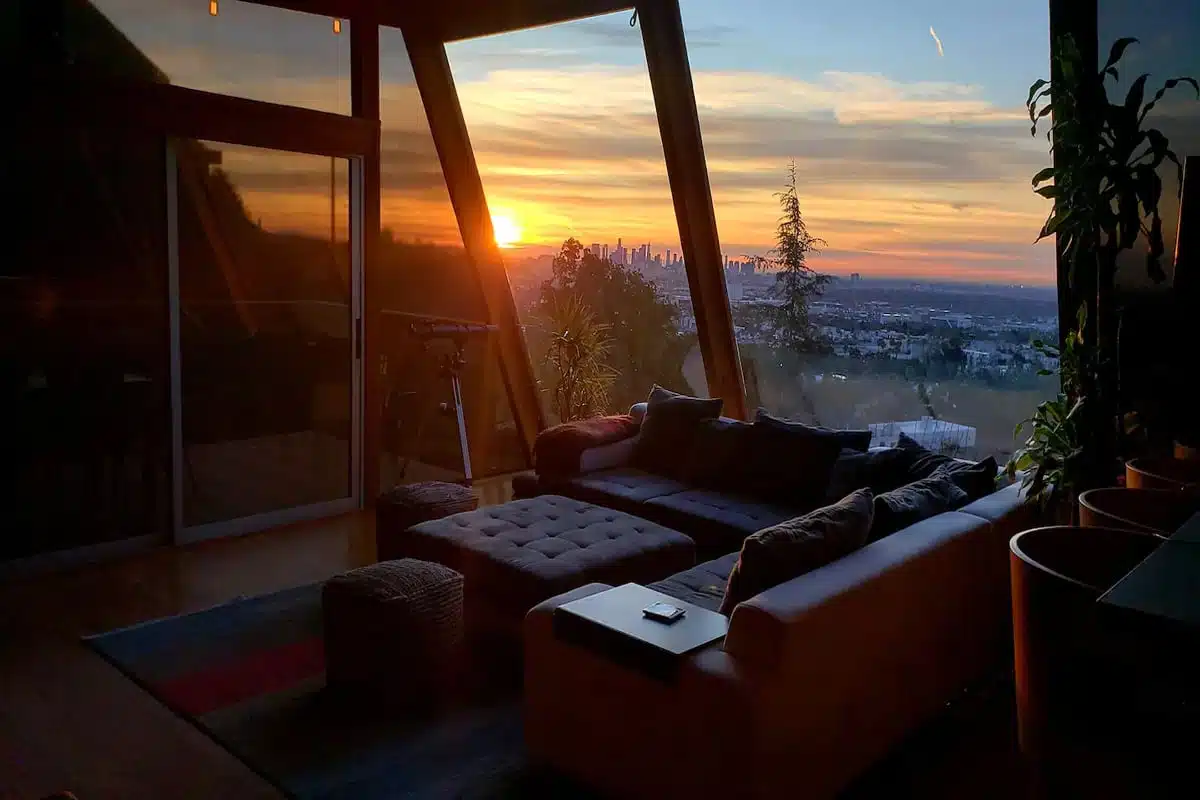 Another awesome Airbnb in Los Angeles, California, is this lovely home above Hollywood Boulevard. It's a mid-century modern house with two bedrooms, a fantastic kitchen (with a dishwasher), an outdoor grill area, and a terrific entertainment system.
What's more, it's got stunning skyline vistas and sunset views. At night, it truly becomes the City of Stars, which you can see on the included telescope.
Its simple design, comfy bedding, and spacious bathroom only add to why this might be the best Airbnb in Los Angeles.
Location: West Hollywood
I love West Hollywood – this is one of the finest spots to catch live music and comedy shows on Santa Monica Boulevard.
Penthouse Living at a Hip, Renovated Loft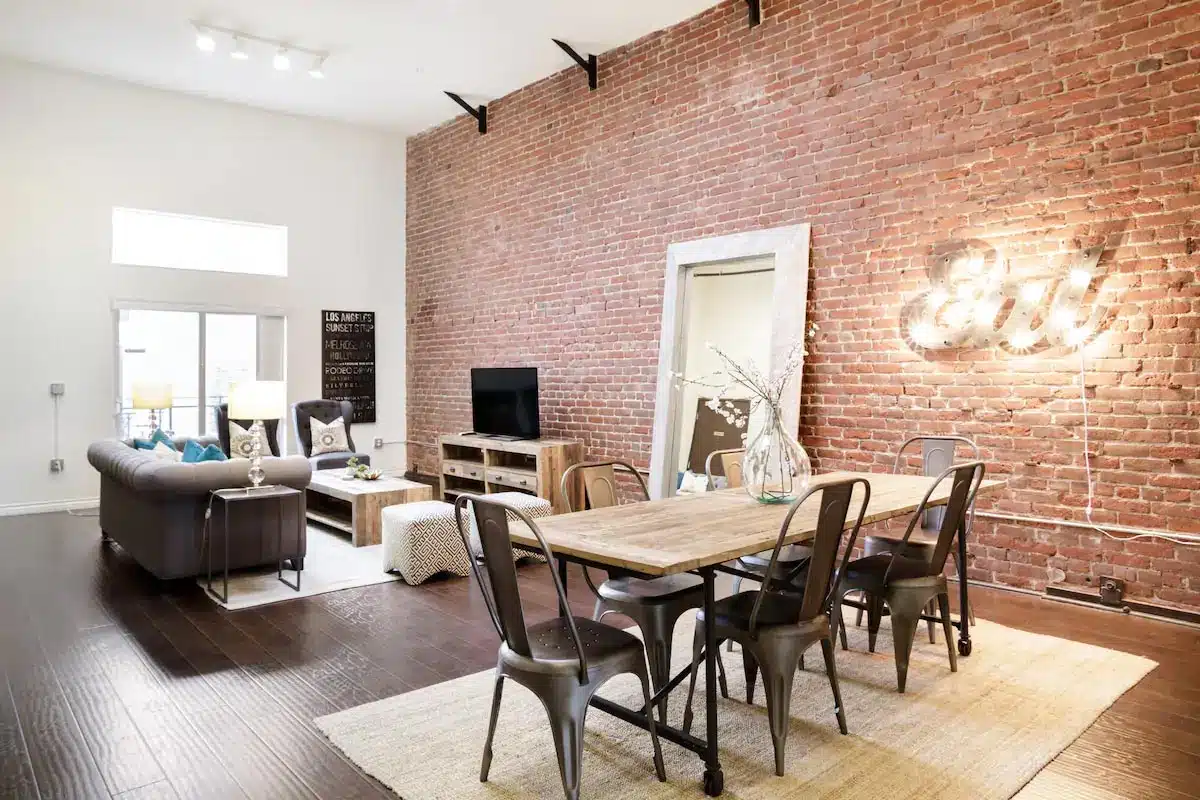 If you're looking for another Airbnb in Los Angeles' Downtown area, look no further than this penthouse in the Historic Core district. It's an excellent place to stay in LA if you're on a group trip, as it has two bedrooms and a pretty large kitchen.
If you prefer to grab a bite to eat somewhere nearby, don't stress, as it's close to some of DTLA's hottest restaurants, such as Umami Burger and Bottega Louie.
Besides this, it also has a washer and dryer, and the host, Alex, is very responsive. While the location is brilliant, I wouldn't advise walking around on the streets at night as it's close to Skid Row.
Location: Historic Core
This area houses various arenas and concert halls, perfect for catching a game or seeing your favourite artist live.
Practical Tips to Consider Before Booking Your Airbnb in Los Angeles
The best way to travel around LA is by car. That said, the traffic in the city can get quite bad, so consider using a ride-sharing app, such as Uber or Lyft.
If you're looking for the best areas in LA, I love Downtown and West Hollywood.
Airbnb Los Angeles: Map