Discover the best landmarks in San Francisco – add these unmissable spots to your San Fran itinerary.
Hopping between famous landmarks is the best way to get to know a city, if you ask me. And San Francisco is packed with them.
From the epic Alcatraz Island to the postcard-ready Golden Gate Bridge and numerous historical landmarks peppered throughout the city — it's safe to say you're spoiled for choice.
But where do you start? Maybe your time in the city is limited… Or, maybe you're spending a leisurely couple of weeks in the city and want to make sure you're packing in all the top spots. That's where I come in.
Wondering which famous landmarks in San Francisco you need to visit? Start with these.
Famous Landmarks in San Francisco
Golden Gate Bridge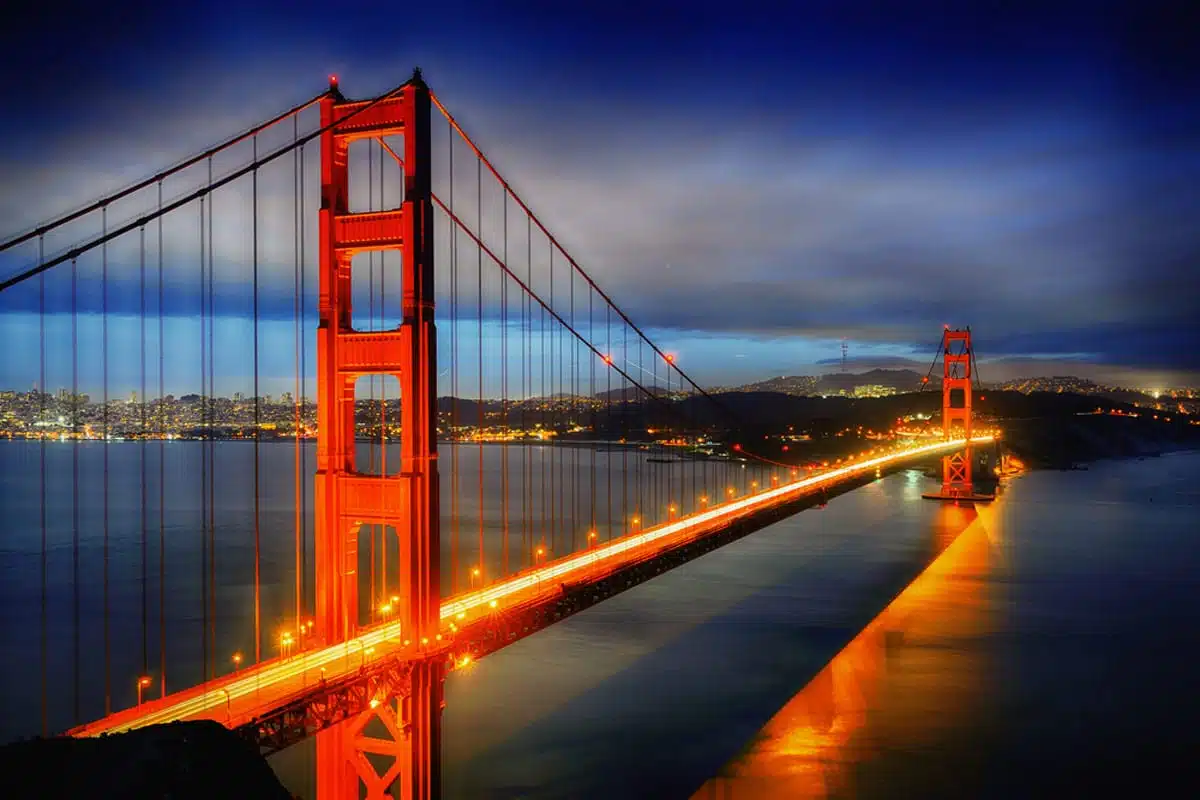 Did you know that the Golden Gate Bridge is bigger than Central Park? No I'm not kidding – so it would be a shame to miss out on this beauty in the city.
The Golden Gate Bridge is a suspension bridge that stretches for 2 737 m (8979 ft) and reaches a height of 1 280 m (4199 ft). It connects San Francisco Bay with the Pacific Ocean. You can stroll along its eastern walkway, admire it from either the north or south viewpoints or drive over it.
Famous for being one of the most beautiful bridges on earth, nothing beats seeing it up close and personal. After all, did you really visit San Fran if you didn't snap a million photos of the red bridge? Nah, I didn't think so either.
Top Tip: The best time to see this bridge in all its glory is in the afternoon, after 3 pm.
Alcatraz Island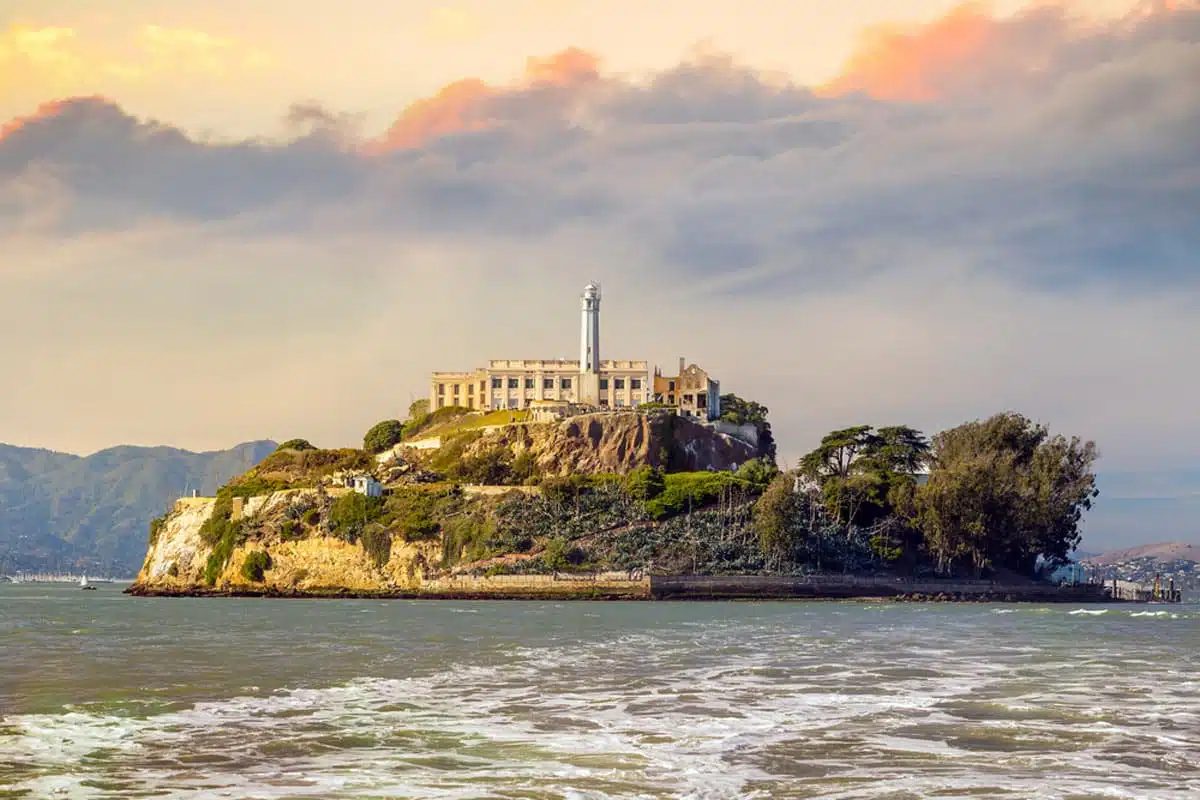 Sitting just 1.2 miles from the San Francisco shore is one of the world's most iconic prisons. Though small, this island has an extensive history serving as a military fortification, prison and lighthouse.
If you're a little bit of a true crime aficionado, this is one of San Francisco's historical landmarks you should certainly make time for.
You heard that right. Alcatraz served as a federal prison from 1934 to 1963 that held some of the most dangerous prisoners in American history. Some famous convicts who roamed these cells were Al Capone, Robert Stroud and George ("Machine Gun") Kelly.
Intrigued yet? You can hear more about these stories by going on an exciting two-day tour that includes an Alcatraz ticket.
Palace of Fine Arts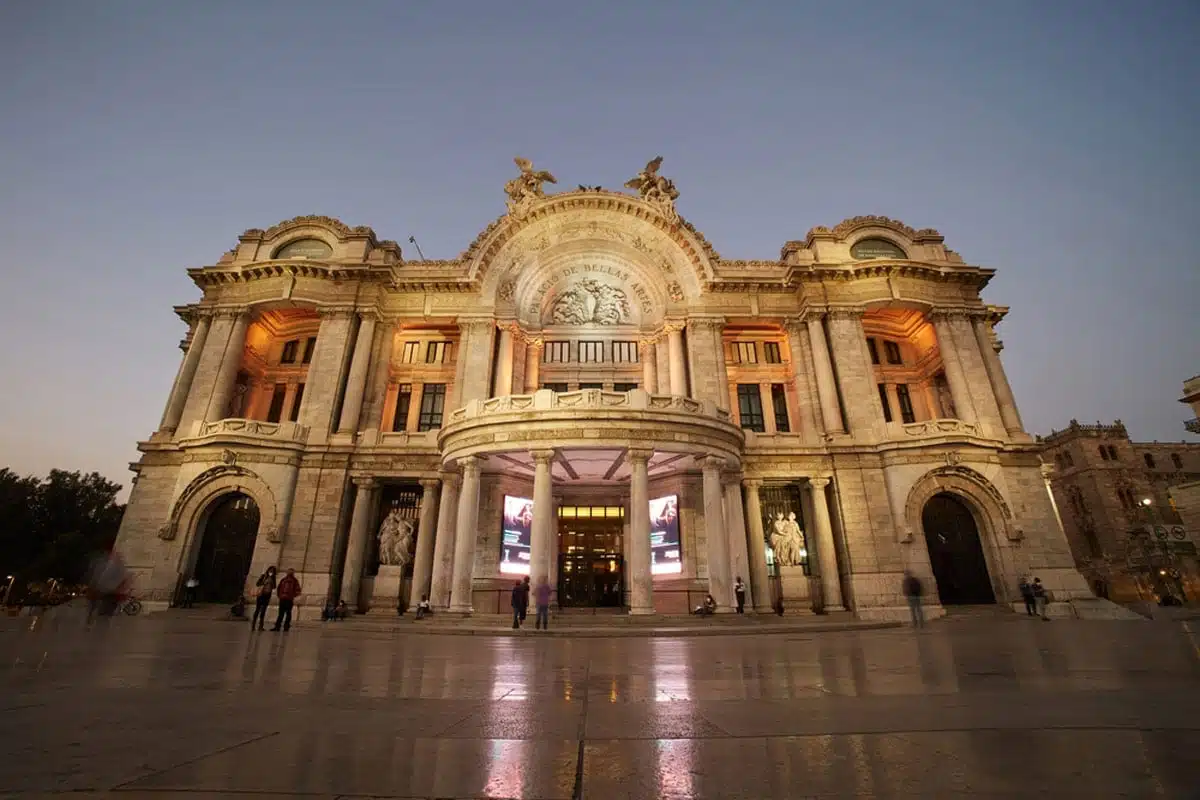 Brace yourself for a magical artistic experience dipped in elegance at the Palace of Fine Arts. Located in the Marina District, this monumental structure is one of my favourite places in San Fran, with its grand architecture reflecting on a lake.
It offers a relaxing stroll around the property to take in ducks and swans swimming serenely in the waters. And when you enter the dome, an otherworldly sight opens up to you: Adorning the circumference are over 12,000 works of detailed art.
The Palace of Fine Arts doubles as a theatre, hosting events such as special exhibits, concerts and festivals.
Coit Tower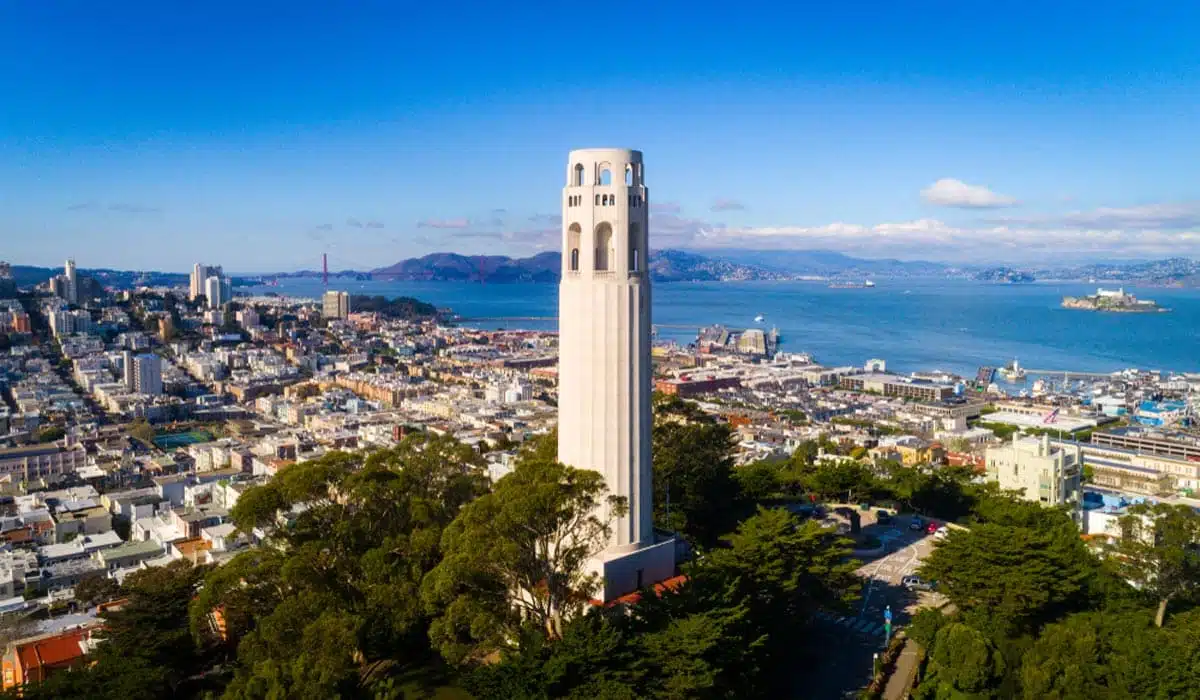 Yet another historic landmark in San Francisco is the Coit Tower. It symbolises San Franciso's skyline, rising slenderly from the top of Telegraph Hill. The prominence of 64 m (209 ft) above the lowered city makes it iconic.
While seeing it from afar might paint a pretty picture, there's a reason why you should visit this site in person, though. Get your camera ready because of the breathtaking panoramic views over the bay and city.
It's open daily from 10 am to 5 pm, and the fee ranges from free to $7.00 depending on your age and residency.
Ferry Building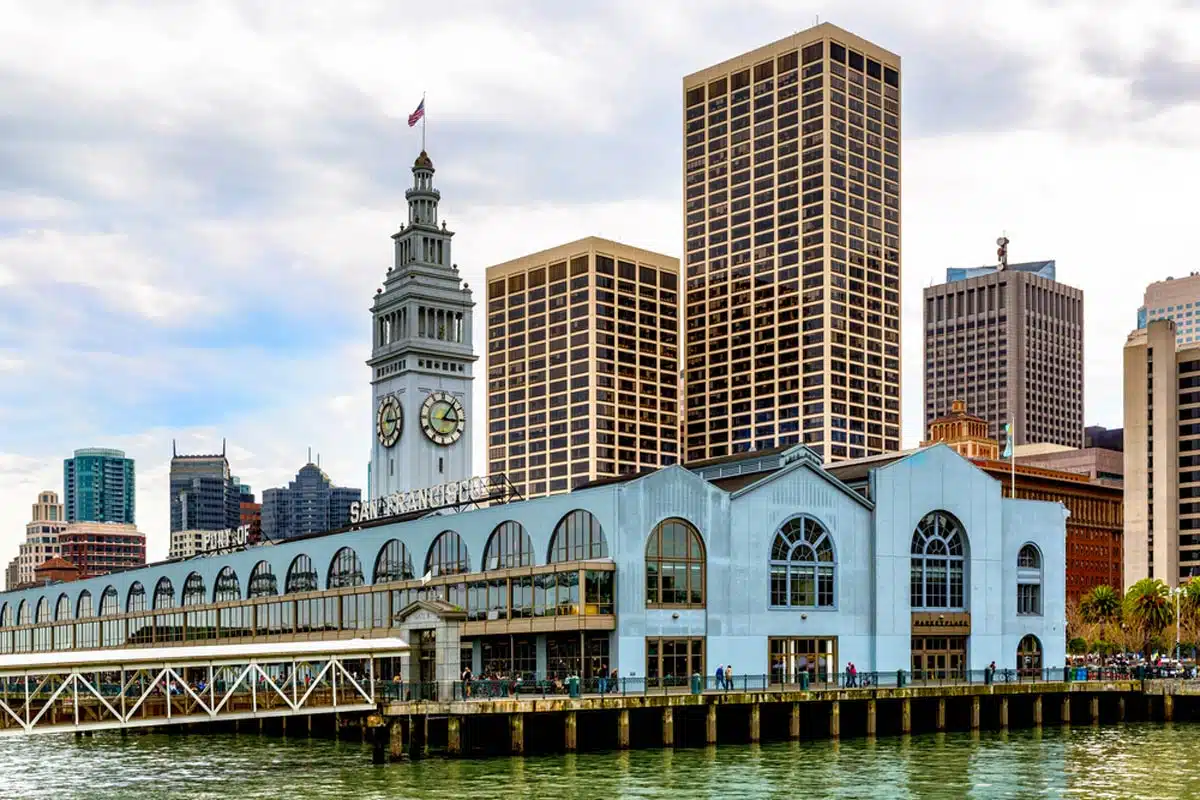 Hungry? One of the most famous buildings in San Francisco just so happens to be as much of a foodie haven as it is beautiful. The Ferry Building is filled with farmers and food vendors offering goods such as honey, coffee, cheese, pizza, pastries, and more (yum).
So if you were wondering where to sample some fresh and local produce, look no further. Just make sure you don't leave without sampling an empanada from El Porteno – or without a coffee from Red Bay.
Plus, the Ferry Building boasts gorgeous ocean scenery along the waterfront. You can browse and shop on any day of the week between 7 am and 10 pm.
Chinatown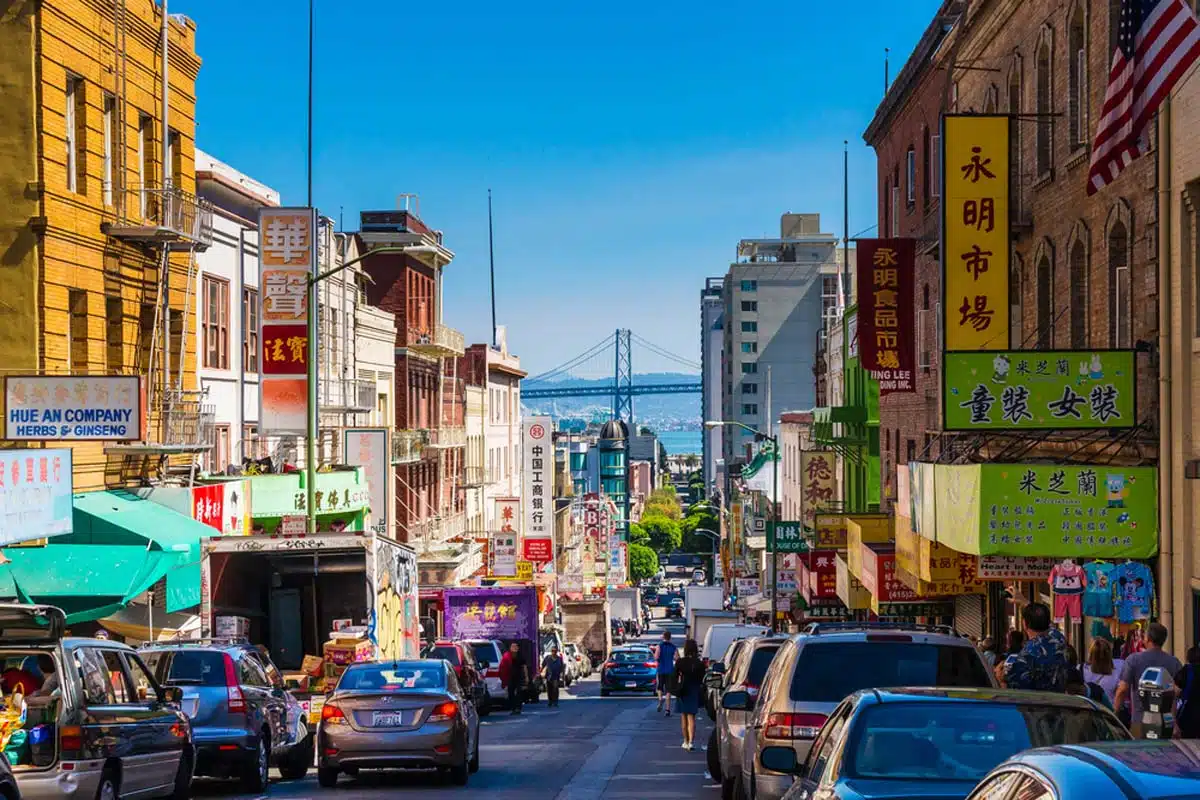 Here's your chance to visit one of the oldest and most authentic Chinatowns in the U.S. This neighbourhood is one of the most, if not the most, iconic places in San Francisco.
It's vibrant, with bustling streets meandering through bakeries, souvenir shops, herbalists, boozy cocktail lounges and iconic karaoke bars. Foodies will undoubtedly hunger for the many dim sum joints and traditional restaurants offering the best Chinese cuisine.
You can do more exploring, of course, apart from overindulging. There are elaborate temples, the Tien How landmark and the Chinese Historical Society of America Museum to admire.
San Francisco Museum of Modern Art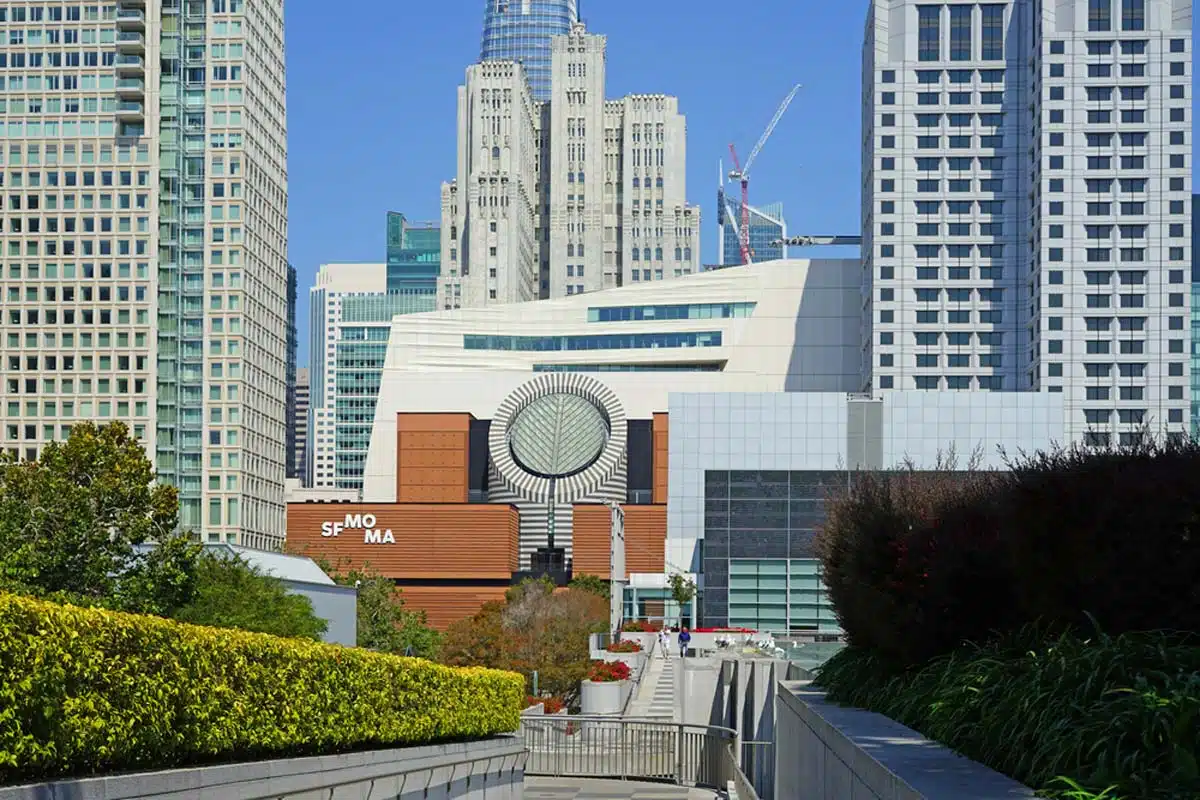 The San Francisco Museum of Modern Art (SFMoMA) holds an extensive collection of internationally recognised pieces. While this may not give off the same ethereal vibes as the Palace of Fine Arts, it's still worth your attention.
SFMoMA displays works from renowned artists such as Frida Kahlo, Henri Matisse, and Gerhard Richter. However, the Diego Rivera Mural is simply a must-see.
Plan this excursion for around 2-3 hours minimum. Though, if you're a little bit of an art nerd (like me) and want to admire each piece thoroughly, expect to spend an entire afternoon at the museum.
Ghirardelli Chocolate Experience
The Ghirardelli Chocolate Experience is a famous spot in San Francisco for – you guessed it – chocolate. This iconic chocolatier boasts a collection of chocolate gifts galore, including various shapes and sizes, making you feel like a kid in a candy store.
Only this time, it's delicious gourmet chocolate that's been handcrafted from cocoa bean to finished product. The Ghirardelli Experience makes for the perfect date opportunity, as these confectionaries might be the love potion you need to spark some romance.
You may swing by the Ghirardelli square every day between 9 am and 10 pm, then watch the chocolatiers create the brand's signature treats. And sample some, obvs.
The Painted Ladies
The picturesque Painted Ladies of San Francisco are famed for their unique symbolism – and I LOVE them. These pastel-coloured homes symbolise the famous California Gold Rush and are often known as the "Postcard Row" or "Seven Sisters".
Their elegance and poise make them one of the most photographed sites in Frisco. The Painted Ladies represent Victorian and Edwardian architecture featuring dramatic windows, decorative roofs and turrets.
Tip: Fancy a close-up? You can go to this address: Steiner St and Hayes St, San Francisco.
San Francisco Opera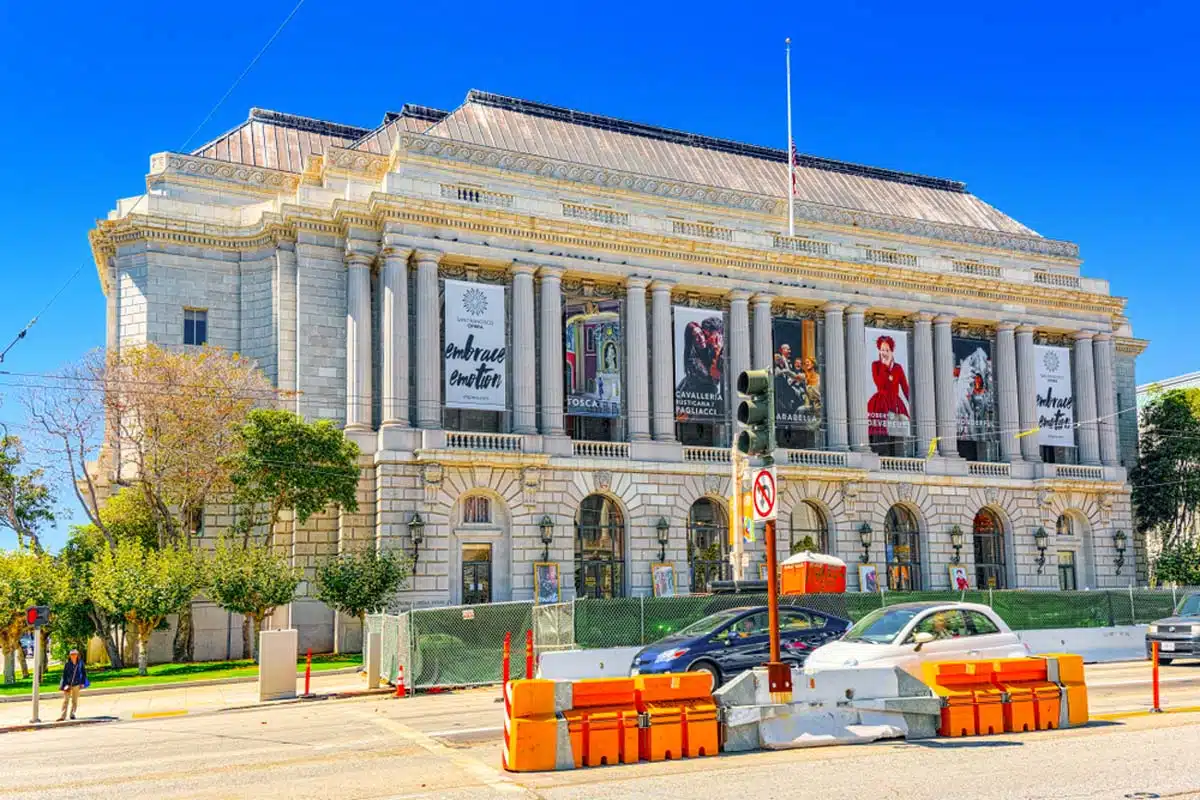 The San Francisco Opera is a classic 1932 opera house known for commissioning multiple world premieres. So if you are seeking a night of classical music (and even new works), this opera house will give you goosebumps.
Also home to a beloved seasonal Nutcracker ballet performance and the training ground of upcoming artists — you can see why this one's made it into this guide. The opera house is open from 10 am to 5 pm on Mondays, then 10 am to 6 pm throughout and closes on Sundays.
You can buy tickets and find out more about upcoming events on the San Francisco Opera House website.
Twin Peaks Tavern
Where do I begin to describe this iconic bar that makes its way onto almost every San Francisco itinerary? The vintage decor, the merrymaking atmosphere and the classic cocktails could only mean one thing: pure enjoyment.
Opened as a regular Irish pub in 1935, previous owners Mary Ellen Cunha and Peggy Forster turned this joint into the first gay bar in the city in 1972. The friendly vibes, daily chatter and prime location in the heart of Frisco make this bar popular for socialising.
Sitting on 401 Castro Street, you can loosen up at this esteemed bar every day from 12 pm to 2 am.
Golden Gate Park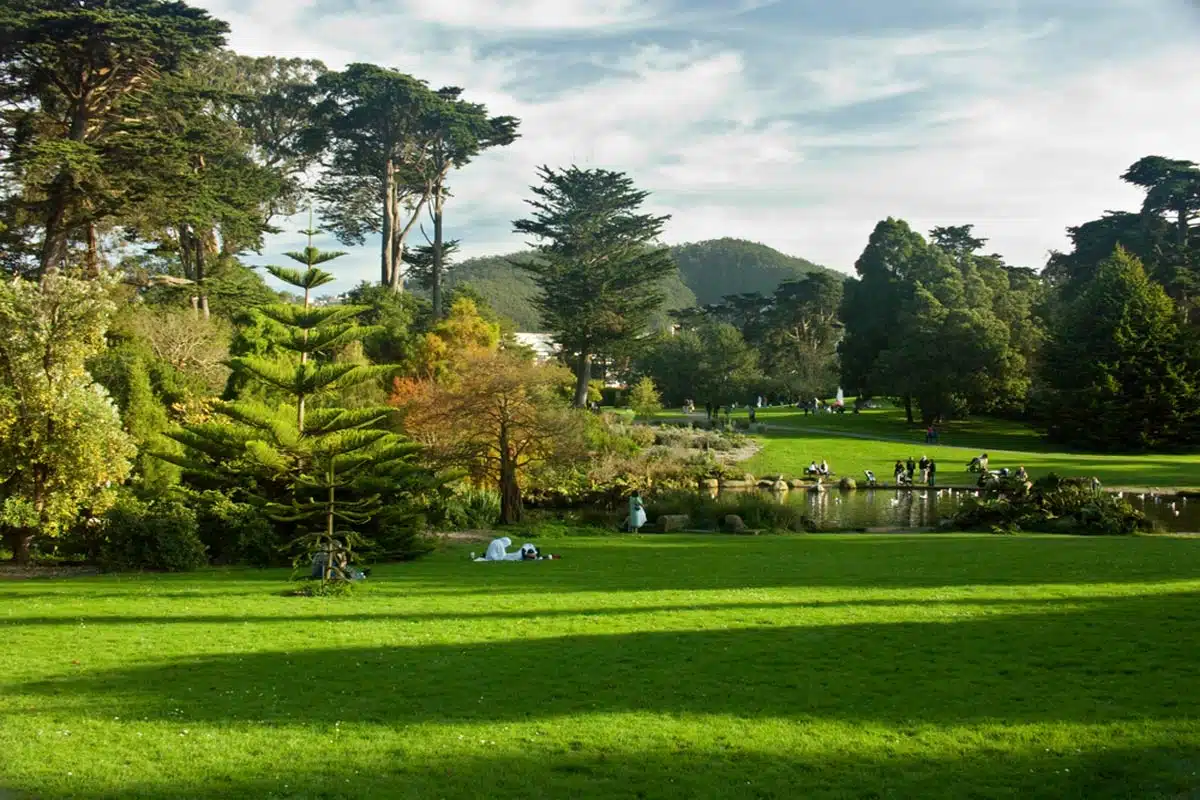 A chance to catch your breath away from the city hustle and bustle awaits you at Golden Gate Park.
It's an urban park with a whopping 1,017 acres for the public to relish. Adorned with lovely flower beds and ornamental features, you should be able to unwind and enjoy a relaxing stroll on the grounds – combining it with a visit to the Golden Gate Bridge is a no-brainer.
To settle the east versus west debate, Golden Gate Park is 20% larger than New York's Central Park (just kidding, New Yorkers). The park boasts large acres of meadows, lakes and forests for visitors to wander through and admire.
Better yet, the park stays open at all times and requires no entry fee.
San Francisco-Oakland Bay Bridge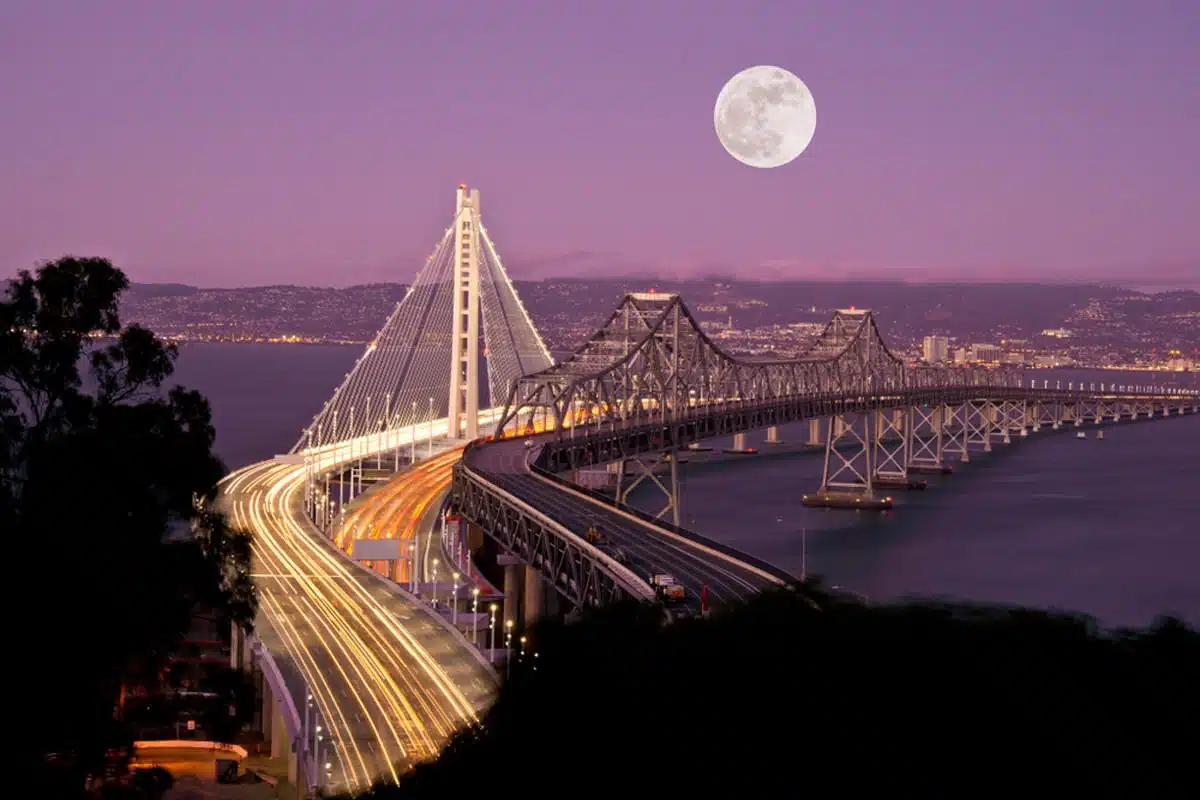 Known locally as the Bay Bridge, the San Francisco-Oakland Bay Bridge is another of its kind in the city worth noting. The Bay Bridge is a complex of bridges spanning San Francisco Bay which connects to a direct road that takes you to nearby Oakland.
It may not hear as many camera clicks as the Golden Gate Bridge, but it's a magnificent sight, especially as night falls.
The entire structure reaches an impressive length of 8.3 miles that started construction as early as 1933. Since then, the bridge underwent reconstruction after a 1989 collapse caused by the Loma Prieta Earthquake.
Fisherman's Wharf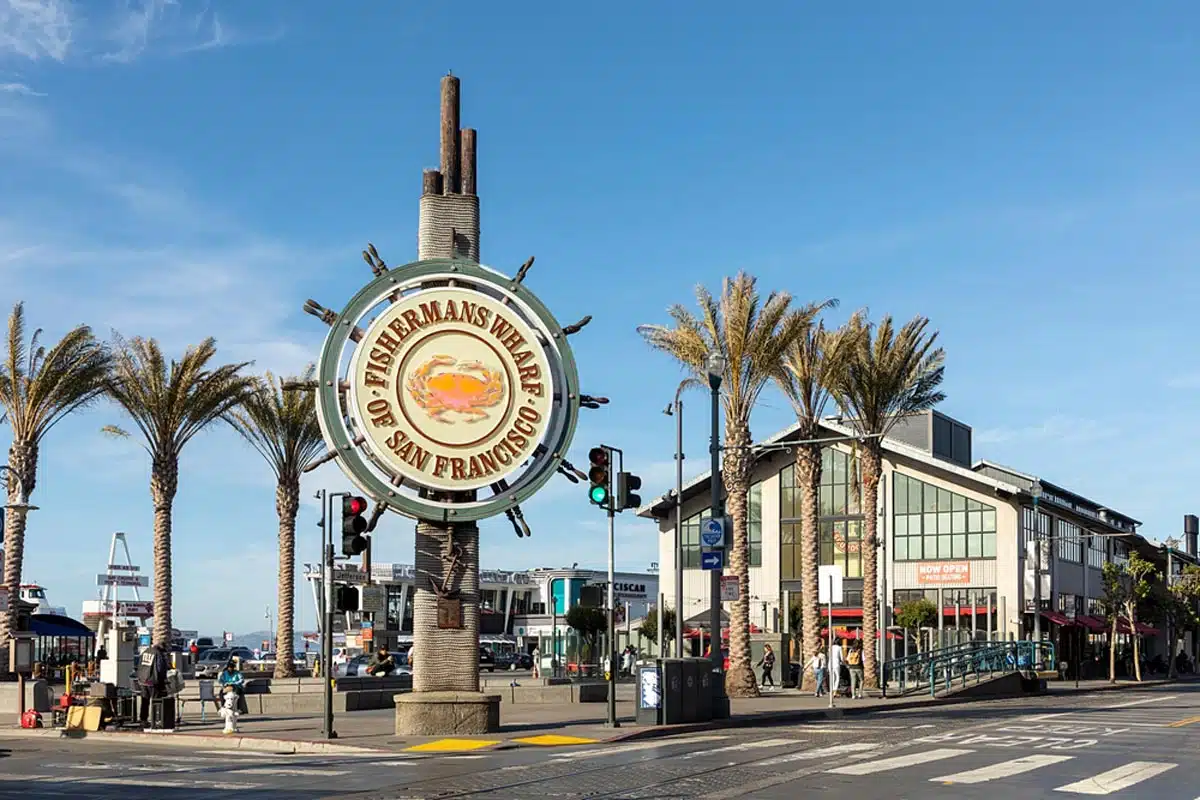 Fisherman's Wharf sits on the northern waterfront and sees probably the most tourists of all attractions in San Francisco. Why? Well, I'm not quite sure, but the answer is probably that this quaint neighbourhood contains the highest number of activities for families to get involved with.
I'm not kidding – souvenir shops, excellent restaurants, Ripley's Believe it or Not museum, a Wax Museum, and the Cannery Shopping Center. It's easy to see why this place is sprawling with people.
Plus you can also take in fantastic views of the Golden Gate Bridge and Alcatraz from this site, while Ghirardelli Square is just around the corner.
Pier 39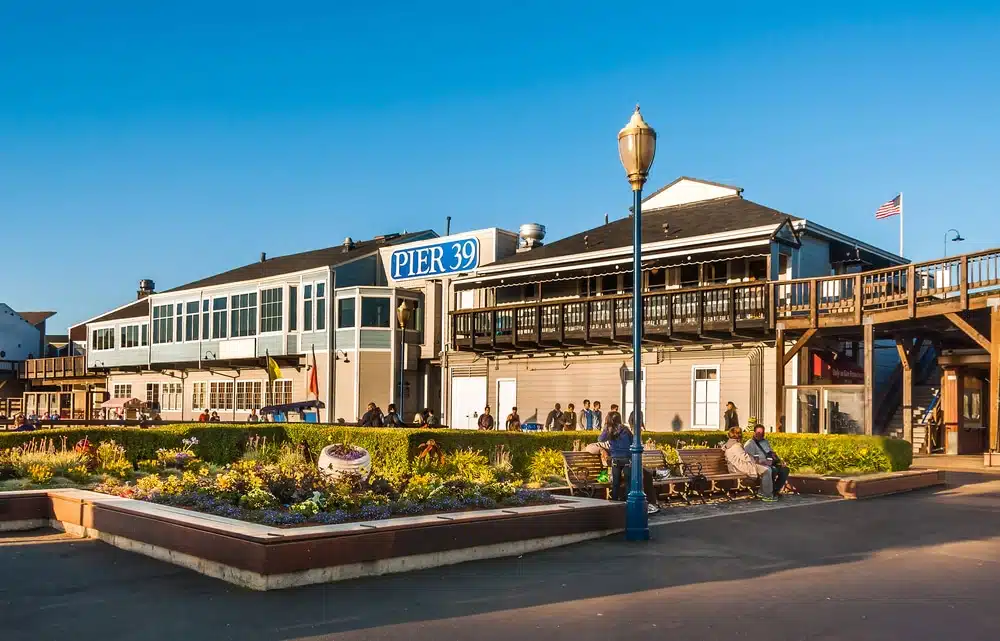 Sure, most locals and avid visitors to San Fran consider Pier 39 a tourist trap or overhyped, but I think it's still worth a visit for newbies or if you have extra time. The picture-perfect views over the bay are mesmerising, and you can watch sea lions laze around here all day.
This is where you'll find the Aquarium of the Bay, an arcade, street performers and numerous restaurants and shops. An hour here can easily stretch into an entire afternoon.
Top Tip: The best time of the year to view the sea lion falls in late July to mid-May.
Practical Tips for Visiting Famous San Francisco Landmarks
To fit in most, if not all, of these landmarks in your trip, I reckon you would need to spend a full week in the city. Short on time? Unmissable landmarks are the Golden Gate Bridge and park, the Painted Ladies, Fisherman's Wharf and Alcatraz – it's possible to see these sights in two or three days.
San Fran is often foggy with a cool sea breeze, but that doesn't stop the sun from beating down on you at any given moment. So it's best to always dress in layers and prepare to shed some throughout the day.
You'll thank me for wearing your most comfortable shoes; getting around this hilly city on foot is sometimes the best option.
Landmarks of San Francisco: Map
San Francisco Landmarks: Read Next