Ready to discover the best time to visit Los Angeles? Plan your trip with this month by month guide.
Are you ready to have a banging trip to Los Angeles? I know you are. This sprawling metropolis, the City of Angels, has a lot to offer any visitor if you know how to approach it right.
That starts with choosing the best time to go to LA. You don't wanna think you're going to spend your days hanging by the beach, only to find that the weather's way too cold for that – or visit during the most expensive time of the year, when prices skyrocket do you?
Thought not. Let's get straight to it.
When's the Best Time to Visit Los Angeles: At A Glance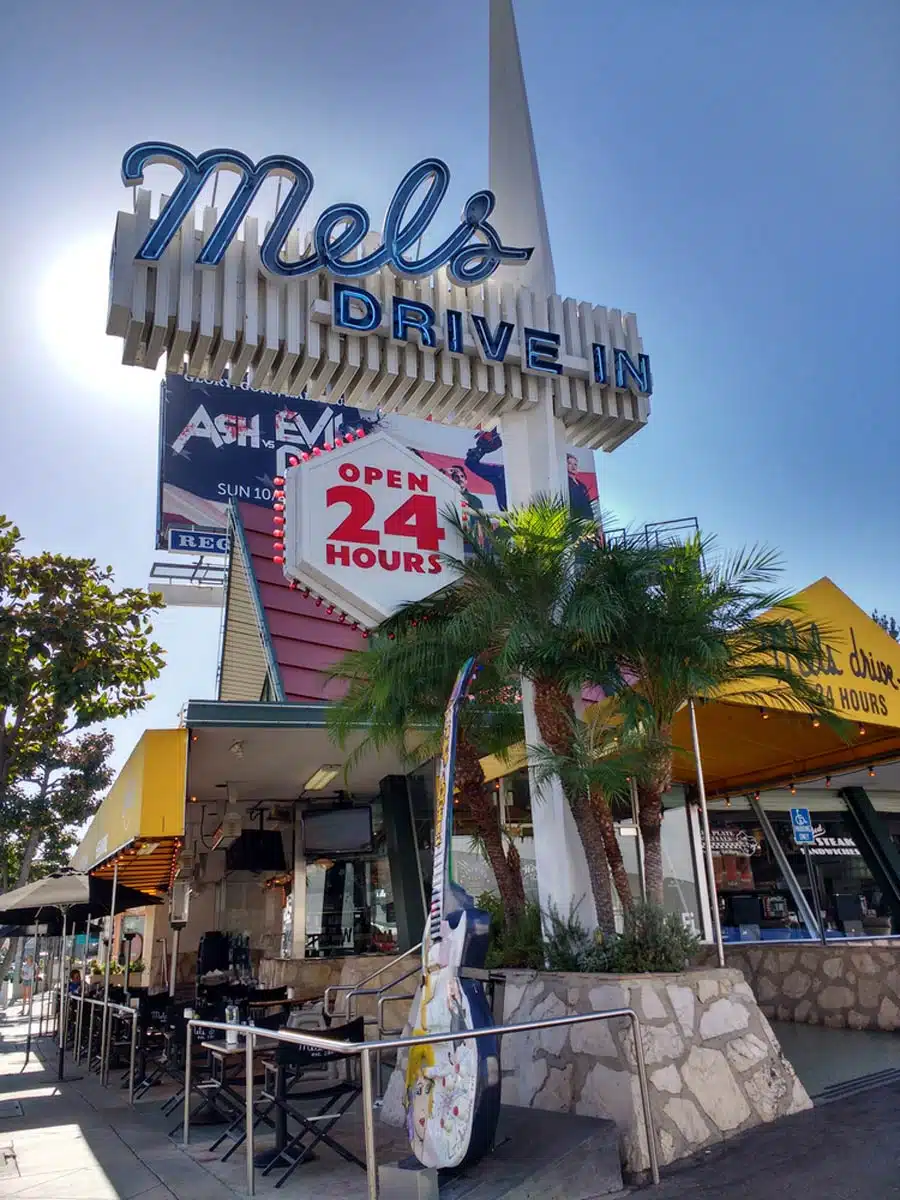 I'll level with you, there is no exact best time of the year to visit Los Angeles, but there are some months when crowds become too much and others when flights and hotels are very costly. It's not the end of the world to travel to LA during these times, you just have to prepare yourself if you do.
So rather than thinking that there's a bad time to go to Los Angeles, you should focus on when's the best time to go to LA. In short, March to May or September to November is the best, with fewer crowds and better-value accommodation.
The Best Time to Visit LA
What is the Best Month to Travel to LA?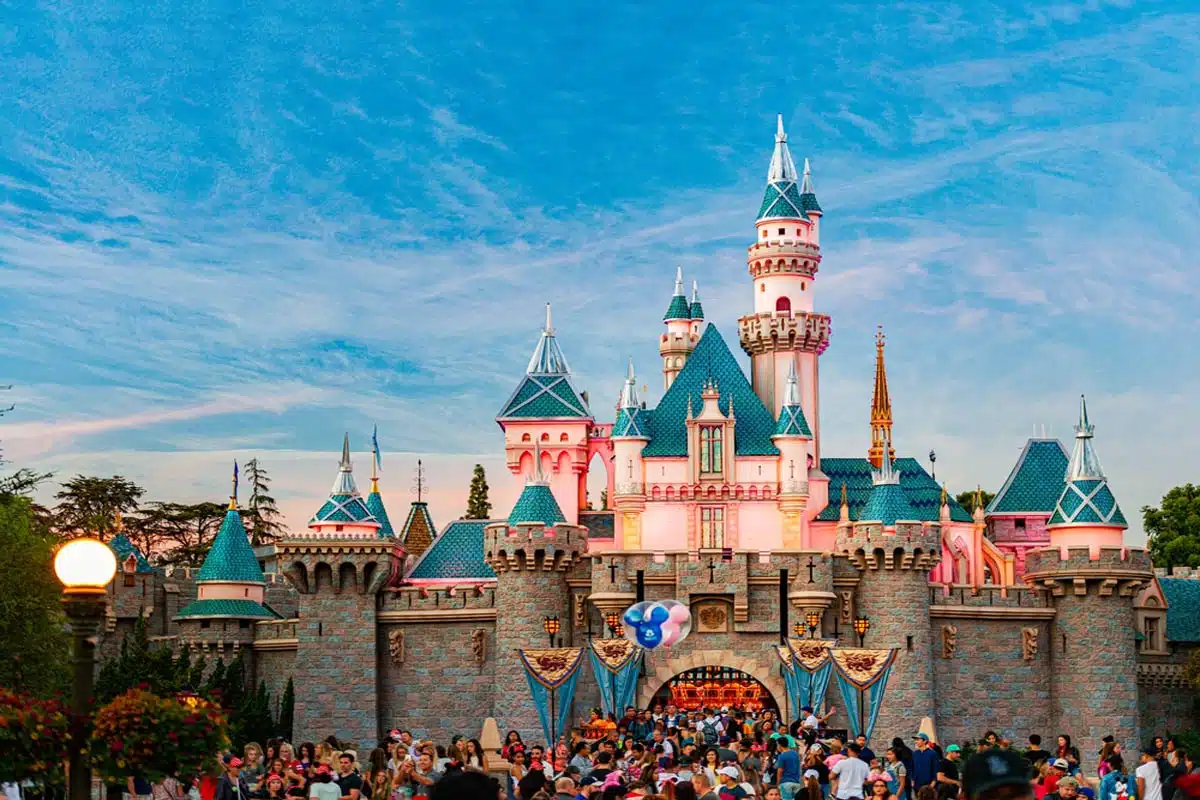 The best time to visit Los Angeles beaches is in September. It's the ideal time for beach bumming as the summer crowds will have died down, but you'll still have the same fantastic weather.
April is the time to explore the sights and sounds of this magnificent city. You'll have that sublime Californian sun throughout the day, while the cooler nighttime air is perfect for bar-hopping.
The best time to visit Disneyland, Los Angeles, is in late August. It's near the end of summer, so the weather is excellent, but it also starts to quieten down at this time.
Top Tip: Visit Disneyland between Monday and Thursday to avoid feeling like a sardine caught in a net.
When's High Season in Los Angeles?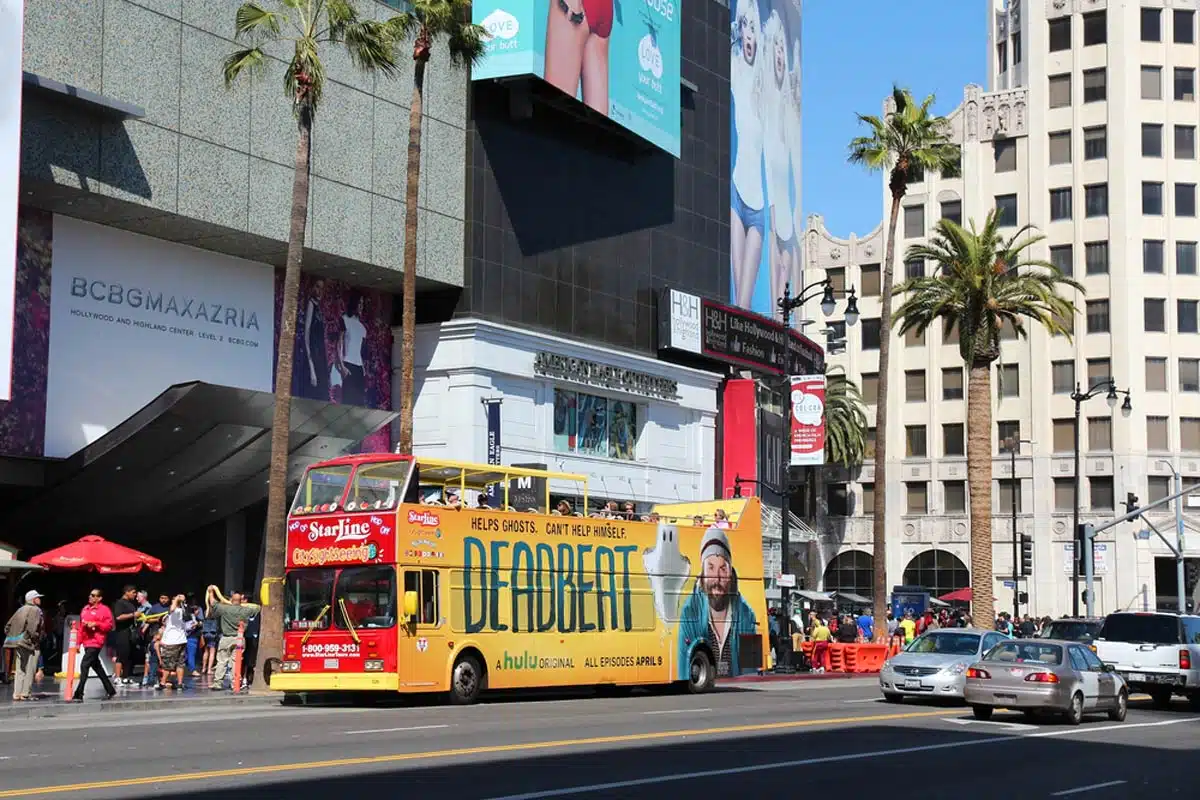 The high season in Los Angeles is summer, and there are no two ways about it. You'll find hordes of tourists kicking their feet up on Santa Monica Beach and filling the tour buses throughout the city.
It's also the most expensive time to visit. You can understand why it's so popular, though, with lows of 17°C (62°F) and highs of 29°C (84°F), as well as cloudless days.
The Cheapest Time to Visit Los Angeles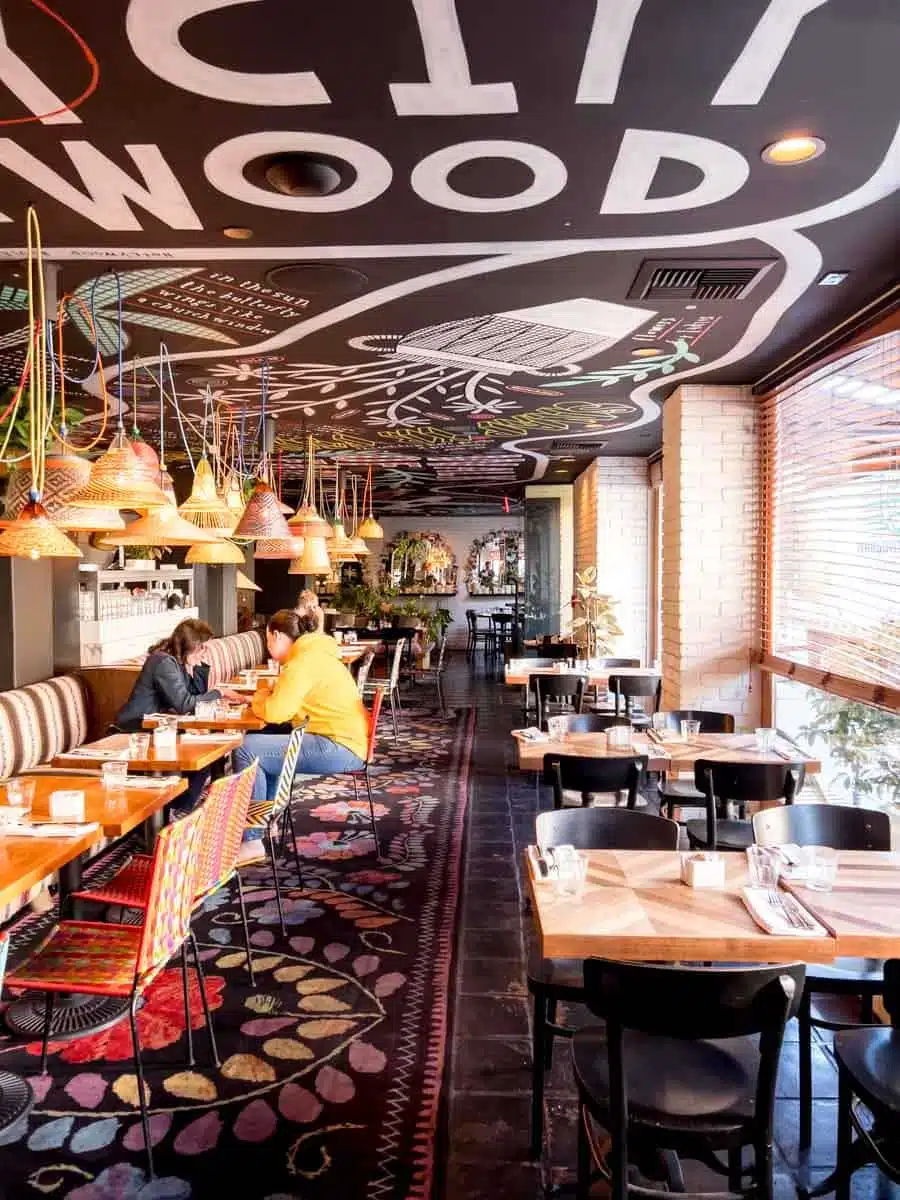 When are the best times to visit Los Angeles for a budget-friendly holiday? That's an easy one. You'll want to stay between September and November (September's best if you really want to double down on sunshine).
Not only will you have pretty decent weather, lows of 12°C (54°F) and highs of 29°C (84°F), but you'll also find fantastic deals on accommodation.
When to Visit Los Angeles To See and Explore Hollywood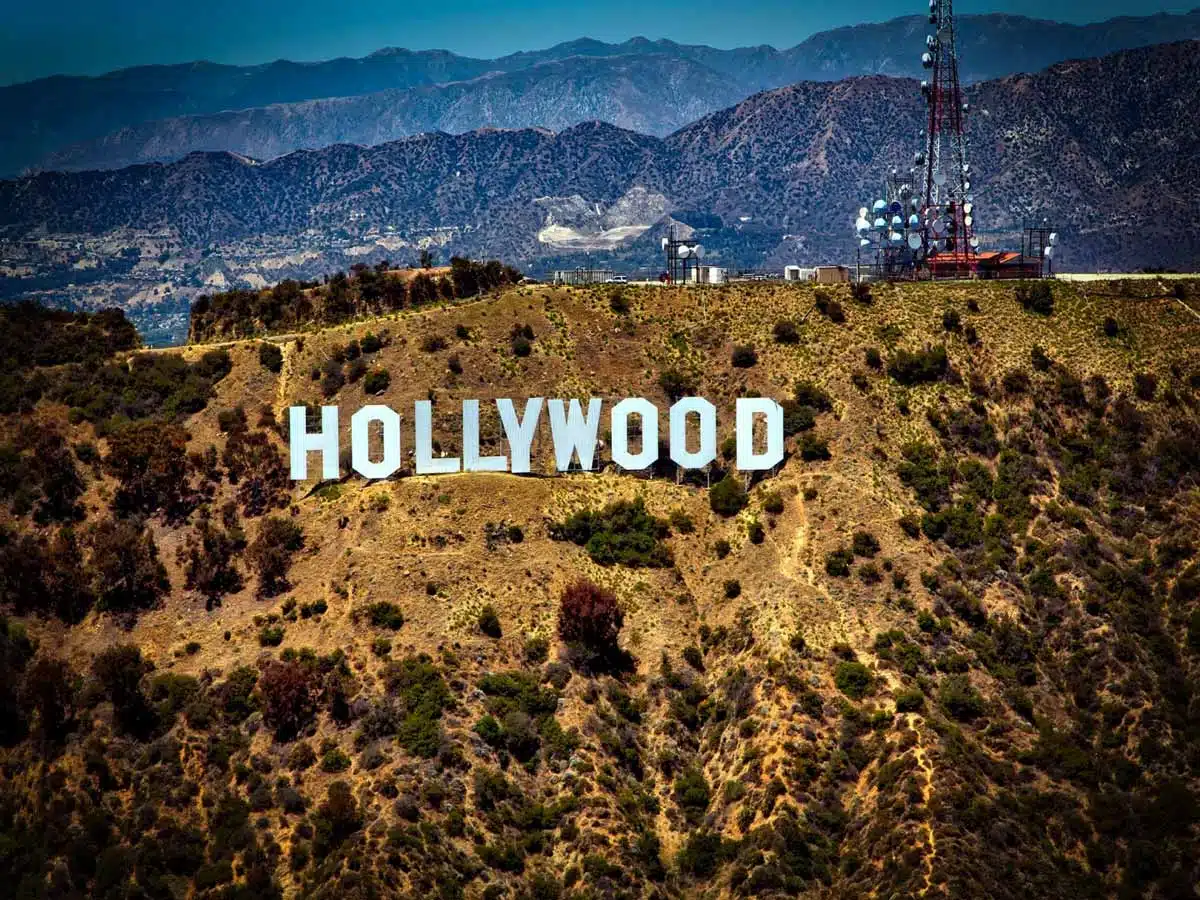 If you want to avoid the swells of tourists, you'll have a great time in March.
The weather starts to heat up, but the peak season is still a few months away. Say hello to Paramount Pictures and Warner Bros. Studio in peace.
To avoid lines, grab this Warner Bros. Studio tour to experience the magic of filmmaking.
Best Time to Visit LA to See and Enjoy the Santa Monica Pier and Beach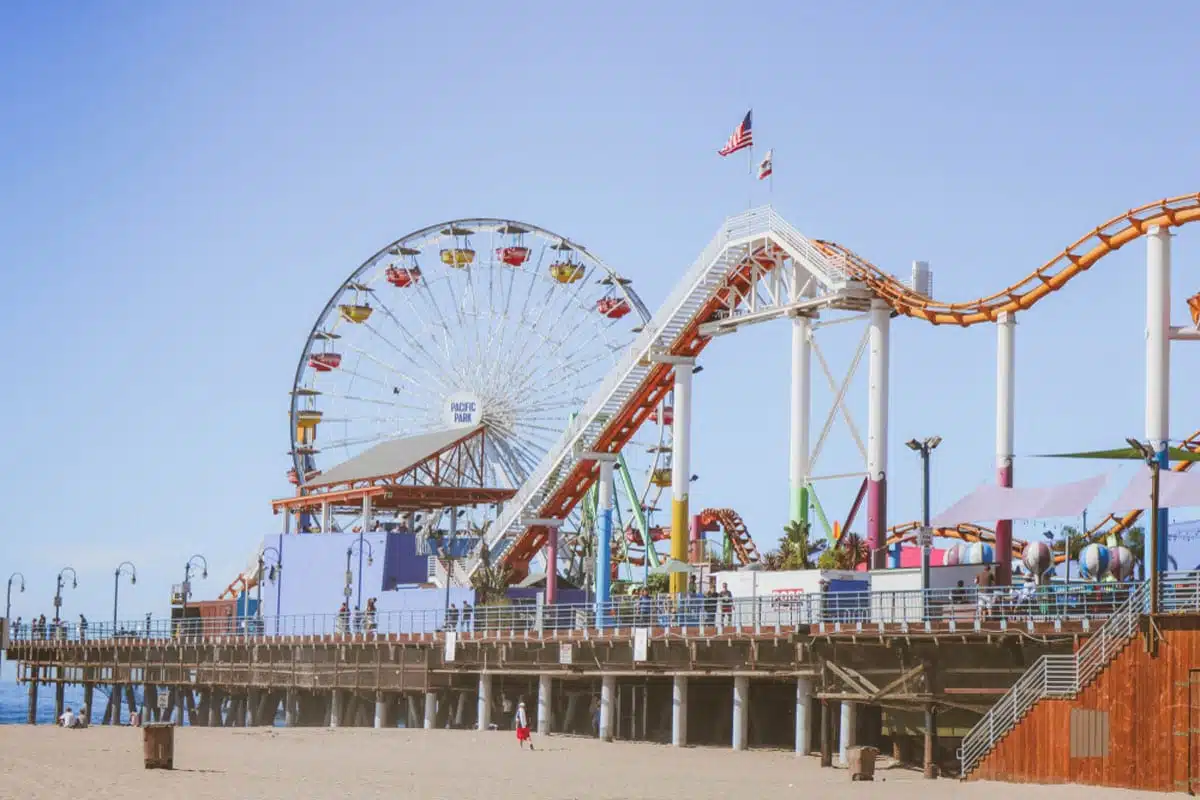 Enjoy fantastic weather in May at the Santa Monica Pier, a star among stars with everything you could ever want in one place. Seriously, you'll find it all here: beaches (ticks off the list), games (ticks off the list), delicious food (ticks off the list)… honestly, I can go on forever.
There's no better way to explore Santa Monica and the Venice Canals on this guided electric bike tour. 
When to Go to Los Angeles to See and Eat at the Grand Central Market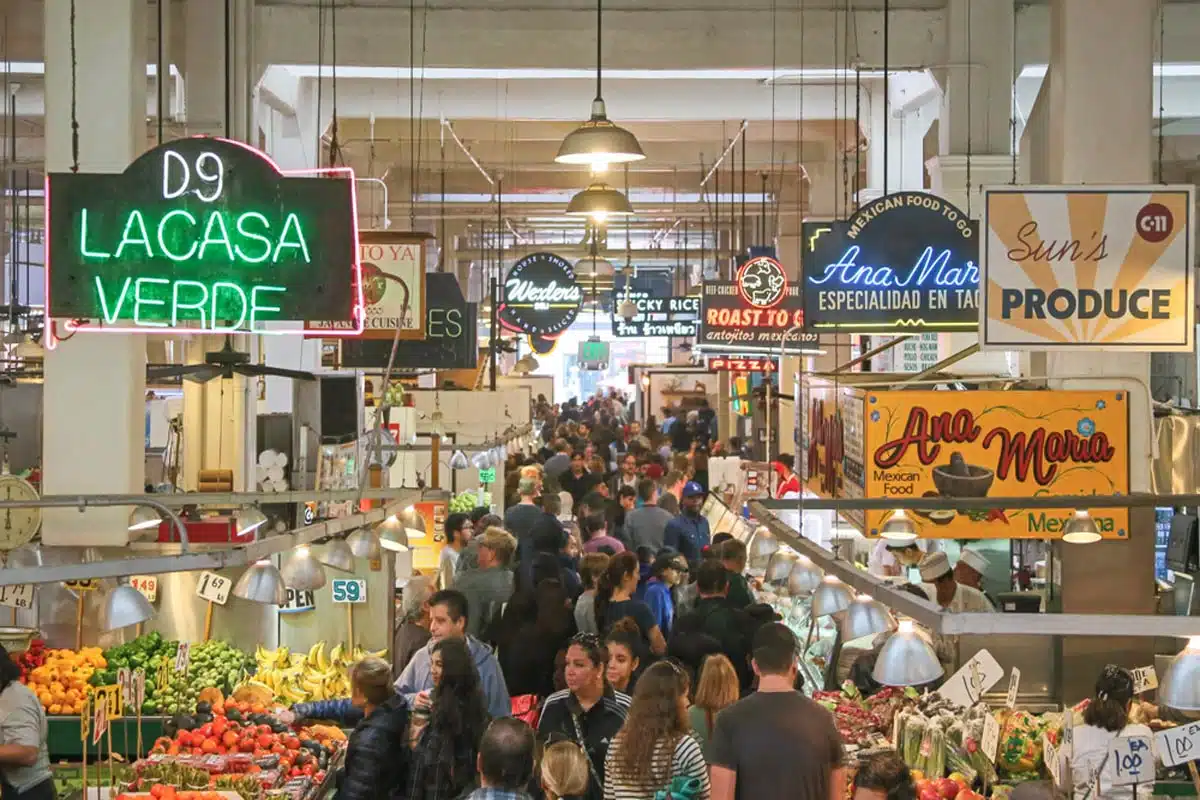 Tasting the flavours of Downtown Los Angeles is an absolute must, and there's no better place to do this than at the Grand Central Market. And to get the best experience possible, coming here in March is a great idea.
They host events like the "Clean Plate Club Challenge" or the "Taste of Eataly" during this time, so eating fine food is very much on the menu.
Alternatively, join this downtown food tour to taste the best bits of the Grand Central Market.
To See the Griffith Observatory and Hollywood Sign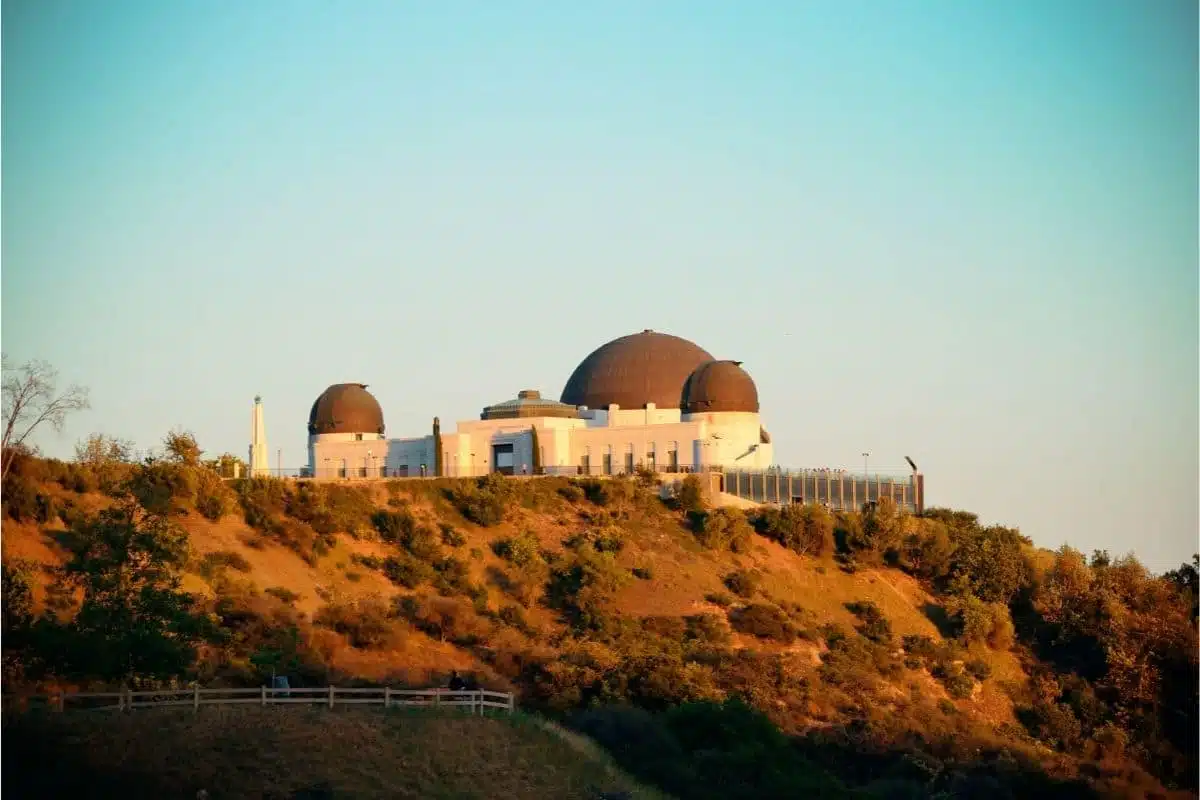 For a mesmerising experience of these two icons of LA, visit the city in August.
Why August, you may ask? This is the most cloud-free month of the year, so you can admire the Hollywood Sign and gaze at the stars at Griffith Observatory without obstruction.
Alternatively, you can join this Griffith Observatory guided tour for a stargazing extravaganza.
Los Angeles by Season
Spring in Los Angeles
March — May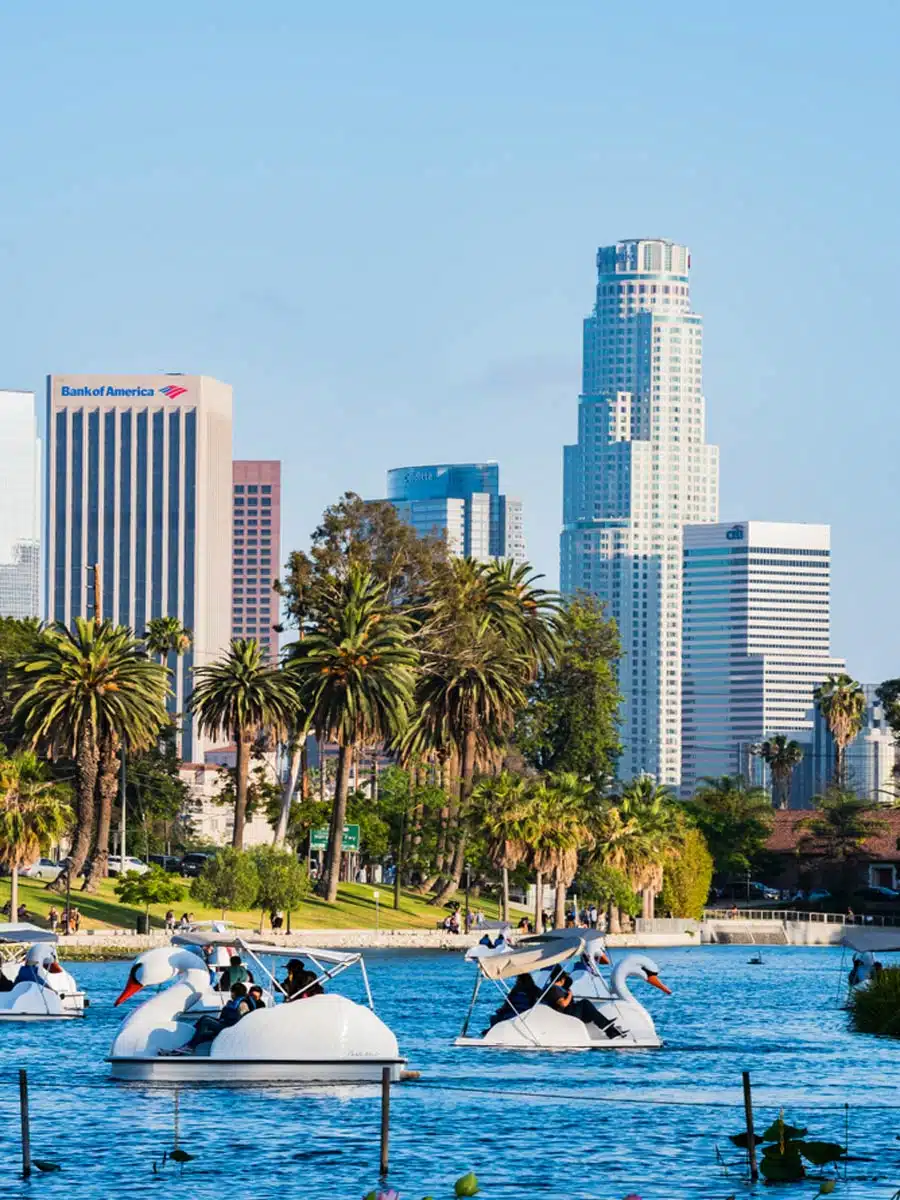 There's no better sight than flowers in full bloom as they paint the streets of Los Angeles with bursts of colour. Although you can expect the occasional drizzle of rain in March, the rest of spring is a sunny oasis you'll adore.
Key Events and Things to Do in Spring in Los Angeles
Nothing shouts "spring in LA" more than the Knott's Boysenberry Festival. It's a food and wine festival celebrating California's rich culinary history, with food stalls, wine tasting, and competitions.
Spring is also the perfect time to admire the mighty Gray whales and other species like Humpback whales. I recommend joining this whale-watching tour for an unforgettable experience.
Exploring the Seasonal Gardens of Huntington Library is another fantastic outdoor activity. Roses are in full force while the "Orbit Pavillion" garden art installation replicates the sounds and shapes of the International Space Station.
Pros to Travelling to Los Angeles in Spring
It's a cost-effective time to visit the top Los Angeles landmarks.
The tourist season is yet to kick in, so you can expect fewer crowds and great deals on accommodation and flights.
Cons to Travelling to Los Angeles in Spring
Although the peak season is yet to come, traffic in LA is insane.
You may have the occasional overcast day in spring.
Summer in Los Angeles
June — August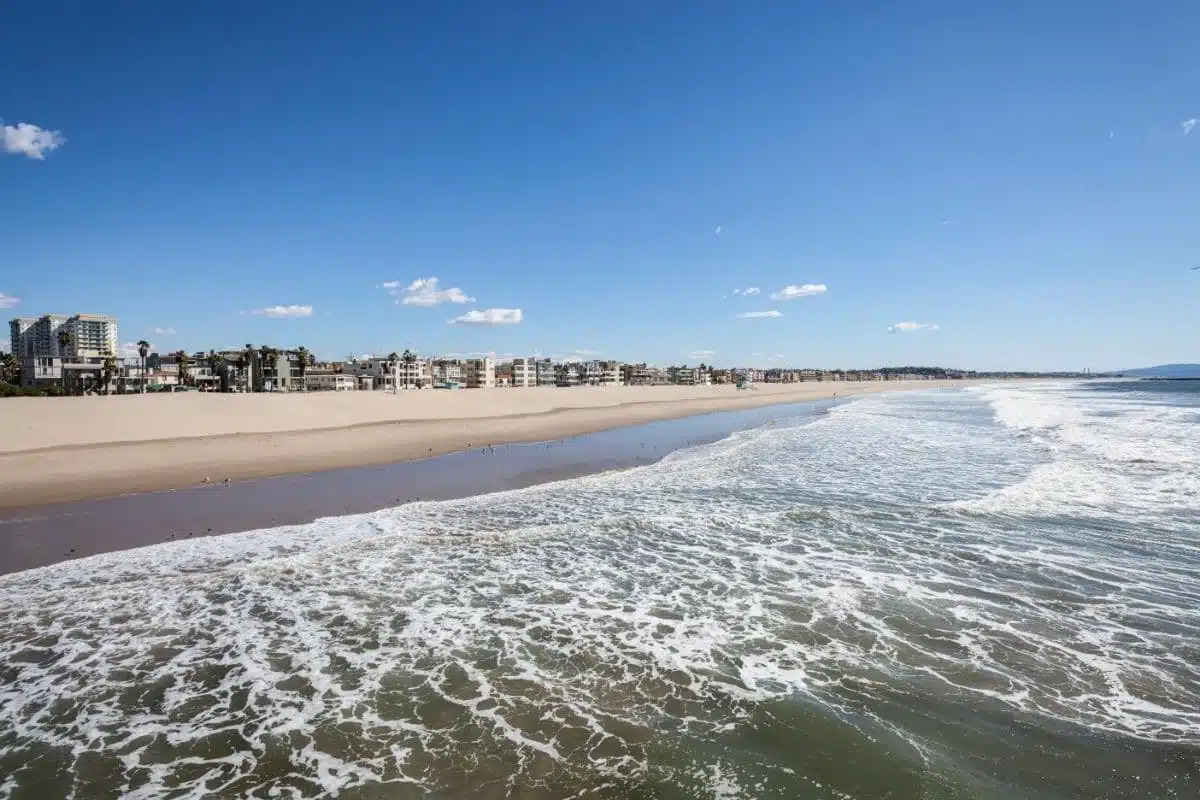 As you may notice, Los Angeles is a sun lover's paradise, and summer is the best time to spread out on its sandy shores. Although the city gets crazy busy now, there are still plenty of hidden events you can enjoy that are away from the crowds.
Key Events and Things to Do in Summer in Los Angeles
You're in the land of movie-making, so what better than watching a movie? Enjoy the Cinespia outdoor summer movie showings, where classic and modern Hollywood films feature under the stars.
Los Angeles isn't short of fantastic hiking opportunities. Slip on those boots and explore the Santa Monica Mountains or the Angeles National Forest.
Explore all the best beaches in LA, from Santa Monica to Topanga. There are more than 50 miles of pristine coastline for you to explore.
Pros to Travelling to Los Angeles in Summer
Cons to Travelling to Los Angeles in Summer
It's the peak tourist season, so accommodation is expensive, and almost everywhere is busy.
The traffic throughout the city is even worse, which says a lot.
Autumn / Fall in Los Angeles
September — November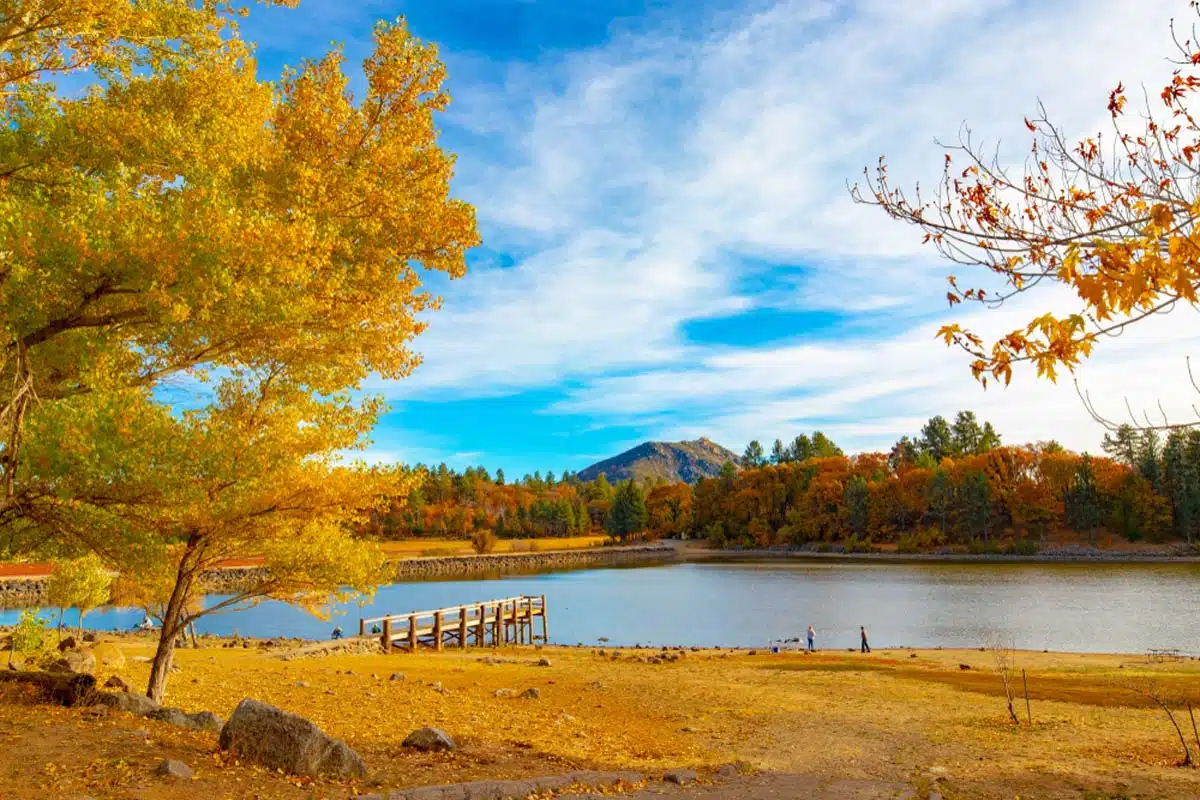 Fall has arguably the best months to visit Los Angeles for fantastic weather, fewer people, and an affordable vacation. And to make things even better — yes, it's possible — there are some terrific fall-specific activities throughout LA, not to mention the lure of the open road on a cool little day trip without the crowds.
Key Events and Things to Do in Fall in Los Angeles
Enjoy the outdoors at Oak Glen during the apple-picking season. Drinking cider and eating apple pie after picking apples? Say less.
Get into the spooky spirit and celebrate the Day of the Dead at Hollywood Forever. Los Angeles goes big, so why not join one of the biggest celebrations in California?
From the Hollywood Walk of Fame to the opulent mansions of Beverly Hills, there's no better time to explore the city than in autumn.
Pros to Travelling to Los Angeles in Fall
It's the most affordable time of year for a Los Angeles vacation.
There are loads of events to enjoy that epitomise Los Angeles.
Cons to Travelling to Los Angeles in Fall
Free parking is impossible, even in LA's off-season.
The weather starts to cool down and can be unpredictable at times.
Winter in Los Angeles
December — February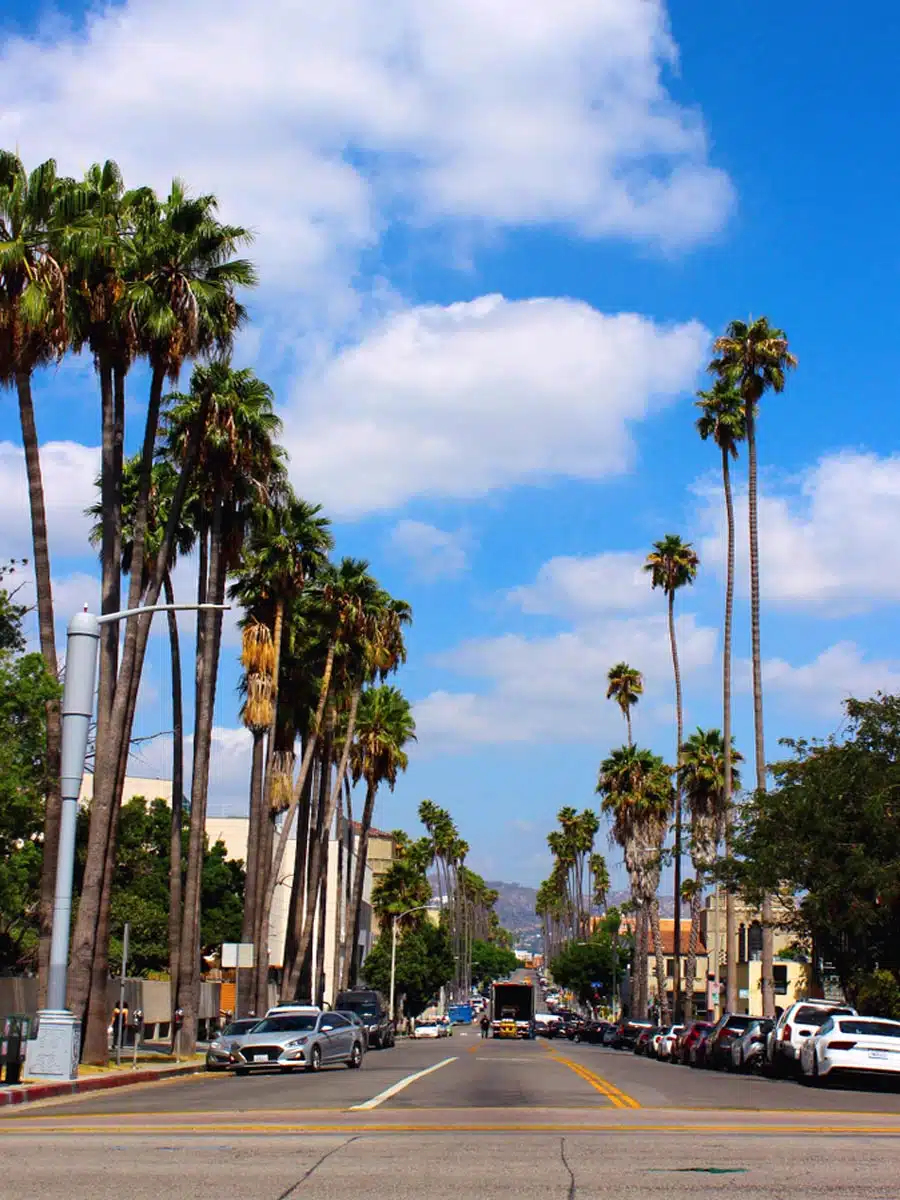 Don't write off winter just yet. To make the most of LA's off-season, here are some fantastic events you should keep an eye on.
Key Events and Things to Do in Winter in Los Angeles
Winter is an excellent opportunity to explore the city's museums in peace. Don't get me wrong, The Getty and Los Angeles County Museum of Art still get busy, but they're way more bearable now than in summer and you can enjoy your LA itinerary at leisure.
Although Los Angeles and snow don't go hand-in-hand, you can still enjoy the snowlike wonderland of ice-skating. Enjoy the sunny weather while gliding on the ice rink at DTLA Plaza's outdoor rink.
Thaw out during an chillier night with a tasty bowl of ramen in Little Tokyo. This may not sound exciting, but trust me. When you're cold and hangry (hungry and angry, it happens), a heart-warming meal at Tsujita or Daikokuya is a fantastic idea.
Pros to Travelling to Los Angeles in Winter
The end of winter also provides fantastic whale-watching opportunities.
There are hardly any tourists during this time, so exploring LA is easy.
Cons to Travelling to Los Angeles in Winter
It can get pretty cold here in winter, dropping as low as 9°C (48°F ).
You can still enjoy the beaches of LA, but it will be way too cold to swim in the Pacific Ocean.
When to Travel to Los Angeles: Practical Tips + Tricks
I recommend booking accommodation as far in advance as possible as you can often find great deals this way.
Use the metro and bus systems where possible. These can often cut your travel time down as the city has bus lanes.
Get the Los Angeles city pass for all-inclusive access to over 40 citywide attractions.
Travelling to Los Angeles: Read Next