Wondering where to stay in the Seychelles? From the lively Mahé to the laidback La Digue, I've got you covered with these brilliant destinations.
So you're planning a getaway to the Seychelles islands? Lucky you – the only issue is, deciding where to stay can be a little bit daunting, to say the least.
Do you head to the largest island (that's Mahé) for an indulgent stay? Or, how about heading to the likes of Silhouette island for an intimate getaway?
To be honest, each area of the Seychelles has its own perks. That's why I decided to write this handy guide to help you decide.
But then… which hotel? The struggle for the perfect accommodation never ends.
Wonder no more, pals, let's discover the best places to stay in the Seychelles.
Best Places to Stay in Seychelles: At a Glance
Where to Stay in Seychelles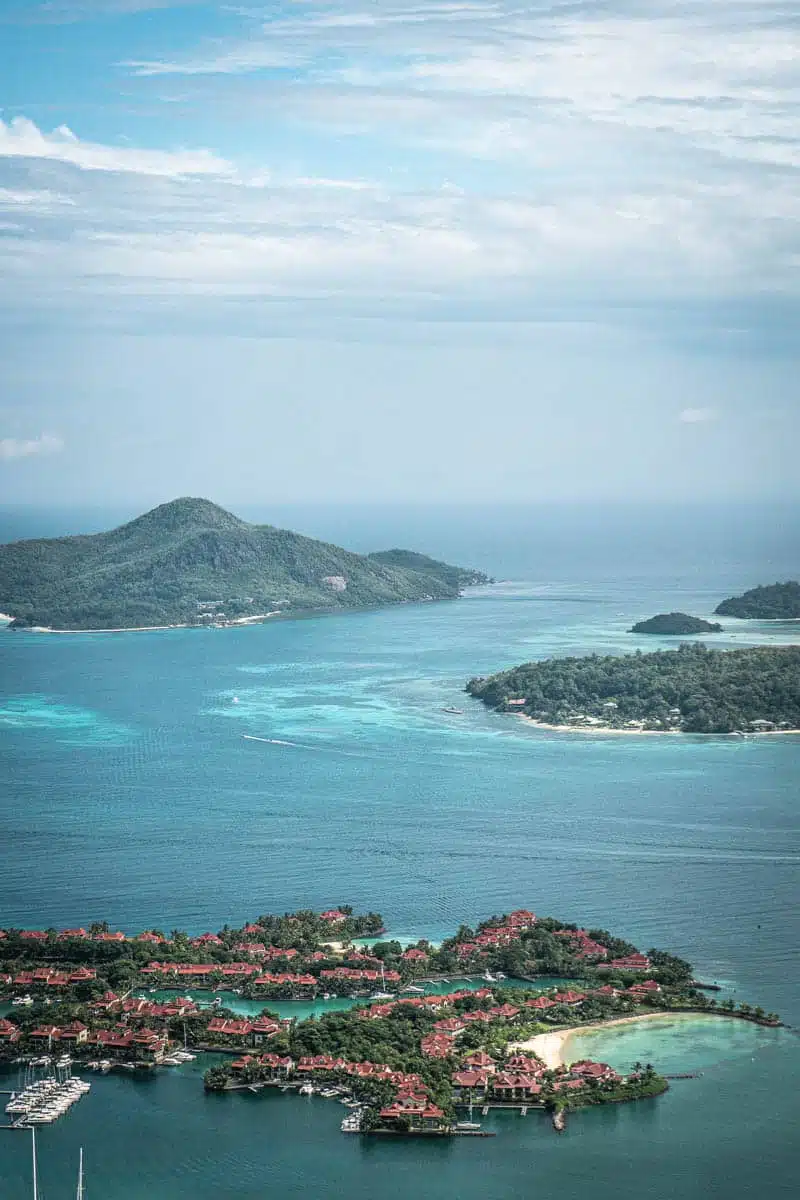 A striking island paradise set within the Indian Ocean, imagining a more perfect getaway destination is almost impossible. Now, while the 115-island archipelago boasts white sand beaches, leafy jungles, delectable cuisine, and rich history, the available Seychelles hotel options take centre stage.
Mahé, the largest of the Seychelles islands, is a thriving hub of intimate hotels and fabulous resorts that meet stunning restaurants, vibrant shopping, and a lively nightlife. Then you have La Digue, where nature reigns supreme with some of the most gorgeous beaches worldwide. Rounding out the top three islands, Praslin showcases a more laid-back atmosphere and is ideal for rest and relaxation. Finally, beyond the enticing allure of the private islands in Seychelles, if you're after the ultimate in luxury escapes, Desroches is the one for you.
Mahé: Where to Stay in Seychelles for Touristy Things to Do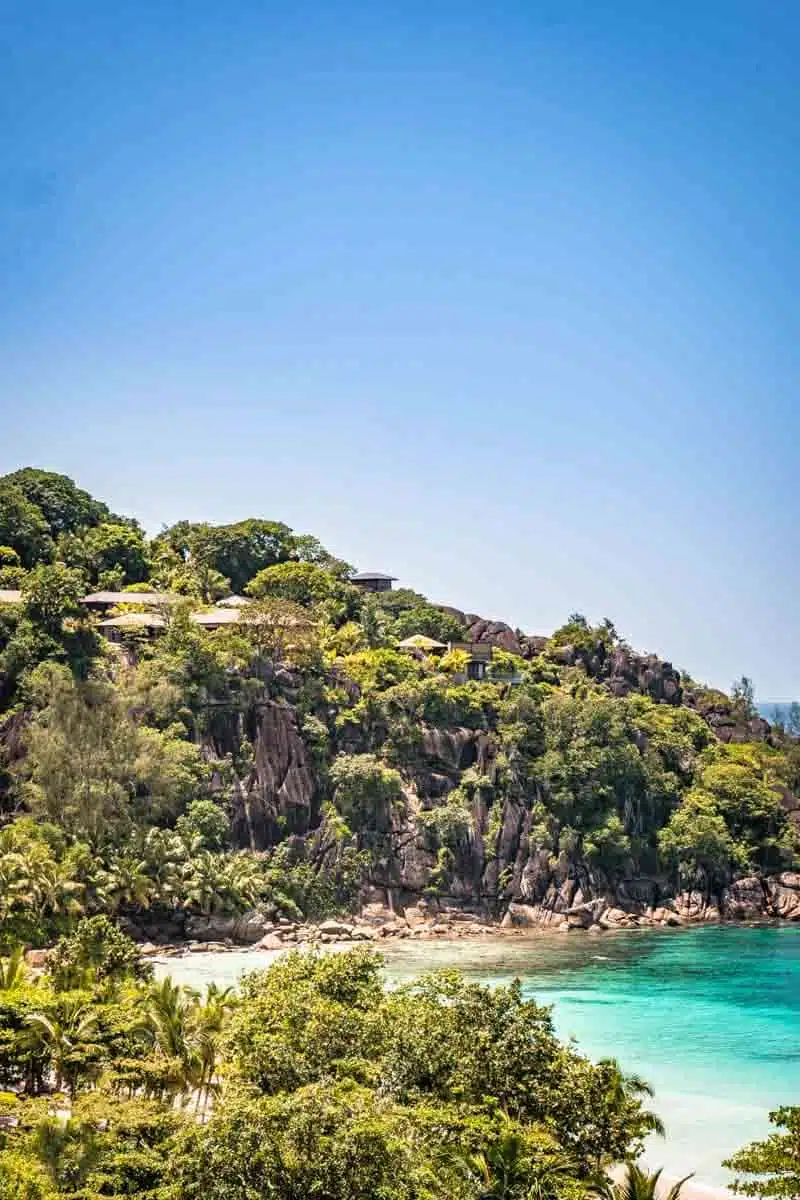 Considering that it's the home of the only international airport in the Seychelles, Mahé holds the title for the island with the most to do and see.
It should come as no surprise that it's also where you'll find some of the best places to stay in Seychelles. While some overlook this island in favour of the smaller, offbeat options, you'd miss out if you follow in their footsteps.
Any trip to Seychelles is only made more remarkable by exploring everything that the main island Mahé offers: Important cultural sites, the country's capital, lush jungle inlands, and plenty of cool bars and restaurants to spend an evening.
Mahé Highlights
Surrounded by spectacular fauna and flora, what could be better than taking full advantage of this island than with a visit to the Victoria Botanical Gardens. Beyond the fantastic glimpse at the local plants and wildlife, the cherry on top is the chance to feed the Giant Aldabra Tortoises. 
For a genuine taste of Seychelles, heading to the Takamaka Rum Distillery provides more than just a sample of the island's rum. Booking a tour gives you a firsthand peek into the entire distilling process, while including a tasting in your tour adds a chance to savour the distinct blends produced.
You can't stay on Mahé and not spend hours lounging or roaming its stunning beaches. The top prize is Beau Vallon as it's the longest and most popular, even amongst locals. Other must-visit coastal beauties include Grande Anse Beach, Anse Royale, and Carana Public Beach.
If you want to get lost in nature (in the best way possible), there's no better spot than within the confines of Morne Seychellois National Park. Here you'll find a myriad of hiking trails that range in difficulty, making sure there's something for every kind of outdoor explorer.
Suggested Hotels in Mahé
Four Seasons Baie Lazare – Nestled within one of the most stunning beaches in Mahé, this uber-luxurious property offers more than just a beautiful location. An on-site reef is a standout feature, where you can snorkel a few metres from the shore.
Hilton Seychelles Northolme – Featuring a more distinct take on boutique island luxury, you'll find breathtaking villas perched atop stilts overlooking the ocean. While your villas are spectacular, the private beach is one of its best highlights.
MAIA Luxury Resort & Spa – Conceived as a relaxing, private sanctuary with only 30 rustic-style villas beside the idyllic Anse Louis Beach. Offering the epitome of island luxury, the on-site Balinese-style spa is one of the most buzzworthy in Seychelles and a standout of the resort.
La Digue: Best Place to Stay in Seychelles for Beach Bumming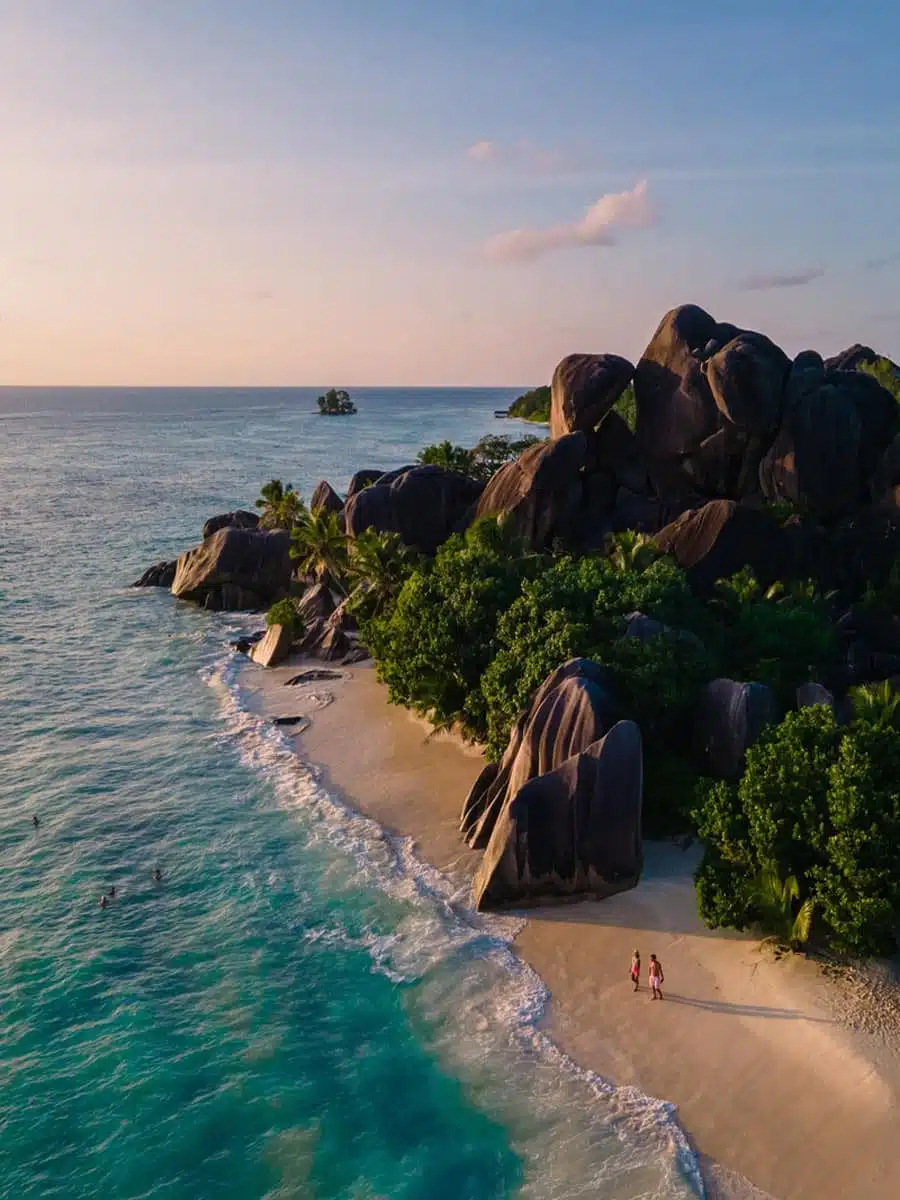 While only the third-largest island in Seychelles, there's a particular spirit that inhabits La Digue, Seychelles, enticing anyone who steps foot on its shores.
Considering the island only has a population of roughly 3,000, this is the perfect spot to get away from it all. Life moves at a slower pace on La Digue, meaning you're in for a tranquil escape.
Beyond its enviable lifestyle (which I wish I could have packed in a bag when I left), La Digue is where you go if you're looking for the best in beach bumming. The sad part is that most give La Digue a skip in search of more than just incredible beaches.
But, when an island features one of the most beautiful beaches in the world, where do you find better?
La Digue Highlights
Speaking of one of the world's most beautiful beaches, often featured in travel magazines, the picture-perfect Anse Source D'Argent is well worth your time. With stunning tranquil waters that cascade onto granite boulders, it's a photographer with a penchant for beach bumming's nirvana.
For those seeking adventure (or if you just want to explore more Seychelles islands), island hopping from La Digue is a must. The best of these excursions is a full-day island hopping and snorkelling tour that heads to Coco and Félicité islands. You can book these from L'Union.
While the beaches are amazing, La Digue is also home to dense jungles, massively rich biodiversity, and epic viewpoints. All accessible by hikes around the island, some of the best include Anse Marron, Eagle's Nest, and Romeo & Juliet.
To get a more in-depth look at the colonial history of Seychelles, head to the L'Union Estate. A must-visit for any trip to the islands, this historic estate sits on the southern end of La Réunion on the island's west coast. And if you're an architecture fanatic visiting, the estate offers the oldest examples of French colonial architecture on La Digue.
Suggested Hotels in La Digue
Domaine de L'Orangerie – As the most luxurious hotel in La Digue, it sits on a sloping hill that features eye-catching landscaped gardens that envelop its 63 rooms. Offering a range of restaurants, bars, and a stunning pool, all situated beside an artificial beach for the perfect serene feel.
Le Nautique Seychelles – Embracing the laid-back charm of La Digue, this boutique property sits perched at the water's edge with picturesque views of Praslin. It punches well above its weight and features a stylish nautical vibe throughout its seven luxurious rooms.
Cabanas des Anges – Although this property doesn't boast a seafront location, it more than makes up for it with stunning gardens brimming with palm trees. Here accommodation gets split between six bungalows, while the outdoor swimming pool is the ultimate spot for lounging and sunbathing.
Desroches: Where to Stay in Seychelles for Luxury Getaways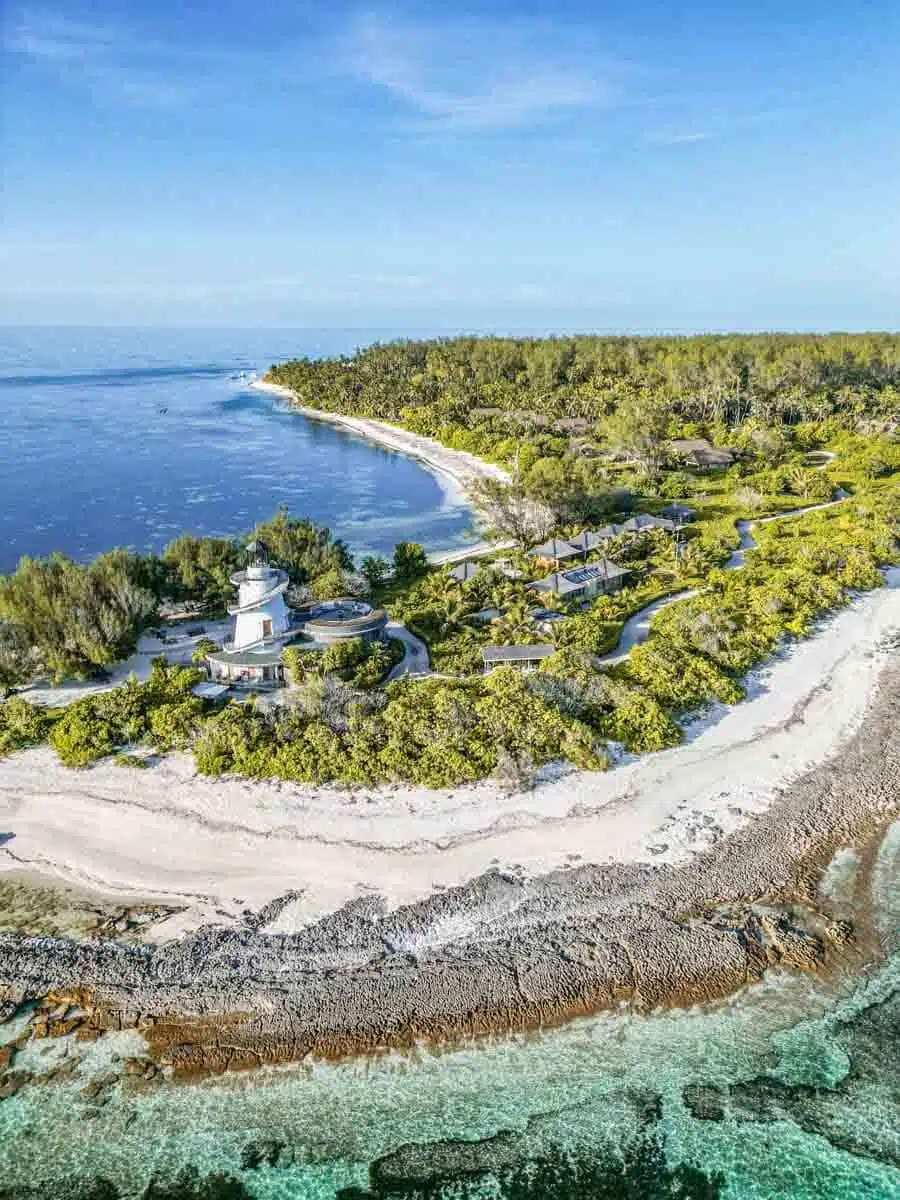 Rising from the gloriously iridescent waters of the Indian Ocean, the exotic island paradise of Desroches is one of the crown jewels of Seychelles.
It doesn't get more stunning than the (more than) eight miles of unspoilt beaches blending into sprawling forests. And if you're after the ultimate luxury escape destination, Desroches is perfect.
Beyond its natural beauty, Desroches is also the site of extensive and diverse marine life, paired with awe-inspiring coral reefs begging for exploration. And while you can explore offshore until your heart's content, intimate wildlife encounters await within its jungles. These include seeing an ancient tortoise colony and nesting turtles.
Desroches Highlights
Pay a visit to the Desroches Lighthouse. As the only one in Seychelles, it carries a historical charm that's as unique as its surrounding island. The best bit? Within the lighthouse, you'll find one (if not the) best restaurant and bar in Seychelles. Cocktails anyone?
If you're after a fun-filled day of exploring Desroches, grab a bicycle in the early hours of the morning and head out around the island. Not only is this an enjoyable way of seeing the island's natural beauty, but it's also an ideal way of reaching the many snorkelling spots around the island.
Speaking of heading underwater, Desroches boasts fifteen classified diving spots located along its coastline. It's the perfect way to head out on an offshore adventure to discover the mighty seas surrounding the isle. If you want organised diving excursions, head to The Castaway Centre.
Head to the Creole Village located inland from the coast, where you can interact with the few locals and government staff that manage the island. Let them indulge you with stories of the mystical island and its history, and as an added incentive, when here, you can contribute to the island's conservation efforts.
Suggested Hotels in Desroches
Four Seasons Desroches – Get this. The only resort on the island also happens to be one of the most opulent I've ever graced with my presence. Even as far as Four Seasons' quality goes, this one is out of this world. It seamlessly blends contemporary elements with traditional Creole styling visible throughout its 71 beachside villas.
Wanna take a peek at Desroches? Watch my Youtube video about my stay here!
Praslin: Where to Stay in Seychelles for The Best Nightlife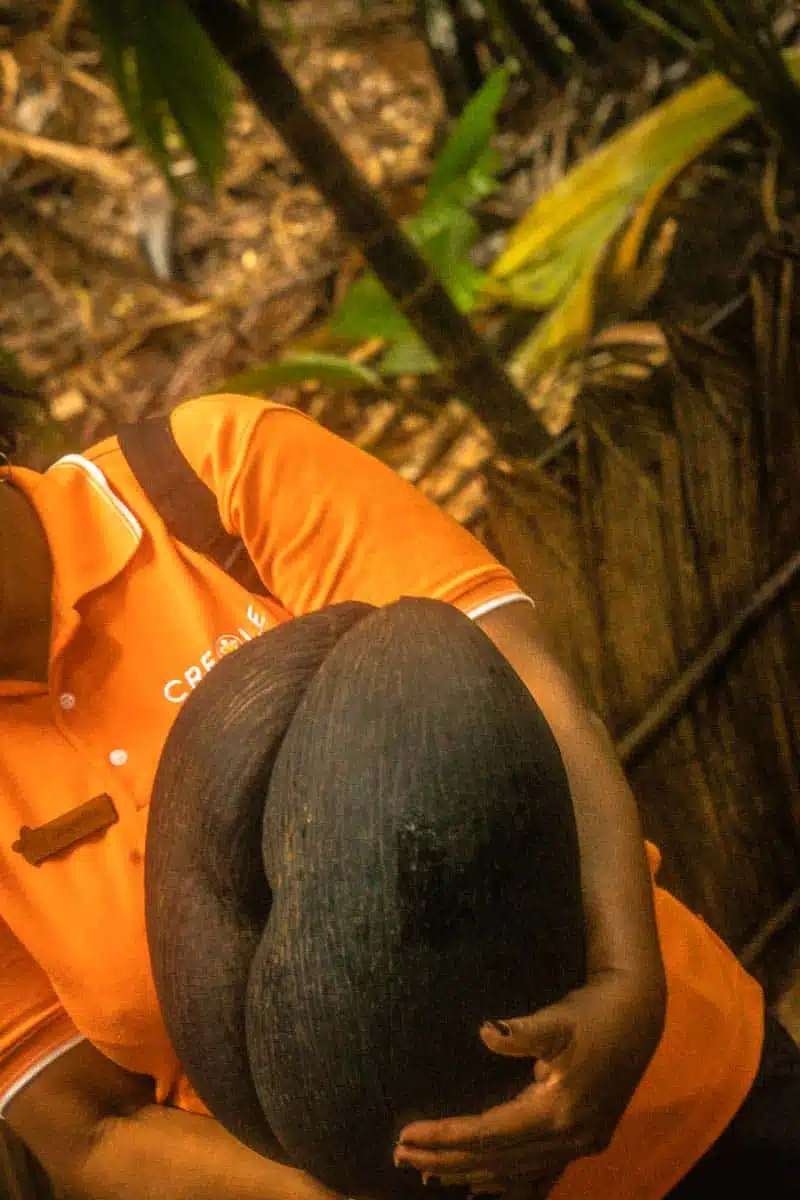 Easily reached from Mahé, Praslin is another excellent place to stay in the Seychelles. And although it also showcases the same class of breathtaking beaches and serene natural landscapes as its counterparts, there's one unique element only it possesses.
While on one side, it's a nature lovers' paradise, on the other, it's famous for its eclectic nightlife scene. Yes, the nightlife is decidedly tamer than in other international locations, but here you'll still find more than enough venues from various tastes to tickle your fancy.
These range from vibrant discotheques to beachside bars. The island for sho' knows how to party.
Praslin Highlights
A must-do when you're in Praslin is visiting the Vallee de Mai Nature Reserve, a UNESCO World Heritage Site. Spend some time admiring the sprawling forests of Coco Del Mar palms, and head out on any of its many nature trails to discover the rich vegetation in Seychelles.
It wouldn't be a Seychelles trip without heading to some amazing beaches, and luckily Praslin is home to a few. Anse Lazio often takes a prize as one of the most beautiful in Seychelles, while Cote D'Or Beach, where you can (and should) grab a snapshot or two of the famous horizontal palm trees.
Needless to say, heading out onto the town for a night of carefree partying is a must. Some of the best spots on the island include The Jungle, an epic nightclub, and Chill Out, where you can head for a chiller take on drinks and dance.
If you're an avid hiker, I couldn't recommend the hike to Anse Georgette enough. Maybe hike isn't the right word, but the adventure to this pristine slice of island heaven is a must, even if you're just after the stunning views.
Suggested Hotels in Praslin
Le Domaine de La Réserve – This smart and modern 4-star resort lies on the picturesque sandy beach of Anse Petite Cour, nestled within the Curieuse Island Marine National Park. This makes it the perfect secluded getaway with a gorgeous, idyllic beach just for you.
Raffles Seychelles – Stacked up the northeastern slopes of Praslin, this exclusive resort presents premium 5-star luxury with a mind-blowing array of facilities, including the largest outdoor swimming pool in Seychelles.
Constance Lémuria – With a list of facilities that never ends, this resort spans a few beaches and encompasses the only 18-hole golf course in Seychelles. Other standout highlights include four Creole-inspired restaurants, two tennis courts, and a PADI dive centre.
Silhouette Island: Where to Stay in Seychelles for Honeymooners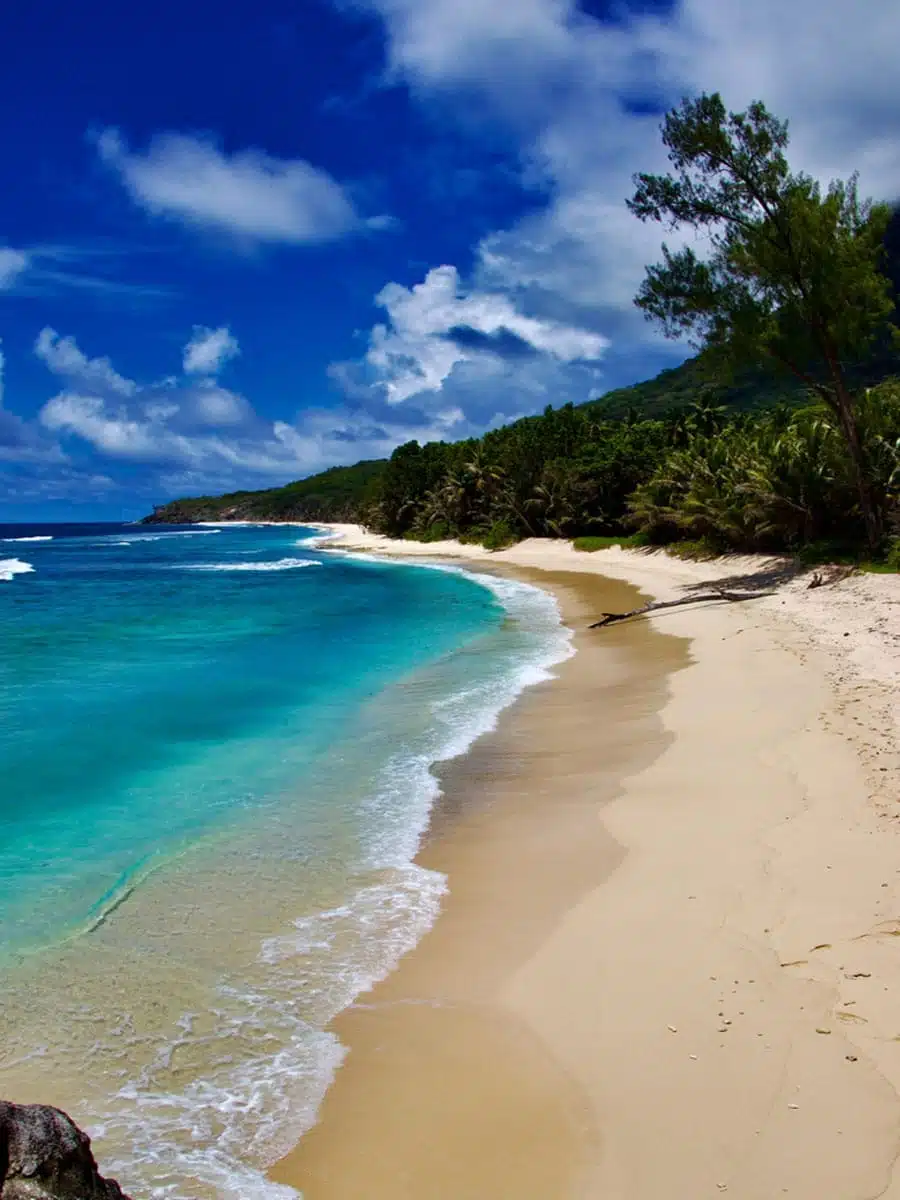 If you're not enticed by any of the larger Seychelles islands (if that's even possible), fret not, because rounding out the where is best to stay in Seychelles list is Silhouette Island.
With its outstanding mountain landscape, life on the island is very laid-back, quiet, and traditional. And while other islands boast low numbers of permanent residents, Silhouette only has about 200 people who call it home.
It has everything the major islands showcase but is set in a more secluded and out-of-the-way fashion.
Silhouette Island Highlights
One of the best things to do while staying on Silhouette Island is to explore its awe-inspiring white sand beaches. Most beaches on the island are far from civilisation (unless you're staying in the right place) and require some hiking, but the payoff is well worth it.
From the main beach at the Hilton Seychelles Labriz Resort & Spa, Anse La Passe, you don't need to head underwater to marvel at the island's marine life. Yup, Silhouette Island's waters are clear, so you can spot most fish directly from the shore.
Suggested Hotels on Silhouette Island
Hilton Seychelles Labriz Resort & Spa – Set underneath the imposing shadow of Mont Dauban, the resort stares across the Indian Ocean towards the main island of Mahé, creating the illusion of a private island kingdom with elements of traditional Creole styling throughout.
Read Next: The Best Things to Do in Seychelles
Where to Stay in Seychelles: Frequently Asked Questions
Practical Tips to Consider Before Booking Your Seychelles Accommodation
Book and plan your accommodation as far in advance as possible to ensure you get your desired spot. This also helps when looking for a property that fits into your budget.
Decide when to visit the Seychelles long before your trip. The high season might seem enticing until the crowds become too overwhelming. Low season, on the other hand, offers more affordable prices with fewer crowds.