Looking for the best hikes in Seychelles? Keep reading; this guide will show you the most awe-inspiring trails on this island paradise.
I wouldn't blame you if you fancy spending hours glued to the soft sand of the Seychelles' beaches.
But I guarantee there'll come a point when you're itching to discover everything else this archipelago has to offer. And there's no better way to do that than through some of the Seychelles' most incredible hikes.
From beachside walks with epic views to intense treks through the lush jungle, believe me when I say that there's plenty to choose from.
Don't sweat it, pals – I've already done all the planning for you. From maps to practical tips and inside info, tackling these Seychelles hiking trails will be a breeze.
All you have to do is to put on your best hiking shoes and jump right in.
Ready? Let's get into it.
Psst: Need help figuring out what else to do in Seychelles? Then check out this guide for some inspo.
Best Hikes in the Seychelles
Anse Major Trail
Length: 3.7 miles
Time: 1 h 50 min
Difficulty: Medium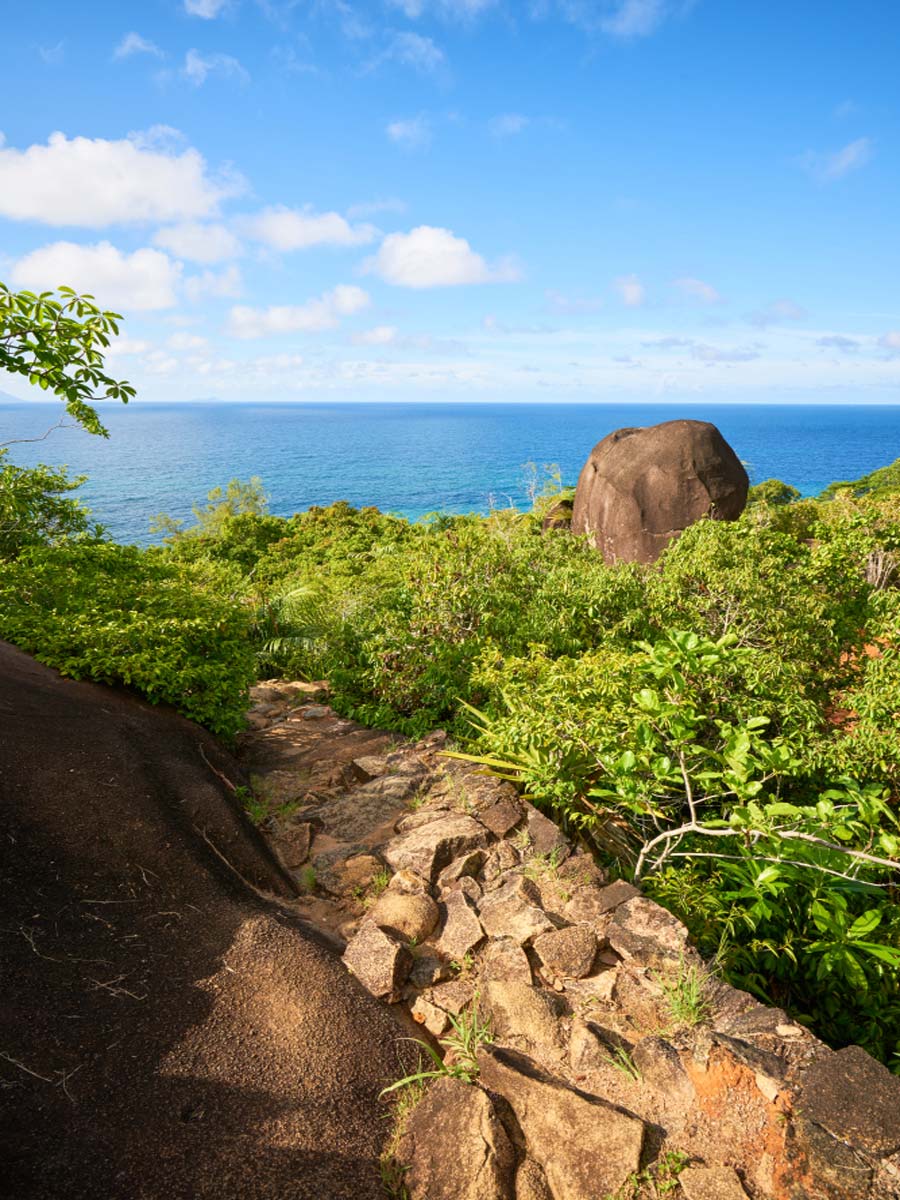 Guys, I'm kicking things off with a banger – the 3.7-mile (6.0 km) out-and-back trail that is Anse Major. Situated in Morne Seychelles National Park, you can take this moderately-challenging route to treat yourselves to some hella beautiful sights.
What could possibly be better than embracing nature with all your senses and having waterfall mist kiss your skin while hiking? Pretty much nothing — which is why this is one of the best hikes in Mahé.
The Anse Major welcomes birdwatchers, runners, campers, and mountain bikers. You start at the Anse Major Trail parking lot until you reach the first viewpoint, aptly named Point View.
Be warned – there's no trail marker (though the path is obvious) so just keep your eyes peeled for steps to the left of the route and take those!
Along the way you'll pass two more viewpoints, Pointe Reimann and Point de vue sur Anse Major. Continue through the lush forest and some steeper areas till you reach the charming Anse Major beach.
Tip: You can bring your pup along, and some areas require no leash (yay).
Copolia Trail
Length: 1.2 miles
Time: 50 mins
Difficulty: Medium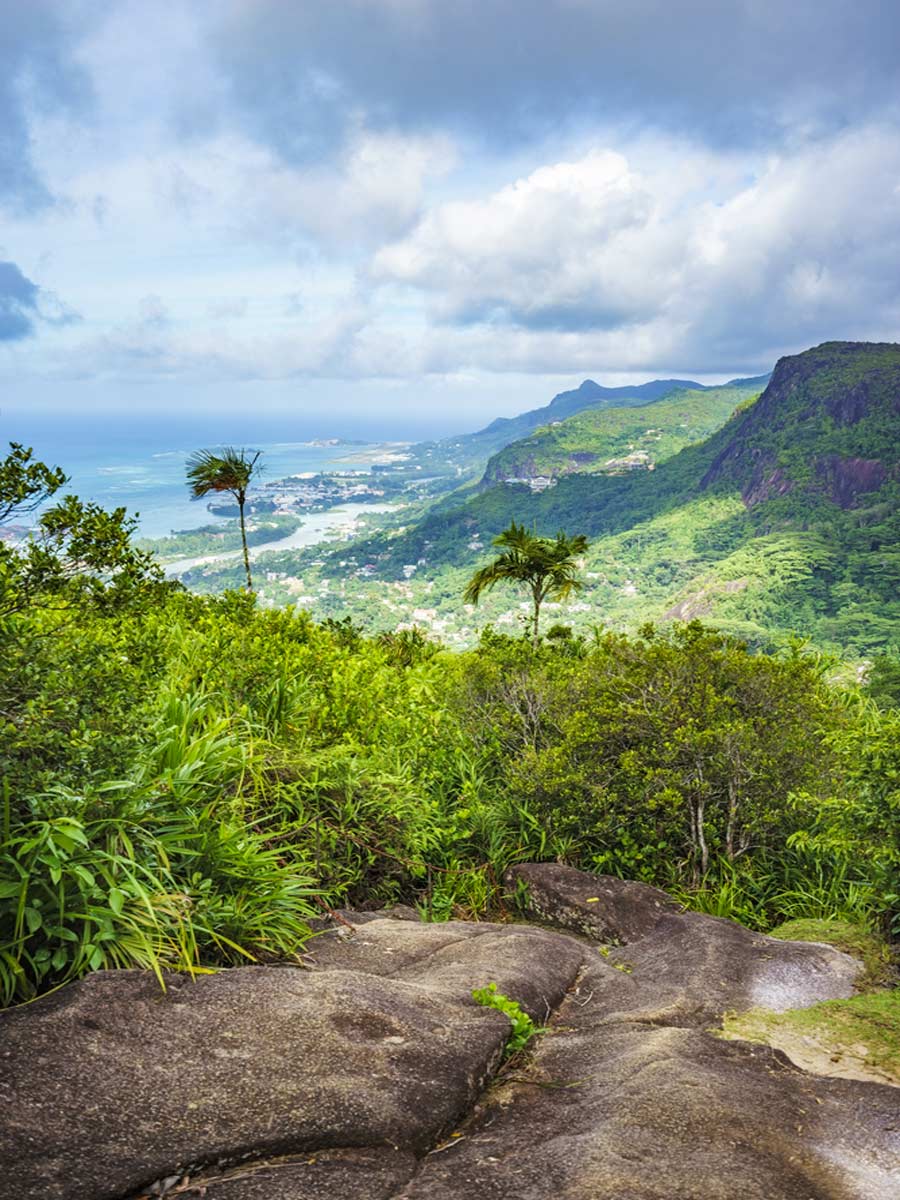 While I'm raving about Morne Seychelles National Park, let me tell you about this next epic trek, the Copolia Trail.
This one is slightly shorter and easier than the popular Anse Major, though it's still quite challenging. The Copolia Trail is ideal for a stroll through the forest to please your inner explorer.
You'll come for an easy climb but stay for the breathtaking vistas revealed at the top of this hike. Better yet, being an out and back route, as well as having well-maintained stairs and signage throughout, makes this trek simple to follow.
Starting at the trailhead near Copolia Lodge, you'll walk through dense forests until you reach an expansive summit with magical sweeps and pitcher plants. Take your time with this one, though, as there are some steep and slippery bits to look out for.
Note: Most trails here are free, except for this one with an Rs100 (£6.44) price tag for non-citizens above 12 years.
Mont Plaisir – Anse Georgette
Length: 2.3 miles
Time: 1 h 30 min
Difficulty: Medium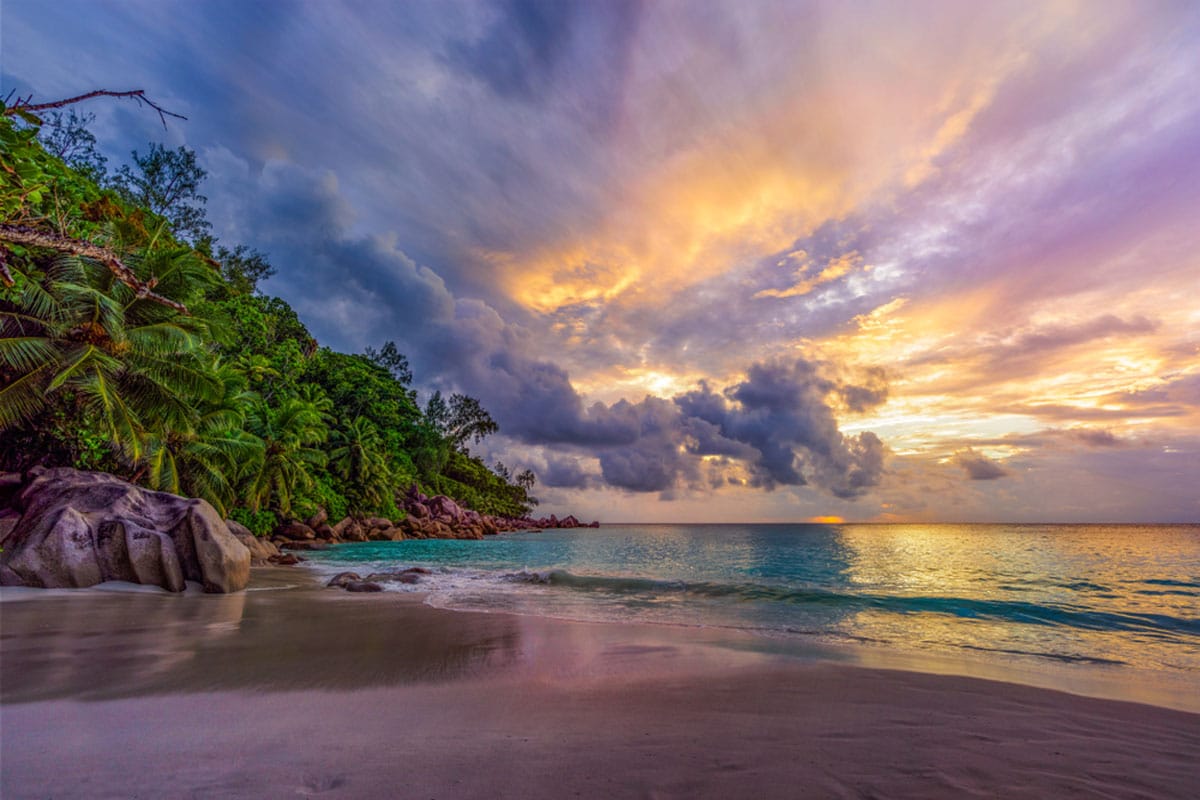 If you're in the Grand Anse, Praslin, region, skipping out on the Mont Plaisir to Anse Georgette hike would be a crime.
This is a seriously refreshing and rewarding hike that leads to a secluded beach with turquoise waters.
Looking for your next adventure? Of all the Seychelles islands, Praslin has the most picturesque tropical forests with abundant snorkelling spots if you want to get familiar with the ocean floor, too.
But back to the hike – you'll be trekking through a thick and uncomfortably hot jungle to see your reward, but it's all worth it. And as a bonus, you might even spot some wildlife here and there, including giant tortoises and various indigenous birds.
There's even a golf course along the way – but stick to the signs.
Morne Blanc Trail
Length: 1.3 miles
Time: 1 h 10 min
Difficulty: Hard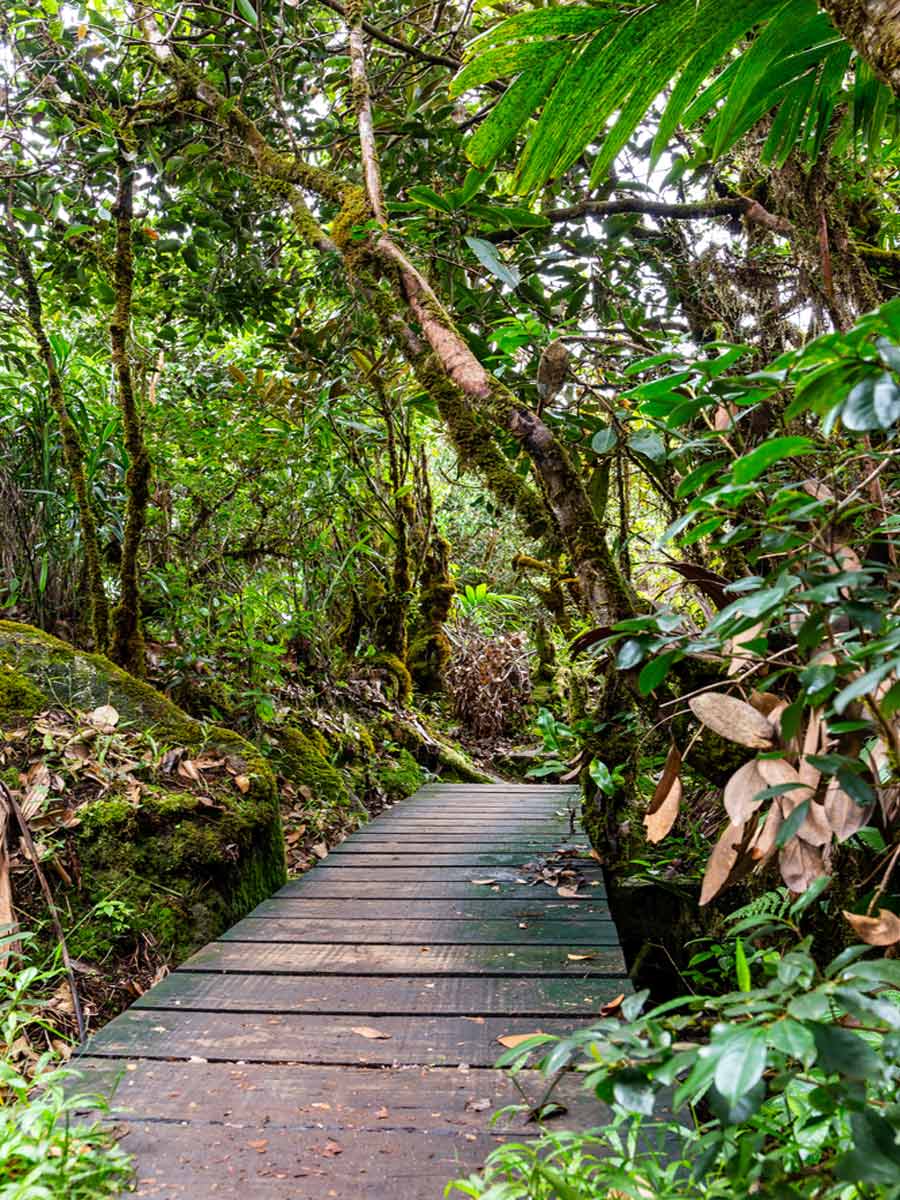 If you couldn't tell by now, Morne Seychelles National Park is home to abundant hiking trails of all kinds. And the Morne Blanc Trail takes hiking in Mahé, Seychelles, to the next level.
How is that? You may ask.
This is one of the best trails the Seychelles offers for avid hikers, thanks to its very challenging terrain. This trek encompasses mountainous and forested areas to test your fitness and skills.
At first, you'll follow a steep path through an old tea plantation from the out-and-back trailhead. Then wind through misty jungles and finally reach the top of a viewing platform/cliff with rewarding sea views.
Top Tip: This steep and strenuous trail calls for shoes with a good grip. I love these Berghaus boots.
Sans Souci and Salazie Trail
Length: 3.4 miles
Time: 2h
Difficulty: Hard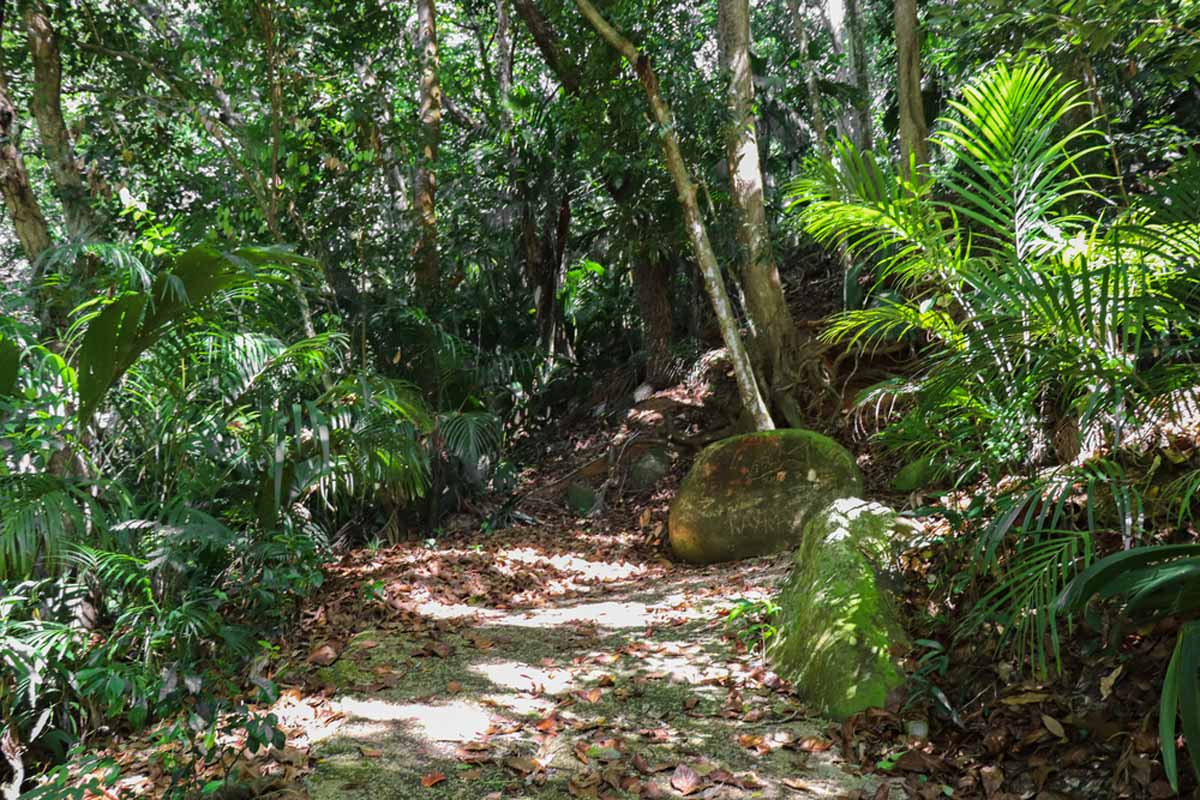 While we're chatting about difficult treks, the Sans Souci and Salazie trail would be the perfect hike to pick up if you're in Victoria (Mahé's capital). It's one of the more strenuous hikes and passes through many wooded areas.
Be warned, though, some parts of this trail are muddy (and slippy!) after a rainstorm.
This charming trail will allow you to spot plenty of the local fauna and flora, so bring your camera if you want to capture some wildflowers and wildlife. It's also excellent for birdwatching — you might spot the blue pigeon or Seychelles sunbird, which are endemic to the island.
The first part of this partially-paved trail is easy to follow as you make your way through mahogany forests and tea plantations. The challenge begins as you pass through dense jungle and down a narrow path tucked between boulders and undergrowth, and then you'll make your way back to the starting point.
Trois Frères Trail
Length: 1.6 miles
Time: 1 h 45 min
Difficulty: Medium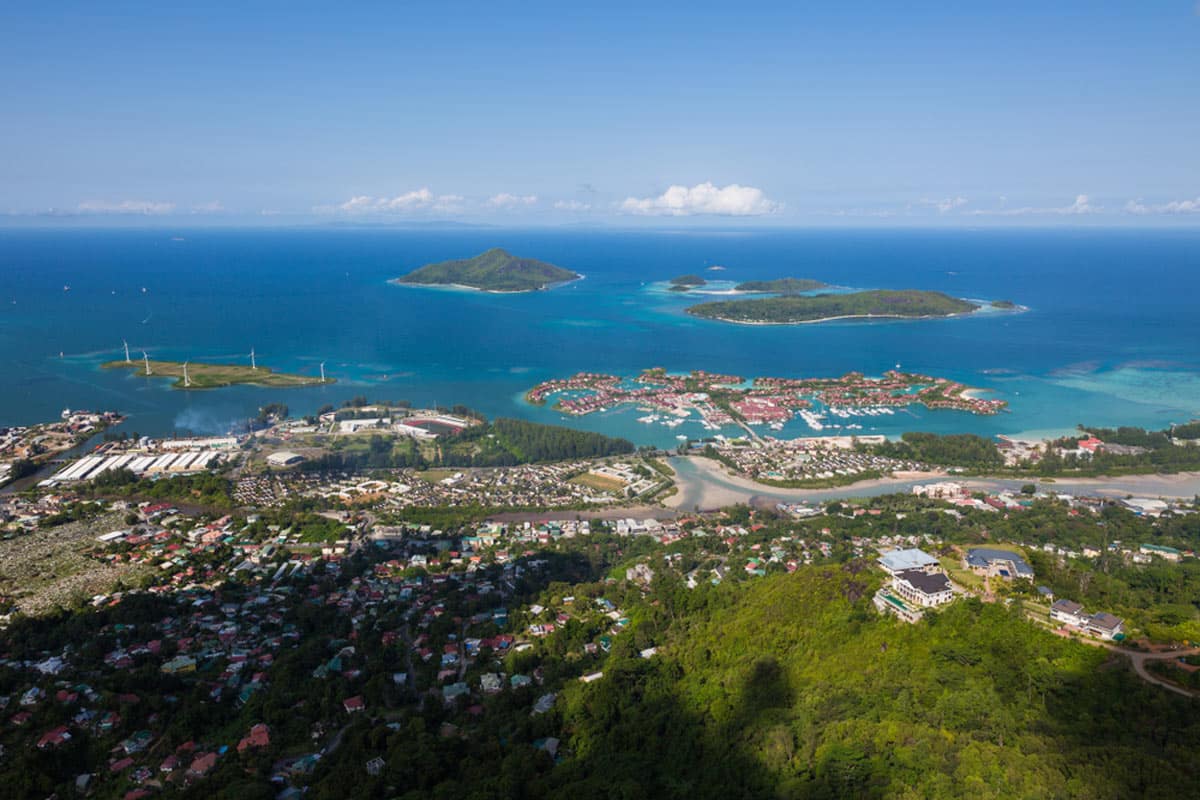 The Trois Frères is a stunning out-and-back trail that leads to the lovely Trois Frères viewpoint.
You'll find this trail on Sans Soucis road near a residential area. The path veers left into the forest and then takes you uphill along a moderate slope. The first viewpoint will be to your right, offering sweeping views of Sainte Anne Island and the Victoria port.
The path continues through more forested areas until you reach a large stone wall that has a freshwater spring flowing from it. Then comes the challenge as you'll have to climb atop large granite blocks acting as paving stones – this climb is quite steep but nothing a true adventurer can't handle.
Eventually, you'll reach the star of the show: the Trois Frères viewpoint that boasts unmissable vistas over Victoria. It's pretty easy to find if you're paying attention to the signs, which will direct you to the right from the granite boulders.
Casse Dent Trail
Length: 5.2 miles
Time: 2 h 50 min
Difficulty: Medium 
The Casse Dent to Mangrove trek is a point-to-point hike near Victoria. This partially paved trail is pretty long and winding, so stretch those legs before you hit it — it will take a lot of walking.
Expect many ascents and descents on mountainous terrain and through lush greenery, including endemic trees and screw pines. But there's plenty more to see, including a gorgeous beach (it's the Seychelles after all), river, wildflowers, and panoramas. The trail can get muddy, so proceed with caution.
All that walking is worth seeing a stunning waterfall which you'll come across at about two or three hours in (depending on your fitness levels). The trek is also popular for running, birdwatching, mountain biking, camping, and wildlife spotting.
Top Tip: Consider wearing long-sleeved clothing for this hike unless you enjoy bugs crawling all over you.
Takamaka Beach to Rock Pool
Length: 1.4 miles
Time: 35 min
Difficulty: Easy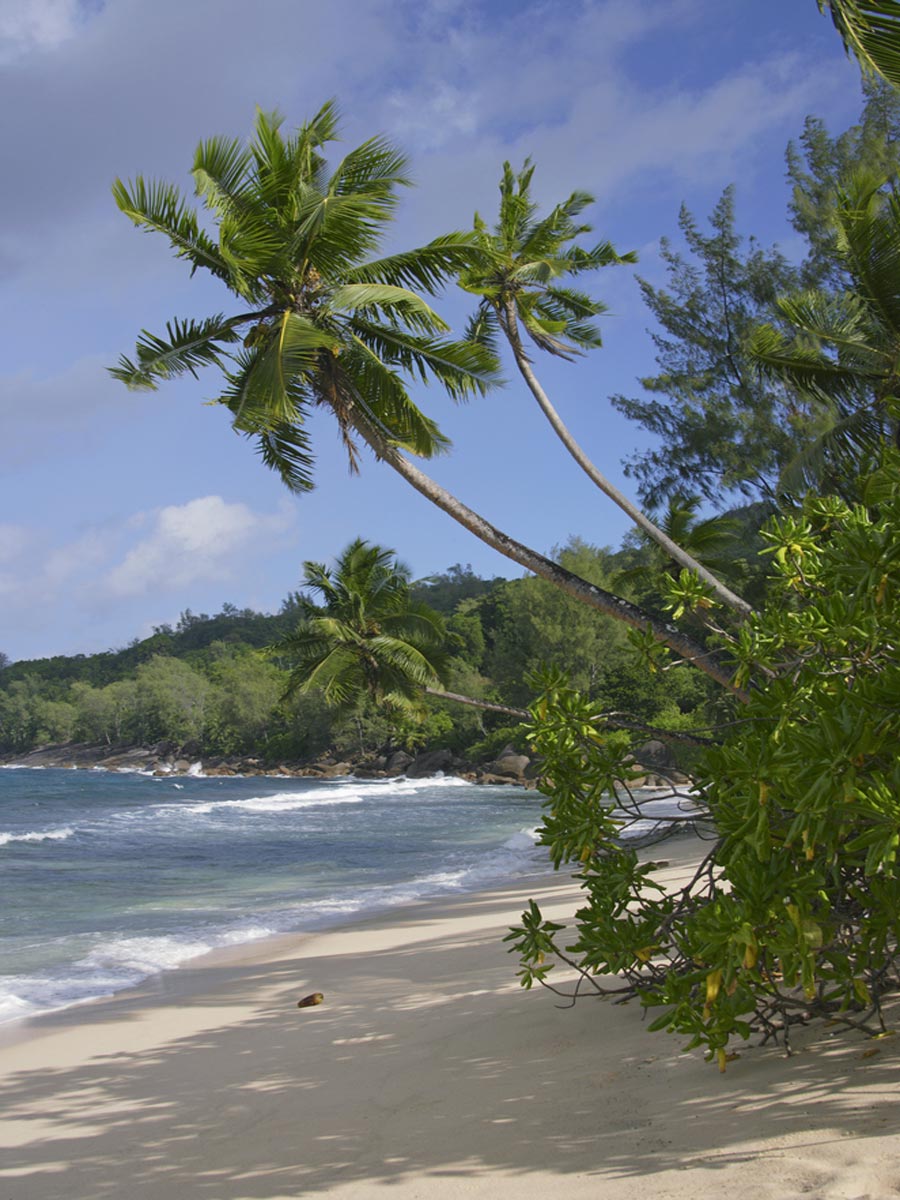 Let me round off this guide to the best hiking trails in Seychelles with a simple but scenic trek fit for non-hikers and experienced pros alike.
This short trek near Pointe Au Sel, Au Cap, won't disappoint; it's a fun adventure jam-packed with obstacles, ladders, and a little bit of rock climbing.
This out-and-back trail is easy to follow, from Anse Takamaka Beach to the famous Rock Pool, then back to the starting point. The Rock Pool, or Ros Sodyer, is a quaint tidal pool that offers a relaxing dip in its azure waters.
Note: Don't forget to bring a beach towel and swimming costume for this hike. 
Best Hiking Seychelles: Practical Tips
Wear the right gear and pack the essentials for hiking in the Seychelles. This includes comfortable hiking shoes and a light travel backpack with enough snacks and water in a Hydro Flask to keep it chilled. 
Prepare for the tropical climate by slathering on some high SPF sunblock. Mosquitoes are prevalent in Seychelles, so ensure you have an insect repellent. 
If you only have time to tackle one Seychelles hike, make it the Anse Major Trail – it's seriously worth your time and effort for the views alone.