Planning a trip to Praslin? This Praslin travel guide has got you covered when it comes to things to do, where to eat, and tips you need to know.
Dreaming of picture-perfect islands? The Seychelles has got it pretty much covered. From the sleepy La Digue to vibrant Mahé, there's a spot for every kind of traveller – and, it's even better if you love both types of vacay.
But Praslin, the second-largest island in the archipelago, is pretty special.
Why? Well, it's the perfect blend of bustling and chilled out. Spend the morning relaxing on the white sand, before heading out to explore the national parks in the afternoon.
Plus, there are so many brilliant places to dine on the island. What more could you possibly want?
Oh, and don't even stress about where to stay. The Paradise Sun Hotel Seychelles is the perfect spot. Rooms are spacious and comfy, and there's even a halfboard option if you want dinner taken care of.
Top 5 Things to Do in Praslin
Visit the Vallee de Mai Nature Reserve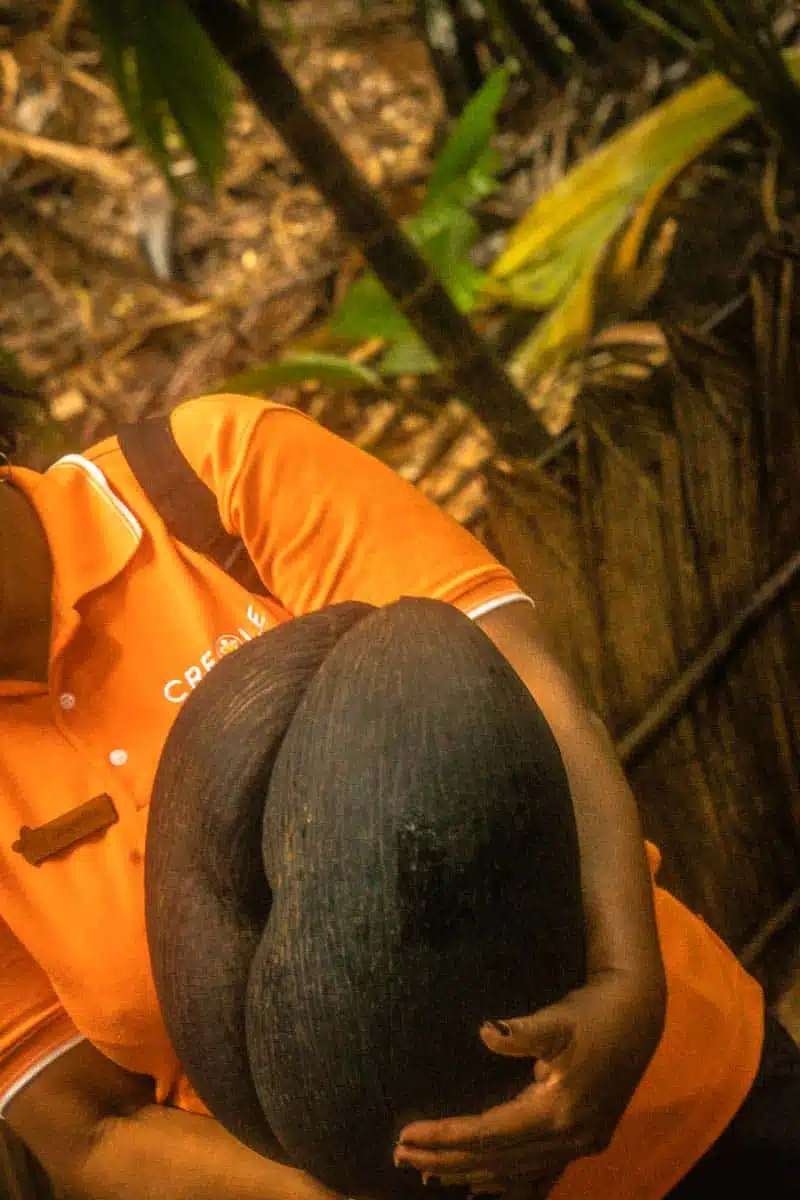 Believe me when I say you can't miss this first attraction. When it comes to things to do in Praslin, the Vallée de Mai Praslin Seychelles Nature Reserve is right up there on the list.
This isn't just your average nature reserve either. It's a UNESCO World Heritage Site and the famous home of the legendary Coco de Mer (the fruit that resembles buttocks a little too well).
Beyond that, if you've ever wanted to see the world's heaviest nuts, Vallée de Mai is your go-to. And if you're nuts enough (pun intended), you can even undertake a few of the many hikes through a myriad of primaeval forest landscapes.
Hike to Anse Georgette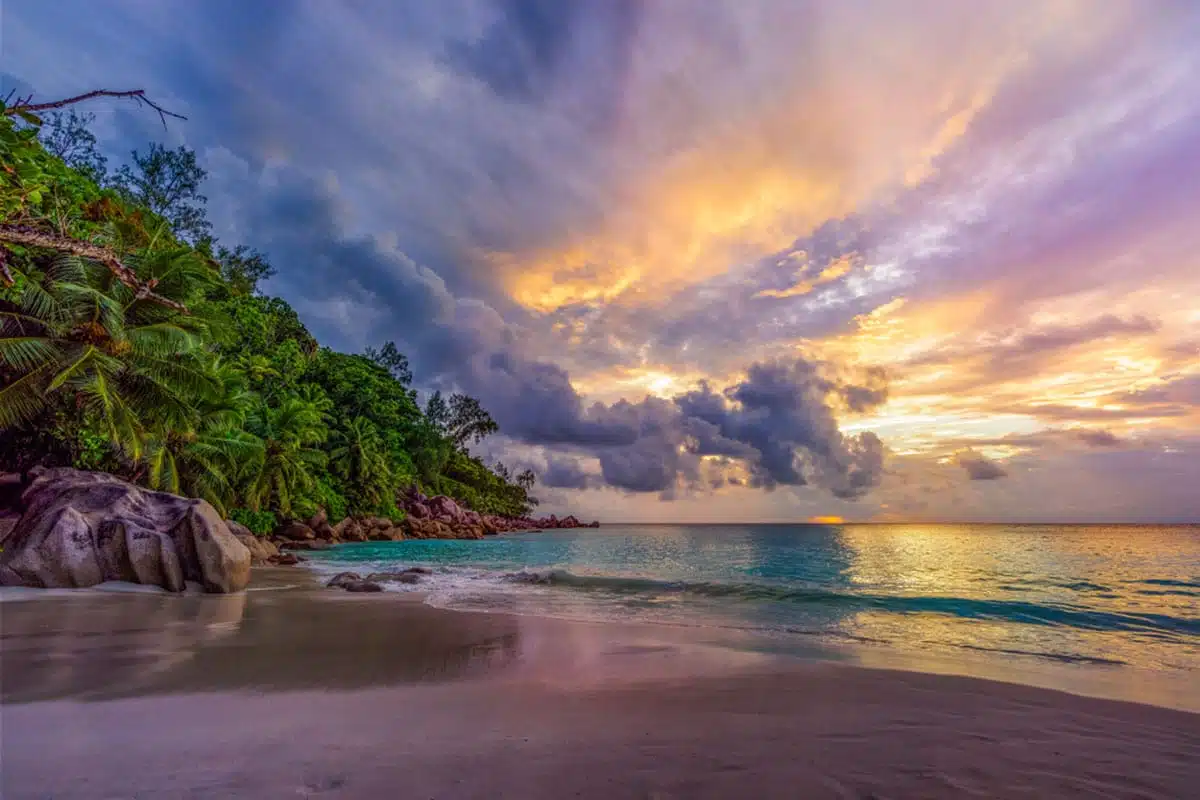 I don't think I need to oversell a hike to a private beach on Praslin. But it would be a massive injustice if I didn't recommend it.
The hike to Anse Georgette, which by the way, is one of the best beaches in Praslin, Seychelles, is ridiculously rewarding.
The 1-hour nature trail west of Anse Lazio rivals the beauty and esteem of its close neighbour, but it exceeds in the breathtaking scenery. And the beach itself, well, bring your swimsuit because you won't be able to help but recline.
Explore Cote D'Or Beach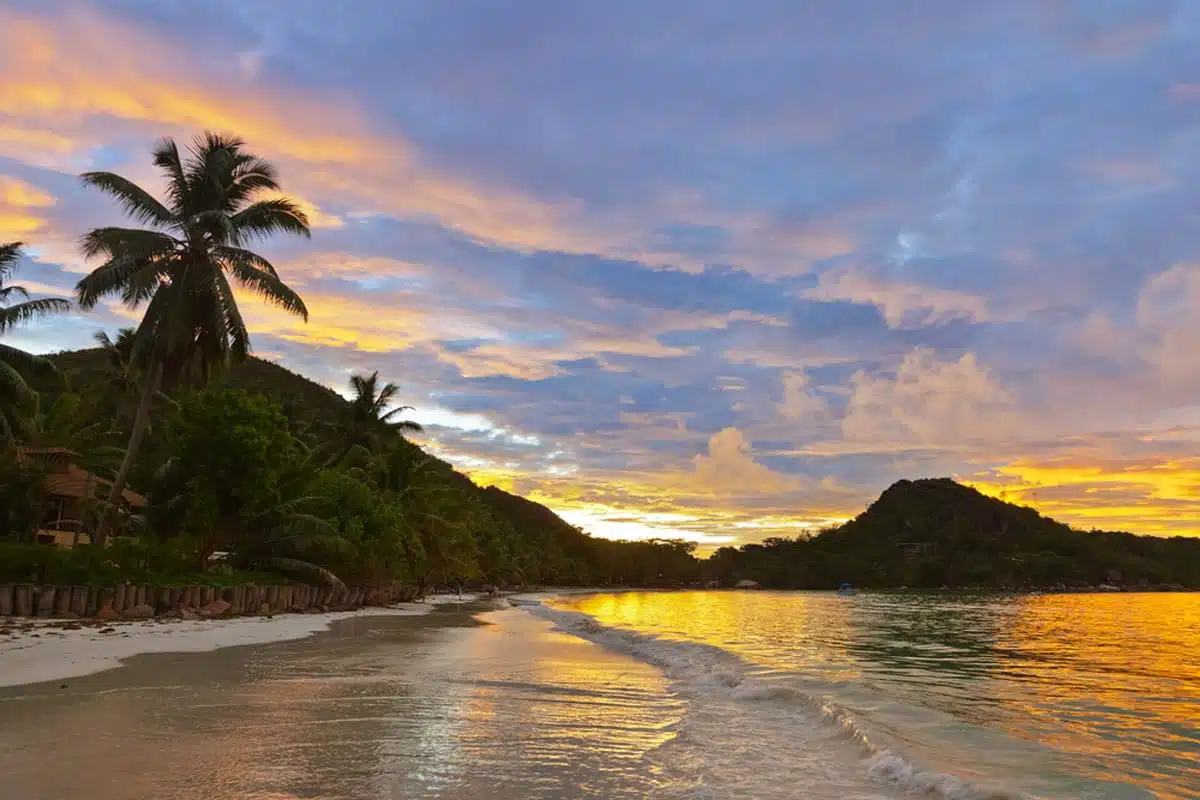 There's no shortage of seemingly unparalleled locations on Praslin Island, however, Cote D'Or Beach is its most popular for good reason. That is thanks to its proximity to the island's most luxurious resorts, but the long stretch of pristine white sand takes the cake.
Off-shore from its sands, shallow and picturesquely blue waters would entice even those that hate beaches.
If you are one of those, first of all – why are you visiting The Seychelles? That said, Cote D'Or does also offer many water activities and the Instagram-worthy horizontal palm tree.
Beach Bum on Anse Lazio, Praslin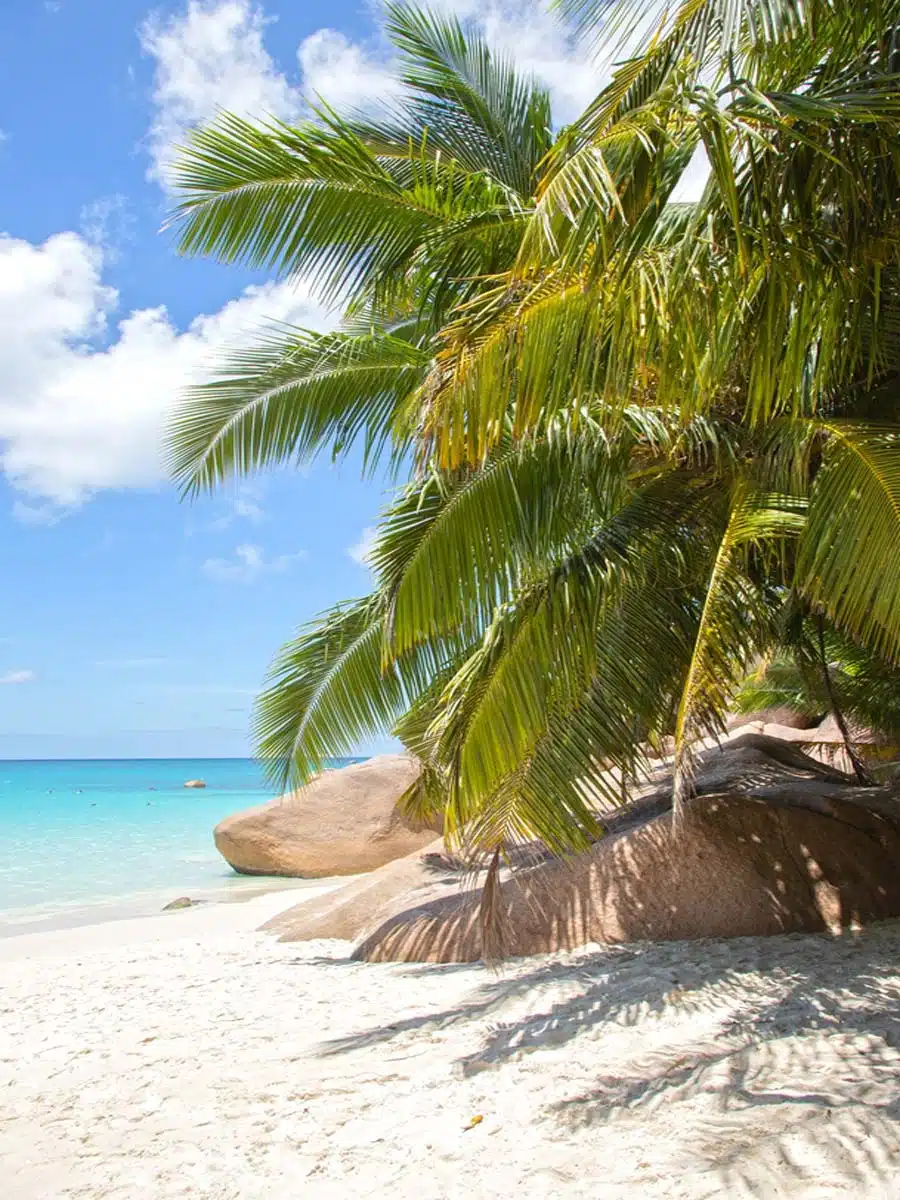 As far as Praslin beaches go, ticking Anse Lazio off your ultimate bucket list is a no-brainer. Calling it one of the most stunning beaches on the island, and perhaps even the entire world, wouldn't be a long shot.
Yes, you can stroll along its sands till your wanderlust fades or find shade underneath one of the many takamaka trees and hanging palms that line its coastline.
And, unless you want to commit a crime against humanity, you have to dive into its almost surreal turquoise waters.
Take a Boat Trip to Curieuse Island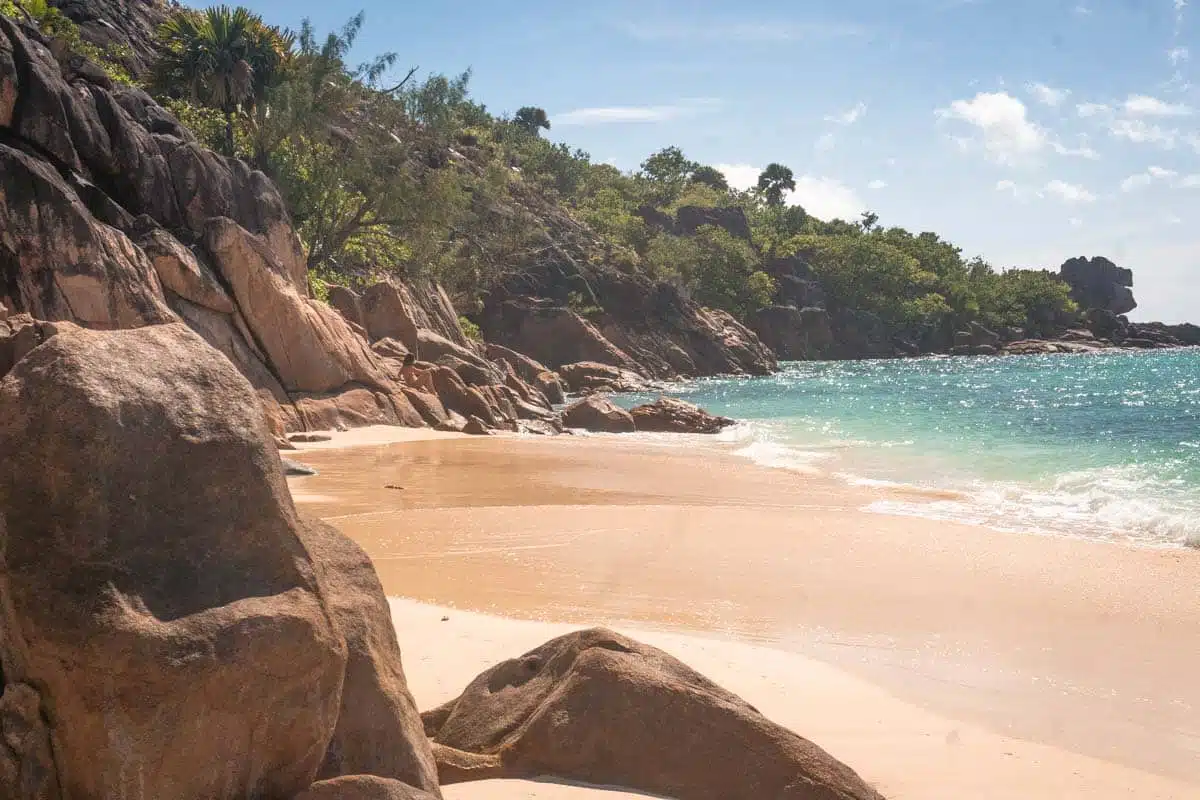 If you're looking for one of the most unforgettable day trips from Praslin, Seychelles, hopping along on a boat and venturing to Curieuse Island should be at the top of your list. 
Not only do you get to snorkel in some of the world's most renowned spots, which already win over most.
The real draw here is the extensive population of free-roaming giant tortoises. As some of the longest-lived animals on Earth, visiting these gentle creatures in their natural habitat is a once-in-a-lifetime experience.
That natural habitat also includes massive groves of the Coco de Mer palm tree. You know, the buttocks.
Brilliant Things to See & Do in Praslin
Find Nature in Fond Ferdinand Nature Reserve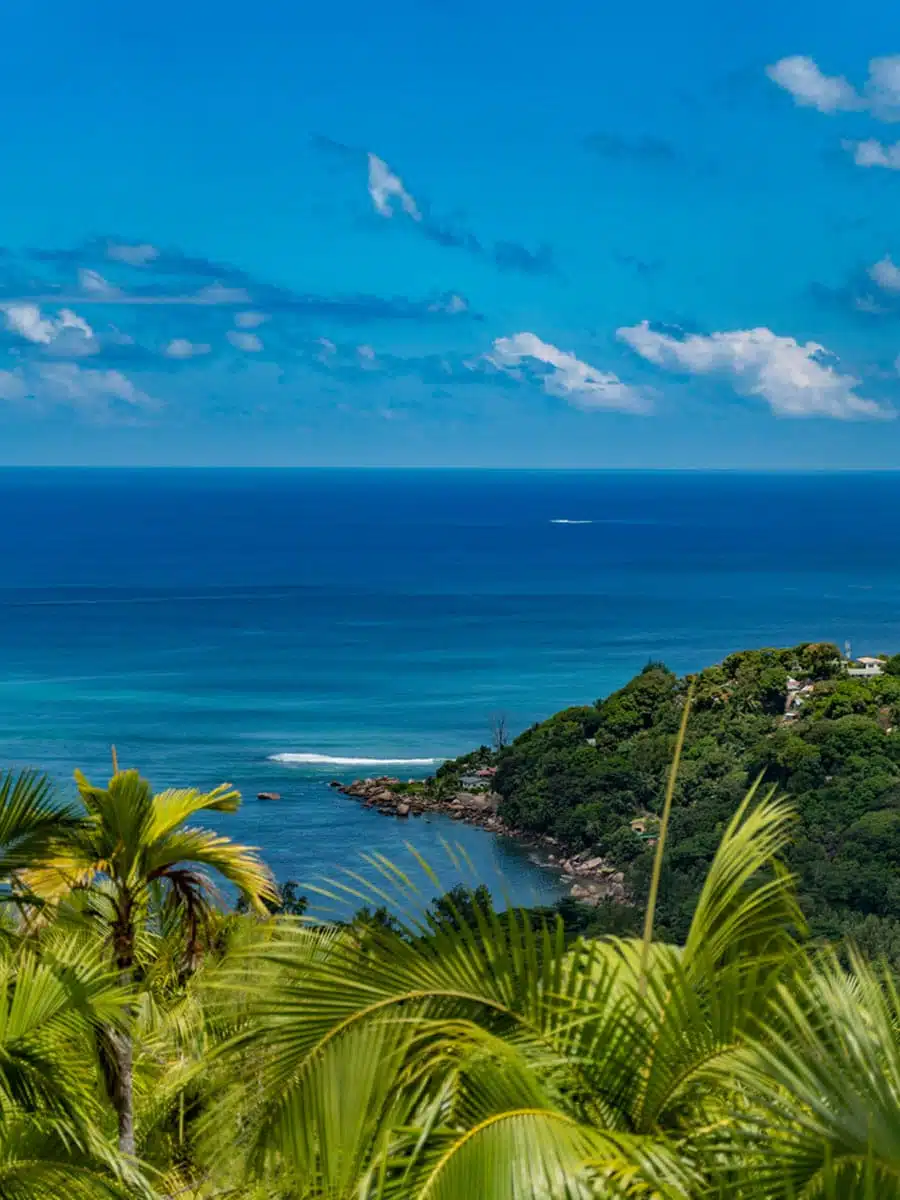 If you're a nature lover and find yourself wondering what to do on Praslin Island, you absolutely need to go to the Fond Ferdinand Nature Reserve.
This 301-acre slice of the dense jungle features enchanting tropical beauty. And how better to explore than by tackling one of its many nature trails?
Day Trip to La Digue Island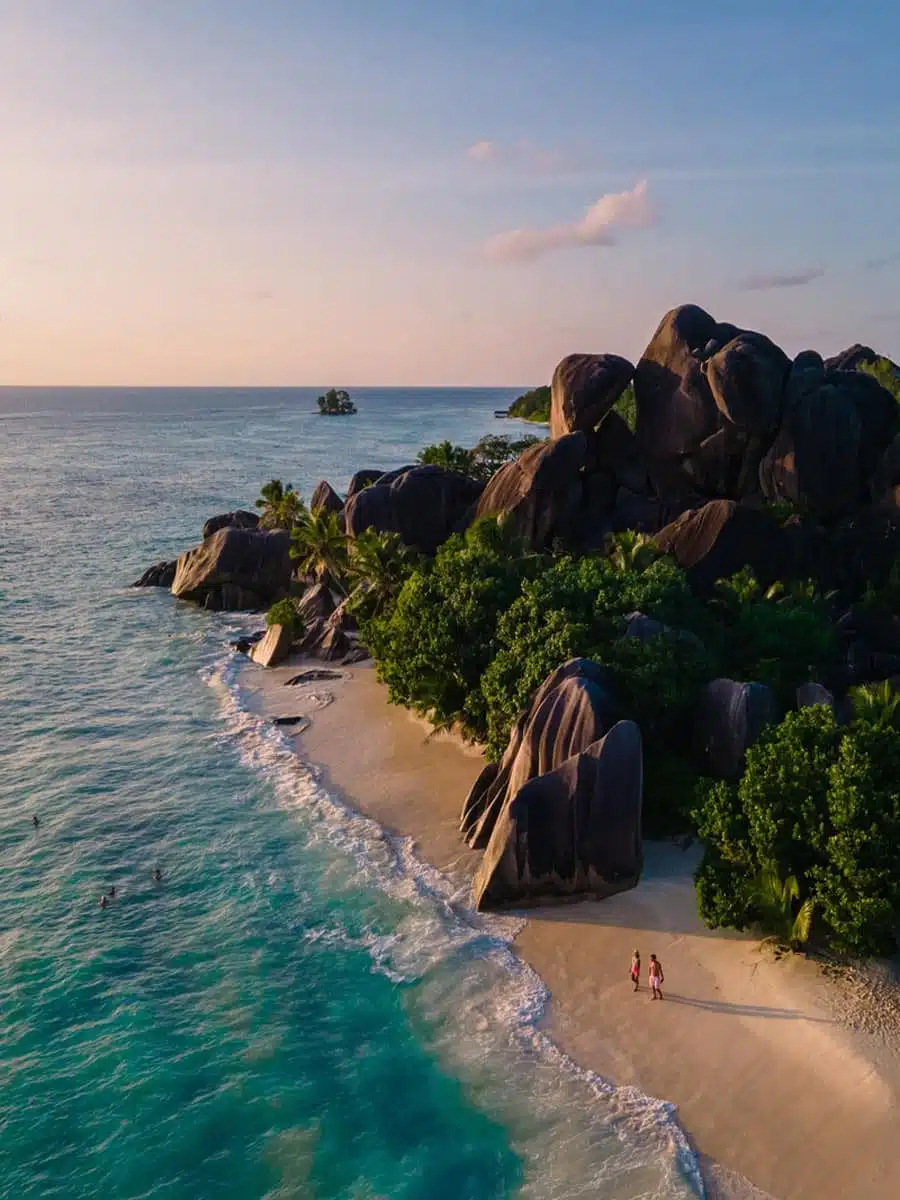 I love La Digue island – if you couldn't tell in this article – so it would be completely rude of me not to include a day trip to La Digue in this guide.
This laidback island is actually the third largest in The Seychelles, behind Praslin.
There's plenty to do in La Digue, too. Spend a morning kayaking off the coast of one of the country's best beaches (Anse Source D'Argent) followed by a lengthy – and ultra-rewarding – hike in the afternoon.
Indulge and plan a day trip to La Digue Island. No thanks needed, trust me.
Snorkel at Cocos Island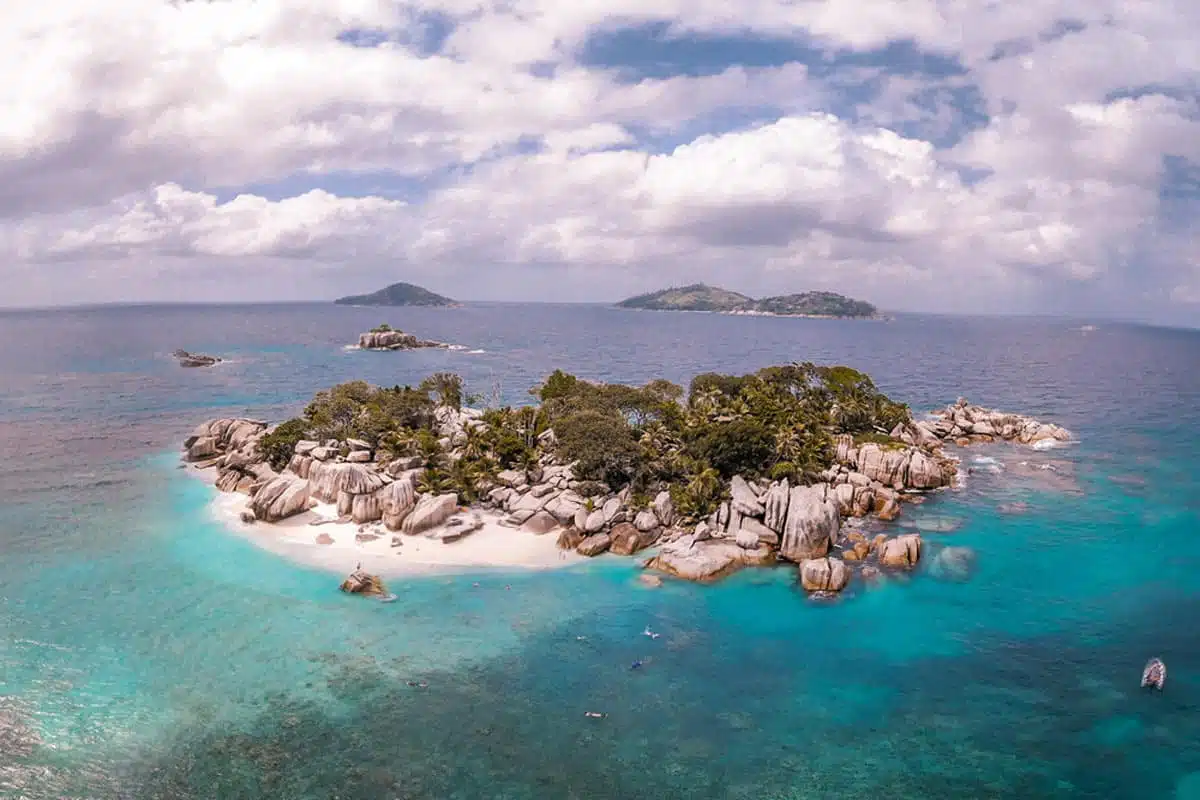 Okay, so you've beach bummed, you've soaked up the sun, and fully embraced island life.
Next up? Head underwater for an epic snorkelling adventure. Booking a small-group tour to Cocos & Felicity Island takes you to an underwater paradise.
Here stunning reefs, ample marine life, and intimate experiences with turtles are the catches of the day.
Must-Try Bars & Restaurants in Praslin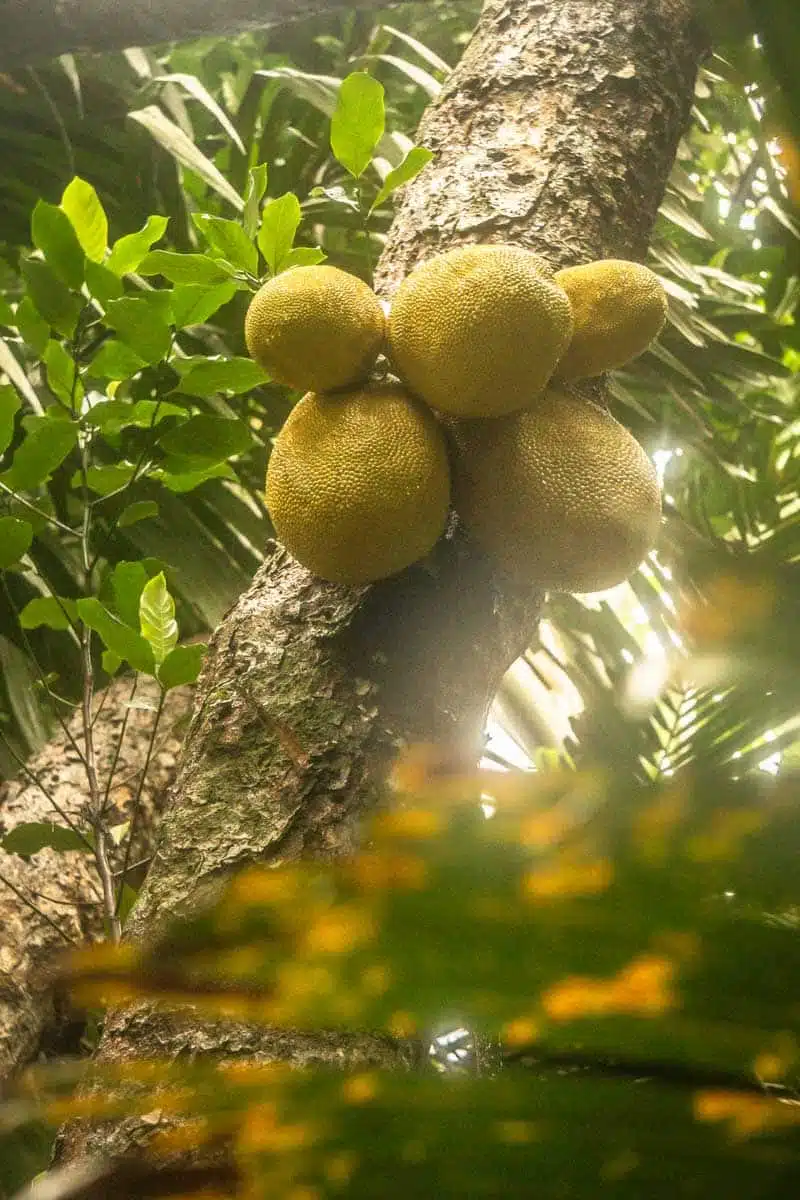 Pirogue Restaurant & Bar
Sitting within the central tourist hub of Anse Volbert Village (Cote D'Or), for the best in fine dining in paradise, grab a table at Pirogue.
The menu is the stuff of legends, with a range extending from authentic traditional Seychellois Creole to Asian fusion.
St Pierre Beach Restaurant
A restaurant on the beach is one thing, but how about a beach within a restaurant? At St Pierre, your feet plant on soft sand, the ocean currents lap around you, and panoramic views are your backdrop.
Specialising in seafood, the menu is seasonal, with each dish outdoing the one before.
Village du Pecheur
Inside the uber-luxurious Village du Pecheur Hotel, the on-site restaurant of the same name draws inspiration from its island home.
Beyond the standard menu, this gem serves tantalising international cuisine with a Seychellois flair. Oh, and delicious craft cocktails.
Best Hotels in Praslin
Acajou Beach Resort (Luxury)
As far as stunning 4-star resorts go, Acajou Beach Resort sits on the doorstep of the coastline of Cote D'Or.
Beyond its location, rooms feature awe-inspiring ocean views; there's an on-site outdoor swimming pool and an in-house restaurant where fine dining takes on a new meaning.
Constance Lemuria (Luxury)
Now if you're on the hunt for a secluded slice of opulence, look no further than the ultra-luxe 5-star Constance Lemuria.
It's tucked between three of Praslin's best beaches and often ranks as one of the best honeymoon resorts in Seychelles. The crowning jewel, however, is the in-house spa set within a bamboo forest.
Treasure Island Retreat (Mid-Range)
If there's one place on Earth where opting for a budget-friendly self-catering option is an excellent idea, it's Praslin.
The Treasure Island Retreat offers seafront apartments on Anse Kerlan, blending with its natural surroundings to create an almost unreal accommodation choice that nature lovers might never want to check out of.
Praslin, Seychelles: Practical Tips for Your Trip
Recommended Tours in Praslin
Things to do in Praslin Island, Seychelles: Map
Praslin Travel Guide: Read Next