It's time to discover the chilled out island of La Digue in the Seychelles. Everything you need to know rolled up into one brilliant La Digue travel guide.
Mahé and Praslin might get most of the attention, but La Digue is where my heart lies.
This laidback island is actually the third largest in the Seychelles, but it's still just a pinprick in the ocean — if that! It measures in at a teeny-tiny 3.1 miles by 1.9 miles. Blink, and you'll miss it.

But that doesn't mean there's not much to see or do on La Digue. Far from it. La Digue packs a mighty vacay wallop – from kayaking off the coast of one of the country's best beaches to embarking on impressive hikes.
There are also plenty of places to eat and stay, so don't stress; I've got your back.
Itching to book a trip to the Seychelles? Here's why you need to visit La Digue.
P.S. If sea views are what you crave, Hotel L'Ocean has them in abundance. Each room has a balcony and air-conditioning, so you can relax in total comfort throughout your stay.
Top 5 Things to Do in La Digue, Seychelles
Chill Out on Anse Source D'Argent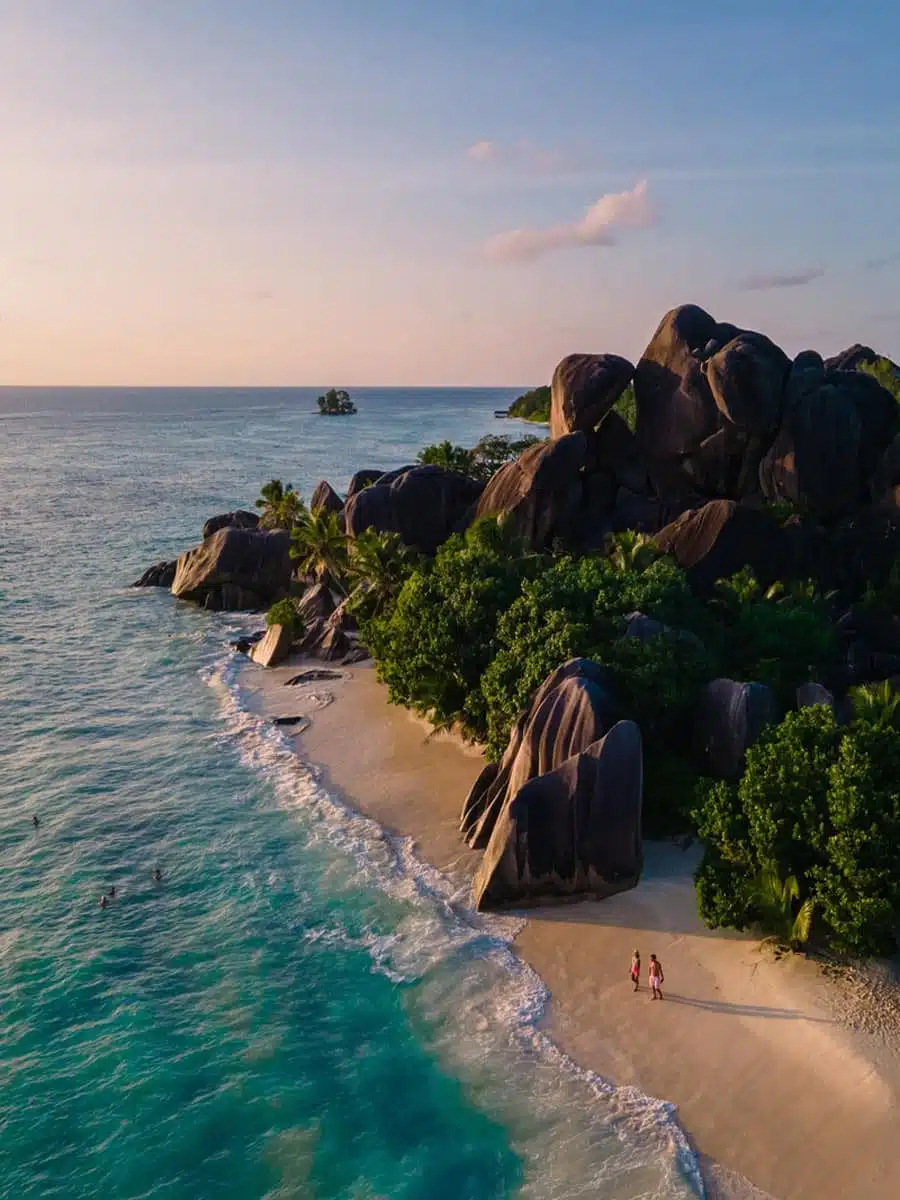 Let's kick things off with this spectacular slice of beach heaven. To be quite honest, Anse Source D'Argent is one of the biggest reasons La Digue is as popular as it is.
Okay, sure, many of the best beaches in Seychelles are perfect for suntanning satisfaction and sipping-from-a-coconut cocktails – but I promise you that Anse Source D'Argent is special.
For one, it has the most jaw-dropping granite formations along the fringes of the beach, where white powdery sand meets lush jungle and blue waters. Speaking of, the water's visibility is insanely good, so you can see the dark rocks below the surface with patches of pure ocean turquoise in between.
I'm sure you see why it's such a stellar snorkel and scuba spot. Plus, there are restaurants, souvenir stores, and local fruit sellers to grab a snack from.
Go Kayaking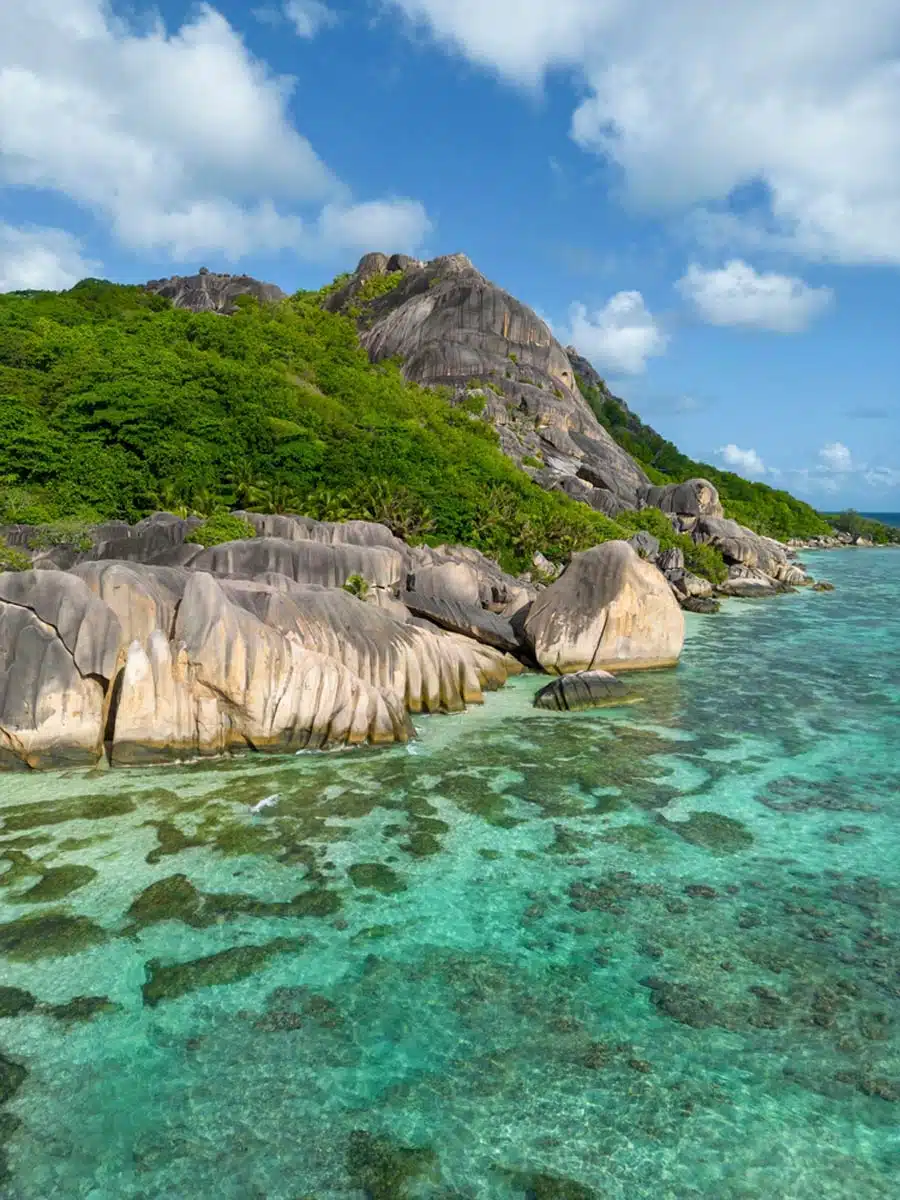 Kayaking is one of the most popular activities on the island (and generally in the Seychelles), and there's little wonder why.
Head to the edge of Anse Source D'Argent to find a shack that does half-day tours. They'll take you past behemoth rock formations from the Jurassic era while you glide over crystal waters to hidden beaches.
No jokes about the hidden beaches – they're only accessible by water, and the best is Anse Pierrot, or "Robinson Crusoe Beach."
Visit L'Union Estate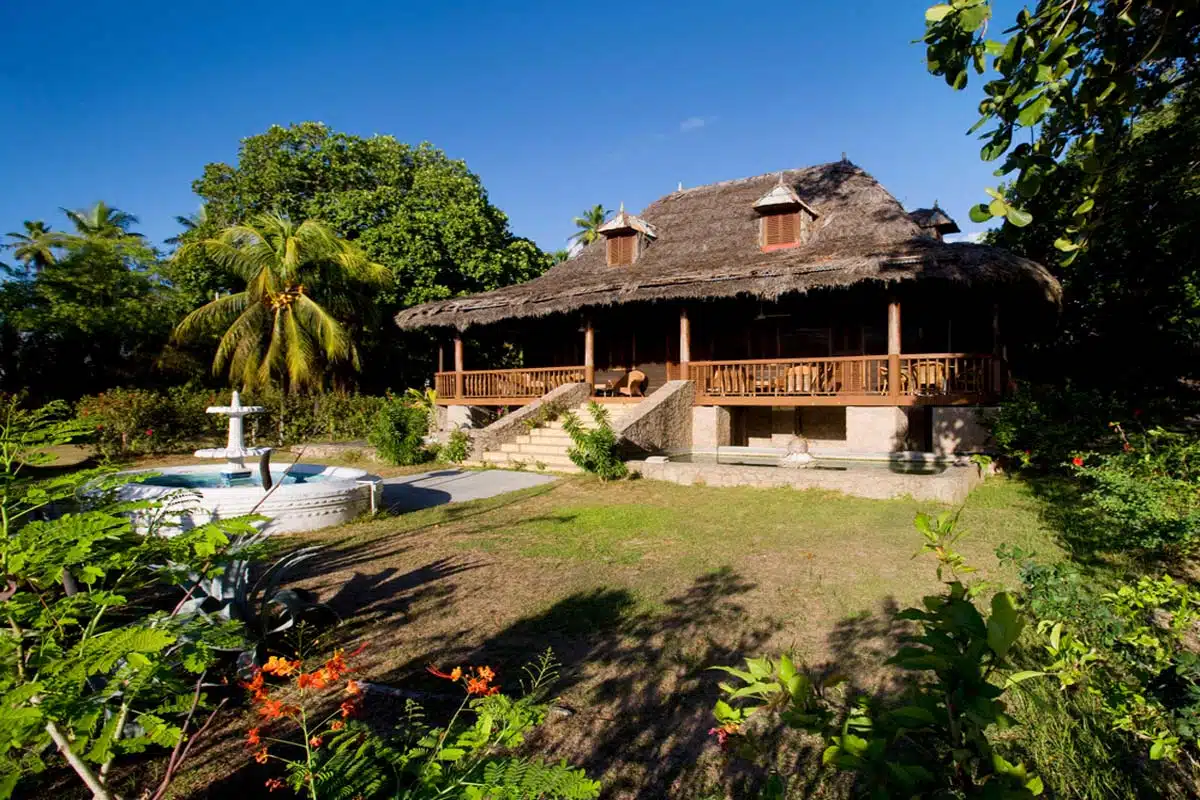 Once you've had your fill of chilling out and splashing around, L'Union Estate offers some interesting historical views of the island and the colonial history of the Seychelles. Here, you'll also find some of the oldest examples of French architecture on the island.
The estate is on the west coast of La Digue near the south of La Réunion. Once inside, you'll see the historic Plantation House, a granite monolith, a coconut mill, and the Anse Source D'Argent.
You'll also find an Aldabra Giant Tortoise enclosure. Although these ancient reptiles inhabit the island, there's no guarantee you'll come face to face with one unless you come to the estate. Then you'll see hundreds of them.
Climb the Eagle's Nest
Nid D'Aigle — also known as Eagle's Nest — is the highest point on the island, and wow, what a view! It's 1092 feet above the ocean and offers the most sensational views of the west side of La Digue to Praslin.
Don't stress, the hike isn't long – only about 0.6 miles from the road. However, it is pretty steep, but ignore your screaming calves and thighs because the pain is worth it.
Visit Veuve Nature Reserve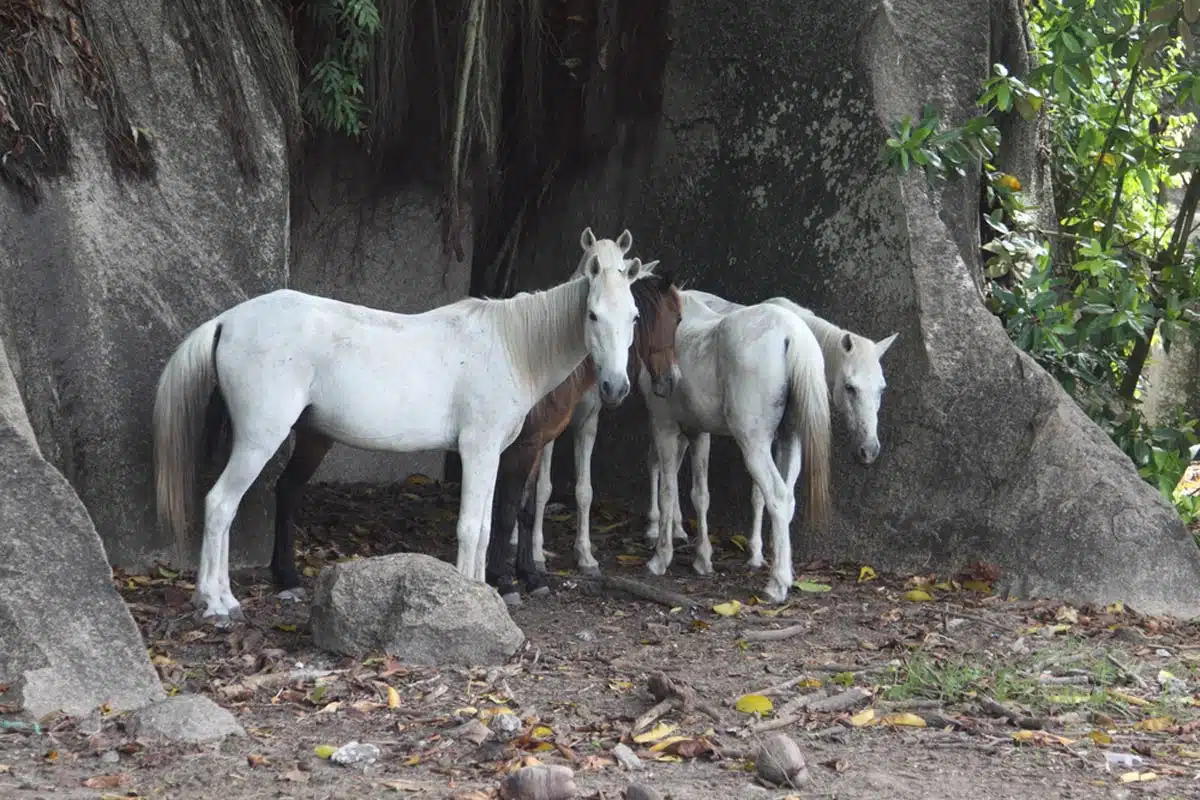 The Veuve Nature Reserve is a protected place where the local Seychelles Paradise Flycatchers can breed in peace. They're rare but beautiful nonetheless, with black feathers that shimmer dark blue in the sunlight and striking long tail feathers (for the male, anyway).
The reserve takes up 21 hectares south of La Digue, and the hikes are a dream through lush jungle landscapes. Look closely while walking and you'll find turtles, Bronze Geckos, Seychelles Treefrogs, and White Fairy Terns.
The reserve is also home to a fair few mosquitoes, so bring some repellent or feel their itchy wrath.
Brilliant Things to See & Do in La Digue, Seychelles
Head Inside the Notre Dame de L'Assomption Church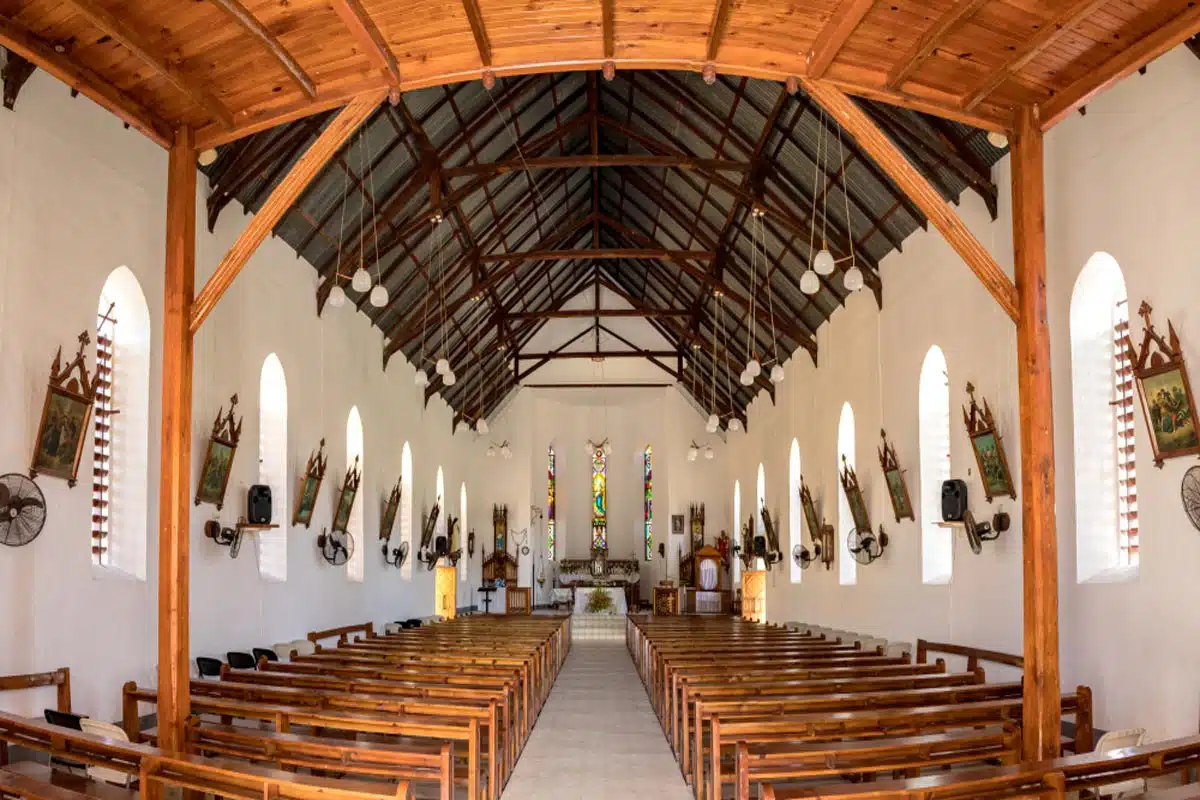 No, it's not quite Paris. But this Notre Dame, built in 1854, was the first Catholic church to inhabit the island.
It's rather humble compared to its namesake but has a bright orange hue, so you probably couldn't miss it if you tried.
It sits happily on the main coastal road in L'Union and is pristinely maintained, so stop by and take a peek inside.
Swoon at the Romeo and Juliet Viewpoint
The Romeo and Juliet Viewpoint is a remote spot on the island's eastern side. It was once a secret known only by the locals, but thanks to some viral wedding photos, the spot has gained massive popularity as an Instagram must.
The viewpoint is a massive boulder overlooking a dense jungle canopy below with the shimmering turquoise beaches of Anse Cocos, Grand Anse, and Petite Anse beyond. It's humbling and makes for some gorgeous photos if you're camera-inclined.
Take a Bike Tour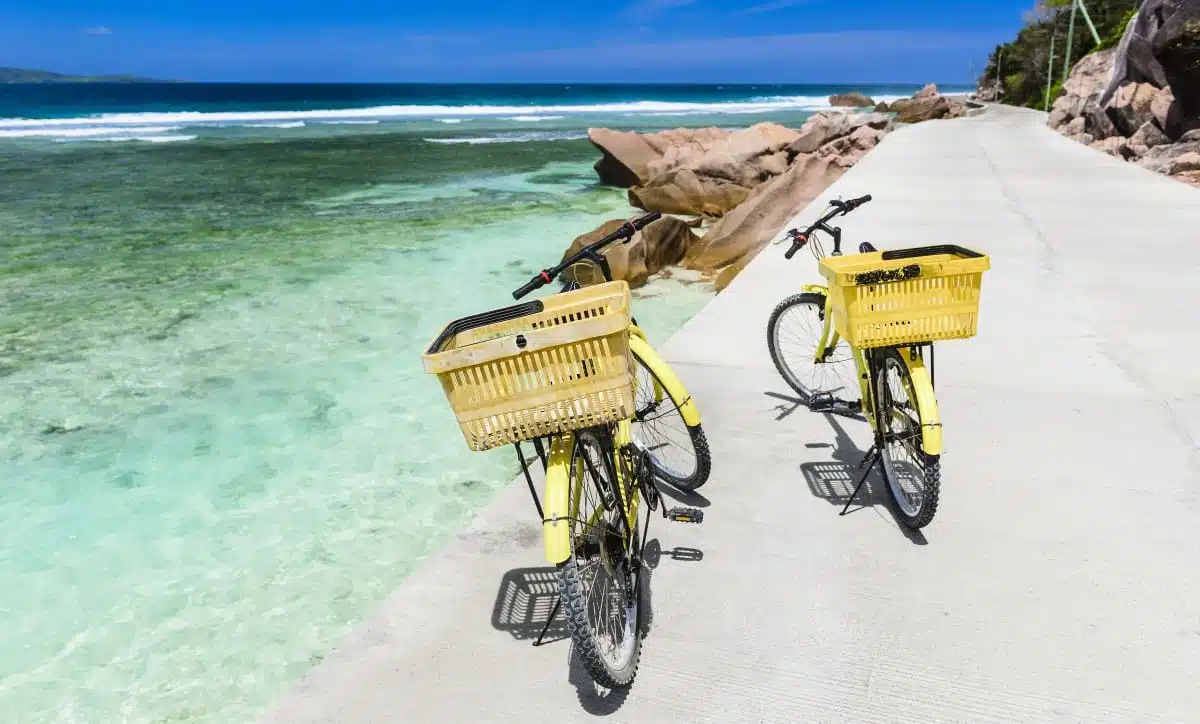 I mentioned how small this island is, right? As a result, the most common way of getting around is by bike, as you can get from one side of the island to the other in 30 minutes or less.
This means the whole island is yours to explore on two wheels.
You can either go with a guide around the island or take an independent tour and stop where you wish. Most bikes come with baskets to carry a few things in, so bring a towel for the beaches and a water bottle to keep hydrated.
Must-Try Bars & Restaurants in La Digue, Seychelles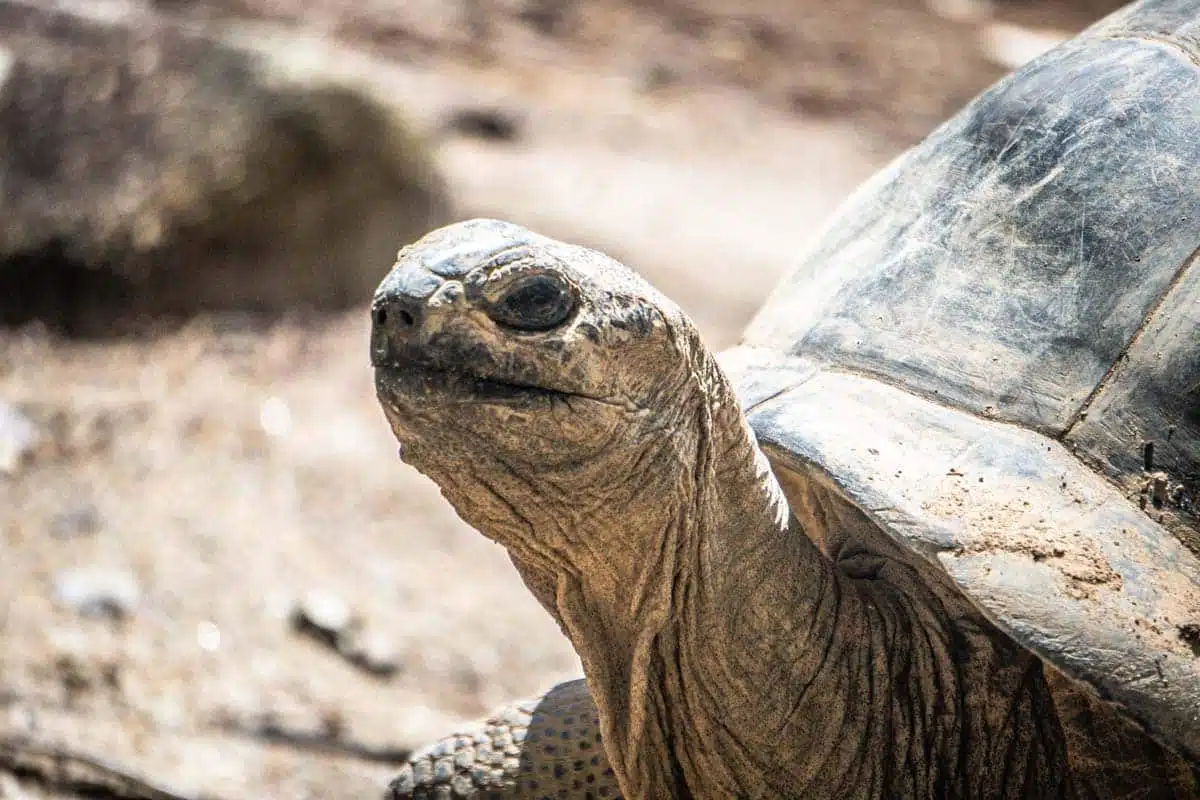 Chez Jules Restaurant
It doesn't look too fancy from the outside, but Chez Jules' rustic island charm will win you over once you catch a whiff of the incredible food. Walk past a thin seashell curtain and into a cosy island cabin with tables that look out onto sea views.

Order the tuna steak or the octopus curry for a taste of La Digue because the seafood is a true chef's kiss, presented in appetising proportions.
They're also pretty renowned for their juices and impeccable coffee.
Mimi's Café
Mimi's Café is a charming set-up in the jungle that serves classic American and French staples in big portions, so bring your appetite!
The grilled fish is a fresh delight, and don't even think of leaving without trying their famous coconut cheesecake. With ultra-tasty food and reasonable prices, there's no going wrong with Mimi's.
Le Repaire Boutique Hotel & Restaurant
Clean, modern decor and hotel services with gorgeous views of the beach are what you can expect here.
The restaurant at Le Repaire is Italian based, so you won't find typical island cuisine. That said, their pizzas and pasta are phenomenal, the seafood is off the charts, and the portions are pretty generous.

Try the spaghetti with clams and white wine with a hefty helping of tiramisu to follow, or stick to a saucy seafood pizza.
Best Hotels in La Digue, Seychelles
La Digue Island Lodge (Mid-Range)
A charming island getaway with its own dive centre, you can enjoy plush accommodation in tropical gardens at Island Lodge. Bask on the sun terrace by the pool sipping a cocktail from the bar, or stroll over to the beach for a snorkel.
The on-site restaurant specialises in Creole cuisine – seafood by night, and a full-range breakfast come morning.
Cabanes Des Anges (Mid-Range)
The beautiful Cabanes Des Anges is the ultimate luxury on a budget. Modern decor with soothing palettes and a lush garden makes you feel like you're staying right in the heart of the jungle (but with free Wi-Fi).
Take a dip in the outdoor pool or take a 7-minute walk to the beach for a lazy day of suntanning.
Hotel Chateau St Cloud (Luxury)
With a modern, chic aesthetic (and mosquito nets for a peaceful night's sleep), Hotel Chateau St Cloud charming jungle garden with its own tortoise habitat and outdoor pool will woo you.
The rooms are spacious, and the on-site restaurant offers Creole delights. You can even rent bikes from the hotel for easy transport.
La Digue, Seychelles: Practical Tips for Your Trip
Recommended Tours in La Digue, The Seychelles
Things to Do in La Digue, Seychelles: Map
La Digue Travel Guide: Read Next