Discover the best hiking trails in Portugal with this handy guide. From the rugged beauty of The Azores to paths that span the entire length of the country, these are the hikes to add to your itinerary.
I'm probably not the first or last you'll hear this from, but hiking in Portugal is pretty epic.

Ok, so you may make a case for Italy, Switzerland, and other famous outdoor hotspots, but Portugal needs to be at the top of your holiday plans if you love to explore mountains, rivers, waterfalls, and levadas (more on this later).
Why? It's extremely rugged, with a beautiful coastline flanking the western side of the country and a ridiculously verdant landscape to the east.
Add to this plenty of ready-made hiking trails and famous multi-day trips and I'm sure you can see why I'm hyping it up so much.
Ready to explore? Read on for the best hikes in Portugal.
Best Hikes in Portugal
GR50 Grande Rota Peneda-Gerês
Length: 187.6 km
Time: 7-10 Days
Difficulty: Hard
Let me start by saying this hike is probably best left for the most intrepid hikers, as it takes at least a week to complete and involves considerable elevation. Though, of course, you could just choose to tackle a small portion of the hike.
I'll do my best to summarise this epic and lengthy trek Portugal style in a few words, although I could go on for much longer.

Do this hike if you want to experience everything that makes Peneda-Gerês National Park one of my favourite Portugal destinations. You'll traverse paths, roads, and villages that locals have travelled for centuries and, hopefully, meet some friendly residents while you're at it.
One of the best European hikes, it gives you a glimpse into the rugged beauty and rich cultural traditions of Northern Portugal. 
Trilho da Ponta da Piedade
Length: 2.41 km
Time: 40 Minutes
Difficulty: Moderate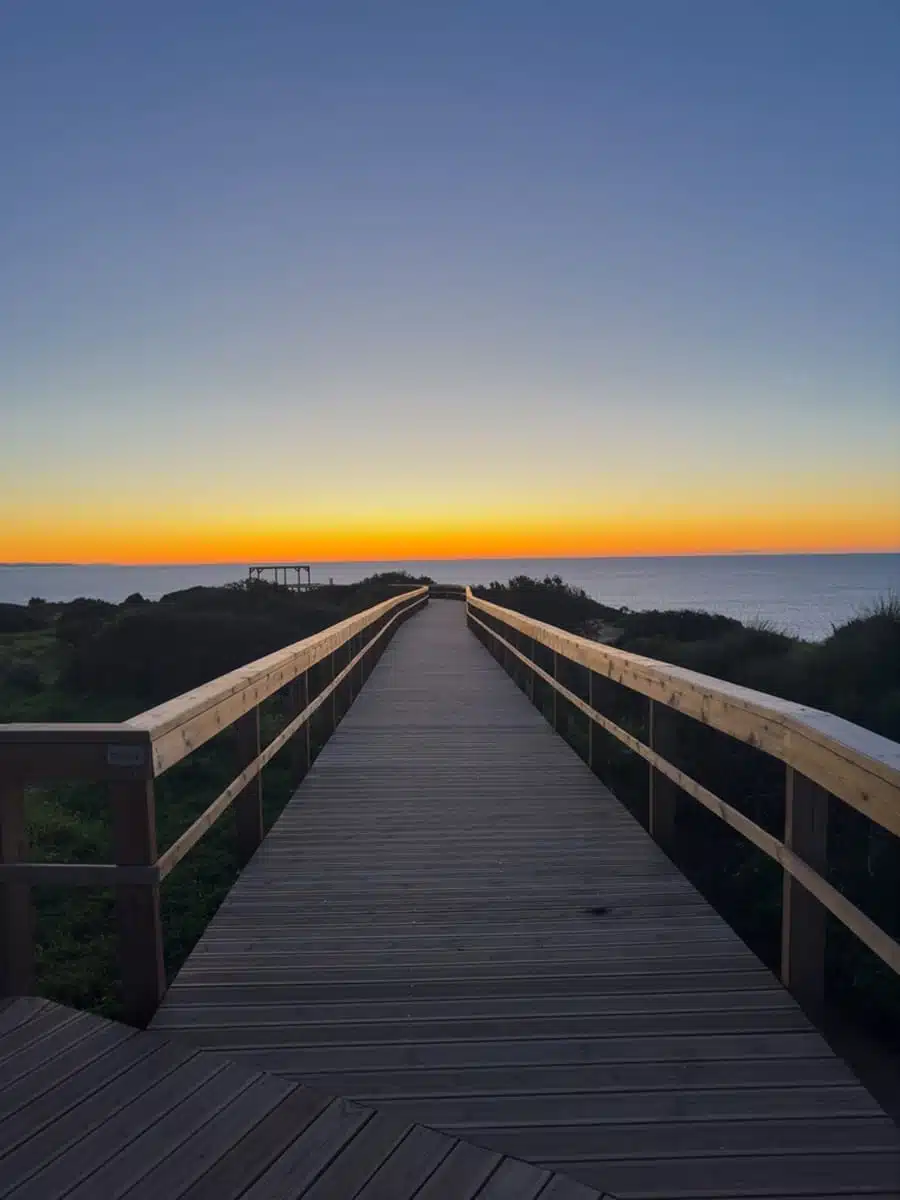 Admittedly the Trilho da Ponta da Piedade is not the lengthiest hike on this list, but it's still a good workout and offers up incredible coastal views in the Algarve.
You won't likely have the trail to yourself as it's popular for a reason. The Atlantic Ocean vistas, lighthouses, and sunsets are just a few reasons this is on Portugal's short list of best day hikes.
GRZ (Grande Rota of Zêzere)
Length: 369.2 km
Time: 12-15 Days
Difficulty: Hard 
Again, GRZ is one of many incredible long-distance hikes in Portugal. But it's easily a candidate for the best, and I'll give you a few reasons why you should add it to your Portugal trip.
You'll get up close and personal with the stunning Zêzere River Valley, Estrela Mountains, and numerous landmarks on your journey by foot, canoe, bicycle, or all the above.
Choose this hike to see some of the best biodiversity and lesser-known villages on your Portugal holiday.
Trilho do Castro e do Contrabando
Length: 5.47 km
Time: 90 Minutes
Difficulty: Moderate
Want a brilliant day trip from Porto? Bring your hiking boots because I've got an epic option for you to add to your Porto itinerary.
Trilho do Castro e do Contrabando is a great choice that involves some elevation changes, bird watching, and plenty of privacy, as it's still a relatively well-kept secret. 
Even better news – it's pretty short, and the vast majority of people with a basic level of fitness will be able to finish the trail.
Fisherman's Trail
Length: 120 km
Time: 8-12 Days
Difficulty: Hard 
One-half of the famous Rota Vicentina, the Fisherman's Trail offers epic coastal views from high above the rocky cliffs of the Algarve and Alentejo.
Walking from Porto Covo to Cabo de São Vicente, you'll see numerous fishing villages, rugged ocean landscapes, and sandy shores where you can relax and take a load off between steps.
This is a hike for the most dedicated of hikers, but the good news is you can access it from multiple points if you just want to experience parts of it. And you totally should.
PR6 Levada das 25 Fontes / Levada do Risco
Length: 10.62 km
Time: 4.5 Hours
Difficulty: Moderate to Difficult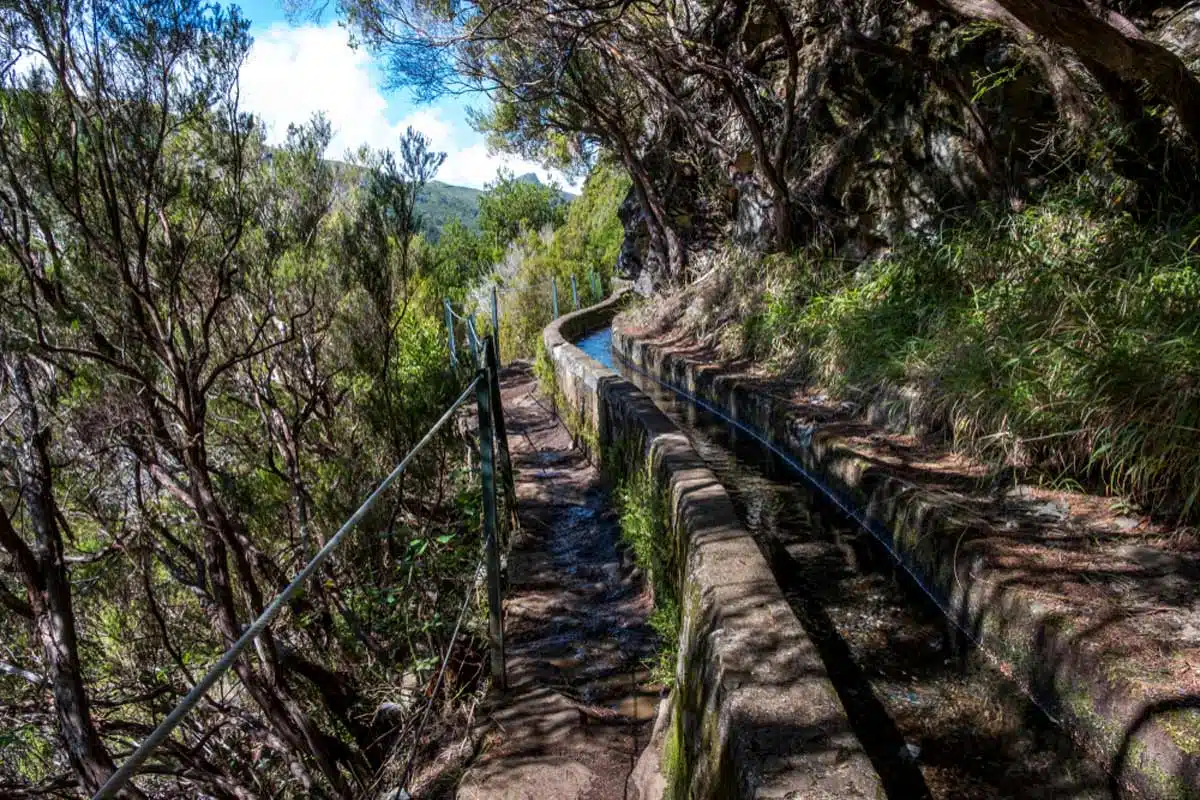 If you visit Madeira, one of my favourite winter holiday destinations, making time for this famous hike in Portugal should be a top priority.
Why? You'll follow levadas up and down the mountainous terrain and see an impressive waterfall, navigate through an 800-metre tunnel, and be rewarded with some gorgeous Madeira landscape.
Fair warning: It's a busy trail and conditions can be a bit sketchy, especially when the weather is bad, so hike carefully.
The Historical Way
Length: 231.7 km
Time: 15 Days
Difficulty: Hard
Another way to approach Rota Vicentina is The Historical Way, which combines coastal trails with inland adventures making for one of the most inspiring Portugal hiking trails.
You'll start your 15-day adventure in Santiago de Cacém and, on your voyage, you'll encounter varying landscapes, wildlife, waterfalls, and gorgeous cork and oak forests.
I recommend booking a tour to make the most out of this hike and ensure your safety by travelling with expert guides.
Trilho dos Patos Reais
Length: 5.79 km
Time: 80 Minutes
Difficulty: Easy
Looking for something a little more chilled-out? I've got you.
The Trilho dos Patos Reais hike is simple to navigate thanks to trail markers, and it's a great choice if you want to explore magnificent Portugal hikes in Óbidos.
Excellent for birding, observing marine life, or just taking a casual afternoon stroll, this is one of the best day hikes Portugal offers for a laidback option if you're in the area.
PR1 Vereda do Areeiro
Length: 12.07 km
Time: 6 Hours
Difficulty: Hard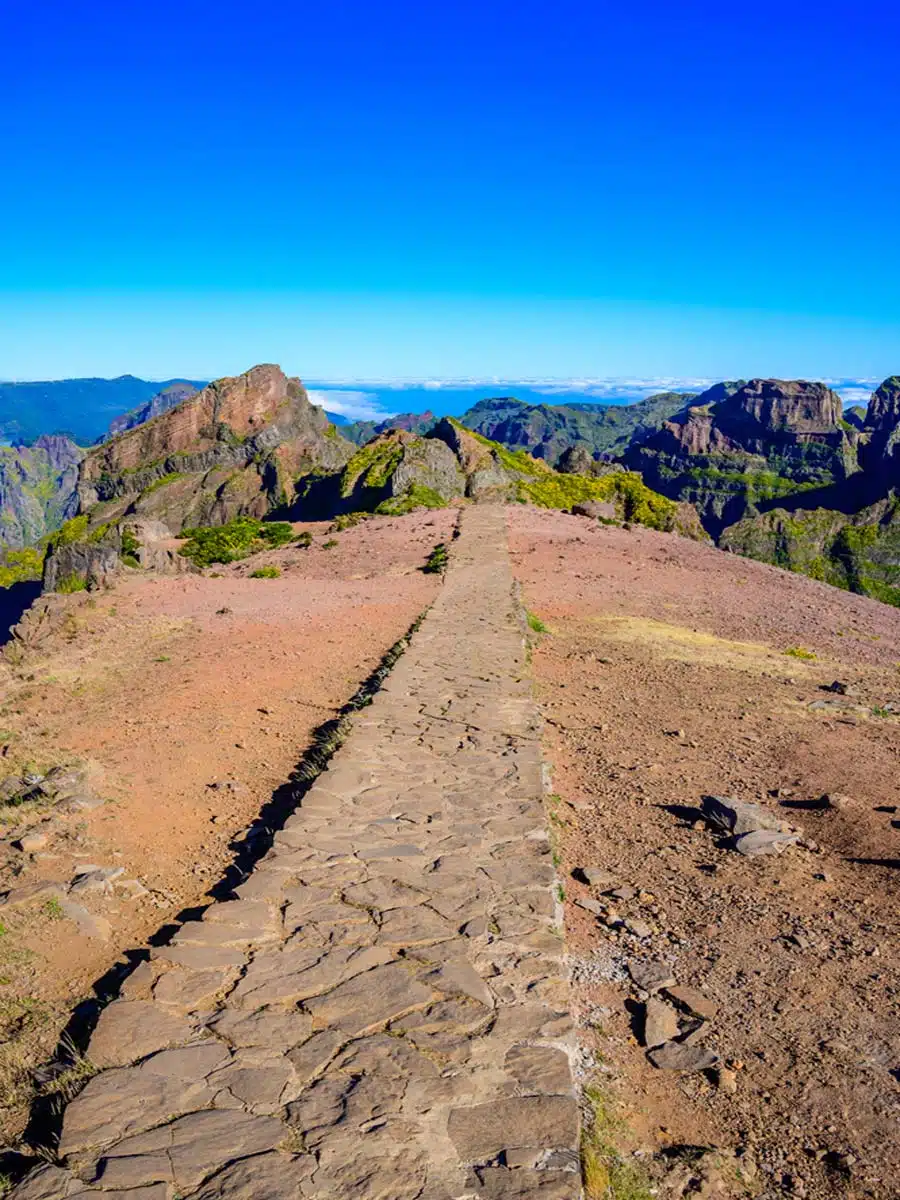 Also known as the Pico to Pico hike or the Pico do Arieiro to Pico Ruivo trail, this is likely the first image that comes to mind when you think of the best hiking trails in Portugal, especially in Madeira.
What makes this a Portugal hiking opportunity you can't miss is that you'll find unparalleled views of the island from two of the tallest points in Madeira.
It's a steep climb, trails may be closed due to conditions, and you may see lots of rain, but it is worth the struggle if you're up for the challenge.
Ponta de São Lourenço
Length: 7.4 km
Time: 3 Hours
Difficulty: Moderate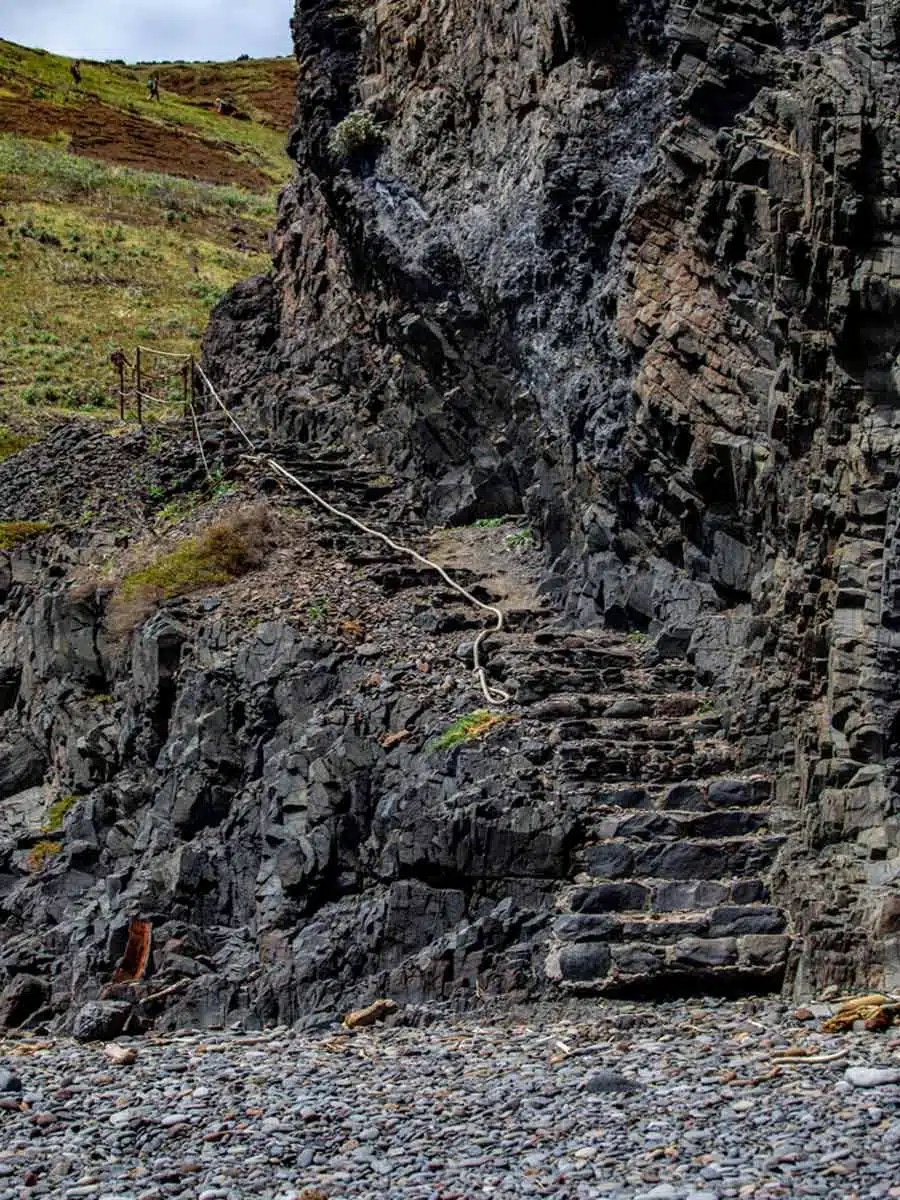 Keen to see the Easternmost point in Madeira? You should head over to Ponta de São Lourenço and experience one of the best places to hike in Portugal.
This hike is one of my favourite ideas for an unrivalled view of the rocky coastal cliffs that Madeira is deservedly famous for.
Salto do Prego Waterfall Trail
Length: 4.02 km
Time: 1.5 Hours
Difficulty: Easy
Buckle in, pals. This one is special.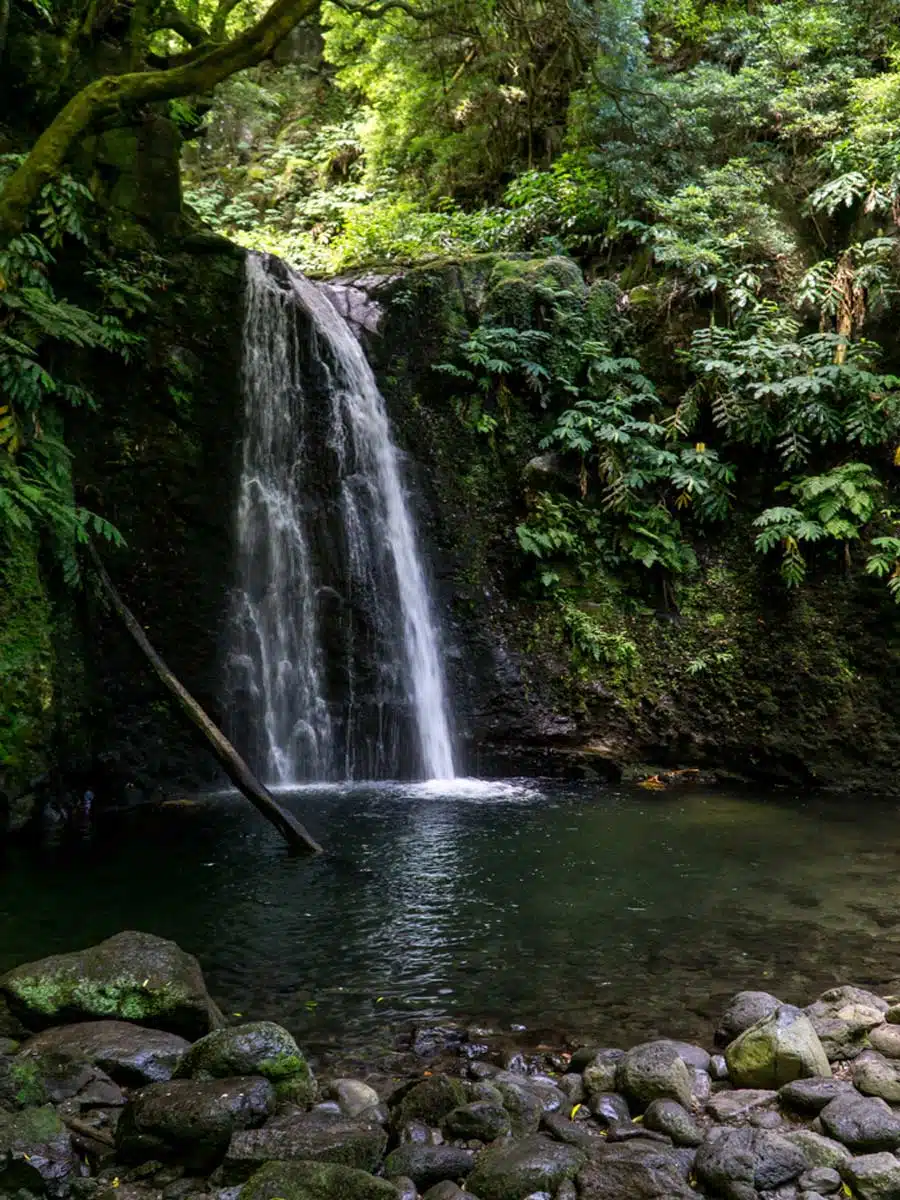 The Azores often enter my mind when I think up ideas for epic one-week vacation ideas. And why wouldn't they? The Azores have some of the best Portugal nature trails and overall hiking in Portugal.
Salto do Prego Waterfall Trail is an excellent starting point if you want to ease into your adventures.
It's easy to locate, only takes about 90 minutes (not including the time you'll spend staring at the beautiful waterfall), and is a great way to take in the beauty of the Azores on your trip to Portugal. 
PRC02 SMA – Pico Alto
Length: 6.27 km
Time: 2.5 Hours
Difficulty: Moderate
It's no secret that Portugal is a hilly place, and this hike will fit the bill if you want a little more of a climb in your Portugal walks.
Prepare for burning thighs. The 6.27 km loop takes you through forests, up large hills featuring stunning coastal viewpoints, and near a monument honouring the victims of "The Disaster of the Azores."
But, honestly, I love this Portugal hike as a perfect mix of history, nature, and photography.
Cabo da Roca – Praia da Ursa
Length: 4.34 km
Time: 75 – 90 Minutes
Difficulty: Hard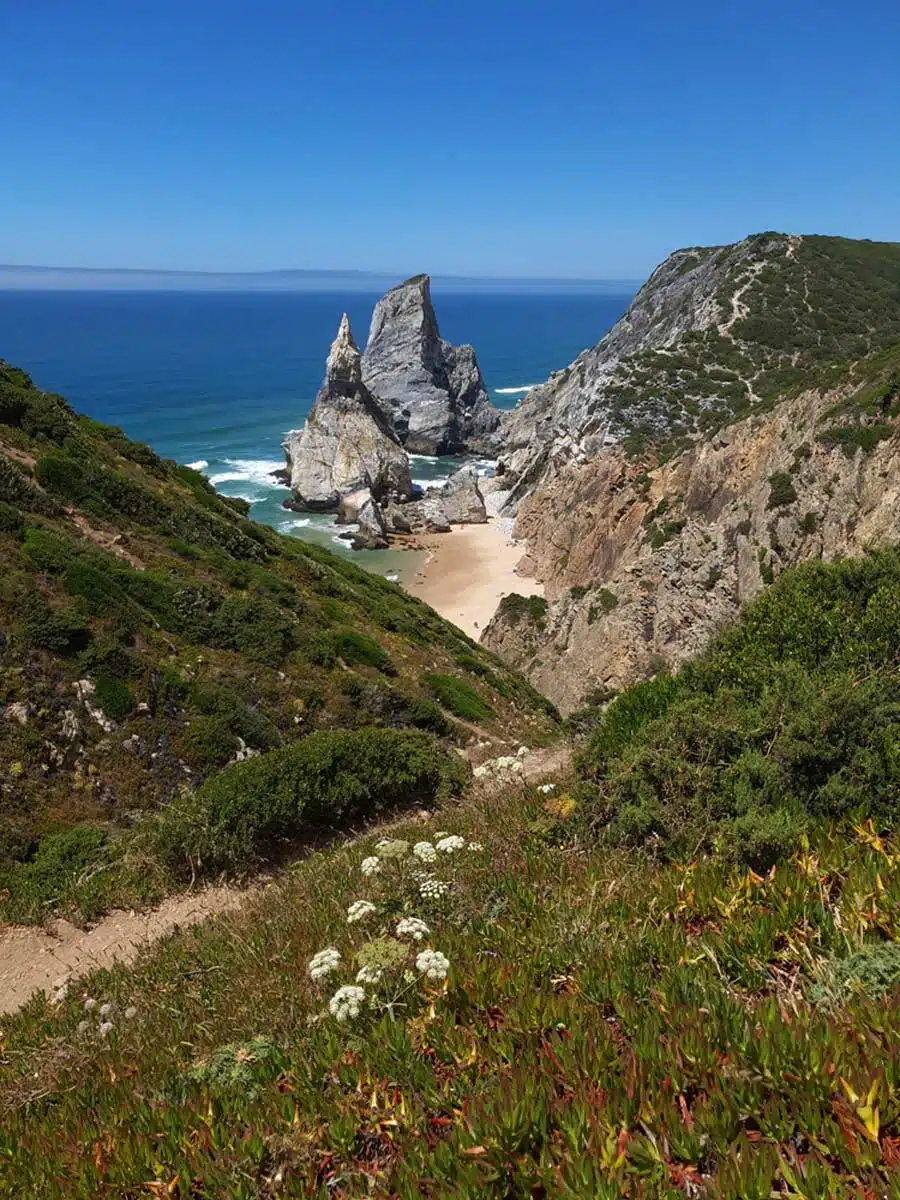 Looking for the best hike in Portugal if you're staying in Lisbon? If you want my advice, head over to Parque Natural de Sintra-Cascais and add this epic coastal trek to your Portugal itinerary.
You'll want your best pair of hiking boots for the challenging terrain, but if you can handle the walk down and back up, the beach here is the perfect payoff for your hard work.
Palácio de Sintra – Castelo dos Mouros – Palácio da Pena
Length: 10.94 km
Time: 3-4 Hours
Difficulty: Moderate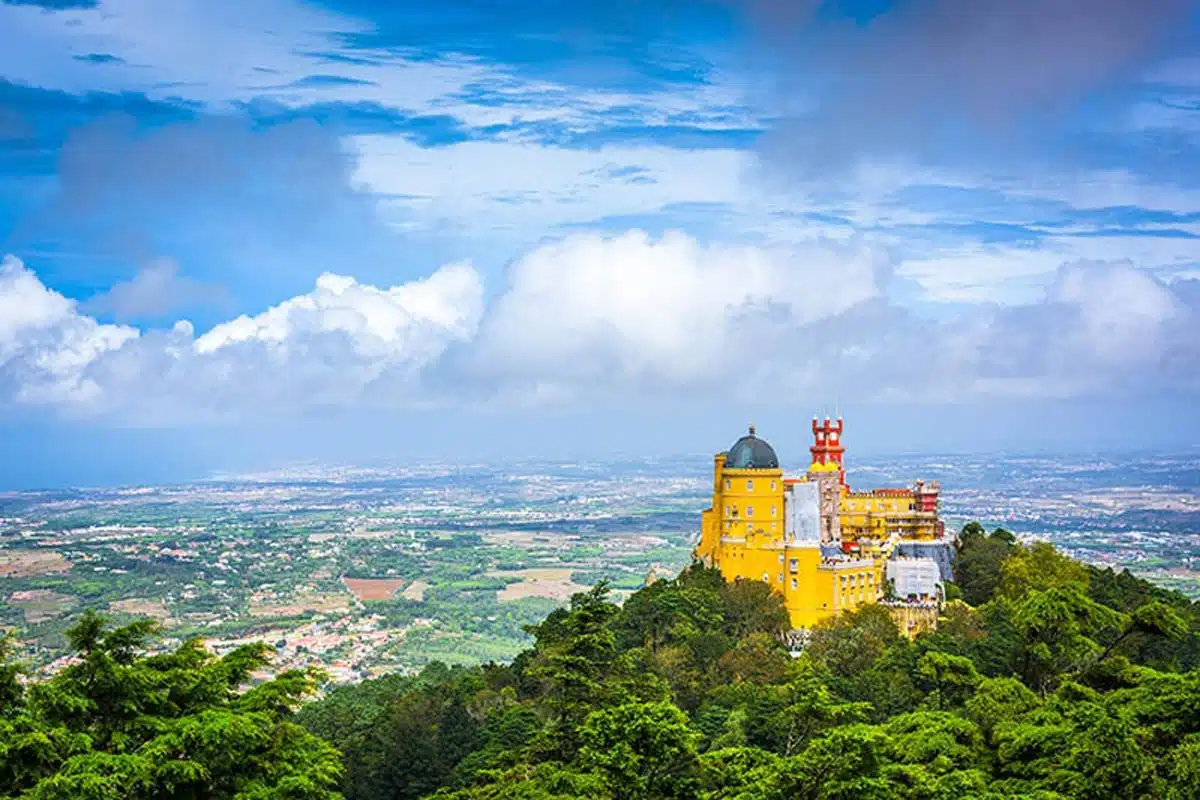 One of the best hikes in Southern Portugal is also a great way to see some of the coolest things in Portugal (I'm all for efficiency).
You'll get to see 3 of Sintra's most iconic landmarks while experiencing a steep climb, making this one of the most entertaining and rewarding hikes in Portugal.
Albufeira do Rio da Mula – Quinta de Porto Covo – Quinta do Pisão
Length: 10.13 km
Time: 3 Hours
Difficulty: Moderate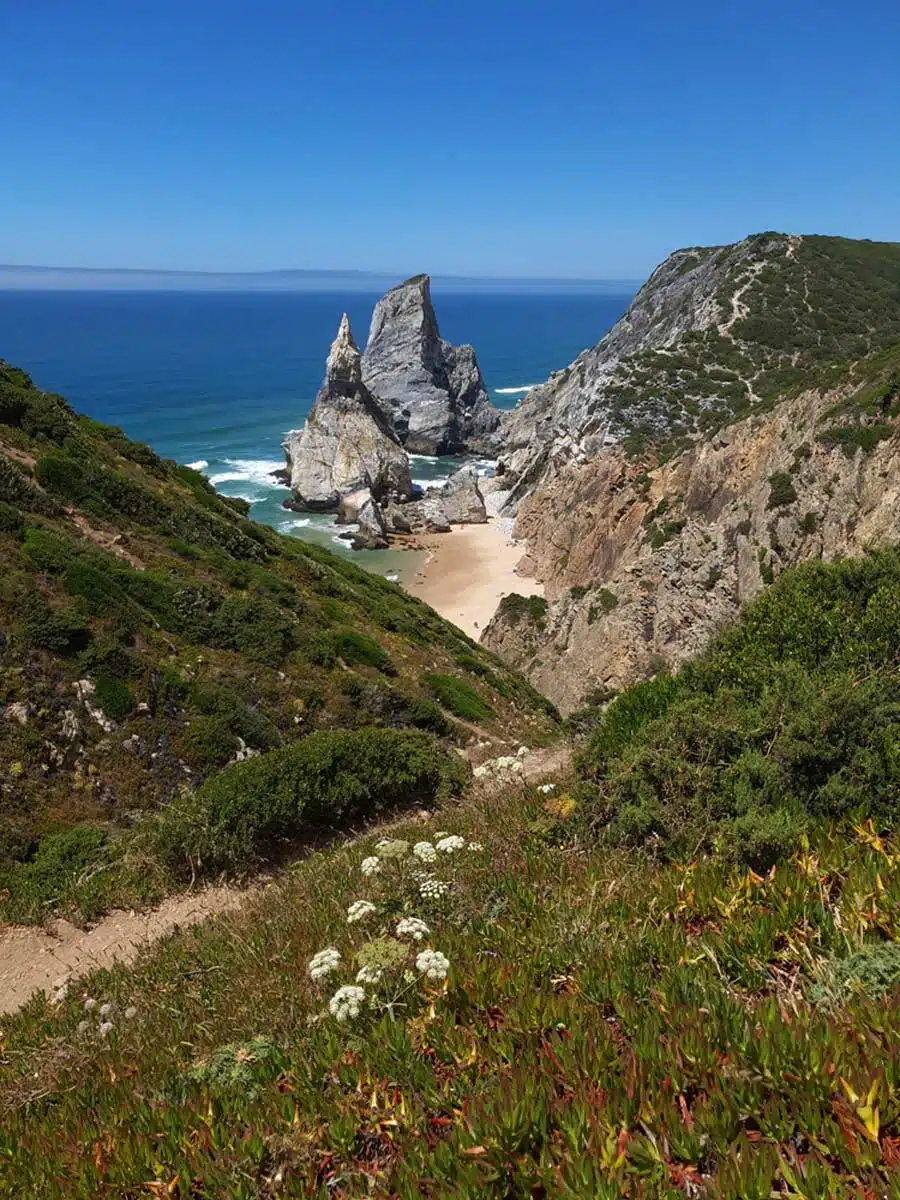 Sintra is renowned for its history, architecture, and vistas, which are among the best you'll find in Portugal.
But there's also a rural side that's well worth visiting if you get a chance, and this hike near the Sintra Mountains is one of my favourite ideas when you're in the area. 
Explore the forests and keep your eyes open for views of the Mula River and both wild and domesticated animals along the way.
Passadiços de Serra d'Ossa
Length: 3.37 km
Time: 1 Hour
Difficulty: Easy
Evora is a wonderful place to visit in Portugal, and if you're looking for a leisurely hike with amazing rewards, I love this easy trek as an option for an outdoor adventure.
You'll see interesting plant life, the famous cork oaks, and the Garden of the Monks while you're here.
Trilho da Senhora das Neves (Monte da Estrada)
Length: 12.71 km
Time: 3.5 – 4 Hours
Difficulty: Moderate
Want to explore a secret travel spot in the Alentejo? I figured you might, which is why I included one of the best hikes in Portugal that's a bit less famous than most on this list.
You'll get to explore the thriving forests, marvel at the Ermida de Nossa Senhora das Neves, and take in the breathtaking beauty of one of Portugal's lesser-travelled regions.
Montesinho – Porto Furado
Length: 9.17 km
Time: 2.5 – 3 Hours
Difficulty: Moderate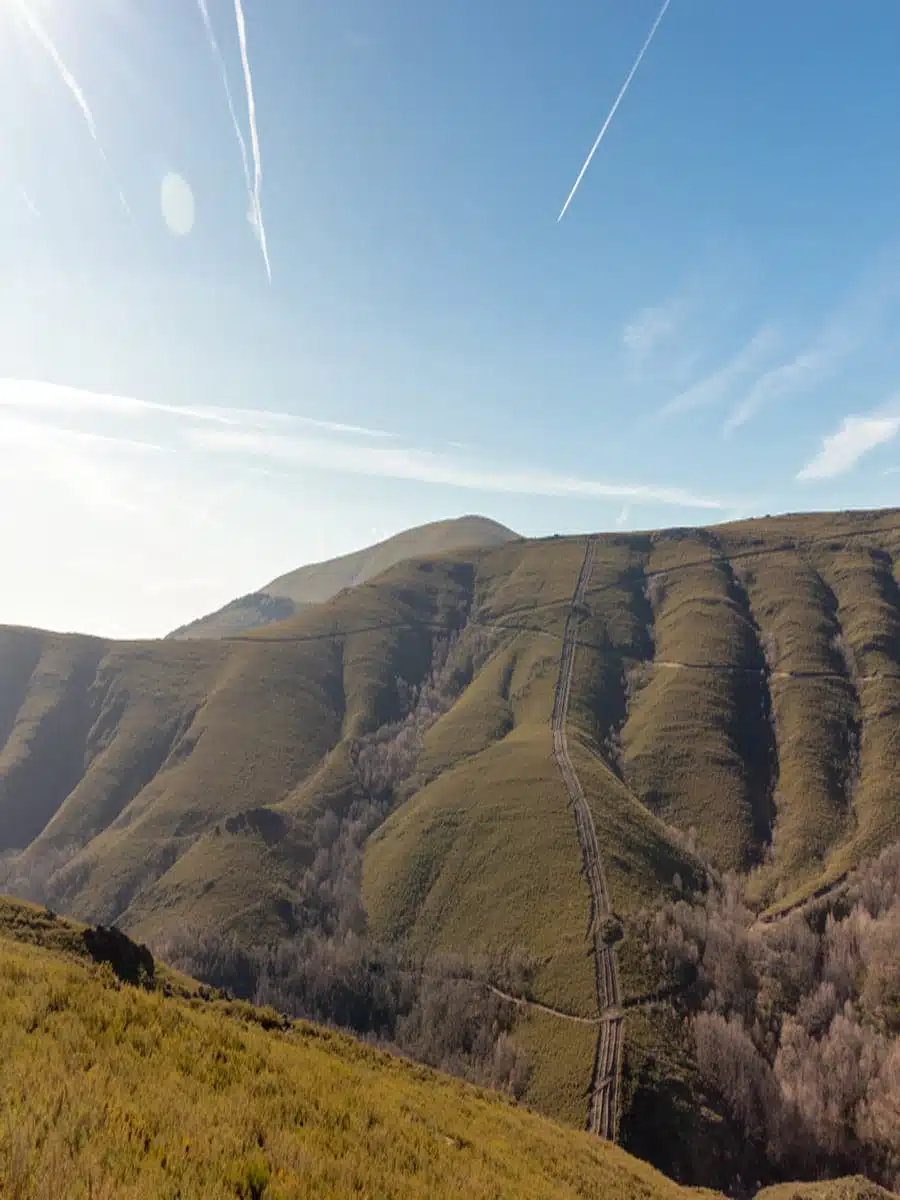 In Northeastern Portugal, just a short distance from the Spanish Border, is one of Portugal's best-kept secrets: Montesinho Natural Park.
It's a relatively remote area with lots of wildlife, so be sure to keep your eyes open for possible sightings of wild cats, Iberian wolves, and other exciting creatures along the way.
But that's not all – Albufeira de Serra Serrada is why many people make this Portugal Trek; it is a stunning photo opportunity.
Passadiços do Paiva
Length: 16.73 km
Time: 5 – 6 Hours
Difficulty: Moderate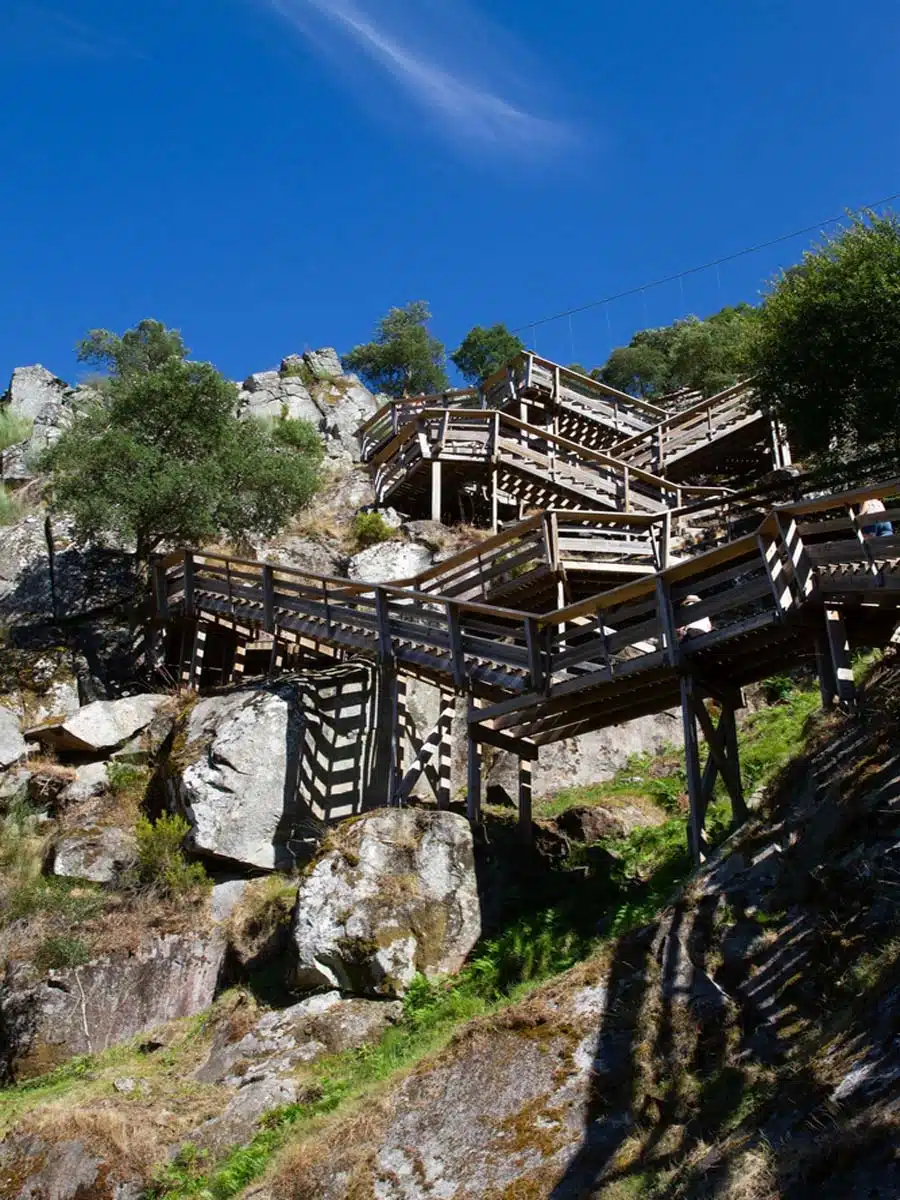 OK, I can't write a guide to the best Portugal hikes without including one of the most incredible walks in the country that seems like it was made for the 'Gram.
A trail made up of steep, wooden walkways, the walking bridges are long and meandering and take you around and over the incredible Paiva River. Oh, and be sure to cross the massive suspension bridge – unless you have a fear of heights.
Book a tour here ahead of time, as it's becoming one of the most popular Portugal hikes around.
Best Portugal Hikes: Practical Tips
For some of the more remote or challenging locations, I recommend booking something like this hiking tour along the west coastline for a guided tour of more rugged coastal areas.
This goes without saying, but make sure you're prepared. Portugal and its islands sometimes have unpredictable and vastly changing weather patterns. Know when you need a raincoat, and be sure to bring it along for the walk, especially while in Madeira.
Never go off trail. This is a rule I stick by wherever I go, but some of the hikes on this list are in remote areas, which makes it especially important. Bring a compass and pack plenty of water, so you're prepared for any misadventure that may come your way.
Always lean away from the cliff's edge when traffic is passing you. I learned this the hard way when a tour guide scolded me for relying on the fence while letting them walk by. Some of the levada hikes and coastal walks are extremely dangerous, so do everything you can to stay safe.
Know the best time to visit Portugal, and plan your hike accordingly. Some of the areas mentioned on this list are epic any time of the year but become a bit too intense if you go when the weather is too hot, too cold, or when it's storm season.