Plan the ultimate visit to Portugal with this handy guide. Discover 24 landmarks in Portugal that you NEED to add to your travel itinerary.
Portugal has been on my mind a whole lot lately. And why wouldn't it be?
The stunning natural beauty perfectly matches the delightful contrast of Portugal's incredible cities, hotels, and historical sites.
No wonder I keep returning to Portugal; it's simply a perfect place to holiday.
But what are some of the can't miss, need to go, walk-don't-run to Portugal landmarks? Well, you came to the right place because I know a fair few.
If you're even thinking about going to Portugal, you'll want to explore this list of the 24 must-visit famous landmarks in Portugal before planning your trip. Now let's get started.
Famous Landmarks in Portugal
Torre de Belém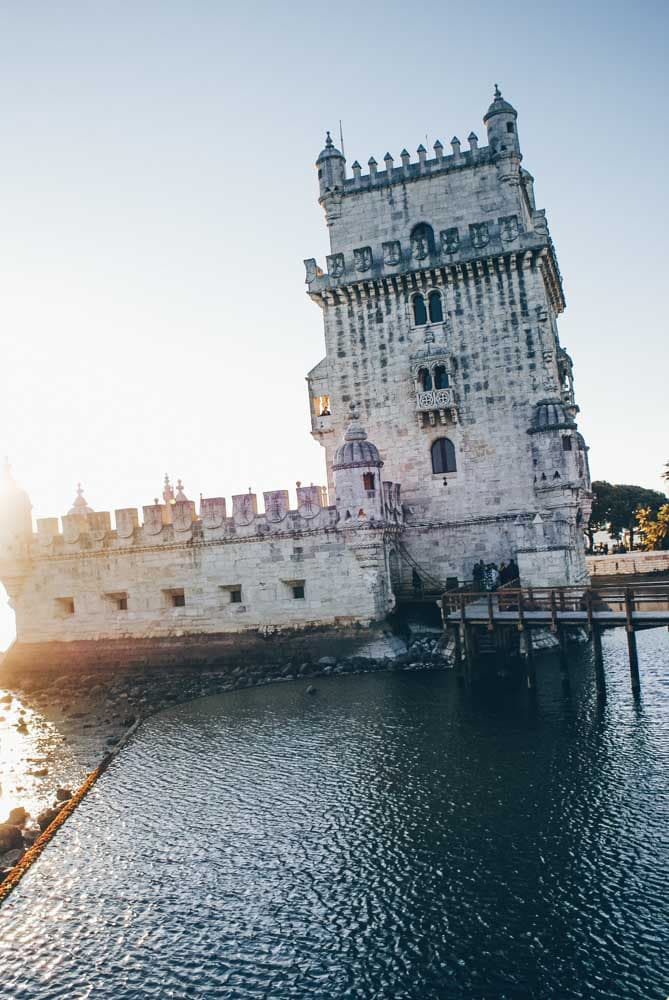 Let me get this out of the way right now. If you've come to Portugal for the first time, you must go to Lisbon.
Why? Each neighbourhood has something slightly different to offer, with dozens of attractions, new and old. But one of the city's most visited landmarks is the stunning Torre de Belém (Belém Tower).
Remember when I went over 24 cool things to do in Portugal? Torre de Belém was one of my first mentions, and here's why. The tower is simply one of the most famous Portugal landmarks you can admire from inside or out.
Be sure to climb the stairs inside (it'll easily count towards your cardio for the day) and marvel at the view that helped protect Lisbon over 500 years ago.

Admire the history and remarkable beauty along the Tagus River and the Atlantic Ocean; it's a quick reminder that you're in one of the most beautiful cities in the world.
Monument to the Discoveries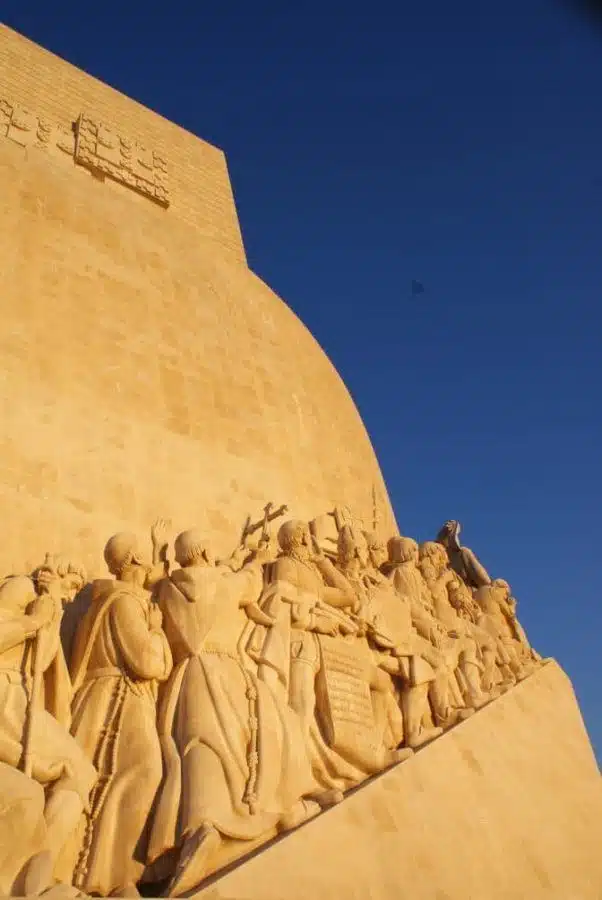 While in the Belém district of Lisbon, make sure you walk over to the Monument to the Discoveries.
Though it's much younger, at least relative to the centuries-old fortress down the block, the museum is still a crucial piece of Lisbon and Portugal's history.
You can see reminders of Portugal's long history etched into the gorgeous sculptures on the exterior. The inside is equally impressive, and you'll capture some incredible photos from above Lisbon for social media.
Jerónimos Monastery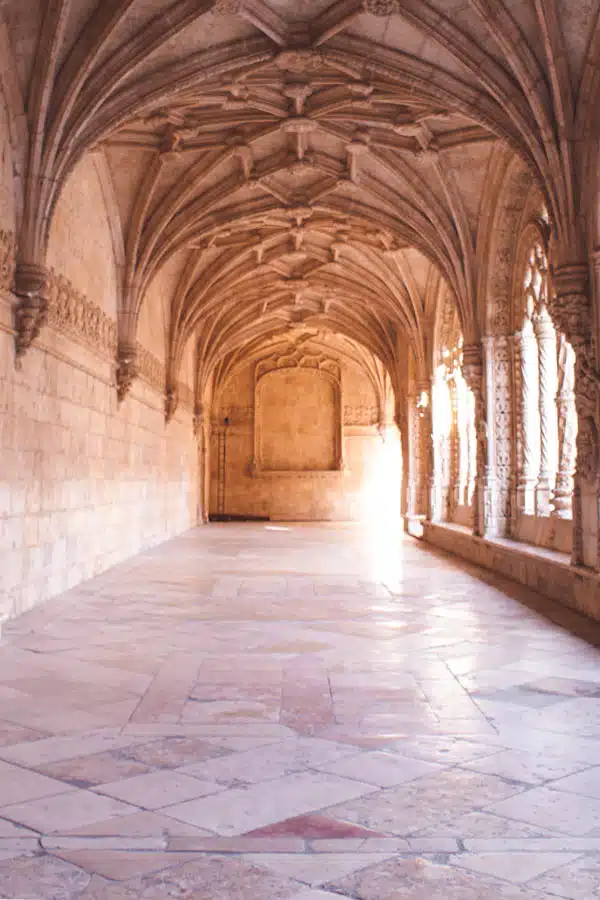 Last, and certainly not least, after seeing the first two Lisbon-based landmarks in this list, you'll want to potter over to the nearby Jerónimos Monastery.
Why? Well, the 16th-century monastery has long withstood the test of time, including surviving the catastrophic earthquake in 1755. The building also couldn't be any more beautiful.
And if you're still not convinced, you're just steps away from Pastéis de Belém, where you can queue up for some of the best deserts in Lisbon.
Igreja de São Domingos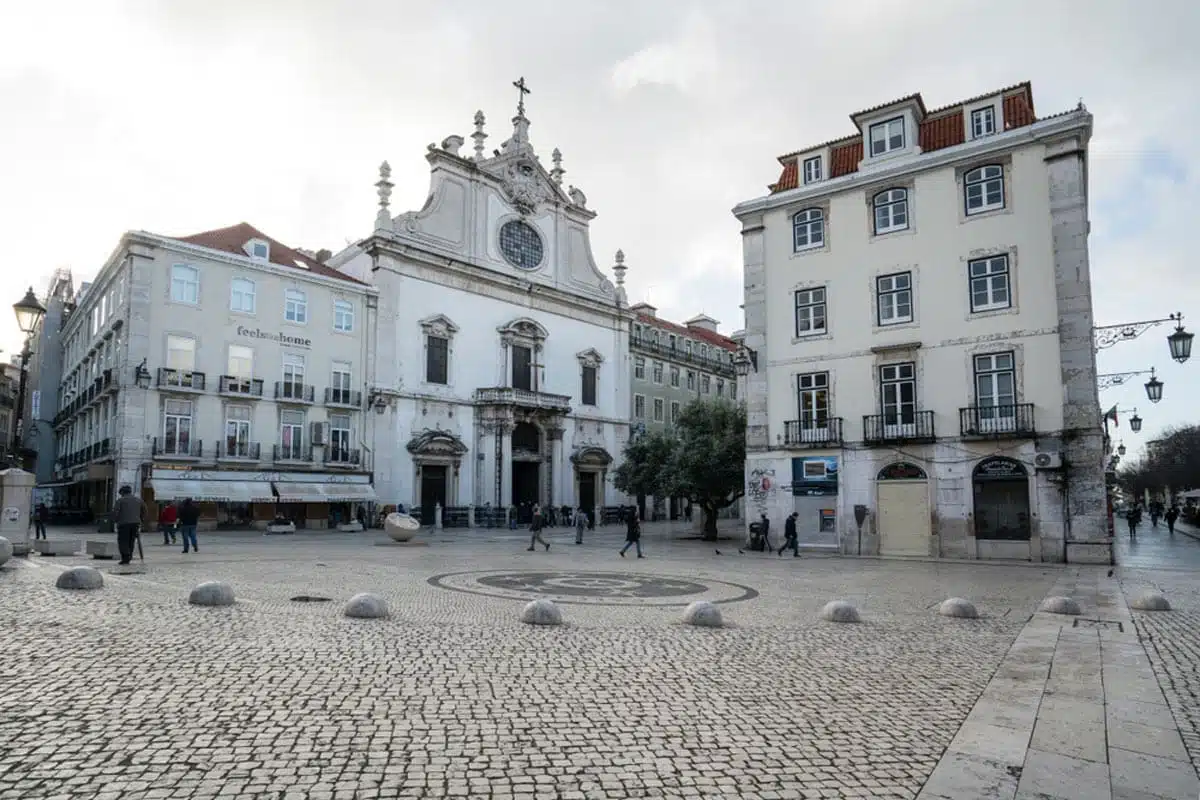 You may be surprised I've made it this far without mentioning one of the incredible churches that make up Portugal's famous landmarks.
Portugal is home to many of the most impressive sacred sites in Europe, and
Igreja de São Domingos is one of my top recommendations for travellers who want to see a historic church on their trip to Portugal.
The building has a long, storied past, including a tragic fire, but the inside is still absolutely beautiful and a must-see when you're in Portugal.
Castelo de São Jorge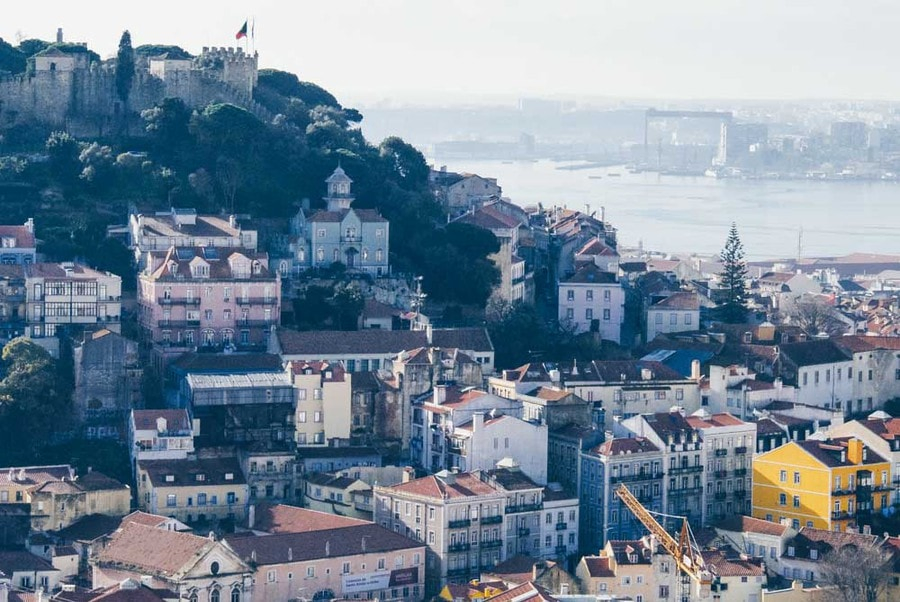 Climbing the steep hills of Alfama by foot or by tram is one of my favourite things to do in Lisbon.
Castelo de São Jorge waits for you at the top of the hill, and being that it's the oldest castle in Lisbon, you should really make the trek.
But that's not all – it also gives you a really amazing view of Lisbon and the Tagus River.
Not convinced yet? Take a slow walk down the hill afterward and pop into one of the numerous cafes, restaurants, and shops that pop up on various blocks and corners. You'll be very happy you did.
LX Factory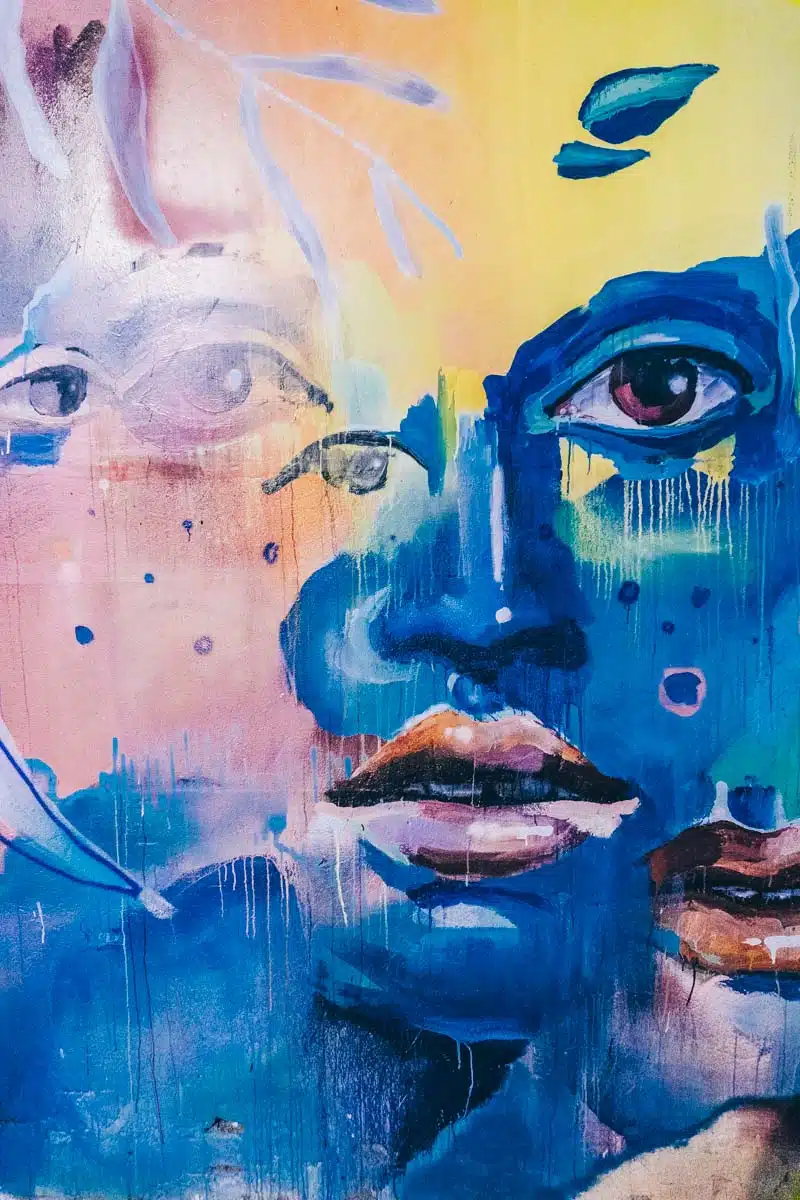 Lisbon is full of amazing historical sites, among my favourite Portugal destinations. But some much newer additions are modern classics of their own.
Case in point: LX Factory. The factory-turned-cultural hub is home to some of Lisbon's best restaurants, shopping, and cultural events.
What are you waiting for? Head to the LX factory the minute you drop off your luggage so you can fill it with splendid antiques and artisan wares.
Park and National Palace of Pena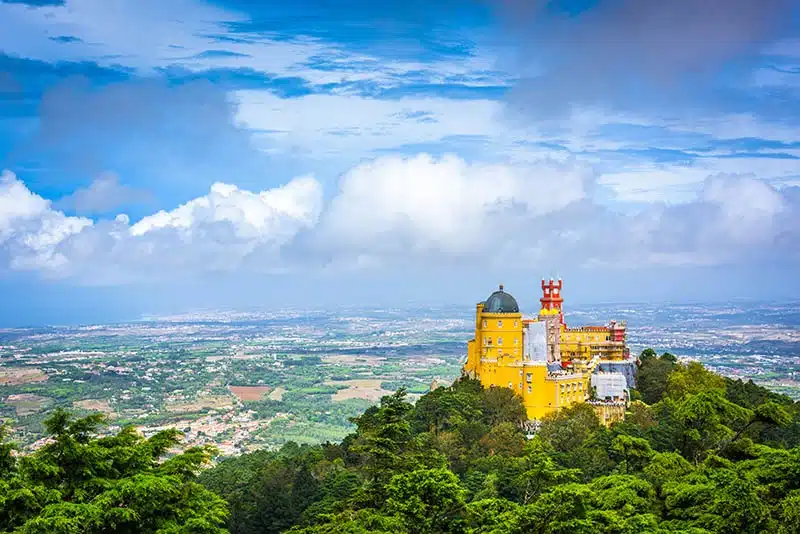 Not far from Lisbon is Sintra, a destination that, if you can fit into your Portugal itinerary, you absolutely should.
And of all the places to see in Sintra, the Park and National Palace of Pena is one of them you won't want to miss.
Why? The awe-inspiring gardens and castles are a delight both inside and out. You'll have plenty of opportunities for amazing photos around every corner when you visit one of my favourite historical places in Portugal.
Castelos dos Mouros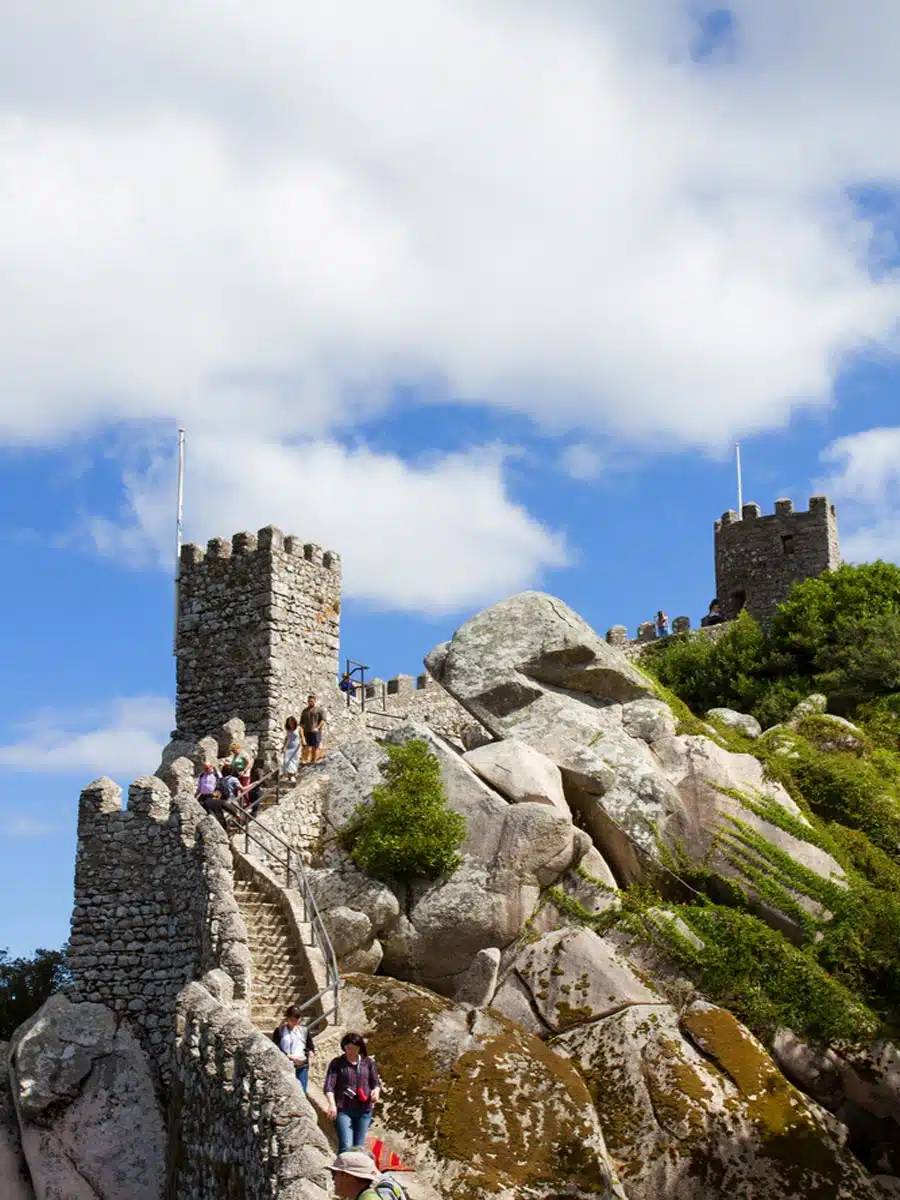 When you visit Sintra, be prepared for a day full of climbing hills, admiring stunning estates, and seeing many of Portugal's famous places in one location.
Castelos dos Mouros is one of the landmarks you will want to add to your Portugal holiday if you plan to see a prominent example of Sintra's incredible (if ancient) architecture.
How old is this castle? Older than your grandparents' most distant relatives on the family tree. I'm talking 8th Century old, and the building is still a beautiful sight to lay eyes on.
Quinta da Regaleira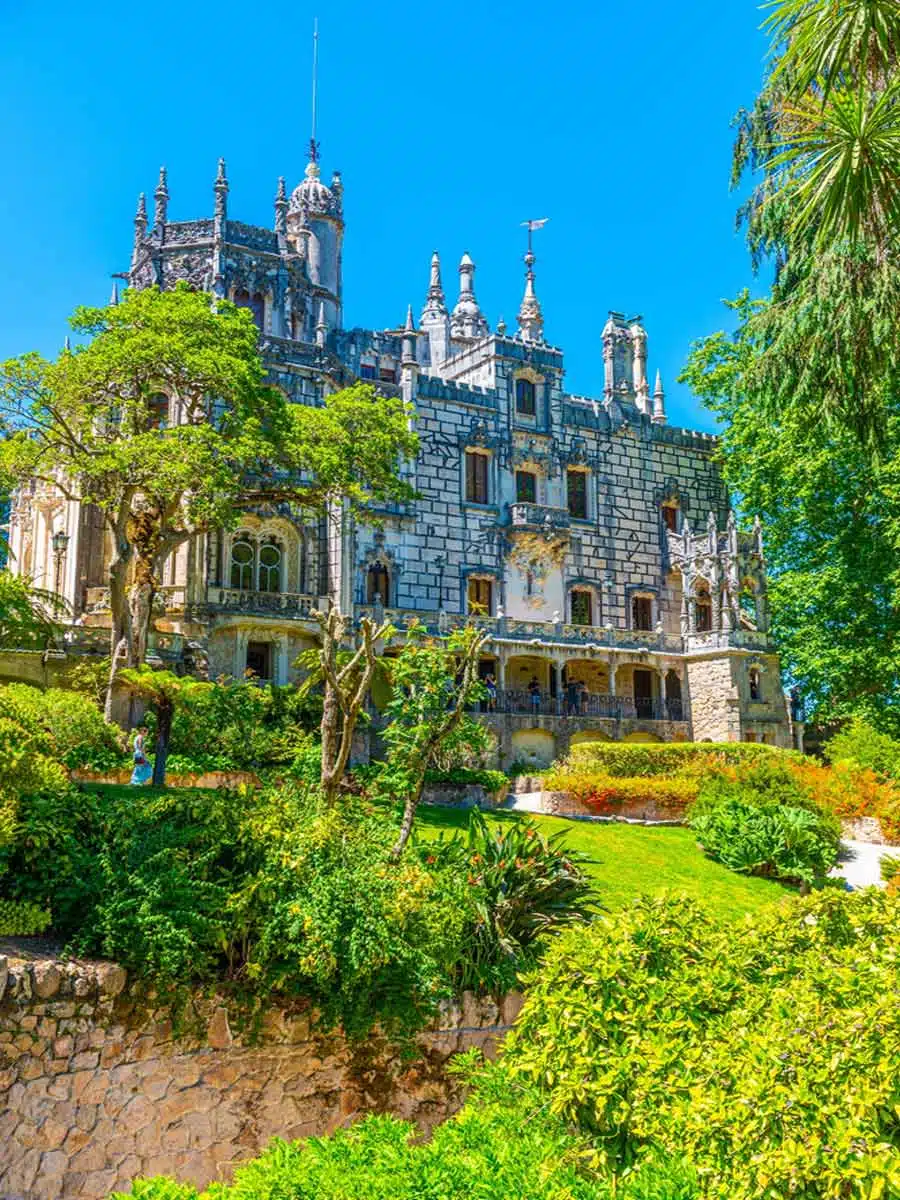 Choosing a favourite castle or Portugal landmark in Sintra is seriously difficult. The small town is bursting at the seams with incredible discoveries in numerous locations.
But if you ask me to pick just one location to visit in Sintra (though I'd seriously reconsider going to more), Quinta da Regaleira is it.
Why? Though not technically a castle but a Quinta (think of a very posh palace-style estate), the residence is immaculate from top to bottom.
However, it's the property grounds that are the star of the show here. I could (and did) spend hours touring the lakes, gardens, and grottos, but the Initiation Well is a particularly stunning and brilliant space to discover and explore.
Dom Luis I Bridge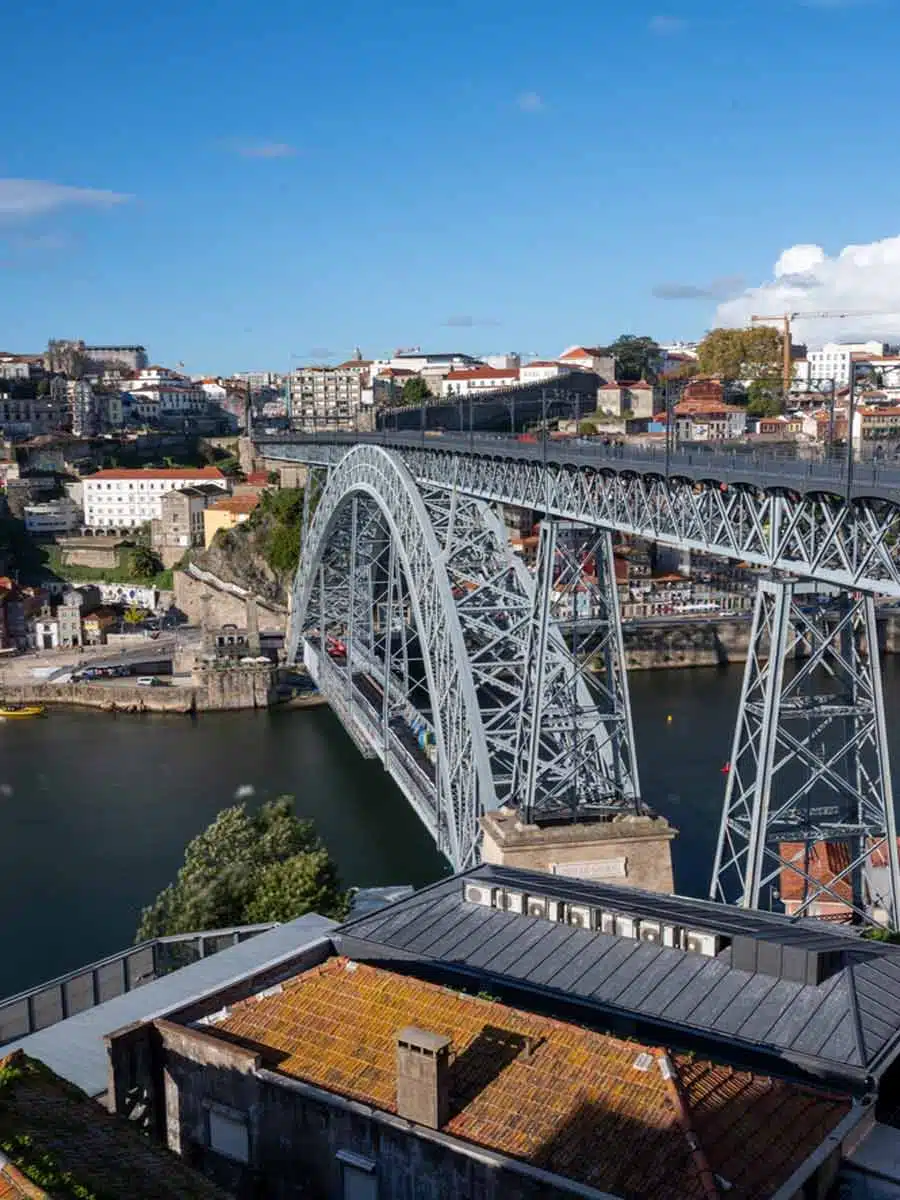 Porto is one of my favourite destinations in Portugal, and you shouldn't visit the city without the Dom Luis I Bridge as one of your first stops.
The double-deck bridge towers of the River Douro were an engineering feat when they began construction in 1880.
Not only is this a lovely piece of Portugal's history, but you can walk across it, an activity I would add to any Porto itinerary.
Palácio da Bolsa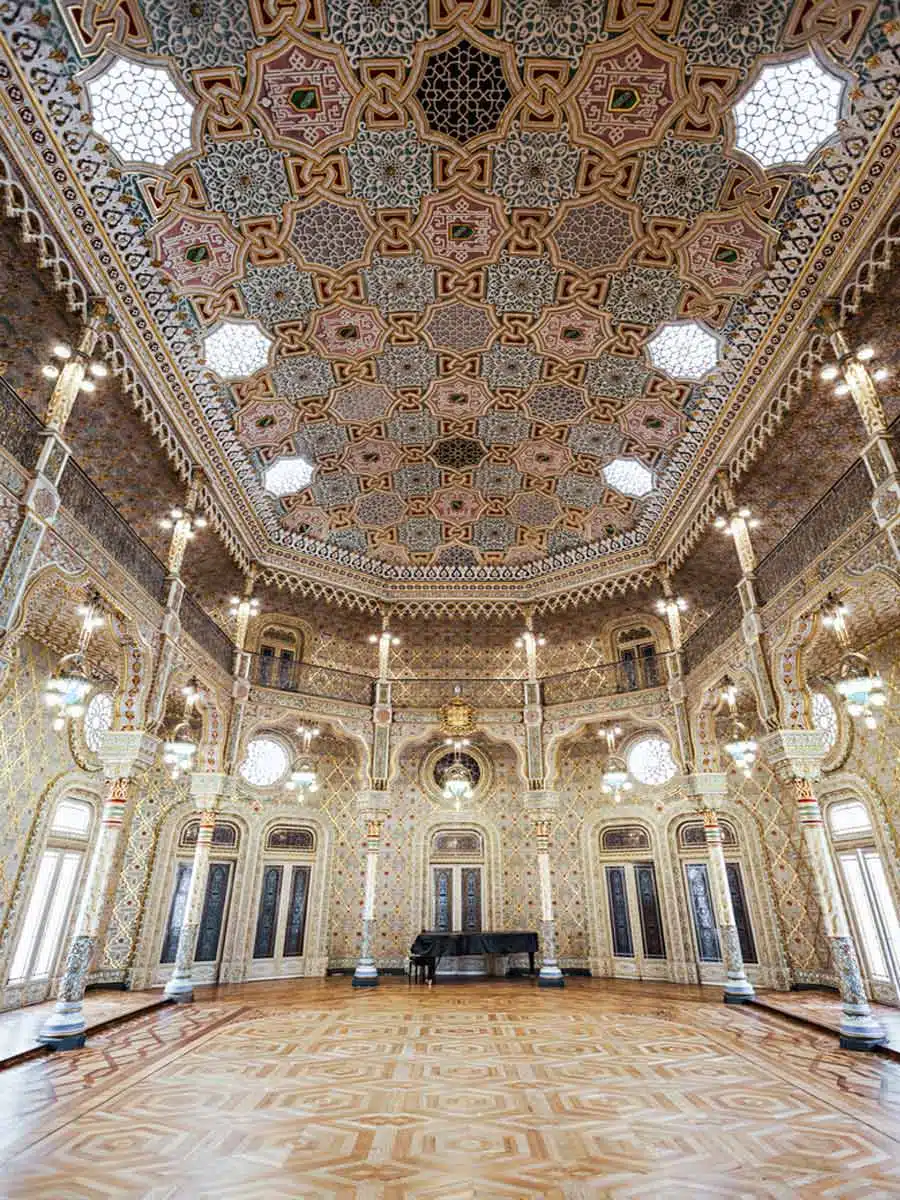 Palácio da Bolsa is a 19th-century palace and one of Porto's most recognized landmarks.
If I ever build a palace in Portugal, I think gold walls are the first thing I'd install. Gustavo Adolfo Gonçalves e Sousa thought of it first, and the results are tremendous.
The 18k gold walls, marble staircase, and Moorish-style decor are just a few opulent touches that make this one of the most incredible tours you can take on your trip to Portugal.
Casa da Música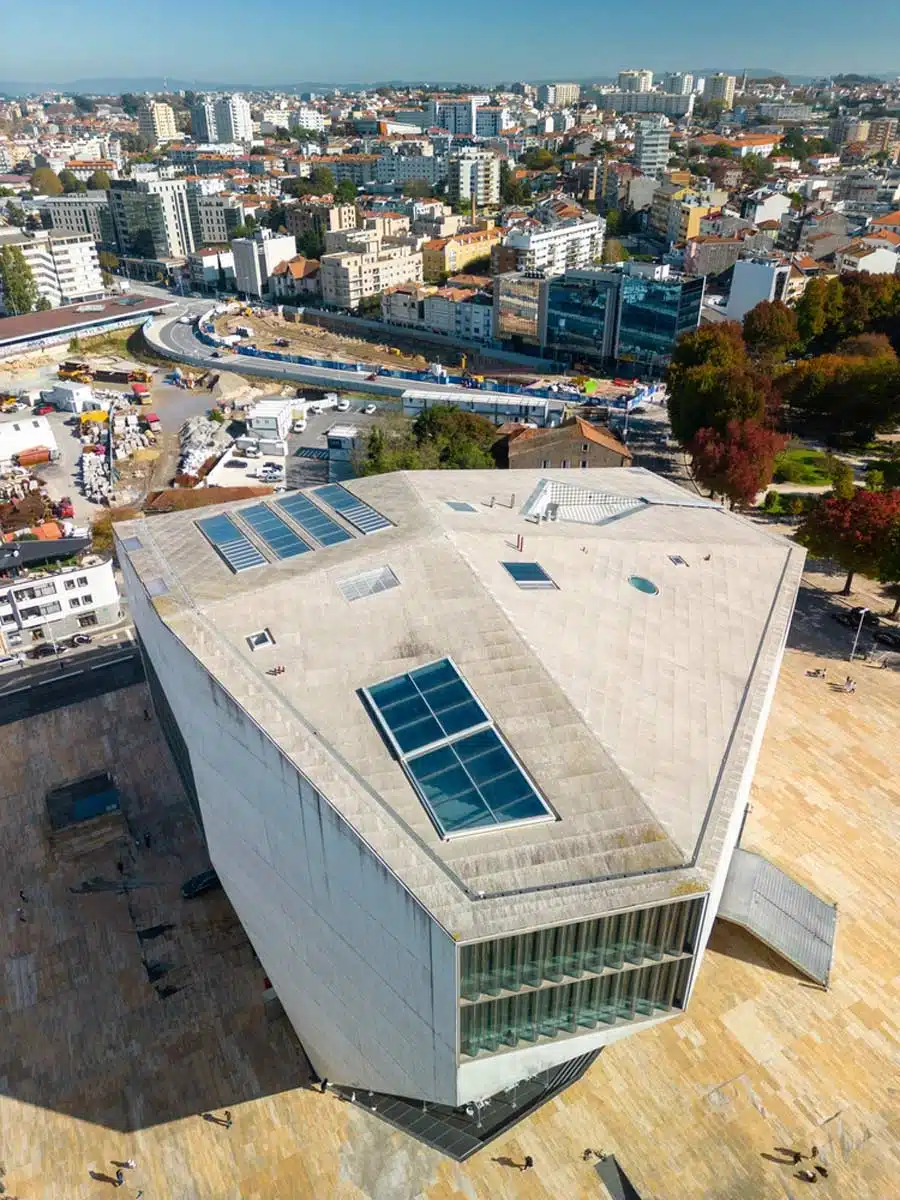 One of my favourite modern landmarks in Portugal is Casa da Música by Rem Koolhaas. The 1,300-seat music hall is where you can see Orquestra Sinfónica do Porto Casa da Música and other musicians throughout the year.
It's a beautiful landmark inside and out and a great place to check out while visiting Porto.
Óbidos Castle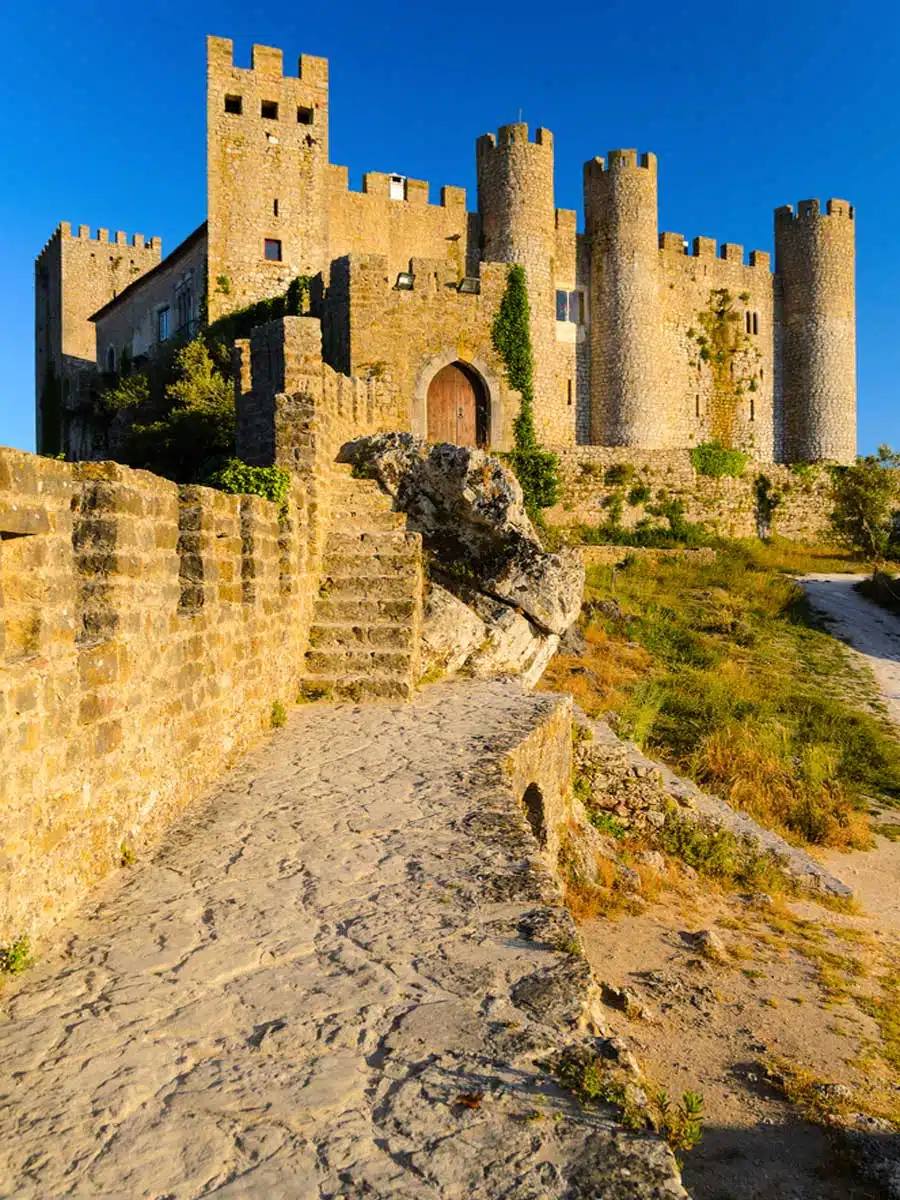 Not only is Óbidos Castle one of the most iconic landmarks in Portugal, but you can also actually spend the night here. And not only can you, but I think you absolutely should.
Pousada Castelo de Óbidos is a 4-star hotel in the iconic Óbidos Castle that has luxurious rooms and a wonderful restaurant and allows you to sleep in a mediaeval castle.
The castle grounds are gorgeous for an afternoon tour, and be sure to visit the nearby town of Óbidos, one of the most underrated locations in Portugal.
Convento de Cristo Tomar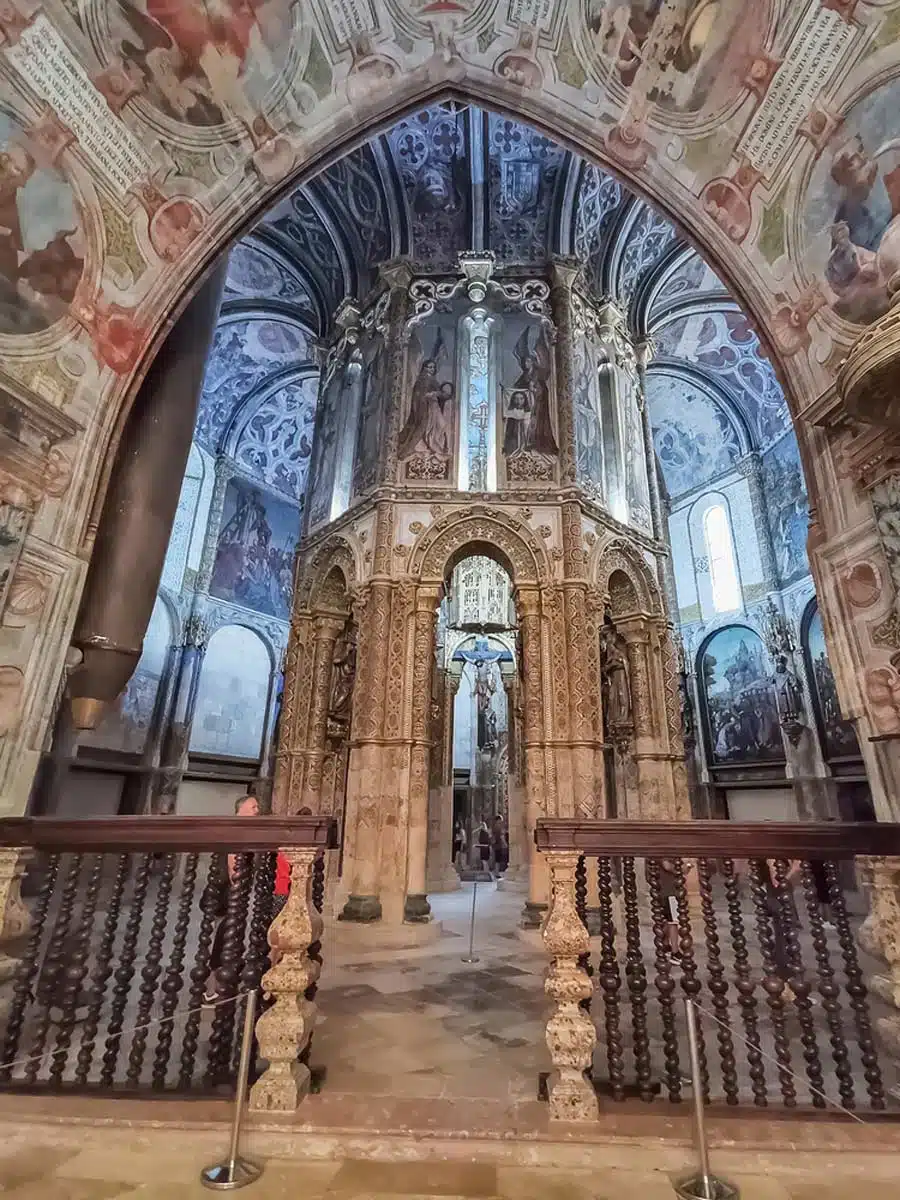 Tomar, Portugal, is most famous for the Order of the Knights Templar, a sacred site that was also an important location for defending Portugal, dating back to the 12th Century.
The incredible history within the walls makes this a must-visit destination in Portugal for anyone from history buffs to casual explorers. I may fit somewhere in between, but trust me; you need to go.
Palácio Nacional de Mafra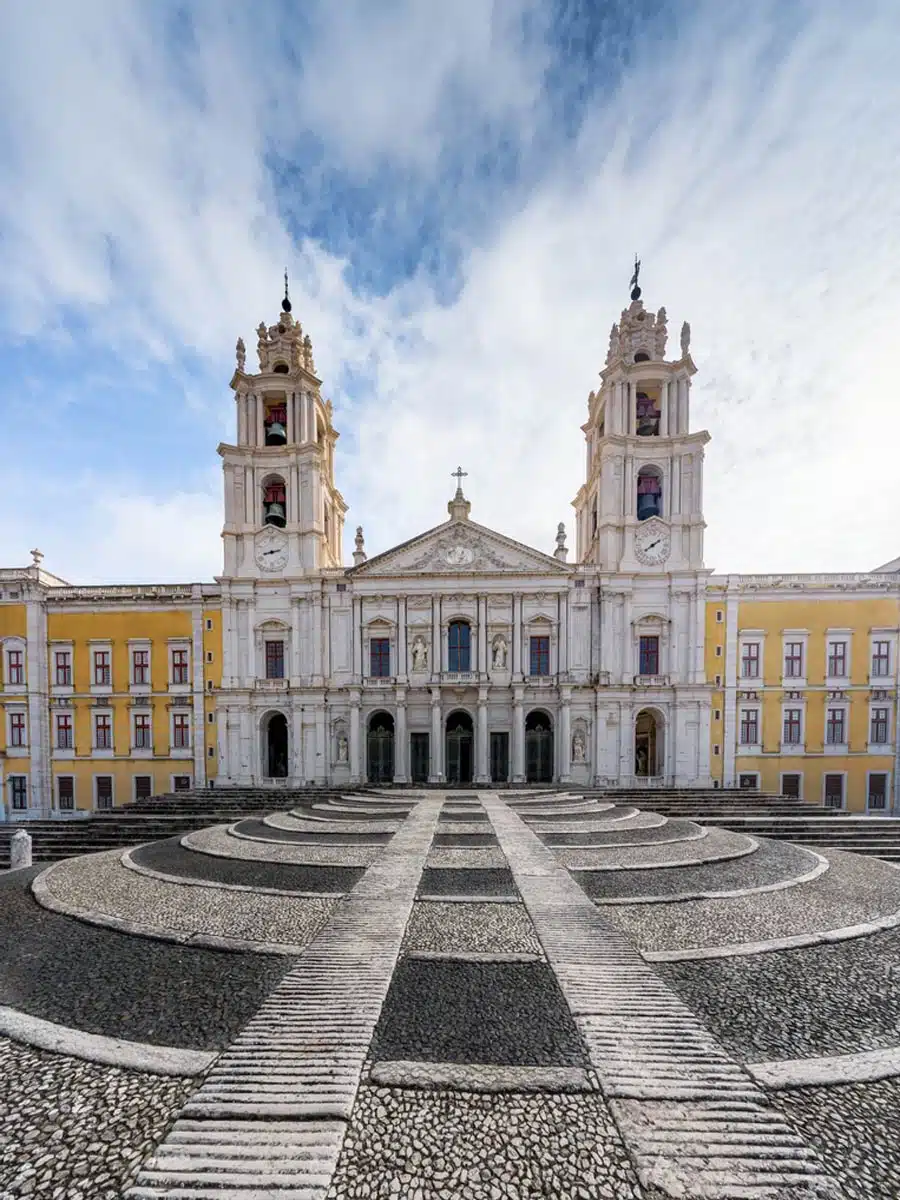 If you're looking to take a day trip from Lisbon, schedule a trip to Palácio Nacional de Mafra and thank me later.
The building is as massive as it is beautiful. Think 40,000 square metres with over 1,000 rooms and 156 staircases to paint a little picture of what you'll be in for.
The main event? The magnificent library contains over 40,000 books, including literary artefacts that rank among the rarest and unique anywhere in the country.
Want to make a day of it? Reserve a tour like this great option, where you'll see the amazing Baroque and Neoclassical palaces alongside several other destinations on a half-day trip.
Mosteiro de Batalha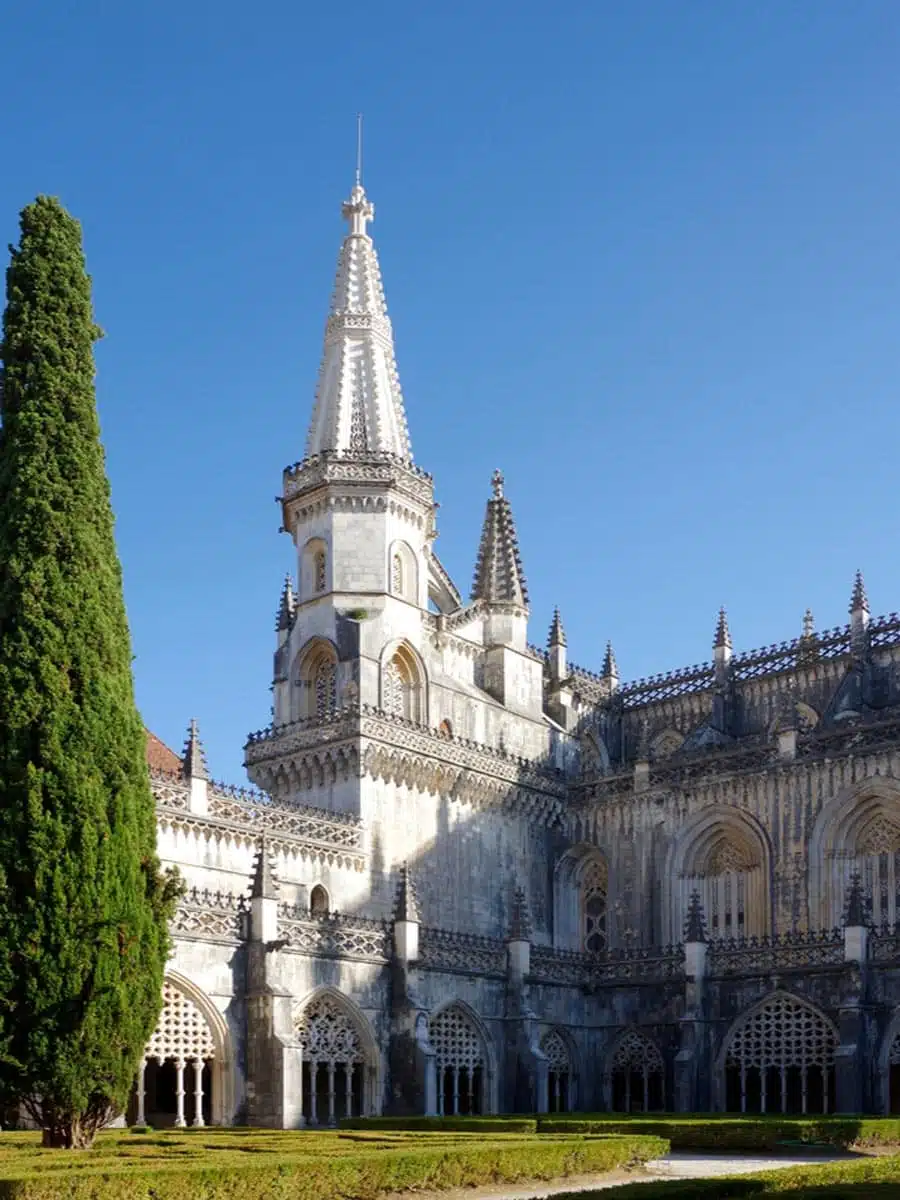 When you're making a list of Portugal's famous landmarks you can't miss, add Mosteiro de Batalha to your travel plans.
The Gothic-style architecture is imposing and truly a dramatic piece of history anyone should visit when in Batalha. It took over a century just to build, and the ornate details inside and out are absolutely breathtaking to capture IRL.
You came all this way to the small town in the middle of Portugal, so be sure to see every incredible piece of this ancient classic.
Benagil Sea Cave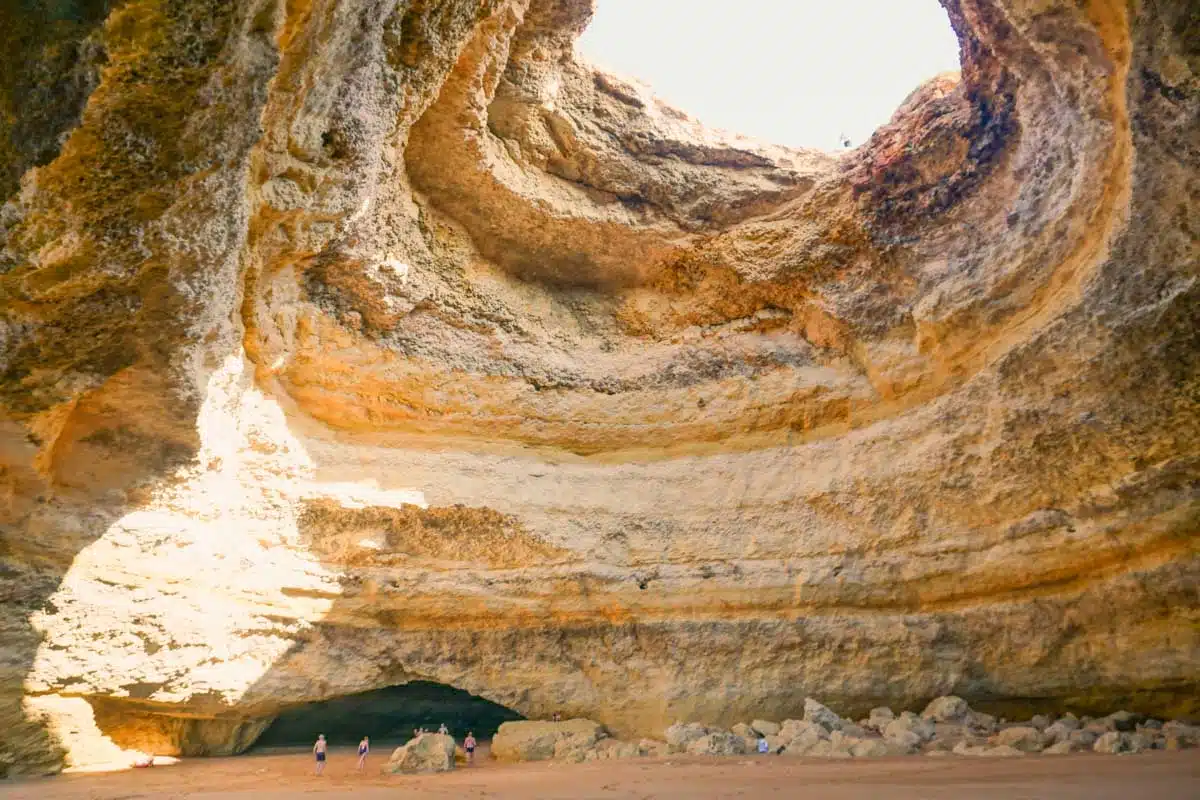 Taking a tour of the Benagil Sea Cave doesn't just sound like one of the best things to do in Portugal, it truly is.
The Algarve may have been under-the-radar for a while, but those days are over, and there's no wonder why.
Portugal landmarks like the Benagil Sea Cave and its mesmerising natural skylight above are truly phenomenal. You can reach the cave by kayaking or swimming, so pack your best beachwear for this unbelievable destination in the Algarve.
Templo Romano Évora
The historic centre of Évora is a destination of its own, but the Templo Romano Évora is, for many, the reason to visit this lovely part of Portugal.
Alentejo is full of beautiful landmarks, hiking trails, and secret travel spots. While this may be one of the more talked about destinations in the area, there's a great reason why.
The 2,000+-year-old temple still stands strong, making it a must-see attraction for budding historians and travellers worldwide. The most celebrated site amongst many in Portugal's Museum city, I recommend putting it at the top of your list of historical Portugal landmarks to visit.
Castle Bragança
If it's a brilliant day trip from Porto you're after, Guimarães is a must-visit location, and Castle Bragança is a big reason why.
The mediaeval castle sits in the heart of the historical part of Guimarães, and it's a piece of Portugal's past you'll want to visit.
Why? If for no other reason than that castles from the 13th Century make for some really cool photos.
Bom Jesus do Monte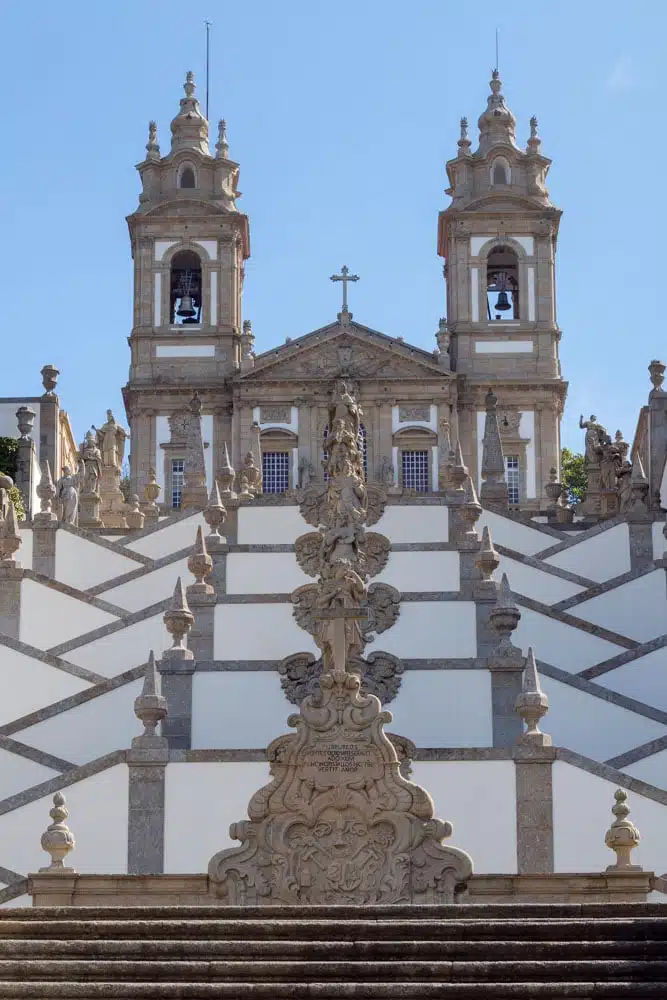 Visiting a church on your Portugal holiday is not uncommon, as the country has many incredible sacred sites throughout.
But Bom Jesus do Monte is most famous for the Stairway of the Five Senses, a true masterpiece featuring nearly 600 stairs alongside fountains, walls, and statues, making it one of the most underrated landmarks in Portugal.
Trust me when I say you need to add this to your travel plans.
The Fort of São João Baptista das Berlengas
You will need to reach this Portugal landmark by boat, but trust me when I tell you it's a sight you'll always remember.
The Fort of São João Baptista das Berlengas is a magnificent fortress perched high up on the rocky cliffs and looks like something straight out of GoT. Enjoy the views and stay the night if you want an affordable and unique retreat.
Cemitério das Âncoras
Visiting a cemetery may or may not be on your list of must-do activities, but this is a different kind of cemetery. It's also one you can't miss when you visit one of the best beaches in the Algarve.
Dozens of rusty anchors pay homage to the historic fishing tradition in one of the most beautiful and unique areas in all of Portugal. Go here and capture the unusual site on camera.
Monte Palace Madeira
The Portuguese Island of Madeira is one of my favourite locations in the world, perhaps most known for the incredible hiking – and football legend Cristiano Ronaldo.
But one Portugal landmark you need to add to your holiday is Monte Palace Madeira. The expansive grounds are home to a stunning botanical garden that ranks up with any I've seen.
Go here in the wintertime, and you'll see the incredible orchid blooms at this famous Portugal landmark.
Peneda-Gerês National Park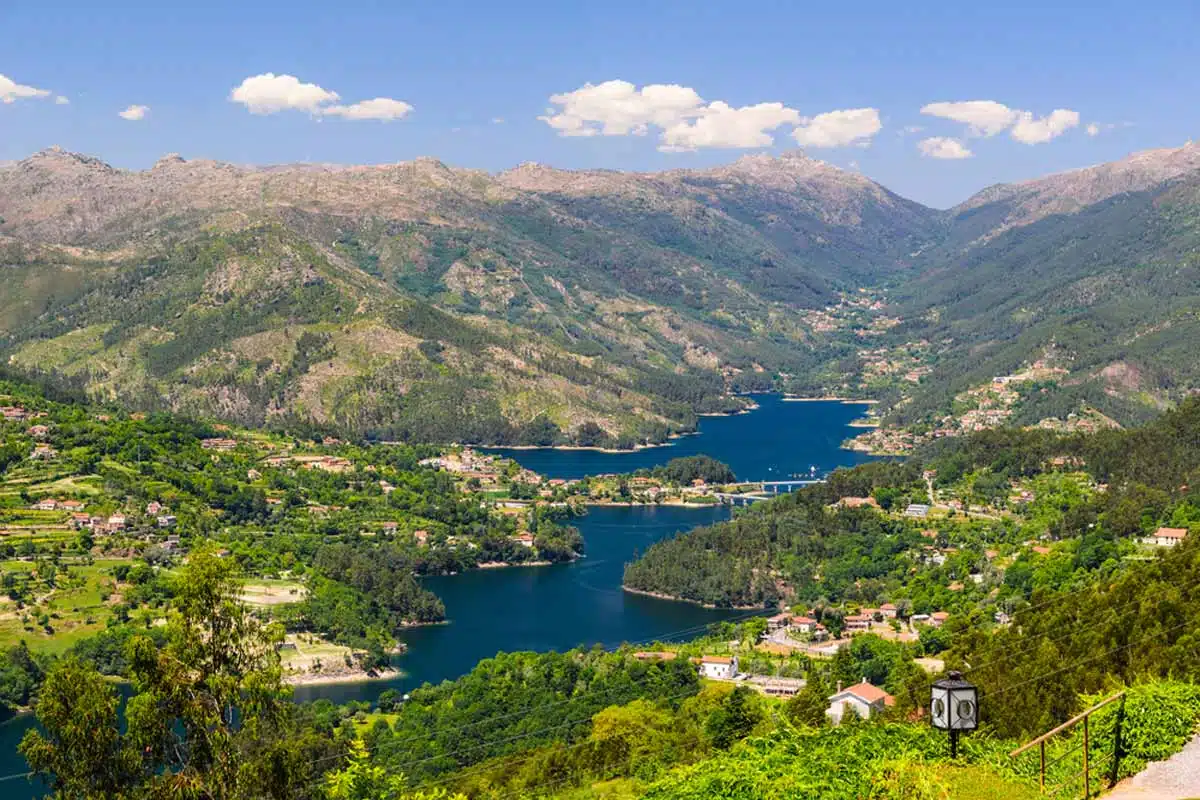 What's a list of Portugal's best landmarks without a destination where you can hike and celebrate the natural beauty of the amazing countryside? You got me. So, I feel the need to add one of my favourite natural landmarks to this list, Peneda-Gerês National Park.
Head over to Santuário de Nossa Senhora da Peneda after you take in the gorgeous landscape and wildlife. You'll witness one of the most striking examples of nature and architecture complementing each other at this historic Portugal landmark.
Practical Tips for Visiting Portugal Landmarks
Portugal Landmarks: Map
Love This? Save and Share on Pinterest!