Are you planning to spend 3 days in Porto? This in-depth Porto itinerary will help you explore the best attractions this beautiful coastal city has to offer.
Nestled along the Iberian Peninsula, Porto is best known for its port wine, statuesque bridges, windy cobblestone streets, and golden beaches.
While historically, the coastal city has been less famous than its close neighbour Lisbon, it's burst onto the tourism scene in the past decade – no doubt thanks to its stunning vistas and charming cobbled streets that are brimming with cool activities.
In this guide, I'm going to unpack the highlights of Porto in 3 days – from the vibrant Ribeira District with its colourful row houses to stunning mediaeval cathedrals, trendy cafes, and bookshops.
I'll also give you valuable tips for your trip, like where to stay in Porto, how to get around, and what to pack.
So without further ado, let's dive into the perfect 3 days in Porto itinerary.
Handy Tips for Planning Your Porto Itinerary
Group Tours or Seeing Things Independently?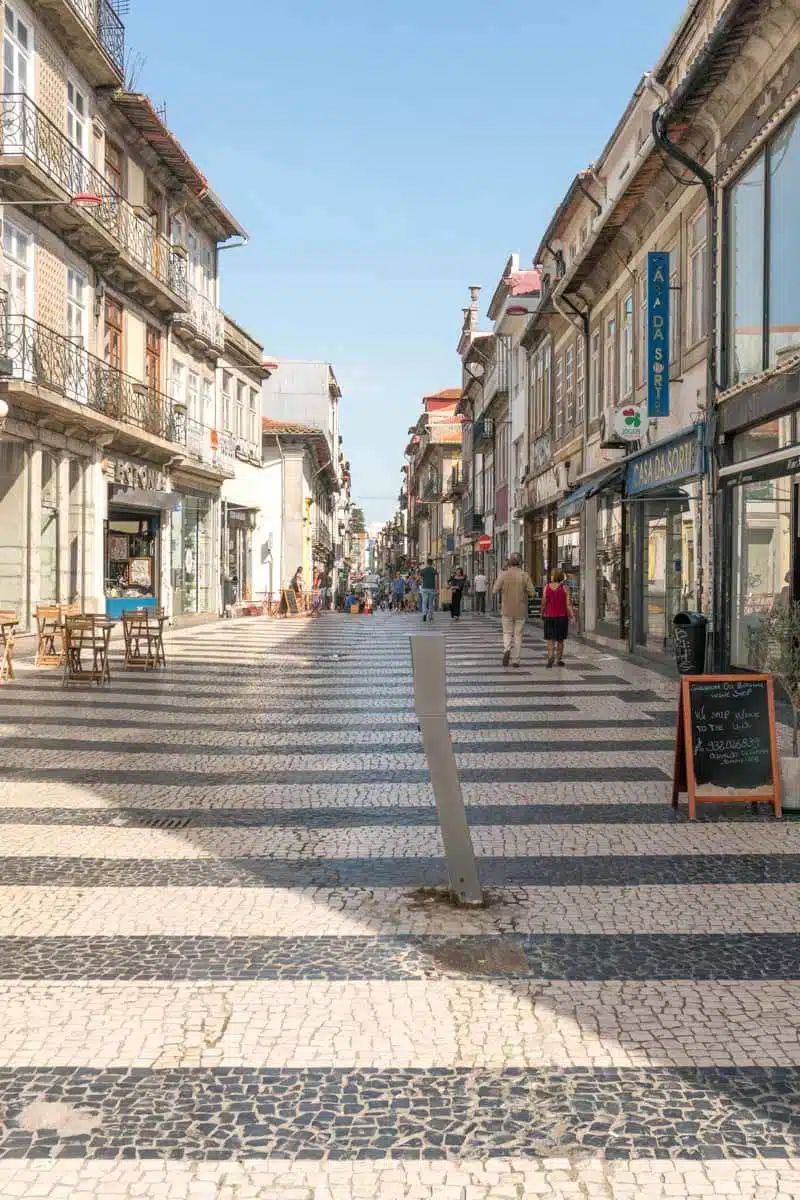 Exploring Porto through group tours is the less stressful of the two.
You won't have to worry about planning an in-depth itinerary or navigating along the narrow and windy streets solo. On the other hand, seeing things independently gives you leeway to alter your itinerary as you see fit.
What to Pack for Your Porto Long Weekend Itinerary
Packing for Porto is a breeze. The items you should bring mainly depend on the weather and your itinerary. Characterised by a Mediterranean climate, Porto has cool winters and balmy summers.
Here are some ideas of what you should add to your Porto packing list:
Where to Stay for Your 3 Days in Porto
Hotel Pão de Açúcar (Budget)
Located in the centre of Porto, Hotel Pão de Açúcar gives you stunning views of the historic City Hall building. Inside you'll find quirky art déco-style interiors complete with vintage furnishings.
Tuck into breakfast on the outdoor terrace overlooking the city hall, but if you want something different, there are many restaurants within a few minutes walk.
Check rates and availability at Hotel Pão de Açúcar
Hotel Carris Porto Ribeira (Mid-range)
Overlooking the Douro River in Porto's gorgeous Ribeira District, Hotel Carris is a refurbished, historic building offering modern décor interiors, wooden floors, and a splash of dark and light colours.
In the morning, dig into a rich buffet-style breakfast followed by á la carte meals available in the evenings.
Check rates and availability at Hotel Carris Porto Ribeira
Torel Avantgarde (Luxury)
Located just 10 minutes from the Clérigos Church, Torel Avantgarde sits in the centre of Porto.
The lavish 5-star boutique hotel boasts an eclectic interior with colourful paintings on the wall and trendy furniture. Go for a massage at the spa or take a quick dip in the infinity pool that overlooks the city.
Check rates and availability at Torel Avantgarde
Useful Resources for Your Porto Itinerary
Booking.com: Book the best hotels, apartments, and guesthouses in Porto by comparing prices, reviews, and amenities.
Hotels.com: This is a Booking.com alternative with plenty of hotels in Porto.
Eurostar: If you have more stops on your Portugal itinerary, travelling by rail is the fastest and easiest way.
Tripadvisor: Plan the ultimate Porto itinerary using user-generated reviews and comparisons.
Get Your Guide: Find the best and most-rated tour guides and excursions in Porto.
Getting Around Porto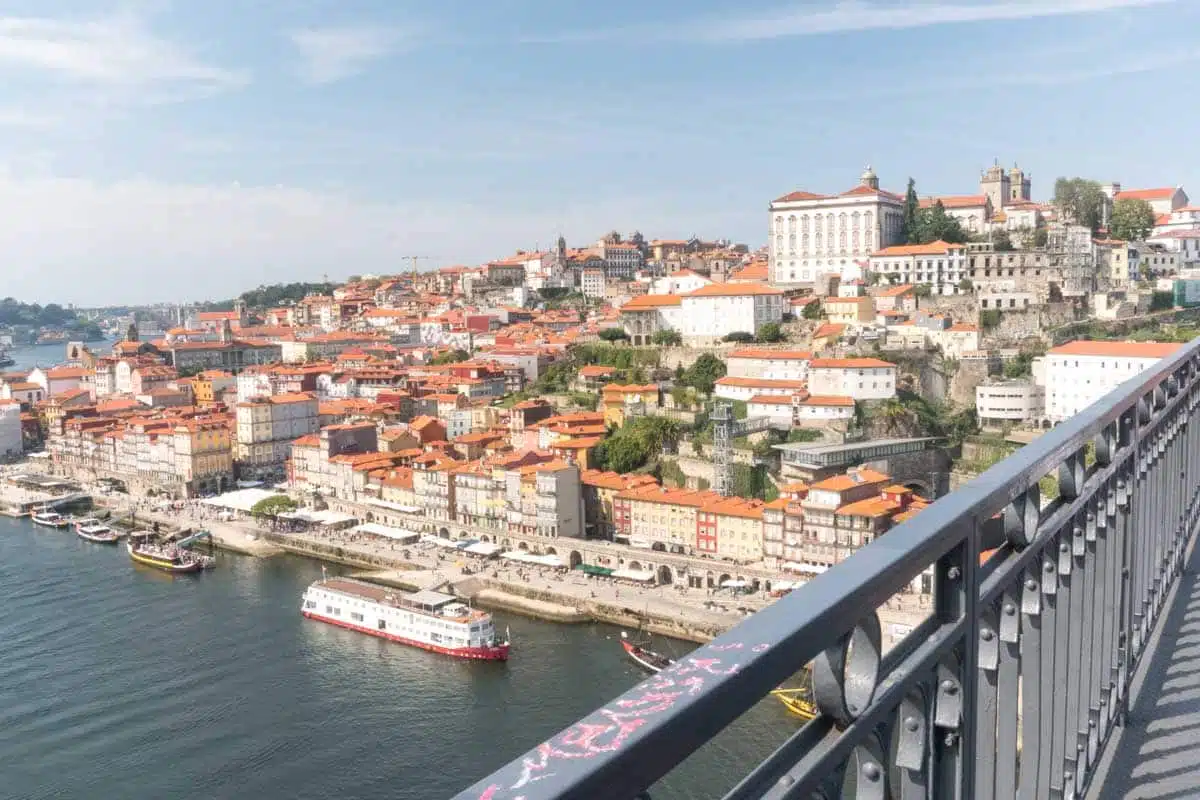 Getting around Porto is relatively easy. Many of the narrow, winding streets are not fit for cars and taxis, so if you choose to drive around town, you'll find yourself stuck in heavy traffic. The best way to get around Porto is by foot or public transportation, like trains and trams.
Get yourself a Porto Card which gives you unlimited access to the city's buses and metro stations. You'll also get discounts on excursions, sightseeing, and entrance fees.
3 Days in Porto Itinerary
Porto Itinerary Day One: Centro-Baixa
We're going to kick things off by exploring the city's buzzing downtown district of Centro-Baixa on the first day of your 3 days in Porto itinerary.
The neighbourhood is famous for its cool and trendy vibe, with its streets lined with cosy cafes, bars, and restaurants that come to life when the sun sets.
Take a Guided Walking Tour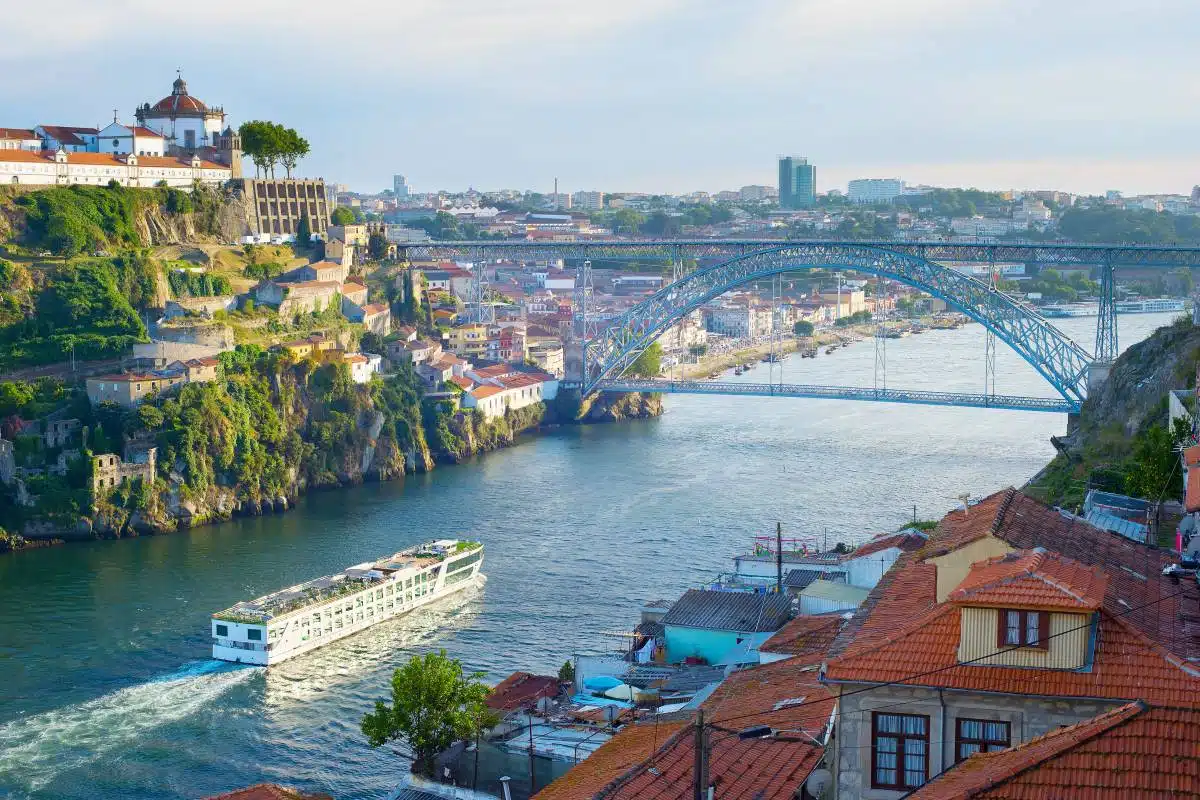 Start the first day of your itinerary with a guided walking tour around Porto to see some of the city highlights and get a deeper understanding of the town's history.
Spot Porto's landmarks and historical buildings along streets like Aliados Avenue, visit art galleries and watch wooden Rabelo boats transport people across the Douro River.
A historic centre walking tour will take you through mazes of narrow streets lined with mediaeval bookshops and blue-tiled buildings, like the São Bento Station.
Book a Porto Guided Walking Tour Here
Visit Porto Cathedral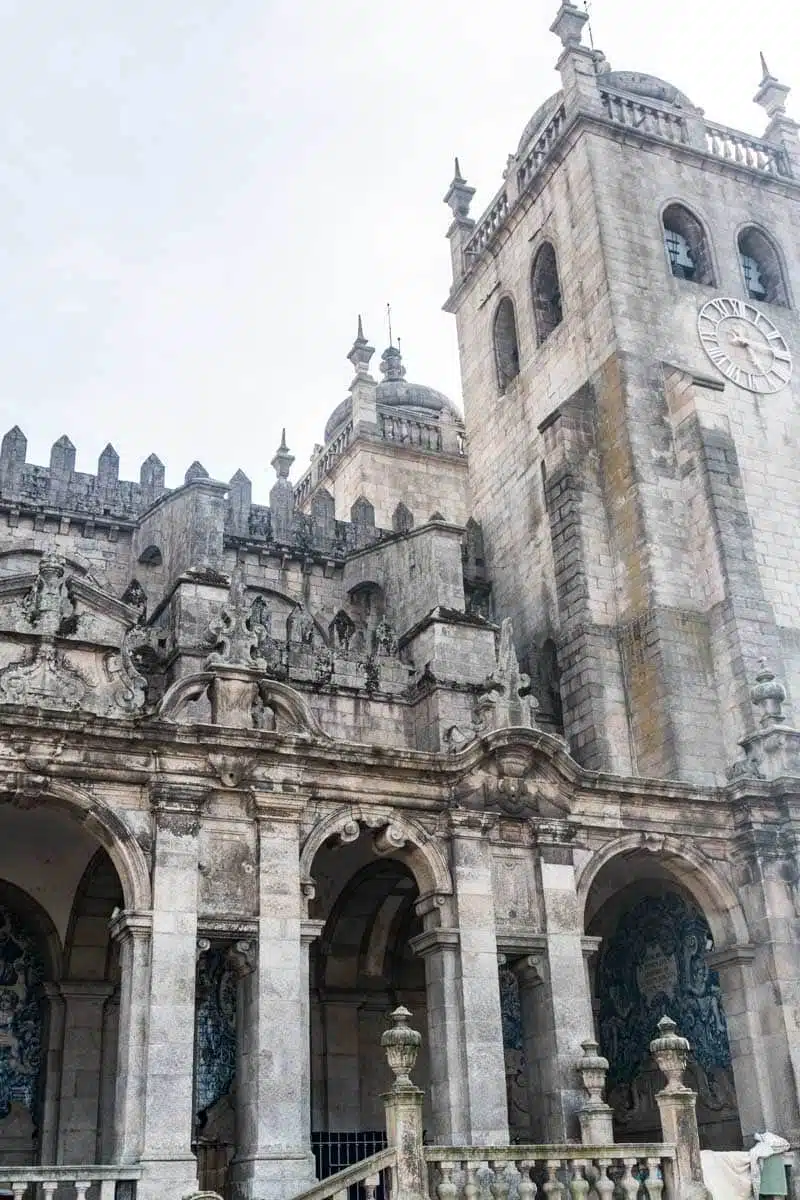 Porto Cathedral is one of the city's oldest and most famous attractions.
The iconic 12th-century Roman Catholic church sits atop a hilltop giving you stunning views of Porto's colourful houses and the Douro River.
The complex boasts a mixture of Baroque, Romanesque, and Gothic architectural styles that make the church unique. Entrance to the cathedral is free, but you'll need to pay a small fee to explore the monastery and courtyard.
Climb Up Clérgios Tower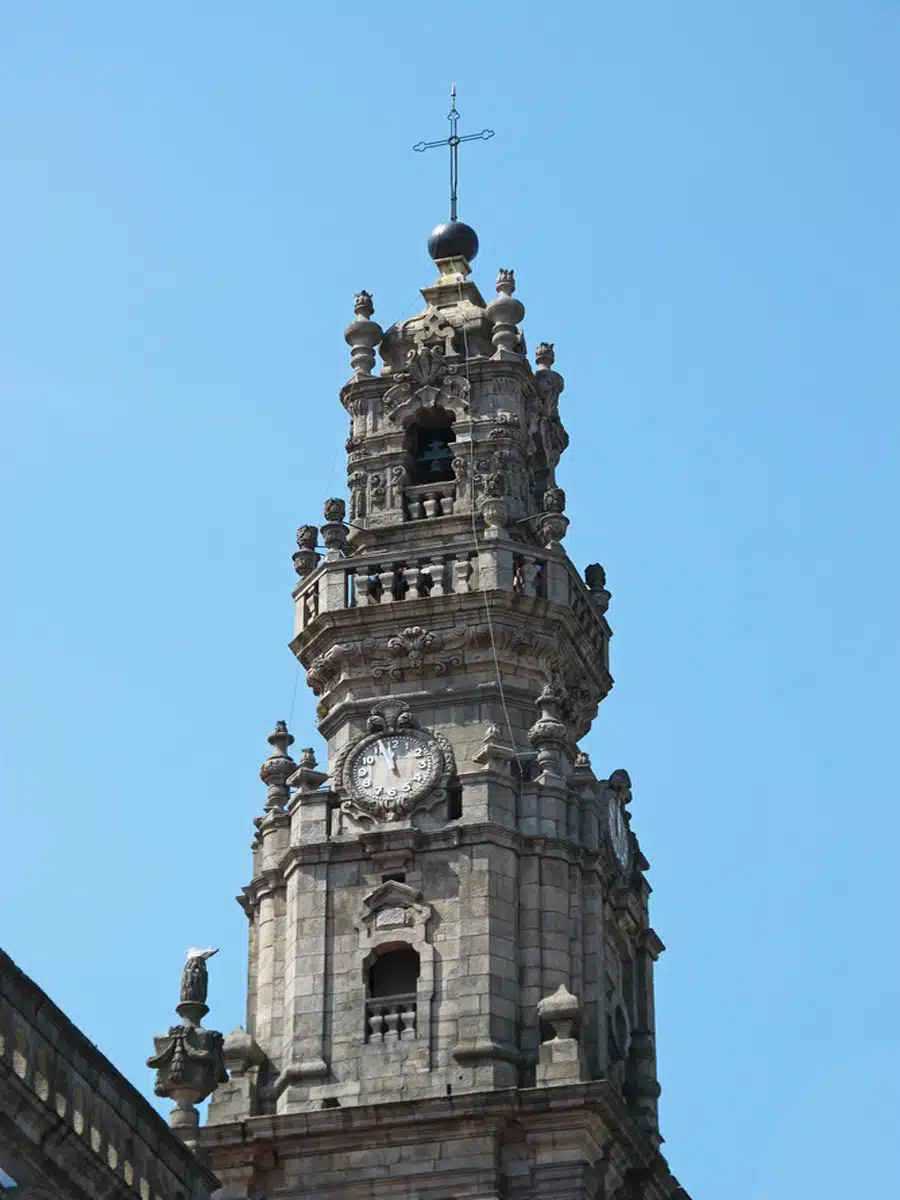 One of the most noticeable landmarks in Porto, Clérgios Church, sits on high ground, giving you panoramic city views. Keep an eye out for its 75-metre-tall bell tower as you walk around the city.
Explore the Livraria Lello Bookshop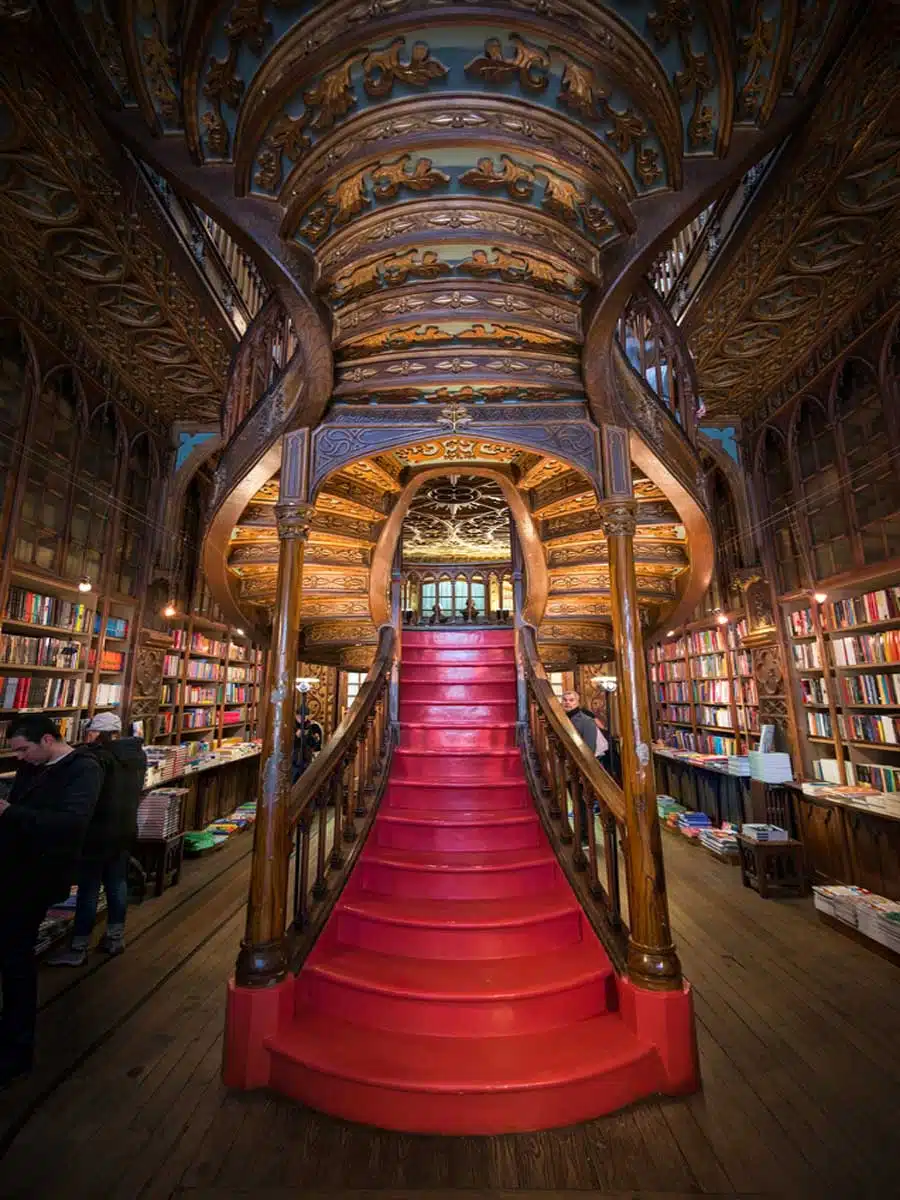 Livraria Lello is one of the most beautiful bookstores in the world.
This aesthetically unique bookstore is famous for supposedly being the inspiration for J. K. Rowling's Harry Potter series, but the writer has since debunked these claims.
The downside of visiting Livraria Lello is the long lines of tourists, all wanting to see the majesty inside this quaint bookshop.
Explore Porto's Highlights by Bus and River
Another fantastic way to see Porto is via a scenic hop-on hop-off bus and river cruise. You can hop on and off in popular areas like Santa Catarina, Porto's main shopping street, which boasts international boutiques, coffee shops and Bolhão Market.
You should also stop by Batalha Square, a popular attraction often packed with tourists thanks to its historical significance and abundance of cafes, souvenir shops, and hotels.
Before hopping onto your river cruise, take a guided tour of Calém Wine Cellars, where you can sample various white, dry and ruby ports.
Book a Hop-On Hop-Off Bus, River Cruise, & Port Cellar Tour Here
Porto Itinerary Day Two: Ribeira & Vila Nova De Gaia
If you search "what to do in Porto for 3 days", the Ribeira district will surely pop up, and for a good reason.
Day two of your itinerary takes you through the hip riverside neighbourhood and its port-producing counterpart Vila Nova De Gaia.
Visit Palácio da Bolsa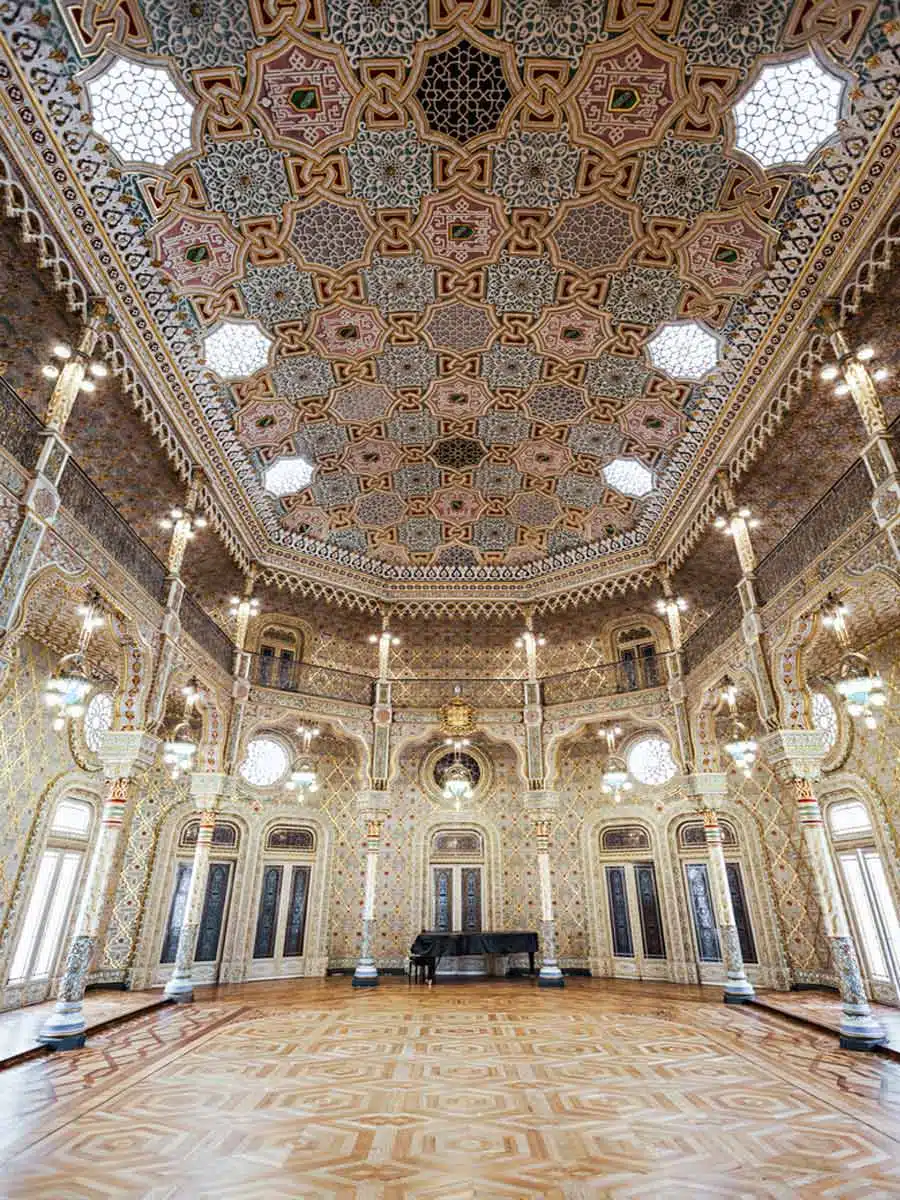 Palácio da Bolsa is one of Porto's most popular landmarks. This neoclassical monument, built between 1842 and 1910, honours Porto's former and current money merchants.
The historic building boasts a majestic facade and an even better interior, with stucco walls and Moorish designs gilded with about 18kg of gold.
A Palácio da Bolsa guided tour takes through the history of the former Porto Stock Exchange and how master artisans worked to build this architectural jewel over three generations.
Book a Palácio da Bolsa Guided Tour Here
Marvel at the Monument Church Of St Francis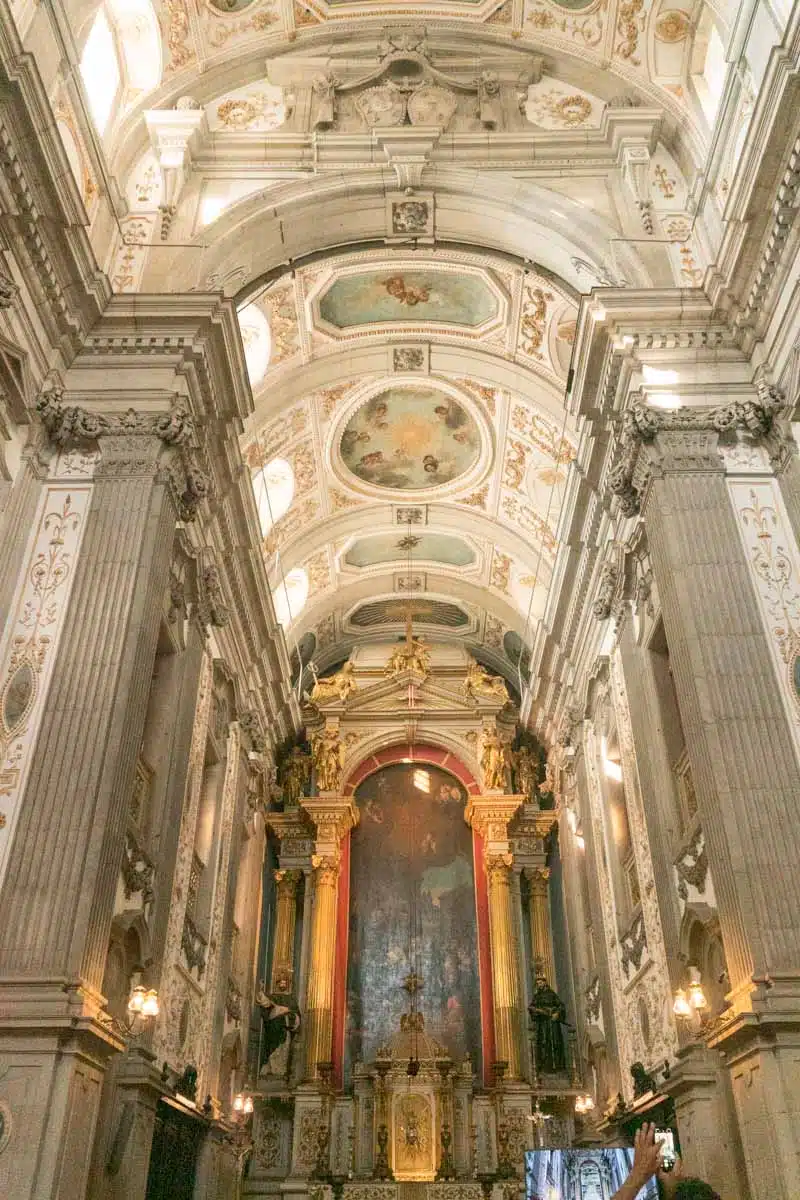 The Monument Church Of St Francis is one of Porto's not-so-hidden gems. This 13th-century church is a fine example of Gothic architecture in Porto. It boasts a stunning regal interior with intricate wall carvings and baroque altarpieces covered in gold leaves.
If you're an art lover, you'll appreciate the catacombs, gothic-style interiors, and exhibitions of artefacts dotted across the church.
Take the Barredo Stairs
The Barredo neighbourhood is home to a large concentration of colourful, mediaeval Porto houses dotted along a maze of narrow streets. Stroll down the Barredo stairs for great views of the river and a sea of terracotta roofs.
The area retains an old village flavour, giving you a glimpse of everyday life in Barredo, complete with aromas of Portuguese cuisine, locals conversing, and clothes hanging outside.
Grab a Bite Along Cais da Ribeira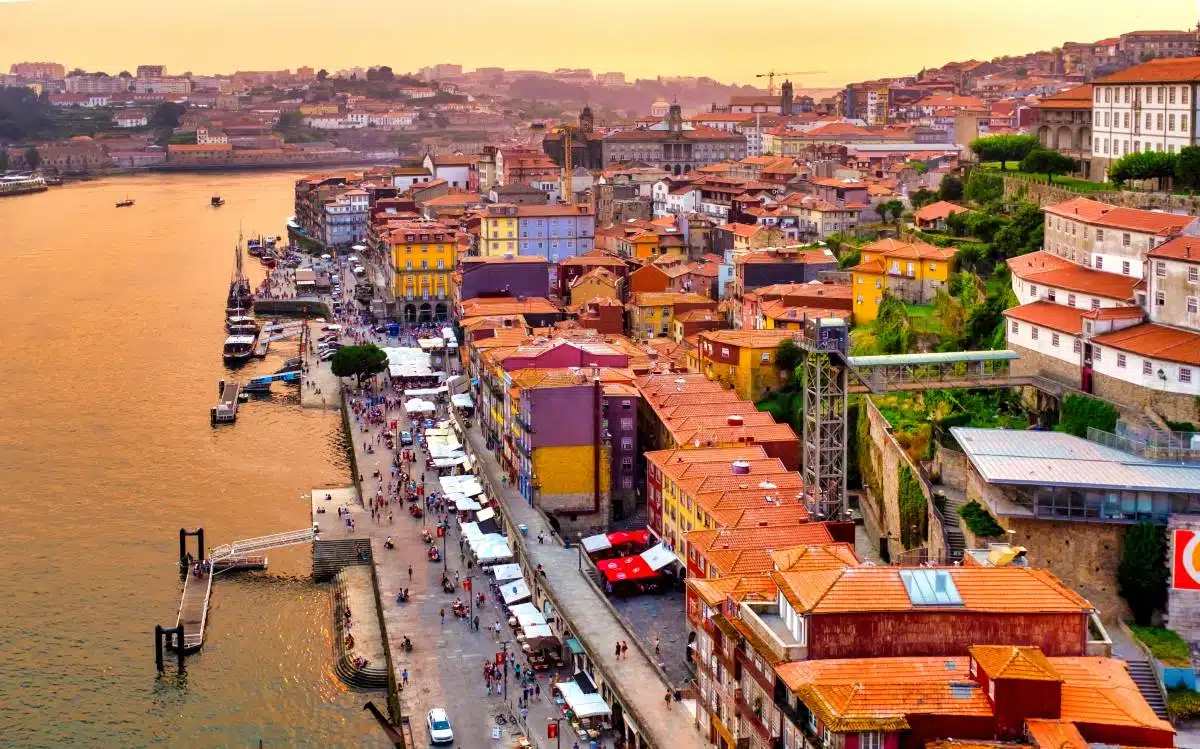 Cais da Ribeira is a romantic part of Porto. The riverside promenade boasts gorgeous sunsets and plenty of cafés, bars, and restaurants that help bring up the nightlife in the area.
Considered one of the liveliest parts of town, Cais da Ribeira is also the most picturesque, with narrow mediaeval streets and alleyways lined with colourful old houses. This area is an excellent place for you to walk, dine, sightsee, and people-watch, but – be warned – it will be overrun by tourists.
To avoid crowds, I recommend visiting in the early morning or late evening for a more peaceful experience.
Walk Across the Dom Luís I Bridge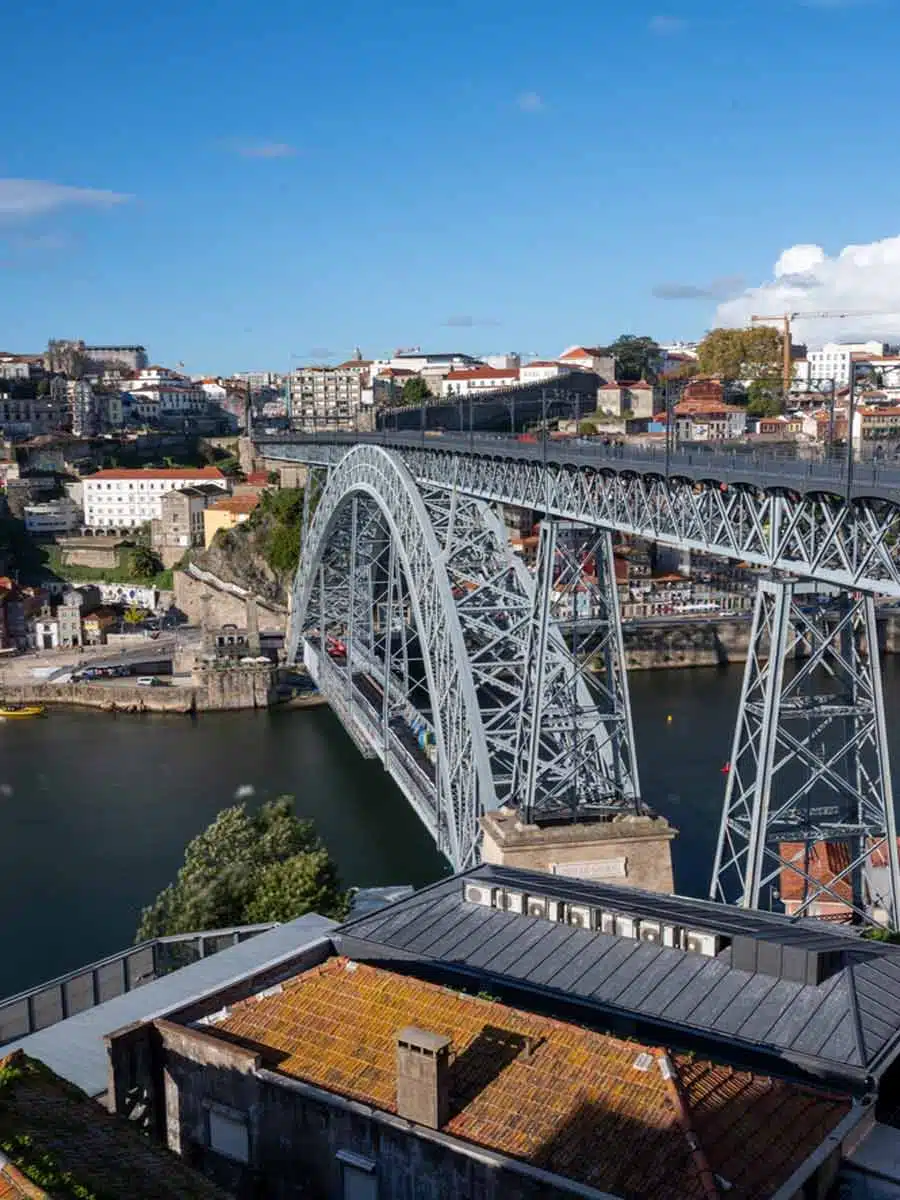 This double-deck metal arch bridge spans over the Douro River, connecting Ribeira to neighbouring Vila Nova De Gaia.
Walking across the bridge is a popular activity with two stunning viewpoints Miradouro Ponte D Luis Porto and Cais da Ribeira de Gaia, on each side of the bridge.
Dom Luís I is one of six bridges that connect Porto to Vila Nova De Gaia. You can explore these by taking a six-bridges cruise along the River Douro.
Book a Six-Bridges Cruise Here
Watch the Sunset at Jardim Do Morro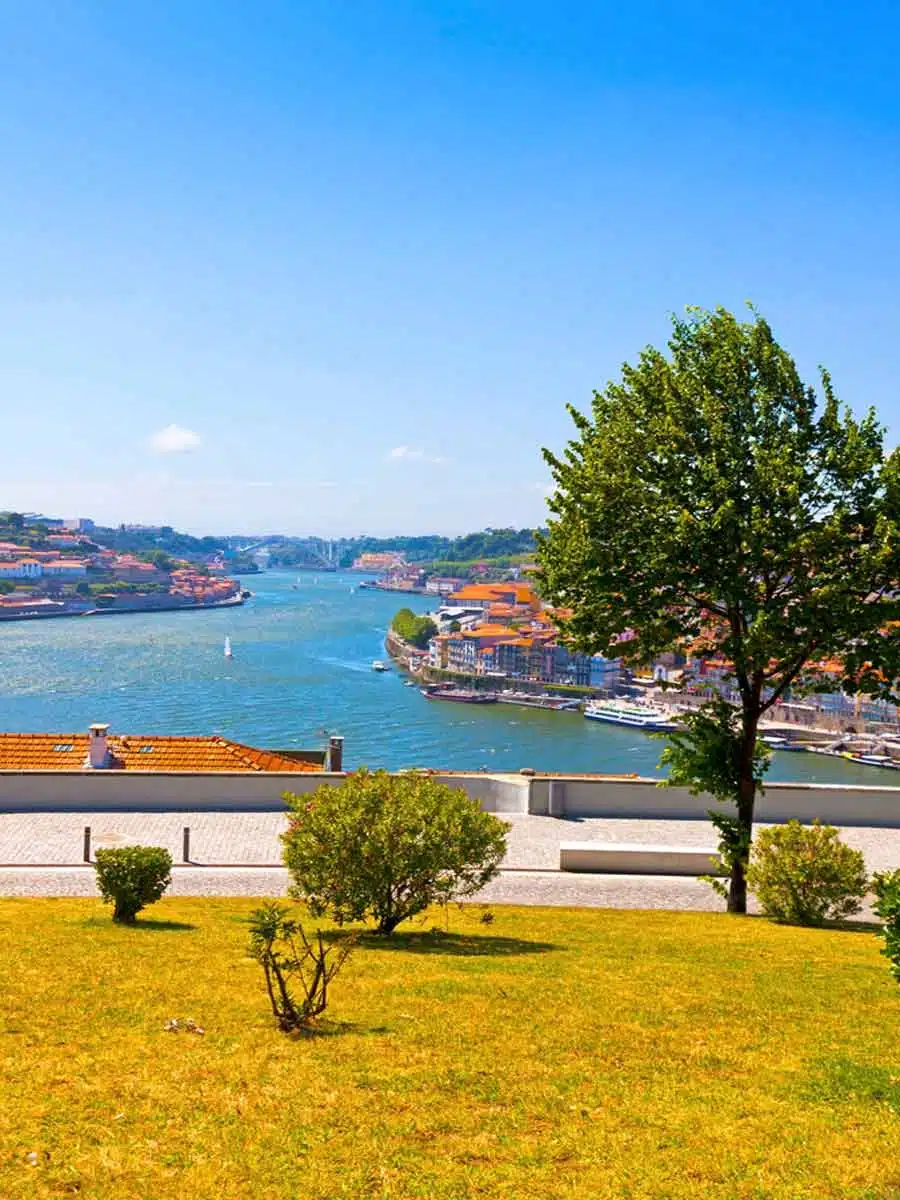 Perched atop the highest point of a hill in Vila Nova de Gaia, Jardim Do Morro is a gorgeous garden that's all about the view. This viewpoint is reachable via cable car or crossing the Dom Luís I Bridge.
The Jardim Do Morro viewpoint comes to life at sunset. This lush-filled garden gives you epic views of Porto and the Douro River. At sunset, the sky boasts kaleidoscopic red, orange and blue hues—a sight that many visiting Porto flock to see.
Top Tip: This is a popular sunset viewpoint in Porto; make sure you get here before sunset to find a spot. You can check sunset times in Porto here.
Go Port Tasting
Port wine is a classic Portuguese delicacy. The production of this fortified wine happens in the Douro Valley, north of Porto. The sweet red wine pairs well with desserts but is available in rosé, dry red, semi-dry red, and white varieties.
Porto has an expansive network of wine cellars and tasting rooms. You can learn all about the history and production process of port via a guided walking and wine-tasting tour.
Book a Walking and Wine Tasting Tour Here
Porto Itinerary Day Three: Hidden Gems
Explore these hidden gems on day three of your Porto long weekend trip.
Admire Street Art Along Rua De Miguel Bombarda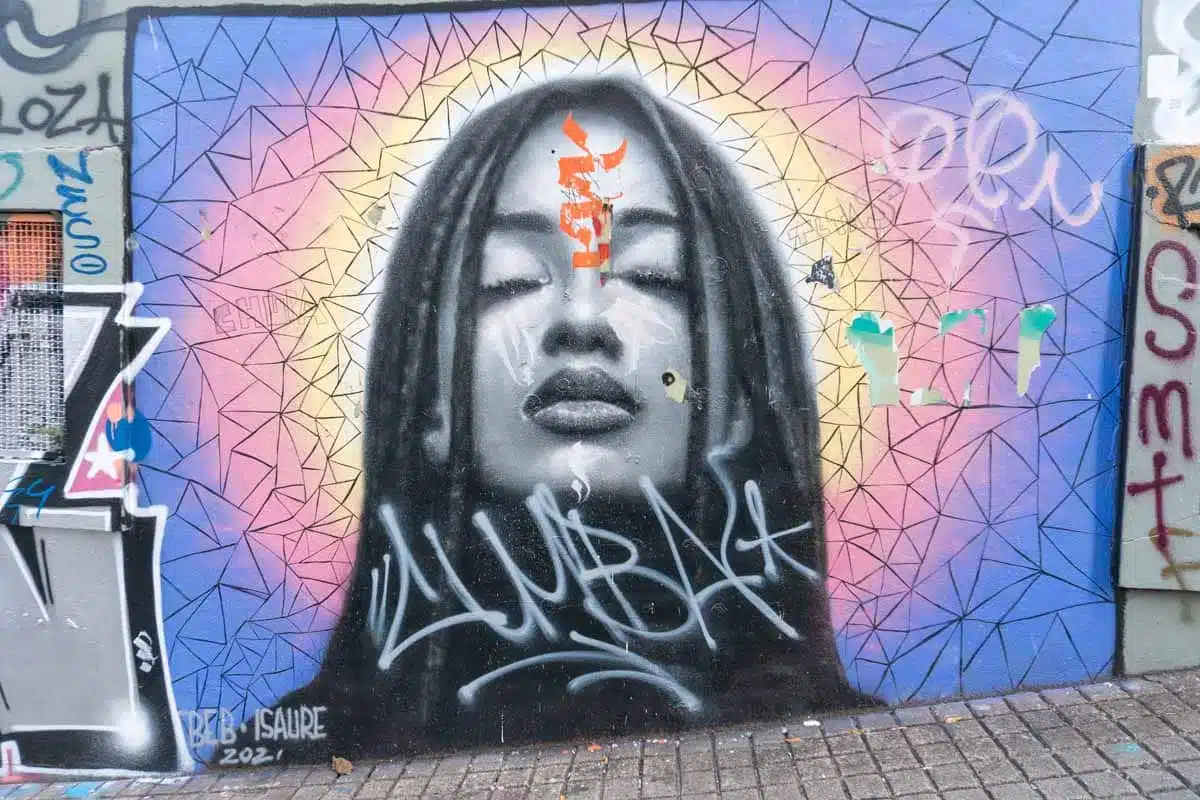 Miguel Bombarda is a vibrant cosmopolitan street in Porto. The quirky street boasts several contemporary galleries. The Presence Gallery is where you can admire Jorge Santos' depictions of an intersection between nature and architecture.
You'll find a healthy mix of graffiti murals, alternative shops, bars, and restaurants along the streets.
Stop for Brunch at Mercado Bom Sucesso
Before continuing with the rest of your final day in Porto, make sure to stop by Mercado Bom Sucesso. This popular indoor market offers fresh produce, local food stalls, and cultural events.
Mercado Bom Sucesso is a great place to chill after a long day and sip a glass of wine while snacking on cheese and ham.
It's also great for a full meal, offering delicacies like pizzas, sushi, suckling-pig sandwiches, and Portuguese dishes like bifanas and Polvo à lagareiro. There's also a wide range of traditional Portuguese sweets, delicious wines, and gins to try.
Take a Jewish Quarter Tour
The Jewish Quarter in Porto signifies the cultural diversity that's existed in Portugal for over a hundred years. Due to the harsh inquisition, Jewish communities were forcibly expelled from other areas and had to create a Jewish Quarter within the city walls.
The colourful neighbourhood now attracts tourists with its hidden synagogues and other places of worship. You can learn more about the history and heritage of the Jewish Quarter via a guided tour.
Book a Jewish Heritage Walking Tour of Porto Here
Go to a Beach in Foz Do Douro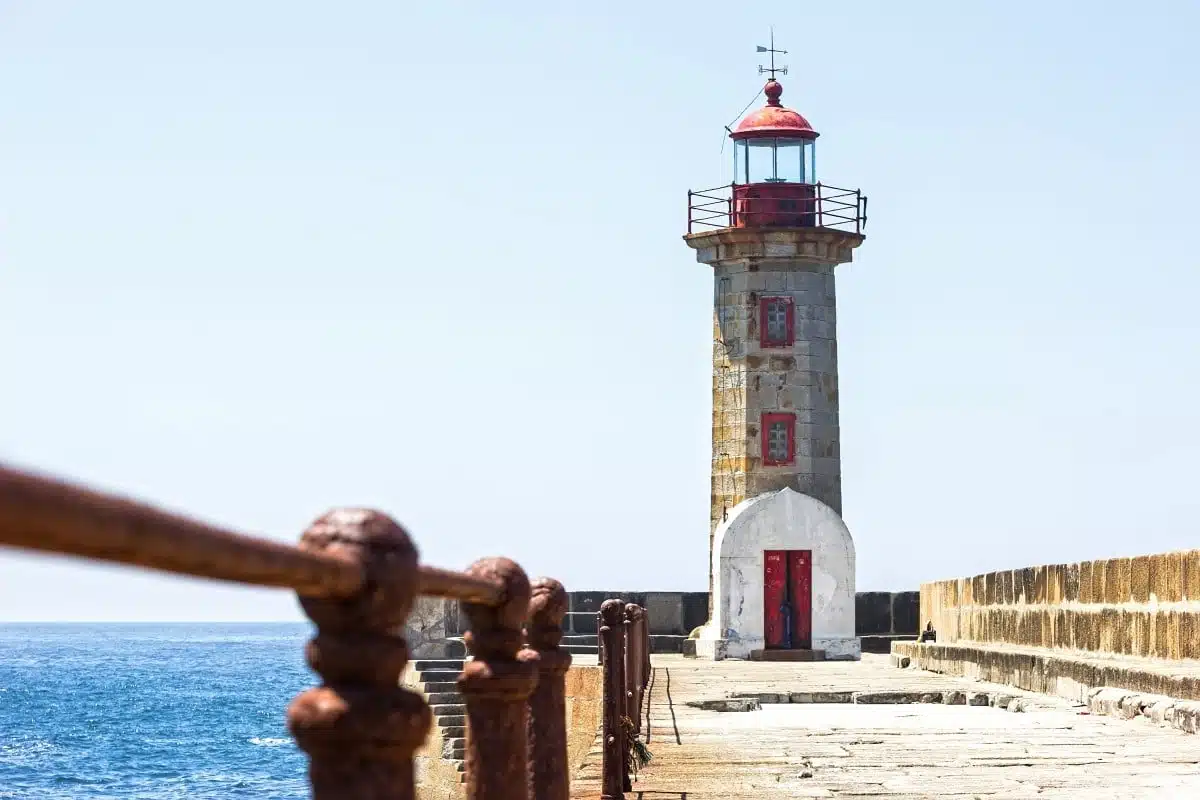 End your long weekend in Porto adventure with a relaxing day at the beach. Characterised by golden sands and bouldering black rocks along the coast, Foz Do Douro is a seafront area boasting eclectic bars, restaurants, and a promenade.
One of the coolest things to do in Portugal is to go to the beach, and Foz Do Douro offers precisely that. The coastal town near Porto boasts chilly waters perfect for a cold dip, bike trails along the promenade, and landmarks like the Fortress São João Baptista.
Grab a bite at Mercado da Foz do Douro, where you can get everything from fresh fruits to fast food, like burgers and hotdogs. Take a walk to admire the verdant Jardim do Passeio Alegre before wrapping the day up with some beer tasting at Pub Bonaparte.
Take a Day Trip to the Douro Valley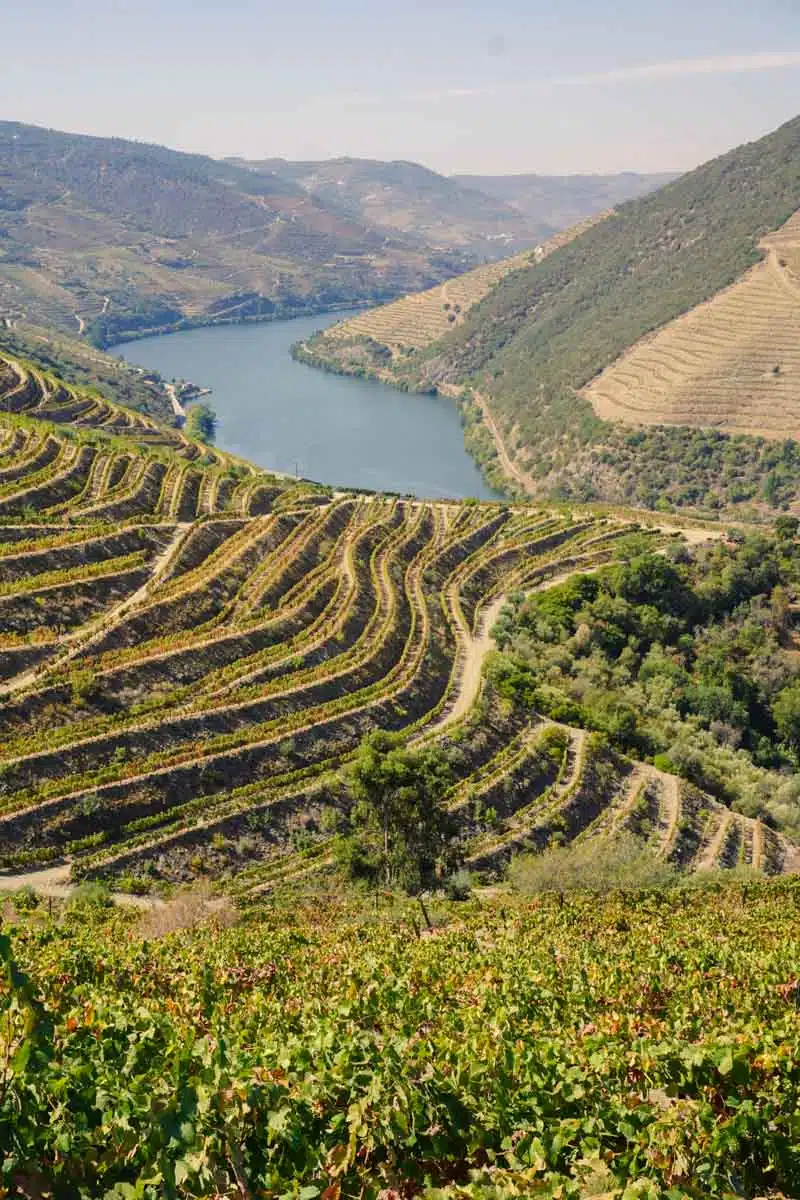 The Douro Valley is a picturesque region in Portugal famed for its stunning natural scenery, charming villages, and abundant vineyards. Winemakers across Portugal make their port wines with grapes grown in this region.
On your day trip to Douro Valley, you'll enjoy vineyard tours and wine tastings at some of Portugal's oldest wineries. Hike the Porto Wine Trail that traverses vineyards and narrow cobblestone streets. Or, take a scenic boat ride along the Douro River.
If you'd like to explore the quaint town in the Douro Valley, Lamego boasts many restaurants, cafes, and villas.
Book a Douro Valley Day Trip From Porto Here
Porto Itinerary – Map
Love This? Save and Share on Pinterest