Planning your trip and wondering where to stay in Porto? Discover with this in-depth guide.
Whether you're a first-time visitor or an experienced traveller, there's one golden rule when it comes to travelling… planning is crucial.
But, if you've only got one, two, or better yet, three days in Porto, putting together your itinerary is more challenging than you think. The city has an allure that stems from many things. One of which is the amazing areas and places to stay.
You better get packing. Porto beckons.
Best Places to Stay in Porto: At a Glance
Where to Stay in Porto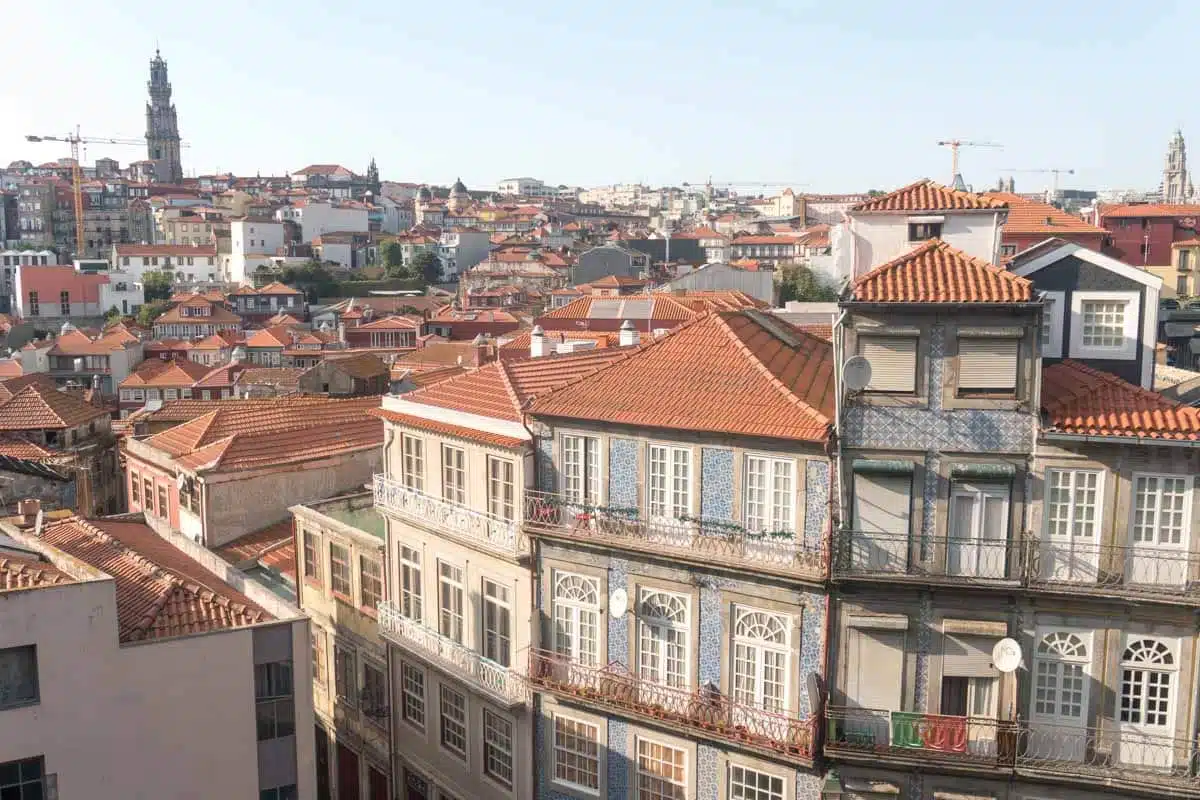 Porto is the type of city you simply can't not fall in love with. For artists, creatives, foodies, historians, and nightlife chasers — Porto is and has been a must-visit for decades. The best part? You'll find a bit of everything no matter which area you choose for your trip.
If you're on a culture trip, a romantic getaway, or a scenic escape, the list of places to stay in Porto is endless. But, here are the best of the best.
Ribeira: The Best Area to Stay in Porto for First-Time Visitors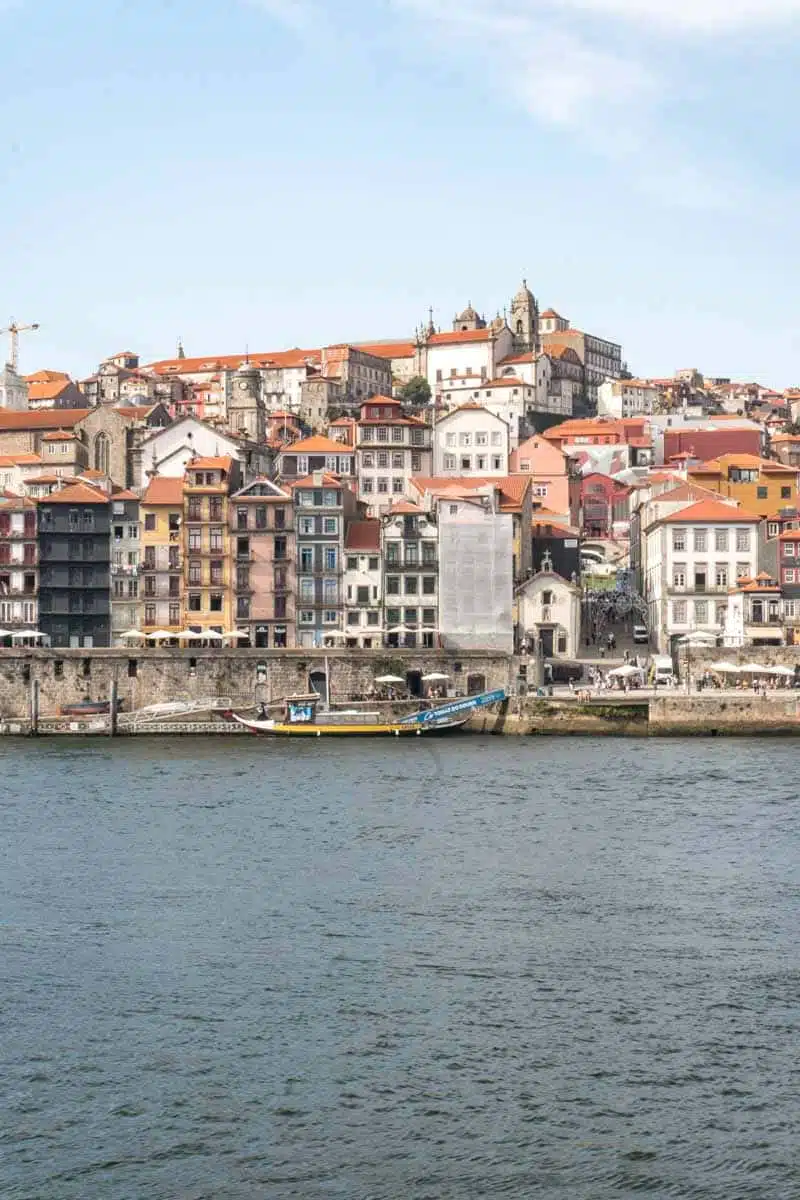 For first-time visitors to the city, there is no better place to stay in Porto than the picturesque Ribeira neighbourhood. Its colourful houses and eye-catching riverside promenade make it an extremely popular area.
Those looking to explore Porto's nightlife will love Ribeira, as it's packed with unique bars and nightclubs. It's within walking distance of Vila Nova de Gaia, so going on a wine-tasting excursion or sunset river cruise comes highly recommended.
Ribeira Highlights
Explore The Praça da Ribeira as the hub of mediaeval influences in the city. Here you'll also find the beating heart of Porto nightlife.
Visit the iconic Ponte Dom Luis I Bridge designed by Gustave Eiffel (as in Eiffel Tower). This steel structure provides limitless buzzworthy photo ops.
Immerse yourself in the history of some of Porto's most renowned monuments, such as the Stock Exchange Palace or the Saint Francis Church.
Suggested Hotels in Ribeira
1872 River House – A property worthy of the title: "one of the best boutique hotels in Porto", its design fuses granite exteriors with elegant interiors. Sitting on the riverfront, it's close to the Dom Luis Bridge, making it perfect for sunset chasers.
Torel Avantgarde – A relatively new 5-star property, it rests on the bank of the Douro river. Close to attractions such as Cristal Palace Gardens and the famous Lello Bookstore, it's the ideal stay for eager tourists.
Descobertas Boutique Hotel Porto – This modern hotel sits in the centre of Ribeira within the main plaza. A stunning location next to the river, it's a mid-range option that offers many amenities.
Vila Nova de Gaia: The Best Place to Stay in Porto for Wine Lovers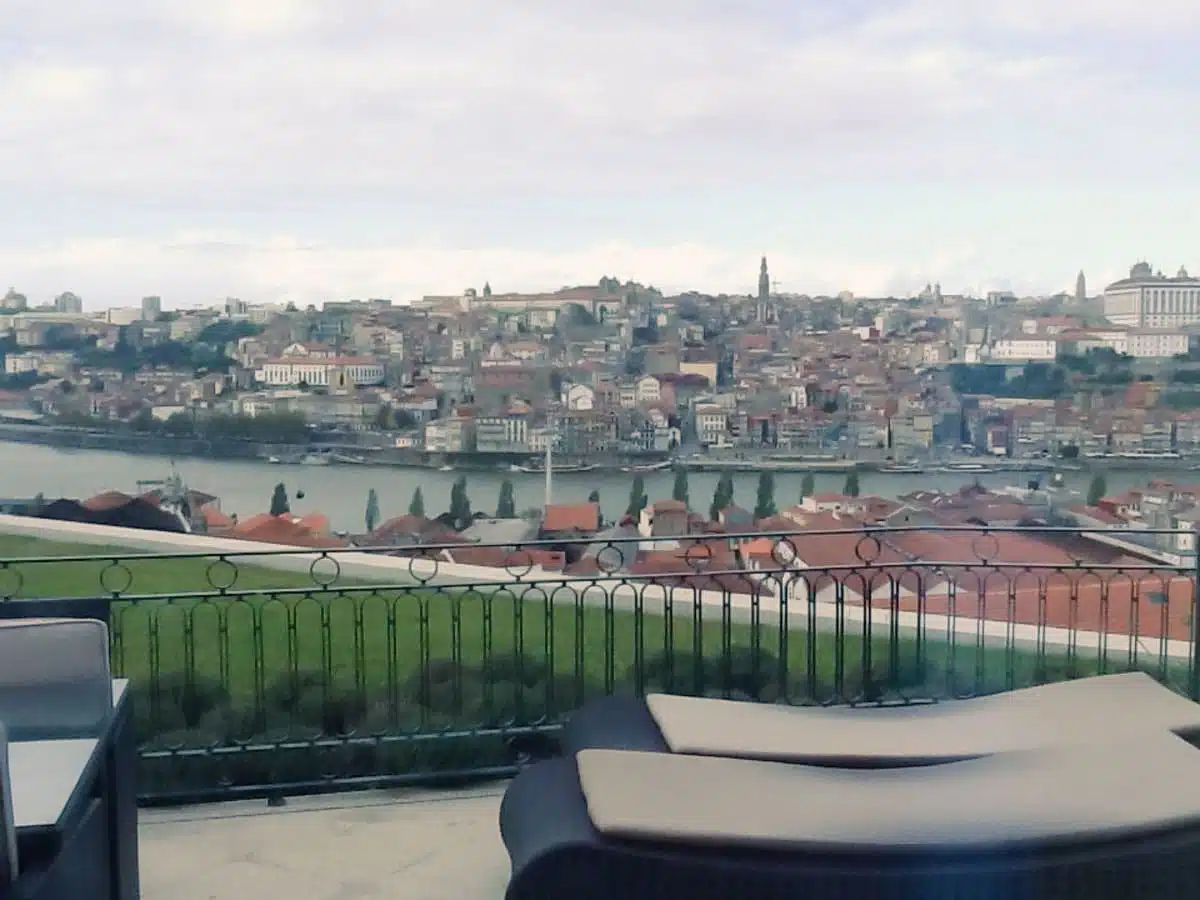 Famous for its massive role in the production of port wine, Vila Nova de Gaia, as it's commonly called, is technically not part of Porto (it's on the other side of the Douro river – don't worry though, it's just a short stroll across the famed Luis I Bridge).
Gorgeous hotels, museums, restaurants, and bars abound along its streets make it an alluring place to bed down for your trip.
Vila Nova de Gaia Highlights
Vila Nova de Gaia personifies wine culture, and you'll find more than 20 port houses throughout the area. After viewing the entire creation process, you can indulge in the finely crafted finished product.
The work of famed sculptor Teixeira Lopes frames Gaia, and you can experience his best during a visit to the Teixeira Lopes Museum.
Suggested Hotels in Vila Nova de Gaia
The Yeatman – This 5-star property offers stunning views, world-class service, and styling and designs second to none. Its famous 2-Michelin star Yeatman Restaurant personifies why so many flock to Gaia.
Caléway Hotel – Toss modesty to the winds by staying in one of the most beautiful hotels in Vila Nova de Gaia. Located 500 metres from the Gaia cable car and the Dom Luis bridge, its stunning outdoor terraces provide the ideal setting to bask in Porto's glory.
Baixa: Best Place to Stay in Porto for Sightseeing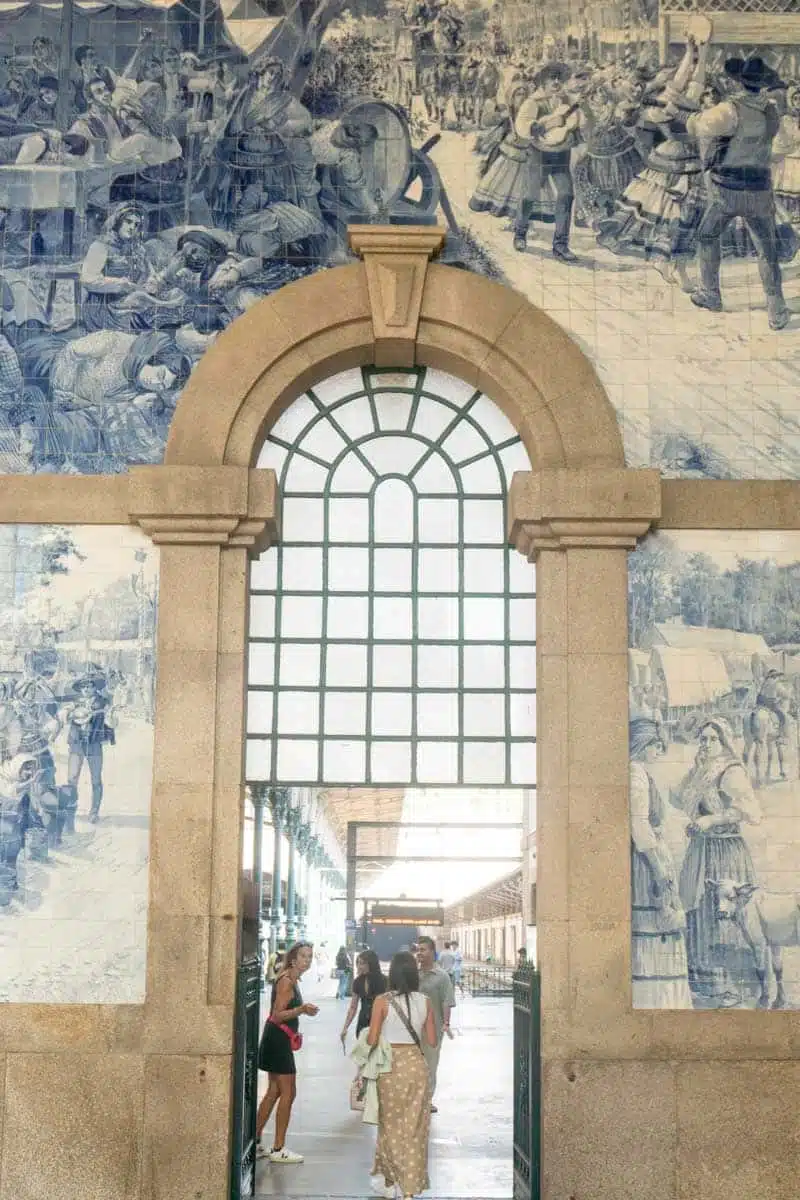 Confronted with the question of where is the best place to stay in Porto, Baixa often reigns supreme. Centrally located, it is the heart of the city and classified as a World Heritage Site. Historic buildings, trendy boutique stores and eateries line its winding streets.
Around every corner, you'll find spectacular architecture, trendy bars, and some of the most stunning azulejo (tile) art displays. If you love history, art, and retail therapy, you'll love Baixa.
Baixa Highlights
Historic buildings such as the São Bento Railway Station, the Church of Misericordia, and the Church dos Clérigos. These offer a glorious glimpse into the city's past, as well as epic views from the tower of the Church dos Clérigos.
Strolling along the Avenida dos Aliados for some architectural eye candy, or take a walk down Rua das Flores (Street of Flowers) to find eclectic shops and local goldsmiths.
If you want to visit the site where Porto originated, visit Sé, the mediaeval cathedral atop one of the two famous hills in the area.
Suggested Hotels in Baixa
Pestana Porto – Few properties come close to this 5-star hotel, a Brasileira, City Centre & Heritage Building. It's a 4-minute walk from the Avenida dos Aliados and features luxurious living in the heart of Porto.
Torel 1884 – This luxury hotel offers suites and apartments housed within one of the most visually stunning buildings in Baixa. Located close to numerous attractions, it's easily one of the best places to stay in Porto.
Eurostars Porto Douro – A 4-star property set within an amazing location close to numerous Baixa attractions. Rooms are comfortable and well-equipped and come with an affordable price tag.
Aliados & Bolhao: Where to Stay in Porto for Living Like a Local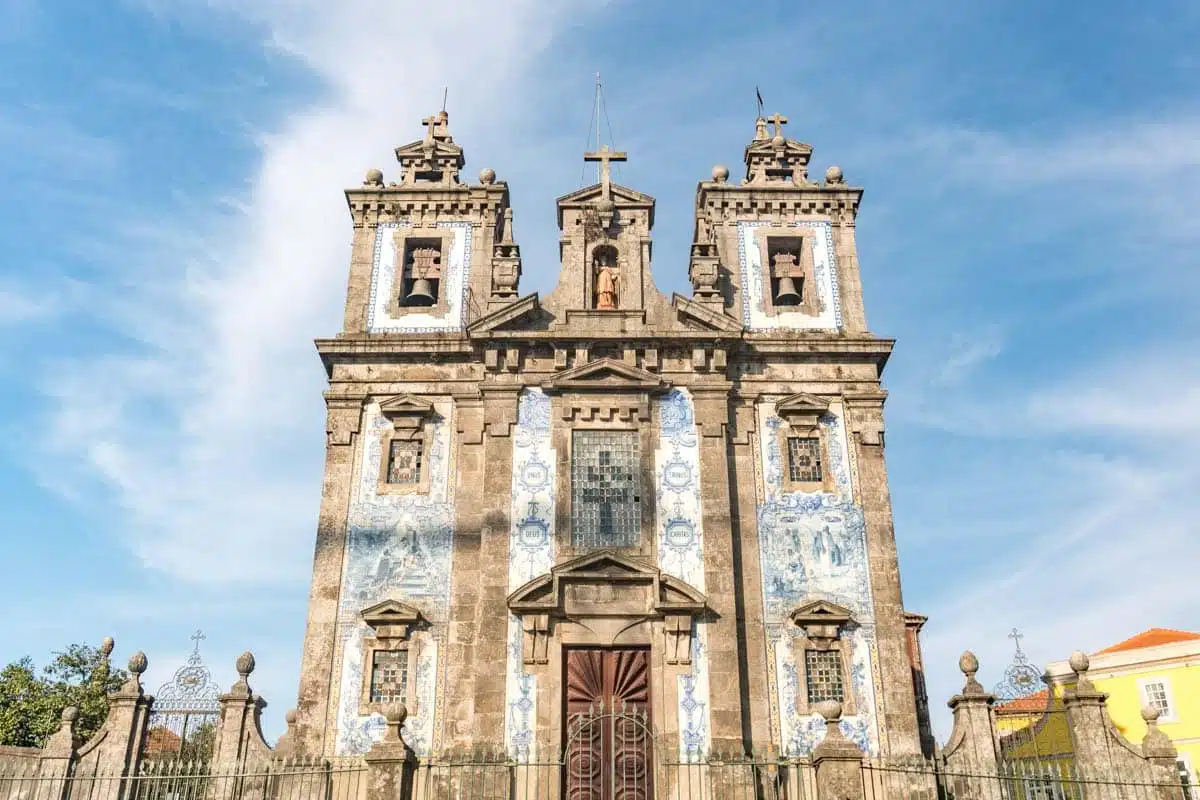 Showcasing bold colours and facades, Aliados and Bolhao teem with an almost enchanting atmosphere. Here it's easy to get lost in the intricate shop-lined streets and arcades awash with traditional, boutique, and designer retailers.
If you find yourself asking, "Where to stay in Porto for nightlife", you have an answer. At night time, the area transforms into a sea of lounges, bars, and clubs, some reminiscent of classic speakeasies.
Aliados & Bolhao Highlights
For some authentic Porto flavour, head over to Santa Catarina Boulevard. Here restaurants serve traditional Portuguese dishes, while eclectic trinket stores ensure you take a piece of Porto with you when you leave.
Visit the Praça da Batalha, a historic city square where you can explore sites such as the Igreja de Santo Ildefonso. A magnificent baroque twin-towered church.
Experience a performance at the Teatro Nacional São João. Designed to mimic the Palais Garnier in Paris, this is where you go to watch dazzling dance, live music, and theatre productions.
Suggested Hotels in Aliados & Bolhao
Maison Albar Hotels Le Monumental Palace – Monumental luxury finds a home in this renovated historic building dating back to 1923. It's a mere 3-minute walk from the famous Paris Galleries street and 0.2 miles from City Market Bolhao.
Porto A.S. 1829 – Just off the centre of Aliados lies this 4-star hotel that blends modern luxury and contemporary flair. It features an intimate and tasteful on-site restaurant, Galeria Do Largo, which specialises in traditional Portuguese delicacies.
Feels Like Home Catarina Prime Suites – A stylish bed and breakfast sitting at the end of Santa Catarina Boulevard. Throughout, you find mixes of antique and modern with classic furnishings and modern amenities.
Cedofeita: Where Best to Stay in Porto for Convenience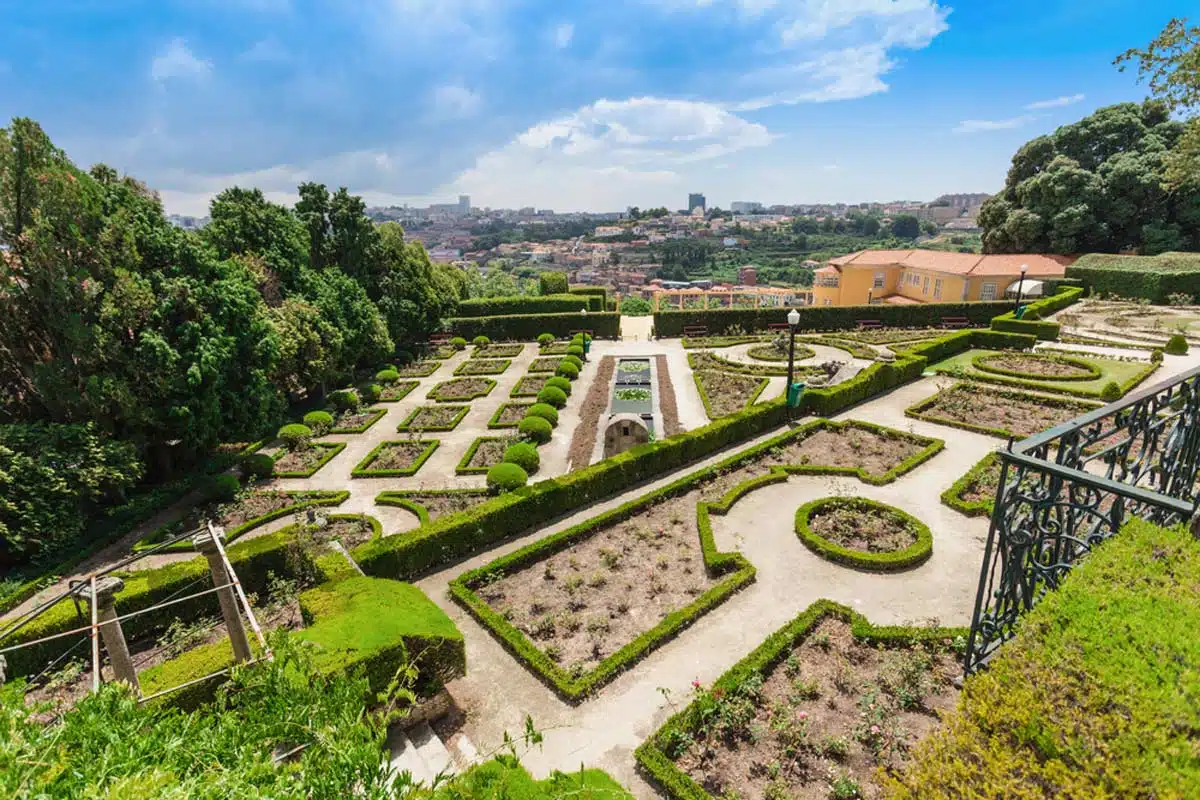 Locally known as the "art district of the city", if you have a taste for the arts and creative expression, Cedofeita is heaven. Interestingly the area is a collection of parishes joined in 2013.
Officially it's still named Cedofeita, Santo Ildefonso, Sé, Miragaia, São Nicolau and Vitória. With fashionable shopping areas, beautiful gardens, parks, as well as many art galleries, the area offers something for everyone.
Cedofeita Highlights
For outdoor lovers, the area boasts majestic parks, including the Jardim do Palácio de Cristal (Cristal Palace Gardens) and the Rotunda da Boavista. Or take in the whimsical fountains at the Jardim do Marquês de Pombal.
Visit the Rua Miguel Bombarda, filled with art galleries. Some are permanent, while others pop up as concept or design school projects.
The area boasts one of the best museums in Porto. The Museu Nacional Soares dos Reis. Inside a world consisting of Neolithic carvings, Modernist impression paintings, and works by renowned sculptor Soares dos Reis awaits eager visitors.
Suggested Hotels in Cedofeita
Canto De Luz Luxury Maison – An opulent boutique hotel that brings together innovation and luxury. Outside you can bask in the Porto sunshine on the stunning terrace or throughout the expansive garden.
Eurostars Das Artes – Part modern hotel and part historical palace, the Das Artes offer a different take on where to stay in Porto, Portugal. Beyond the well-equipped and designed interior, the hotel also hosts rotating art exhibitions.
Where to Stay in Porto: Frequently Asked Questions
Practical Tips to Consider Before Booking Your Porto Accommodation
Although overall, Porto is an affordable destination, keep your budget in mind when choosing your accommodation. Shop around to find the best fit for your trip, and considering your many options, there are many possibilities.
Keep your itinerary in mind when choosing where to stay in Porto. Hotels are mostly conveniently located close to main attractions, but some might be a bit off your track and require some navigation to reach.
When it comes to offering you fantastic things to do in Porto, read my handy guide to choosing the best of the best.
Best Places to Stay in Porto: Read Next
Love This? Save and Share on Pinterest