Discover the best castles in Portugal with this guide. Don't miss these impressive fortresses you need to visit in Lisbon, Sintra and beyond.
To say that Portugal is steeped in history is a gross understatement: from the traditional tiled buildings, crumbling ruins and winding cobbled streets, every landscape has its own story to tell.
If you want to delve deeper into the country, you'd better visit its castles. Portugal's many fortresses are magnificent testaments to the country's rich heritage, where history and fairytales intertwine.
From ancient towers perched atop rugged cliffs to majestic mediaeval strongholds in picturesque landscapes, these are the best castles in Portugal you need to visit.
Top 5 Castles in Portugal To Visit
Torre de Belém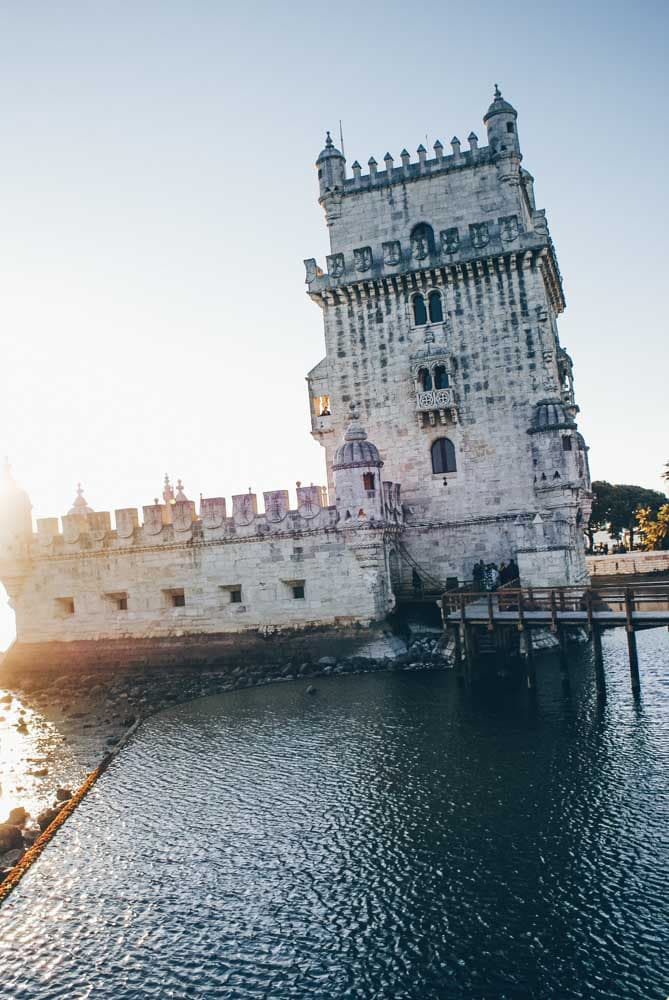 Okay, so this first castle is probably the biggest stretch, though it's one of the most famous landmarks in the entire country. Head just outside of Lisbon, where Belém Tower awaits.
Francisco de Arruda was a military architect who designed Torre de Belém in 1515. This 16th-century fortress is a historic castle in Lisbon, Portugal, and a testament to the country's maritime heritage.
This castle boasts intricate Manueline-style architecture and offers a grand setting to explore. While here, marvel at the ornate carvings and watchtower panoramic views. Step inside to discover the Governor's room, adorned with tapestries and azulejo tiles.
If you're looking for a tranquil spot, don't miss the Chapel. Also, view the iconic rhinoceros overlooking the Tagus River.
Top Tip: Book your entrance ticket in advance – queues here get very long and you could be waiting in the blaring heat for 30+ minutes.
Park and National Palace of Pena
Sintra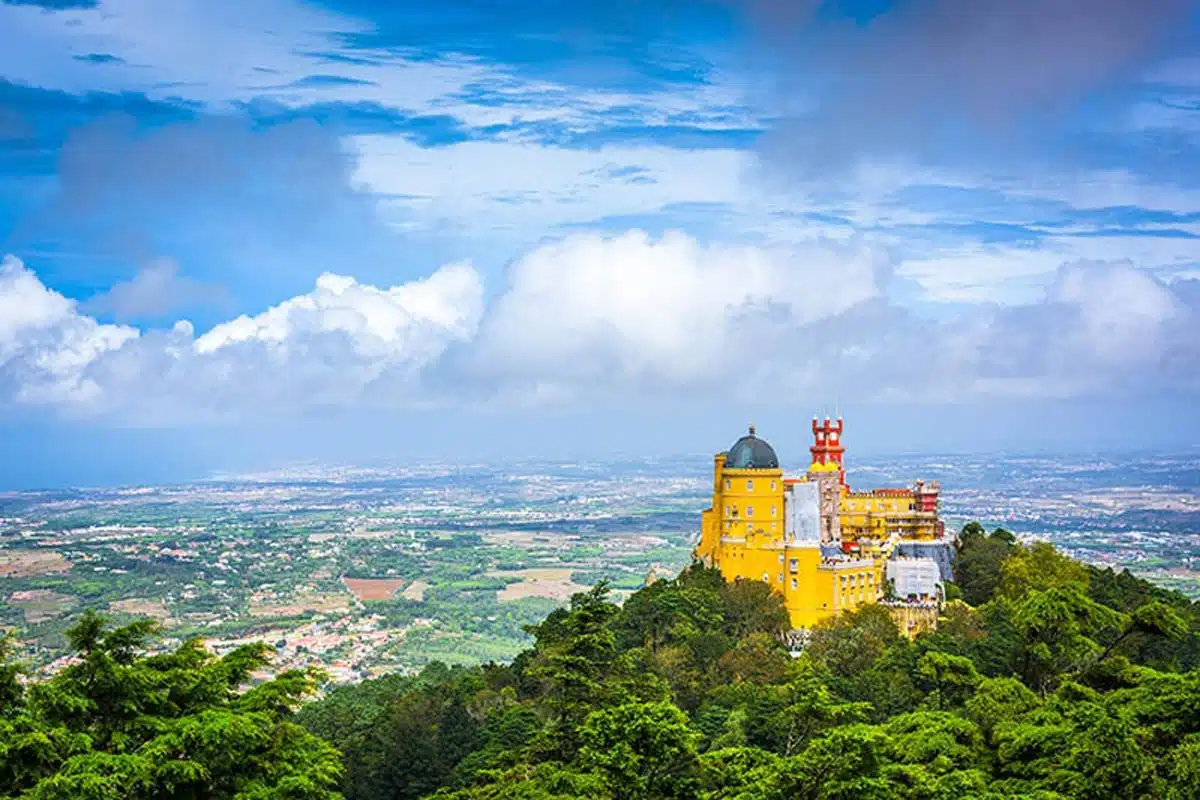 The National Palace of Pena is the first of many Sintra entries in this guide.
This castle dates back to the 19th century and is a true architectural gem. Within sprawling grounds spanning over 400 acres, the recognisably colourful castle in Portugal is a captivating blend of Romantic, Gothic and Renaissance styles.
This famous Portuguese castle showcases exquisite tiles, frescoes and ornate furnishings. While, outside, the surrounding park of this UNESCO World Heritage Site is home to various trees and plants, like Lawson's Cypress and Japanese Cryptomeria.
Keen on admiring lush surrounding landscapes? Climb the palace's towers for panoramic views.
Top Tip: Book your ticket before you go (you'll be given a strict timeslot and will likely still need to queue).
Castle of the Moors
Sintra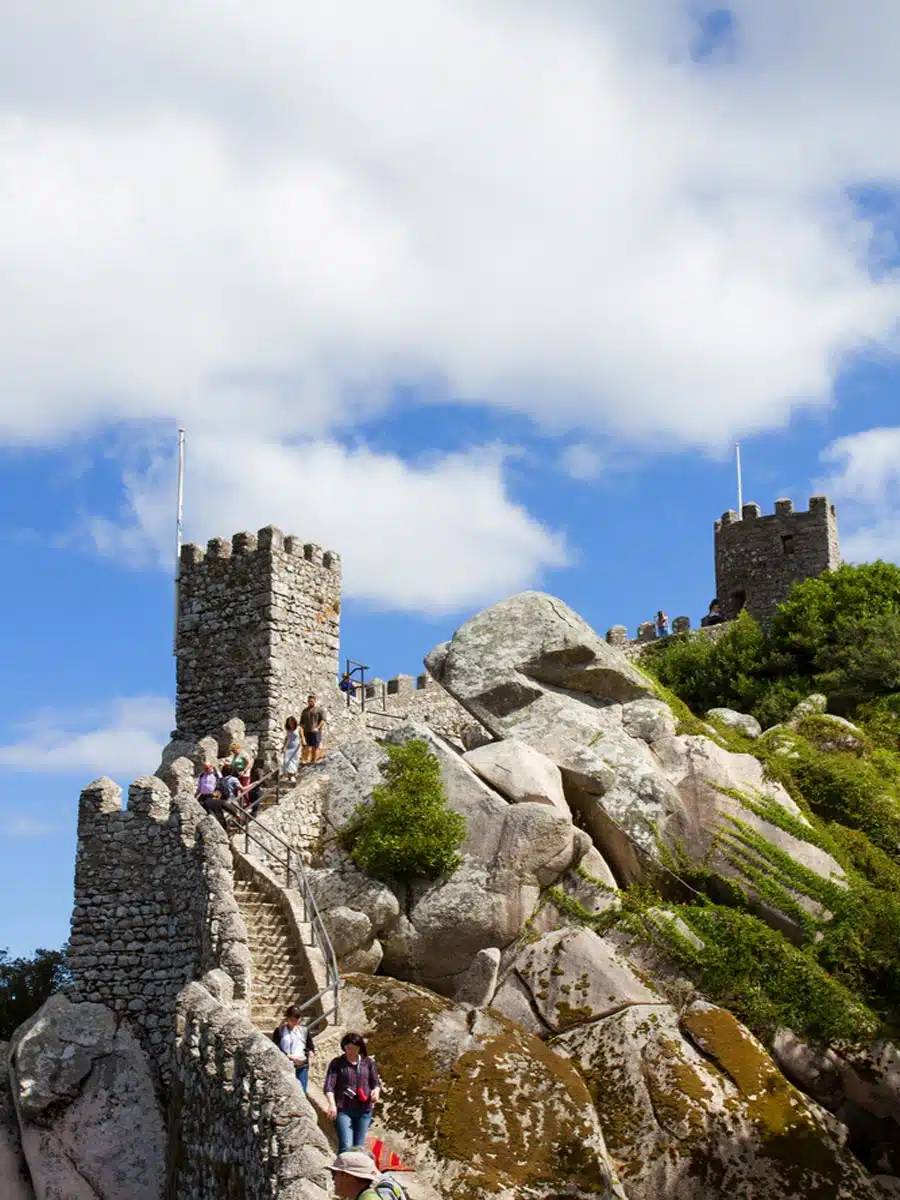 Next up is a hugely underrated spot, in my humble opinion. The Castle of the Moors is one of several Moorish castles in Portugal, built in the 8th century. You'll find it on a hilltop overlooking the town of Sintra and offering stunning views of the area.
Castle of the Moors features intricate carvings and paintings that adorn it. Its towers and battlements are worth exploring, too, as you'll enjoy sweeping vistas of the entire enchanting Sintra region.
Plus, the impressive crenellations and the remnants of its fortified structures are worth a peek.
Quinta da Regaleira
Sintra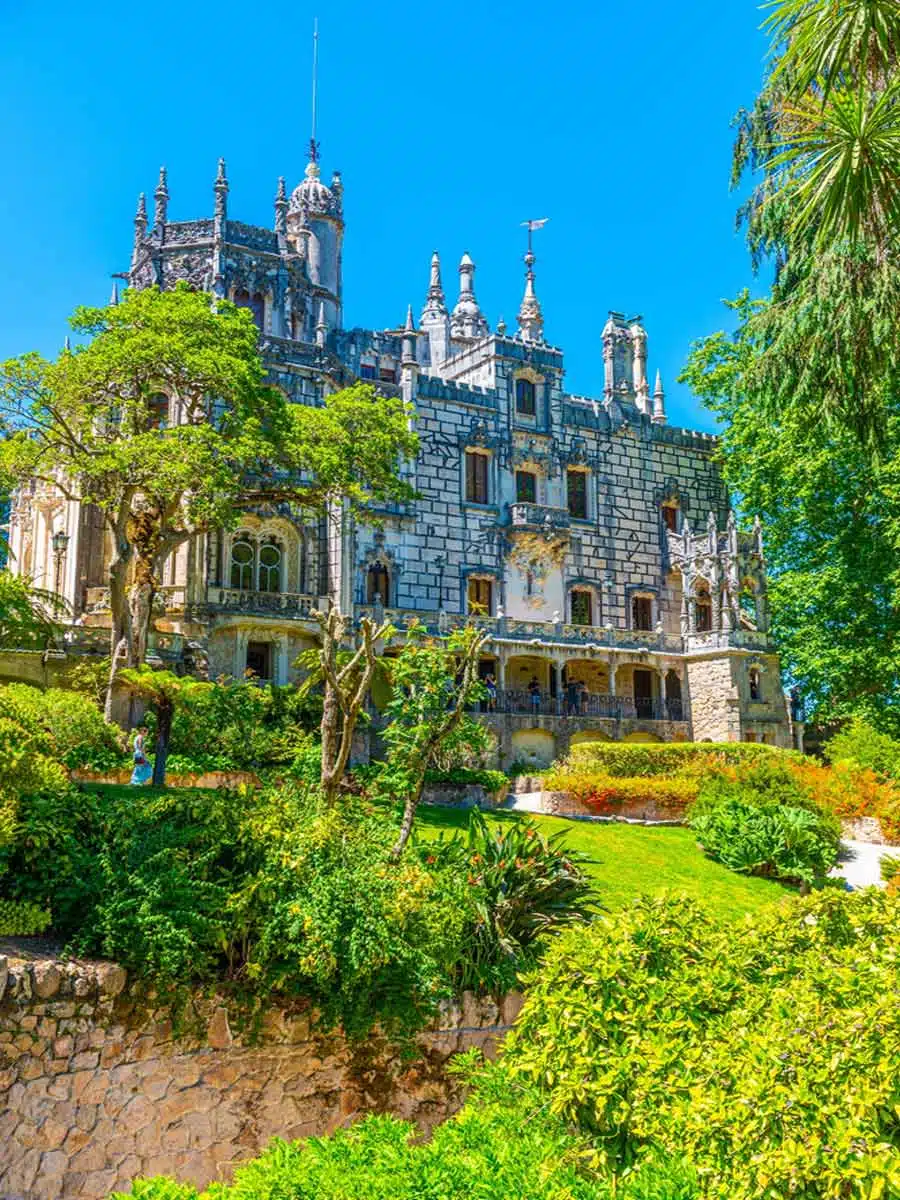 Dating back to the early 20th century, Quinta da Regaleira is a more modern castle, with architect Luigi Manini designing it in the 1800s. The estate encompasses acres of picturesque grounds drawing you in to explore its rich history.
Speaking of rich: a wealthy mine owner originally owned the castle, and his interest in Freemasonry and the like inspired the villa's design.
The intricate architecture and lush gardens adorn Quinta da Regaleira and transport you to a magical realm. Here, you can delve into hidden tunnels and secret passages leading to the enigmatic Initiation Well.
You'll find it hard not to marvel at the ornate façade of the palace and its stunning blend of Gothic, Renaissance and Manueline styles.
Top Tip: Book this entry ticket and audio tour to discover more about the unique castle in Portugal.
São Jorge Castle
Lisbon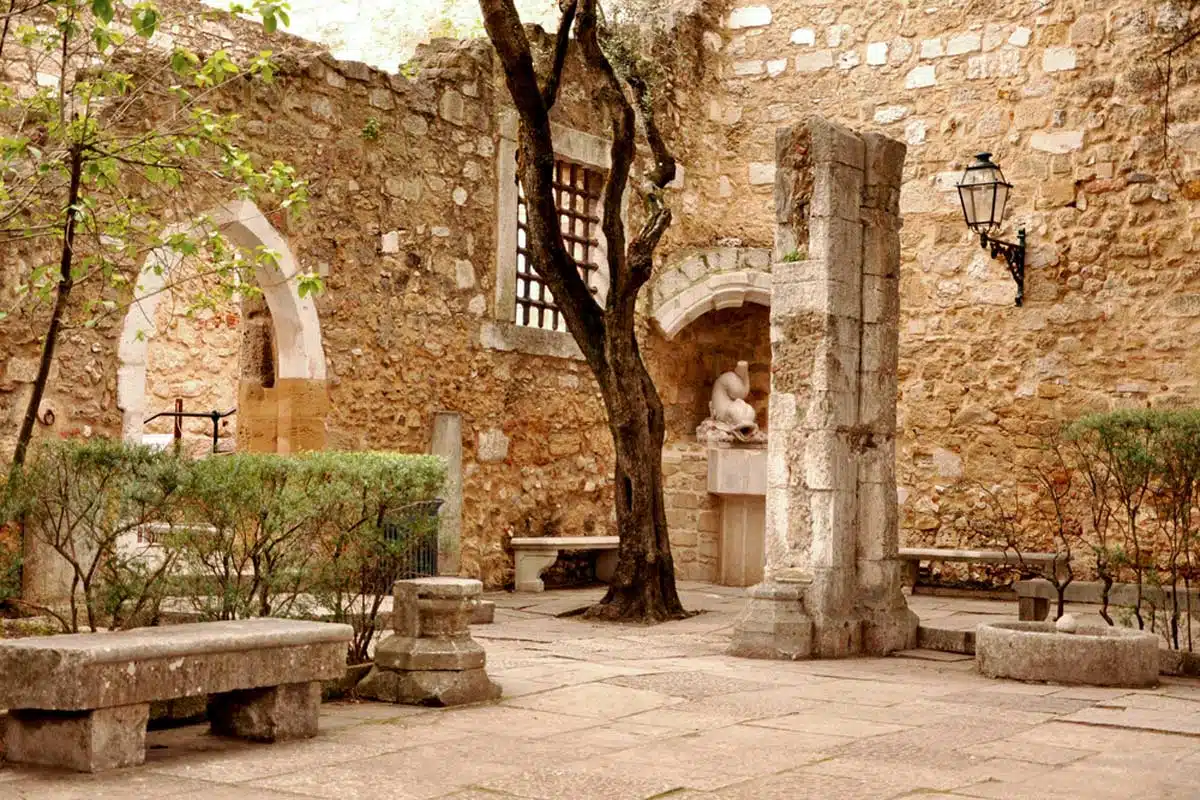 São Jorge is an icon of the Lisbon skyline and a Portuguese castle you need to visit. The Moors first built São Jorge Castle in the 11th century, with the Christians later ruling in 1147 and expanding it. Governor Afonso III also used the castle as a royal residence and military fortress.
This castle in Portugal is a historic fortress that overlooks the city and the Tagus River. With its Moorish origins, the castle showcases a blend of architectural styles, including Romanesque and Gothic elements.
Take your time exploring the sprawling grounds, spanning over 6 acres. While here, check out the ancient battlements and the iconic Tower of Ulysses. This is an unmissable addition to any Lisbon itinerary.
Top Tip: Book your ticket in advance and thank me later.
Gorgeous Castles in Portugal
Óbidos Castle
Óbidos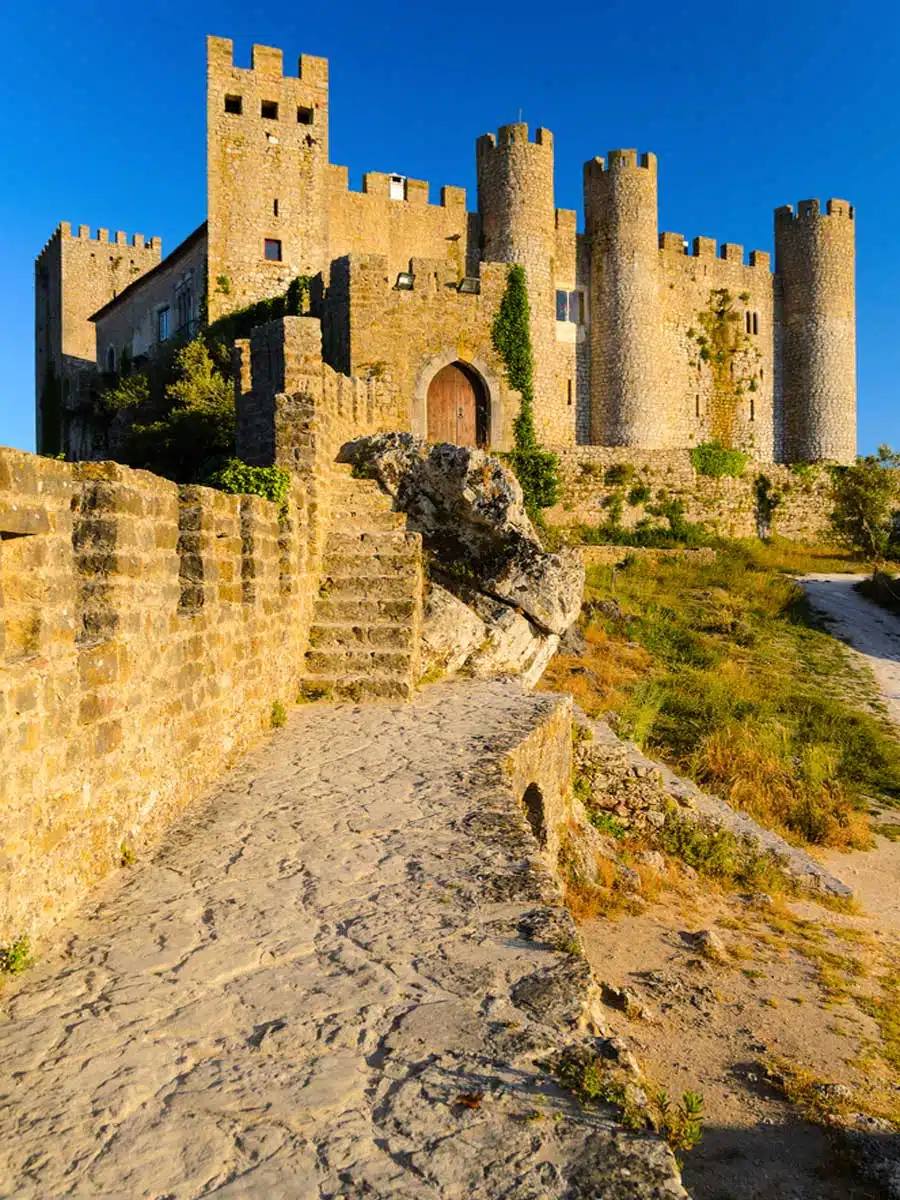 Óbidos Castle is where history and charm collide in the picturesque town of Óbidos.
This mediaeval fortress has withstood the test of time since its construction in the 12th century. The Moors built the castle in 713, with Afonso Henriques, Portugal's first king, seizing it in 1148.
The well-preserved stone walls are worth admiring, and its battlements offer breathtaking views of the town below. Stepping inside transports you back in time with Óbidos Castle's authentic mediaeval decorations and architectural style.
Sintra National Palace
Sintra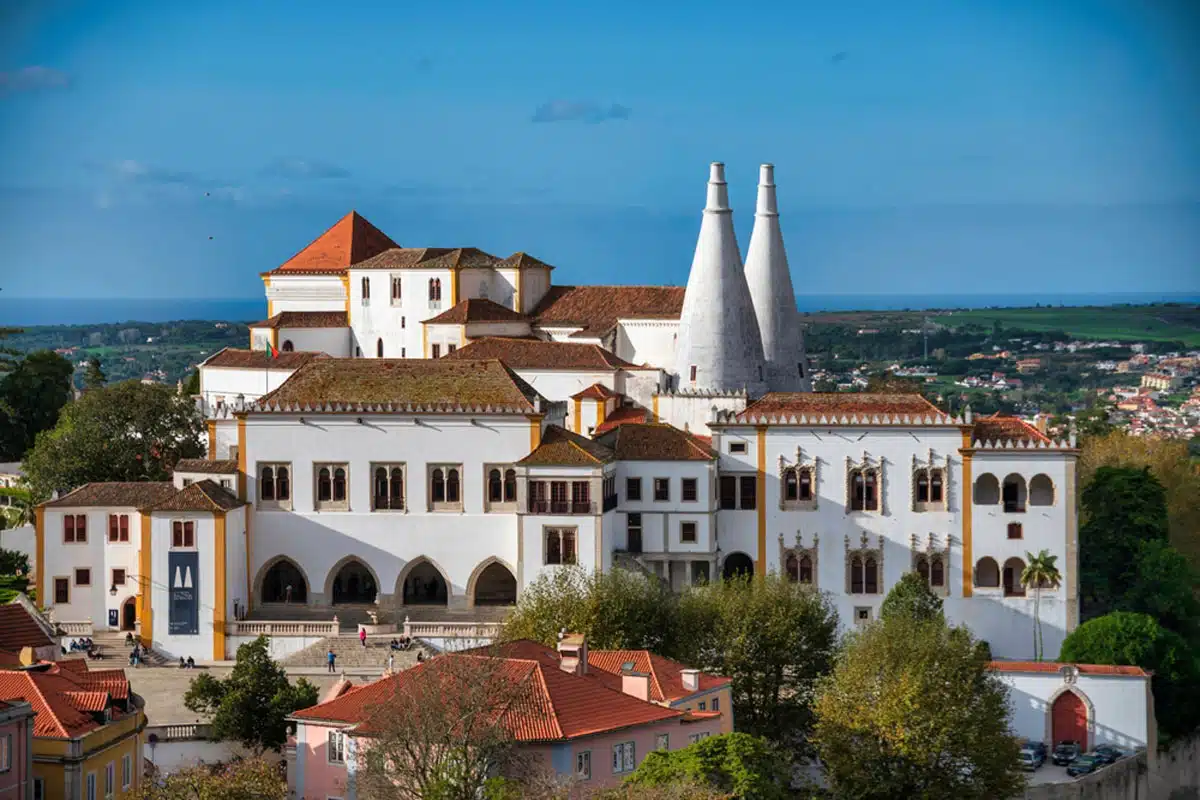 Like I've already mentioned, Sintra is jam-packed with incredible castles. And, as the centrepiece, Sintra National Palace should be right at the top of your list.
This fortress boasts a fusion of Moorish and Gothic architectural styles. Its iconic twin chimneys and conical towers dominate the town's skyline, making it an unmissable stop while in Portugal.
Step inside the castle to admire its ornate Manueline-style ceilings and the remarkable Sala dos Brasões (the Coat of Arms Room). While here, make sure you take some time to admire the stunning blue and white azulejo tile work that lines the walls.
Time stands still here as you stroll through various rooms. The Swan Room, for one, housed banquets and public receptions through to the 19th century – and it still looks (pretty much) the same.
Top Tip: Book a ticket in advance and skip the long lines.
Guimarães Castle
Guimarães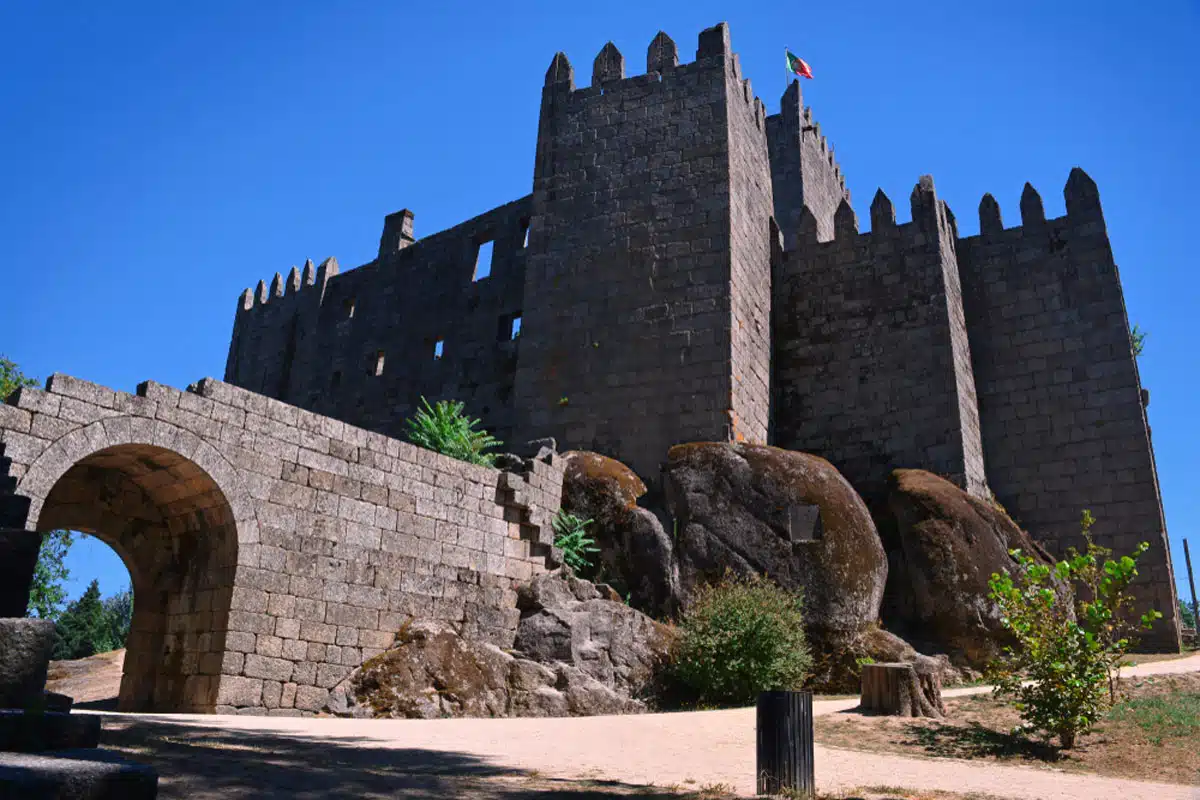 Forget what you've seen in Disney movies, Guimarães Castle is truly a fairytale escape. Many consider it the birthplace of Portugal, as it was here that Afonso Henriques, the first king of Portugal, was born.
Its grounds, over a hilltop, cover an area of 2.5 acres, making comfortable travel shoes a necessity. In addition, a 33-foot high and 6.5-foot thick wall surrounds it, symbolic of its role as a fortress – ain't nobody getting in without a ticket.
All jokes aside, the UNESCO World Heritage Site is ridiculously gorgeous, featuring the Romanesque style with its round arches and thick walls. Beautifully intricate carvings of crosses, lions and other religious symbols decorate it.
Top Tip: Book this full-day Guimarães Castle trip for hassle-free sightseeing.
Biester Palace
Sintra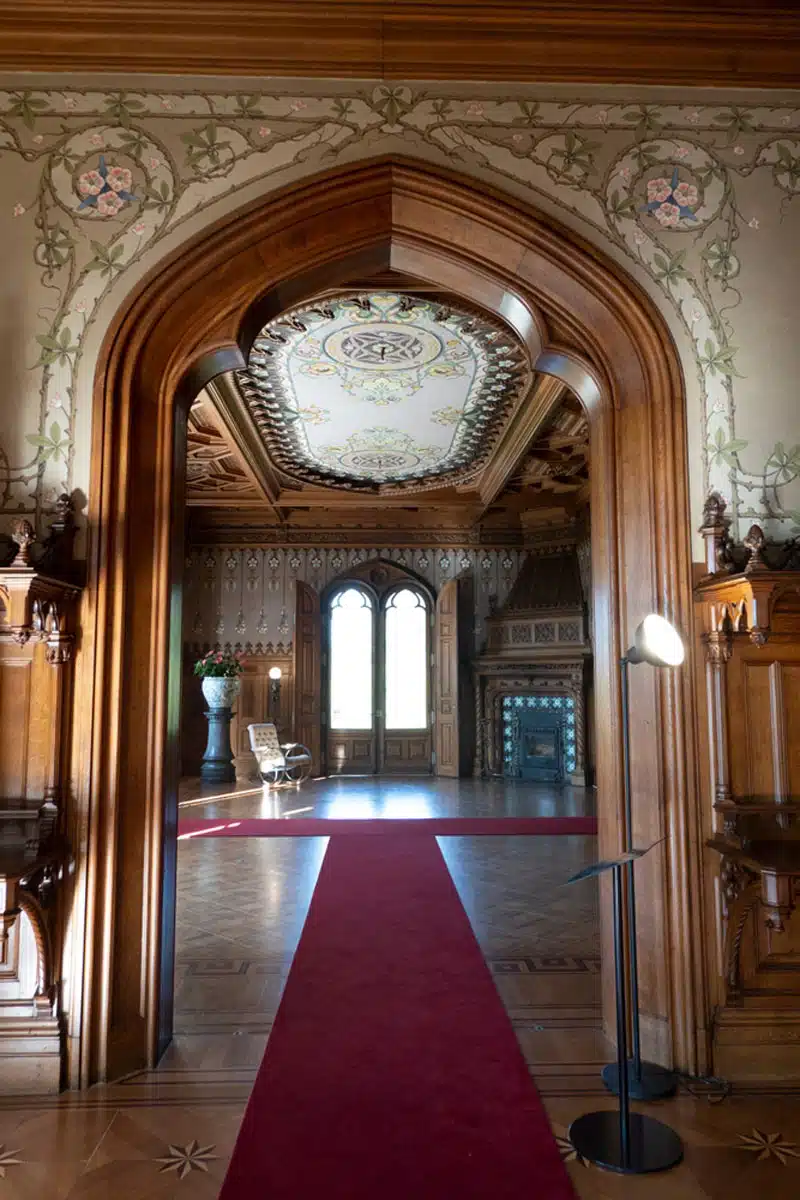 Biester Palace is where history, beauty and tranquillity intertwine. And no, I'm not being dramatic.
The Biesters, a wealthy Portuguese family, built this castle in the late 19th century. The palace sits in a large 29-acre park and showcases intricate designs and carvings. It's home to several rooms, halls and even a billiard room.
This Portuguese castle reflects the Romantic architecture style, while the paintings display the family's art appreciation. If you're an art lover, you'll also appreciate stunning paintings by artists like Leandro de Souza Braga and Luigi Manini.
The gardens are meticulously manicured here, so keep an eye out for hidden gems like charming fountains and statues.
Almourol Castle
Praia do Ribatejo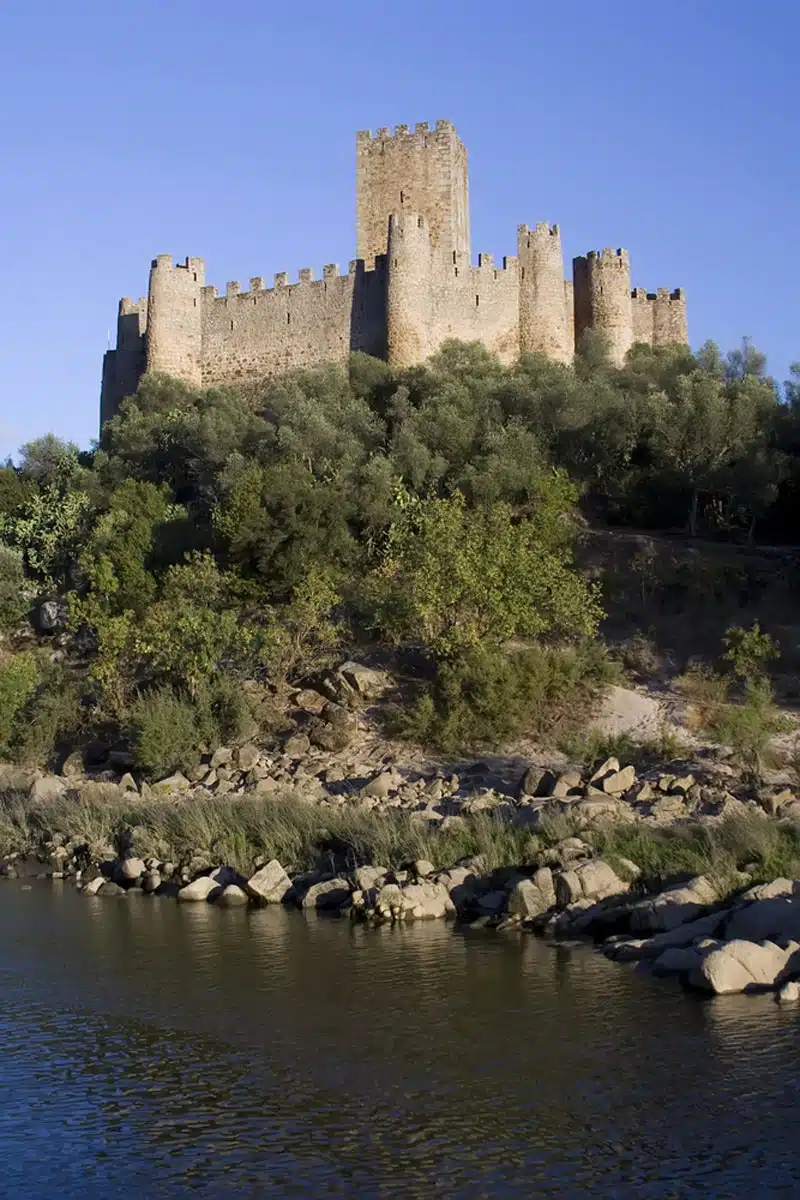 Tucked away in Praia do Ribatejo is a castle that the Knights Templars built in the 12th century.
Almourol Castle is an enchanting fortress on a small island in the middle of the Tagus River. This is no coincidence; its strategic location served as a defensive stronghold during the Reconquista period.
The castle's architectural style features distinctive round towers and crenellated walls, showcasing a fusion of Romanesque and Gothic elements.
The grounds at Almourol Castle encompass several acres of picturesque surroundings. And, as you wander through the castle, make sure to snap plenty of photos of its well-preserved embattlements, charming courtyard and magnificent river views.
National Palace of Mafra
Mafra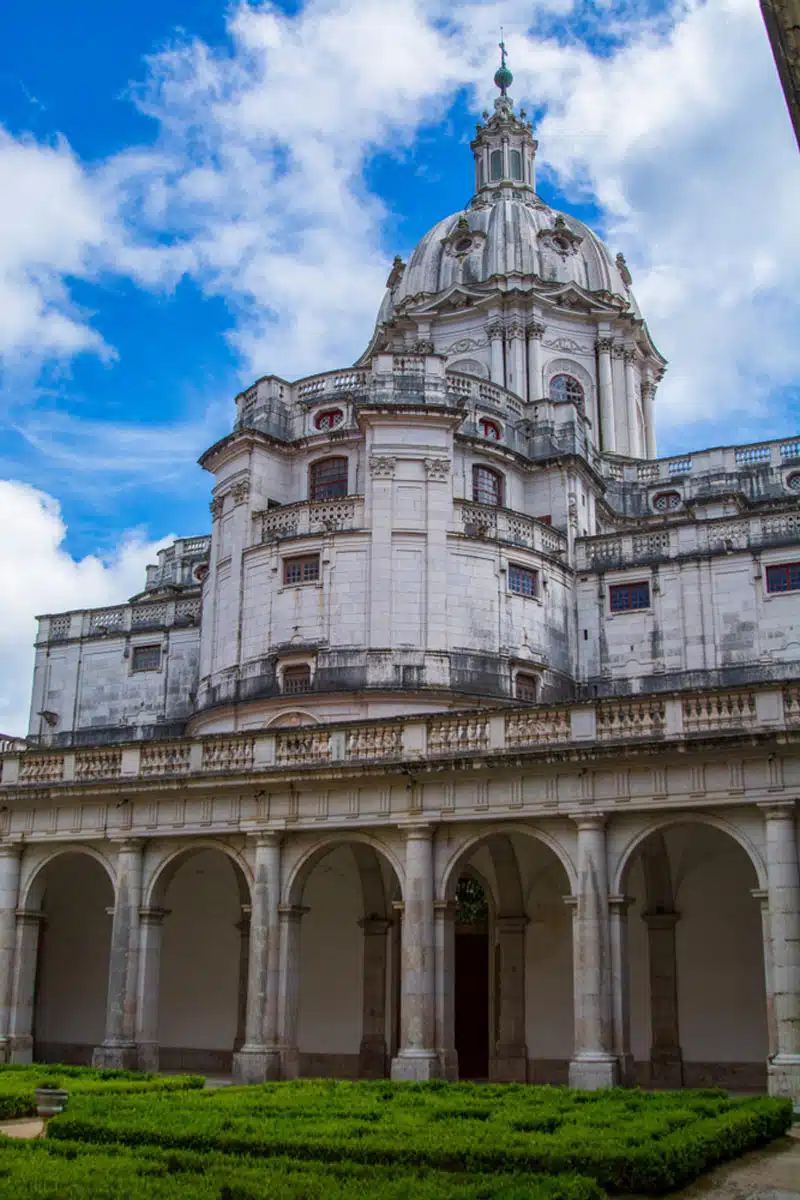 One of the most important castles in Portugal is the National Palace of Mafra. Why? Get ready to take a peek at Portugal's opulent history.
King John V commissioned this 18th-century built palace and architect João Frederico Ludovice designed it to symbolise Portugal's wealth and power.
The grandeur of this castle is hard to miss, as it spans an impressive 37 acres, making it one of Europe's largest palaces. An ornate façade with intricate sculptures and lavish interiors characterise the Baroque architectural style of the National Palace of Mafra.
The stunning library here houses over 36,000 ancient books, ripe for exploring. Also, remember to check out the huge pipe organ, which boasts over 6,000 pipes.
Top Tip: Book your tickets in advance to skip the queues. Smug face, indeed.
Tomar Castle
Tomar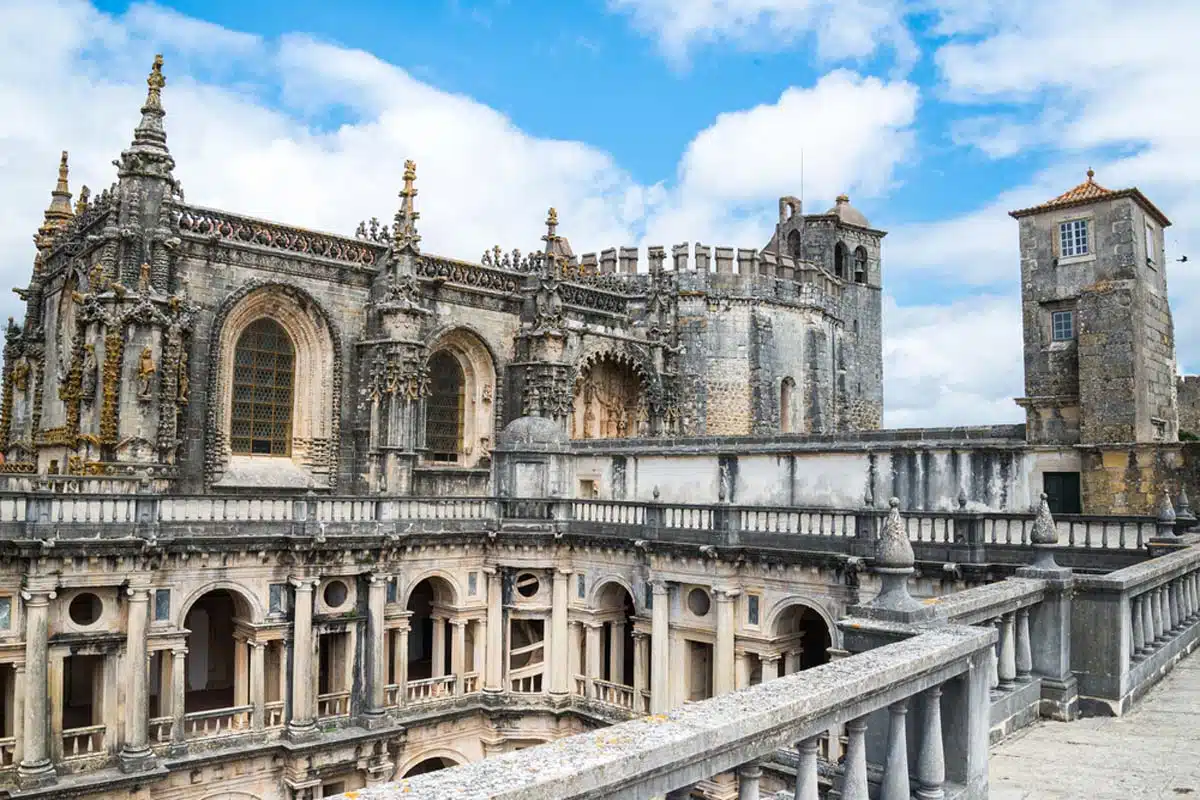 Ready for a captivating journey through time? Tomar Castle, nestled in the town of the same name, has a history almost as interesting as its design. The Knights Templar originally built Tomar Castle, dating back to the 12th century. The Order of the Christ later expanded the castle.
Tomar Castle's architectural style combines Romanesque, Gothic and Manueline influences, and its commanding presence occupies a vast area spanning several acres.
While here, marvel at the intricate stone carvings, majestic towers and the iconic Charola. The latter is a round Templar chapel that exemplifies the unique fusion of architectural styles.
Marvão Castle
Marvão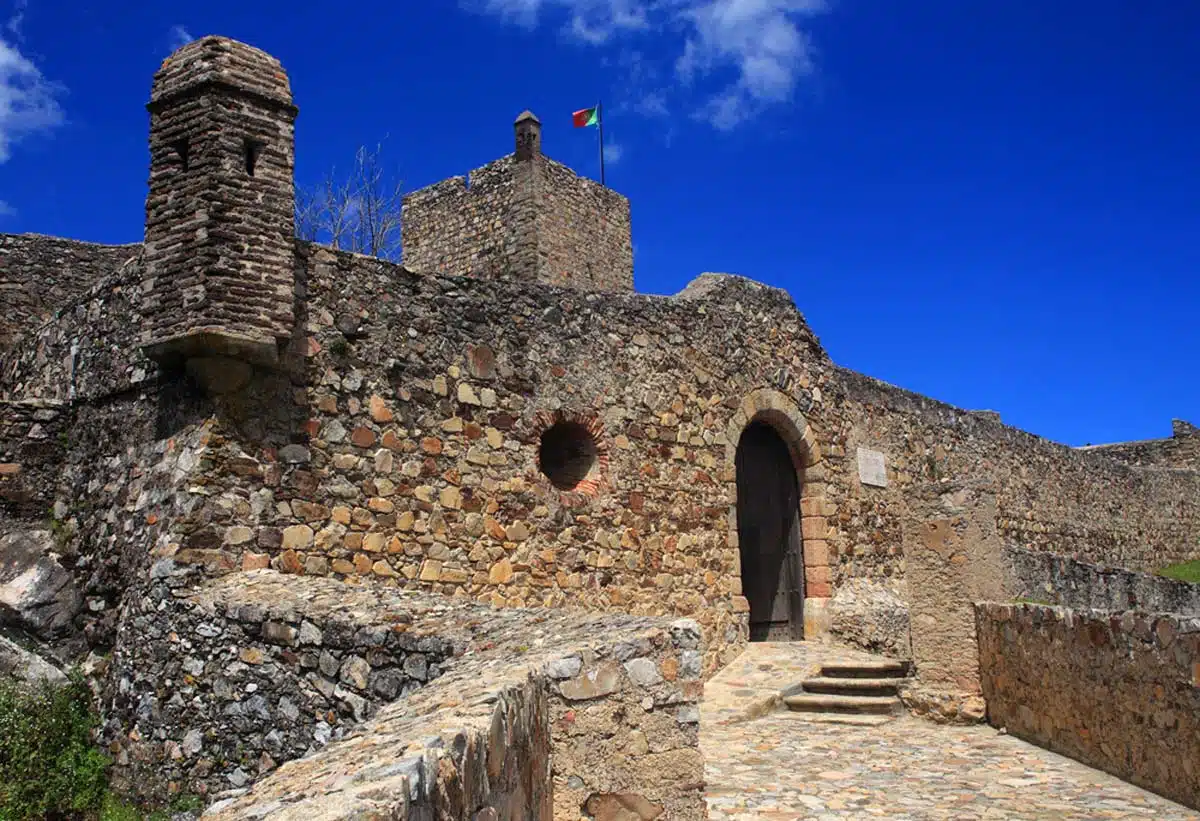 If you prefer your castle's traditional and medieval, Marvão Castle is where you need to head. This fortress has a history dating back to the 9th century and stands as a testament to the region's strategic importance during the Reconquista.
Ibn Marwan, an Islamic knight, designed it with a mix of Moorish and Romanesque influences – though it's pretty traditional in its looks.
A stroll of the castle's grounds treats you to awe-inspiring views of the surrounding countryside. The battlements are well-preserved, and the imposing towers and Keep Tower draw you in. While walking along the fortified walls, you can't help but take in the breathtaking vistas.
This remarkable destination offers 360-degree views in every direction and is worth the trip to the hilltop.
Monserrate Palace
Sintra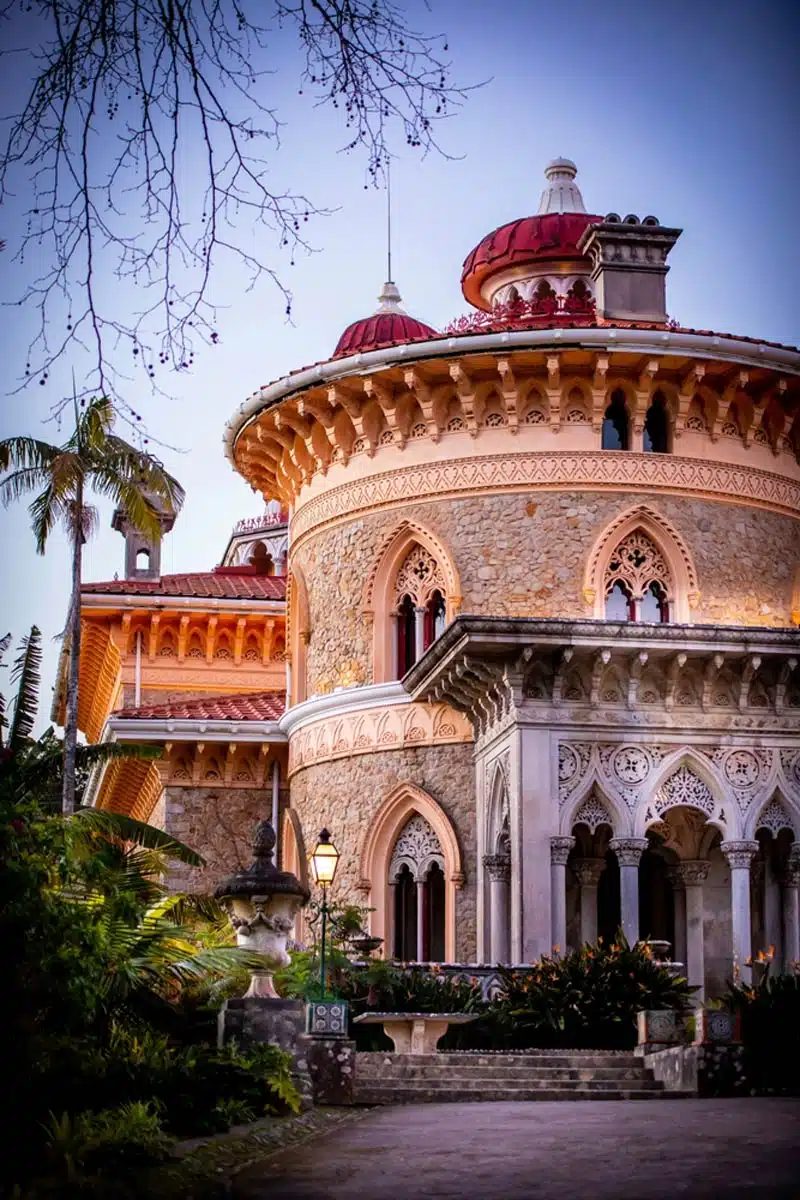 Monserrate Palace is a fairytale escape nestled in Sintra. Sir Francis Cook gave architects James Thomas Knowles and James Knowles the order to design the castle. And the 19th-century palace takes inspiration from Gothic, Moorish and Indian architectural styles.
The result? A pretty pastel explosion of colour and design. Its grounds sprawl over 30 acres, giving you plenty of room to wander and pretend you're a noble in your own kingdom (we've all done this, right?)
Look out for its botanical gardens that Francis Burt, master gardener, took immense care of. Here, you'll be able to spot a magical array of flowers and plants, including camellias, bamboo and azaleas.
As you explore the grounds, watch for the grandiose entrance, intricate tile work and the enchanting Water Lily Pond. There's also an adorable cat that likes to hang out in the bushes near the entrance of the castle – keep your eyes peeled for him.
Top Tip: Book your Monserrate ticket in advance to avoid waiting in hefty queues at Sintra.
Practical Tips for Visiting Portugal's Castles
Plan your castle visit – particularly if you're visiting Sintra. I'm a huge fan of guided tours and recommend taking one if possible. Not only to make logistics easier, but guided tours will help you understand the castle's history and architecture better.
Wear comfortable shoes, as some of these castles of Portugal will involve walking uphill and navigating uneven terrain.
These castles are a history trove; some are UNESCO World Heritage Sites. As such, it's essential to respect the castles' rules and regulations, which may include restrictions on photography or touching artefacts.
Portugal Castles: Map
Portugal Castles: Read More Portugal Travel Guides
Love This? Save and Share on Pinterest