There are few things more Portuguese than Azulejos. Those brightly-coloured tiles that are found in almost every spot in Portugal. We travel to the Alentejo to learn more about this traditional art.
The Alentejo is one of Portugal's most alluring places. Wild and untamed, with a spectacular coastline and sparsely populated interior, it's the country's hidden treasure. It's often missed off by people spending a week or so in Portugal, which is a shame.
It's no secret that I am pretty in love with Portugal. This year, I've travelled to Lisbon, Porto, the Douro Valley, the Algarve and the Alentejo – each trip has made me appreciate the unique history and culture of this country even more.
Everywhere I went, I saw azulejos – beautifully decorated and coloured Portuguese tiles.
On the front of houses, inside churches, restaurants, mansions – there are few places you don't see them. Hunting them out became one of my favourite things to do during my time in Portugal.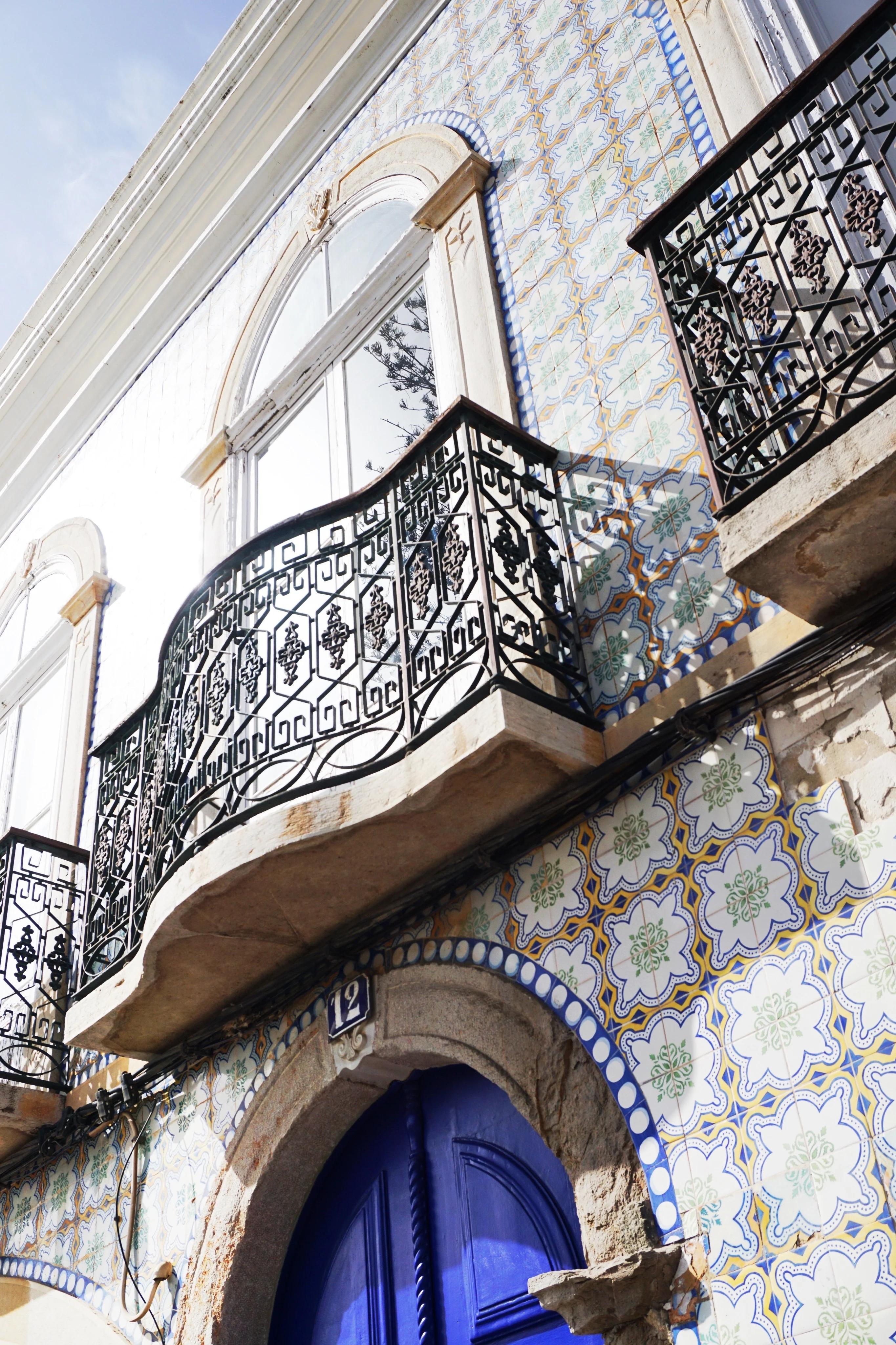 A Brief History of Portuguese Azulejo Tiles
Portugal has a long and interesting history of using tiles, and tiles have played an important part of Portuguese visual arts for centuries.
Portugal started to use the azulejos in the 16th and 17th century, after a period of time in the 13th century when parts of the south of the country were under Moorish control and rule.
The Moors brought the production and use of azulejos with them – the very word stems from Arabic and means small polished stone.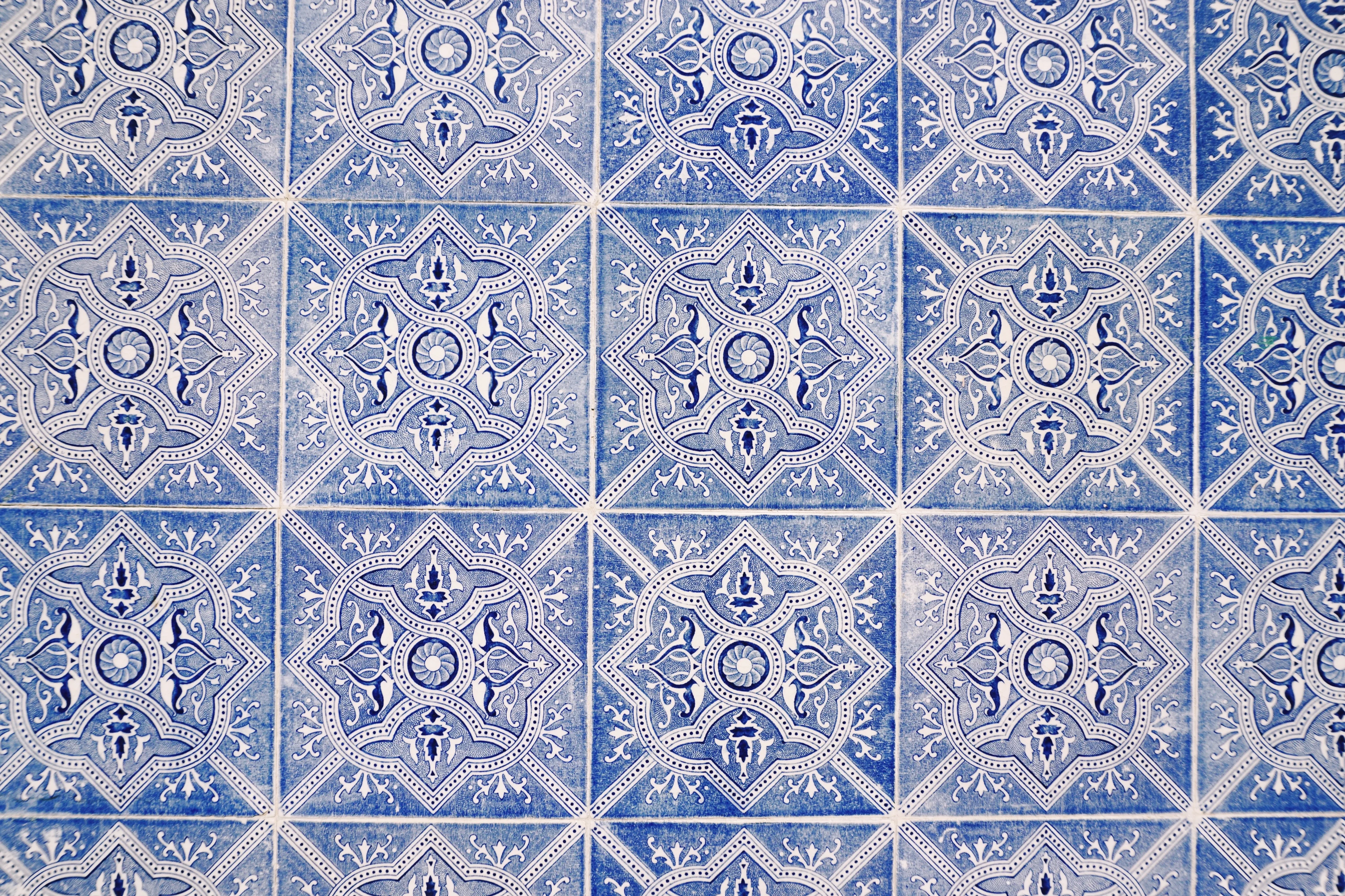 Azulejos vary widely in their design – from simple geometric pattern to ornate reliefs and murals that tell a story. Inside of churches, they're used to tell biblical stories and allegories, elsewhere, they can be patterned or illustrative, depending on when they were made and the whims of the decorator.
Even today, other contemporary artists such as Andre Saraiva use tiles to create large-scale public murals such as this one in Lisbon.
Artisanal Azulejos in the Alentejo
It wasn't until my recent trip to the Alentejo that I had the opportunity to learn a little more about them. Like many people, I knew little about this region.
I'd seen a few pictures of the wow-worthy coastline (more on that in a different article) and I knew that it was home to part of one of Europe's great coastal hikes – the Rota Vicentina's Fisherman's Trail. That was about it.
Throughout the course of my time there, I learnt so much about the Alentejo and its history – including a little bit about the azulejos that had fascinated me for so long.
Not only from hiking and driving across the region, but also by talking to people who took their time to show me their passion for what they do and their day to day life as part of the Rota Vicentina's cultural program. One such person was artisanal tilemaker Rita Silvério Morais, who is based in the small hamlet of Brejao.
In Conversation With Rita Silvério Morais
Rita keeps the tradition of azulejos alive in her work. She incorporates this long heritage and traditional tile-making methods into her products. The result is beautiful. "Small polished stone" seems like an understatement for the pieces that have been produced over the centuries and that Rita produces to this day.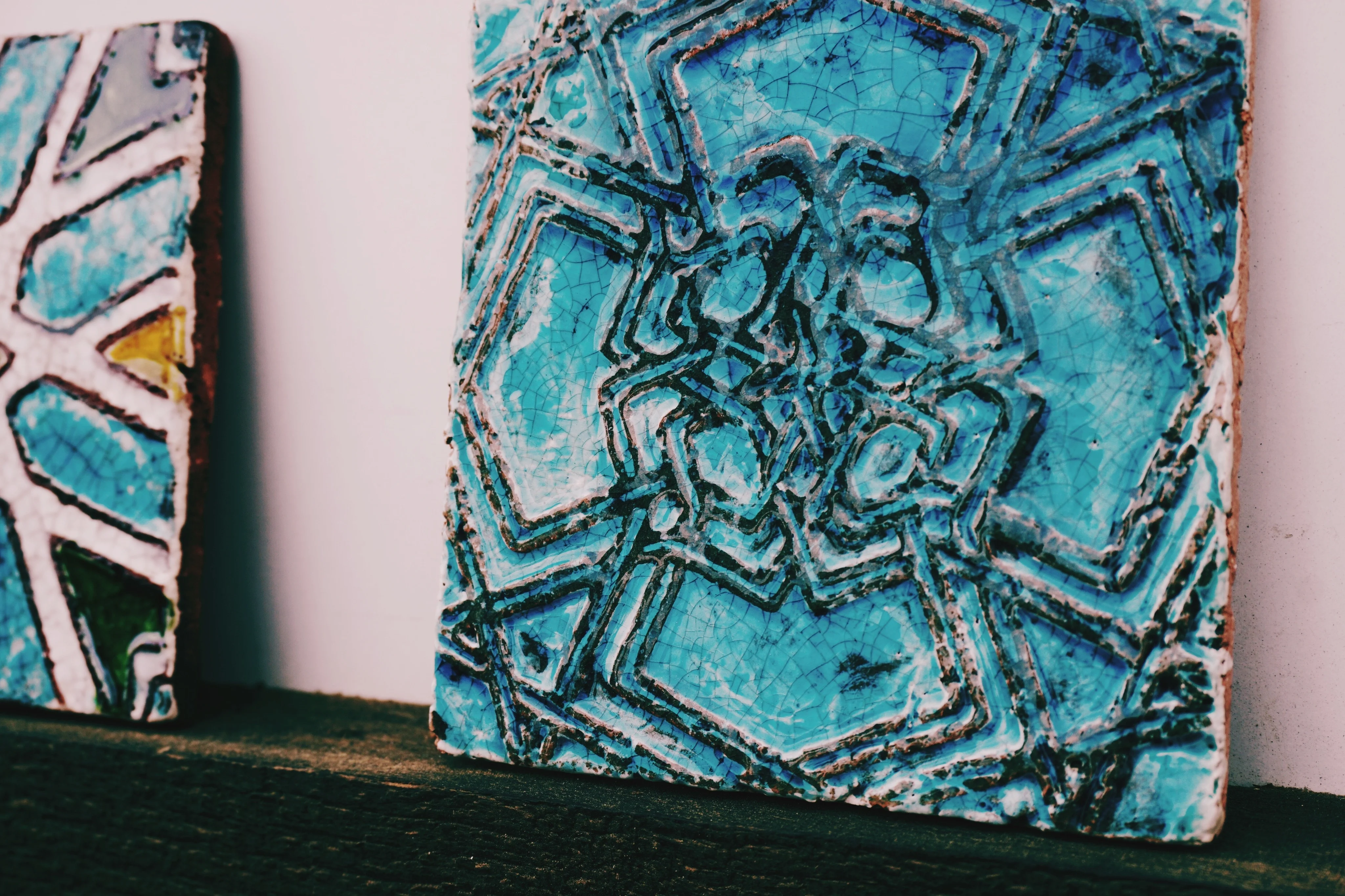 "These tiles are made using a very traditional method," Rita explains as she gestures to a number of azulejos sporting a variety of geometric patterns in jewel-like colours.
"I build small raised walls on the flat surface of the tile to form the pattern and separate the colours".
"In contrast to some Portuguese tiles, these ones are coloured in blues, greens, yellows and reds. People sometimes associate the blue and white azulejos with tradition, but actually, the blue and white only became fashionable in the 18th century, where these colours had been used for centuries before."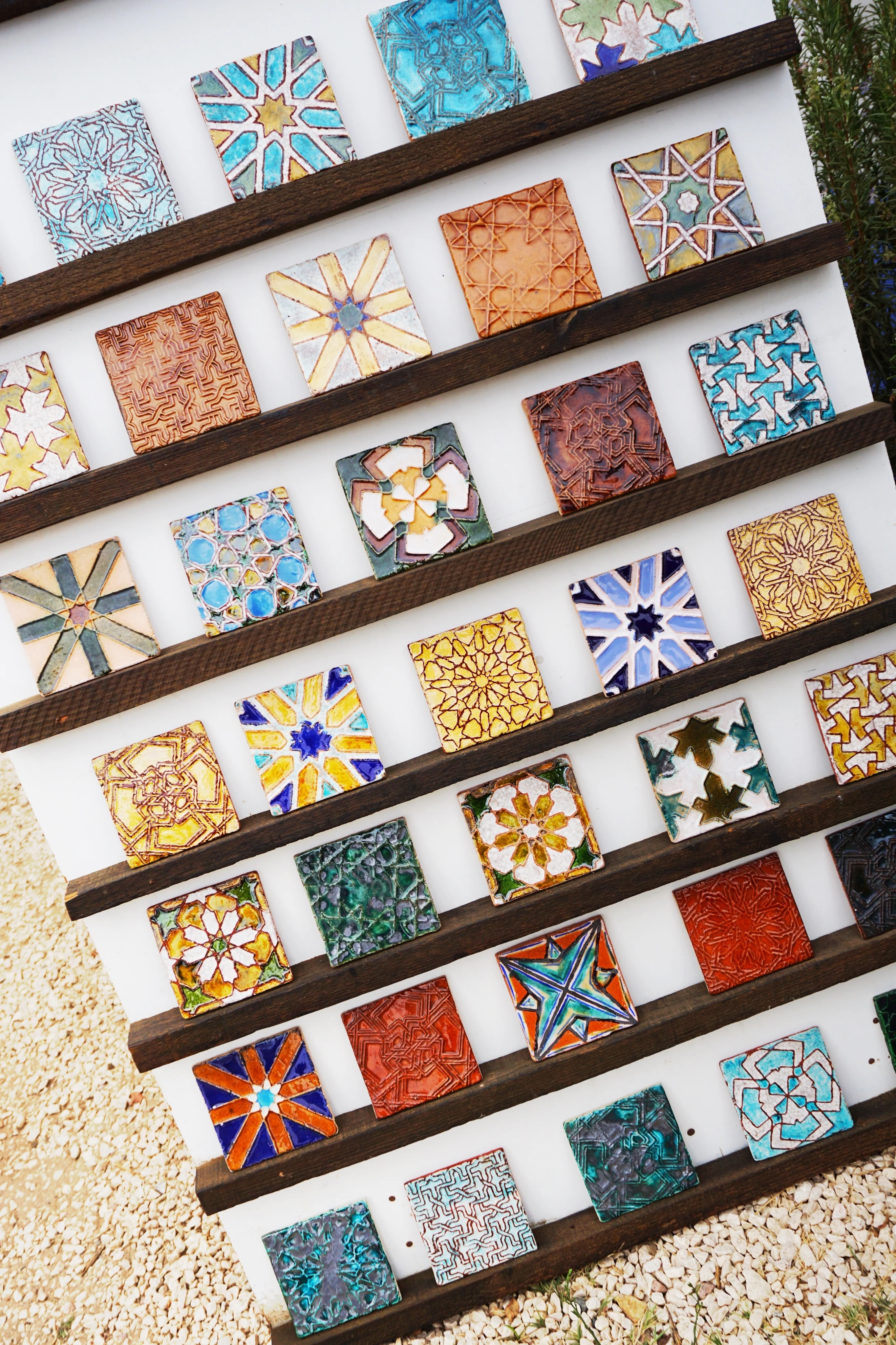 Rita prefers the geometric styles and bright colours inspired by the Moors, rather than the blue and white azulejos that are normally found in places of wealth.
The azulejos are imprinted on bright red clay tiles – though Rita uses a lot of local clay, she searches far and wide across the country to find different clays to suit the process. It's hard to believe that raw yellow lump will take on the intense terracotta colouring of the baked tile, but it's true.
Contemporary Interpretation
Away from azulejos, Rita also produces a wide range of pottery. Rotund and whimsical bulls sit side by side with large bowls, cups and even necklace pendants.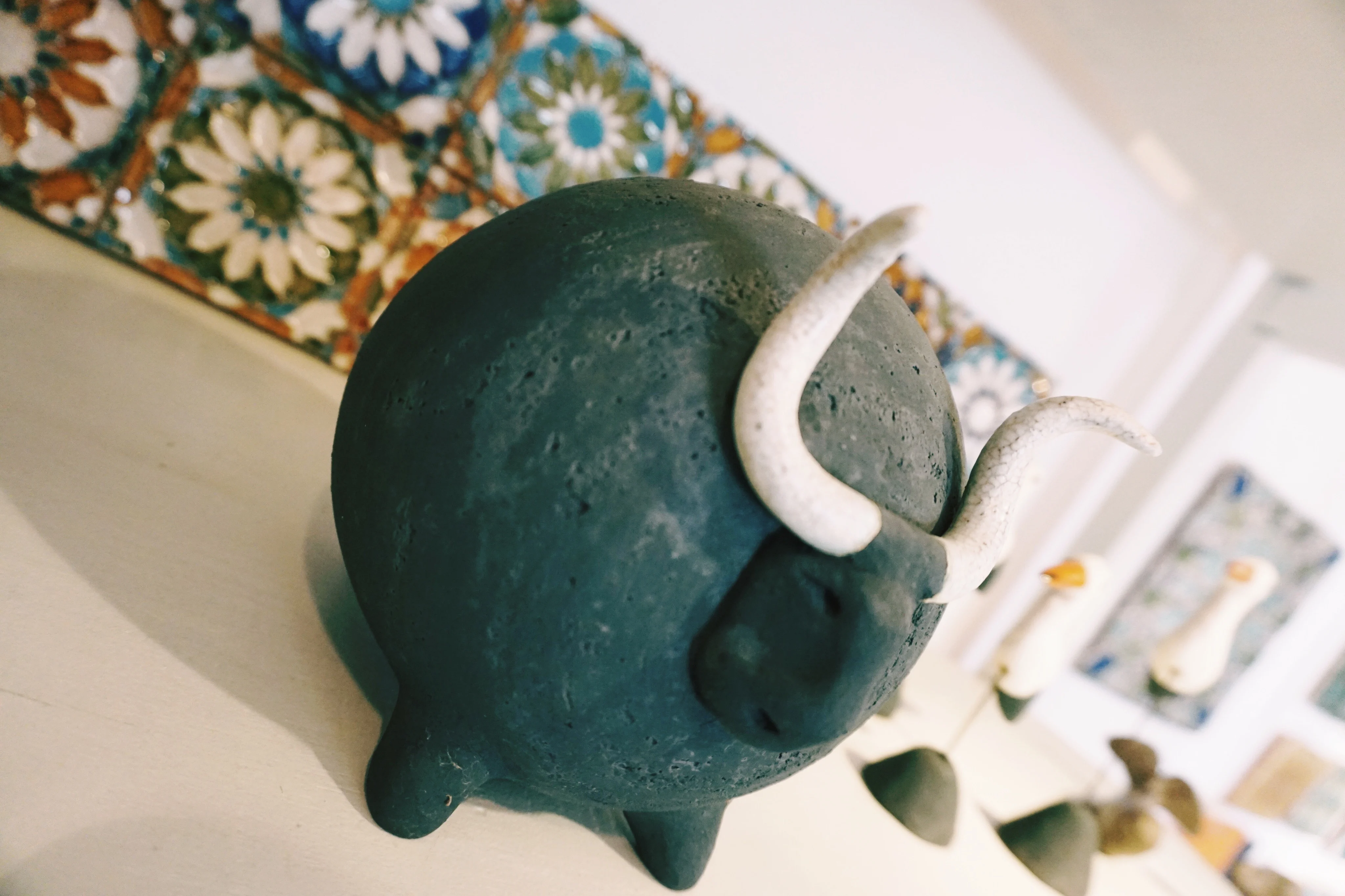 Touring her workshop, the important role that the local landscape and setting play in her work is clear. From the dark grey pottery, the colour inspired by the jagged schist rocks that dominate the coastline, to candles made with beeswax from a local cooperative, there's nothing that doesn't reflect the setting and culture of the Alentejo.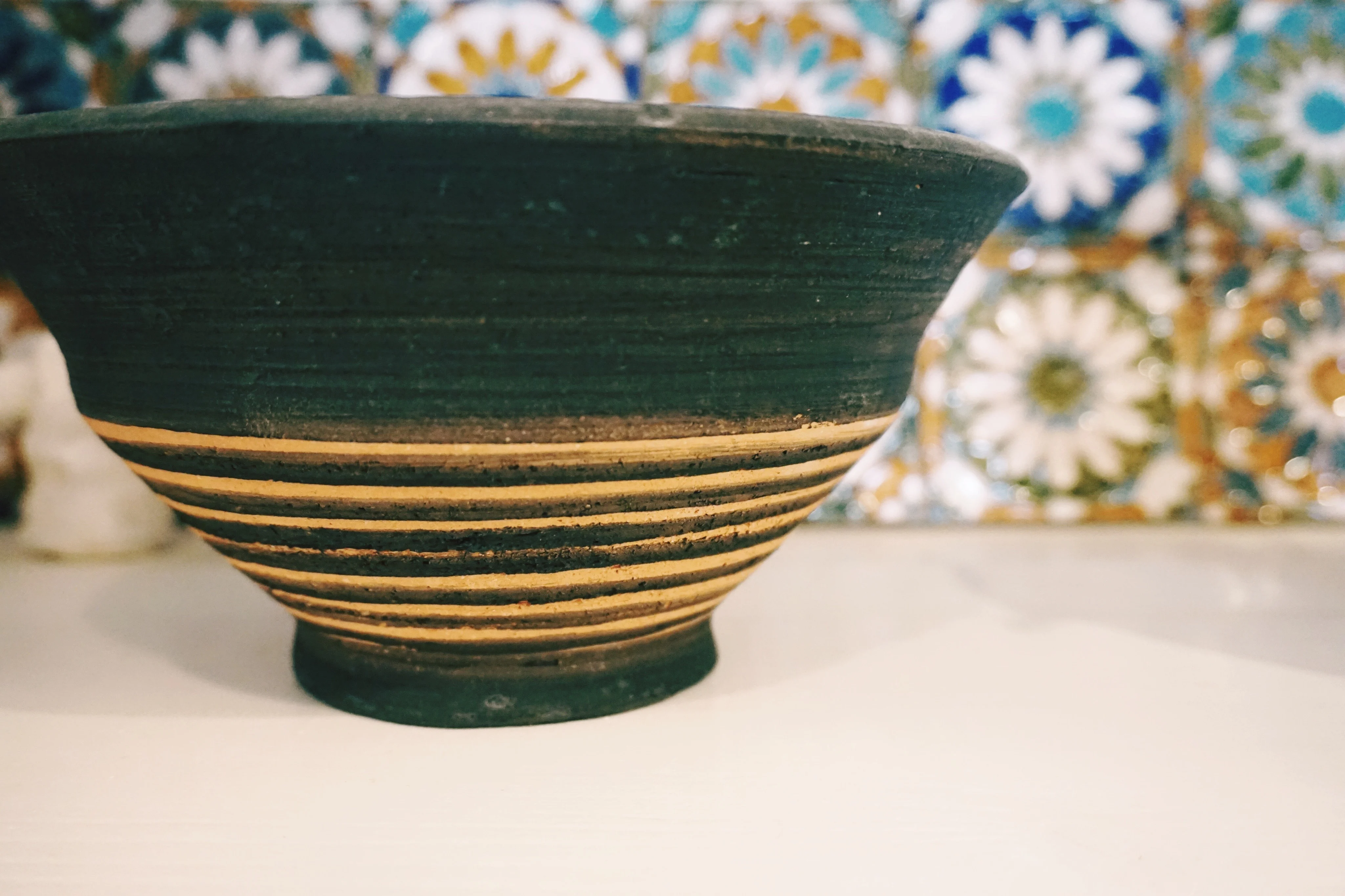 It's rare that you get such a complete sense of place – but then the Alentejo is like that, a full-on sensory experience that you can't wait to explore.
About the Rota Vicentina
The Rota Vicentina is a grassroots project, a network of 450 km trails in the South West of Portugal, it's also an association of small businesses started with the aim of showing the authentic culture and landscapes of the local area.
Rather than just encouraging people to come and see a few sights before moving on, the Rota Vicentina promotes getting to know a land and region through its people. Read more information.
We were kindly hosted by the Rota Vicentina and the Alentejo Tourist Board for our stay in the Alentejo. As ever, all opinions are our own.
Love this? Save and share on Pinterest.