Portugal's Algarve is blessed with more than its fair share of spectacular beaches. From dramatic spots underneath looming cliffs to miles and miles of sandy shores, these are the best beaches in the Algarve you shouldn't miss on your trip.
The Algarve: just the words conjure up sun-drenched days, azure skies and gorgeous beaches.
During my first visit to the region, I fell head over heels for the near-unlimited opportunities for beach-hopping – so much so that I always try and slip in a cheeky trip every year to go and discover a few more.
You see, the Algarve's beaches are nothing short of spectacular: some lead to the limpid waters of the Mediterranean sea, while others onto the raging Atlantic.
The result is a diversity of beaches rarely found in one country nevermind in one region. 
Looking for the best beaches in the Algarve? I've got you covered.
PS: Looking for more Portugal inspiration? Check out my pick of Cool Places to Visit in Portugal and Portugal Itinerary
The Best Beaches in the Algarve
Praia da Coelha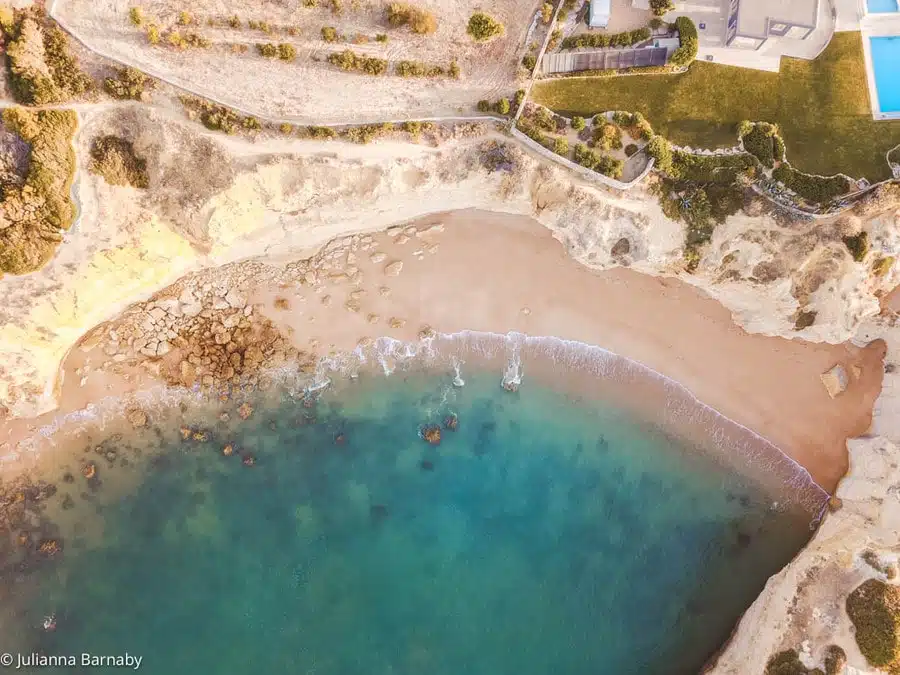 Praia da Coelha is one of the quieter beaches in the Algarve: it's very unlikely that you'll need to elbow anyone to find your stretch of sand here.
Perched on the coastline between Albufeira and Armação de Pera, it's hidden enough that you have to really know its there in order to find it.
That's a good thing, because once you've made your way through the grove to find the stairway leading down to the beach, you're confronted with a hidden treasure you'll want to keep all to yourself.
Ilha Deserta / Praia da Barreta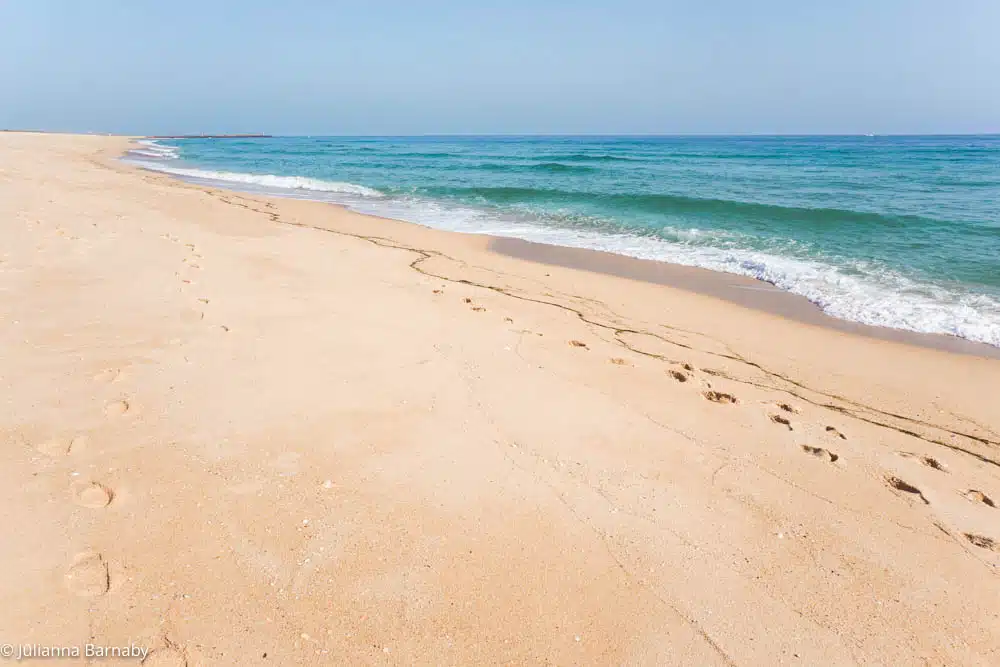 A deserted island? Just a short boat ride away from Faro? Complete with its own 11km stretch of golden sands? I'd forgive you if you thought that the beach at the Ilha Deserta was a heady figment of my imagination. I assure you it is not.
The island is a part of the gorgeous Ria Formosa Natural Park in the area between Faro and Quinta do Lago. All well and good, but it is the beach you're interested in – and for good reason.
I think this is pretty much my favourite beach in the Algarve and certainly the best beach near Faro, if only because it is so large and wild – and, as you'd expect from a beach that big, it never gets packed, even in high season.
If you do visit, I would recommend hopping on one of the eco-tours that take you on a fascinating ride through the marshlands of the natural park, spotting birds and marine life as you go (we were lucky enough to see dolphins on our last trip).
Once you're on the island, eco-friendly Estamine Restaurant is one of the best in the region – go if you like your seafood with a side of fantabulous views. Hands down one of the best things you can do in the Algarve.
Praia da Marinha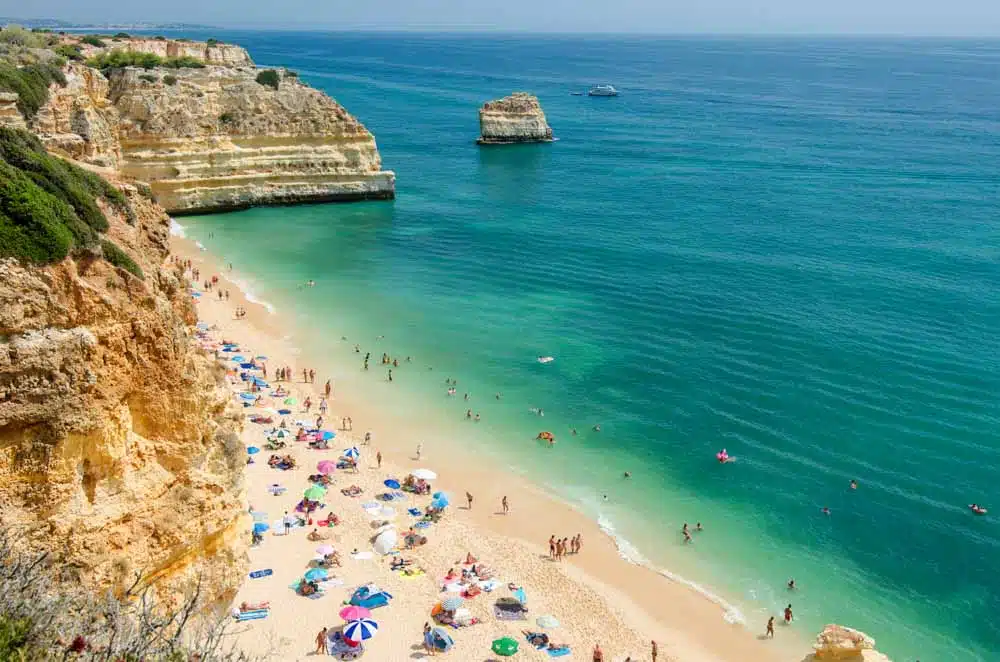 Search for any recommendations for the best Algarve beaches and I'll bet that Praia da Marinha features on every. single. one.
Figuring out why isn't exactly rocket science – ensconced between golden cliffs and crystal clear waters, it looks every inch the part of the dramatic beachside diva it's reputed to be.
To get to the beach itself, you need to walk around a jutting promontory of rock – do so quickly in high tide or you're certain to get soaked.
Don't worry though, drying off is just a matter of stripping down to your swimmers, flopping down and enjoying the sunshine – not exactly a hardship.
Praia de Albandeira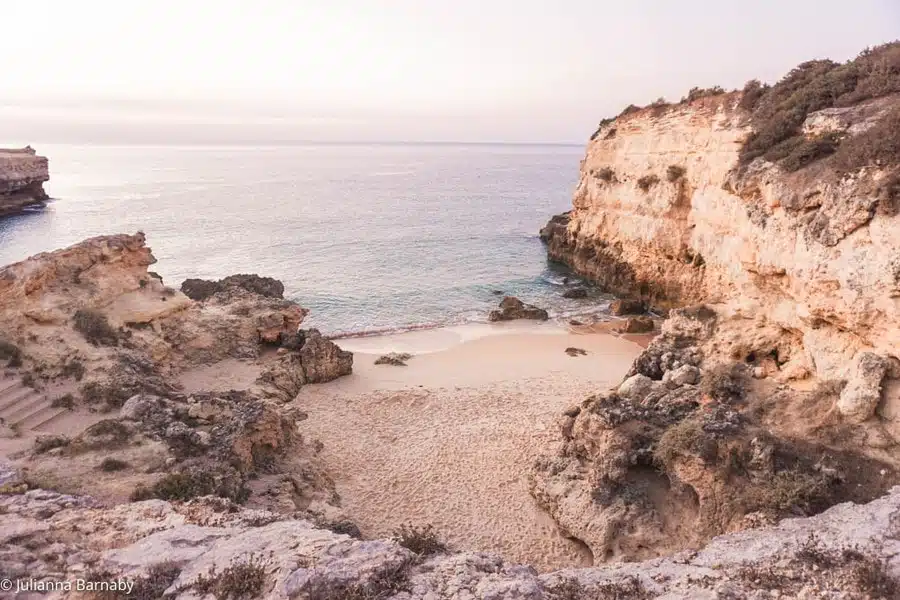 Praia de Albandeira might not be quite as well-known as its neighbouring Algarve beaches Praia da Marinha and Benagil sea cave but trust me, this is one secret that you will want to be in on.
It might be small, but it punches well above its weight when it comes to natural beauty – so much so that Conde Nast named it as one of the best beaches in Europe.
There are two sides to the beach – the left is bigger than the right, while the right boasts a view of the Arco de Albandeira – a striking natural arch leading from the cliffs into the sea.
Praia de Vale Figueira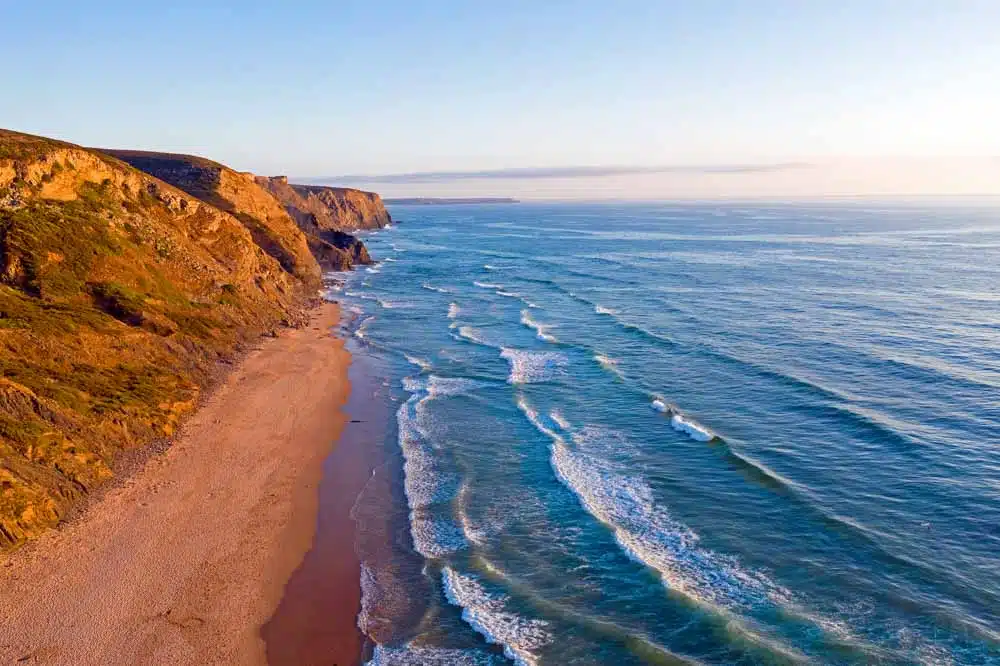 Many of the gorgeous beaches on this list are well-known destinations, meaning that when the sun shines, they can get rather busy.
Standing in complete contrast to those popular beaches, the Praia de Vale Figueira is one of the Algarve's secret gems. Isolated and windswept, it comes with bagfuls of views and a huge swathe of enticing sand.
Be warned, you'll need to set off on a narrow mud track to get there and there are no facilities in easy reach so be sure to bring plenty with you.
Benagil Sea Cave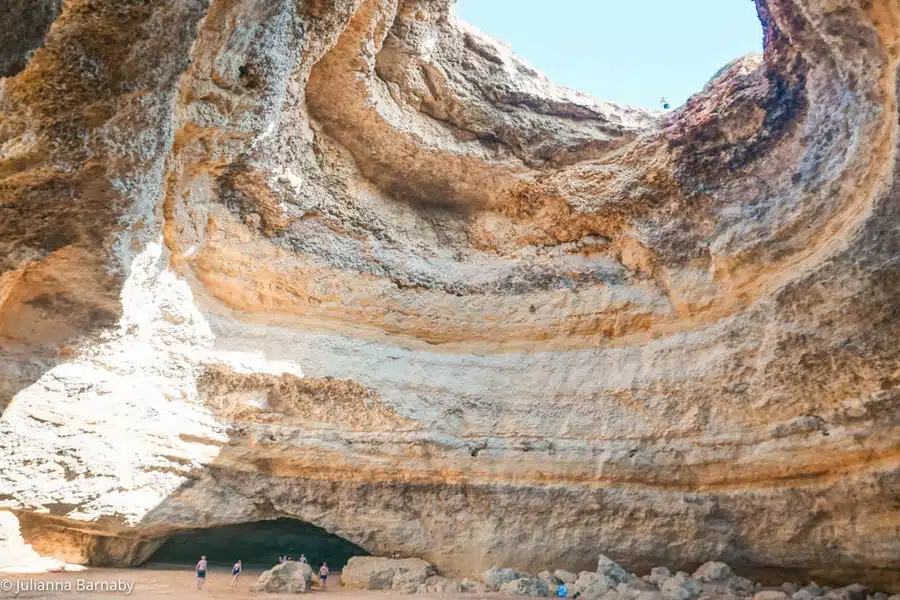 The Benagil Sea Cave's large domed arch looks too dramatic to be believed – a rocky igloo complete with a small hole at the top through which the sunlight streams in down onto the bathers below.
Go early in the morning, when the cave is near-deserted (it does get very busy as the day progresses), settle down on the beach inside and watch as the cave is bathed in the early morning light.
To access the cave, you can either swim from the nearby Praia de Benagil, hire a kayak or jump onto one of the many boats that hop along that part of the coast.
Or you can do as I did and have to hire a private boat because you've flown your drone into the hole at the top, it's lost GPS signal, gone crazy, crash landed and you have to set off to rescue it. That's a totally viable option too.
Want to take the adventurous route? Check out this kayaking tour to the caves. 
Praia do Barril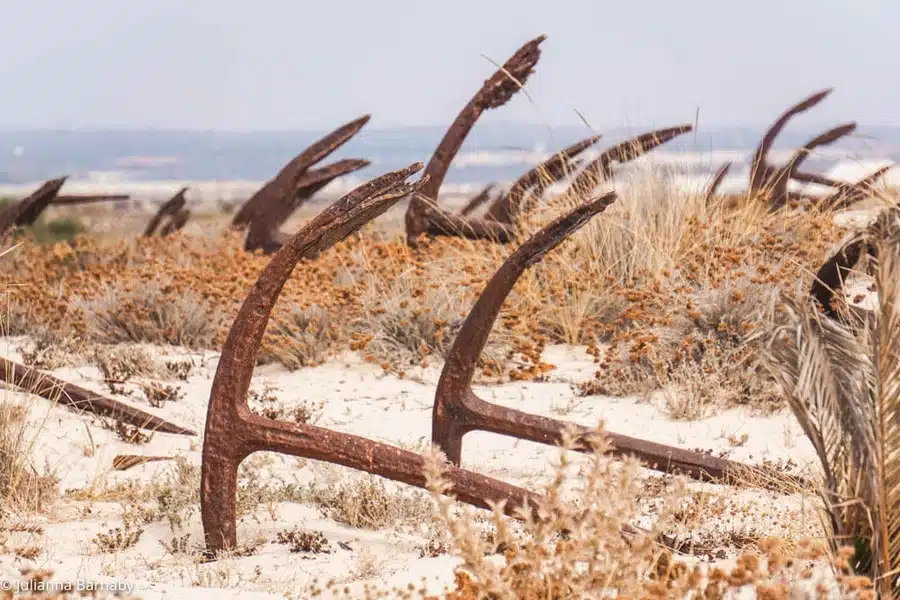 Praia do Barril sits on another island that forms part of the Ria Formosa Natural Park – this time in a section near postcard-perfect Tavira.
It's famed for the quirky Anchor Cemetery – a collection of old rusting anchors partially-buried in the sand left as a reminder of the area's once-thriving tuna fishing industry.
Move beyond that and you will find one of the nicest nudist beaches in the Algarve with soft sands and plenty of opportunity for embracing the sun in the buff.
Getting to Praia do Barril is a mini-adventure in itself. You can walk the boardwalk across the marshlands or you can hop on the twee mini train that carries visitors between the main entrance and the beach.
Praia do Camilo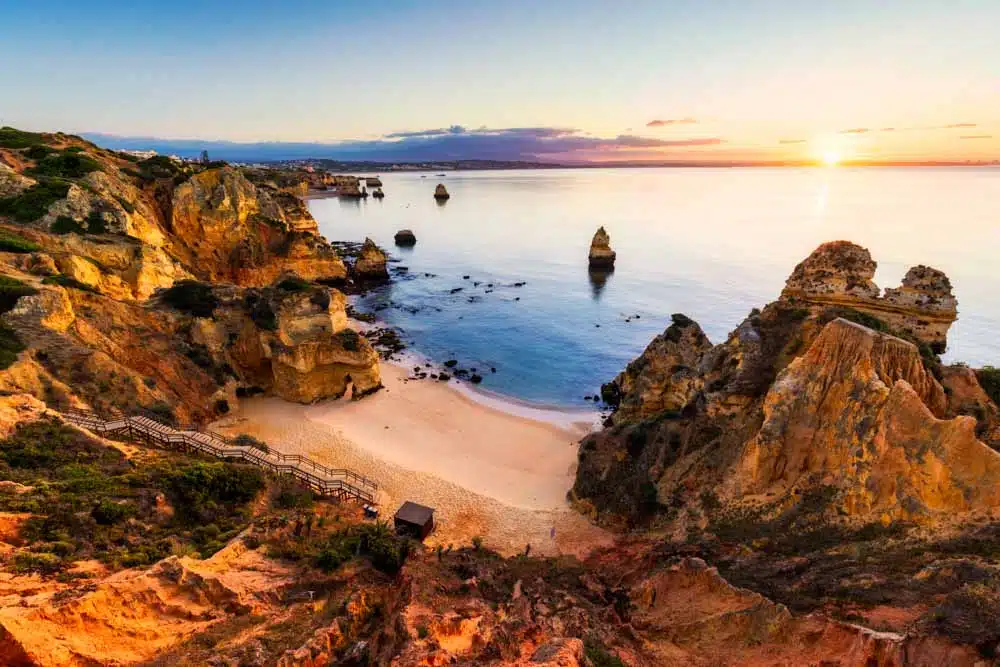 Wind your way down the 200+ wooden stairs that form the passageway to Lagos' most striking beach – Praia do Camilo.
It's often named as the best beach in the Algarve, so don't expect it to be at all deserted. With views like these, you can well afford to snuggle up a little closer to your beach neighbour. 
Be warned, thanks to the surrounding cliffs, the beach itself is small – if there's no space or you just want to have a little extra breathing room, head through the tunnel to the quieter beach next door.
Praia de Odeceixe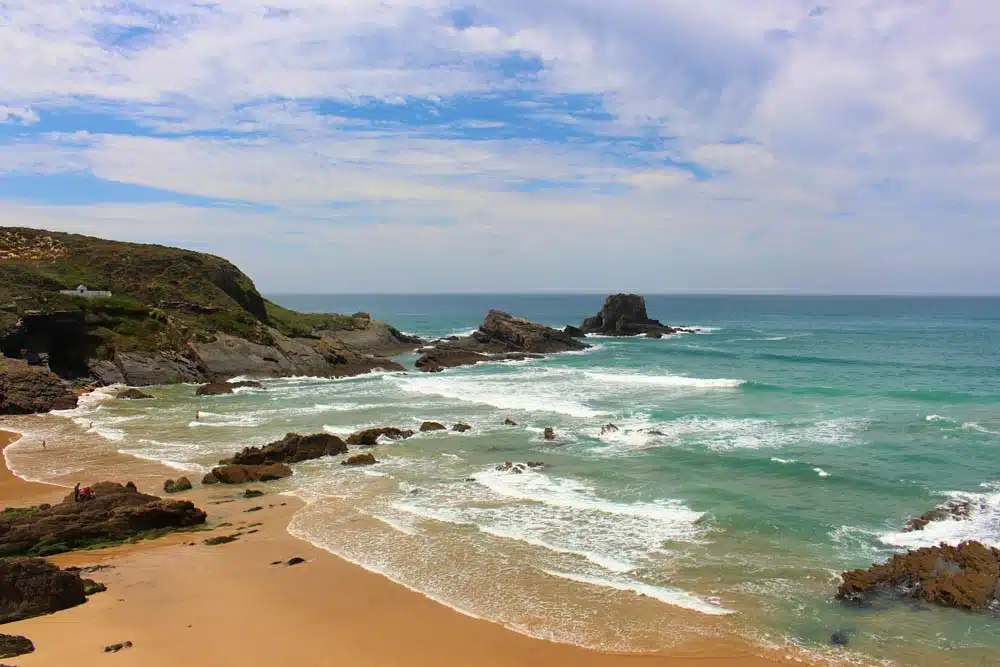 Praia de Odeceixe sits right on the cusp of the Algarve, just on the right side of the river that forms the border between the Algarve and it's much quieter northern neighbour the Alentejo.
Be warned, as this is the Atlantic coastline the waters can get rough and the waves can get big. Hence the popularity with surfers. Like things a little tamer? Simply head to the beach that stretches inland along the river.
I've long been a fan of this stretch of the Atlantic coastline as it's jam-packed with incredible views – the beaches aren't too shabby either. If you're up to the challenge, they form a part of the gorgeous Fisherman's Way on the Rota Vicentina walking route. 
Praia de Tavira
You won't catch me on a naturist beach, though I thought I would include Praia de Tavira as it is one of the 5 official nude beaches in Portugal (and the best… so I've heard).
Whilst this is not for everyone, this is a popular nudey beach – though don't feel like you need to strip down completely.
It's worth exploring the island nearby as it is filled with an array of wildlife, including the island's famous chameleons. There are also plenty of restaurants and cafes nearby – clothes are very much required at these.
Praia de Manta Rota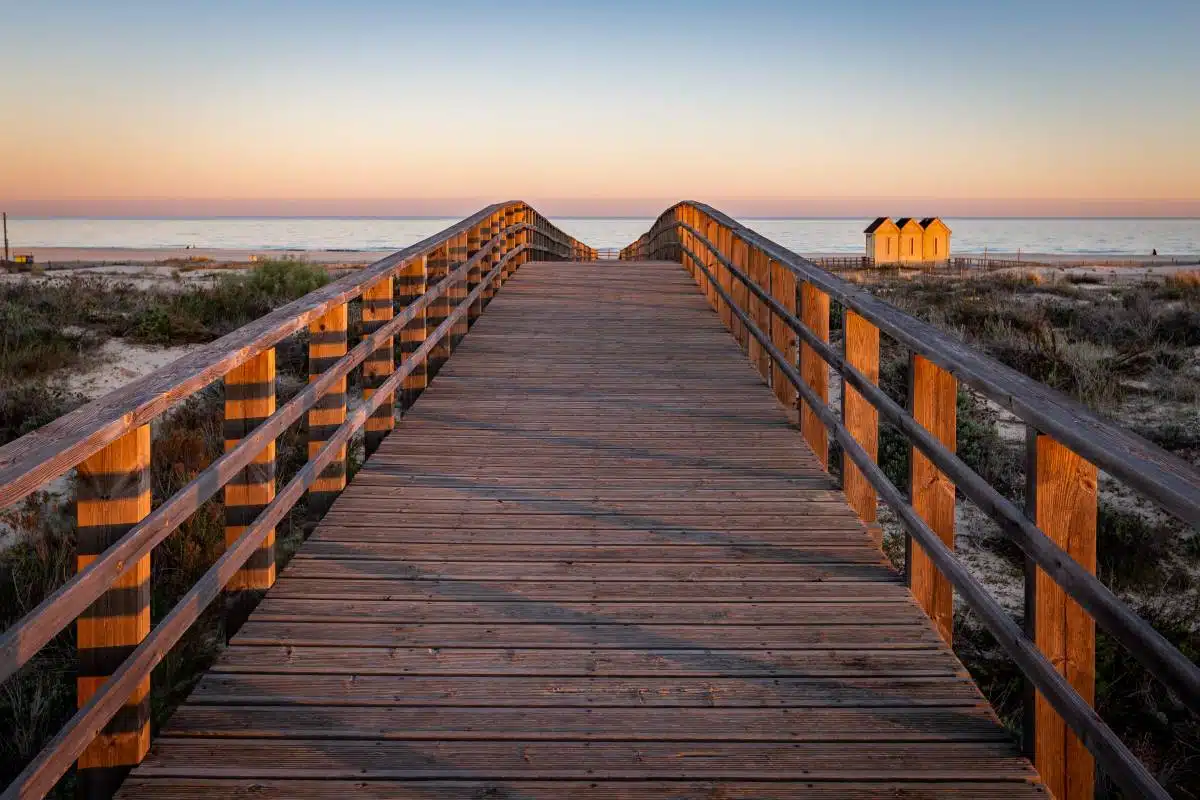 Situated in the bay of Monte Gordo, this Algarve beach is easily one of my favourites – though it's not exactly a secret as it attracts plenty of visitors. The coast fills with people early on in the day so you might want to set your alarm to nab the best spot on a sunbed (which you can rent, FYI).
Praia de Manta Rota becomes a mammoth beach during low tide, so expect to walk quite the distance before you make it to the sea. The upside is that you're pretty-much guaranteed space on the sand.
Praia da Fuseta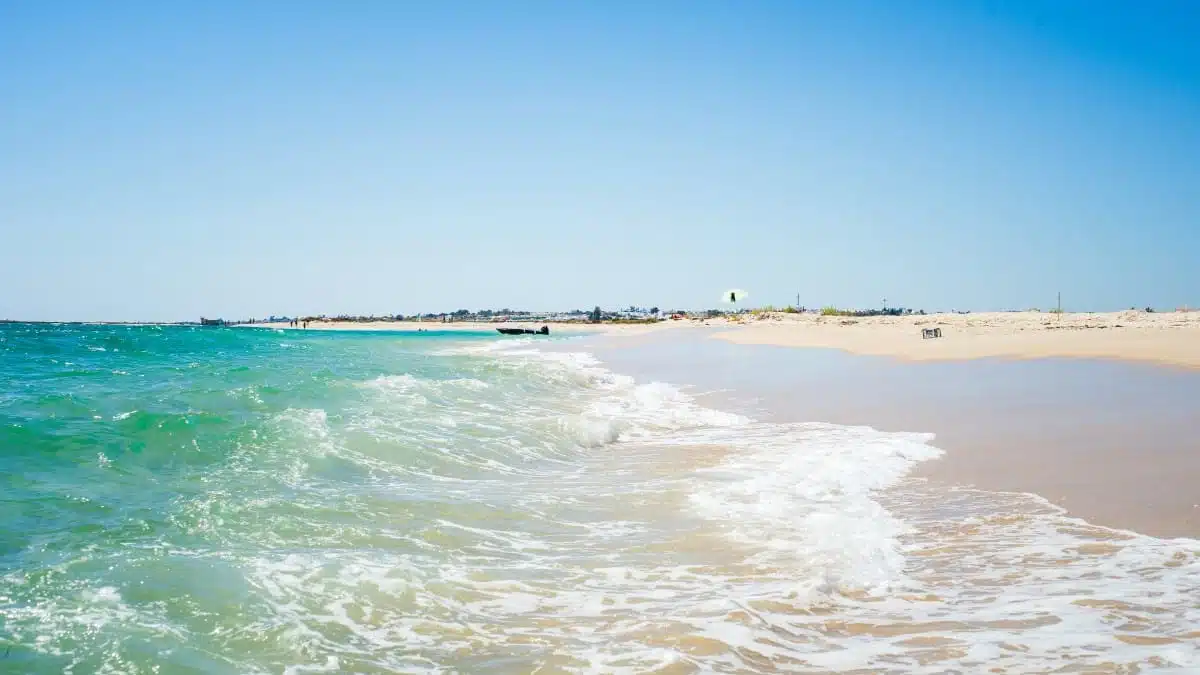 Nestled on Fuseta Island near the Ria Formosa, Praia da Fuseta is a quieter beach that's perfect if you like the idea of chilling out in peace. Yes, please. 
Getting to this beach is simple, you can cross the path by foot during low tide, or there are boats that run once the path becomes submerged. The sea is mainly calm, though it often has very choppy periods, great if you fancy getting involved in surfing or other watersports.
This is a great beach for families especially, and there are plenty of restaurants nearby to make a post-swim pit stop.
Praia da Falésia
If you're after a good time, Praia da Falésia is a bustling beach that hosts sunset parties every Thursday afternoon during the summer months – it's one of the best experiences in the Algarve and one I recommend you make the pilgrimage for.
This beach is located near Albufeira, though you'll need to rent a car to visit as it is a significant trek from the town.
The beach is blanketed by a rugged and rocky landscape, and the stretch of near-white sand is ample enough that you should manage to find a space to chill out.
Praia da Rocha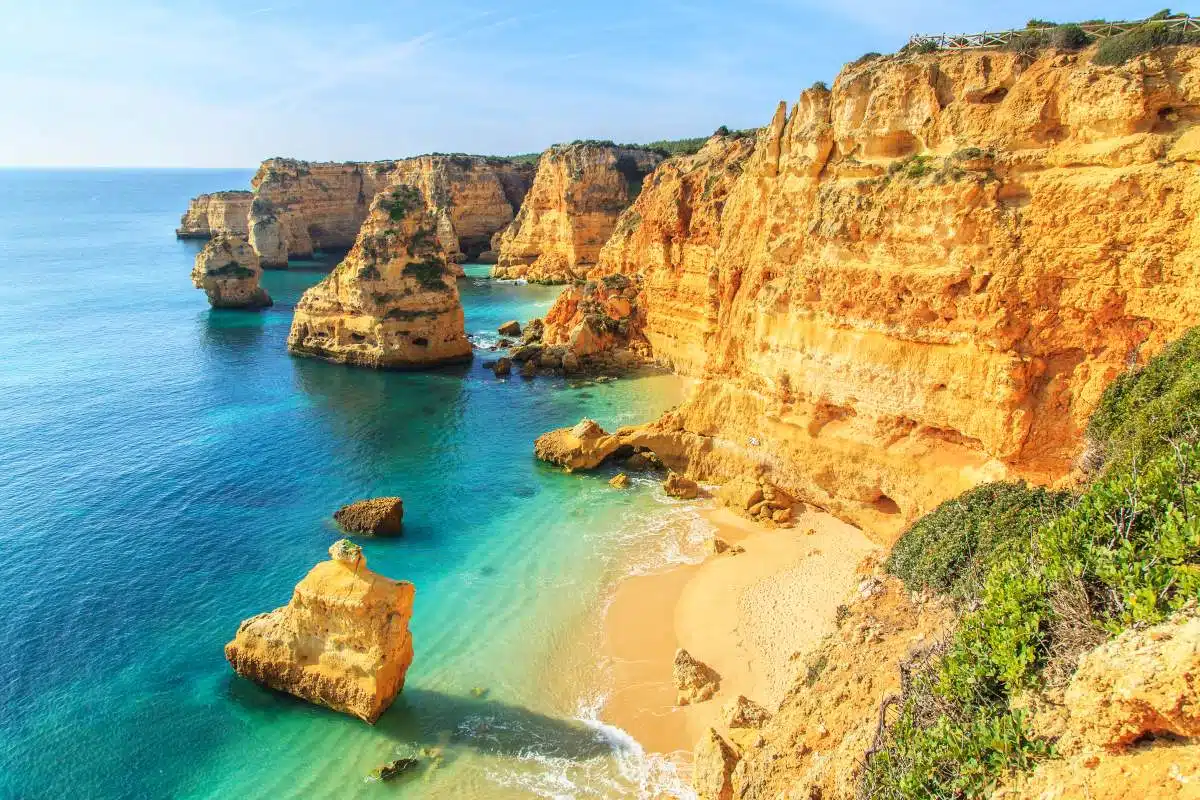 One of my favourite beaches in the Algarve, Praia da Rocha is the primary beach for Portimão and so it has exploded in popularity in recent years.
Stretching between the Praia da Rocha Resort towards the Portimão marina, this beach is one of the biggest in this guide. In other words, you shouldn't have any difficulty finding yourself a patch of sand to recline on.
That said, this patch of beach can get incredibly lively during the summer months, with cafes, restaurants, and nightclubs opening up along the stretch of sand.
Tips for Visiting the Algarve's Beaches
How to Get to the Algarve, Portugal
The easiest way to get to the Algarve is to fly to Faro, which is served by a broad range of international flights, as well as flights from Lisbon and Porto.
Another alternative is to fly to Seville in Spain and drive over the border. How convenient this is will depend on where you're going to be based in the Algarve, so check distances before you book.
Where to Stay
I've stayed in the Algarve quite a few times and these are my favourite places to stay.
Getting Around
While you can get around the Algarve by train and coach, getting to many of these beaches is difficult (nigh on impossible for some) without a car.
Hiring a car and driving in Portugal is easy and gives you the freedom to explore at your own pace (read: getting to the beach at the crack of dawn so you can have it all to yourself).
Check car hire with Holiday Autos
Best Time to Visit
The Algarve becomes incredibly (some say unbearably) hot during the period between the end of June and mid-September – which also just so happens to be the time when prices are highest.
If you can, travel between late April and mid-June or mid-September to late October when the temperatures are still high enough to sunbathe… without baking you into a brick in the process.
Don't Forget to Pack
Algarve Beaches Map 
Love This? Save and Share on Pinterest!