Discover the ultimate two-week Seychelles itinerary with this handy guide. Everything you need to know about spending 14 dreamy days on the archipelago.
Planning your next trip? The Seychelles should be high on your list of destinations.
Famed for its stunning beaches (the best in the world, in my not-so-humble opinion), a gorgeous mix of architecture, and leafy jungle trails, there's nowhere better to spend a fortnight in paradise.
While the Seychelles is an incredibly laidback archipelago, there's much to do here. In fact, when it comes to your Seychelles itinerary, 2 weeks is barely enough to scratch the surface.
Don't worry though, I've got you.
Want to spend two weeks in the Seychelles? Read on to discover an epic itinerary that has all the best bits covered.
Wanna Take a Sneak Peek? Check Out My Youtube Video on Planning Your Trip to the Seychelles!
Handy Tips for Planning Your Seychelles Itinerary
Group Tour or Independent Travel?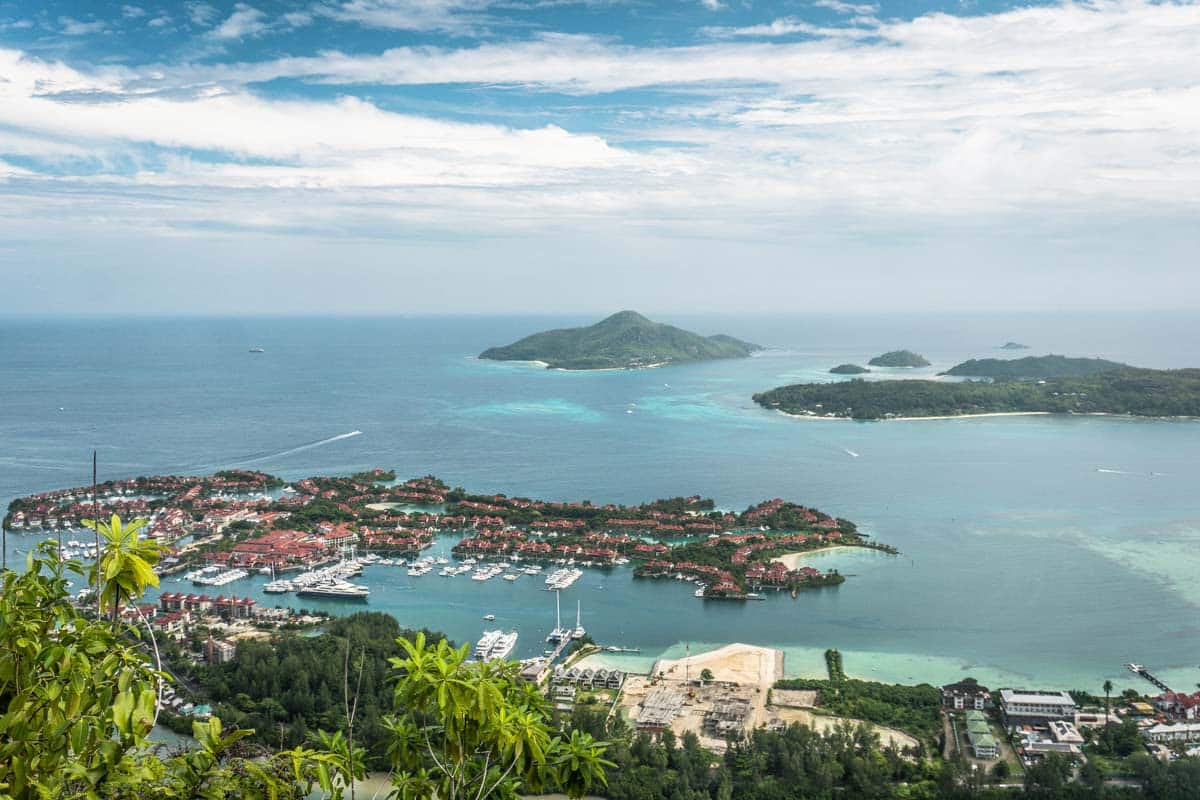 I'll be honest, I prefer solo travel when it comes to the Seychelles. Though, that's not to say that you will.
Group tours take the hassle out of planning your Seychelles tour itinerary, as accommodation, tours, and transfers are pre-planned and organised for you. The downfall of a group tour, however, is you don't have much flexibility when it comes to what you see and where you eat.
If you travel independently, you'll have complete control over your accommodation and itinerary. You can explore the islands at your own pace and prioritise specific locations and activities – it just takes a little bit of planning.
That said, I did book an 8-day Seychelles Ponant Cruise on Le Jacques Cartier on a recent trip, and it was a great way to see many different islands. Although you do have to sacrifice a bit of personal autonomy, it's worth it if you want to see a number of islands in a relatively short period of time.
What to Pack for Your Seychelles 2-Week Itinerary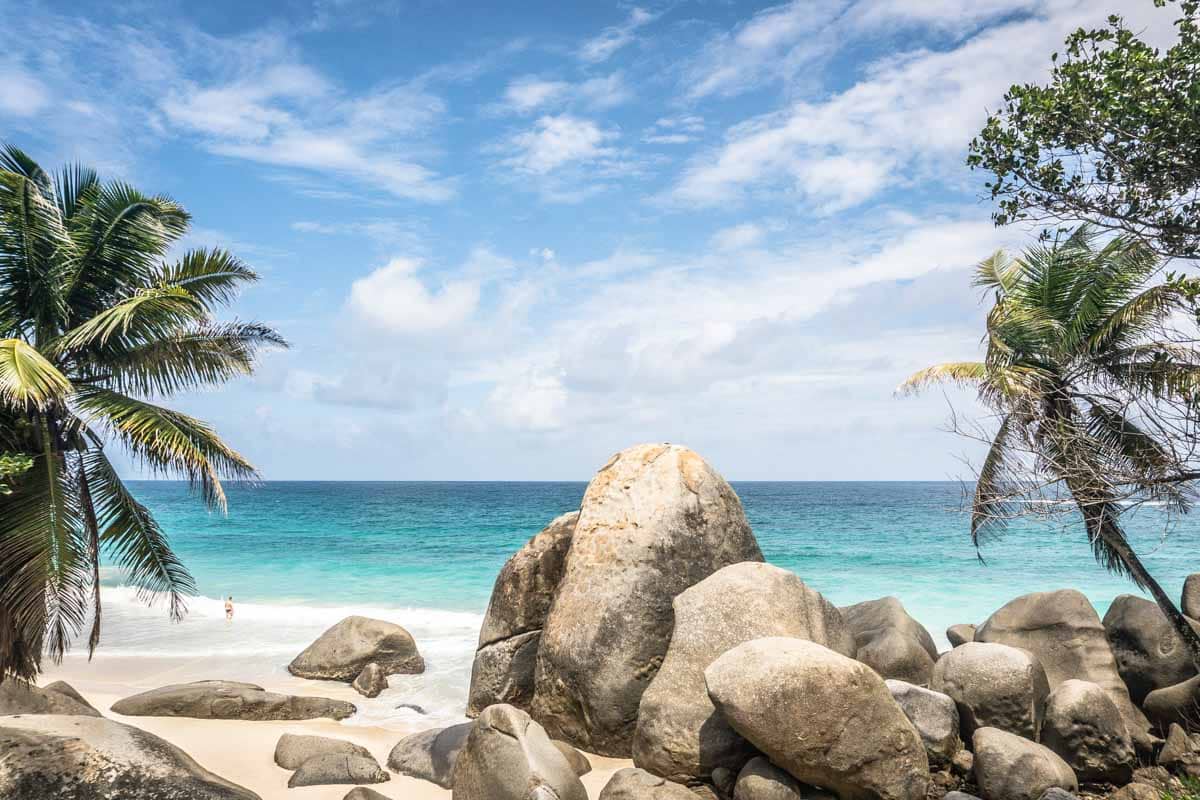 So we've already established that Seychelles is a gorgeous beach destination. So naturally, the first thing that should be in your suitcase is a bathing suit or swimming trunks.
A pair of flip-flops, high quality sunscreen, a wide-brim hat, and a swimming towel should also make it into your suitcase.
And considering that you'll do quite a bit of walking, pack in a pair of comfortable shoes to avoid blisters and swollen feet (NOT a good look when you wack out your flip flops at the beach).
Useful Resources
Here are some valuable tools that can help make your Seychelles itinerary trip planning a little easier:
Skyscanner: This is a valuable tool to search and book flights at the best prices anywhere in the world.
Booking.com: This is a fantastic tool for searching for a wide selection of hotels according to your needs and budget
Tripadvisor: This is the best place to book tours and read genuine reviews on tour experiences and restaurants.
Get Your Guide: Offers a wide selection of planned tours in your destination of choice at reasonable prices.
Viator: This is another great tool to compare and book different tours and trips.
Getting Around
Ferry: Ferries are the primary method of transport between the various islands and are often the most reliable way of getting around.
Flights: You can also jump on board a propellor plane to travel between the islands, assuming the weather holds up.
Bus: The main island Mahé has an affordable bus service that stops all over the island.
Bike: The island of La Digue is car-free, so you'll need to hire a bicycle to get around.
Car Hire: Mahé is a large island, so renting a car to get around is an option – that said, some of the roads are insanely steep – so you might be better off booking an experienced driver.
Boat Charter: On my first trip to Seychelles, a group of friends and I chartered a catamaran and sailed around the islands. It's a great way to see many islands, but it can be a bit pricey if you don't have any sailor pals.
Taxis: Taxis are the easiest way to get around the islands – but they are relatively expensive.
Immigration Form
You must fill in an immigration form (and pay for processing) to enter Seychelles at least 72 hours before you fly. You'll need an approved form before your departure, so I advise completing the form as soon as possible.
If you miss the deadline, you can opt for an expedited turnaround, which will cost you more.
Purchase an e-sim Before Departing
One of the best tips I can give you for your Seychelles trip is to purchase a regular or e-sim card, which is far cheaper than roaming rates. You can do so while registering your immigration form and collect it at the airport upon arrival.
I purchased an e-sim from Cable & Wireless. The collection was straightforward at the airport, and they even installed it into my phone once I got to the airport kiosk.
When is the Best Time to Visit Seychelles?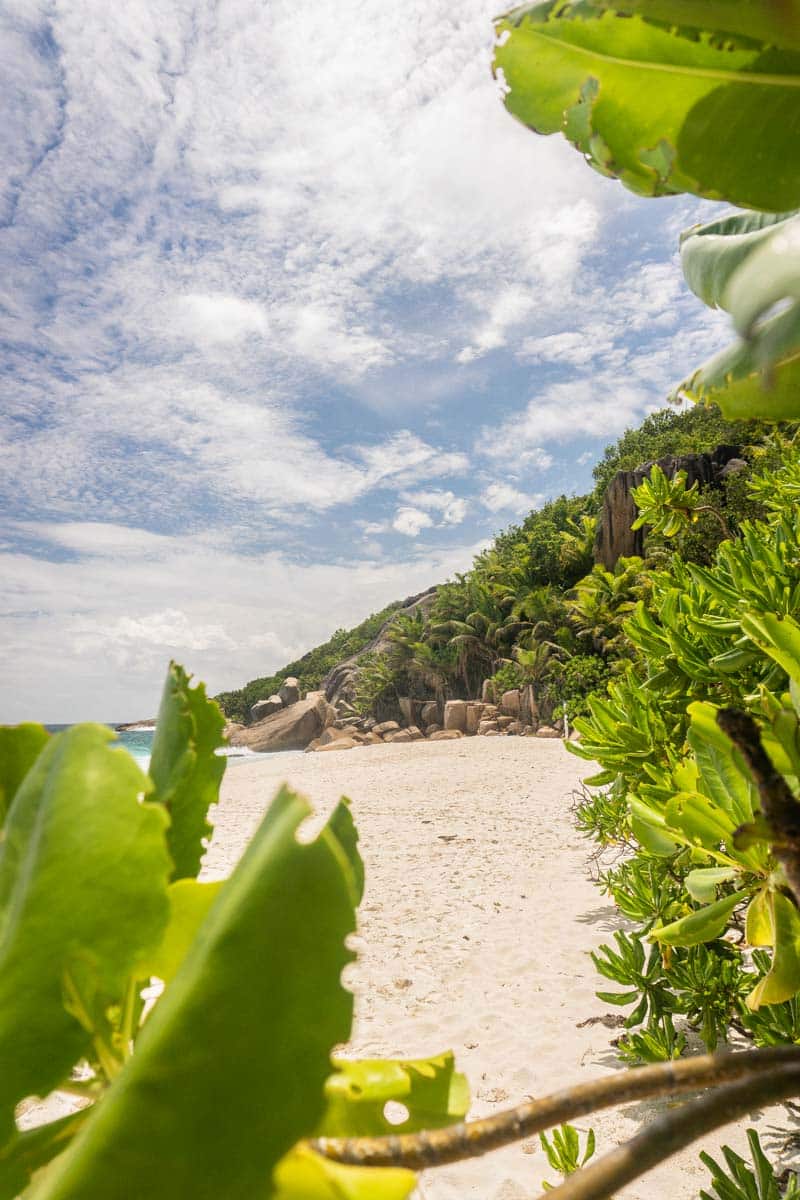 While the Seychelles really is an all-round destination, the best time to go is April – May and October – November, as these months sit between the two trade winds.
Top Tip: Check out my detailed guide on the best time to visit Seychelles.
Seychelles Travel Itinerary
Day 1-4: Mahé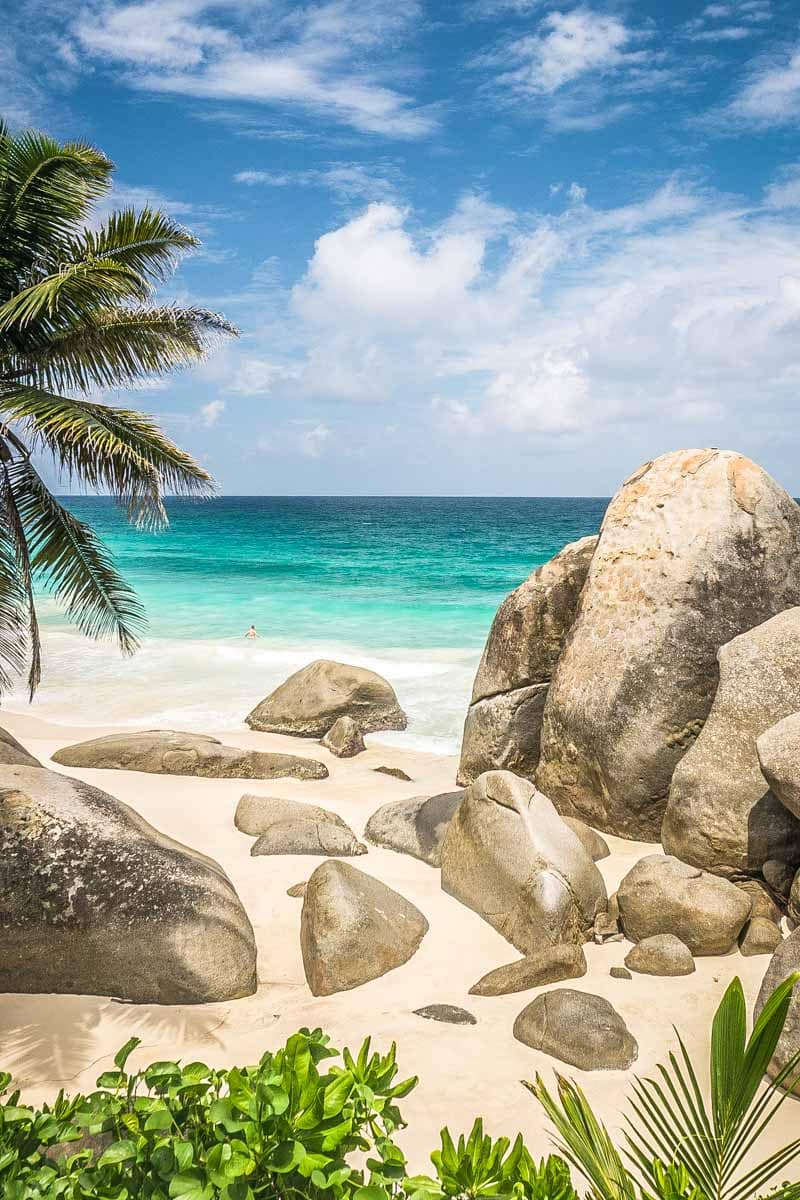 There's nowhere better to start a Seychelles trip than in Mahé – the largest island in the archipelago and home to Victoria, the vibrant capital city.
This is where you'll land when flying into the Seychelles International Airport, so it makes total sense to begin here.
Many travellers skip Mahé, as they think it's too busy, and head to the smaller islands in pursuit of some tranquillity. I can assure you that is a big mistake. Mahé has much to offer and explore, and it's worth spending a few days here.
Here's what you can look forward to in Mahé…
Explore the Capital Victoria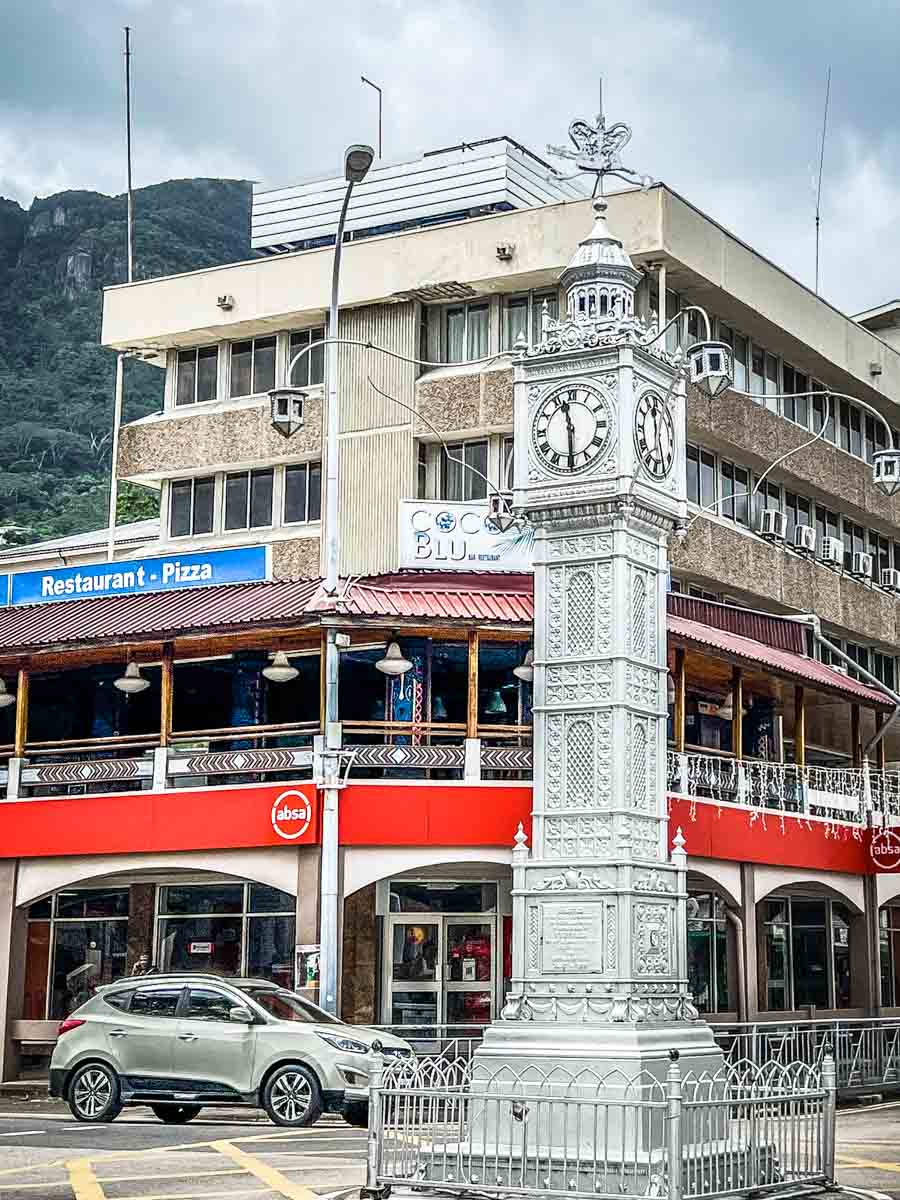 Victoria is a compact treasure trove of activities. This colourful capital is a great place to get a feel of Seychelles and learn about its history. Famous sites include the Hindu Temple and the National Museum of History, where you can learn about the island's rich culture and past.
If there's one place I highly recommend visiting, it's the Sir Selwyn Clarke Market. It's the oldest market on the island, dating back to the 1800s. It's a real feast for your senses, and you'll find everything here, from fresh produce and fish to unique souvenirs.
After exploring the market, walk around the capital and view the incredible colonial architecture. One landmark you can't miss is "Little Ben," a silver replica of the Big Ben clock tower in London (PS – did you know that London also has its own Little Ben too?).
Seychelles Botanical Gardens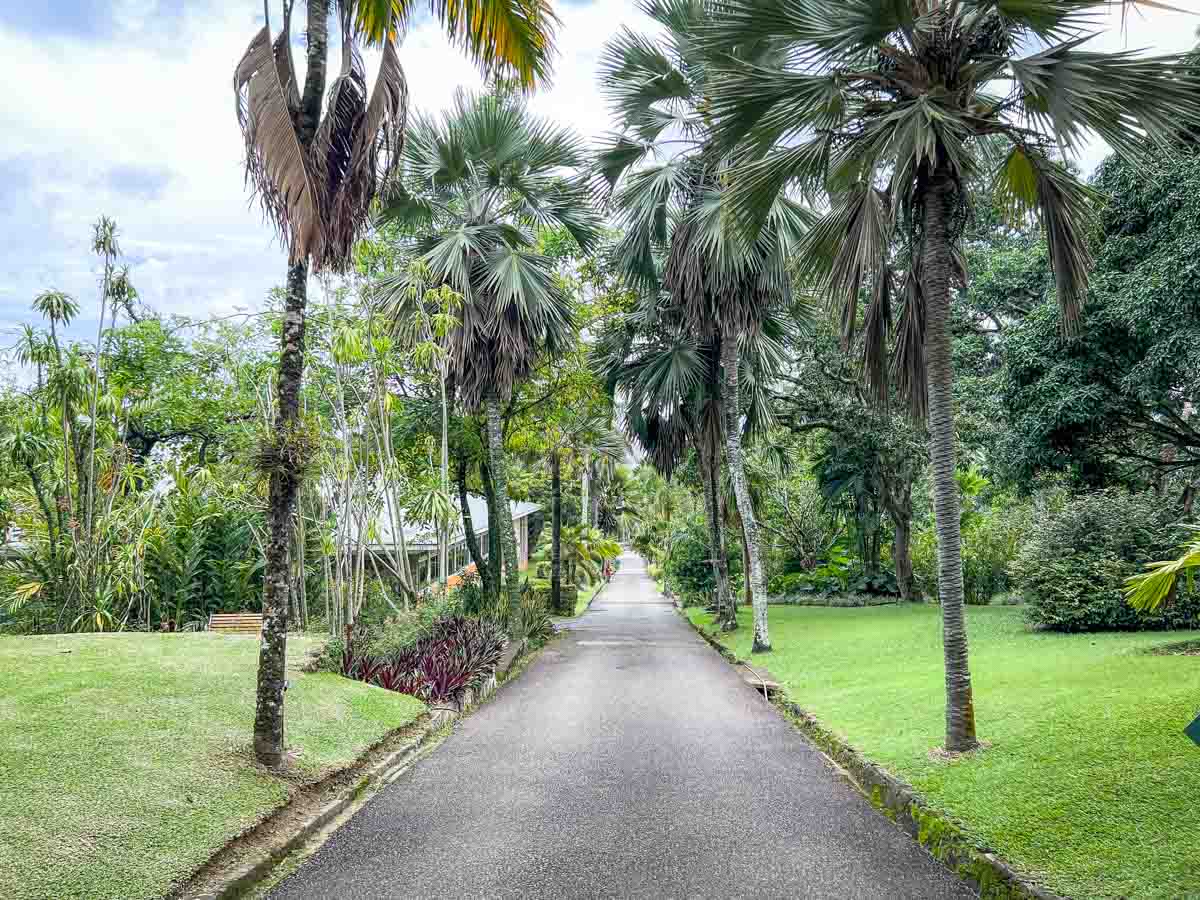 Stop by the incredible Seychelles Botanical Gardens if you're a plant lover (or not – the photo opps are spectacular).
The gardens proudly boast over 280 species of endemic and ornamental plants. Though the main attraction is the giant Aldabra tortoises, which you can feed.
This is a great place to escape the hustle and bustle of Victoria, and there's a cute little cafe where you can sit down and enjoy a light meal.
Spend Time on Mahé's Beaches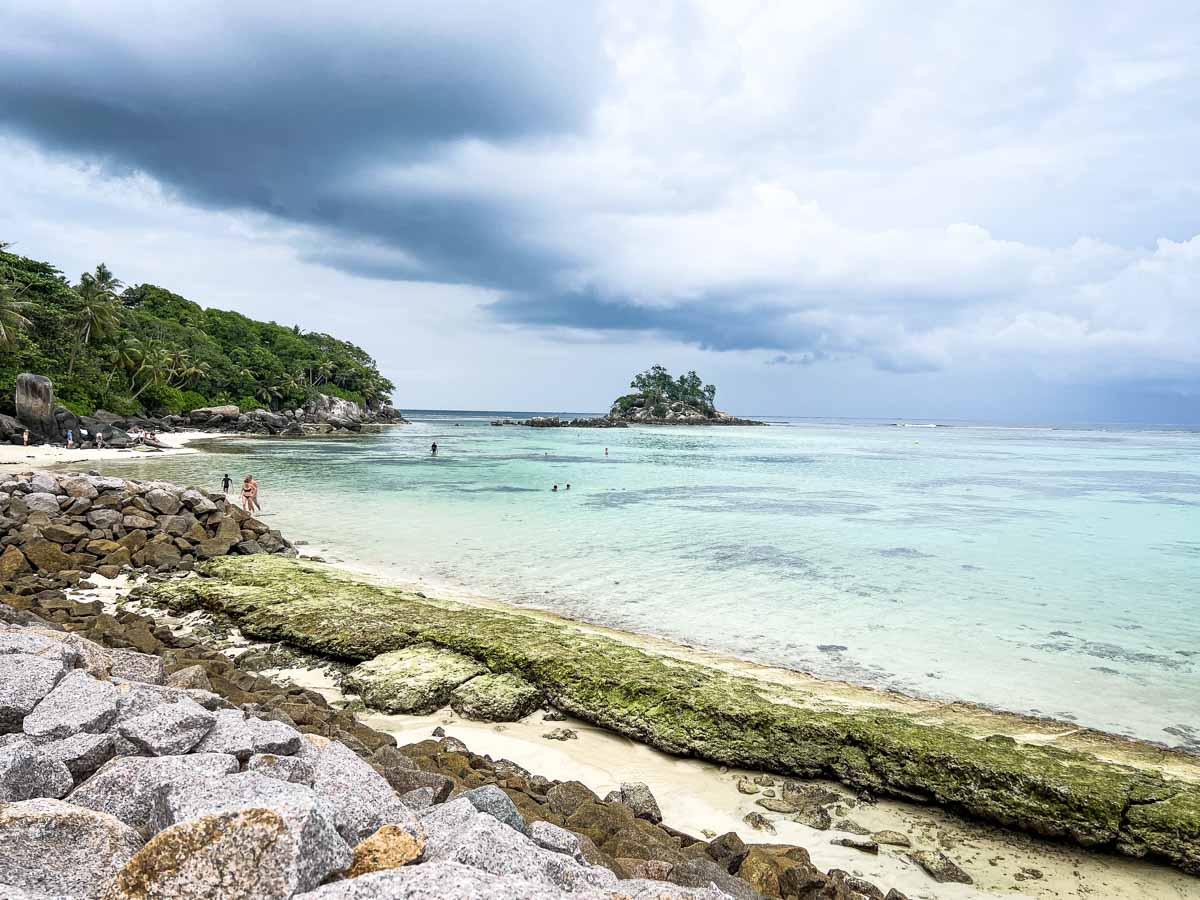 Mahé has some of the most incredible beaches in the Seychelles – and the world. Its white sandy beaches, bordered by the warm turquoise waters of the Indian Ocean, make it every beach bum's dream.
I suggest dedicating at least a day or two to beach hopping. My top picks include Beau Vallon, the island's longest beach, Anse Takamaka, Anse Royale, and Anse Forbans.
Another must-visit is the stunning beach of Baie Lazare. You can enjoy an incredible snorkelling adventure here and see some of the Seychelle's colourful sea life in the crystal-clear waters around you.
Visit the Spice Garden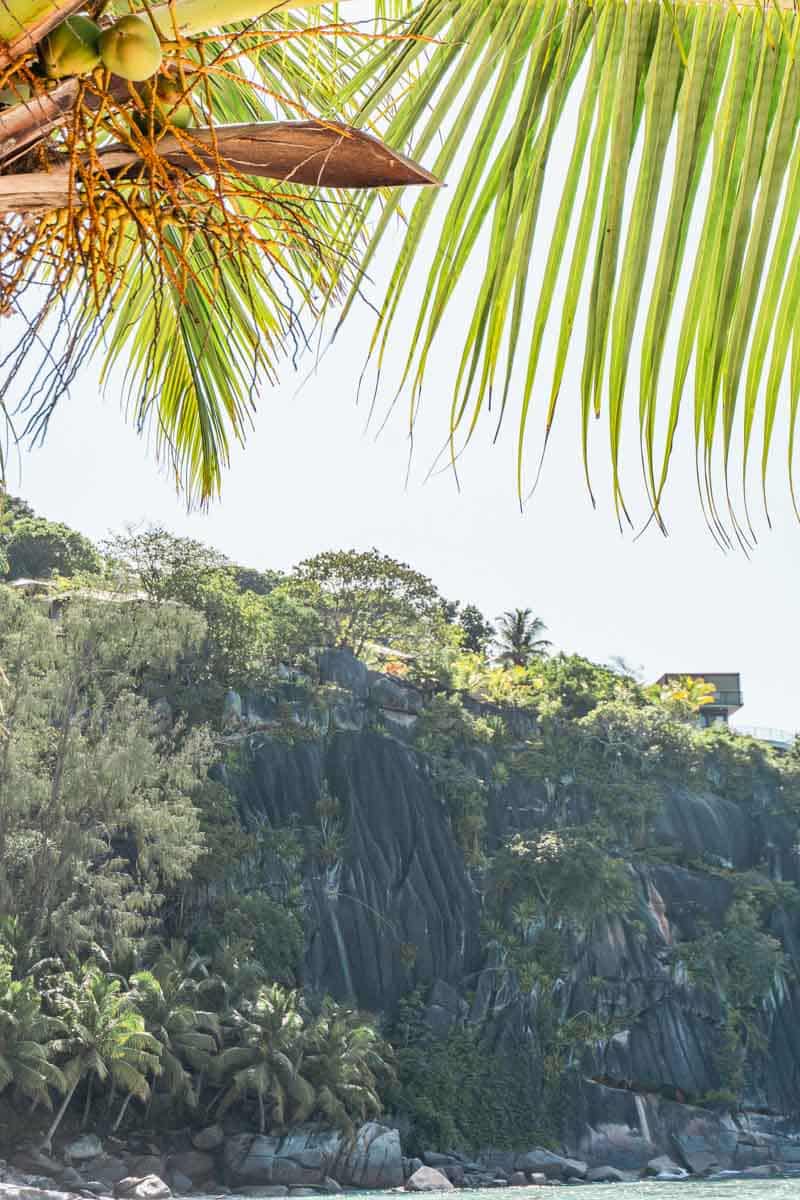 One of the most unique attractions in Mahé is the Jardin du Roi or Spice Garden. During the 18th Century, Seychelles was a hub for trading spices, and the Spice Garden is a great place to learn more about this.
Sitting above the Anse Royale Beach on Mahe's southeast coast, this hilltop plantation is a spice haven. Walking through the garden, you'll enjoy the smell of exotic spices such as vanilla, cinnamon, and nutmeg.
You can take a self-guided tour and visit the onsite museum to learn more about the spice trade. Alternatively, you can take a guided hike or view the giant tortoises. Enjoy a flavoursome Seychellois meal at the onsite Creole restaurant to end your adventure.
Tour the Takamaka Rum Distillery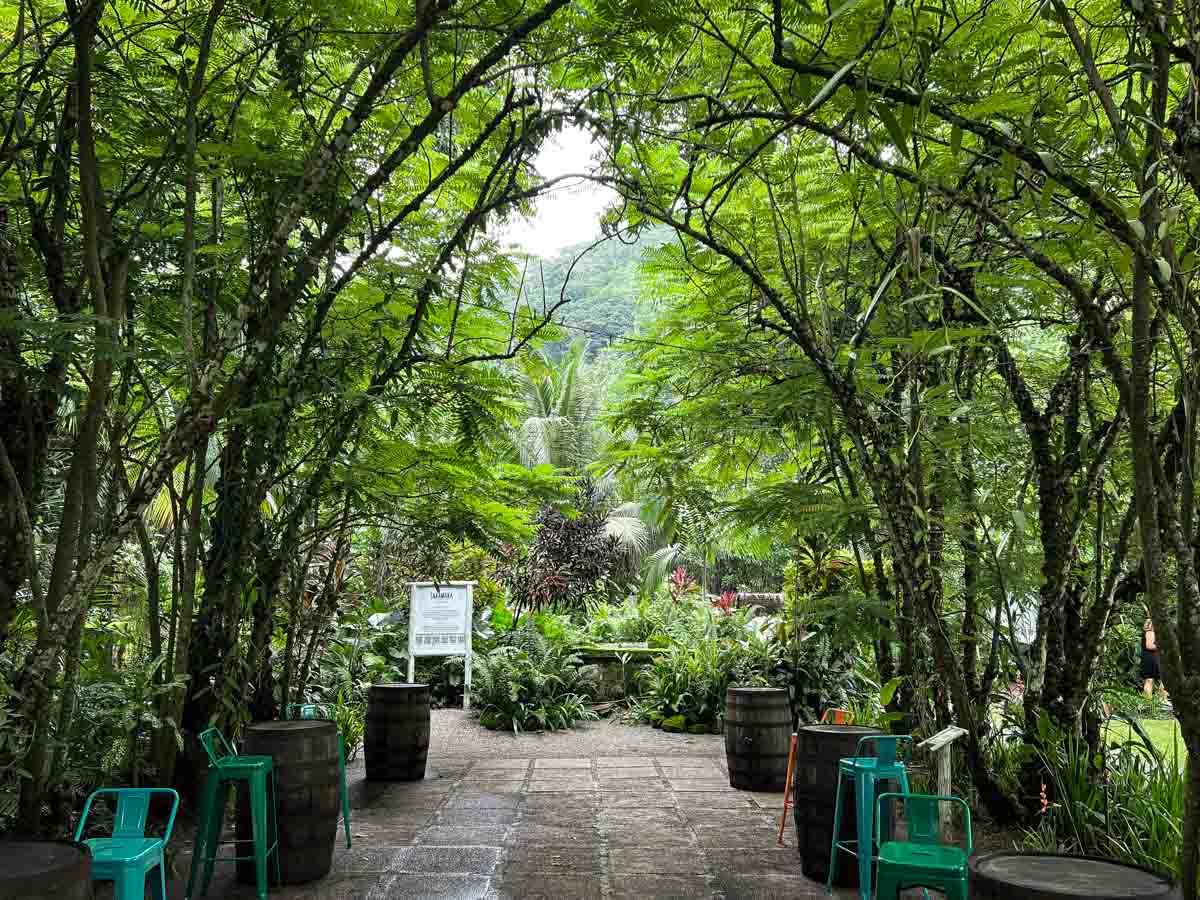 The Seychelles might not immediately strike you as a destination that produces rum, but it's an island full of surprises. The Takamaka Distillery produces some of the finest rum, each filled with the character of all 115 Seychelles islands.
You can enjoy a distillery tour to learn more about rum-making and even taste some of the final product.
Morne Seychellois National Park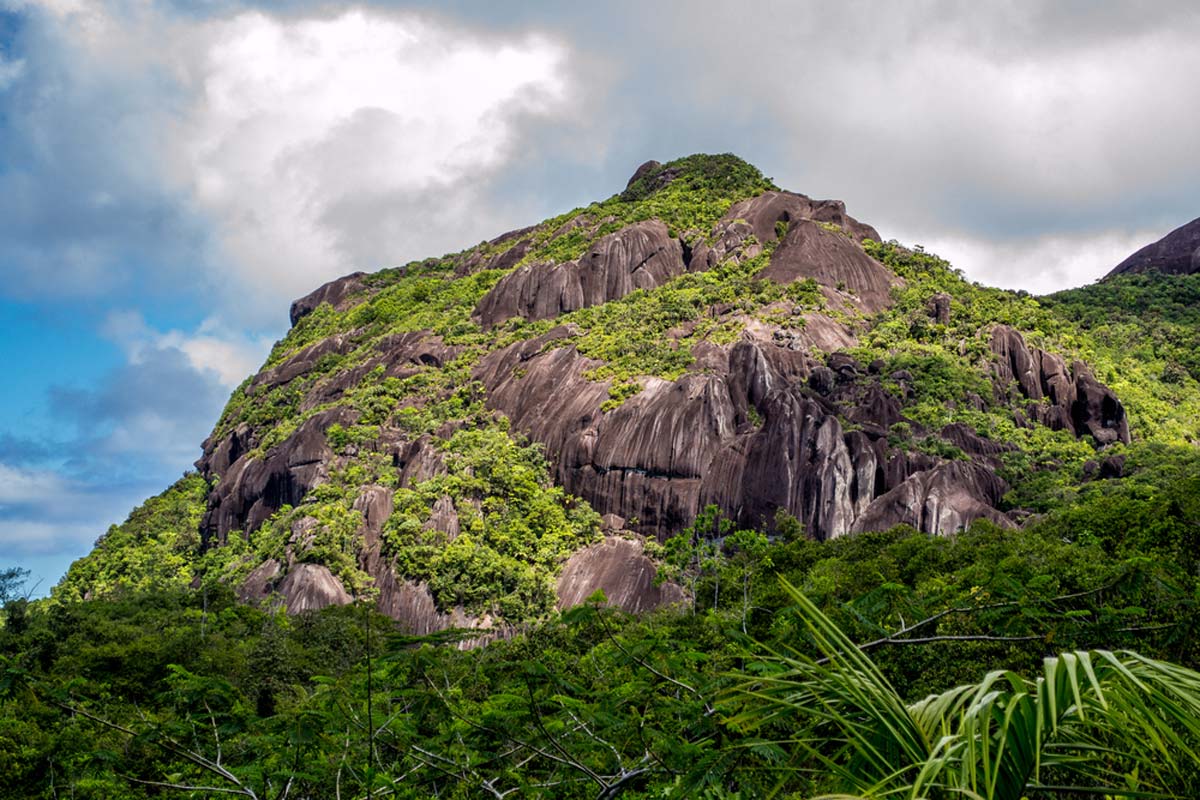 This is undoubtedly one of Mahé's main attractions and is worth visiting. The Morne Seychellois National Park has a vibrant ecosystem of more than 20% of Mahe's land area.
It features everything from coastal mangroves to the island's highest peak, Morne Seychellois. There are numerous walking and hiking trails that you can explore that will lead to various viewpoints for some picturesque views of Mahé.
Hop Over to Eden Island
If you've got a little bit of extra time, here's where you should go. Eden Island is an artificial private island just 2 miles (3.5 km) from Victoria. You can venture to the island and enjoy lovely views of Mahé and an epic submarine tour.
Getting to Mahé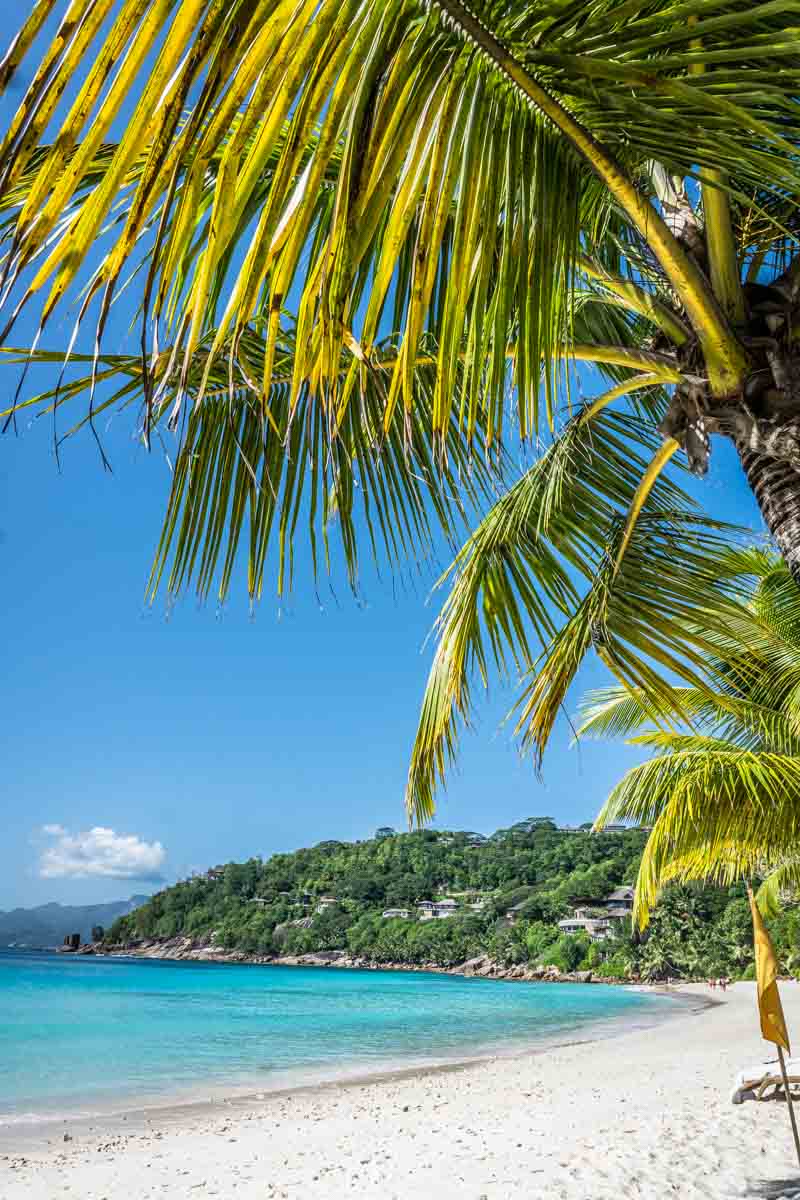 Mahé receives several direct international flights at the Seychelles International Airport. Quick flights from other islands, such as Praslin and La Digue, also exist.
Alternatively, you can also take a ferry from the nearby islands to Mahé.
Suggested Stay for Mahé on your Seychelles Itinerary: Four Season Baie Lazare
My top accommodation choice in Mahé is the stunning Four Seasons Baie Lazare. It's a luxurious hotel set around the Petite Anse beach.
It comes with all the bells and whistles you'd expect from the Four Seasons and has excellent snorkelling opportunities on the beach.
Check Rates and Availability for Four Seasons Baie Lazare.
Top Tip: Check out my Mahé hotel guide for more recommendations.
Day 5-10: Praslin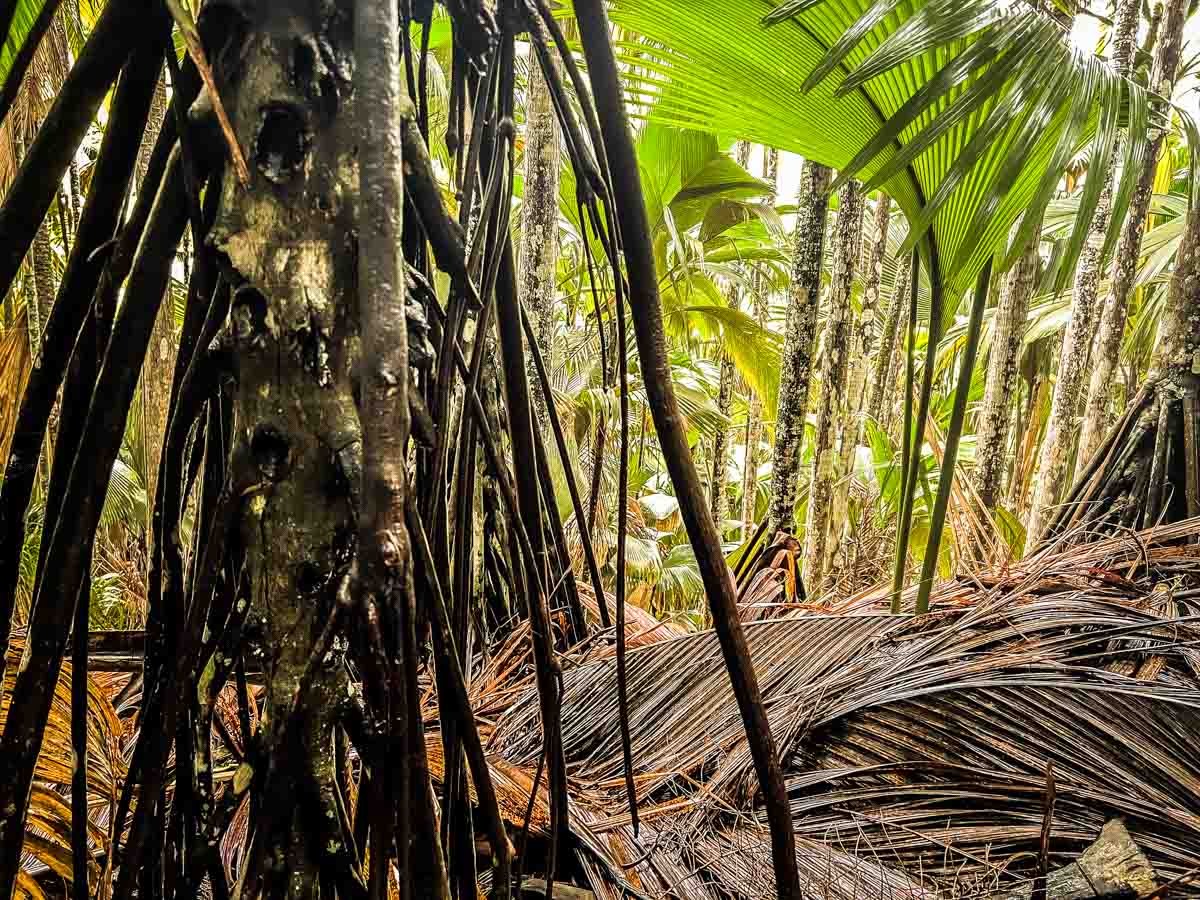 Praslin is the second largest island in Seychelles and it should be the next stop on your Seychelles itinerary. It's a quick 20-minute flight from Mahé or an hour-long ferry ride. Both options are very scenic, so you can't go wrong with either.
The island is just as beautiful as Mahé, so here's what you can look forward to:
Head to Vallee de Mai (And Spot the Rude Fruit!)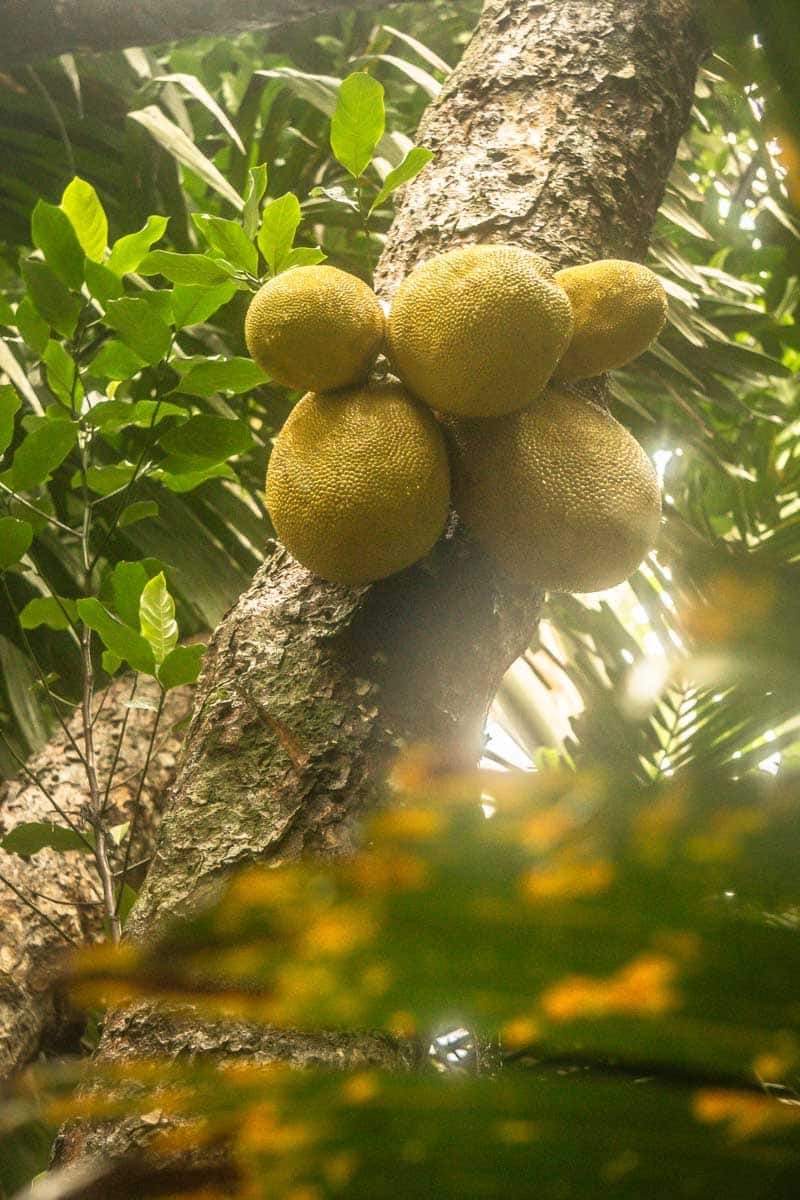 The Vallee de Mai Nature Reserve is a stunning UNESCO World Heritage Site, most famous for its unique – and hilarious – coco de mer palm trees, which only grow in Seychelles.
The best way to explore Vallee de Mai is with a guided tour to learn everything there is to know about the park's vibrant ecosystem.
From there, you can visit the world-renowned Anse Lazio Beach, with its calming waters and immaculate boulders. You can take a swim, have some lunch and wait for the colourful sunset to take place.
Take a Day Trip to Curieuse & St Pierre Islands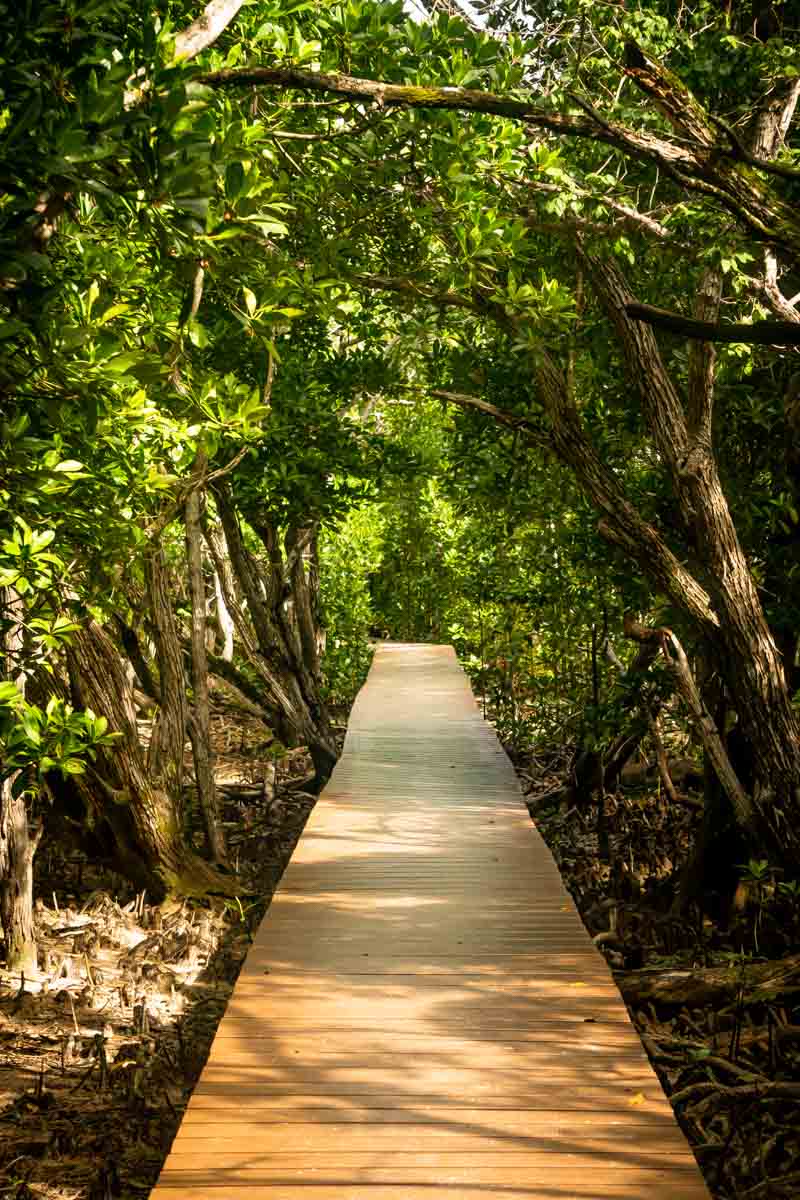 Curieuse is a hidden gem amongst Seychelle's many islands. It's a small island, but totally worth the day trip from Praslin, as it's only a 20-minute boat ride away.
Once there, you can enjoy a fabulous day out, viewing Aldabra tortoises, snorkelling, kayaking, or taking a catamaran cruise to the nearby St. Pierre islands. You can also take a short hike and soak up gorgeous jungle views.
Head Out on a Day Trip to Aride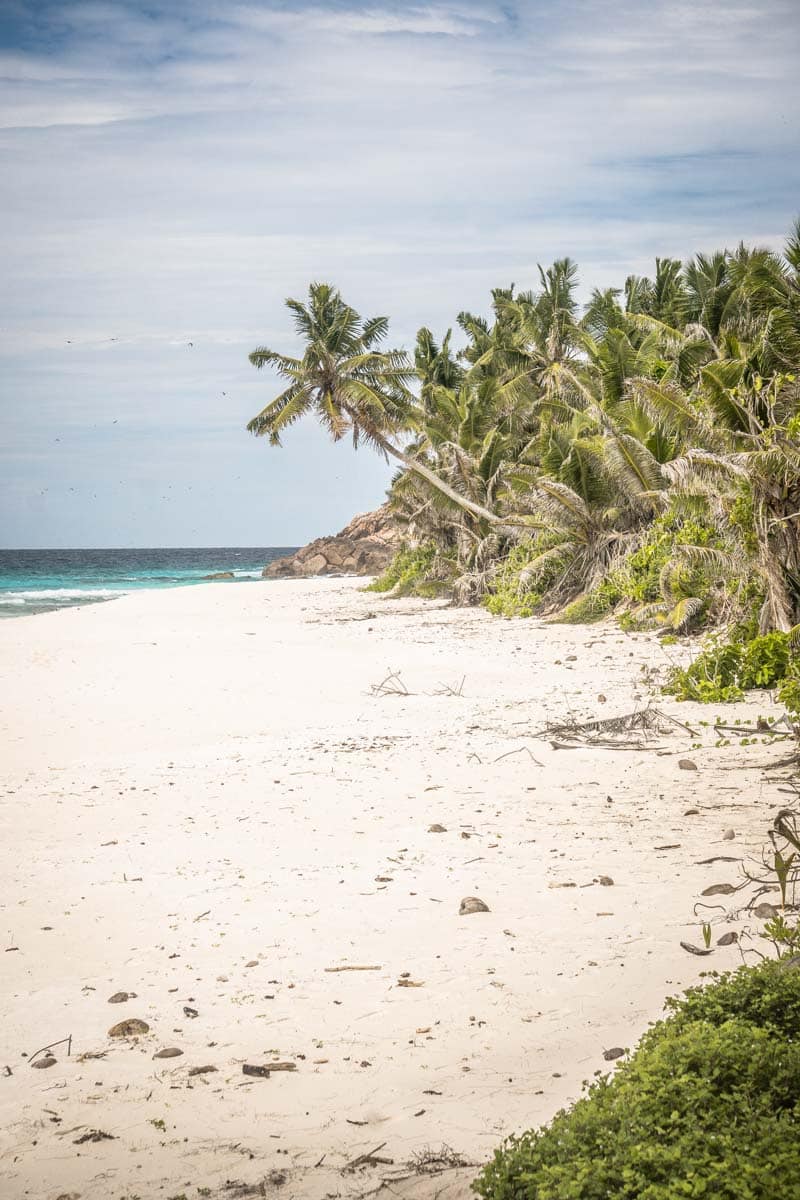 Aride is another scenic island just a short distance away from Praslin. It's the bird capital of the Seychelles and home to rare species of birds, including the Seychelles Magpie Robin.
It's not all about birds, though, as the island has many beaches where you can laze around, snorkel, or go kayaking.
(Yet Another) Day Trip to Moyenne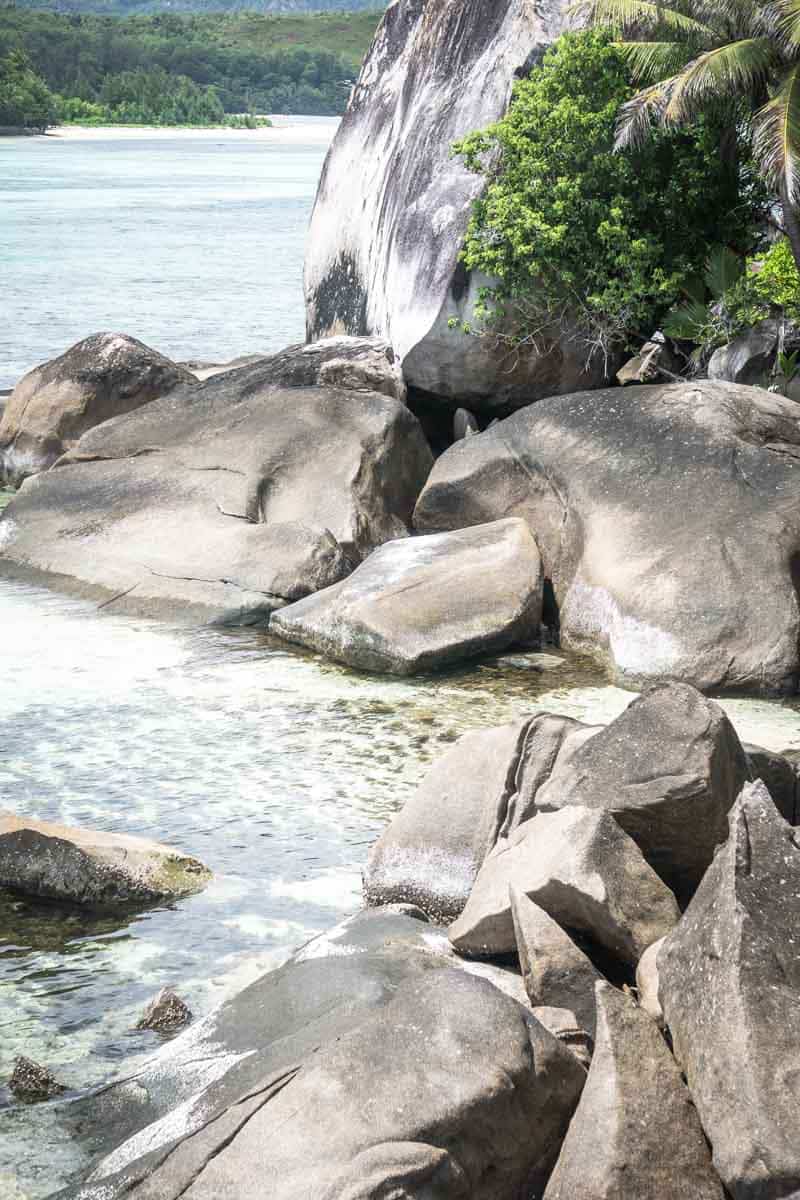 Moyenne is a private island in the Sainte Anne Marine National Park. This island is an actual slice of paradise, and if you just want to hang around on a beach and work on your tan, this is the perfect place.
If you consider yourself a more active person, a nature trail takes you past smaller beaches and lush greenery around different parts of Moyenne. There's also a tortoise sanctuary where you can hang out with the ever-cool Aldabras.
Relax On Anse Georgette
Anse Georgette often hides in the shadows of its neighbour Anse Lazio, but this is one beach in Praslin that you shouldn't skip. Anse Georgette is drop-dead gorgeous, with its mesmerising azure waters, clean white sand, and boulders.
In my opinion, it's far more secluded than Anse Lazio and is a great place to watch the sunset.
Top Tip: Check out my Praslin travel guide for more activities.
Getting to Praslin
It's easy to get to Praslin. It's a 20-minute flight or an hour-long ferry ride from Mahé. It's also a simple 15-minute ferry ride from La Digue.
Suggested Stay for Praslin: Raffles Seychelles
Raffles Seychelles is one of the most luxurious resorts on the archipelago. It lies near Anse Lazio, so you'll have gorgeous ocean views from your room.
Everything you need for a dream island stay awaits you at Raffles.
Check Rates and Availability for Raffles Seychelles
Day 10-13 La Digue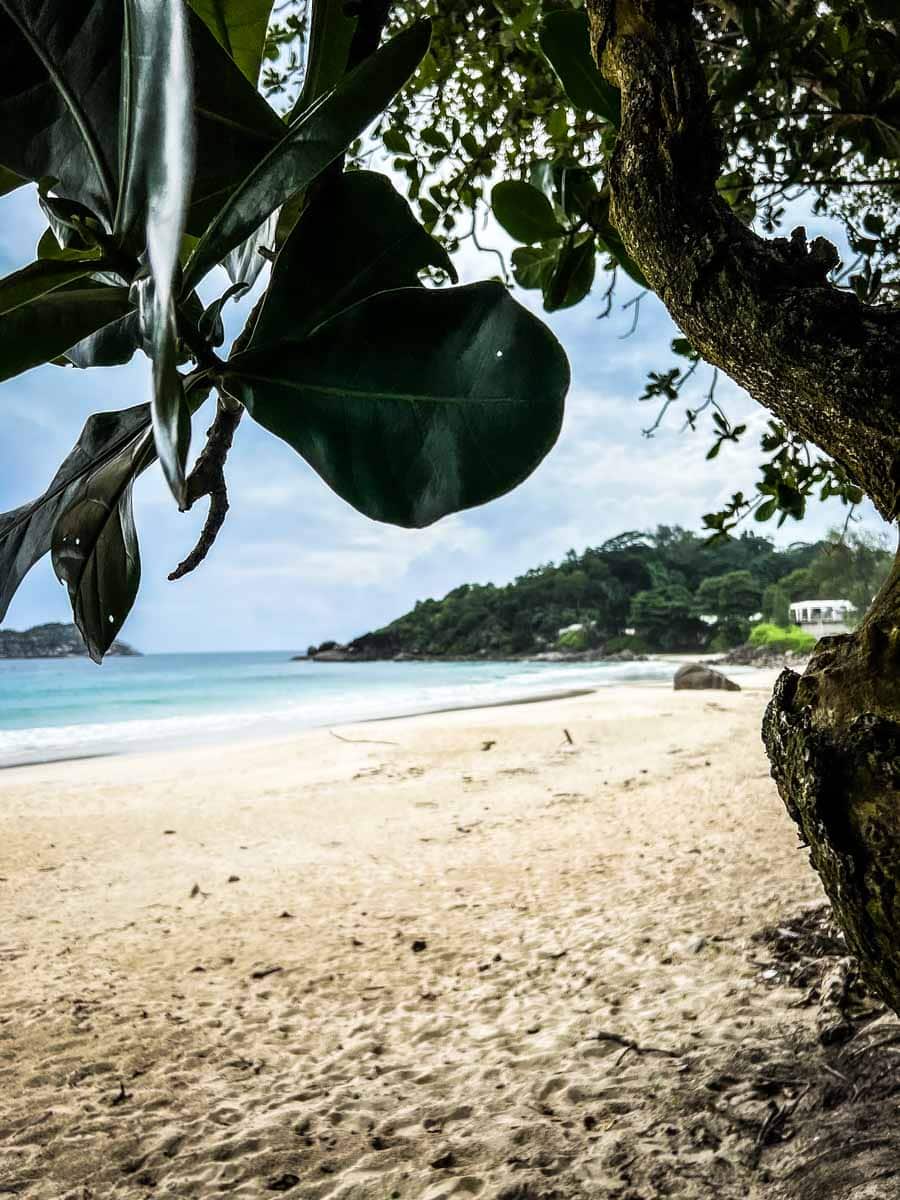 Swoon – La Digue has a special place in my heart. So it's only right that this is the last stop on your incredible two-week Seychelles itinerary.
It's the third largest Seychelles island, and life moves at a completely different pace here. It's famous for its rich Creole culture and friendly locals who are always ready to welcome you with a warm smile.
Of the three main islands, it's the most laid back, which is perfect if you want to unwind and enjoy the serenity of Seychelles. Can you think of a better way to round out your trip? No, me neither.
Chill Out on Anse Source d'Argent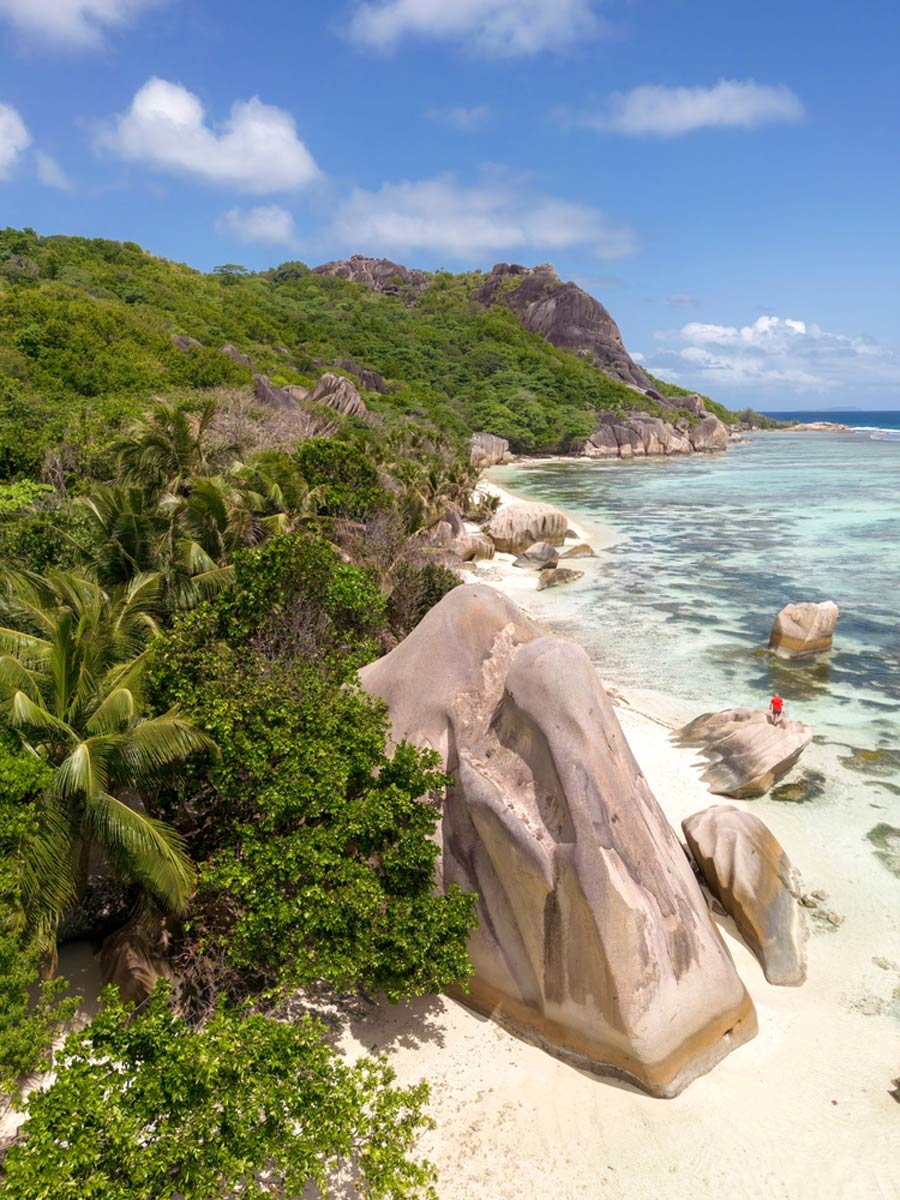 Anse Source d'Argent is the most photographed beach in the Seychelles and holds the prestigious title of the best beach in the Seychelles.
I'll up that claim and say it's the most beautiful beach in the world – it has gorgeous warm waters, boulders, and a lush jungle backdrop.
Unsurprisingly it gets quite crowded here, so it's best to visit early in the morning or late afternoon to catch the sunset.
Visit l'Union Estate Farm
To access Anse Source d'Argent, you'll pass through l'Union Estate Farm. It's an old colonial vanilla and coconut plantation. An entry fee of 115 rupees grants you access to the estate and beach, but it's worth paying for as you'll explore two gorgeous sites.
Once here, stop at the Old Pier Cafe, where you can enjoy a refreshing cocktail, coconut, or tasty Creole meal.
Swim at Grande Anse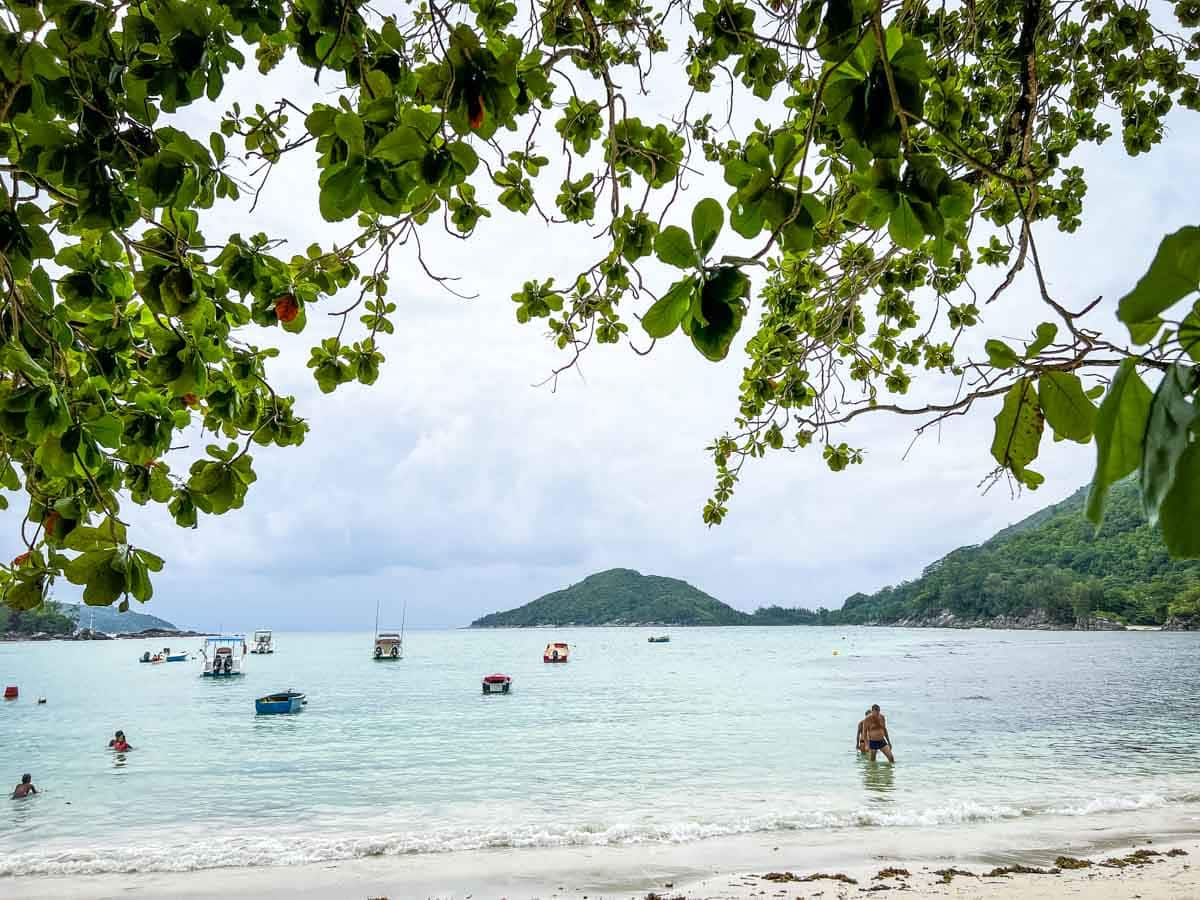 As the name suggests, Grande Anse is a large beach on the southeastern side of La Digue. It's divided into smaller picturesque beaches which are easily accessible by foot or by bike, depending on where you stay.
You can swim here or have a nice beach picnic while watching the crashing waves.
La Veuve Nature Reserve
La Veuve Nature Reserve is the last refuge centre and breeding ground of the Seychelles Paradise Flycatcher, a rare endemic bird – it's quite an eye-catcher with its deep blue colour, so visit here to see it in all its glory.
Top Tip: Read my La Digue guide for more activities
Getting to La Digue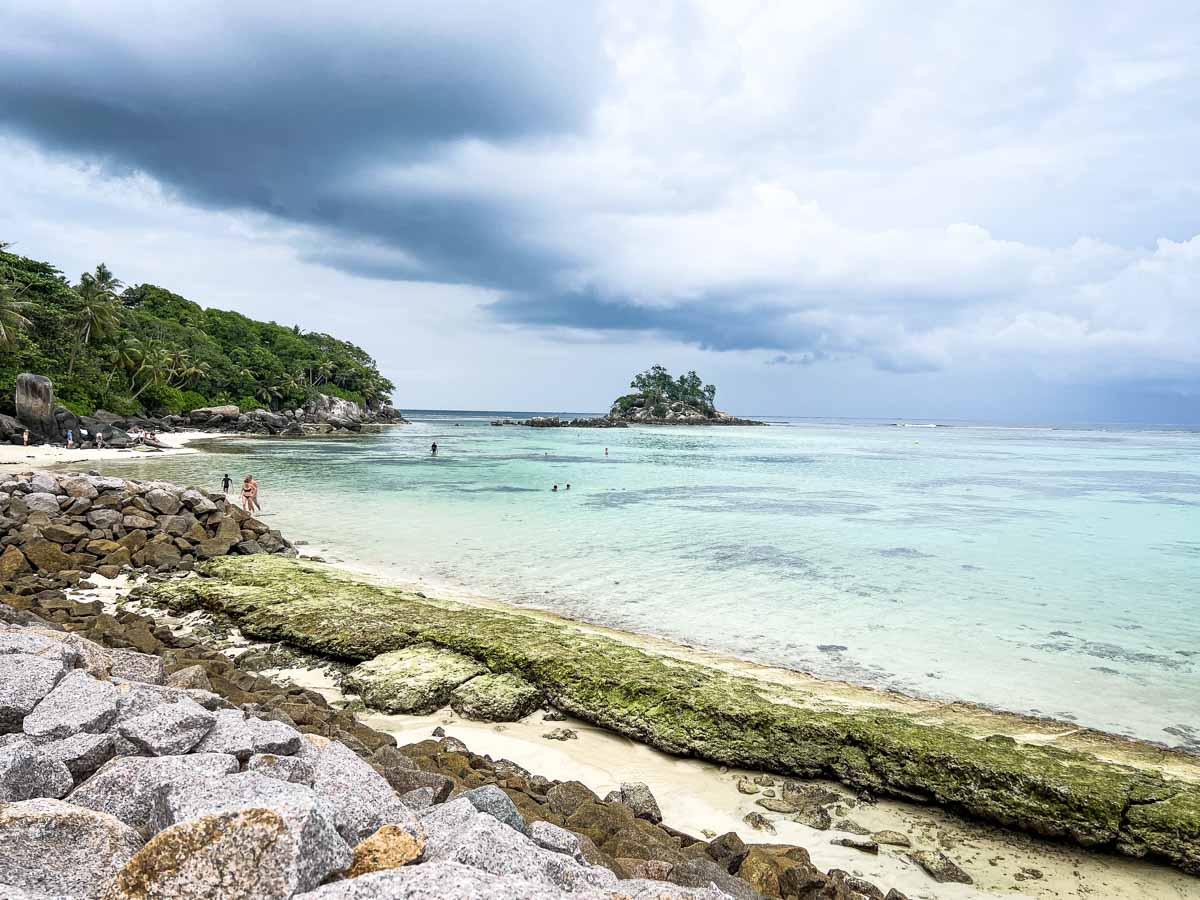 La Digue has no airport, so the only way to get there is by a shortish 1hr 45-minute ferry ride from Mahé.
This is a car-free island, so the only way to get around is by walking, cycling, or water taxi. I suggest renting a bike and indulging in authentic island life.
Suggested Stay for La Digue: Le Repaire Boutique Hotel
Le Repaire offers gorgeous views of nearby Praslin and the Indian Ocean. It features modern interior design elements with calming earthy tones.
Check Rates and Availability for Le Repaire
Day 14: Departure
Sadly it's time for your trip to end, and you'll (most likely) return to Mahé before heading home.
Optional: 2 Nights in One of the Outer Seychelles Islands
If you'd like to switch your itinerary up, consider staying at one of these outlying islands.
Desroches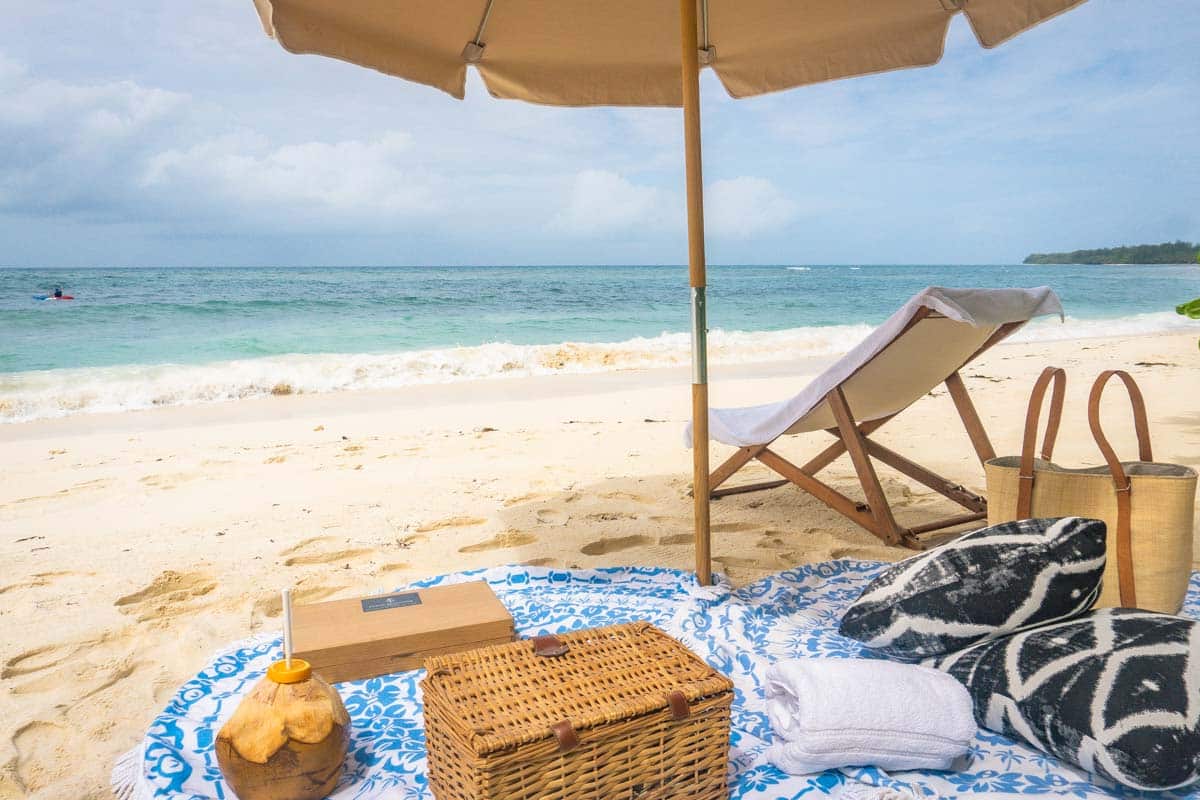 Desroches is a private island, sitting 141 miles (277 km) southwest of Mahé and owned by the Four Seasons group. It's incredibly luxurious and home to coral reefs, palm trees, and stunning beaches.
Read my review of the incredible luxury resort here
Alphonse
Alphonse is another private island sitting 250 miles (403 km) away from Victoria. It sits right in the heart of the Indian Ocean and is another dream location ideally suited for leisurely lounging on the beach.
Seychelles Trip Itinerary – Map
Love This? Save and Share on Pinterest