Scotland is a place of mystery and legend, historic battles and rolling highlands. Add these brilliant things to do in Scotland to your bucket list and prepare for an epic trip.
Is there anywhere quite as beautiful as Scotland? I'm not sure.
From charming medieval villages to the (many) mountains that dot the rugged landscape, this country – or, mainly, the Highlands region – is like something straight out of a movie.
But don't let this stop you from delving into less rural places like Edinburgh and Glasgow – Scotland has a wealth of culture (need I remind you about the many incredible Scottish writers, musicians, and artists?) to explore.
Read on to discover the lochs, the Harry Potter-inspired places, the must-see cities and panoramic vistas you can't miss in Scotland.
Looking for somewhere to stay? Read my review of Knockinaam Lodge and see why you need to head there for the ultimate luxe break.
Top 5 Things to Do in Scotland
Take a Trip to Glasgow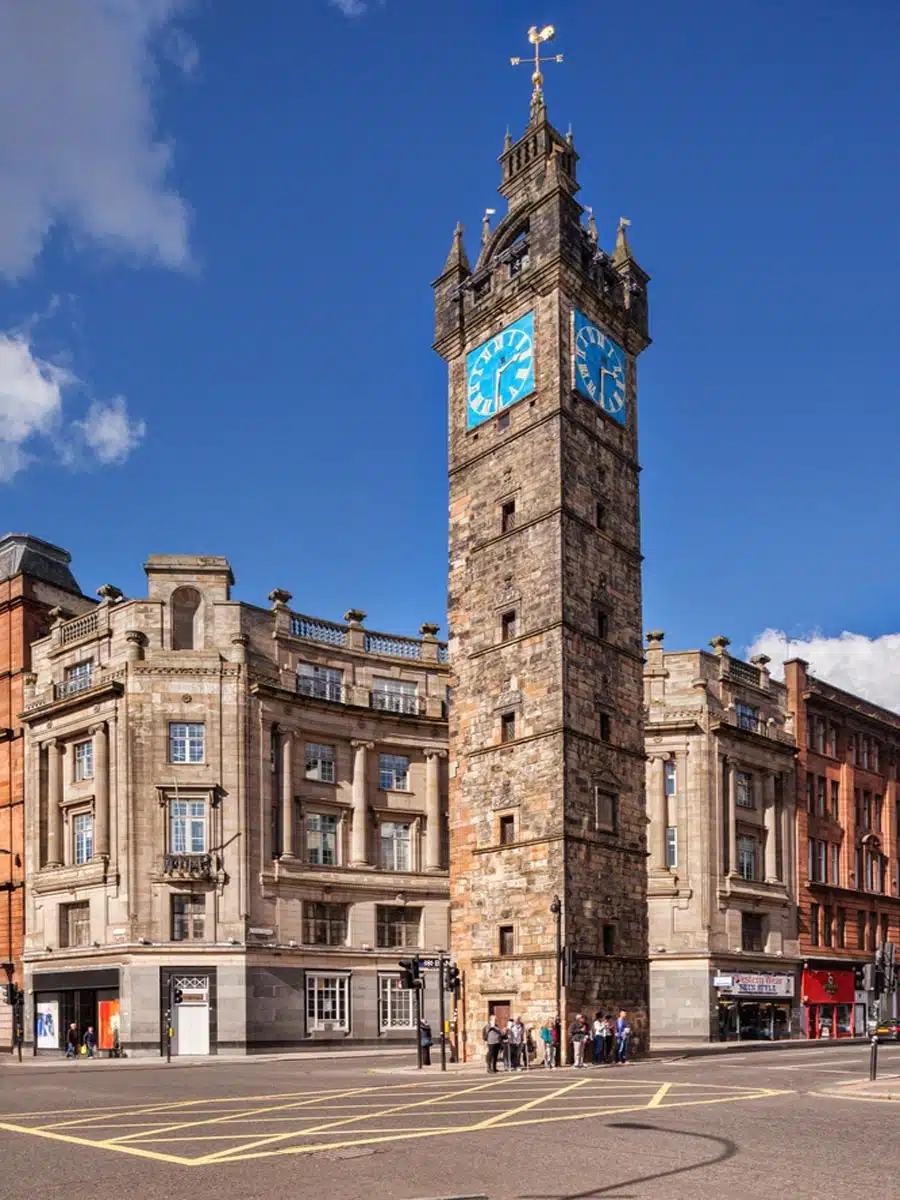 Rich in Victorian and art nouveau architecture, Glasgow is a gem of a city. It's home to many famed institutions, such as the Scottish Ballet, Scottish Opera, and the National Theatre of Scotland.
Visit the medieval Glasgow Cathedral with its ornate windows or the Kelvingrove Art Gallery and Museum (which is staggeringly beautiful, just FYI). Oh, and the Pollok Country Park and Glasgow Botanic Gardens could put Versailles to shame with their structured elegance.
Shopping on Buchanan Street or settling down for a sensational meal at Bread Meats Bread is a must for trendy tourists. While the Riverside Museum is a contemporary standout in this country of antiquities, both inside and out — I mean, it even has an actual Stormtrooper, for Yoda's sake!
Spend a Weekend in Edinburgh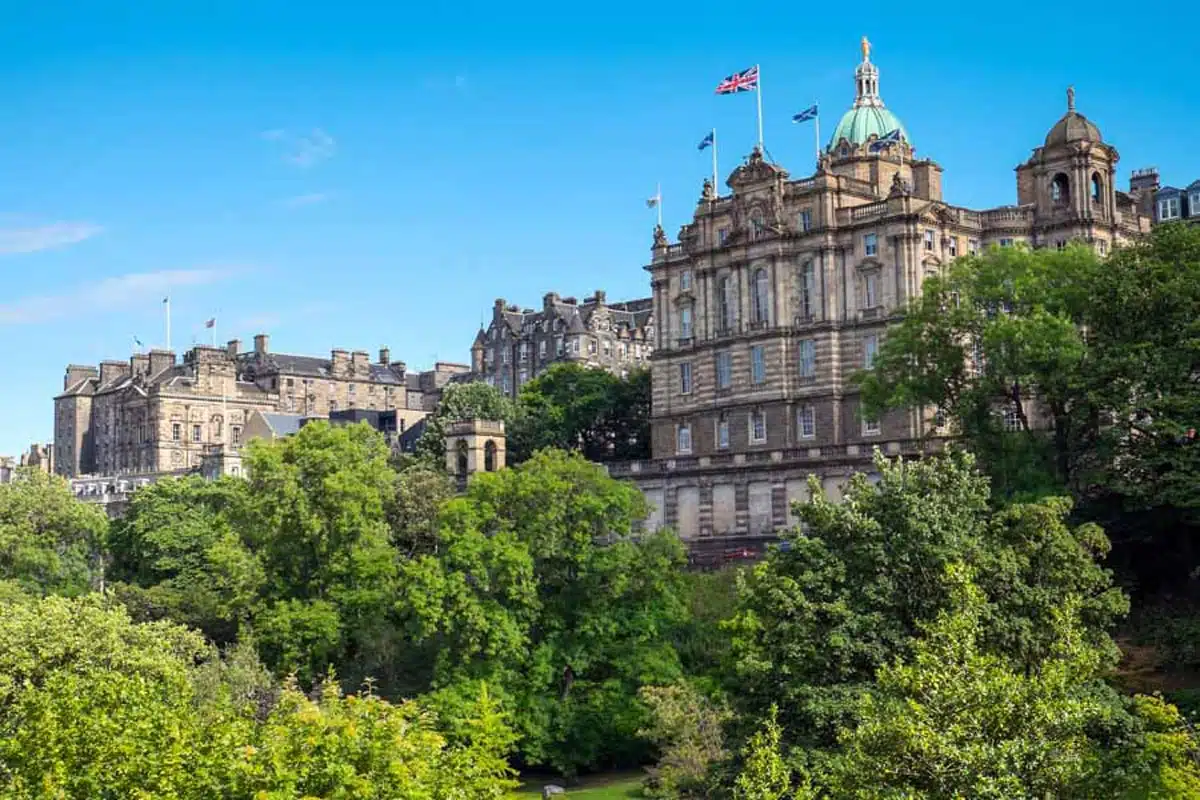 Visiting the country's capital is one of the top things to do in Scotland. I mean, how can you not?
Great news – you can squeeze a lot into a short time; take a look at my fabulous 36-hour itinerary in Edinburgh for inspo.
You can see the Scottish Parliament or take a ghost tour (if you're brave enough to face the ghoulies).
Expect to walk… a lot! Whether that's just along the Royal Mile and the rainbow-hued Victoria Street, or if you fancy putting on your hiking boots and climbing Arthur's Seat for incredible vistas of the city below.
Of course, there are plenty of fun tours available in this pretty city, such as a royalty-themed bus tour or a Harry Potter walking guide.
Wander Around the Isle of Skye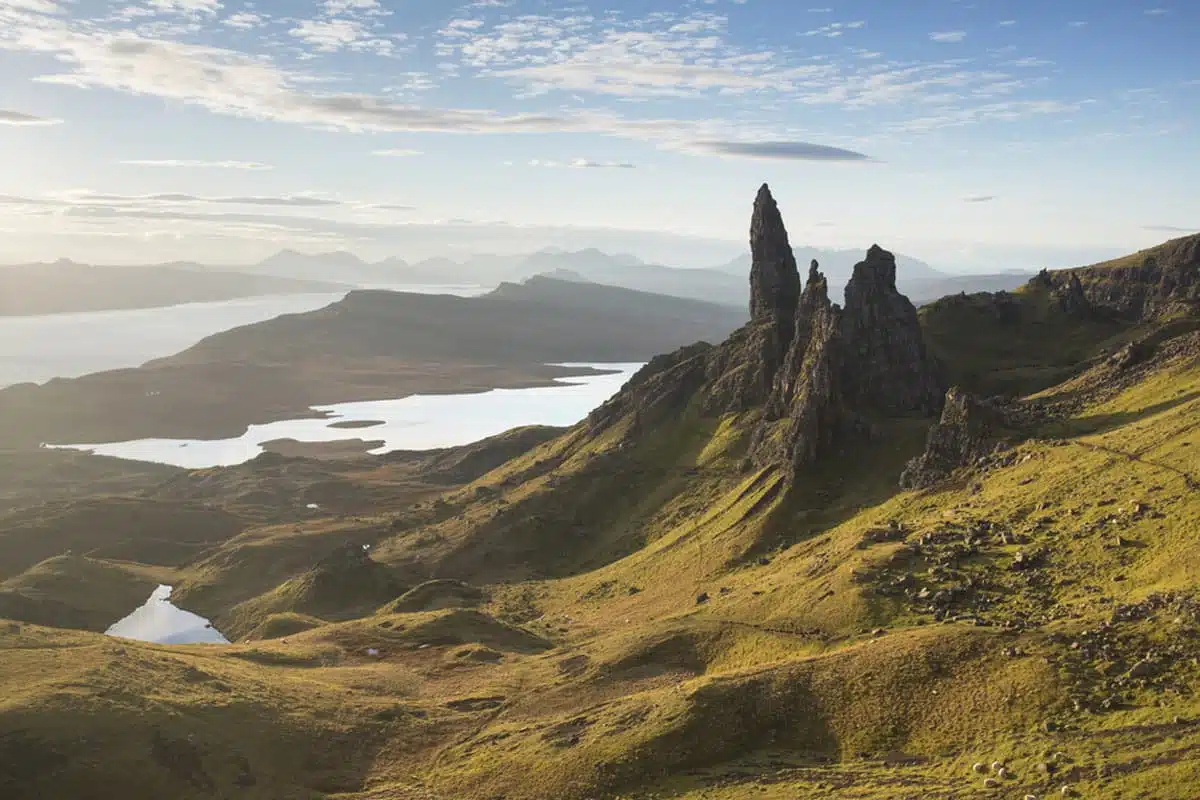 Known for its quaint fishing villages, medieval castles, and rugged landscape, is it any wonder that the Isle of Skye is one of my favourite places in Scotland?
It's connected to the mainland by a bridge and its main draw is its Fairy Pools with their impossibly-aqua waters, as well as the mighty Storr on the Trotternish Peninsula.
Dunvegan Castle is another obvious choice when it comes to Isle of Skye activities, but don't let Kilt Rock and Mealt Falls Viewpoint slip off your to-do list. It's fairytale-gorgeous, with a huge waterfall cascading over the cliffs into the sea far below.
Oh, and while we're on the subject of views, the Quiraing landslip also has particularly fantastic vistas.
Depending on the time of year, if you're lucky, you can even stick around to catch a glimpse of the Northern Lights in Scotland (more on that later).
Go Hiking in Arran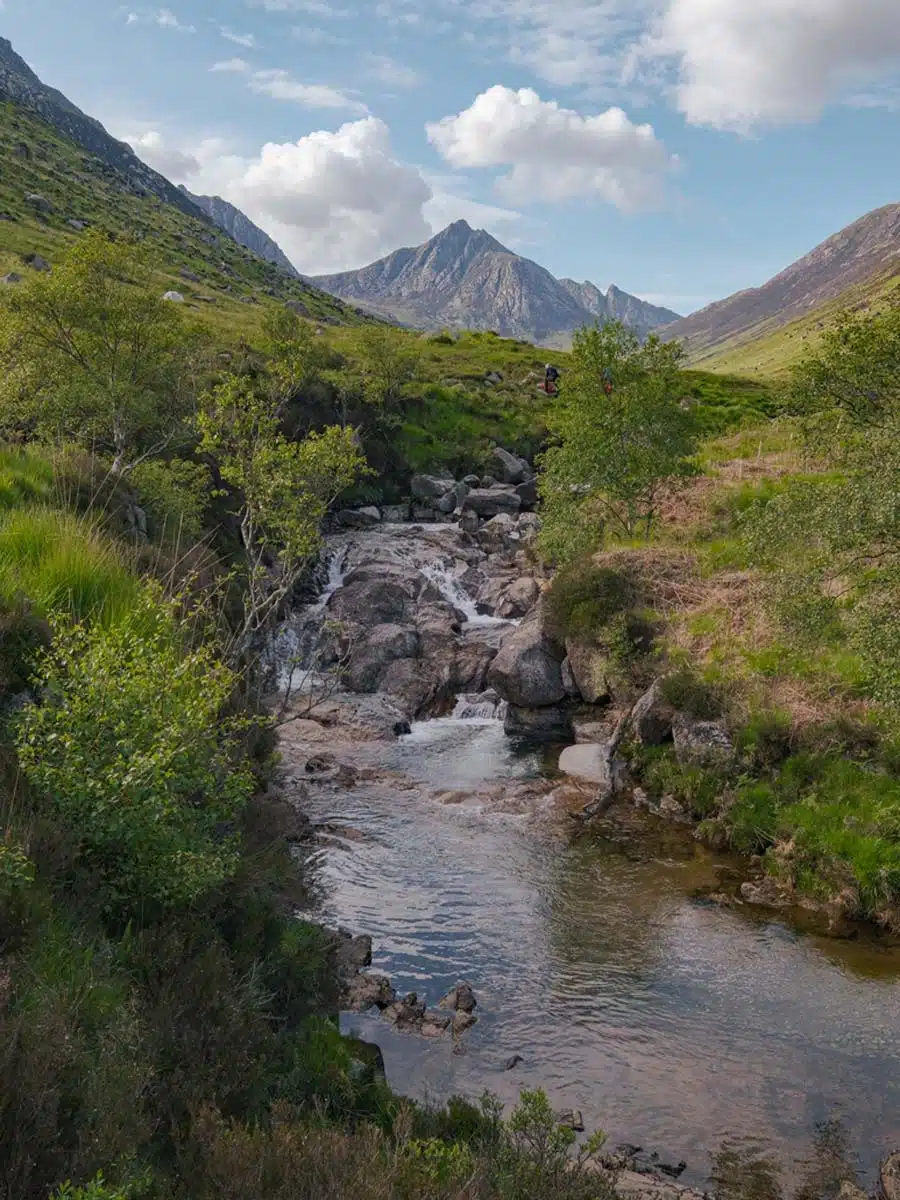 You know me — I love a good hike and will often dive in with the most challenging hike first — the Arran Coastal Way.
It takes multiple days to finish this 65-mile bad boy that skirts the island's coast almost the entire loop. You'll pass charming villages, craggy cliffs, and sandy beaches – it's pure hiking heaven.
If that sounds a bit intense, here's another couple of options…
The Fairy Dell trail is a moderate 4.5 miles long and so utterly picturesque you won't believe it's real. You start heading towards an uber-photogenic castle where wild deer roam, then follow the eastern shore where you might see some seals.
The Glen Rosa Circuit is an easy trek offering fantastic Goatfell Range views, boggy moors, and open plains. It's only 5 miles, so it won't tax you too much.
Take On Scotland's Route 66 – The NC500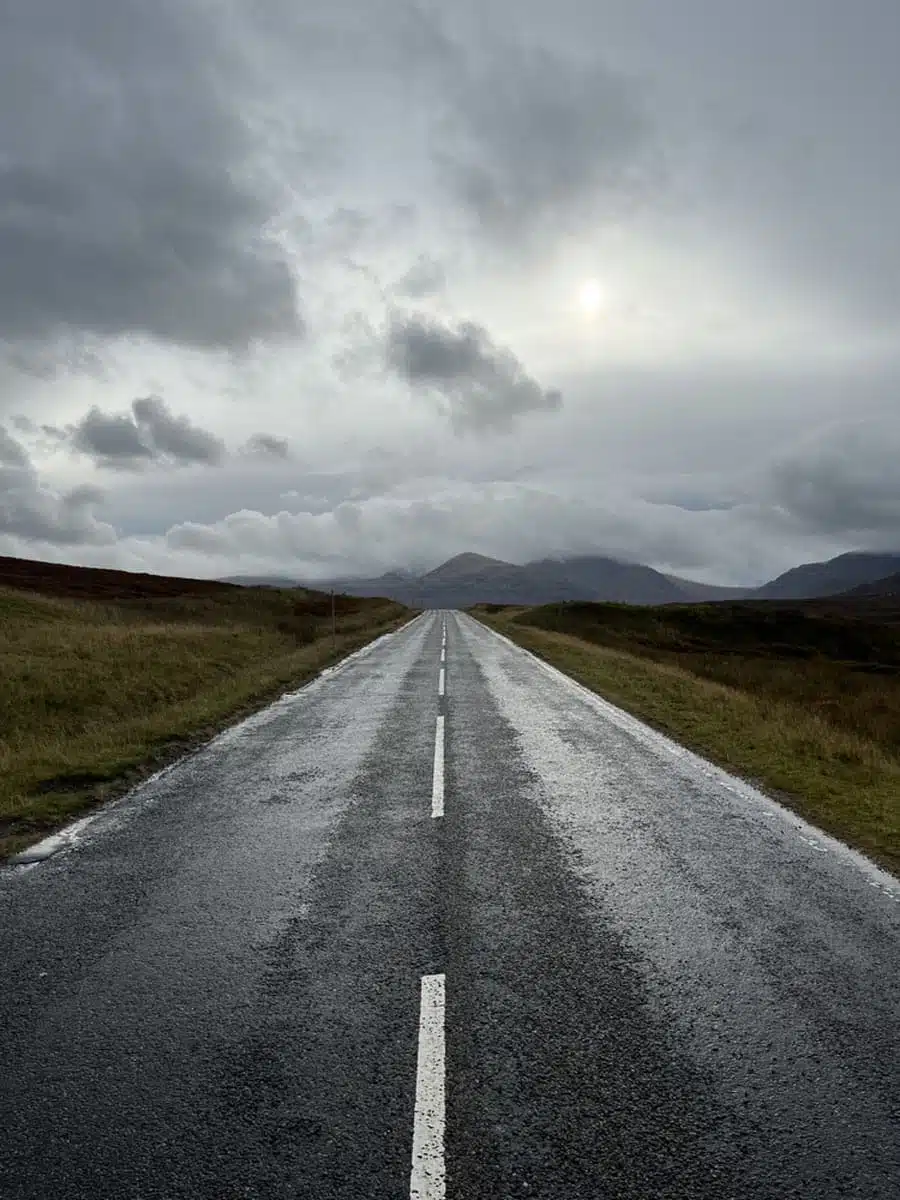 The North Coast 500 is an epic stretch over 500 miles long, often called Scotland's Route 66. It starts and ends in Inverness, giving way to picturesque country bliss with rustic lanes and Highland hills.
You can stop for some stellar hikes at Big Burn Falls or Beinn Eighe National Nature Reserve. Or spread your toes in the sand at some beaches like Sandwood Bay or Sango Sands.
Go on a waterfall-hunting escapade at Fairy Glen or the Ugly Hollow, or stop and stroll about some historical sites at Culloden Battlefield or Old Keiss Castle. Don't forget to visit the towns of Helmsdale and Torridon, at the very least.
Brilliant Things to See & Do in Scotland
Spot Nessie at Loch Ness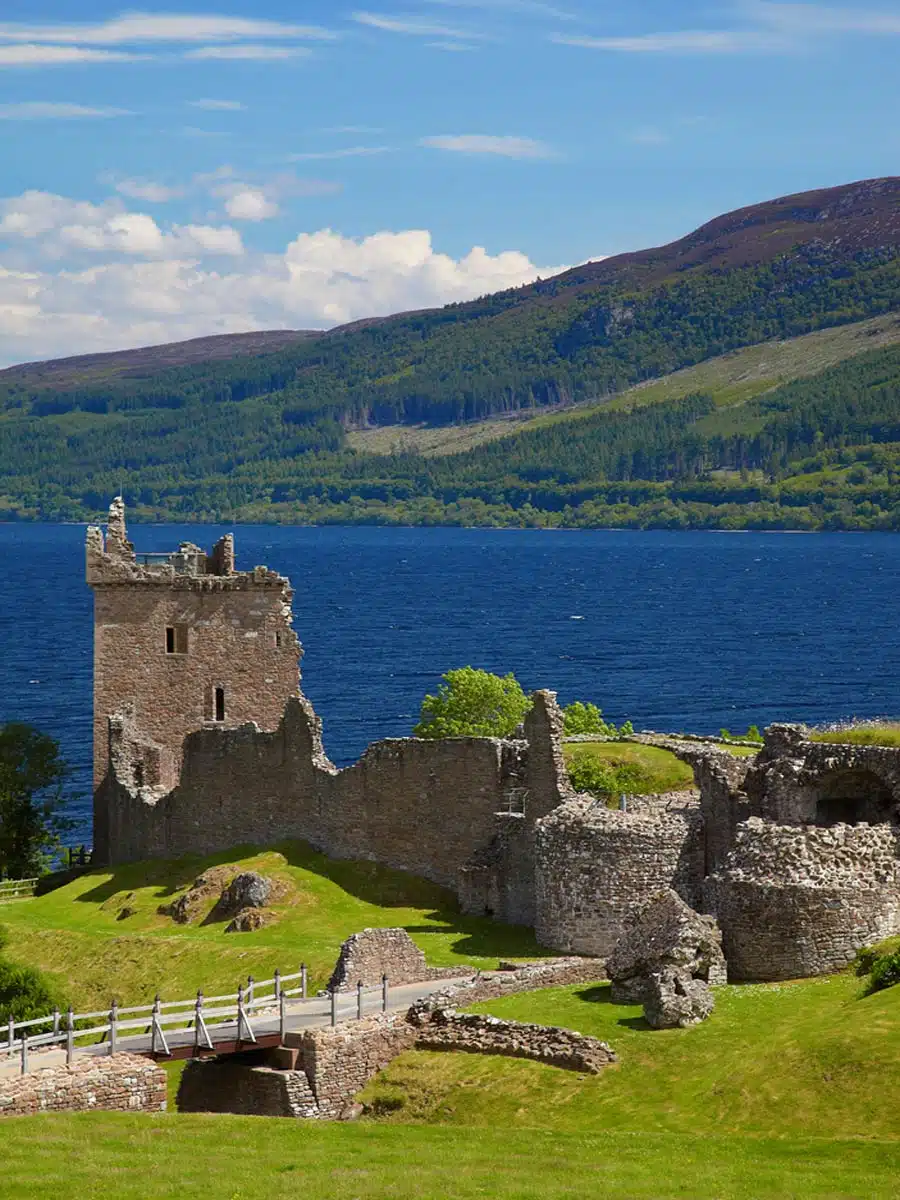 You can't go to Scotland and not try to spot Nessie popping out of the waters. I mean, you can, but where's the fun in that?
And going on a Loch Ness cruise is one of the most fun things to do in Scotland, if you ask me.
There are also Urquhart Castle ruins to gaze at and a café and gift shop to peruse. Check out Fort Augustus; it's a tourist fave for its gorgeous architecture and selfie ops.
Feeling adventurous? Tackle the 80-mile Loch Ness 360º Trail for some insane Scottish beauty, stopping at charming inns and B&Bs as you go.
Book a Two-Hour Loch Ness Cruise Here
Visit the Castles of the Highlands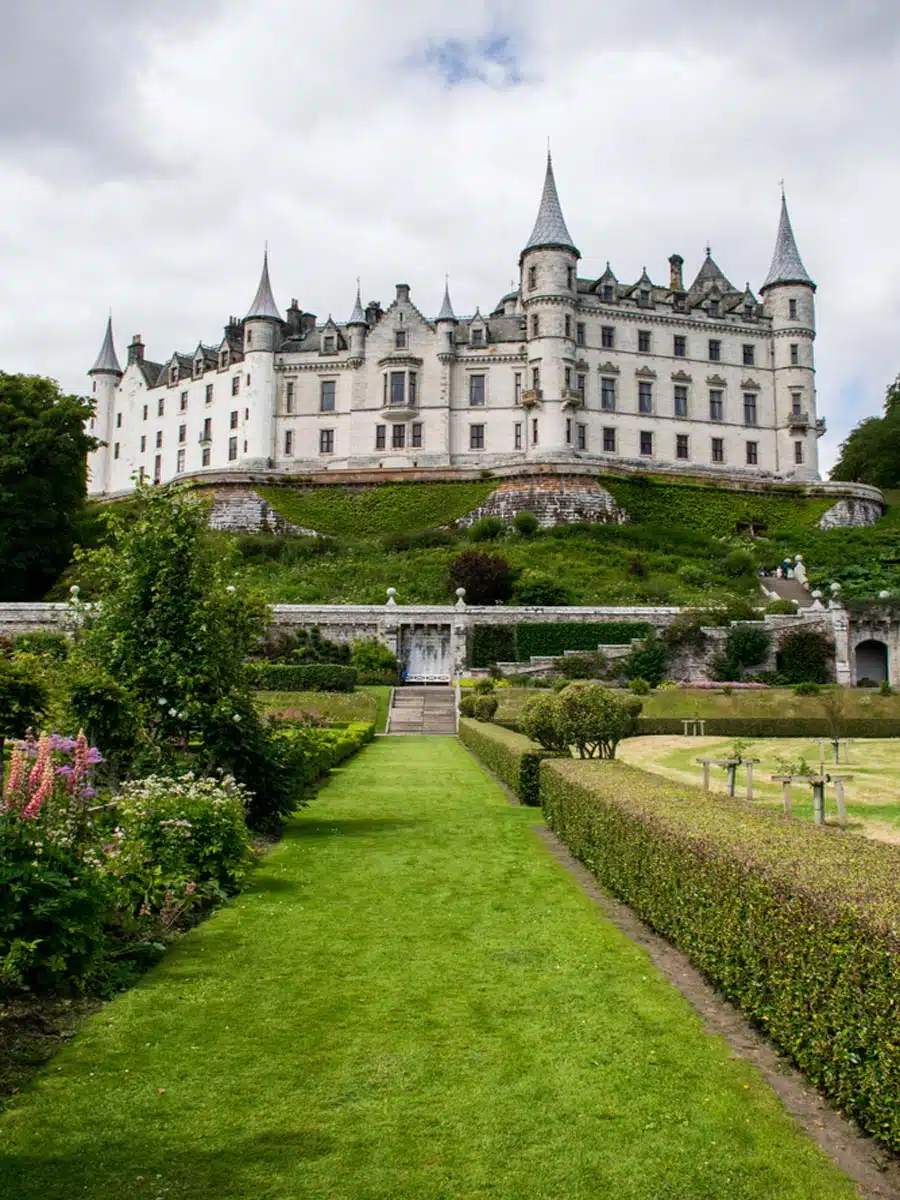 There's nothing more romantic than a castle set against a lush green wonderland, and Scotland boasts plenty.
From the pale fairytale turrets of Dunrobin Castle, home to Sutherland's Earls and Dukes for 700 years, to Dunvegan Castle, the residence of the MacLeod Clan Chiefs for 800 years.
Inverness Castle is also a memory-maker with its red sandstone beside the River Ness. Climb the north tower for gorgeous views over the city. Armadale Castle is also an impressive clan home, with a museum and empty rooms you can stroll through.
Old Inverlochy Castle is a crumbly ruin now from 1280, but it has survived nonetheless where others have melted back into the landscape.
Drink Whisky on the Isle of Islay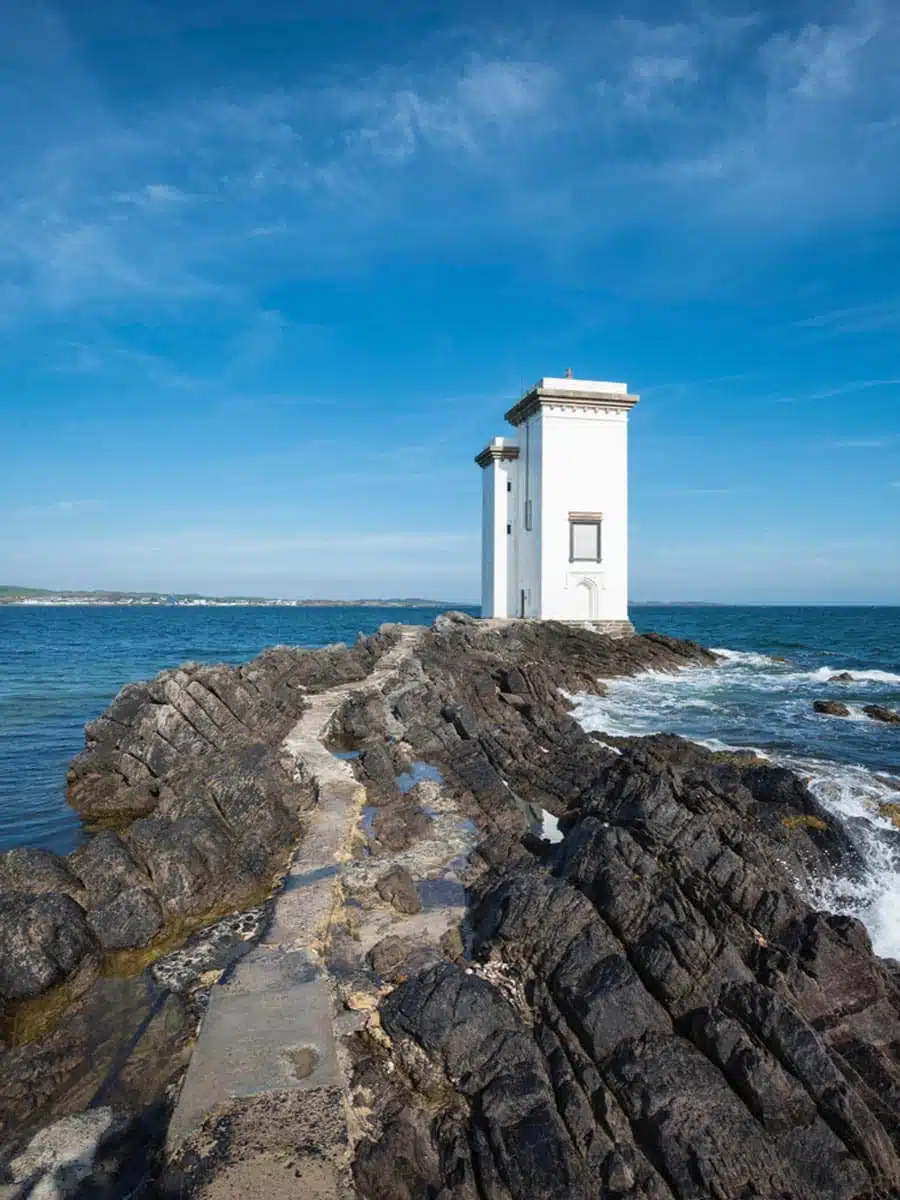 Islay isn't called "Whisky Isle " for nothing. And I just so happen to love a punchy whisky with a peaty taste.
This island has plenty of stellar distilleries choices, from Lagavulin, Ardbeg, and Laphroaig in the south, all whitewashed and straightforward in their no-nonsense approach to a stiff drink.
They offer tastings and tours, but if you want to enjoy the natural beauty, head for the 7.45-mile stroll along Big Strand. Push further to see the Soldier's Rock, glorious craggy cliffs, and rolling highlands.
Potter Around Glencoe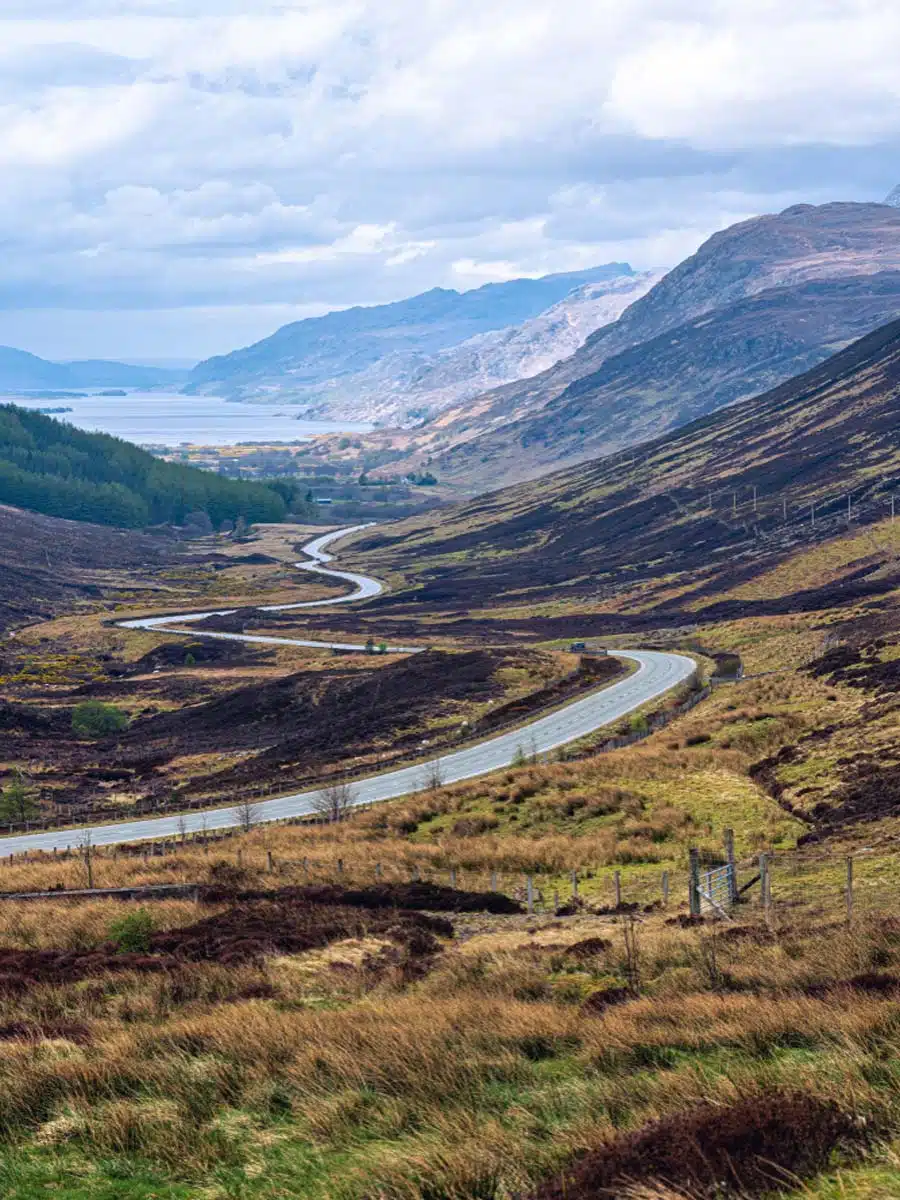 The village of Glencoe is tiny but mighty – boasting little cafes, a small museum, and plenty of quaint accommodation.
That said, it's mainly the landscapes and trails in Glencoe, which includes a 15-mile-long valley and rugged peaks, that capture people's attention.
Glencoe is technically a National Nature Reserve, and whether you hike, mountain bike, or simply stroll through its famously beautiful valley, you just have to see it for yourself.
Fun Fact: This was a filming location for many scenes in Harry Potter and the Prisoner of Azkaban – check out the background of Hagrid's hut!
Ski or Hike in the Cairngorms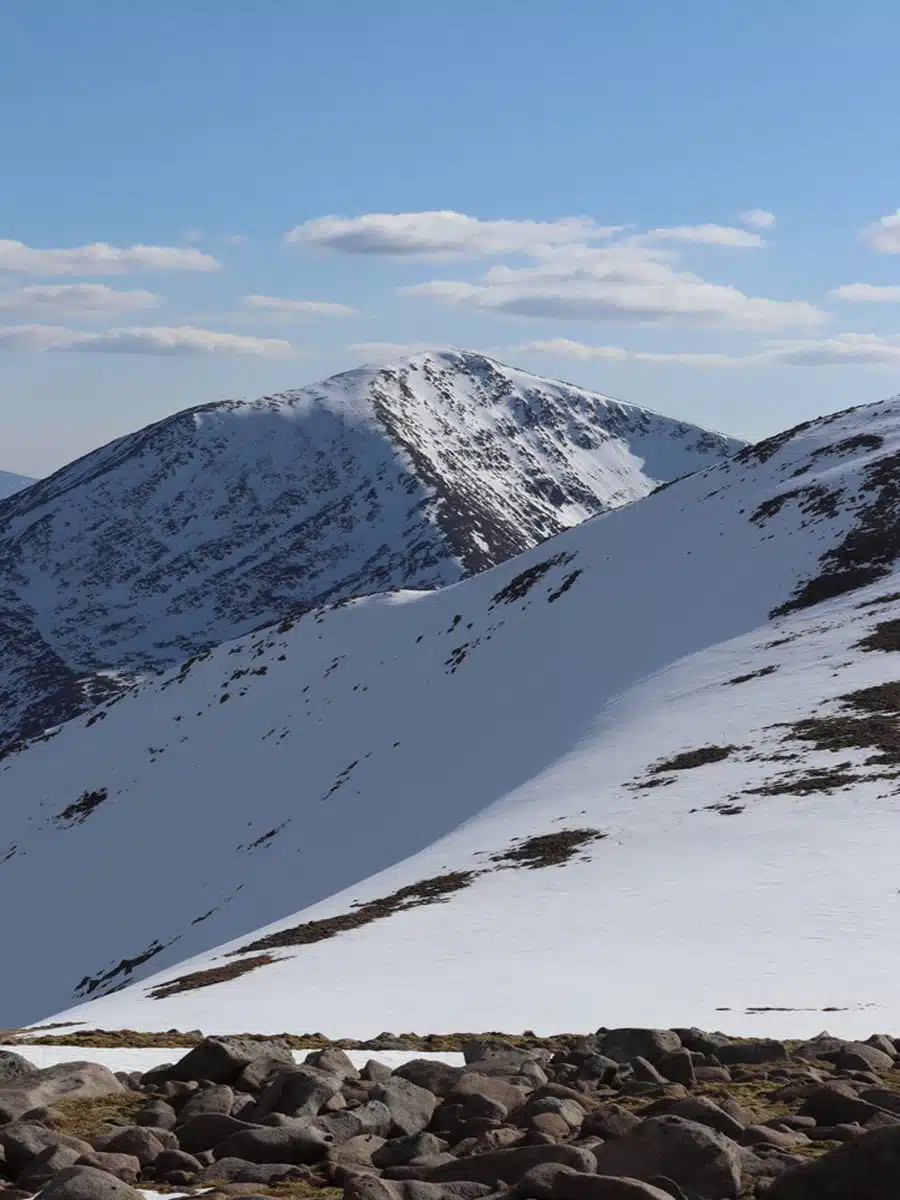 Let me loop you in on a secret – Cairngorms National Park has some of the best ski trails in the UK, with a rugged powder-covered landscape throughout most of the year.
The Glenmore and Braemar areas are more scenic for snow sports, though you can also walk through the snow along the Queen's Drive trail for stunning winter views before descending into pine forests.
Combine the short Uath Lochans and Farleitter Crag trails for a breathtaking (and easy) 4-mile scenic experience. Feeling adventurous? Tackle the 18-mile hike up to Ben Macdui, the second-highest mountain in the UK.
Hiking the 3-mile Frank Bruce Sculpture Trail is a must, though.
Explore Aviemore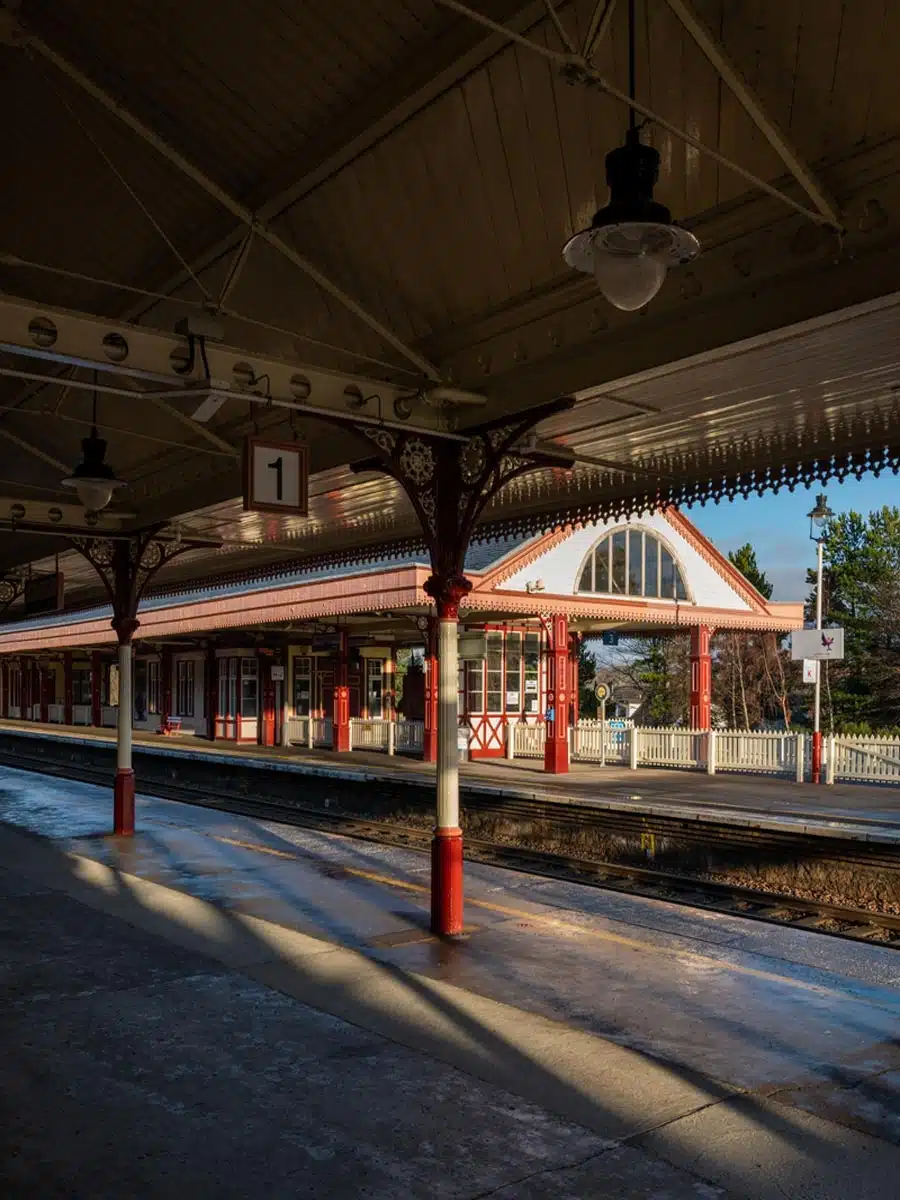 Aviemore is an adorable town set within Cairngorms National Park and close to secluded lochs, mountain trails, and ancient forests. If you want to return to nature, this is the place to do it.
Hang out at the woodland estate, Rothiemurchus, with its plethora of wildlife, or visit the Cairngorm Reindeer Centre.
You can even take a nighttime zipline through a floodlit psychedelic forest or settle down for a picnic at Loch an Eilean for lunch with a stellar view of the island castle. The Aviemore Kart Raceway is also a popular attraction if you can get yourself into gear (wink wink).
Visit Balmoral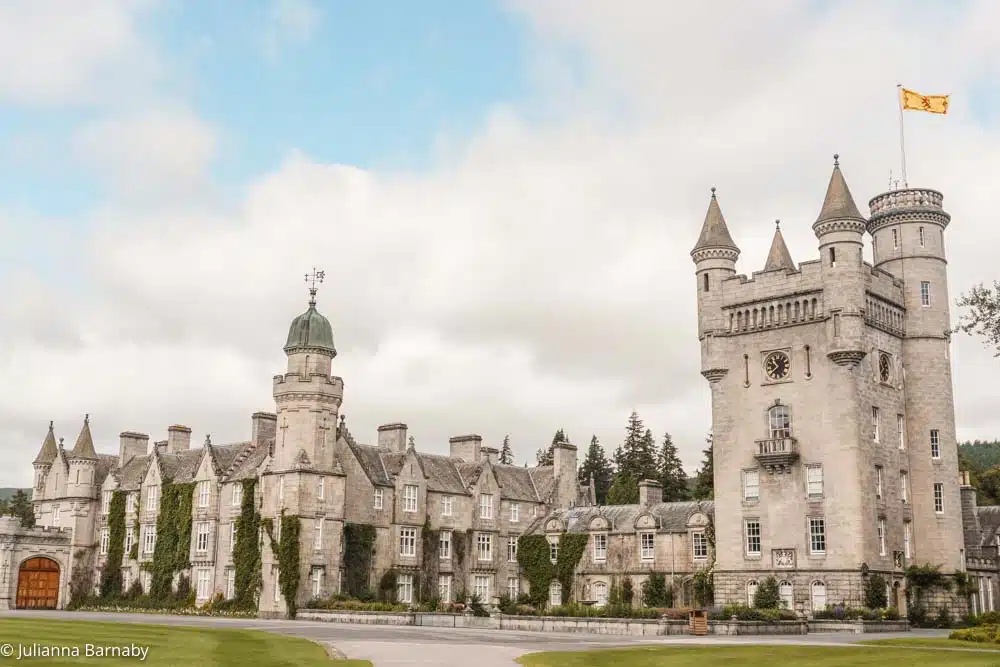 You must know about Balmoral Castle, the beloved summer residence of Queen Elizabeth II in Aberdeenshire. Its grounds cover 50,000 acres of verdant nature with happy colonies of red squirrels that you can even watch on squirrel cams.
Stroll about the spectacular castle grounds, or head inside the castle (it's open from 1 April 2023). There are plenty of events to attend, like the Wednesday Walks led by the Ranger Service through the gardens and grounds, passing monuments and cairns.
Visit the Star-Studded Eilean Donan Castle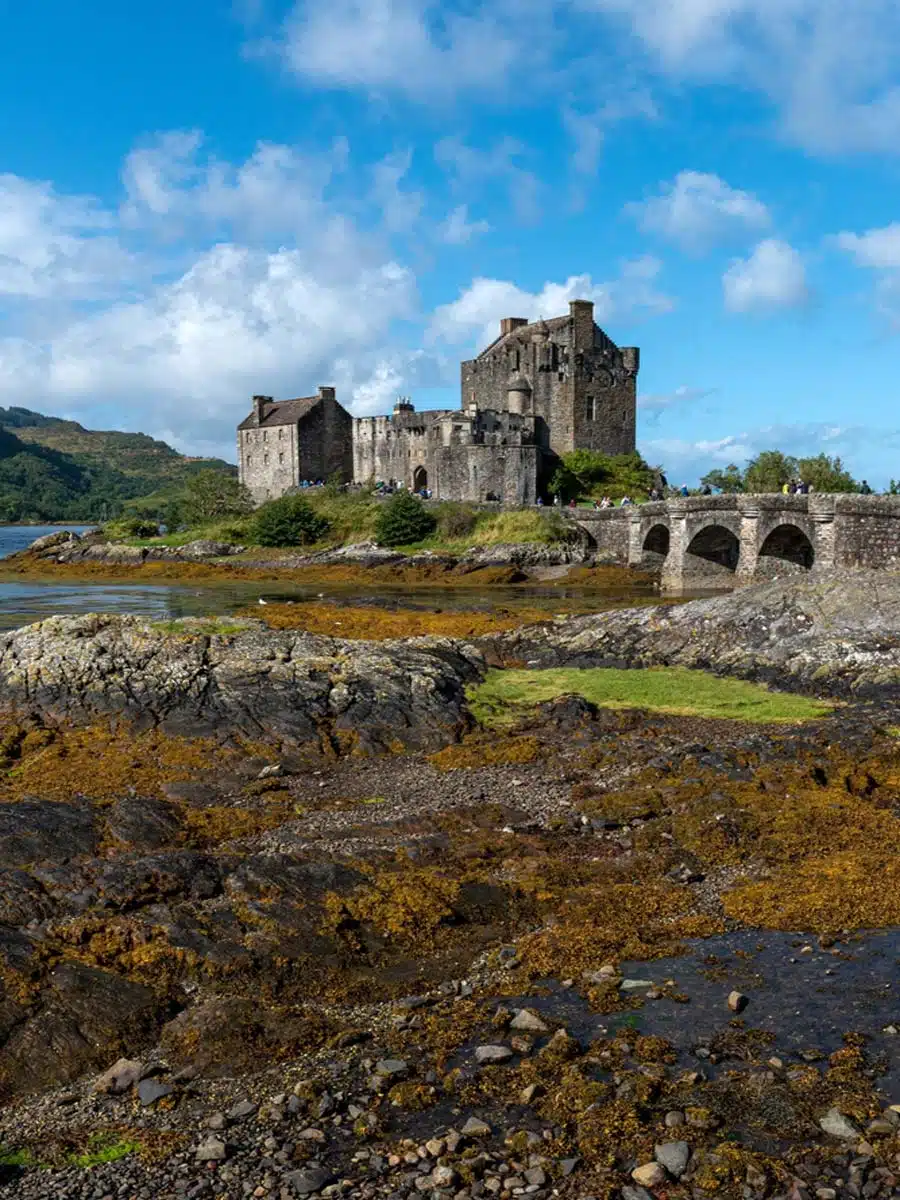 Three lochs come together at the tidal island of Eilean Donan, but a sturdy bridge leads to its sole property — the Eilean Donan Castle. It's so utterly picturesque that it's no wonder it's featured in James Bond movies as MI6's Headquarters.
Put aside an hour to wander through the castle, see the historical artefacts, and explore the gift shop and cafe. Then take your camera and get all the photos of this stunning architectural exploit from the outside.
Book An Isle of Skye and Eilean Donan Castle Day Trip Here
Admire the Stunning Scenery Around Loch Lomond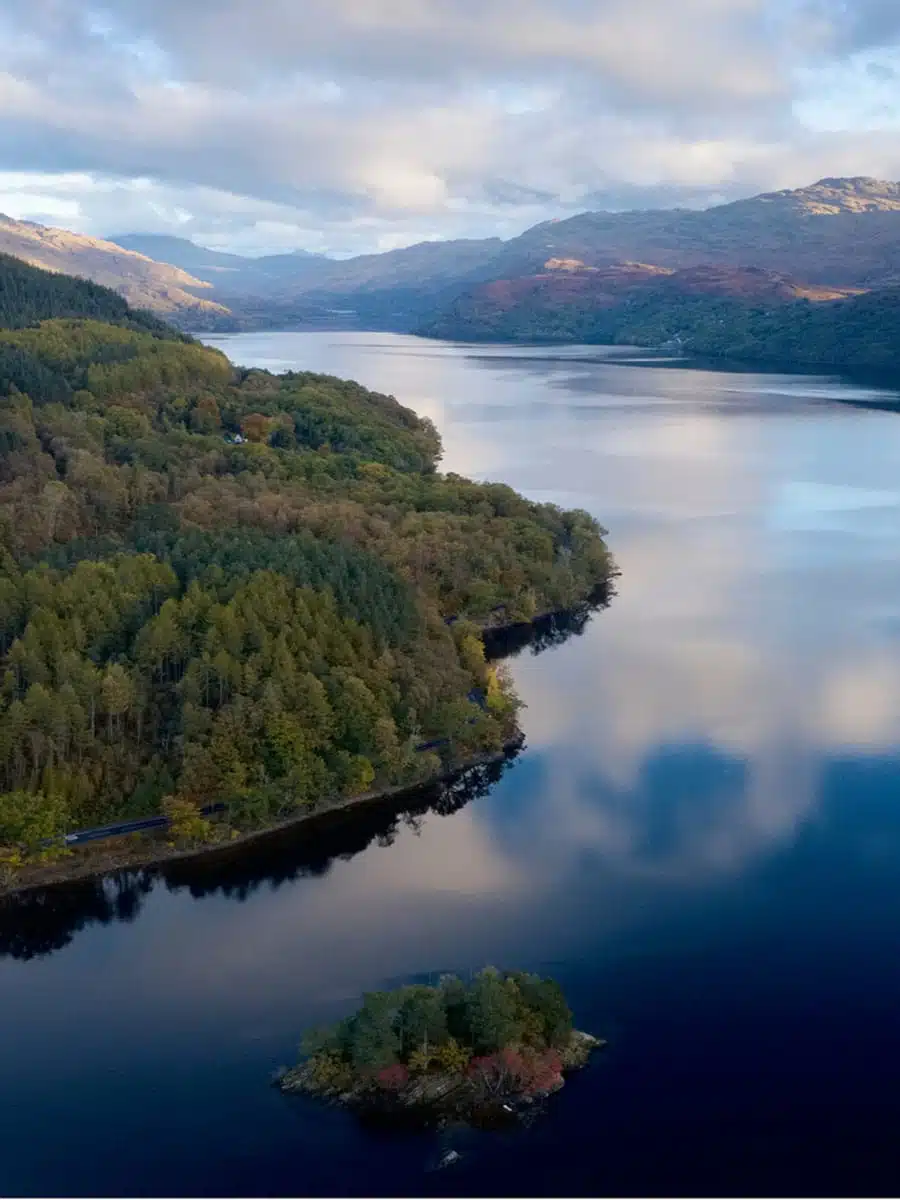 Loch Lomond and The Trossachs National Park go hand in hand. But I'm not complaining because…wow. The scenery is incredible, and the park is perfect for long walks.
The Loch is a popular attraction known for its emerald green vistas and status as the largest inland lake in Britain. Hop on a kayak or canoe or go paddleboarding while you're there.
Try the West Highland Way, one of National Geographic's top 10 trails across the world at 95.7 miles long. Stop by Balmaha Village and divert to Inchcailloch, or continue to Killin and the famous Falls of Dochart.
Across the way, there's Luss Village with pretty stone cottages and the Luss Heritage Path.
Unique Things to See & Do in Scotland: Hidden Gems That are Off the Beaten Track
Spot the Hogwarts Express at Glenfinnan Viaduct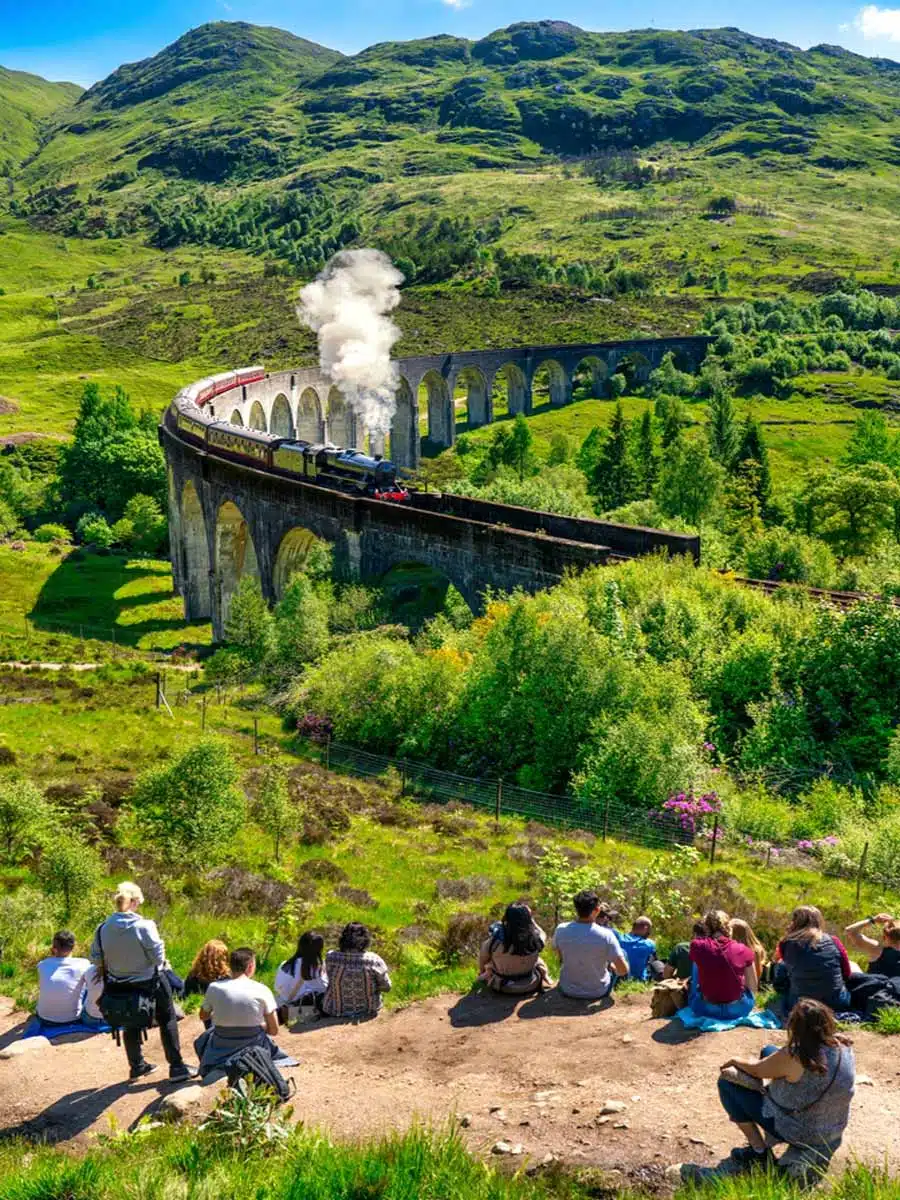 What's so special about a railway viaduct from 1901 in Inverness-shire? Potterheads will be happy to tell you.
The Glenfinnan Viaduct nestles between the rolling Highland hills and has featured as one of the famous railways that the Hogwarts Express frequents. But you'll have to take a 20-minute trek from the nearby car parks to get a good view.
If this won't do, though, take a magical tour and hop on the cherry-red Hogwarts Express in Fort William to experience the location differently. Even if you're not a Harry Potter superfan, it's still one of the most unique things to do in Scotland.
Book Your Glenfinnan Viaduct Tour Here
Head to Skara Brae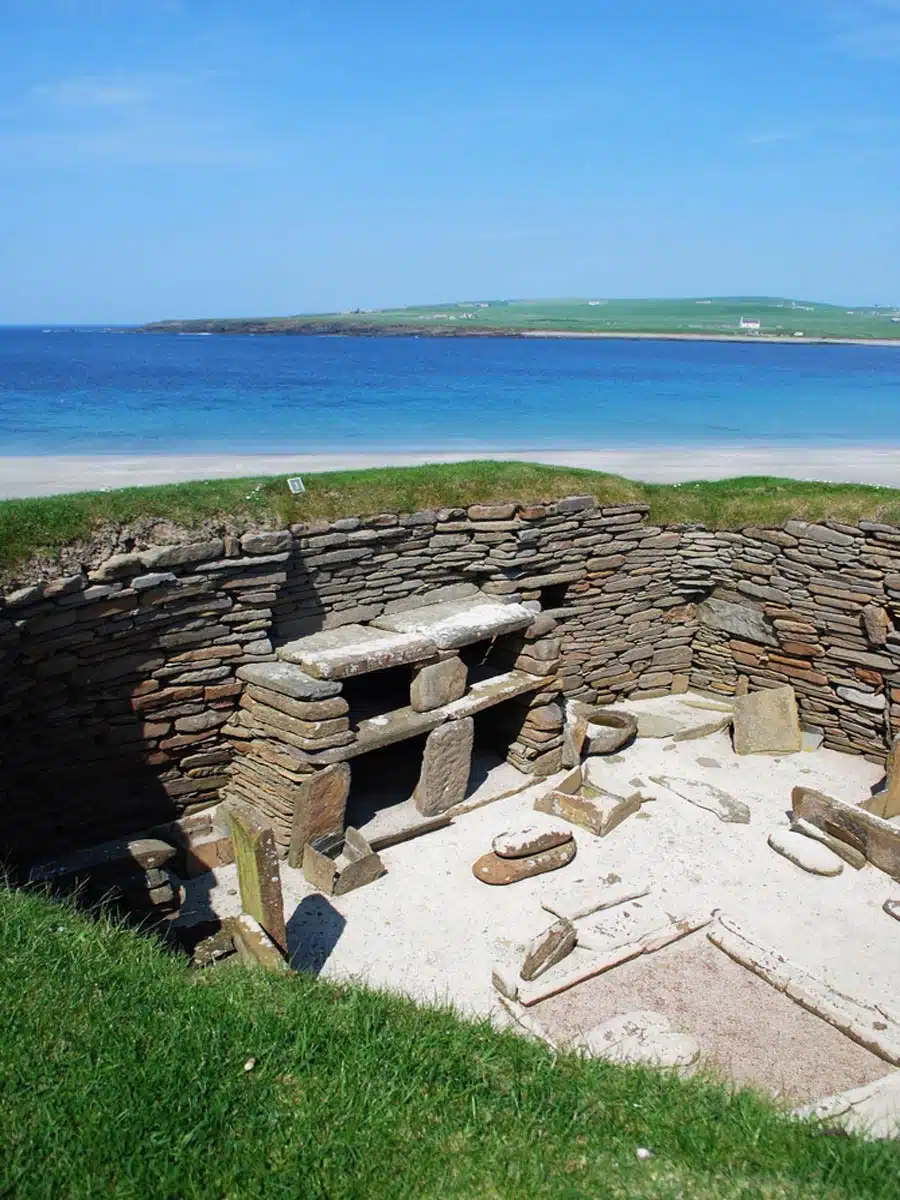 Skara Brae is a semi-subterranean village on the island of Orkney. It's estimated to be over 5,000 years old and is Europe's best-preserved Stone Age village.
A dune completely covered it until a mighty storm in 1850 revealed what lay beneath – which means that Skara Brae is perfectly preserved by the sand that hid it for so long.
For some perspective, it's older than the Great Pyramids and Stonehenge.
Spend Some Time on the Beaches of the West Coast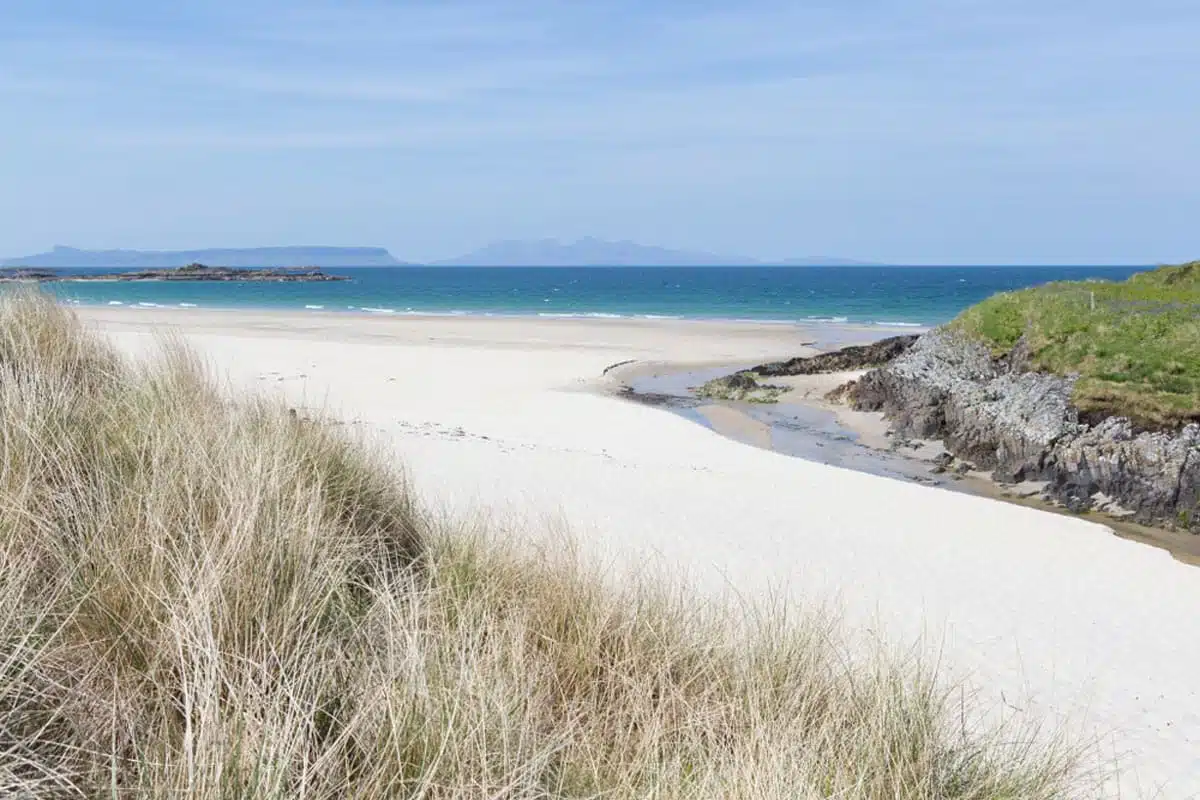 Beach bumming isn't what you'd call a typical Scottish activity, but why not? If the sun is warm and the shimmering waters are calling, who are you to ignore them?
Camusdarach beach in Silver Sands is as tropical as they come, with white sands and turquoise waters. You can see all the way to the mountains of Skye from its shores, so you can imagine the sunsets are phenomenal.
Big Sand Beach in Gairloch is the perfect picnic beach, sheltered from the winds by Longa Island. Sandwood Bay is also a treasured strand with giant breakers smashing onto its shores.
Stroll Through Ballater & Royal Deeside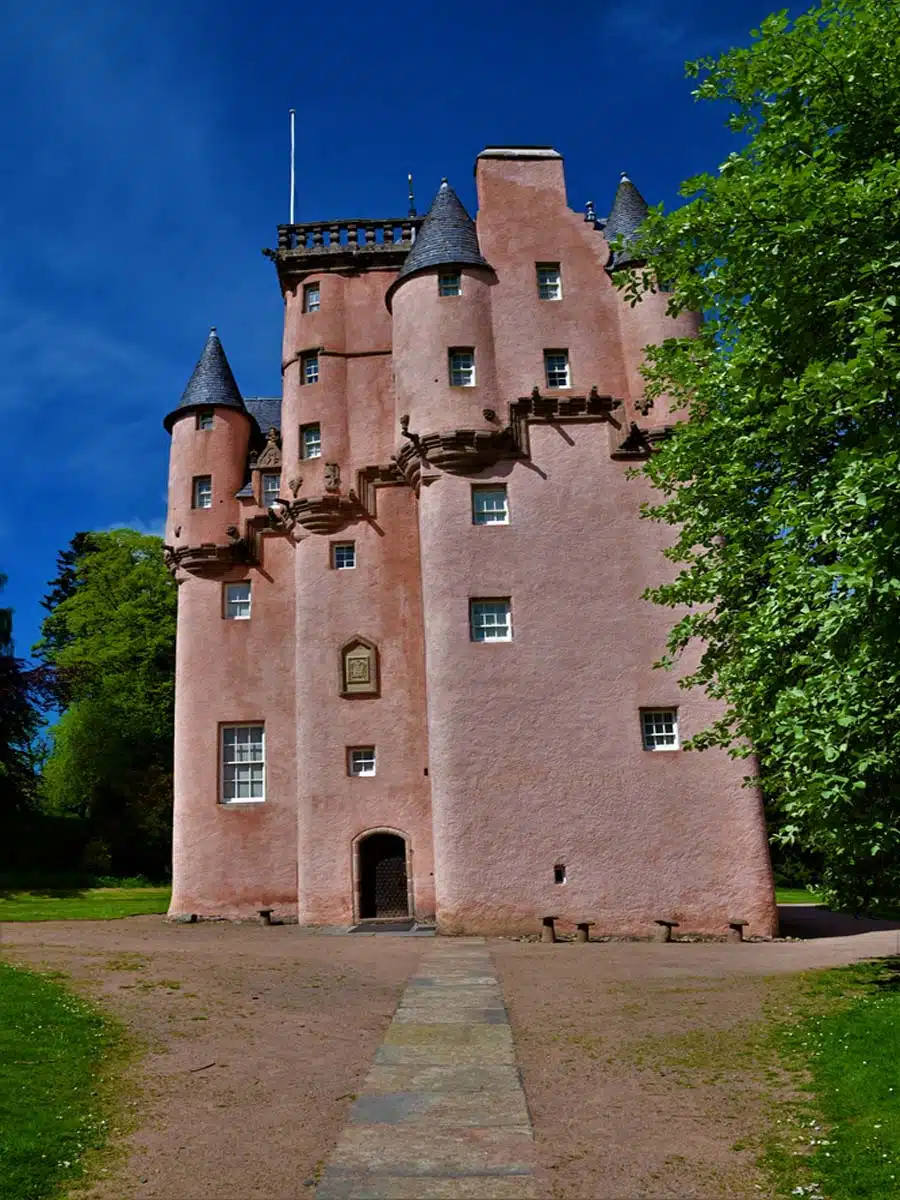 Ballater is a top spot for visitors thanks to its location and heritage. It sits snugly in the heart of Royal Deeside, so named because Queen Victoria visited in 1848 and enjoyed the area tremendously. Having Balmoral Castle nearby doesn't hurt, either.
This picturesque Victorian village is by the eastern gate to Cairngorms National Park, so it's a favourite with hikers. But its cosy cafes, fantastic shopping opportunities, and quality restaurants will entertain any tourist.
Hiking, climbing, and skiing are popular pastimes in Ballater, as well as a castle safari to spot Crathes, Braemer, and Craigievar Castle.
(Try to) Spot the Northern Lights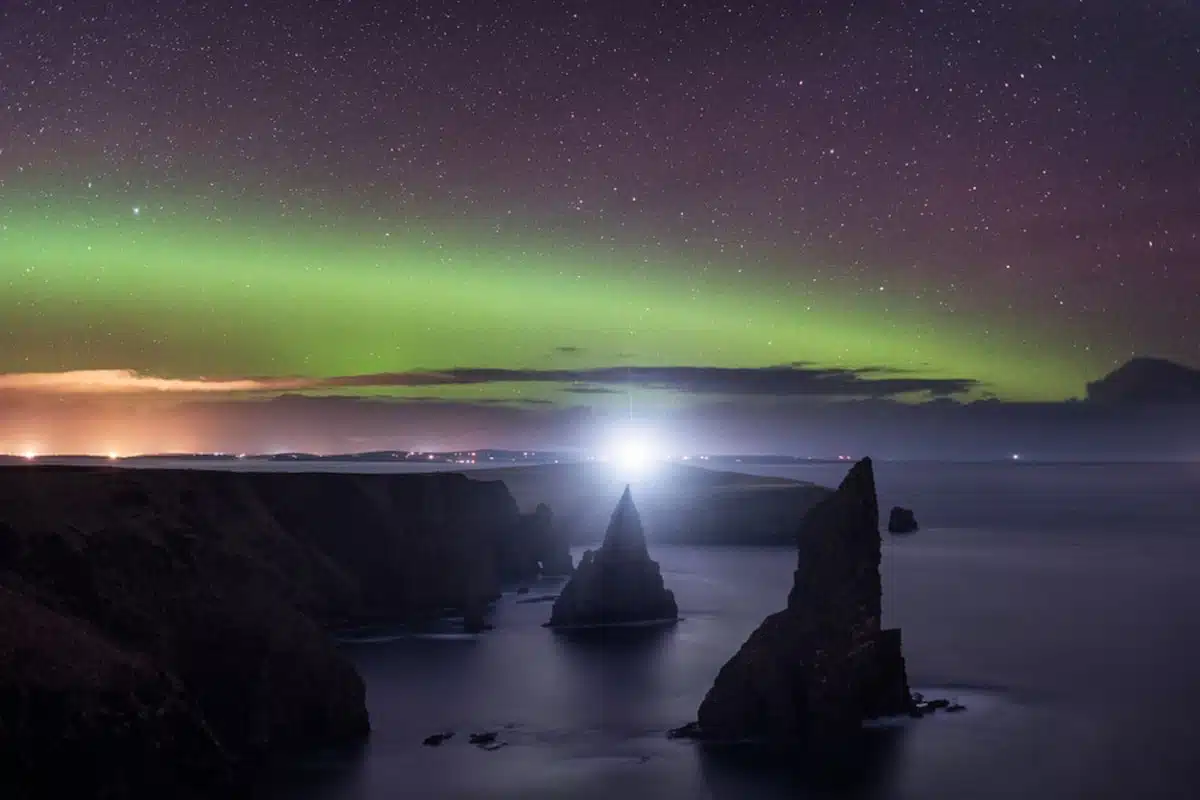 Sorry to break it to you but, although it's possible, this one's not a given. However, it would be cruel of me not to suggest you at least try to see the Northern Lights on your Highland adventure.
So – where can you see them? Your best bet is on the Shetland Islands or in the Outer Hebrides. Though, if conditions are just right, you can sometimes spot them from the Isle of Skye, too.
That said, there have been plenty of occasions in recent years where people near Edinburgh and Glasgow have been able to see them – you'll need to get yourselves out of the city for a chance at that, though.
Read Next: Where to See the Northern Lights in Scotland
Things to Do in Scotland: Practical Tips for Your Trip
How Long to Visit Scotland?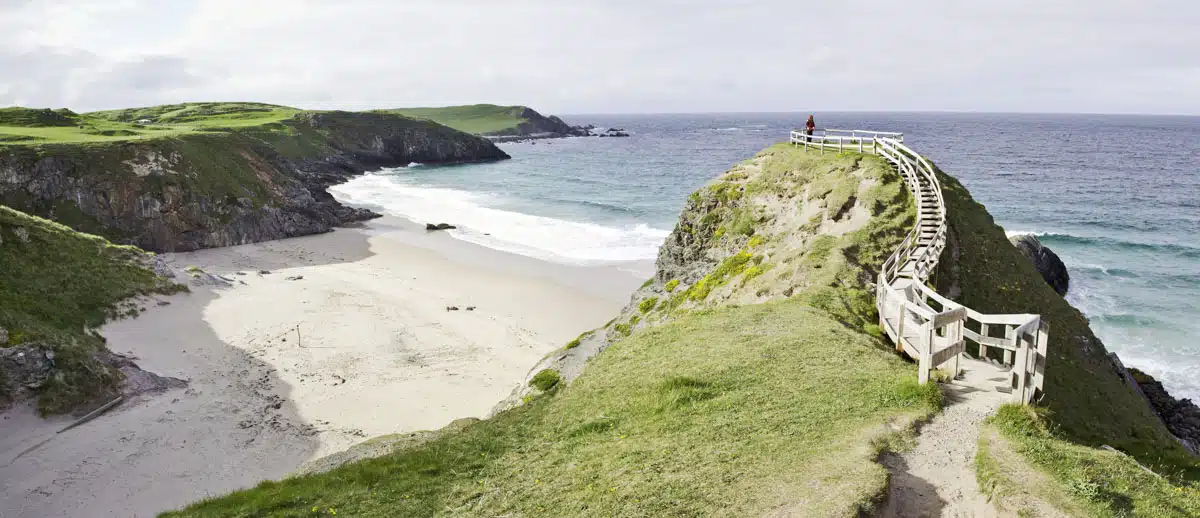 You'll want to put aside at least seven to ten days to get decent sightseeing into your trip. Extend it to 14 days if you're more of a leisurely tourist or have a bigger itinerary.
Best Time to Visit Scotland?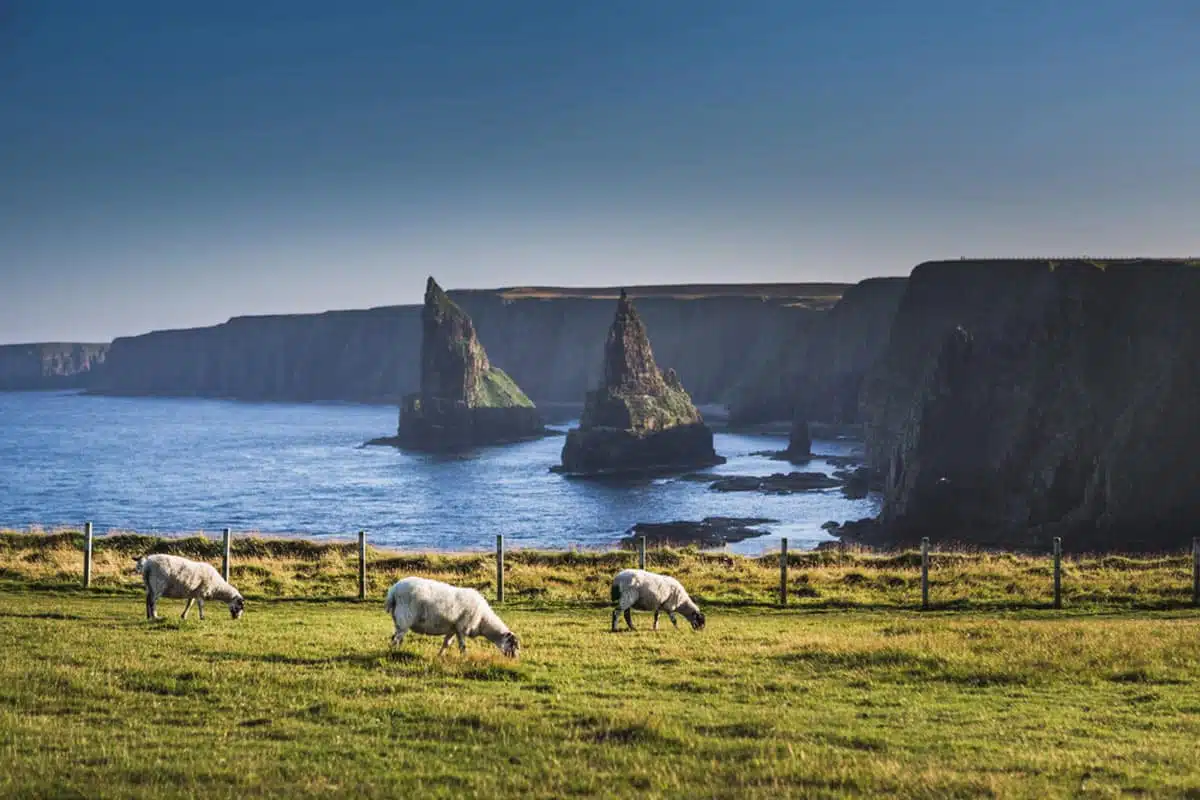 Spring (March to May) and autumn (September to November) are the best times to visit Scotland. Temperatures are a little warmer in spring, but there'll still be snow on the mountains.
Where Should I Stay in Scotland?
AC Hotel by Marriott Inverness (Mid-Range)
This AC Hotel in Inverness is modern and comfy, with warm woods offset by clean neutrals. There's a rooftop terrace and restaurant to spend your evenings and panoramic river views from the rooms to delight.
This is a great place to base a Highlands trip from.
The Balmoral Hotel (Luxury)
Luxury at its finest lies behind the opulent doors of The Balmoral Hotel in Edinburgh. Decked out with plush furniture, and a mix of Victorian and modern decor, you'll feel as though you're staying in the castle itself.
Relax in the Turkish steam room or indulge your palate with fine dining at Number One Restaurant.
Recommended Tours in Scotland
Things to Do in Scotland: Map