Is there anything better than a trip to London? I'd wager, no. These are the London landmarks you need to hit up on your next trip.
Planning a visit to London? I've got you covered.
If you didn't know, I'm a Londoner. Which means that I'm pretty well-versed when it comes to sharing the capital's top spots.
Whether you want to see all the famous sights – you know, like Big Ben, Buckingham Palace and the Tower of London – or would prefer to hit up some of London's underrated gems (Greenwich Observatory, I'm looking at you), England's capital city is full to the brim with incredible landmarks and attractions.
And I could chat about them all day. No matter where I travel, I can always appreciate that this city is seriously one of the best in the world.
Ready to rock the city I know (and love) so well? Here are 30 London landmarks you need to tick off.
Psst… Wondering where to stay on your London trip? Read my guide to the best areas in London.
Famous Landmarks in London
Buckingham Palace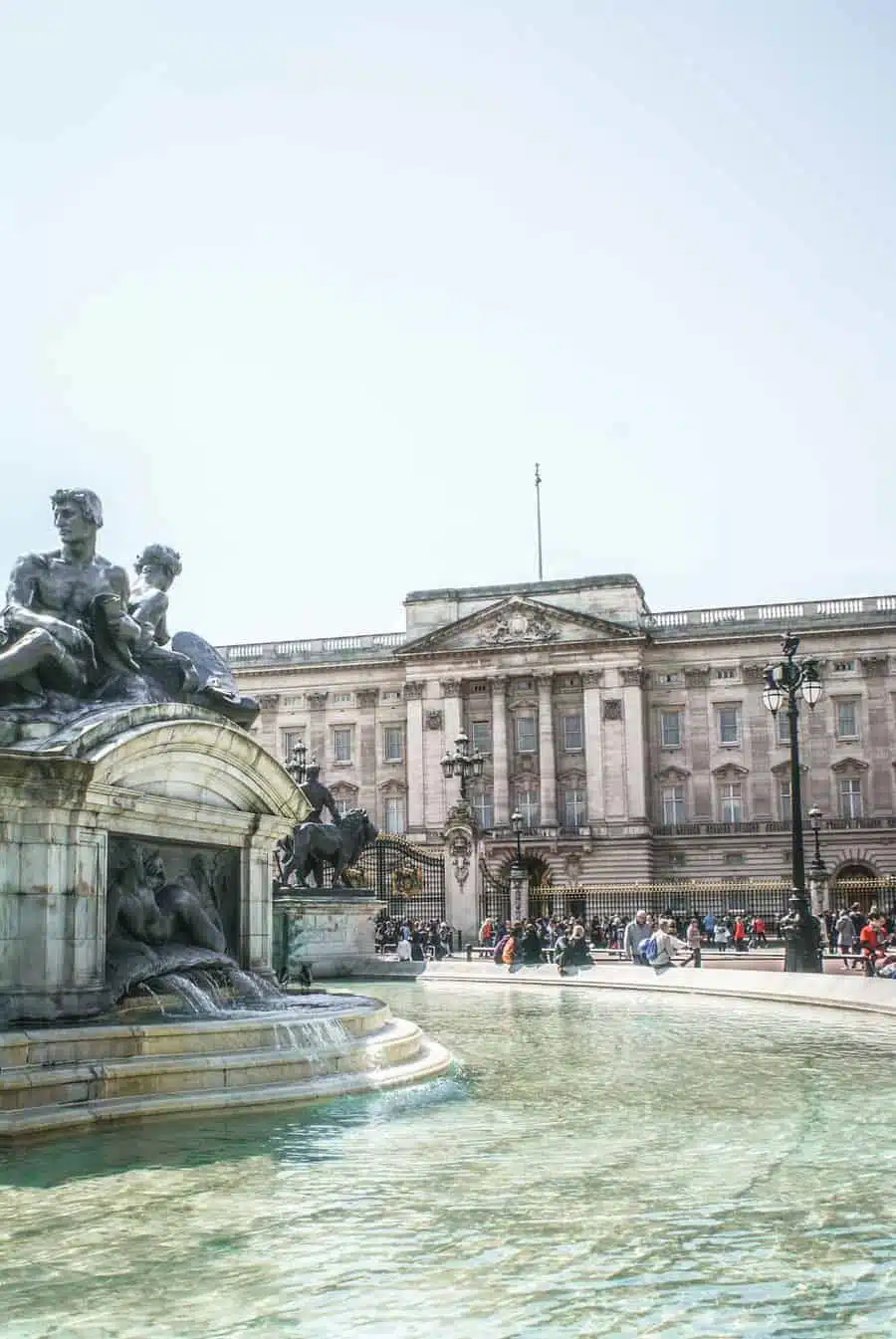 Buckingham Palace is one of the most well-known royal landmarks in London and the entire world. It features highly on many travellers' UK bucket list destinations. That's because it's dreamy getting close to the not-so-humble abode of kings and queens.
The royals have occupied the palace for nearly 200 years. But it's more than a royal residence. It welcomes international dignitaries, celebrities, and public figures.
The stunning Victoria Memorial outside the palace gates and the famous motionless guards are a bonus sighting. Enjoy royal life with an entrance ticket to the palace's State Rooms.
Big Ben and the Houses of Parliament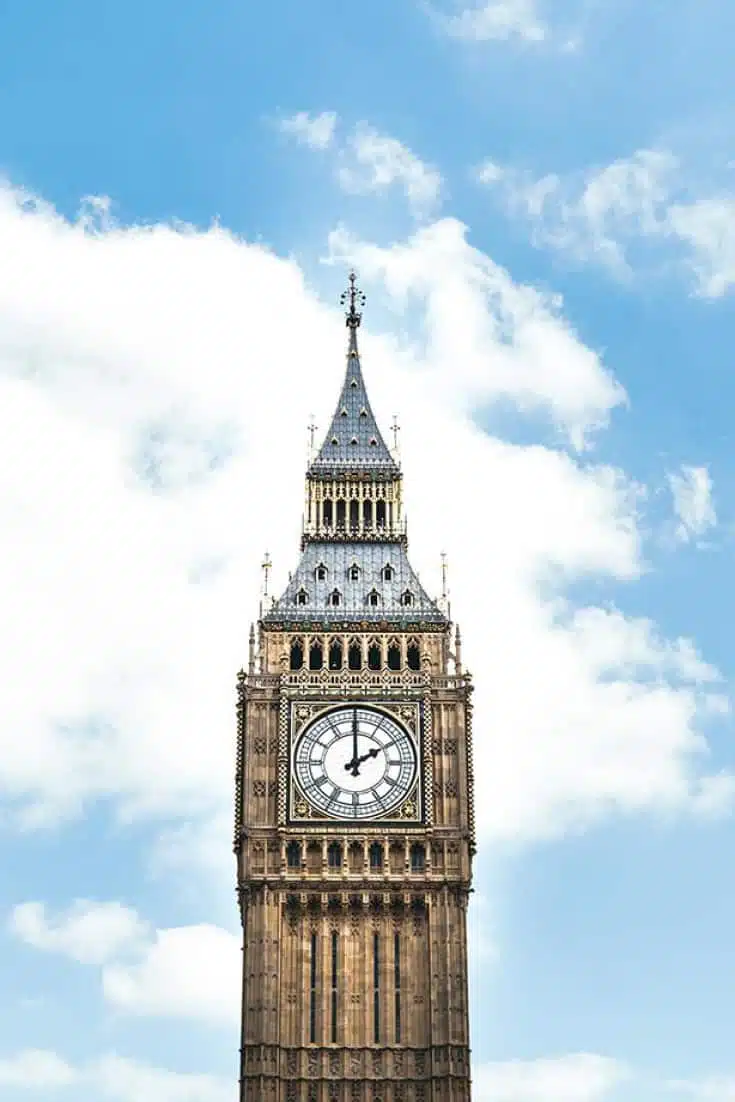 It's not a trip to London without a date with Big Ben. The clock tower, that is.
While heading inside Big Ben is currently off the cards thanks to a mega renovation that has seen the clock get a facelift, wandering around Westminster and listening to the tower's bongs is one of the most iconic things to do in the capital.
Somewhere you can head inside, though, are the adjacent Houses of Parliament (the Palace of Westminster). The Palace sits neatly on the bank of the River Thames. See the UK's political hub, the House of Lords and the House of Commons.
You might think this is a little bit of a snoozefest, but it's actually fascinating. I recommend booking a guided tour of Westminster.
Fun Fact: Big Ben's tower structure is known as Queen Elizabeth Tower. Big Ben is the clock.
Tower of London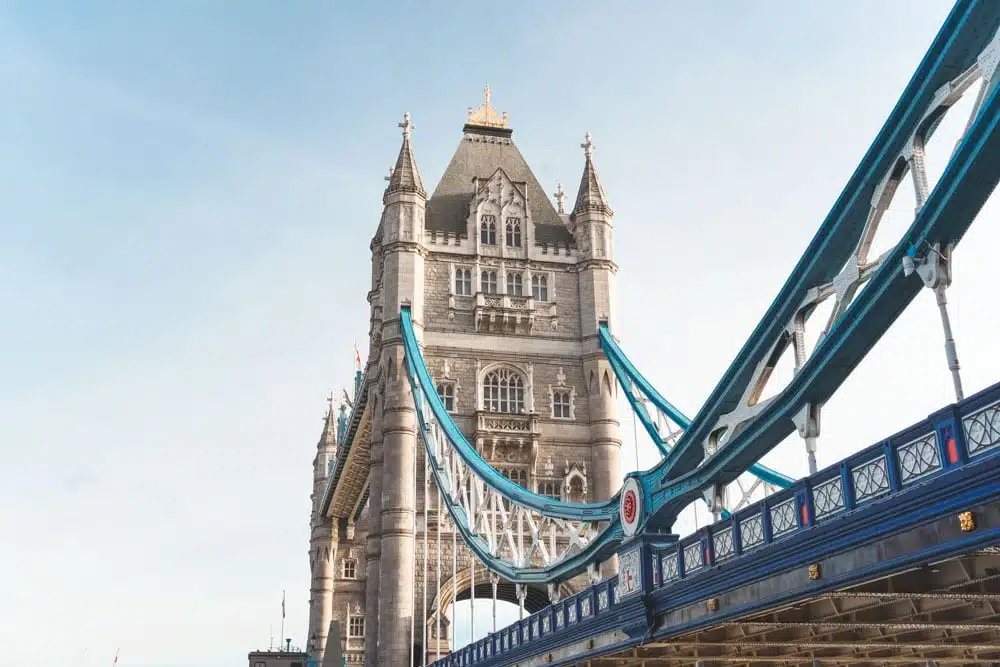 Does your London bucket list include a visit to the Great Tower? It certainly should do. The Tower of London has been an iconic landmark for almost 1,000 years, thanks to William the Conqueror, its 11th-century builder.
A royal home, a defence fortress and even an eerie prison: yep, the Tower has served multiple purposes in its peculiar history. A fascinating part of a site visit is seeing the legendary Ravenmaster, a Yeoman Warder. He and the six resident guardian ravens put on a spectacular show.
Take a tour of the Tower of London and enjoy the Crown Jewels exhibition, where you'll see the British monarch's most famous symbol in all its glory.
Kensington Palace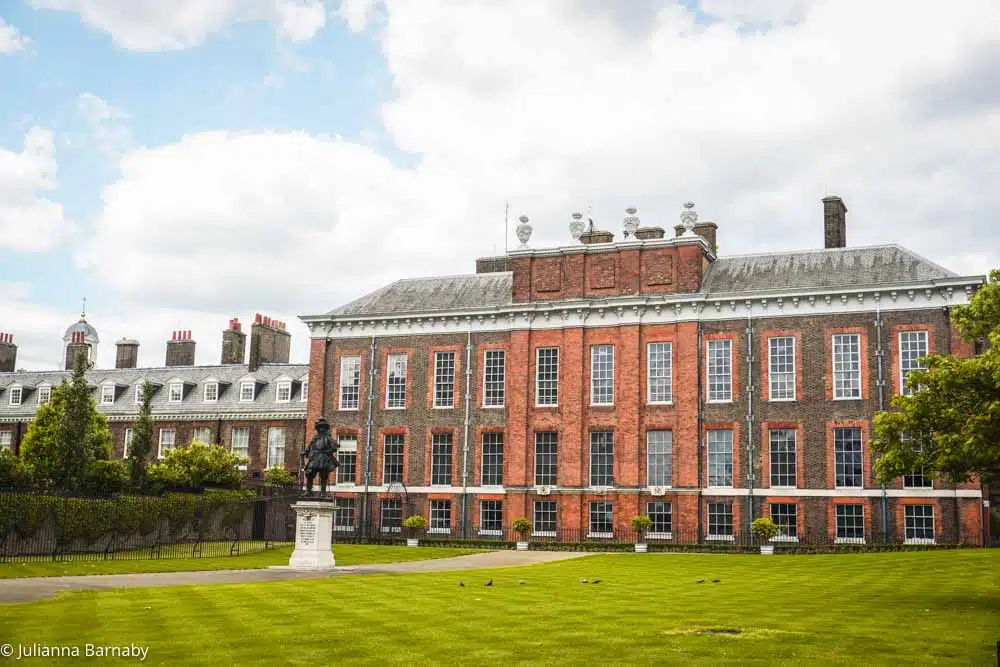 Kensington Palace, dating back to 1605, is one of the most important historical landmarks of London. It was Queen Victoria's birthplace, making it popular with monarchists and royal fans.
The palace is also the official home of the Duke and Duchess of Cambridge, Prince William and Princess Kate.
Visit this immaculate palace by booking a sightseeing entrance ticket. You'll get to explore the royal state apartments, admire the Royal Collection artworks, and more. You could also go Brit for a day with a gardens tour and a royal high tea. How fabulous, innit?
St Paul's Cathedral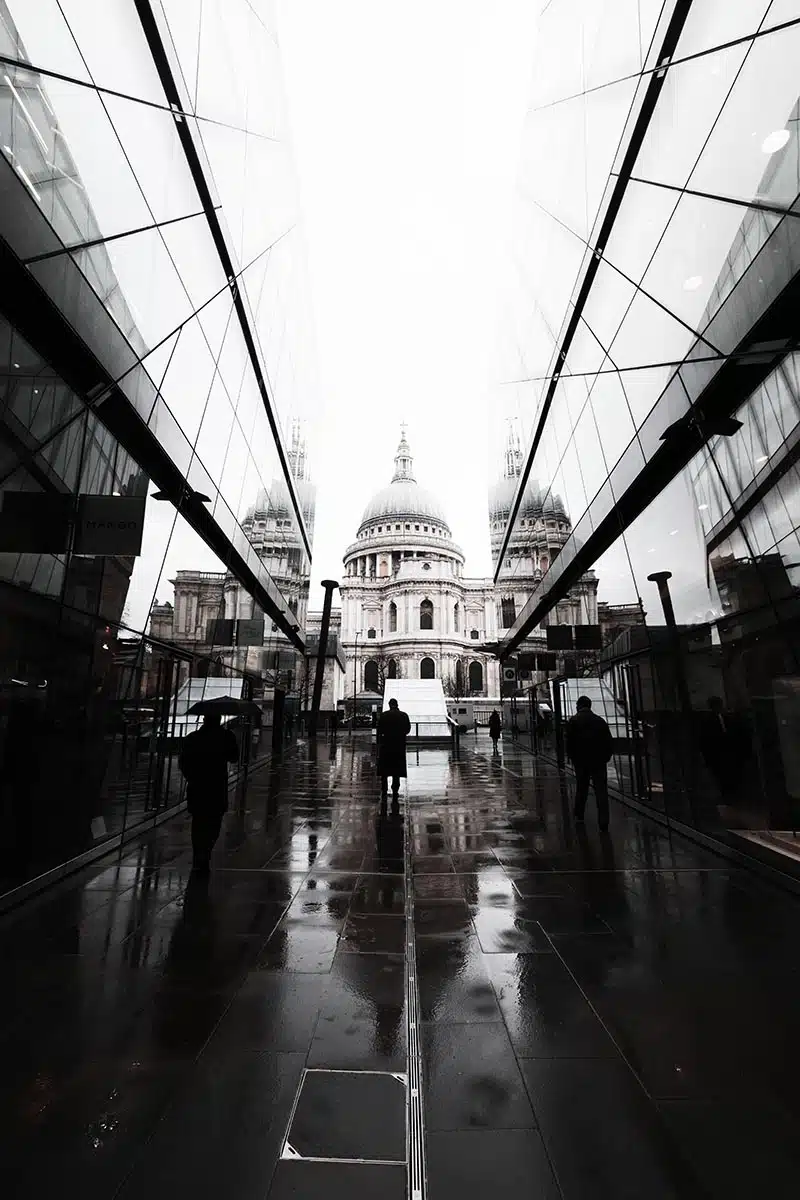 St. Paul's Cathedral is one of the oldest of London's landmark buildings. It is a magnificent symbol of British resilience after suffering four devastating historical fires.
Sir Christopher Wren was the brilliant architect who designed and restored the cathedral to deserved glory in 1675 (as well as the vast majority of London's most impressive sites). The building's superb English Baroque style is something to marvel at.
Visitors can attend prayer gatherings and services daily or, for those who don't want to worship, book a tour of St Paul's Cathedral and experience one of London's most outstanding architectural masterpieces.
The Royal Observatory, Greenwich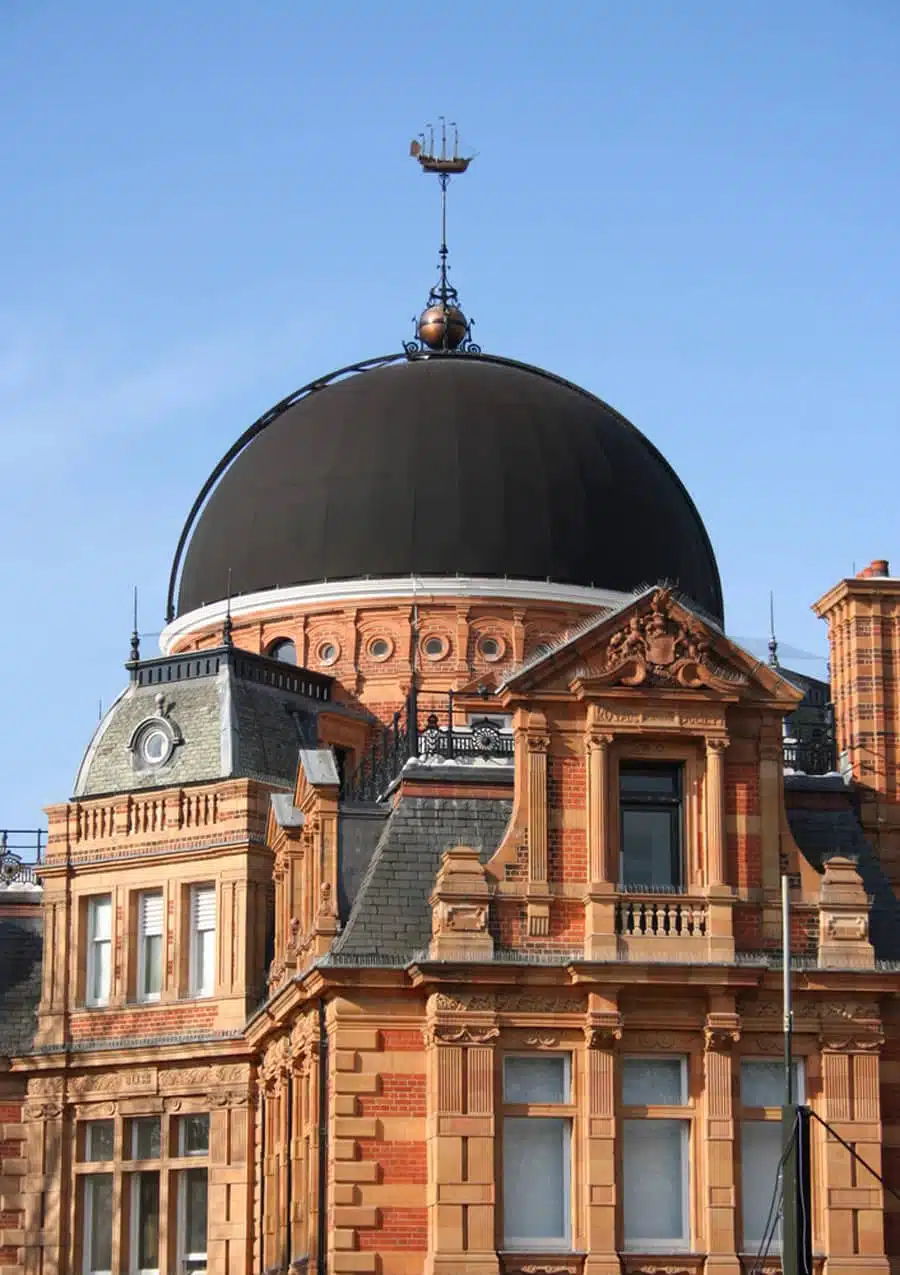 The Royal Observatory in Greenwich is one of the coolest places in London – but one of the most underrated. Think about it. This is your chance to visit a three-in-one attraction, which is why we can universally tell the time in a standardised way.
Get your nerd on and geek out about the location's Prime Meridian, Greenwich Mean Time (GMT), and London's Peter Harrison Planetarium. Grab an entrance ticket to the Royal Observatory and snap epic photos of yourself in two different hemispheres simultaneously at the Meridian Line.
Trafalgar Square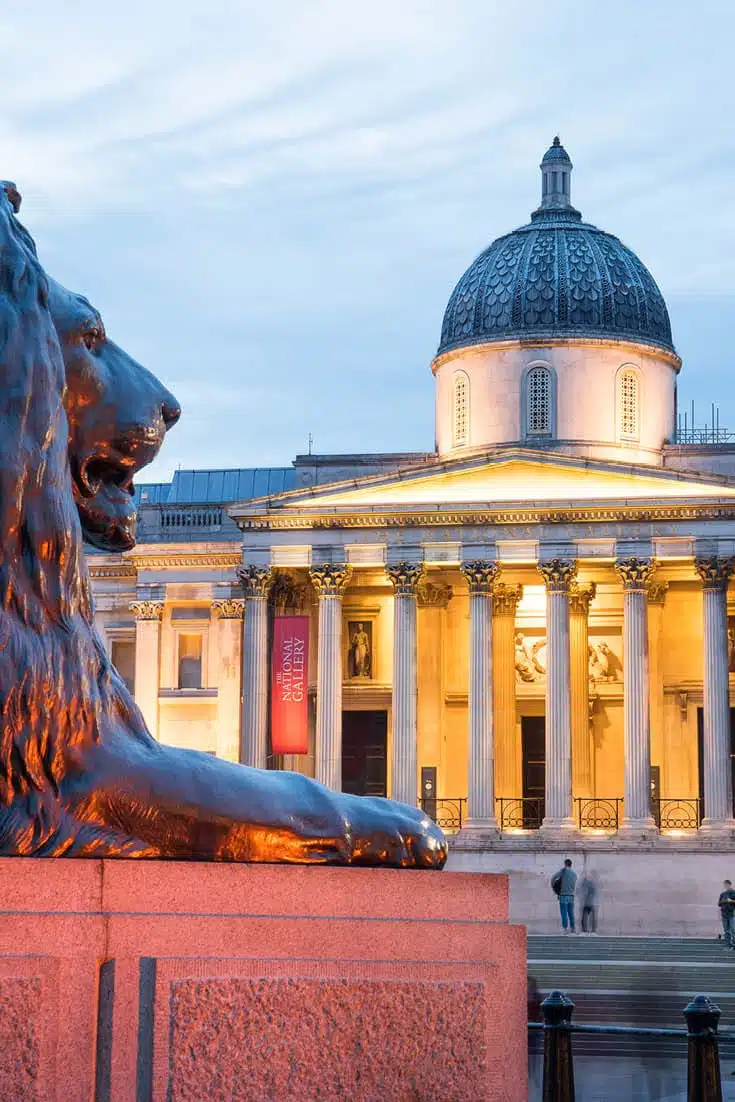 Ready for another unmissable destination? Trafalgar Square. This busy public plaza is a dedication to Admiral Horatio Nelson, a leader during the 1805 Battle of Trafalgar.
Nelson's column at the square is a prominent feature. Though keep your eyes out for the lions and the fourth plinth – a column with a rotation of sculptures.
Enjoy a typical London lunch at any of the great restaurants in the area (Barrafina is my top pick). Afterwards, take a walk and do a bit of statue-and-water-feature-spotting.
Top Tip: Feeding the pigeons at Trafalgar Square is illegal. Rule-breakers risk receiving fines.
Westminster Abbey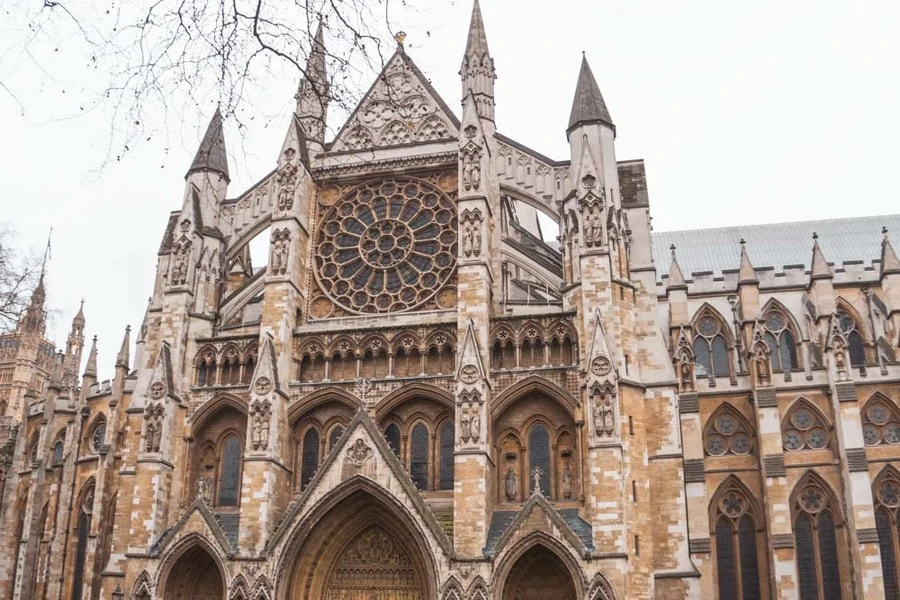 Westminster Abbey is one of central London's oldest, most cherished landmarks. Explore it using a London explorer pass to experience this monumental royal church at your own pace.
The Gothic-inspired architecture alone is a wonder. This has been a significant site since the mid-1200s. It's a must-see location because it's also the final resting place of many iconic royals, artists, political figures and scientists.
Top Tips: Learn everything there is to know about one of London's most astonishing buildings by booking a Westminster Abbey tour. 
Shakespeare's Globe Theatre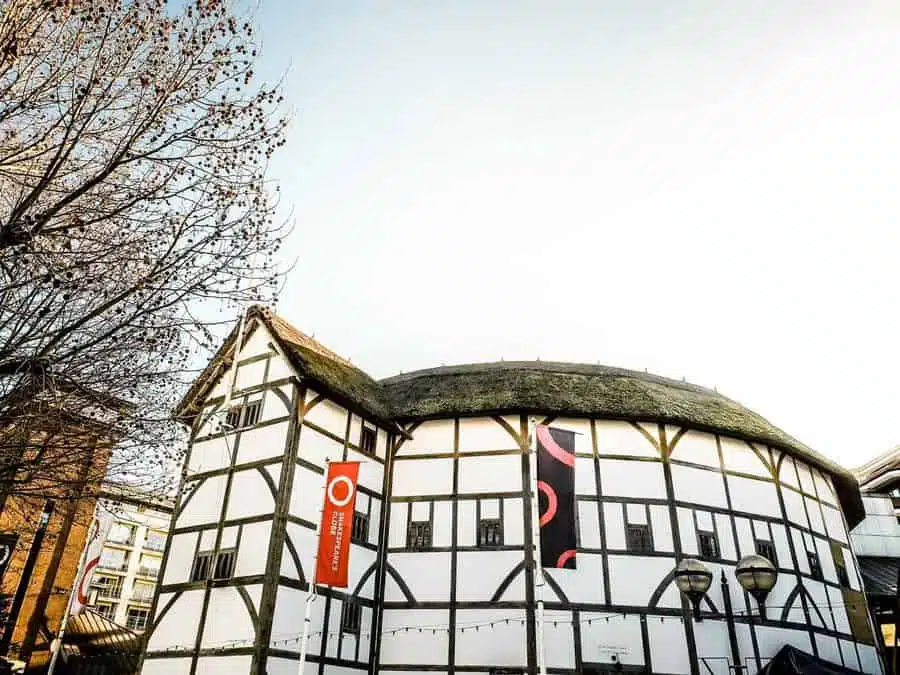 Sitting along the Thames, Shakespeare's Globe is among the most popular spaces in any London theatre guide. The Globe is part of the legacy of one of Britain's most beloved sons, William Shakespeare.
Theatre buffs will relish being in a creative space that inspires the infinite possibilities of language, culture and theatre. You can opt for a tour or stick around and catch a show – I recommend both if time permits.
If you're looking for ways to celebrate the best of Britain, squeeze in what is probably one of the most artsy things to do in the UK.
The British Museum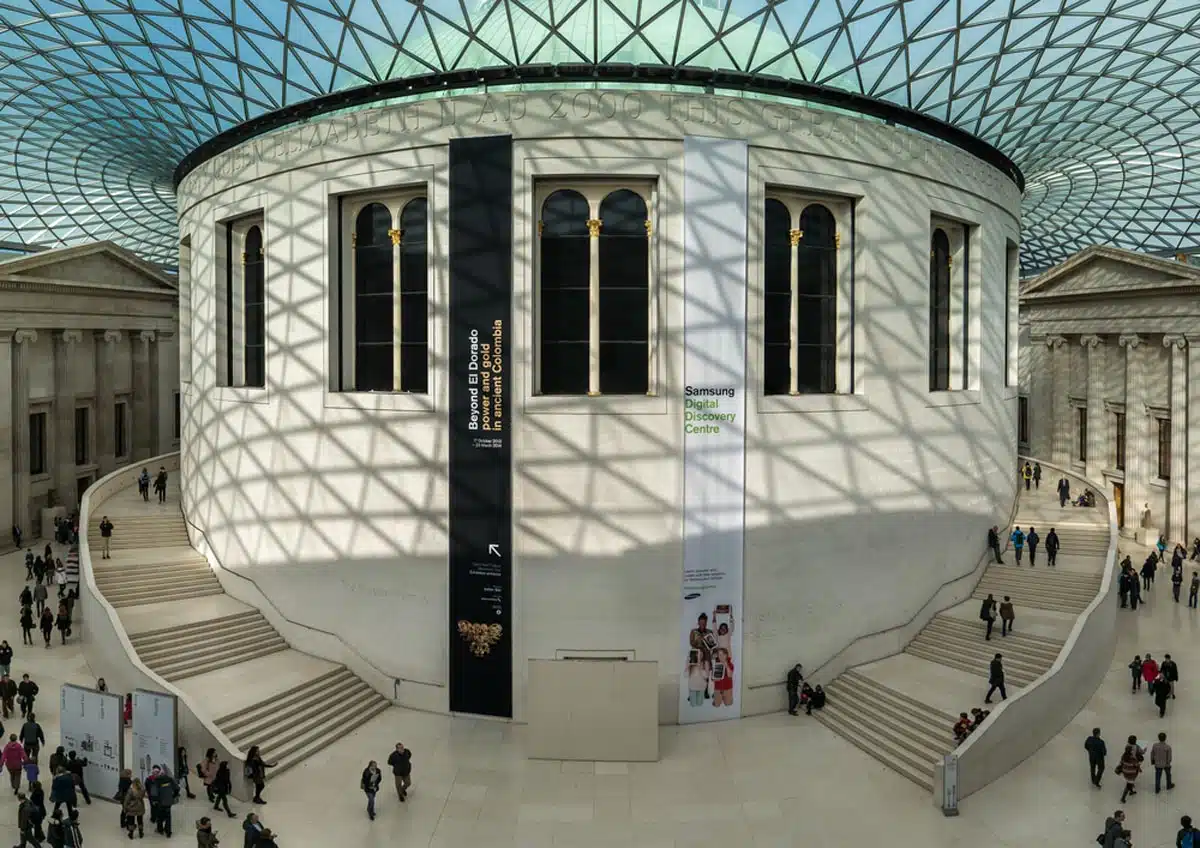 When a city has almost 200 museums, how do you choose the best ones to see? Well, you start with one of the largest in the world, one that boasts eight million historic artefacts. That's how.
The British Museum is one of those gobsmacking landmark buildings in London. For over two centuries, a growing collection of the world's precious pieces has established this museum among the best on the planet.
I'll be honest, as much as I love the British Museum, it's not a place I frequent too often. It has plenty of controversy around it with the likes of the Parthenon Marbles and Benin Bronzes. However, it is a place that tourists love to visit, so I definitely had to include it in this guide.
Entrance is free, which sweetens a visit here. This is more than just a museum dedicated to facts about London (and Great Britain). It's a dedication to all of human history.
Royal Albert Hall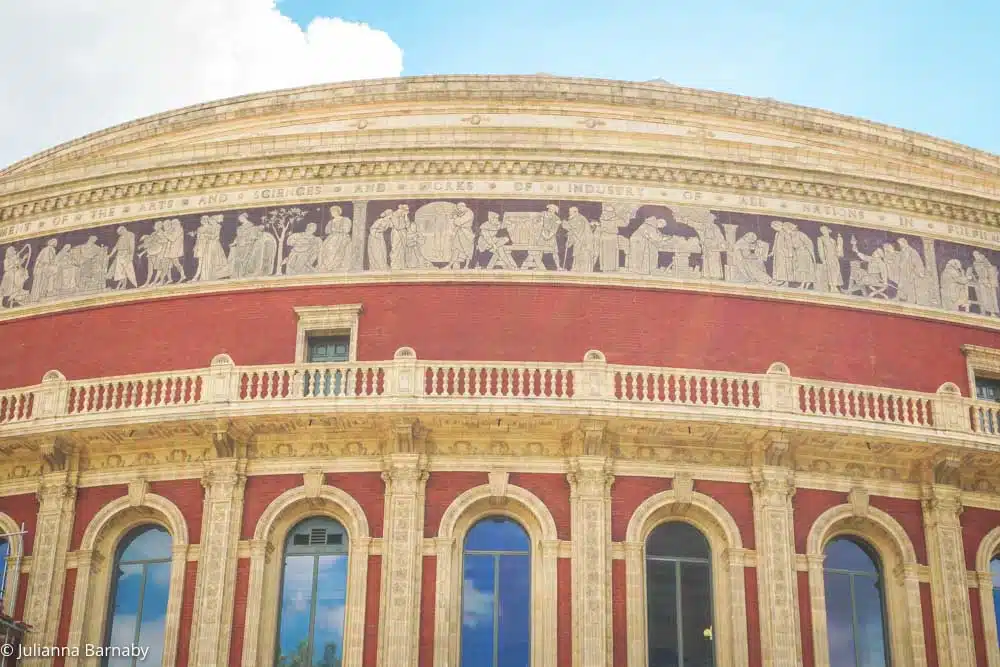 Queen Victoria opened the Royal Albert Hall as a tribute to her late husband, Prince Albert, in 1871. I bet she didn't know it'd become one of the world's most legendary entertainment venues.
Before name-dropping some world-renowned Royal Albert Hall visitors, there's a mesmerising feature to mention: the magical unsupported glass dome. The 'mushrooms' (actually fibreglass acoustic diffusers) hanging from the ceiling create an enchanting auditorium space.
The Hall has seen them all: Albert Einstein campaigns, Sir Winston Churchill speeches, Muhammad Ali fights, and more. Try catching a concert here and experience that one-of-a-kind, star-power aura.
Hampton Court Palace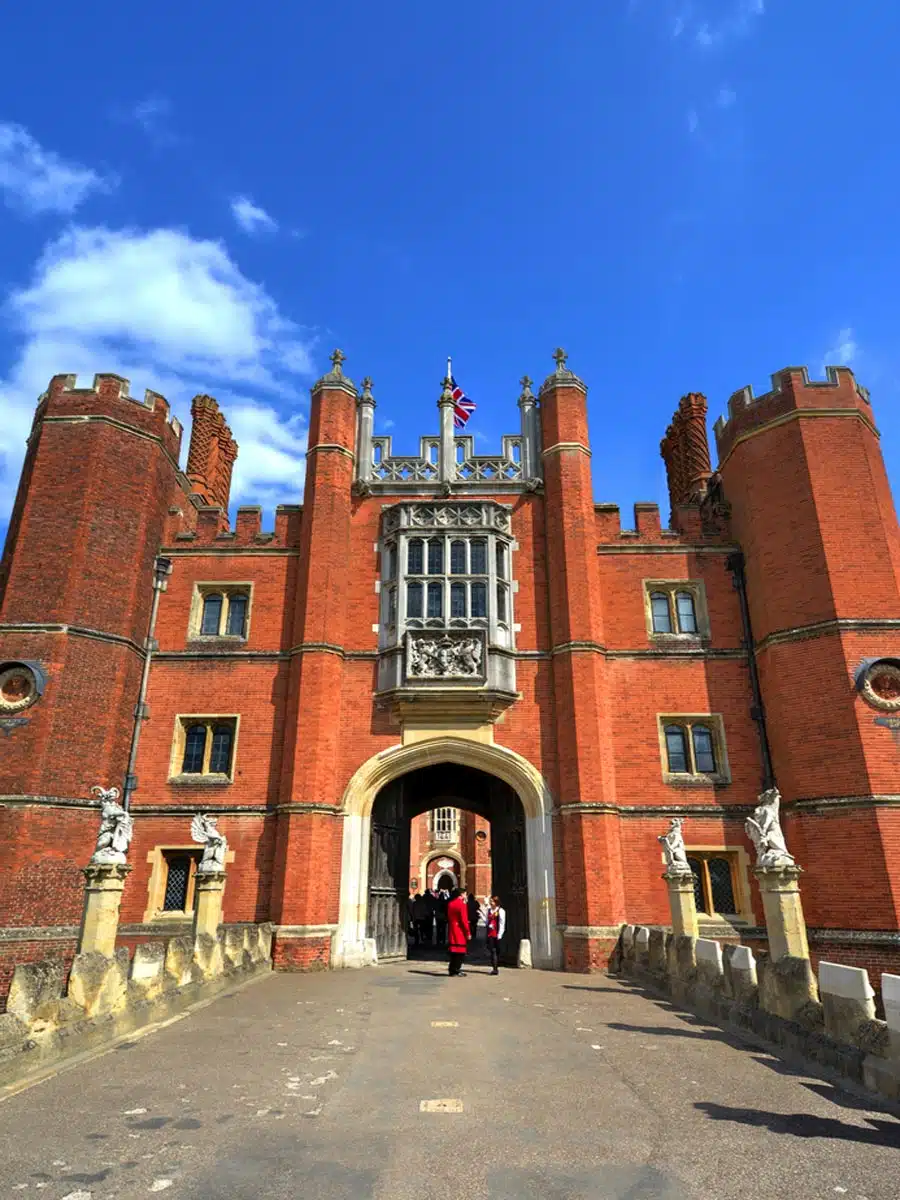 Uncover the private life of King Henry VIII and his exceptional Tudor estate at Hampton Court Palace. Site attractions include the famous palace kitchens and the opulent gardens.
As one of the most palatial London locations, you'd be right on the money to identify the Palace as a quintessential setting for TV and film productions.
The shooting of period dramas like Queen Charlotte: A Bridgerton Story and Bridgerton occurred here. The palace also provided blockbusters like Mamma Mia: Here We Go Again! and Pirates of the Caribbean: On Stranger Tides with the perfect grounds for movie gold.
Take a guided tour, a "Secrets of Hampton Court Palace" exploration, to see the estate's Baroque State Apartments.
Natural History Museum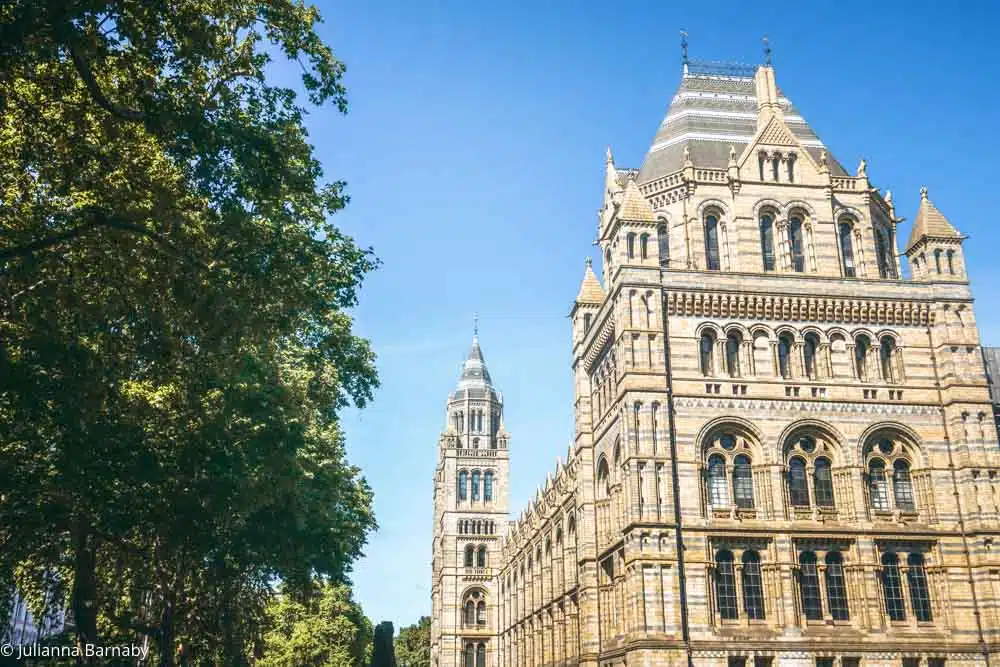 The Natural History Museum is a marvellous treasure trove of mind-blowing historical items, housing 80 million objects.
You can see everything from dinosaur exhibitions to mammals and volcano displays. I'm a sucker for wandering around a cool museum (it reminds me of being a child and visiting the dinos).
The museum even has an earthquake simulator, which will shake up your experience if you're keen – pun intended.
One of the best parts of visiting this landmark is that it's one of the free museums in London. You can save a few bucks while exploring one of the most exhilarating sites in the city.
Churchill War Rooms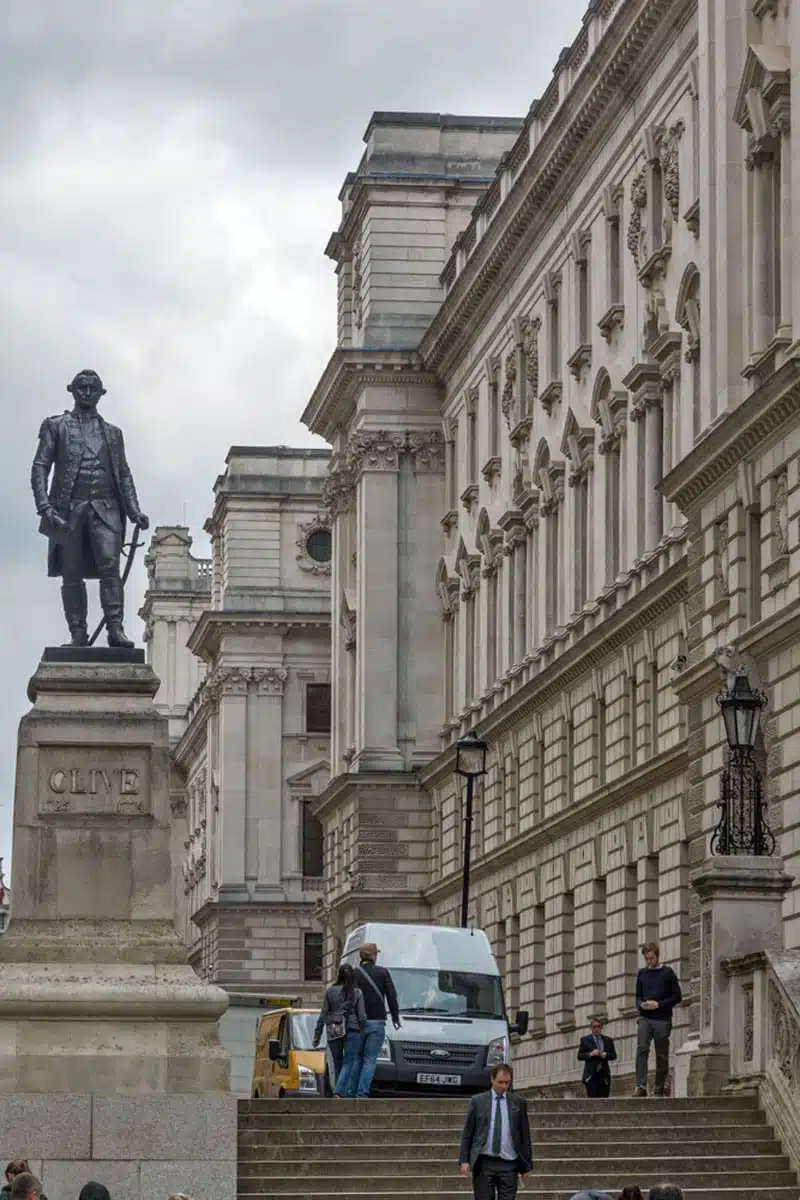 If you appreciate British politics and World War II history, you'll know the significance of Winston Churchill's "Cabinet War Rooms". If not, make a turn at this landmark to learn about my favourite of the Imperial War Museums.
This is where Churchill, "The British Bulldog", and his team secretly gathered to strategise and map out their attack plans during World War II. Choose a Westminster walking tour where the main event is a visit to Churchill's wartime bunker at the Cabinet War Rooms.
Victoria and Albert Museum (V&A)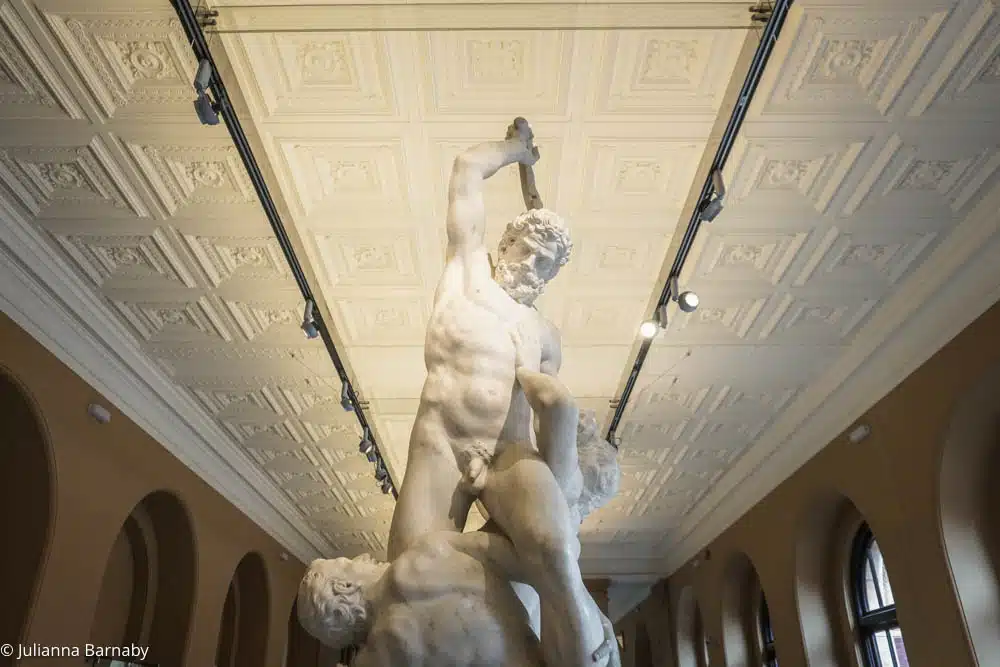 Another free museum and popular landmark in London is the 1852 Victoria and Albert Museum. Along with the Natural History and Science Museums on Exhibition Road, these three spaces are South Kensington's pride and joy.
The V&A is a design and art museum that pays homage to royal power couple Queen Victoria and Prince Albert. There are photography, painting, architecture and manuscript installations that are next-level creative.
Cutty Sark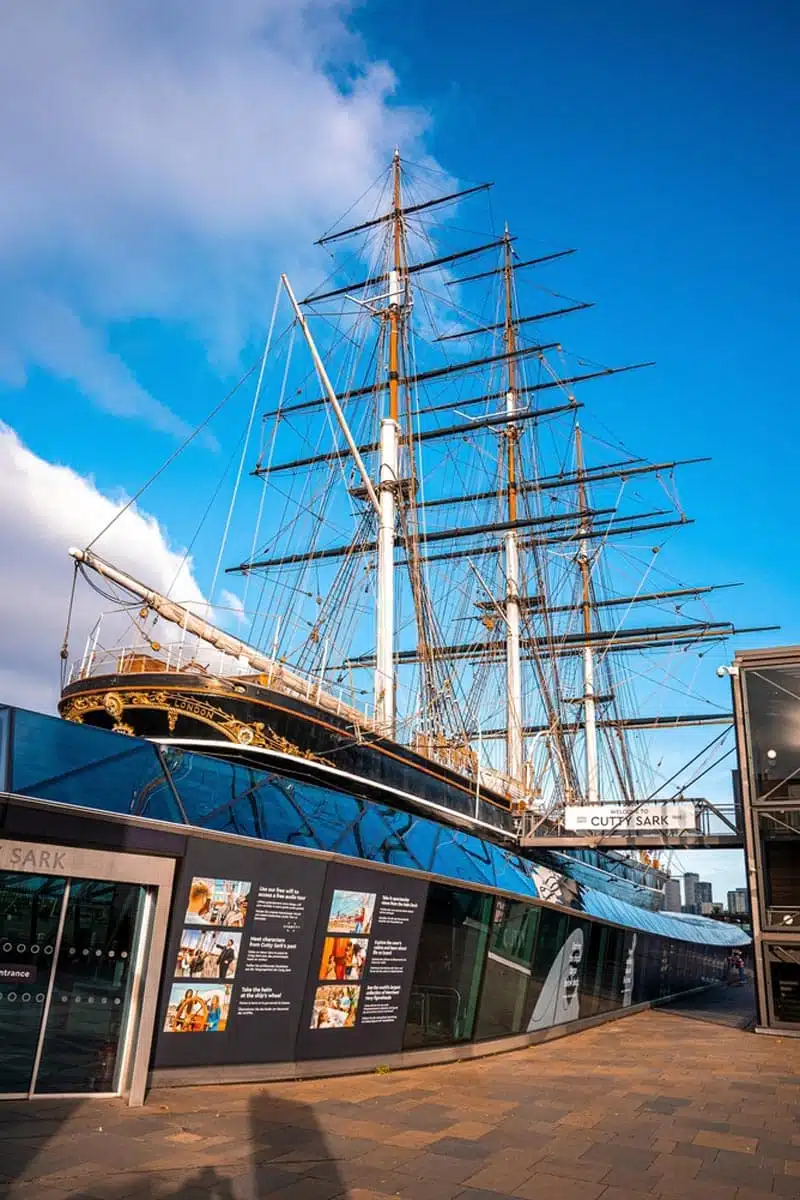 It wouldn't be a falsehood to say the Cutty Sark is one of the most fun London landmarks to visit and possibly the world's most famous clipper ship. It has been beautifully restored and well-maintained, so that your experience is nothing short of amazing.
Secure an entrance ticket and explore the ship's museum space (main deck) and the sailors' quarters. You'll also get to play pretend captain at the ship's wheel.
The Cutty Sark is an essential part of Britain's maritime history and, as such, is part of a collection of Maritime Greenwich World Heritage Site attractions. Pair it with a visit to the Observatory.
Camden Market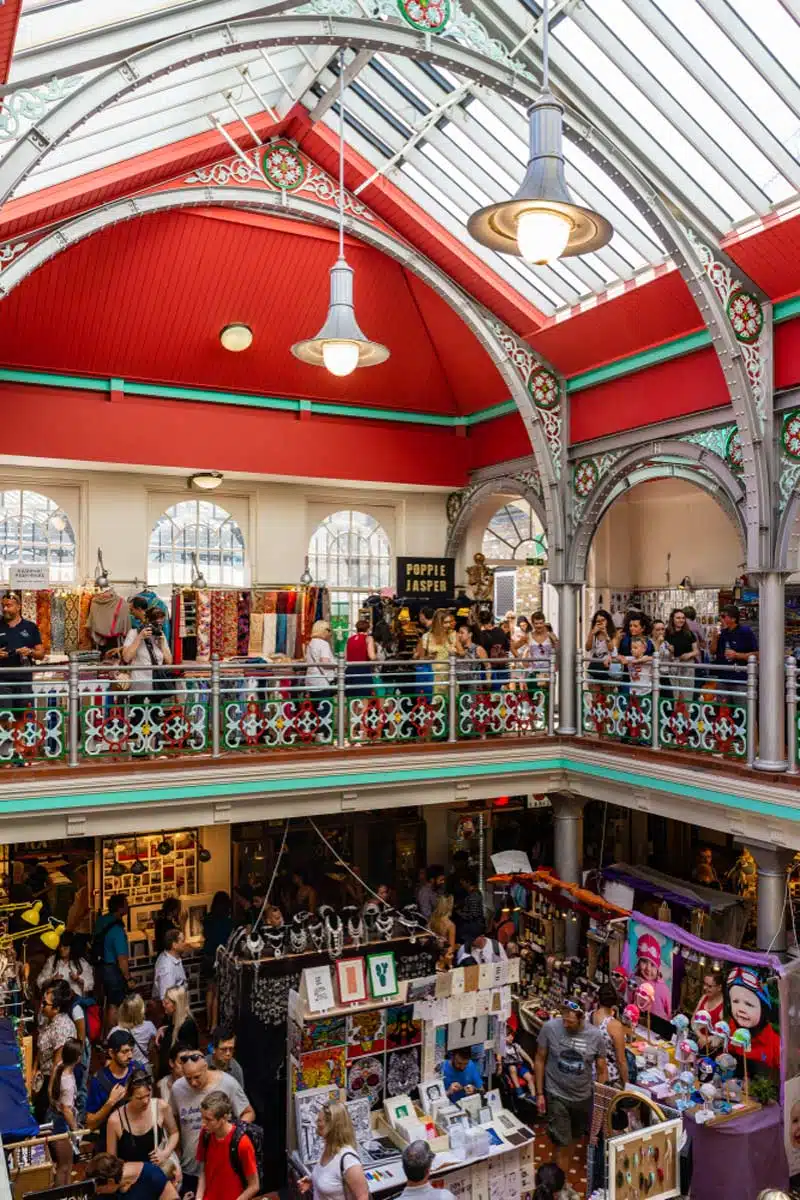 One of the most exciting things to do in Camden is to visit the more than 200-year-old Camden Market, where you can bag beautiful jewellery, thrift clothing, unique books, and delectable food.
There's always something going on at Camden Market, like the new street art-inspired immersive colour exhibition that opened 28th May 2023.
The market has trendy shops, eateries, pubs and even a jazz bar. That's probably why Grammy Award-winning British singer-songwriter Amy Winehouse was a regular marketgoer before her untimely death in 2011.
View a sculpture of Amy at the market. It's hard to miss the 1,75-metre (5,74-foot) statue sporting her signature beehive hairstyle.
Hyde Park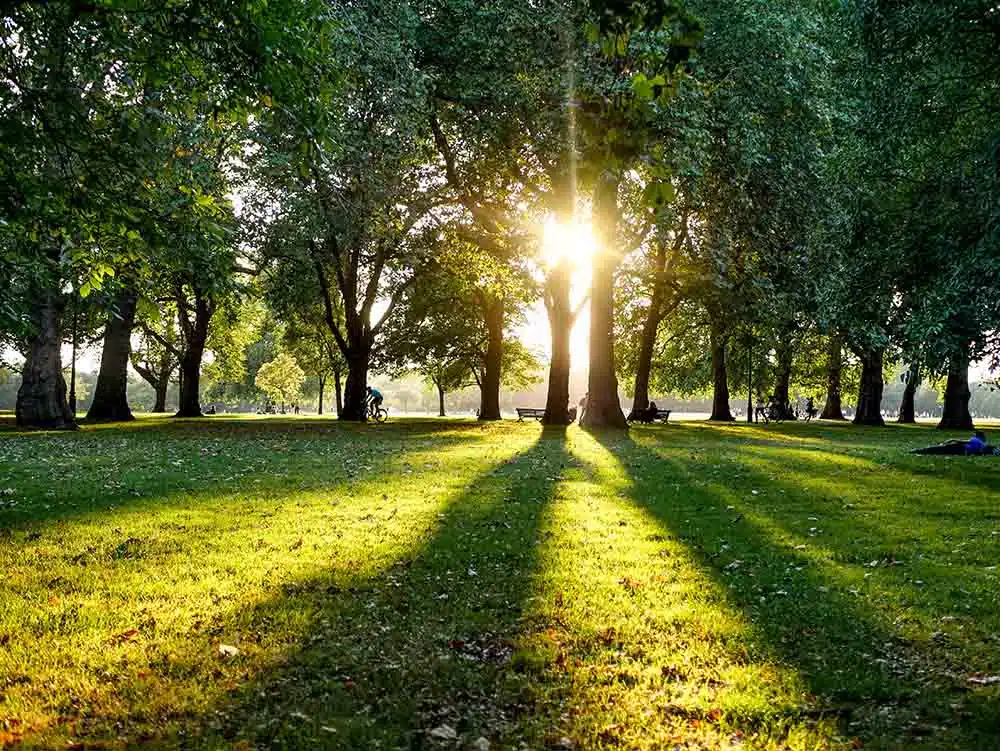 Okay, so you'd like to take it easy and fill your time (or a gap between some sightseeing activities) with a stroll somewhere undeniably scenic. Where to, you ask? That's easy. Hyde Park is a brilliant option when it comes to laid-back London landmarks.
The sweeping park grounds are conveniently located near Buckingham Palace, making it a good idea to see both landmarks on the same day. Enjoy a bit of tranquillity and natural splendour at the park. There are lakes, gardens, and even small wildlife for your viewing pleasure.
London Eye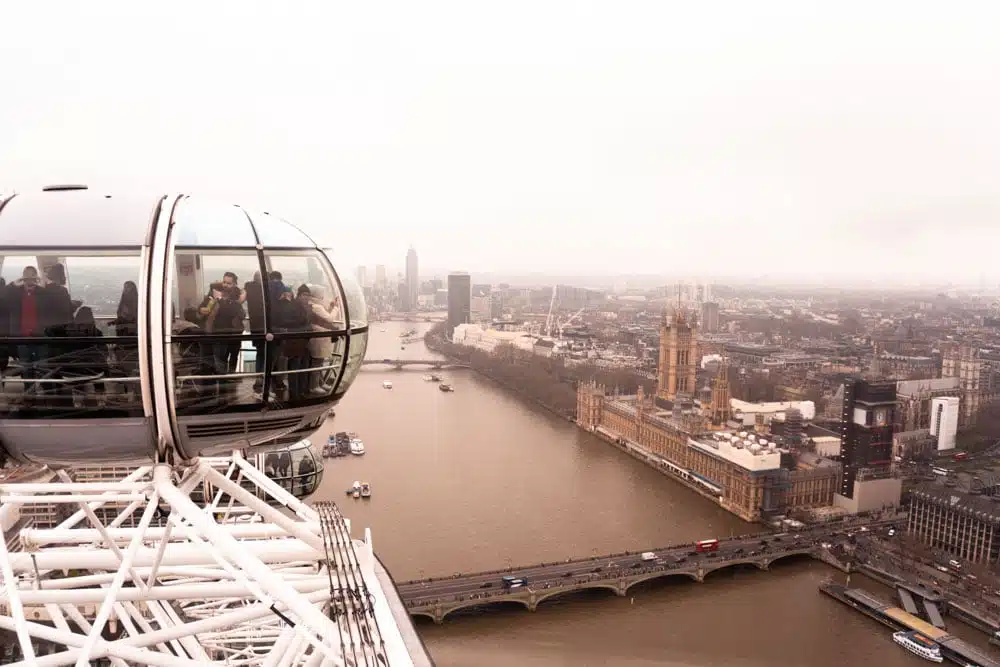 Does one of the most iconic landmarks in London need an introduction? This is the observation wheel of all observation wheels (excuse the tiny bit of bias – I worked there in my teens and have very fond mems). And you have to experience a capsule ride.
Unmatched 360-degree city views: that's what you get when you purchase an entry ticket. You'll view Big Ben, the Houses of Parliament and Buckingham Palace. The Tower of London and St Paul's Cathedral are also part of your viewer's delight.
How fitting that all these landmarks feature on this list (wink wink)?
Tower Bridge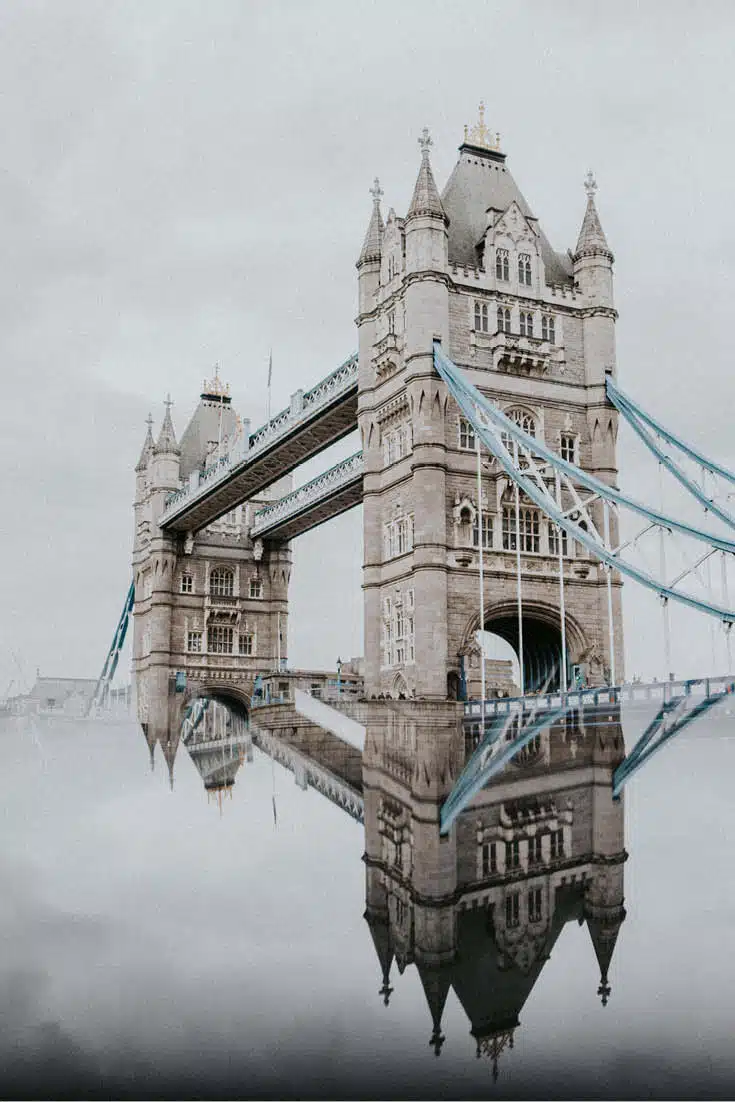 Next up: Tower Bridge. It's hard to believe it only took eight years to build this extraordinary London landmark. The connecting bridge between the imposing twin towers sits 42 metres (138 feet) above the Thames with a glass floor (awesome views alert).
You can't go wrong with an all-inclusive Tower Bridge ticket. Book one for access to the towers, the engine rooms, and the walkways.
The Shard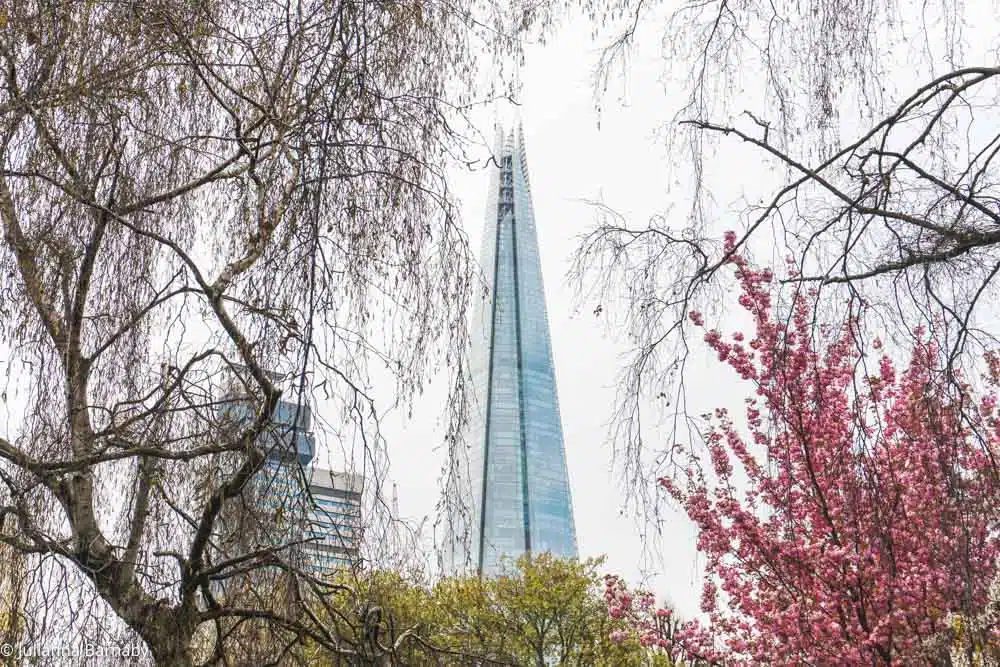 You need to visit The Shard, the tallest building in the UK. Scratch that – you need to have a drink at Gong at The Shard. How's that for impressive?
And it isn't just excellent cocktails and pretty views to behold (although heavenly); The Shard means business. This breathtaking, ultra-modern, 310-metre (1017-foot) tall skyscraper also features chic office spaces, hotel accommodations and fine dining restaurants.
As the name suggests, the design mimics a shard of glass cutting through the London sky. That tells you all about the innovation and sophistication the building represents.
The National Gallery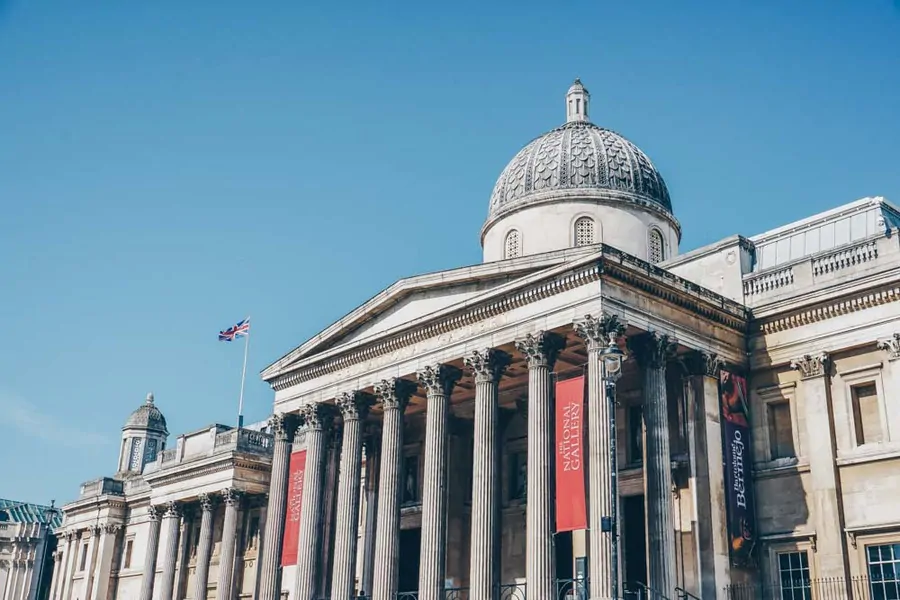 A question: what's free, a major tourist attraction, and home to some of the world's most sublime artworks? The National Gallery. That's what.
The art space has a collection of more than 2000 art pieces celebrating more than British creativity. The artworks on display represent European art (and its progression).
Spaces like The National Gallery, the British Museum, and the Tate Modern have some of the most exciting exhibitions in London. Visit your favourite museum and gallery websites to check exhibition dates before you go.
The British Library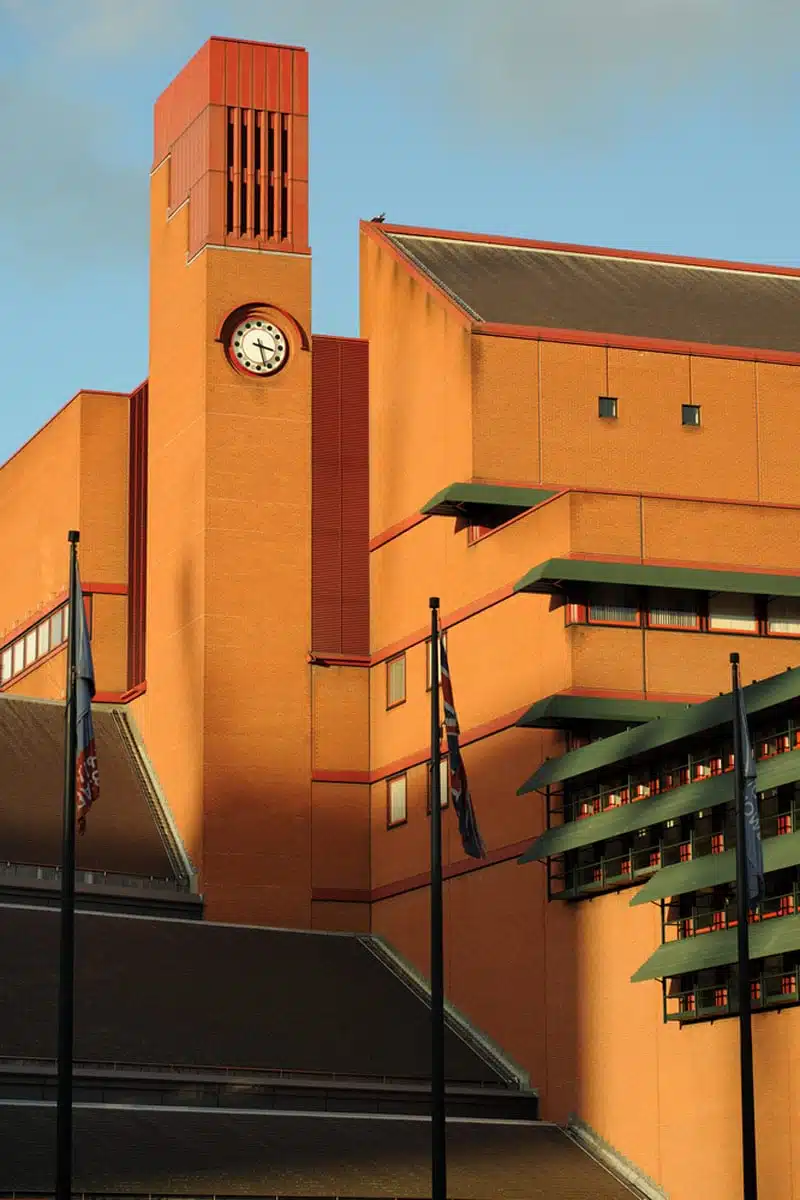 Bibliophiles, assemble. This London landmark is for you. Besides the fact it doesn't require an entrance fee, this is one of the most wonderful places to get lost in British history.
The British Library has countless shelves of manuscripts and digital and printed books (did someone say, Harry Potter?). There are also newspaper archives, national records, maps, and journals.
You'll find two of the four remaining copies of the Magna Carta here. If you're a Beatles fan, peep the donated handwritten John Lennon lyrics and letters.
Tate Modern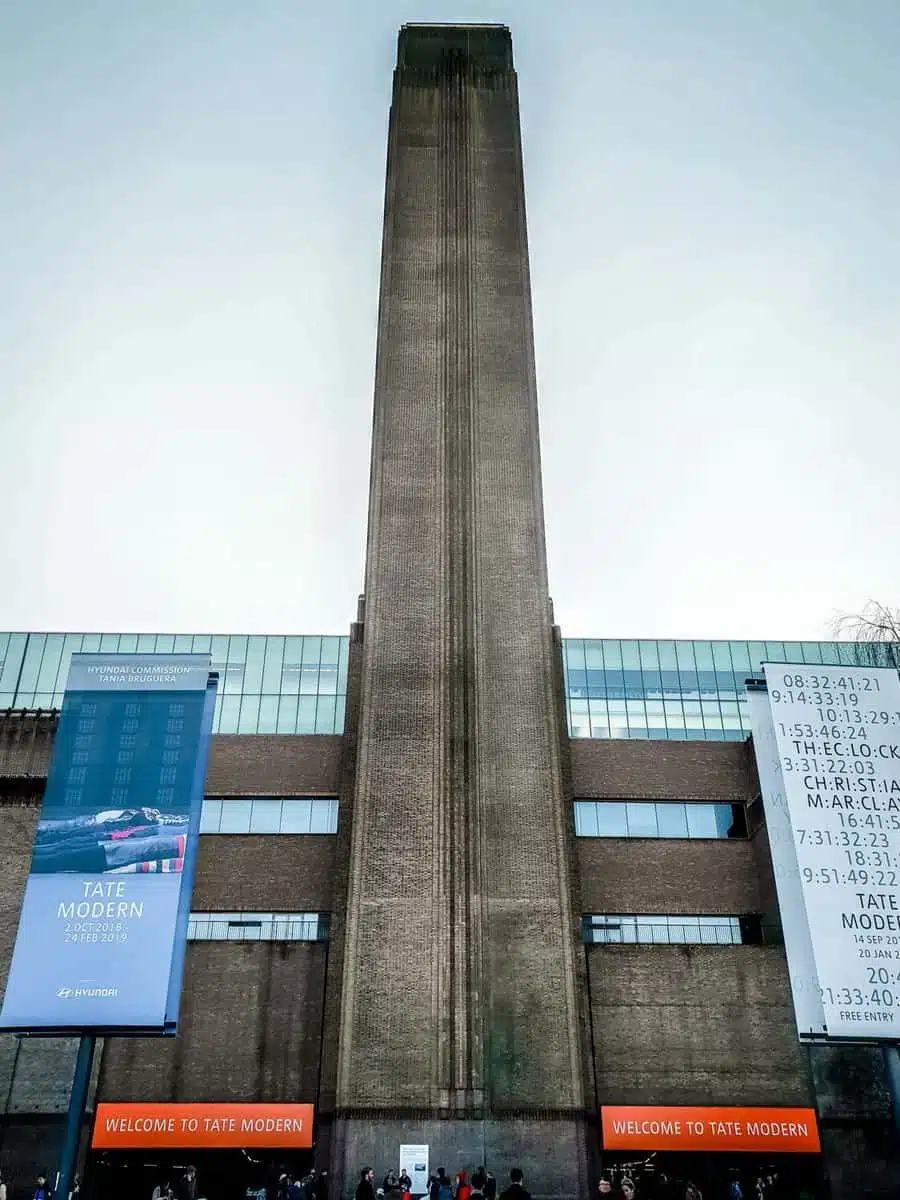 Tate Modern, which is not the same as its sister gallery Tate Britain, is one of the most famous places in London. The name gives it away. This landmark museum is one of the most visited modern galleries in the world.
Collections include modern pieces from the beginning of the 20th century and contemporary artworks that capture the current era. Don't worry about booking entry tickets because they are free.
I suggest getting up early (so that you can beat the crowds) and spending a whole morning exploring and appreciating the gallery's finest works.
Piccadilly Circus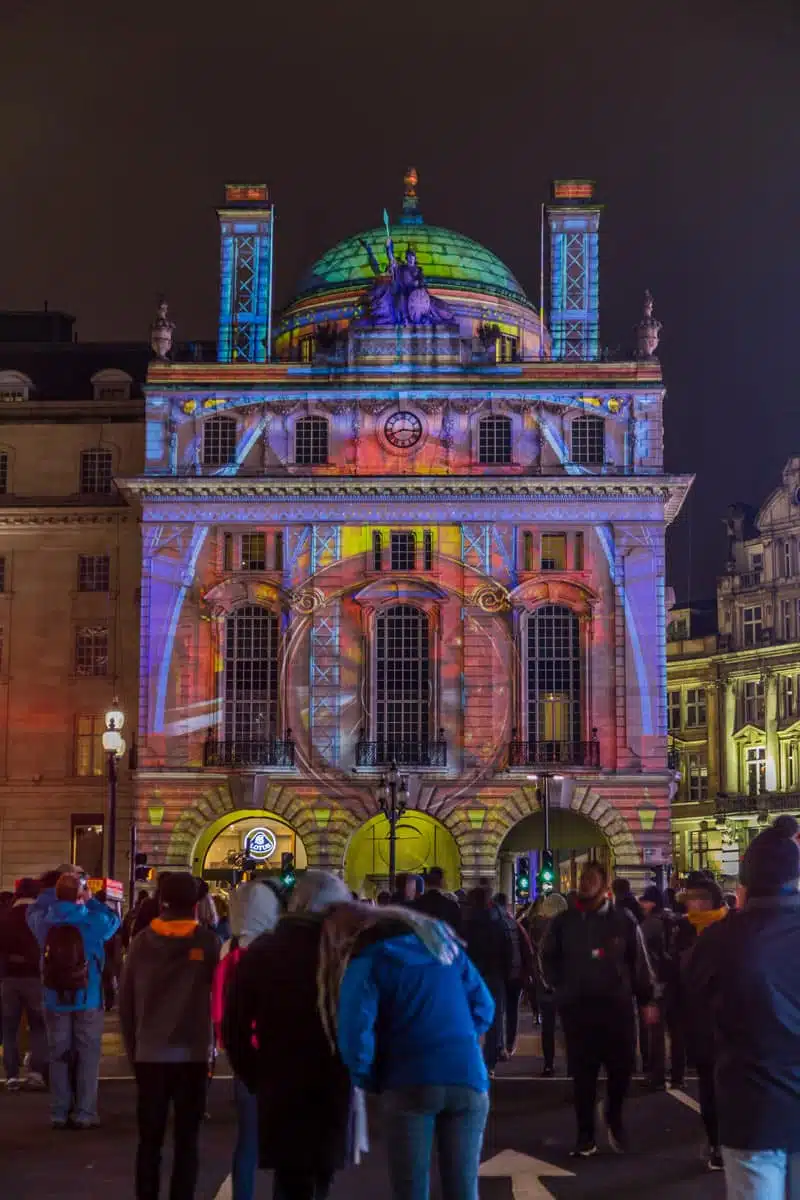 With its bright lights and a bustling junction, Piccadilly Circus is part of London's most sought-after attractions. A lot is happening, which might explain the "circus" reference.
Think of it as organised chaos, where plenty of socialising spaces exist to hang out with your crew or meet new people. Do just that and reserve a dinner at nearby Brasserie Zedel.
The 24/7 neon advertisements illuminate the whole area at night, making it a whimsical place to visit in the evenings. Remember to take pictures at the famous Shaftesbury Memorial Fountain and snap a photo of the Eros statue.
Emirates Stadium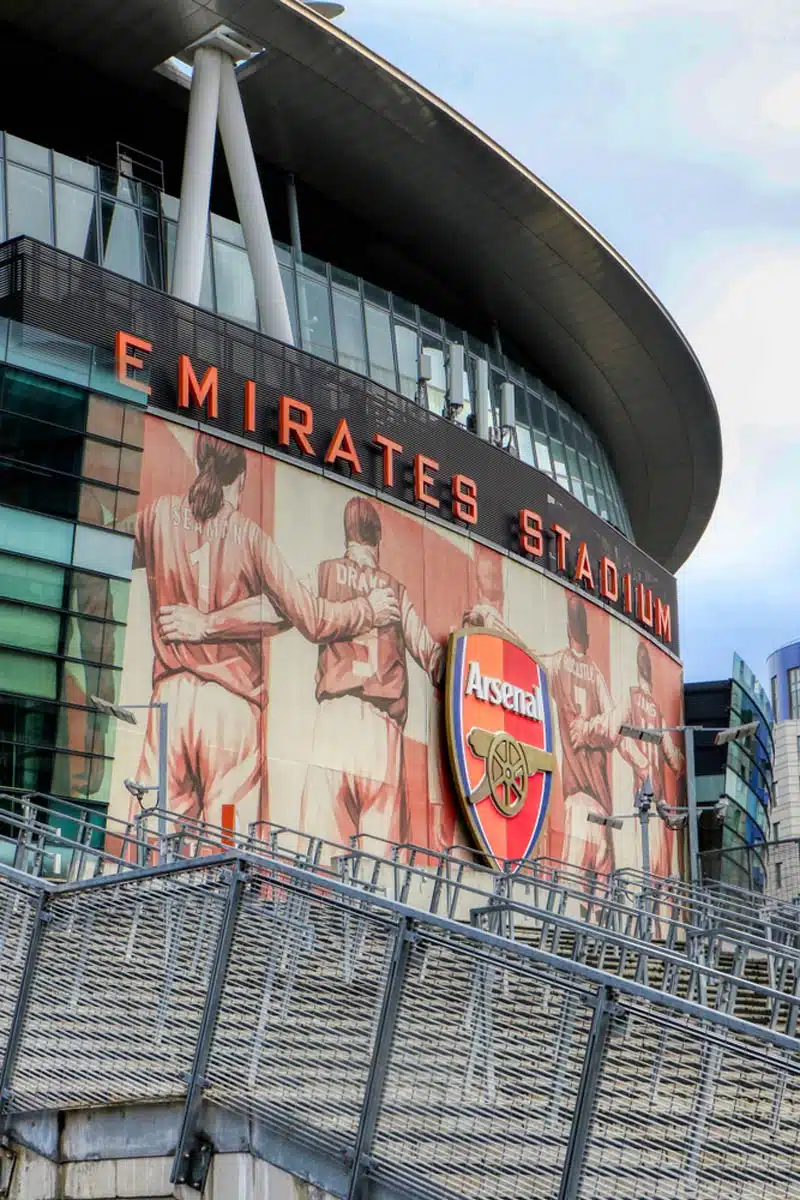 You don't have to be a die-hard football fan to appreciate the thrilling feeling of visiting a big sporting arena. While attending live games is first prize, sometimes even an audio-guided stadium tour is just what you need to get you fired up.
Let all roads lead you to the Emirates Stadium, the home of "the Gunners" — officially known as Arsenal Football Club. Get a peek inside the players' changing rooms and check out the museum.
Walk down the same tunnel that Emirates-era greats such as Robin van Persie, Thierry Henry and Cesc Fabregas used during home games.
Covent Garden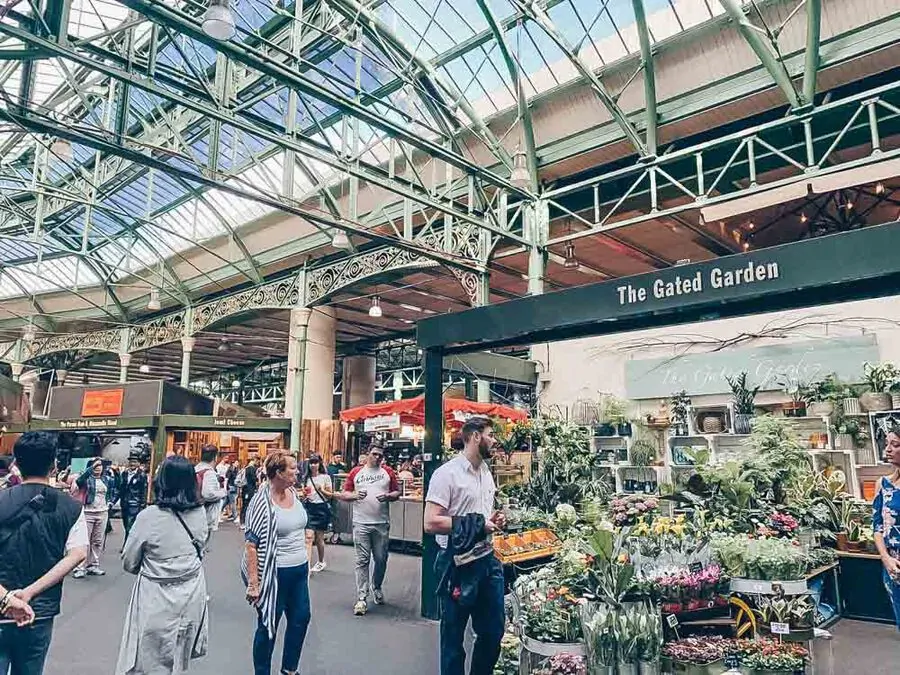 Getting out and about in London is one of the best ways to see the city. That's why I advise using the public rail system (see my tips at the end of the article) and walking.
Covent Garden in the city's West End will give you all those London vibes you want to feel during your trip. Explore the area and splurge on the finest fashion, yummy food and artsy street performances (courtesy of the talented entertainers).
Head to the famous Covent Garden Market (nip into the nearby London Transport Museum – it's one of my all time faves) and spend an afternoon perusing the different shops and stalls.
Notting Hill and Portobello Road Market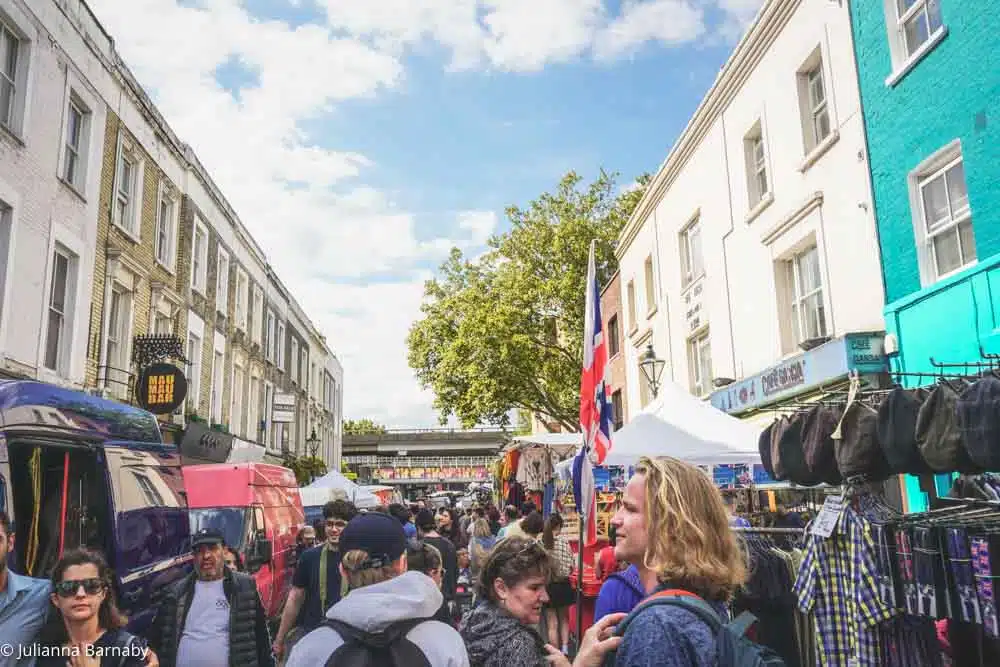 Fancy yourself as a bargain hunter? Antique, trinket and knick-knack lovers will enjoy a trip to Portobello Road Market in Notting Hill.
It's one of the best places to find all sorts of rare goods. The market stretches from Westbourne Grove to Golborne Road, offering food and clothing stalls. The best day to visit the market is a Saturday between 8 am and 7 pm. I recommend heading to the market as early as possible to get first pickings.
Keen on a guided tour by a local expert? Take a Notting Hill walking tour to enjoy Portobello Market and the area's history.
O2 Arena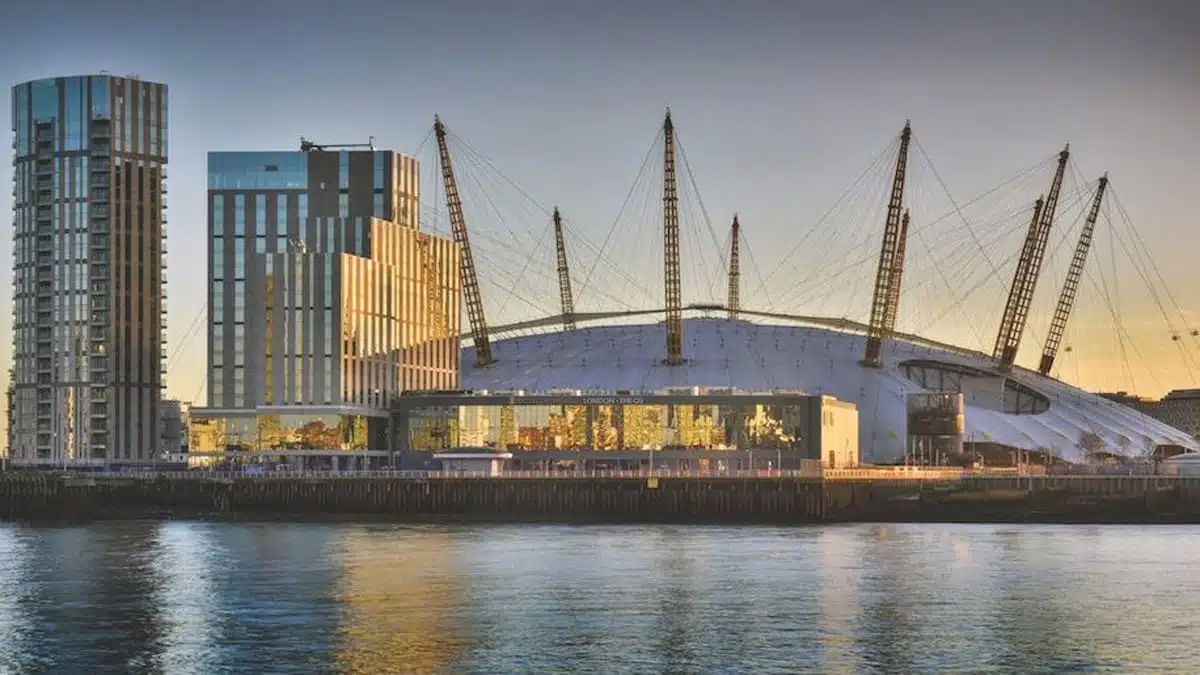 Like the Royal Albert Hall, the O2 Arena is a premium London entertainment venue for some of the nation's biggest sports, music and comedy shows. The structure is an architectural masterpiece and a notable city landmark.
But the real kicker? There are plenty of adrenaline-pumping activities to try if you're feeling brave. How does a 52-metre (171-foot) climb to O2 Arena's roof sound? Book this activity and enjoy glorious city views. You can choose between a daytime, sunset or twilight climb.
The Serpentine Gallery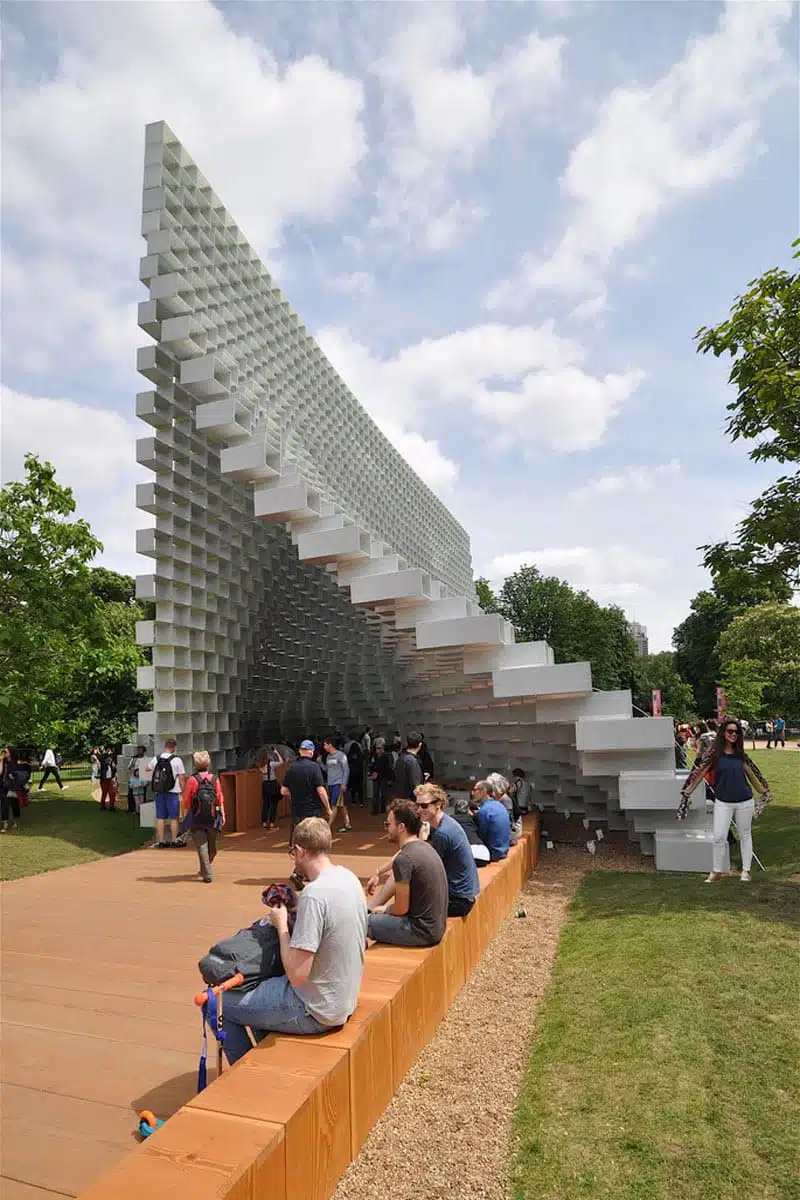 Let's face it: London's art gallery scene is pretty epic. So it's only right for the last entry to be another renowned art-centred landmark in Kensington.
The Serpentine is one of the lesser-explored galleries, though one I highly recommend, nestled near the lake in Hyde Park.
Did I mention it's free? Head here to view trailblazing exhibitions inspired by new ways of thinking about art, design and architecture.
Practical Tips for Visiting London Landmarks
The free landmarks draw the largest crowds. If there's no entrance fee required, expect a busy site. Limit waiting times by planning your visits during quieter periods, like early morning (hello, morning people) or in the mid-week period.
Opt for an activity or location tour. This is the best way to experience many phenomenal landmarks. Book a guided tour to ensure you can soak up the best parts of each site.
A comfortable traveller is the happiest. London is very walkable. Make sure you have the right pair of trainers to make all your sightseeing worry-free.
Carry the essentials in a nifty travel backpack. These include your phone, camera (I see you, budding photogs), bank cards (many London spots are cashless), and even an Oyster travel smartcard if you've purchased one to use during your London stay.
The London Underground transit system is your friend. London's efficient public rail network (the world's oldest) makes the city one of the best places to visit in Europe. Get from one top attraction to the next with no hassle.
London Landmarks: Map