Very few things in this world can compare to the spectacle that is the aurora borealis, and these northern lights hotels in Finland are the perfect place to experience it.
With such a beautifully rugged natural landscape and friendly locals, it should come as no surprise that Finland is the happiest country in the world.
It's safe to say that I fell in love with the country during my trip there in early 2022 – and the fact that I got to see the northern lights was just a (very big) bonus.
If you've always dreamed of seeing the phenomenon in person, but don't know where the best location is to view them, look no further. I've written a guide to the top hotels in Finland to see northern lights – all you need to do is choose your favourite.
Tip: If you do plan on seeing the northern lights in Finland, be sure to bring your travel gear essentials.
Best Northern Lights Hotels in Finland: At a Glance
Best Northern Lights Hotels Finland
Apukka Resort: Finland Aurora Borealis Hotel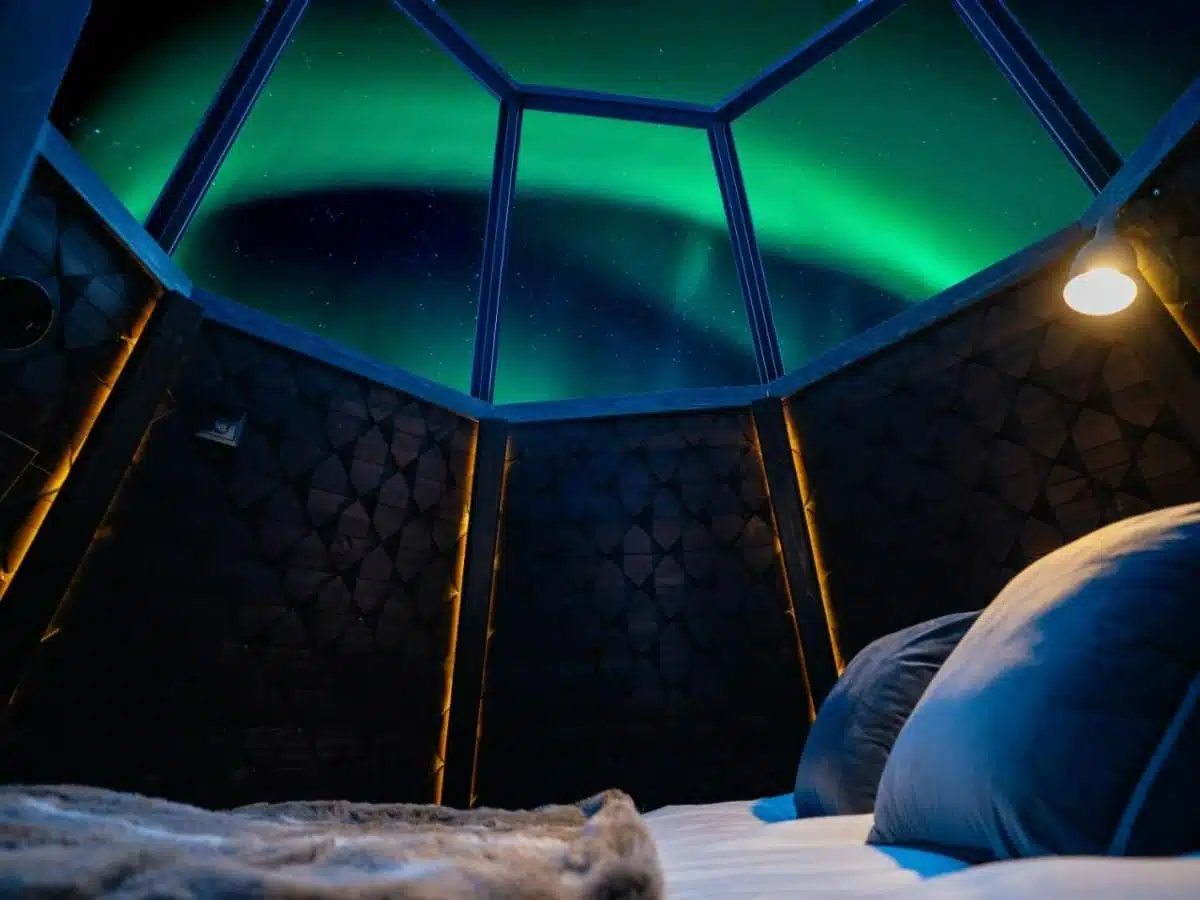 It should come as no surprise that there are plenty of hotels in Finland to see the northern lights. A great example of this is the stunning Apukka Resort – I absolutely loved my stay here earlier this year.
You can find Apukka Resort on the outskirts of the town of Rovaniemi, just a stone's throw away from the great outback. As this remote location is quite secluded, it is the perfect place to marvel at the aurora borealis.
Apukka Resort is more than just a place to view the northern lights. From exploring the Laplands on a husky adventure to dashing through the snow on a reindeer sleigh, there are so many things to do at Apukka Resort.
There are quite a few suites to choose from, too. The Kammi Suites feature a kitchenette and panorama sky view window. While the Komsio Suite is a much more intimate option with a 360° panorama glass window — giving you a clear view of the northern lights.
Santa's Hotel: Finland Glass Igloos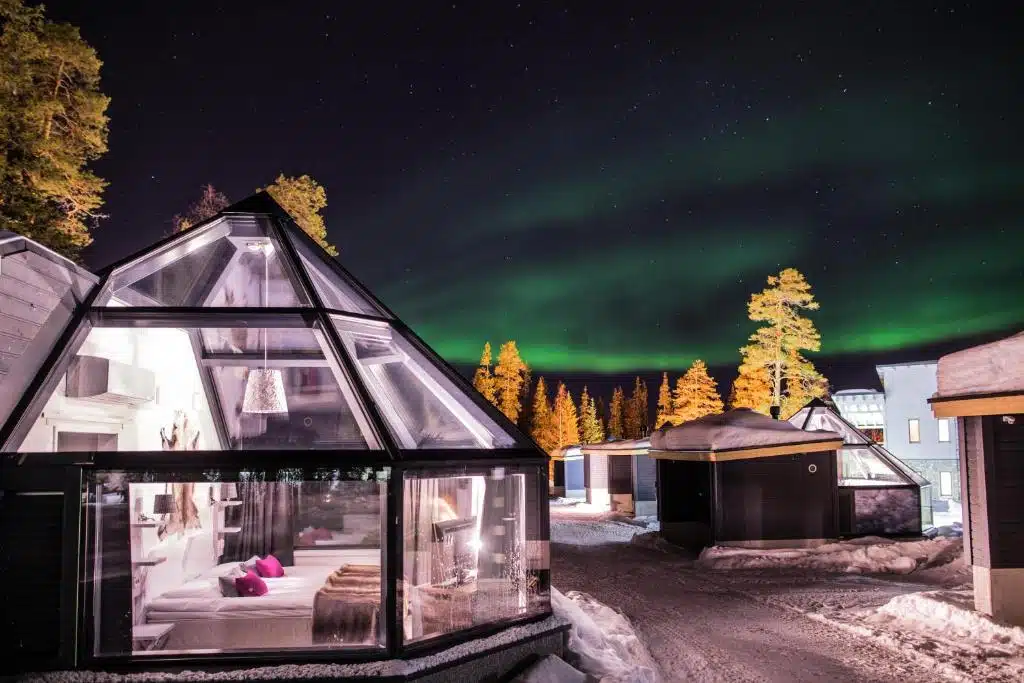 Seeing the northern lights in person is one thing, but seeing them from your very own glass igloo is a totally unique experience. These glass-roofed, air-conditioned igloos offer spectacular views of the aurora borealis in Finland's wilderness.
There are a total of 10 premium igloos and igloos at Santa's Hotel, each of which comes with one or two beds, a bathroom with a shower, a minibar, and, of course, an Aurora Alarm. As the name suggests, an Aurora Alarm is a device that sends off an alert as soon as the northern lights are visible in the sky.
The food on offer at Santa's Hotel is also quite exquisite. A team of talented chefs prepares a delicious three-course dinner every day. The perfect fuel for an evening of aurora borealis-spotting.
Aurora Dome: Finland Dome Hotel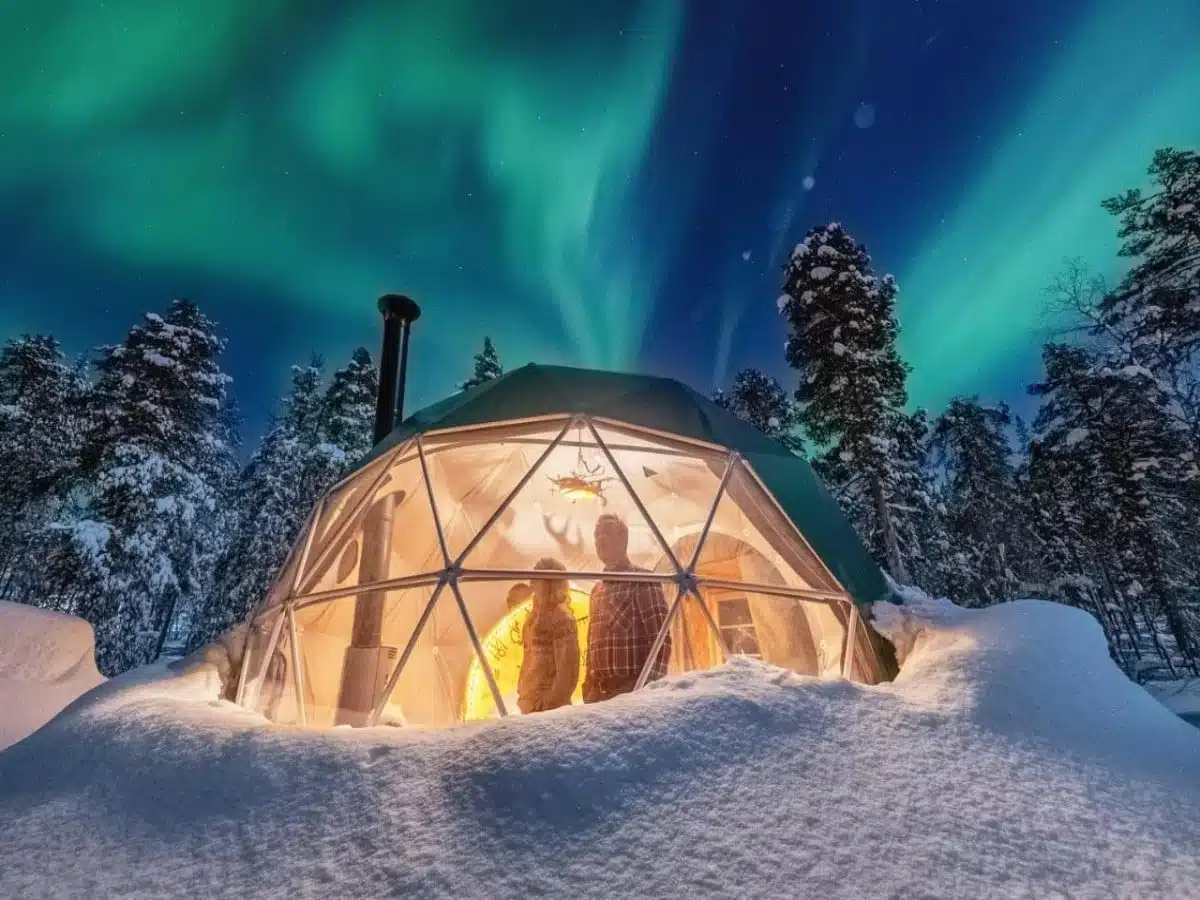 Have you ever dreamed of camping under the northern lights in a specially designed dome? Well, thanks to the wonderful people at Aurora Zone, your dreams are about to come true.
The Aurora Dome is an igloo-shaped tent that features a double bed, seating area, and fireplace. Each dome is also completely insulated, meaning you won't have to rely on a fire to keep you warm and toasty. Although, having the ability to light a fire from within your dome adds to the overall experience.
The stand-out feature of the Aurora Dome has to be the see-through sidewall, which faces towards the northern sky but also overlooks the stunning Lake Torassieppi. The location of the domes also makes for an ideal honeymoon destination.
Levin Iglut: Finland Igloo Hotel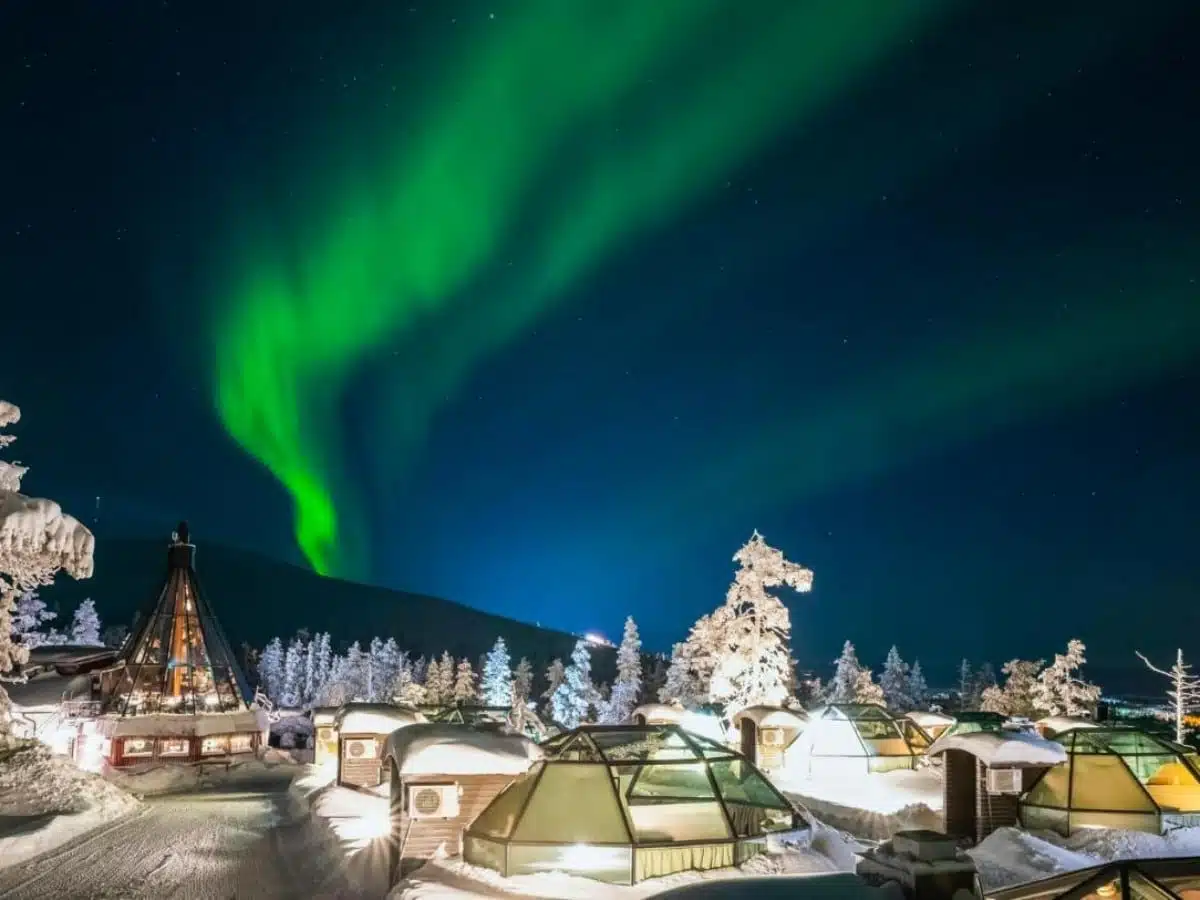 Whoever said spending the night outdoors is an unglamorous activity has clearly never heard of Levin Iglut. Located on the slopes of the Utsuvaara Fell in Finland, Levin Iglut offers a unique perspective of the northern lights.
There are a total of 15 Superior glass Igloos, each of which features 360° of glass ceilings — allowing you to see the aurora Borealis no matter what direction you're looking.
There are quite a few glass igloos you can choose to stay in. This includes the Suite Igloos, the largest of all the igloos— measuring 53 m². Another option is the Prime Superior Igloos, which measures ​​23 m² and has space for two extra beds if you're travelling with children.
Arctic Fox Igloos: Finland Northern Lights Igloo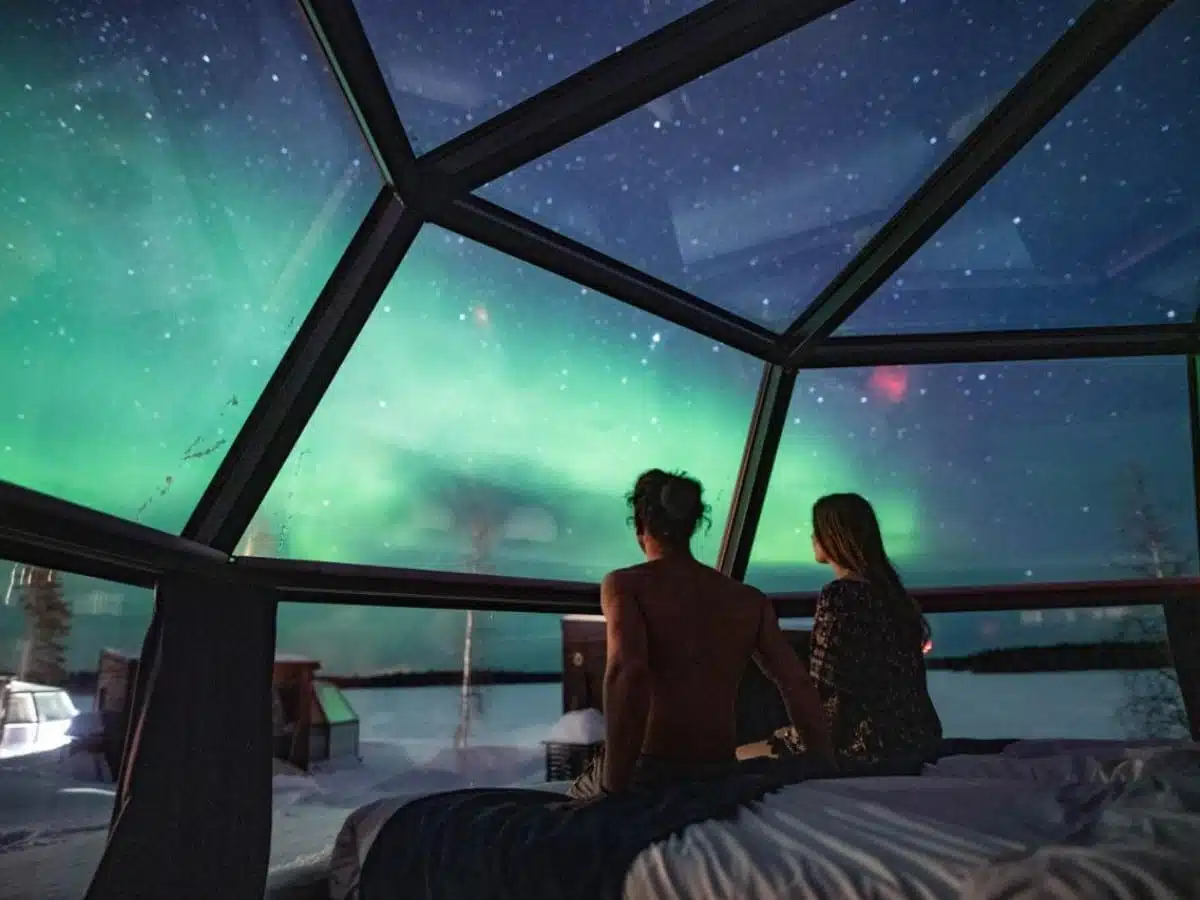 Located on the shore of Lake Ranuajärvi, Arctic Fox Igloos are ideal for anyone looking to get away from the big city life to enjoy the peace of nature.
Each glass hut features a toilet, sauna, and washing room. What sets these Igloos apart from the rest is the elaborate heating system.
Each glass panel is heated, meaning frost and snow will never build up on the windows. This ensures that you'll always have a clear view of the sky. On the odd occasion when you're unable to see the northern lights, spend your free time going on an Arctic Safari.
Magical Pond: Northern Lights Finland Igloo Hotel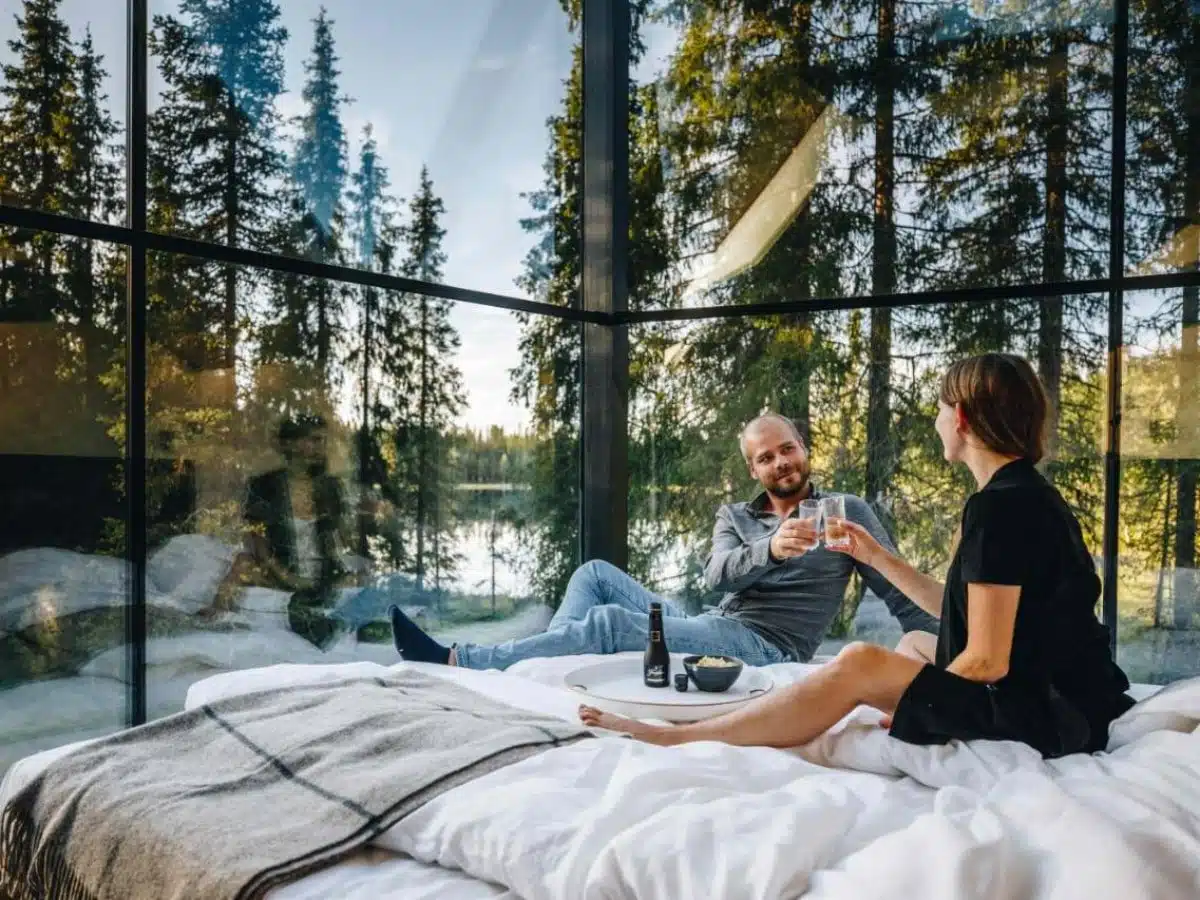 There is nothing more magical than spending the night under the stars in Finland. Thankfully, Magical Pond offers you the chance to do just that.
You'll find Magic Pond located in the Finnish Lapland near the famous Ruka Ski Resort. The modern igloos, which draw inspiration from Scandinavian style, allow visitors to observe nature as close and comfortably as possible.
Magical pond stresses the importance of being environmentally friendly, so the hotel makes use of local and organic products in its igloos. This includes handmade dishes, linen beddings, and wooden sinks.
With so much thought and effort put into the Magical Pond igloos, it should be no surprise that this is rated among the best hotels in Finland to see the northern lights every night.
Check Rates and Availability at Magical Pond
Arctic TreeHouse Hotel: Lapland Northern Lights Hotel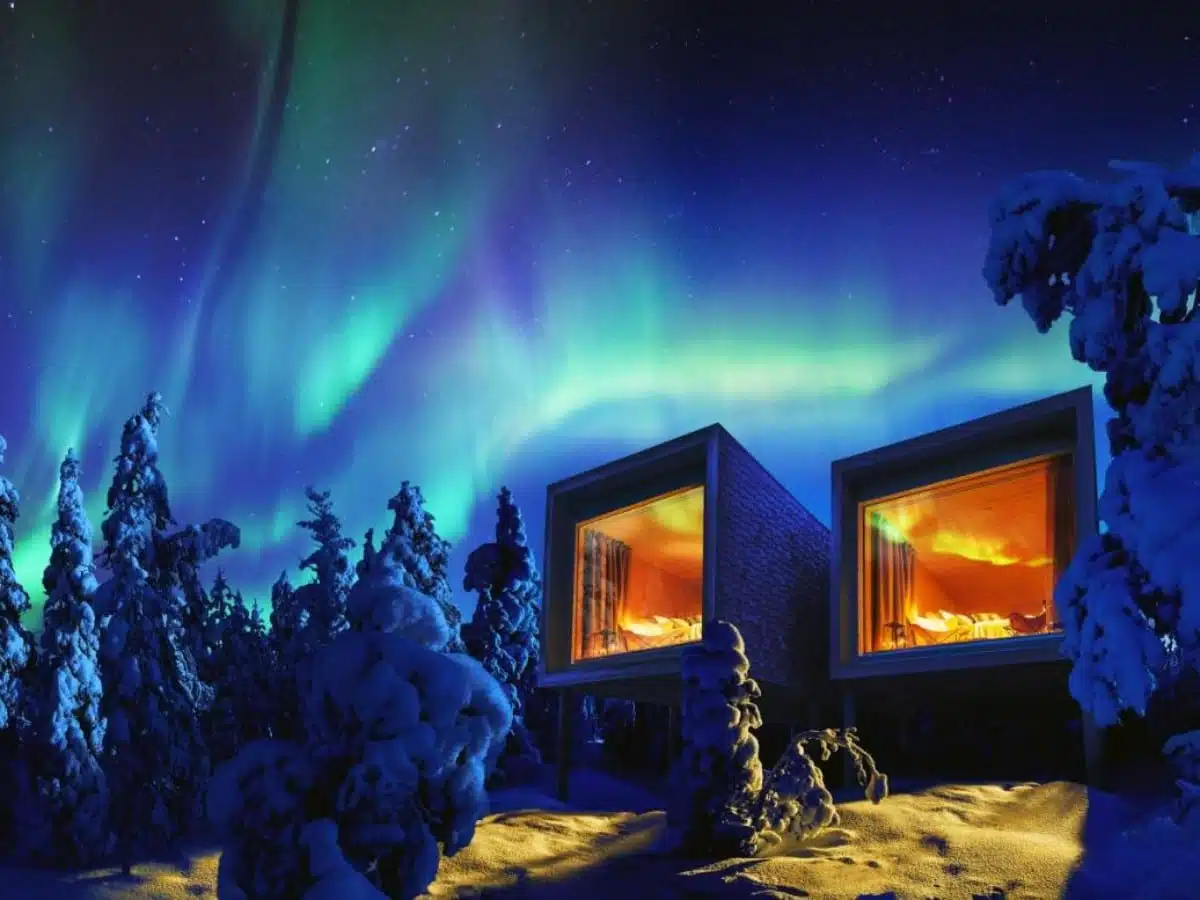 There is no better place to view the northern lights than at the Arctic TreeHouse Hotel in Rovaniemi.
Each treehouse has a huge window that provides excellent panoramic views of the sky and the surrounding Finnish landscape. Enjoy the spectacular northern lights without sacrificing comfort, thanks to the unique placements of the beds.
Just because you're staying in a treehouse doesn't mean you can't eat like royalty. The Arctic TreeHouse Hotel has a wonderful restaurant and bar located in the main building.
Award-winning chef Petteri Luoto curates each dish on the menu, with a full course dinner consisting of 3 to 5 dishes.
Kakslauttanen Arctic Resort: Glass Dome Hotel Northern Lights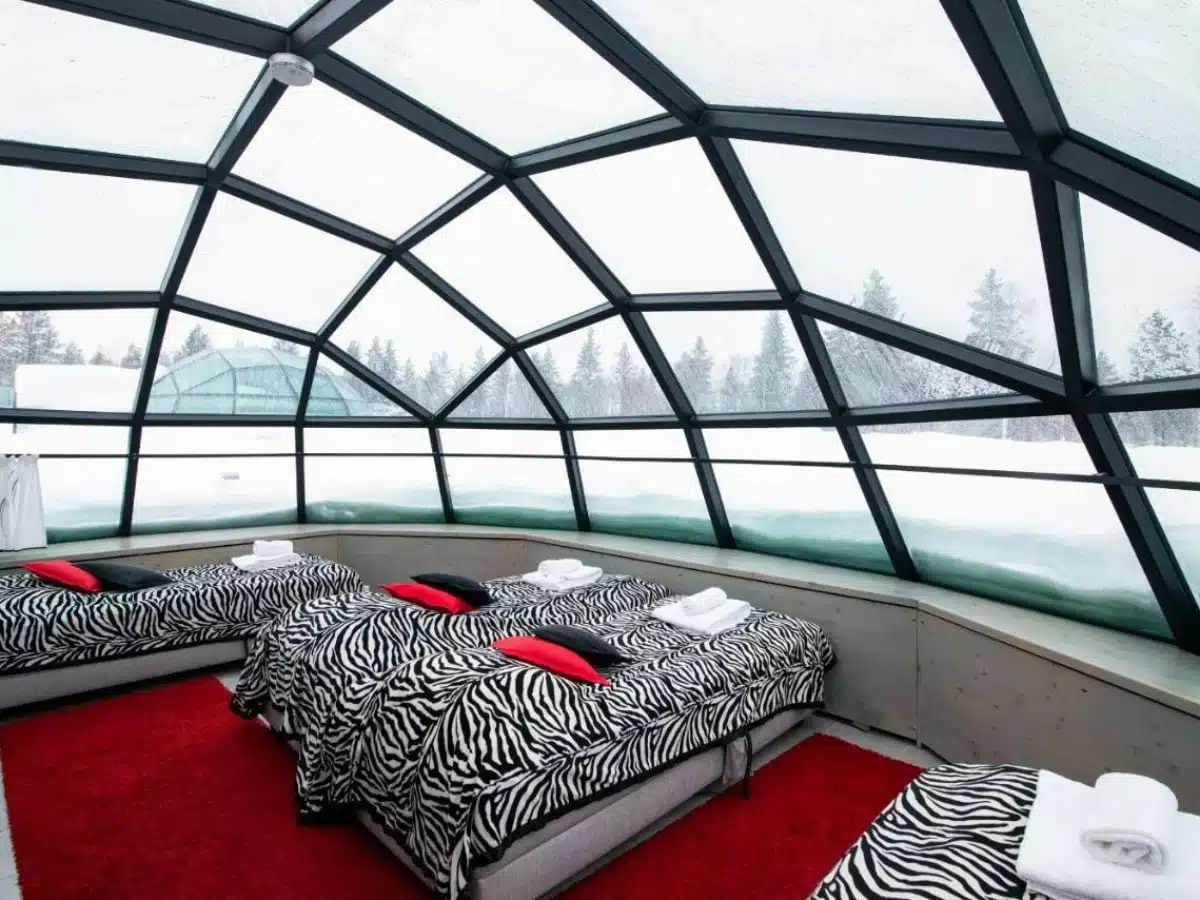 One of the most unique ways to see the northern lights is by staying at the Kakslauttanen Arctic Resort. This is one of the most popular places to stay as there are two different types of glass igloos to choose from.
The first is a smaller two-person igloo that is perfect for a romantic getaway. The second, four-person glass igloo is perfect for a group of friends. Both options provide the utmost luxury, boasting private ensuite showers and toilets.
While you're waiting for the northern lights to appear, you can spend the day enjoying various arctic activities, including cross-country skiing, ice-fishing expeditions, and even snow tank safaris.
Each activity will not only give you a chance to explore your surroundings, but you'll get to see the Finnish Lapland from a unique perspective.
Northern Lights Hotels Finland: Practical Tips
The best time to see the northern lights is from mid-August until early April. So make sure you've got your dates lined up before booking at one of these fantastic hotels.
These are the best hotels in Finland to see the northern lights, making them very popular amongst locals and tourists. Book your hotel as far in advance as possible to secure a room.
Discover More Northern Lights Guides
Best Northern Lights Hotels Finland: Map