Ready to discover the gorgeous destination of Arenal in Costa Rica? This 2-day Arenal itinerary has you covered.
Whether it's a love of nature, an itch to go zip lining, or a cheap flight deal that draws you to Costa Rica, it's certainly a place worth visiting.
One of the best destinations to visit in this lush country is the area surrounding Arenal Volcano, a gorgeous, towering volcano located in northern Costa Rica.
I've written this guide to help you make the most of 2 days in Arenal, Costa Rica.
Pura vida!
Why Should I Travel to Arenal, Costa Rica?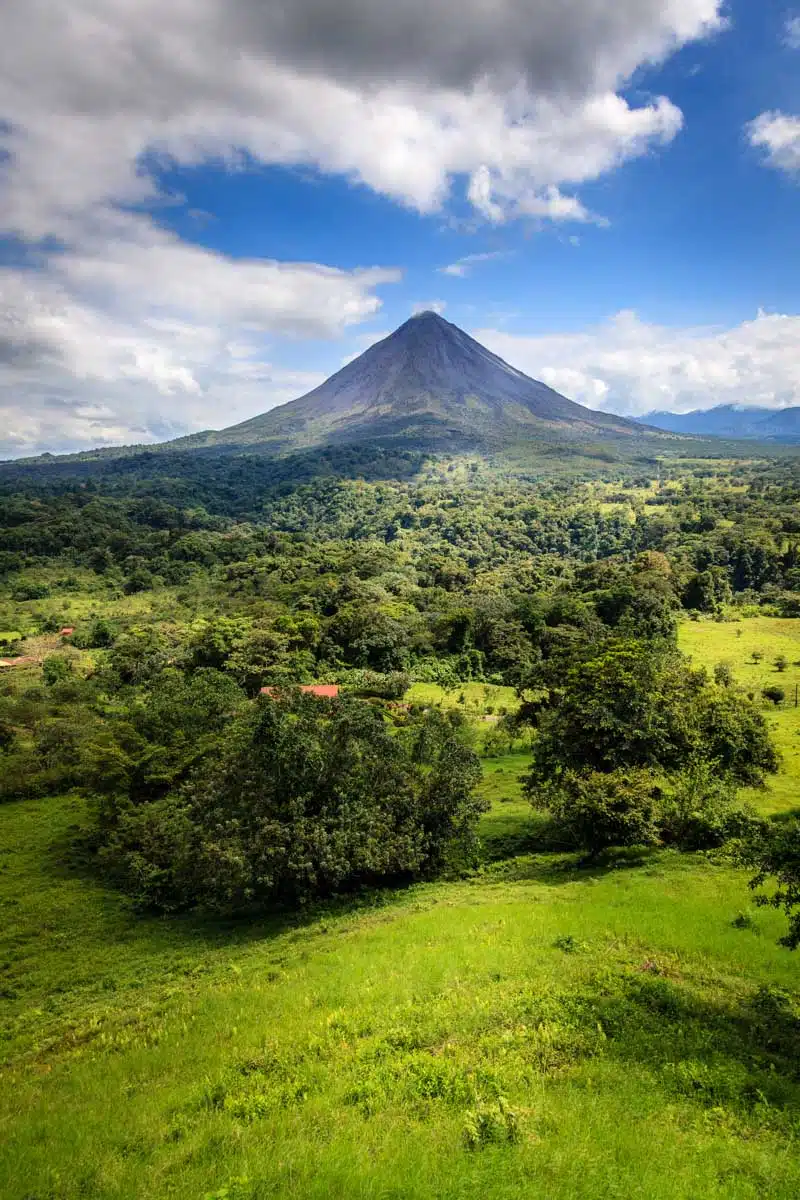 Costa Rica is full of gorgeous greenery and stunning scenery, and Arenal Volcano is no exception.
This cone-shaped dormant volcano and the surrounding 29,000+ acre Arenal National Park are some of the main highlights of any trip to Costa Rica.
In fact, when I last visited Costa Rica, Arenal was what brought me there in the first place.
A tropical destination just a few hours from many US and Canadian cities by plane, Costa Rica is the perfect getaway for a long weekend or a short stay. It's also a fantastic budget destination that won't break the bank, and it's got some of the best activities in Costa Rica to try and explore.
Within Arenal, there's a wide variety of things to do, ranging from zip lining to hiking to relaxing in hot springs.
I won't ruin the surprises ahead, but if you're looking for a tropical weekend getaway, Arenal might just be your spot.
Practical Tips for Your Arenal Itinerary
When to Visit Arenal, Costa Rica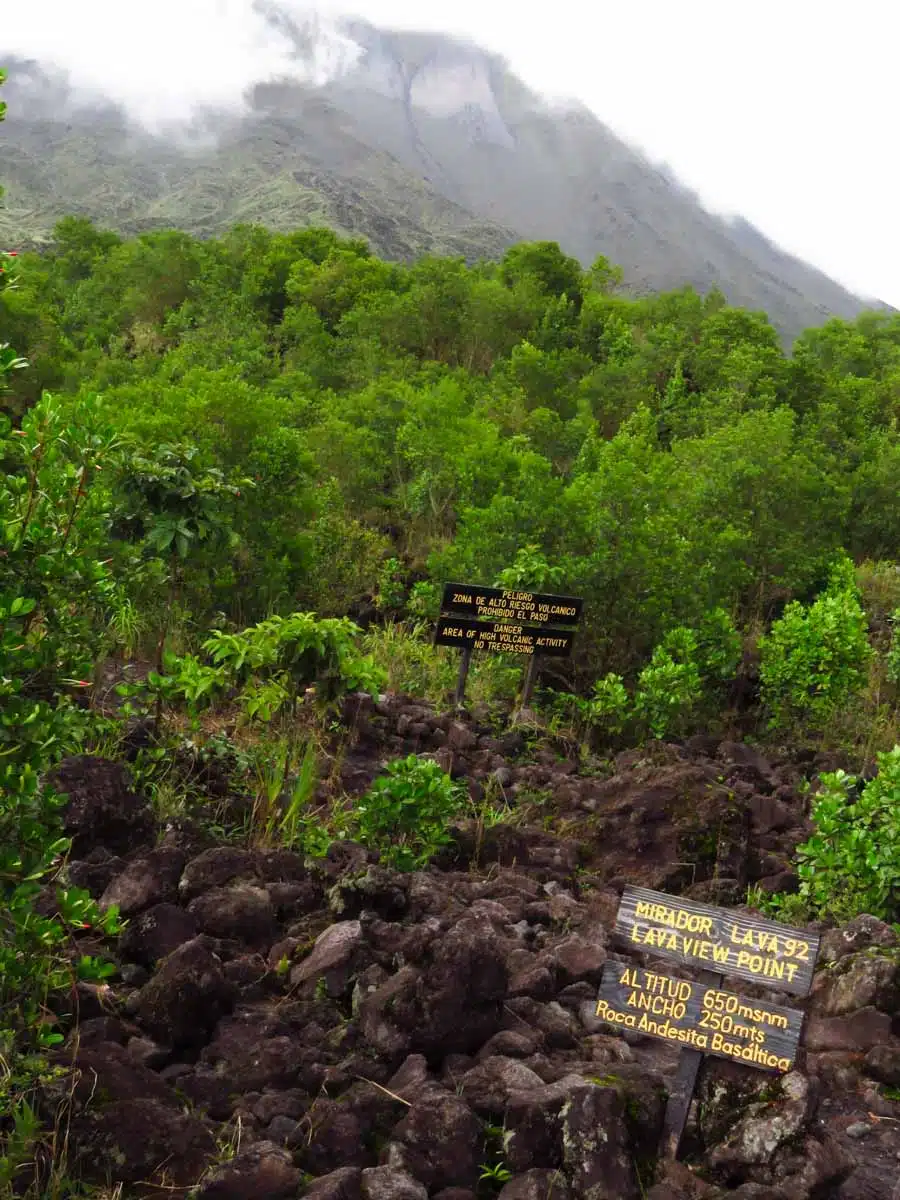 Costa Rica's dry season occurs from December to April, but it is a beautiful destination to visit any time of year if you don't mind the occasional downpour.
If you're hoping to avoid the crowds, try visiting just before or just after the dry season, when the weather is still mild but the masses of visitors subside.
How to Get To Arenal, Costa Rica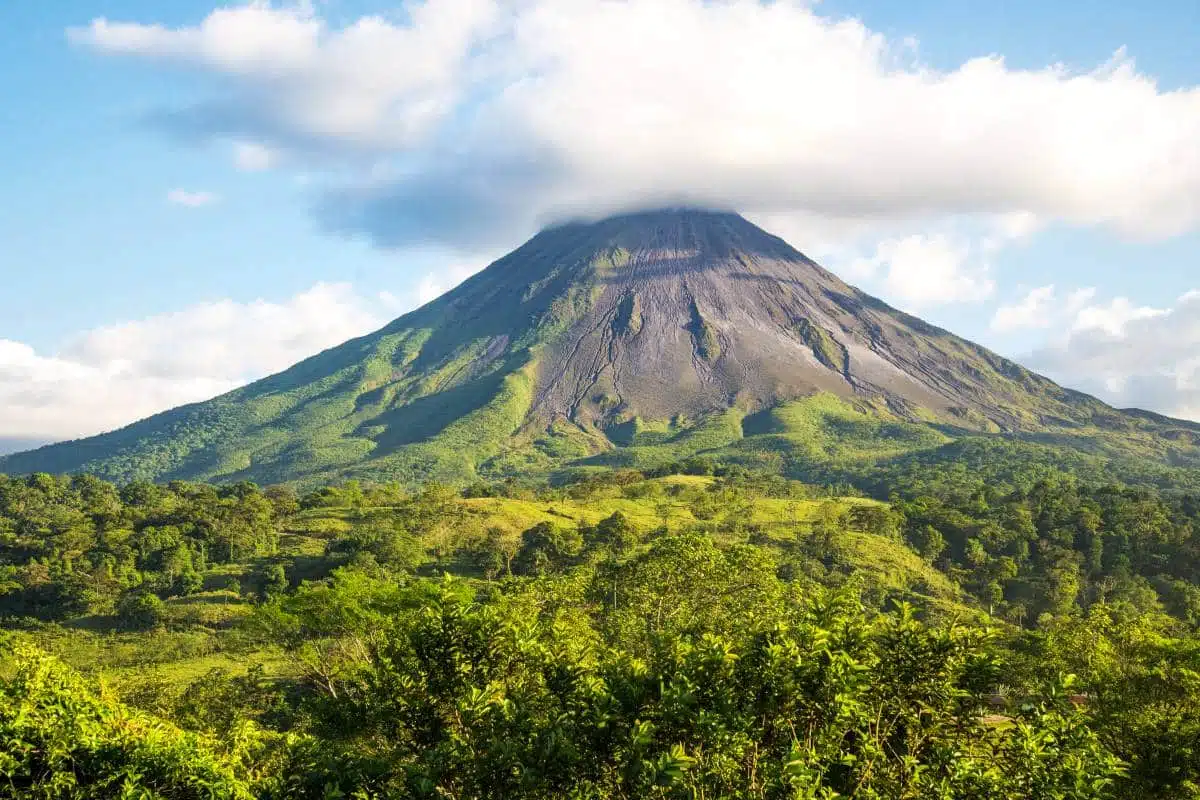 If you're flying from an international location, you'll likely arrive in Costa Rica's capital, San Jose. From there, you can either take a tourist shuttle (~$50+ or 31,000 colones) or a public bus (~$4.58 or 2,600 colones).
As a more convenient option, the Interbus tourist shuttle is air conditioned, but also likely costs more than your hotel stay and isn't that much faster, ~4 hours one way.
The public bus is a little bit more tricky to find, but is much cheaper and takes ~4.5-5 hours. Take a taxi from your hotel or the airport to Atlántico del Norte bus station.
There are several bus stations in the city, so make sure you're headed to the right one at Avenida 7 and 9 and Calle 12. Once there, you can purchase your ticket from ~2,600 colones to La Fortuna, the city nearest to Arenal volcano.
If you're feeling adventurous, you can also rent a car, but I don't recommend this as the roads can be difficult to drive on.
What to Pack for Arenal, Costa Rica
Since Costa Rica is located in a tropical climate, bring clothes you'd normally wear in the summer, including a light pair of pants and a jacket in case of rain, wind, or chilly evenings. Pack a swimsuit and towel, too, in case you decide to go to the hot springs or the waterfall.
Although many places now take credit cards, we recommend carrying cash for one-off purchases or in the event that a specific area does not accept credit cards.
How Much to Budget for 2 Days in Arenal
Since you're only going to be in the Arenal area for a short period of time, you will want to make sure you do the main activities. In Costa Rica, they use the colón as their main form of currency. As of February 2018, the exchange rates were as follows:
1 USD = 569 CRC
1 EUR = 711 CRC
1 GBP = 802 CRC
1 CAD = 457 CRC
1 AUD = 453 CRC
On average, here's what to budget for La Fortuna/Arenal:
Accommodation
Hostel dorm: 4,500-11,400 CRC ($8-20)
Guesthouse: 17,000-45,000 CRC($30-80)
Resort: 57,000+ CRC ($100+)
Meals
Small restaurant meal: 3,000-5,000 CRC ($5-7)
Fancy restaurant meal: 8,500+ CRC ($15+)
Taxi: Price varies, but usually 3,000-9,000+ $5-10 for one ride in the La Fortuna area
Tours
Volcano hiking tour: $40-70 USD per person (depending on where you book)
Zip lining: $60-75 USD per person
Trip to the hot springs: 15,000 CRC (~$26 USD)
La Fortuna waterfall: $15 USD entry fee
Accommodation / Hotels in Arenal, Costa Rica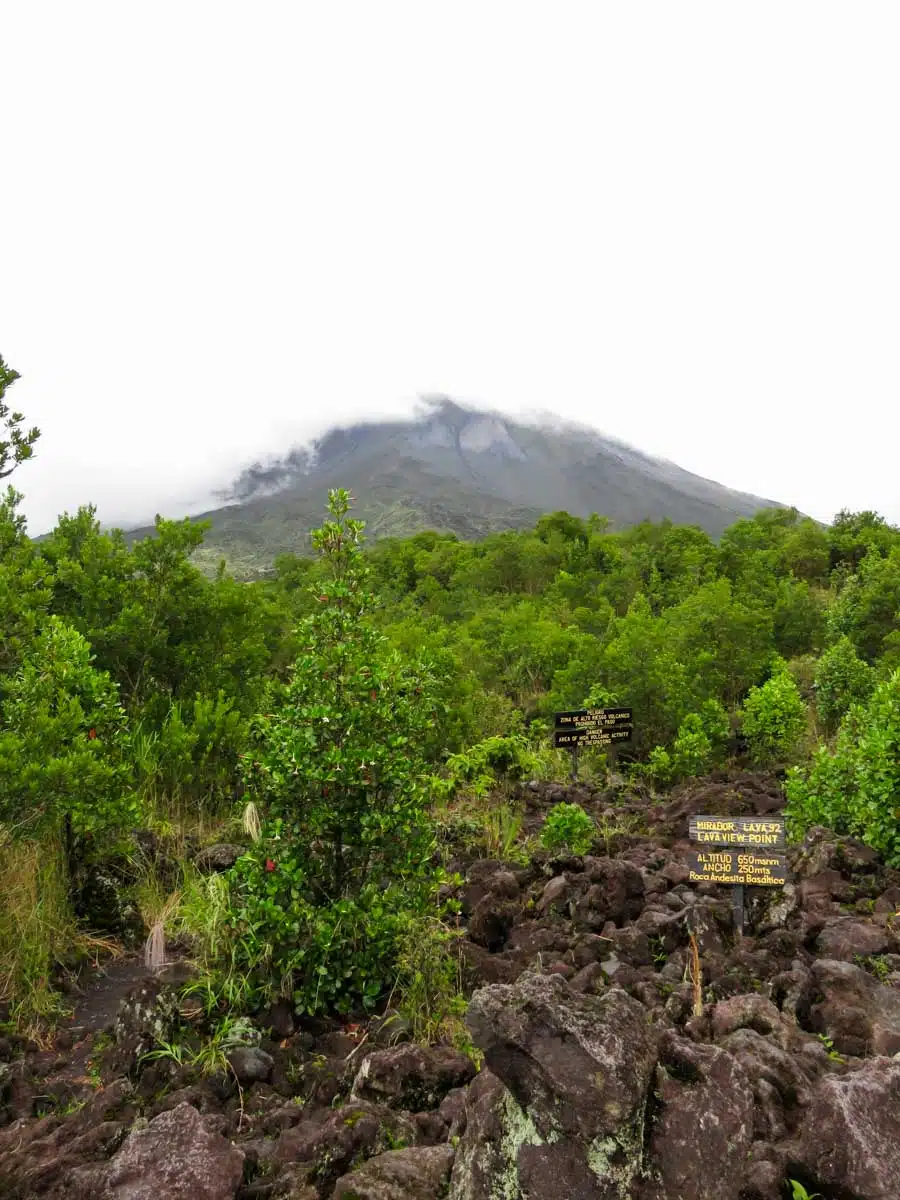 When traveling in La Fortuna, make the most of your trip by staying somewhere beautiful.
When we visited we stayed in a gorgeous guest house that was surrounded by beautiful farms and gardens, with a stunning view of the volcano. To help you plan your trip, we did a lot of research to find the hostel/hotel recommendations below, one for each budget level.
Budget
For hostel-style accommodations at a low price, many travelers recommend Arenal Backpackers Resort. With dorm beds available starting at ~$17 USD, there's a pool, ensuite bathrooms, and lounging areas to meet other travelers and hang out with friends.
Mid-range
Comfort travelers will rejoice at Tifakara Boutique Hotel, an Arenal hotel that boasts a small pool, wifi, and gorgeous grounds. For just $50-60 USD per night, you can stay at this family-owned garden sanctuary.
Splurge
Luxury travelers recommend The Royal Corin Thermal Spa & Resort, a luxury resort with a thermal pool located near Arenal National Park. With plush beds and beautiful garden paths, this is a relaxing respite from the daily grind of office life.
Getting Around Arenal, Costa Rica
If you didn't rent a car, you'll likely need to get around via shuttle or taxi. Many tours also provide transfer service to and from the tour facility. Taxis typically cost $5-10 USD per ride.
The Perfect 2 Days in Arenal, Costa Rica Itinerary
Arrival: Wander Around La Fortuna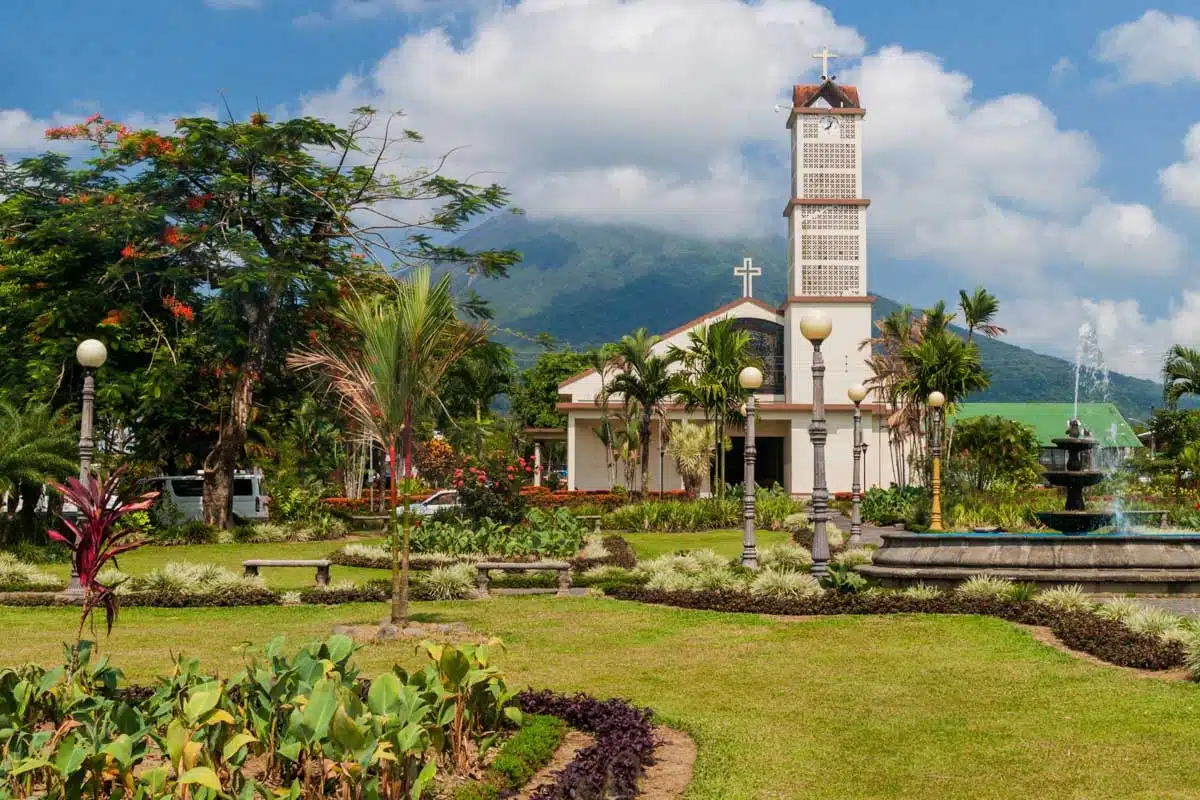 If you've taken the public bus or the shuttle, you'll likely arrive in the Arenal area in the afternoon or early evening.
Since it will be getting dark soon after you arrive, I recommend heading into town an enjoying a nice dinner, orienting yourself with the town and your surroundings.
Catch the sunrise in the main plaza of La Fortuna, where you can see beautiful churches with the Arenal volcano in the background.
While you're downtown, if you're looking for an adventurous first full day, book the "two volcanoes tour" (~$50 USD).
Starting in the morning, this tour will take you on a day-long adventure through volcanoes, rainforests, sunset lookouts, and more. We highly recommend doing this as it is a wonderful way to see many areas of Arenal.
Day 1 Arenal Itinerary: Hike on the Double Volcano Tour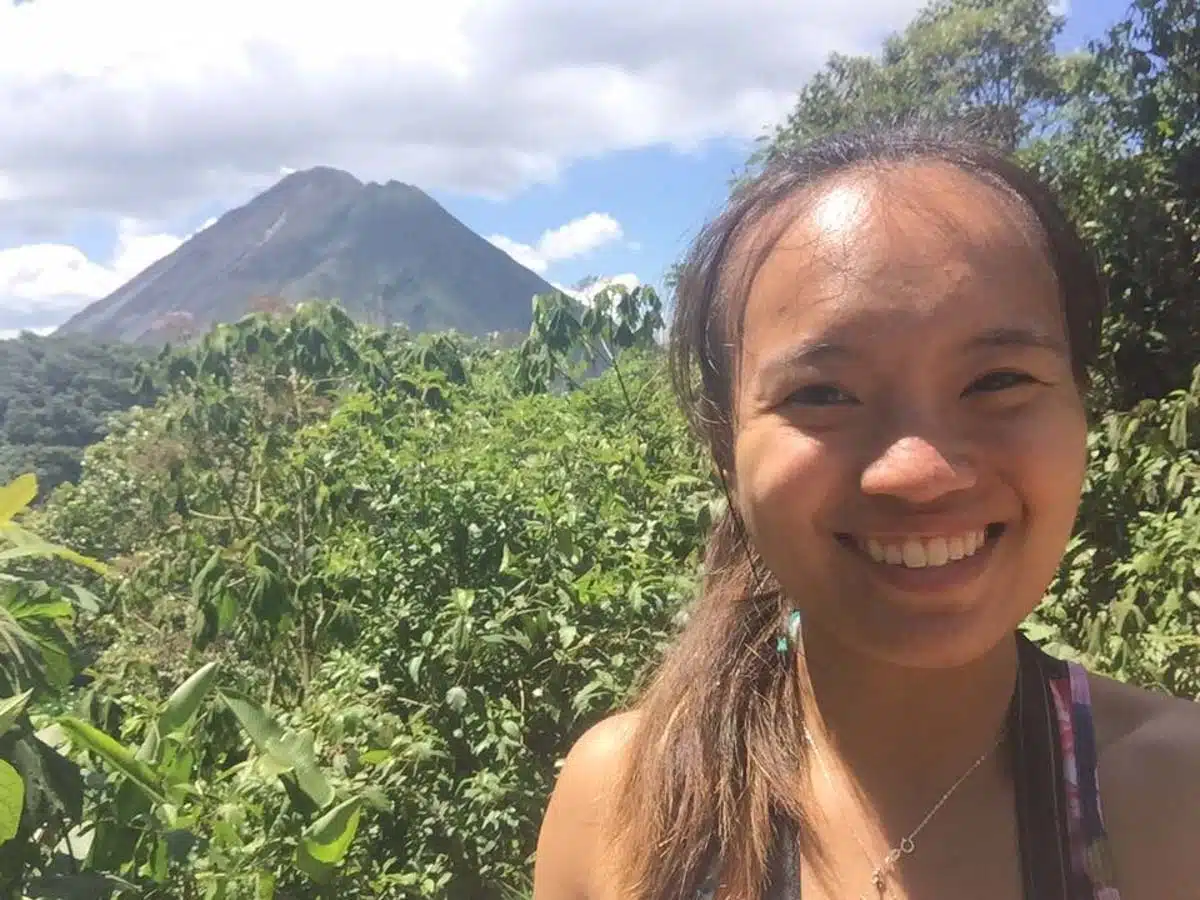 Your first full day in Arenal will start early with a transfer from your hotel to start the Two Volcanoes hike. If you're not a big hiker, don't fret!
This trail is suitable for all levels of hikers. First, you'll hike up to the rim of Cerro Chato. This trail takes you through forested areas and up steep slopes, where you'll see incredible views of Arenal Volcano. If you're (un)lucky, you might even run into a tarantula or two on the way…
Next, you'll descend down into the crater of this dormant volcano. Here, you can swim in the cold waters of the crater lagoon and snack beneath the shade of the trees. After a quick stop here, you'll descend down the mountainside and into a field of tall trees, with Arenal off in the distance.
The day ends with a quick stop at a lookout point of the Observatory Lodge, where you can watch the sun set over the volcano.
In the dark of night, your tour guide may take you into the wildlife sanctuary area and show you one of the famous red-eyed tree frogs, a snake, or other nocturnal wildlife.
You'll end your night with a soak in the hot springs river, which at first glance looks like a river under the bridge, but is actually pretty relaxing. Here, you'll join other tour groups, sip on cocktails, and relax after all the hard work you did today!
IF YOU DECIDE NOT TO DO THIS TOUR: I recommend skipping ahead to the "If You Have More Time" section and choosing a few activities from there, or simply split up the Day 2 itinerary into 2 separate days.
Arenal Itinerary Day 2: Ziplining, La Fortuna Waterfall, and the Hanging Bridges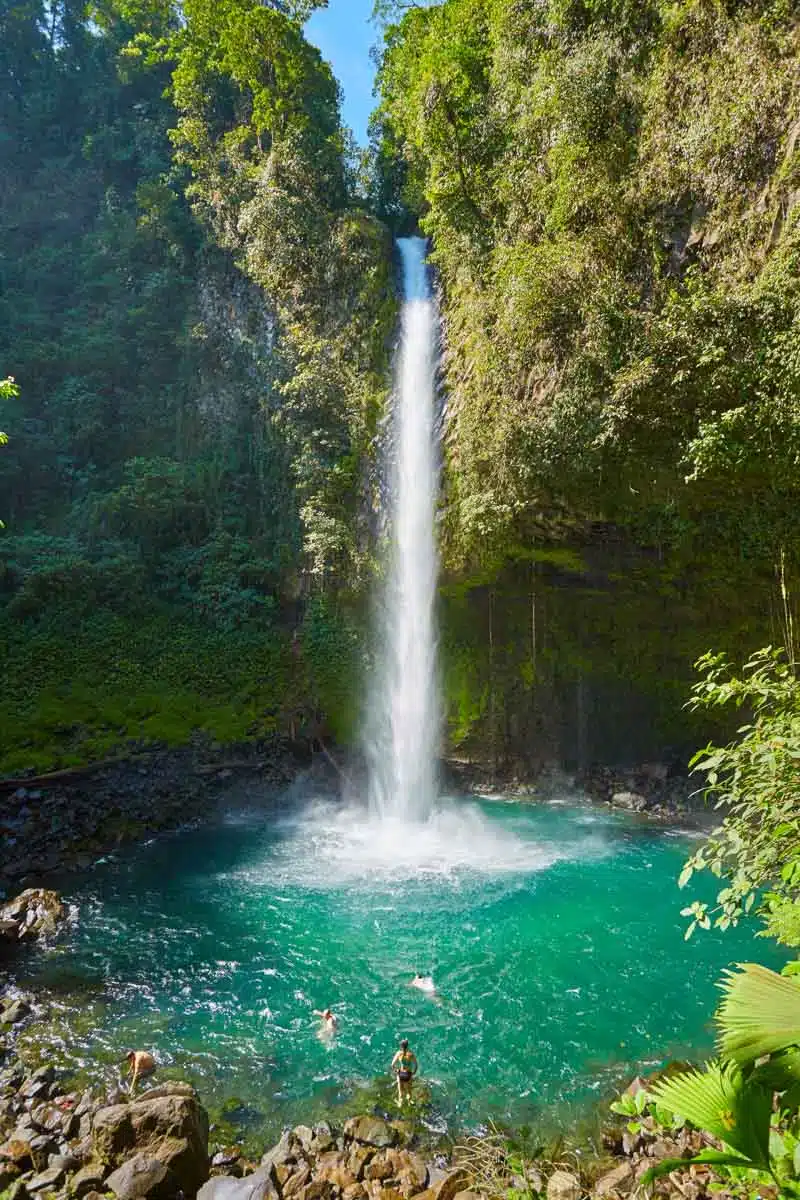 There are so many things to do in the Arenal area, it was hard to choose just two days' worth!
On your second full day in Arenal, you have a bunch of options, but I recommend trying to do at least three: a zip line tour, hiking to La Fortuna Waterfall, and visiting the Hanging Bridges. Zip lining is usually a half-day affair, where you'll zip through the forest canopy on 10+ different lines.
We really enjoyed our time flying through the forest, screaming on the Tarzan swing, and more.
Aside from the volcano itself, La Fortuna Waterfall is one of the most beautiful sights in the entire area. It costs $15 USD to enter the trail, but it's worth it to descend down next to the waterfall and potentially go for a dip in the cold water.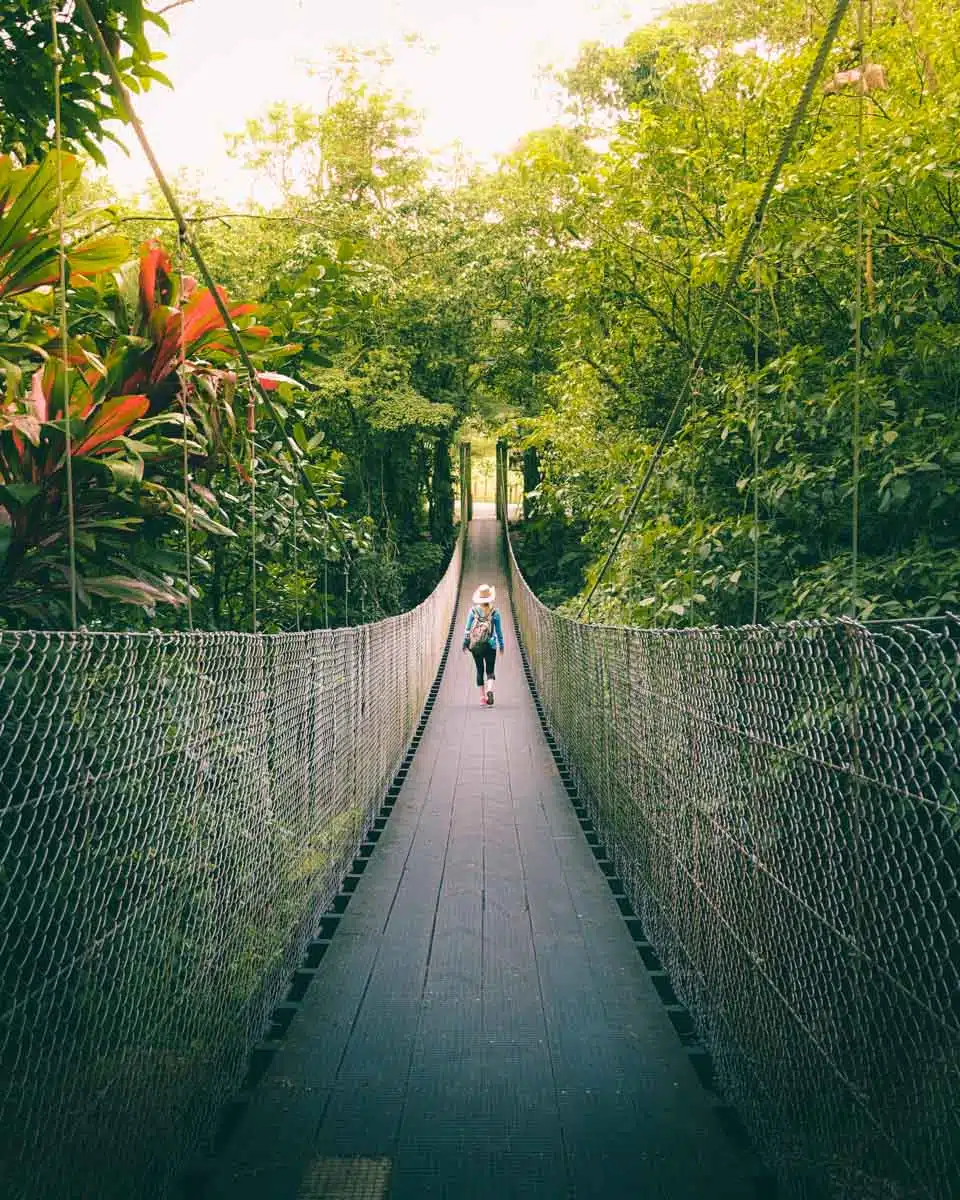 Lastly, the Hanging Bridges is a really interesting and unique activity to try while in Arenal. Here, you can traverse suspended bridges through the rainforest, learning about the plants and wildlife of the area.
Tickets and tours for the Natural History Walk at the Hanging Bridges park start at $37 for ~2.5 hour tour.
2 Days in Arenal Itinerary: If You Have More Time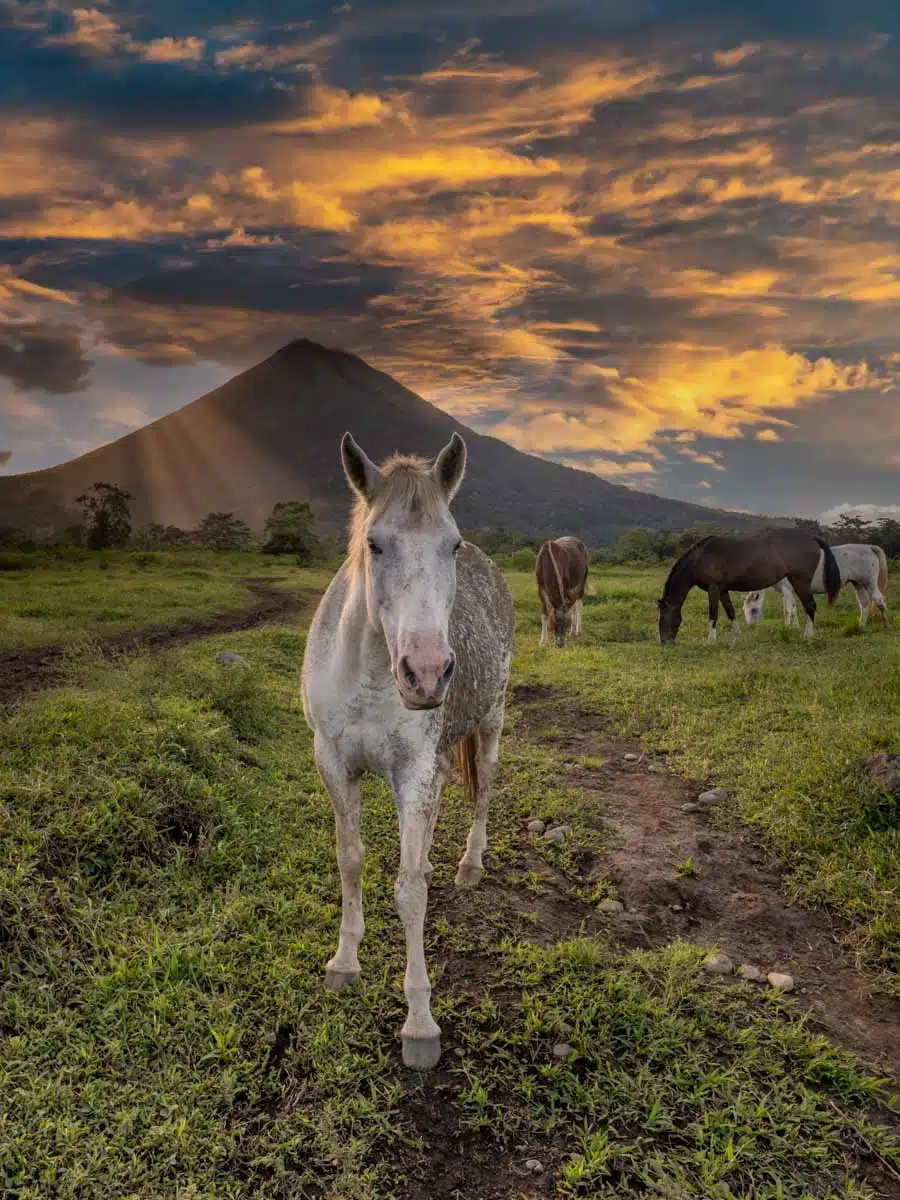 Arenal National Park has a lot to offer, and if you have more time, you can opt to wander the area by horseback or ATV.
If you're wanting a different outdoor adventure, explore Lake Arenal by boat or check out the underground world at Venado Caves.
Alternatively, if you'd rather just kick back, purchase a day pass to the Baldi Hot Springs for an afternoon of relaxation.
Or, if you are feeling adventurous, head to nearby Monteverde to explore the cloud forests, which are home to all kinds of wildlife including tropical birds and sloths.
Arenal Itinerary: The Bottom Line
If you're looking for a quick tropical trip, Arenal, Costa Rica is a beautiful weekend getaway for outdoor adventure lovers and luxury seekers alike.
It's especially easy for Americans and Canadians to make their way here for a few days or a long weekend.
Experience the pura vida life and enjoy the lush greenery of the Costa Rican rainforest!
PIN IT for later!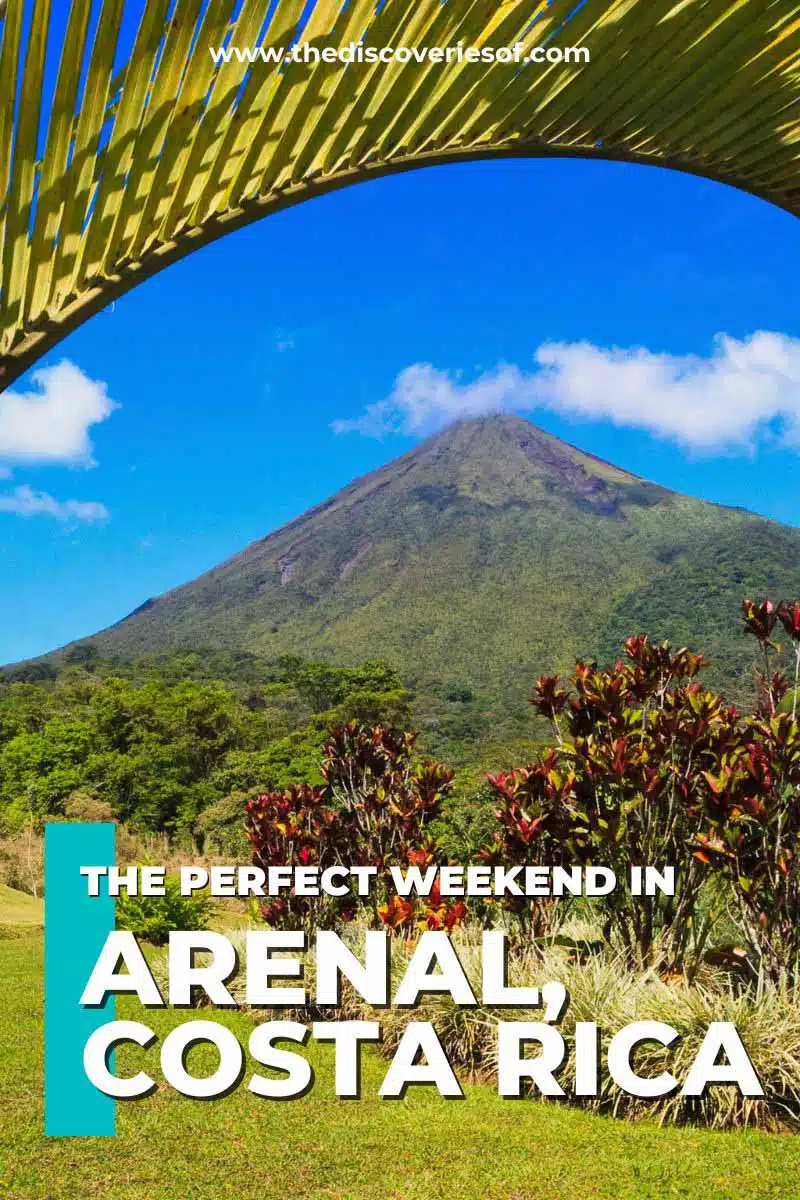 Arenal Itinerary: Read Next