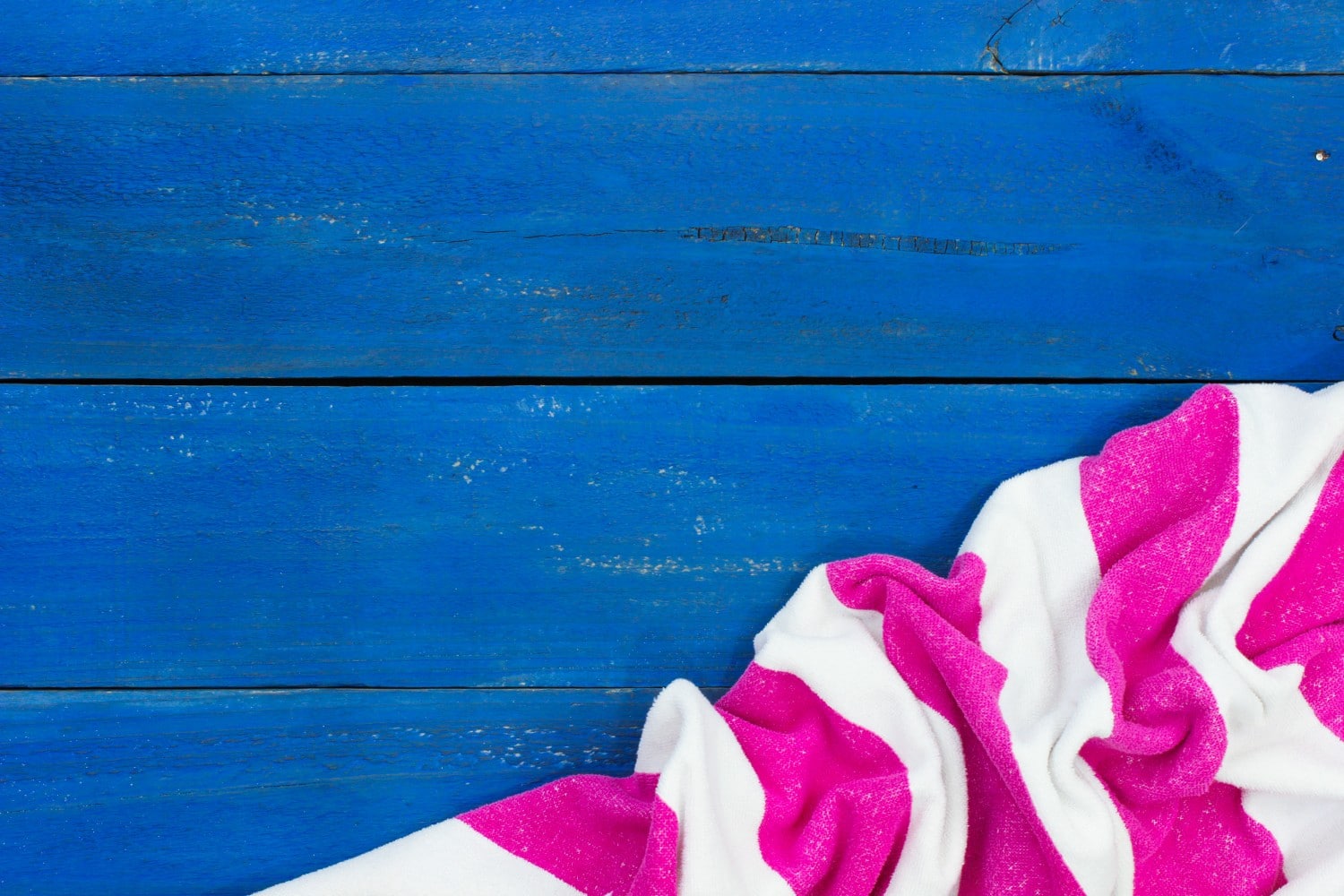 Gone are the days when you had to lug around a huge towel on your travels. Modern travel towels are light, small and easy to pack. Here are the best travel towels that are currently available. Perfect for you to bring on your next trip.
Best Microfibre Towels to Travel Light
Sea to Summit Tek Microfibre Towel
Bodhi Microfiber Quick Dry Towel
SYOURSELF Microfiber Towel
Trespass Bamboo Antibacterial Travel Towel
Lifeventure Softfibre Giant World Map Travel Towel
Dock & Bay Microfibre Quick Dry Beach Towel
Big Jim Quick Drying Microfibre Towel
Exerz Microfibre XL Travel Towel
Fit-Flip Microfiber Towel
Mountflow Microfibre Towels
1. Sea to Summit Tek Microfibre Towel
The Tek Towel by Sea to Summit is one of the best microfibre towels for travel on the market. The microfiber fabric has a natural terry cloth feel, but unlike your average towel it can absorb up to six times its own weight in water.
Despite being super absorbent this microfibre towel is quick drying – hence why we've chosen it as one of the best travel towels and even daily activities including: going to the gym, pool or beach, boating or camping.
The Tek Towel will fit perfectly in your backpack as the oval shaped mesh pouch it comes in doesn't take up much room at all. The microfibre Tek Towel is available in sizes ranging from XS (30 x 60cm) to XL (75 x 150cm).
2. Bodhi Microfiber Quick Dry Towel
If you're looking for a colourful range of microfiber quick dry towels the Australian company Bodhi has exactly what you need in the Bodhi Microfiber Quick Dry Towel. These quick dry towels are lightweight and come with a breathable mesh bag allowing it to dry in the bag if you can't wait for it to dry completely.
Don't worry about a smelly towel because the microfibre quick dry towel has antibacterial properties preventing odour and mould. When Bodhi labels this microfibre towel as quick dry they mean it- lay the towel out in the sun for several minutes after use and it'll be completely dry!
Recommended for all your travel needs, especially those planning on being in the water frequently or even at home uses such as showers and the gym.There are two sizes available: L (130 x 80cm) and XL (180 x 90cm)
Going travelling? You'll definitely want to read our list of the Ultimate Free Travel Apps before you go.
3. SYOURSELF Microfiber Bath Towel
Just like Bodhi, SYOURSELF Microfibre Travel Towel offers a wide selection of colours when it comes to their 100% microfibre bath towels. This microfiber bath towel is gentle on the skin and perfect for soaking up lots of sweat and water as it can hold up to more than 4 times its weight and dries 10 times faster than the average bathing towel!
The microfiber towel comes with a free bag and hanging snap loop so it's convenient to attach to your backpack or to hanging it up to dry with no worries of your towel blowing away.
We think that SYOURSELF is one of the best travel towels as they offer a range of four sizes of their microfiber bath towel to fit all of your needs. S (40 x 80cm): Perfect size for a sweat towel while you're exercising. M (50 x 100cm): Light and compact for all your travelling and hiking needs. L (76 x 152cm): Large enough for swimming and drying off at the beach. XL ( 81 x 183cm) Ideal size to use as a whole body towel.
4. Trespass Bamboo Antibacterial Travel Towel
Enough about the microfiber towels- Trespass is offering a natural antibacterial bamboo fibre travel towel. These bamboo fibres not only provide protection from odour and mould, but they are what makes the towel one of the softest travel towels on the market.
Like most travel towels, Trespass also provides a mesh panel storage casing for quick drying. The bamboo fibre travel towel comes in one ideal size, 60 x 120cm, making it a useful body towel. If you're looking for a towel that feels like the ones at home, but is lightweight and compact the Trespass bamboo antibacterial travel towel is the towel for you.
5. Lifeventure Softfibre Giant World Map Travel Towel
If you're looking for a more fashion forward travel towel, look no further because Lifeventure has exactly want you need with the giant world map travel towel.
Lifeventure offers three stylish map printed softfibre travel towels. These festive travel towels are ultra-soft, compact and highly absorbent, yet again another ideal backpacking towel.
Each towel has permanent antibacterial protection and can absorb 9 times its own weight (310g) of water. Sure that's a lot of water, but just as fast as it can absorb water this backpacking towel dries 8 times faster than your average towel. When you're making your checking your packing list for your next excursion be sure to add the Lifeventure soft fibre travel towel!
6. Dock & Bay Microfibre Quick Dry Beach Towel
Don't you absolutely hate trying to get all the sand off your towel after a relaxing day at the beach? The days of getting sand in your eyes and mouth, at least from shaking out your towel, are over.
Dock & Bay have released the perfect travel towel for beach lovers alike.
The microfibre quick dry beach towel is compact enough to fit into your backpack or beach bag and if you don't feel like placing it in your bag it comes with its own travel pouch which doubles as a bag itself. These microfiber beach towels come in two sizes L (160 x 80cm): more compact but still big and XL (200 x 90cm): perfect to lay on the beach with.
No matter what size you purchase these beach towels are extremely absorbent and after a few minutes in the sun they'll be dry once again.
7. Big Jim Quick Drying Microfibre Towel
Everything you need to know is in the name- microfiber and quick drying, yet another great option for a travel towel. The XL size (180 x 90cm) Big Jim towel is one of the biggest microfiber towels on the market providing coverage for men and women of all shapes and sizes.
Despite its size this microfibre towel is extremely thin (2 mm) allowing it to fold up nice and small adding no bulk to your bag. With the tight weave microfiber material that the towel is made of it can easily absorb 8 times more than the average towel. The quick dry feature makes traveling easier and worth giving the Big Jim quick drying microfiber towel a shot.
8. Exerz Microfibre XL Travel Towel
In need of a perfect sized microfiber travel towel? Exerz has you covered with a variety of coloured travel towels to bring on your excursions or to the gym. This travel towel is made from the best of the best microfibers and uses a high thread count in order for the towel to feel gentle on the skin.
You'll never have to worry about a smelly towel when using Exercises microfiber travel towel because it has antibacterial properties that will prevent odour, even if the towel is drenched in your sweat. Absorbing up to 4 times its own weight the microfibre travel towel can dry up to 4 times faster than a regular towel.
9. Fit-Flip Microfiber Towel
The best-rated microfiber towel in Germany comes from Fit-Flip. This ultra lightweight travel towel is recommended for climbers because of the fibre structure the towel is made of there is no leftover fuzz and it's extremely absorbent and of course, fast drying.
The microfiber towel is soft to touch and like most, antibacterial and dirt repellent. Making it all the more convenient Fit-Flip provides a press button strap that can be used to hang your travel towel on a branch or rod to dry. The Fit-Flip travel towel wouldn't be complete without its mesh carrier with a string strap attached for easy carrying.
10. Mountflow Microfibre Towels
The last travel towel in our list is also a microfiber towel. Soft on the skin, weighs little to nothing, and effortlessly tightly compact. The Mountflow microfibre towel comes in one size (160 x 80cm) and when rolled up it becomes even smaller, small enough to fit in your pint glass!
Drying within minutes you'll never have to worry waiting around for your towel to dry or lugging along a smell towel. Even if you don't have a few minutes to spare just roll the towel up into its breathable mesh carry pouch and it'll dry as you walk.
Don't just think of the Mountflow microfiber towel as a travel towel, it's more than that. With its smooth material, it makes the perfect towel to lay on the beach with or wrap your body in it after a shower.
---
So there we are, the best travel towels available on the market. It might sound like a small thing to pay attention to but you have a choice. You can be the person with the smelly heavy towel or the genius who brought themselves the microfibre, compact, fast drying, antibacterial travel towel that'll never slow you down.