Is American Tourister's luggage any good? Check out my American Tourister luggage review to see if they're worth splurging on.
Look, we all know the struggle of finding chic yet reliable luggage. I've been there. But there are other challenges travel-buffs know all too well.
When purchasing travel luggage, there are a couple of non-negotiables – I want my swish new luggage to be stylish, practical and, above all, with wheels that don't squeak (that's my pet peeve).
Or even worse: Eagerly waiting for your luggage at baggage claim only to find out it looks like every other piece of luggage. Yikes.
Thankfully, you have American Tourister's luggage to save the day. More specifically, their American Tourister Soundbox 67.
Ready to learn all about this piece of essential travel gear in this American Tourister review? Let's dive into it.
American Tourister Soundbox Review: At a Glance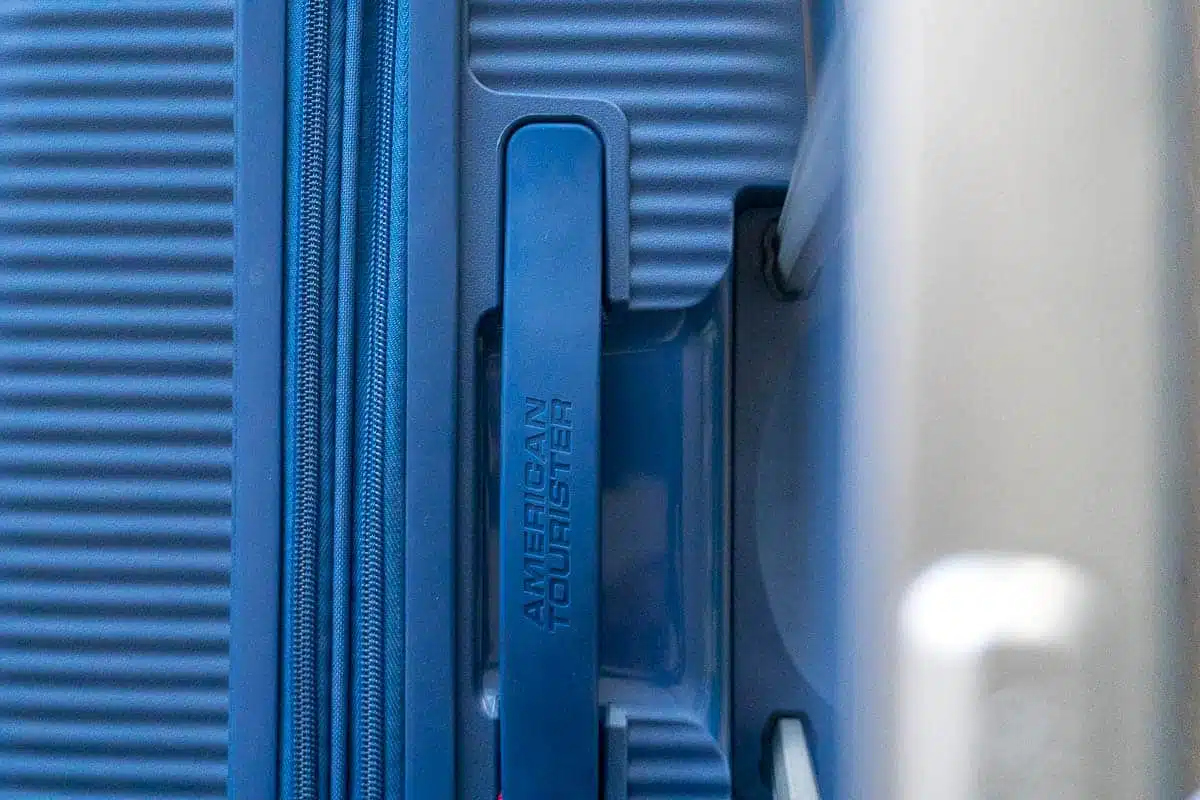 I have this case and really like it.
Overall, it's pretty tough, the bright colours make it easy to identify at an airport, and I enjoy its snazzy but stylish design. Plus, the build quality on the Soundbox case is awesome (no squeaky wheels!) and it's reasonably well priced compared to other luggage brands.
Check prices for American Tourister's Soundbox on Amazon
American Tourister Luggage Review: Soundbox 67 In Detail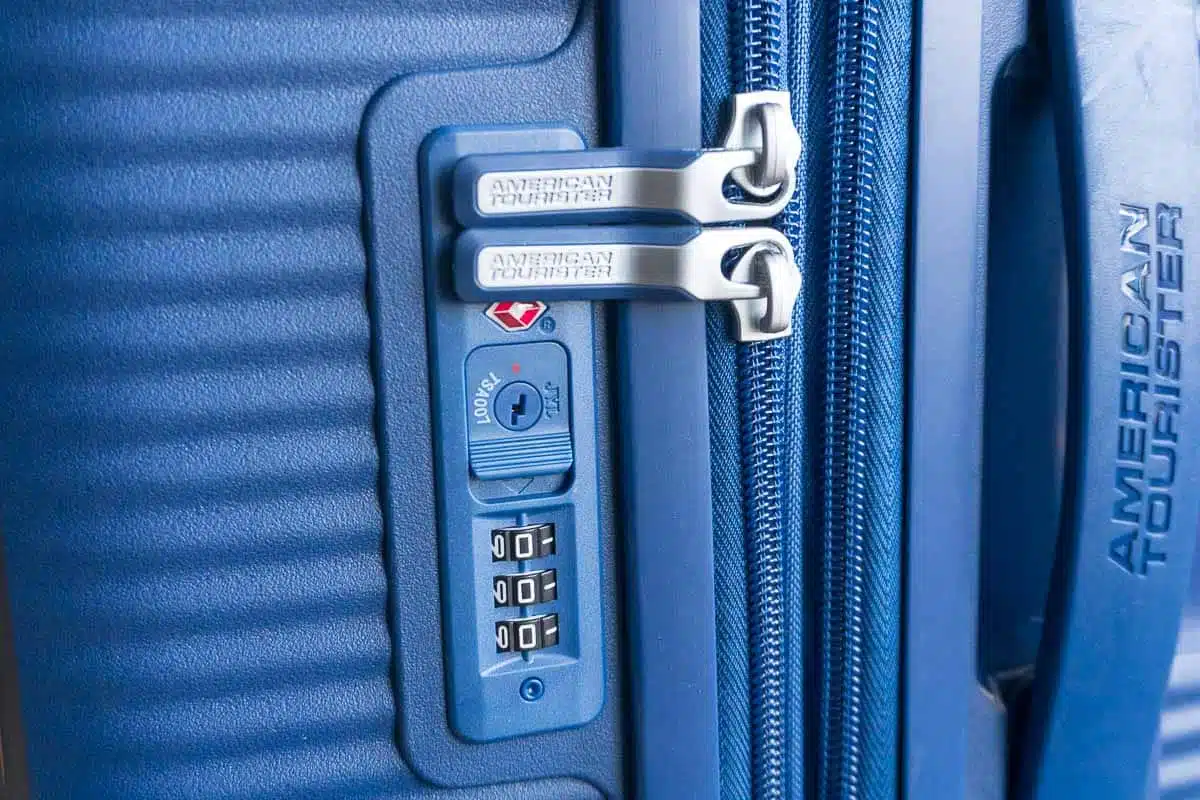 You know the dull, dreaded sea of luggage that awaits at the end of your flight? Yeah, you won't have to deal with that here. With its striking, colourful design, you'll find it easy to spot your American Tourister Soundbox among the typically boring ones at the baggage carousel.
The Soundbox collection from American Tourister is well-equipped to meet the needs of frequent fliers.
It's not the most affordable, and you might be wondering, "Are American Tourister suitcases any good?" to rationalise the cost. But, to be honest, it's well-priced compared to other well-known luggage brands like Away.
What I love most about the Soundbox 67 are its super-smooth wheels that make it really easy to get around with. No awkward wheeling around the airport with stubborn wheels here.
Also, the sleek and sturdy design of the American Tourister Soundbox 67 conceals great interior details such as clips to keep the luggage flat and zipped compartments for organising smaller items like travel-sized bottles of cosmetics.
Now, let's get down to the nitty-gritty. The American Tourister Soundbox 67 is a deceptively good-looking suitcase that surprises with its many useful features.
At first glance, you might pick it up for its vivid colours and unique retro-vinyl-inspired design. But there's more to this suitcase than its appearance.
This stylish luggage has some handy features that are sure to enhance your travel experience. Check them out below.
Variety of Colours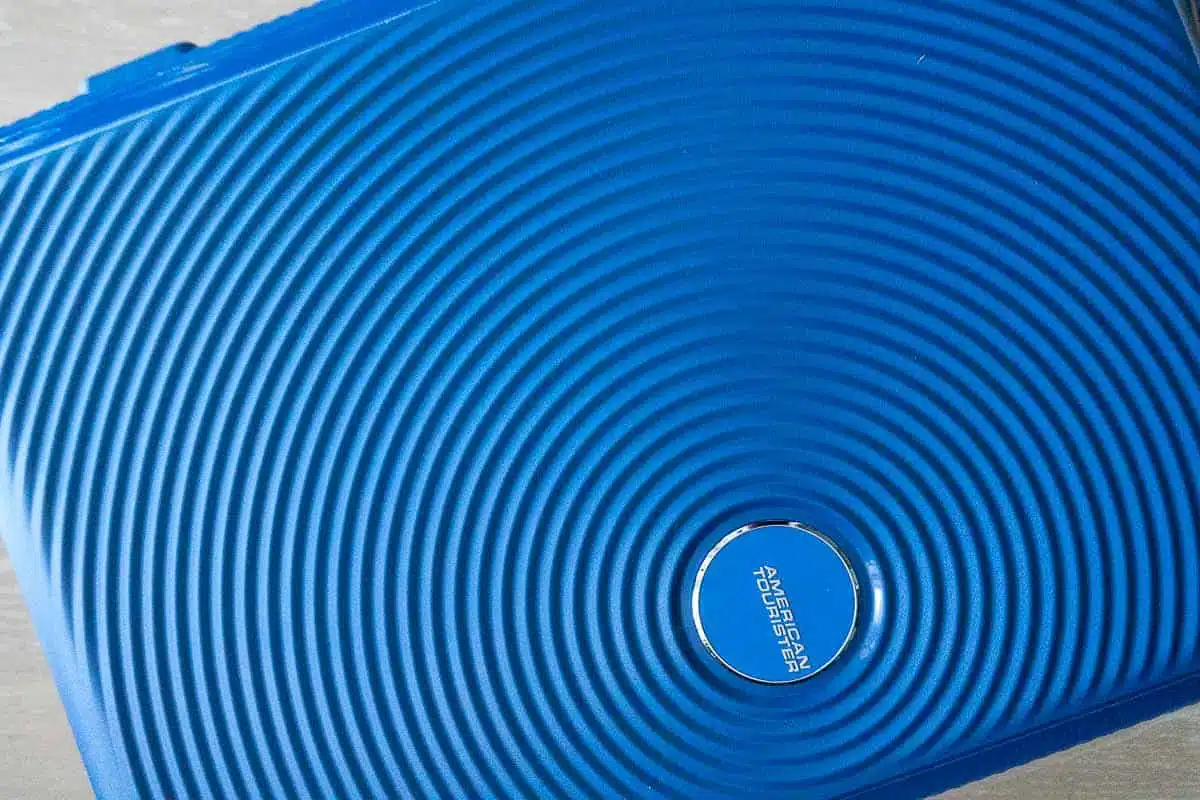 With seven brightly coloured suitcases, you can almost literally roll the rainbow with the American Tourister Sandbox.
I recommend getting the Bass Black if you want something understated… plus if you're the slightly messy type (not judging at all), you may find the deep black useful for hiding scuff marks on your suitcase.
Note: Sadly, the white American Tourister Sandbox gets a few visible scuff marks here and there and can lose its sheen after a while, even after a thorough clean. Boo – it's so pretty, though.
From their cheerful Golden Yellow to the dark and mysterious Bass Black, you can get the Sandbox 67 in a colour that suits your personality and preferences.
As you can see from the images, I went for a Marine Blue that's bright enough but not too bright – and very easy to spot on the carousel.
Choice of Sizes
Another aspect where the American Tourister Soundbox shines is its size. Yes, other brands have suitcases in various sizes. But are they as cute and functional?
While I have the Soundbox 67, which is their medium-sized suitcase, there are other options for you to try. The American Tourister Sandbox comes in small (the American Tourister Sandbox 55) and large (the American Tourister Sandbox 77).
The small American Tourister Soundbox 55 works well as carry on luggage. It meets most airline's 55 cm x 40 cm x 20 cm requirements (when unexpanded), which is one less thing to worry about.
Going up a size gives you the Soundbox 67, which is great for longer trips (about a week). You'll be able to pack far more blouses and shirts than in its little brother, and then some.
With a generous expanded capacity of 81 litres (more on that below), you can easily pack a healthy amount of clothes, shoes, toiletries, and gadgets for a seven-day adventure.
Lastly, is their large Soundbox 77. If you thought the medium was quite big, think again.
This massive version with an expanded capacity of about 110 litres may seem a bit overkill, but those on huge travel expeditions may appreciate the extra room. It's also more suited for those bringing large and heavy equipment like photography gear, for example.
Durability and Warranty
One of the most discussed essential features in many travel reviews — specifically American Tourister luggage reviews — is durability.
No one wants to spend their hard-earned money on something that won't last (especially in this economic climate – but that's a rant for another time).
Thankfully, that shouldn't be a concern here. American Tourister used polypropylene to carefully craft the exterior of the Soundbox 67. This type of plastic is not only lightweight but also tough and durable.
In fact, it's so strong that it's the second-strongest plastic (following polycarbonate).
That's what distinguishes the American Tourister Soundbox luggage; it provides the best of both worlds (while travelling around the world). They are lighter than polycarbonate luggage and stronger than ABS (acrylonitrile-butadiene-styrene) luggage .
Polypropylene also has good impact strength, making it less likely to sustain severe damage after airport personnel handle it or fellow passengers knocking it over the years.
Speaking of years, the American Tourister comes with a limited 3-year global warranty. This is not unusual for a suitcase at this price.
Their warranty exclusions are quite expansive, so I recommend visiting their website and giving it a thorough read.
I will say though that it excludes a number of events, from misuse to normal wear and tear, and transport damage (by airlines, for example). So, even if an airline employee (through no fault of your own) damages your brand new suitcase, American Tourister will not cover the damage. Annoying.
Don't lose hope, though, because you can submit a Repair Request to American Tourister at any time and inquire about replacement parts, if necessary.
Interior and Internal Space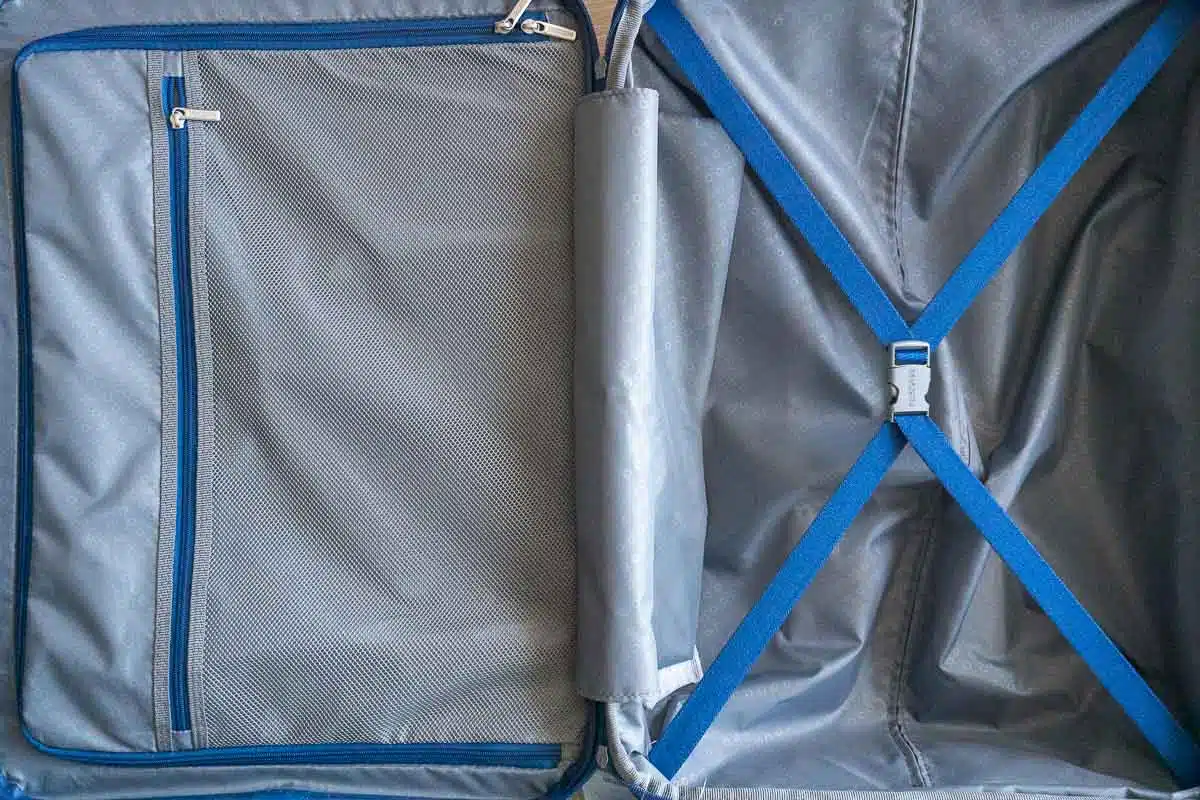 The American Tourister Soundbox 67 has great interior details. Its criss-cross clips do an excellent job of keeping luggage flat, which we know is a struggle frequent travellers face.
Plus, its zipped compartments help to separate out smaller things like swimming costumes and small toiletry items.
Having said that, I must add that I was a bit let down by its interior lining.
Don't get me wrong: this isn't as expensive as its counterparts, so it's understandable that you get what you pay for. But its interior lining does look a little cheap (then again, who's going to see it?).
Besides this slight hiccup, I think you'll appreciate how nifty its compartments are.
Its top compartment is great for storing loose items and keeping them secure with a zip. In contrast, the lower compartment can keep your tops and jeans in place with its criss-cross clips.
Top Tip: If you'd like to keep your American Tourister Soundbox Spinner more organised, try out these top packing cubes.
Apart from tossing items — admit it, you do it — into your luggage and keeping things organised, what about adding more items?
Well, the American Tourister Soundbox 67 has plenty of internal space to fit whatever you throw in it.
This suitcase expands an additional 3 cm to provide you with much-needed luggage space. It may not appear to be much, but it adds 9.5 litres to the volume. With a little strategic folding here and there, you can fit in a few extra pieces of clothing.
As I've already touched upon, the American Tourister Soundbox is available in two other setups. These are the cabin-friendly Soundbox 55 (small) and the deluxe Soundbox 77 (large).
The American Tourister Soundbox 67 is the ideal combination of space and portability. Now, it can cut into your total baggage allowance. It weighs 3.4 kgs, which is more than soft-shell luggage, so you may want to keep this in mind.
Wheels and Accessories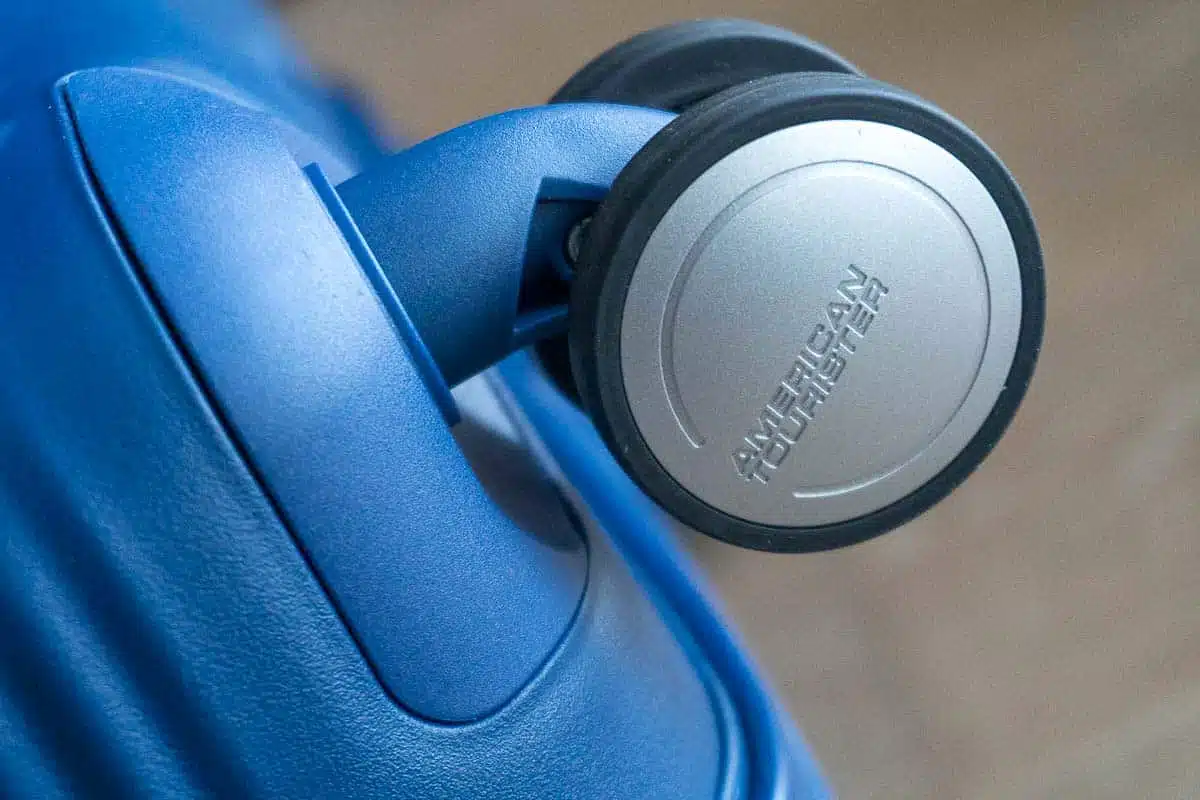 Now, I must say you'll feel like a kid wheeling this bag around on your journey. Its super-smooth wheels make it really easy to get around with.
You can rotate its four wheels 360 degrees and make no noise when sliding in any direction.
With these four wheels, you'll be effortlessly gliding the airport like an Olympic skater. This is a welcome change from lugging or awkwardly dragging those squeaky wheels that nearly every traveller has encountered.
While the case is a dream on smooth surfaces, the handle felt a little wobbly out of the box — haven't had any problems so far though.
Design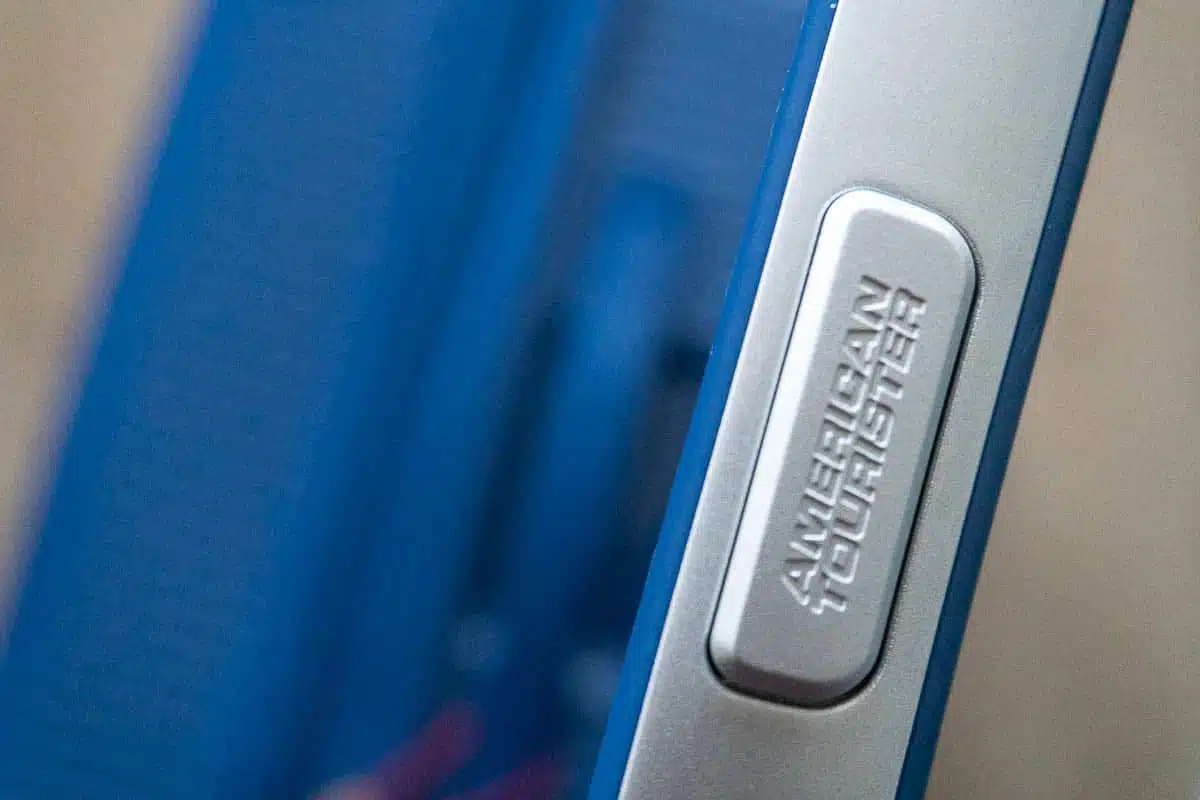 This American Tourister luggage review wouldn't mean much if I didn't highlight its fabulous design.
American Tourister won the 2017 Red Dot Design Award for its Soundbox range, giving it the ultimate stamp of approval for innovative design.
This isn't in the least bit surprising as Soundbox 67 features an attention-grabbing groovy, circular retro vinyl-like design not seen elsewhere. This sonically inspired piece of luggage also features a fixed TSA lock for extra security.
This way, only you and a TSA agent will be able to unlock your luggage. The benefit of a TSA lock is that should an agent pick your bag for inspection, they won't cut its lock and discard it, as is the case of a suitcase without a TSA-accepted lock.
American Tourister Soundbox Technical Details
Now, I'm well aware that the focus of this review is the American Tourister Soundbox 67. But I've prepared a little something for those of you who may want smaller or larger sizes.
Currently, there are four American Tourister Soundbox suitcases you can choose from. To help you narrow down your options for the most suitable one, I've compiled a table with key specs for each size.
Top Tip: The Soundbox range provides extra security with a fixed three-digit recessed TSA lock.
| | | | | | | | |
| --- | --- | --- | --- | --- | --- | --- | --- |
| Sizes | Dimensions | Expanded dimensions | Volume | Colours | Weight | Materials | Warranty |
| Small (55 cm) | H = 55 cm.W = 40 cm.D = 20 cm. | H = 55 cm.W = 40 cm.D = 23 cm. | 35.5–41 L | Black (Bass Black), Blue (Midnight Navy), Cantaloupe, Green (Jade Green), Magenta, Poolside Blue, Red (Coral Red), Spring Green, Yellow (Golden Yellow) | 2.6 kg | Polypropylene | 3-year warranty |
| Medium (67 cm) | H = 67 cm. W = 46.5 cm. D = 29 cm. | H = 67 cm. W = 46.5 cm. D = 32 cm. | 71.5–81 L | Black (Bass Black), Blue (Midnight Navy), Cantaloupe, Green (Jade Green), Magenta, Poolside Blue, Red (Coral Red), Spring Green, Yellow (Golden Yellow) | 3.7 kg | Polypropylene | 3-year warranty |
| Large (77 cm) | H = 77 cm.W = 51.5 cm.D = 29.5 cm. | H = 77 cm.W = 51.5 cm.D = 32.5 cm. | 97–110 L | Black (Bass Black), Blue (Midnight Navy), Cantaloupe, Green (Jade Green), Magenta, Poolside Blue, Red (Coral Red), Spring Green, Yellow (Golden Yellow) | 4.2 kg | Polypropylene | 3-year warranty |
Practical Tips for Using American Tourister Luggage
If you've decided on a lighter-coloured suitcase and want to keep it clean, consider buying a luggage cover to keep it clean when checking in. That said, cleaning the polypropylene hard shell is a breeze. When you get home, simply grab a cloth and wipe it with warm, soapy water.
I strongly advise that if you don't require the spacious medium-sized Soundbox 67, consider the smaller Soundbox 55. It's small enough to fit in the cabin and less likely to get dirty.
To set a personalised combination on your TSA lock, remember to follow the instructions with your bag. To unlock your luggage, roll the three dials from left to right until your combination appears.
Final Review: So Should You Buy an American Tourister Soundbox Suitcase?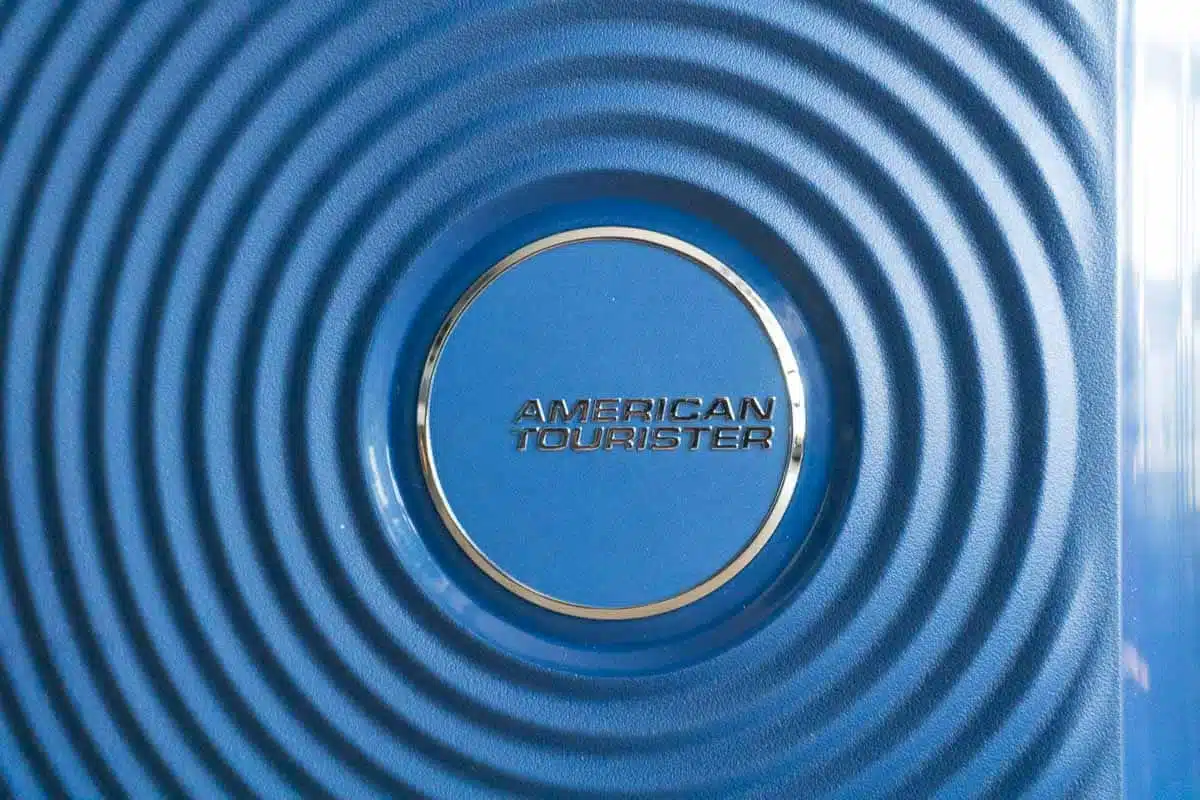 I've tried plenty of luggage out in my time as a travel writer, but the American Tourister Soundbox 67 is a piece of luggage I really like.
The suitcase's vibrant colours, sturdy construction, and innovative features work to the bag's advantage, making it appropriate for various vacations and excursions. If you are looking for new luggage, you should consider purchasing this suitcase.
Thankfully, it's more affordable than its competitors. There is no sacrifice regarding the product's dependability, eye-catching design, or lasting quality. American Tourister has equipped the Soundbox 67 with every feature necessary for you to rely on it as your primary piece of travel luggage.

American Tourister Luggage Review: Read Next