Planning to purchase a pair of Rothy's shoes? Read this in-depth review before you do.
As a traveler, I'm super picky about my shoes, and for that reason I research reviews like CRAZY before I make a purchase. When I was searching for a new pair of travel-friendly flats, Rothy's shoes kept coming up over and over. Every Rothy's review I read was glowing…but I didn't know if they would hold up for a frequent traveler like me.
But wait, let's back up. When I first heard about Rothy's, I was instantly intrigued. half Cute, sustainable, machine washable shoes made of recycled plastic? You've got my attention. The more I learned about Rothy's shoes, the more in line I felt like they were with my values and personal style.
Finally, despite the initial sticker shock of the $145 price tag, I decided to take the plunge and order myself a pair of Rothy's to try out on the road.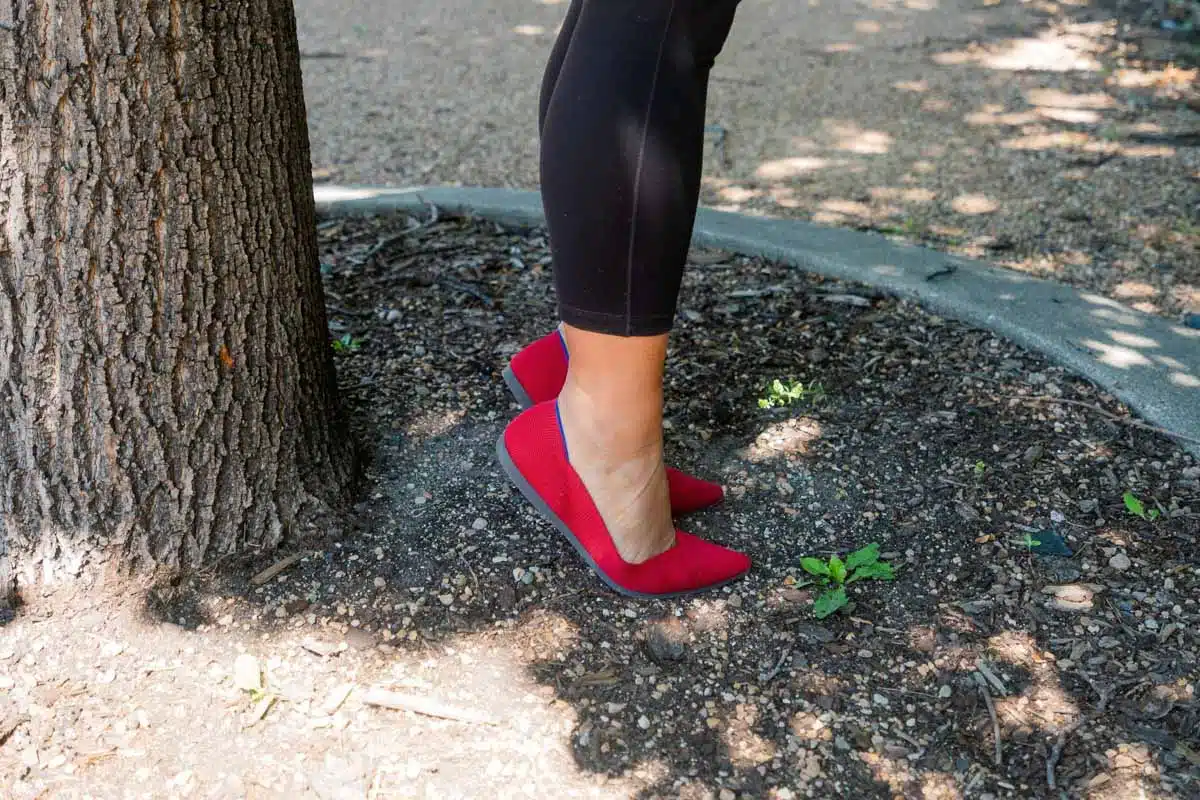 A ton of my friends saw me wandering around in my Rothy's and asked me time and time again what I thought about them. In fact, if you've landed on this page, you've probably thought about buying a pair yourself.
I put together this Rothy's review to help you determine whether Rothy's are worth the price, and if they're really durable enough to use as a travel shoe. I used my last pair of flats on easy day hikes and for walking miles and miles in new cities, and I decided to test my Rothy's in the exact same way.
Note: I paid full price for my Rothy's Flats and did not receive any kind of compensation for writing this Rothy's review. Therefore, I've decided to be as brutally honest as I can here to help YOU make informed buying decisions. You're welcome! 🙂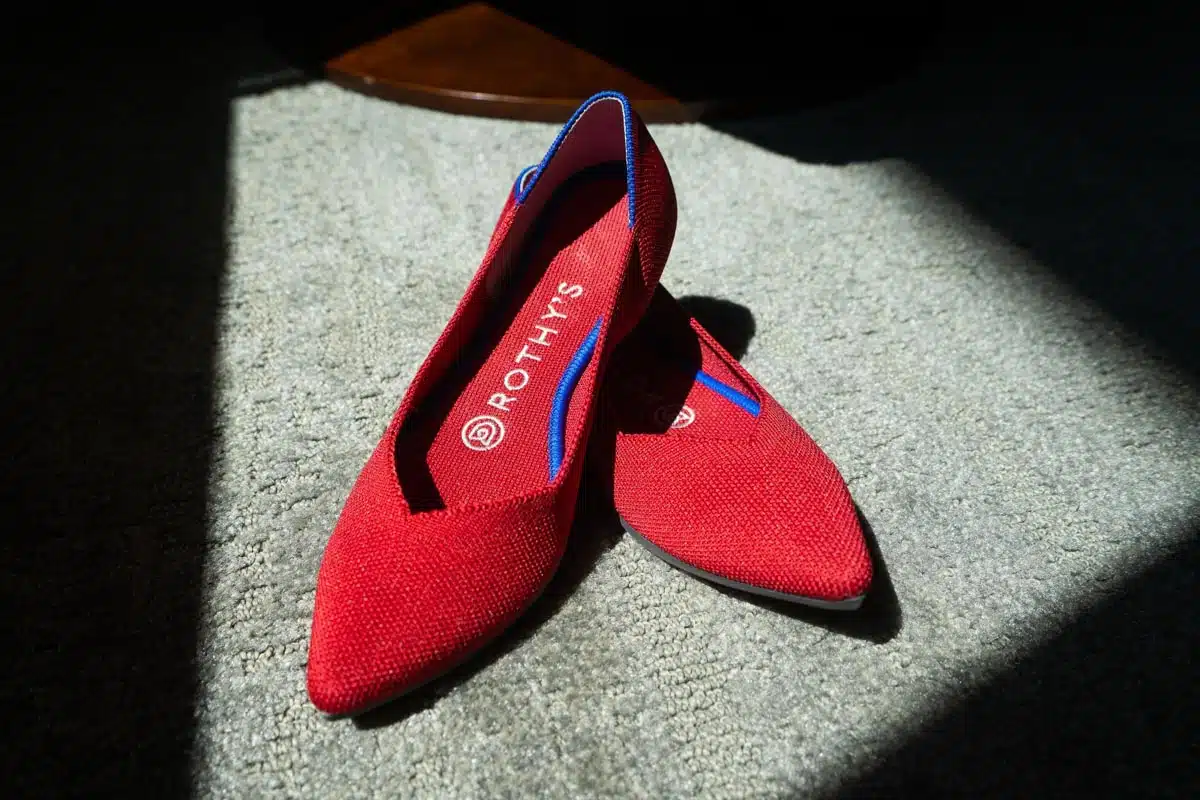 What are Rothy's Shoes?
If you haven't heard, Rothy's are a brand of flats that are made entirely of recycled or sustainable materials. Rothy's shoes come in four different styles and all include fabric made from recycled plastic bottles and other sustainably-sourced materials.
Needless to say, being sustainable, recycled, comfortable, and travel-friendly, Rothy's caught my eye immediately.
According to Rothy's website's About page, "comfort and versatility coexist in the first sustainable shoe as stylish as it is comfortable." The website also states, "Women needed a stylish, comfortable, sustainable shoe they could wear all day every day, no matter where their busy lives took them." Preach, sister!
But would Rothy's shoes actually live up to this very lofty description?
While I did read a few Rothy's reviews here and there before buying, none of the ones I found were by travelers, or people who seemed to wear out shoes at lightning speed like I do.
Since I travel frequently, I am ROUGH AF with my shoes. A list of tips from a fashion blogger on how to buy cute Rothy's shoes really doesn't cut it for me when my plan is to wear them around the world on gravel roads, cobblestone streets, while sprinting between gates in airports, and gallivanting on city sidewalks for miles and miles.
So, for all of you ladies out there looking for an honest, to-the-point Rothy's review as a frequent traveler, buckle up because I'm about to give you ALL of my no-BS opinions.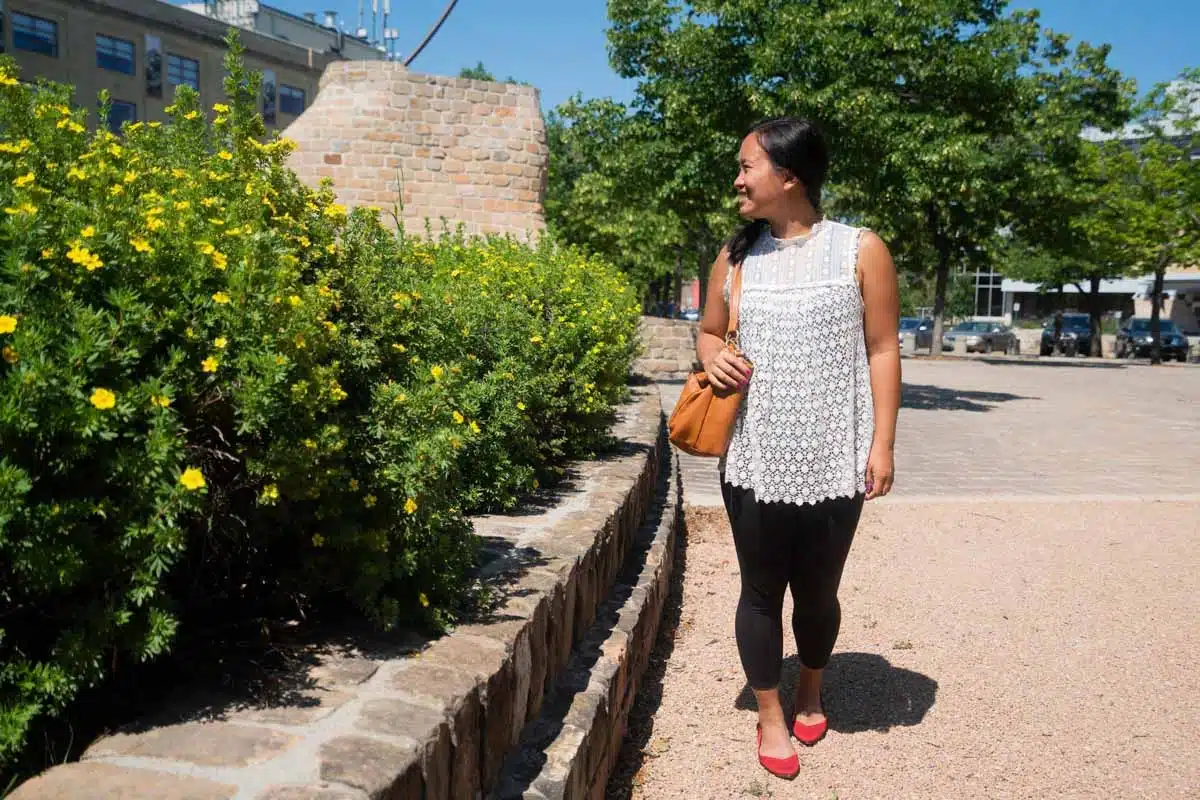 The Rothy's Buying Process
Let me just set this straight: Rothy's are not cheap. At $145 a pair, they're one of the most expensive pairs of shoes I own. But, given the amount of time I spent in my last pair of travel flats (RIP, $16 beige Target flats), I knew that this would be a purchase that would pay itself off after hundreds of hours of use.
There are currently four kinds of styles that Rothy's shoes come in:
Because I was spending a LOT more on these shoes that I'm used to, I knew I wanted to order a bright and bold pair. I settled on a pair of Rothy's Chili Red Points in size 6, which is my normal shoe size.
Although I had read that Rothy's Points run small, I wanted to first order my typical size to see if that advice was true (for the sake of this investigative Rothy's review, of course!). After picking out my style, I ordered my Rothy's online and got free shipping with my order.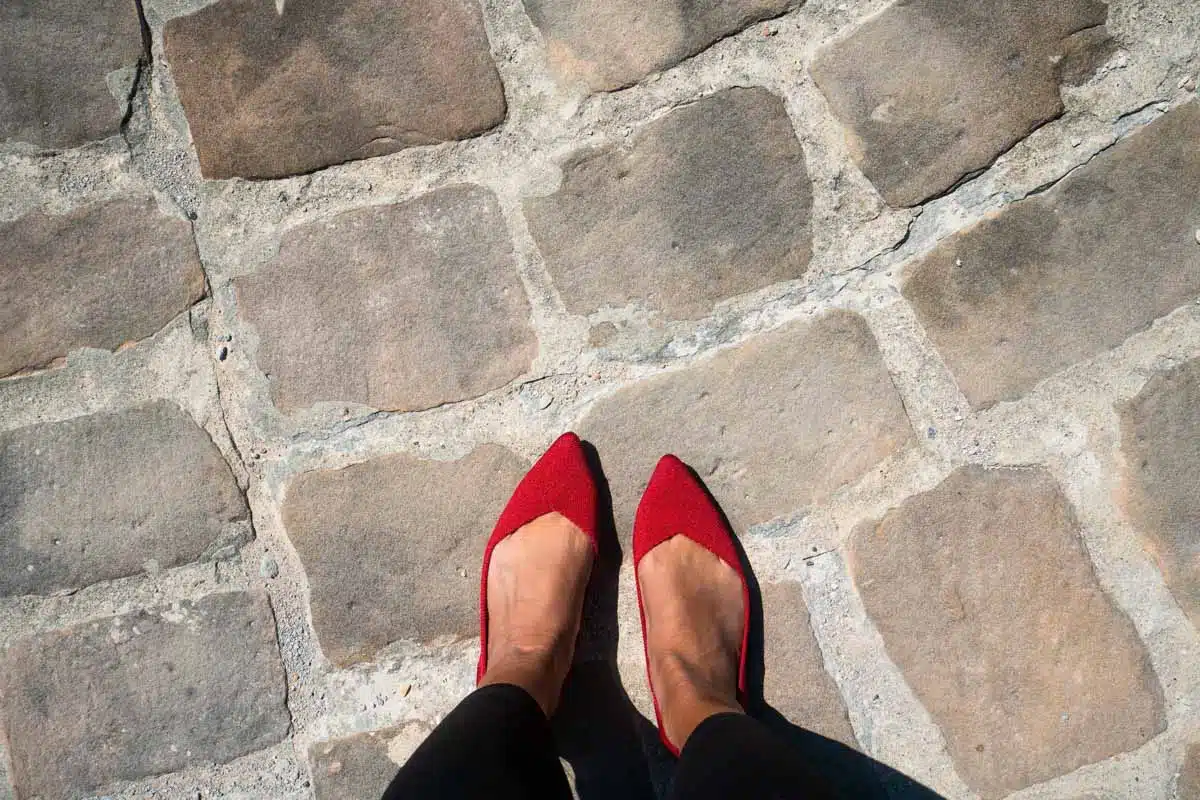 Unboxing My Rothy's Shoes: First Impressions
After about 5 business days, my Rothy's arrived in the mail in a small cardboard mailer. Upon opening them, I was so excited to see the exact bold, crimson red that I had ordered, basically "on point" (haha, get it?) with what I expected from the photos online. Basically, they are beautiful and from the moment I opened the box, I loved how they looked.
Size-wise, my size 6 purchase fit perfectly. I didn't find them to be too small or crunch my toes (unlike many, many pairs of pointed flats I've tried on!). I've read several reviews saying that Rothy's Points do run small, but I didn't find that in my own experience.
I slipped them onto my feet and walked a few steps around my apartment. At first, I was skeptical about the plastic material, but after the first few steps, I loved how breathable and soft it felt on my feet. The material is cool and light, and supports my foot in a way that's not overbearing or suffocating. The soles are quite flexible and bend with my foot, which I appreciate over rigid, tough shoes.
During the rest of the week, I wore my Rothy's walking to and from work in Chicago summer, and I continued to love how flexible, comfortable, and light they felt on my feet.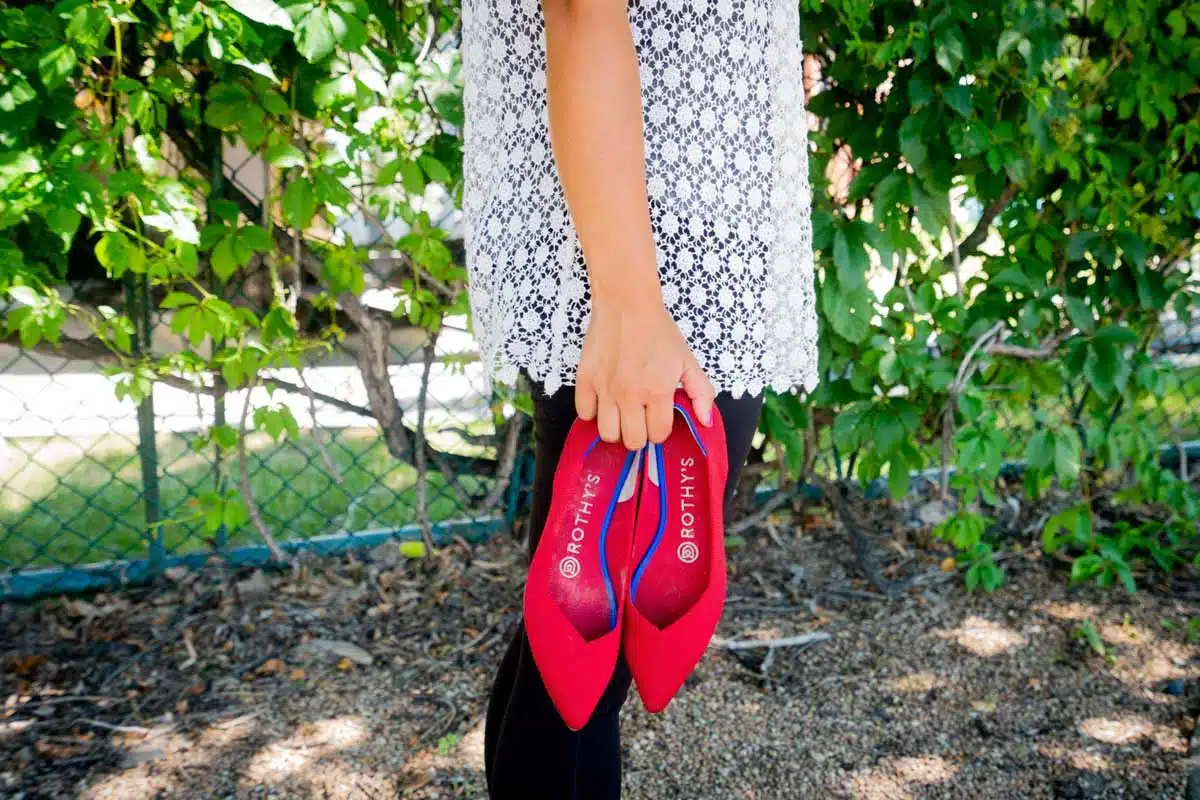 A Rothy's Review on the Road: What About Rothy's As a Travel Shoe?
I knew that the contained environments of my apartment and the 10 minute walk to work aren't really representative of a real travel situation, so I took my Rothy's for a spin on a trip to Winnipeg. Throughout the trip, I'd be walking on a variety of terrain, as well as driving quite a bit, which felt like a great opportunity to truly test out my flats and make this Rothy's shoes review as accurate as possible.
During my trip, I walked on all kinds gravel pathways, cobblestone streets, sidewalks, and rocky waterfronts. I spent two days wandering and biking around the city, two days dancing at a music festival, and another day driving and exploring the rocky lakeside.
Through it all, my Rothy's held up perfectly fine! Moreover, I didn't get a single blister or callous from my Rothy's, even though they were new. They took virtually zero time to break in!
On the hot days, I was so thankful that the material was breathable and light. The plastic also didn't hold onto unsavory foot smells like flats can often tend to do.
When I arrived back home from my trip, I threw my Rothy's into the washing machine. (Yes, the website does claim they are machine washable, so I had to test that too!) Yup, I simply removed the insoles and placed them in my machine, on delicate cycle in tap cold water.
They came out looking exactly like they did after I took them out of the original packaging. After washing, I set them on the balcony to dry for a few hours, they were ready to wear around town once again.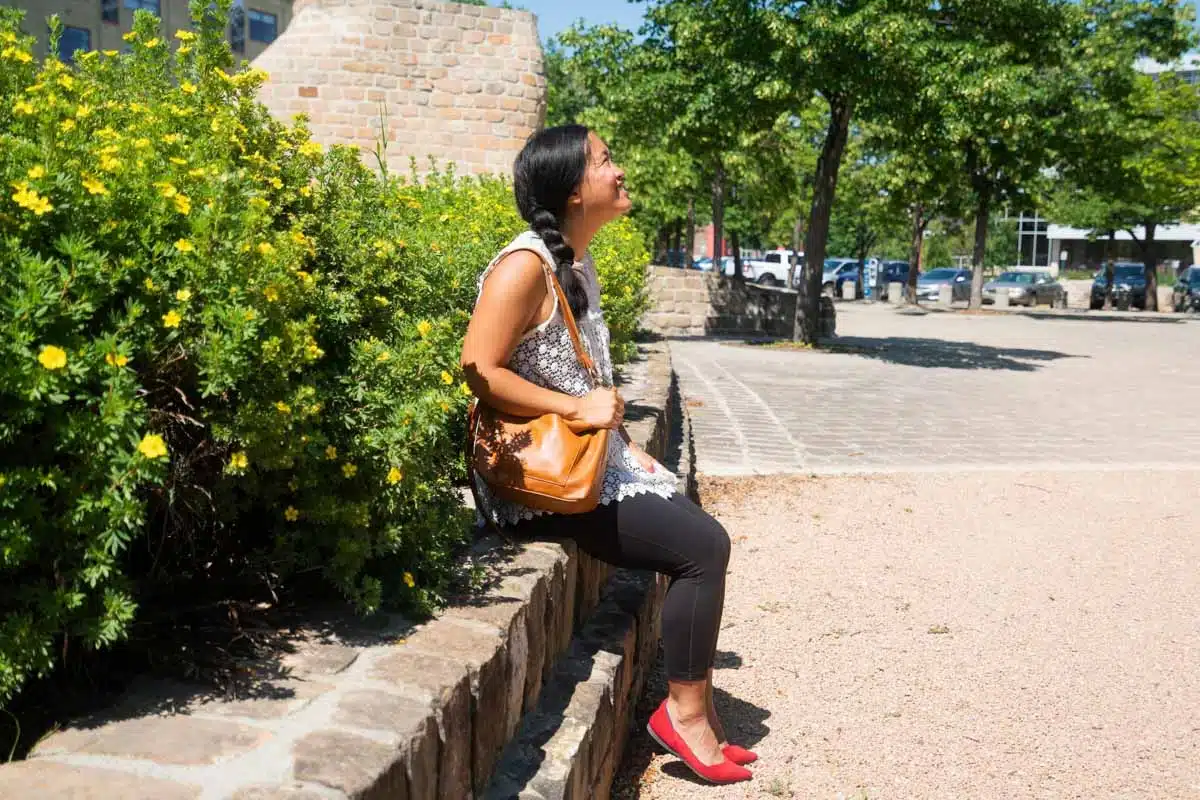 So, Are Rothy's Worth It For Travelers?
If you're wondering at this point whether I recommend Rothy's as a travel shoe, I'd say 100% yes. Sure, they're pricey, but given how much I plan to wear them, I fully believe Rothy's are worth the price.
Rothy's are everything I have ever wanted in a travel flat. They feel lightweight, comfortable, and durable – three characteristics I look for in any pair of shoes, travel or not. They're easy to pack and you can wash them in a machine without worrying about whether they'll fall apart. Also, they're super cute and come in lots of fun colors!
On top of being a functional and fashionable travel shoe, Rothy's are also sustainably-produced and made largely out of recycled plastic bottles. They're 100% vegan (in case that's important to you) and utilize carbon-free and environmentally-friendly materials otherwise.
Honestly, I had trouble finding anything wrong with my Rothy's (although I've got a few cons listed later in this post!). I'm extremely happy with my purchase, and this is coming from someone whose last travel flats cost $16 and were made out of faux leather.
Click here to view all styles and buy your perfect pair of Rothy's
Rothy's Shoes Review: Frequently Asked Questions
How Do You Take Care of Rothy's? Can You Really Wash Rothy's?
Rothy's were actually made to be machine washable, and this marketing is no lie. I tossed these babies into the washing machine in tap cold water on a gentle cycle and they came out as good as new. Rothy's website even has a full article on how to wash and maintain your Rothy's, and from personal experience, it's all true!
One thing to note: be sure to wash your Rothy's in cold water and leave them in a sunny spot to air-dry when they're done. Do not dry them in the dryer or expose them to high heat of any kind; this can cause your Rothy's to get damaged or lose their shape.
What are the Cons of Rothy's?
While Rothy's are a fantastic travel shoe that I'd recommend to basically all of you, they're not perfect. Here are a few things I'd throw out there as cons about Rothy's: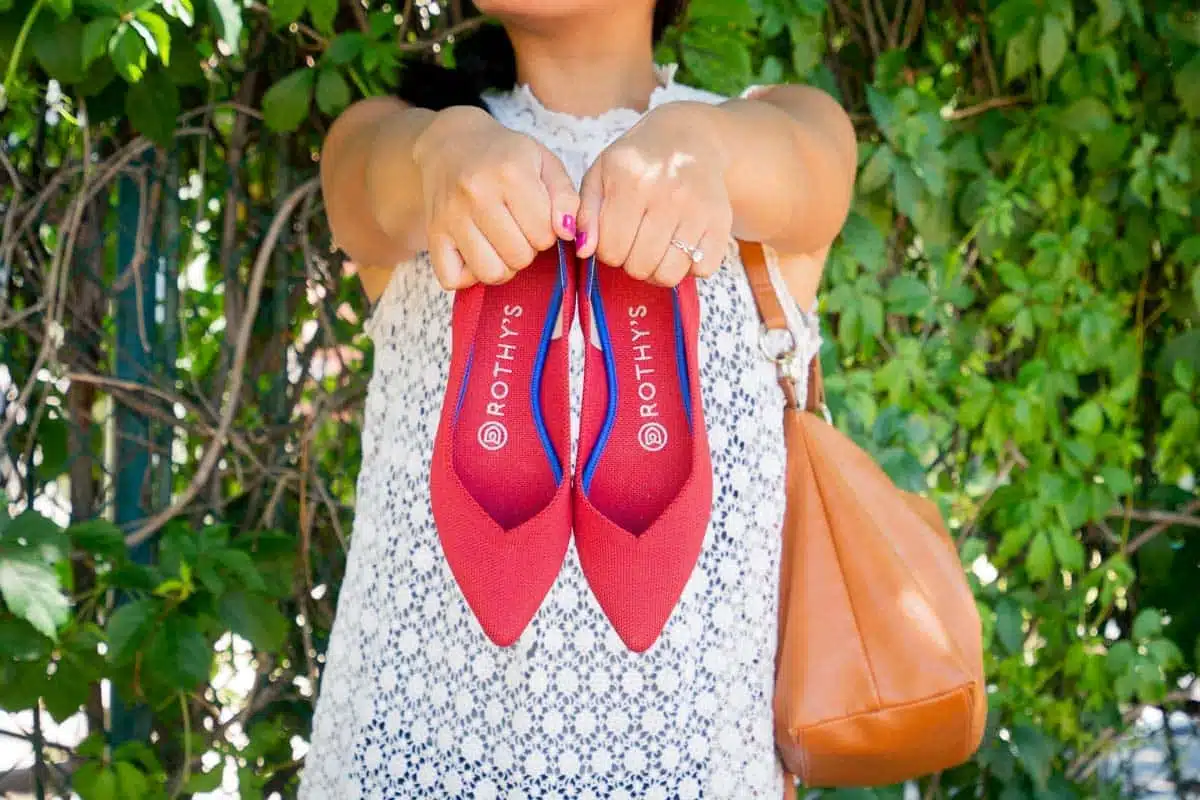 Where Can I Buy Rothy's?
Unlike some of their competitors, Rothy's shoes are available in a few different websites and stores. Here are just a few of the ways you can get your hands on a pair:
What Are Some Alternative Brands to Rothy's to Compare?
This wouldn't be an honest review if I told you that Rothy's are the only travel flat you should consider. There are a handful of other brands that make comparable shoes, and if you aren't 100% sold on Rothy's shoes, I'd recommend checking out some of these other options:
I hope this Rothy's review was helpful, and that you found yourself the perfect pair of Rothy's for your future travels.
Did you find this post helpful? Pin it for later!