Heading to the Amalfi Coast and looking for the best things to do in Sorrento? This pretty coastal town may be small, but there are many reasons to add this spot to your Italy travel itinerary.
This cliffside town of pastel-coloured facades has plenty of fun things to see and do. I've had the pleasure of visiting Sorrento a few times, each trip more magical than the last, and yet I'm still dreaming about my next visit.
Take it from me – after a few days in this charming town, you'll be dying to return.
There's something for everyone in this guide – whether you're a fan of art, a foodie, or keen on a bit of adventure.
Not sure where to stay on your getaway? Consider staying at the charming Il Roseto bed and breakfast, situated only eight minutes from Sorrento beach in Italy.
Top 5 Things to Do in Sorrento
Visit Marina Grande and Marina Piccola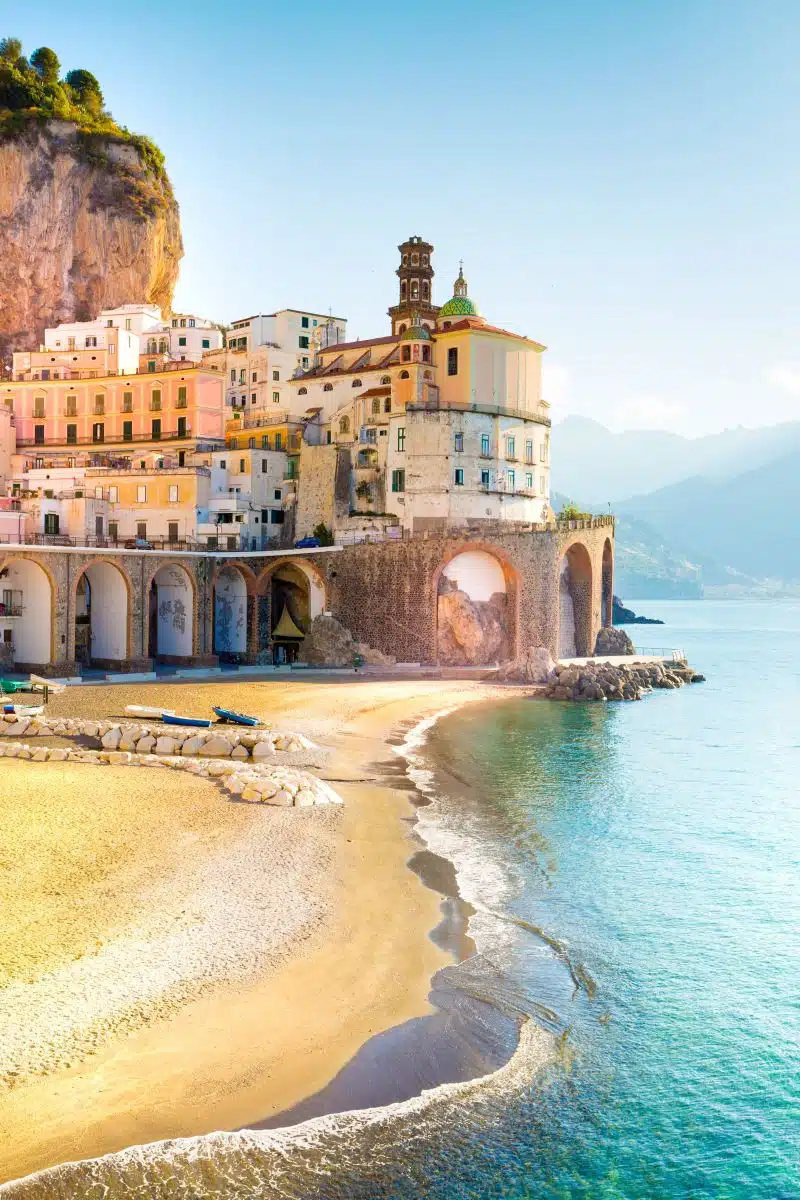 Despite its name, Marina Piccola (Small Marina) is actually larger and busier than Marina Grande. If you're looking to take a ferry to any surrounding islands, this marina will be your point of departure.
Marina Grande is a smaller marina with colourful buildings that house many family-run seafood trattories Stop by Trattoria da Emilia for hearty seafood gnocchi, or Bagni Delfino for a meal with a delicious view.
If you're looking for a free activity to do nearby, you can lounge about or take a dip at Spiaggia di Sorrento — one of the few beaches in the city.
Take a Cooking Class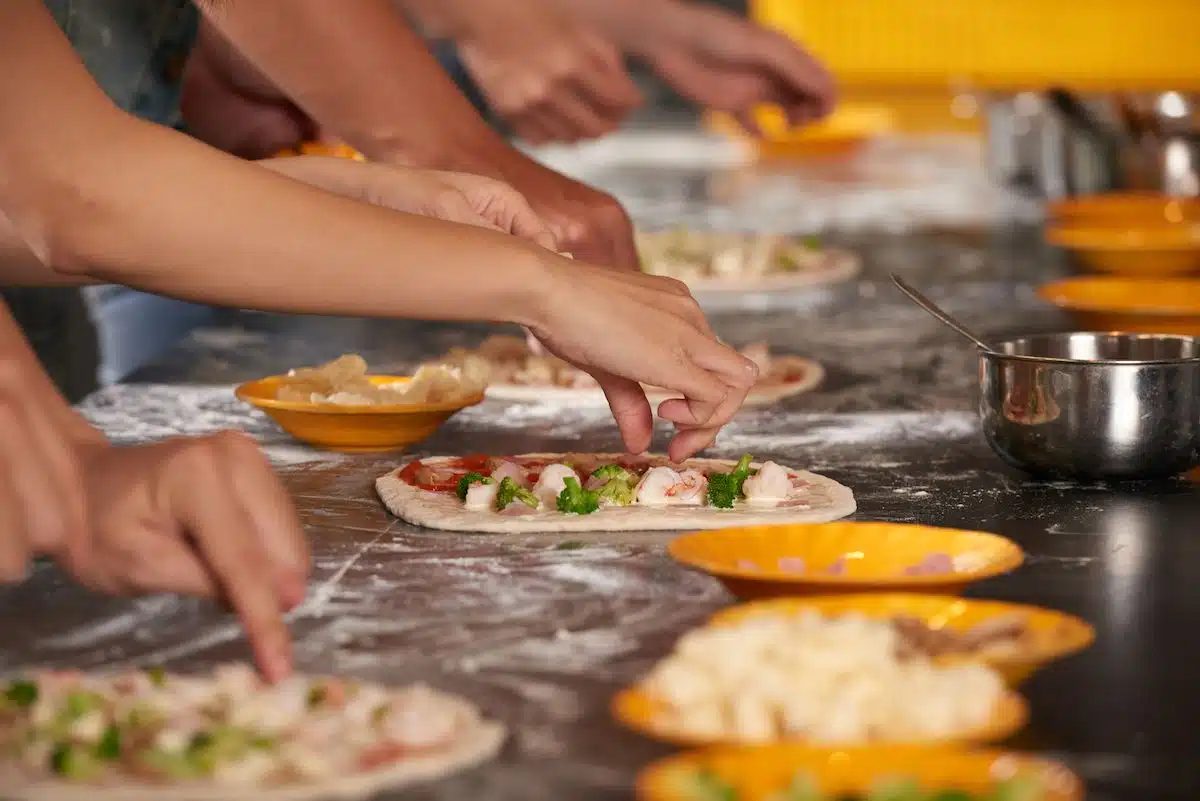 There's no doubt in my mind that Sorrento is as much a visual experience as it is a gastronomic one.
In fact, I would take a punt that there's no better way to get an authentic taste of the traditional Sorrento cuisine and culture than by preparing it yourself – under the watchful eye of Nonna, of course.
Take a cooking class to learn how to prepare authentic Sorrentine dishes from scratch and with the freshest ingredients. Delight in tasting each ingredient as you create an Italian pasta and a dessert. Free cocktails and tastings are often thrown in as well.
Or get hands-on experience learning to make the perfect Italian pizza from a proper pizzaiolo. These classes are typically 2 – 3 hours long and end by sitting down to enjoy the meal you've just made with your group and/or new friends.
Book Your Sorrento Cooking Class Here
Explore the Sorrento Coast by Kayak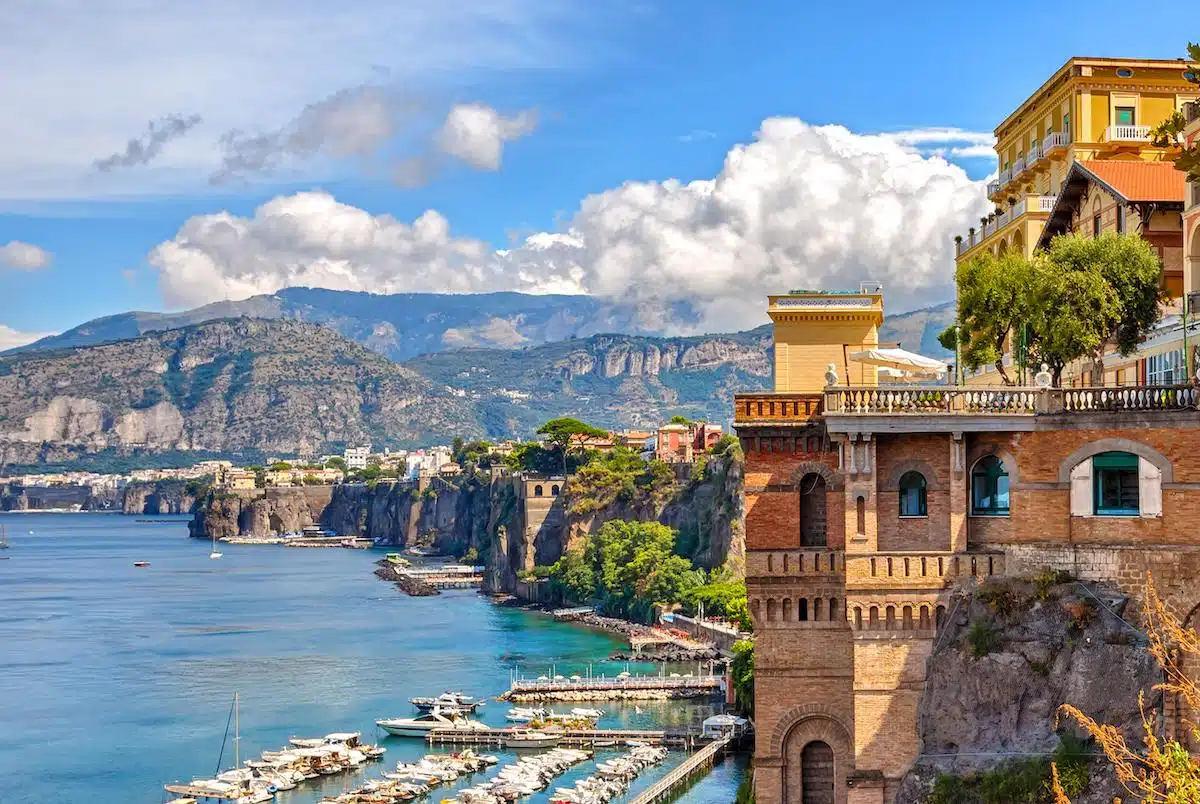 One of the more unusual things to do in Sorrento is to go kayaking along the coast. Depart from Marina Grande on a two-hour trip to Bagni della Regina Giovanna and the nearby Roman ruins.
Or, take a four-hour trip to Ieranto Bay — said to be the home of the tempting Sirens which Ulysses encountered. You'll view the city from a completely new perspective and get to peek at the ocean life while you're at it.
Stay at an Agriturismo
If Sorrento had veins, it would have lemon juice pumping through it. You'll find lemon-flavoured pasta, lemon gelato (my favourite), and limoncello served up all over the city. But Sorrento is also abundant in olive groves and has all sorts of other tasty local produce.
Of course, you'll find all of Sorrento's fresh yields served up in its restaurants and at food markets, but I urge you to experience a different side of Sorrento. Why not book your next stay at an agriturismo (farmhouse) and enjoy homey meals prepared with produce grown only a few steps away.
Day Tours from Sorrento Italy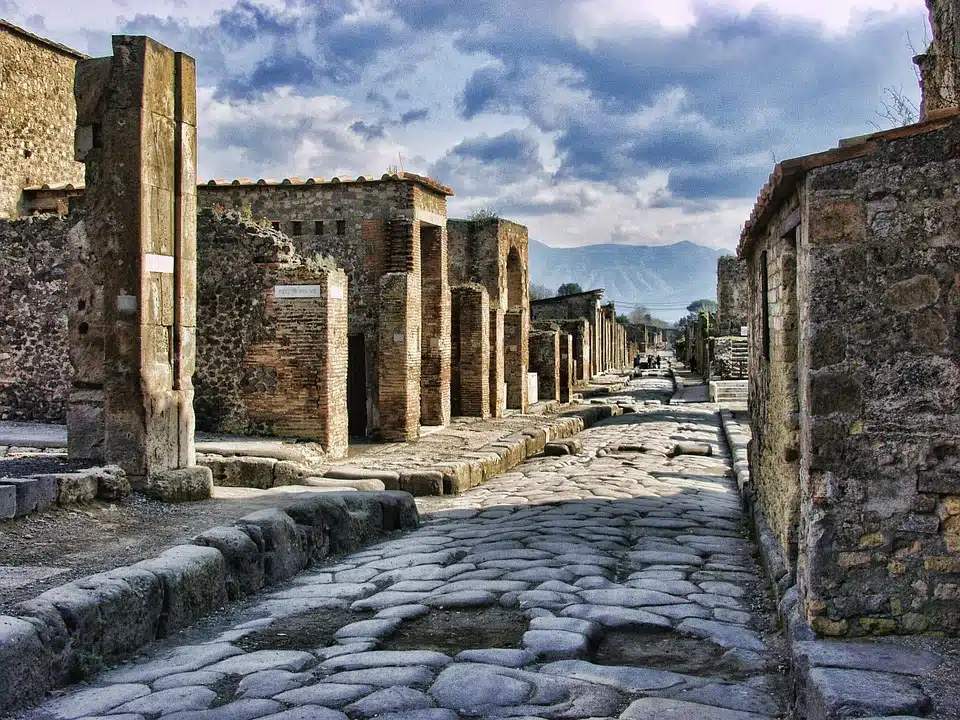 Sorrento also happens to be as conveniently located as it gets. This coastal city is near the Island of Capri, pretty Positano, and the famous Italian landmark, Pompeii. You would be a fool not to spend a day exploring the nearby towns and attractions.
Take an Amalfi coast day trip by boat and enjoy the scenic route, stopping through Positano before reaching the glorious town of Amalfi. Along the way, you'll have the chance to swim and snorkel in the sea — and sunbathe as you pass magnificent Italian islands and villages.
Or, go on a trip to Pompeii and enjoy a guided, in-depth tour of the city and Mount Vesuvius. Exploring this centuries-old archeological site with a guide means you won't miss any important sights. And the views of Naples from Mount Vesuvius are breathtaking.
Book Your Amalfi Coast Boat Trip
Brilliant Things to See & Do in Sorrento During the Day
Bathe in the Bagni della Regina Giovanna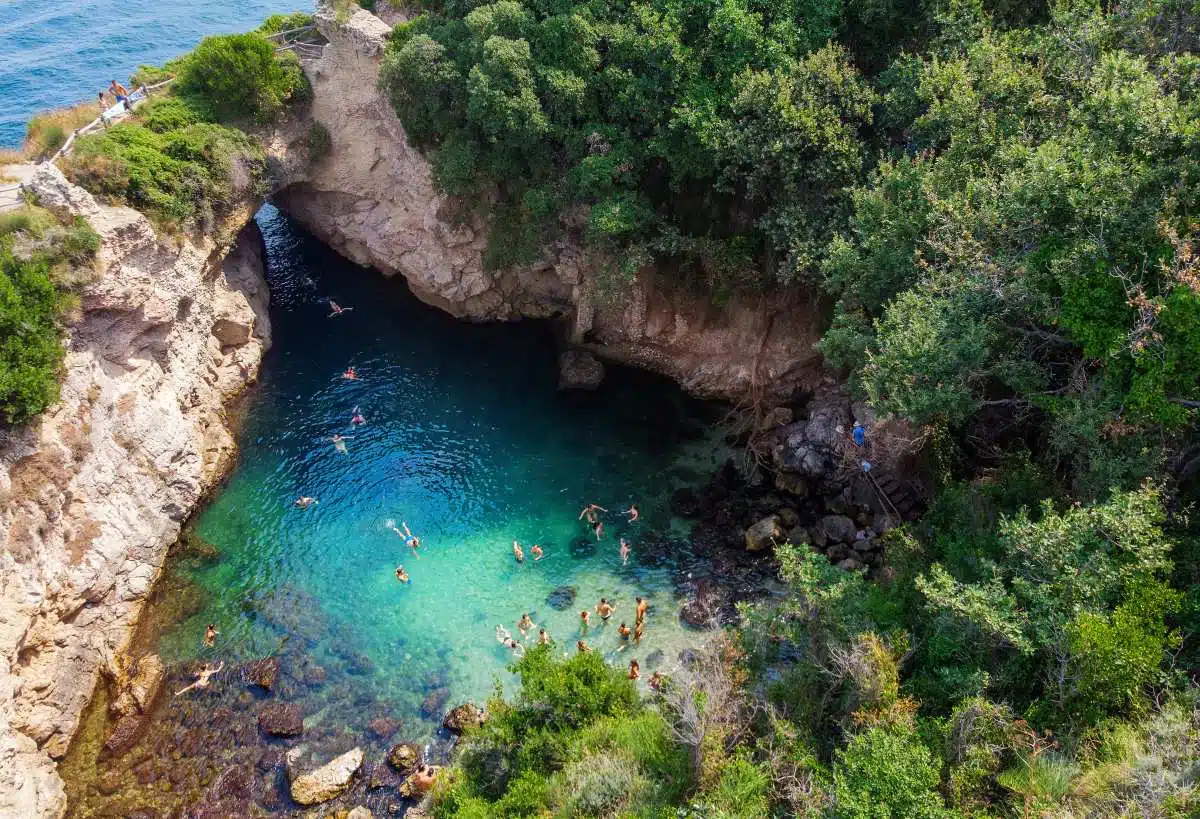 If you're wondering what to do in Sorrento in the summer, the Baths of Queen Giovanna are the perfect place to lounge about on the rocks, read a book and cool down. The clear turquoise waters, which flow in from the ocean, are the perfect tonic to a hot summer's day.
The queen of Naples allegedly used to entertain her lovers here. And, with rock and trees sheltering the pools, it's not hard to see why. Why not bring your own love interest here for a romantic picnic and bask in those Sorrento sunrays.
Admire the Correale di Terranova Museum
Once a summer home to the Correale family, this building is now a four-storey collection of beautiful creations.
The 24 rooms of this house contain displays of precious porcelain, antique clocks, archaeological finds, and arts and crafts pieces from various eras. There is also a dreamy garden, named Villa Della Rota, where visitors are invited to sit down and breathe in the beauty.
Marvel at the Cathedral of Saints Filippo and Giacomo of Sorrento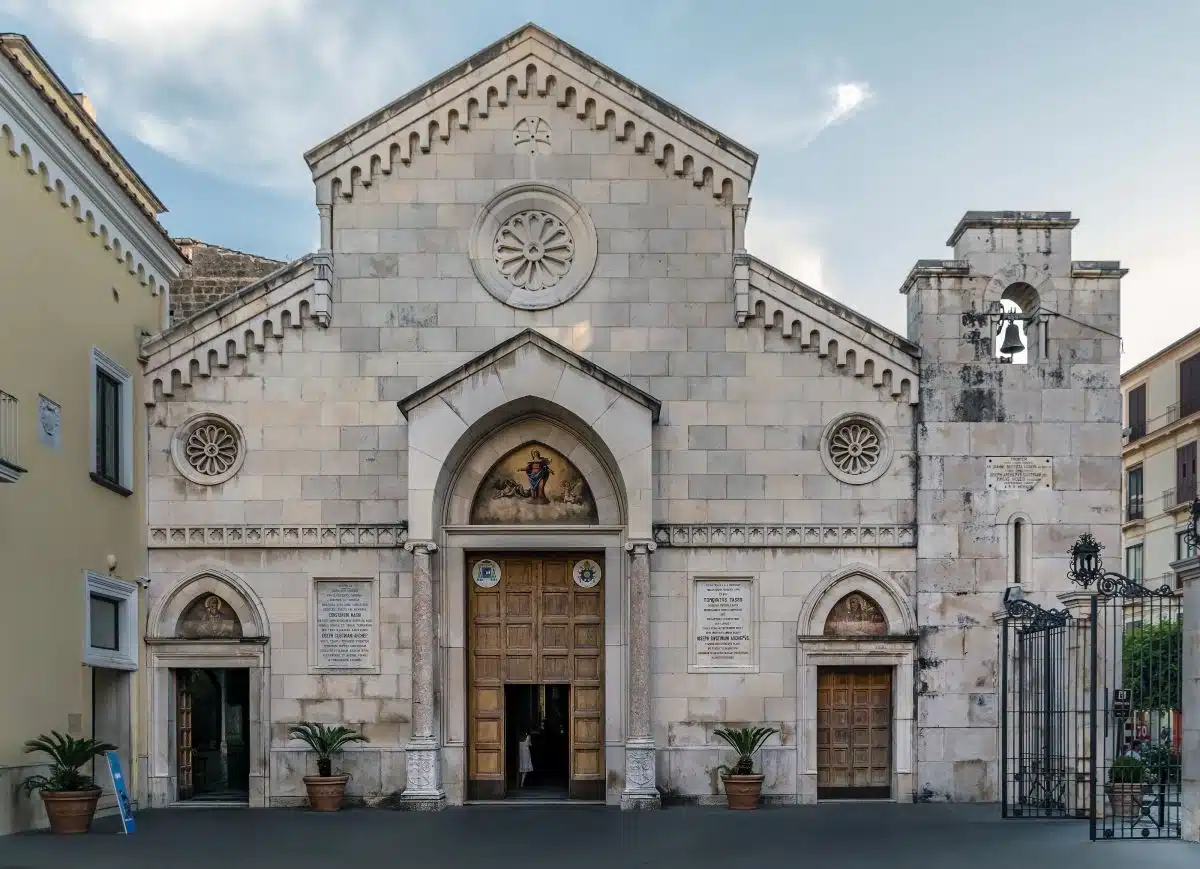 While this cathedral, otherwise known as Sorrento Cathedral, appears humble on the outside, you'll be the humbled one upon entry.
Having been rebuilt and redecorated throughout the centuries, this Roman Catholic cathedral is a treasure trove of baroque beauty.
Its high ceilings and walls boast ornate marquetry art — a long-standing traditional Sorrentine craft. If, like me, you're a fan of stunning architecture, this cathedral is well worth visiting.
Learn About Marquetry at the Bottega della Tarsia Lignea Museum
Staying on the topic of marquetry, Sorrento takes immense pride in this craft – and rightfully so. The Museo-Bottega della Tarsia Lignea houses some of the most exquisite examples of intarsio (inlay) furniture you'll ever come across.
This tomato-red palazzo showcases local works of marquetry dating back to the 19th century. But its collection has also evolved to include various paintings, photos and prints of general life in Sorrento from that period.
Go Shopping on Corso Italia Road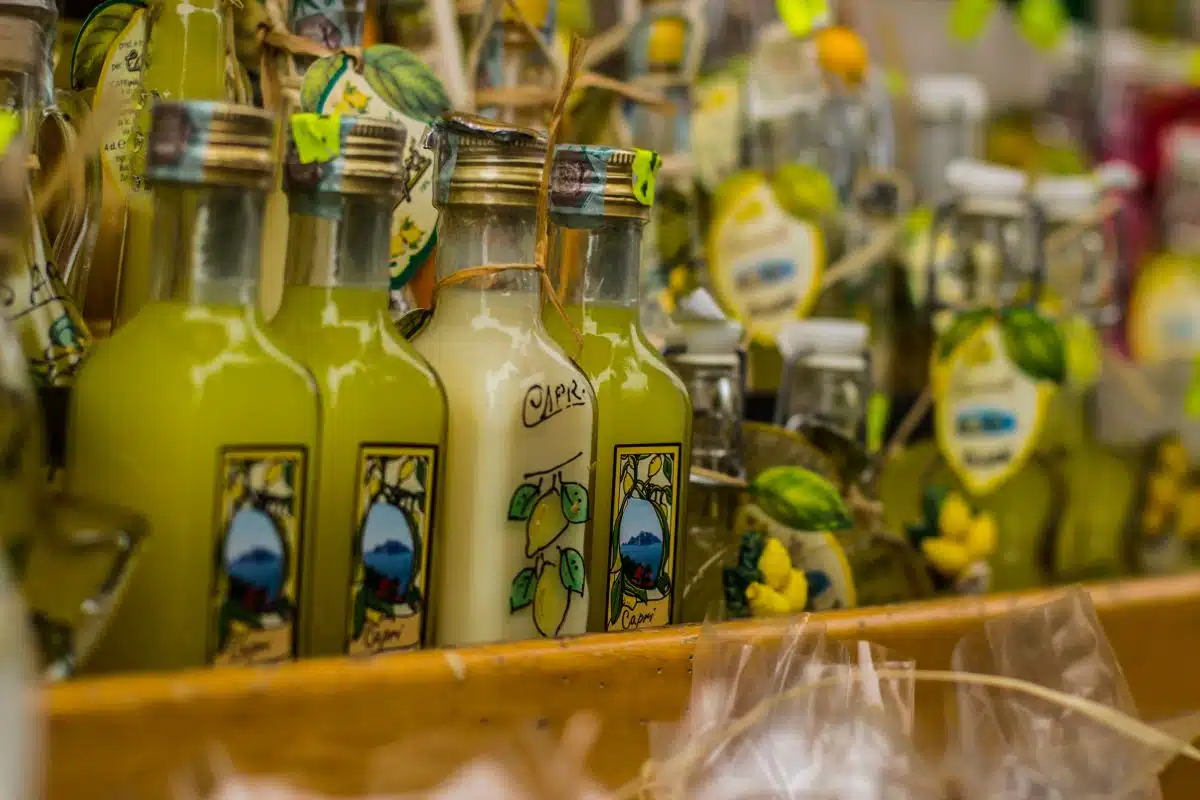 Whether you're looking to buy a bottle of limoncello (bring one back for me please) or even an ornate wood-inlay box as a memento, Corso Italia should be your first port of call. Crossing the Piazza Tasso, this road is ever-buzzing with local and visiting shoppers.
Treat yourself to a high-end shopping spree, or relax at one of the many bars and take in the beautiful sights and zesty scents surrounding you. Be sure to explore the laneways flowing out from this street to discover more treasures.
Explore Fondazione Sorrento
The local government founded the Fondazione Sorrento in an effort to further boost tourism – the main beautiful building, known as Villa Fiorentino, is a regular host to weddings located near Corsa Italia.
Pop by to see an ever-changing art exhibit for less than €10, or have a look at their website to find out about upcoming events.
Also, be sure to visit their permanent installation of enchanting music boxes on the second floor — gifted by a passionate ebonist, Enrico Salierno.
Admire Nature-covered Ruins at Il Vallone dei Mulini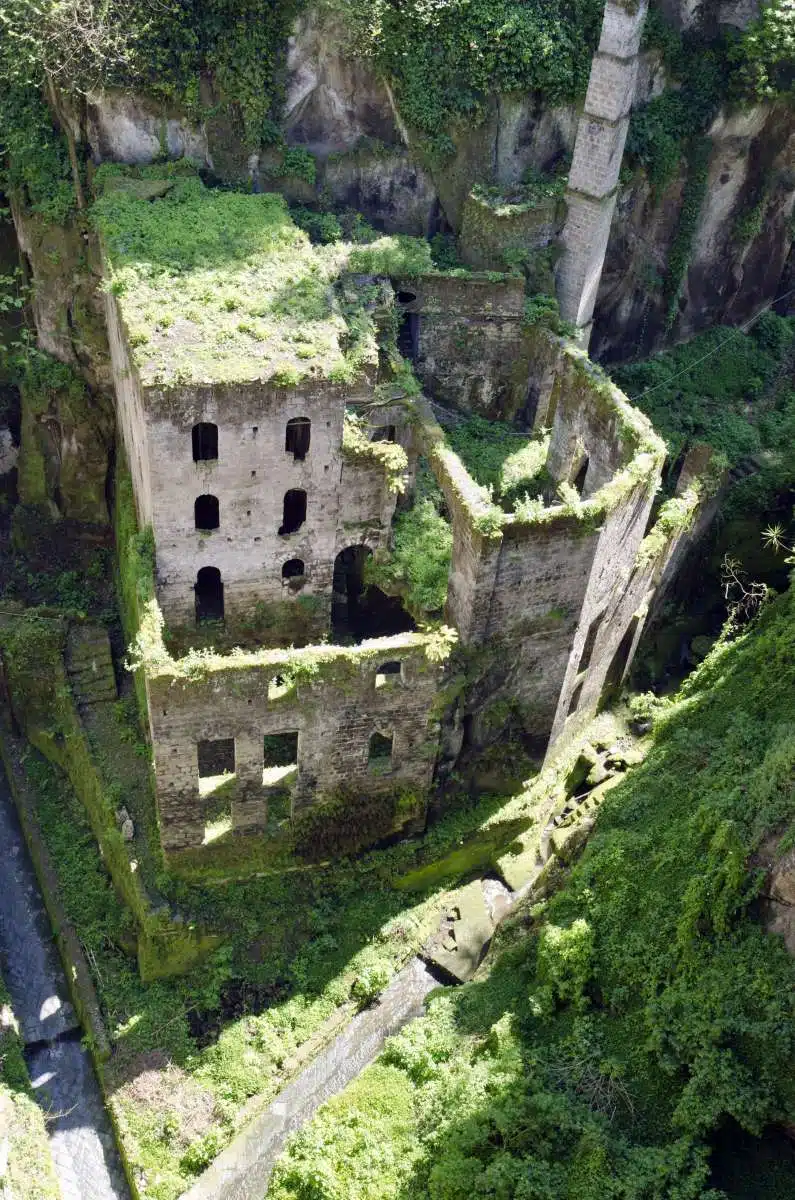 Behind the Piazza Tasso, you'll find the mystical "Valley of the Mills" – named this because it used to house wheat mills. This was once a thriving area, but a few disastrous urban planning changes led to the site losing access to the ocean and ventilation.
It is now a humid, uninhabitable valley — for humans anyway. In these ideal growing conditions, nature has taken it upon itself to adorn the ancient ruins. You can view and capture this greenwashed gorge from a viewing point behind Piazza Tasso.
Discover Sorrento's History in the Archeologico "George Vallet" Museum
Travel back in time to learn more about Sorrento's history – you can do this by heading over to The Territorial Archaeological Museum of the Sorrento Peninsula. The museum is home to various archaeological artefacts that date back more than 2,000 years.
The museum also shows the origin of the city of "Sorrentum", with a timeline of the region's past. It's an insightful collection of excavations that will leave you feeling even more connected to the Italian hotspot.
Cool Things to See & Do in Sorrento at Night
Wander Through Villa Comunale's Gardens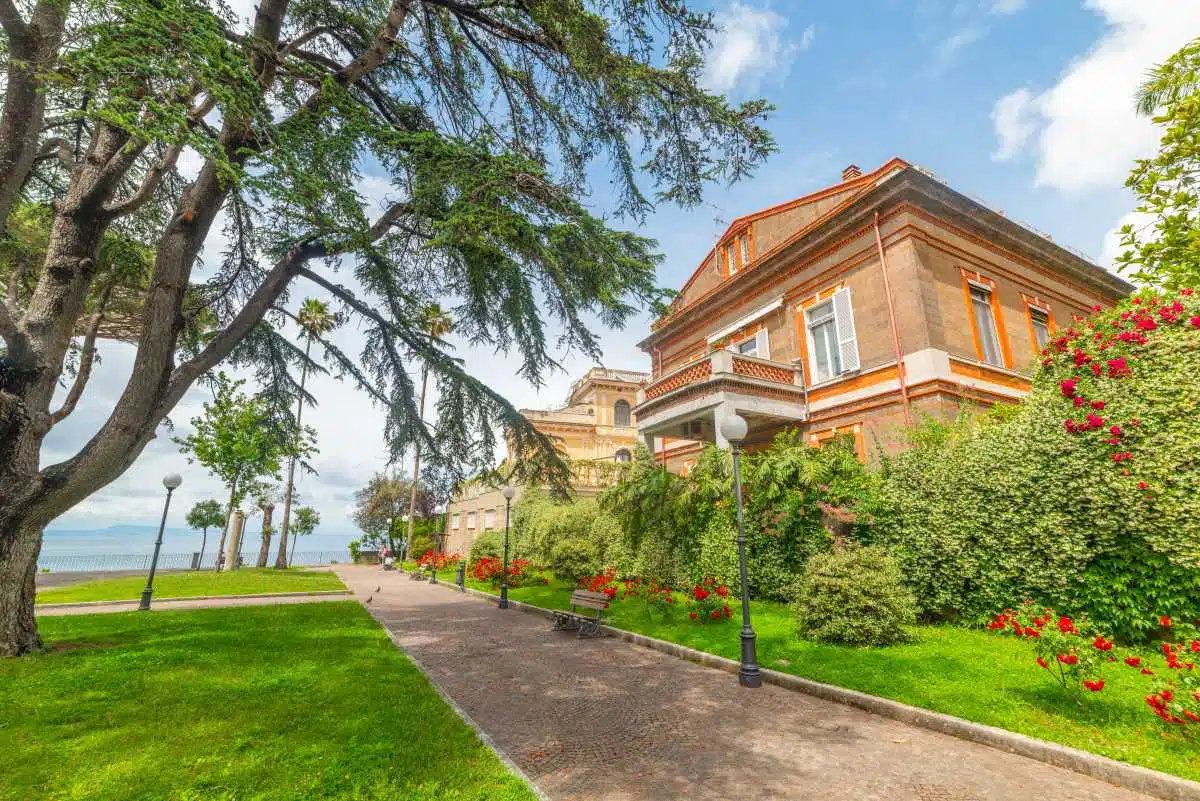 If you're looking for things to do in Sorrento at night, the Villa Comunale is the park to be. This is a popular spot for tourists and locals to take a walk or kick back and enjoy the views and fresh coastal air at sunset.
These perfectly manicured lawns often host concerts and are the perfect place to view the Gulf of Naples, Mount Vesuvius, and the islands dotting the horizon.
Piazza Tasso
Don't get me wrong; Piazza Tasso is well worth visiting during the day. But the atmosphere is entirely different and even more exciting at night.
As boring as it may sound, one of the main highlights is people watching – you'll spot families taking an evening passeggiata, couples enamoured with each other, and young adults hanging out.
Of course, it's rude to stare. So join the crowd with a stroll, or enjoy a drink at one of the surrounding bars.
Go Lemon Crazy on Via San Cesareo
While it's smaller, narrower, and much less fancy than Corsa Italia, Via San Cesareo does not lack zest or excitement.
This small shopping street is the spot if you're looking for anything lemon-related (soap, fridge magnets, liqueur). You'll also find spectacularly crafted products and may just hear some music while you shop.
Stop in at Gioielleria Onix House for jewellery, Mary Shop by De Martino for leather goods, and Sedil Dominova for a meal and a drink. While wandering the streets, keep an eye out for the Fontana Dello Schizzariello and the Chiesa dell'Addolorata.
Take a Passeggiata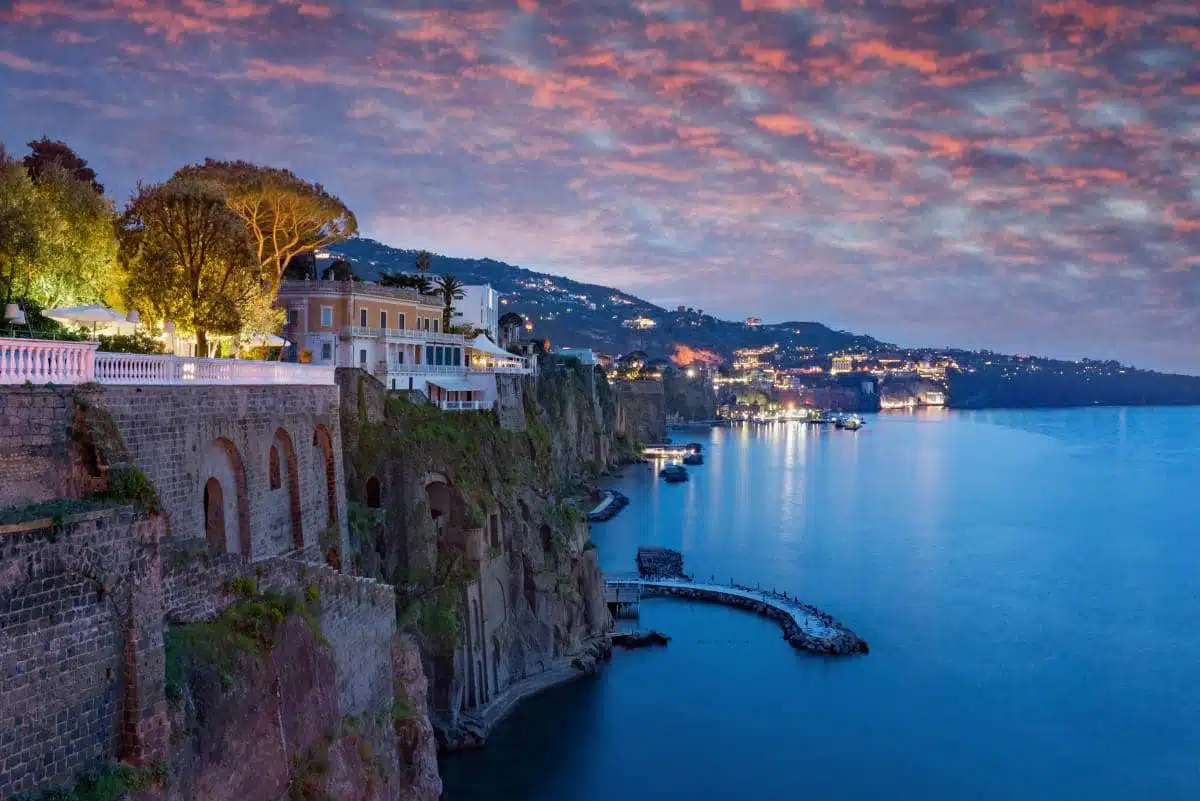 Although mentioned before, I've yet to stress the importance Italians place on the passeggiata. These evening strolls are enjoyed by one and all in Italy — and can be taken pretty much wherever you are.
This evening stroll is not only a great activity with the family but also an excellent opportunity for social interaction. And it's yet another fantastic free thing to do in Sorrento.
Enjoy the crisp air, moonlight, and relaxed atmosphere with a stroll along Corsa Italia, the marina, or wherever your heart takes you.
The Cloister of San Francesco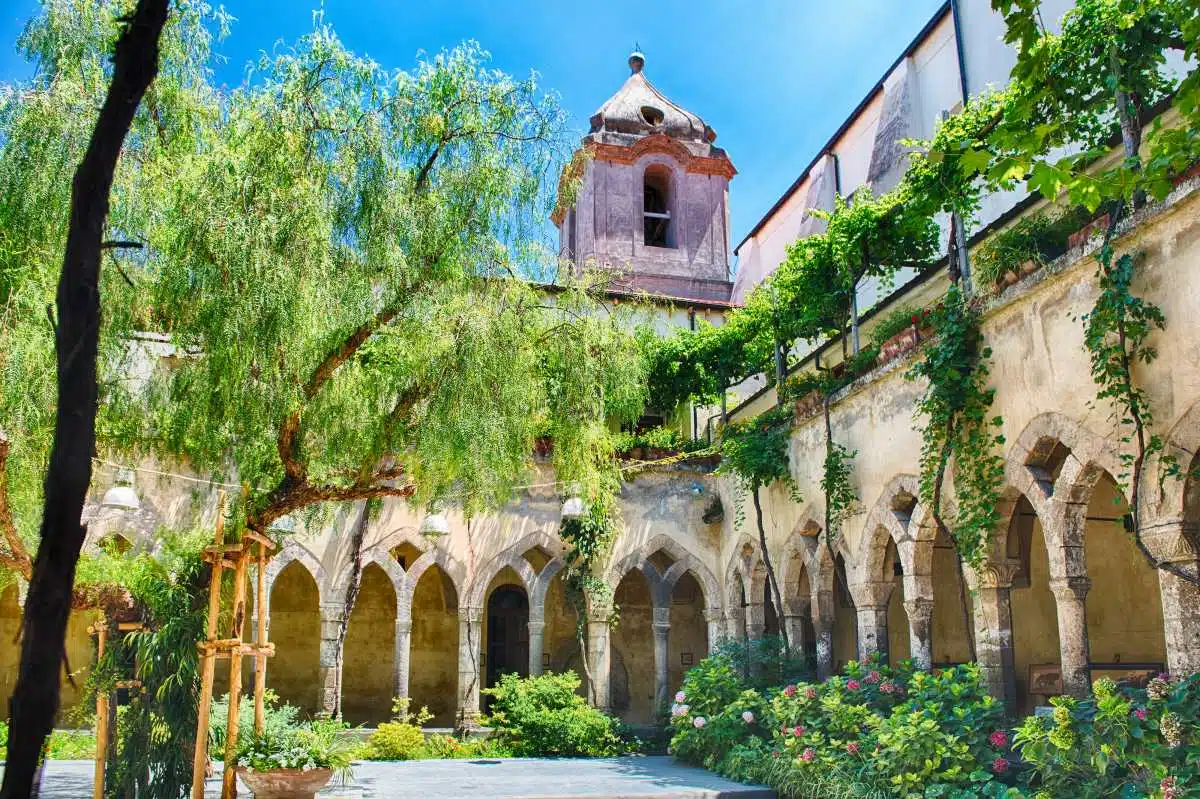 Built on the ruins of a 7th-century monastery, this abbey is brimming with compelling surprises, including the ruins of pagan temples and archaeological sites incorporated into the architecture.
This cloister of San Francisco is undoubtedly a joy to visit during the day, but evening classical concerts provide an entirely different experience. Attend a nighttime show and travel back to a different era amongst the mix-n-match architecture.
Sunset Cruise from the Marina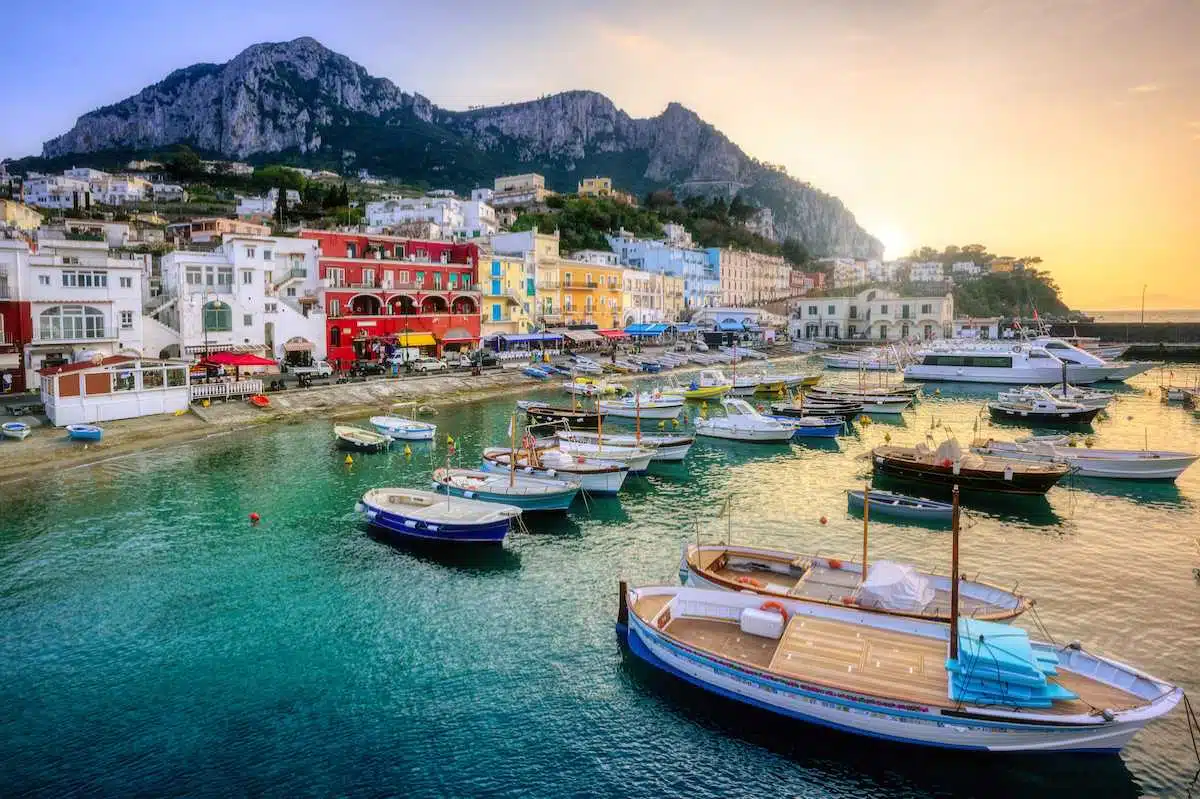 Another fun thing to do in Sorrento, Italy is to glide along the coast. Take a sunset cruise to Capri island for a truly luxurious and memorable Sorrento adventure.
Enjoy wine, good company, and perhaps even a meal on the Island of Capri before heading back to Sorrento's beauty.
Book Your Sorrento Sunset Cruise
See a Tarantella Show
The Spanish have the Flamenco dance, and the Italians have the tarantella. This traditional southern Italian folk dance is usually danced in pairs — as it's considered bad luck to dance alone.
Book a concert at Teatro Armida and enjoy the lively dances, colourful outfits, and exciting music with a glass of wine. If you'd like to take it a step further, why not book a tarantella dancing class so you can leave the town with a new skill.
Things to Do in Sorrento: Practical Tips for Your Trip
How Long to Visit in Sorrento?
The duration of your stay will depend on what you want to do during your trip. If you're simply stopping by to scratch the surface, 1 or 2 days in Sorrento will suffice. But if you want to get a feel for the Sorrento culture, you may wish to extend your stay to incorporate more activities.
Best Time to Visit Sorrento
Sorrento has a temperate Mediterranean climate, so you'll enjoy mild weather for most of the year. Temperatures peak around July, during summer. However, an excellent reason to visit Sorrento during winter is to enjoy more affordable accommodation and a less tourist-crowded vacation.
Where Should I Stay in Sorrento?
Casa Sorrentina (Mid-range)
Casa Sorrentina is the perfect place to stay if you're looking for something centrally located. This bright and elegant guesthouse is an ideal option for a comfortable stay situated just off Piazza Tasso and only 4 minutes away from the beach.
Grand Hotel Capodimonte (Luxury)
Wake up to the sound and views of the ocean at Grand Hotel Capodimonte. This luxury hotel is all about comfort and has all the amenities you'll need to unwind and relax below the Sorrentine sun.
Recommended Tours in Sorrento
Things to do in Sorrento: Map
Like This? Save and Share on Pinterest!