Scenic byways winding their way through storied landscapes – these six Italian road trips are the perfect adventure. Let's hit the road.
Is there anywhere better suited to a road trip than Italy? The country's heady combination of medieval cities and lush countryside – not forgetting enclaved beaches buried underneath striking cliffs – makes for some rather epic drives.
Picture this, you hop in your car, the opulent sandstone buildings of Lecce fading in your wake, only to putter across a family-owned vineyard complete with a farmhouse masseria serving heartily fresh fare.
Or you turn a corner only to be confronted by the sheer granite faces of the Dolomites poking up into the sky.
When it comes to an Italian road trip, the mantra should be you can ergo you should. That's certainly my mantra anyway – one I haven't lived to regret.

Prepare for the ultimate adventure with these spectacular Italy road trips.
Best Italy Road Trips
Puglia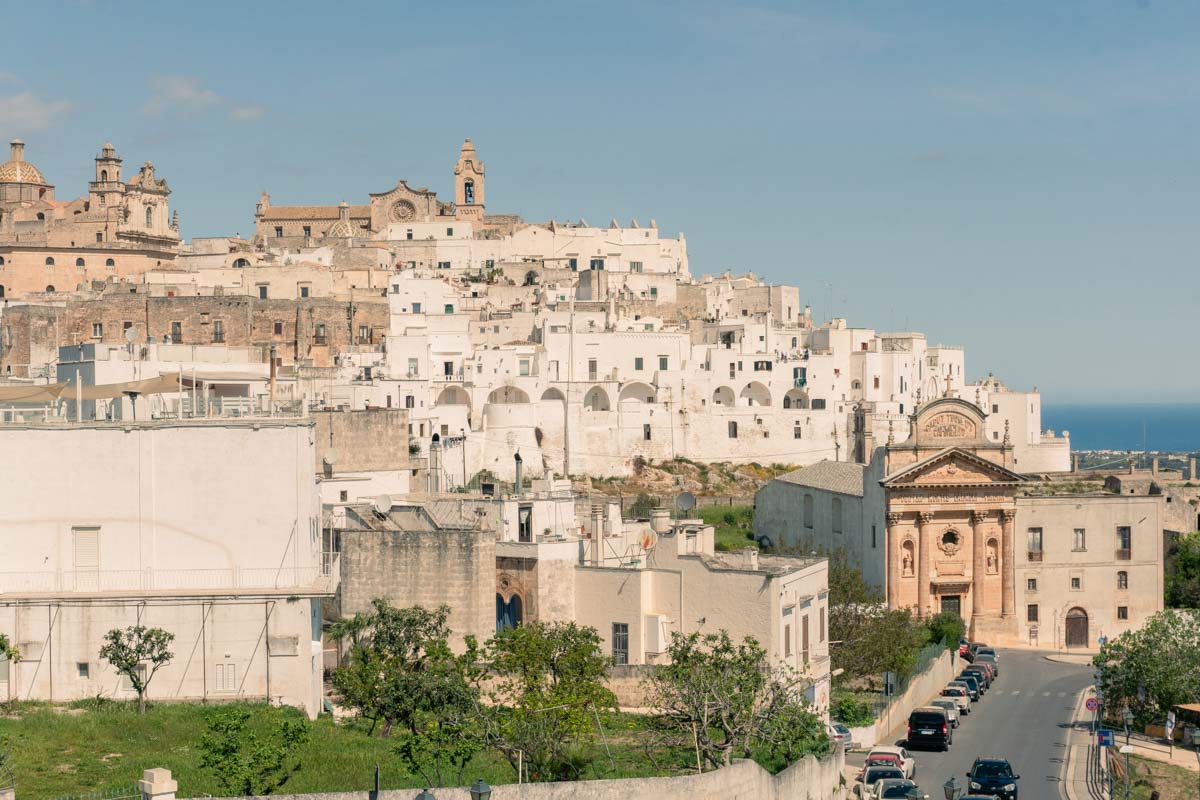 A drive through the villages and coastline of Puglia (Apulia) is a wonderful Southern Italy road trip I'd recommend to any traveller visiting the area. Don't believe me? Start exploring some of the small towns along the Adriatic Sea.

While Bari is a vibrant city and a great starting point, there are so many small cities teeming with medieval architecture, delicious regional dishes (the bread and pasta are divine), and beautiful beaches up and down the heel of Italy's boot.
Route Summary
Bari >> Ostuni >> Lecce >> Gallipoli
Distance: 123.5 miles (198.8 km)
Length of Trip: 1 week
Highlights of the Trip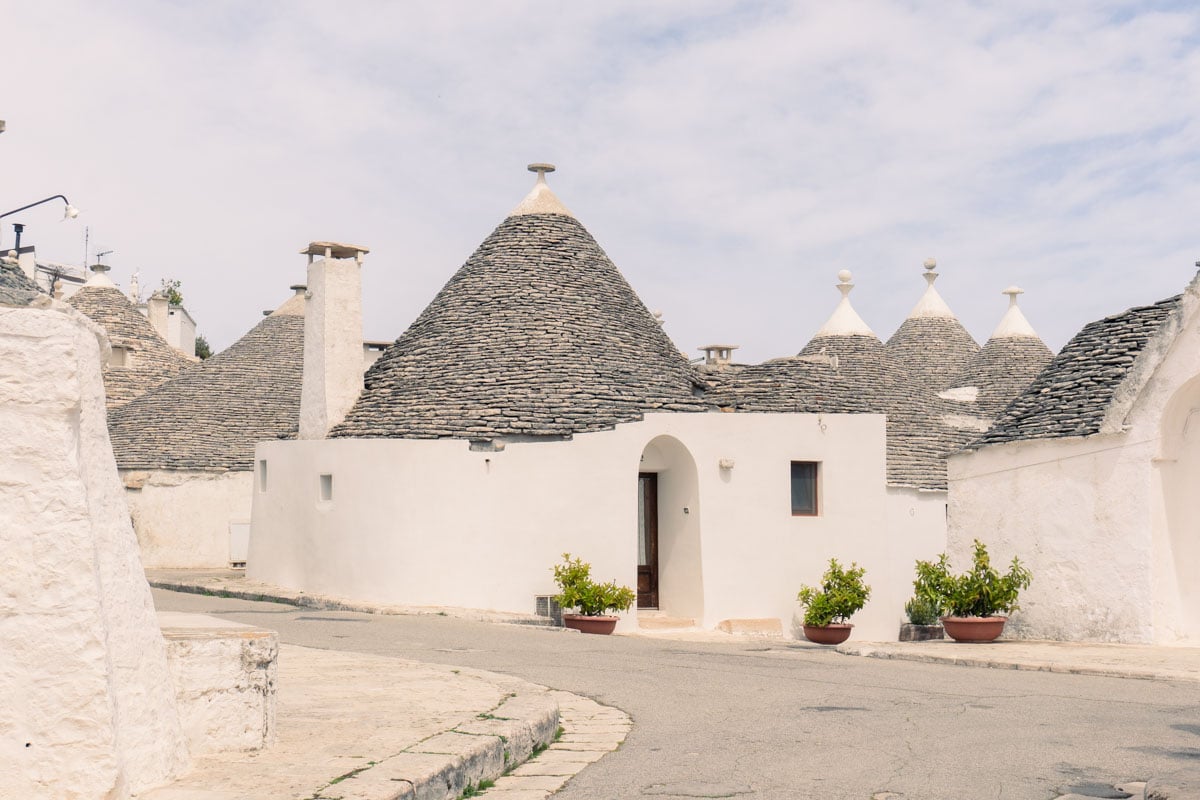 Exploring the small towns in Puglia is something I could turn into a full-time job, but you can get a pretty good picture over an Italy road trip in 1 week.

Start in Bari, where you can explore the alleys and streets of the Medieval district and take in the architecture and scenery that make Puglia one of my favourite parts of Italy.

Once you're on the road, marvel at the architecture along the way: highlights include the Romanesque and Gothic-inspired Gothic Cathedral in Ostuni, Roman Amphitheater in Lecce and the famous whitewashed conical-style Trulli in Alberobello.
Where to Stay
Residence Hotel Moderno, Bari
Masseria Il Frantoio, Ostuni
Suite Hotel Santa Chiara, Lecce
I Bastioni San Domenico, Gallipoli
Read Next: Unmissable Places to Visit in Puglia
Tuscany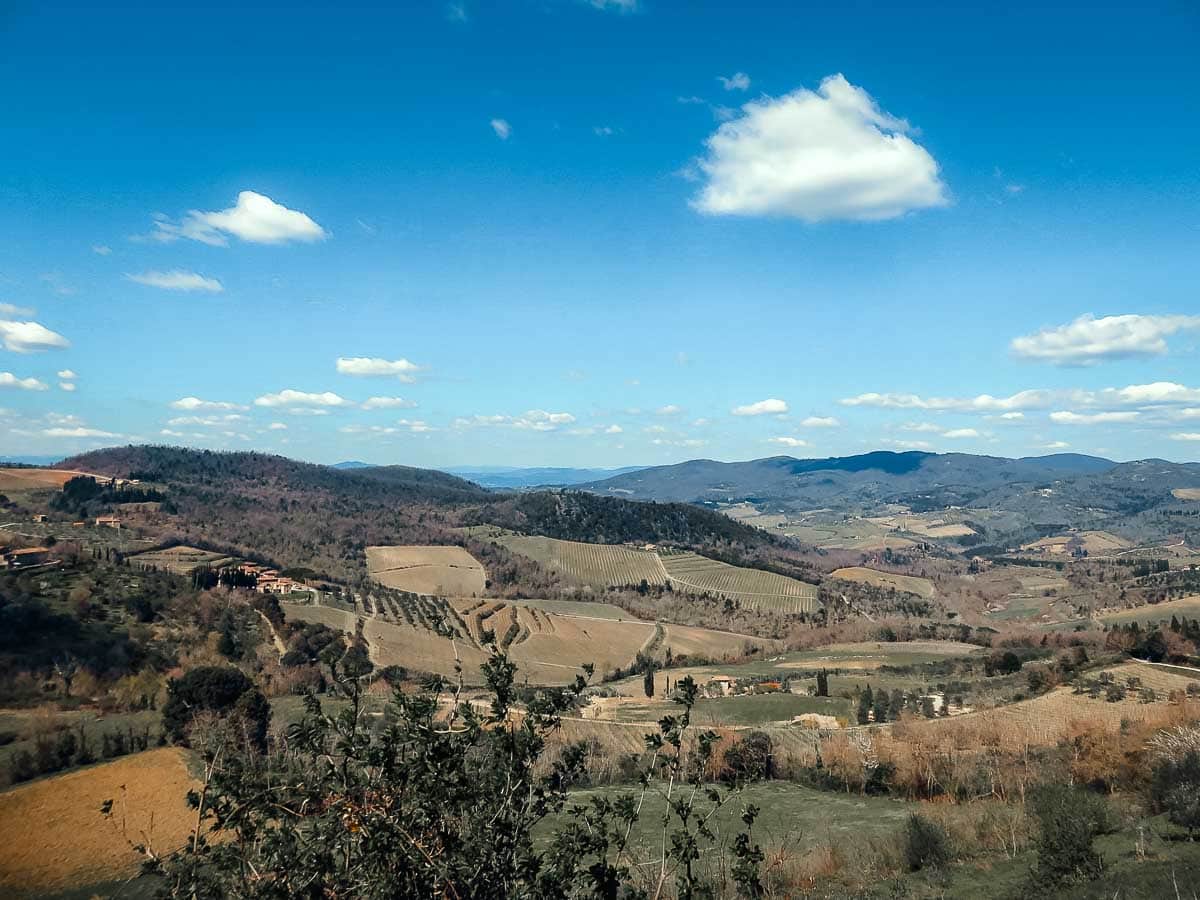 There's a reason that a road trip through Tuscany is on so many people's bucket lists. Let's face it,
 you can't go wrong navigating the meandering roads and idyllic villages dotting the countryside in the heart of Italy.

A circular trip from fabled Florence, give yourself plenty of time for wine tasting and checking out some spectacular beaches on a leisurely drive before returning to the city on this perfect two-week Italy road trip.

I can't think of a more perfect way to plan a road trip in Tuscany than slowing your roll, bedding down in a series of pretty Airbnbs, and really getting to know the idyllic countryside over a week or two.
Route Summary
Florence >> Siena >> Montalcino >> Livorno >> Lucca
Distance: 230.5 miles (371 km)
Length of Trip: 1-2 weeks
Highlights of the Trip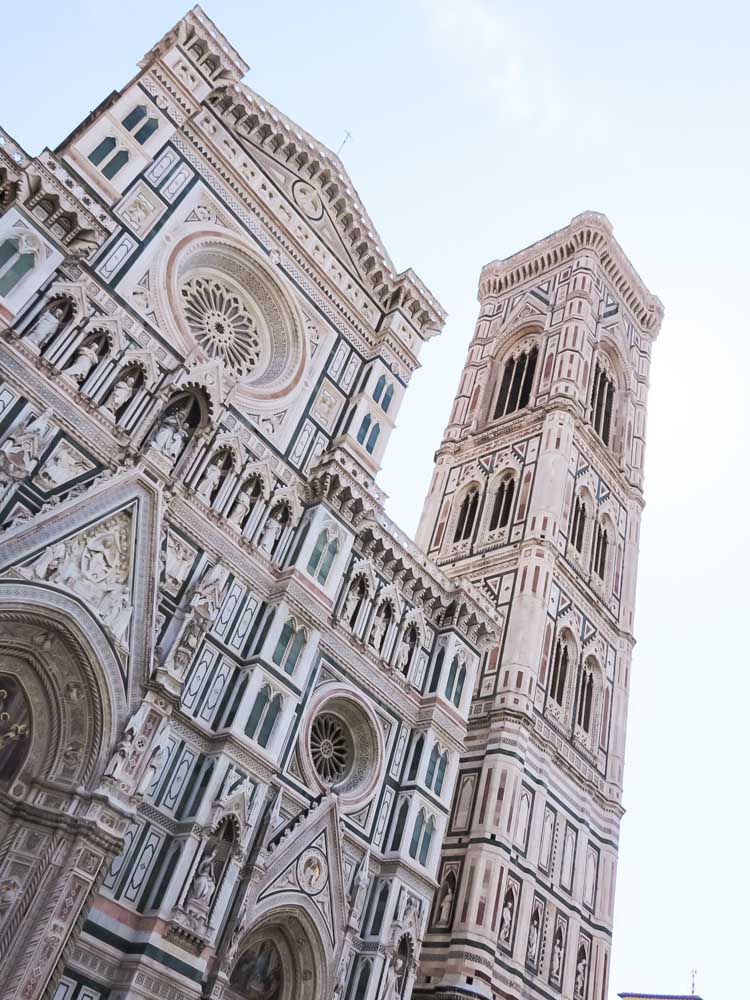 The architecture in Florence is a highlight of its own, with the stunning Piazza del Duomo being the highlight of the storied city.

But the Gothic and Neoclassical architecture nearby is something you can't miss on a South Italy road trip.

Duomo di Siena has stunning detail inside and out and climbing the 14th-century Torre Guinigi to see the city from a birds-eye view is really special.

But what really stood out to me when planning this road trip to Tuscany was the laid-back countryside along the coast and in wine country. Be sure to visit Montalcino and sample some vino in a charming village with 14th-century architecture and cafes lining the cobbled streets. Love at first sight.
Where to Stay
Hotel Bernini Palace, Florence
Idyllic Siena Retreat Airbnb, Siena
Si Montalcino Hotel, Montalcino
Agave in Città, Livorno
Two-Bedroom Airbnb, Lucca
Read Next: Gorgeous Places to Visit in Tuscany 
Trentino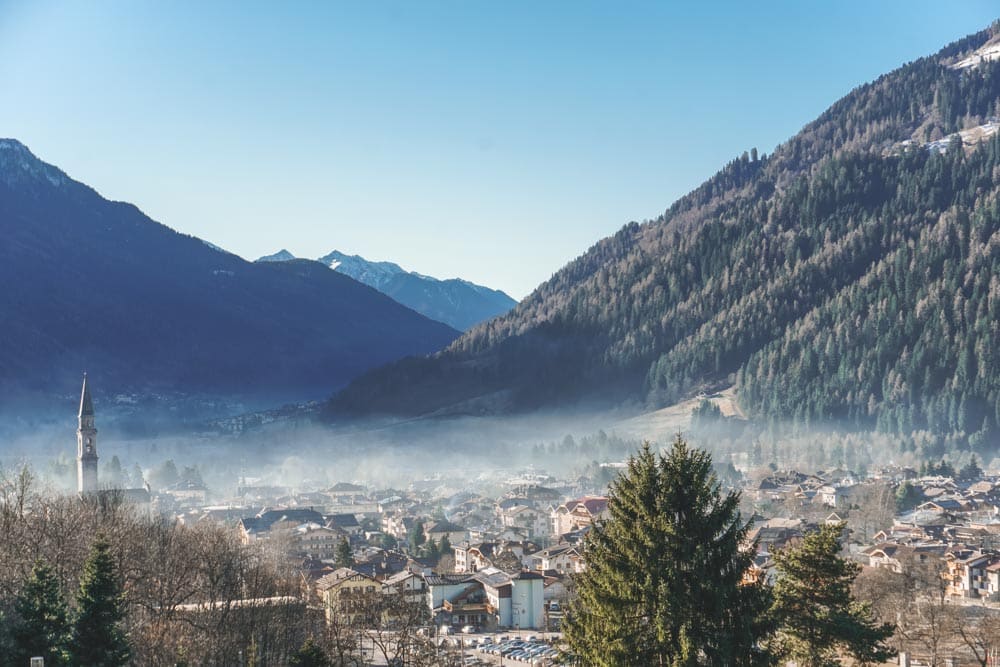 Trentino-Alto Adige is a wonderful road trip if you're looking to explore Northern Italy's Dolomites and the Alps on one of the most scenic road trips Italy offers.

The ski resorts up north are phenomenal during the winter months, and you can spend time exploring the charming Lake Garda and the dozens of quaint villages where you can explore the castles, fortresses, and archeological sites.
Route Summary
Verona >> Trento >> Madonna di Campiglio >> Lake Garda

Distance: 168 miles (270.5 km)

Length of Trip: 1 week
Highlights of the Trip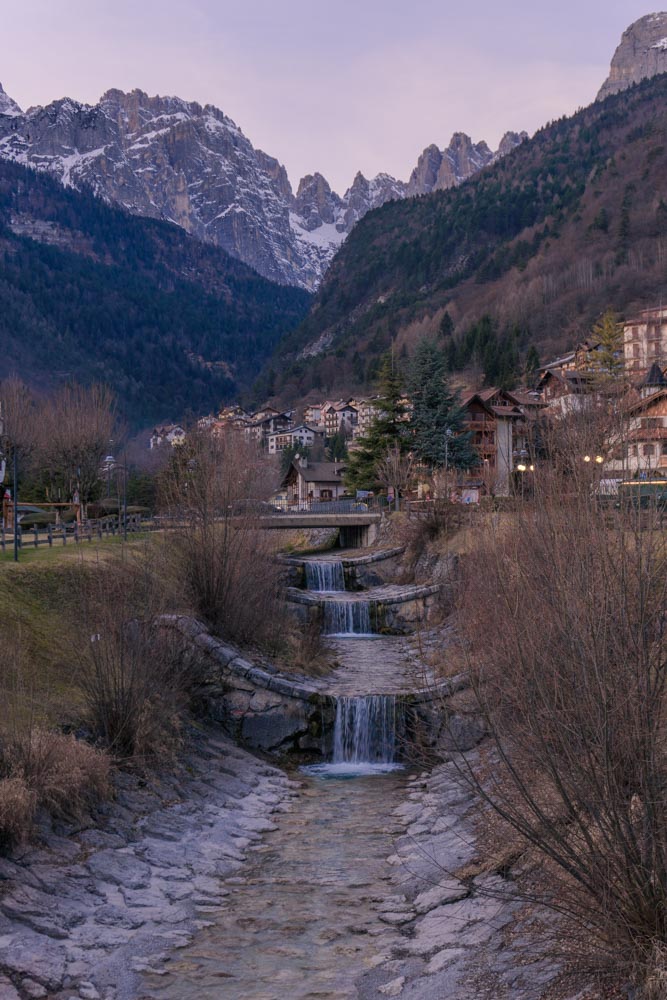 Looking for the best Northern Italy road trip? Head to Trentino from Verona and see why the eye-opening mountain setting in the Dolomites left me speechless on my winter trip to the epic ski resort Madonna di Campiglio in Trentino.

But eat anywhere and everywhere you can in Trentino. Seriously. The bread and spinach gnocchi (Strangolapreti), antipasti plates featuring speck, and the well-kept secret wine Teroldego are all worth visiting Trentino for by themselves.

On your way back, choose an idyllic village in Lake Garda (or a few) and explore the Archaeological site of Grotte di Catullo, dating back as far as 1st Century BC, and the beautiful Scaliger Castle, both near the charming village of Sirmione.
Where to Stay
Hotel Milano & SPA, Verona
Be Place, Trento
Hotel Bertelli, Madonna di Campiglio
Hotel Ideal, Lake Garda
Read Next: Trentino: The Ultimate Winter Wonderland
Amalfi Coast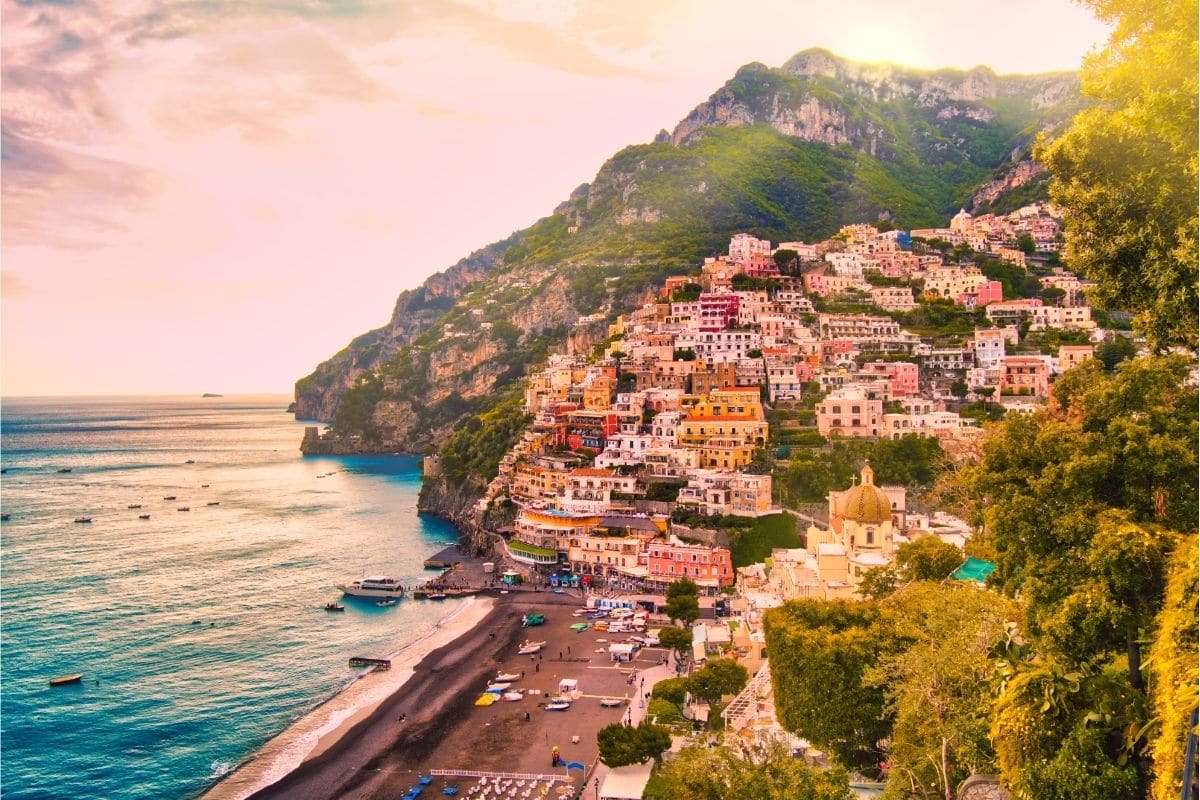 You've no doubt seen pictures of the colourful cliffside villas overlooking the Tyrrhenian Sea – it'll come as no surprise then that a jaunt along the Amalfi Coast is one of the best Italian road trips with plenty to see and do along the way.

But you'll want to be a confident driver with some serious patience if you plan to take this high octane road trip.

The drive can be very challenging, especially as you pull into some of the bustling villages and towns. But cruising along the Costiera Amalfitana (SS163) is one of the most scenic routes in the world, making it a perfect Italy road trip idea
Route Summary
Rome >> ​​Parco Nazionale del Circeo >> Naples >> Amalfi Coast
Distance: 207 miles (333.2 km)
Length of Trip: 1 – 2 weeks
Highlights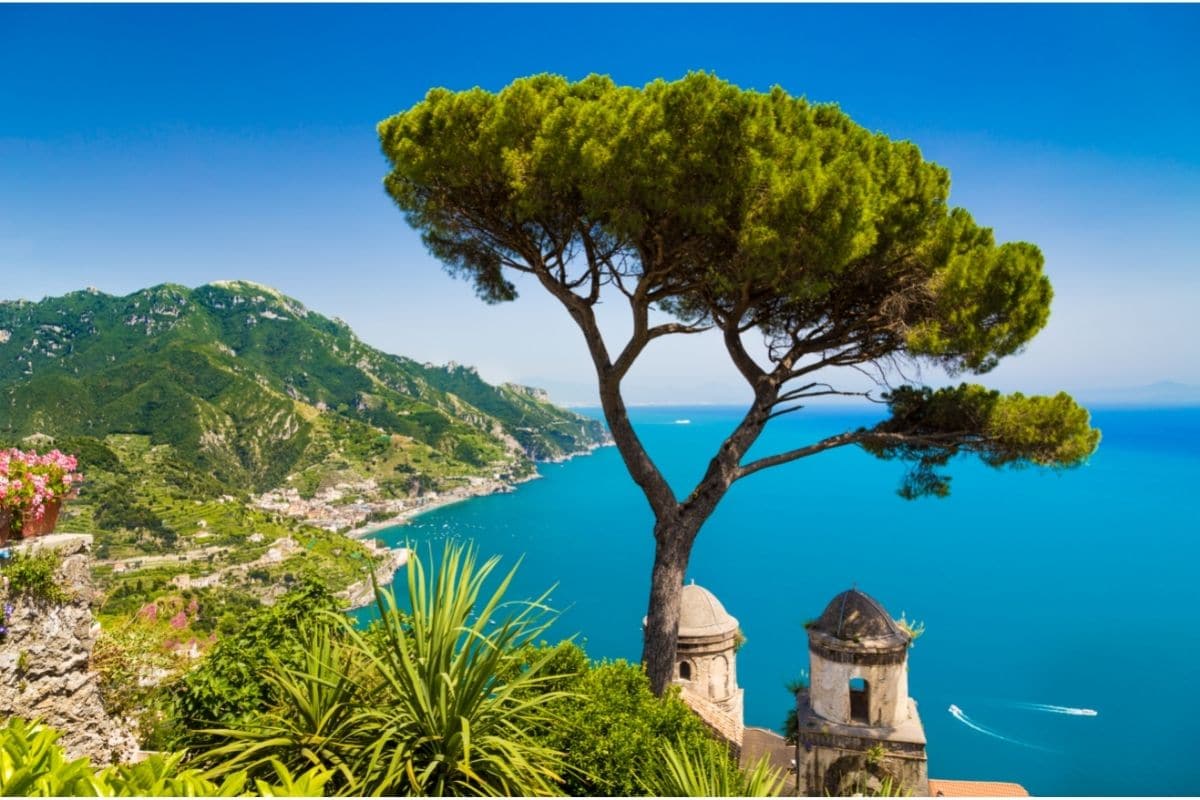 The UNESCO Biosphere Reserve of Parco Nazionale del Circeo is well worth stopping for a couple of days on your Italian road trip to explore the hiking trails, beaches, and nearby villages.

Another highlight along the way is Naples for its abundance of activities, world-class museums, and absolutely amazing food scene. Go for the pizza and stay for the delicious seafood pasta and soups.

Exploring the villas and gardens in Ravello, wandering the citrus tree-lined neighbourhoods of Sorrento, and enjoying the high-end shops at restaurants in Positano are all memorable experiences on your Italy road trip from Rome to the Amalfi Coast.
Where to Stay
Horti 14 Borgo Trastevere, Rome
Sabaudia Hotel & SPA, Sabaudia (​​Parco Nazionale del Circeo)
UNAHOTELS, Napoli
Hotel Dimora Fornillo, Positano
Sicily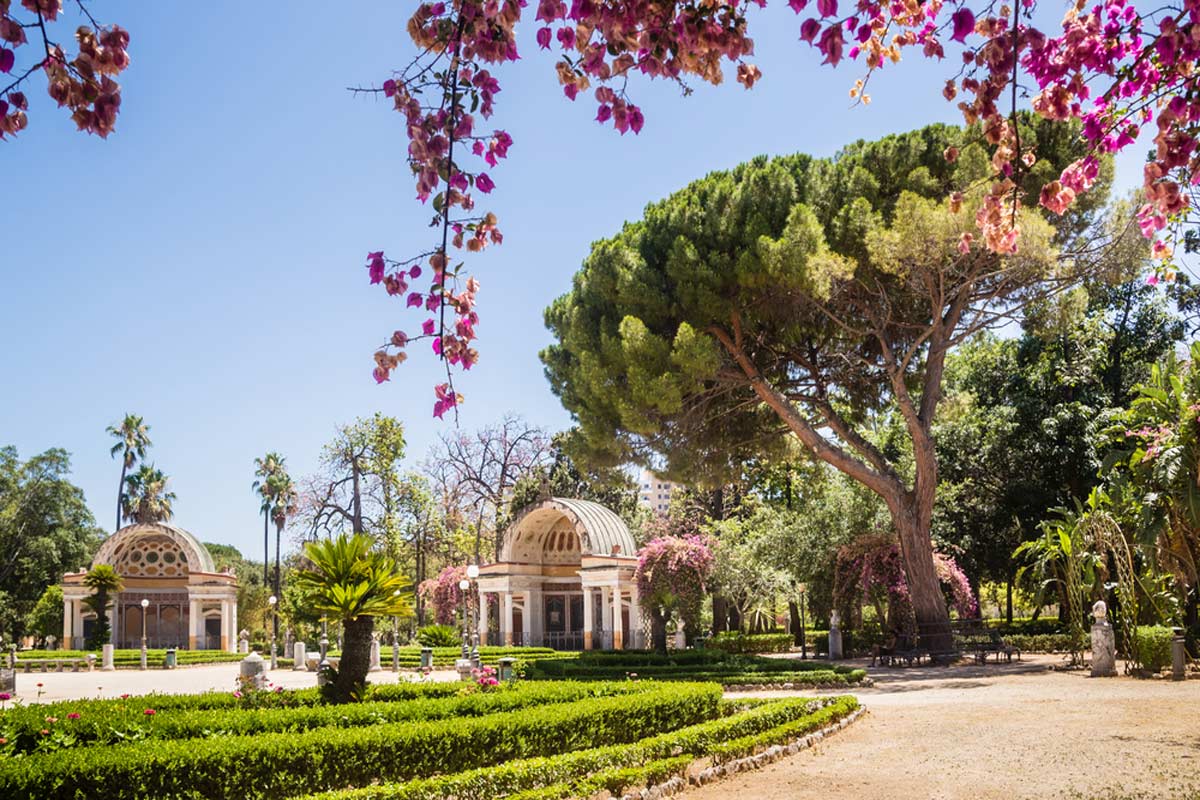 When I think of exploring Italy by car, Sicily is one of the first ideas that come to mind. The island at the tip of the boot," has enough activities, archeological landmarks, and spectacular cuisine to keep you entertained for weeks, if not months.

But I think a road trip from Palermo to explore the quieter side of the island with its beaches and charming towns is a perfect way to plan your first Italy driving tour on your trip to Sicily.
Route Summary
Palermo >> Réserve naturelle du Zingaro >> Trapani >> Valley of the Temples
Distance: 180.5 miles (290.5 km)
Length of Trip: 10 days
Highlights of the Trip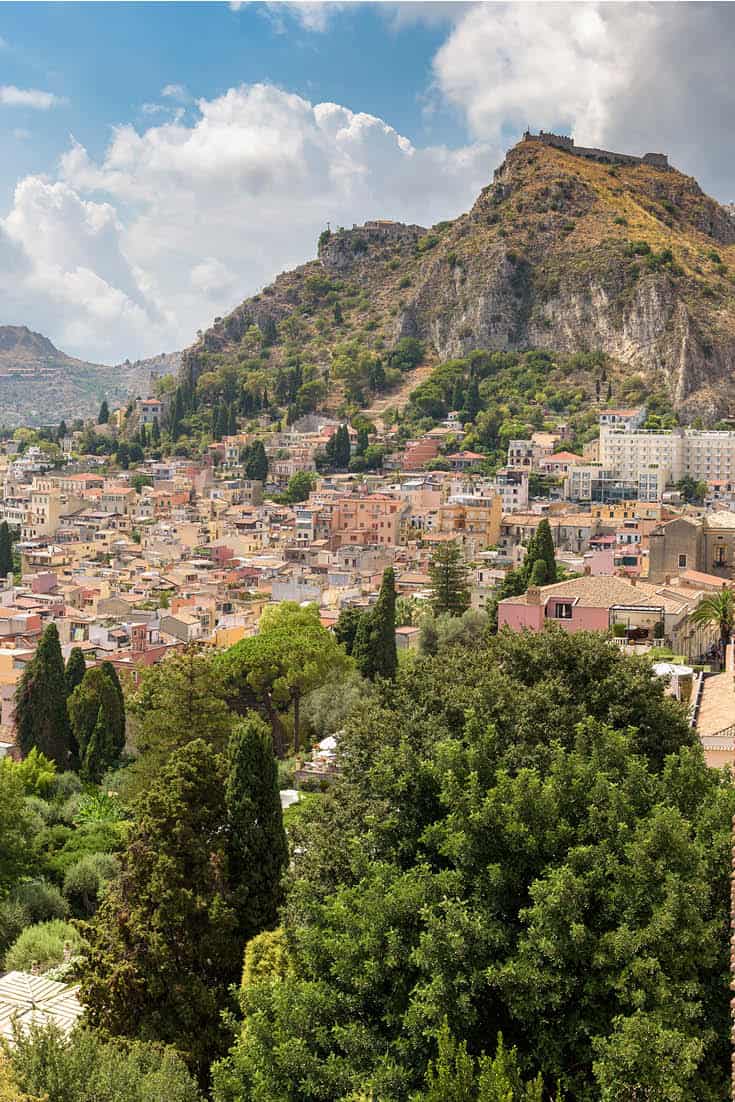 Exploring the dramatic caves, capturing the coves on camera, and exploring the coastline at Réserve naturelle du Zingaro is a must when taking a 10-day Italy road trip in western Sicily.

Enjoy some freshly caught fish in Trapani on your drive down the coast and explore as many of the beaches and shores as literally possible along the way down the coast.

Lido Caiman Beach is a nice sandy stretch with clear and clean water in the south and the dramatic coastal cliffs at the Stair of the Turks along the way are seriously cool to see IRL.

Ready for a history lesson? Valley of the Temples is a wonderful place to learn about ancient Greek ruins, with the incredible Temple of Concordia being one of the most impressive landmarks in Italy.
Where to Stay
B&B Hotel Palermo Quattro Canti, Palermo
Hotel La Tavernetta Scopello, (Near Réserve naturelle du Zingaro)
Hotel San Michele, Trapani
Hotel Villa Athena, Valley of the Temples 
Cinque Terre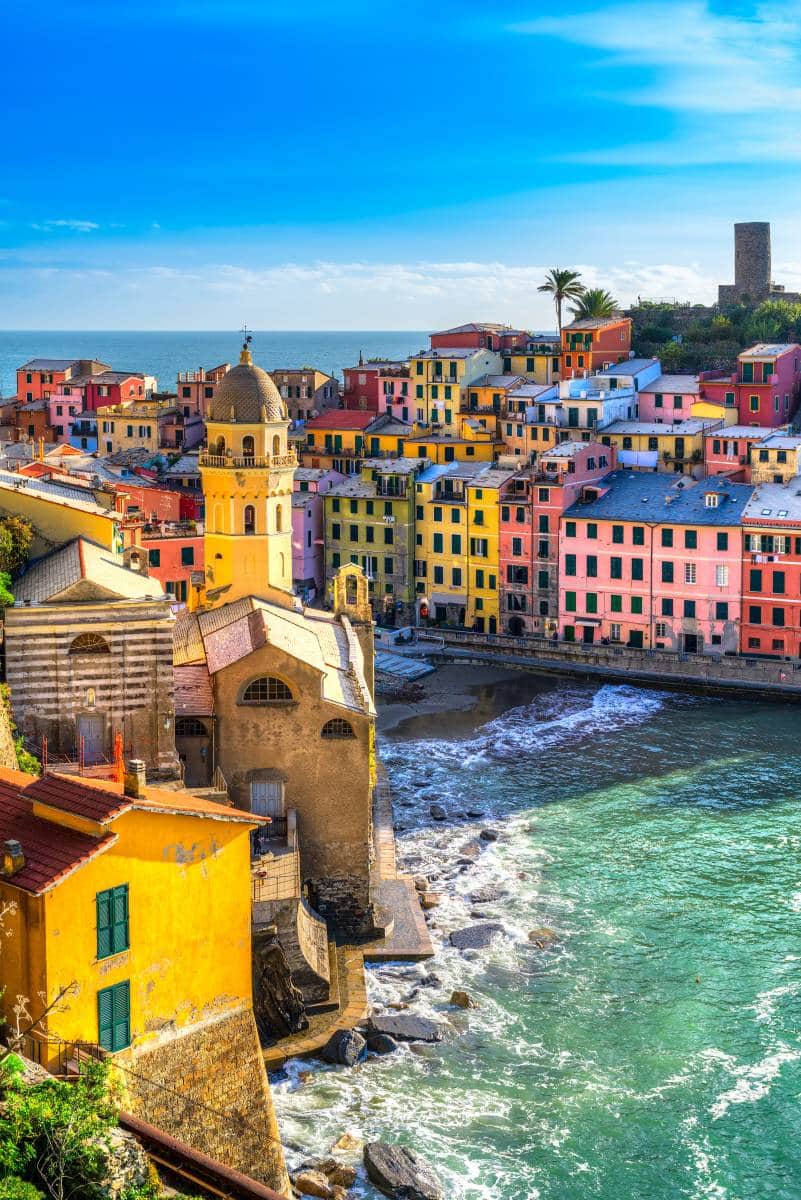 I'm going to start by saying you will want to park outside of the villages in La Spezia and take a train whenever possible if you take a road trip to Cinque Terre. That said, you can put together a very fun Cinque Terre drive on your Italy road trip itinerary.

I've worked out the perfect stress-free road trip to Cinque Terre with a nice day trip added on, so you can enjoy a nice long weekend getaway from the charming (and underrated) Genoa.
Route Summary
Genoa >> La Spezia >> Cinque Terre >> Parco Nazionale dell'Appennino Tosco-Emiliano >> Parma
Distance: 184.5 miles (297 km)

Length of Trip: 3 to 5 days
Highlights of the Trip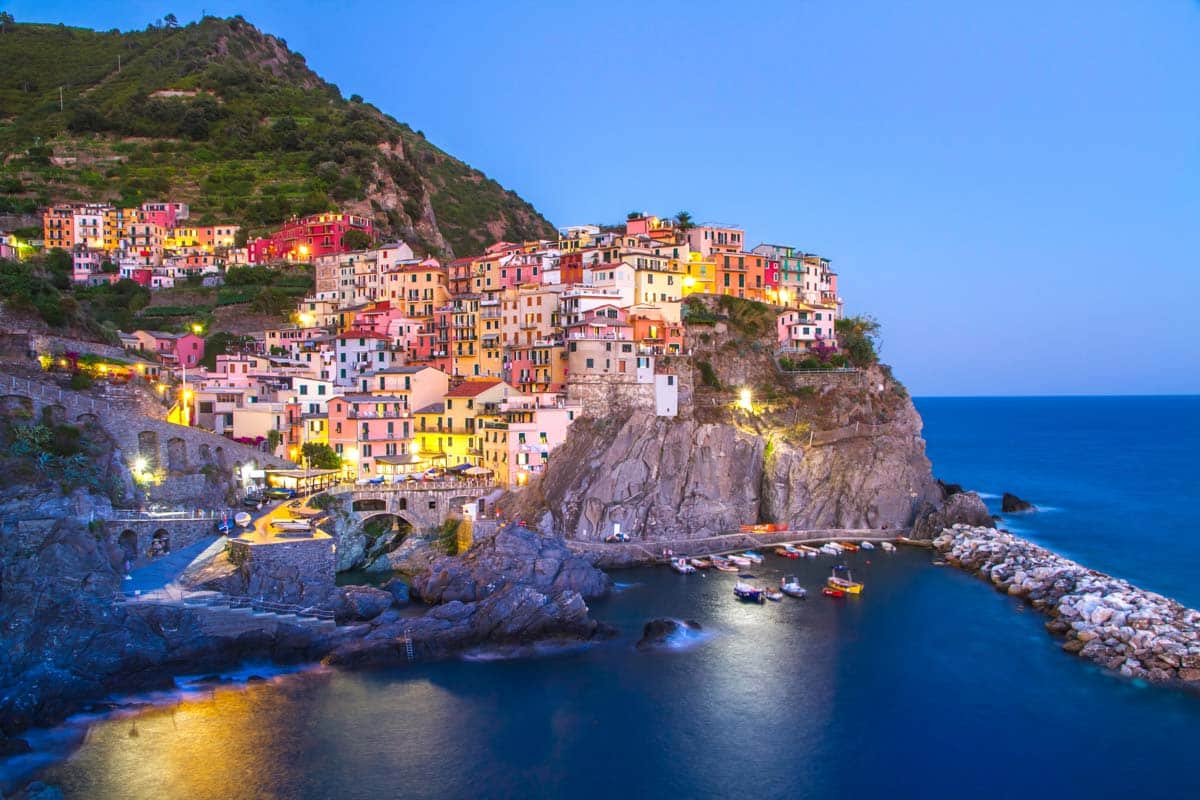 Exploring the five towns of Cinque Terre is an incredible day trip, but you can also stretch it out by staying overnight in one of the villages.
You can explore the villages on foot (with a trekking card for certain sections) or by train. Be sure to sample anchovies in Monterosso, bring your best camera for Vernazza, and hike around Riomaggiore.

On the way back to Genoa, visit Parco Nazionale dell'Appennino Tosco-Emiliano for some serious hiking and later stay in Parma while sampling Parmigiano Reggiano cheese and other local delicacies.
Where to Stay
Hotel Bristol Palace, Genoa
L'Opera Rooms & Suite, La Spezia
Locanda Ca Da Iride, Riomaggiore
Agriturismo Rio Ricco, Parco Nazionale dell'Appennino Tosco-Emiliano 
Starhotels Du Parc, Parma
Read Next: What You Need to Know Before Visiting Italy's Cinque Terre 
Practical Tips for Planning Your Italy Road Trip
Best Time to Plan an Italian Road Trip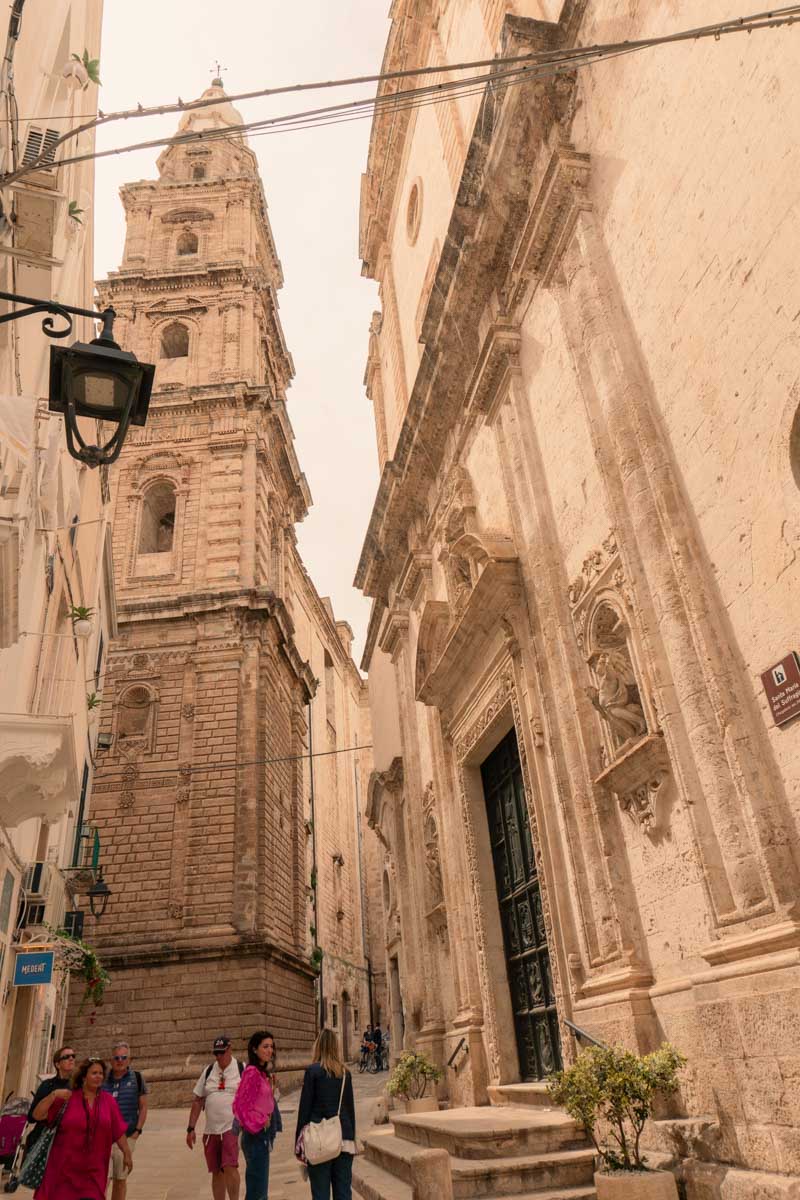 Spring and autumn are my favourite times to experience most of the best Italian road trips. Whether you're touring Southern Italy beaches or the mountains up north, the weather is typically great, and you're avoiding peak summer tourism.
Where to Rent a Car
First things first, you're going to need a set of wheels for your Italy road trip. Luckily, most major cities and international airports have plenty of options.

Note that most rental cars in Italy have manual transmission, so either practice driving beforehand or start your search early for automatic transmission.

Here are some common car rental agencies in Italy (be sure to compare prices on Rentalcars.com):
Ensure Full Coverage on Any Rental Car
You're required by law to have Collision Damage Waiver in Italy, but I usually max out insurance policies to play it safe.

Pre-pay for whatever coverage is available when you reserve your car, but you may have to add protection for your personal belongings, windshield, and certain damage once you get to the rental agency.
Roadside Emergency Kit
Bring an emergency kit like this one from AAA on your Italy road trip and pack things like a water bottle, antibiotic ointment, scissors, a flashlight, and maps for those panic-stricken moments when you lose GPS.
Parking Apps
When you're travelling through Italy by car, be sure to set yourself up with a parking app ahead of time. Easy Park and PayByPhone are two apps you can use in Italy that you'll want to download before your trip.
International Driving Permit
If you're visiting from outside of the EU, you'll need an International Driving Permit to comply with local laws.
Limited Traffic Zones (ZTLs)
Get familiar with the signs indicating limited traffic zones (or ZTLs). You might have more than a headache if you're caught on camera driving in urban areas where you're not allowed.

How can you avoid these fines? Save your driving for the countryside when you can, and take trains and buses into city centres.
Carry Cash
While gas stations and parking stalls do sometimes take cards, there's a good chance you'll run into some that don't.

Easiest solution? Bring some coins and bills along on your Italy road trip.
Italy Road Trip Destinations: Map 
Love This? Save and Share on Pinterest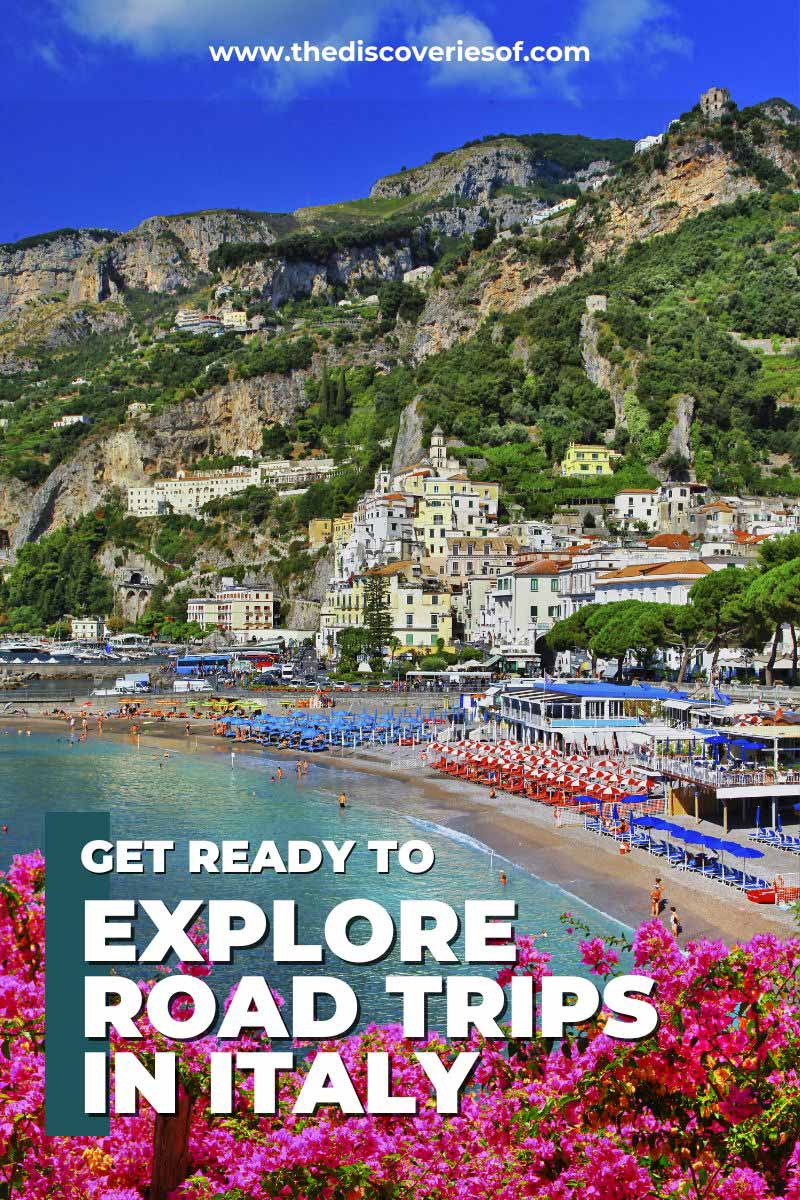 Planning on Exploring Italy by Car? Read These