Looking to visit Lecce, Puglia? Sitting right at the heel of the Italian Peninsula, this beautiful city has plenty to offer.
Often referred to as the "Florence of the South" (although, as I've said before, I'm not a huge fan of these comparisons), Lecce is a charming city filled with friendly locals, excellent food, and stunning Baroque architecture.
The city is over 2,000 years old and, while there are many exciting things to do in the Puglia region, a visit to Lecce is an absolute must.
Get ready to dive into this lesser-known but equally beautiful city of Italy. Let's go.
Top Tip: Looking for somewhere to stay in Lecce? I recommend the Suite Hotel Santa Chiara, right in the historic city centre.
Top 5 Things to Do in Lecce
See the Baroque Cathedral (Basilica di Santa Croce)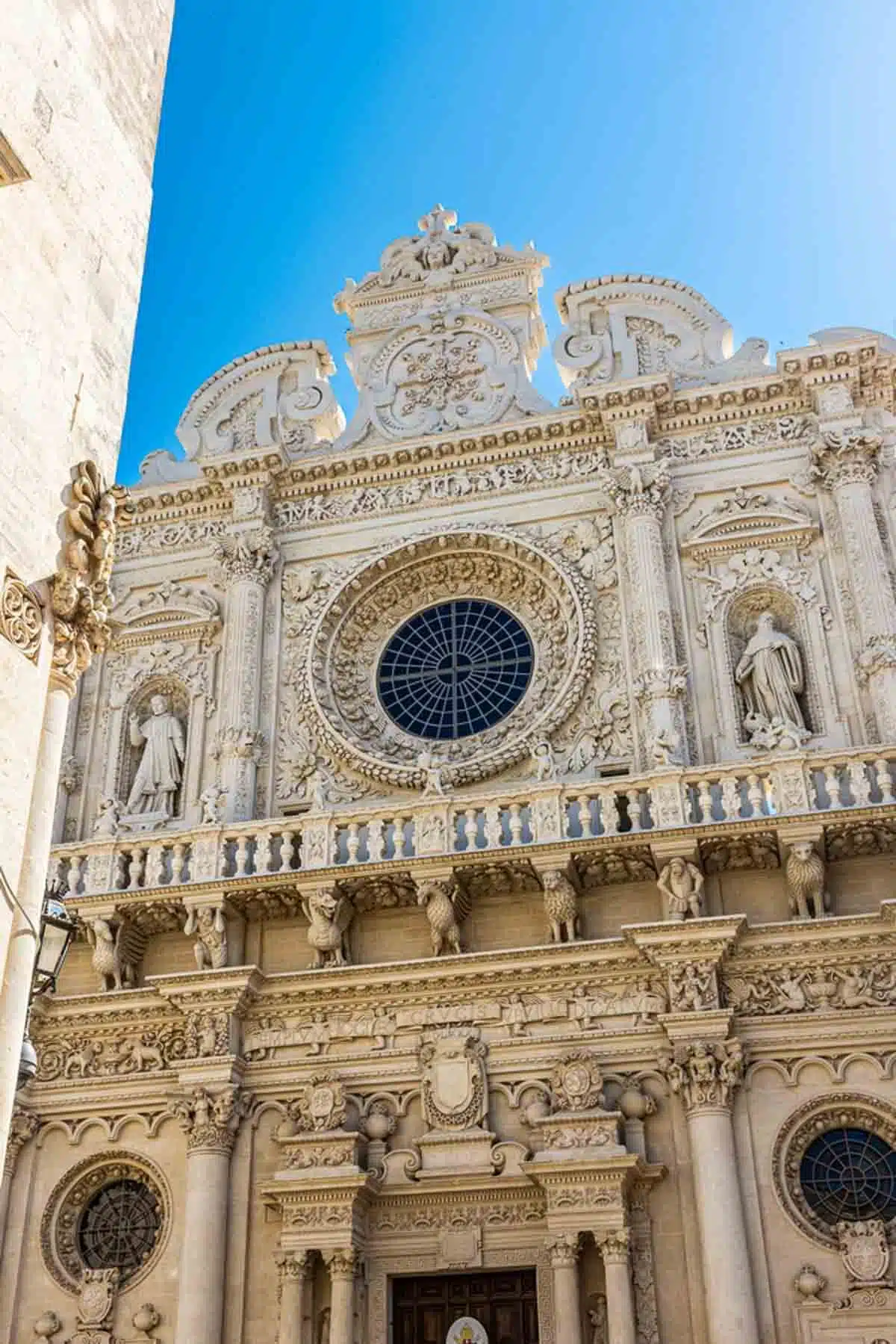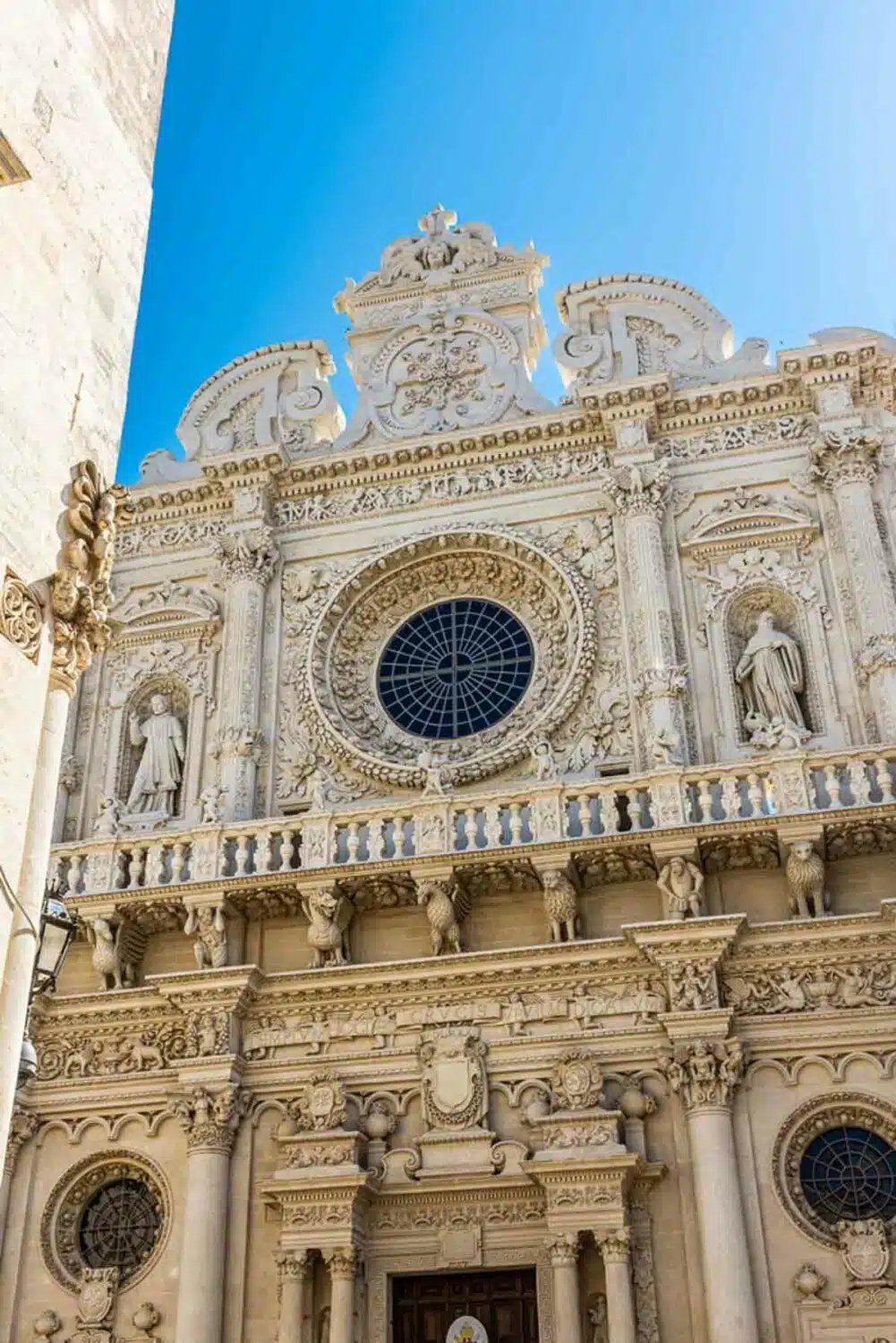 Lecce is well-known for its beautiful Baroque-style buildings. Of all of the many Lecce churches, the Basilica di Santa Croce is probably the best example of this architectural style.
Built in 1695, it took almost two centuries to construct this elegant masterpiece made from Lecce limestone. Its façade showcases intricate details, sculptures, and smooth white columns. Its most striking feature would be its large rose window – seriously dreamy.
The cathedral's interior boasts opulent features with grand white columns and a gold-painted ceiling. Inside you'll also find a cool 17 altars, paintings, and glass windows.
Top Tip: Discover more of Lecce's stunning buildings with this Baroque Architecture tour
Check Out the Church of Saint Irene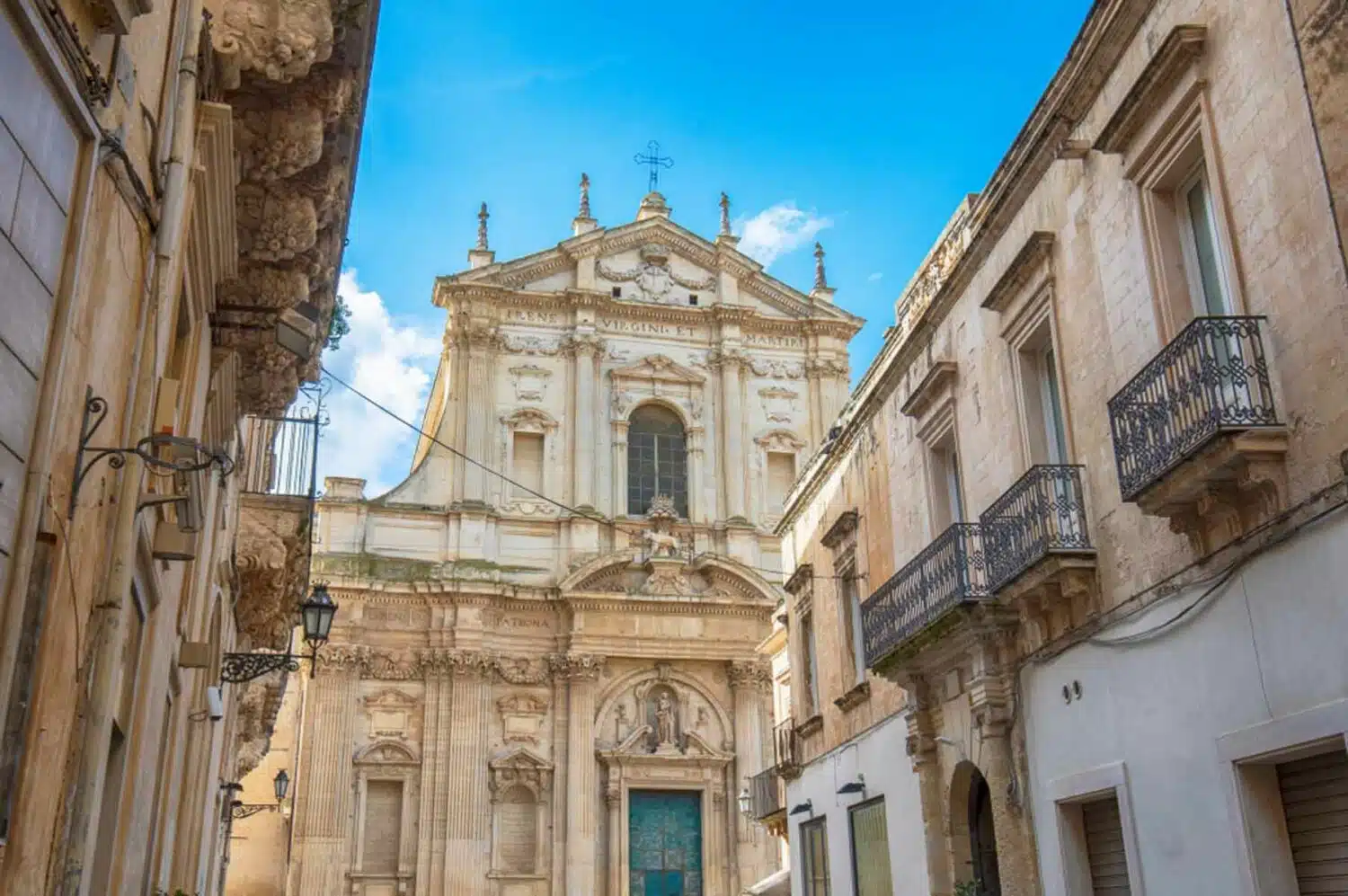 Another of Lecce's Baroque churches worth checking out is the Church of Saint Irene — or Chiesa di Sant'Irene. Constructed between the late 1500s and early 1600s, it is the home of Saint Irene, one of the city's beloved saints.
On the façade, you'll find a statue of Saint Irene, a sculpture of the she-wolf, and an oak tree symbolising the city of Lecce. Inside, there are a few stunning 17th-century altarpieces and separate chapels. The Church of Saint Irene is near the Duomo and Baroque Cathedral, so you can tick them off in one morning.
Admire the Anfiteatro (Roman Amphitheatre)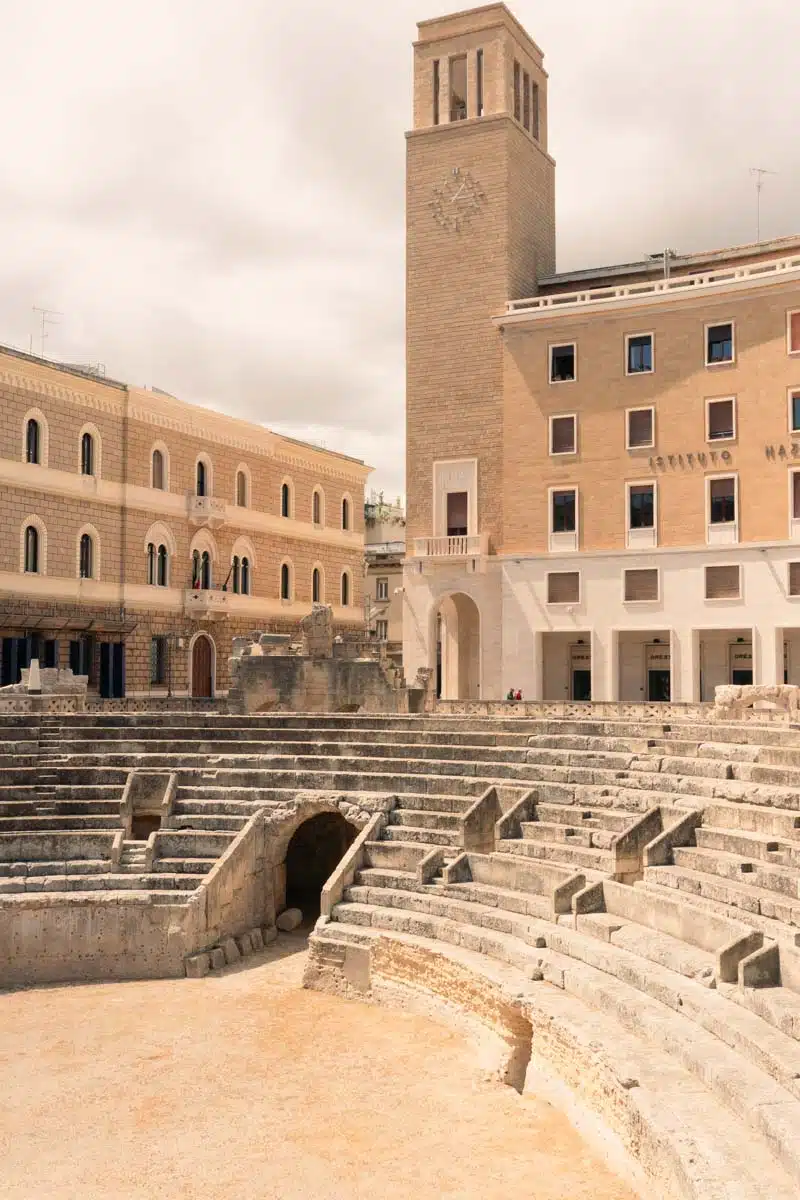 Gorgeous buildings are everywhere, but one place that really captured my heart in Lecce was the Roman Amphitheatre. It's found in the Piazza Sant'oronzo and while it was built more than 2,000 years ago, it remained hidden until the 1900s.
Since then, numerous restoration efforts have been in place to try and restore it to its former glory. It's a true symbol of the city, and could hold up to 25,000 people on its two tiers in its prime.
Today the venue hosts various artistic performances throughout the year – you might just be lucky enough to catch one..
Take a Stroll Around the Centro Storico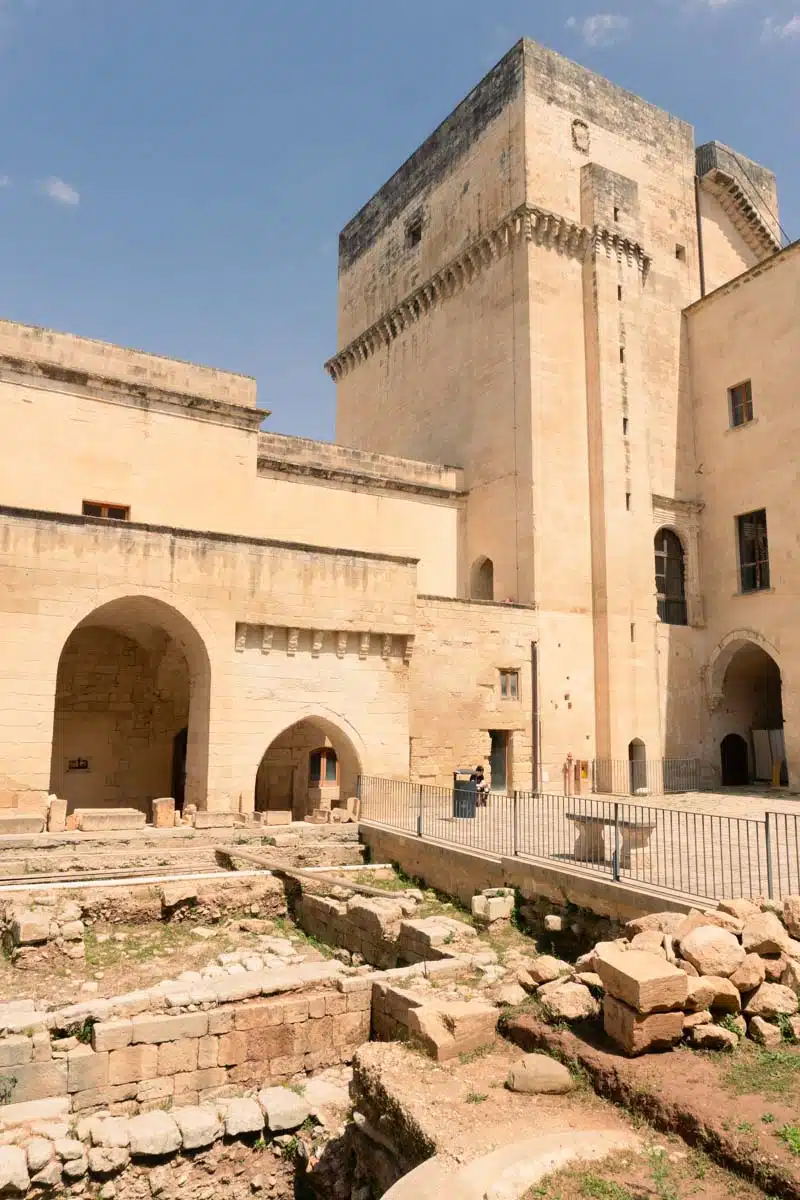 The Centro Storico is the beating heart of Lecce and is a great place to kick off your adventures. The old city centre is only a few square kilometres in size and lined along its narrow streets you'll find cute cafés, restaurants, shops and bars.
You could easily spend hours exploring all of its little gems – as it gets dark, the centre comes to life and locals arrive to kick off an evening of fun.
Explore Piazza del Duomo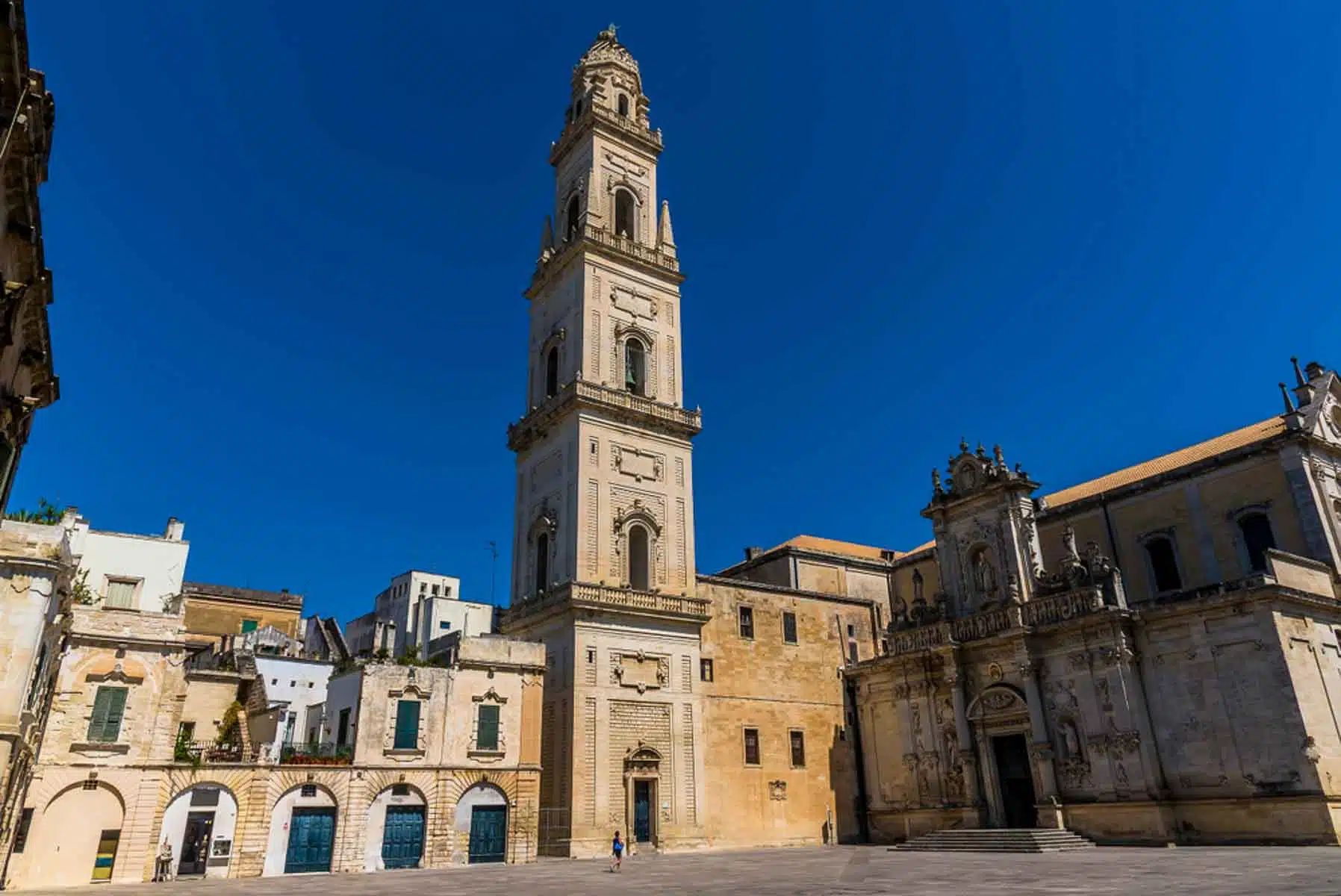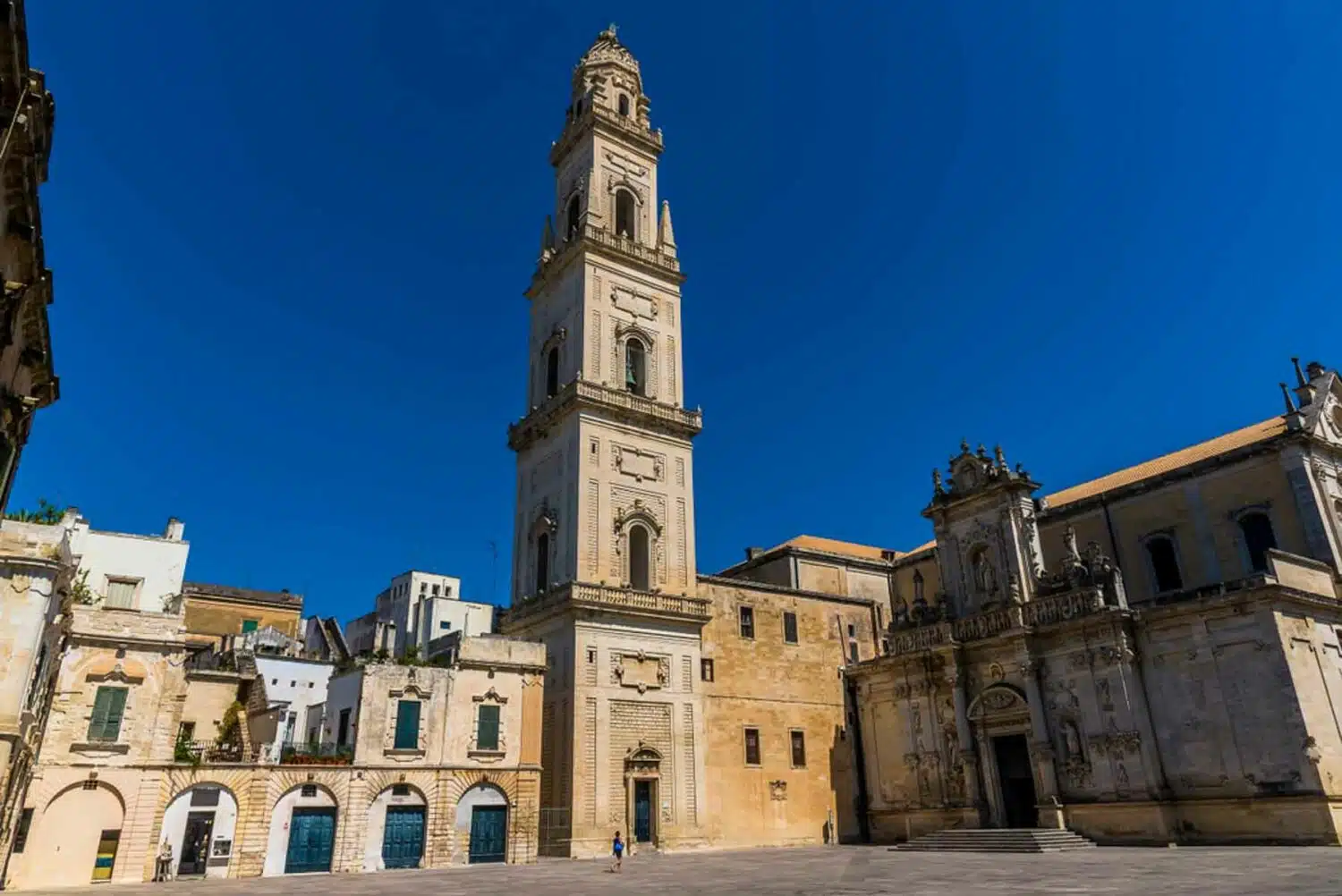 While Lecce has several beautiful squares, there's none more charming than the Piazza del Duomo. Right in the heart of Lecce's Old Town, it's a great place to take in all the city's architectural wonders.
From the piazza's wide-vantage points, you can see the intricate details of the Baroque architecture in many of the buildings. Some highlights include the iconic Lecce Bell Tower, the Bishop's Residence, and the Palace of Seminary.
Brilliant Things to See & Do in Lecce
Marvel at Castello Carlo V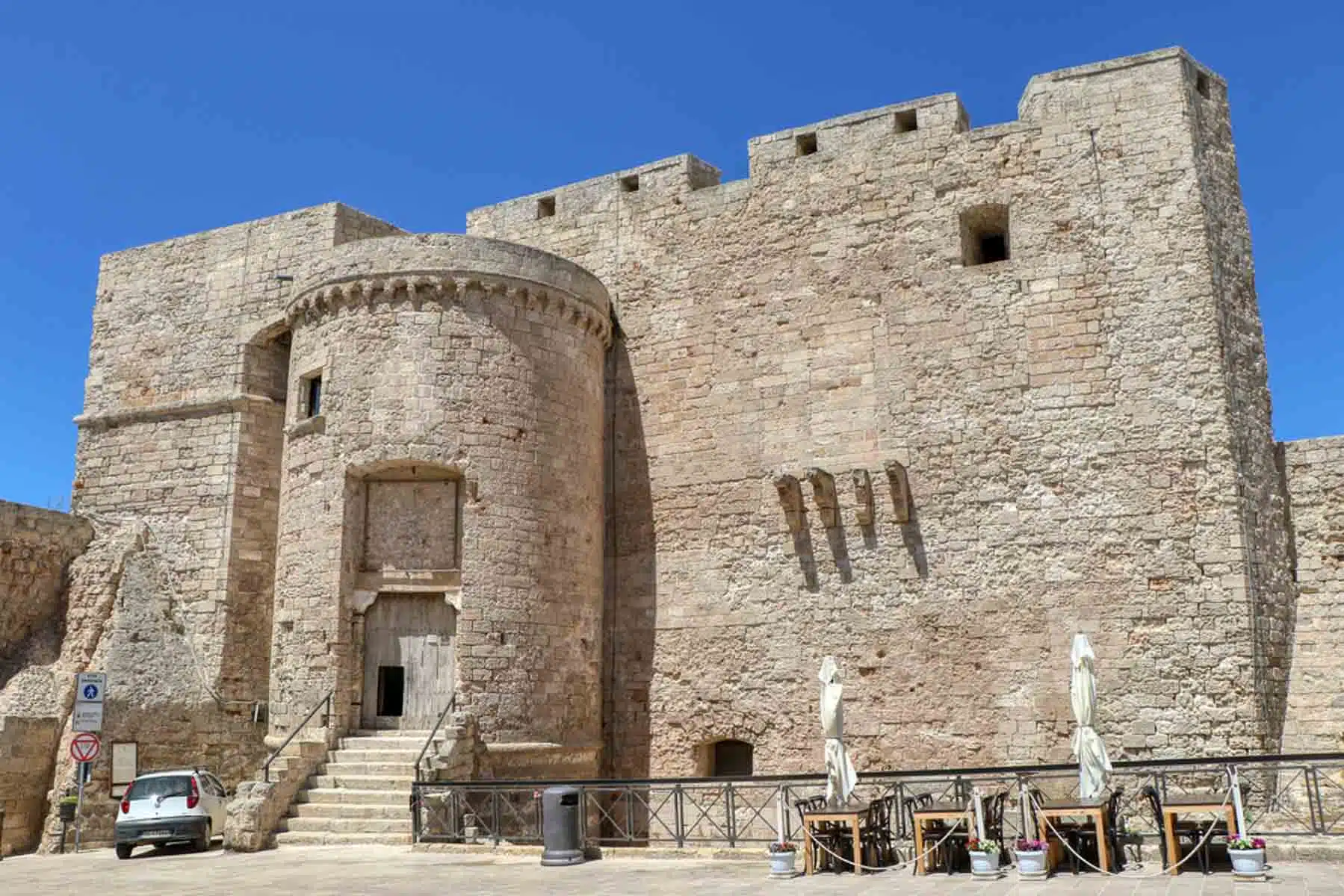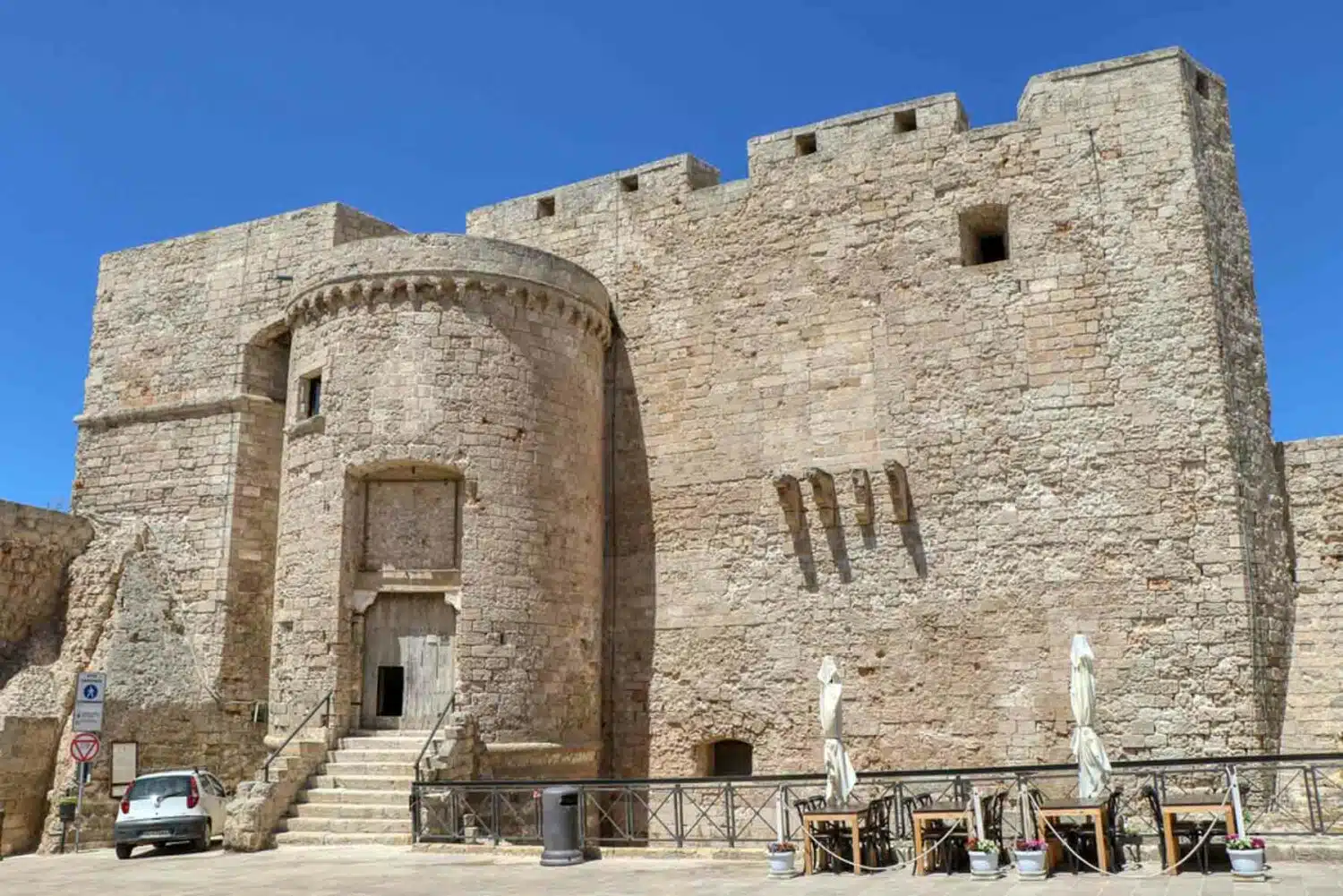 Built in the early 16th century, the Castello Carlos V is an imposing fortress and castle in Lecce. It served as the city's main defence fortification, and, after all these centuries, it remains mostly unscathed.
The castle has four walls and towers with stout bastions and is also the largest castle in Puglia. Once a prison, court, and military compound, it now acts as the headquarters of Lecce's cultural authority.
You can wander around, explore this magnificent castle, and bask in its glory. It also houses a paper-mâché museum (totally random, but I love it) and occasionally hosts events.
Take a Day Trip to the Beach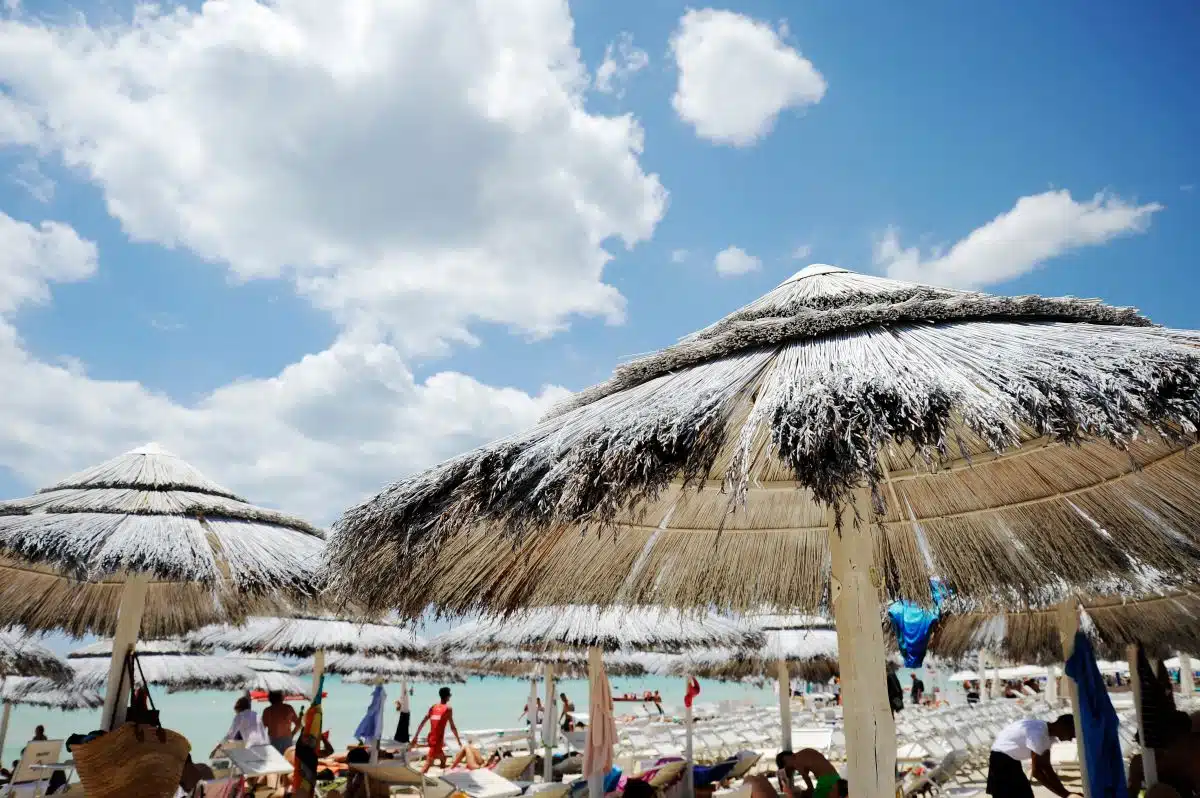 Why not spend some time on the sand near Lecce? You're in Italy, after all. Though it's not the closest beach to Lecce, Torre Lapillo (35 mins away) is certainly the best.
The beach is free but gets super busy in the summer months, so you might want to book a sunbed in advance. Or, spend some time at the glorious Bahia del Sol Porto Cesareo – this beach club is an Instagrammable dream.
Climb Lecce Bell Tower (+ Admire the View)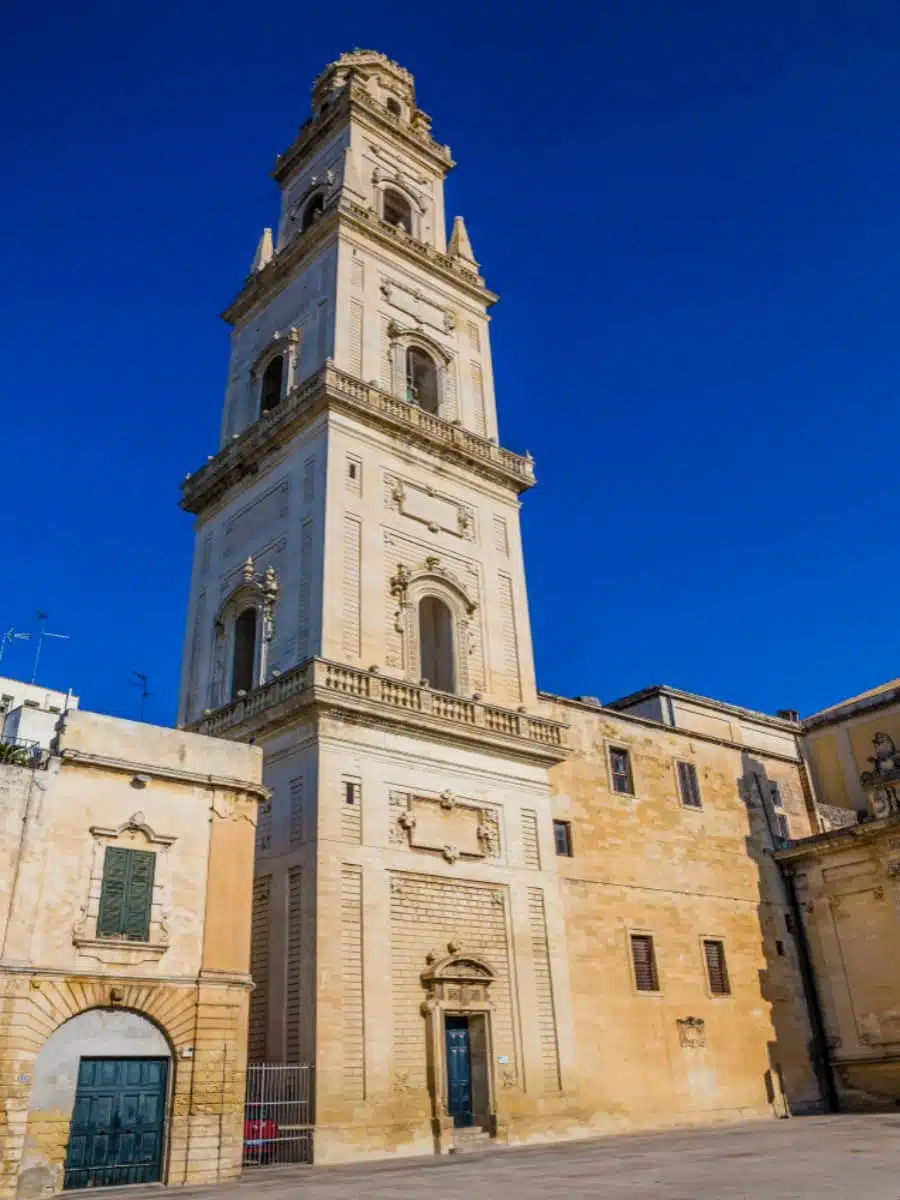 Lecce's bell tower is rather famous in Puglia. Not only is it one of the tallest in Europe at 71 metres tall, but on a clear day you can even spot the Adriatic Sea and the mountains of Albania from the top.
Don't fret, you don't need to schlepp your way to the top – there's now an elevator that carries you skywards. You can also spot the tower's four bells on your journey to the observation deck.
Gorge Yourself on a Street Food Tour
Do I really need to explain why a street food tour in Italy is a good idea? Didn't think so. Lecce has a surprisingly epic street food scene – and heading out with a local guide can help you discover the best of the city.
There are a few tours to choose from, but I recommend either opting for this Tuk Tuk tour (because you don't even need to walk!) or going the whole hog with a wine-tasting and food tour.
Must-Try Bars & Restaurants in Lecce
Ristorante Blu Notte
One of my favourite places to eat in Lecce is at Ristorante Blu Notte, situated in the historic centre.
The high-vaulted, stone-arched ceilings are as impressive as the food. Speaking of which, this restaurant is where good food, wine, art, and culture meet each other in an intimate atmosphere.
Their menu has a fine selection of traditional dishes from Salento, seafood, meat, and desserts. They also have a carefully crafted wine list with a huge array of regional wines to pair with the best food in Lecce, Italy.
Quanto Basta
It's not exactly a secret that this is one of the best bars in Lecce – you'll find groups of students, intimate dates, and a slightly older crowd interspersed all throughout this cool cocktail bar.
Drinks are reasonably-priced and the menu consists of classics and a few regional offerings – they do a particularly quaffable Paloma.
Best Hotels in Lecce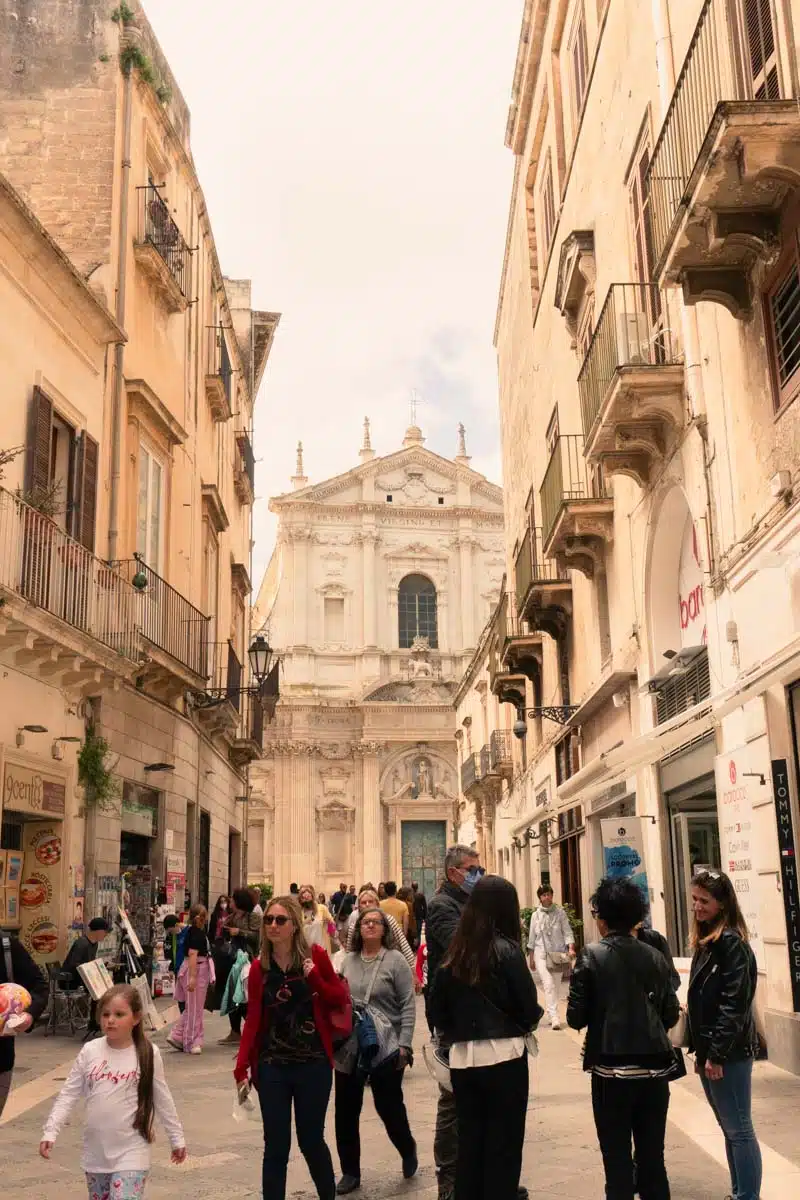 Grand Hotel Di Lecce (Mid-range)
The Grand Hotel di Lecce is 200 m away from the Lecce Railway Station and 10 minutes from the historic Old Town. The atmosphere of this hotel is, as its name suggests – grand. Once you step inside this Art Nouveau building, you'll immediately notice its ornate details and charming decor.
La Fiermontina (Luxury)
This small yet luxurious hotel is perfect for you if you want to get a feel of historic Lecce. La Fiermontina is set in an old family home and features stunning stone arches and details. The hotel is also conveniently located near the Lecce Train Station and the Piazza del Duomo.
Lecce, Italy: Practical Tips for Your Trip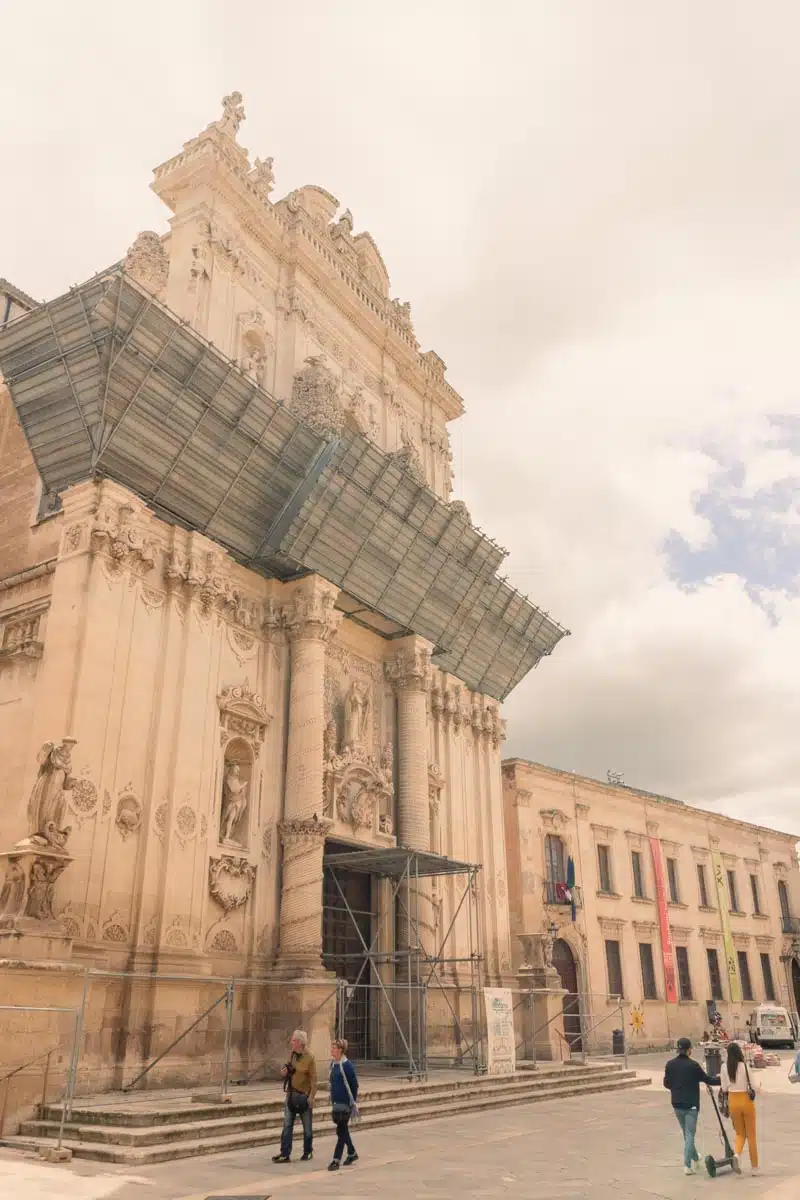 How Long Should You Stay in Lecce, Puglia?
Lecce is very quaint, and one or two days is usually enough to see all the city offers. I recommend extending your trip to the rest of Puglia and spending around a week in the region.
Best Time to Visit Lecce, Puglia
I recommend visiting in May, June, and September. The temperature during these months is comfortably warm, and the crowds are slightly lower than in July and August.
Where Should I Stay in Lecce?
There are several great places to stay in Puglia, and these hotels in Lecce are no exception.
I suggest staying at the Grand Hotel di Lecce to be close to all the action. Though, if you're looking to get a real feel of the city's historical side, I would recommend staying at La Fiermontina Hotel.
How Do I Get to Lecce?
By Plane (+ Car)
The closest airport to Lecce is the Salento Airport in Brindisi. You can rent a car and drive to Lecce in about 30 minutes. Alternatively, you can drive in from the city of Bari, which is about two hours away by car.
By Train
There are direct trains to Lecce that leave from Bari and Brindisi. From Brindisi, the journey is only 30 minutes, while from Bari, it's about 90 minutes.
Things to Do in Lecce, Puglia: Map
Love This? Save and Share on Pinterest