Looking for the best things to do in Polignano a Mare? Perched on limestone cliffs delving into aquamarine waters and marked with coastal caves, this ancient town makes for a picturesque southern Italian escape.
Located less than an hour away from the cities of Ostuni and Bari, this little 62km² town is the perfect spot for a day trip.
Polignano a Mare is also one of the best cities to visit in Southern Italy if you're seeking a quiet, ultra-scenic vacation. It quickly became one of my favourite places in Italy when I visited earlier this year.
What is there to do in such a quaint town, I hear you ask? In Polignano, there's surprisingly plenty!
Top Tip: Looking for somewhere to stay in Polignano A Mare? I recommend the gorgeous A casa di Dany for a room with a view of the iconic Lama Monachile.
Top 5 Things to Do in Polignano a Mare
Relax on the Lama Monachile…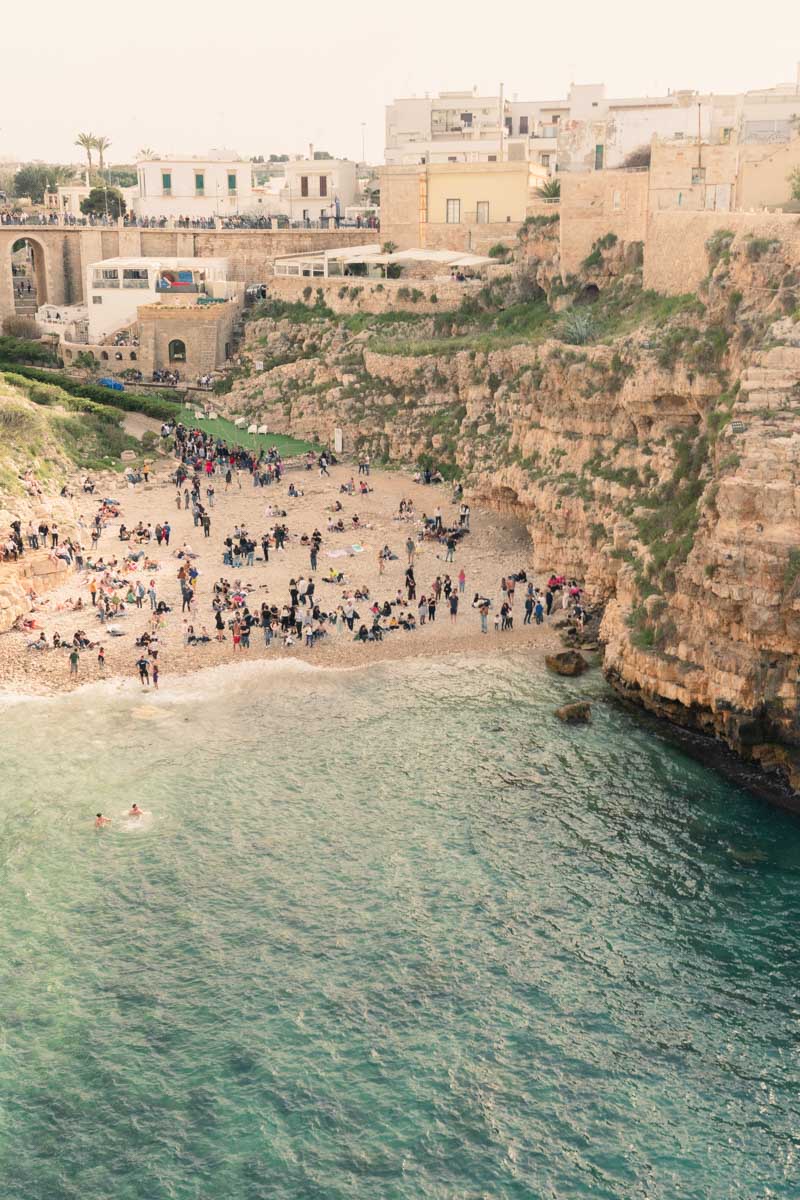 Also known as Cala Porto, this Polignano a Mare beach is nestled between two plunging cliffs and is one of the most photographed spots on the Apulian coast.
In Polignano a Mare, diving, swimming, and stand-up paddle boarding are among the top water activities. But, this beach is also great for chilling out with a book and your towel and lazing around in the Italian sunshine.
Learn from my mistake and head there before midday to catch some rays, otherwise the huge cliffs block out the sun. Boo.
Tip: Take a boat tour from Polignano a Mare to see the town's impressive caves.
… Or Admire Pretty Views of It From Belvedere Terraza Santo Stefano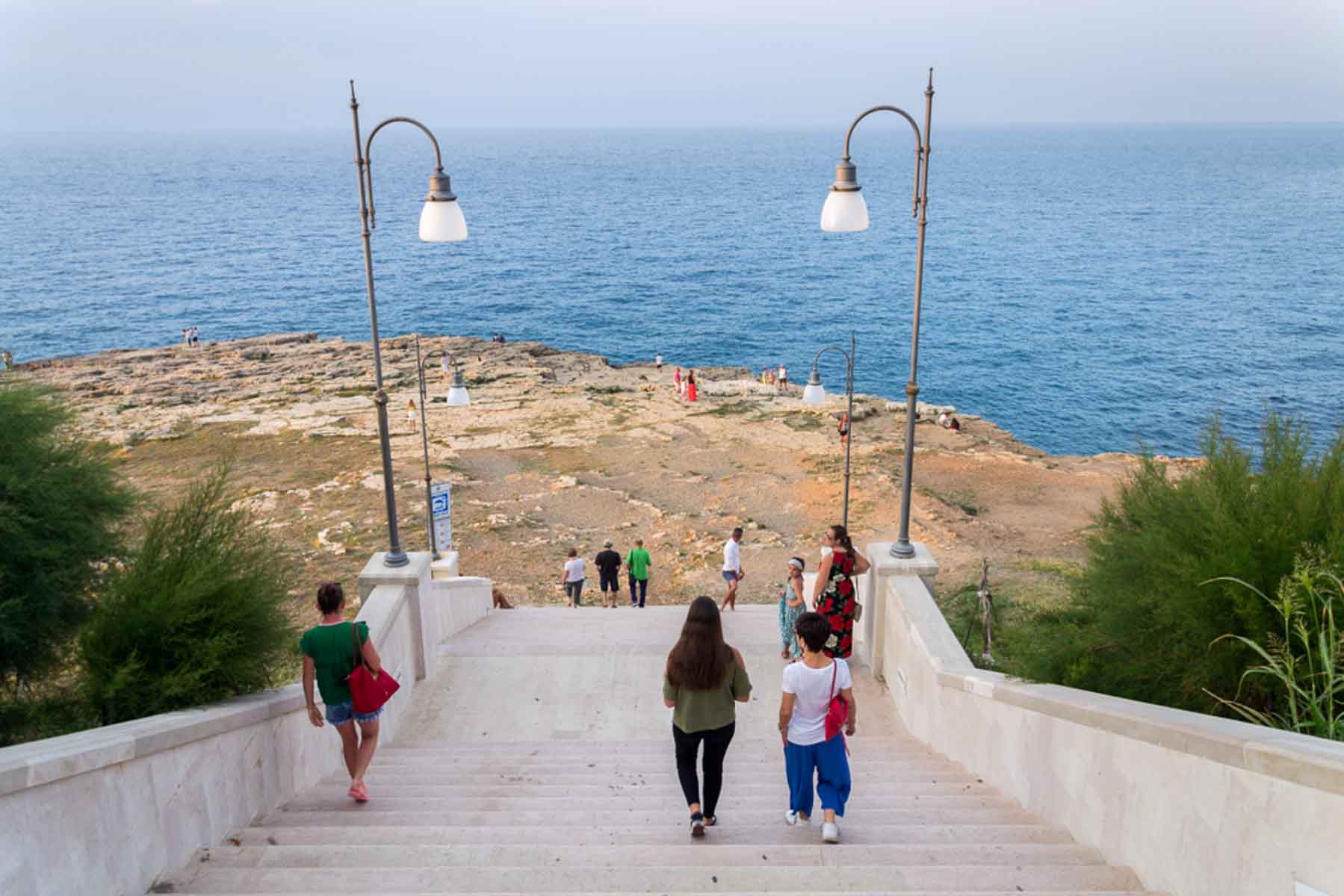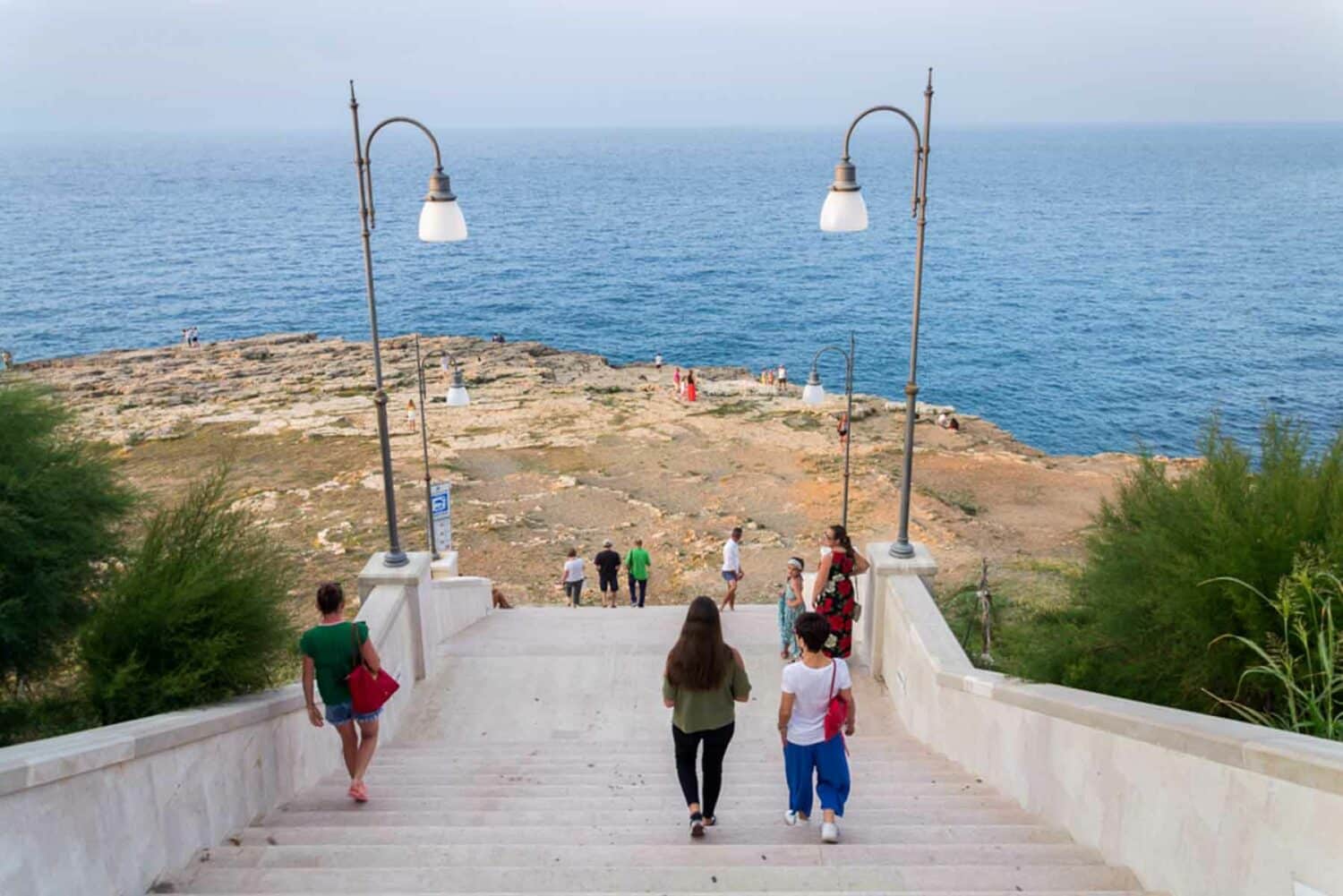 The only thing better than swimming in the glittering waters is getting a postcard-worthy view of it from one of the many viewpoints, amiright?
Bring your best travel camera and head to Belvedere Terraza Santo Stefano, which is only a short walk from Piazza Vittorio Emanuele II. This spot is the ultimate place to get the iconic shot of the azure waters lapping at Lama Monachile, with Ponte Borbonico and the town as backdrop.
Wander Around the Centro Storico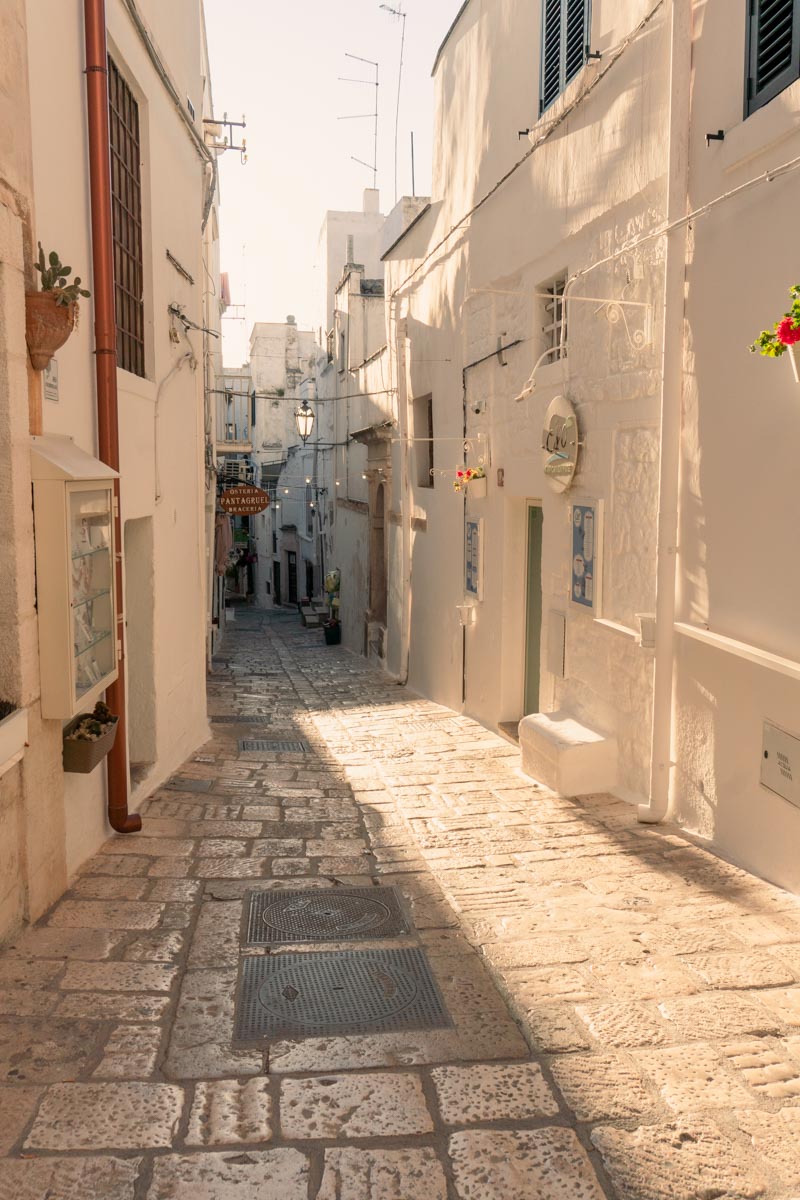 Take a stroll through the beautifully preserved old town (centro storico), where winding cobblestoned streets lead to vast piazzas and more viewpoints of the sparkling sea.
Wandering through these streets, you're bound to come across poetry written on doors, walls, and staircases — which makes for spectacular photos.
Tip: Get to know the Polignano a Mare of past and present with a guided walking tour.
Grab an Ice Cream at Bar Turismo
A short walk from Lama Monachile, right on the Via Pompeo Sarnelli, you'll find the humble Bar Turismo. While this gelateria also serves killer cappuccinos, it's best known for its mouthwatering gelato.
You can't go wrong with the rich hazelnut or pistachio flavours. But, if you're looking for a delectable treat with a caffeine kick, be sure to ask for the Crema di Caffe.
Dinner at Grotta Palazzese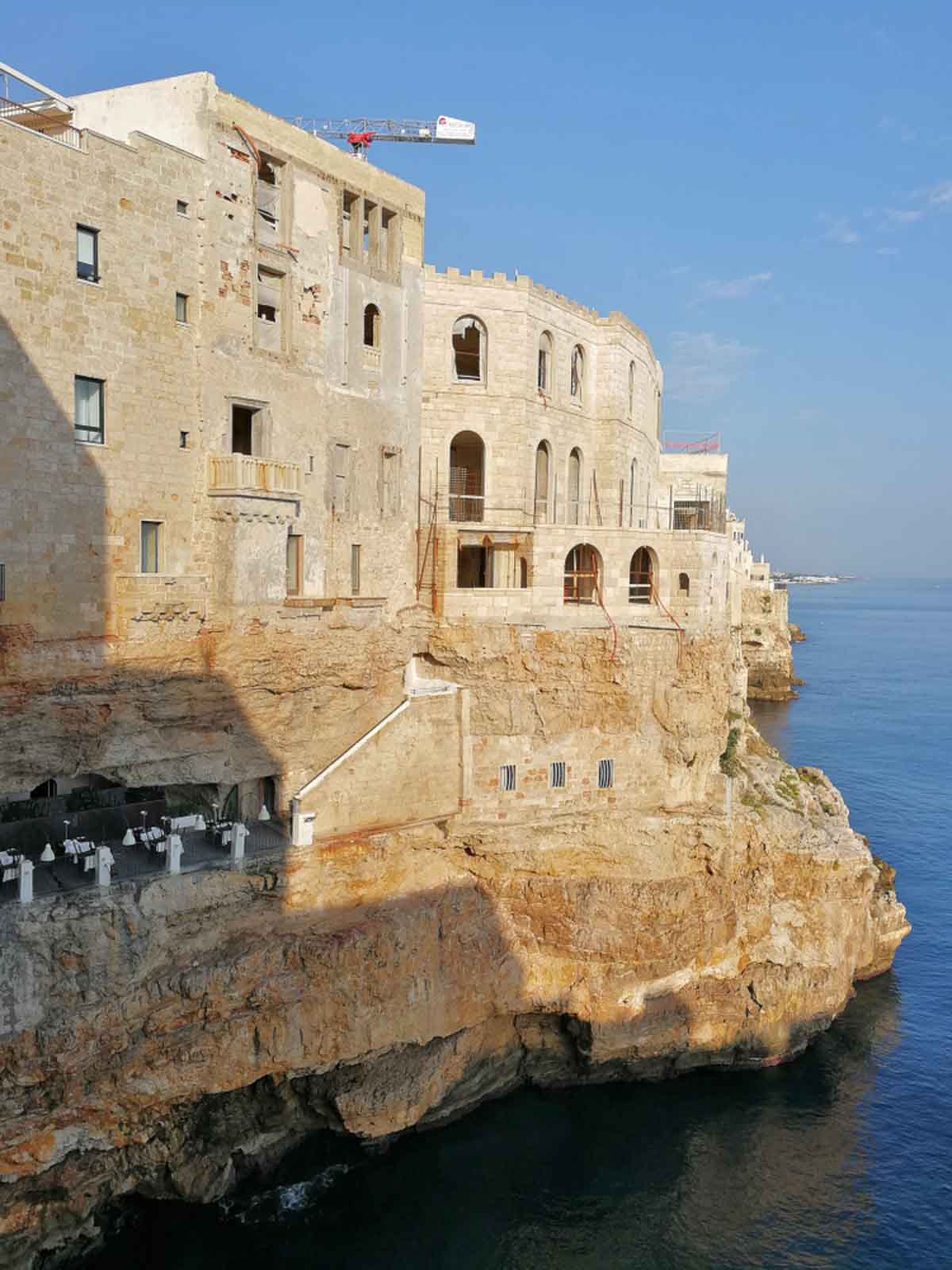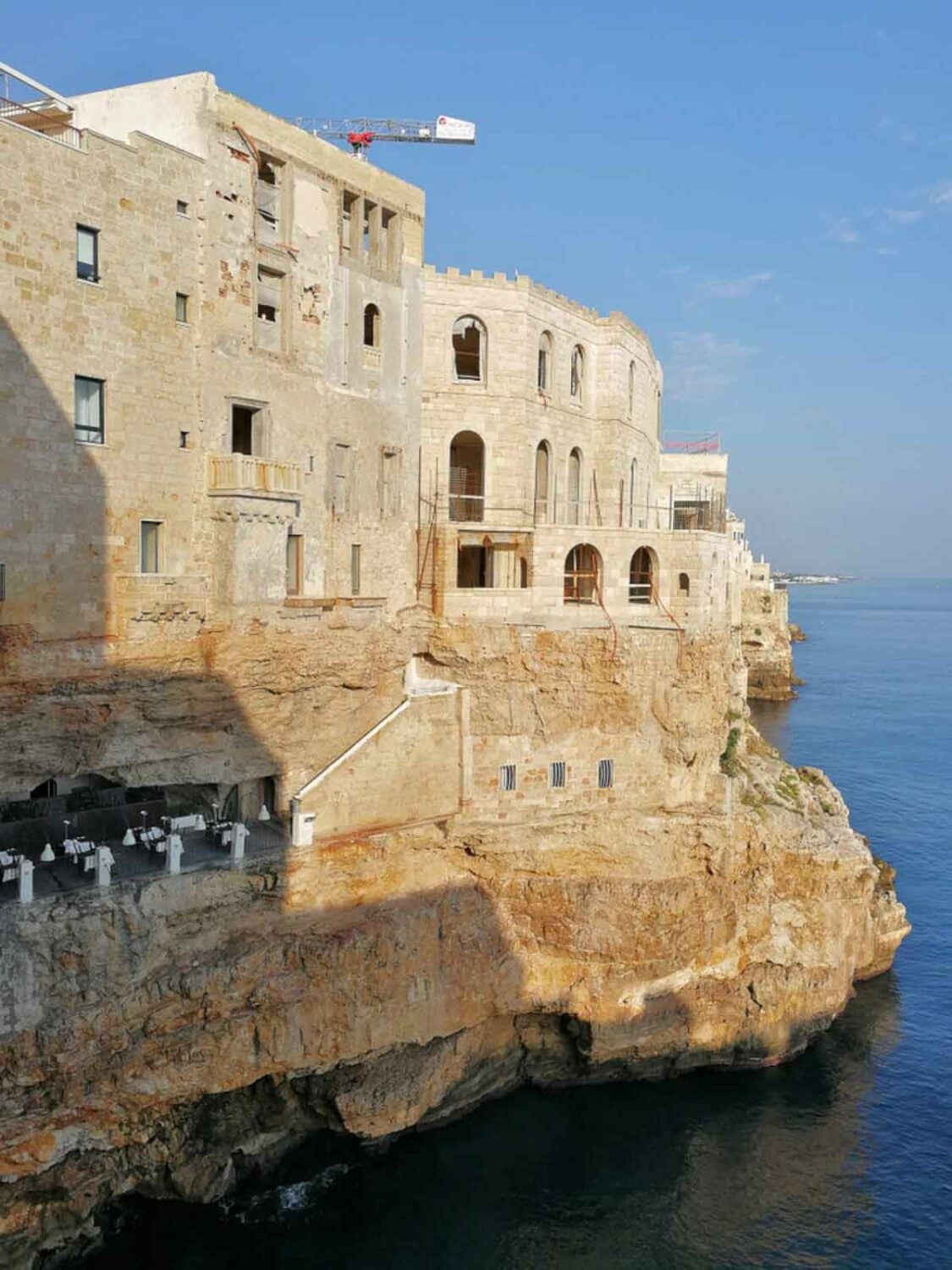 Tucked into an ancient Polignano a Mare cave, Grotta Palazzese has been a popular destination for parties and banquets since the 1700s. Today, the restaurant has a more refined style — complete with wood-panelled floors and bell-shaped lamps.
If you've got a bit of money to splurge, enjoy the sunset with wine and locally-inspired food on this balcony on the sea. You're sure to have an "am I dreaming?" moment with how spectacular it is.
Brilliant Things to See & Do in Polignano a Mare
Sing With Domenico Modugno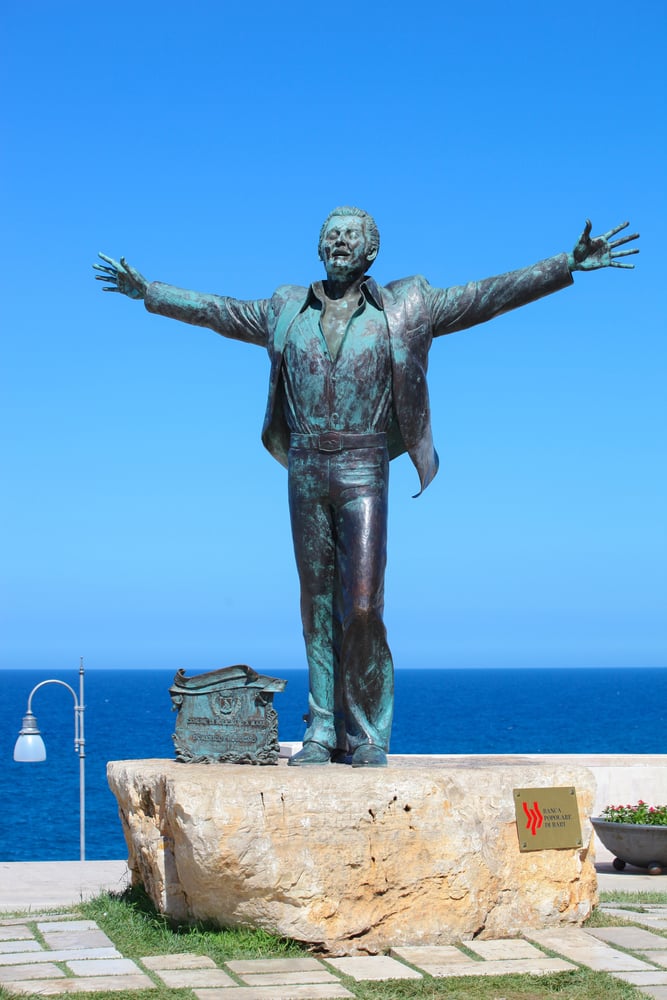 Besides its idyllic seaside views, Polignano is famous for being singer Domenico Modugno's birthplace. Doesn't ring a bell? If you know the song "Nel Blu Dipinto di Blu" — also known as "Volare" — you've likely sung along with him.
The town is rightfully proud of its talented export and the song "Volare" even won a Grammy award in 1959. You'll find a bronze statue of Domenico, seemingly mid-"Volare, oh oh oh", a short walk from the Ponte Borbonico, near the entrance to Pietra Piatta.
Tip: Just behind the statue, you'll find a small stone staircase; Scalinata Volare. Take these down to Pietra Piatta for panoramic views of the historic centre.
Admire Art at the Fondazione Museo Pino Pascali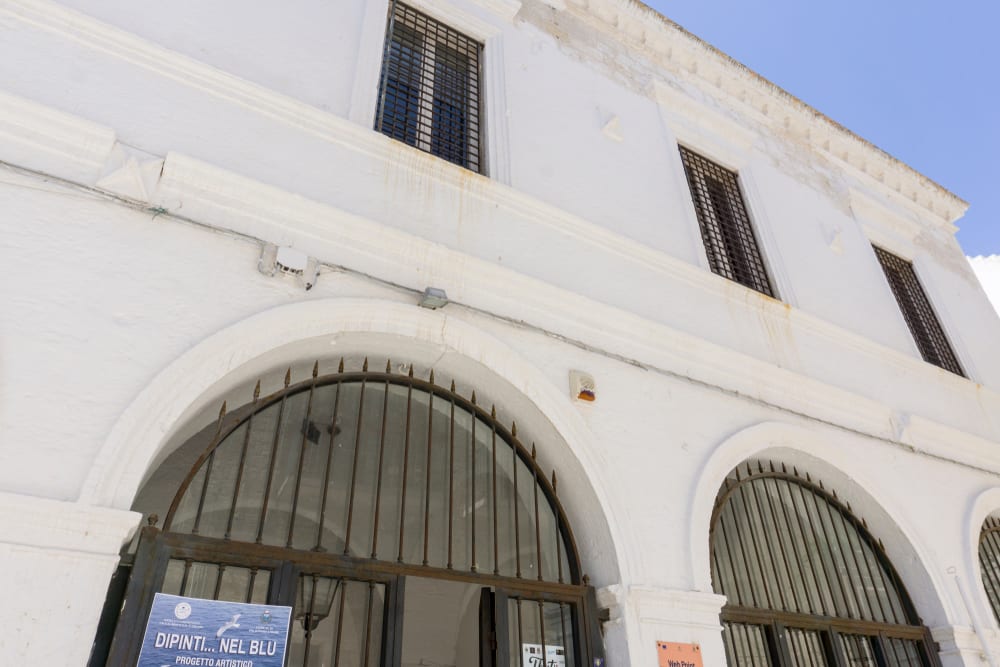 If you're an art fanatic, be sure to pop by the Foundation Pino Pascali — the only Museum of Contemporary Art in Puglia. Founded in 1998, the museum hosts permanent and temporary exhibitions dedicated to this impactful Italian artist, who sadly passed away at just 33 years old.
Note: The museum is open Wednesday to Sunday, from 4 – 8 pm, and entry is €5.
Must-Try Polignano a Mare Restaurants & Bars
Antiche Mura
Translating to "old walls", you'll find Antiche Mura within the centro storico. This hidden gem is a favourite among locals, serving delicious seafood-based dishes in a cosy, rustic setting.
Try their frutti di mare pasta if you're in the mood for a seafood variety or their tuna carpaccio for a light summer treat. Be sure to make a reservation to secure a seat.
Caffè dei Serafini
Head to Caffè dei Serafini in the evening for the incredible selection of local wines and stay for the delicious selection of small plates that pair perfectly. I recommend opting for the sommelier's choice of three wines, just €12 and guaranteed excellence.
Food wise, the pistachio-crusted tuna steak and the cold meat platter are both stellar, as is the wide selection of frisa – a pimped-up version of bruschetta.
Best Polignano a Mare Hotels
Santo Stefano Home & Breakfast (Mid-range)
If you're looking for a Polignano a Mare bed and breakfast, book a spacious room at the light and airy Santo Stefano B&B. With exposed Apulian tuff stone walls and pops of colour throughout, the interior of this hotel is almost as charming as the views from the rooftop terrace.
Check Santo Stefano Home & Breakfast Rates and Availability here
San Michele Suites (High-end)
For a luxurious stay, San Michele Suites won't disappoint. Stooped on a cliff overlooking the ocean, this elegant hotel is a mere 50 meters from Lama Monachile and offers complimentary breakfast on the terrace. Dream.
Check San Michele Suite Rates and Availability here
Polignano a Mare, Italy: Practical Tips for Your Trip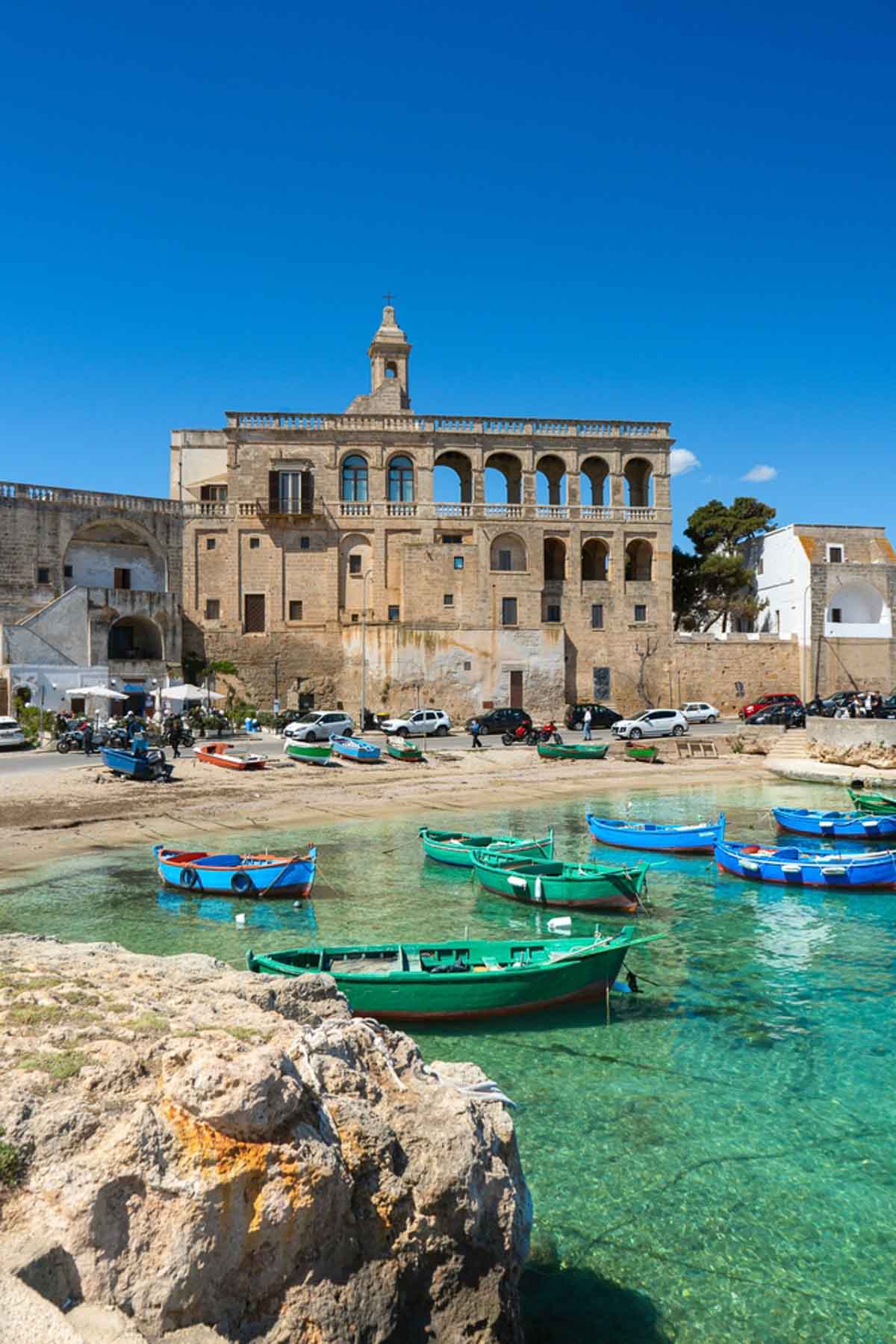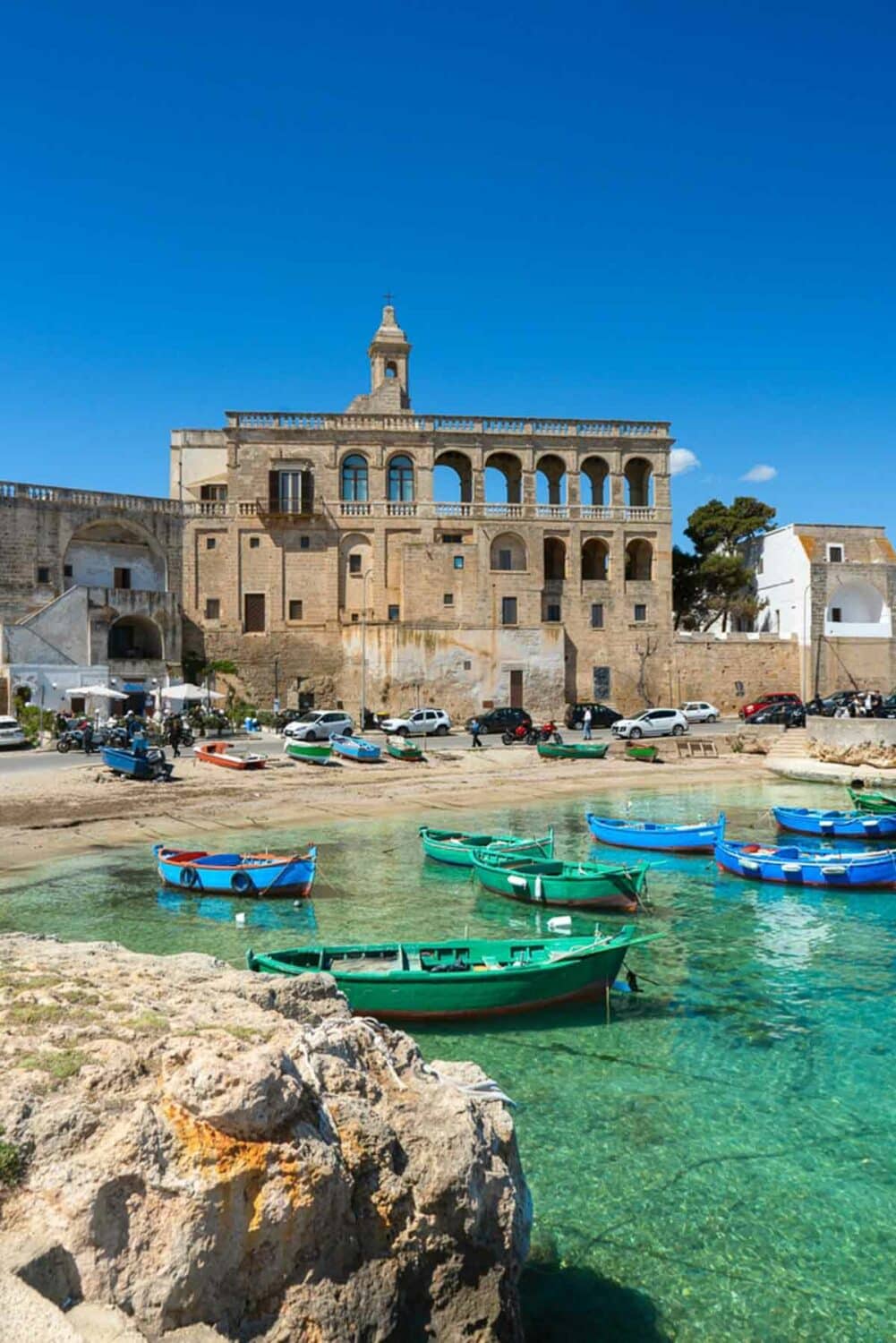 How Long to Visit Polignano a Mare, Puglia?
You can easily explore Polignano a Mare in a day. It's the perfect little stop on a trip to Monopoli from Bari.
Best Time to Visit Polignano a Mare, Puglia
If you want to enjoy this coastal town to its fullest, plan your visit around the summer months of July and August.
Where Should I Stay in Polignano a Mare?
The centro storico is full of restaurants, charming piazzas, and viewing points, making it the perfect area to stay in Polignano a Mare.
How to get to Polignano a Mare?
You can easily reach Polignano a Mare via train. The town connects to all major areas like Ostuni and Bari.
Things to Do in Polignano a Mare, Puglia: Map
Discover More Puglia Guides
Love this? Save and Share on Pinterest