Planning to spend two days in Cairo? This Cairo itinerary will help you discover the best of this enchanting city in a limited timeframe.
Few cities are as enthralling as Cairo – fact.
It's not just the pyramids (although, any city that boasts the last ancient wonder of the world is always going to have a lot going for it) – it's the culture, the food, plus a plethora of landmarks that are nothing short of outstanding.
I loved my time in Cairo on my recent Egypt trip, but I know that there's always that moment when you're planning your trip and you're not sure where to start.
That's where this guide steps in – the best things to do in Cairo in 2 days – a step-by-step itinerary complete with practical tips to help you plan your trip. 
Handy Tips for Planning Your Cairo Itinerary
What to Pack for Your Cairo Itinerary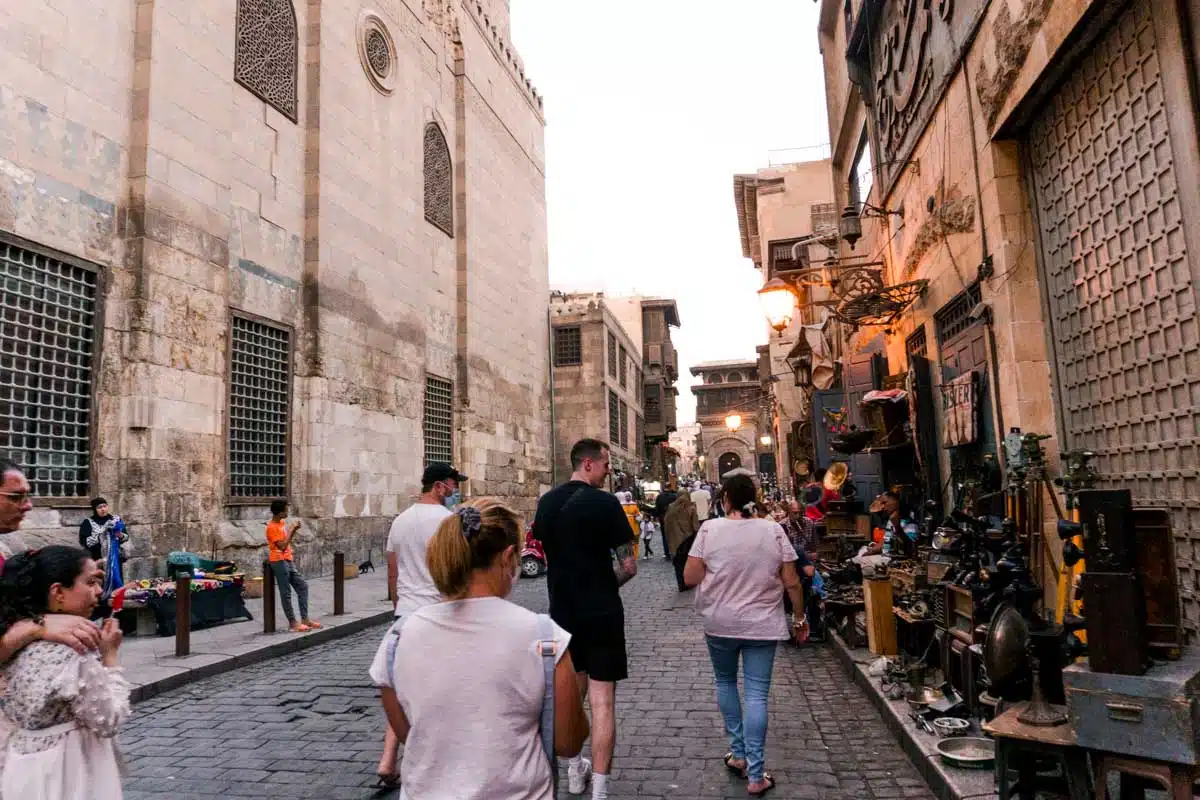 Choosing what to pack for your trip to Cairo might be challenging.
Understandably, you'll want to dress conservatively and avoid making a fashion faux pas. This, along with the heat, makes choosing clothing difficult. I've included a quick summary of what you need to pack for your Egypt trip.
Here are some clothing ideas for packing for your Cairo trip.
Keep yourself sweat-free with a loose-fitting top that will also help you adhere to cultural dressing norms.
Head-covering for women, to cover their hair if going into a mosque. Large pashminas provide optimal coverage.
With temperatures in Egypt reaching as high as 51 degrees Celsius, you'll require a wide-brimmed hat.
Note: When visiting religious sites, I recommend women cover their hair and neck with a scarf. Visitors must remove their shoes before entering these places out of respect.
Where to Stay in Cairo
Kempinski Nile Hotel Garden City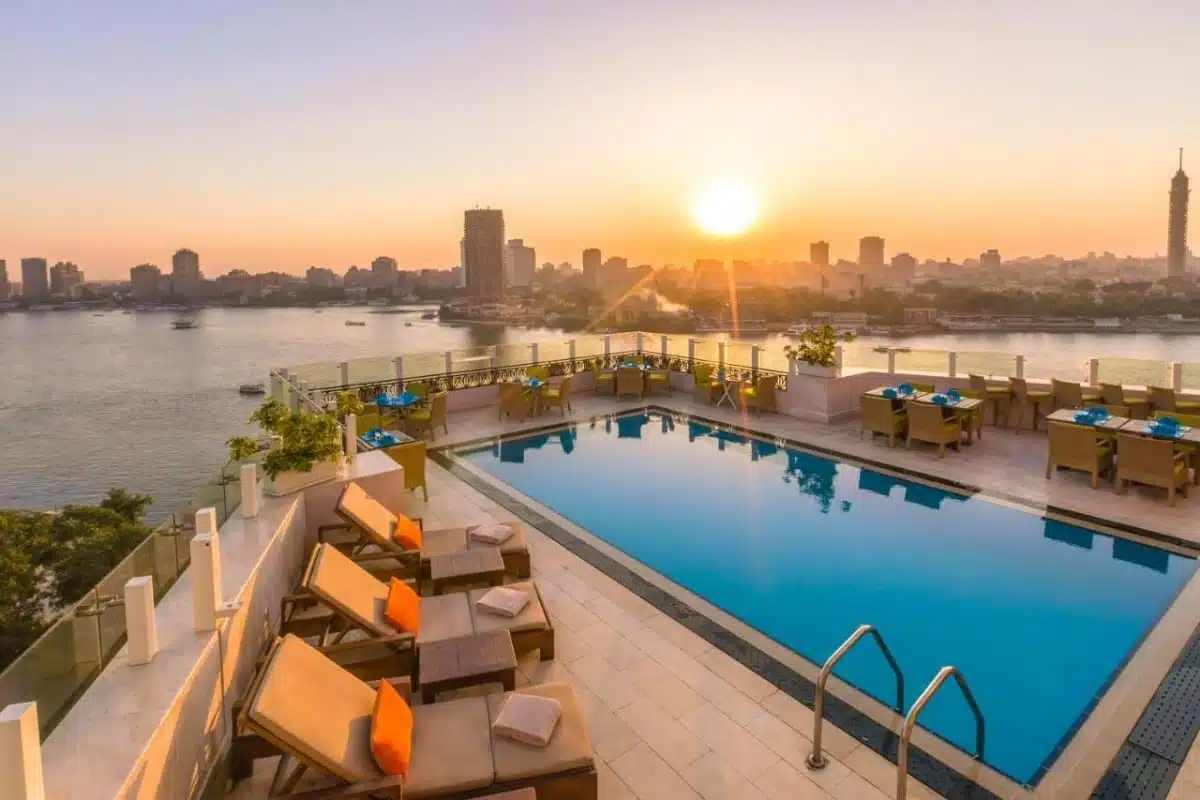 Situated in the Garden City district, Kempinski Nile Hotel Garden City is an opulent hotel with amazing amenities. Enjoy picturesque views of the Nile River from the comfort of your hotel room lining the river banks.
In the cool yet humid evenings, you can head to the Osmanly restaurant and try out some delicious lamb durum. Alternatively, try out Italian cuisine at The Blue restaurant. They serve sumptuous Carpaccio Di Manzo, which contains beef and shaved parmesan. They have good options for you if you're on a vegan or vegetarian diet.
Check rates and availability at Kempinski Nile Hotel Garden City
Four Seasons Cairo At The First Residence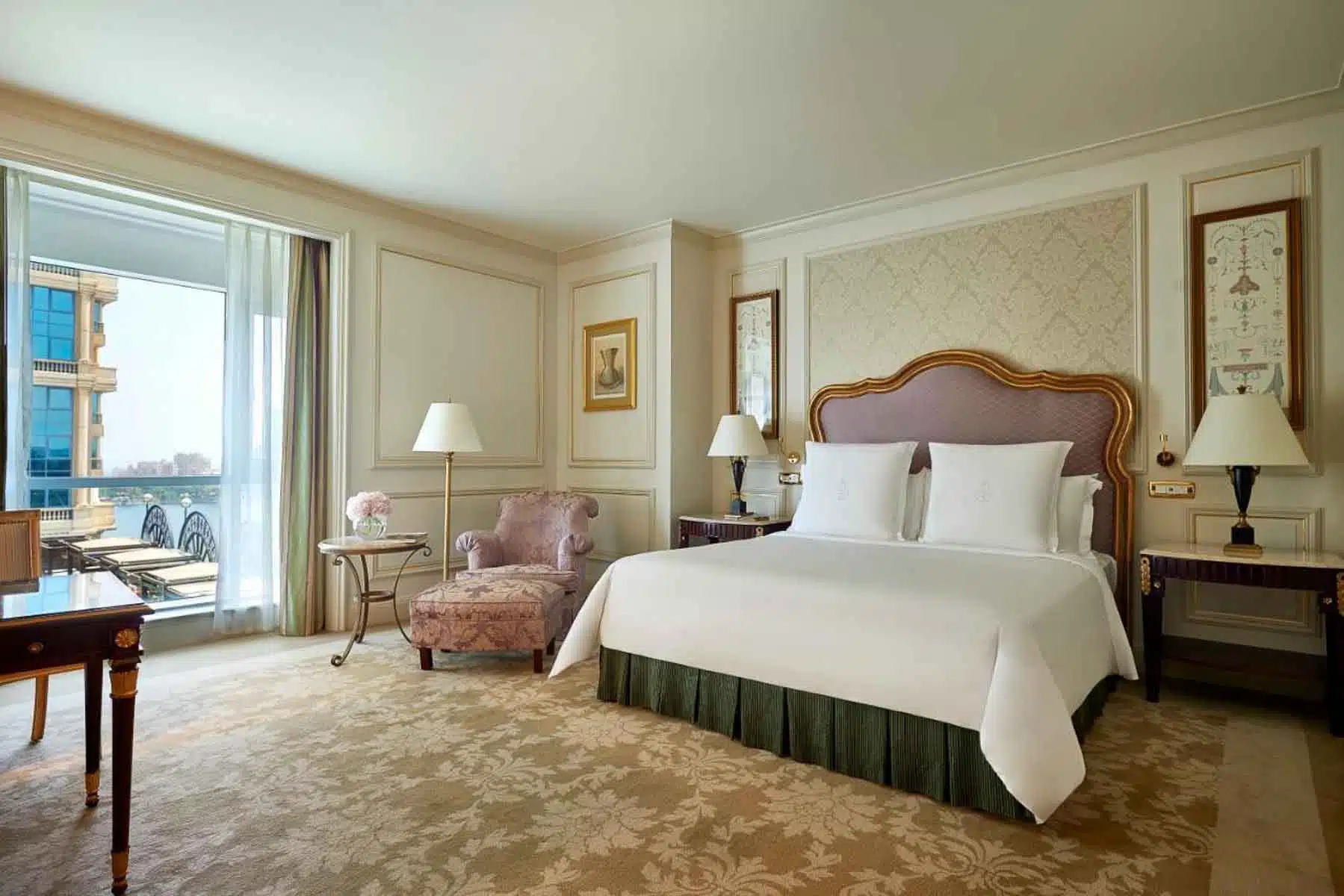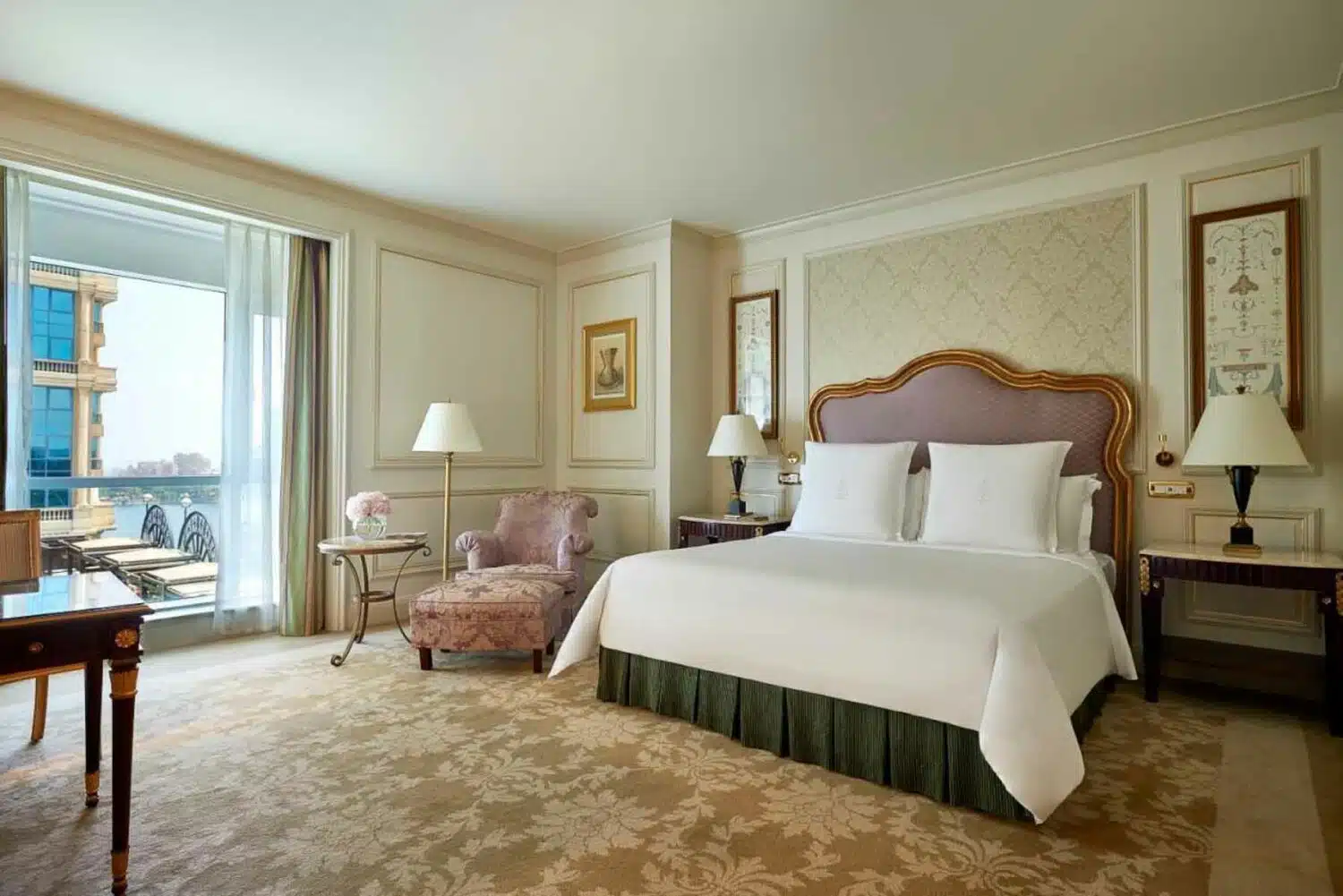 The 5-star Four Seasons Cairo At The First Residence hotel is a true oasis in the desert, thanks to its proximity to lush zoological gardens and breathtaking views of the Pyramids. Your stay will be restful and peaceful, as there's a spa on the top floor for you to zen out.
You can find a seat at the Tea Lounge and indulge in some light refreshments or savour Syrian and Lebanese cuisine at Aura. If you're feeling lucky, visit the casino. Or, if you prefer to get some steps in and immerse yourself in nature, the Zoological and Botanical gardens are just a two-minute walk from the hotel.
Check rates and availability at Four Seasons Cairo At The First Residence
The Nile Ritz-Carlton, Cairo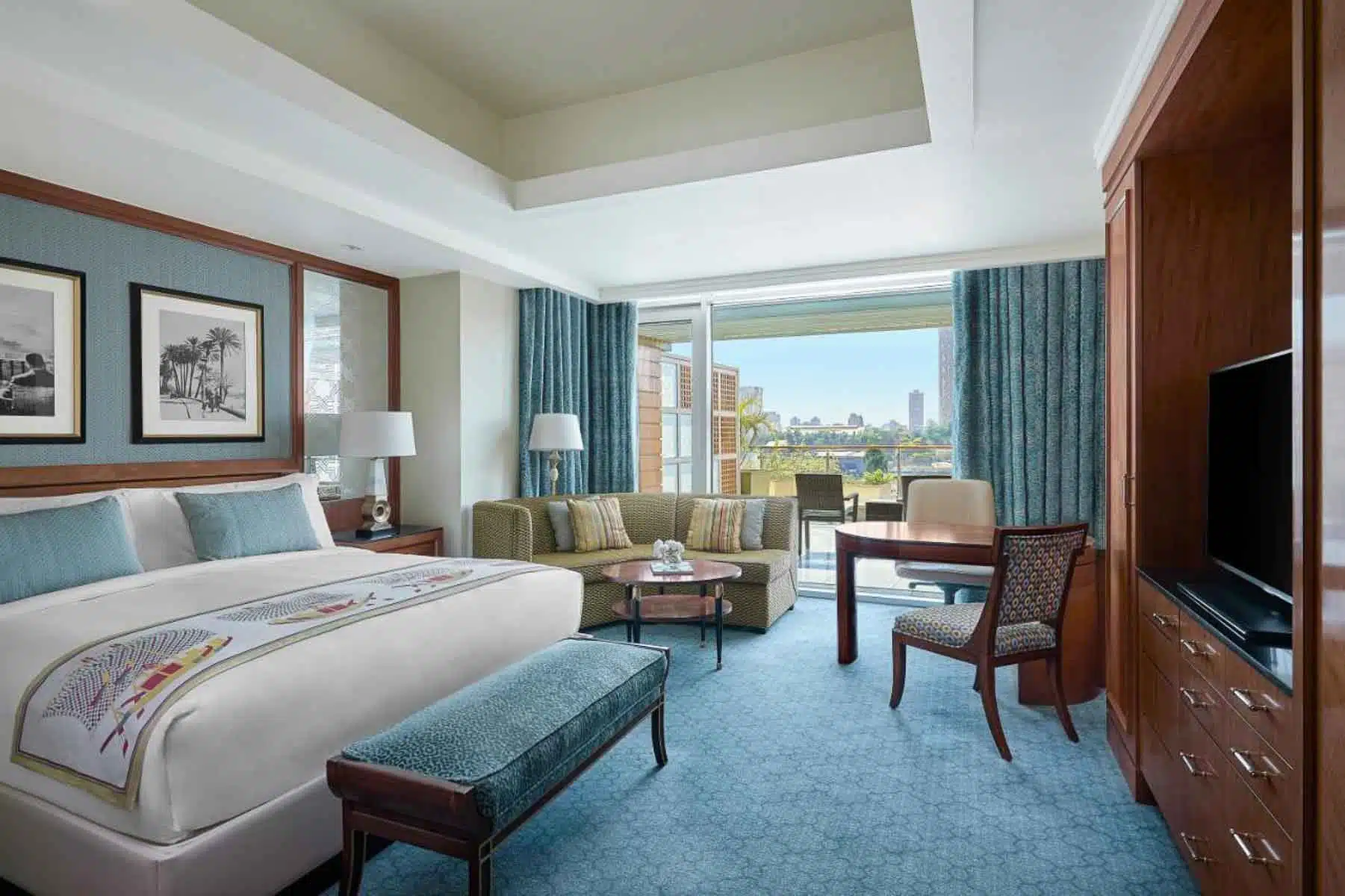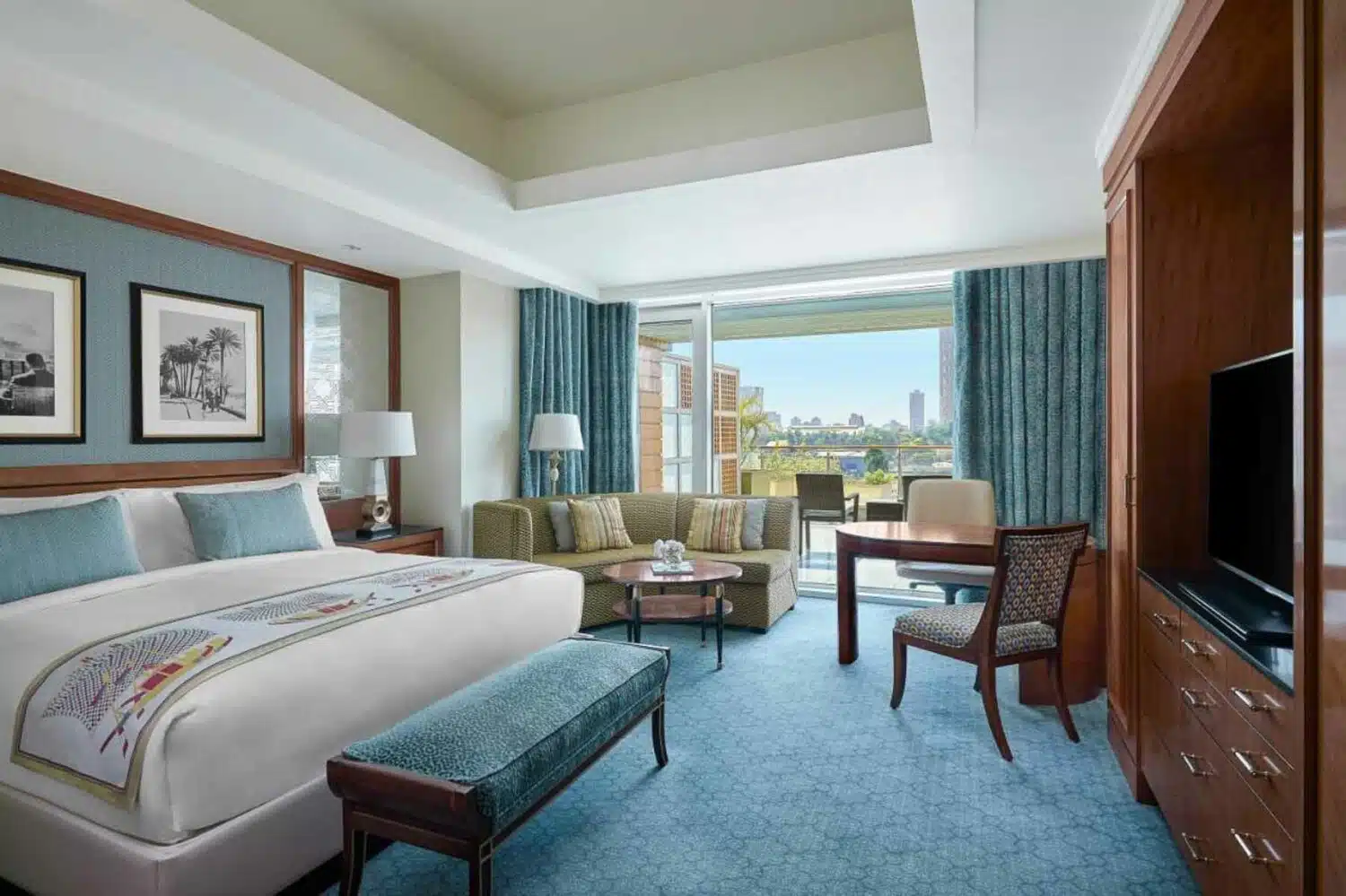 The Nile Ritz-Carlton, Cairo offers you the same unparalleled extravagant experience you'd expect from the luxury hotel chain. Flanked by iconic places like the Egyptian Museum, the Nile River, and Tahrir Square, The Nile Ritz-Carlton is close to all the local hotspots. This makes it the perfect place to stay while embarking on your Cairo itinerary.
You'll have a good time exploring what Cairo's nightlife offers. Experiment with Arabian cuisine at Bab El-Sharq and indulge in shisha (also known as hookah) with fellow patrons as lively music plays in the background.
Check rates and availability at The Nile Ritz-Carlton, Cairo
Useful Resources
Getting Around Cairo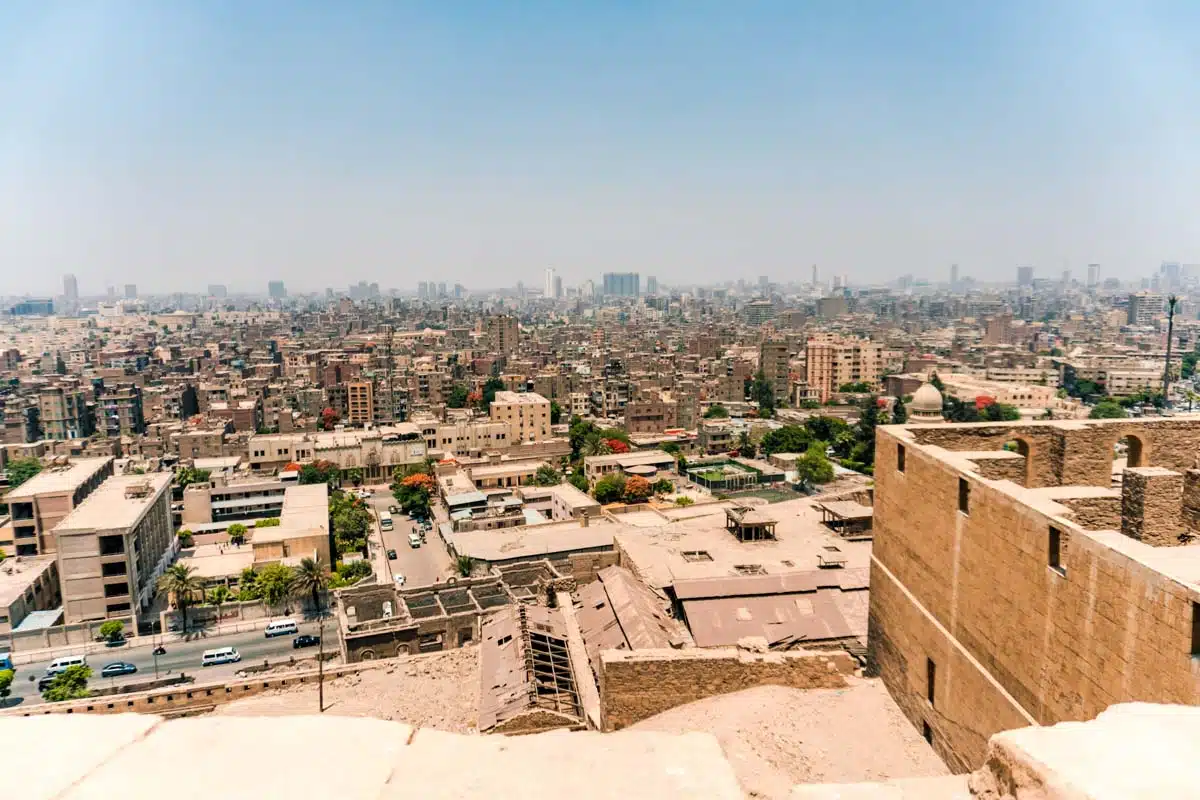 Getting around bustling Cairo is fairly easy to do by using the metro train or taxi. Since Cairo is often congested, I recommend you anticipate doubling your travel time during peak hours.
A Cairo Pass makes visiting Egypt's landmarks easier and faster. It grants admission to over 30 monuments in Giza, Saqqara and Cairo — including the pyramids. Unfortunately, the Cairo Pass doesn't include transport. So you'll have to organise this by booking a tour with transport or using Uber.
2 Days in Cairo Itinerary
Cairo Itinerary Day One: Giza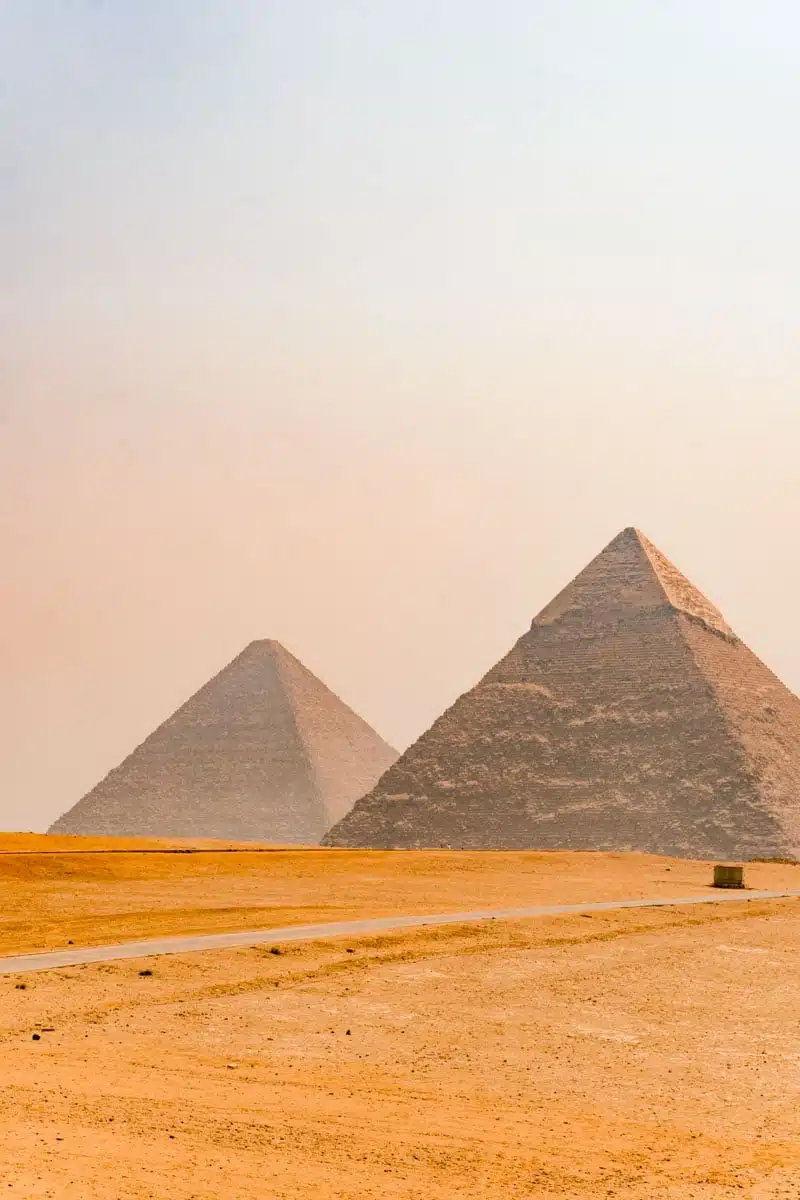 When planning what to do in Cairo for 2 days, you want to ensure that you put the top attractions first. So today you'll start in Cairo proper, and see historical monuments such as the pyramids and the Egyptian Museum.
Visit the Pyramids and the Sphinx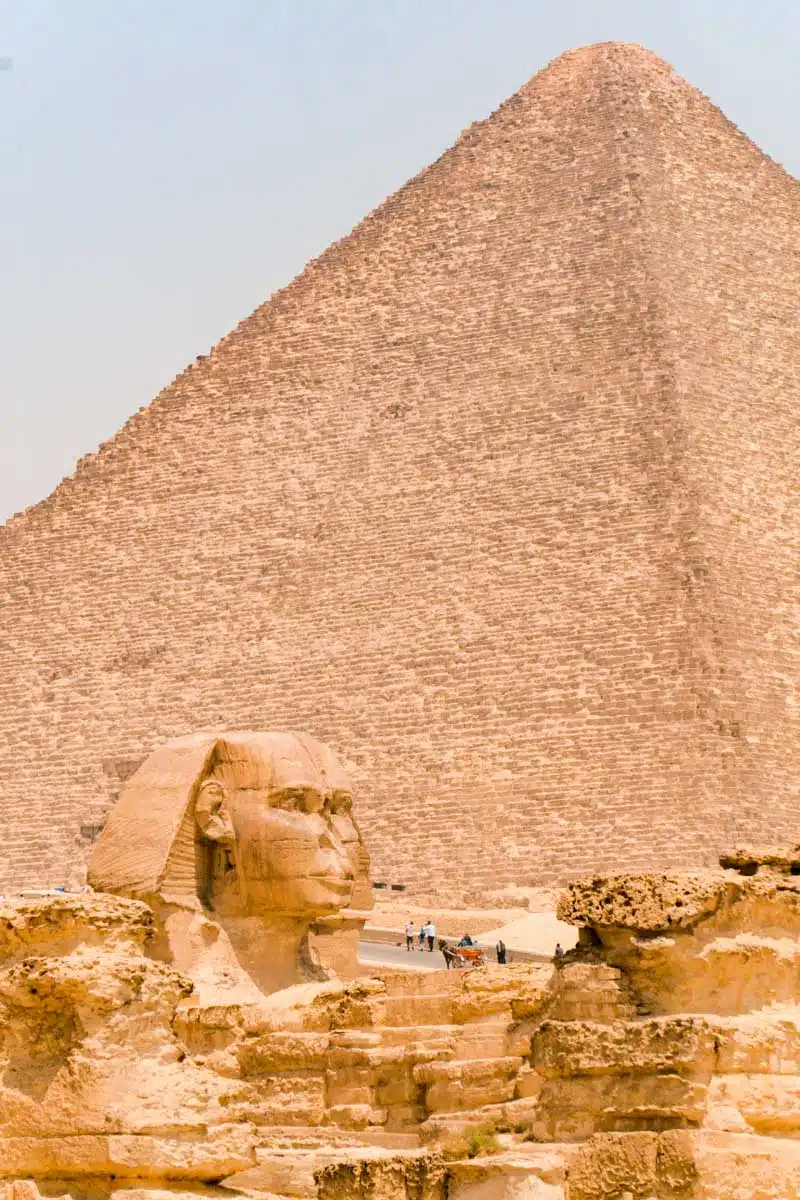 Seeing the Pyramids and the impressive 4,500-year-old Sphinx up close is undoubtedly on anyone's list of what to see in Cairo in 2 days.
The Egyptians erected the preceding pyramids between 2550 and 2490 B.C. They also named these astonishing feats of ancient Egyptian architecture after Pharaohs Khufu, Khafre, and Menkaure.
Head to the Giza Necropolis, a UNESCO World Heritage site, where you'll travel to take in the grandeur of the Great Pyramids and the Sphinx.
Go on an exhilarating excursion to this seventh wonder of the ancient world. While there, view the incredible sites of the Khufu and Khafre Pyramids before heading to the Great Sphinx. Marvel at the wonders of mummification by viewing various King's mummified bodies, such as King Khufu, for example.
Head to the Grand Egyptian Museum When it Opens (Or Head to the Egyptian Museum)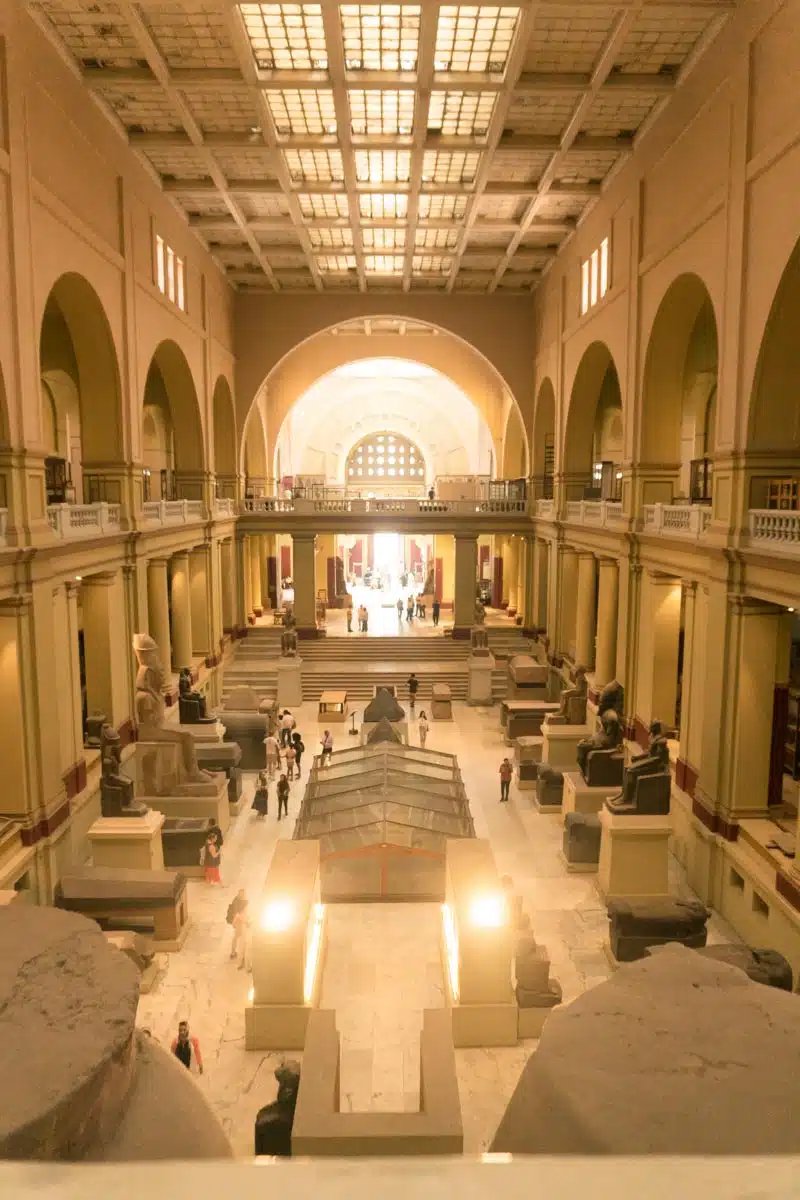 Soak up Egypt's rich history at the forthcoming Grand Egyptian Museum. The almost 500,000 square metre museum houses over 100,000 artefacts for you to explore. Undeniably, exploring this expansive museum is sure to be an incredible experience.
You'll also get to see King Tutankhamun's exquisite jewellery collection that got buried with him, along with artefacts from prehistoric Egypt.
After spending some time at the iconic Egyptian Museum, go to the Ramses Wissa Wassef Art Centre to indulge in soothing art and tapestries.
To see the pyramids and the museum in one trip, you can book this 4-hour tour that ends at lunchtime.
Note: Expect the museum to open in late 2022. If you visit Cairo before the Grand Egyptian Museum opens (currently scheduled for November) you should visit the old Egyptian Museum instead. It will be replaced by the Grand Egyptian Museum when it opens but it's well worth visiting in the meantime.
Visit the Ramses Wissa Wassef Art Centre
The serene Ramses Wissa Wassef Art Centre began as a weaving school and is now an arts complex that includes a pottery and sculpture museum, to name a few.
Ramses Wissa Wassef and his wife, Sophie H. Gorgi, founded the centre in the early 1950s. Since then, it's received the Aga Khan Award for Architecture in the 1981-1983 Cycle, thanks to its uniquely Egyptian dome-like mud rock structure.
While on a tour of the centre, watch how the gifted and dedicated artists weave complex patterns on various textiles. This is one of the best things to do in a Cairo travel itinerary as you'll spend time immersed in a laid-back art setting, which is quite different from Egypt's usual attractions.
Go on a Sunset Cruise on the Nile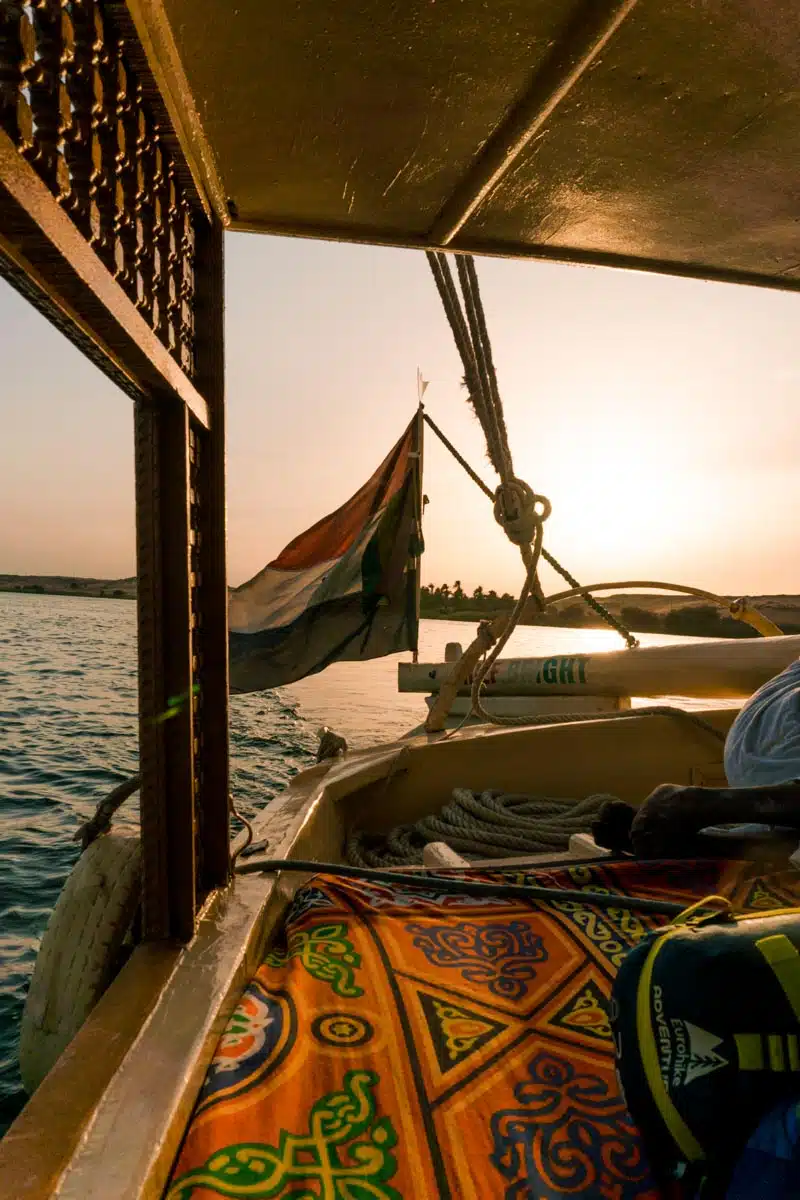 The Nile River plays a significant role in Egypt's culture and economy, providing water to 95% of the population and driving tourism.
Consider rounding off your busy day relaxing on a Nile River cruise on Africa's longest river. Sail smoothly along a portion of the 6,695 km world-renowned Nile River in traditional wooden felucca boats while enjoying the breeze of fresh cool air.
Cairo Itinerary Day Two: Cairo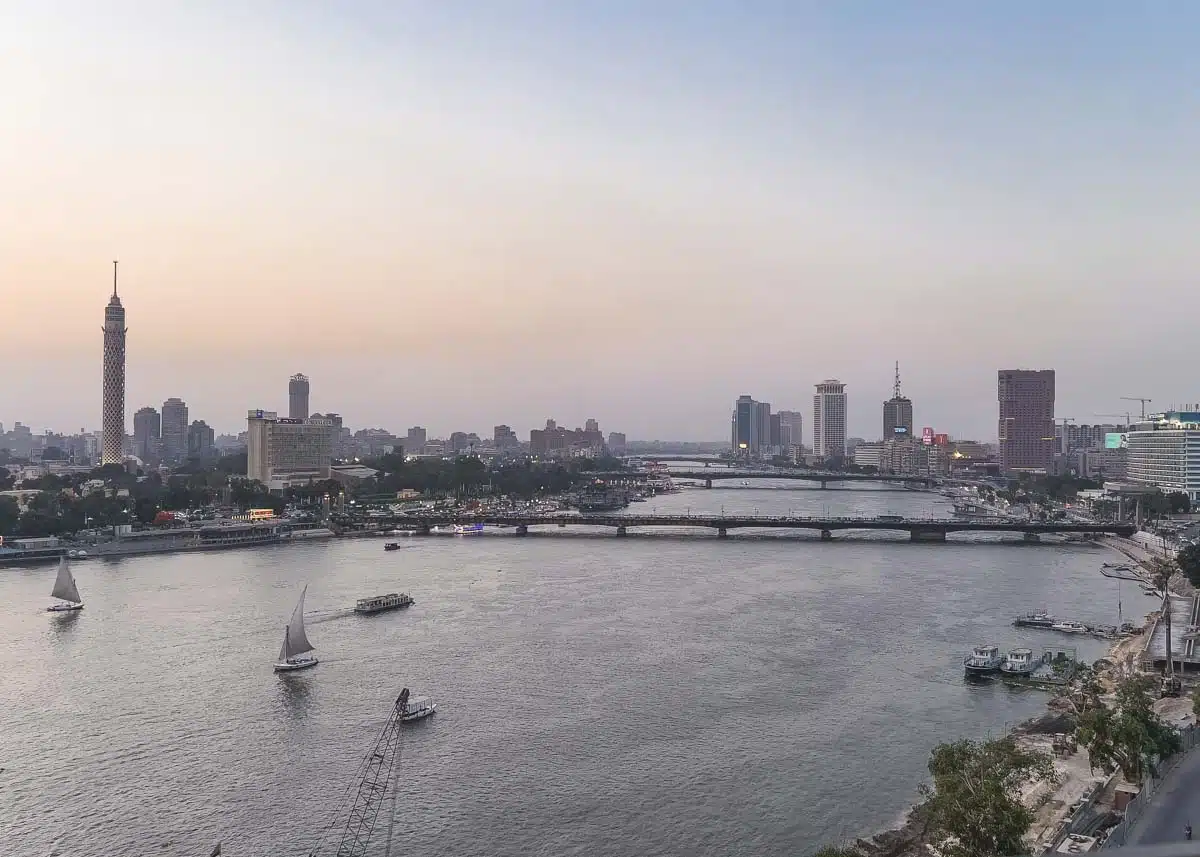 The second (and last day) in Cairo should include more of the city's magnificent landmarks. I've included more stops at significant landmarks and some shopping at the local bazaar.
Visit the National Museum of Egyptian Civilisation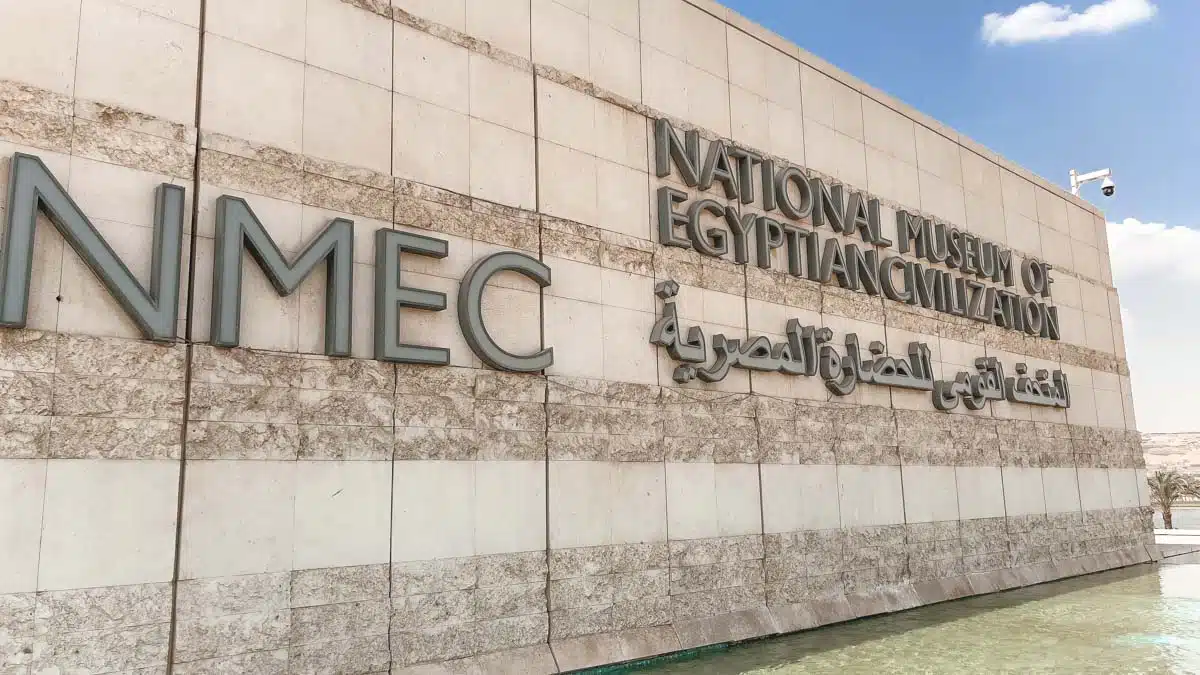 Begin your day exploring the National Museum of Egyptian Civilisation (NMEC). You'll learn about Egypt's long and varied history as you journey through its historical periods.
The Royal Mummies hall features 22 mummies of former Egyptian rulers. Among them is King Ramses II, alongside his sarcophagus. Discover the importance of the Nile River and view some of Egypt's historical treasures.
Spend time in the Coptic Quarter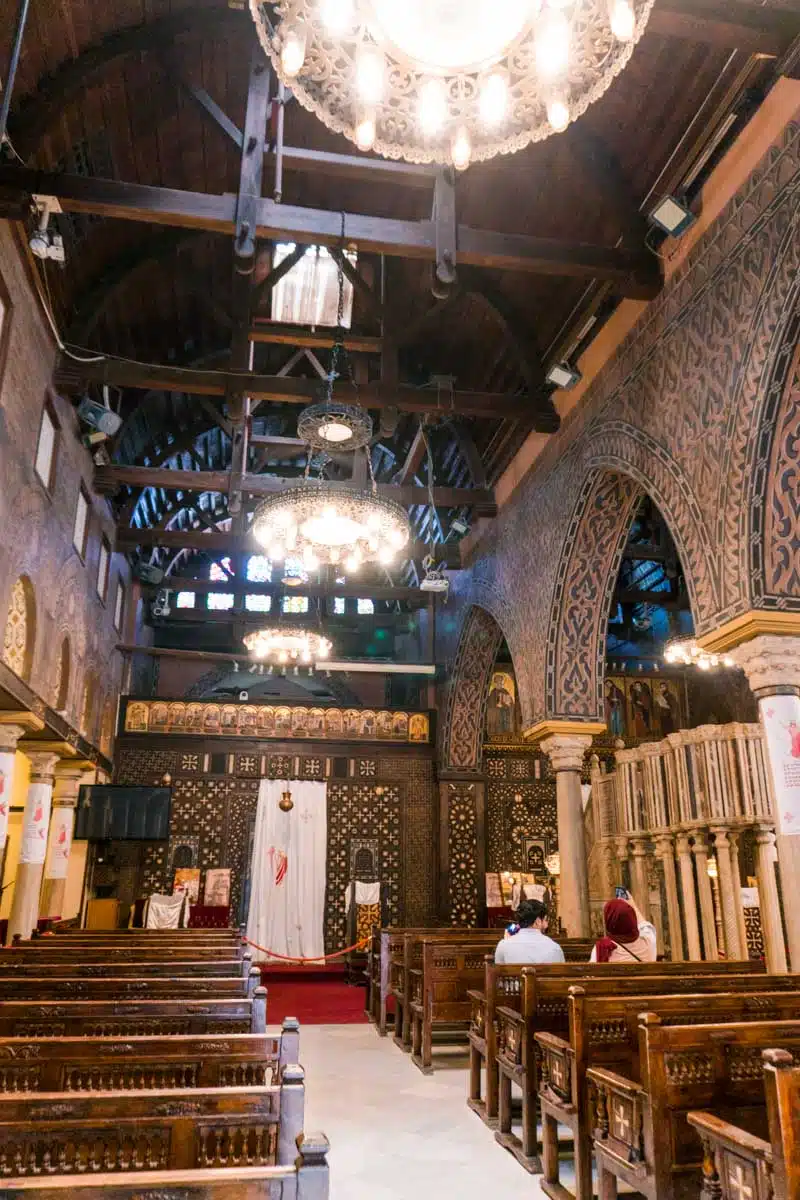 Considered the heart of the Christian community, you'll find the Coptic Quarter in Old Cairo. It's home to historic Christian monuments such as the fourth century St Sergius and St Bacchus Church.
Other notable attractions include visiting the longstanding Hanging Church and Ben Ezra Synagogue in the Kom Ghorab neighbourhood in Old Cairo. Located just two minutes from the Museum of Egyptian Civilisation, it's worth spending some time viewing Christian art and artefacts at the Coptic Museum. You're also sure to find rest from Cairo's bustling streets here.
Head to The Citadel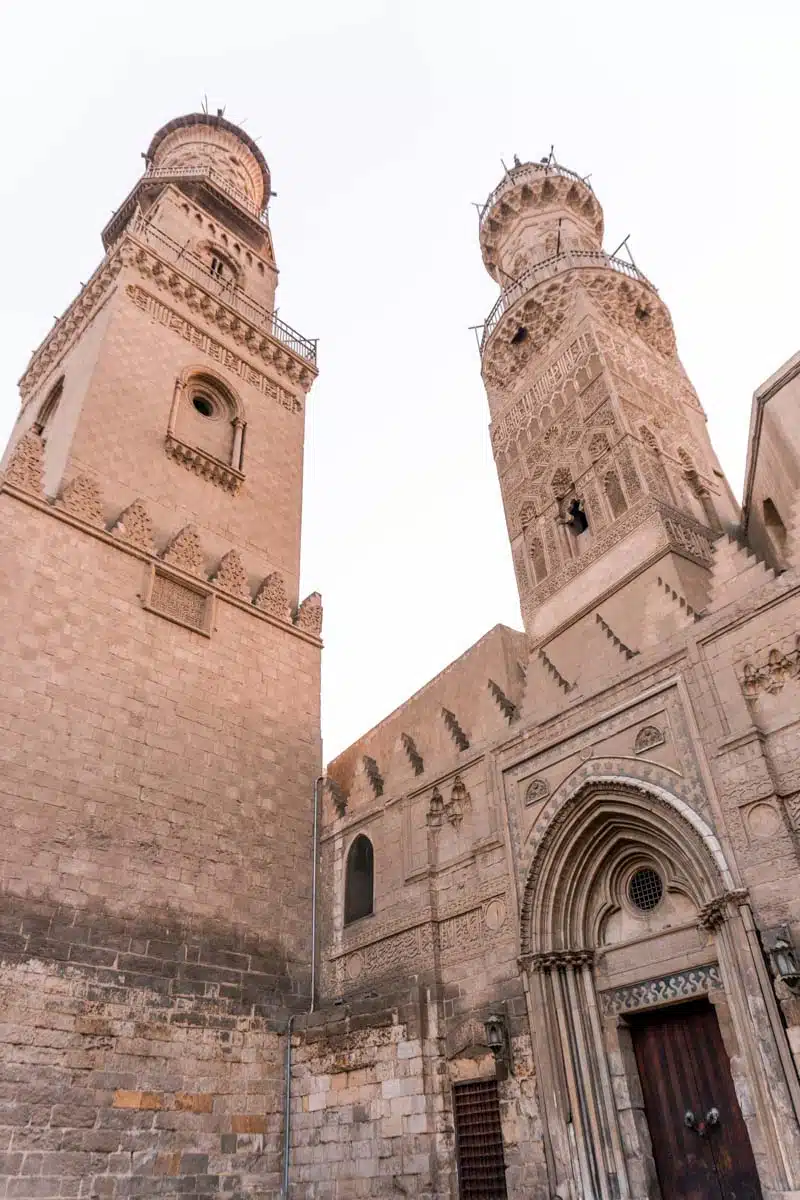 Explore the mediaeval Cairo Citadel and take in the majestic views of Cairo from its commanding heights in Mokattam Hills. The Citadel is a former fortress Salah al-Din built against Crusaders' attacks and is currently a UNESCO World Heritage Site.
It is now visited as a tourist site and houses the must-see majestic Mosque of Muhammad Ali. The mosque is open from 8 am to 5 pm, and you'll find it busiest around 3–4 pm. So if you're hoping for a calmer visit, try to arrive before 3.
Three more mosques — Al-Nasir Muhammad Mosque, Mosque of Sulayman Pasha, and Mosque of al-'Azab — are within the compound. The public can visit all mosques, except for the Mosque of al-'Azab.
There are also four museums in the Citadel, though I have to say, they're a bit on the dry side. If you do decide to visit, you'll get to admire the 1000 kg chandelier in Al-Gawhara Palace Museum's hall and view royal carriages from different historical periods at the Carriage Museum.
Alternatively, see the military weapons at the Egyptian Military Museum and learn about political assassinations at the Police Museum.
Shop up a Storm at Khan el Khalili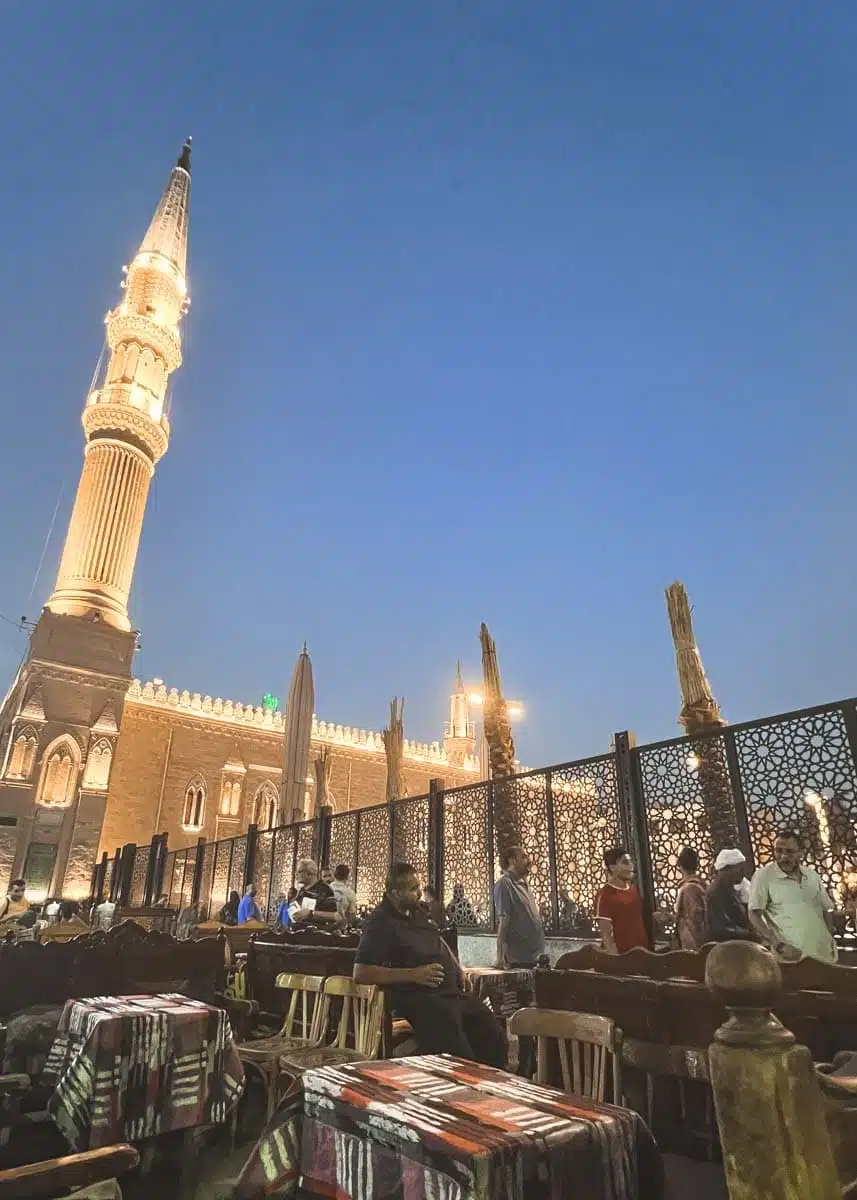 When looking at what to do in Cairo in 2 days, you can't miss exploring Khan el Khalili. This historic and expansive bazaar began trading in the 14th century. Rich sounds of traditional music play as you admire souvenirs and crafts.
While it's hard not to buy anything, shop around first and negotiate prices. Visit this eclectic bazaar at least an hour before 5 pm as that is closing time. Treat yourself and spend a day touring Cairo's Museum of Egyptian Civilisation and Khan el Khalili.
Note: The tour doesn't stop at the Coptic Quarter, but you can ask the operator how long you'll stay at the NMEC before visiting the Citadel so you can plan a stop at the Coptic Quarter.
Dinner and Drinks at Crimson Bar and Grill
Egyptian billionaire Naguib Sawiris and Amr Assem opened the lively Crimson Bar & Grill. The luxury rooftop restaurant and bar is 3 km from the Egyptian Museum of Antiquities in Cairo's posh Zamalek neighbourhood.
Wind down with dinner and drinks at this highly-rated hot spot. Nothing's better than dining on a sumptuous meal of risotto mushroom and indulging in a Bellini cocktail.
If you prefer to go for something different, you can enjoy a range of Mediterranean and European cuisines while overlooking the Nile River.
Tip: Reserve a spot beforehand as this trendy spot gets quite busy over weekends.
Cairo Itinerary – Map