A Nile river cruise is a quintessential part of any Egypt trip. Discover the different types of Nile cruise and best picks with this guide.
Are you ready to set sail on the adventure of a lifetime? Hop aboard a Nile cruise to see Egypt at a different pace. 
The colossal waters of the Nile offer a unique adventure. Not only is it a famous attraction in itself, but cruising down the Nile is one of the best ways for exploring southern Egypt.
I loved my time on the Nile during my Egypt trip: where so much of Egypt is… on the frantic side, a Nile cruise is exactly the opposite.
Where else could you glide serenely down the river, disembarking to explore another ancient temple in the early morning light?
Unsure how to choose the perfect Nile cruise?
Check out this step-by-step guide to the different types of cruise, how to choose the type of cruise that's best for you and practical tips to know before you go.
PS: Although it is possible to sail along other parts of the river, this guide focuses on the section between Aswan and Luxor as it's the most popular option.
Types of Nile River Cruises
Small Cruise Ship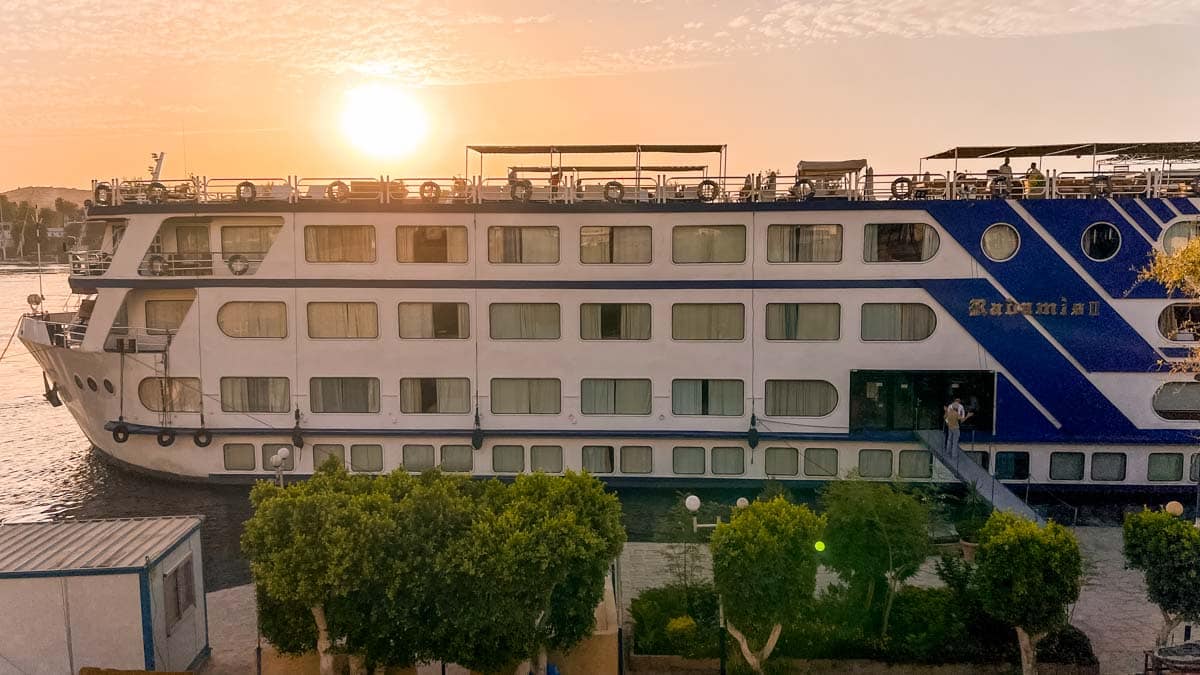 Ready to cruise down the Nile in style? By boarding a small cruise ship, you'll have the chance to brave the majestic waters for a few days.
This is one of the most popular options, as it's the perfect medium between budget and luxury.
On most small cruise ships, you'll have your own cabin to call home for the duration of your stay (although you may have to pay a single supplement).
These cruises also often include a few meals included in the price.
Most of these packages have a trained guide on board to fully immerse travellers in their surroundings by delving into Egypt's historical significance.
With various stops along the way, such as the Temple of Horus at Edfu and the Temple of Kom Ombo, you'll have an amazing time on and off the water.
Recommended Cruise: Two-Night Cruise From Aswan to Luxor
Luxury Nile Cruises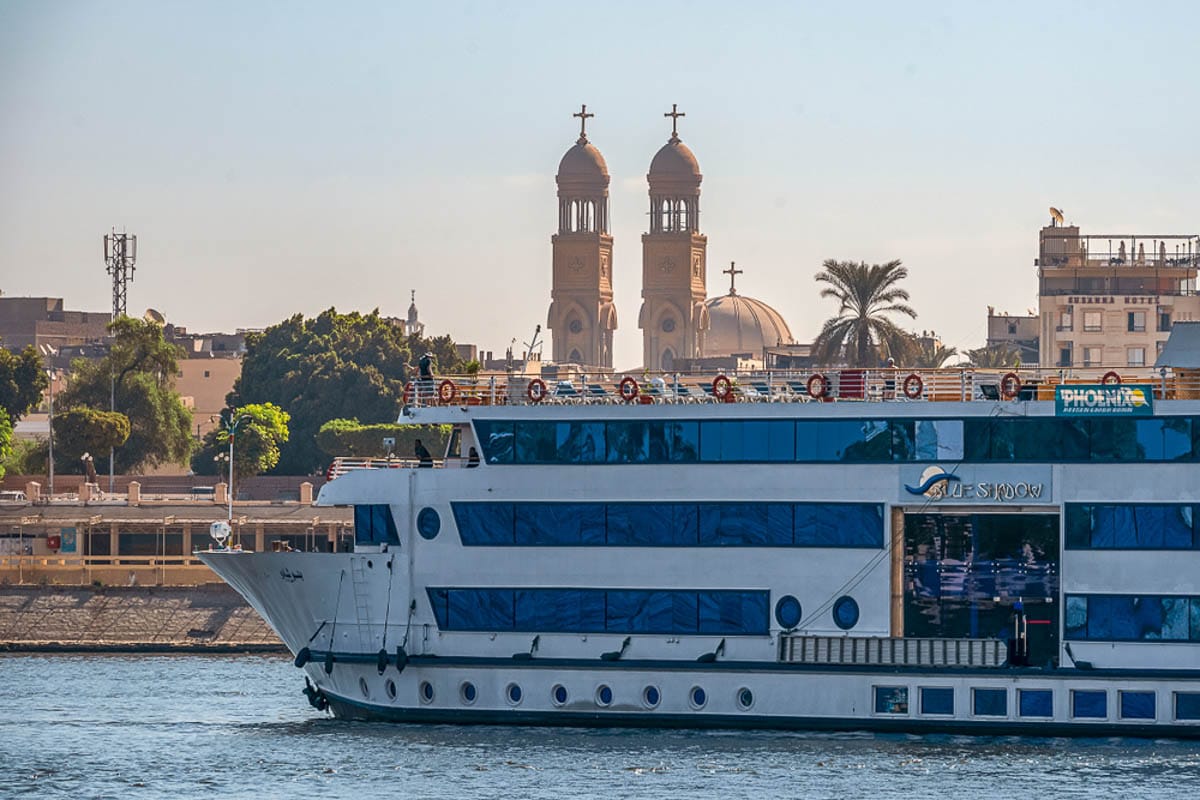 If you want a 'cruise the Nile' experience on a 5-star river-bound hotel, you'll love the glamorous edge a luxury cruise offers. With a wide variety of amenities available on board, such as pools on deck and rooms with river views, this cruise type is sure to make travellers consider full-time life on the water.
Various luxury Nile cruise lines offer all-inclusive packages, including meals and entrance fees, and take away plenty of the planning stress.
This is one of the best Nile river cruises for travellers looking to travel on open waters for a prolonged time. With options that go up to seven days on the Nile, this pricey pick will definitely be worth its weight in gold by all the unforgettable memories you'll create.
Recommended Cruises: Movenpick MS Darakum Nile Cruise or MS Esmerelda Nile Cruise
Dahabiya Cruise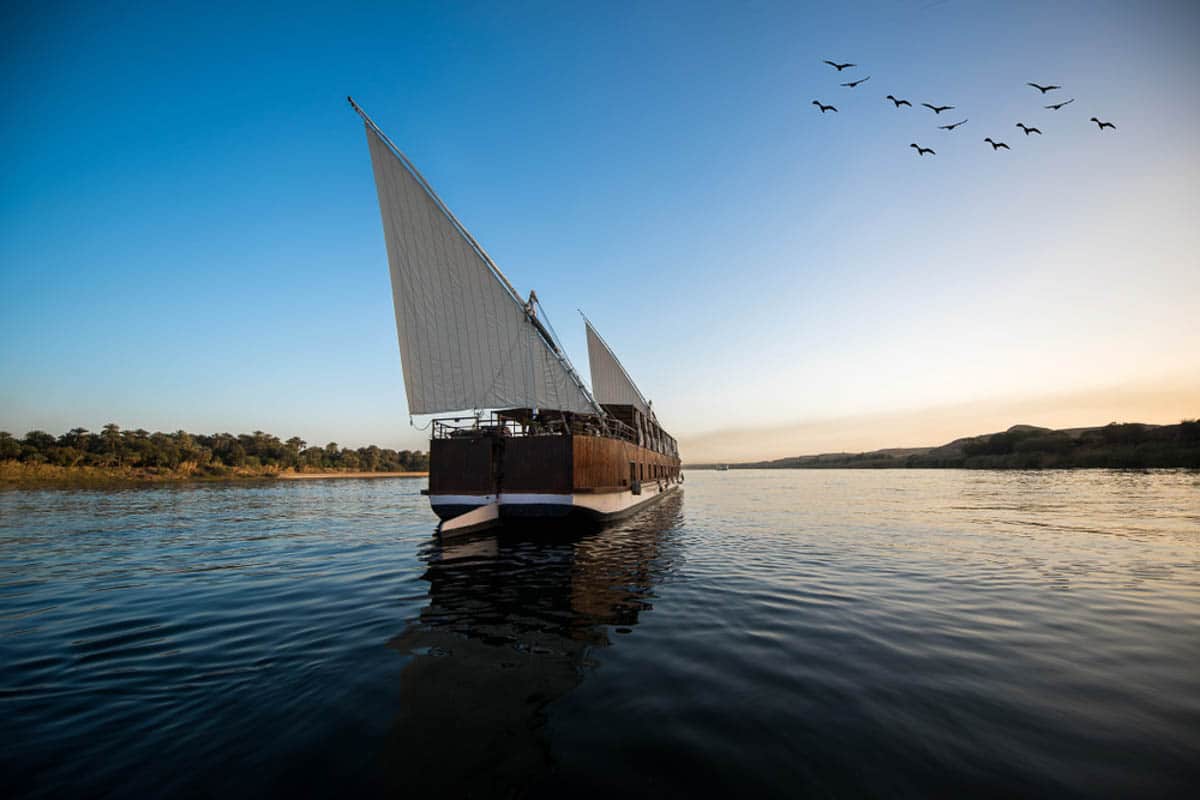 With a name derived from the Arabic term "golden one", a Dahabiya Nile cruise is the ultimate way to experience the royal treatment.
A traditional way of travel with a luxurious spin, the Dahabiya sailboat has a long history of being the chosen vessel for royalty in Egypt's ancient past. Luckily you don't have to be born a Pharaoh to try this out today.
This type of boat is usually mid-size and is perfect for small groups of travellers journeying together in a private setting.
While smaller than the luxury Nile cruise options, this boat size is perfect for whizzing around or travelling at your own leisurely pace. On this boat, you'll feel like you've travelled back in time to charter the transportation of nobility and see the eternal majesty Egypt has to offer.
Recommended Cruise: 8 Day Cruise from Aswan to Luxor aboard the Sonesta Amirat Dahabeya
Nile Felucca Cruise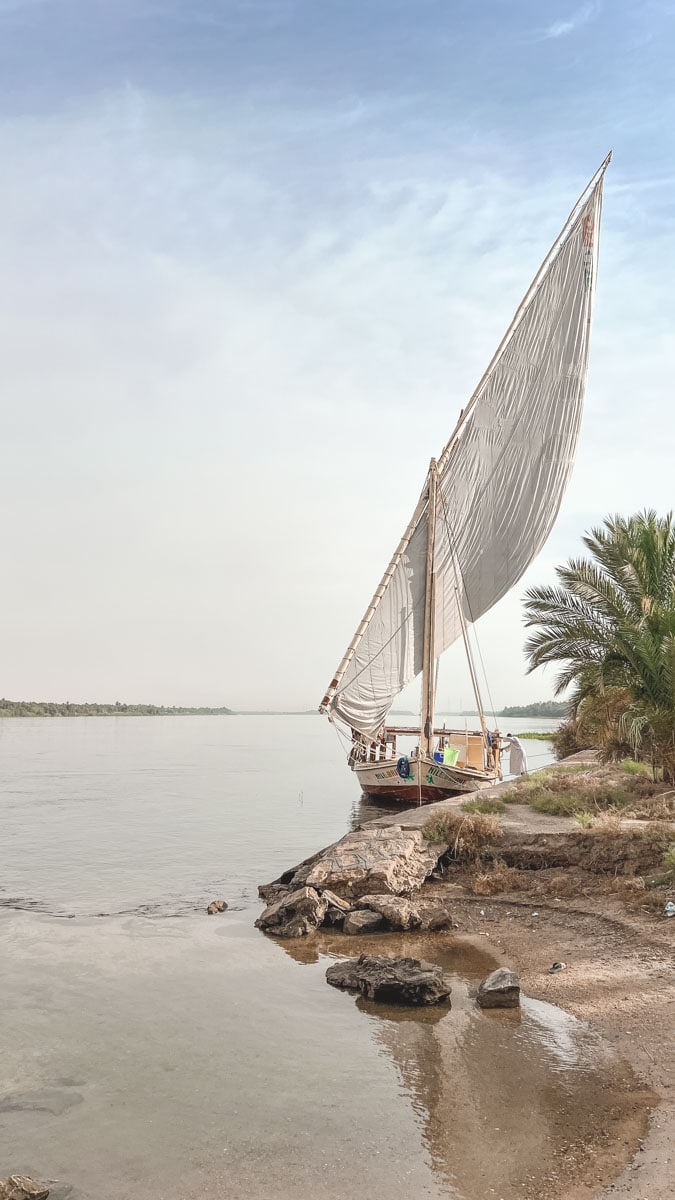 A felucca is a traditional Egyptian wooden sailboat that will escort you down the river at a comfortable (and somewhat slow) pace.
Don't think the slowness is a negative – you'll have plenty of time to sit back and appreciate all the villages and sights along the river instead of steaming past them. Plus, the lack of motor equates to a blissful peace that really helps you capture the serenity of the river and its surrounds.
Thanks to their smaller size, feluccas also feel a lot more inclusive than the big cruise ships.
However, if you're seeking a comfy cabin to sleep in on your journey down the Nile, you're fresh out of luck.
Felucca boats have no constructed sleeping quarters or "below deck" for guests. Instead, you can sleep on the deck with mattresses in a communal space at night.
It's also worth bearing in mind that feluccas can't make the whole journey between Aswan and Luxor – not only are they too slow (and it would take forever) but they're also not allowed to use the Esna Lock.
As a result, most felucca trips are restricted to a day trip or one night – so make for a great option for those of you who are short on time.
Which Type of Nile River Cruise is Best for You?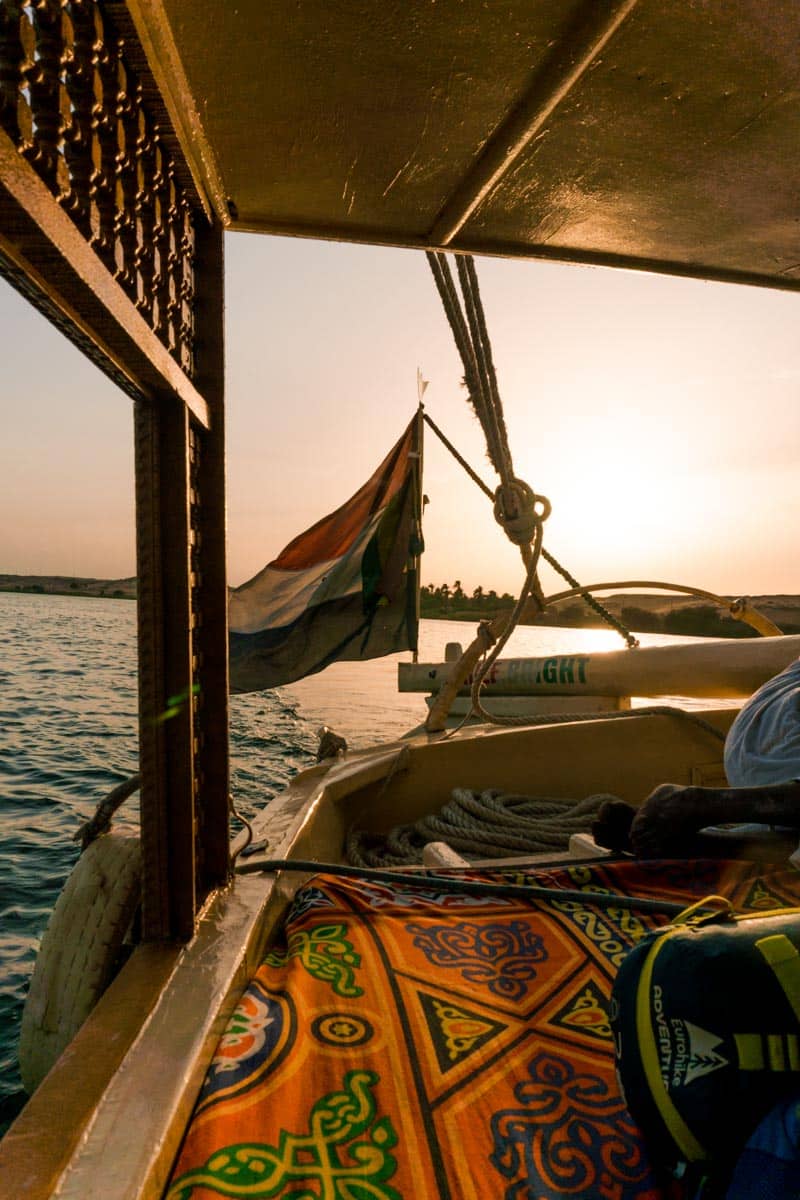 From budget-friendly trips to cruises dripping with grandeur, river adventures are abundant. What it ultimately comes down to is your specific needs as a traveller. Here are a few points to consider when weighing up the various options:
Time
Whether you're travelling for a month or have ten days in Egypt, time is essential when picking a cruise. If you're planning on exploring Egypt to its fullest, a luxury cruise or a Dahabiya will be an excellent option to end your travels with a bang.
A money-saver option, such as a day trip on a felucca, is perfect for travellers looking to experience the Nile within a few hours.
Comfort/Cost
From roughing it to rolling in luxury, comfort is another factor you should consider in your decision.
If you're a camper at heart, a felucca cruise is a great choice – sleeping on a covered deck as you bob on the water is the closest thing you can get to the river without jumping in.
For travellers with more cash to spend, a luxury cruise or dahabiya – depending if you'd prefer a bigger ship with more amenities or a smaller boat are the perfect picks.
Type of Experience
The last point to consider is what kind of excursion you're looking to indulge. For authenticity seekers, a felucca or Dahabiya cruise is an excellent opportunity to learn and travel with a historical twist. A luxury cruise is prime if you want to explore the depths of the Nile and its surrounds while enjoying a superior level of comfort.
Best Nile Cruises
This luxury cruise offers a unique experience packed with high-end meals (it's full board) on an opulent vessel. Plus there's plenty of time to explore this section of the Nile at leisure. Departs Aswan each Saturday.
Hoteliers Movenpick know a thing about making guests as comfortable as possible, so it should come as no surprise that the MS Darakum is a stunning way to cruise the Nile in style. It's one of the largest ships in Egypt, which means plenty of amenities to keep you entertained while on board.
Float down the Nile in five-star style on the MS Esmerelda. Taking bookings from both Aswan and Luxor, you can also choose from 4 or 7 night trips – perfect for your itinerary.
This mid-range cruise comes complete with a local guide to help you discover the history and beauty of southern Egypt. Includes visits to Philae, Edfu, Kom Ombo and a day in Luxor.
Luxury lovers will rejoice, as this four-day trip is an excellent choice for travellers looking for a pampering addition to their Nile cruise.
This four-day journey is a popular choice for visitors looking to cruise the Nile River in Egypt with a spectacular itinerary.
Practical Tips for Your Nile River Cruise
What to Pack for Your Cruise on the Nile River
An Egypt river cruise is all about preparing yourself for the wondrous journey on the waters. While you might think it's all clear skies and perfect winds, some key luggage is essential to brave this mighty river in comfort and style:
Sunscreen with a high SPF – Even when under a tarp for the day, the sun can reflect off the water's surface and cause sunburn.
Insect repellent – Mosquitos can ruin even the most memorable trips. Pack in a good insect repellent to stop this from happening.
Sun hat & UV protection sunglasses – This is essentially an outdoor activity, and you may be discovering other attractions along the way, so be prepared and protected.
Light cover-ups – When visiting religious sites, you should respect local customs. This includes covering your bare shoulders (even on hot summer days). Check out my Egypt Packing List here.
How Long to Go on a Nile River Cruise?
From simple dinner cruises to days-long excursions, an Egypt Nile cruise duration is up to you. However, a popular itinerary to embark on is a trip between Aswan to Luxor or vice versa.
This kind of trip usually takes around four to five days, fully immersing guests in the Egyptian culture and surroundings.
There are also plenty of Nile cruises that will take you on shorter trips, even some that are just a few hours long (though covering a much shorter stretch of the river). If you don't have much time in your schedule, these are perfect to fit into a busy day.
Best Time to Take Your Cruise
When travelling to Egypt, the best time to visit is the tourist off-season. As this country is a magnet for history buffs and adventure seekers, you'll have the best chance of missing out on time-consuming queues at attractions.
The ultimate time to travel and take an Egyptian Nile cruise is during October and April. During this time, you'll have cooler temperatures to enjoy the scenery.